This post is part of a series on The Ultimate Pet Friendly Road Trip, our 10-month, 15,000-mile tour of the top pet friendly attraction in each of the lower 48 states.
Massachusetts' Top Pet Friendly Attraction: Boston's Freedom Trail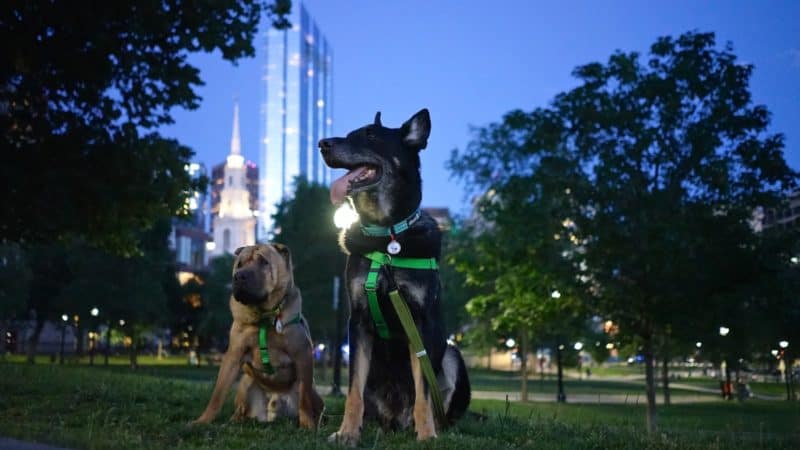 When I was young, it was a special treat to have my grandmother read to us from a book of poetry, and one of her favorite poems was "Paul Revere's Ride" by Longfellow. That opening … Listen my children and you shall hear of the midnight ride of Paul Revere … still gives me goosebumps! Grandma never visited Boston, but if she had, I know she'd have been thrilled to see the historic places we imagined together carefully preserved amongst the glass and steel skyscrapers of a modern city.
Sixteen of our country's most significant historical landmarks, locations that played a pivotal role in America's rebellious beginning, are located along The Freedom Trail. This 2.5-mile path, marked by red bricks or a red painted line, winds through the city starting at the Boston Common Visitor Center, which is located on Tremont Street south of Park Street.
Boston Common itself is a sight to behold! Founded in 1634, it is the oldest public park in the country and provides a lush, 50-acre oasis in the city. There are even two off leash areas where dogs can socialize from 6am to 11pm, so be sure to allow time in your schedule to sniff around.
When you're ready to hit the trail, guided tours, audio tours, maps, and additional information can be found at the Visitor Center. From there, just step on the red brick trail and get going!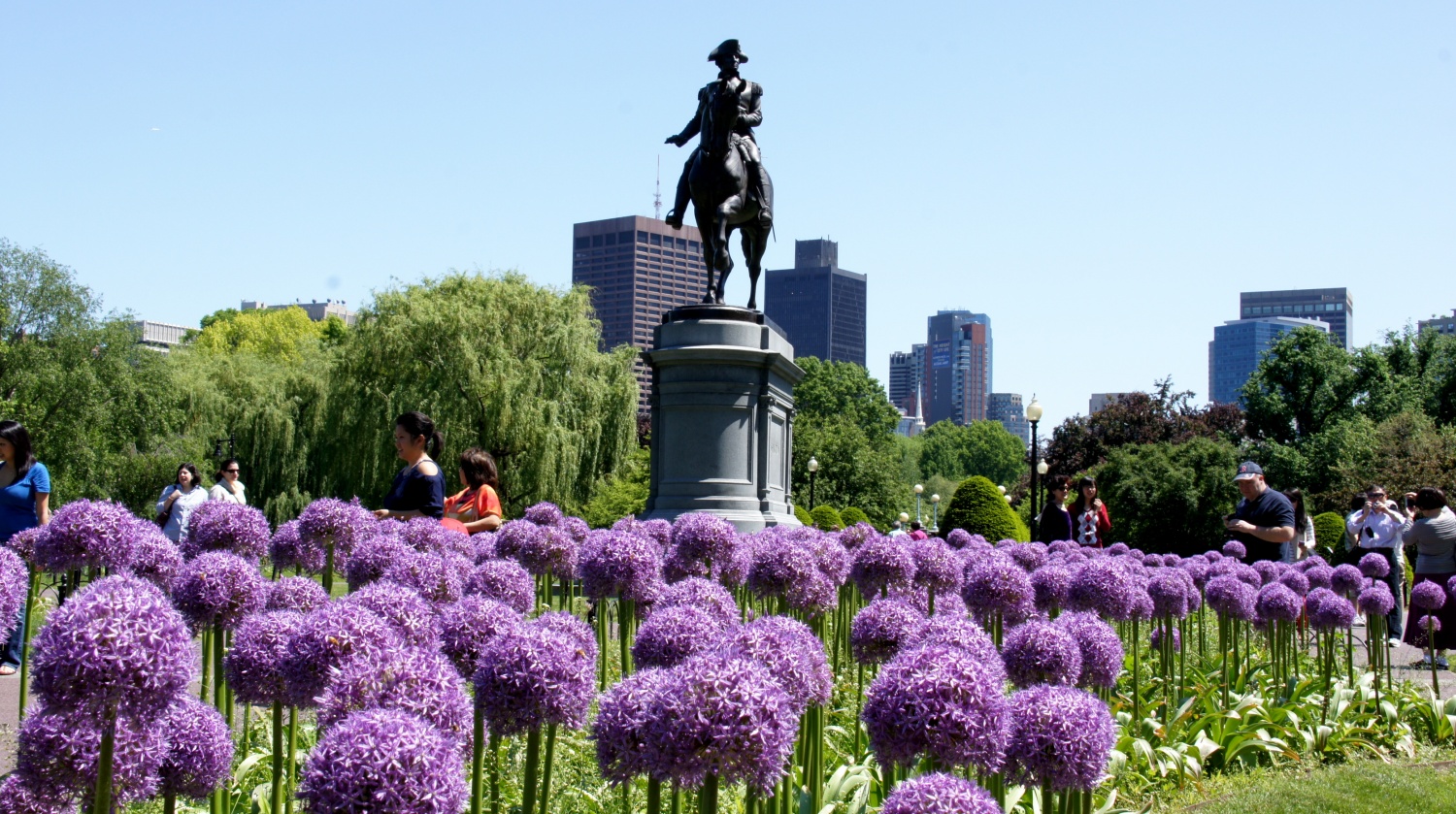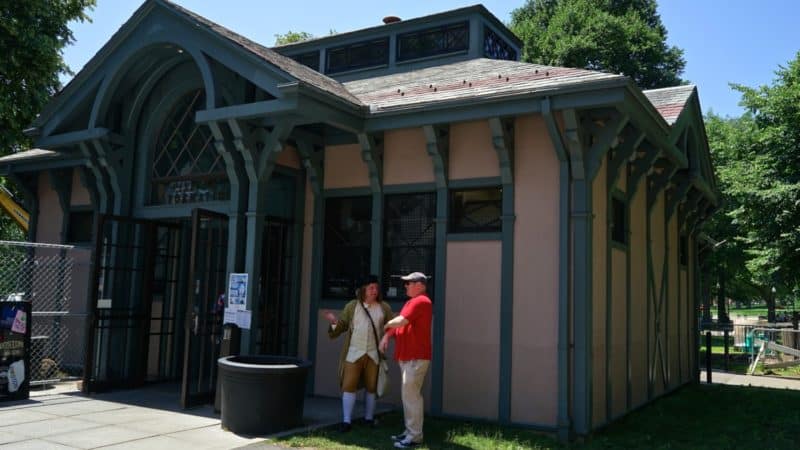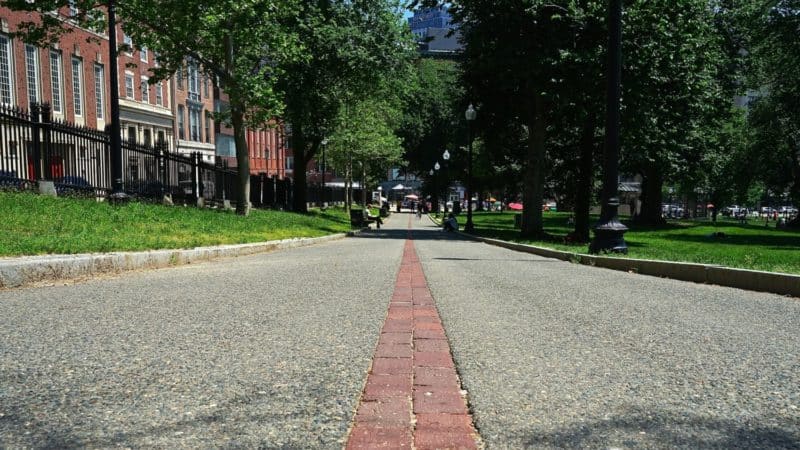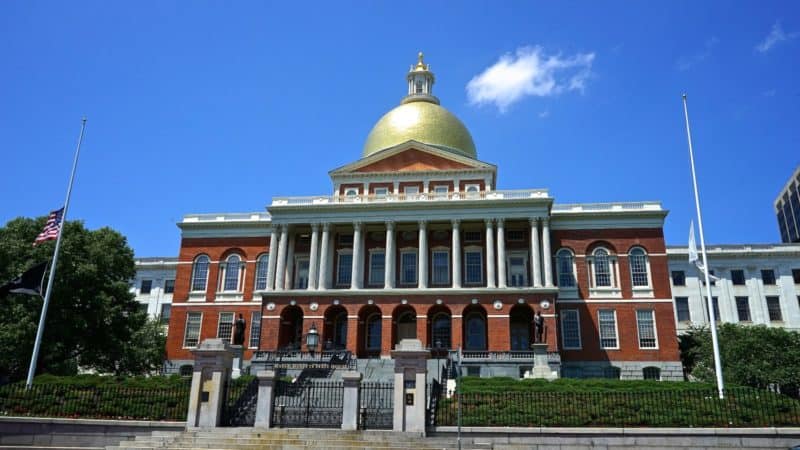 The Massachusetts State House is the first stop on the route, and it is the oldest building on Beacon Hill. Completed in 1798 on land originally owned by John Hancock, the dome wasn't always gilded. In 1802, Paul Revere and Sons was contracted to cover the original wooden dome in copper to keep it from leaking, and in 1874 the 23-carat gold leaf was applied.
Pets on the Freedom Trail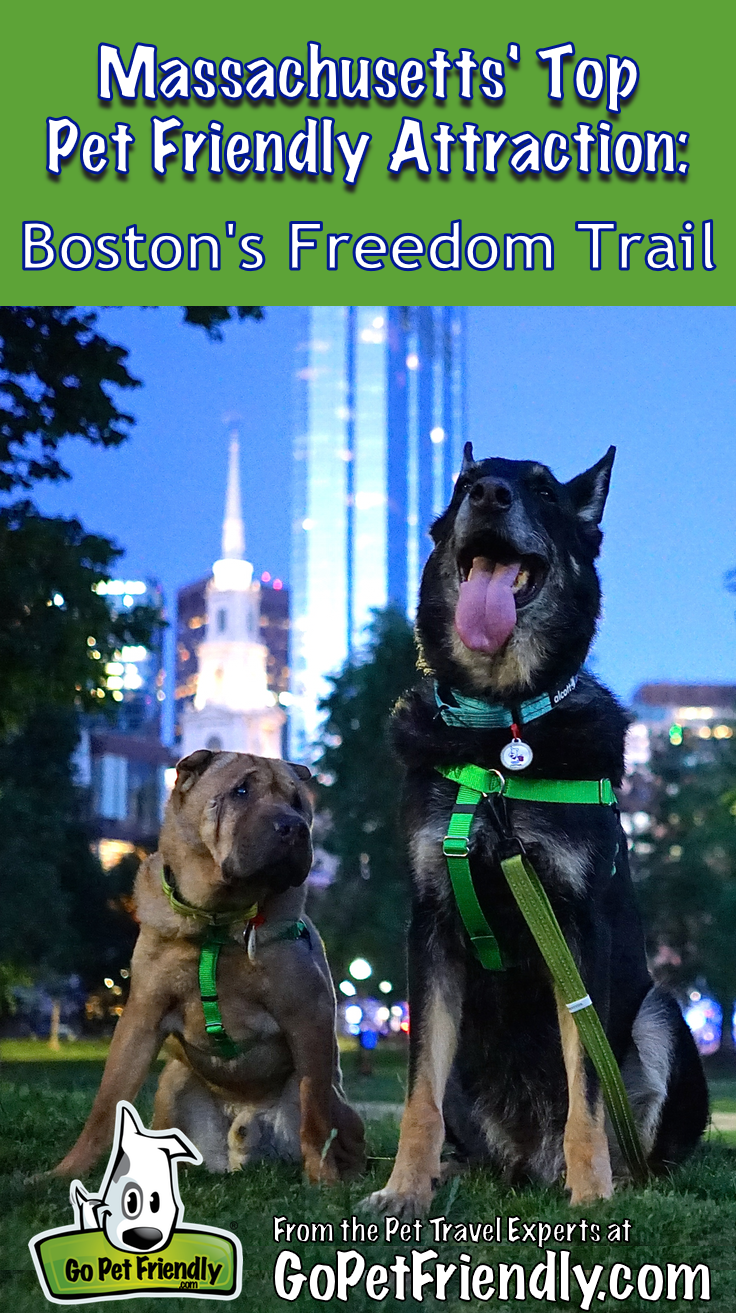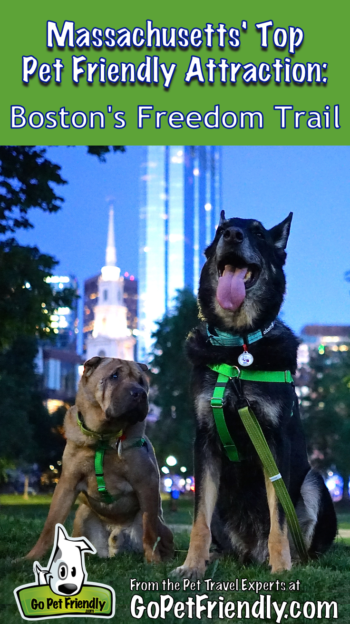 Leashed pets are welcome to enjoy the Freedom Trail with you, as long as you pick up after them. Pets are not allowed inside any buildings, but the trail passes plenty of parks and green spaces with shady, comfortable spots for one person to wait with the pup while the other has a look inside.
The sidewalks near the most popular stops on the trail can be quite crowded, so consider walking with your pet on the other side of the street, or visiting during less popular times. And Boston's weather can present it's own challenges! During our visit, the early afternoon was so hot and humid, both dogs and humans were panting. Being flexible is important when traveling with pets, so we picked up lunch and spent a few hours lounging in a park until the sun went down and we could finish the trail.
Pet Rules on the Freedom Trail

Pets must be leashed
Pet waste must be picked up and disposed of properly
Pets using the Boston Common Off-leash Area (from 6am – 11pm daily) must have current vaccinations, a current license, wear an ID tag at all times, and be leashed when entering and exciting the area. Owners must always carry a leash and are limited to three dogs in the off-leash area at a time.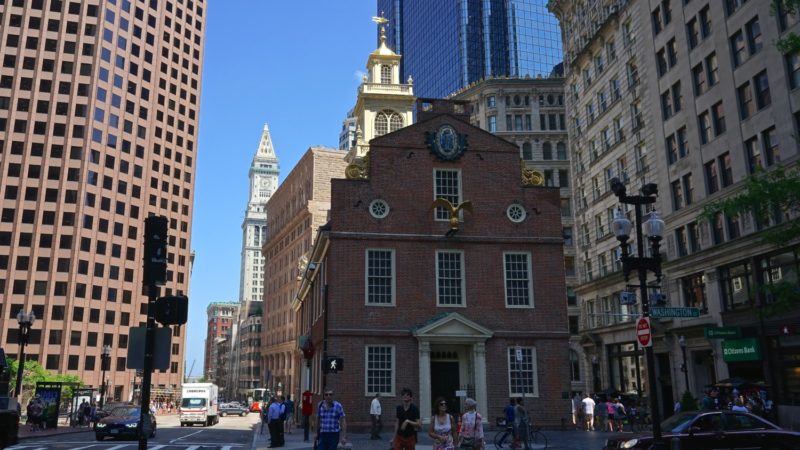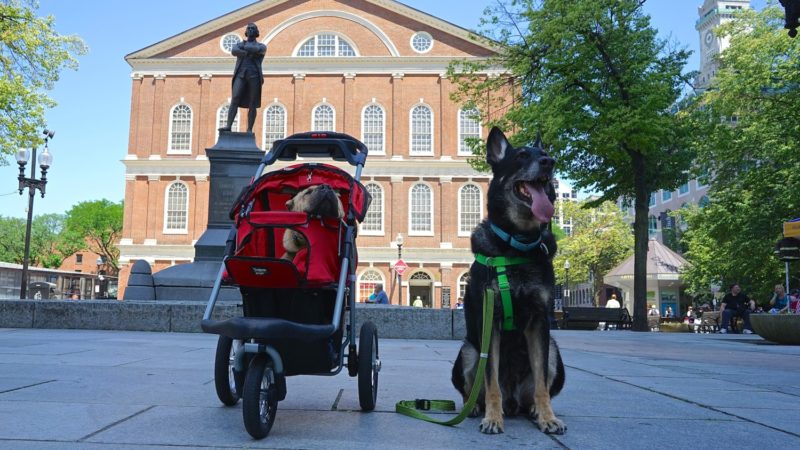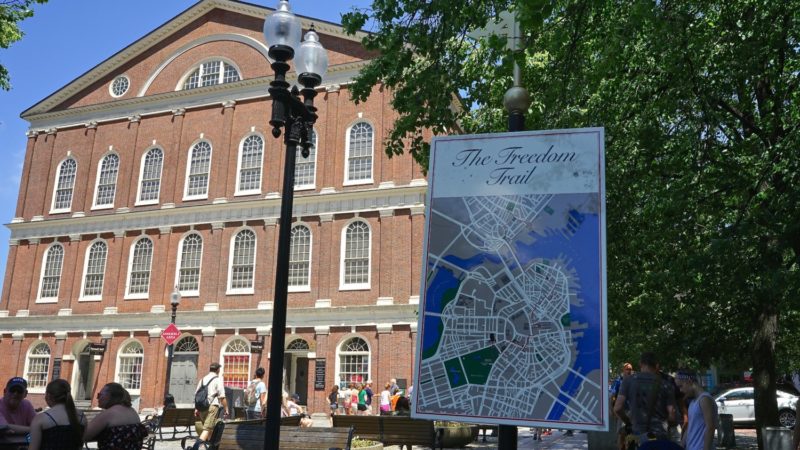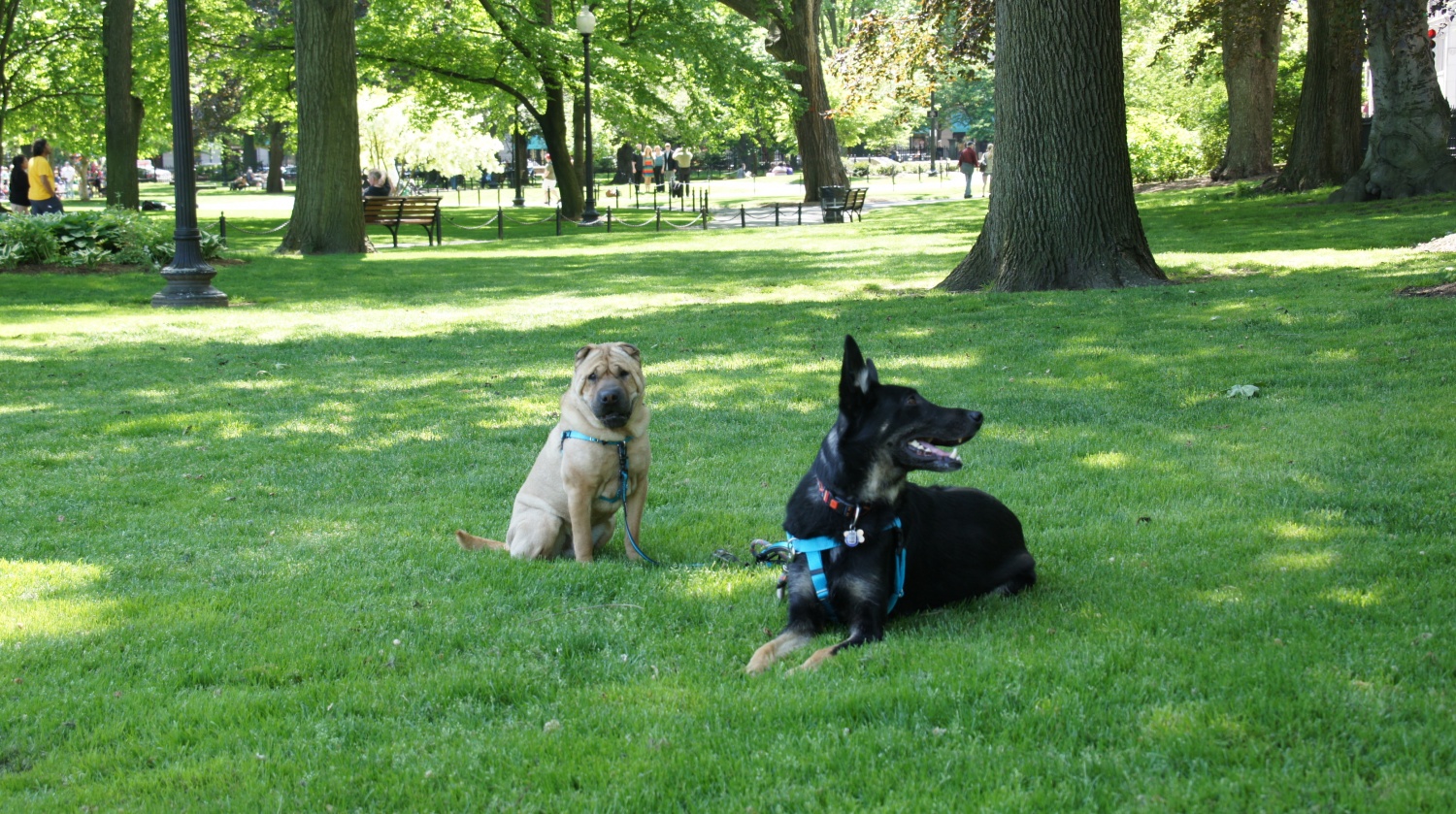 After listening to that poem all those years ago, seeing Paul Revere's house and the Old North Church were a couple of the highlights for me! Ty and Buster found the off-leash dog park near Paul Revere's house more intriguing, so if your pup is ready for a break look for it on Richmond Street southeast of North Street.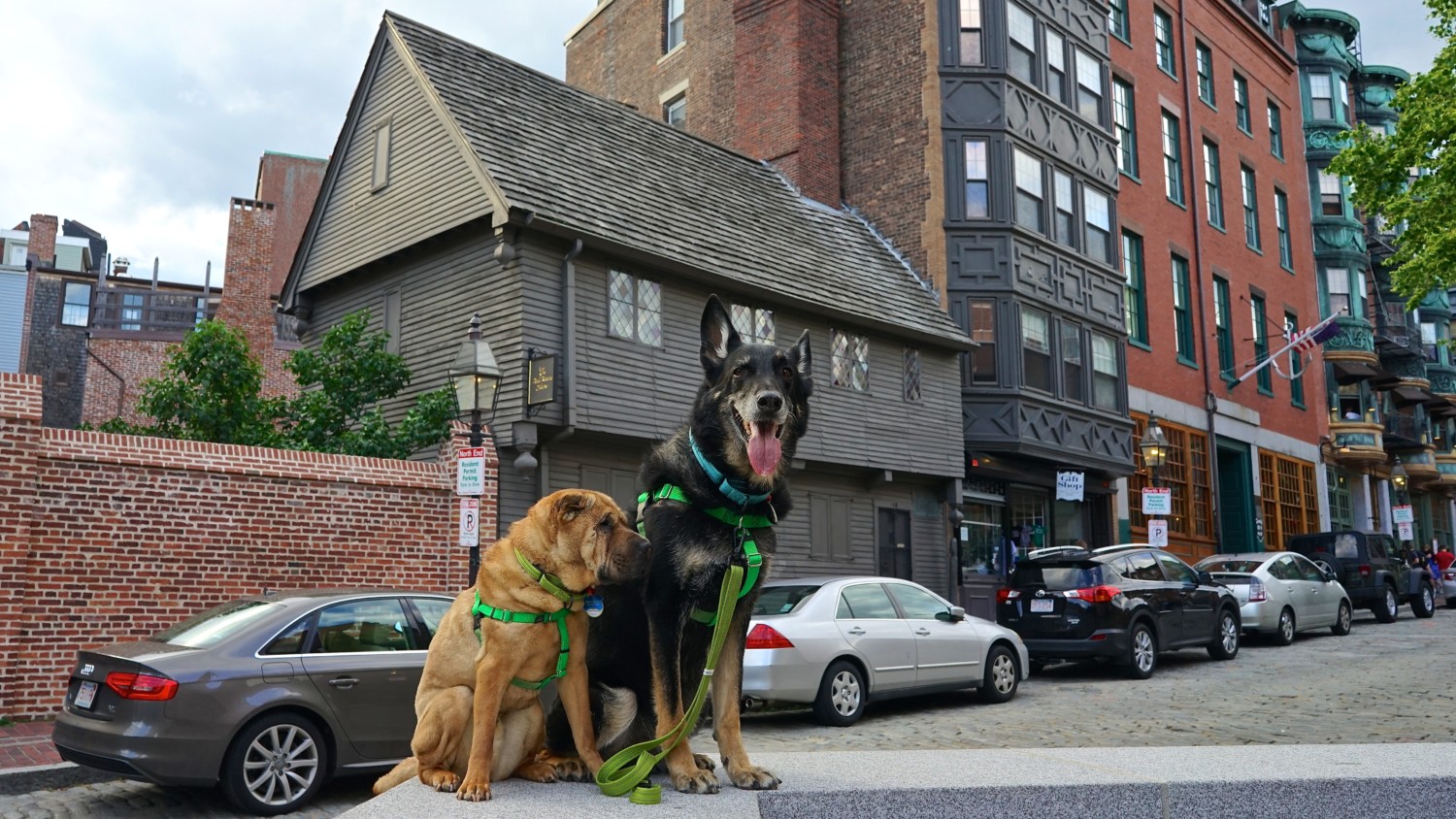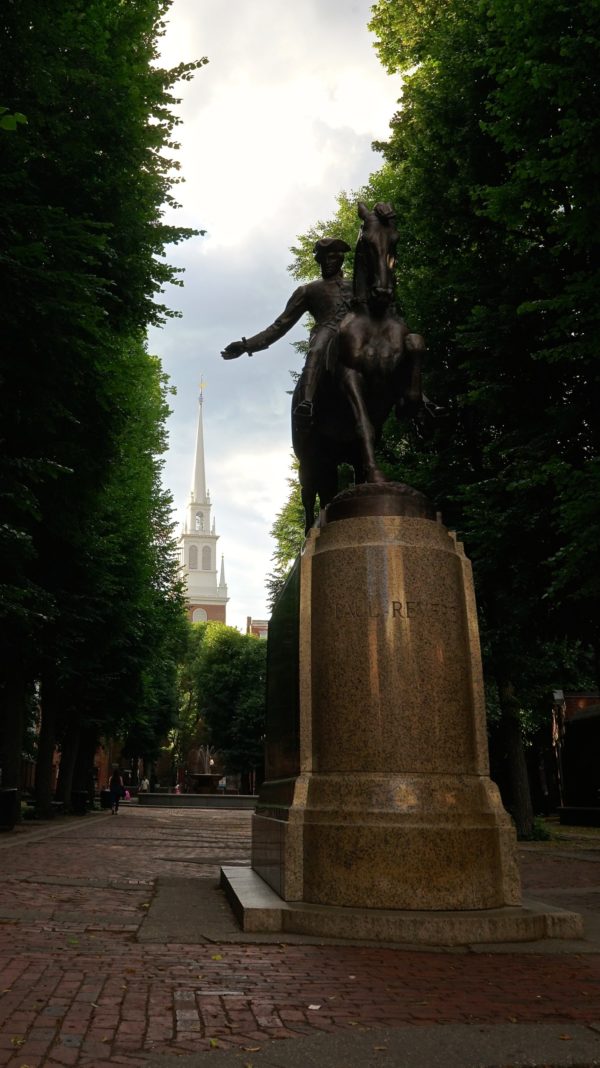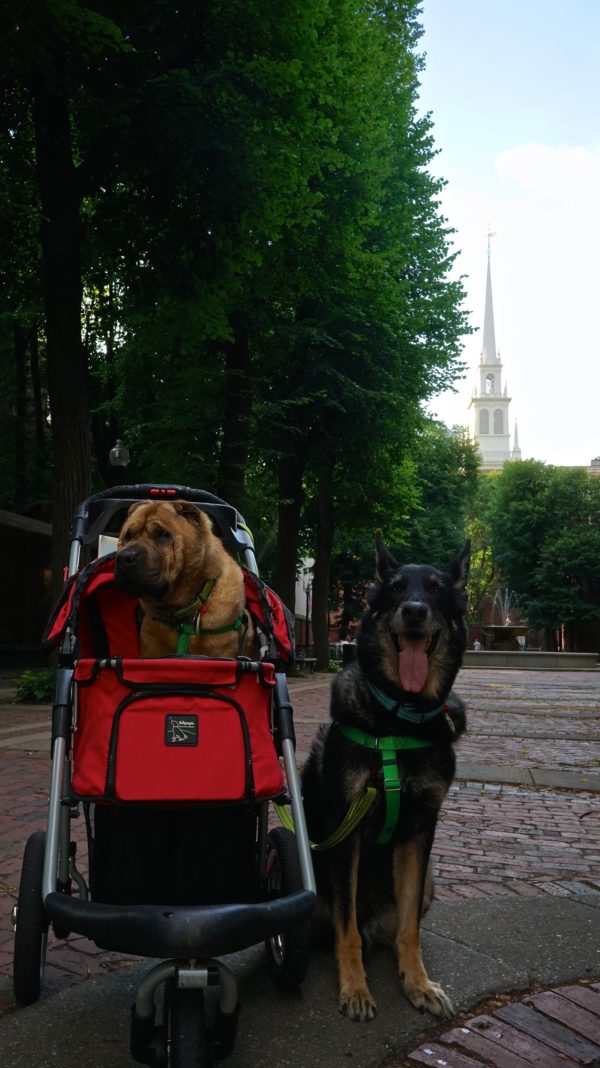 The next section of the trail takes you across the Charles River, where you can catch a glimpse of the USS Constitution in the Charlestown Navy Yard, and then climb up to the Bunker Hill Monument. By the time we made our way back to Boston Common, it had gotten quite dark, and the city was lighting up.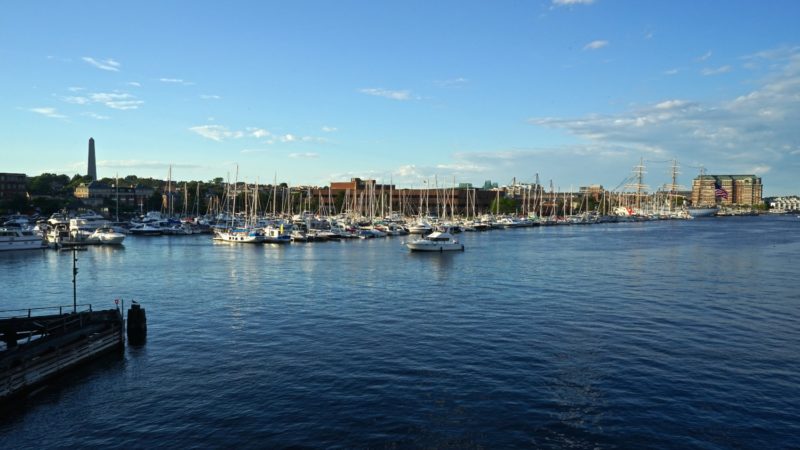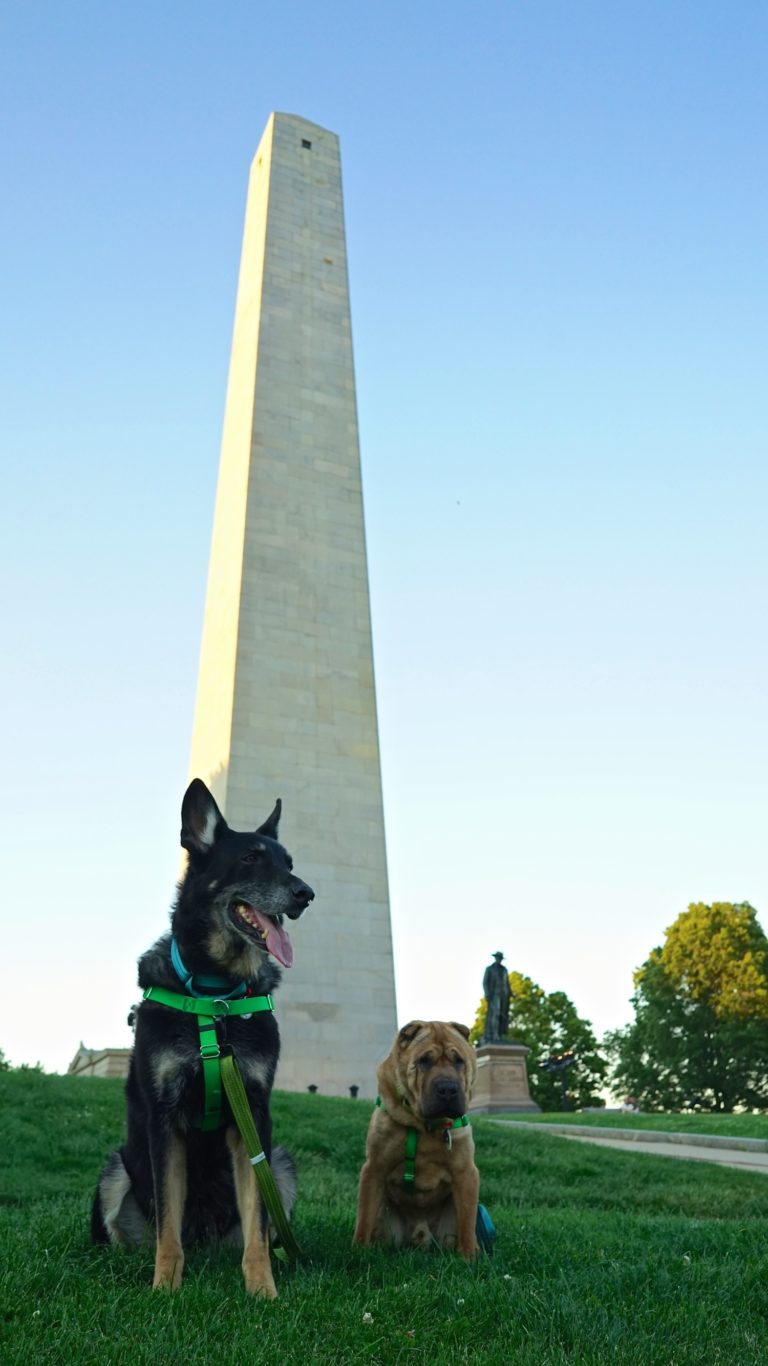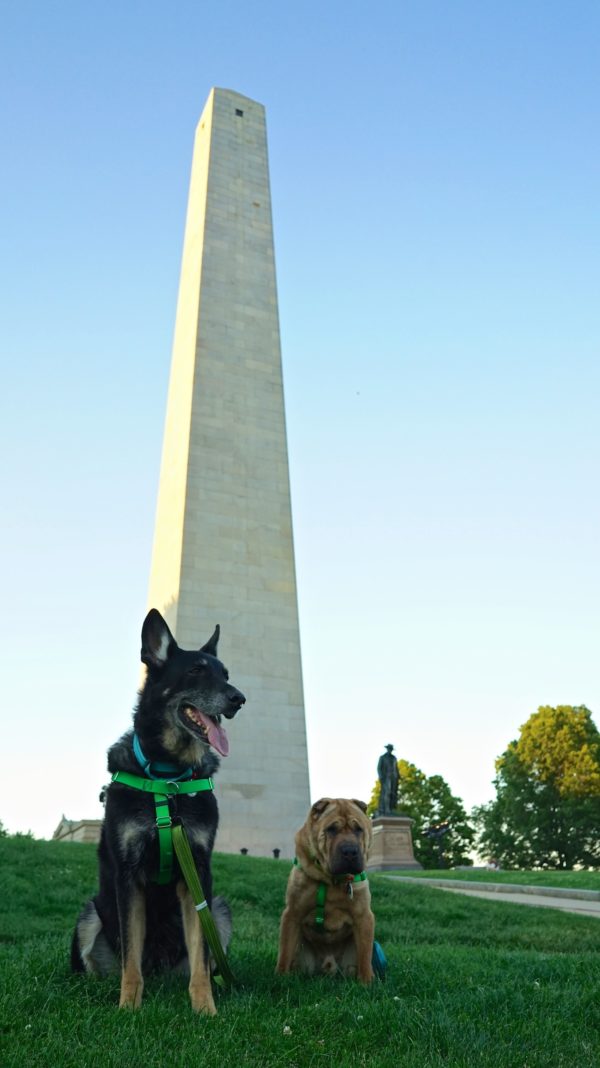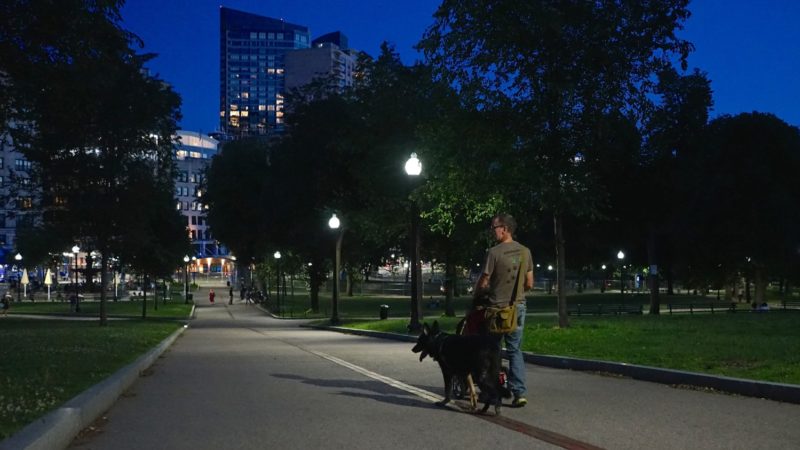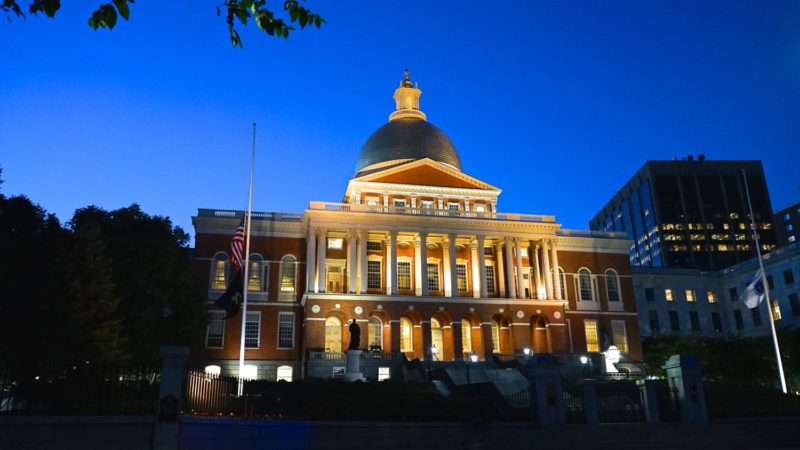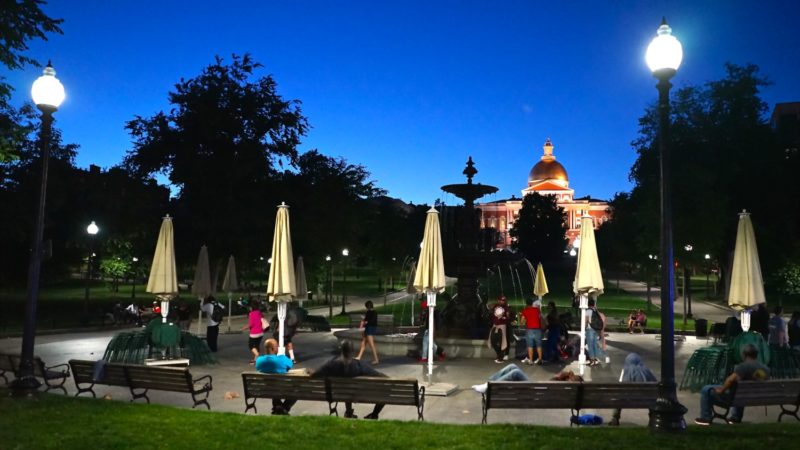 Boston Meet-Up
We were delighted to join PAWS New England,  Tito's Handmade Vodka, and Polkadog Bakery for a dog friendly meet up and fundraising event on at the Battery Wharf Hotel, Boston Waterfront! The weather was lovely and the view from the patio was spectacular! It was great fun to finally meet our Instagram fur-end @Darling_Clem in person, and we made a lot of new friends, too!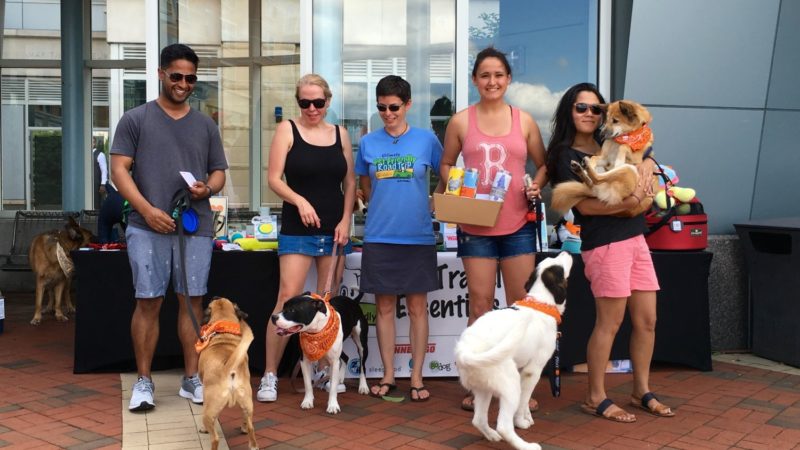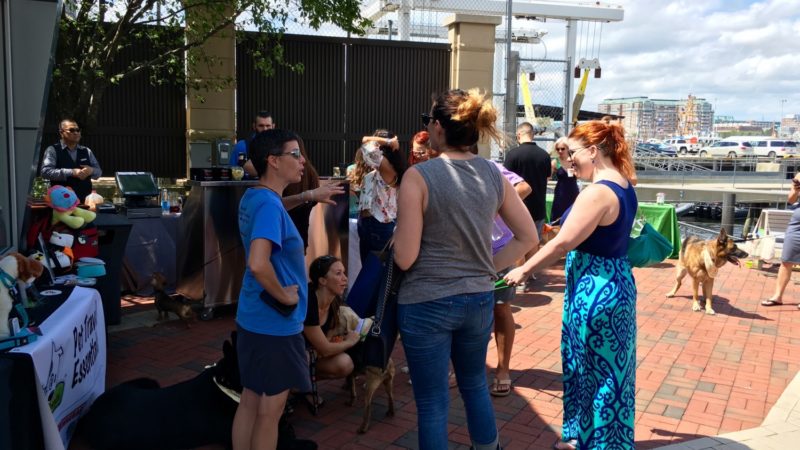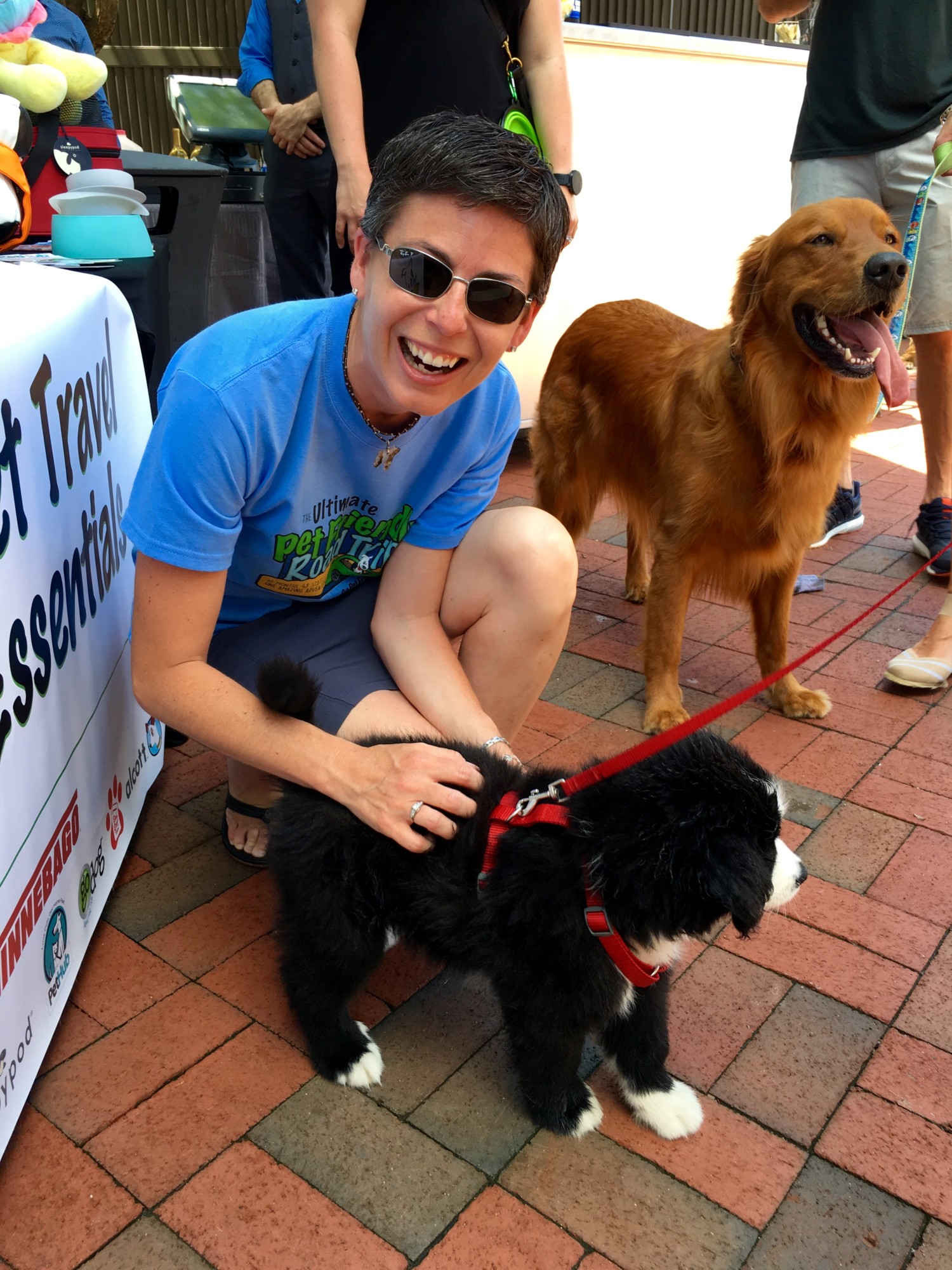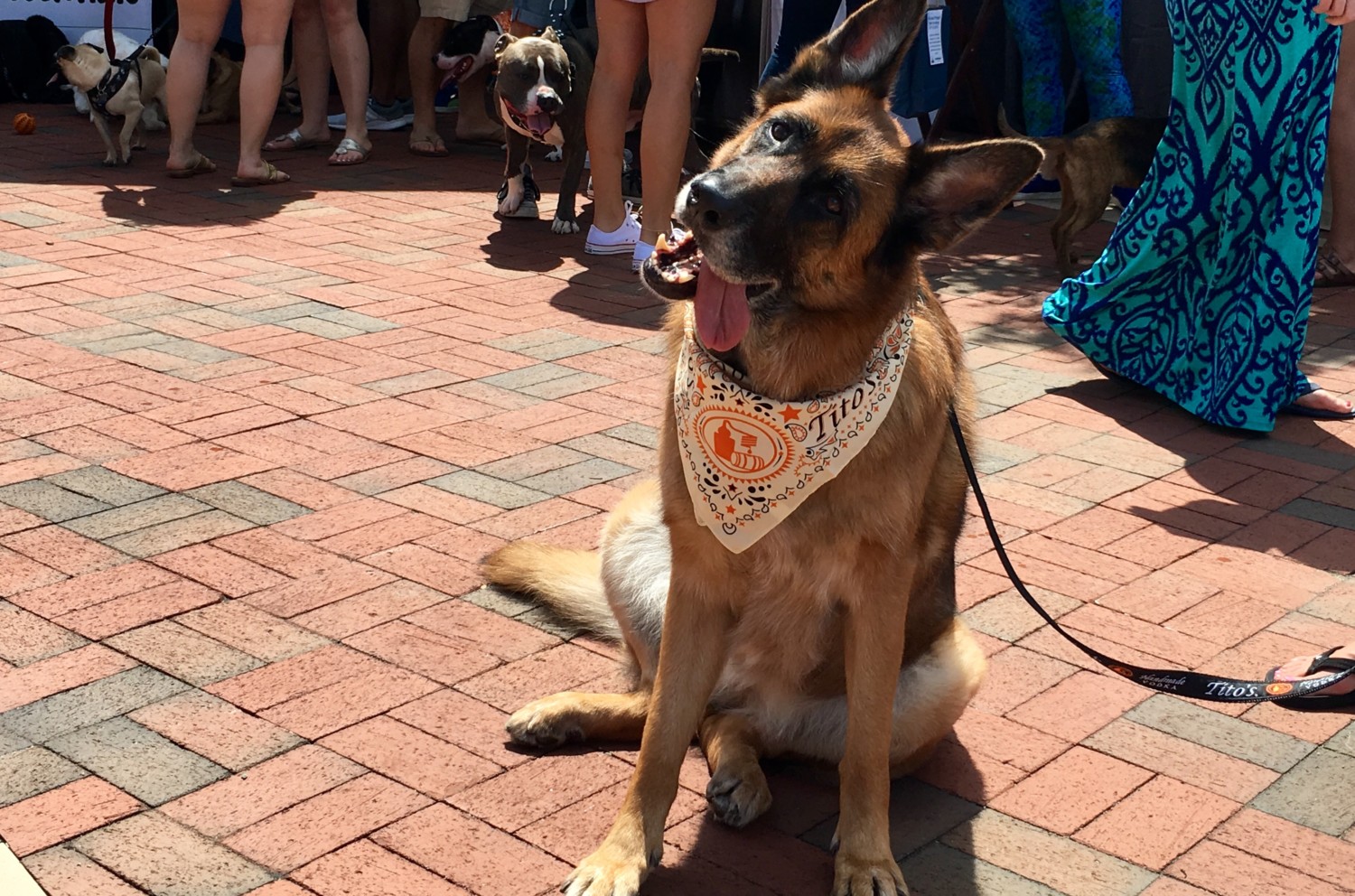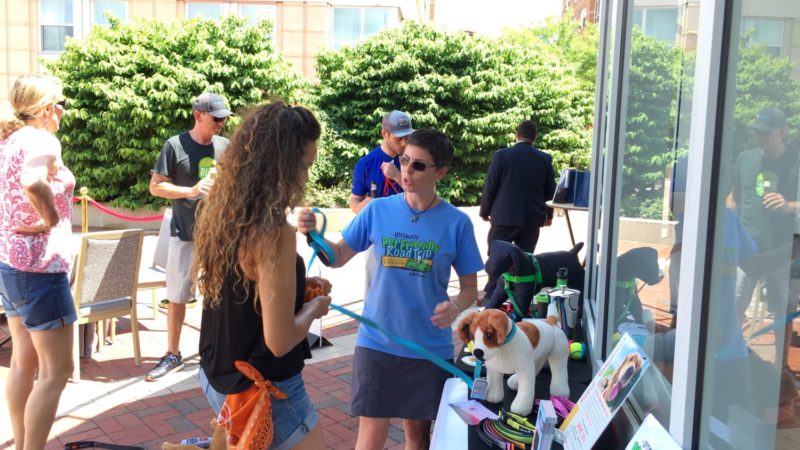 Thank You to our Sponsors
Visiting these attractions with Ty and Buster is a dream come true. We'll be blogging about each one as we go along, so fasten your seatbelt and stay tuned!
The Ultimate Pet Friendly Road Trip wouldn't be possible without the support of our wonderful sponsors: Winnebago, 2 Hounds Design, Alcott, goDog®, PetGuide.com, Red Roof Inns, Sleepypod, The Bark, PetHub, RVPetSafety.com, and The Honest Kitchen. Please be sure to visit their websites and social media pages and thank them for their participation!
Amazon Affiliate Disclosure: GoPetFriendly.com LLC is a participant in the Amazon Services LLC Associates Program, an affiliate advertising program designed to provide a means for website owners to earn advertising fees by advertising and linking to amazon.com, audible.com, and any other website that may be affiliated with Amazon Service LLC Associates Program. As an Amazon Associate, the owner of this site earns a commission from qualifying purchases.
(Visited 5,661 times, 1 visits today)