As you explore miles of pet friendly trails at Effigy Mounds National Monument, admire the views and the 206 known prehistoric mounds protected by the park.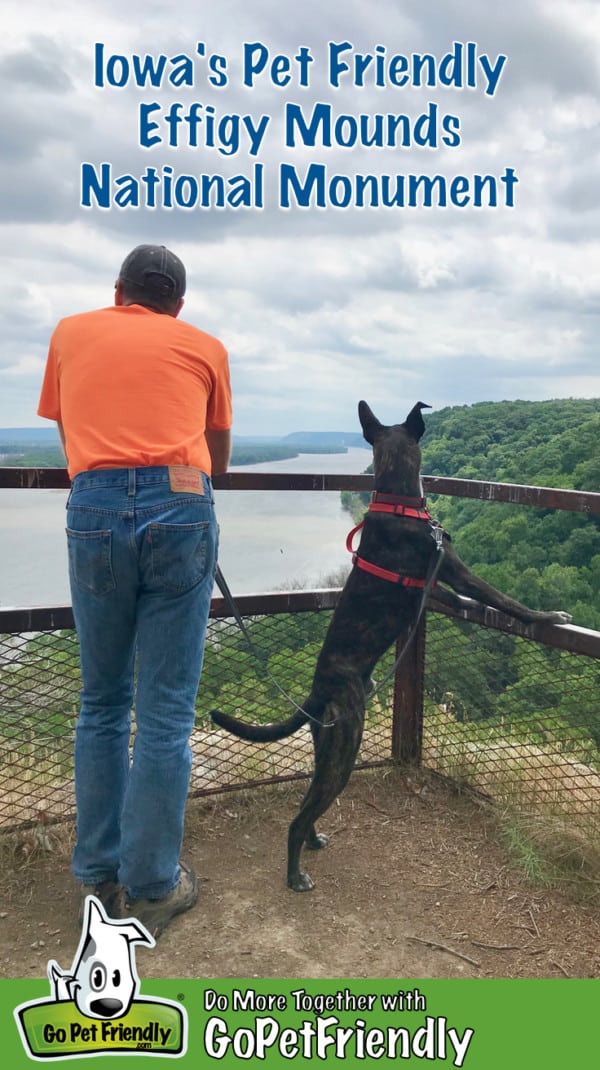 Standing atop the bluffs overlooking the Mississippi River, it's easy to see why people throughout history have chosen to make this breathtaking place their home. With the river's abundance at their feet, wildlife all around, rich soil for crops, views for miles, and eagles soaring overhead, it's difficult to imagine a more perfect location. Fortunately for us, pet friendly Effigy Mounds National Monument is now a wonderful place for people and their pets to experience together!
Pet Friendly Effigy Mounds National Monument
Located along the Great River Road, in the northeastern corner of Iowa, pet friendly Effigy Mounds offers visitors a chance to step back in time. Running along the western bank of the Mississippi River, the Yellow River splits the park into the northern and southern units. Both sections have miles of trails to explore and a variety of mounds to view.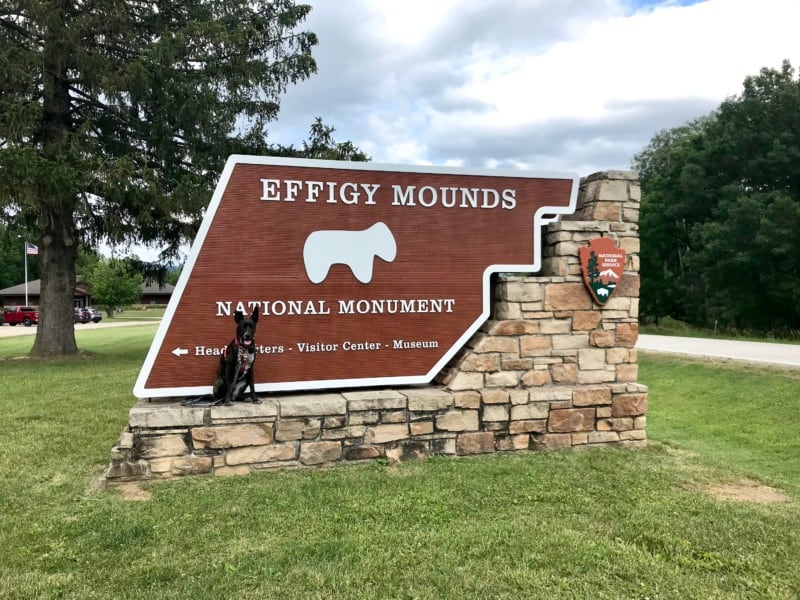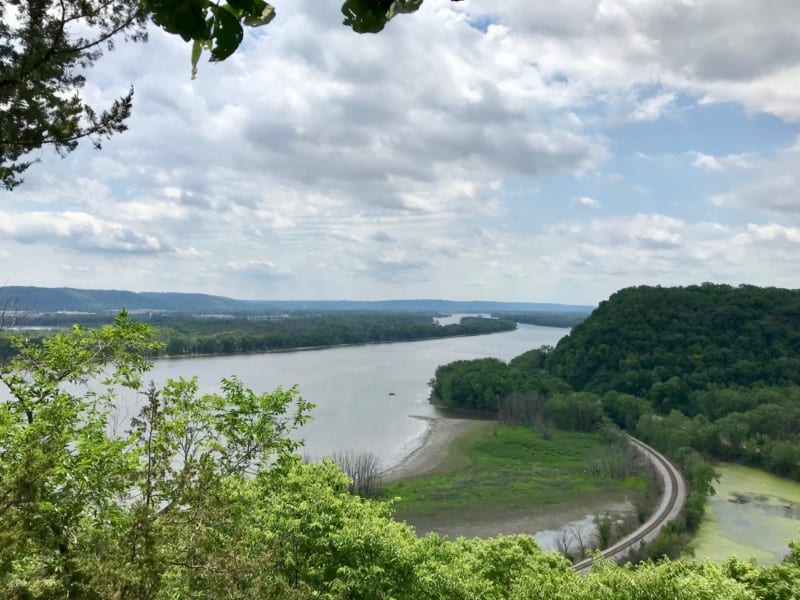 An Enduring Legacy
Imagining what life was like for the effigy builders is inspiring. Evidence shows that they were hunter-gatherers, collecting wild rice, acorns, fruits, and berries from their summer camps high on the rock escarpments, and hunting deer and elk in the nearby river valleys where they spent their winters. And around 2,500 years ago, the thriving community began building mounds.
Native Americans have built earthen mounds at different times and for different reasons across the Americas, but most are concentrated in the Mississippi and Ohio river valleys. The ancient people who lived here in Iowa built conical mounds, round domes of earth 2 to 8 feet high and 10 to 20 feet across, to bury their dead.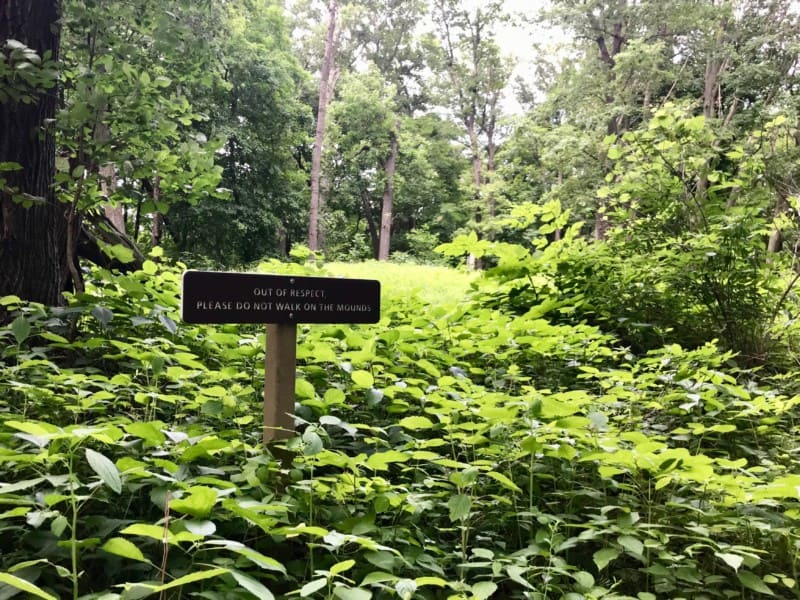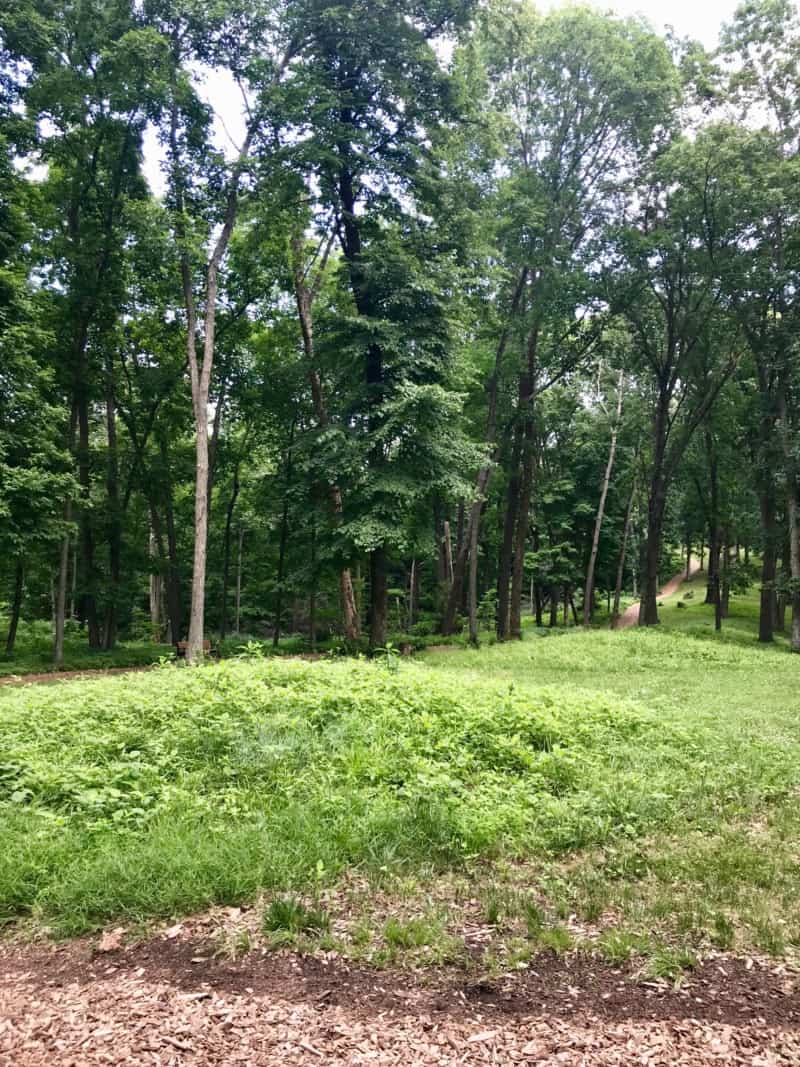 Let that sink in for a minute. Using stone and bone tools, carrying dirt in woven baskets, they took time from tasks that helped ensure their survival to build mounds for their dead. That speaks volumes about the importance of these formations in their culture.
Evolution Of The Mounds Into Effigies
Around 1,400 years ago, the people in this area began building more elaborate mounds. Long, narrow "linear" mounds, "compound" mounds, which combine conical and linear mounds, and "effigy" mounds, which resemble animals. These new types of mounds are much more rare – existing only in this corner of the upper Midwest.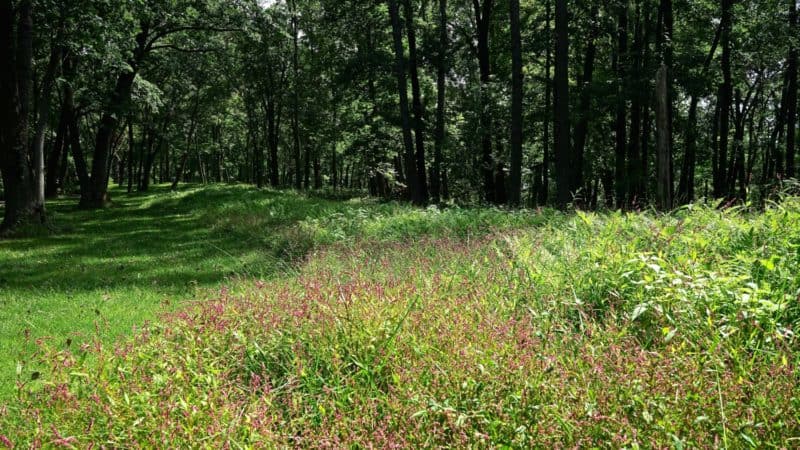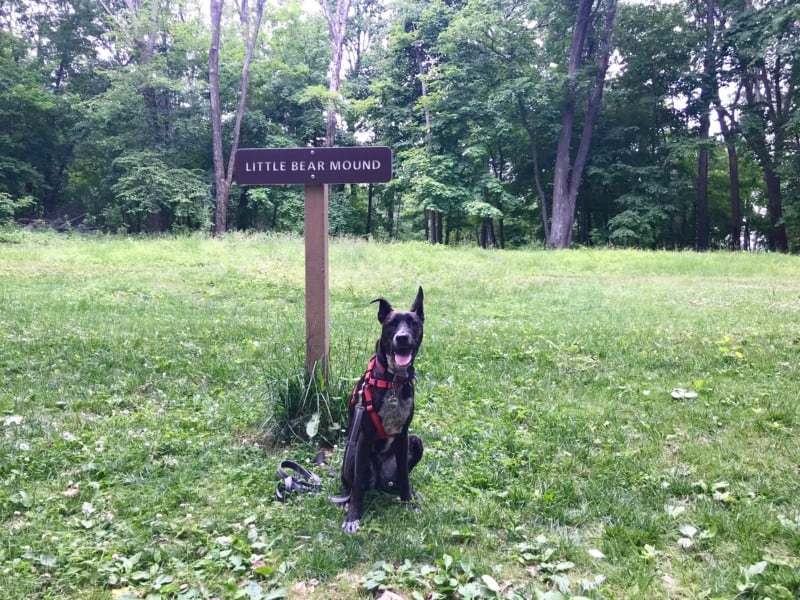 The mound building continued for about 550 years, and then archeologists believe that a major cultural transition occurred. The people began living in larger, permanent villages and spent more time on agriculture. That way of life continued for another 500 years or so, and then in the late 1600s European explorers reached this area.
Fur trade among the Native Americans, French, and British, flourished into the mid-1800s. In the 1840s, American settlers began arriving. They logged, plowed, and turned the land into farmland, destroying thousands of mounds in the process. Within a hundred years, fewer than 1,000 remained.
Visiting Effigy Mounds
Effigy Mounds National Monument was founded as part of the preservation effort. Covering 2,500 acres, the park protects 206 prehistoric mounds, 31 of which are in the shape of animals.
There is a deep sense of peacefulness and timelessness here — not surprising since this sacred land has been blessed by generations of Native Americans.
The park also offers ranger-led tours, primarily during the summer months. Well-behaved pets that won't disrupt the presentation are welcome to join you. During a visit years ago with Ty and Buster, we enjoyed the hike very much and learned a lot!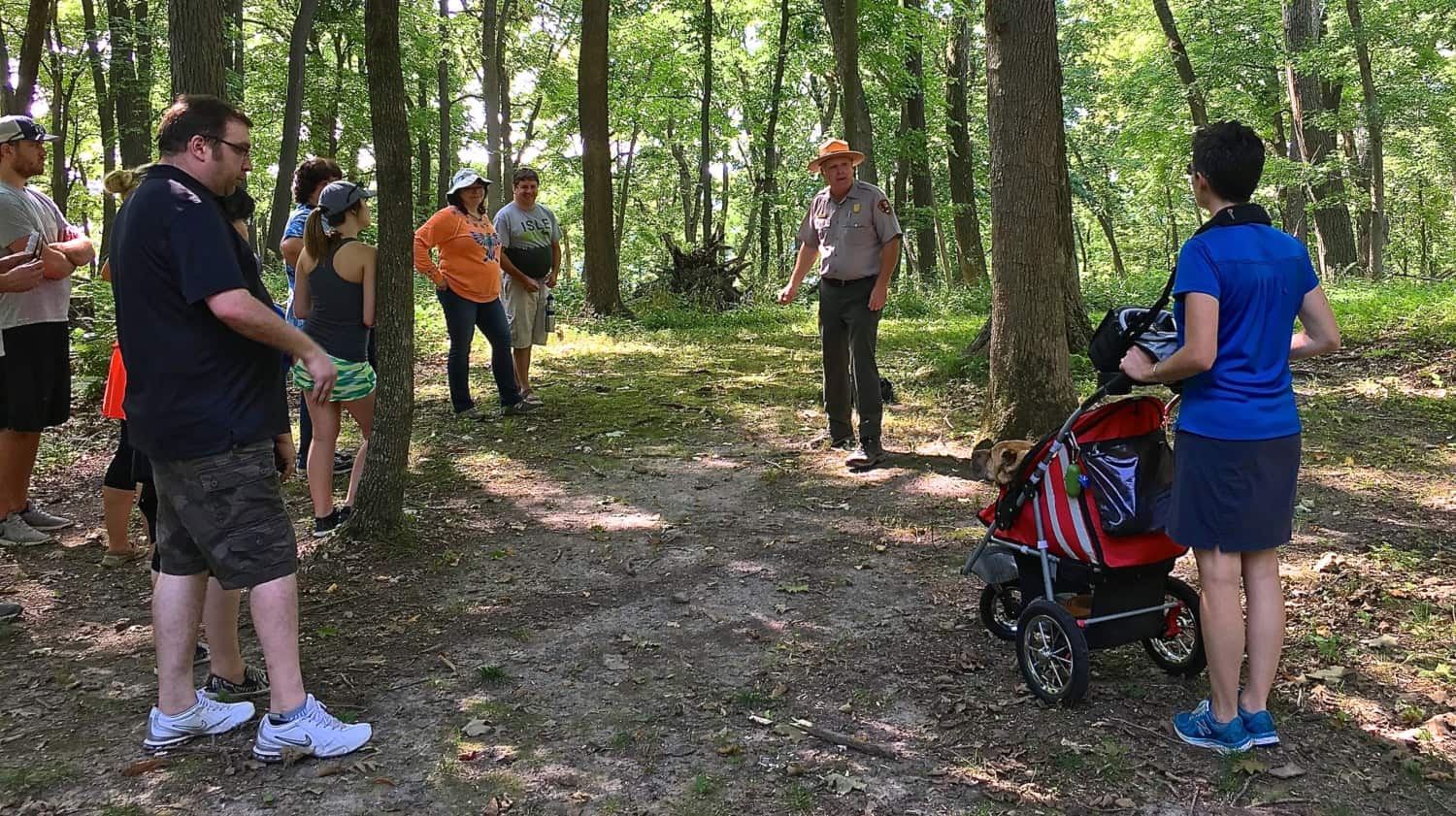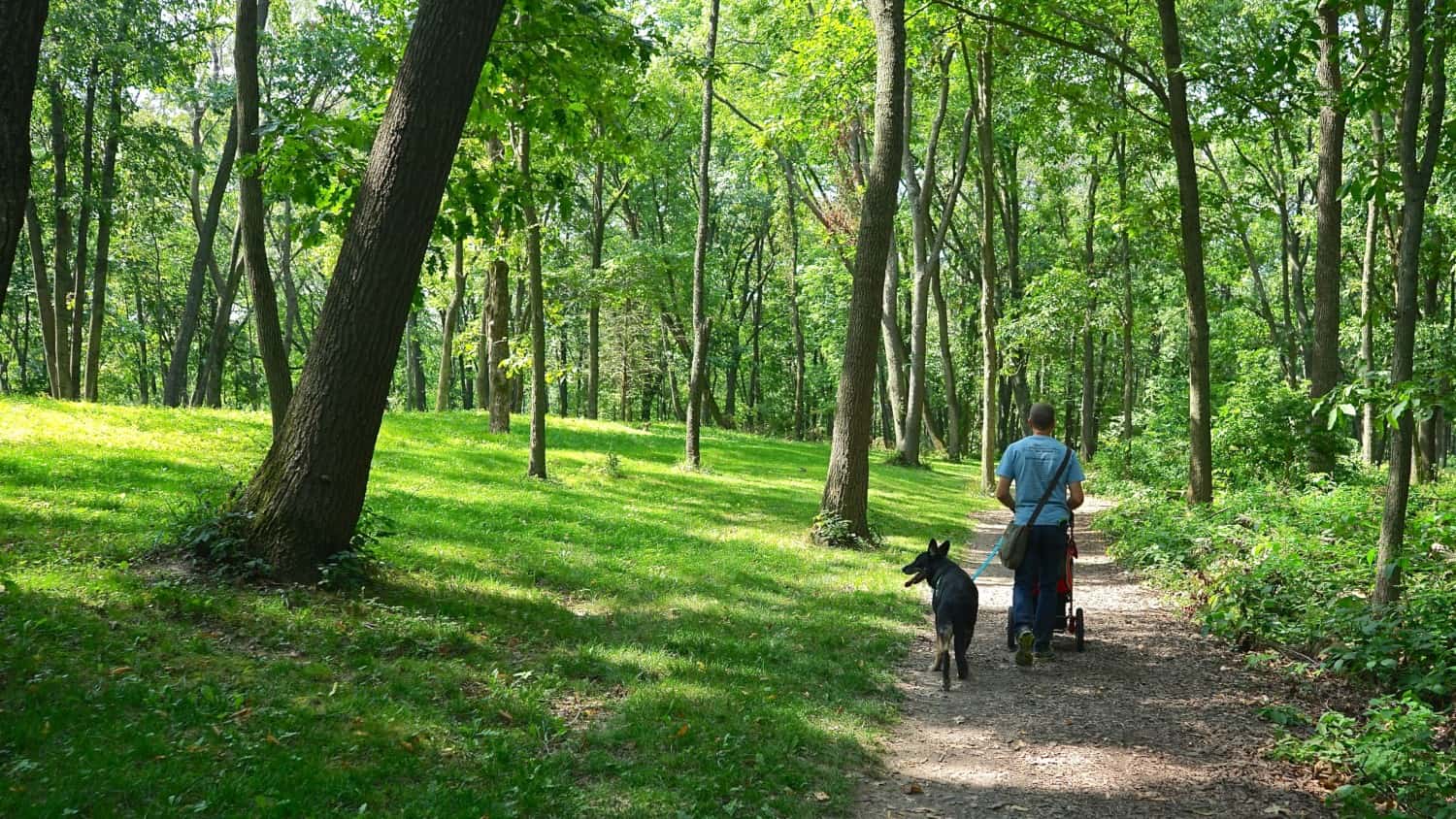 Pets at Effigy Mounds National Monument
Leashed pets can enjoy the park grounds and trails with you, as long as they are cleaned up after. Please be respectful of the mounds. Neither you nor your pets should walk on them.
Pet Rules at Effigy Mounds National Monument

Leashes are required
Pet waste must be picked up and disposed of properly
Pets cannot go inside park buildings, including the visitor center
There are several trails in the park, each offering a unique experience. Walking south from the visitor center takes you on an accessible trail past two ponds and over a boardwalk through the slough to the Yellow River. The wildlife viewing is incredible!
Hiking north from the visitor center requires a short but steep climb to the top of the bluff. Once on top, the trail levels out and has plenty of shade. The views are definitely worth the effort!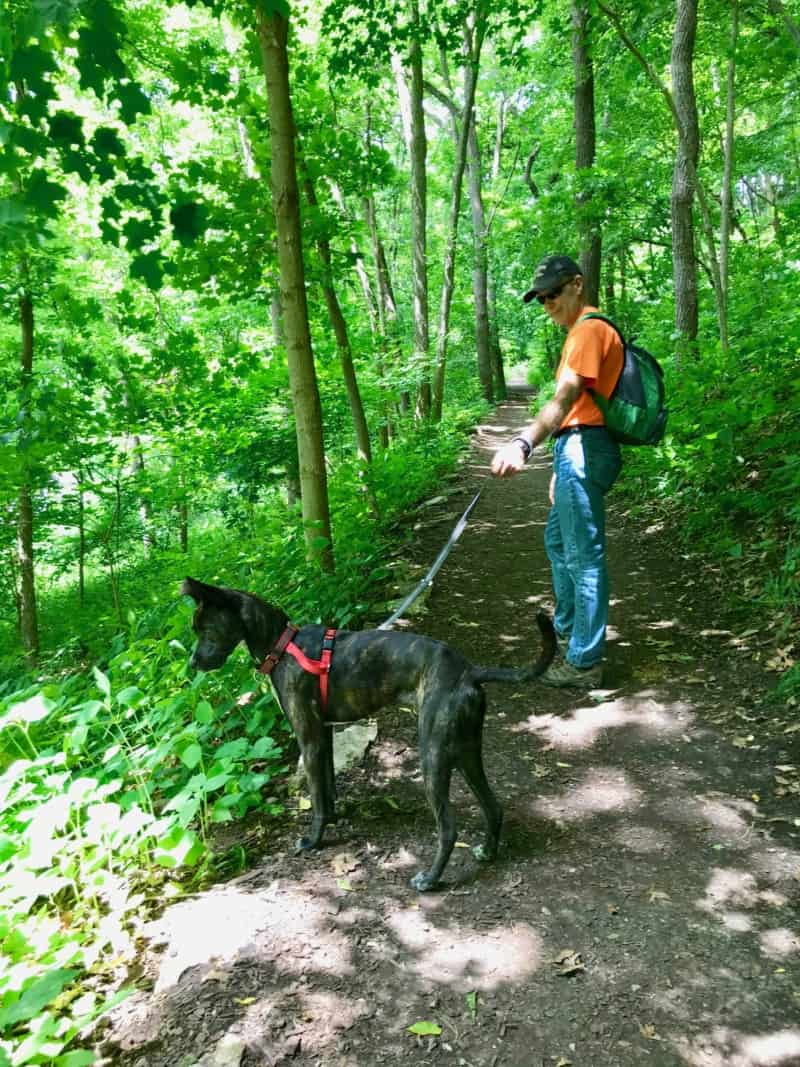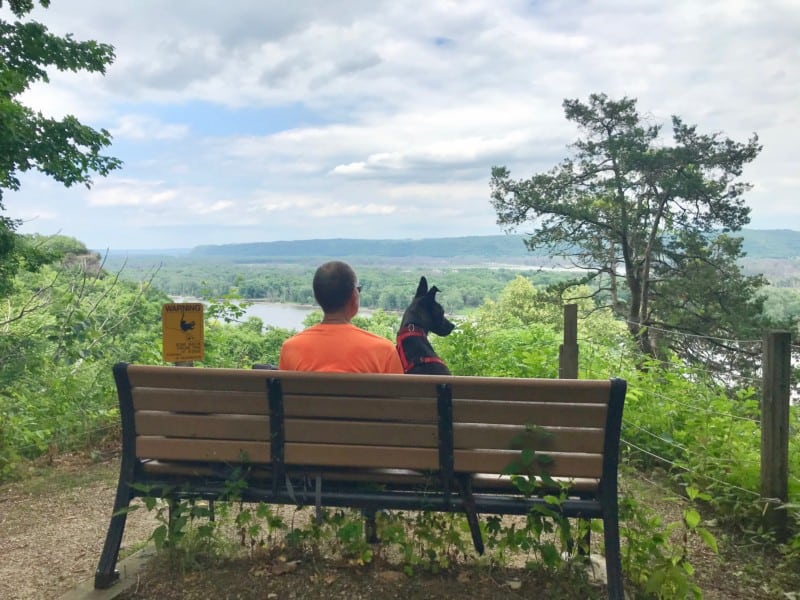 The trail winds along the bluff's edge, through hardwood forest, and along prairies. From the visitor center to Hanging Rock – the farthest point on the trail – is 3.5 miles one way. There are also several offshoots along the main trail that take you to views of the Mississippi River.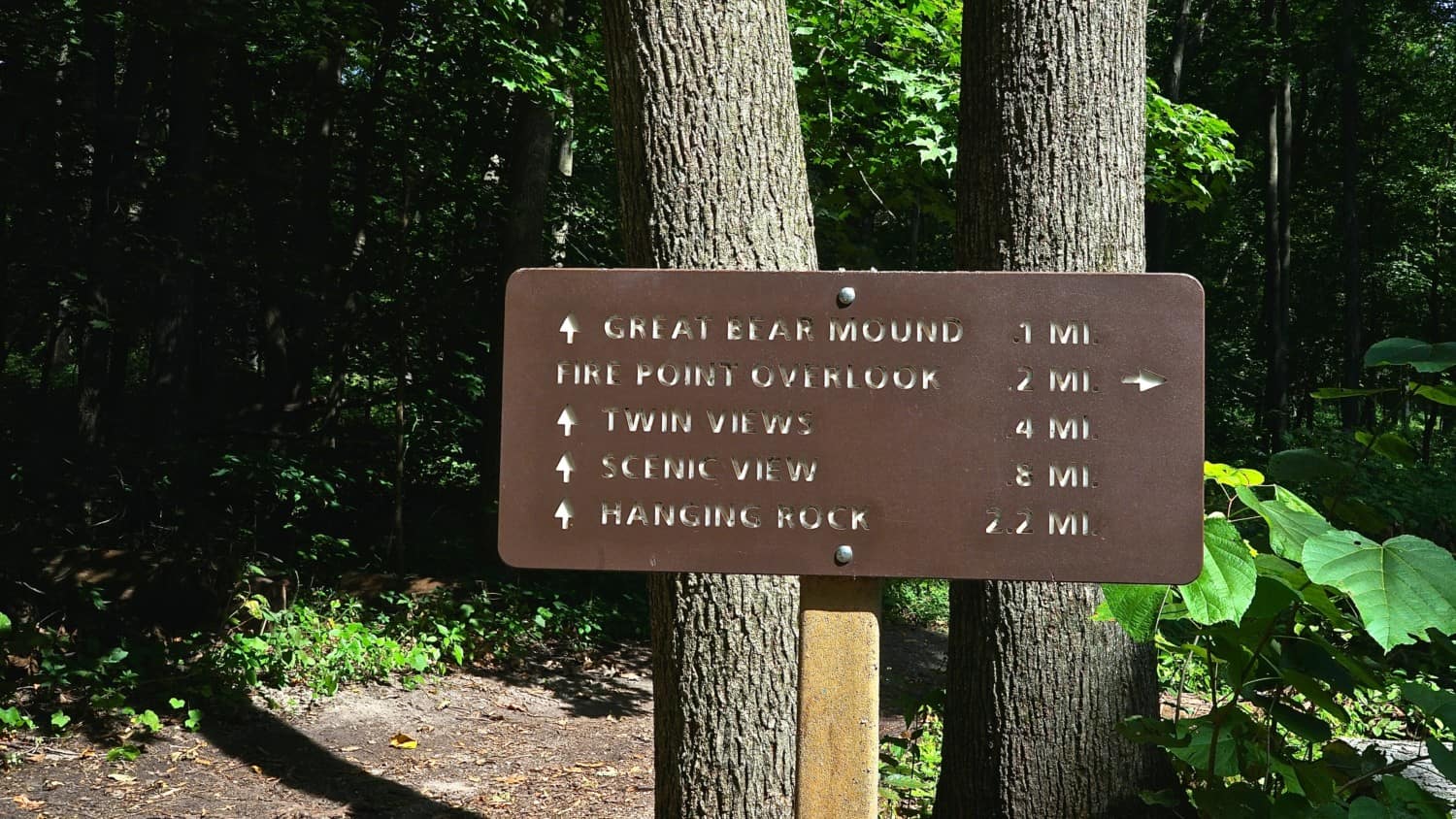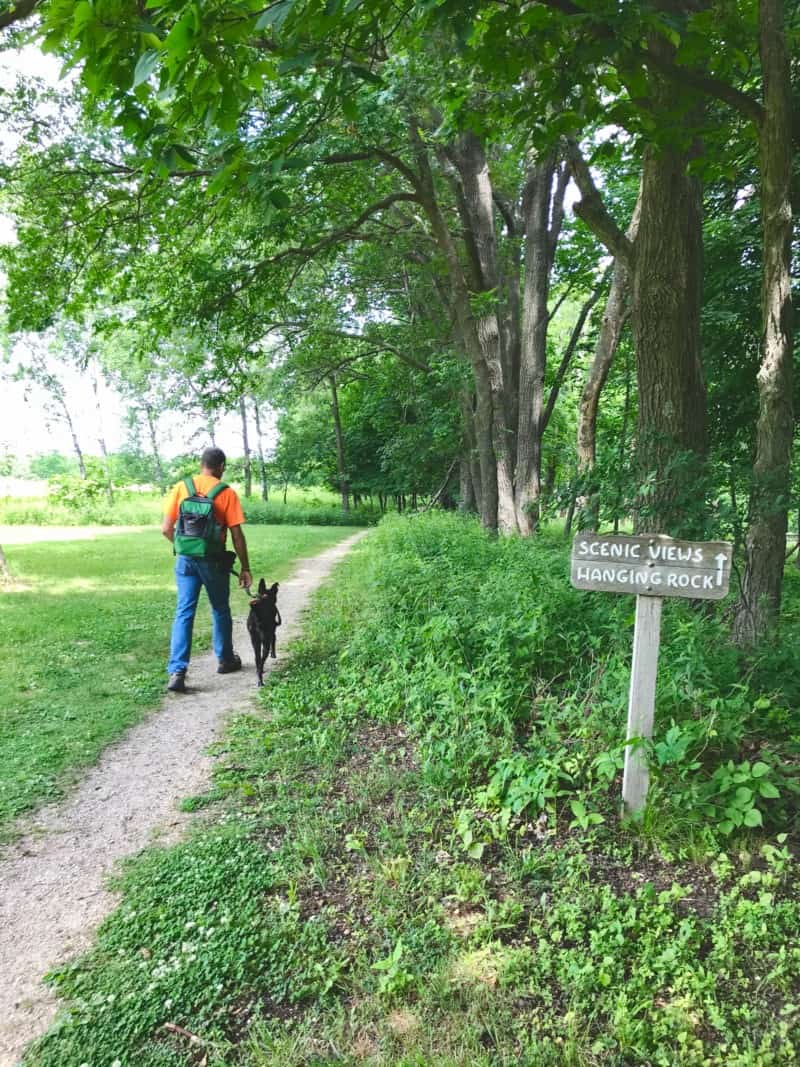 Next Time!
On our next visit we're looking forward to exploring more of the park's south unit. Parking at the day-use area on Hwy 76 gives you access to these trails. Again, expect a steep climb to the top of the bluff.
The hike to Nezekaw Point Overlook is a two-mile roundtrip, the Compound Mound Group and Marching Bear Group are both four-mile roundtrip hikes.

We've visited Effigy Mounds several times over the years and always enjoyed our time here. We hope you and your pets have a great time, too!
(Visited 5,350 times, 1 visits today)