This post is part of a series on The Ultimate Pet Friendly Road Trip, our 10-month, 15,000-mile tour of the top pet friendly attraction in each of the lower 48 states.
Maine's Top Pet Friendly Attraction: Acadia National Park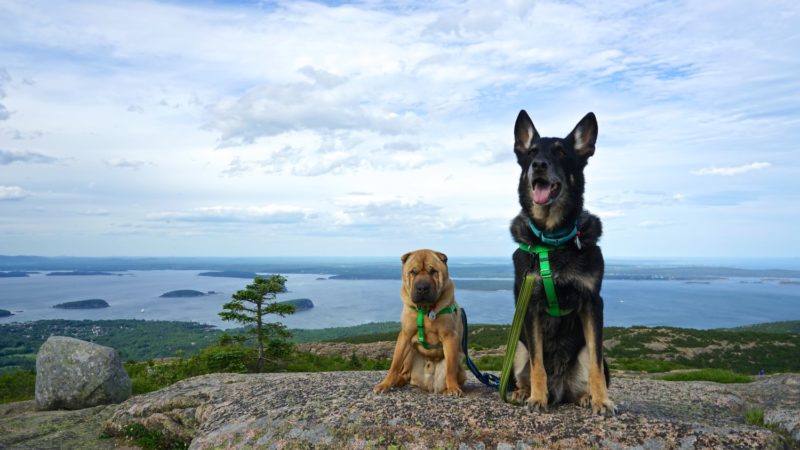 Getting to Acadia National Park requires commitment – positioned in the far northeastern corner of the country, it's not a place you're just going to happen upon. Boston is the closest major city, and that's a 250-mile drive! But like most things that only come with a bit of effort, Acadia's payoffs far exceed the investment – and for people traveling with pets, this is one national park that I guarantee will not disappoint.
Glaciers sculpted this magnificent landscape over thousands of years, rounding the mountain tops and etching deep valleys that now hold freshwater lakes and ponds. The advancing and retreating ice ground away at the surface layers, finally exposing the pink granite flecked with quartz that makes this area so unique. Now you can stand atop Cadillac Mountain, more than 1,500 feet above sea level, and contemplate those monumental forces as you gaze out across the bay dotted with islands and the expansive Atlantic Ocean beyond.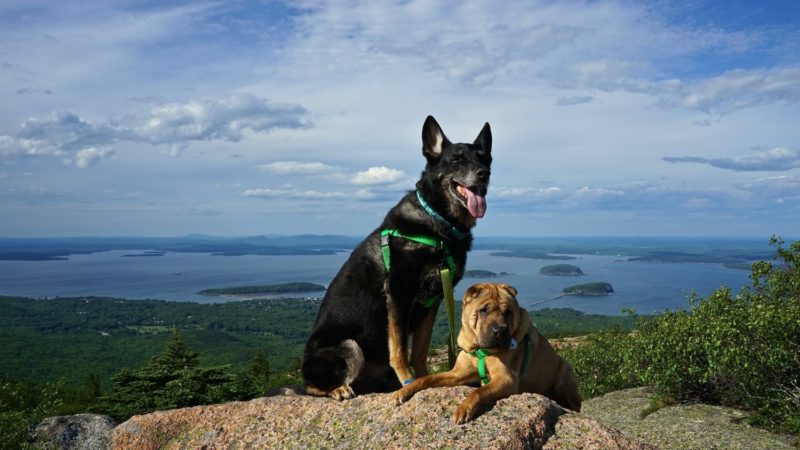 No matter your preference or ability level, you'll find enjoyable ways to explore Acadia. For those who love to hike, there are 100 miles of trails – lowland paths to mountain climbs – where your pet is welcome to join you. If walking or biking is more your speed, 45 miles of historic carriage roads await you and your pup. If you're up for a drive, the 27-mile scenic loop offers spectacular vistas and ample opportunity to stretch your legs as you make your way around.
Pets in Acadia National Park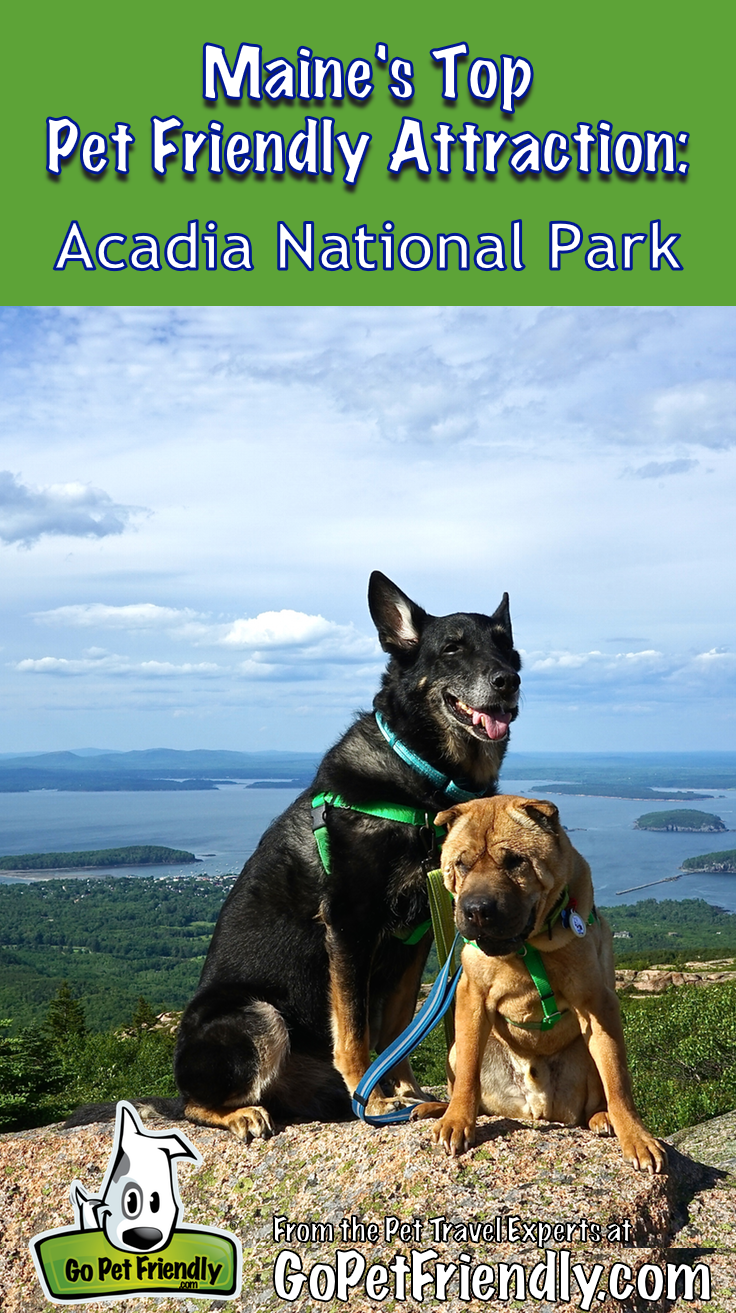 Acadia is one of the most pet friendly national parks in the country, so you'll find plenty to do here with your best friend! The only trails that don't allow dogs are those that require the use of ladders – that leaves 100 miles of trails for you and your dog to sniff. All of the carriage roads are open to pets, and they were perfect for navigating with Ty's stroller. Pets are also welcome in most public areas and on the free shuttles run throughout the park and around the island.
Rules for Pets in Acadia National Park

Pets must be leashed at all times and all waste must be cleaned up and disposed of properly
Pets are welcome on 100 miles of trails and 45 miles of carriage roads throughout the park
Blackwoods, Seawall, and Schoodic Woods campgrounds permit pets
On Isle au Haut, pets are permitted for day hiking only
Pets are not allowed inside public buildings, on ranger-led programs, at Duck Harbor Campground, at Wild Gardens of Acadia, and on Sand Beach (June 15-September 8) and Echo Lake Beach (May 15-September 15)
Certain trails are closed to pets because of difficult terrain
Scenic Park Loop Road
Driving the Park Loop Road is a great way to get your bearings when you arrive at Acadia. Though it's only 27 miles, it will likely take you two to three hours with stops along the way to admire the scenery, and perhaps a short walk to a few overlooks. This is where you'll get some of the best views of the rugged shoreline and steep cliffs, so allow plenty of time to take it all in.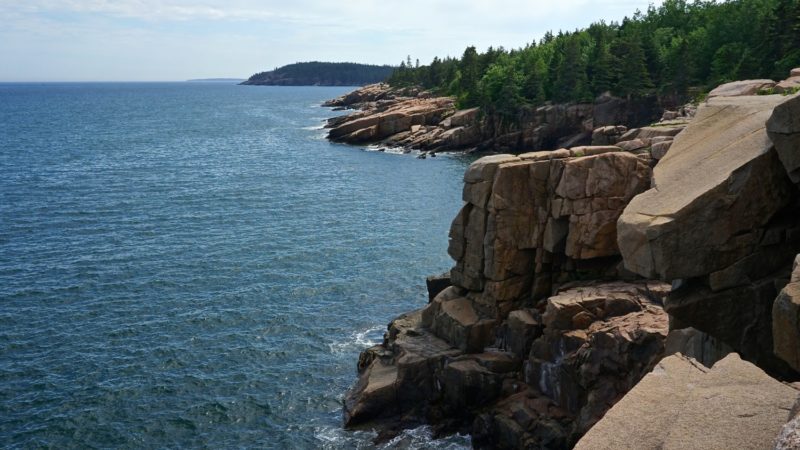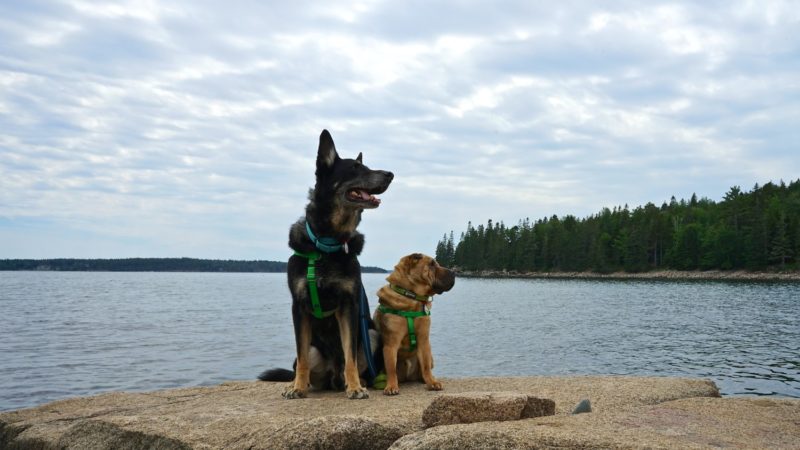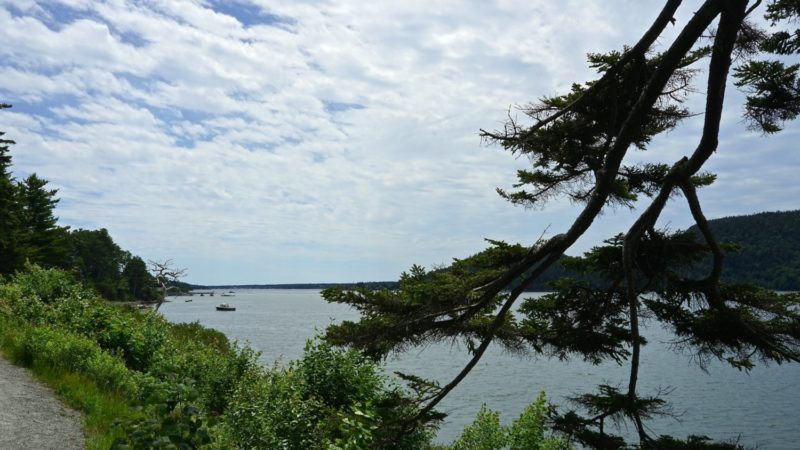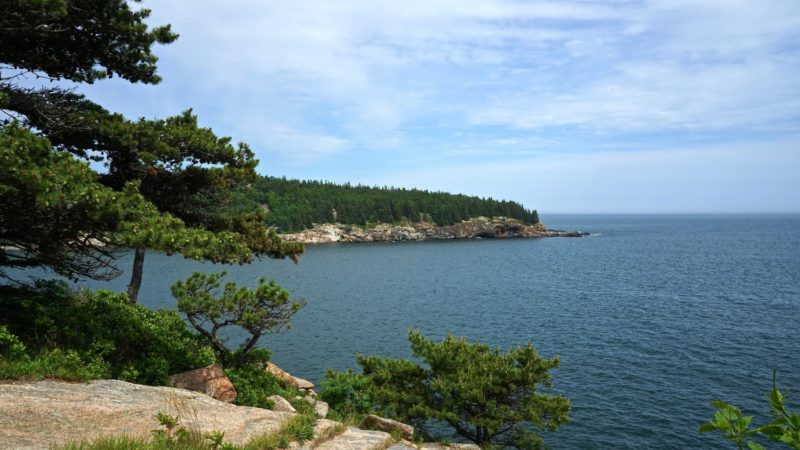 Jordan Pond House
The Jordan Pond House restaurant is on the west side of Park Loop Road overlooking Jordan Pond. Dogs are welcome to join you on the porch or at the picnic tables on the lawn for lunch, afternoon tea, or dinner, and the kitchen is famous for its baked popovers, homemade ice cream, and fresh Maine seafood.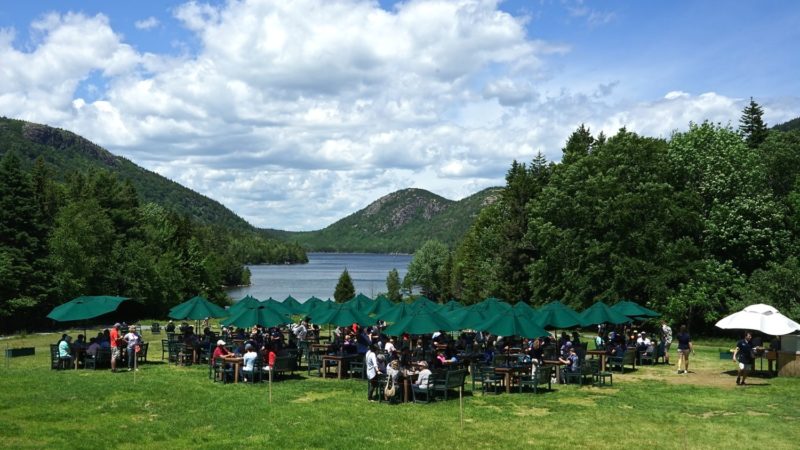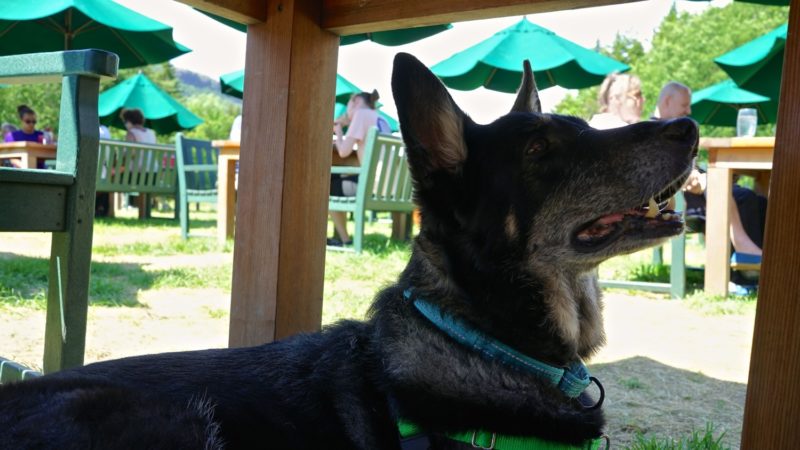 If you splurged on the popover ice cream sundae (and I recommend you do!), the trail around Jordan Pond provides an opportunity to burn off some of those calories. The path goes all the way around the lake, but is rockier on the west side. The good news is, either side will provide a spectacular view, with North Bubble and South Bubble in the background.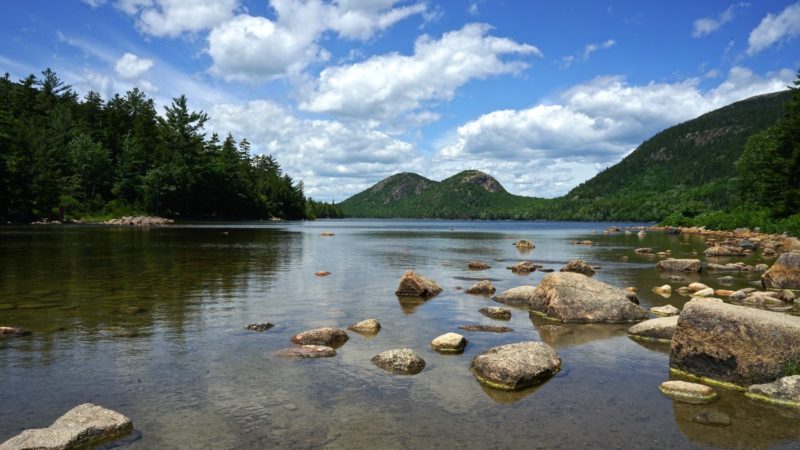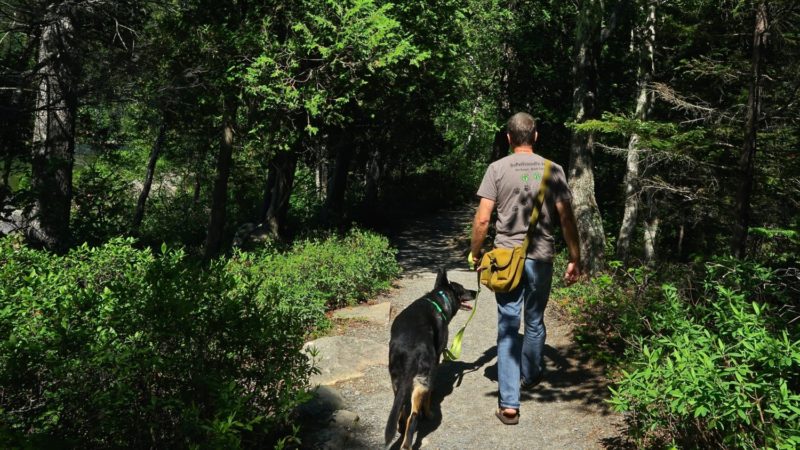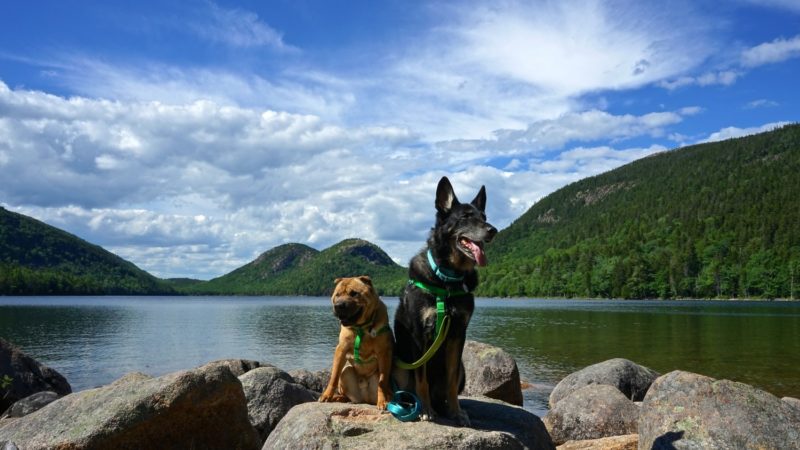 The Carriage Roads
Forty-five miles of carriage roads, built between 1913 and 1940, wind through the heart of Acadia. Their construction was paid for and supervised by John D. Rockefeller, Jr. so that he and others could enjoy the park on motor-free byways. Originally intended to accommodate horse and carriages, these roads are now popular with walkers and bicyclists.
The park office will provide you with a map of the carriage roads, which highlights the 17 stone-faced bridges, each unique in design, that span the streams, waterfalls, roads, and cliffsides. We selected a six-mile route around Eagle Lake, and found it to be the perfect way to experience the tranquility of the park with Buster and Ty.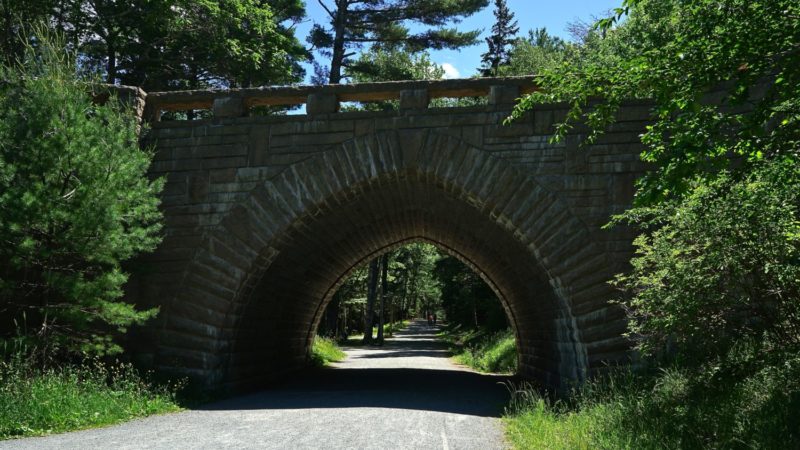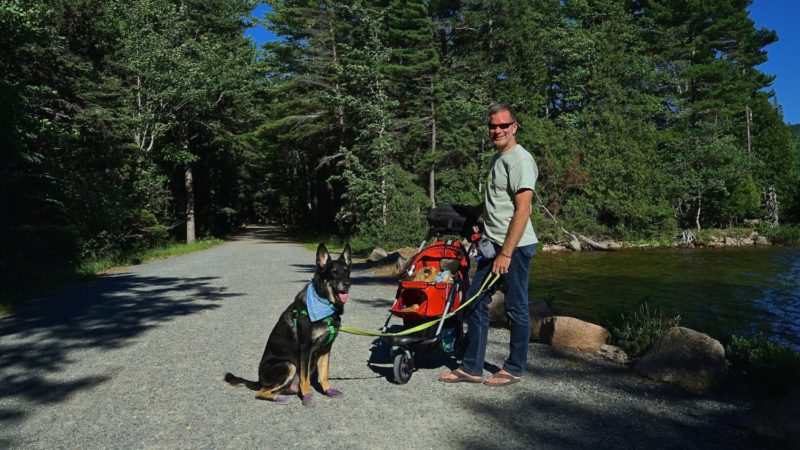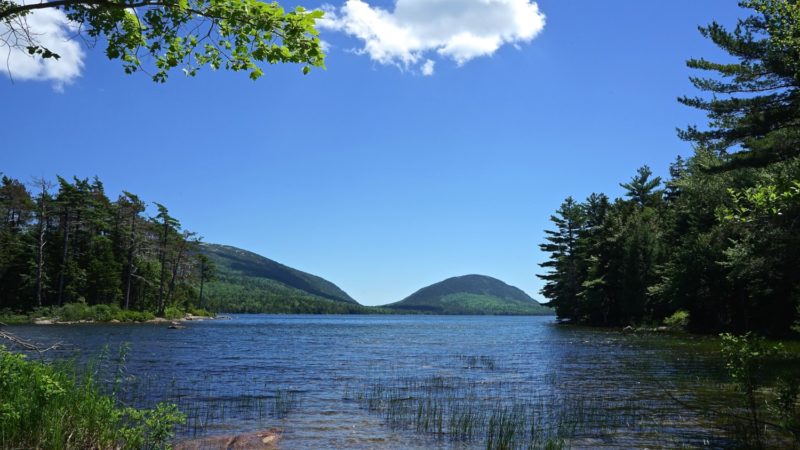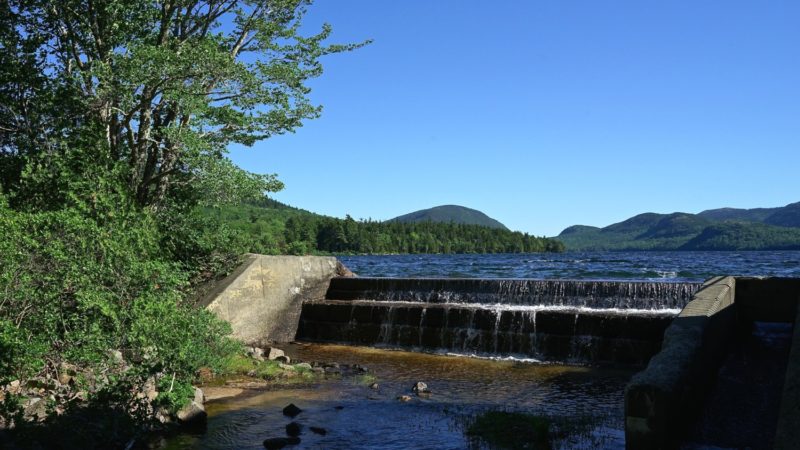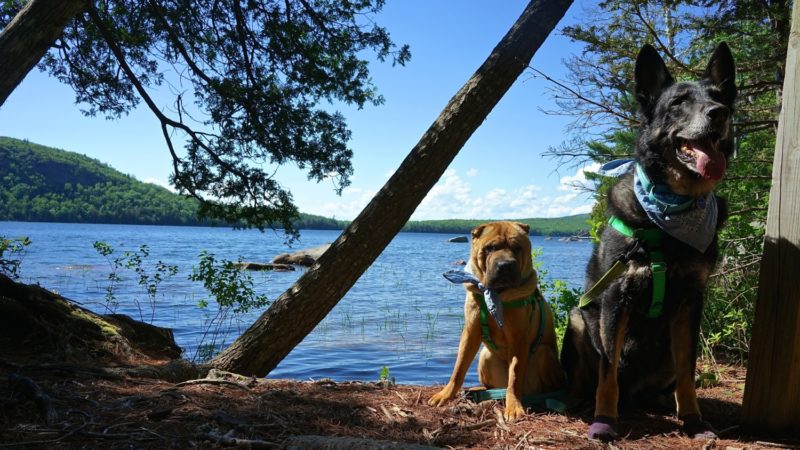 Off-leash Play at Little Long Pond
Just outside the National Park border is a 1,000-acre park called Little Long Pond. Formerly owned by the Rockefeller family, this land was donated to, and is now managed by, the Land and Garden Preserve. Dogs are welcome to leave their leashes behind while they swim in the pond, splash in the stream, romp in the woods and meadows, or stroll the trails and carriage roads that criss-cross the preserve.  There is no road sign marking this spot, so keep an eye out for the distinctive gate at Bracy Cove between Seal Harbor and Northeast Harbor.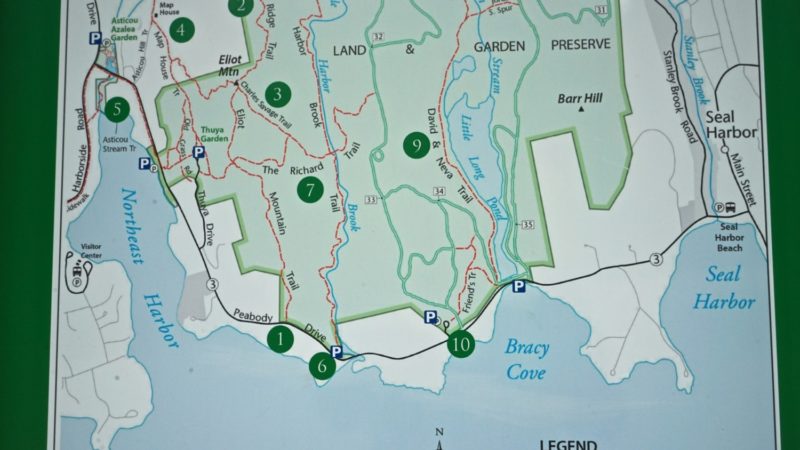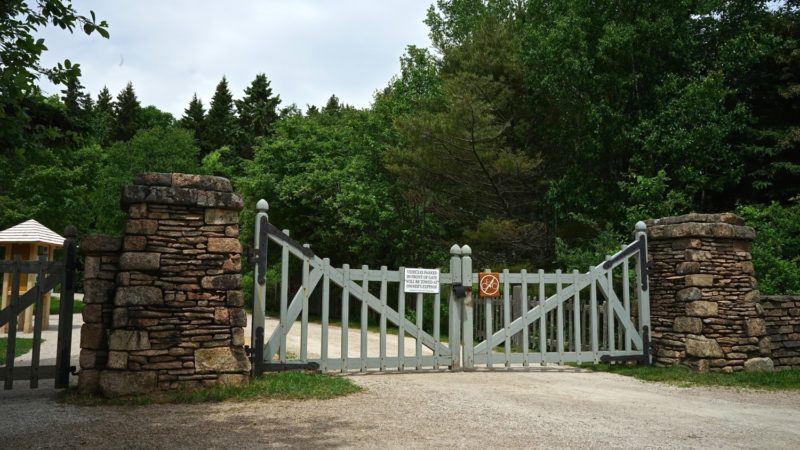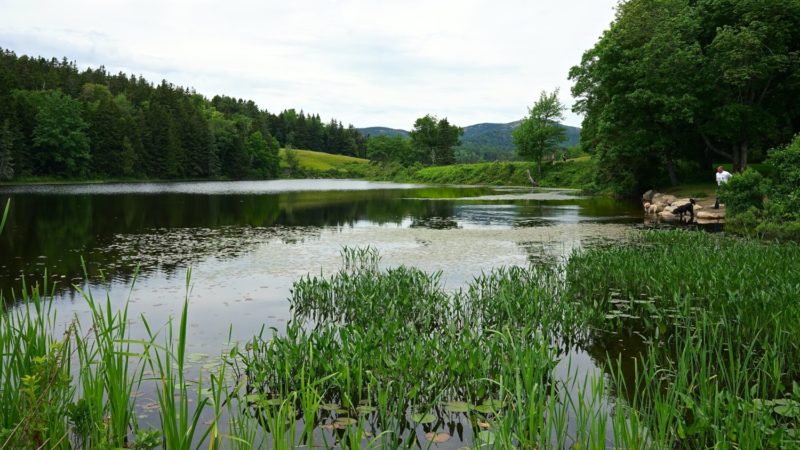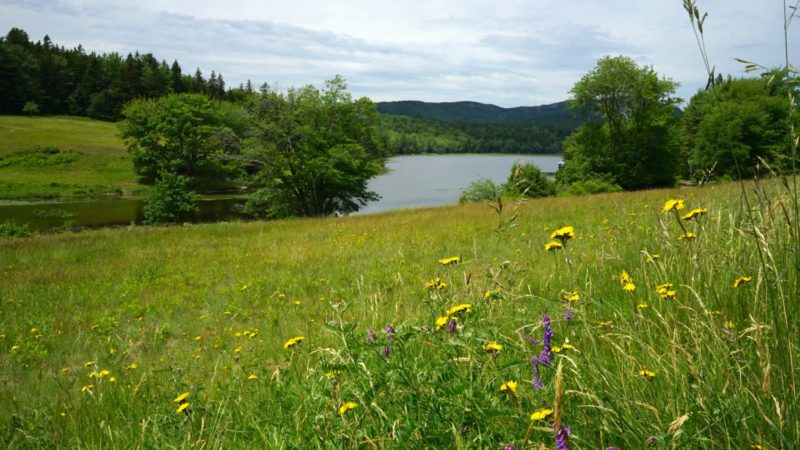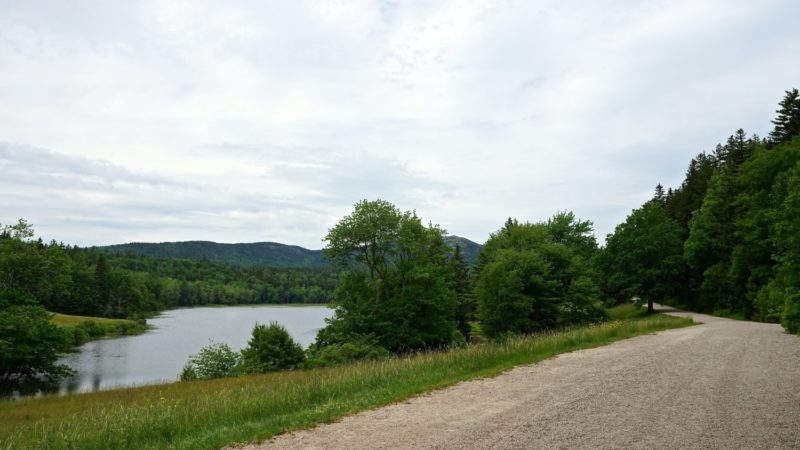 Off the Beaten Path
Many of Acadia's visitors never venture beyond the Park Loop Road and the town of Bar Harbor. While it's a fun little town, it can feel a bit crowded – especially if you're trying to navigate it with your dog. When you're ready for a break from the mobs, take a drive over to Bass Harbor. Stop by the Bar Harbor Head Lighthouse, and then get a bite at Seafood Ketch. The patio is pet friendly, the seafood is right off the dock, and the views can't be beat!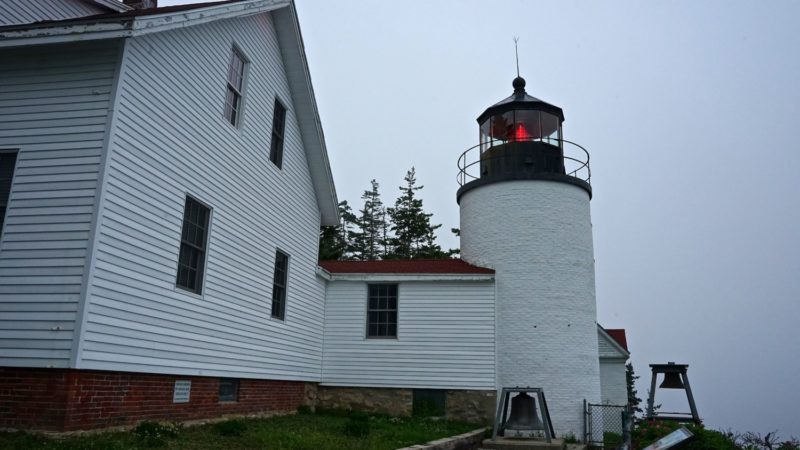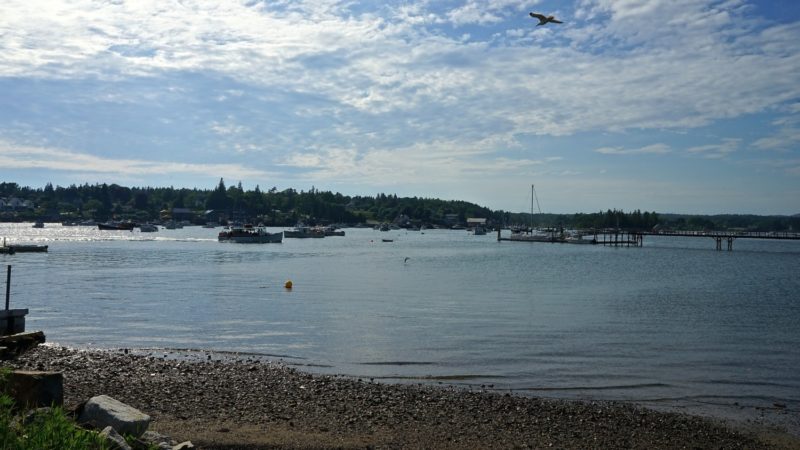 Thank You to our Sponsors
Visiting these attractions with Ty and Buster is a dream come true. We'll be blogging about each one as we go along, so fasten your seatbelt and stay tuned!
The Ultimate Pet Friendly Road Trip wouldn't be possible without the support of our wonderful sponsors: Winnebago, 2 Hounds Design, Alcott, goDog®, PetGuide.com, Red Roof Inns, Sleepypod, The Bark, PetHub, RVPetSafety.com, and The Honest Kitchen. Please be sure to visit their websites and social media pages and thank them for their participation!
Amazon Affiliate Disclosure: GoPetFriendly.com LLC is a participant in the Amazon Services LLC Associates Program, an affiliate advertising program designed to provide a means for website owners to earn advertising fees by advertising and linking to amazon.com, audible.com, and any other website that may be affiliated with Amazon Service LLC Associates Program. As an Amazon Associate, the owner of this site earns a commission from qualifying purchases.
(Visited 17,220 times, 1 visits today)