This post is part of a series on The Ultimate Pet Friendly Road Trip, our 10-month, 15,000-mile tour of the top pet friendly attraction in each of the lower 48 states.
New Hampshire's Top Pet Friendly Attraction: Mount Washington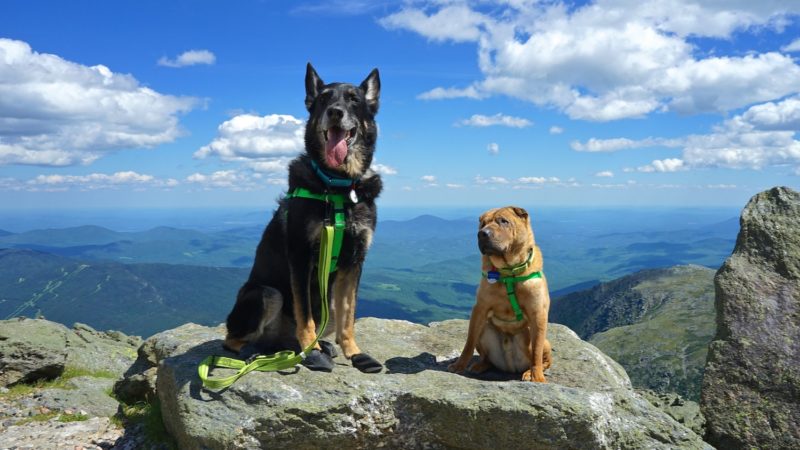 The native people who inhabited this area believed that The Great Spirit lived atop what is now known as Mount Washington and kept the peak shrouded in clouds. No matter what your beliefs, this is a mystical place where the weather has such fury it can leave you feeling insignificant and wondering whether the gods have turned against you.
The wind at the summit exceeds hurricane force (75 mph) more than 100 days a year. The peak is enveloped in clouds 60% of the time. Snow can fall year round, and nearly 300 inches settle here each year. So, seeing this mountain in jeans and t-shirts, on a perfectly sunny day with a mild breeze, was better than we could have hoped for … but it's exactly what we got! And the views were unbelievable.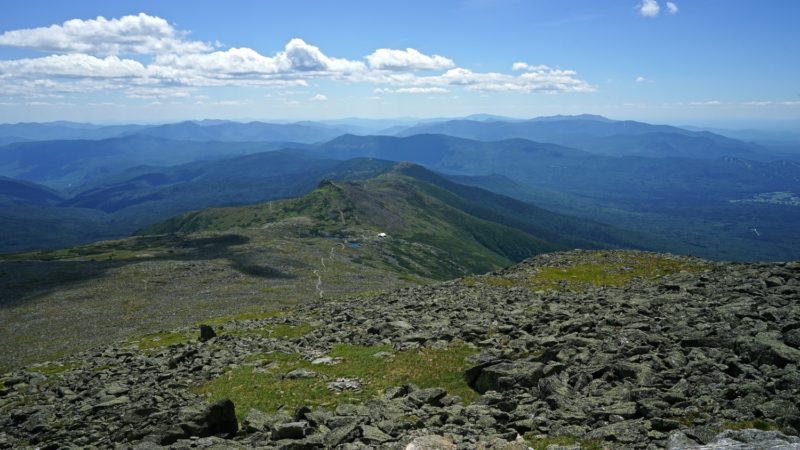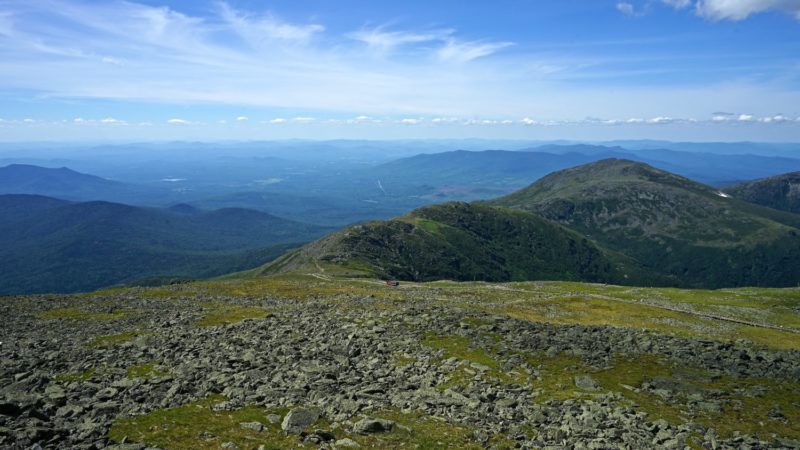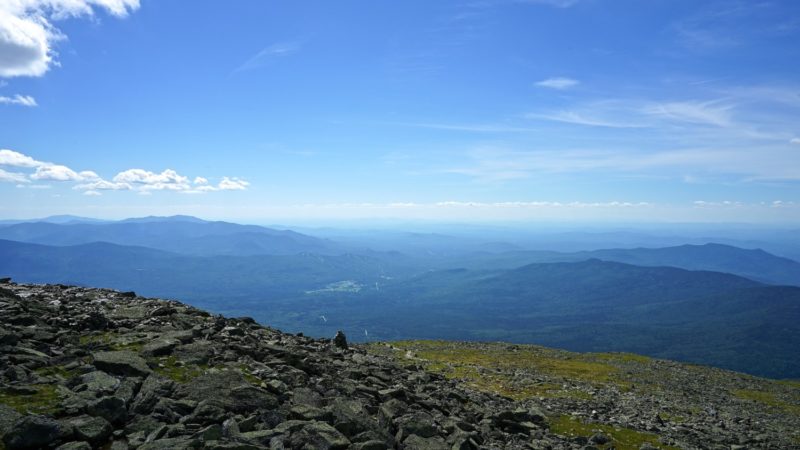 Getting to the top of Mount Washington is a bit of an adventure in itself! From the base lodge at 1,563 feet in elevation, the climb is 4,725 feet to the 6,288-foot peak.
You can hike it: the Appalachian Trail crosses the summit, or take the Crawford Path, the oldest mountain hiking trail in the United States. It was laid out as a bridle path in 1819 and has been in use ever since.
You can drive it: the Auto Road – long known as the Carriage Road – was completed in 1861 and all eight miles were constructed with hand tools, horse and oxen, and old-fashioned blasting powder. If you're not a fan of heights, you might want someone else to drive so you can close your eyes.
You can ride the Cog Railway, though this option is not pet friendly.
Finally, you can take a guided tour, though these are not pet friendly. In the summer 2- or 3-hour narrated tours leave from the base station daily (except during special events). In the winter, SnowCoaches provide 90-minute tours when the weather permits.
For obvious reasons, we opted to drive up, and noticed the weather report for the summit as we passed through the toll booth … Temperature: 48 degrees, Wind: 15 miles per hour, Visibility: 80 miles.
Driving slowly is a must. The road is narrow, there are blind corners, and most areas do not have guardrails. But we found plenty of turn outs and opportunities for walks and short hikes along the way. On the way up, you pass through four ecological zones – take special care not to step on the delicate plants growing in the alpine zone. They struggle enough to stay alive at this elevation without being trampled.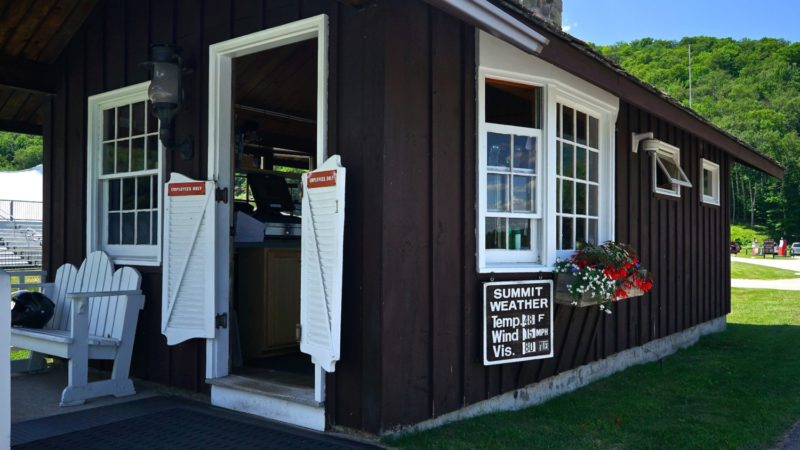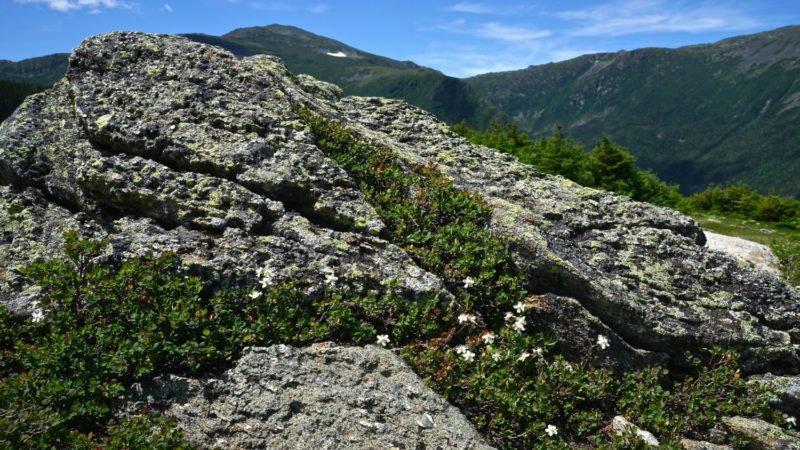 Once you reach the top, there are some exhibits to enjoy in addition to the incredible views. Set within the 750,000-acre White Mountain National Forest, the 60 acres surrounding the peak are designated as Washington Mountain State Park. And though pets are not allowed in any of the buildings, it's easy to take turns stepping inside to look around.
The Tip-Top House was built in 1853 to accommodate overnight guests and has been restored in the style of that time. The Summit House, fastened to the ground by chains over it's roof, is where the world record surface wind speed of 231 mph was recorded on the afternoon of April 12, 1934. The Sherman Adams Summit Building has restrooms, information, a gift shop, and a cafeteria. The Mount Washington Observatory provides insights into the science and excitement of a Mount Washington winter and, if your timing is right, you'll get to see the cog railway trains arrive and depart!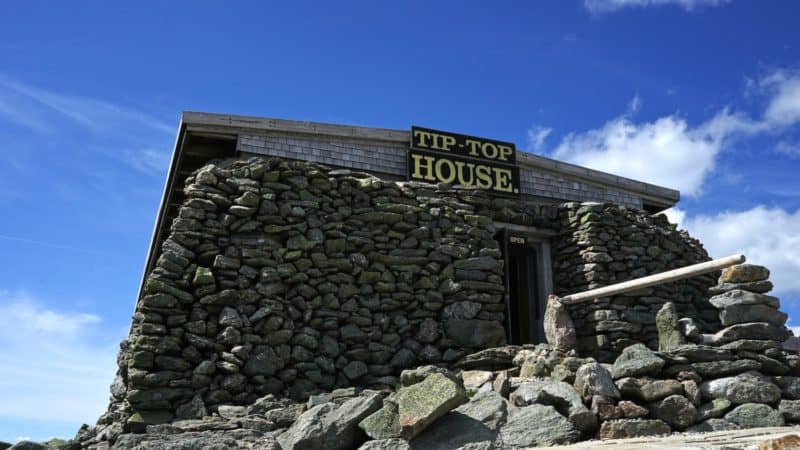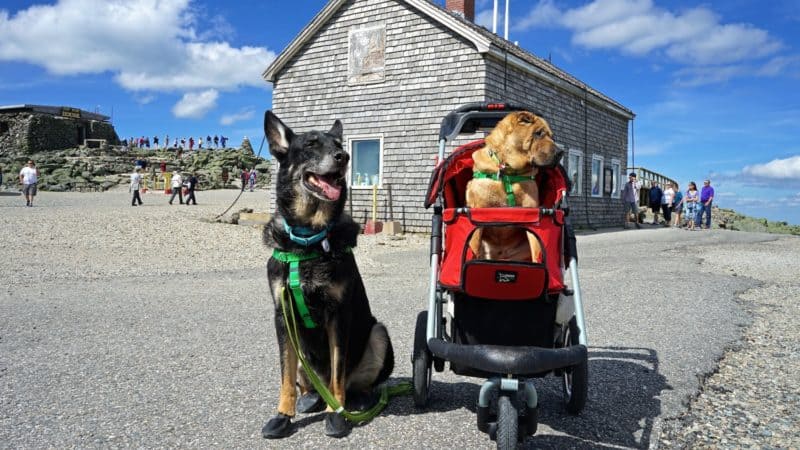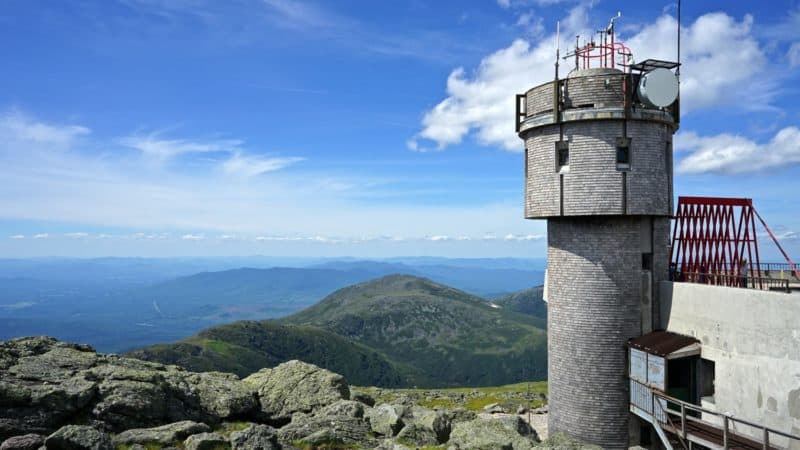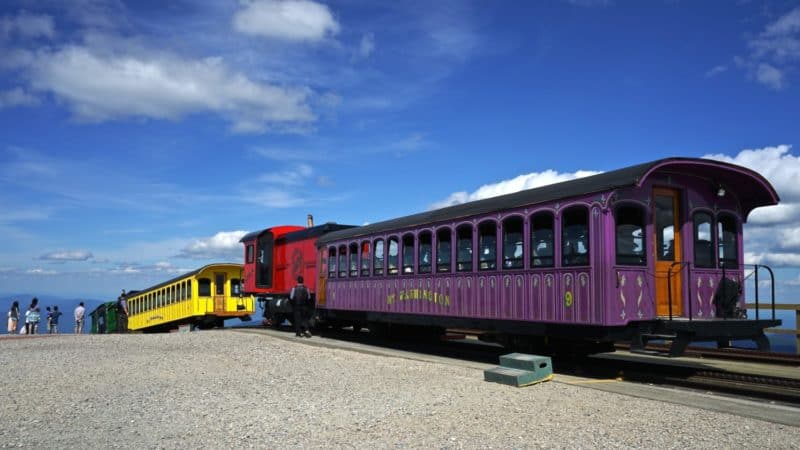 Rather than hiking up the mountain, you may want to go for a jaunt once you arrive at the top. There are three trails that provide spectacular views, but keep in mind that the ground is rocky, and your pup may want some protection for his feet. Also, be prepared for unpredictable weather. We packed coats, knowing the forecast was for temps in the 40's during the day – but when we arrived, we were comfortable in shirtsleeves!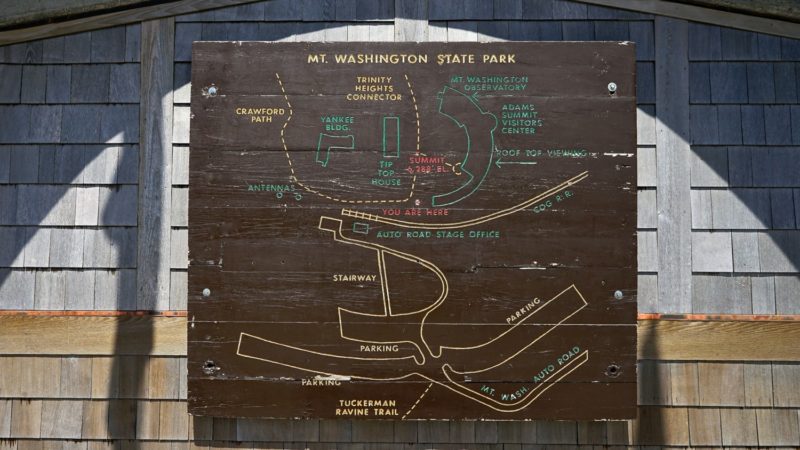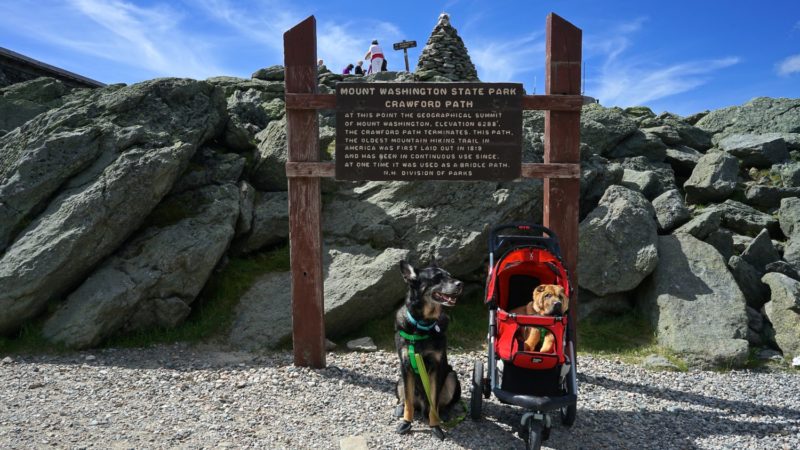 Pets at Mount Washington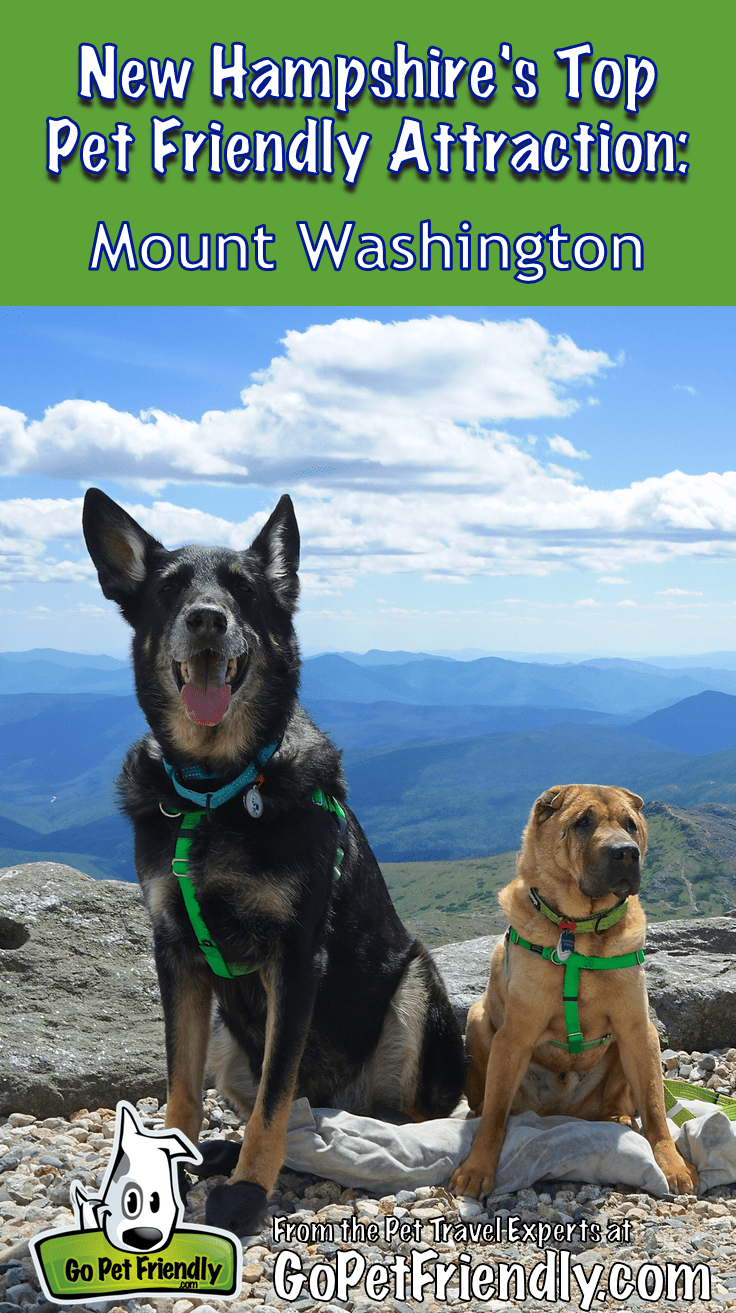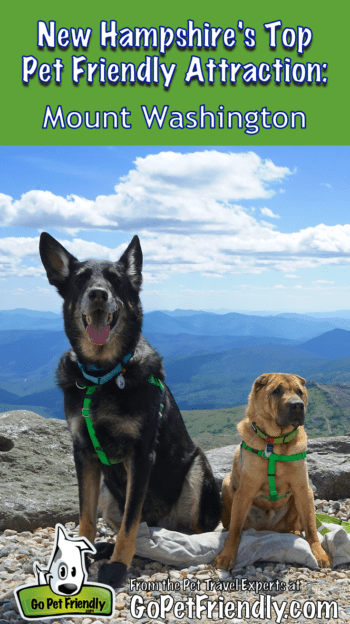 Pets are welcome throughout Mount Washington State Park and the White Mountain National Forest, but are not allowed inside public buildings. Pets must be leashed in the State Park and in all developed areas in the National Forest (campgrounds, trail heads, picnic areas, etc.). Outside developed areas, pets in the National Forest may be under voice control, but please be aware that this is bear and moose country – wildlife, cliffs, and waterfalls all pose serious dangers to off-leash dogs.
Pet Rules at Mount Washington

Leashed pets are welcome throughout Mount Washington State Park and the White Mountain National Forest
Pets are not allowed inside public buildings
Pets under voice control may be off-leash in undeveloped areas of the White Mountain National Forest, but care should be taken to protect your pet from dangerous wildlife, terrain, and waterfalls
Pets are not allowed on the cog railway or on the guided tours of Mount Washington
Though this mountain was sacred to the Native Americans, Ty and Buster were full of the devil during our visit! Luckily, we caught some of their mischief in the photos. Here's Ty trying to push Buster off the mat they were sharing … and then looking completely innocent when he got caught.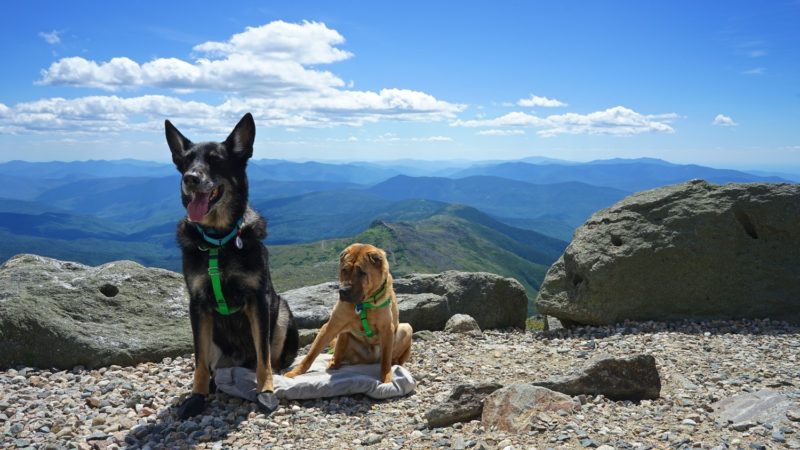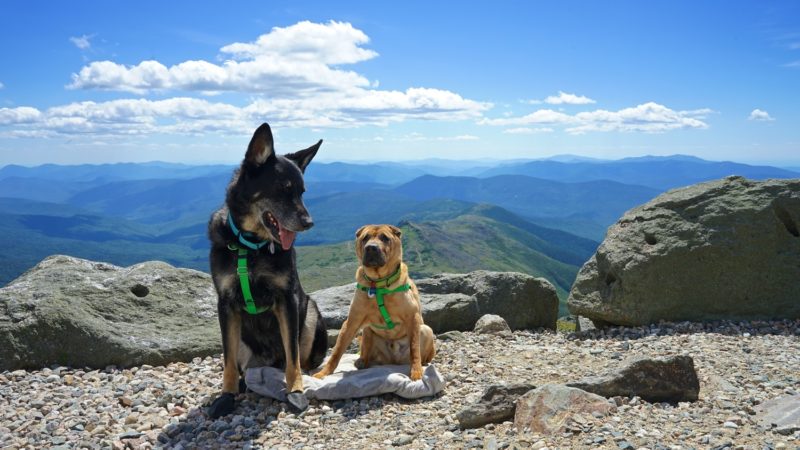 And here's Buster, letting Ty know what he thinks of his antics …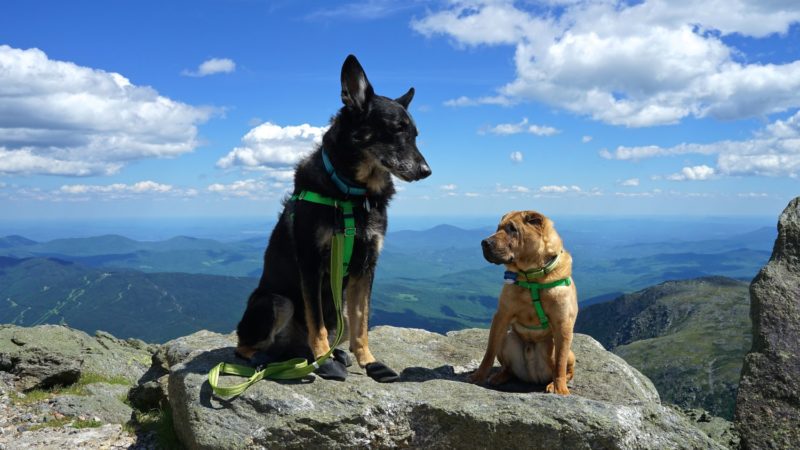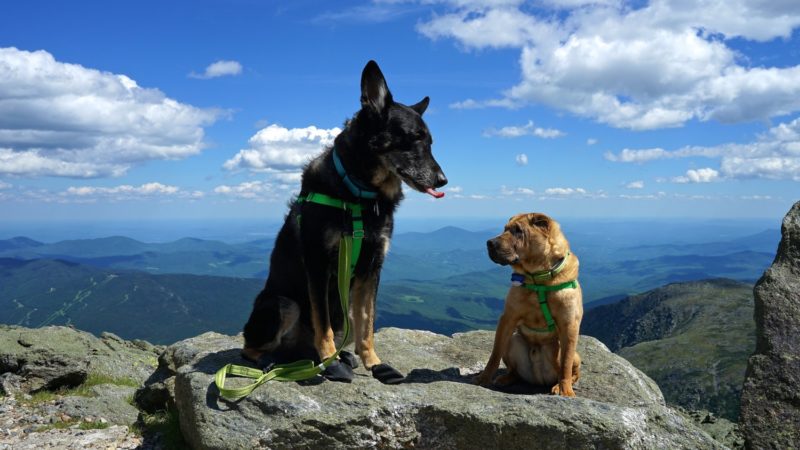 More Pet Friendly Fun
If you're in the area waiting for a clear day on Mount Washington, there is an amazing variety of pet friendly things to do in the area!
1. Stop in at the Androscoggin Ranger District (300 Glen Road, Gorham) for some friendly and informative advice on area hikes in the White Mountain National Forest.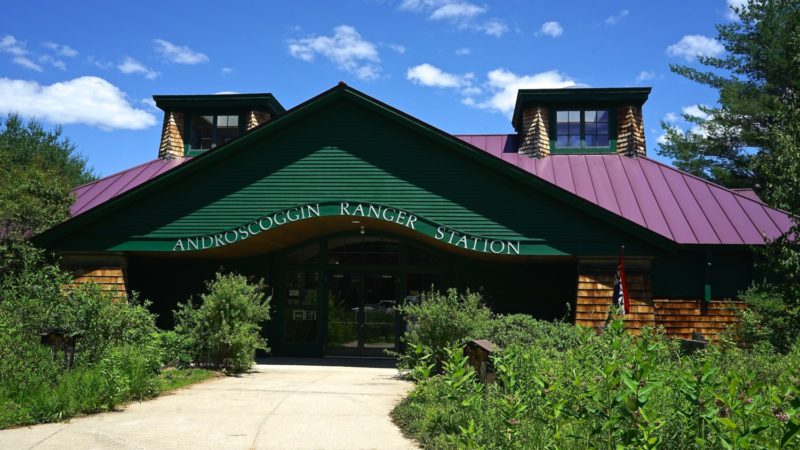 These shorter hikes are a great way to get out and experience some of the national forest:
An accessible, interpretive trail is being constructed from the visitor center to the river
Lost Pond – 1 mile walk, following the Appalachian Trail along a mountain stream with views of Mount Washington
Glen Ellis Falls – this short hike can be combined with the Lost Pond hike for a longer outing. Just 0.3 miles from the parking area, the view of the 66-foot falls is a special treat. Climbing down 100 rock steps will take you to the base of the falls.
Square Ledge – a half-mile trail with a steep climb to the top of this rock outcropping for excellent views of Mount Washington and Pinkham Notch
2. The White Mountains Trail is a 100-mile round-trip driving tour of some of America's most spectacular scenery. Pick up a map of this National Scenic Byway, and enjoy the attractions along the way.
3. The Great Glen Trails Outdoor Center is located at the base lodge of Mount Washington and offers trails and carriage roads for your exploration, as well as guided kayak tours and kayak rentals that are pet friendly.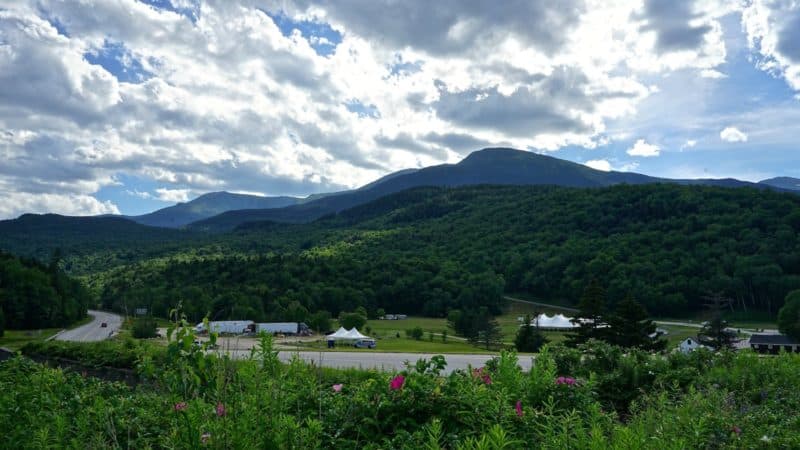 4. Franconia Notch State Park provides more great hiking options and beautiful scenery like "The Basin," though dogs are not allowed on the paved, multi-use trail.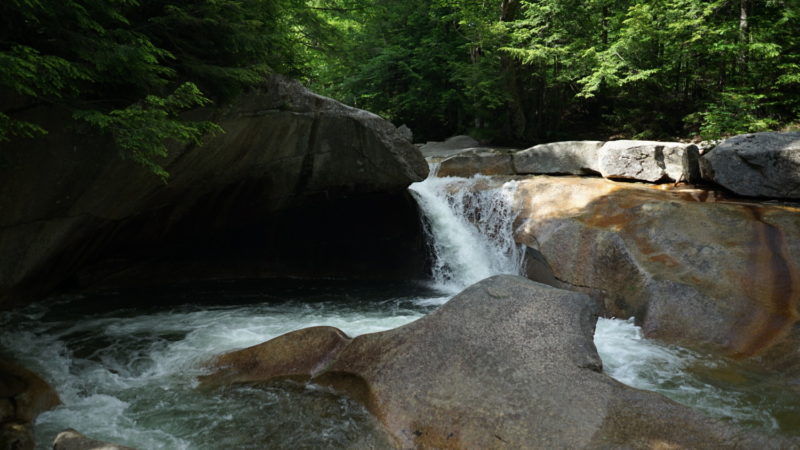 5. Waterfalls go with mountainous terrain, and the White Mountains boasts 26 spectacular falls! Grab a "White Mountains Map and Guide" and check them off as you go along.
Thank You to our Sponsors
Visiting these attractions with Ty and Buster is a dream come true. We'll be blogging about each one as we go along, so fasten your seatbelt and stay tuned!
The Ultimate Pet Friendly Road Trip wouldn't be possible without the support of our wonderful sponsors: Winnebago, 2 Hounds Design, Alcott, goDog®, PetGuide.com, Red Roof Inns, Sleepypod, The Bark, PetHub, RVPetSafety.com, and The Honest Kitchen. Please be sure to visit their websites and social media pages and thank them for their participation!
Planning a pet friendly trip of your own? We'll make it easy:
Pet Friendly Hotels | Pet Friendly Destinations | Pet Friendly Activities
Amazon Affiliate Disclosure: GoPetFriendly.com LLC is a participant in the Amazon Services LLC Associates Program, an affiliate advertising program designed to provide a means for website owners to earn advertising fees by advertising and linking to amazon.com, audible.com, and any other website that may be affiliated with Amazon Service LLC Associates Program. As an Amazon Associate, the owner of this site earns a commission from qualifying purchases.
(Visited 16,766 times, 1 visits today)