Scattered between the US mainland and Vancouver Island, British Columbia, the number of islands making up the San Juans depends on whether the tide is in or out. At the average high tide, the archipelago includes over 400 islands and rocks – 128 of them have names. Nothing inspires adventure like driving your car aboard a ferry and sailing off to parts unknown! So during your visit to Washington's Whidbey Island be sure to plan a pet friendly day trip to pet friendly San Juan Island.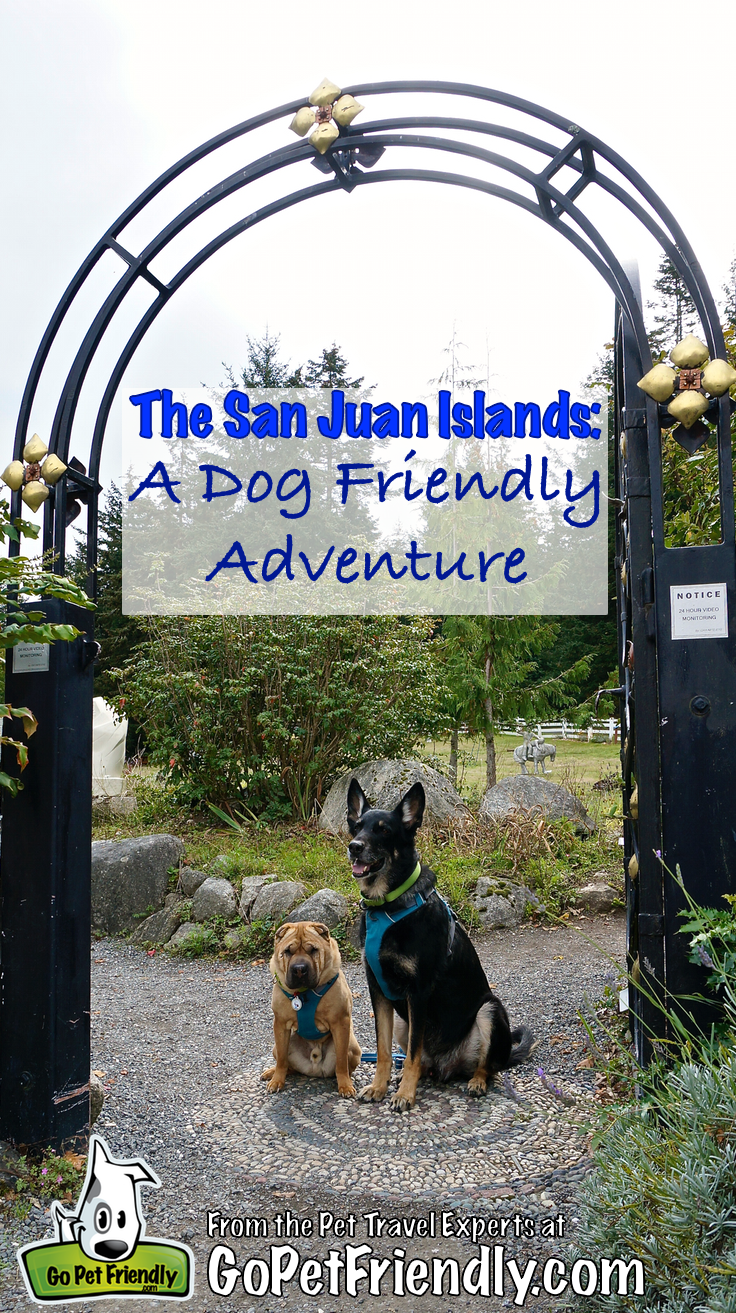 Exploring Pet Friendly San Juan Island
Departing from Anacortes, ferries serve the four primary islands, Lopez, Shaw, Orcas, and San Juan. Visiting San Juan, the largest of the islands at 55 square miles, is something we've wanted to do ever since our friends at Dog Jaunt wrote about it!
Ferry schedules vary by season, so check the website for current information. Also, some ferries on this route travel between Canada and the US. Those vessels will be subject to US Customs and Border Inspection, so it's a good idea to take your passport and your pet's rabies certificate, in case the most convenient sailing happens to be a ship en route from Canada.
Pets are welcome aboard Washington State ferries, and the rules regarding animal passengers are pretty simple:
Pets must be leashed, housebroken, under control, and attended to at all times.

If they're inside a carrier, pets can ride in the passenger cabin.

Pets are welcome in the exterior passenger spaces for the duration of the voyage. (If you must pass though the interior space to get outdoors, take the most direct route and don't linger inside.)

Pets cannot go in the terminal buildings.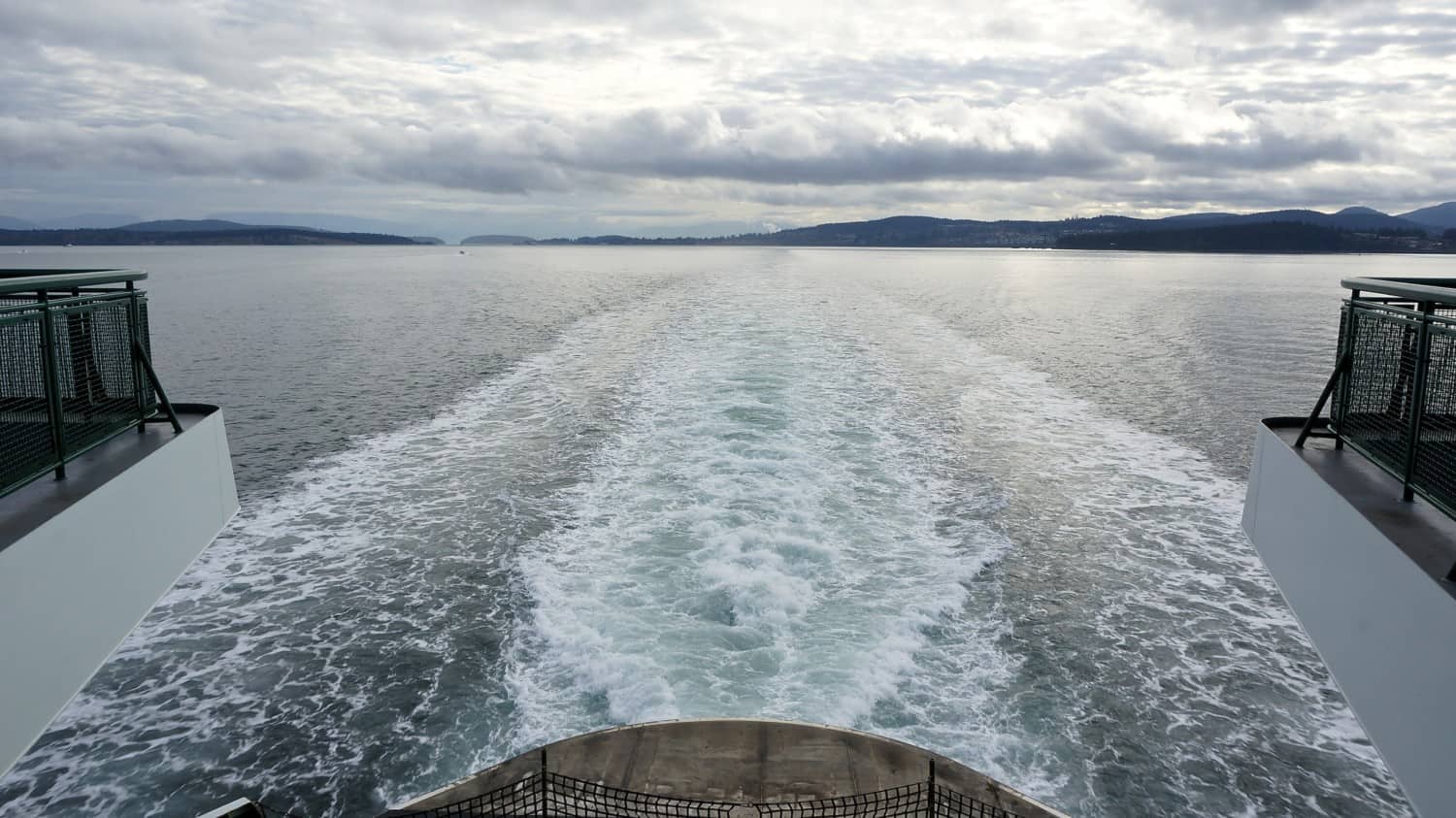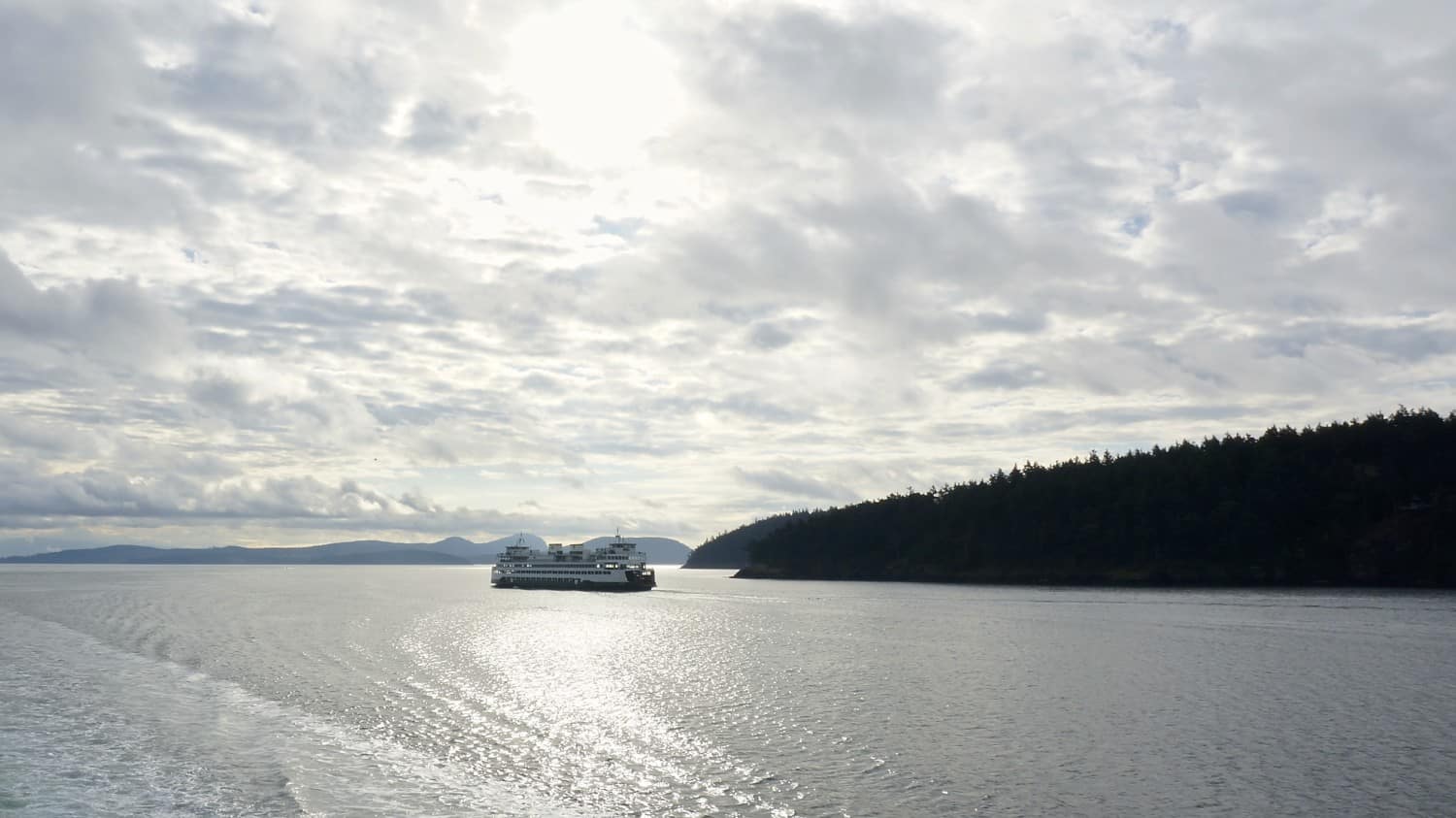 San Juan Island
The ferry crossing took about an hour, and this view greeted us as we arrived in Friday Harbor: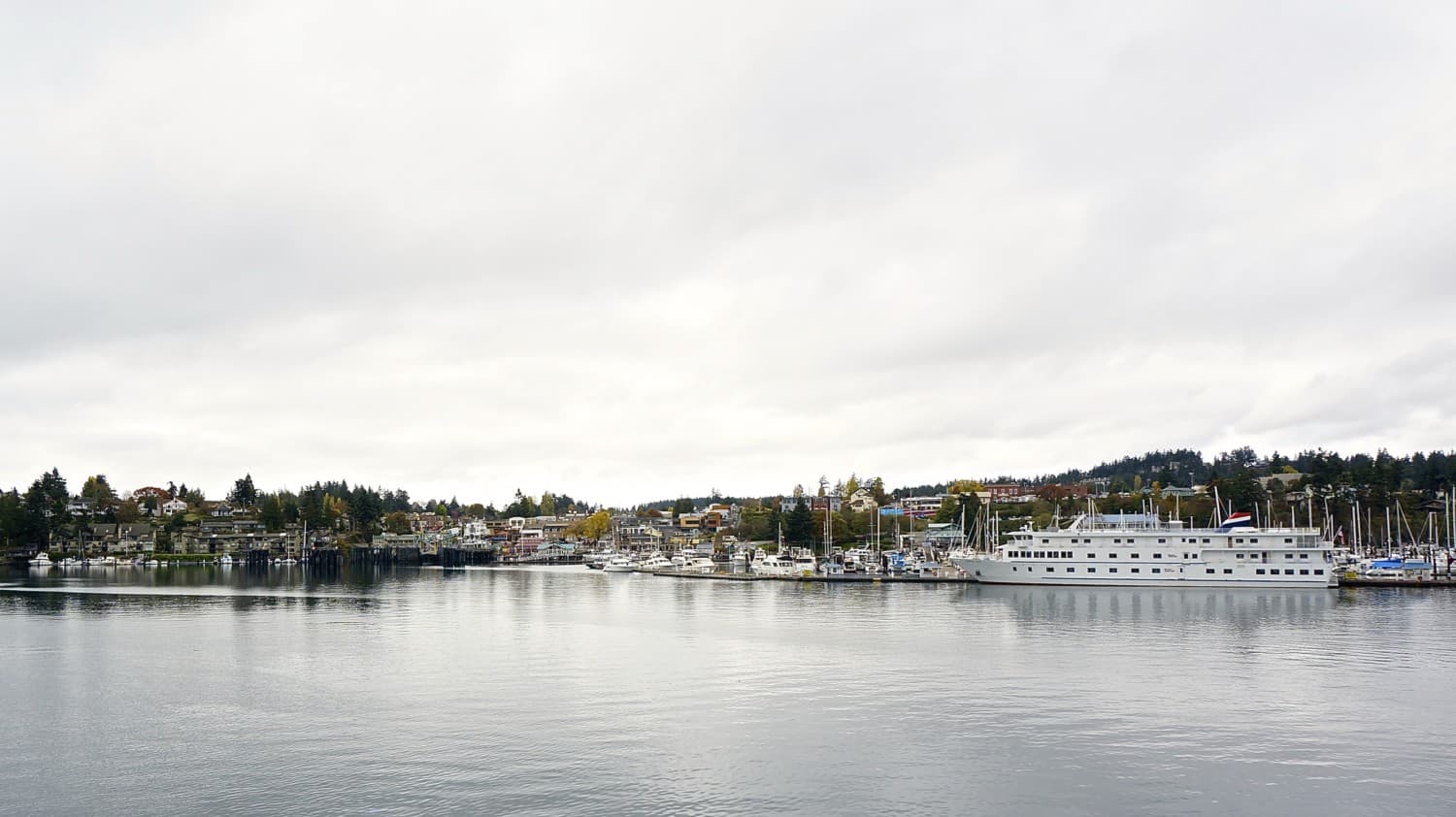 With the commercial district just steps from the ferry terminal, Friday Harbor is bustling when ships dock. Rather than subject Ty and Buster to the crowds, we opted to follow the scenic byway out of town and counter-clockwise around the island. Much like Whidbey Island, San Juan is very agricultural. Our first stop was at San Juan Vineyards, where the vines were draped in gauze.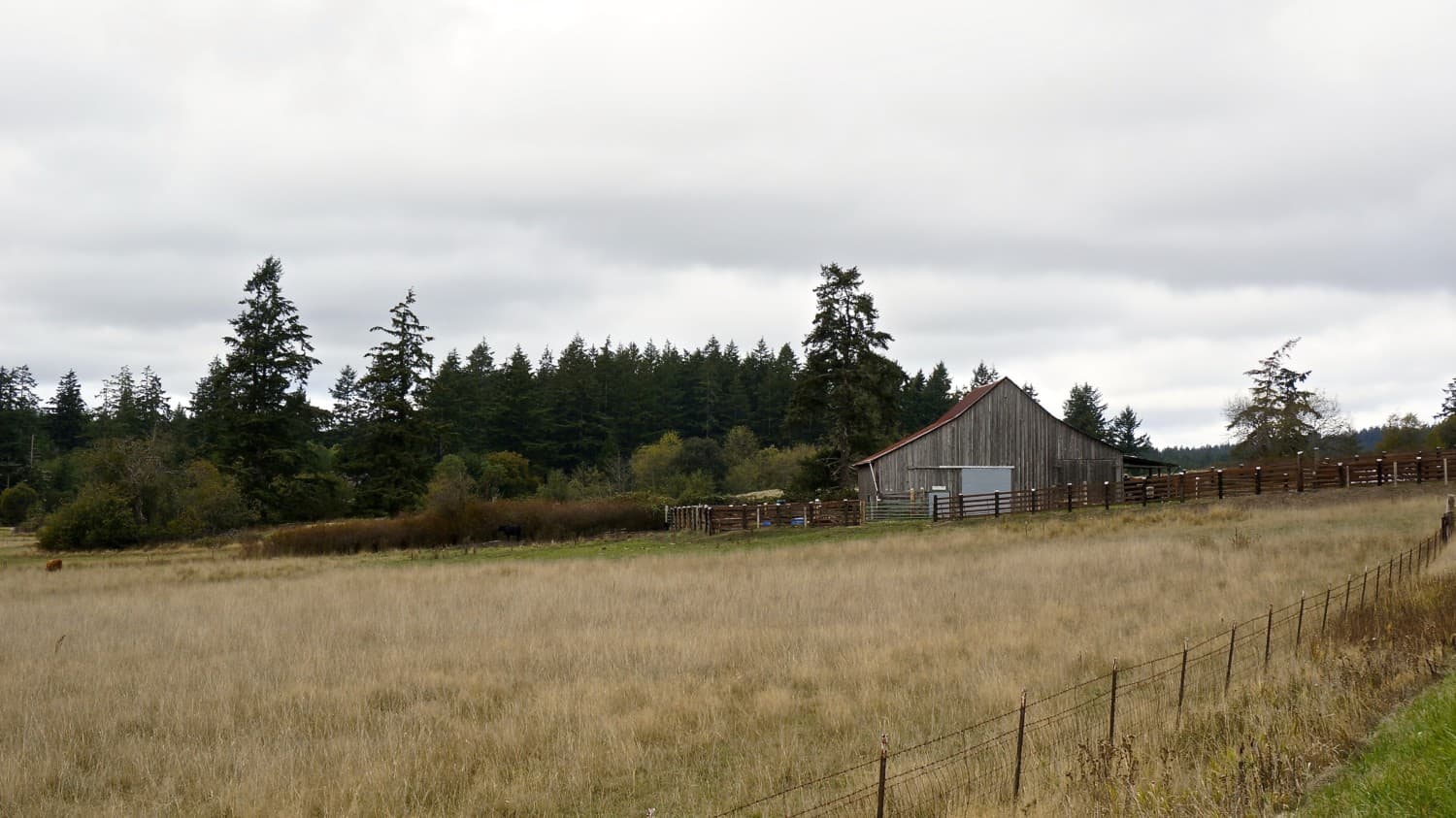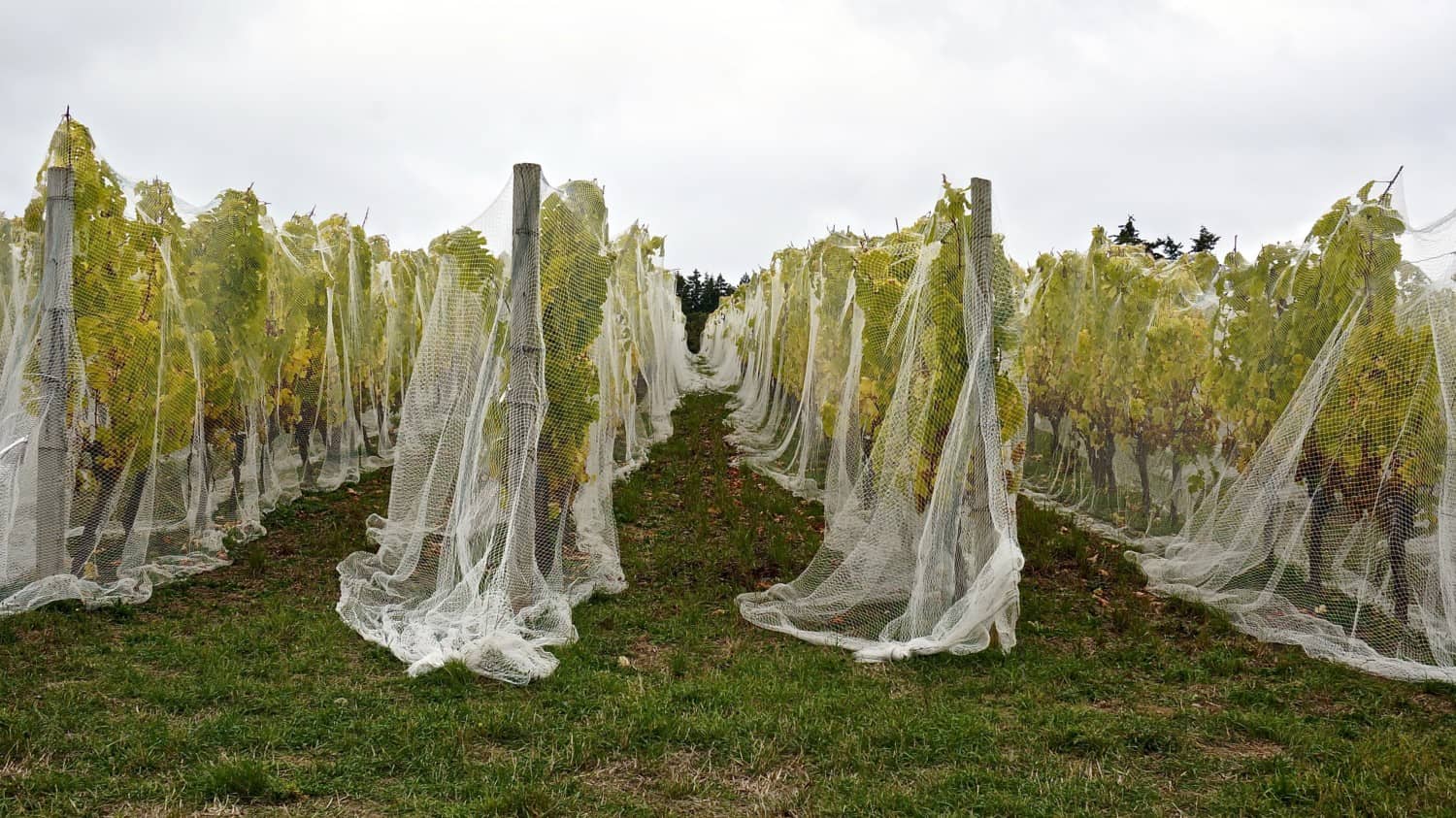 The vineyard is dog friendly, but it felt a little early in the day to start a wine tasting. Instead, we continued on to the San Juan Sculpture Park at the northern tip of the island.
San Juan Sculpture Park
Criss-crossed by five trails, this 20-acre park was the perfect place for a pet friendly walk! There are more than 150 sculptures to admire, a poetry path, trails that take you through the woods and down to the marsh, and beautiful gardens throughout. And the fee to enjoy all of this is just a donation requested at the gate.
READ MORE ⇒  Pet Friendly Things To Do on Whidbey Island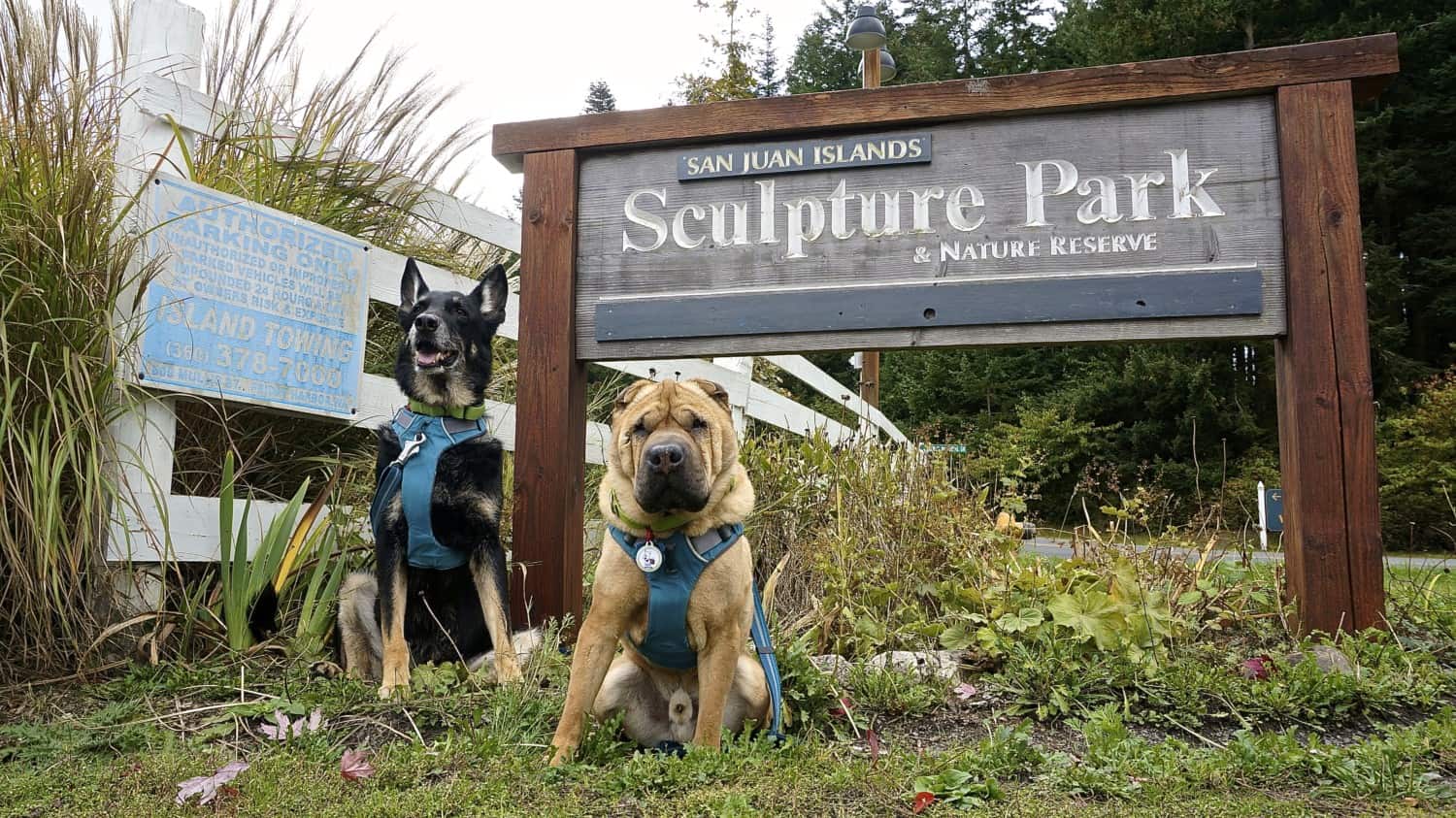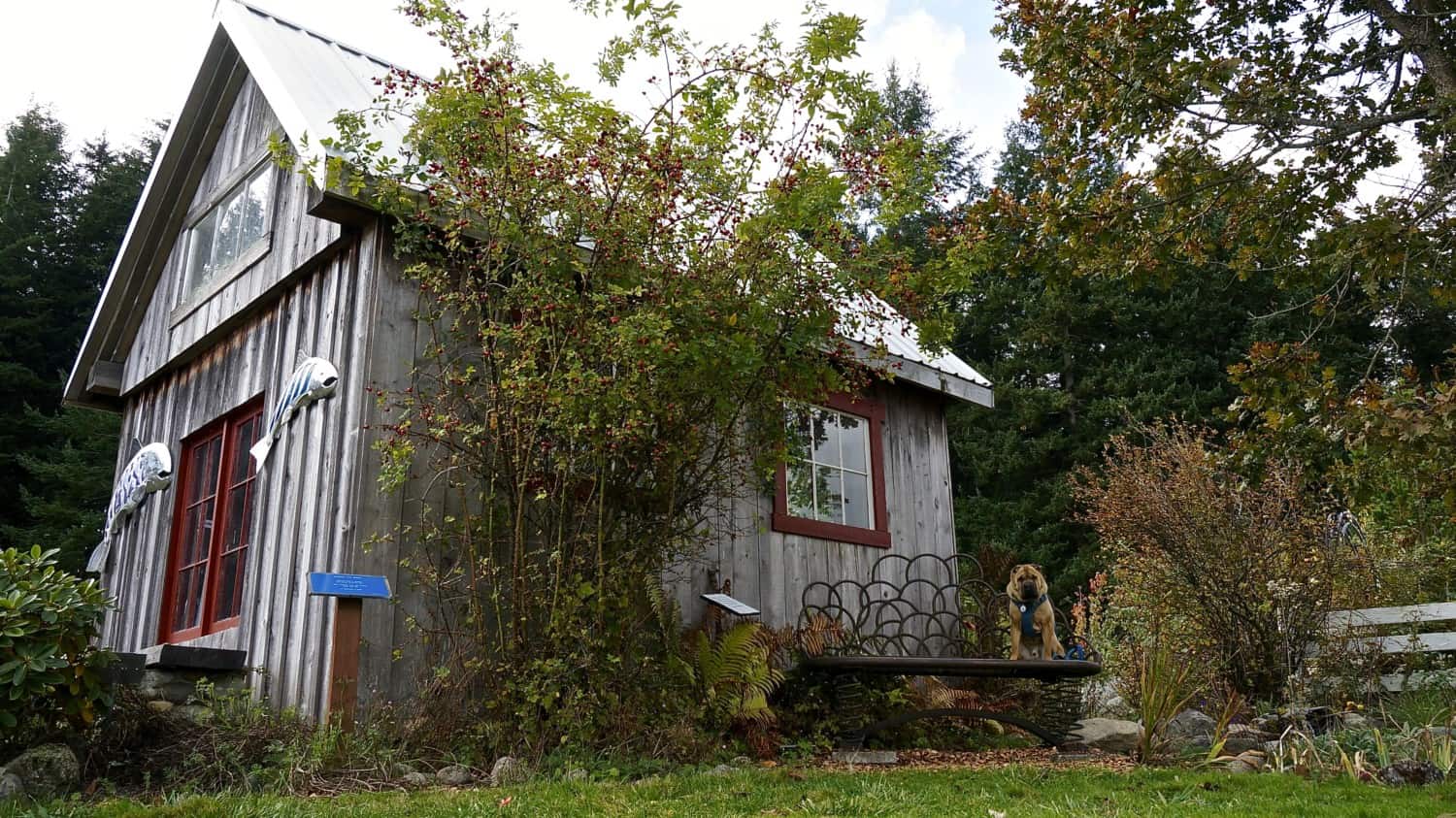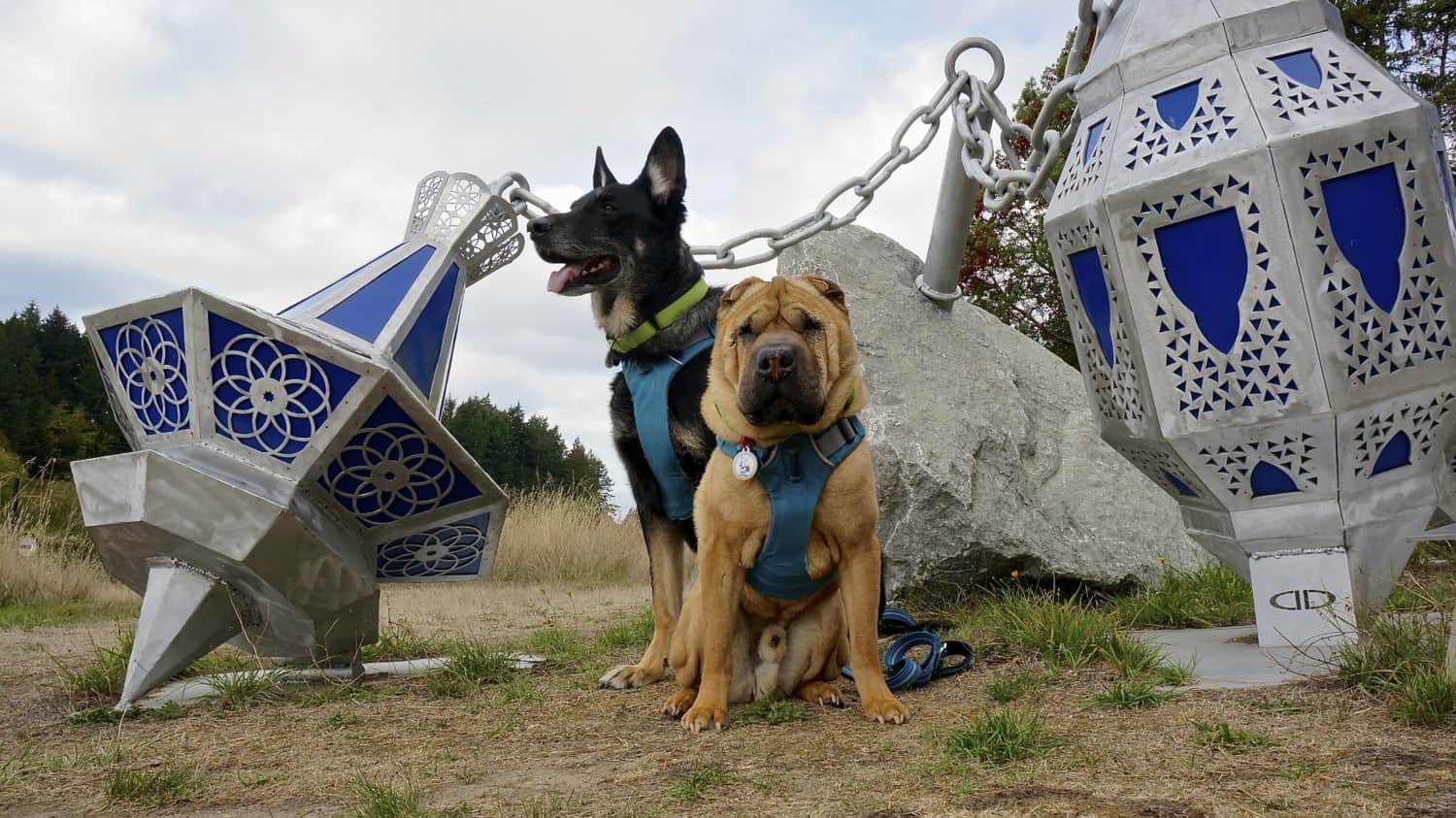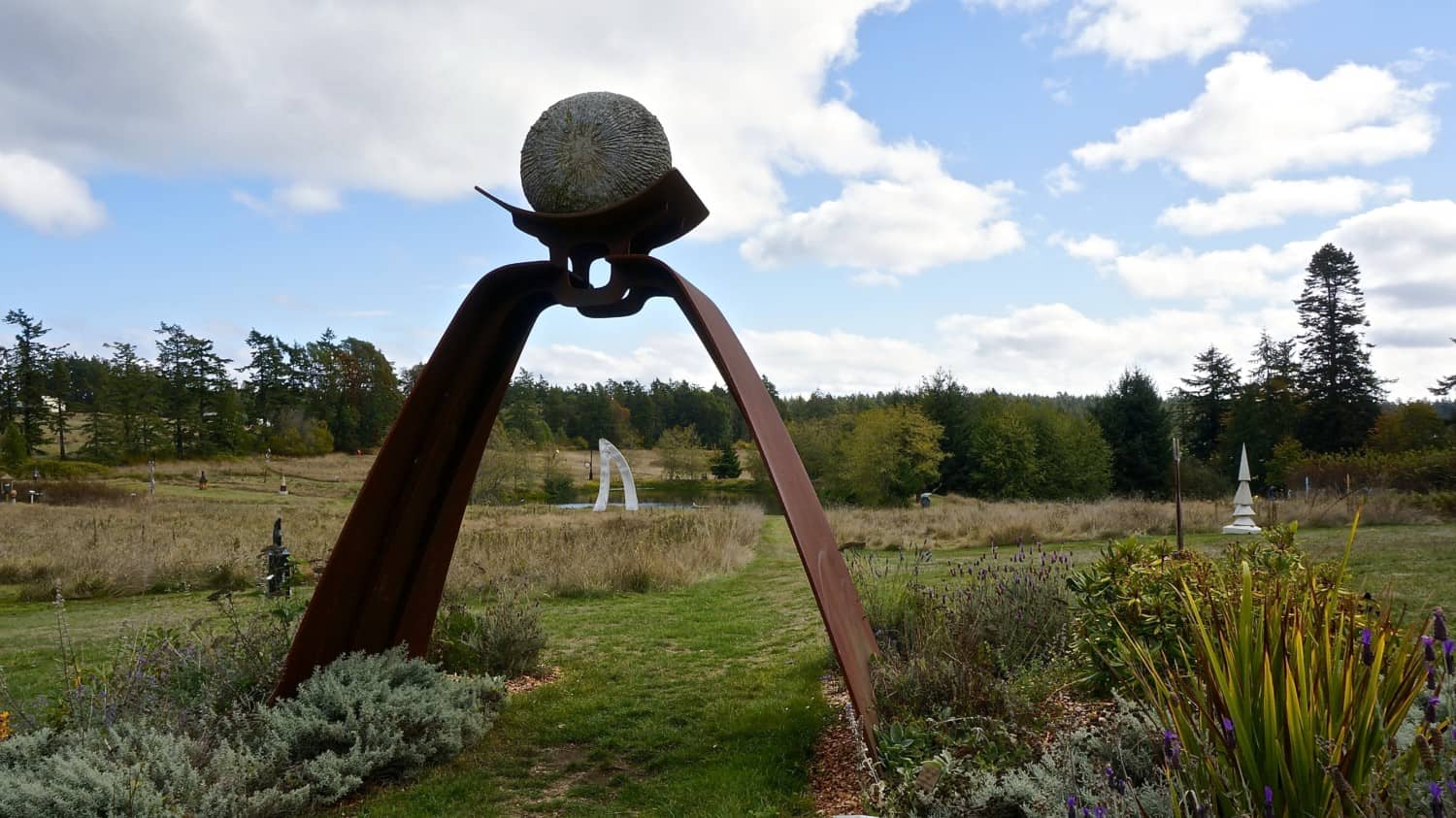 There are also picnic tables here, and if we'd packed our lunch (next time!), this would have been the perfect place to enjoy it! Instead, we continued around the corner into the picture-perfect town of Roche Harbor.
Roche Harbor
Now a resort town, Roche Harbor started as a company town supporting the Roche Harbor Lime Company. Lime production was one of the island's primary industries for a time, and the huge lime kilns are still standing in town.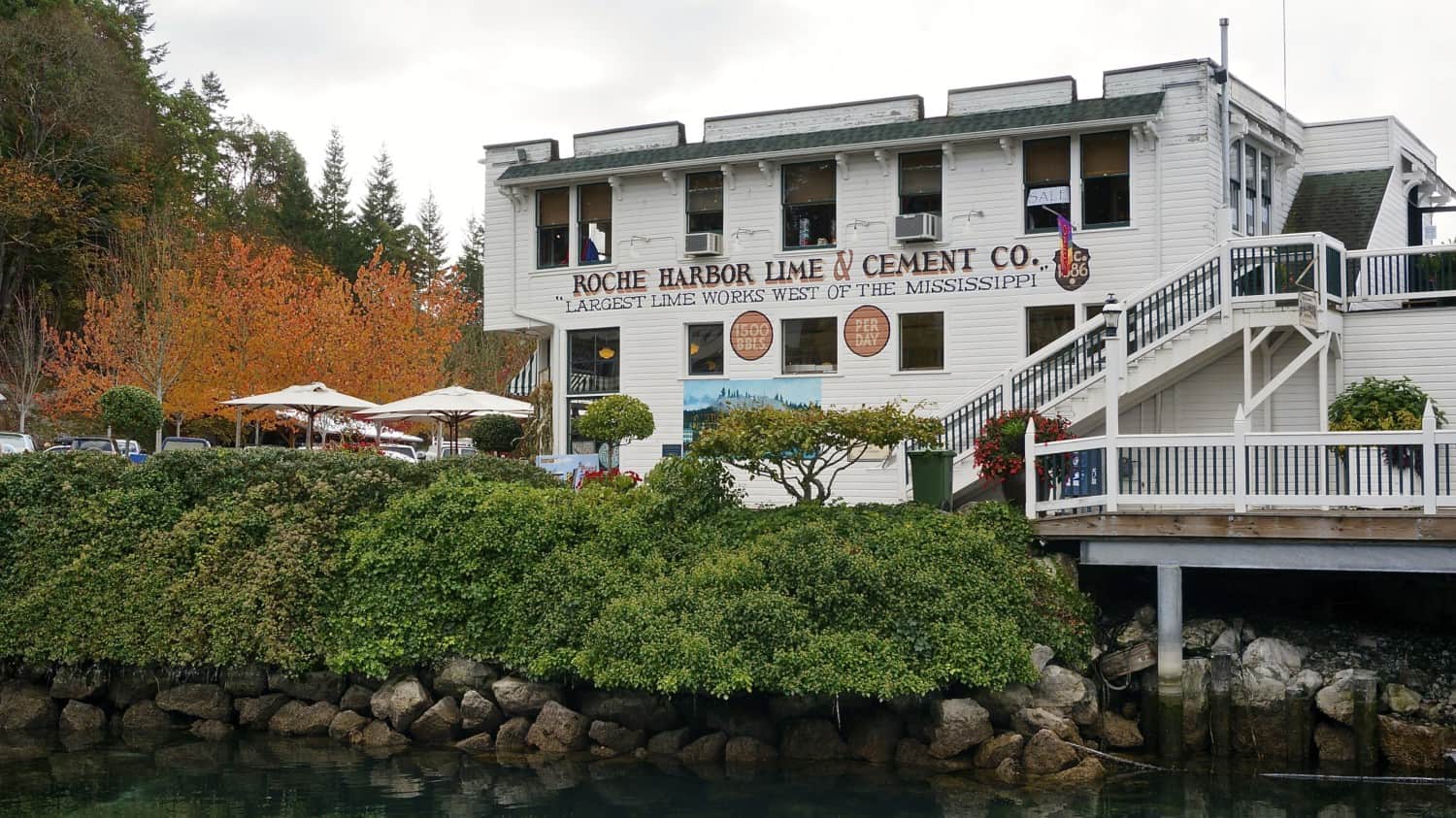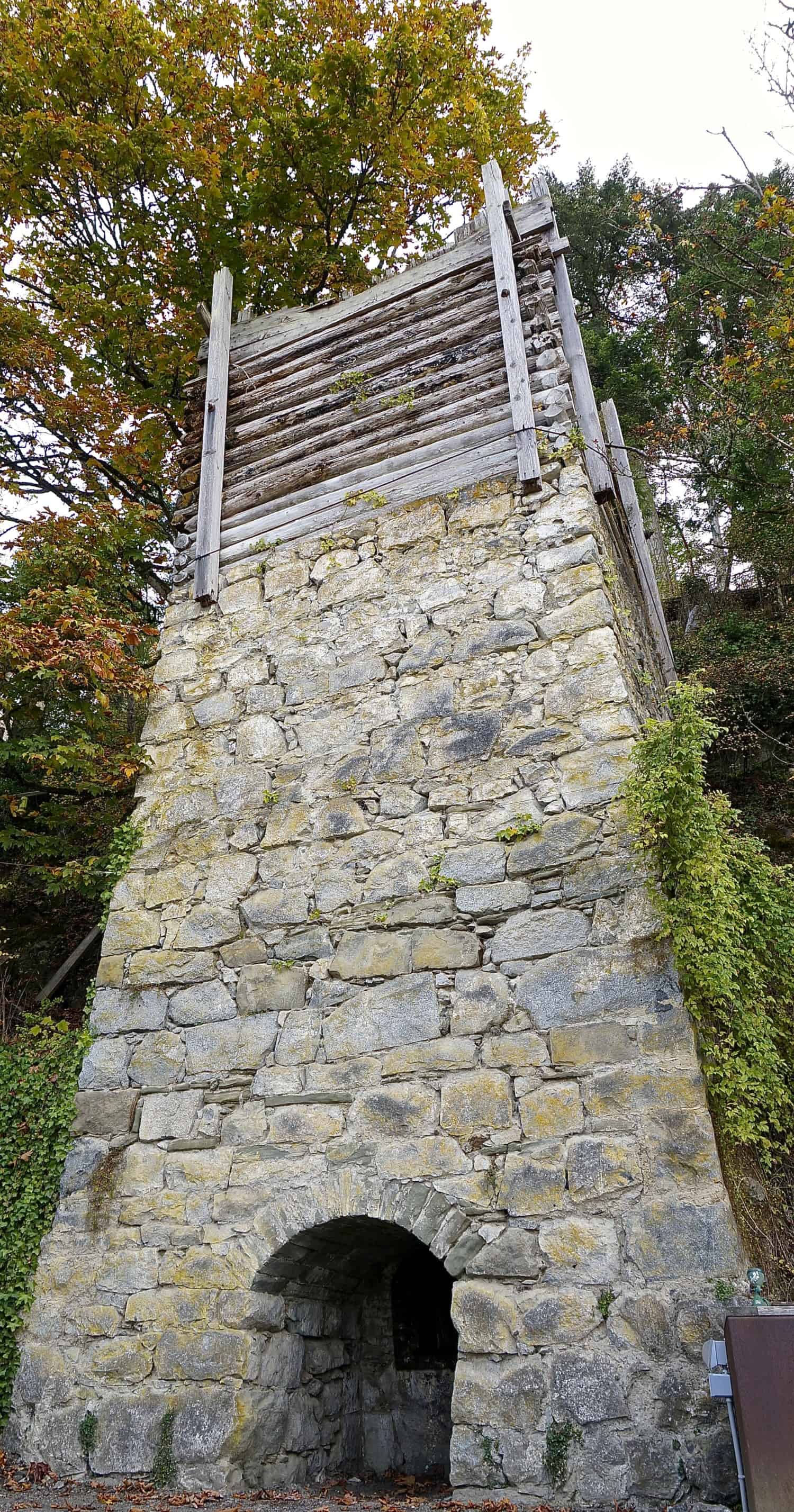 Now the marina and tourism drive the local economy. The Hotel de Haro sits in the center of town with its suites, cottages, condos, spa, shops, and gardens. While it's not pet friendly, it certainly provides a lovely backdrop to the surroundings.
Fortunately, lunch was easy to come by! There are several restaurants with pet friendly patios, and more places that will be happy to prepare your meal to go if you've discovered a view you want to savor.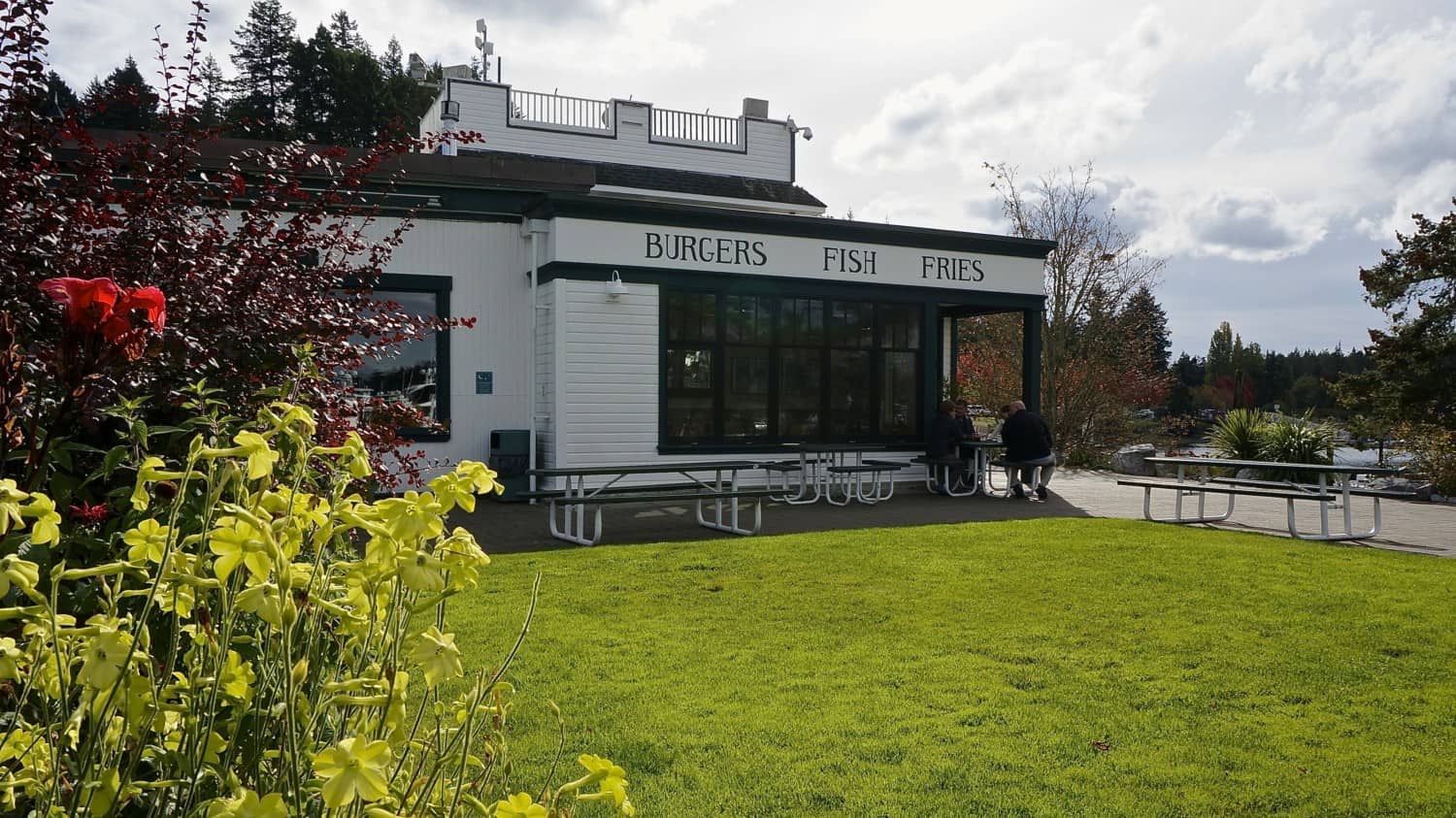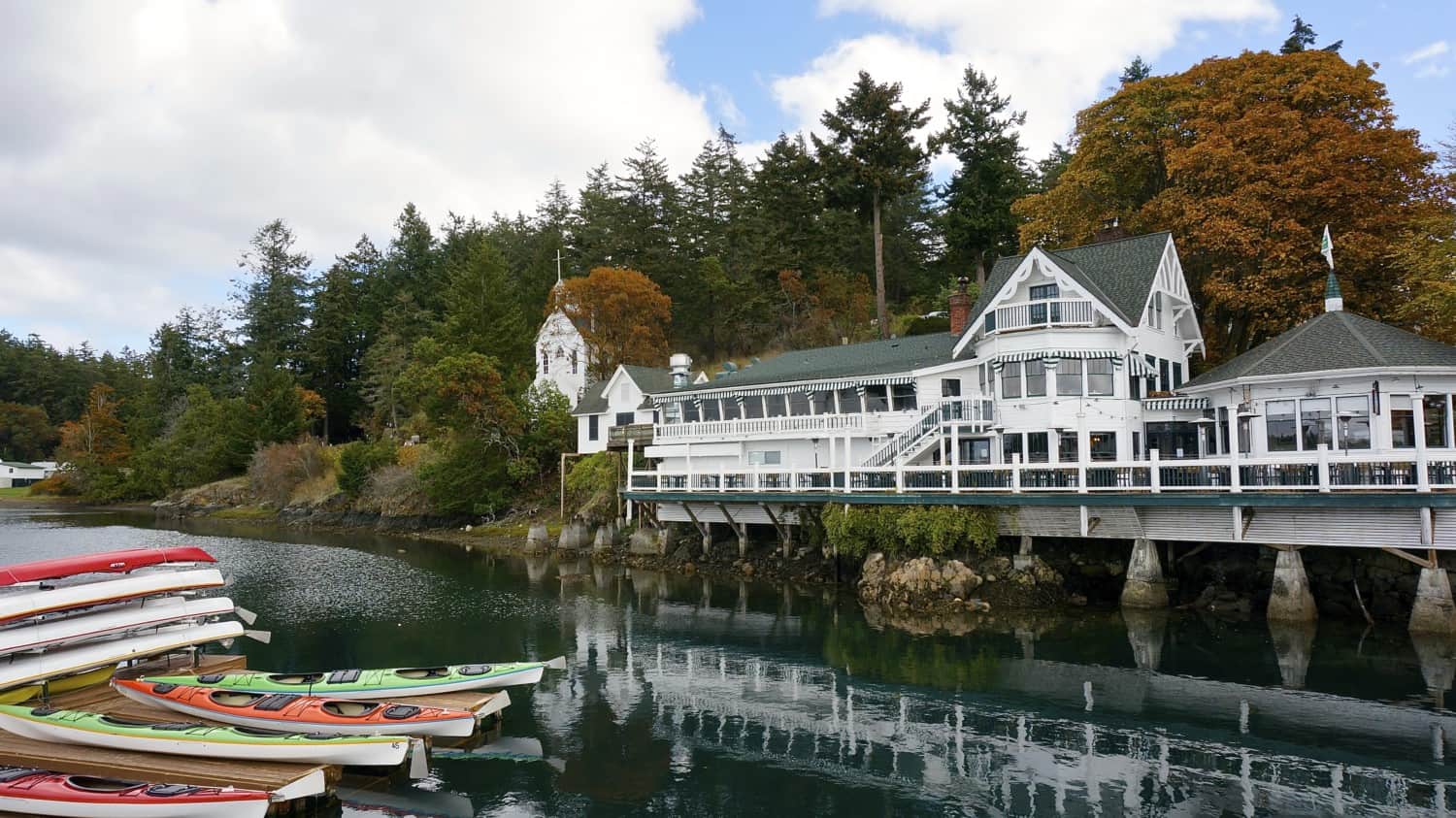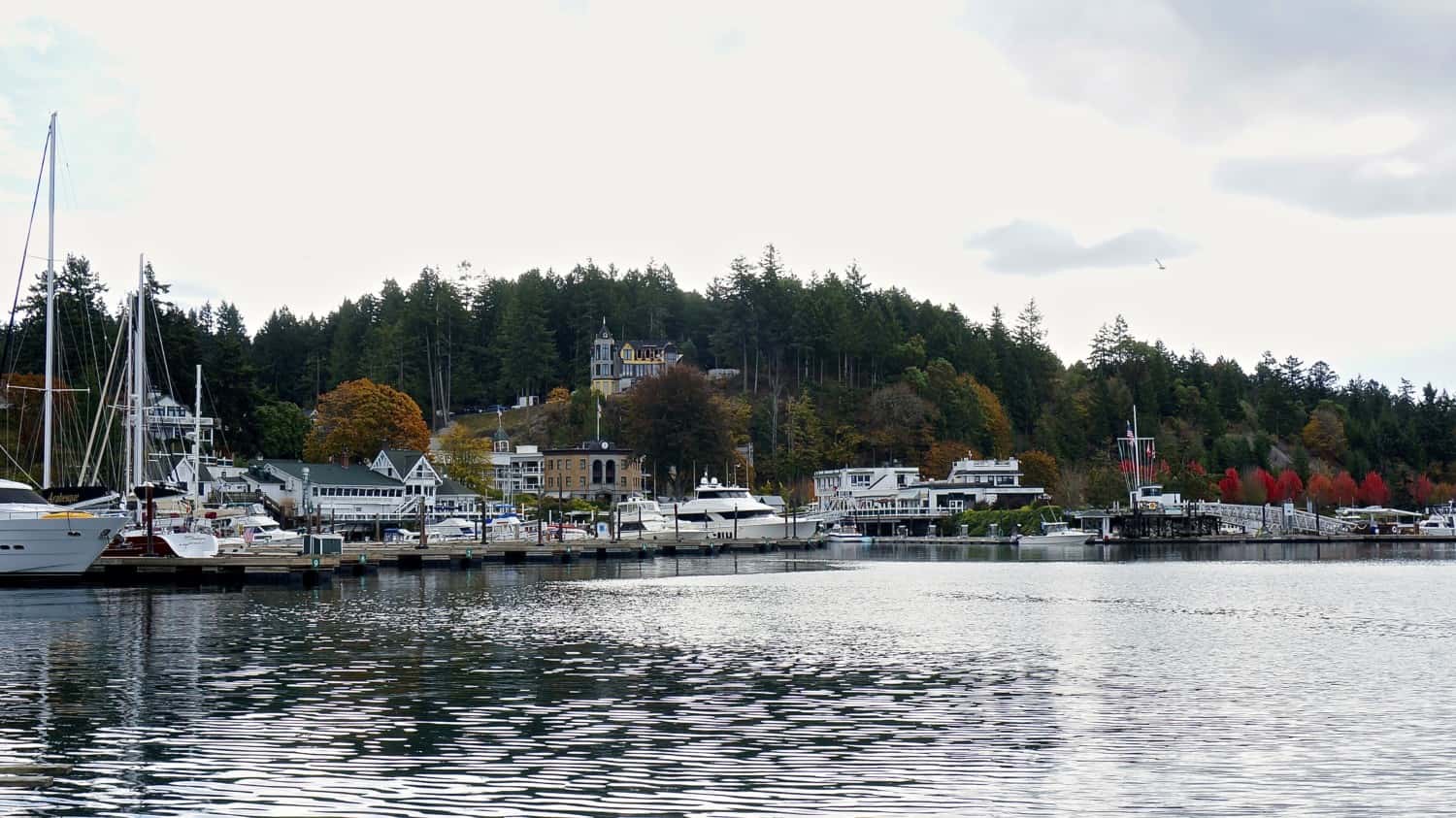 Roche Harbor also provides easy access to several trails when you're ready to get off the beaten path. And, if your pups are looking for a place to romp, there's a nice fenced dog park behind the gas station.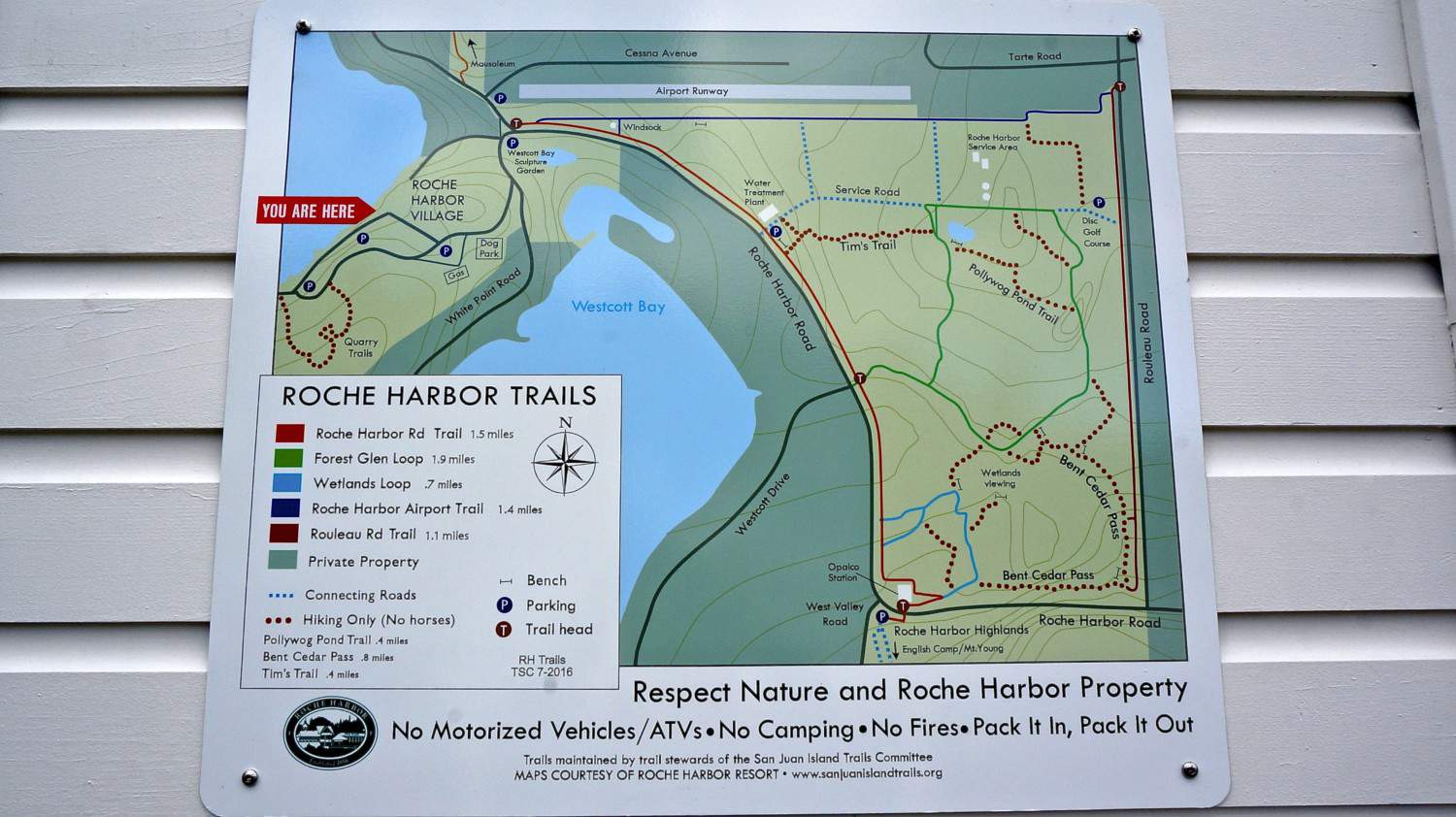 Lime Kiln Point State Park
From Roche Harbor we made our way south to Lime Kiln Point State Park. Here the interpretive center and restored lime kiln exhibit provide more detail about the processing and shipment of the lime. In addition, this is one of the island's best spots for whale watching. The sightings of local Orcas are recorded at the lighthouse, and Ty and Buster kept an eye out, but unfortunately we didn't see any whales during our visit.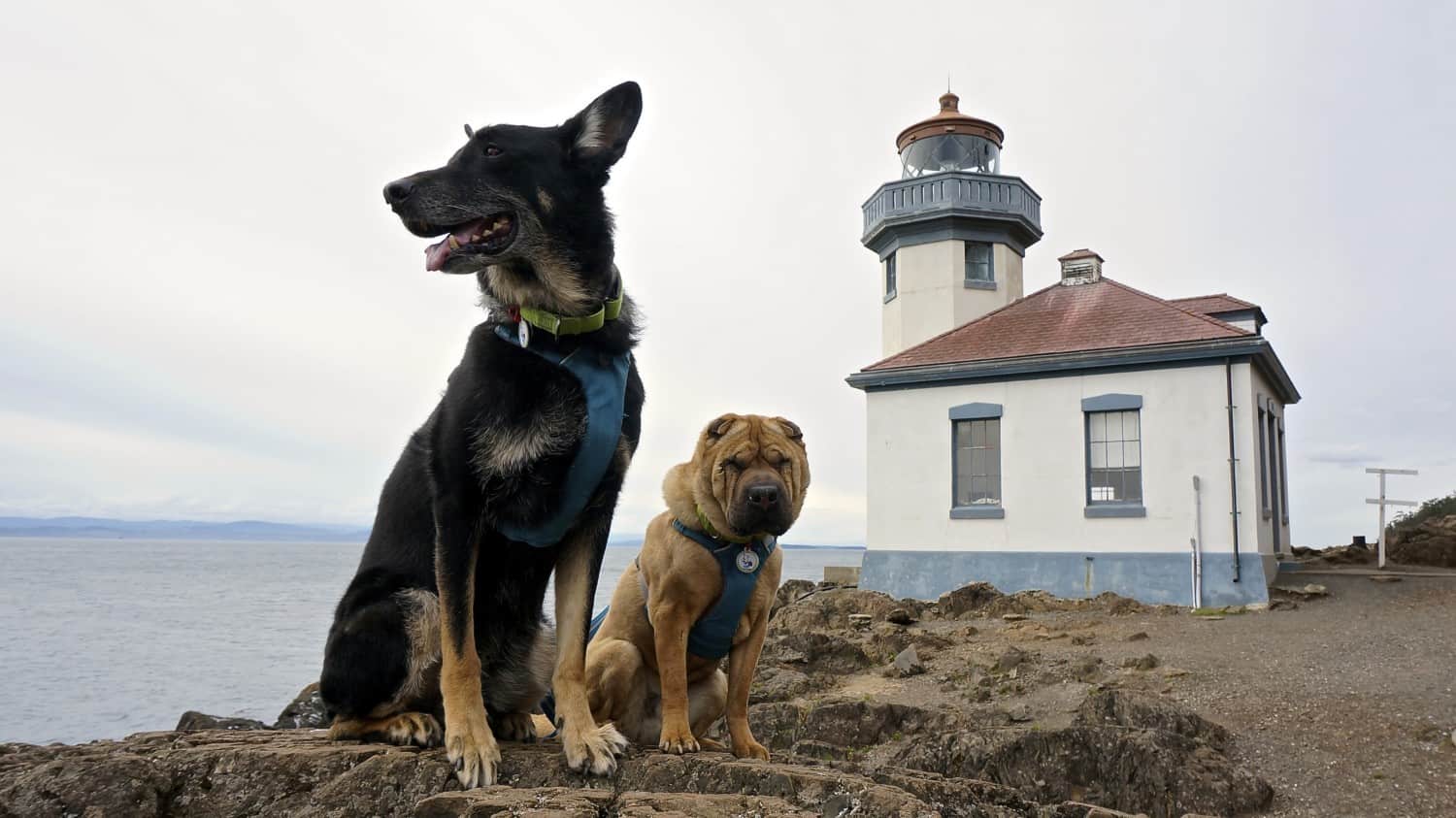 Our next stop was at the far southern tip of the island to see another light house.
South Beach and Cattle Point
South Beach is a two-mile stretch of pebble-covered shore facing the Olympic Peninsula with great views of the Olympic Mountains. Just down the way is Cattle Point, which has it's own historic lighthouse and trails along the waterfront. Both are good places for more whale watching.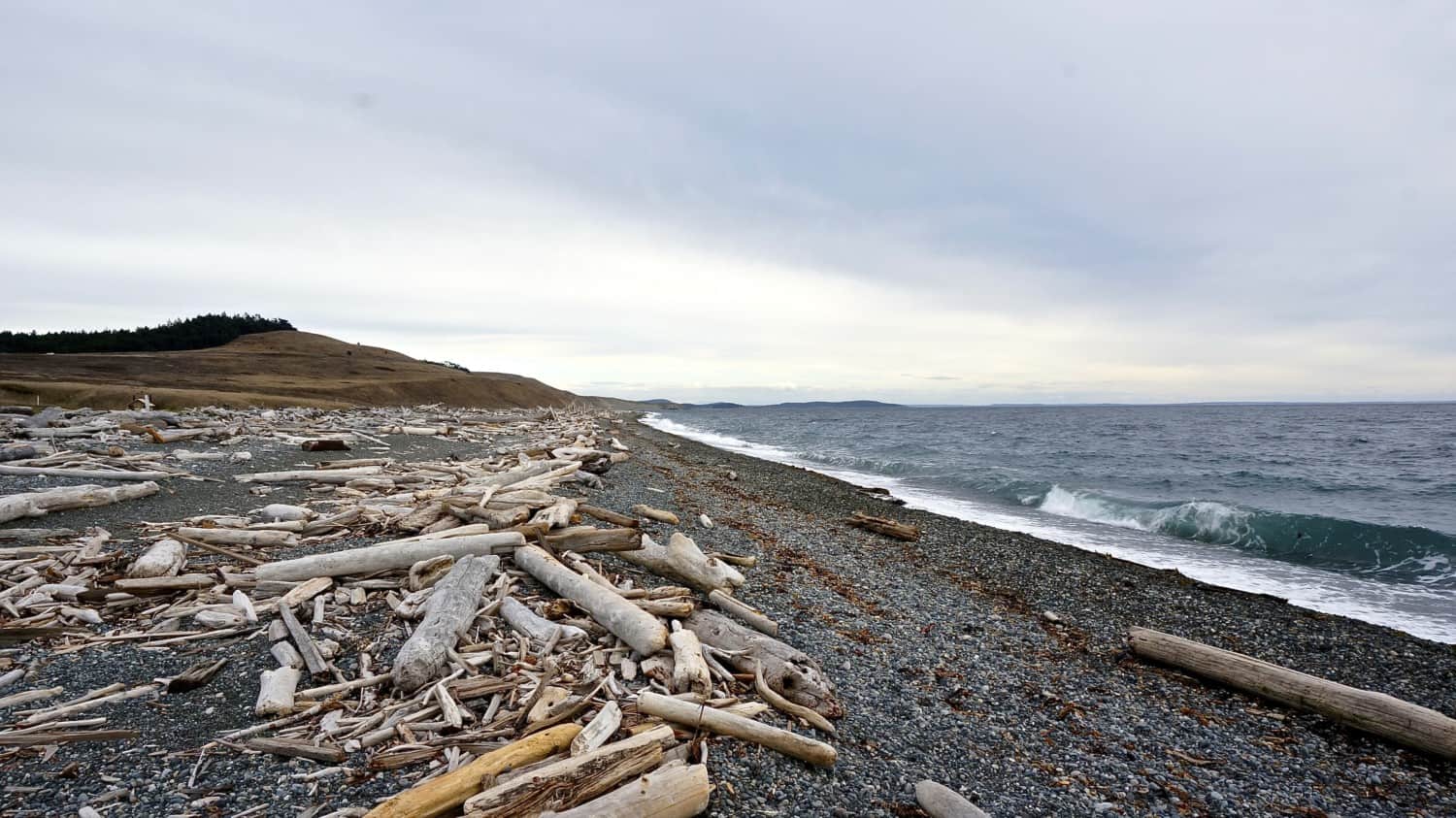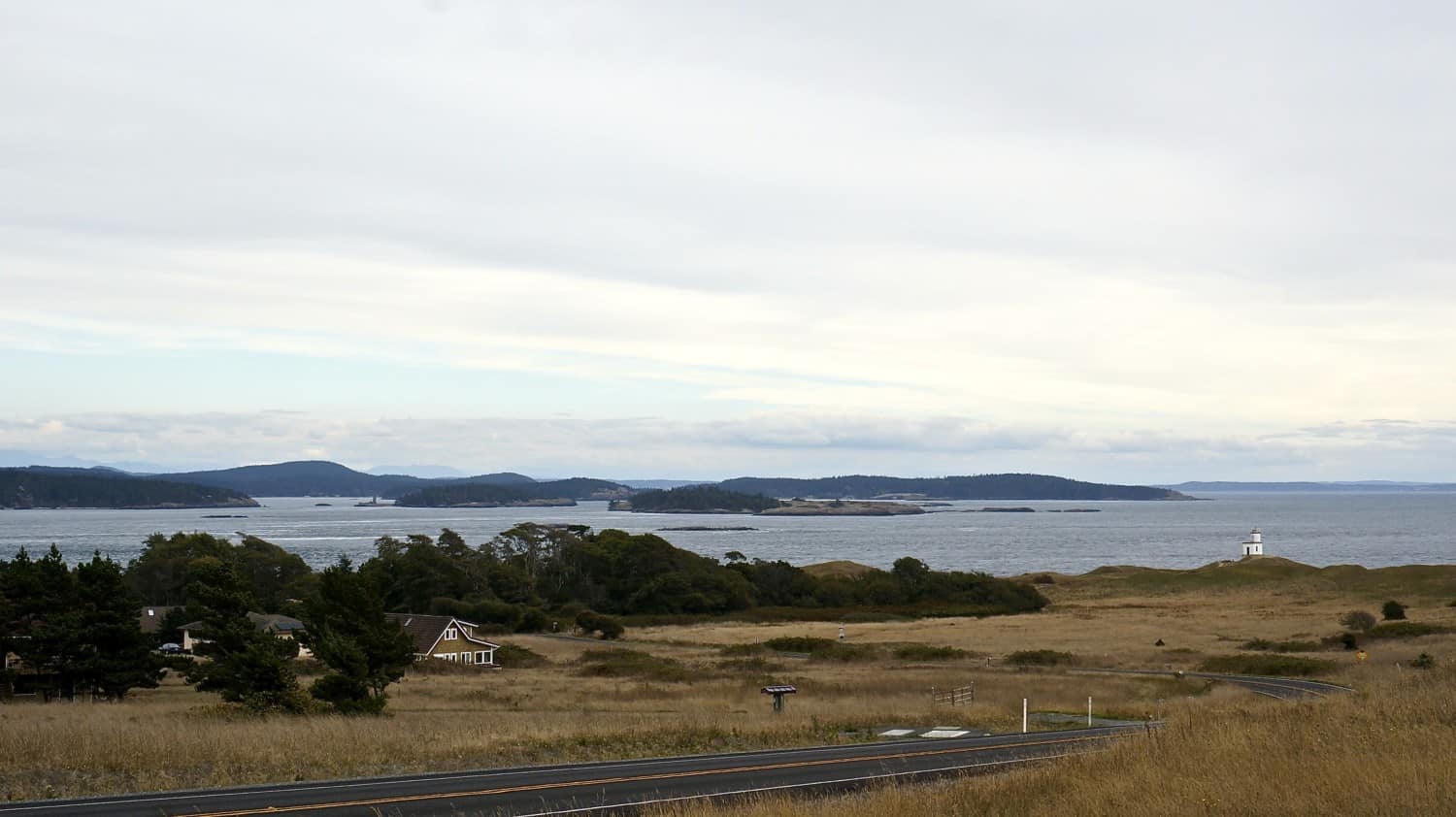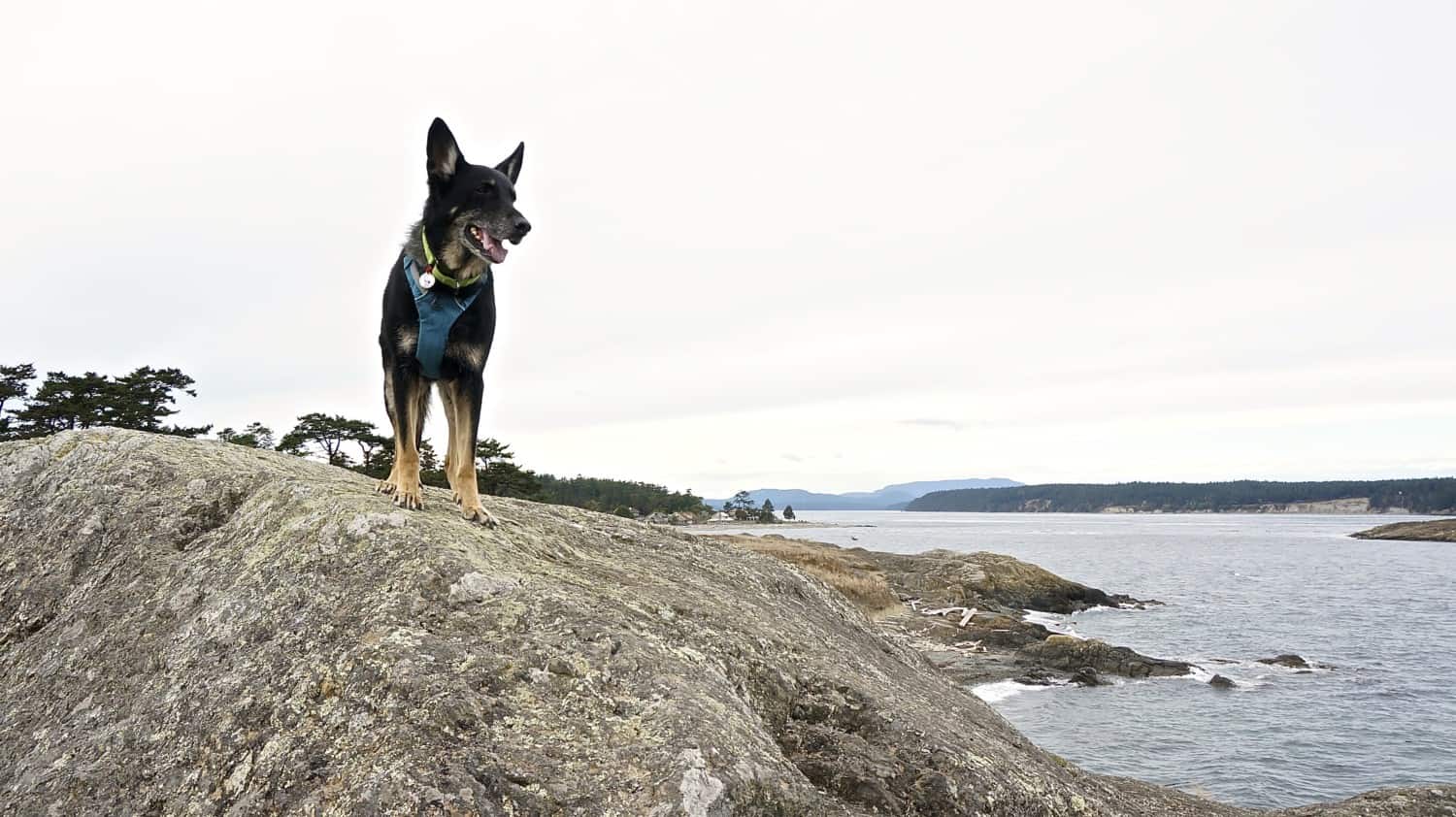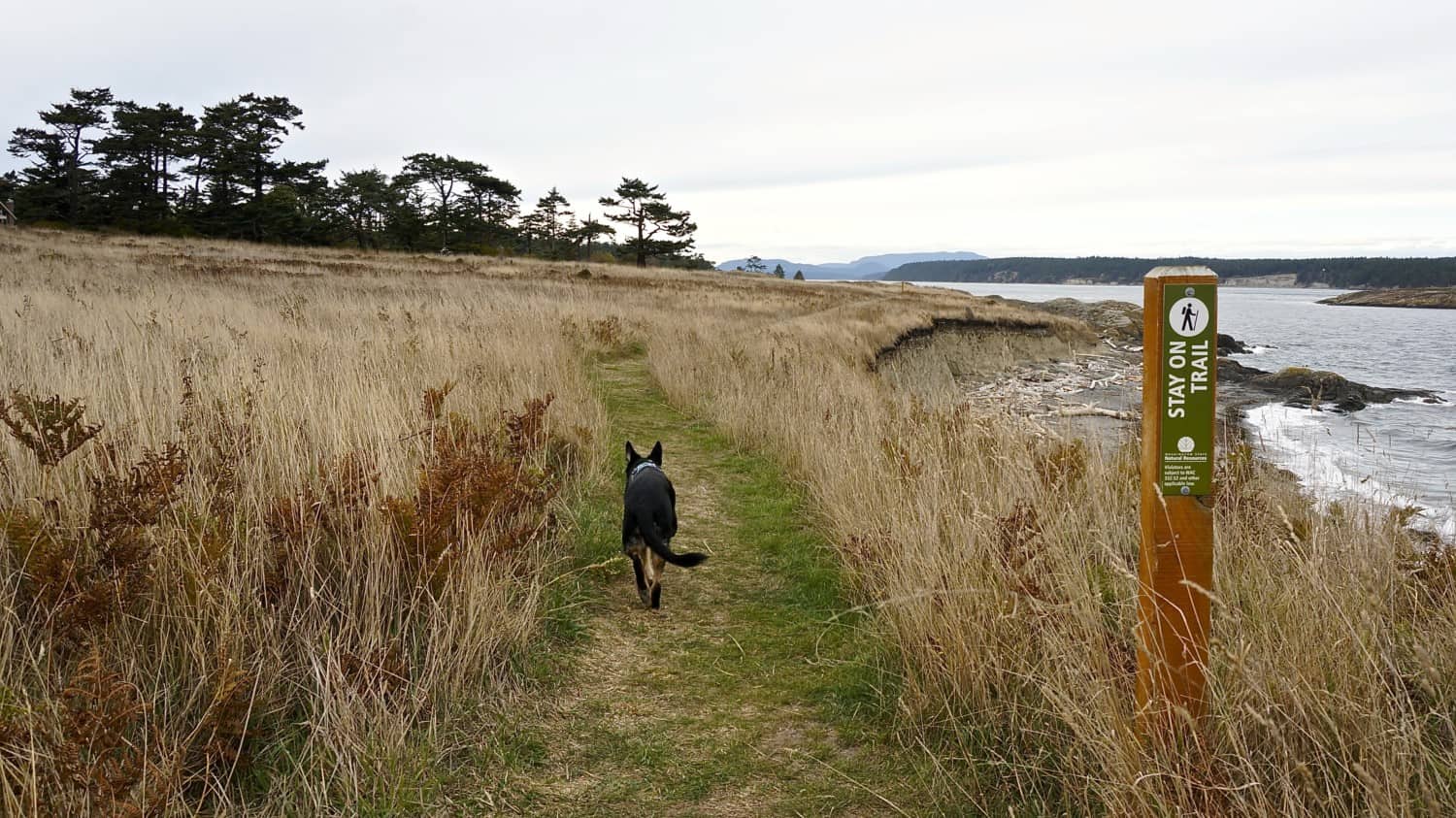 It was late afternoon by the time we got down to Cattle Point. It would have been great to visit Jackson Beach on our way back to Friday Harbor, but we wanted to get some pictures of town before the sun went down. We'll have to see Jackson Beach on our next visit.
Friday Harbor
Compared to Roche Harbor, Friday Harbor feels less like a resort and more like a working town. That being said, it's lovely and offers a variety of businesses catering to the island's many visitors. You'll find hotels and other accommodations, along with museums, galleries, whale watching tours, restaurants, and shops.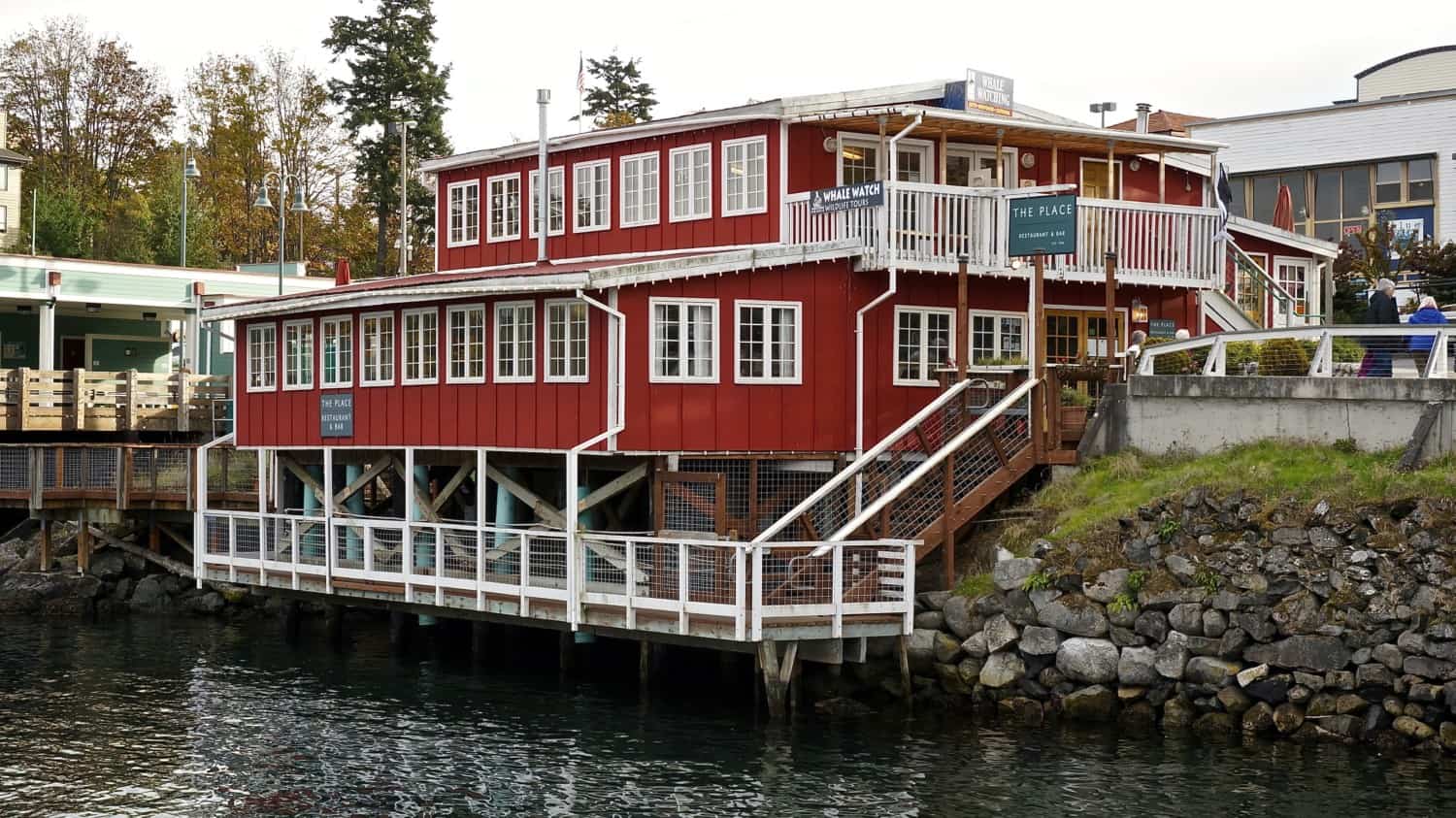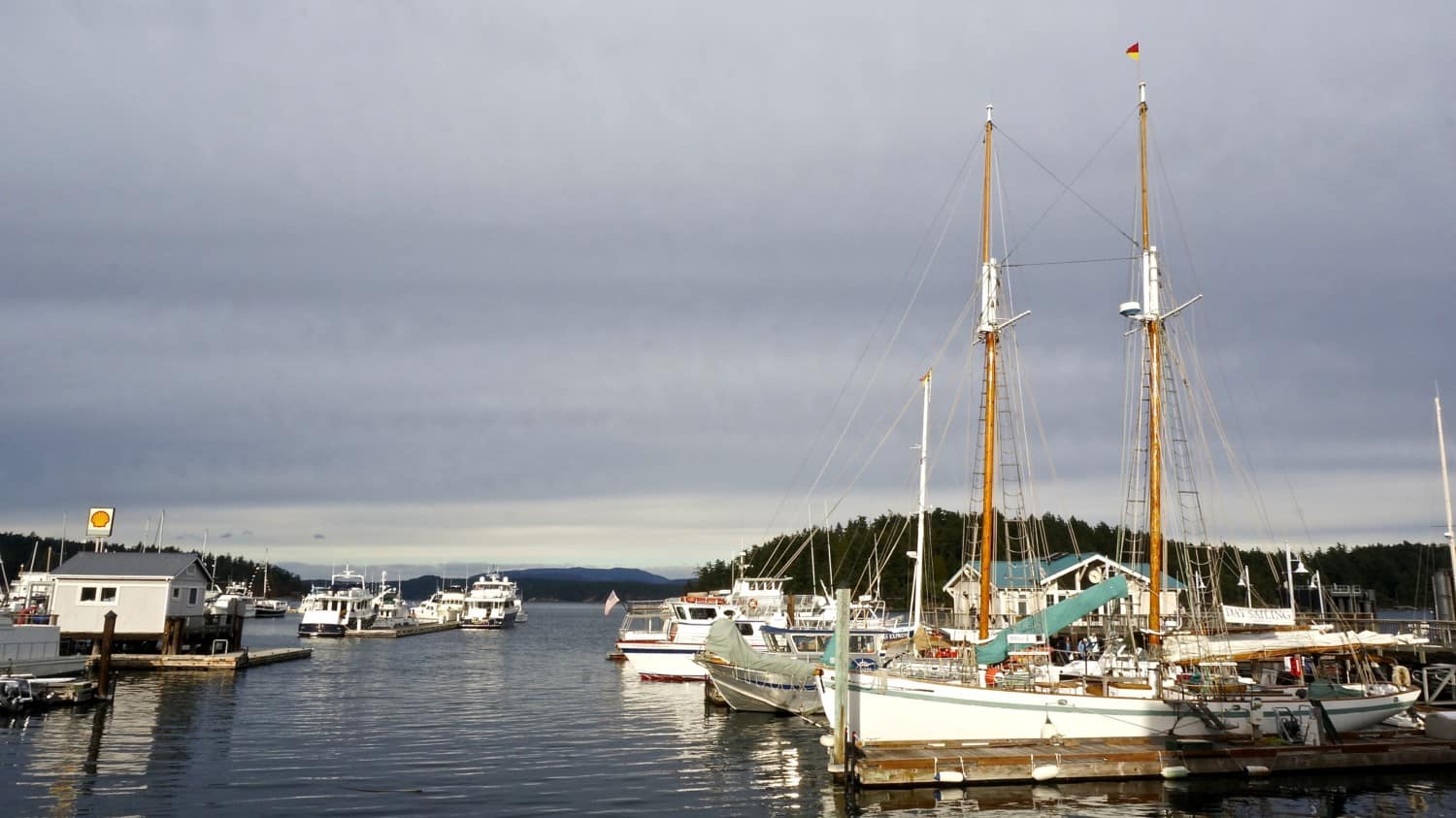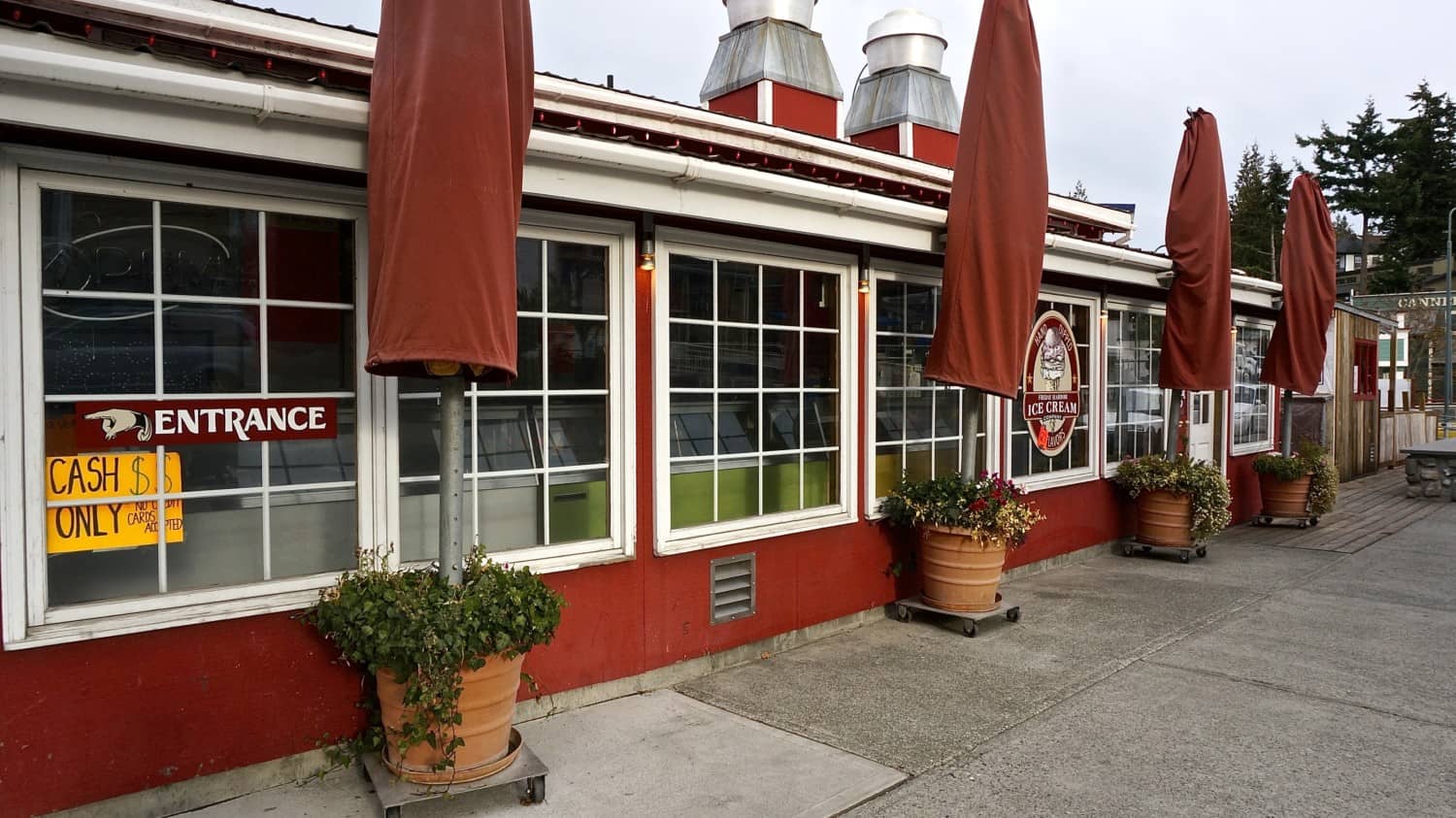 The cozy, pet friendly seating area at the Blue Water Bar and Grill has a great view of the harbor. We had a bite to eat while we waited for the ferry back to Anacortes to arrive.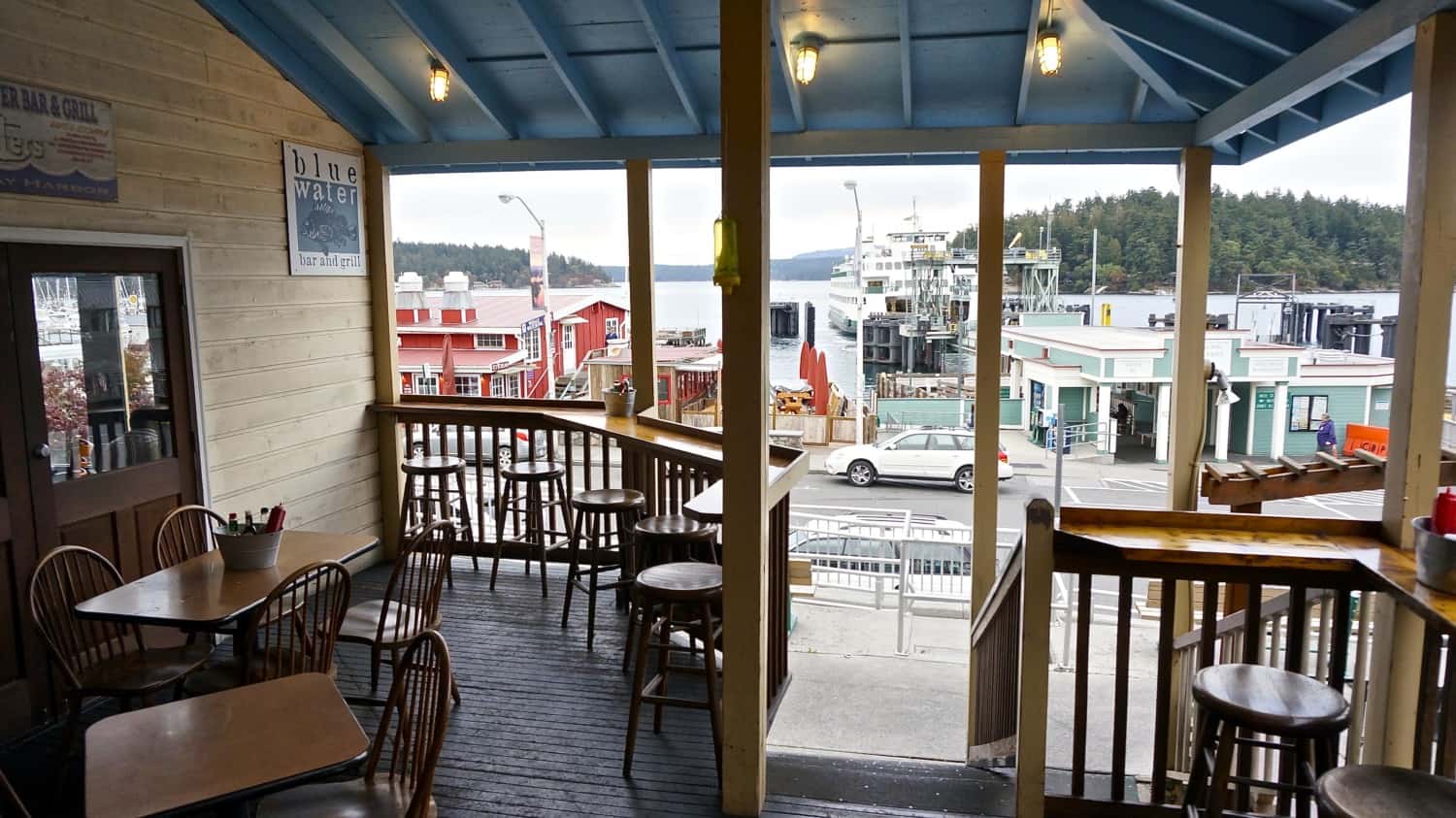 It cost $60 round-trip to take the ferry, and there were a lot more things to do with the dogs on San Juan than I expected. Definitely more than we could cover in a day! Rather than hustling, you might want to spending the night and have more time to explore and relax.
Hopefully this give you an idea of what it's like to visit the San Juan Islands! If you've been there and have any tips for the rest of us, please share!
READ MORE ⇒  Exploring Nearby Orcas Island With Dogs
DO MORE TOGETHER
Amazon Affiliate Disclosure: GoPetFriendly.com LLC is a participant in the Amazon Services LLC Associates Program, an affiliate advertising program designed to provide a means for website owners to earn advertising fees by advertising and linking to amazon.com, audible.com, and any other website that may be affiliated with Amazon Service LLC Associates Program. As an Amazon Associate, the owner of this site earns a commission from qualifying purchases.
(Visited 10,442 times, 1 visits today)