Between Seattle and the Canadian border, just off the U.S. mainland, a confetti of islands scatter across the blue water. Some are accessible only by boat or ferry. But a few, like Whidbey, can be reached by car and offer a delightful mix of pet friendly things to do. From breathtaking scenery to fantastic hiking, mouth-watering eateries, and quaint towns, Whidbey Island is a pleasure to explore!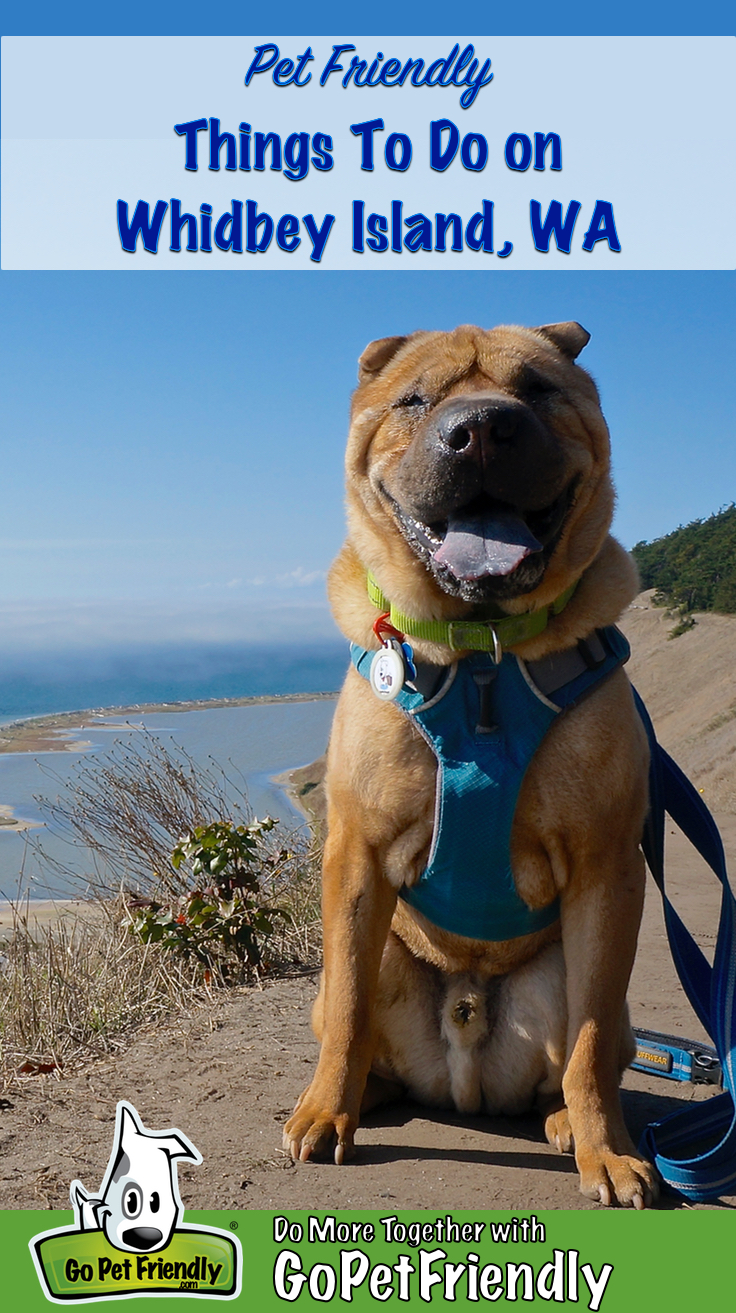 Things To Do On Whidbey Island
Whidbey Island is the epitome of the word bounty. Everywhere you look, a cornucopia pours forth from the land and the sea. But it's not a posh island, cluttered with ostentatious homes and exclusive country clubs. Instead you'll find farms, vineyards, and orchards,  fishing villages and artist communities.
The people of Whidbey are down-to-earth and friendly. It's like someone took a bit of the rural midwest and plopped it here next to the ocean, where seals play in the bays and orcas roam the depths. It's comfortable, beautiful, and connected in a way you don't often see anymore.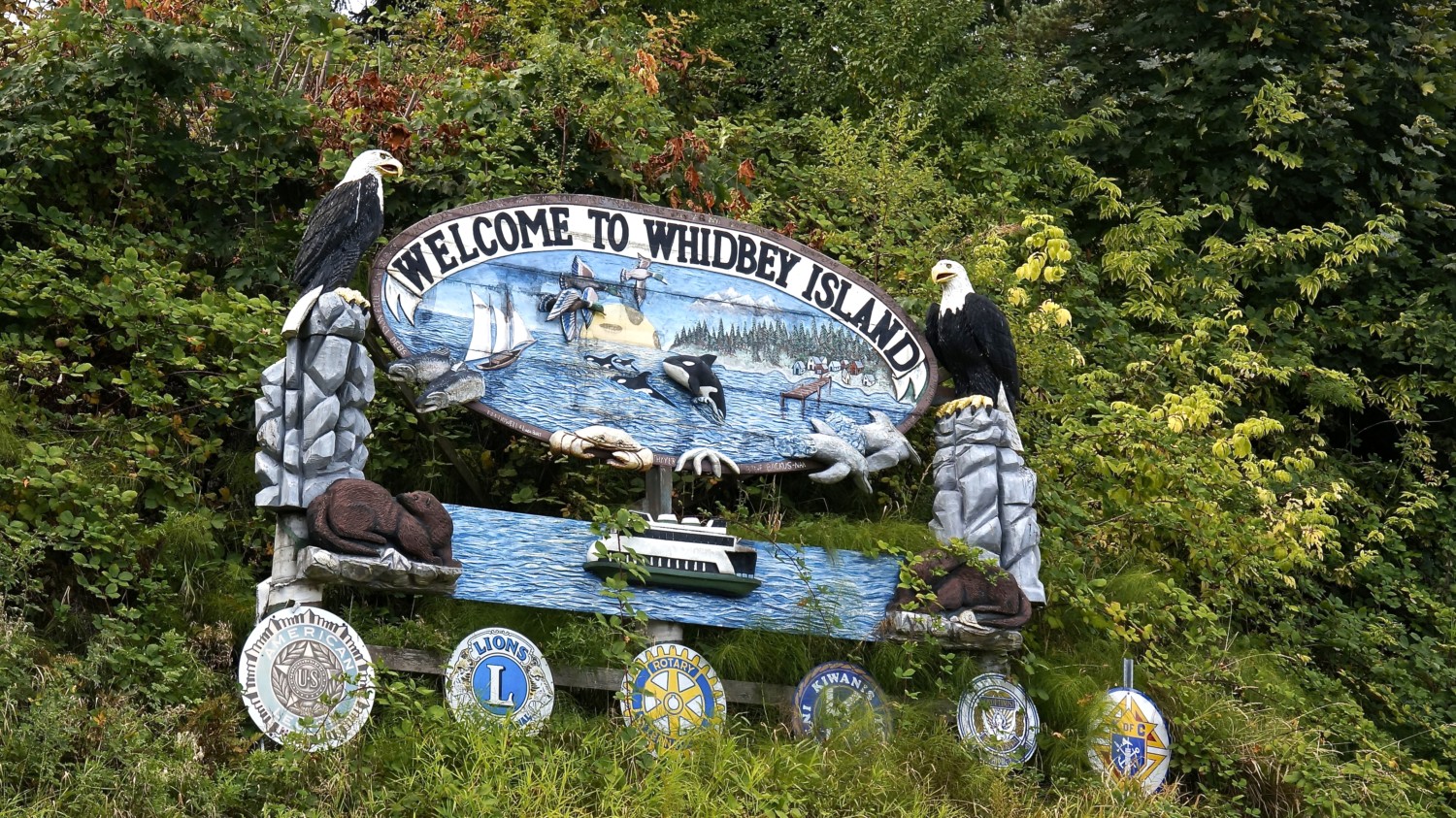 Anacortes, Washington
To access Whidbey Island by car, you must cross Fidalgo Island – and while you're here, it pays to look around! The town of Anacortes sits at the north end of Fidalgo Island, and is known for its ferry terminal to the San Juans and Victoria, British Columbia. But it's also a fantastic town in it's own right!
Commercial Avenue offers a lively collection of boutiques, eateries, and galleries. Cap Sante Park is perfect for enjoying serene views of Fidalgo Bay. The comings and goings at the marina provide hours of entertainment. And the Tommy Thompson Trail runs for miles along the bay, giving you paved access to the heart of the area's scenery.
If your pup is looking for a romp, the Ace of Hearts Rotary Park at 38th Street and H Avenue has an off-leash area complete with drinking water, a rinse station, and a separate area for smaller dogs.
READ MORE ⇒  Visiting the San Juan Islands With Pets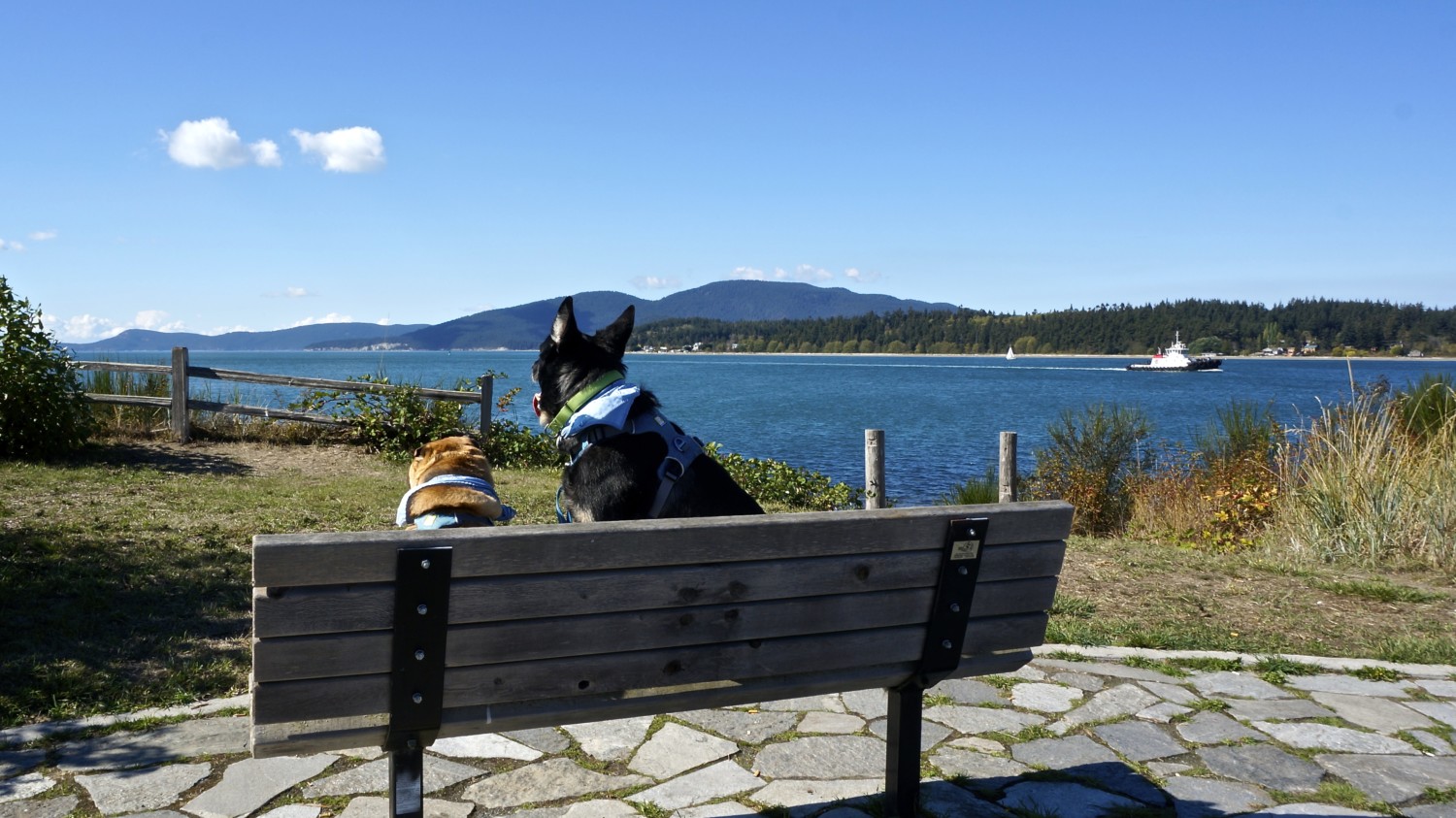 Mount Erie Park
The best views on Fidalgo are found atop Mount Erie, at the center of the island. The panoramic scenes stretch from the North Cascades to Mount Rainier and around to the Olympic Mountains across Puget Sound on the Olympic Peninsula.
There are several parking areas, including one at the top – but if you're up for a challenge, leave your car at the bottom and climb the thousand feet to the summit. Leashed pets are welcome on on the trails!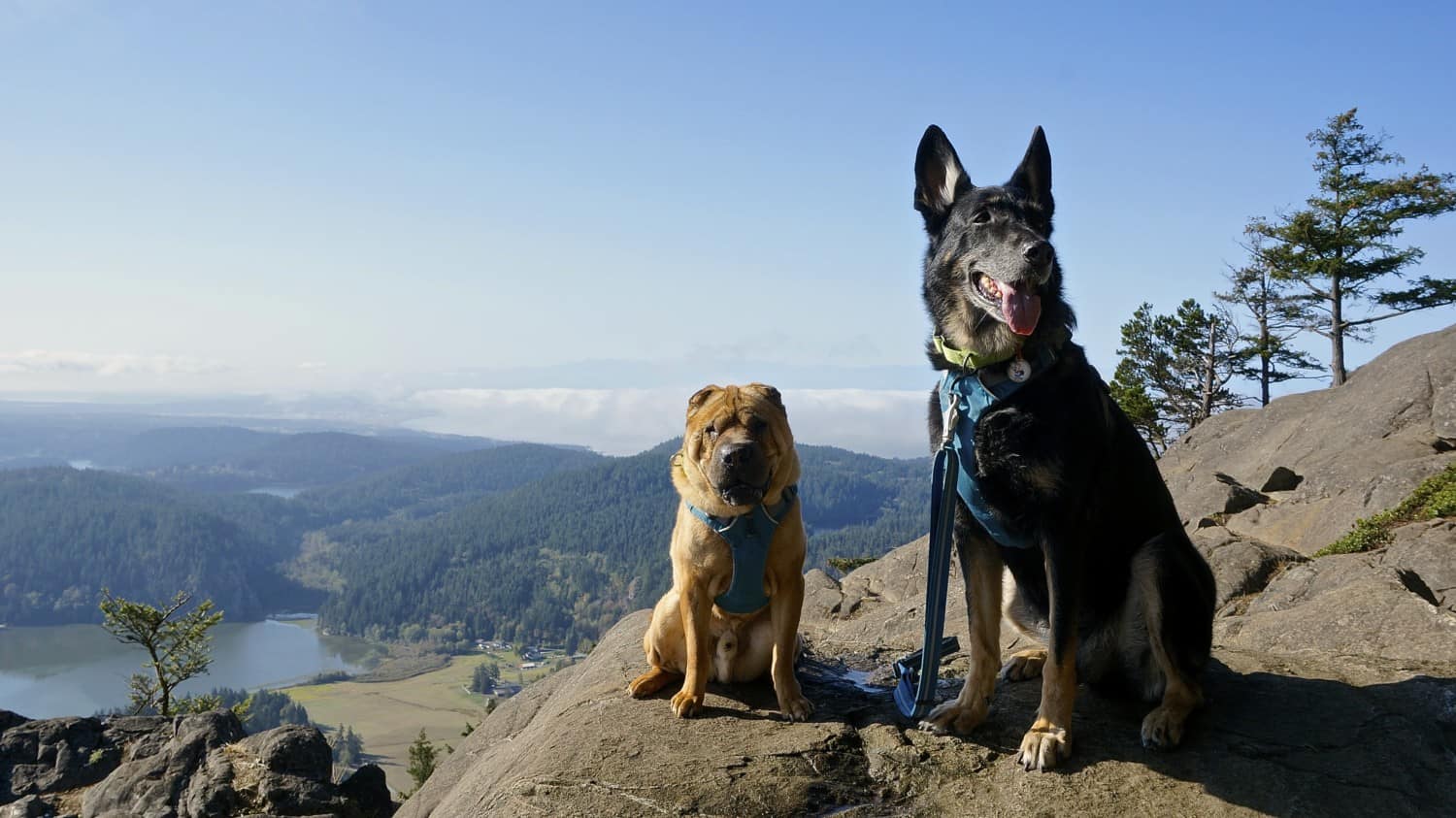 Deception Pass State Park
Deception Pass is Washington's most visited state park for a reason. Covering more than 4,000 acres, it offers 14 miles of saltwater shoreline and 6 miles of freshwater shoreline on three lakes. The park straddles Fidalgo and Whidbey Islands, connecting the two with its famous high bridge.
Pets are welcome to explore all 38 miles of hiking trails throughout the park with you. In addition, you can camp, fish, kayak, bike, birdwatch, and watch the sunset on the beach with your furry travel companion.
Deception Pass State Park Pet Policy: Pets must be on a leash no more than eight feet long at all times, and are not permitted on designated swimming beaches. Owners are responsible for cleaning up after their pets.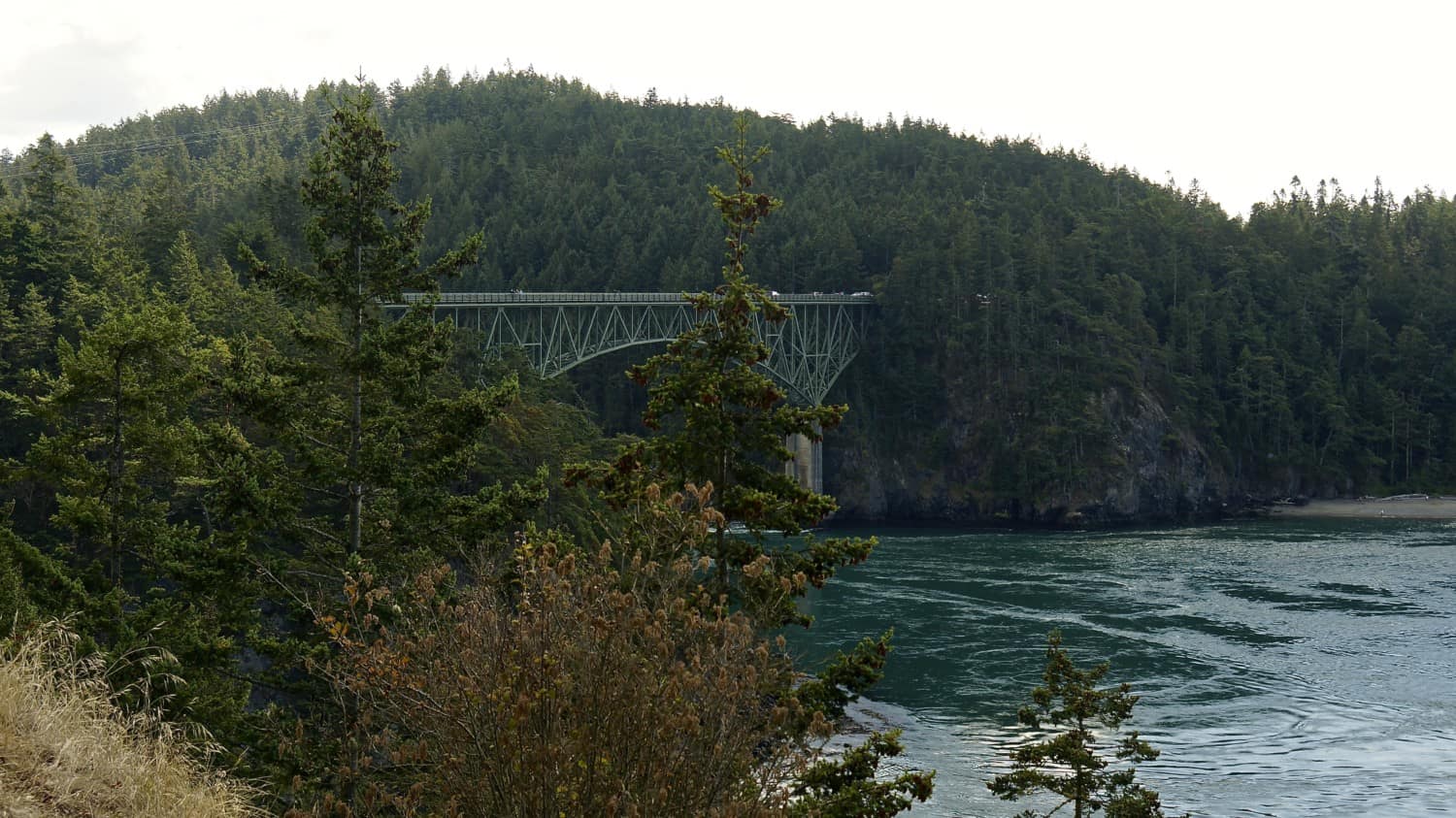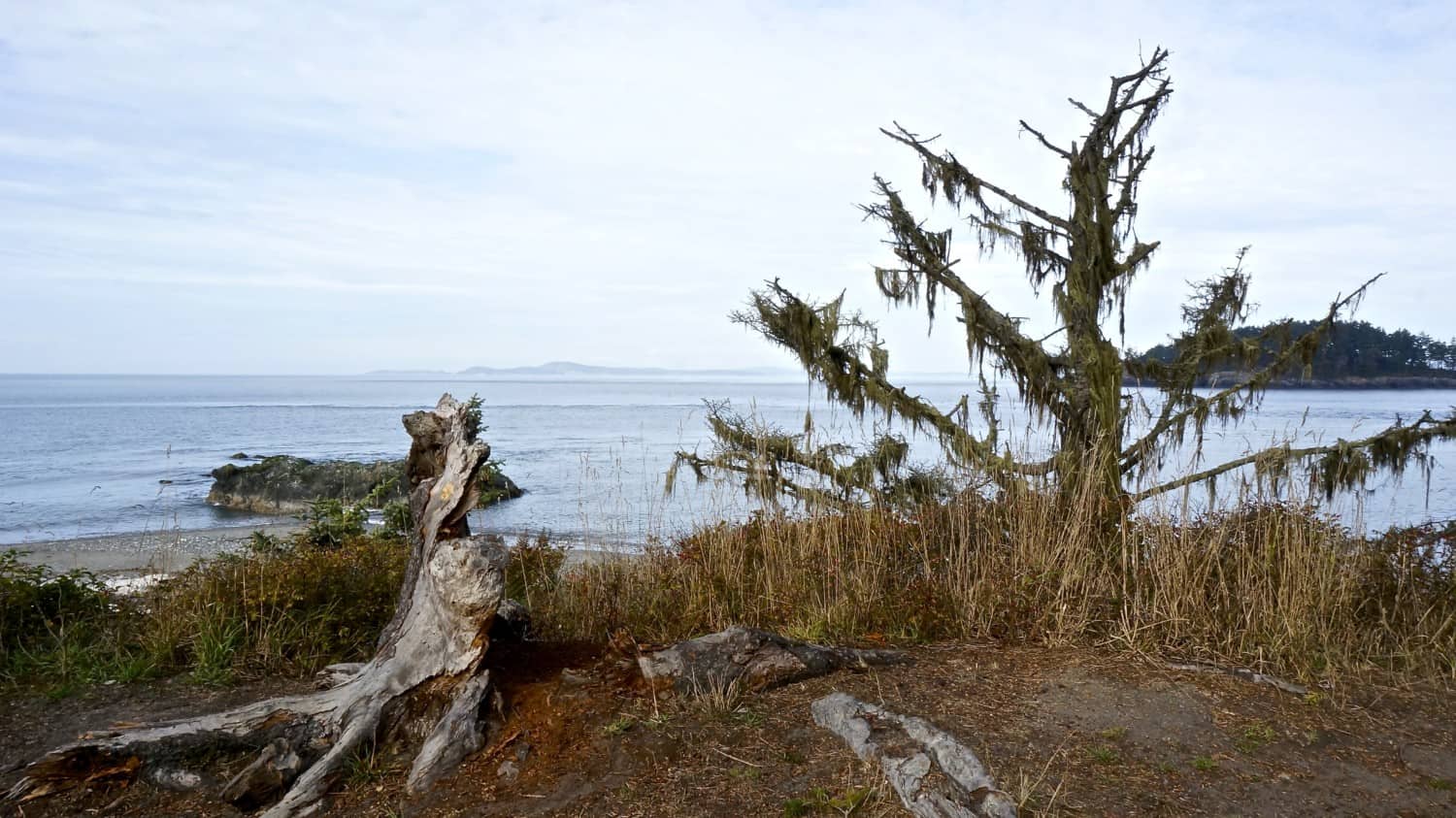 A one-day pass to use the state park costs $10, and the parking areas at Deception Pass have self-registration stations. If you're planing to visit several parks during your stay, purchasing an annual pass for $30 would be more economical. Or, plan your trip on one of Washington's Discover Pass Free days!
Ebey's Landing – Bluff Trail
Making your way south from Deception Point, be sure to stop at Ebey's Landing. From the parking area on Cemetery Road (across from Sunnyside Cemetery) you can admire the expanse before you. And what appears at first to be just a lovely overlook, soon reveals itself as a magnificent hike.
From the parking area, follow Ebey's Prairie trail about three-quarters of a mile to the "You are here" star on the map.
READ MORE ⇒  Make A DIY Pet First Aid Kit For Your Car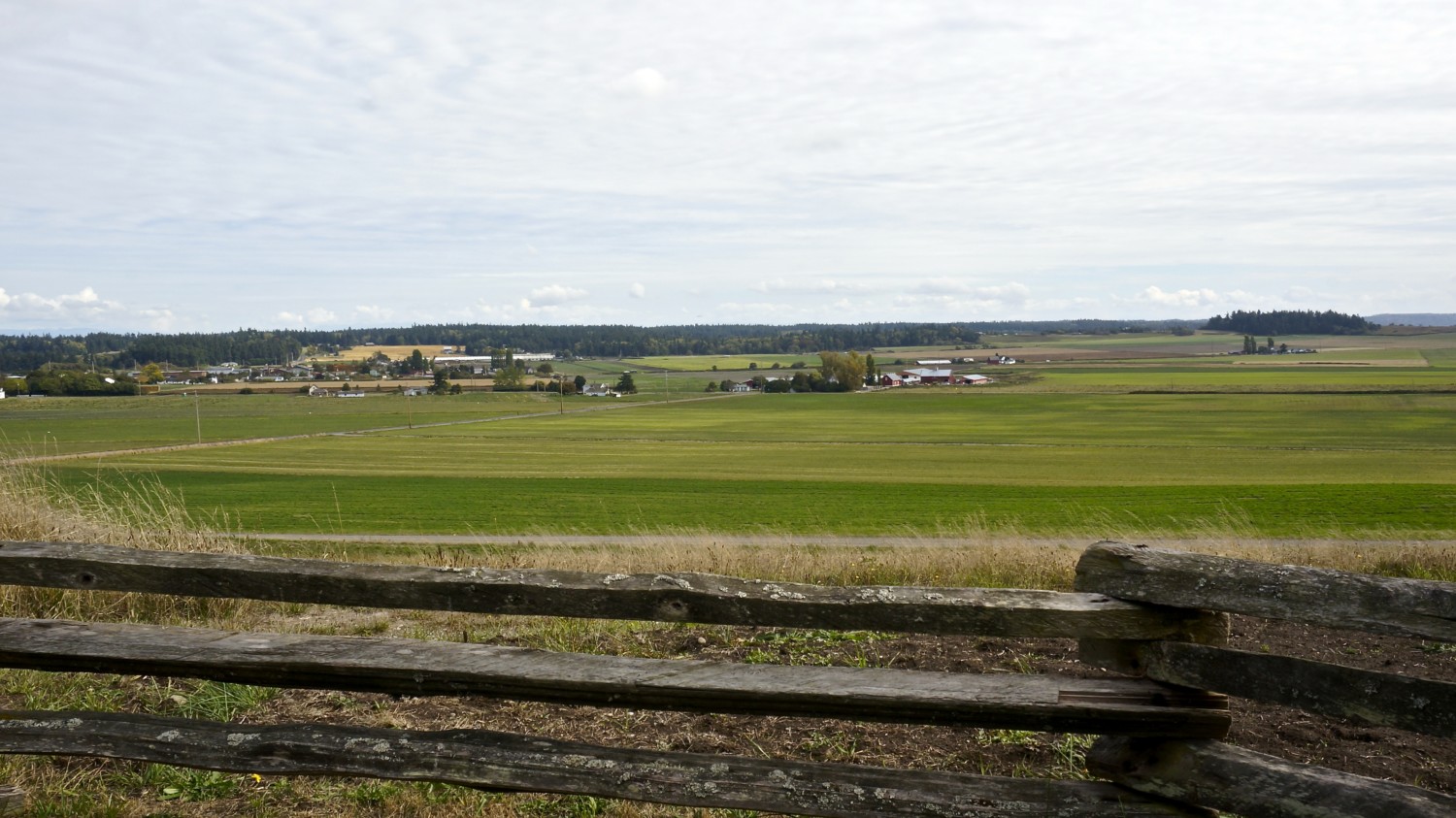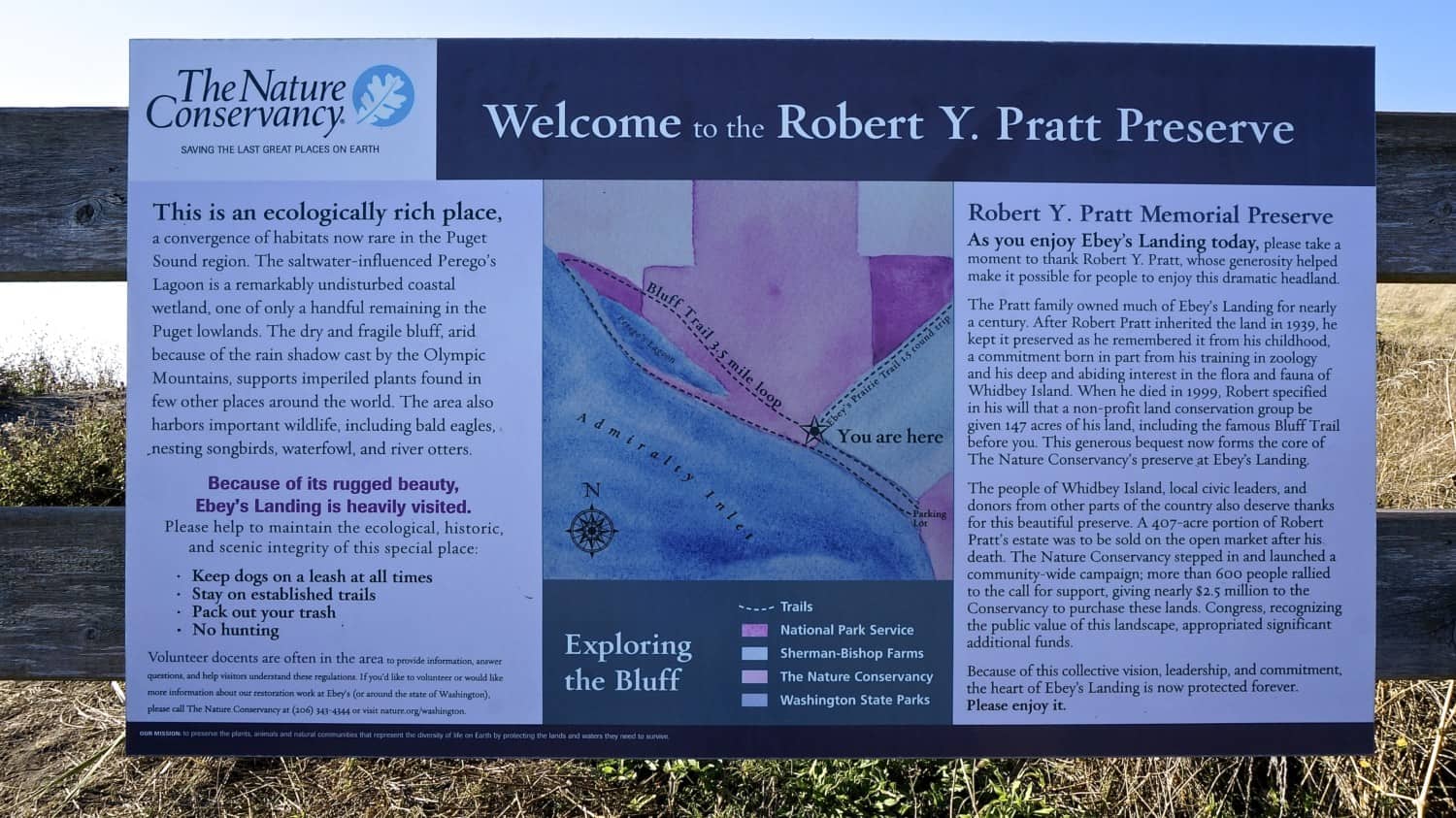 When you reach the preserve there are a couple options to choose from. We took the Bluff Trail and were not disappointed. Even Ty was smiling! The dirt trail goes out along the edge of the cliff and comes back on the beach. Just as we were getting back to the car the fog rolled in and completely filled the valley. It was amazing to watch!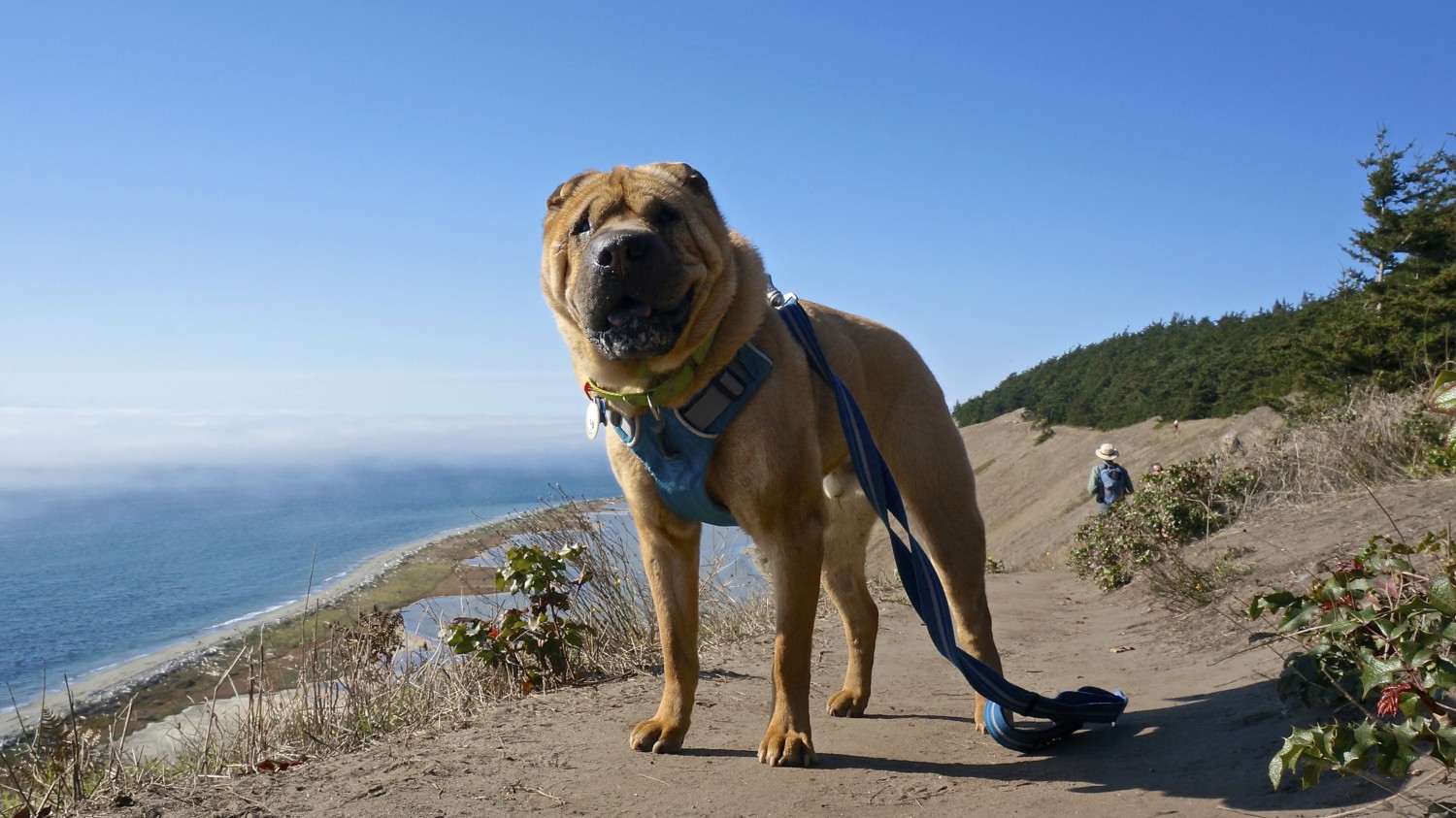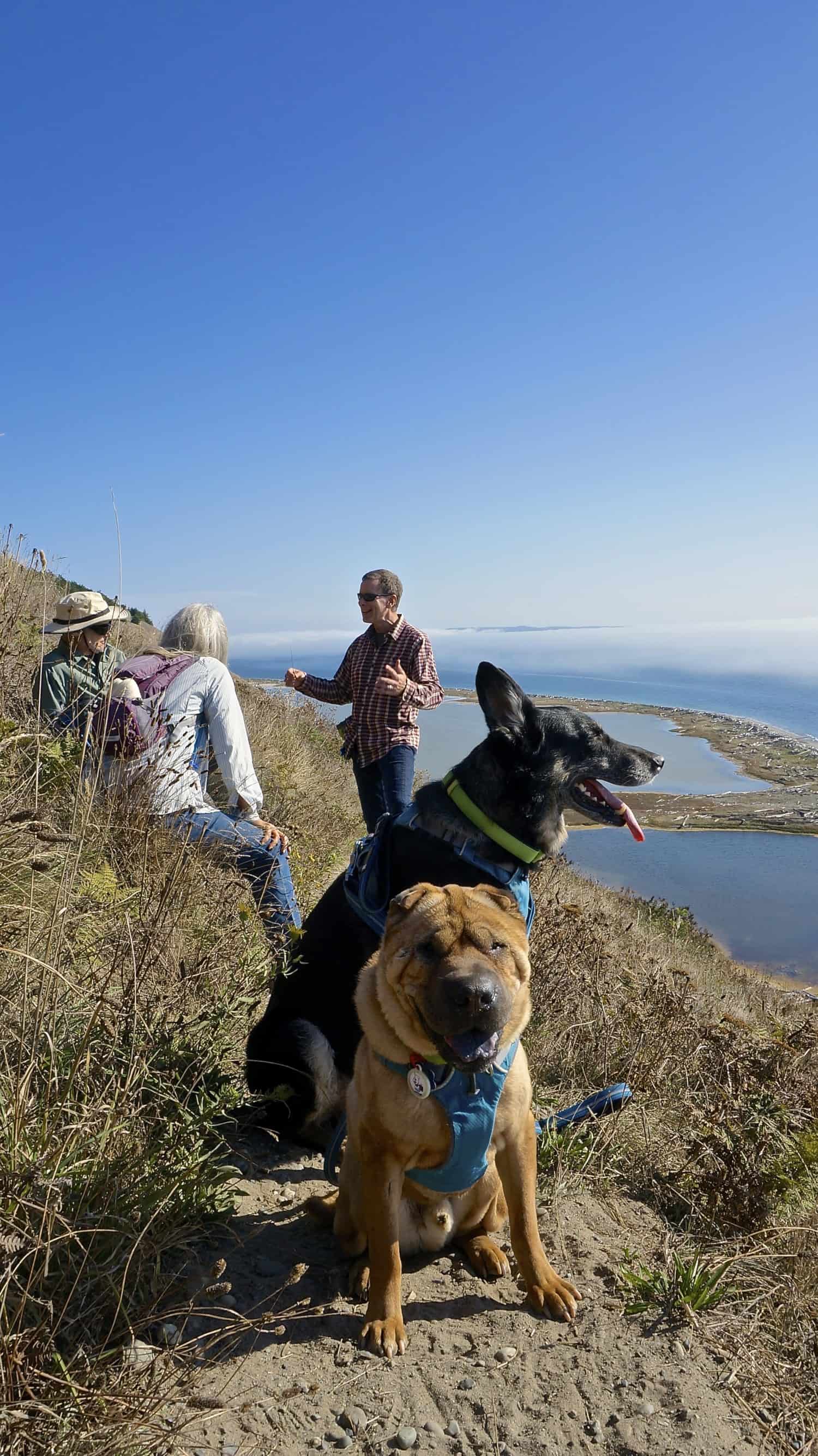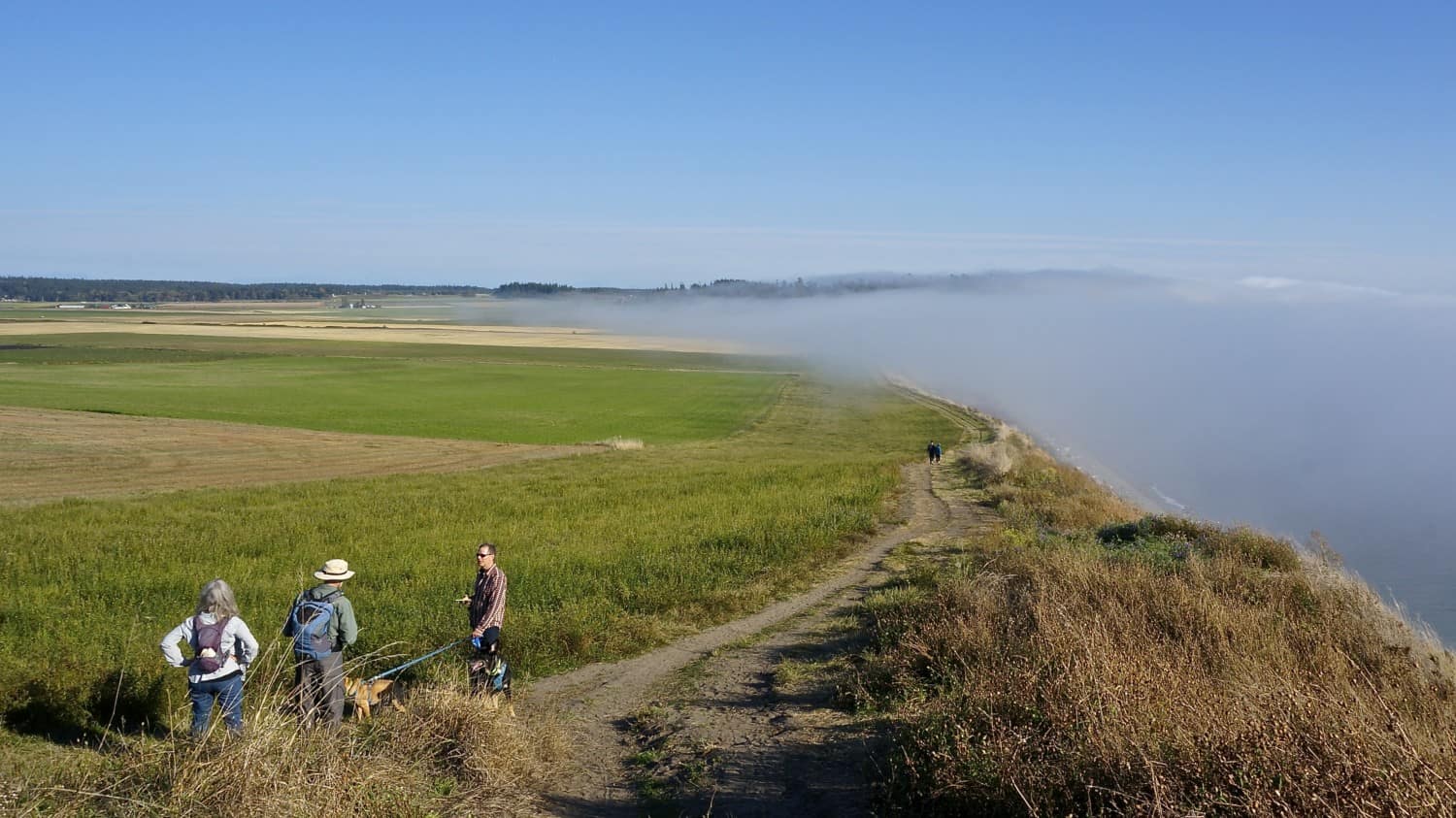 The Village of Coupeville
Continuing south a few miles, you'll enter the quaint village of Coupeville. The second oldest town in the state, this was once the center of the island's booming fishing industry. It's still home to Penn Cove Shellfish – one of the oldest commercial mussel farms in America. Needless to say, if you're looking for a fresh seafood lunch, the restaurants in Coupeville are among the best.
There are also a number of historic buildings, shops to explore, and a pier with a small museum. If you happen to be visiting in March, don't miss the annual mussel chowder competition!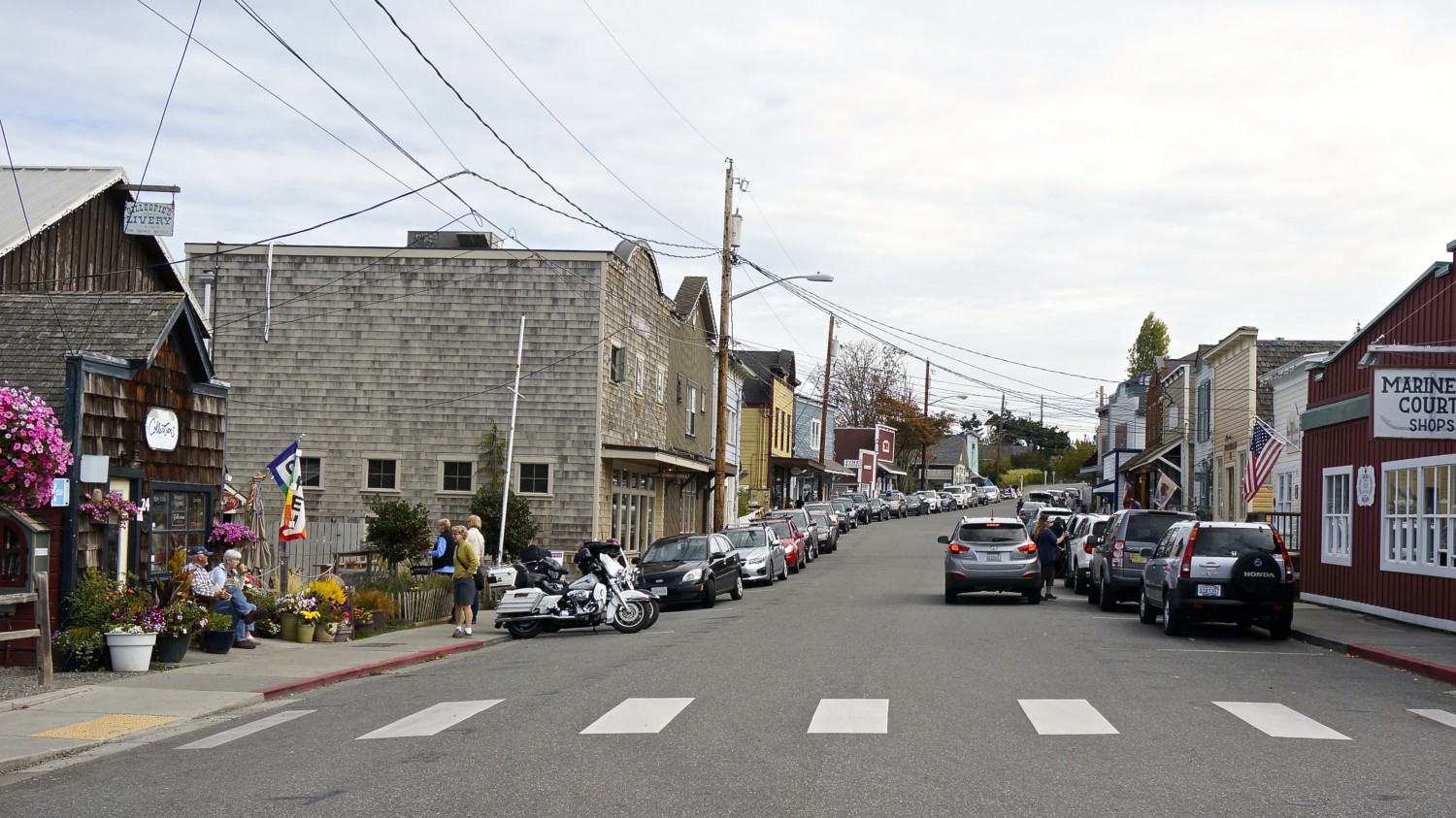 Fort Casey State Park
Fort Casey was originally a U.S. Army base that opened in 1897 and was decommissioned after World War II. With the old battlements and artillery bunkers still in place, it's an intriguing park to explore. The highlight, however, is Admiralty Head Lighthouse.
Built in 1903 and decommissioned in 1922, it was used for a time as a training facility for the Army's K-9 dog program. Now the lighthouse is an interpretive center with exhibits telling the history of the area, including local Native American tribes, the building of the Red Bluff Lighthouse, and the construction of Fort Casey.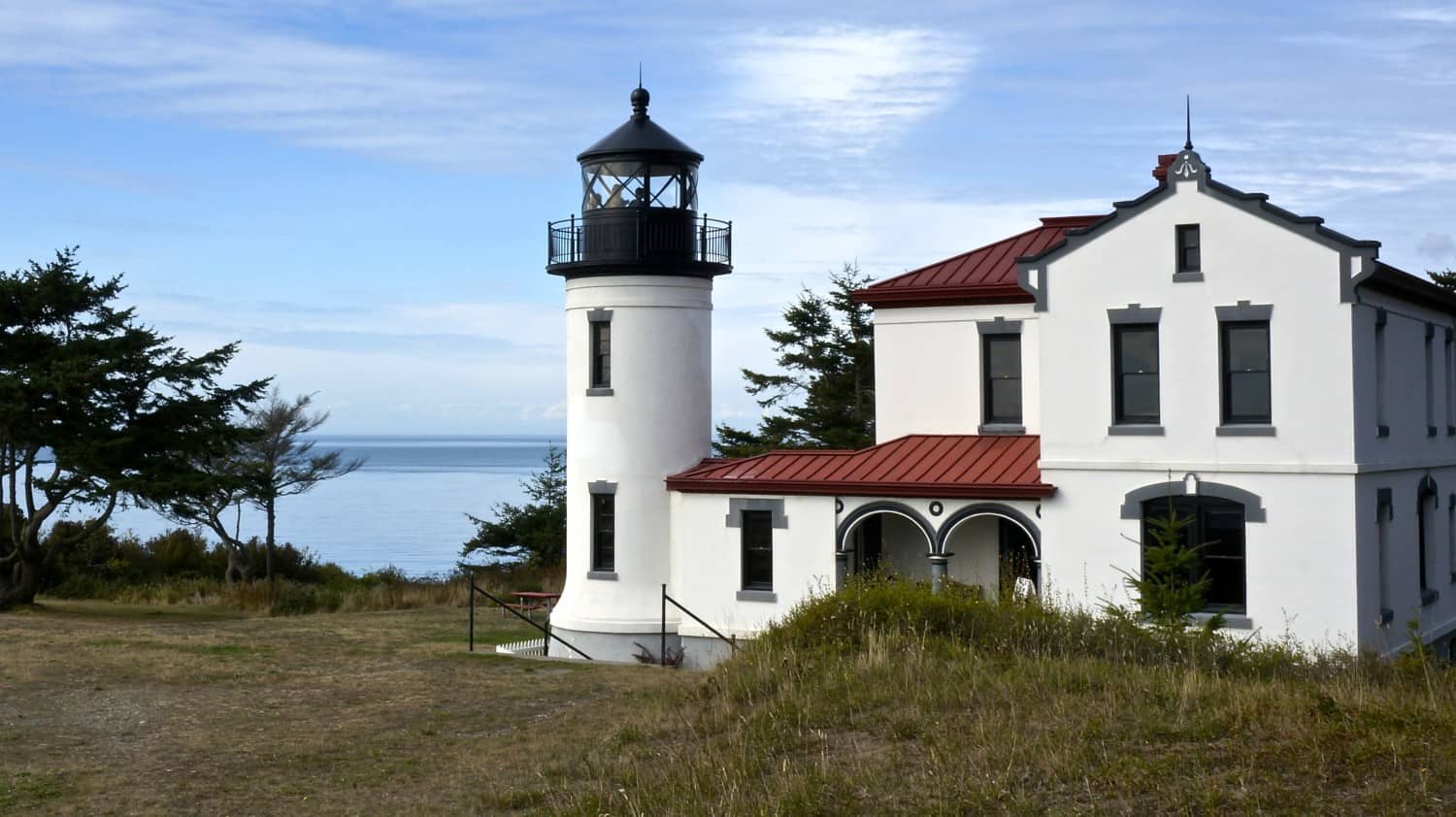 Greenbank Farm
The community of Greenbank revolves around this 151-acre former loganberry farm. Now the buildings house a café, wine and cheese store, and art galleries.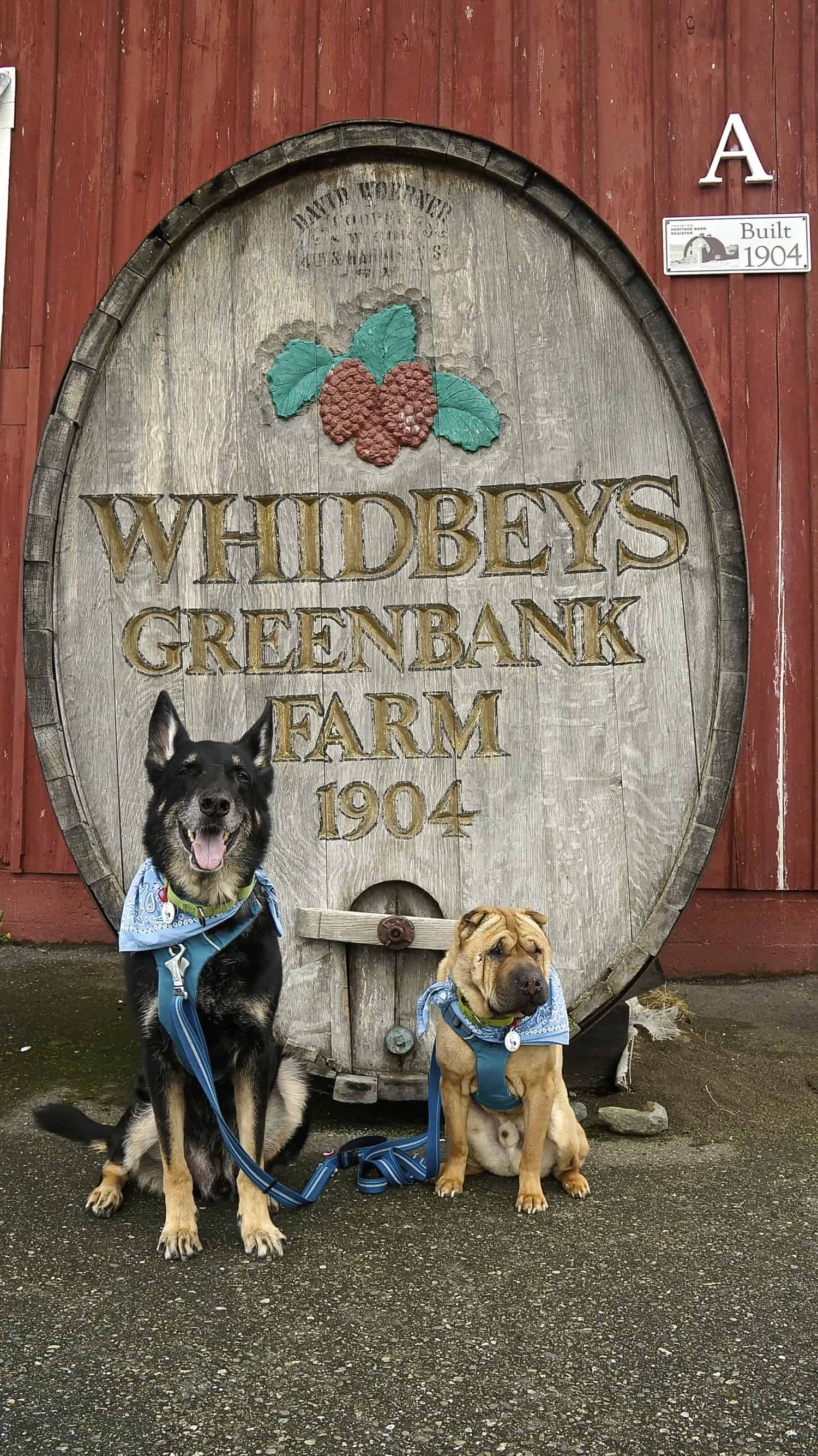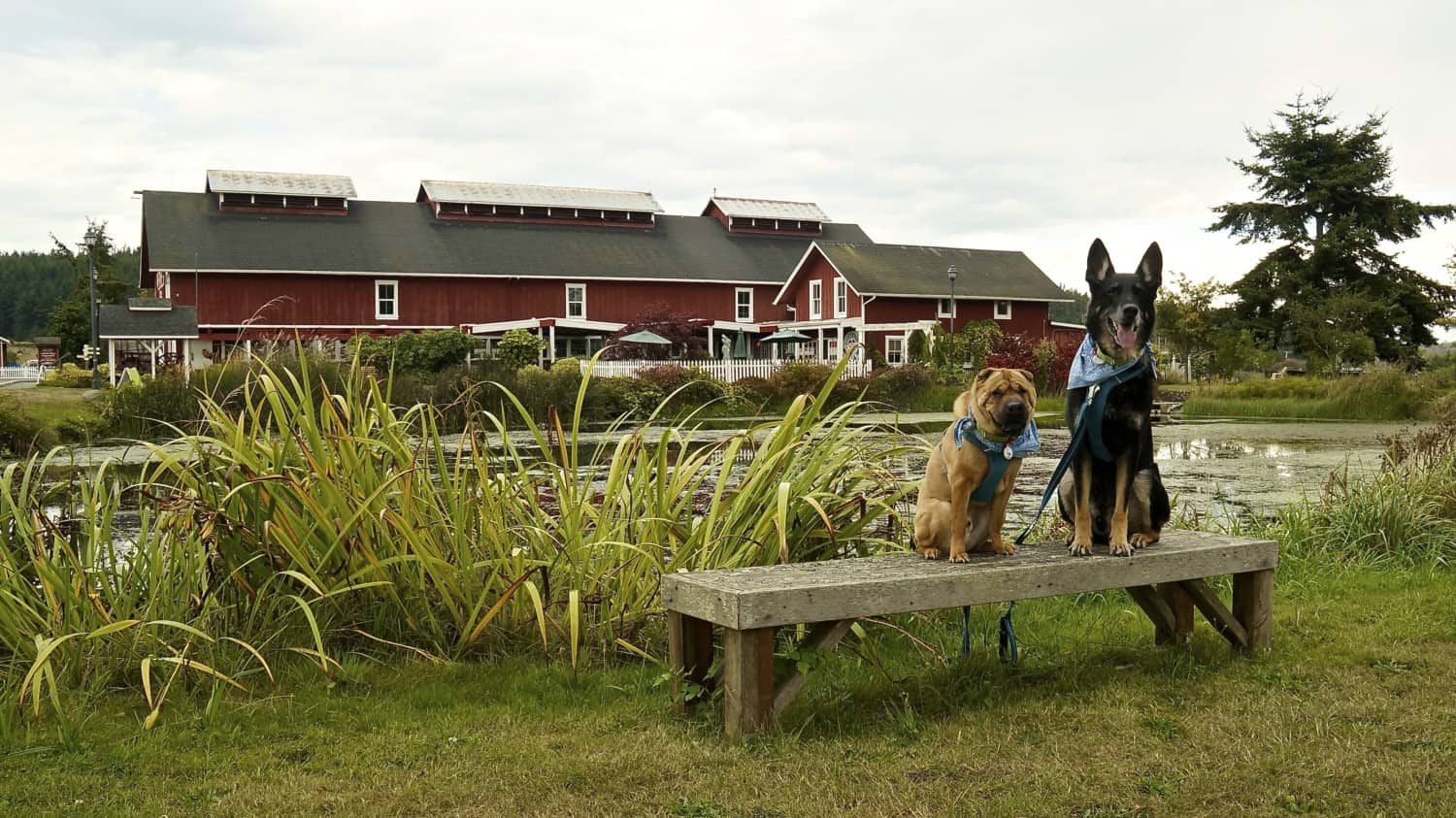 Thanks to timely advice from a Facebook friend, we'd heard about Whidbey Pies and, truly, it's not to be missed! Dogs are even welcome at the outdoor picnic tables.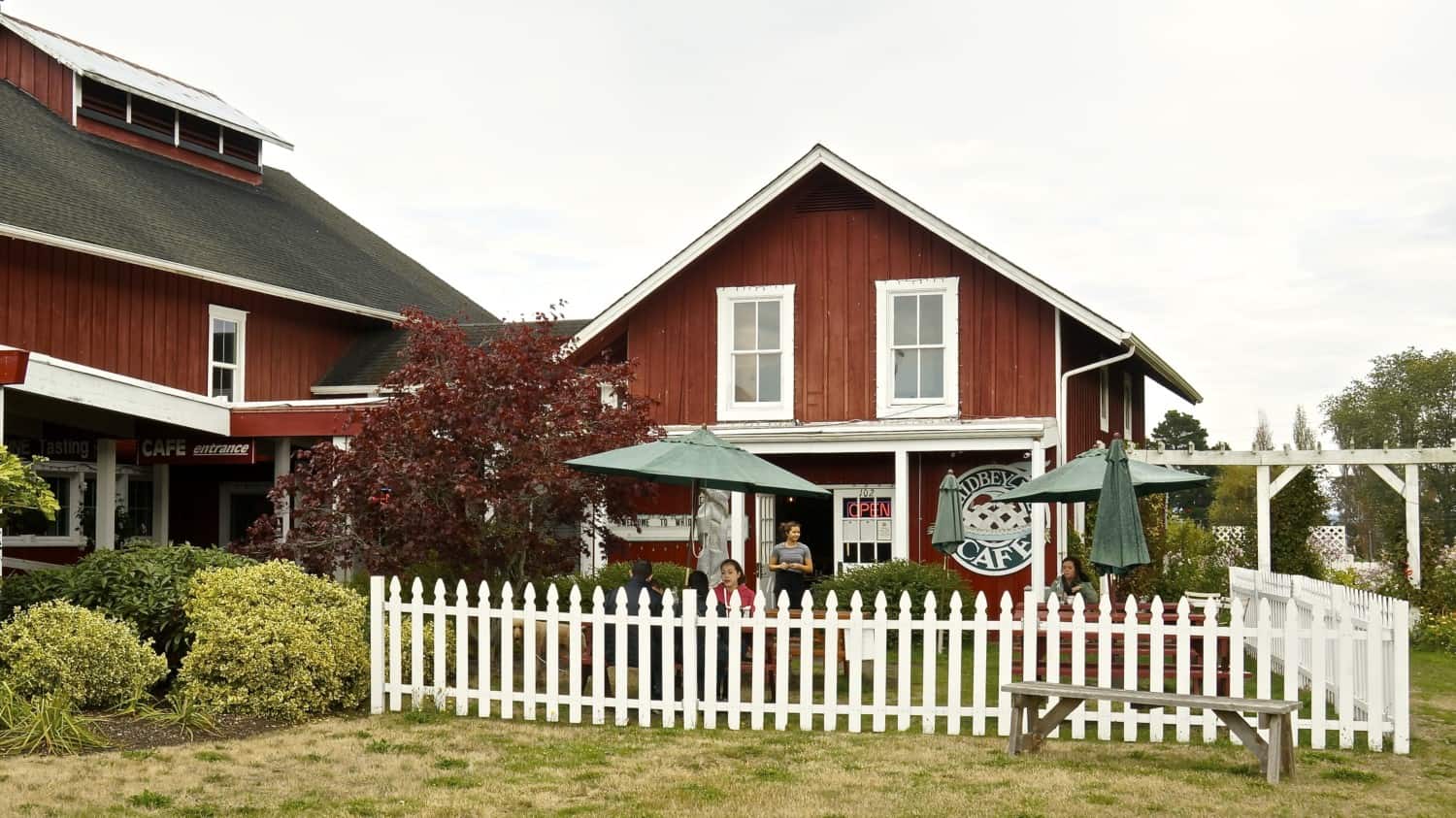 The pie was fantastic, but Ty and Buster were more impressed with the off-leash trails! After moseying through the public gardens and getting a few pictures by the pond, they burned off a little energy out in the fields.
Keep in mind that pets must be leashed near the buildings. The off-leash area begins past the red and white flags. Please pick up after your dogs to protect other pets and wildlife that share this space.
READ MORE ⇒  6 Simple Steps To Get Your Dog Posing For Photos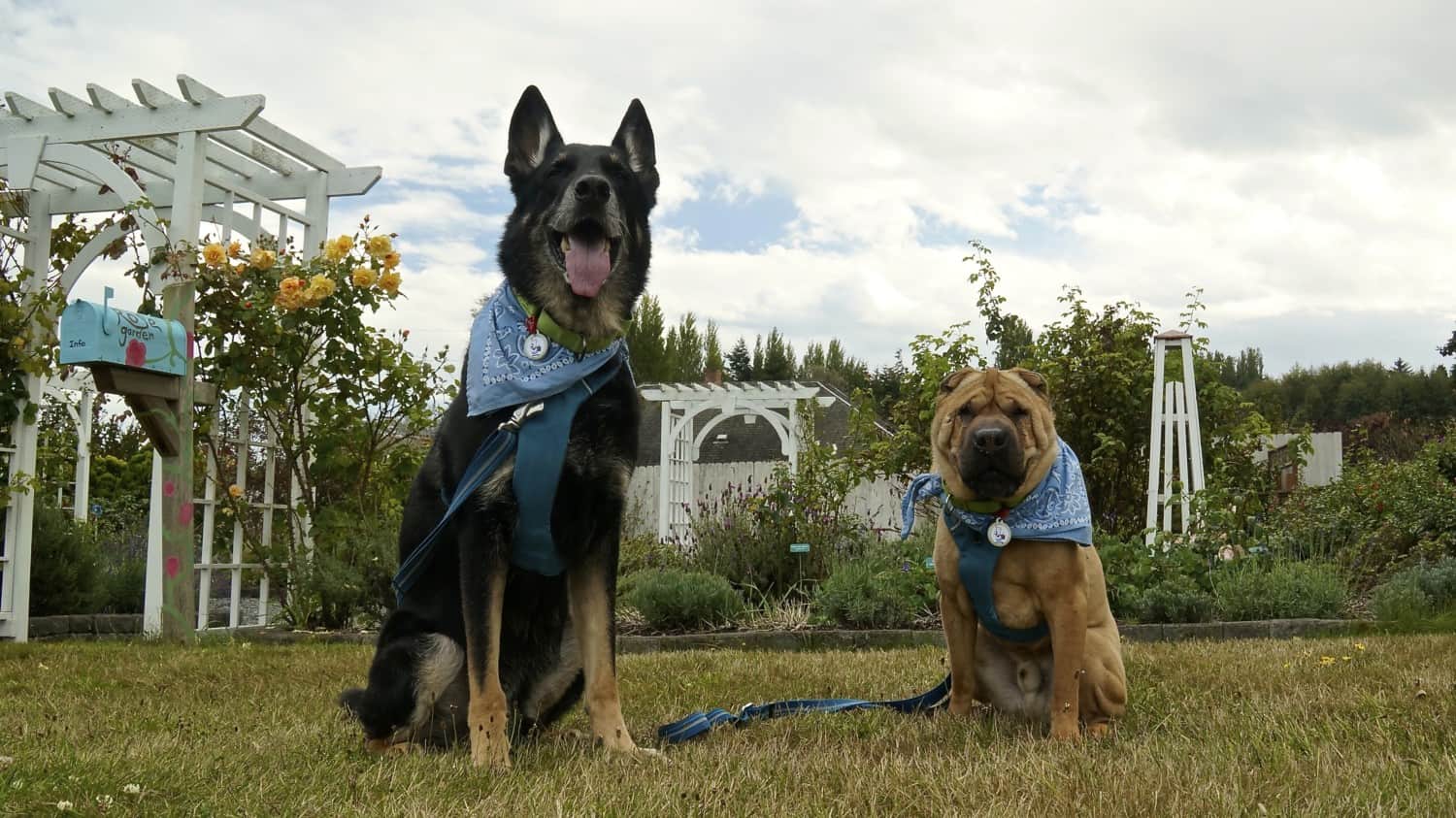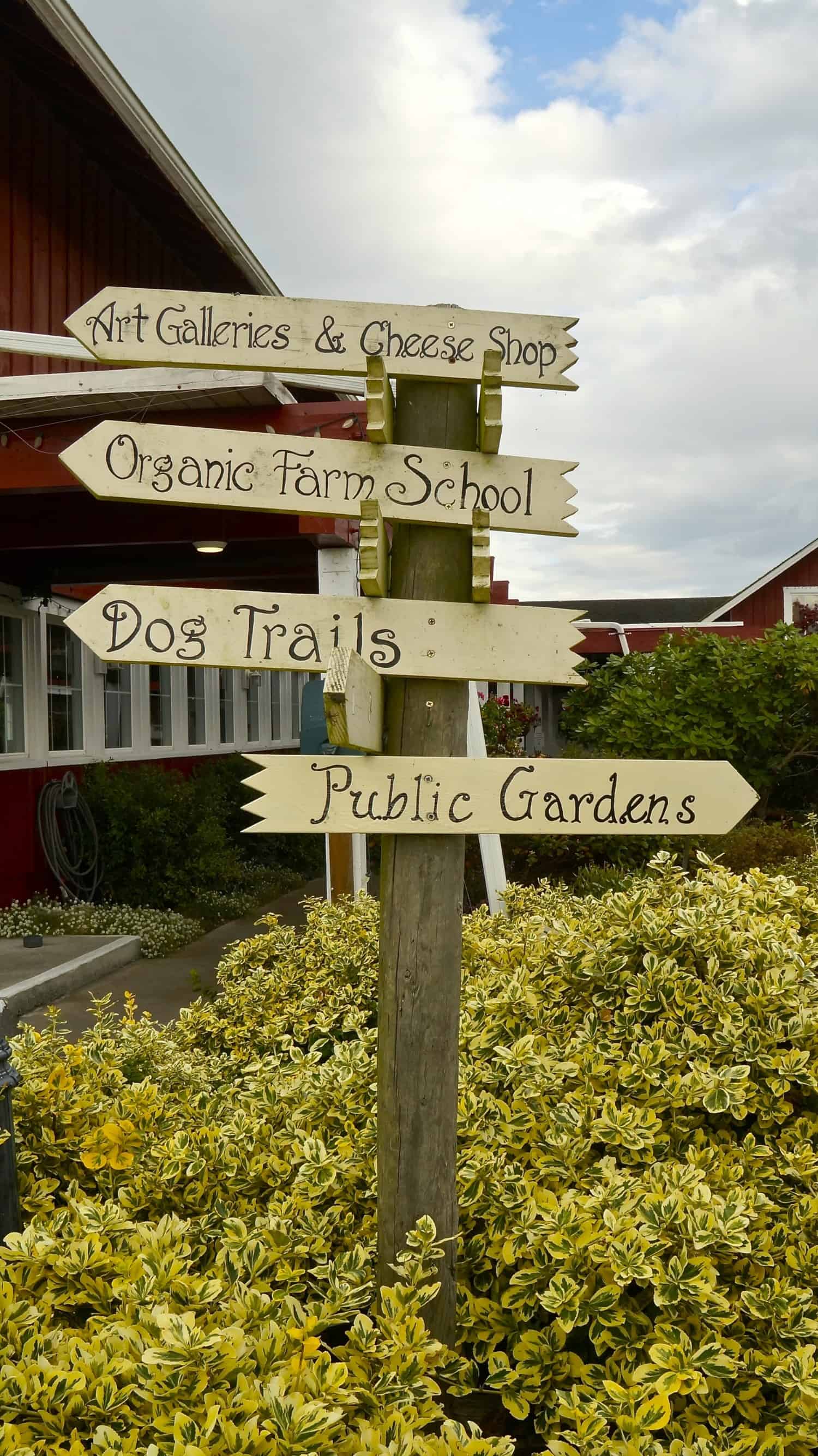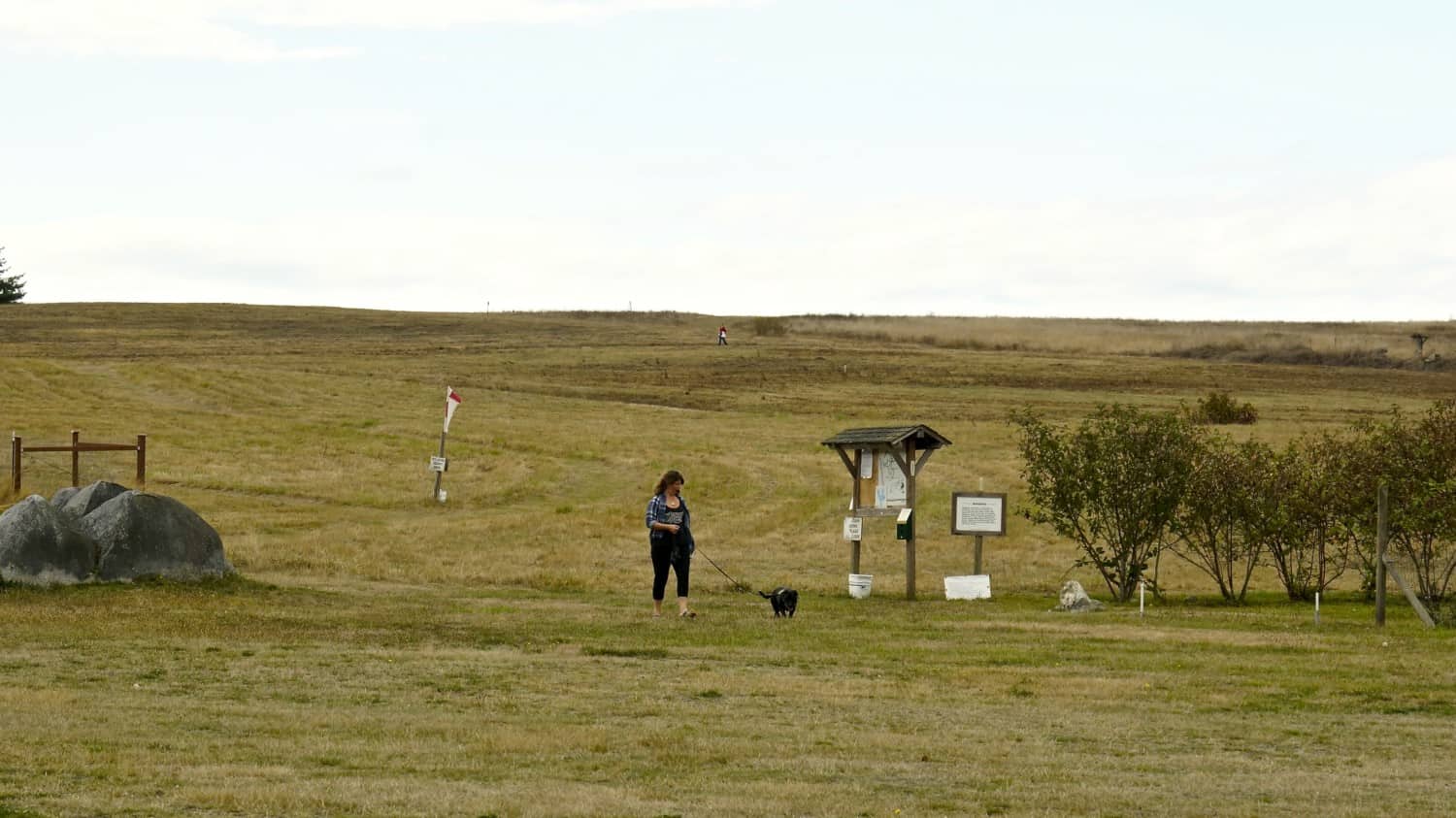 Still Not Convinced? There Are MORE Things To Do On Whidbey Island!
Pack a picnic and enjoy the afternoon at Fidalgo Island's Sunset Beach
Take the five-minute ferry ride to Guemes Island, just north of Anacortes, and enjoy the views from atop Guemes Mountain
Farmers markets are popular starting in late May or early June through late September
Spend an afternoon enjoying art, culture, and history in the enchanting town of La Conner
Play in the Oak Harbor Dog Park and the Clover Valley Dog Park, both north of the town of Oak Harbor, or check out Patmore Pit, south of Coupeville – the island's 40-acre dog park
Take a walk on Double Bluff Beach, where two miles of shoreline stretch along Useless Bay for dogs and people to explore together
Hit the area's Wine and Spirits Trails, where you'll be sure to enjoy the Spoiled Dog Winery
Check the events calendar and enjoy the many local festivals
Jump on the ferry and spend a day exploring the nearby San Juan Islands
Discovering number of pet friendly things to do around Whidbey Island was a real joy for us. We hope our experience encourages you to see it for yourself!
DO MORE TOGETHER
Amazon Affiliate Disclosure: GoPetFriendly.com LLC is a participant in the Amazon Services LLC Associates Program, an affiliate advertising program designed to provide a means for website owners to earn advertising fees by advertising and linking to amazon.com, audible.com, and any other website that may be affiliated with Amazon Service LLC Associates Program. As an Amazon Associate, the owner of this site earns a commission from qualifying purchases.
(Visited 20,186 times, 1 visits today)