Monument Valley is an icon of the American southwest! The red earth and epic rock formations that stand isolated on the otherwise vast, open landscape are instantly recognizable. They've even served as backdrops for a multitude of western films and have been featured in other movies, like Back to the Future III and Forrest Gump.
If these red rocks aren't on your must-see list, add them now. And plan to bring your pets, because there are plenty of things to do together in the area!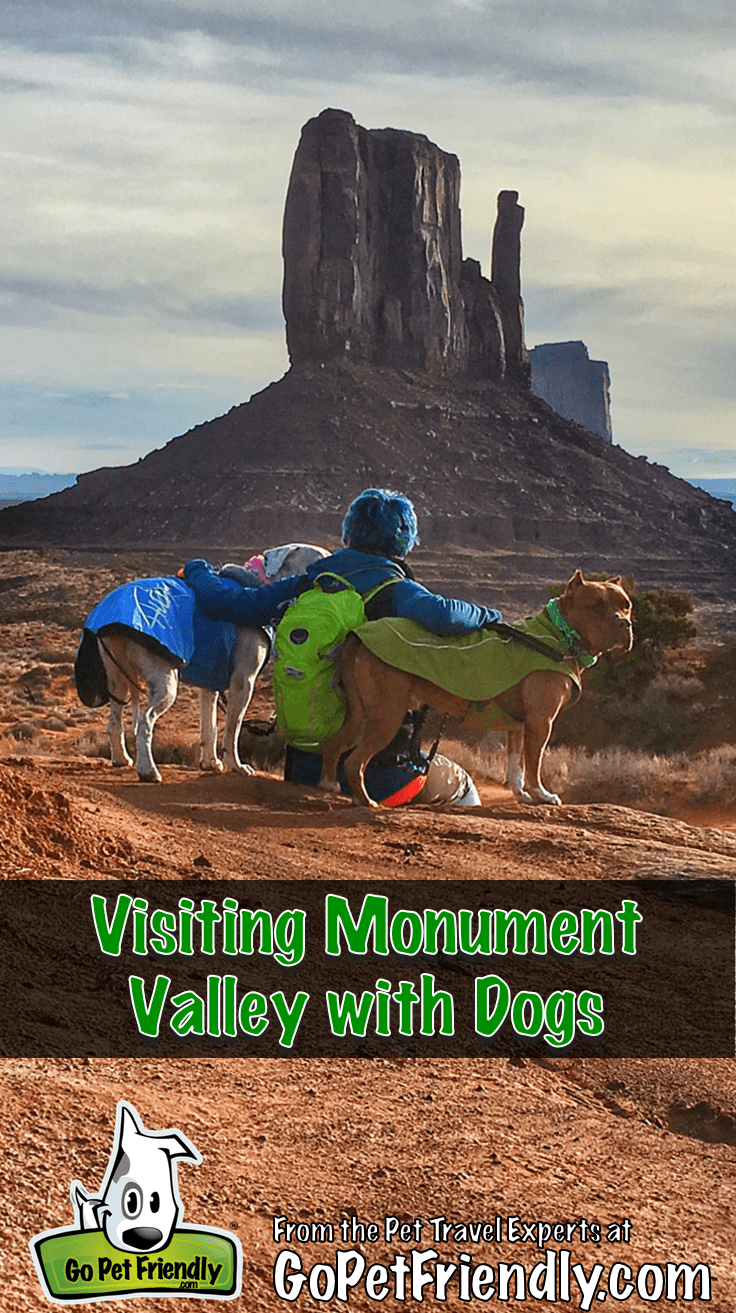 Pet Friendly Monument Valley
Situated on the Arizona-Utah border, Monument Valley is part of the Colorado Plateau, a 240,000-square-mile expanse of varying desert landscapes that includes 9 national parks and 18 national monuments. Monument Valley differs from the other parks in that it's administered by the Navajo Nation.
And if you're traveling with pets, that particular detail should pique your interest. While many national parks are notoriously lacking when it comes to pet friendly access, Monument Valley Navajo Tribal Park provides a refreshing array of options for adventuring with your pets.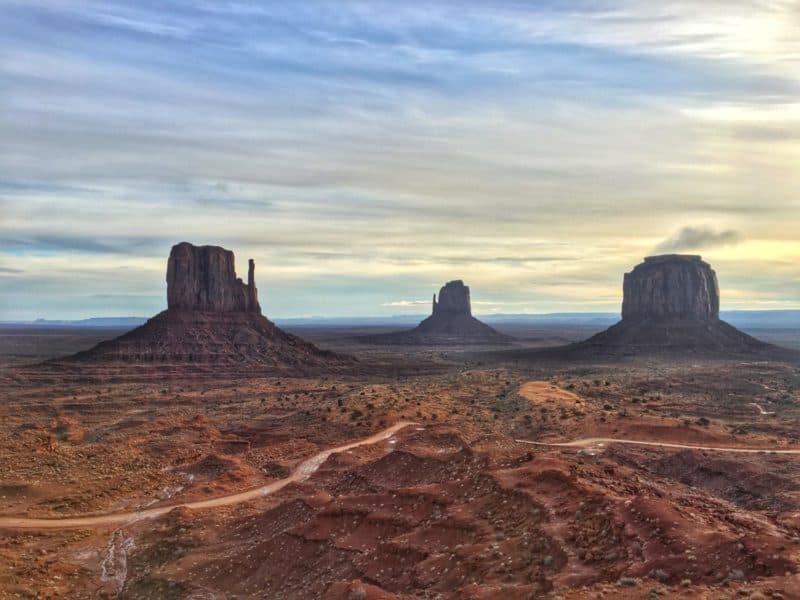 Whether traveling from the north or south, you'll arrive at Monument Valley via Highway 163. Our drive from Phoenix was about 5 hours – thankfully Cool Whip and Hercules are top-notch road trip companions!
The highway north of the park's north entrance is where you'll catch the view seen in Forrest Gump, where Forrest ends his run. There are several pullouts on each side of the road so you can safely park to stretch your paws, take in the view, and snap a few photos.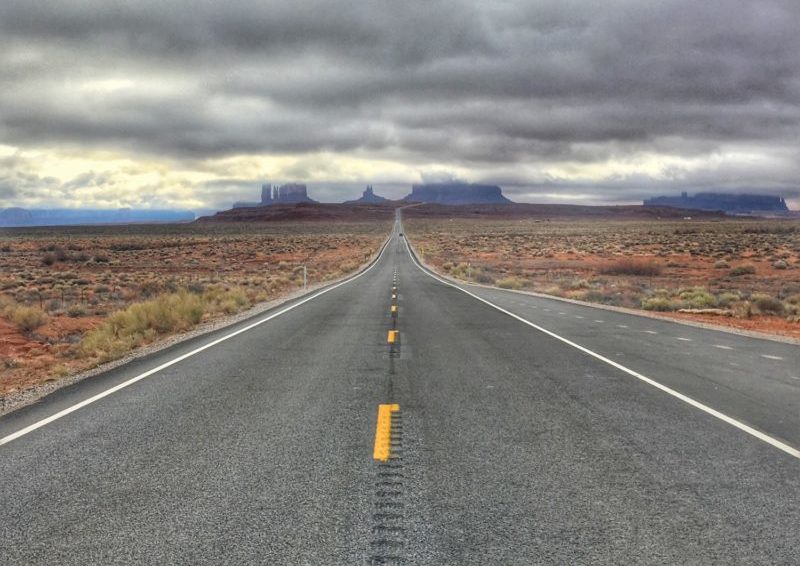 We pulled into Monument Valley just in time to check in at Goulding's Lodge for the night. While they do charge a $20-per-pet fee, they don't discriminate on weight, breed, or number of pets. And with two 70-pound pit-bull-type dogs, we appreciate their inclusive policy!
Plan Your Visit
Arriving in the evening gives you a head start in the morning. The park opens at 8 am October through March, and 6 am April through September (peak season).
There are fewer visitors and, therefore, fewer dogs early in the day. This is a nice bonus if you have reactive dogs or just want to experience a little solitude among the sandstone giants.
We wound up having the entire park to ourselves the morning of our visit. Does it get any better than that?!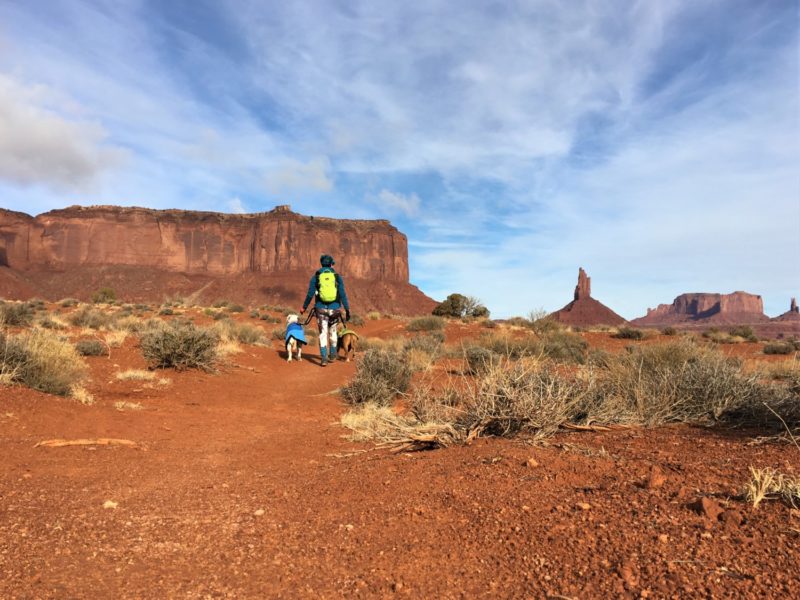 As you head up the driveway to the park, there is an entrance booth just before the visitor center. Neither Cool Whip nor Herc seemed to have any cash with them, so I paid our entry fee: $20 per vehicle for up to four people. I chatted with the attendant about the pups and which areas of the park they were allowed to explore. She confirmed that pets are welcome on Wildcat Trail and Valley Drive, but not inside the visitor center.
Pet Friendly Trails in Monument Valley
Wildcat Trail is a 3.8-mile hiking trail leading down into the valley and around West Mitten Butte. If you thought the monuments were impressive from a distance, wait until you're walking right next to one! Wow!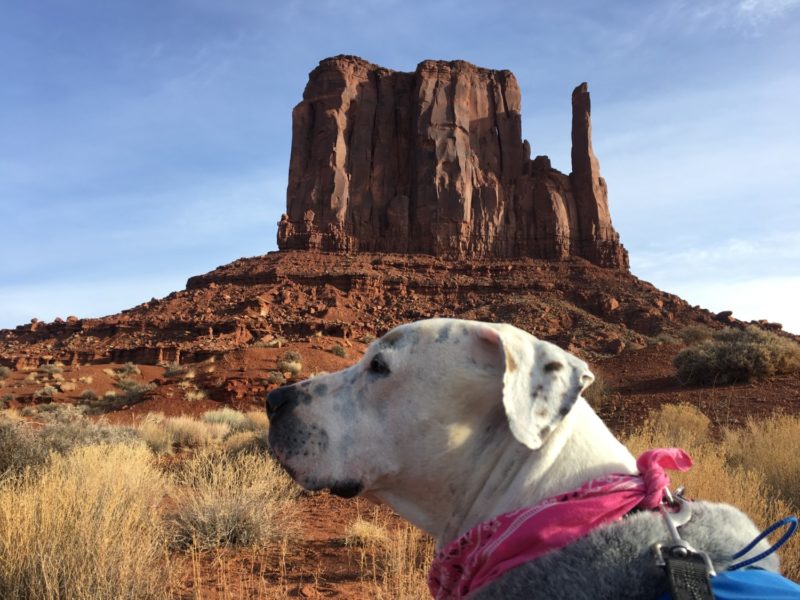 Pets must be leashed and all hikers must remain on the designated path. Beyond that, you have the freedom to explore at your own pace. We took that to heart and enjoyed a leisurely 2.5-hour stroll. Hercules sniffed every bush we came upon, and there may have been a stop or two for snacks … because, really, who enjoys an adventure without snacks?!
READ MORE ⇒ 7 Essentials for Desert Hiking with Dogs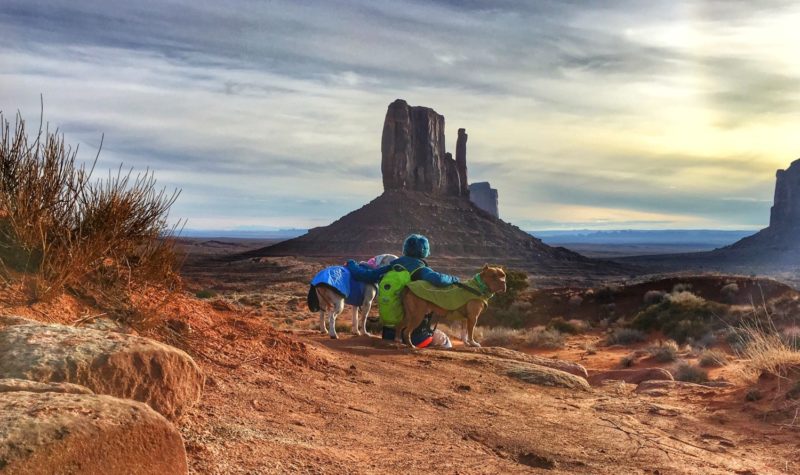 Climbing back out of the valley is the only place where the trail was somewhat difficult. The hill is fairly sandy, and it feels a bit like you're hiking up a dune. The dogs handled it well, though Cool Whip shot me a few disgruntled glances along the way. Walking uphill is her least favorite activity. Though if we're being completely honest, anything not involving treats, belly rubs, or naps is her least favorite activity.
Valley Drive in Monument Valley
Valley Drive, your other pet friendly option, is a 17-mile dirt road weaving through the monuments. There are pull-outs along the way to stop for pictures and stretch your legs, but you must be accompanied by a guide if you want to explore beyond the parking areas.
Guided tours are available for purchase, and some are pet friendly, as long as all guests approve of the pet riding along. If you choose to drive the road yourself, be sure to check with the visitor center staff for current conditions. We arrived after a night of rain, and they recommended avoiding the drive without a 4-wheel-drive vehicle.
Beyond Monument Valley
So you're probably thinking, "You drove with your dogs five hours to Monument Valley just to do a 3.8-mile hike?!" Yup, we sure did! Monument Valley may be what draws you in, but once you get here, there are plenty more places to check out.
Mexican Hat, Goosenecks State Park, and Muley Point are all great pet friendly options. But our favorite choice is Valley of the Gods. The name alone is impressive!
Valley of the Gods
Valley of the Gods is often described as a smaller version of Monument Valley, but don't let size fool you. You're likely to be just as impressed, if not more! Additionally, Valley of the Gods is on Bureau of Land Management (BLM) land, and that makes it a fantastic place to visit with pets!
READ MORE ⇒ Pet Friendly Off-leash Hiking on Federal Lands
Set up your bed (tent, car, RV, etc.) in any of the previously used campsites along the 17-mile dirt road in Valley of the Gods and make the most of your stay. Yes, another 17-mile dirt road – and this one should also be avoided after rain if you are not equipped with 4-wheel-drive. The road crosses several washes and has a few tight turns, so stay alert.
Cruise along the drive until you find a site that calls to you and your furry companions. Ours was located along the back curve of a short U-shaped side road. Being back from the main road kept Cool Whip and Hercules from getting distracted by passing vehicles, and we had a great view.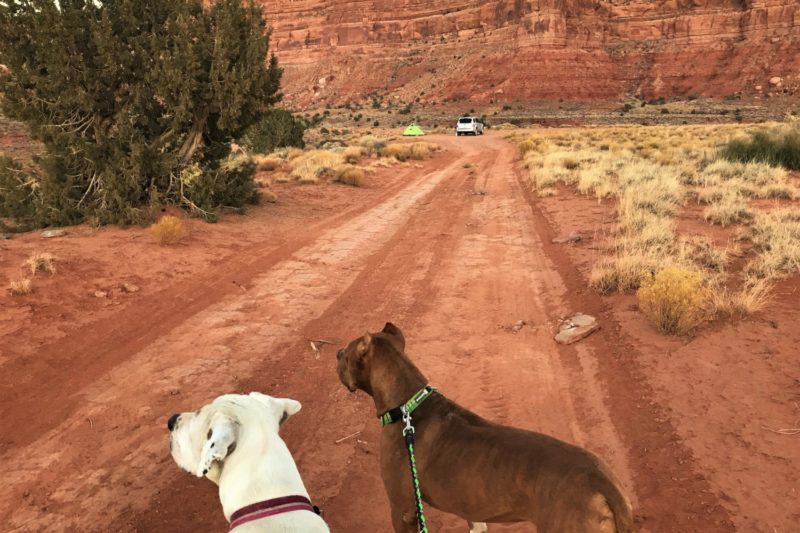 After setting up camp, Cool Whip and Herc took me exploring. Your pets likely won't give you much say in the matter, either. There are so many new smells and places to sniff! And you can walk right up to the towering red statues and wander along the ravines. It's possible you'll all be tuckered out before bedtime.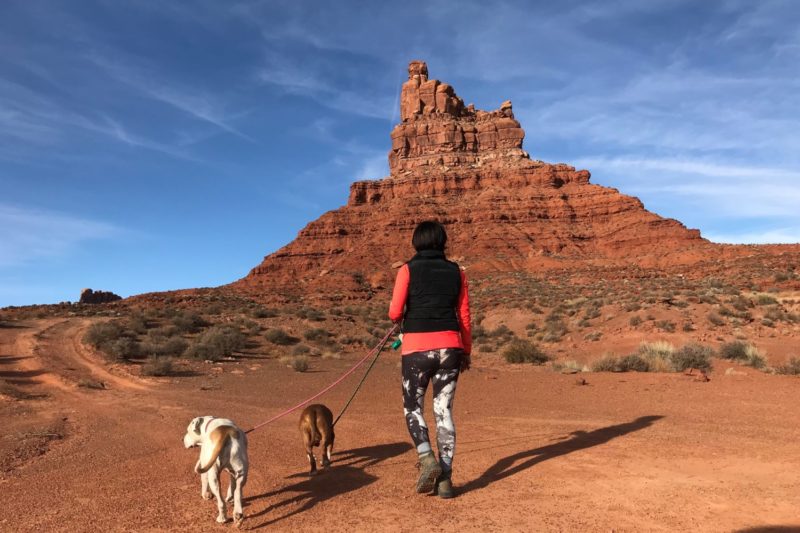 Be Weather Aware
Check the weather forecast while planning your trip to ensure optimal enjoyment. Monument Valley Navajo Tribal Park and Valley of the Gods are located in the desert, where temperatures can climb well above 90 degrees in the summer months and fall below freezing in the winter. Planning ahead promotes paw-fect adventures for you and your pets!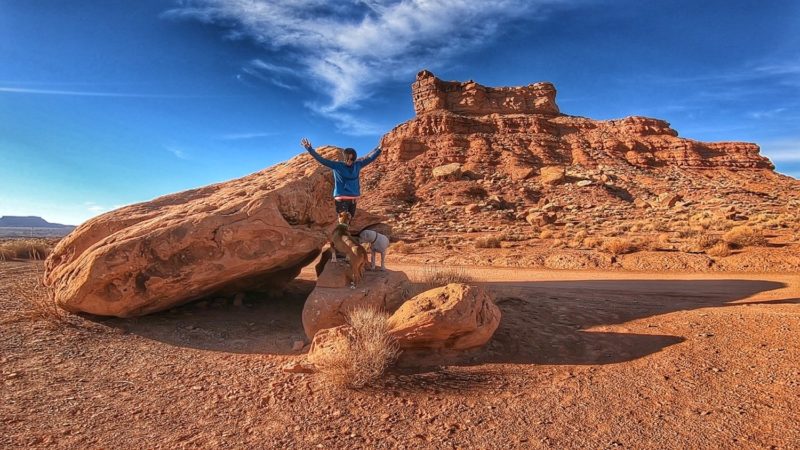 Amazon Affiliate Disclosure: GoPetFriendly.com LLC is a participant in the Amazon Services LLC Associates Program, an affiliate advertising program designed to provide a means for website owners to earn advertising fees by advertising and linking to amazon.com, audible.com, and any other website that may be affiliated with Amazon Service LLC Associates Program. As an Amazon Associate, the owner of this site earns a commission from qualifying purchases.
(Visited 11,214 times, 1 visits today)