Though we're doing our best, it's just not possible for us to cover every dog friendly destination in the country. That's why we love getting guest posts from our readers as they travel with their pets! Heading to the beach is a popular summertime activity and this post from Catie Keeler, a writer for mortgagerates.info, takes us to Beaufort, North Carolina – it's making me want to visit!
***
The beach is a great place to travel with dogs, and Beaufort, North Carolina, is a pet friendly beach town just a short drive or ferry ride away from the beautiful beaches that have made the Outer Banks famous.
My husband and I went to Beaufort this past weekend with our dogs, a Siberian husky named "Salvador" and a Beagle/Bassett Hound mix named "Doyle." It was a great family vacation that they enjoyed as much as we did.
Driving
Of course, the dogs' favorite part of the trip was the drive. It took us about four hours to arrive in Beaufort, and they loved lounging on backseat or watching the sites pass through the window. If your dog suffers with motion sickness, you might want to cover the windows so he can't see the movement outside. Doyle sometimes gets a little anxious when he rides in the car, so we lay blankets down on the floorboards to give him a spot to curl up when he needs a break.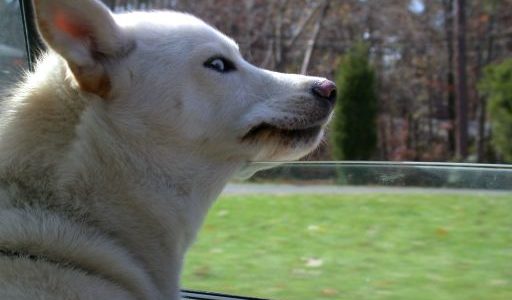 Even if you have a dog who loves to ride in the car as much as Salvador does, remember to schedule time into your trip to stop for water, bathroom breaks, and a little exercise. Our four-hour trip would have taken us about three hours on our own.
Beach
The beach is the main attraction in Beaufort. The vibe is more laid-back and family-friendly (as well as dog-friendly) than you'd find in town popular with spring breakers. Here your dog can enjoy splashing in the surf, running on the sand, and playing Frisbee and other games.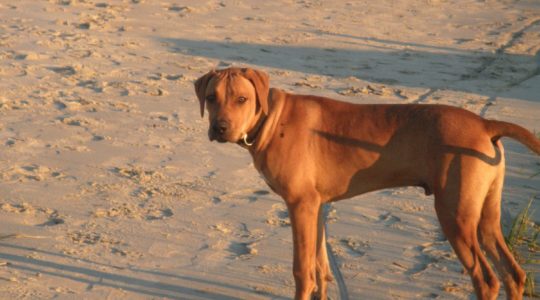 With all the fun, don't forget to keep your dog's safety in mind. On the day we went, there was a riptide warning, which should always be a concern. Make sure your dog doesn't wade too far out, and stay close by when he is in the water. Also, while your dog's fur may protect his skin from the harsh rays of the sun, he is still vulnerable in the heat. Bring plenty of fresh water  and shade so that your dog stays well-hydrated and doesn't overheat. We brought a sun tent, and it was the perfect place for our dogs to rest when they'd had enough sand and sun.
Historic Homes
Beaufort is known for its historic homes, which date back to the 1800s and early 1900s. Many of them come with spooky stories, including the murderous exploits of local pirates. In fact, you can even get a glimpse of Blackbeard's home. (Though, did pirates really have homes?)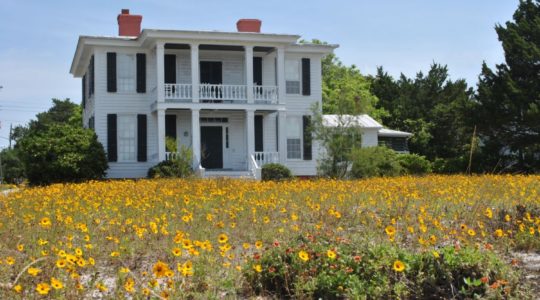 There are many walking tours that you can join, but we decided to explore on our own. The dogs loved scouting the new sights and scents, and we enjoyed taking in the history. If you think you'd rather join one of the more formal tours when you go, just call ahead to ask about dogs joining. Be sure your pooch is up for the distance and bring all the supplies you'll need with you (fresh water, treats, waste bags).
Lodging
We were lucky and were treated to free lodging during our stay, as a friend owned a house right near the water. However, if you don't have a friend with swanky digs for your visit, there are plenty of dog-friendly hotels in the area. Try:
County Home Bed and Breakfast, 252-728-4611
Most hotels charge a small fee, but you'll be able to sleep easy knowing that your pets are welcome on your trip.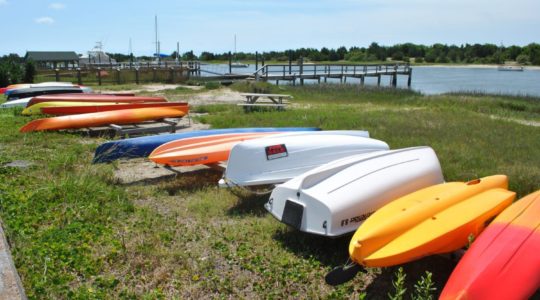 Beaufort has plenty more to offer, including pet friendly dining opportunities, kayaking, water sports, and more. We enjoyed plenty of meals at outdoor cafes and even spent a little alone time kayaking. If you wanted to take your pups along on an outing, rent a boat and enjoy fishing, sailing, or even touring the sanctuary of wild horses.
Catie Keeler is the primary researcher and writer for mortgagerates.info. Her most recent accomplishments include graduating from the University of North Carolina in Chapel Hill with a degree in business and communications. Her current focus for the site involves updating mortgage loan calculators and reverse mortgage rates.
Planning a pet friendly trip of your own? We'll make it easy:
Pet Friendly Hotels | Pet Friendly Destinations | Pet Friendly Activities
Amazon Affiliate Disclosure: GoPetFriendly.com LLC is a participant in the Amazon Services LLC Associates Program, an affiliate advertising program designed to provide a means for website owners to earn advertising fees by advertising and linking to amazon.com, audible.com, and any other website that may be affiliated with Amazon Service LLC Associates Program. As an Amazon Associate, the owner of this site earns a commission from qualifying purchases.
(Visited 3,803 times, 1 visits today)