In the far northwest corner of the contiguous United States, off the coast of Washington, lies a confetti of emerald jewels in the Salish Sea. Known as the San Juan Islands, the number of rocks, reefs, and isles in the collection depends on whether you're counting at high or low tide. Surrounded by snow-capped mountains, these islands are a patchwork of pine forests, stoney beaches, verdant pastures and fields, and sparkling lakes. Each of the islands has its own charm, and on this visit we chose to explore the pet friendly things to do on Orcas Island.
Exploring Pet Friendly Things To Do On Orcas Island
Getting to Orcas Island is part of the fun! The Washington State Ferry serves four of the San Juan Islands. Leaving from the port in Anacortes, the ferries accommodate vehicles of all sizes and walk-on passengers – including those with paws. The rules for pets are simple … they can stay in your vehicle for the crossing, ride in the passenger cabin if they're in a carrier, or explore the outdoor passenger area or auto deck while on-leash. We had a beautiful day for the crossing, and Ty and Buster thoroughly enjoyed the ride.
Pet Rules for Washington State Ferries

Pets must be leashed, housebroken, under control, and attended to at all times.
Pets in carriers can ride inside in the passenger cabin.
Leashed pets are welcome in the exterior passenger spaces and the auto deck. If the exterior spaces must be accessed through the main passenger cabin, take the most direct route outside and don't linger in the interior spaces.
Generally, pets are not allowed in the terminal buildings unless passing through the building is required for boarding access. Then leashed pets should proceed to the exterior waiting spaces in the most direct route available.
Note that some ferries on this route travel between Canada and the US. Those vessels are subject to US Customs and Border Inspection, so it's a good idea to take your passport and your pet's rabies certificate, in case the most convenient sailing happens to be a ship en route from Canada.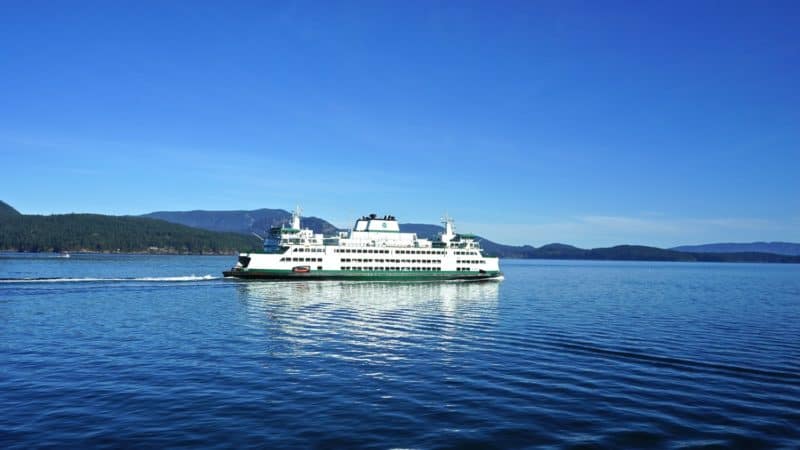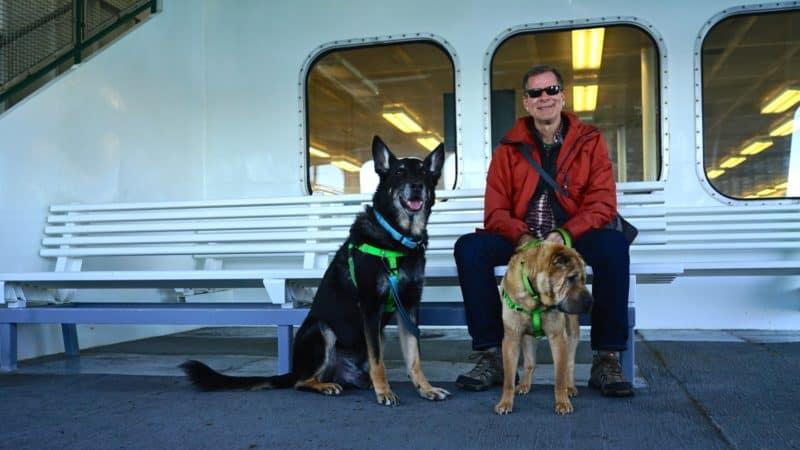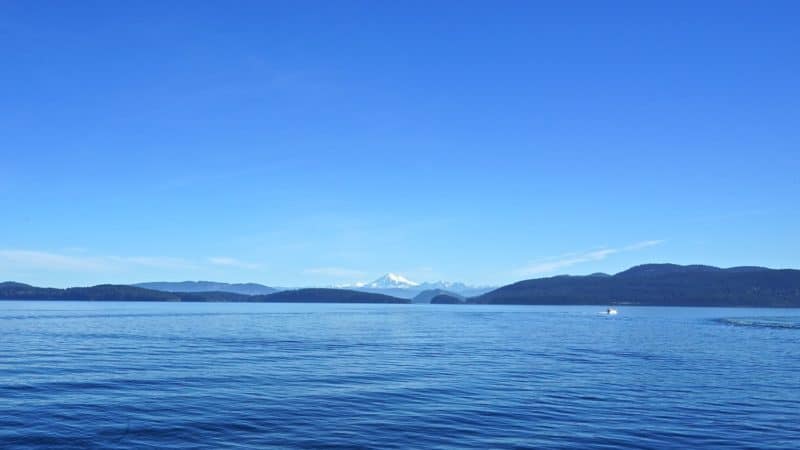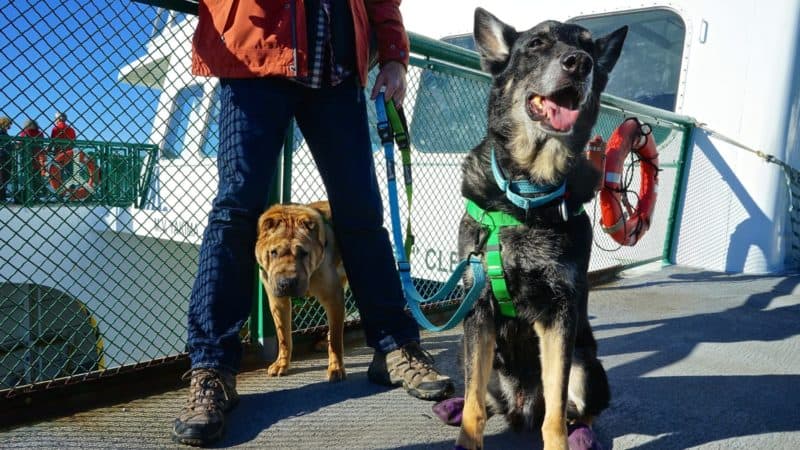 Arriving In Orcas Village
The most difficult dilemma you'll face when touring the San Juans is deciding which island to visit. Lopez, Orcas, Shaw, and San Juan Island are all served by the ferry, and any would make a great day trip. We had a great time on San Juan Island last year, so we opted to explore Orcas this time.
The largest of the San Juans, Orcas is 56.9 square miles. It's shaped like an up-side-down horseshoe with the East Sound dividing the two lobes of the island. Known as the most beautiful of the San Juans, it's mountainous terrain, pristine parks, and 77 miles of shoreline are simply breathtaking.
Traveling from Anacortes takes about an hour, and the ferry docks on the western side of the island in tiny Orcas Village. Here you'll find a few restaurants, the historic Orcas Hotel, and a grocery store if you need snacks or picnic supplies.
READ MORE ⇒  Visiting Nearby San Juan Island, Washington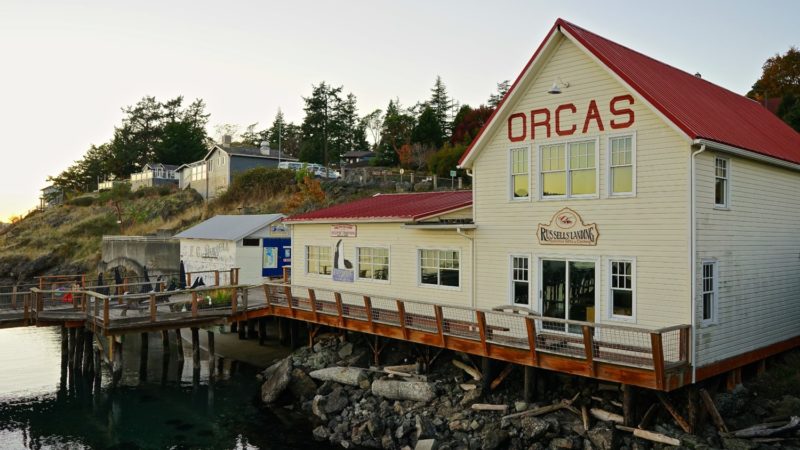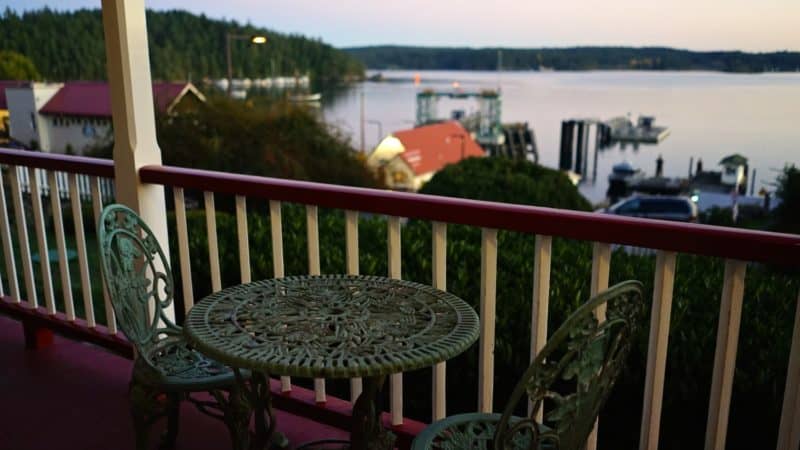 The maximum driving distance between any two points on Orcas Island is 27 miles. So, while there doesn't seem to be a lot of ground to cover, you'll find fantastic things to do with pets! The relaxed pace and and serene landscapes greet you immediately as you cruise along the winding two-lane road through the spectacular Crow Valley.  With incredible views in every direction, it's easy to leave the worries of the mainland behind.
Moran State Park
The crown jewel of Orcas Island is the 5,252-acre Moran State Park – the fourth largest state park in Washington. The preservation of this spectacular place is largely owed to prominent shipbuilder and two-term Seattle Mayor, Robert Moran. In 1905 Moran quietly began buying land on Orcas Island for his retirement, and in 1921 donated more than 2,700 acres to develop the state park. Later he donated another 1,000 acres for it's expansion, and now the park has 38 miles of trails, picnic areas, campgrounds, watercraft launches, and a swimming beach.
Pet Policy at Moran State Park

Pets must be on leashes no more than 8 feet long at all times
Clean up and properly dispose of all waste
Pets cannot go on designated swimming beaches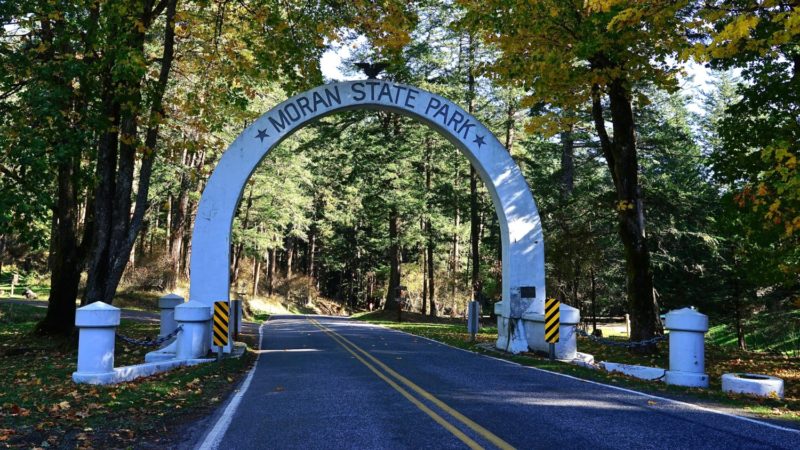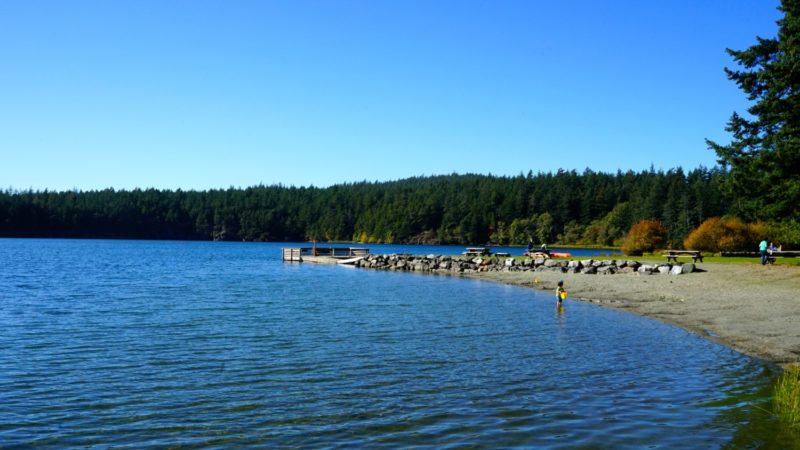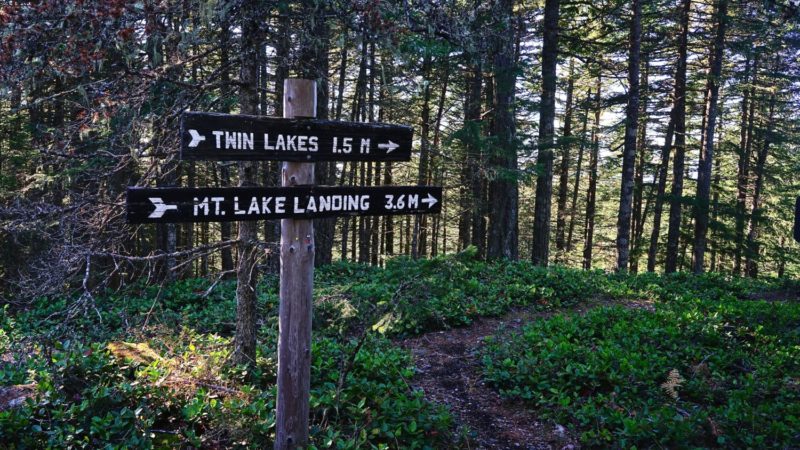 Within the park's boundaries is Mount Constitution. At 2,409 feet in elevation, it's the highest point in the San Juans. And it offers exactly the kinds of views you'd expect. Adding to the panorama is the 53-foot stone observation tower at the summit, which was constructed by the Civilian Conservation Corps in 1936.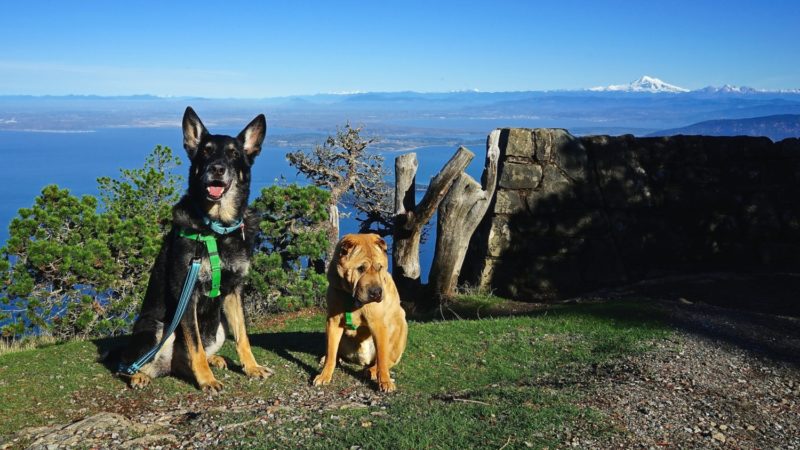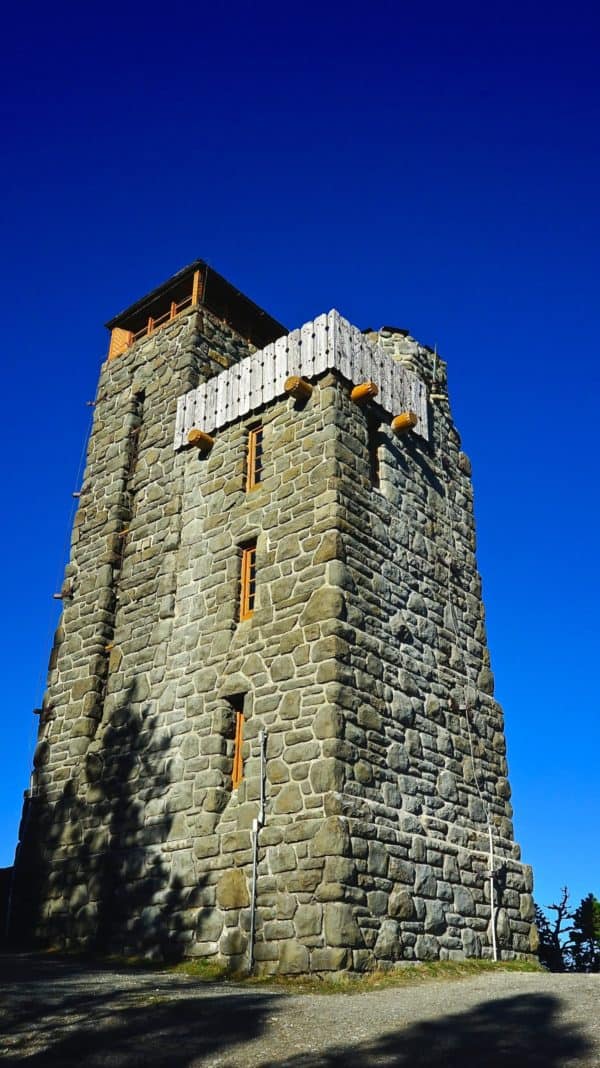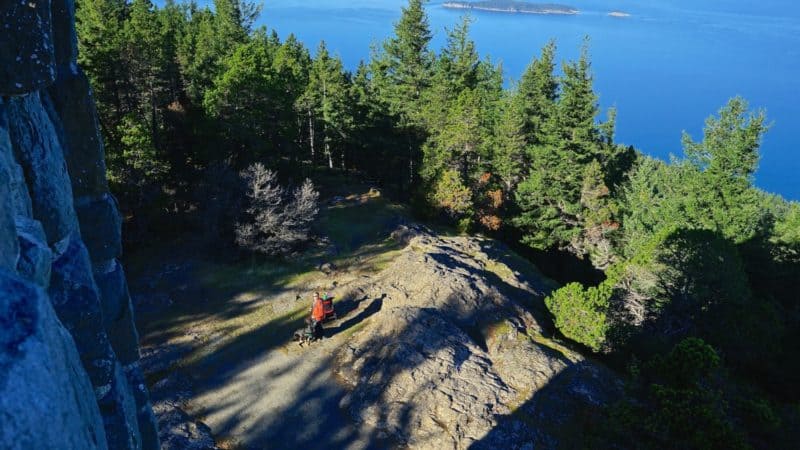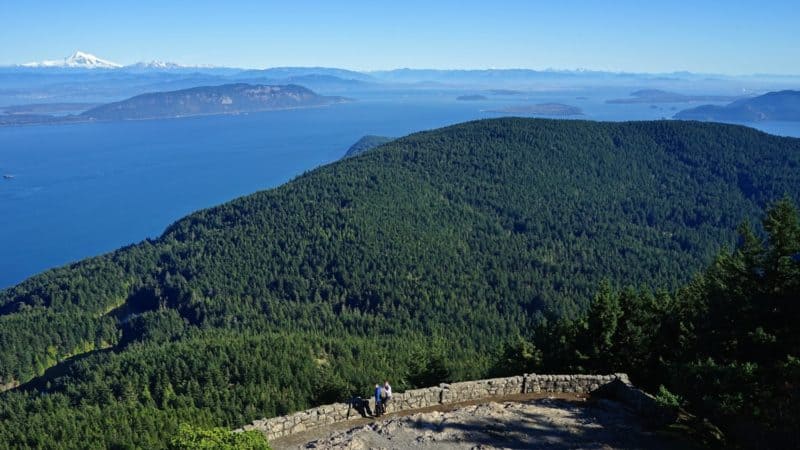 Obstruction Pass State Park
As if one beautiful state park on a small island weren't enough, Orcas boasts a second known as Obstruction Pass. With three trails down to the beach, this is a perfect place for a picnic or to enjoy the sunset. The pet rules here are the same as in Moran State Park. Pets must be on leashes no longer than 8 feet, and all waste must be disposed of properly.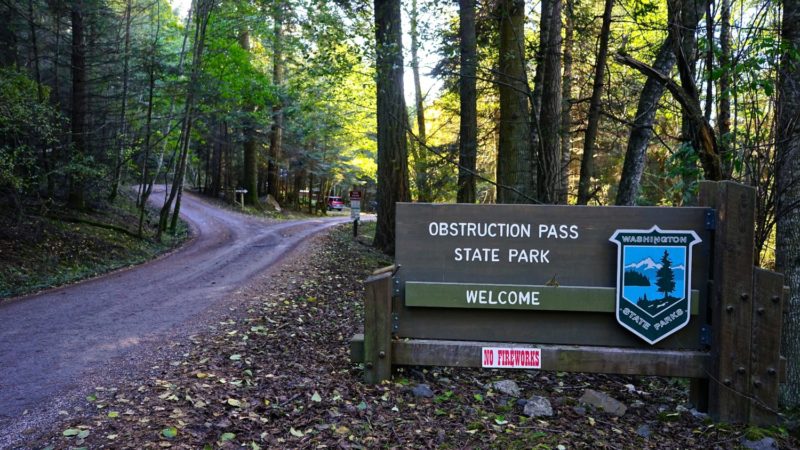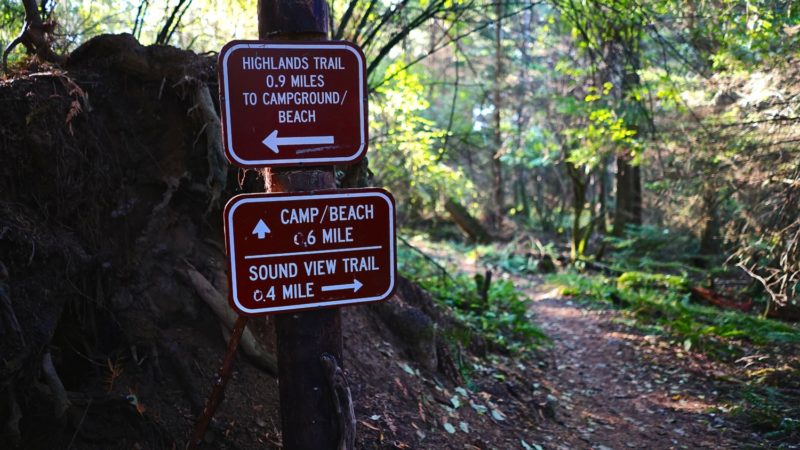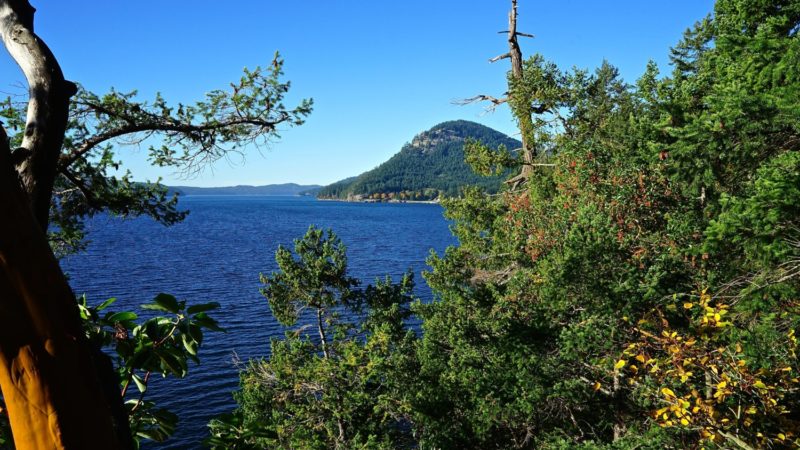 Eastsound
The Village of Eastsound sits in the middle of the island, and has a lovely dog run at Buck Park. If your pup is itching to explore off-leash, you're not going to want to miss this stop!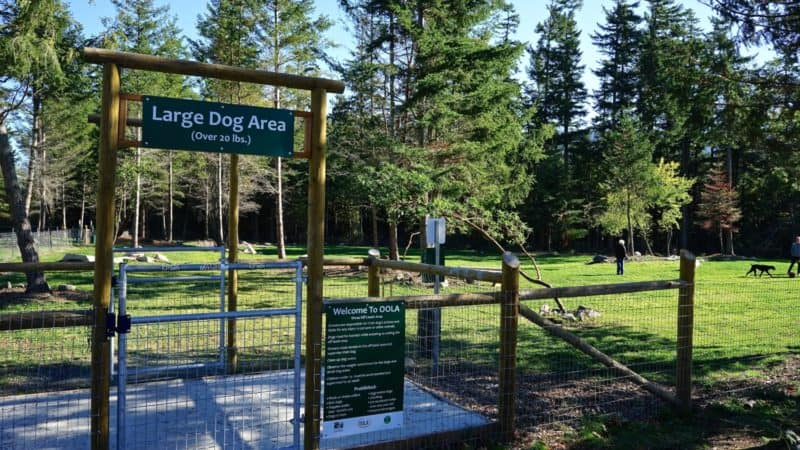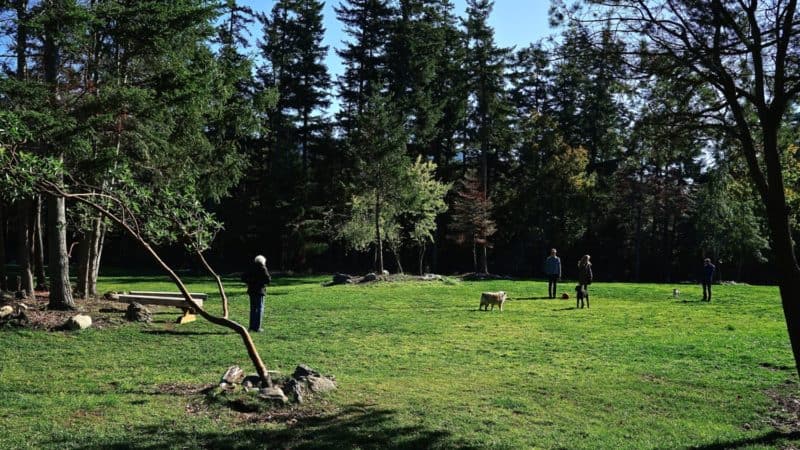 From there, we had a nice walk around Eastsound. You could easily spend a day here! There are shops and galleries to peruse, and tempting fare to sample at the restaurants. Time it right, and at low tide you can also access the marine health observatory on Indian Island.
READ MORE ⇒ Pet Friendly Things To Do On Whidbey Island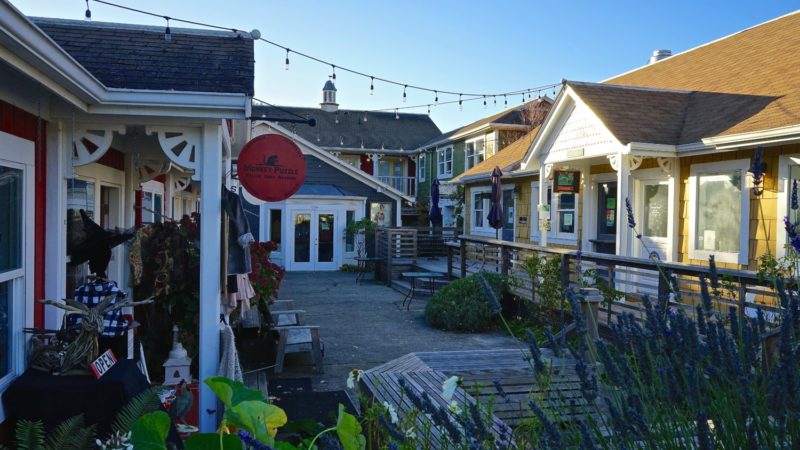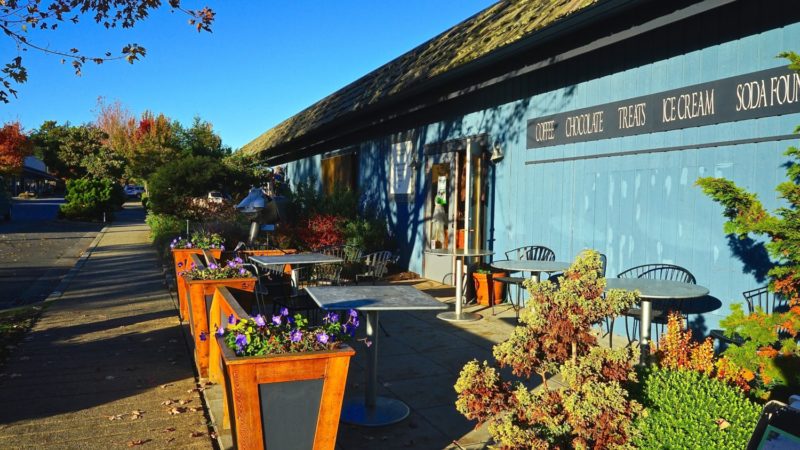 Returning on the Ferry
It's funny how time flies when you slow down! Before we knew it, we had make our way back toward the ferry dock. After parking the car in line, we had a drink on the pet friendly deck at the Orcas Hotel. And there's our ship coming in.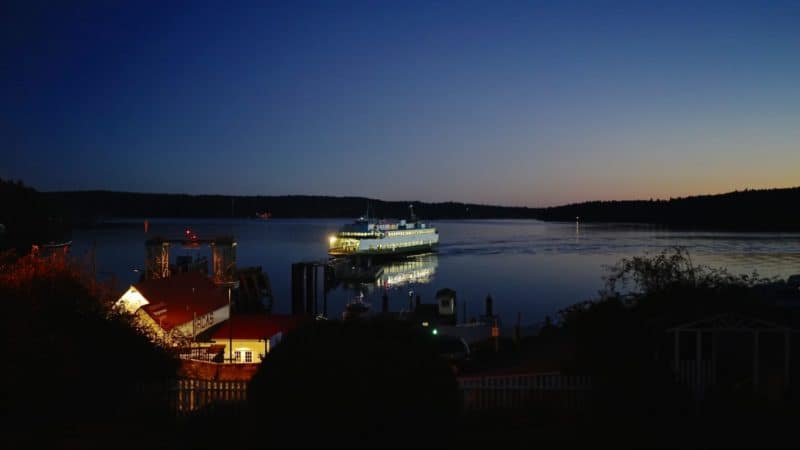 There are so many pet friendly things to do on Orcas Island! This would be a wonderful place to spend a long weekend relaxing and exploring with your pet. I hope our experience encourages you to see it for yourself. And, if you find other fun pet friendly activities, please share them in the comments.
Amazon Affiliate Disclosure: GoPetFriendly.com LLC is a participant in the Amazon Services LLC Associates Program, an affiliate advertising program designed to provide a means for website owners to earn advertising fees by advertising and linking to amazon.com, audible.com, and any other website that may be affiliated with Amazon Service LLC Associates Program. As an Amazon Associate, the owner of this site earns a commission from qualifying purchases.
(Visited 10,592 times, 1 visits today)