This post is part of a series on The Ultimate Pet Friendly Road Trip, our 10-month, 15,000-mile tour of the top pet friendly attraction in each of the lower 48 states.
West Virginia's Top Pet Friendly Attraction: Monongahela National Forest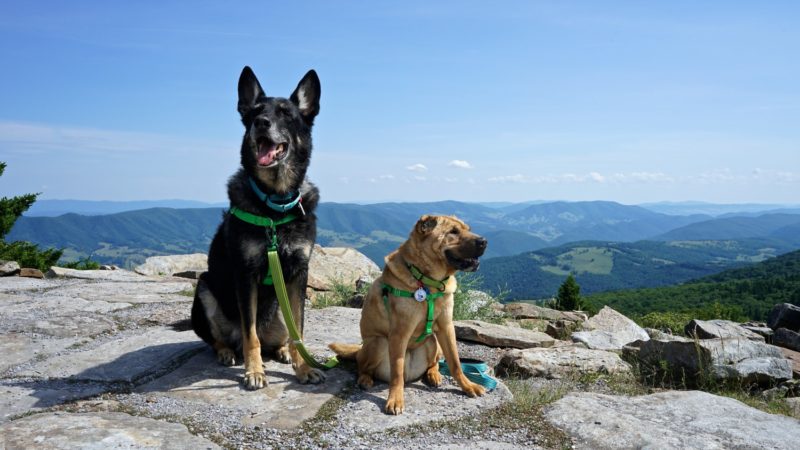 The Monongahela National Forest stretches out over more than 900,000 acres, encompassing most of the southern third of the Allegheny Mountains, and preserving a rugged and wild paradise unlike any other. It's a spectacular landscape, with dark green ridges and bucolic valleys alternating in a harmonious two-step to the horizon.
But these drastic differences in altitude are more than picturesque – they make the Monongahela one of the most biologically diverse national forests in the country. With elevations ranging between 900 feet at Petersburg to 4,863 feet at Spruce Knob, 75 species of trees, 225 types of birds, 72 fish species, black bear, deer, beaver, fisher, bobcat, river otter, mink, and eight federally threatened or endangered species find their preferred habitats within the forest's boundaries.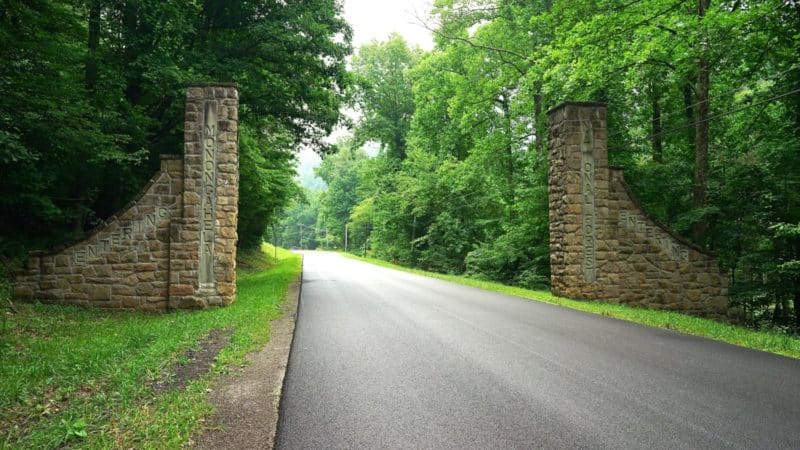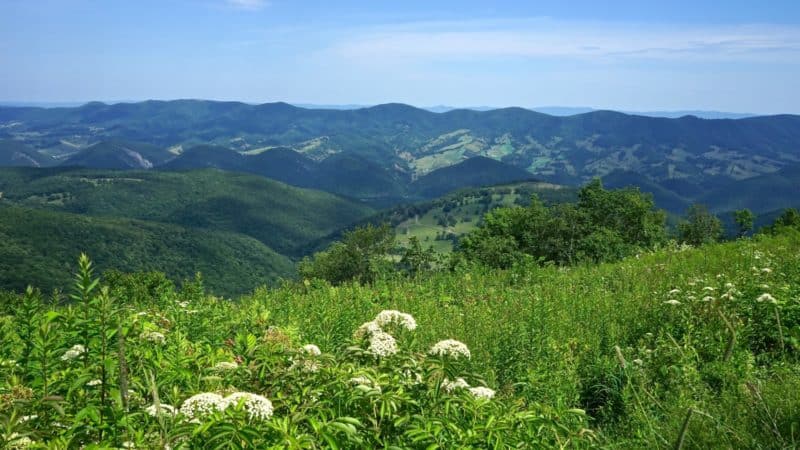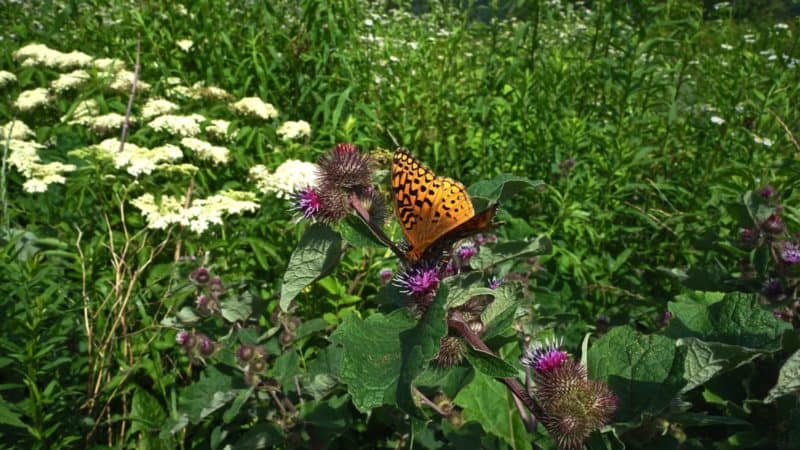 Pets in the Monongahela National Forest
Pets are welcome throughout the Monongahela National Forest, but are not allowed inside public buildings. Pets must be leashed in all developed areas (campgrounds, trail heads, picnic areas, etc.) and some popular sites like Seneca Rocks. Outside developed areas, unless otherwise posted or stated, pets in the National Forest may be under voice control – but please be aware that this is bear country and wildlife, steep terrain, and fast-moving water all pose serious dangers to off-leash dogs.
Pet Rules at the Monongahela National Forest

Leashed pets are welcome throughout the Monongahela National Forest
Pets are not allowed inside public buildings
Pets under voice control may be off-leash in undeveloped areas, unless otherwise stated or posted, but care should be taken to protect your pet from dangerous wildlife, terrain, and fast-moving water
With an extensive backwoods road system and 825 miles of trails, you could easily spend a lifetime exploring this national forest! Opportunities abound for all kinds of pet friendly recreation, including hiking, horseback riding, rock climbing, backpacking, picnicking, canoeing or kayaking, fishing, mountain or trail biking, scenic drives, and wildlife viewing.
Stuart Recreation Area
To experience the Monongahela more fully, we parked the RV at Stuart Campground in the Stuart Recreation Area outside Elkins, WV. We expected to be without much cell coverage, which for us means no internet access, but the setting more than made up for any inconveniences that caused! The campsites were large and many were quite private, we had a paved area to park and electric hook-up at our site. The campground had showers, flush toilets, and potable water available, and it was an easy walk with the dogs down to the gorgeous picnic area on the river, complete with rustic, log cabin-esque pavilions.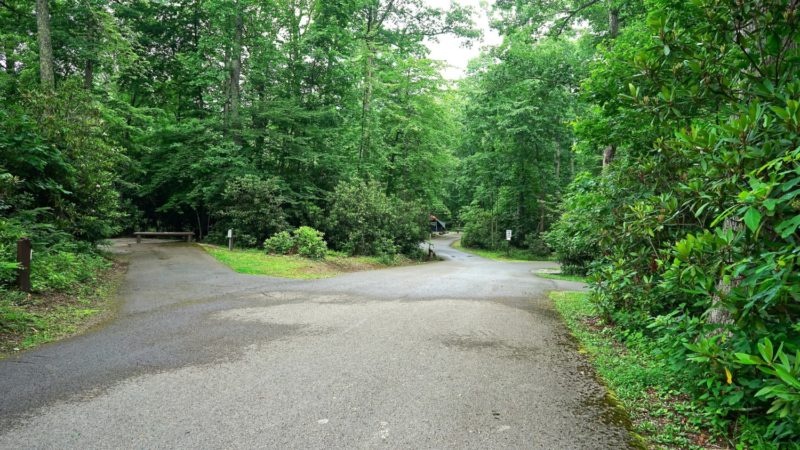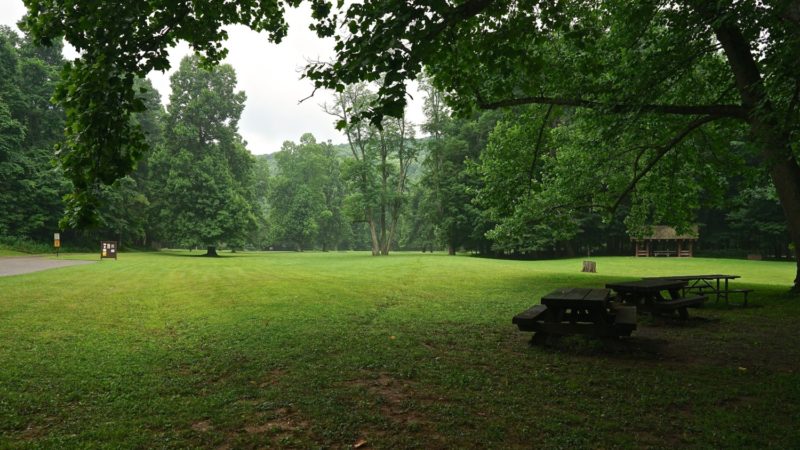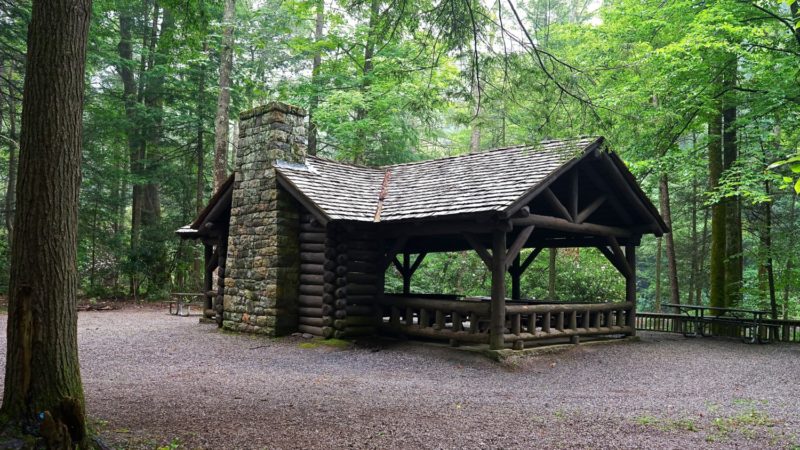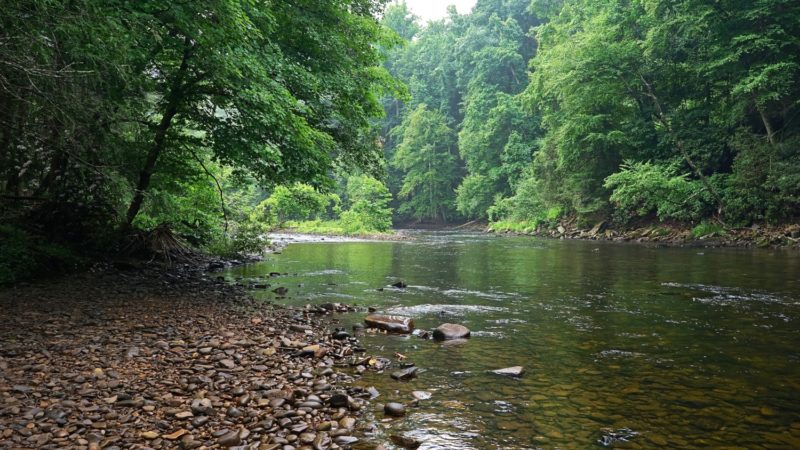 From the campground, we also drove to the Bickle Knob Observation Tower. It's about 4 miles up a gravel forest road and climbs around 3,000 feet. At the top, we found ourselves engulfed in fog, so we didn't get to enjoy the views, but I bet they'd be spectacular! (If you have any photos from here, please share them with us on our Facebook page!)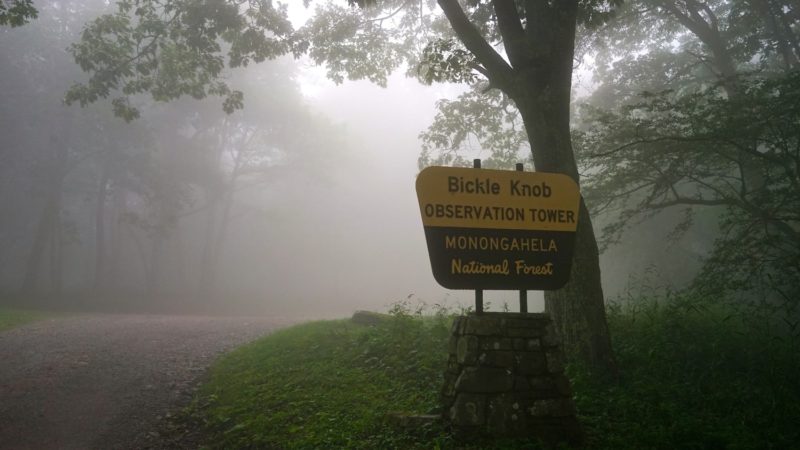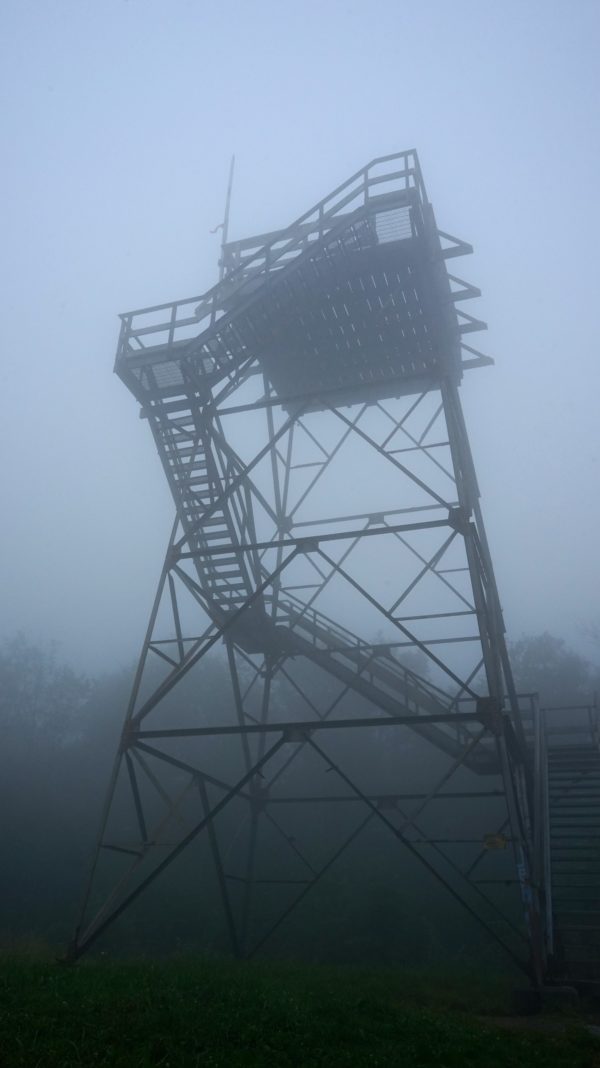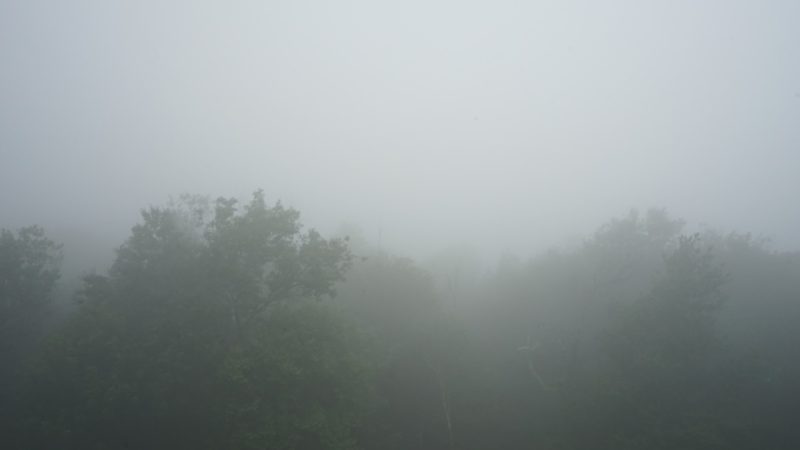 Even if you're not fond of heights … this spot at the base of the tower looks like it would be perfect for a picnic or to enjoy a sunset!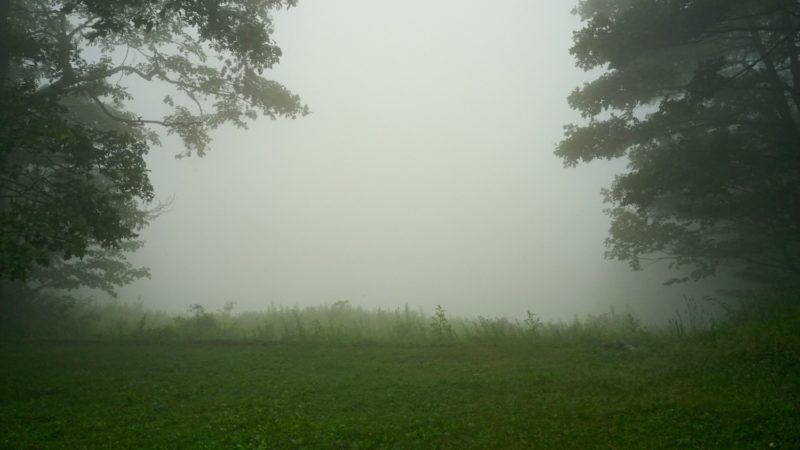 Seneca Rocks
One of the most well-known features of the Monongahela National Forest is Seneca Rocks, towering more than 900 feet above the valley floor. Capped with the beautiful white/grey Tuscarora quartzite, this imposing structure offers rock climbers over 450 mapped routes, with degrees of difficulty varying from 5.0 to 5.12.
For those of us who are less ambitious, there is a 1.5 mile hiking trail from the visitors center to an observation deck near the top. We started in the visitors center – which is pet friendly! – for a look at the exhibits and some advice on the trail. The rangers were very helpful and let us know that the route is well maintained, but contained three sets of stairs and had one area that would probably be too rocky for Ty's stroller. After a brief huddle, we decided to give it a shot and carry Ty in his stroller over any places we couldn't wheel him.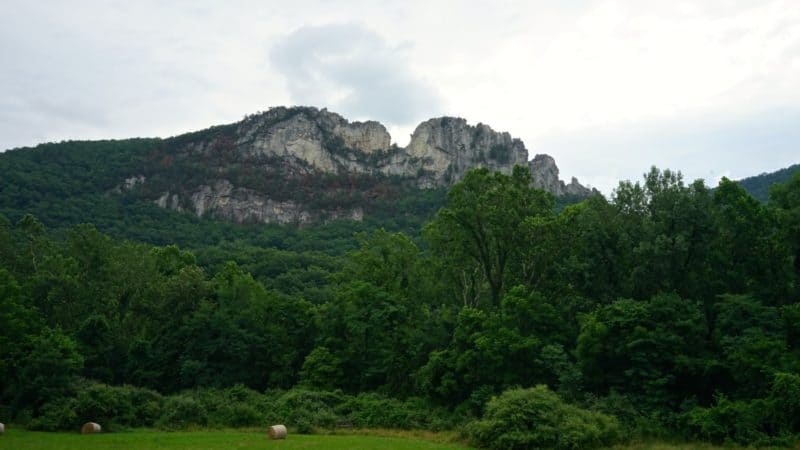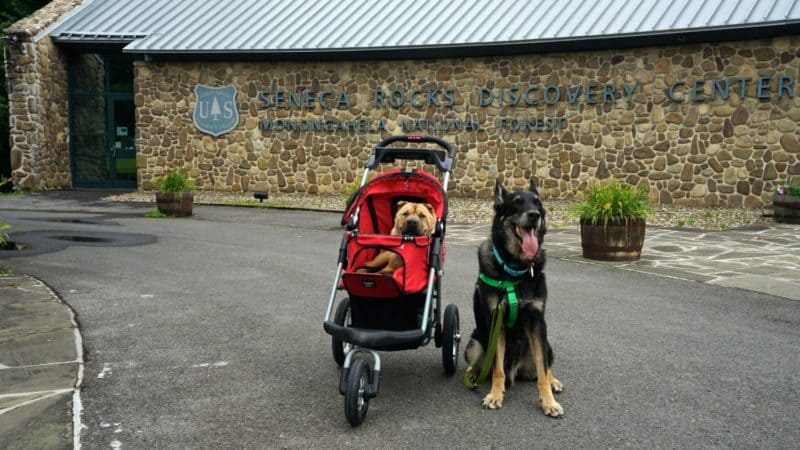 It was quite a haul, and Buster didn't offer any assistance in pulling Ty's stroller up the hill. When we suggested he pitch in, he mumbled something about and being a Shepherd, not a Husky. Apparently he inherited too much intelligence from his German ancestry to get involved in our hair-brained scheme. Fortunately, it was overcast and not too hot on the way up – and there were plenty of places to sit and catch our breath.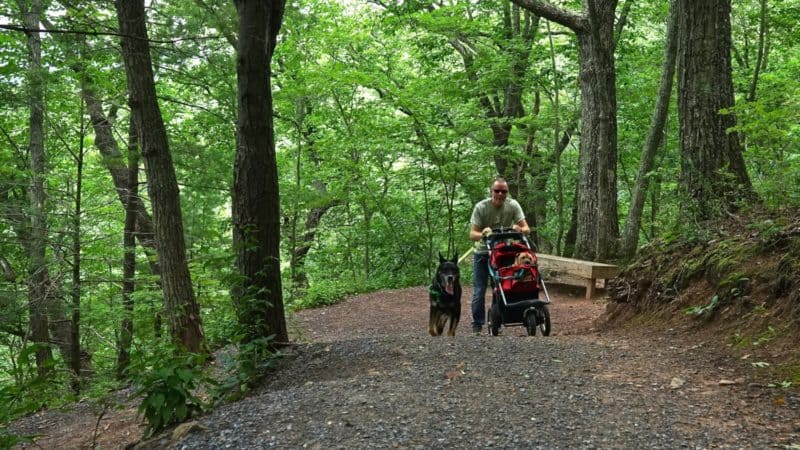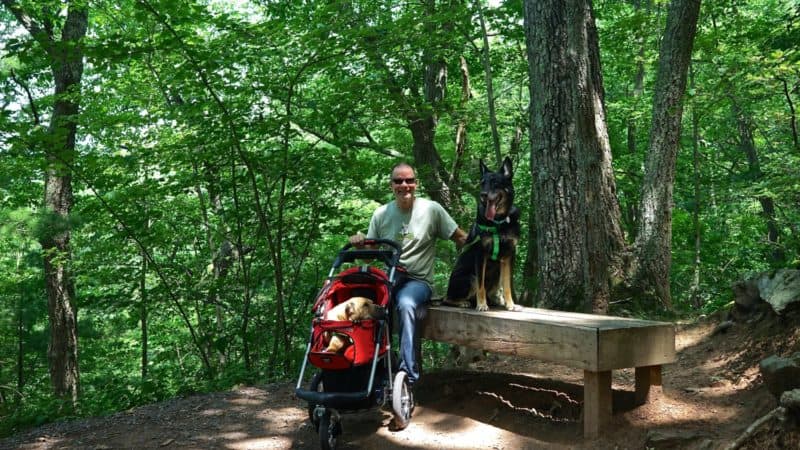 All our efforts were repaid in spades when we reached the top – the views were simply fantastic! And getting the boys picture at the top of the climb was the icing on the cake. This is one of those #pawsomememories we'll never forget.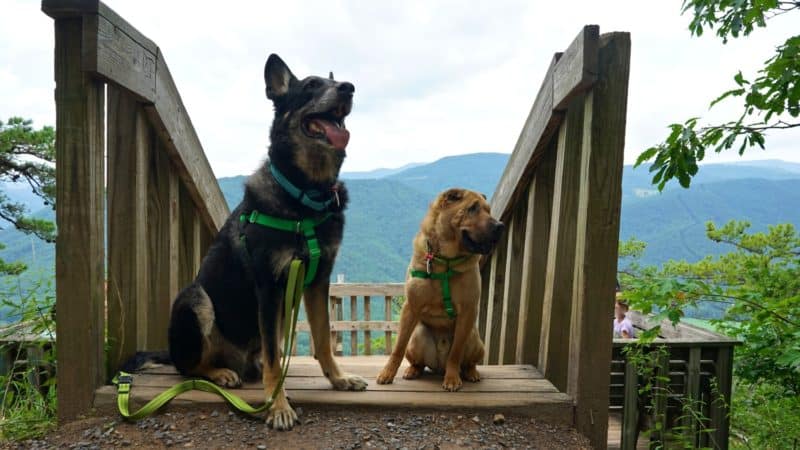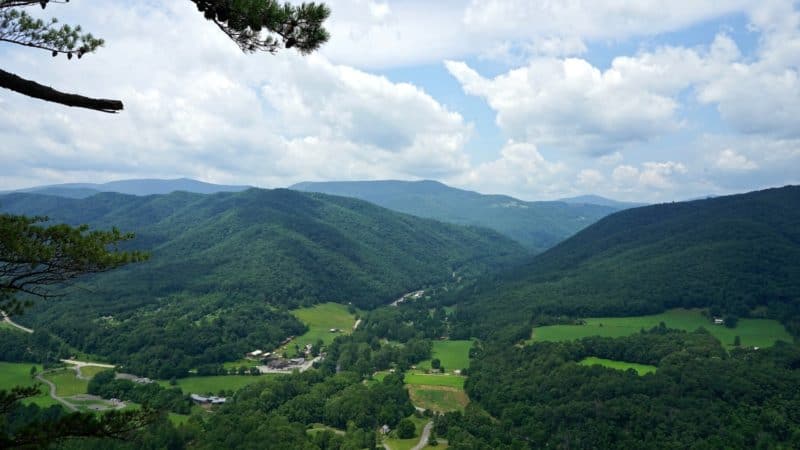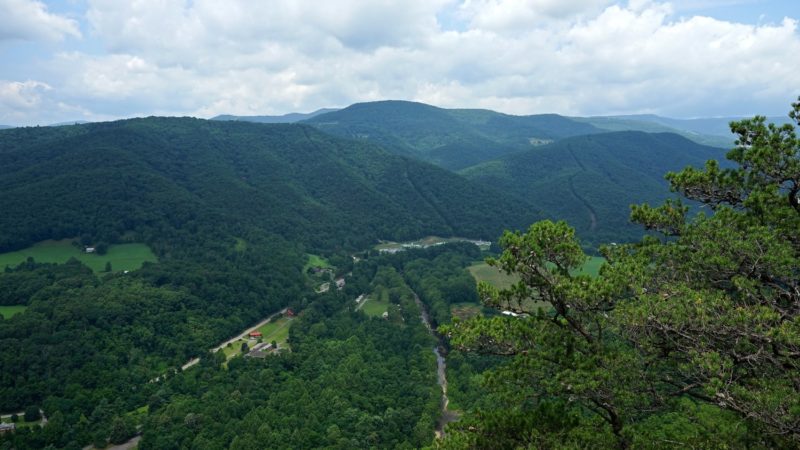 Hiking back down was A LOT easier, and before we knew it we were back to the bridge crossing the river.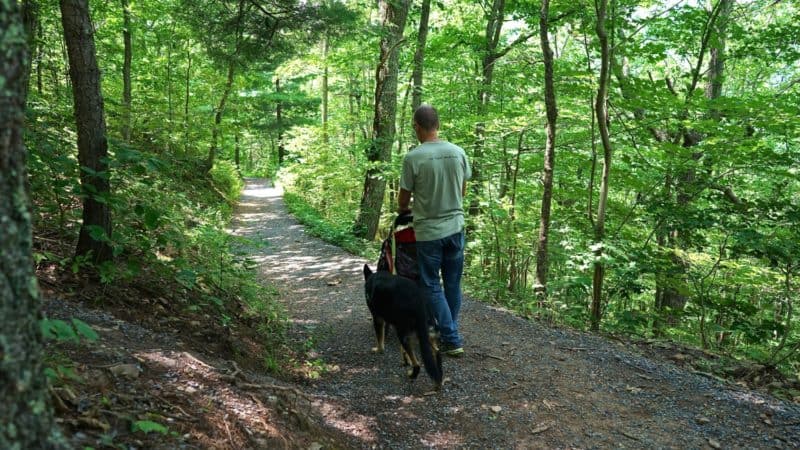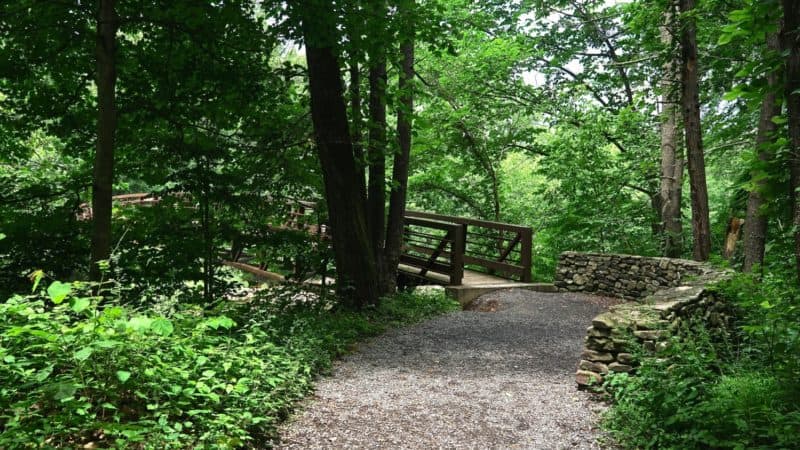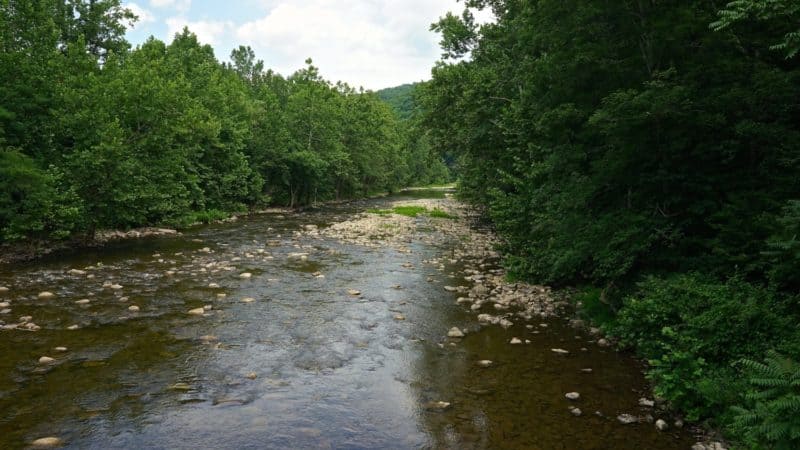 There is a picnic area here near the restored 1800s homestead of the Sites family. The home is open for tours on Thursdays, Fridays, and Saturdays during the summer, but by the time we finished with our hike, the sun had come out and the humidity was building. We opted instead to head for the cooler elevations of Spruce Knob.
Spruce Knob and Spruce Knob Lake
At 4,863 feet, Spruce Knob is the highest point in West Virginia, and has a true alpine feel. With it's boulder fields and spruce trees gnarled by high winds, it's easy to imagine you're in northern New England or Canada. We found a welcome reprieve from the heat and humidity of the valley, with a fresh breeze blowing, and the sun peaking through the trees.
There is a half-mile accessible trail around the knob that was perfect for Ty's stroller, but he was so energized after his ride up and down Seneca Rocks, that he decided to walk … while I pushed the stroller.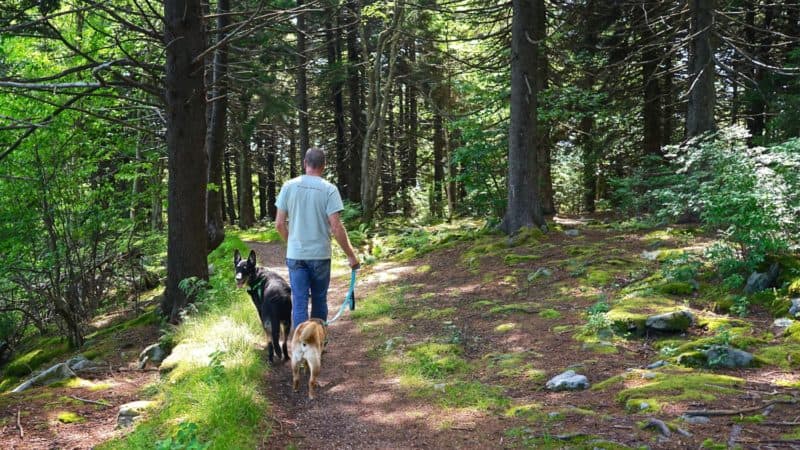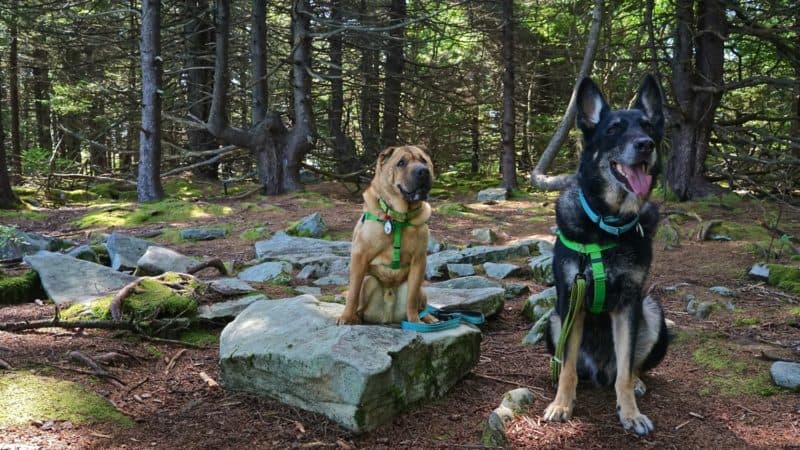 From Spruce Knob it was about 8.5 miles down a gravel forest road to Spruce Knob Lake. Being a bit off the beaten path, this is a great spot if you're looking for a little tranquility and solitude. There is a trail that encircles the lake, but just sitting on one of the accessible fishing docks is a treat. During our short visit we enjoyed seeing a bald eagle soar overhead, watched a deer browsing on the tender grass growing near the shore, and were front and center for the goose parade.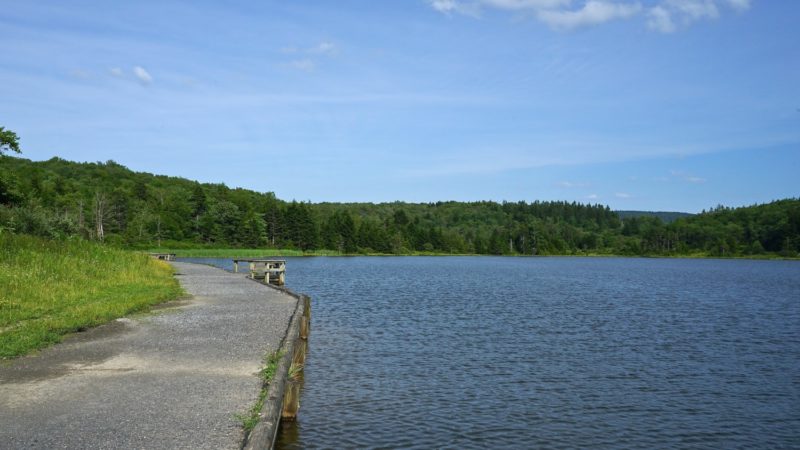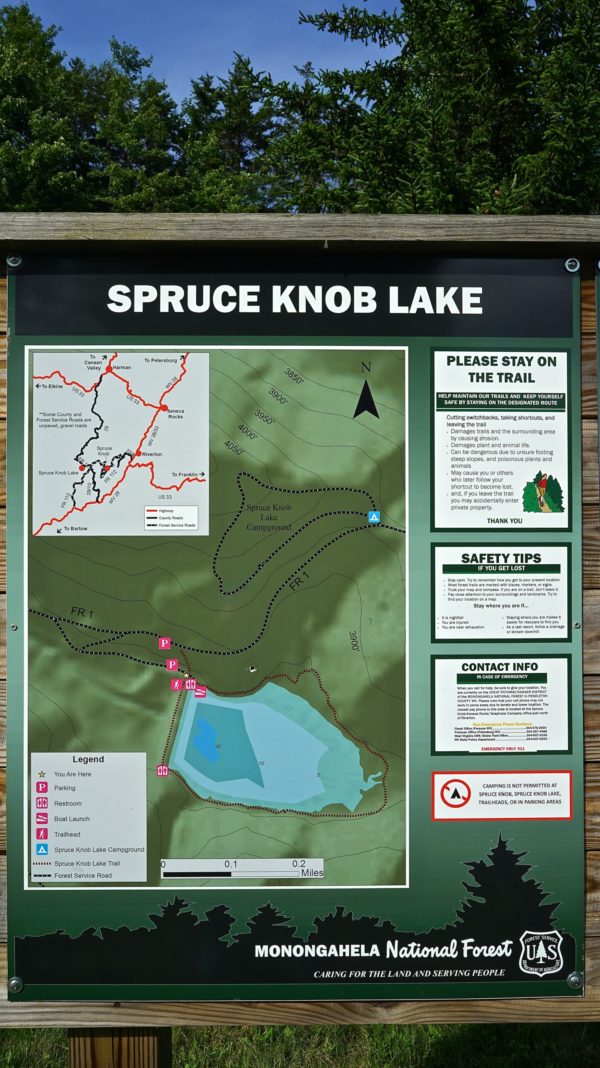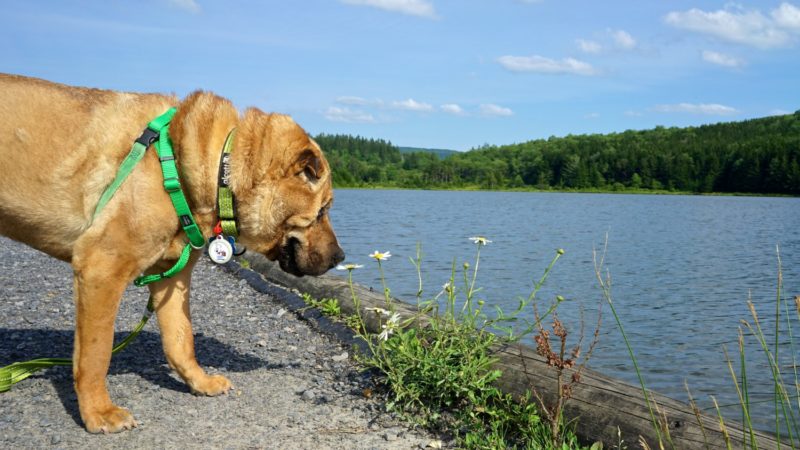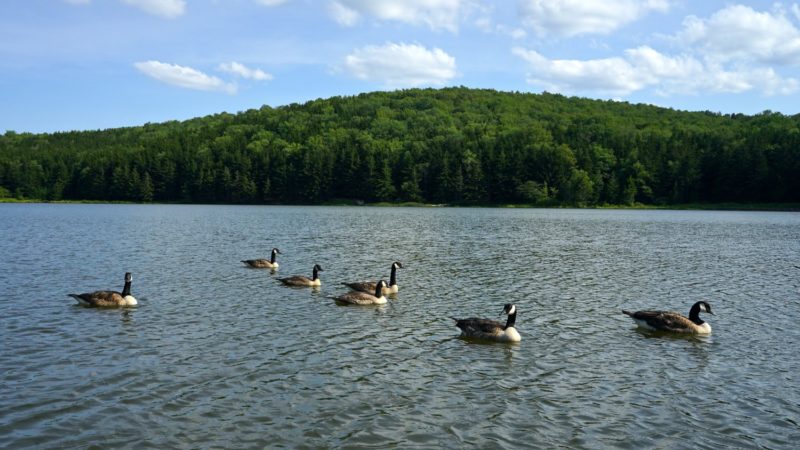 Dolly Sods Wilderness Area
For a true backcountry experience, head up to Dolly Sods Wilderness area, arguably one of the most unique, and beautiful hiking areas on the East Coast. Wind-carved sandstone, twisted red spruce, grassy meadows, and sphagnum bogs cover these high plateaus, giving a much more alpine feeling than you might expect. The meadows are the result of logging that took place in the early 1900s, and during World War II the U.S. Army used this area for artillery and mortar training. Signs at the trailheads still display warnings that hikers may find unexploded ordinance in the area.
After the war, the area was threatened by multiple construction and mining project proposals. But in the early 1970s concerned environmentalists, along with The Nature Conservancy, began purchasing the land for preservation and recreational use. Today the Dolly Sods Wilderness Area comprises 17,371 acres and has over 47 miles of hiking trails that follow old railroad grades and logging roads.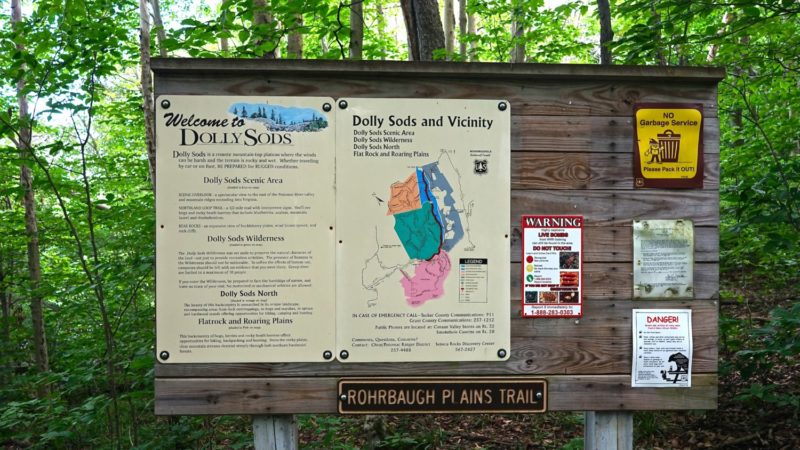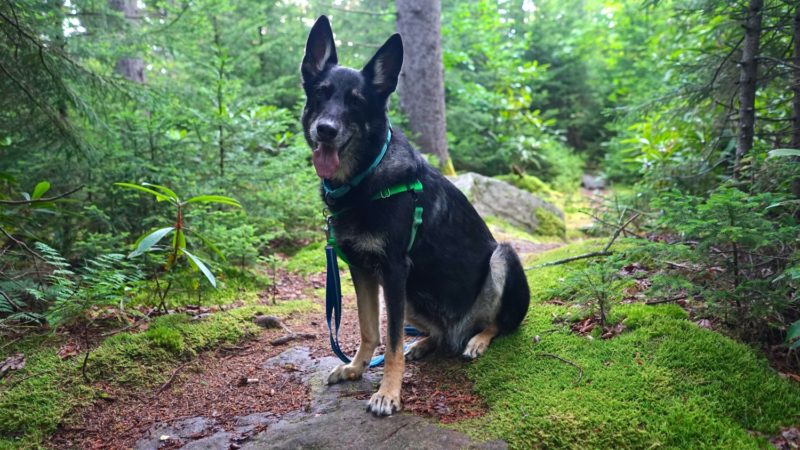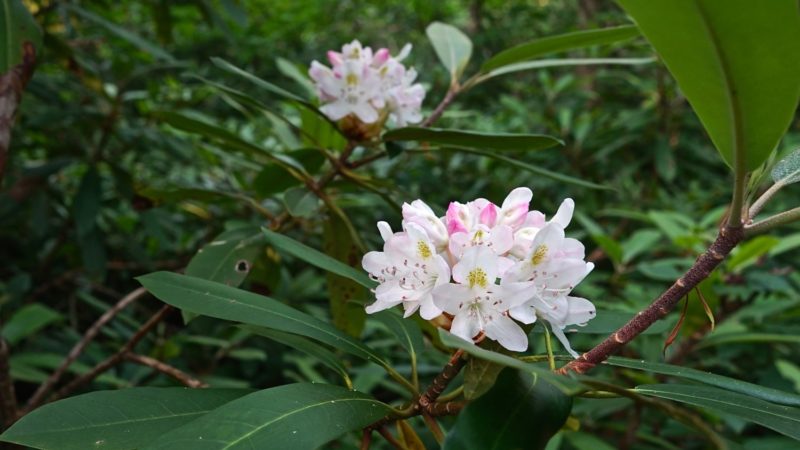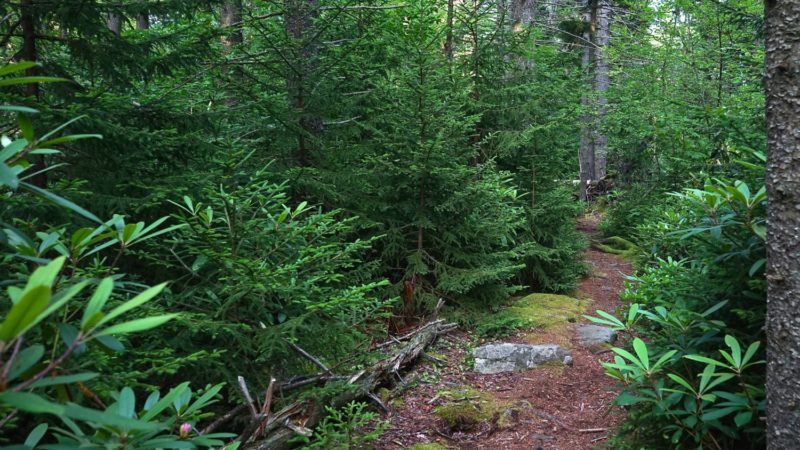 While it may look like we covered a lot of ground during our visit, we felt that we barely scratched the surface of all the Monongahela National Forest has to offer. We're looking forward to our next visit and hope you'll share some of your favorite spots to see with your pets in the comments below!
Thank You to our Sponsors
Visiting these attractions with Ty and Buster is a dream come true. We'll be blogging about each one as we go along, so fasten your seatbelt and stay tuned!
The Ultimate Pet Friendly Road Trip wouldn't be possible without the support of our wonderful sponsors: Winnebago, 2 Hounds Design, Alcott, goDog®, PetGuide.com, Red Roof Inns, Sleepypod, The Bark, PetHub, RVPetSafety.com, and The Honest Kitchen. Please be sure to visit their websites and social media pages and thank them for their participation!
Amazon Affiliate Disclosure: GoPetFriendly.com LLC is a participant in the Amazon Services LLC Associates Program, an affiliate advertising program designed to provide a means for website owners to earn advertising fees by advertising and linking to amazon.com, audible.com, and any other website that may be affiliated with Amazon Service LLC Associates Program. As an Amazon Associate, the owner of this site earns a commission from qualifying purchases.
(Visited 7,260 times, 1 visits today)