In 1681, William Penn received a land grant in North America from England's King Charles II, and the following year he sailed to the New World to inspect the extensive tract where he'd soon establish his "Holy Experiment" – a tolerant political utopia.
After surveying his holdings, Penn chose a two-mile swath of land where the Delaware and Schuylkill Rivers sweep toward each other and set about designing a colony where his brethren, the Society of Friends, or Quakers, would be free from persecution. The city we now know as Philadelphia, Pennsylvania.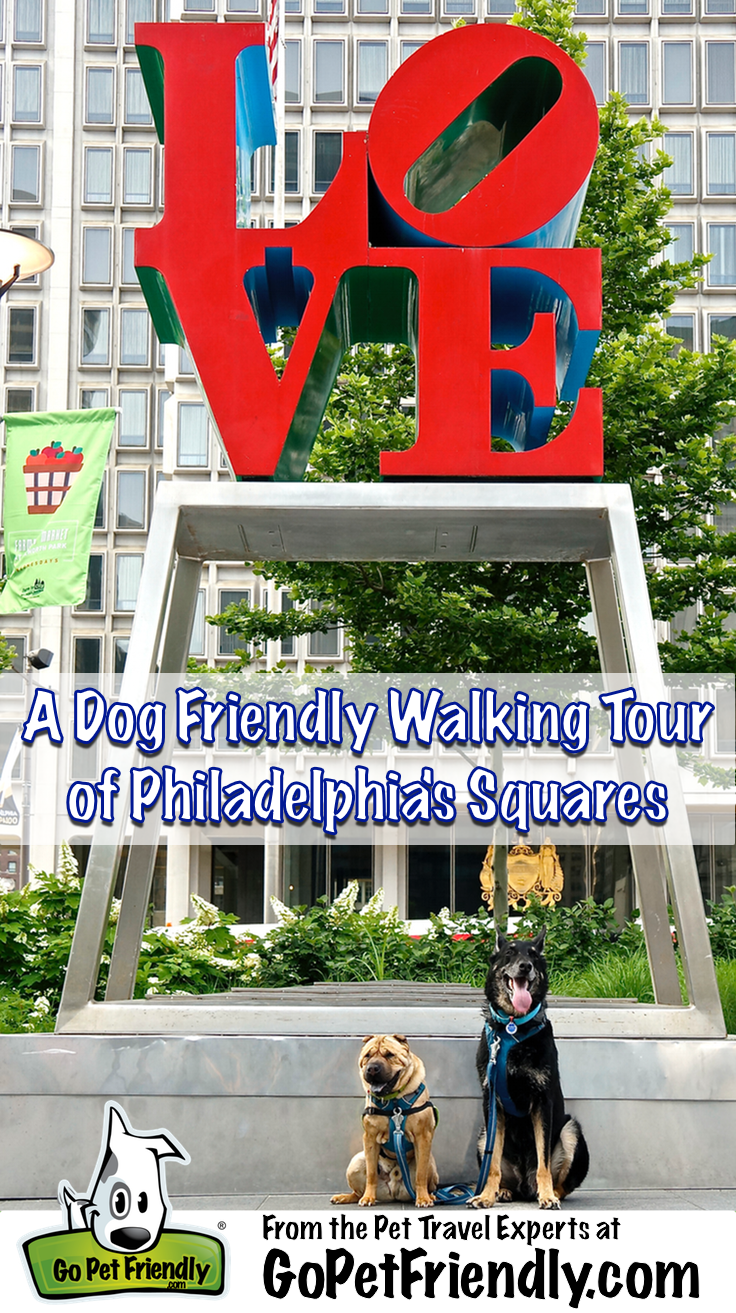 Penn's plan was to create a "Green Country Town," abandoning the haphazard network of old horse tracks the English used as streets, and adopting the simple-to-navigate grid – it was the first iteration of classic American street design. Penn hoped to create a city free from the overcrowding, fire, and disease which plagued European cities, and central to this idea was incorporating five public squares or parks. He placed one in each quadrant of the city and one in the center, and in 1683 he published a map to attract settlers from England.
Penn named his utopia Philadelphia, and those squares remain some of the most inviting – and dog friendly – features of this modern, bustling city.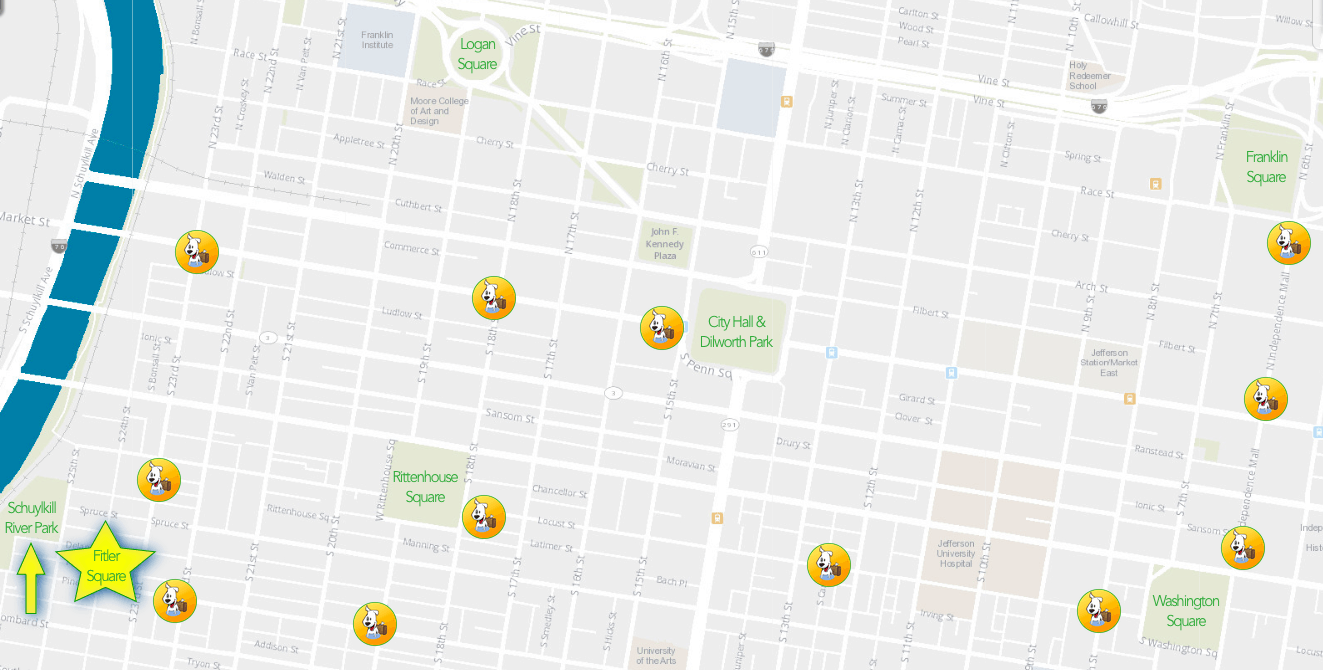 Touring Penn's squares is the perfect way for you and your dog to spend a day getting to know Philadelphia. Settle on a bench while the birds chirp, watch the people (and squirrels) hustle by, and relish these tranquil spaces in the midst of the city's constant motion. We've laid out a route that will take you through beautiful neighborhoods, past important historical landmarks, and by plenty of places with eats and drinks – so put on your comfortable shoes, grab a leash, and let's go!
Franklin Square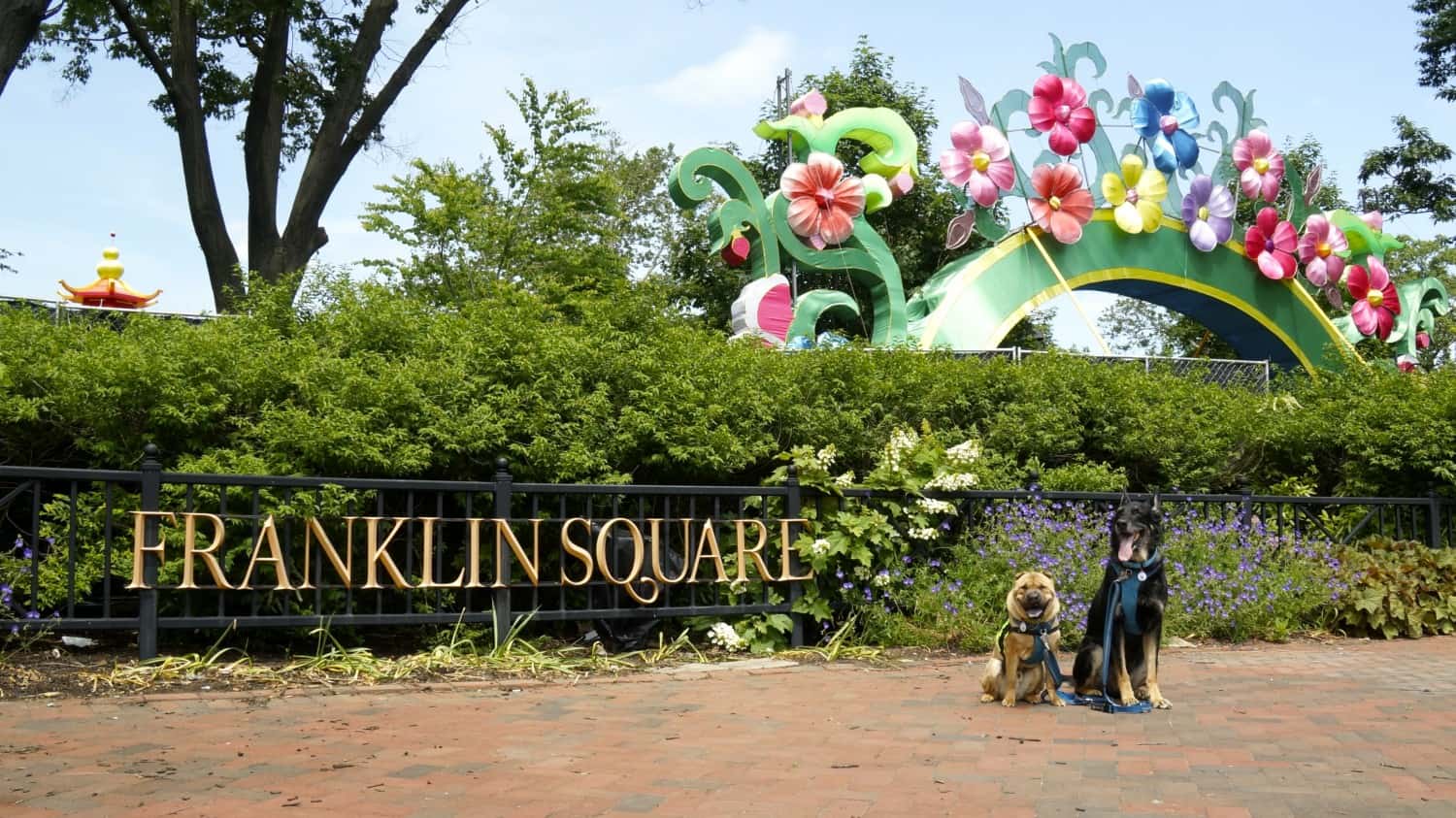 We start the route in the northeast corner at Franklin Square, primarily because it's one of the easiest places to find parking. There are several parking garages nearby, and on-street parking is also available on many side streets. This square sits at the crossroads of China Town and Independence National Historical Park, giving it a unique and interesting atmosphere. We were delighted to find the park adorned for Philadelphia's first-ever Chinese Lantern Festival during our visit!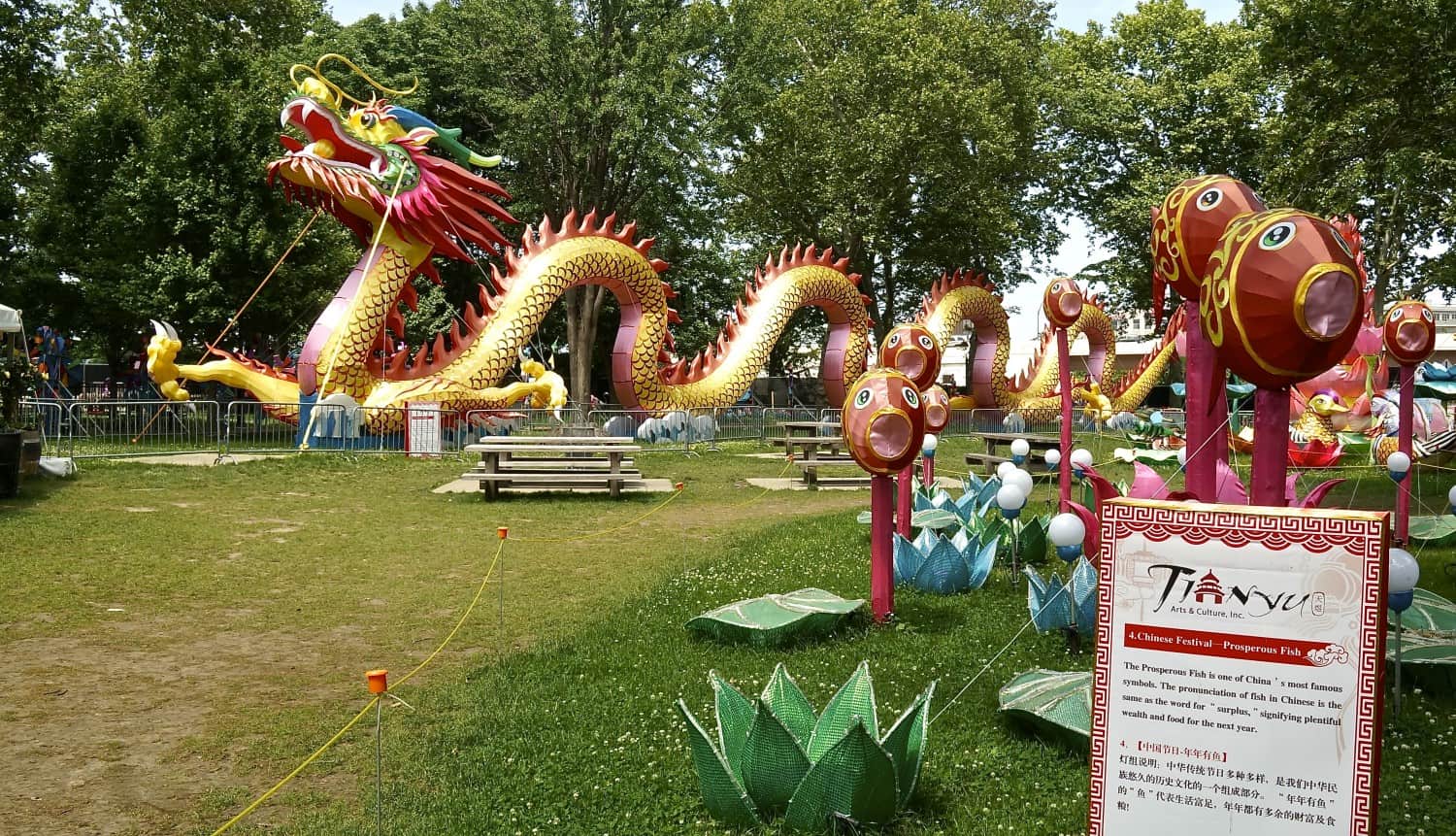 Even when the park isn't decorated for a festival, you'll find plenty to keep you entertained. Grab a bite at the little café, admire the beautifully restored fountain, watch the carousel, or root for the players on the historically-appropriate miniature golf course.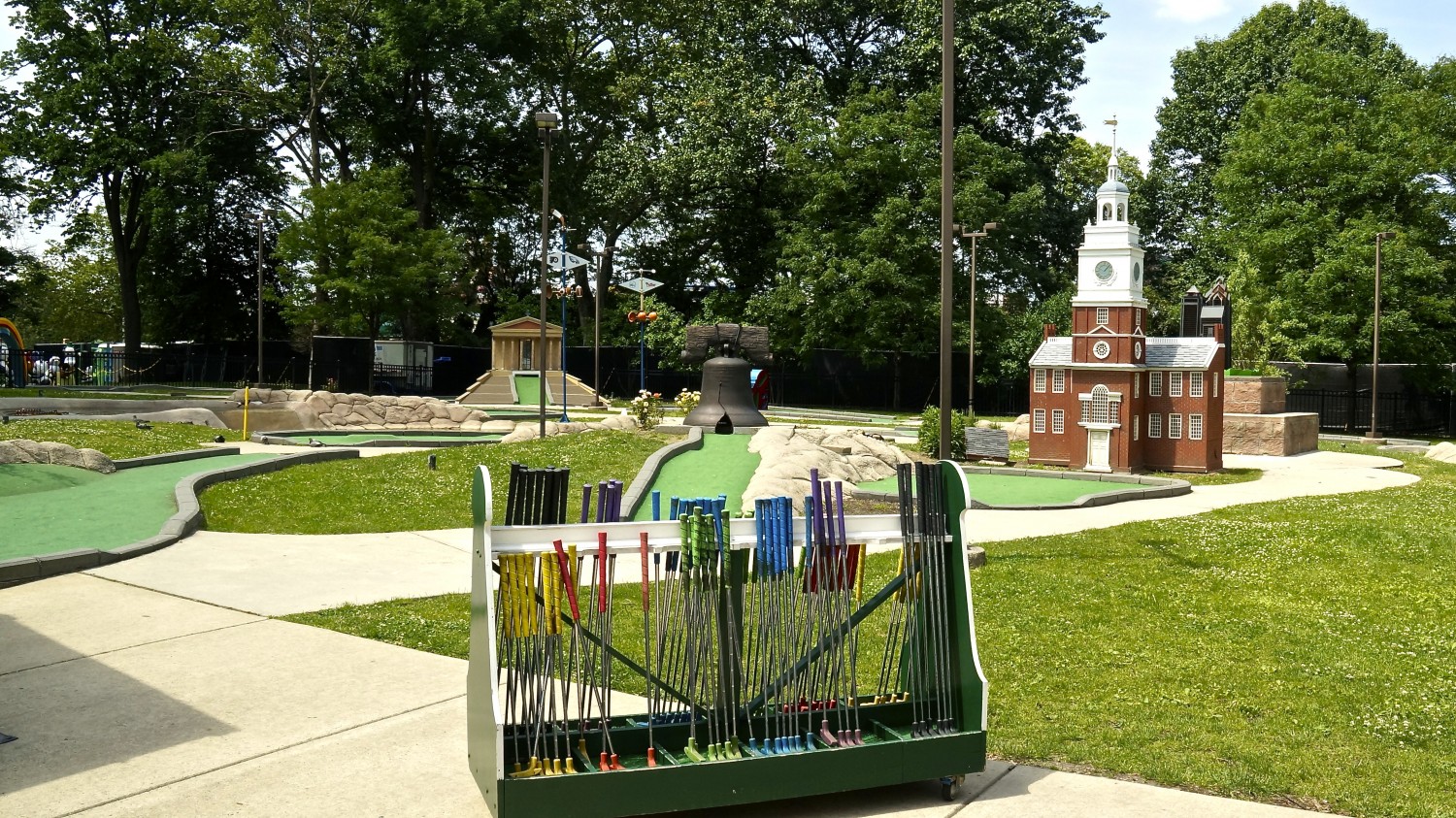 Washington Square via Independence Mall
Leaving from the southeast corner of Franklin Square and heading south on 6th Street will bring you to Independence Mall. This stretch is where you'll find some of Philadelphia's most notable historic sights. From the National Constitution Center to Independence Hall and Congress Hall – where the Declaration of Independence and the United States Constitution were born – to the Liberty Bell, and the Independence Visitors Center, our country truly began on these grounds!
Of course, dogs are not allowed inside the buildings and museums, but it's a lovely place to walk, and there's a nice outdoor café where you can wait if someone in your group wants to spend time seeing the exhibits or museum. It's also a nice spot for some photo ops.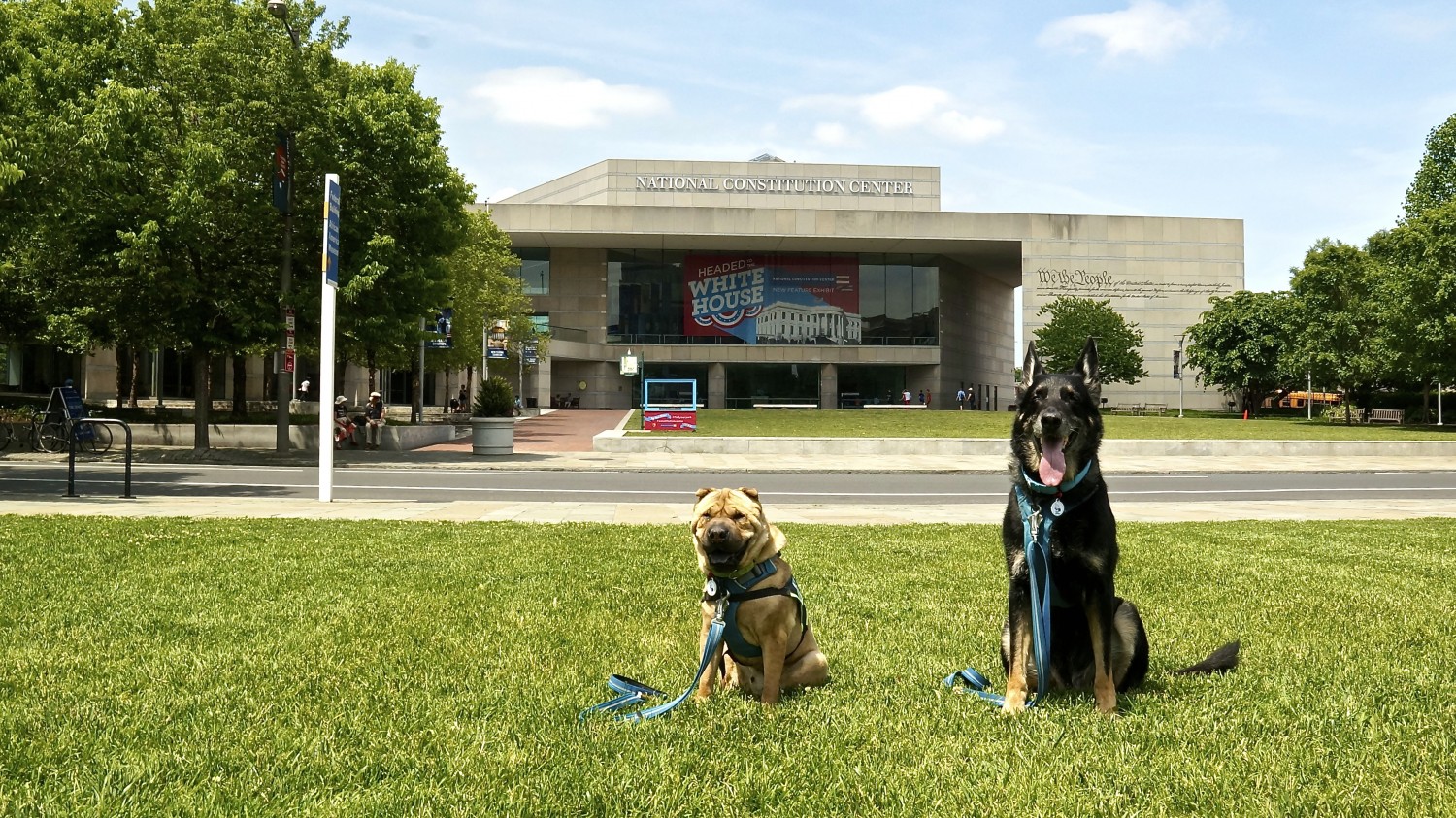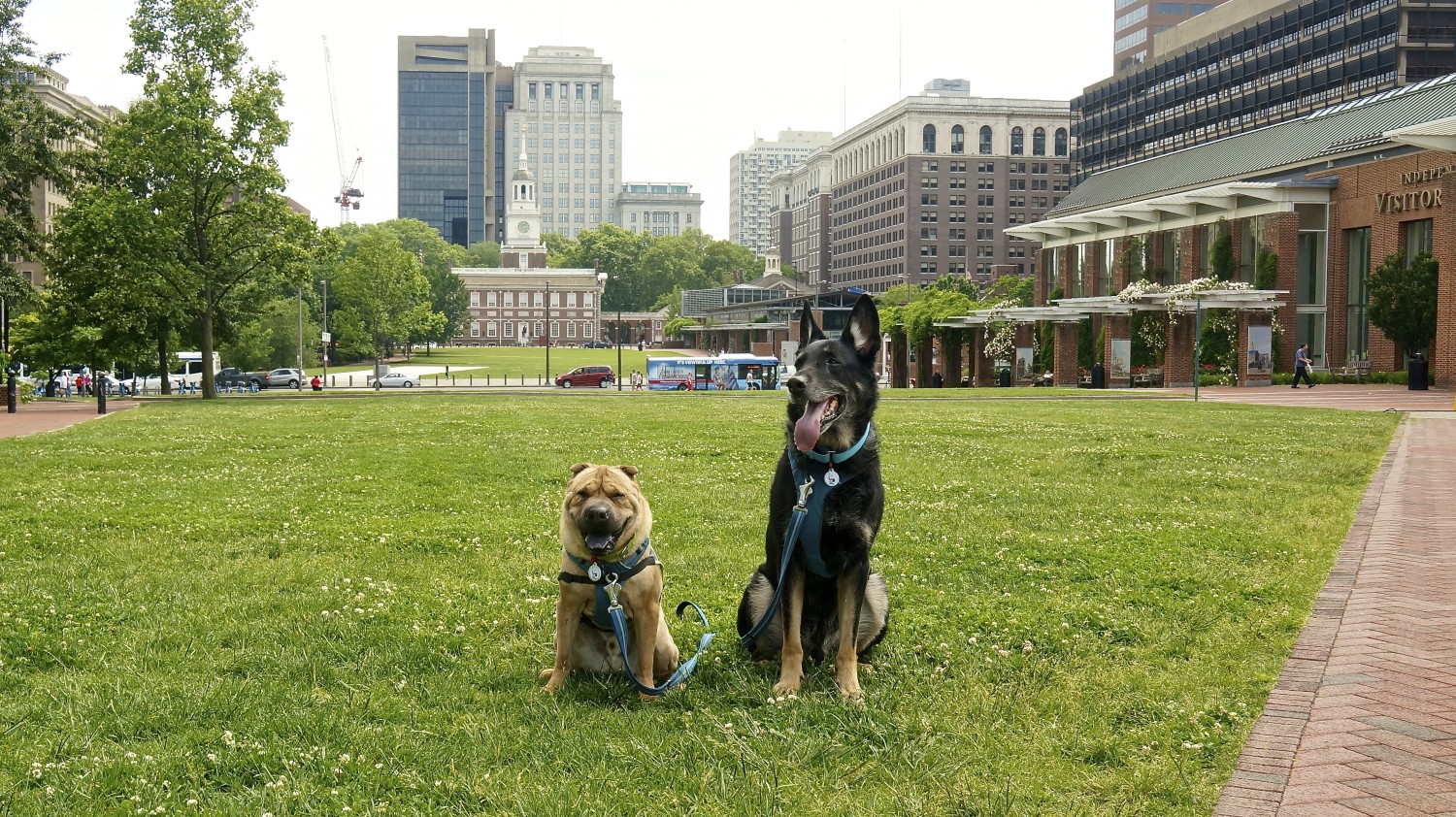 Crossing the mall and continuing down 6th Street brings you to Washington Square, the quietest and most peaceful of the parks. Massive old trees stretch their branches and create tempting pools of shade where you and your pup can pull up a bench and cool your heals.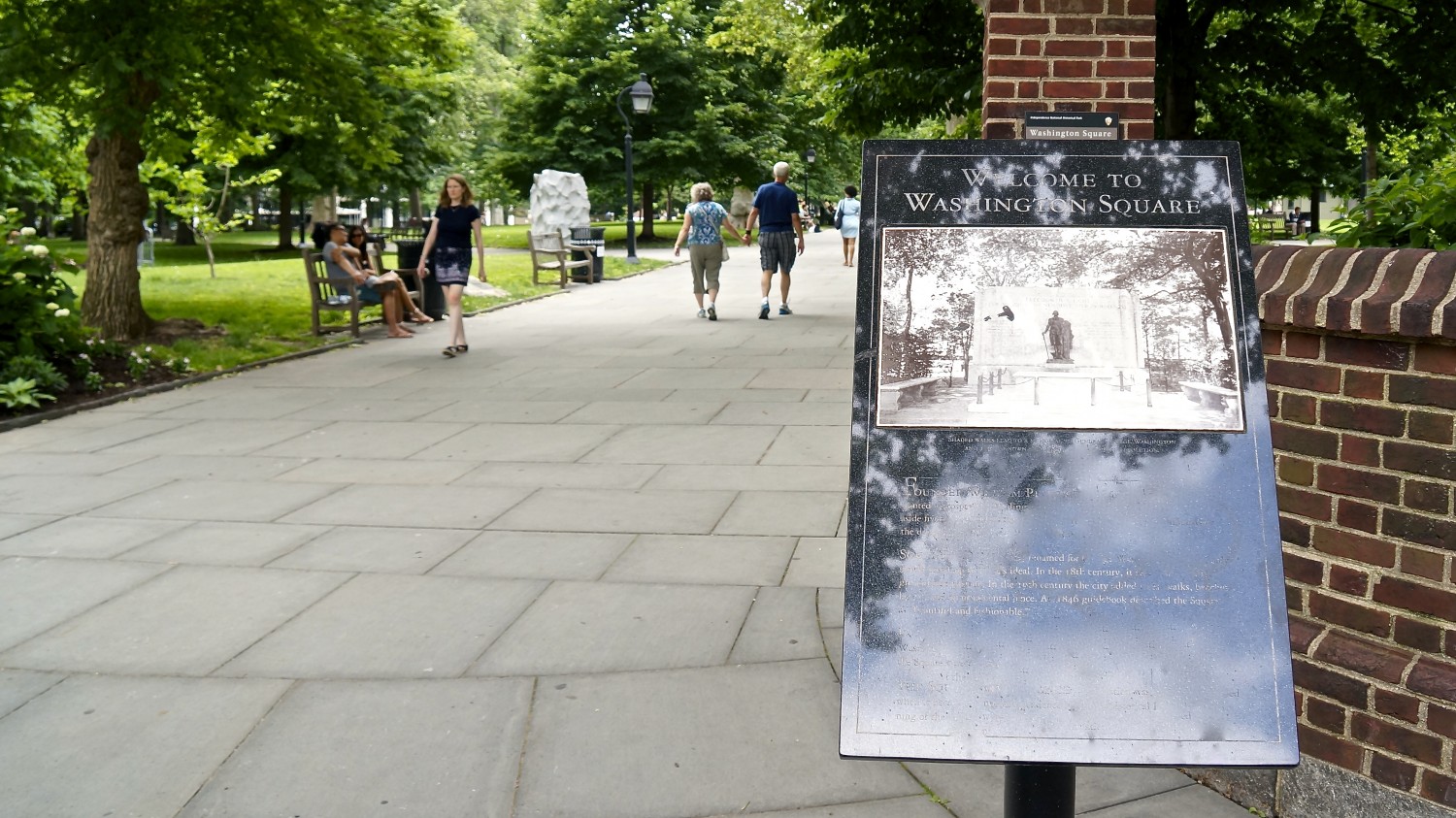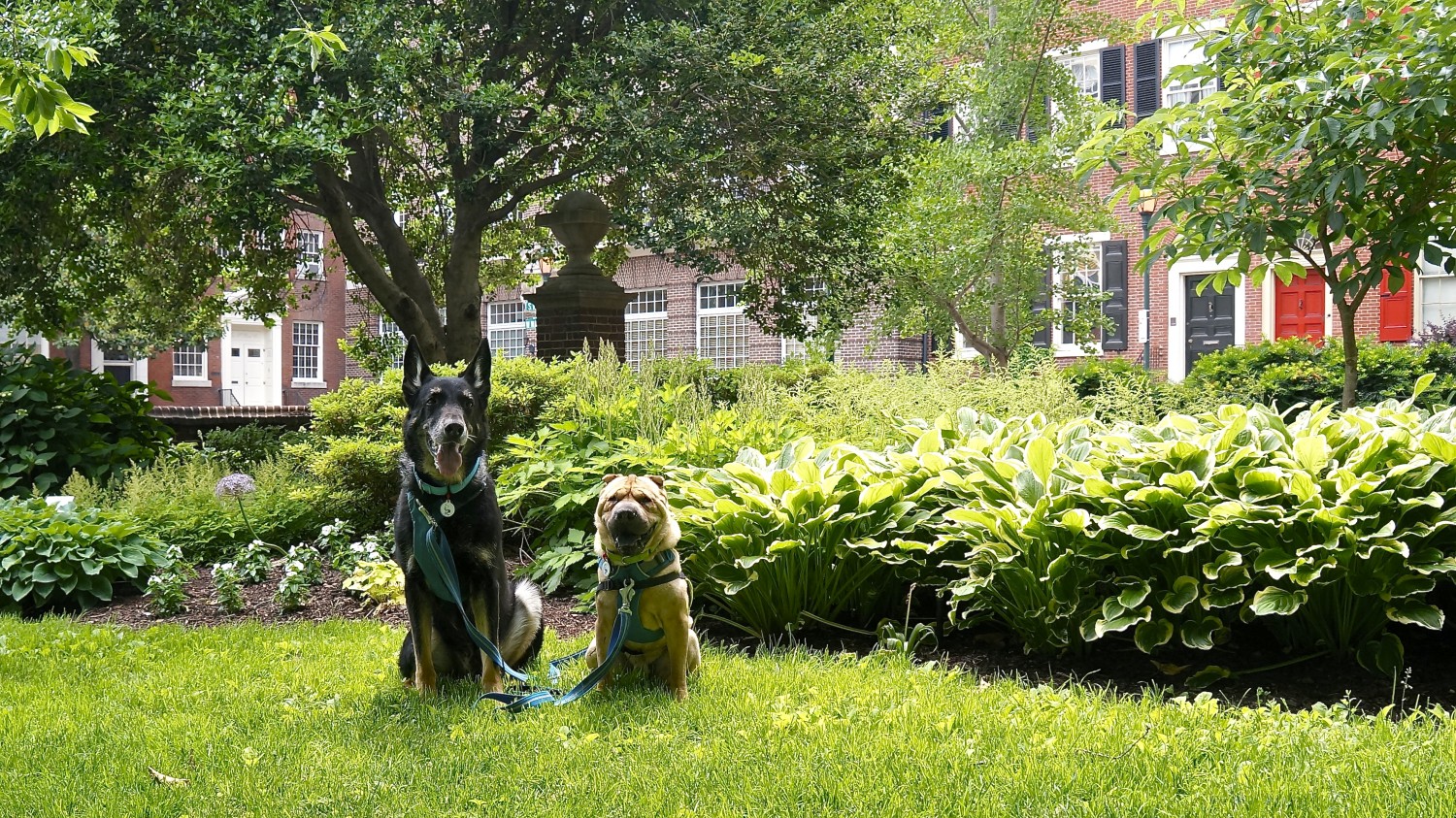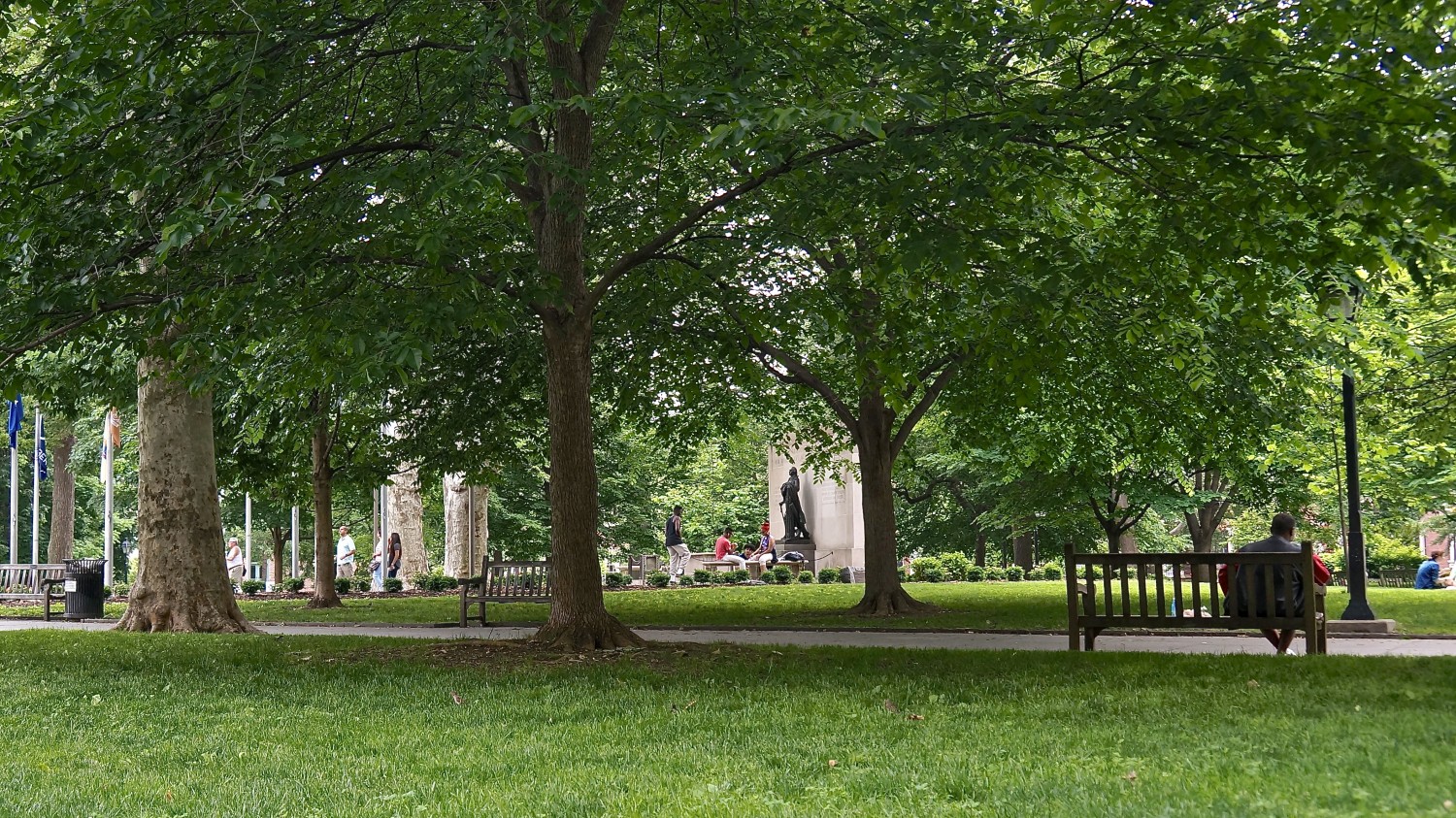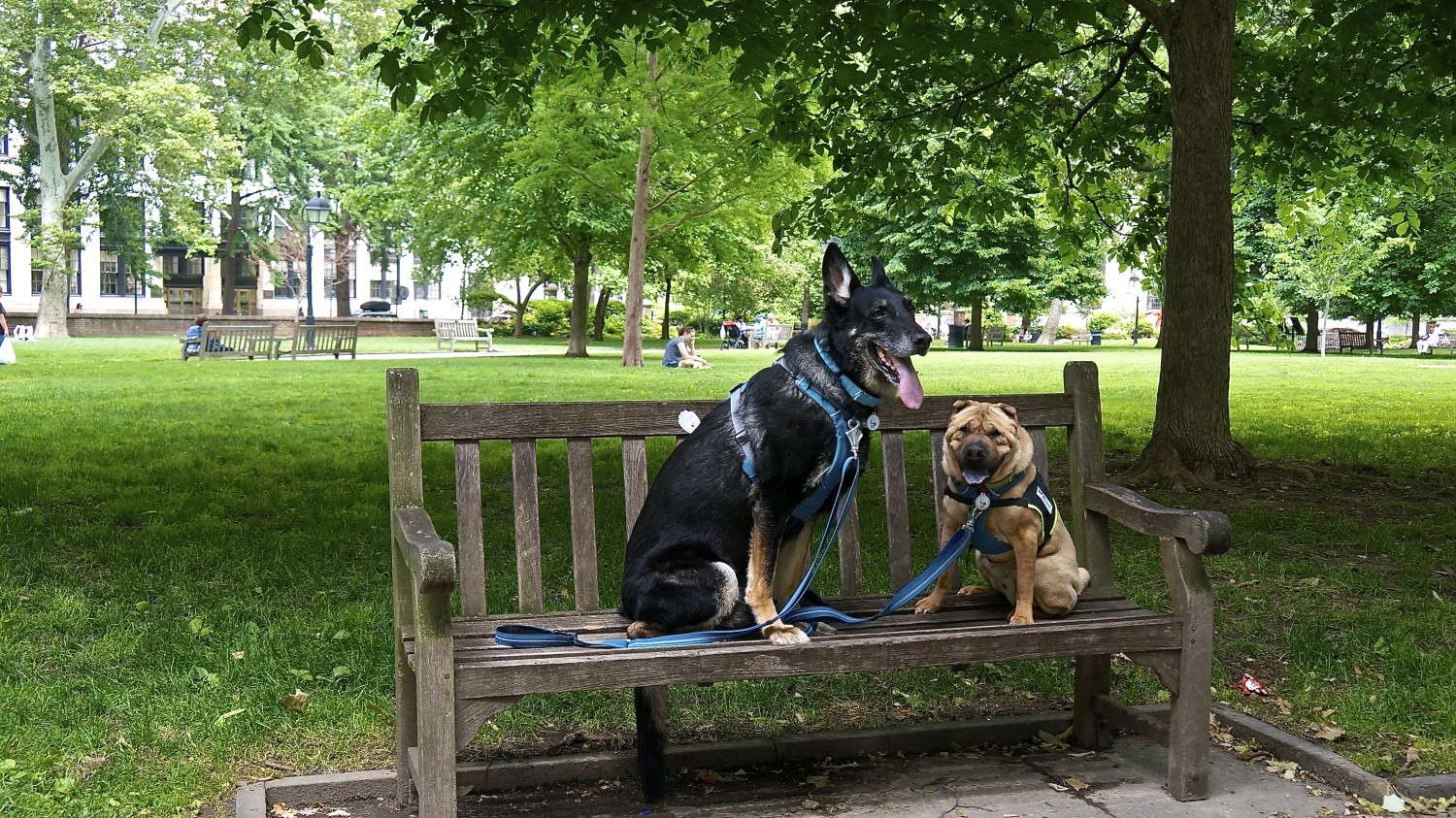 Rittenhouse Square via Locust Street
Locust Street is interrupted by the southern part of Washington square, and is our preferred route to Rittenhouse Square. Meandering west on Locust will give you a good look at Philadelphia's famous row homes, and you'll pass several restaurants with sidewalk seating. If you're getting peckish, stick your head in and ask if the outside seating is pet friendly – one of the things I love most about Philly is that nearly every restaurant with tables outdoors welcomes dogs.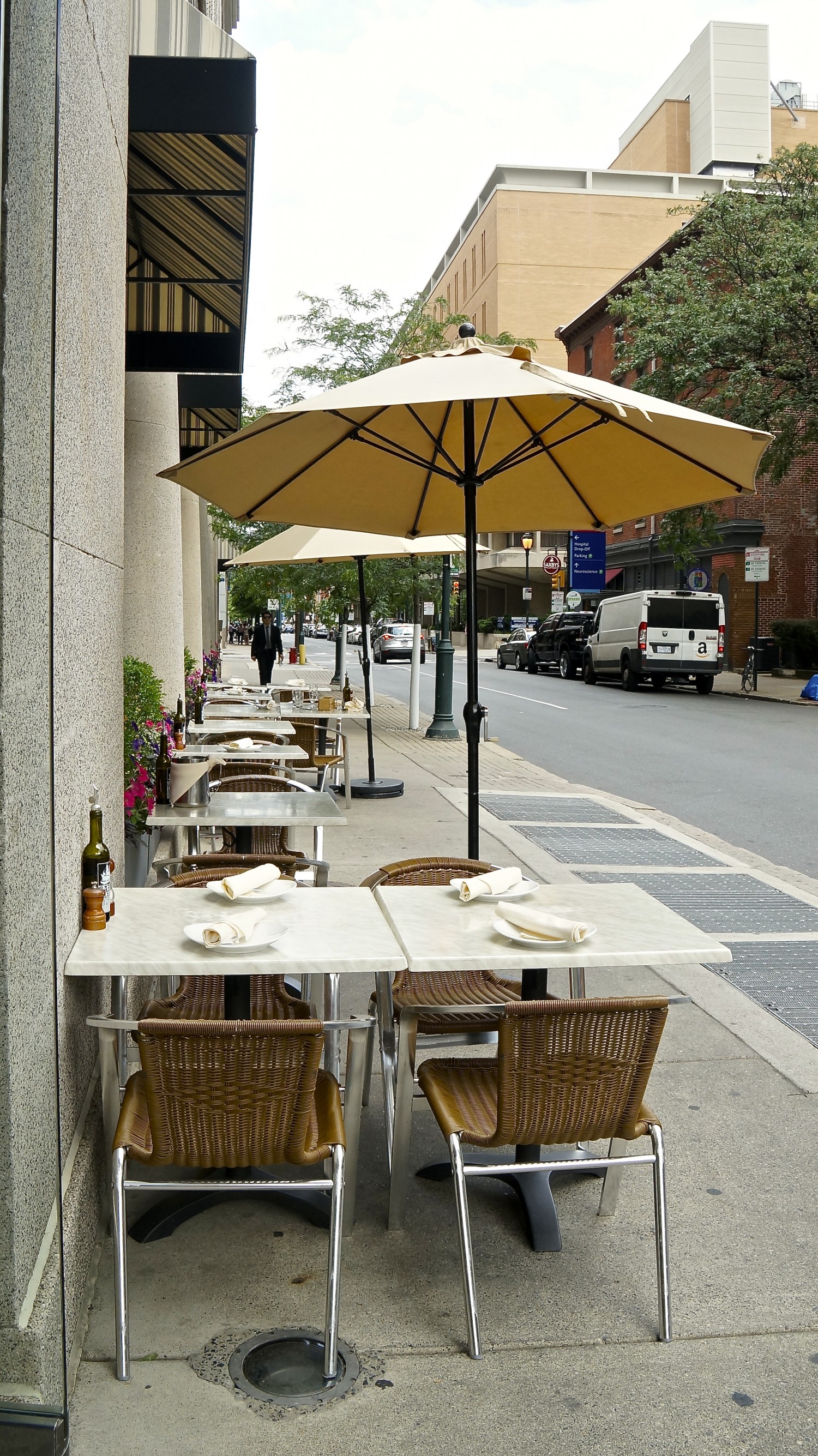 About one mile up Locust Street you'll run right into Rittenhouse Square. This is the city's most popular square and gets quite crowded on gorgeous afternoons. Rittenhouse is Philadelphia's front yard and it's surrounded by hotels, restaurants (many with pet friendly sidewalk seating), stores, and residential buildings. It's a meeting place, a spot to read a book or newspaper, and a perfect picnic destination.
Before you get comfortable, head a block south on 19th Street to Metropolitan Bakery for their handmade dog biscuits and a snack for yourself, and then go back to the park and check out the beautiful mosaic fountain.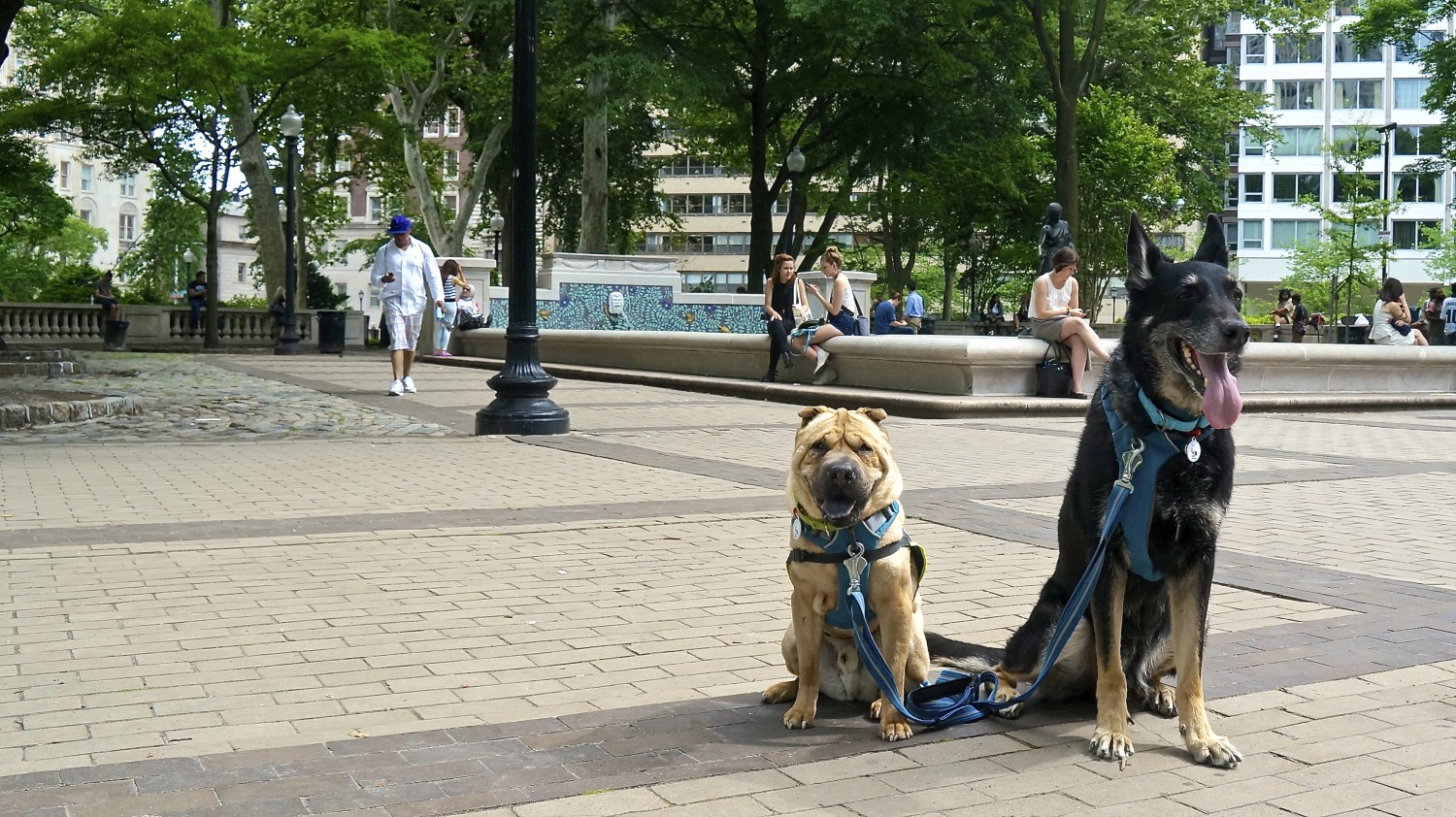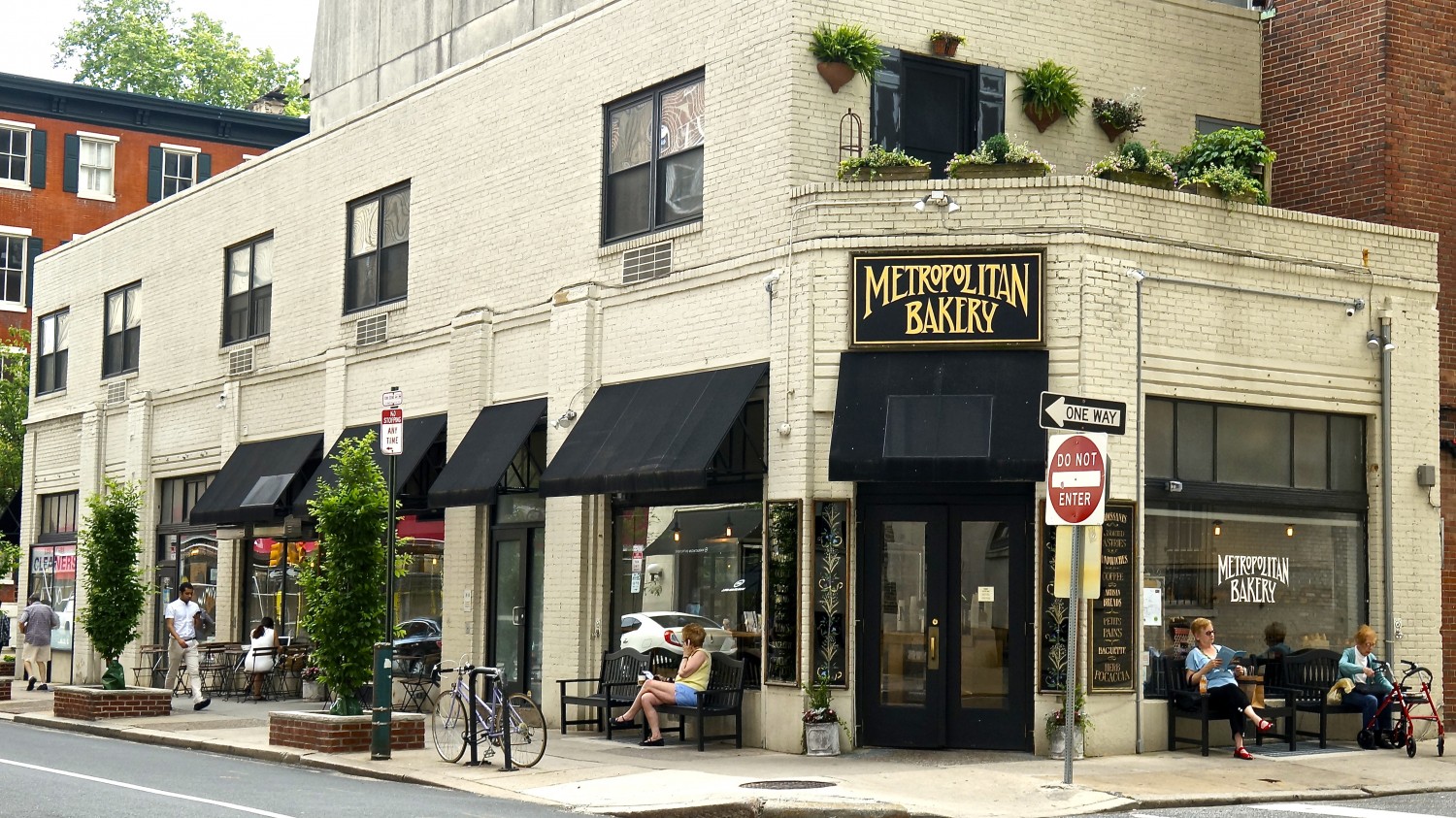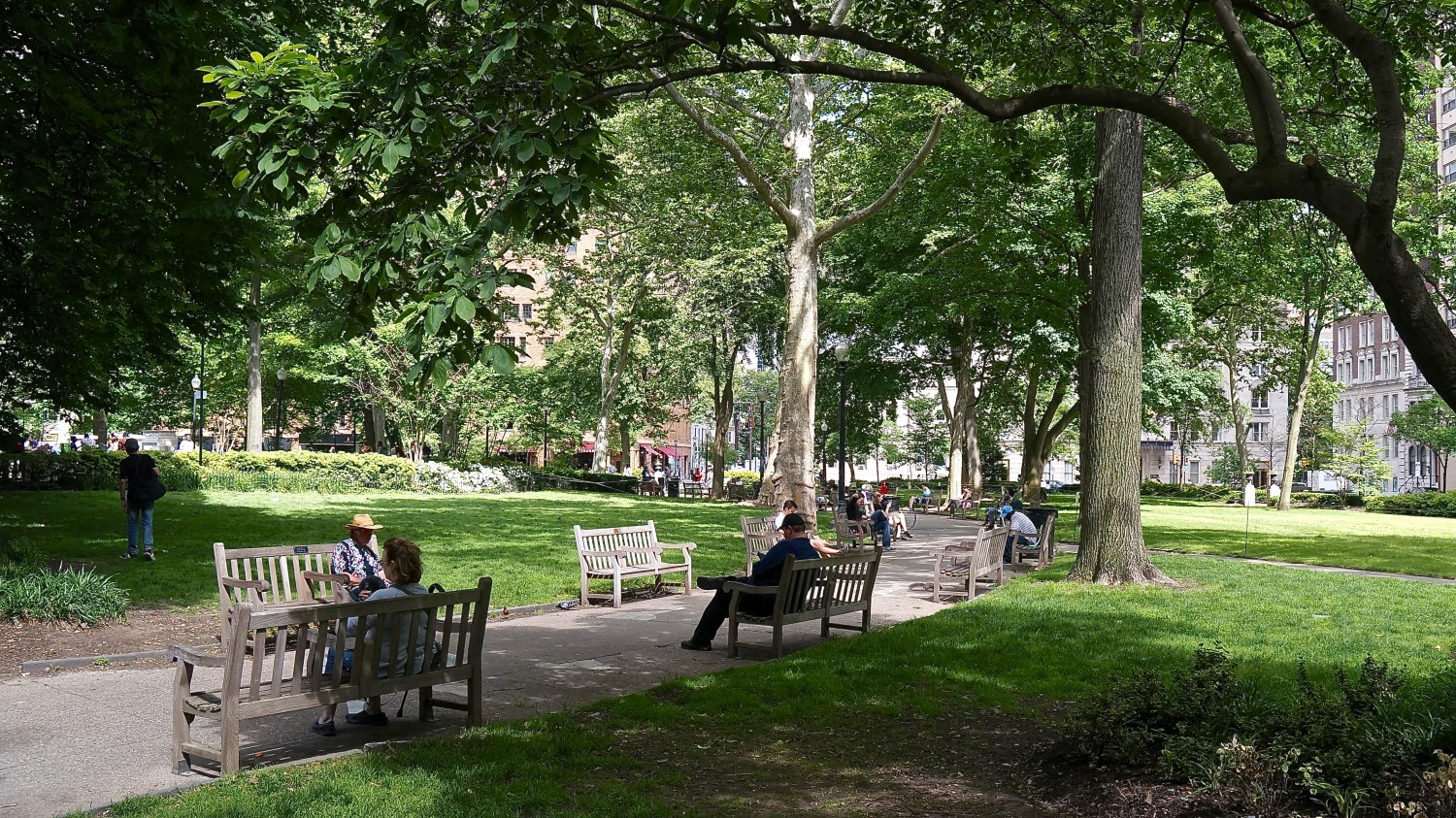 Skipping Logan Square in Favor of Fitlers Square
Logan Square is a bit of a misnomer because it's actually a circle. Still, it offers terrific views up and down the Benjamin Franklin Parkway, and has a spectacular fountain in the middle. The drawback is that Logan Square lacks a certain ambiance. With traffic whizzing around the exterior and few trees to reduce the noise or provide relief from the sun, this square is pretty to walk through, but doesn't make our cut for places to hang out.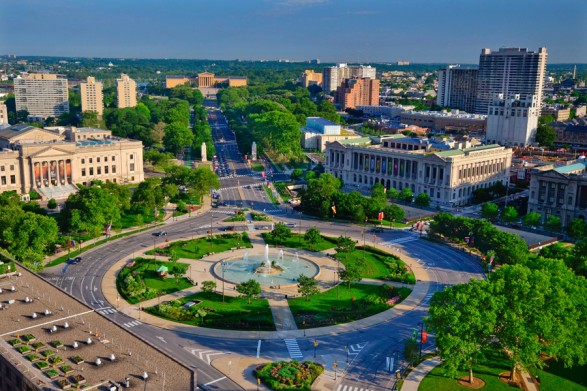 We'd suggest Fitlers Square a reasonable substitute. While it wasn't on Penn's original plans and is smaller than the other squares, Fitlers Square has its own charm. Walking south on 19th Street from Rittenhouse Square, head west on Pine Street through one of Philadelphia's quieter residential neighborhoods up to 23rd Street.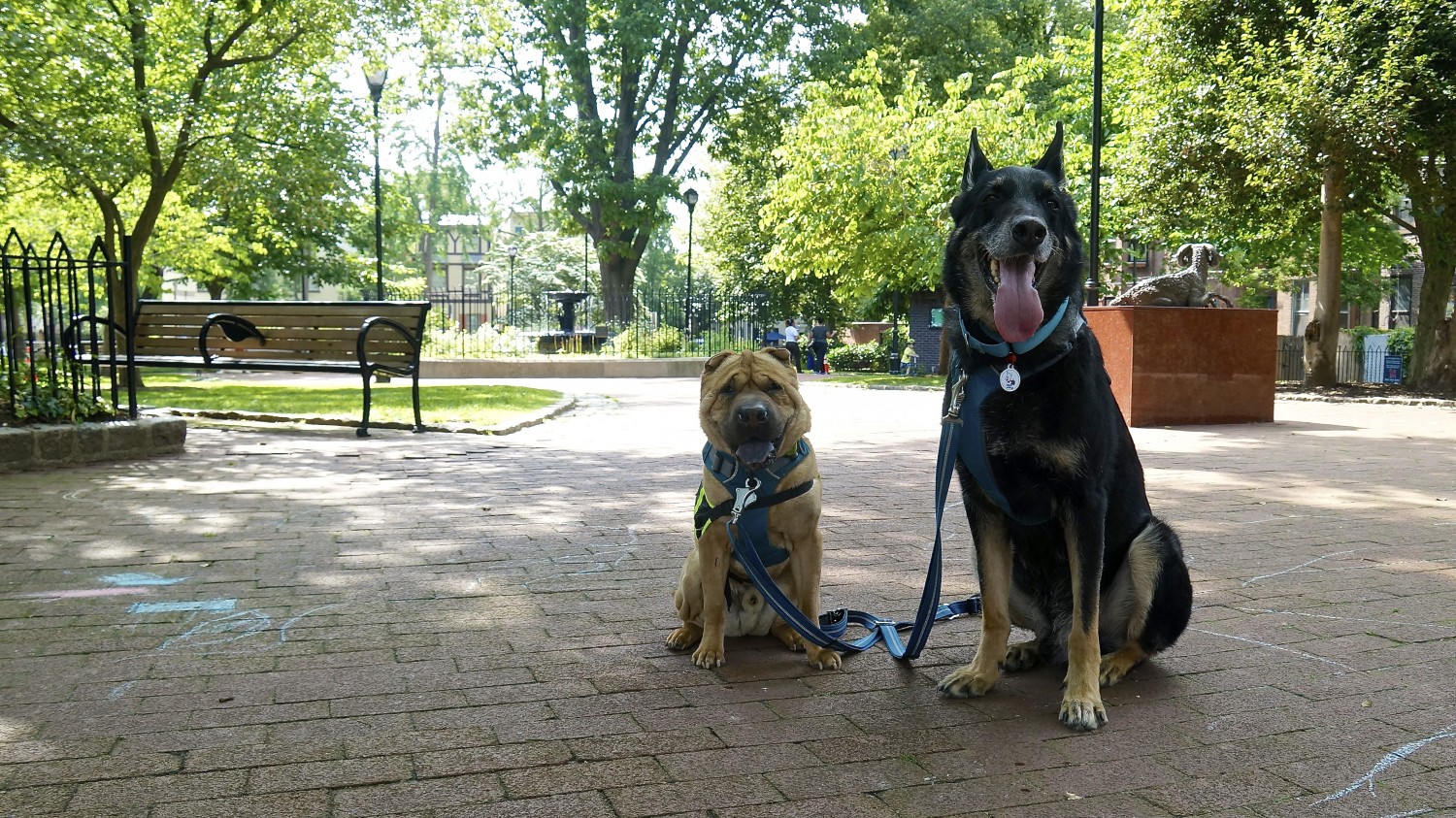 Dogs need to stick to the paved pathways in Fitlers Square, because the park is on the small side and is shared by families with young children who like to play in the grass. There is another fountain here, and several interesting sculptures around the park to enjoy. And if your stomach is rumbling, head across the street to the outdoor seating area at Tria. They're known for their selections of beer, wines, and cheeses, and also have some tasty appetizers and sandwiches on the menu.
Special treat: Continue west two blocks from Fitlers Square and head north one block on 25th Street to the Schuylkill River Dog Park where your pup can romp and spend a little time off leash socializing with the other pooches.
City Hall and Dilworth Park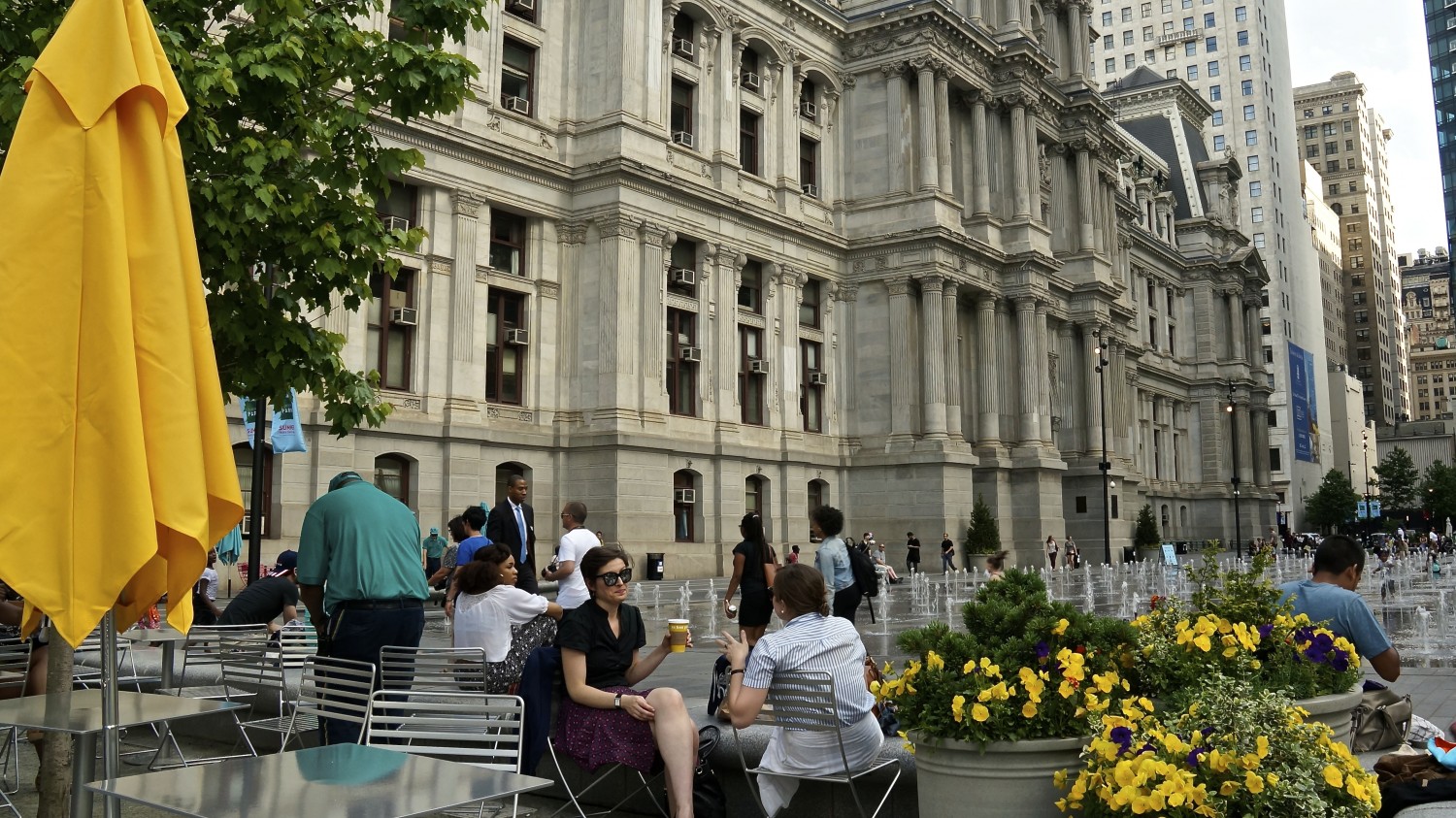 The fifth and final park is the heart of the Philadelphia – the square in the center of the city that holds City Hall and Dilworth Park. To get there continue north on either 23rd or 25th (depending on whether you opted to go to the dog park) to Market Street, then turn east and continue to City Hall.
Situated in the middle of Philadelphia's financial district, Dilworth Park feels more urban than the other squares, but is no less interesting. Make your way around the massive building to view several sculptures, walk through the arched stone passages to see the courtyard, and then get a table at the café and watch the kids splash in the dancing fountain.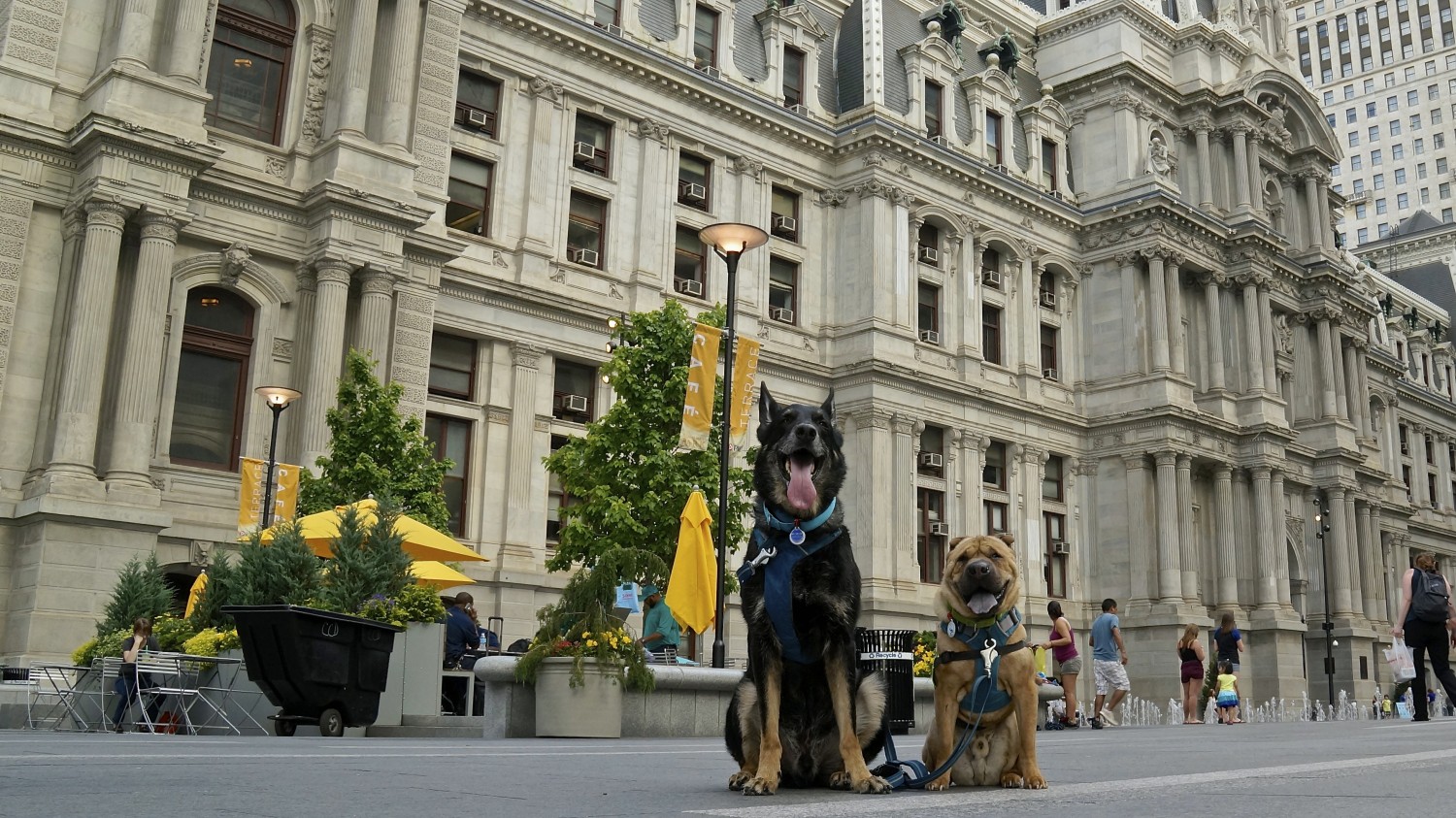 There's no shortage of things going on at Dilworth Park, and dogs are always welcome, but they're especially appreciated from August 30th to September 1st, from 11am to 1:30pm, with a dedicated Dog Days celebration. In addition, dogs are encourage to attend Yappy Hour on August 31st, September 7th, 21st, and 28th from 5pm to 7pm.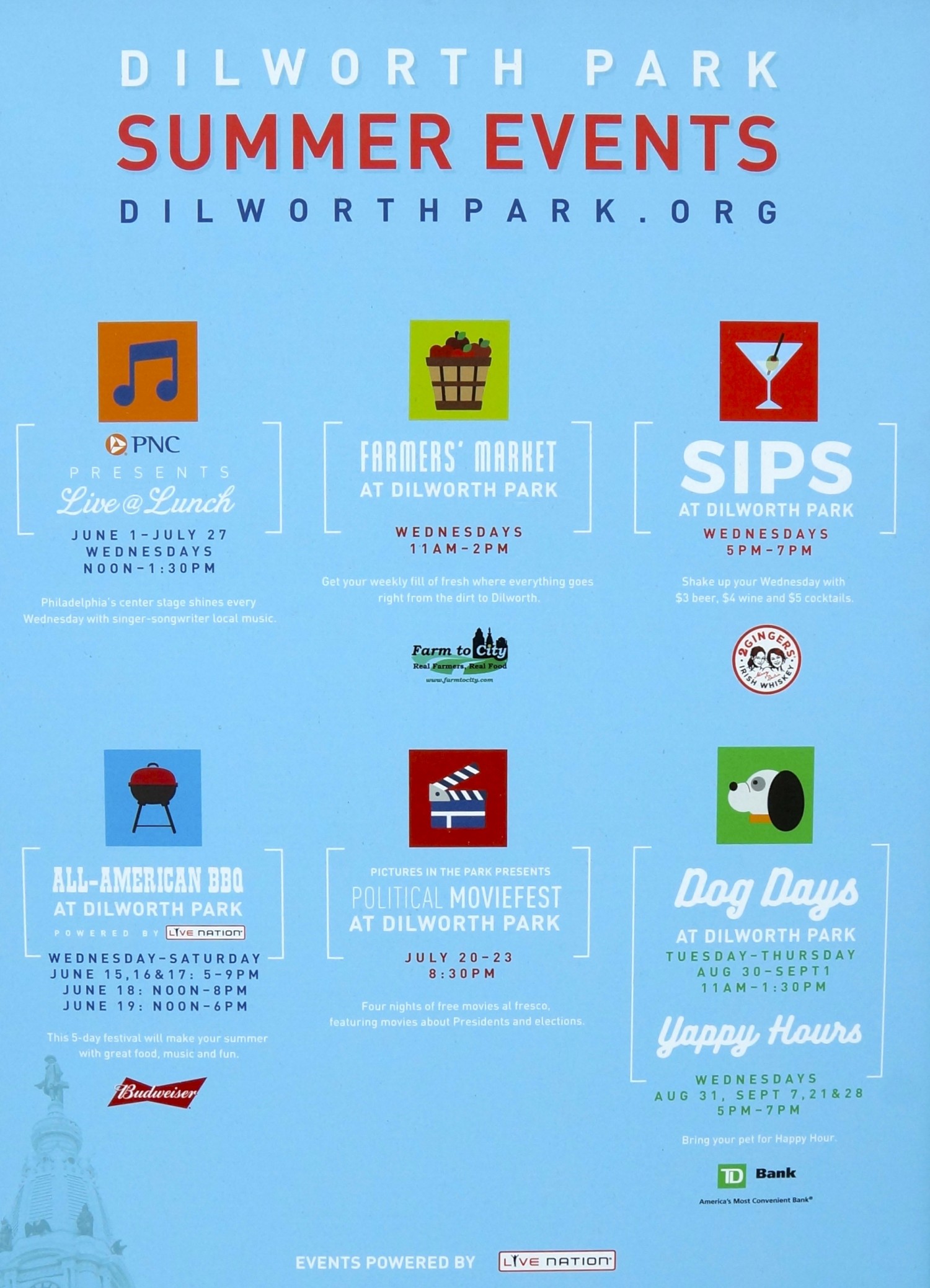 No trip to Philadelphia would be complete without a photo by the LOVE sculpture, and from there it was time to head back to our car. The complete round-trip is 4.6 miles of easy walking, with scads of opportunities to rest, snack, and rehydrate along the way. Many stores and restaurants provide drinking water for your pup, but it's a good idea to bring a collapsable bowl along anyway.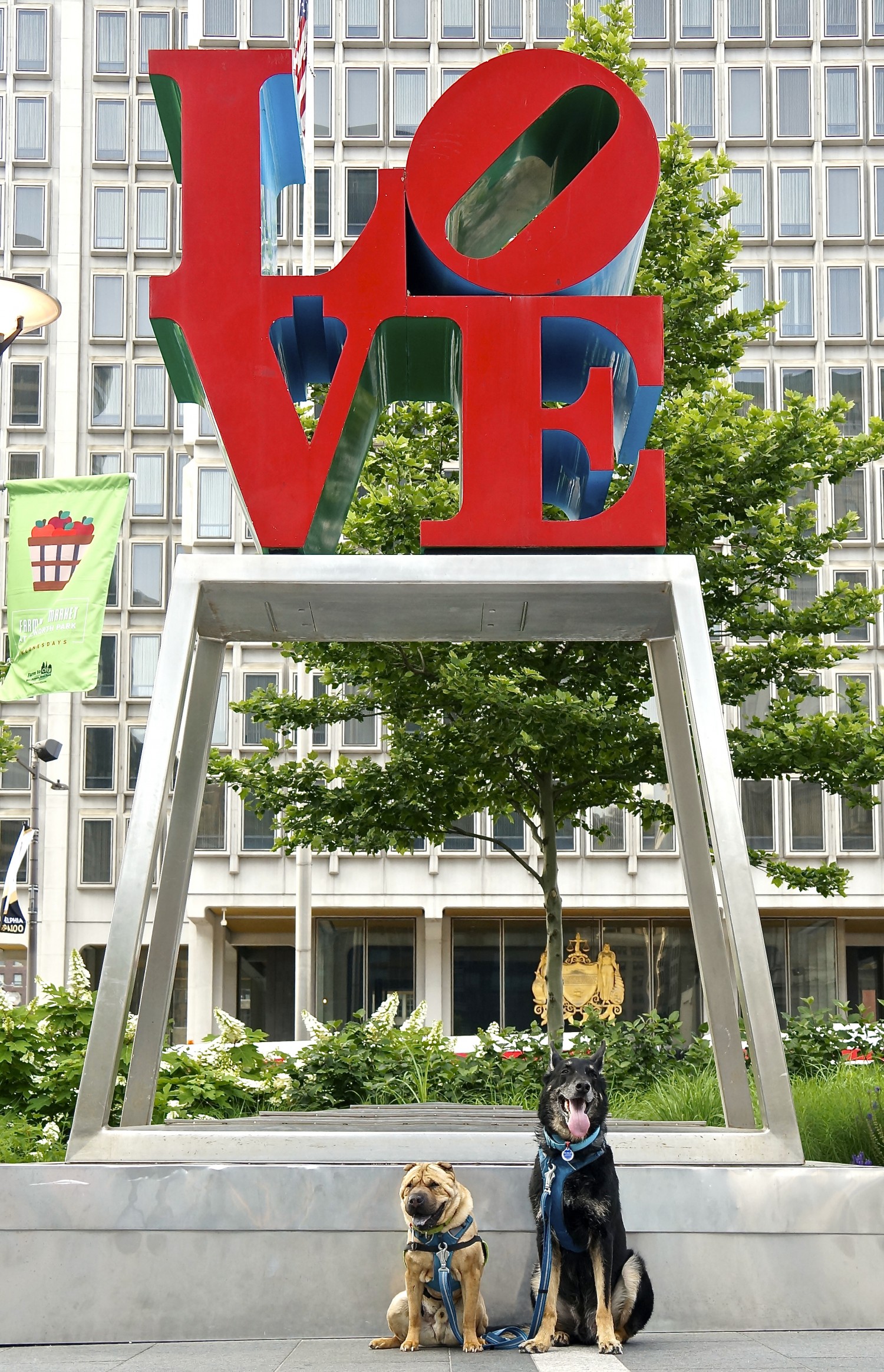 We hope you enjoyed touring Philly with us, and we wish you a great time seeing it for yourself. Waggin' trails!
Planning a pet friendly trip of your own? We'll make it easy:
Pet Friendly Hotels | Pet Friendly Destinations | Pet Friendly Activities
Amazon Affiliate Disclosure: GoPetFriendly.com LLC is a participant in the Amazon Services LLC Associates Program, an affiliate advertising program designed to provide a means for website owners to earn advertising fees by advertising and linking to amazon.com, audible.com, and any other website that may be affiliated with Amazon Service LLC Associates Program. As an Amazon Associate, the owner of this site earns a commission from qualifying purchases.
(Visited 4,104 times, 1 visits today)