Over 1.5 million people visit Arches National Park each year, and many of them have pets. Knowing what you can do together will ensure you all enjoy the trip!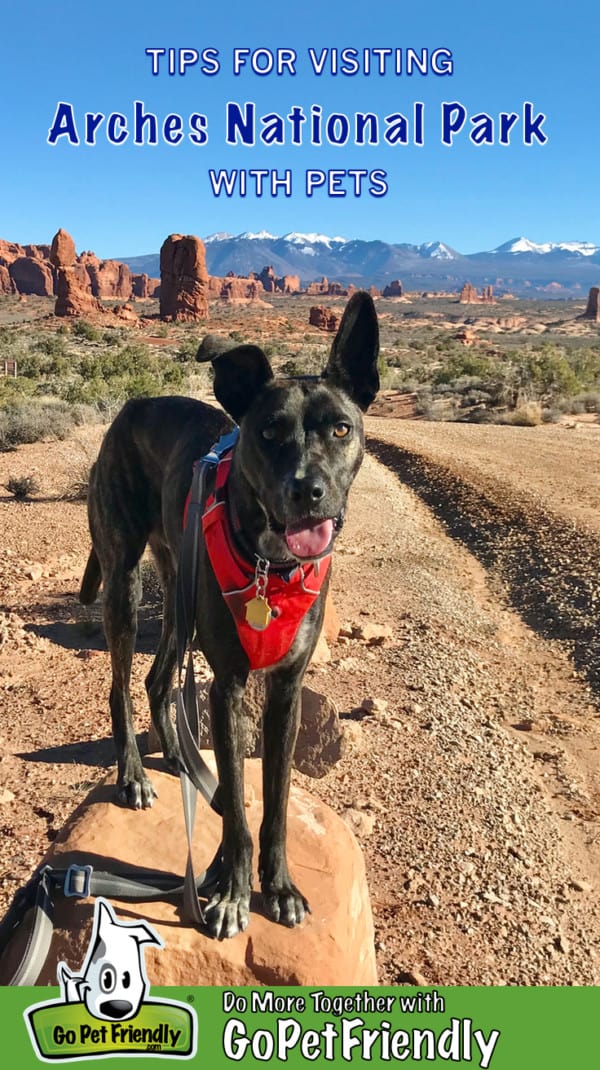 Visit Arches National Park with your pets and you'll see the densest concentration of natural stone arches in the world – more than 2,000 within the Park's boundaries! It's unlike anywhere else you'll travel.
Unfortunately, Arches isn't known for being pet friendly. But, don't worry! After some investigation and paws-on-the-ground research, we discovered that you and your pets will find plenty to enjoy together at Arches National Park.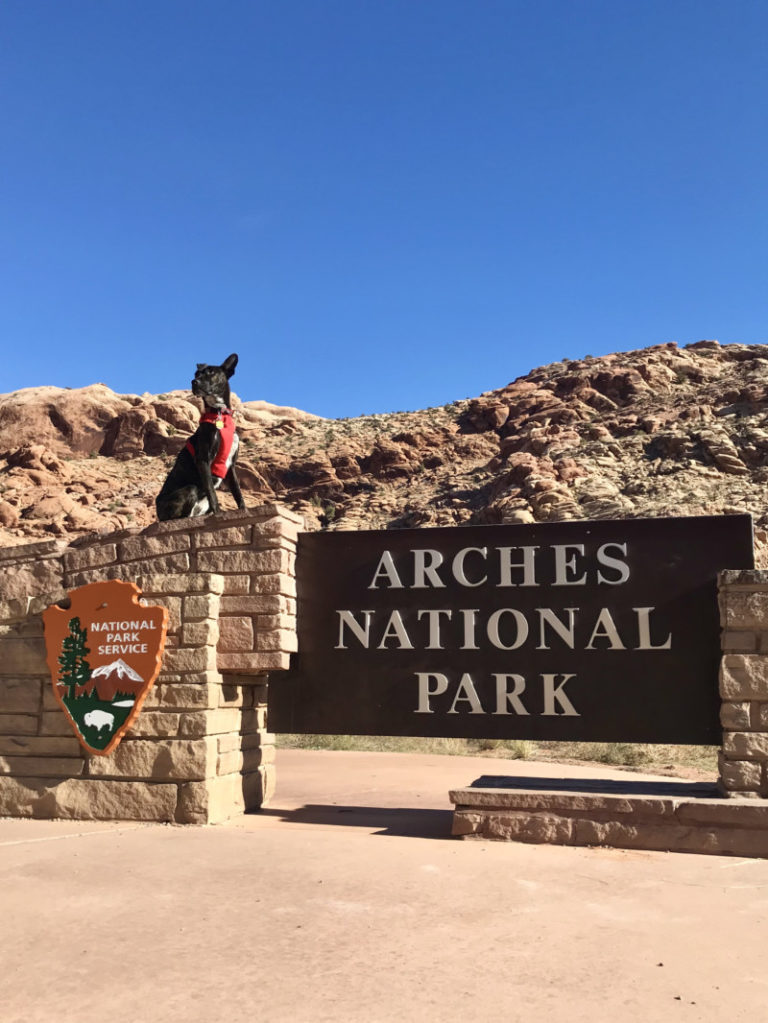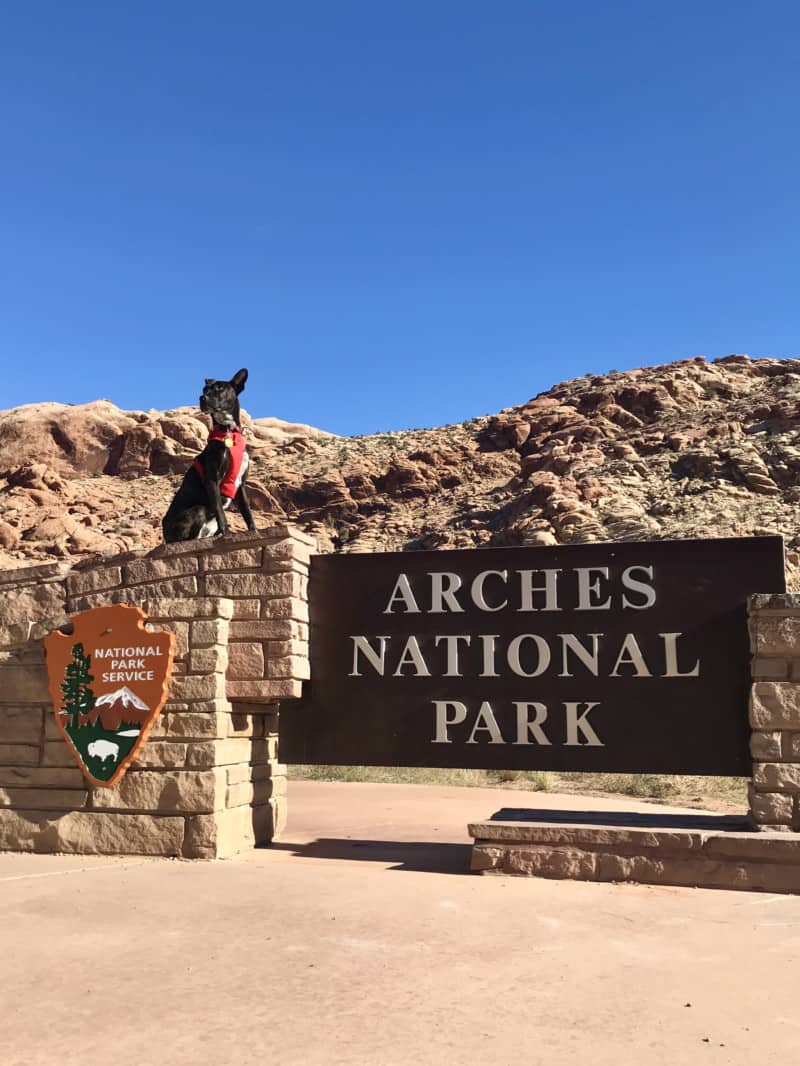 Visiting Arches National Park
Located in eastern Utah, just north of Moab, Arches is named for its most famous rock formations. But arches are not the only magnificent natural structures you'll see here! Pinnacles, balanced rocks, fins, and massive stone walls provide the perfect contrast to the fragile arches.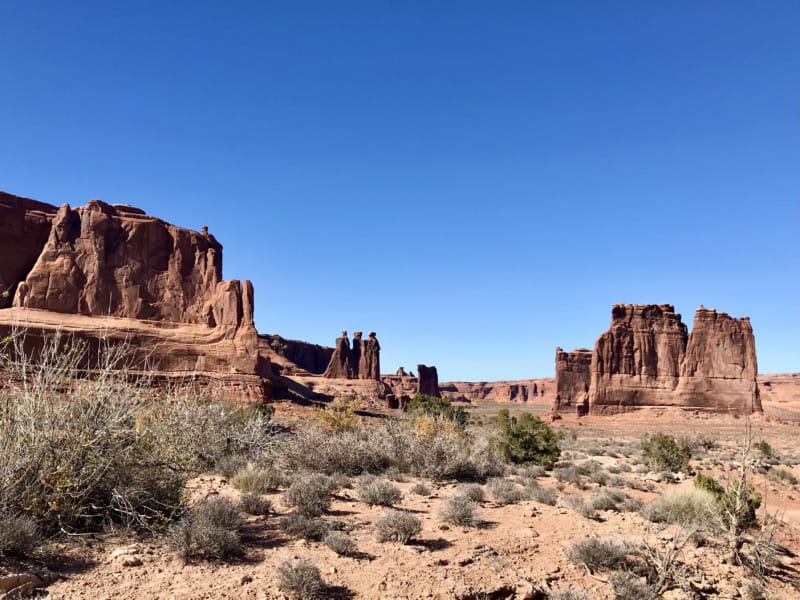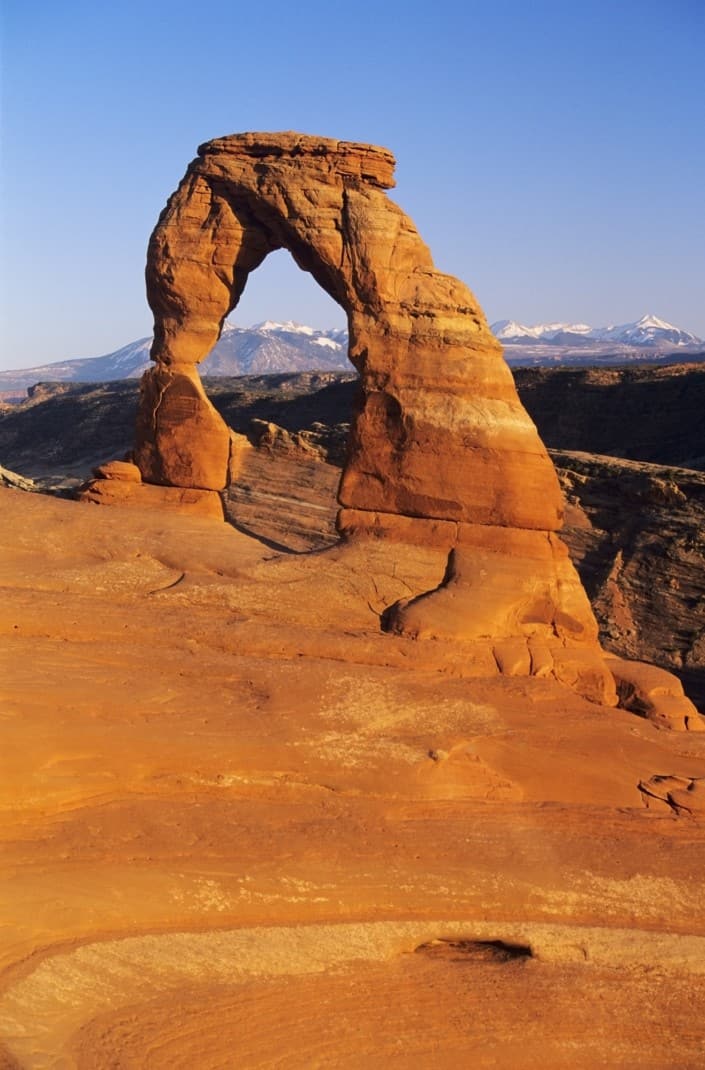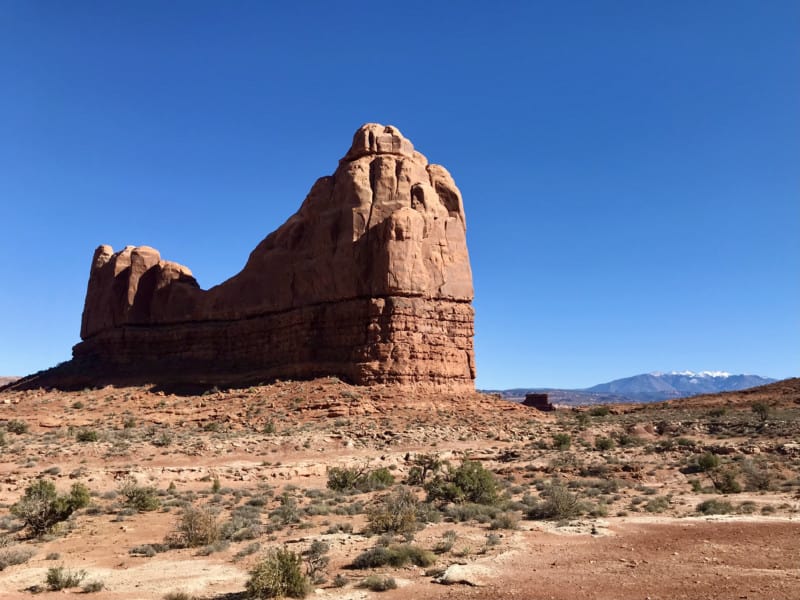 How long does it take to see Arches National Park?
You can see the most popular formations in the Park in as little as 2 to 3 hours. Or you could spend several days exploring the four-wheel-drive roads and hiking the trails to the Park's more remote features. So, how much time you spend at Arches depends entirely on you!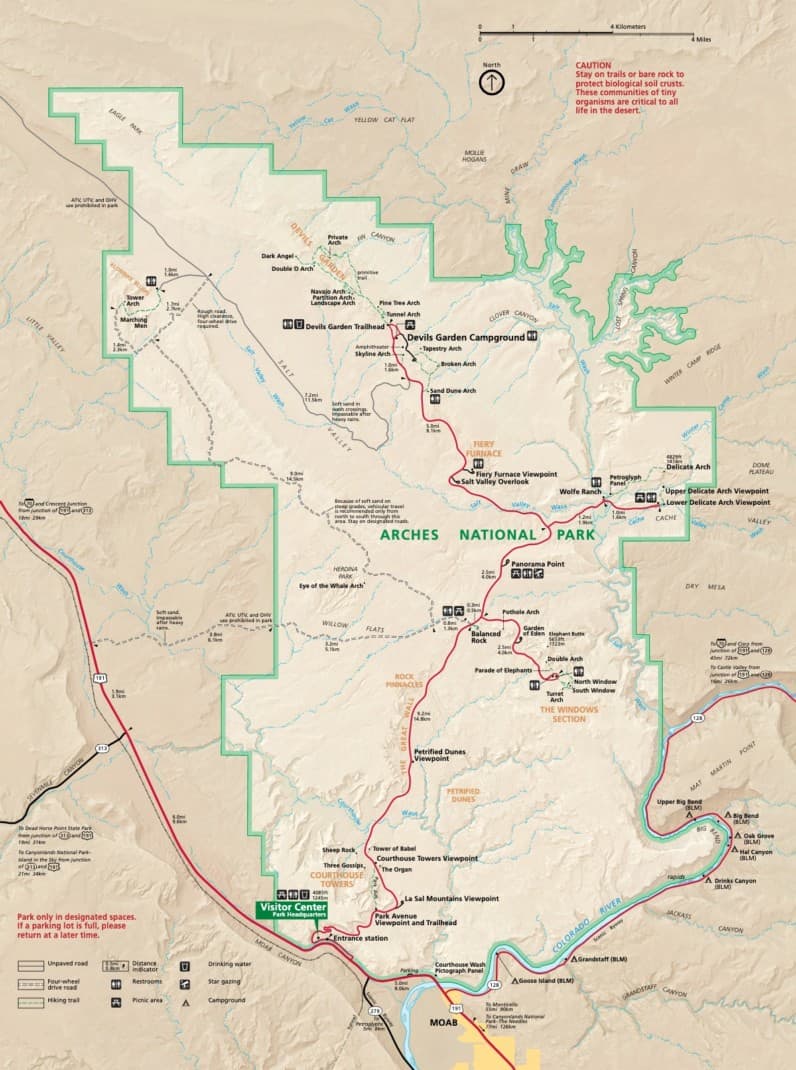 The main road at Arches runs from the entrance station to Devils Garden Campground at the back of the Park and is only 18 miles. Including the two paved spur roads adds another five miles. If you're just planning to hop out for a quick look at the most popular stops, you should allow half a day.
Keep in mind that the Park staff can delay vehicle entry for several hours during especially busy times. To avoid congestion, plan your visit during the shoulder season (March, April, and November) and go either early in the morning or late in the afternoon. Sunrise and sunset are the best times for photographing the red rock formations.
What can I see at Arches without hiking?
No everyone wants to hike, but there's still a lot you can see at Arches National Park! The best views of many rock formations and arches are short strolls from the parking areas. If you're willing to walk a mile roundtrip on well-packed trails you can see all of these formations:
Balanced Rock (0.3 miles)
Courthouse Towers Viewpoint and The Organ, Three Gossips, Tower of Babel, and Sheep Rock
Courthouse Wash Panel (1 mile)
Delicate Arch Viewpoint (100 yards)
Double Arch and Parade of Elephants (0.5 miles)
Fiery Furnace Viewpoint
La Sal Mountains Viewpoint
Petrified Dunes Viewpoint and The Great Wall
Salt Valley Overlook
Sand Dune Arch (0.3 miles)
Skyline Arch (0.4 miles)
The Windows and Turret Arch (1 mile)
Tunnel Arch and Pine Tree Arch (0.65 miles)
Unfortunately, none of these trails mentioned above are pet friendly. So, you can take turns waiting with your pets while your partner goes for a look. Or plan to visit the Park when temperatures are below 65 degrees and you can leave your pets for a few minutes without worrying they'll get too hot.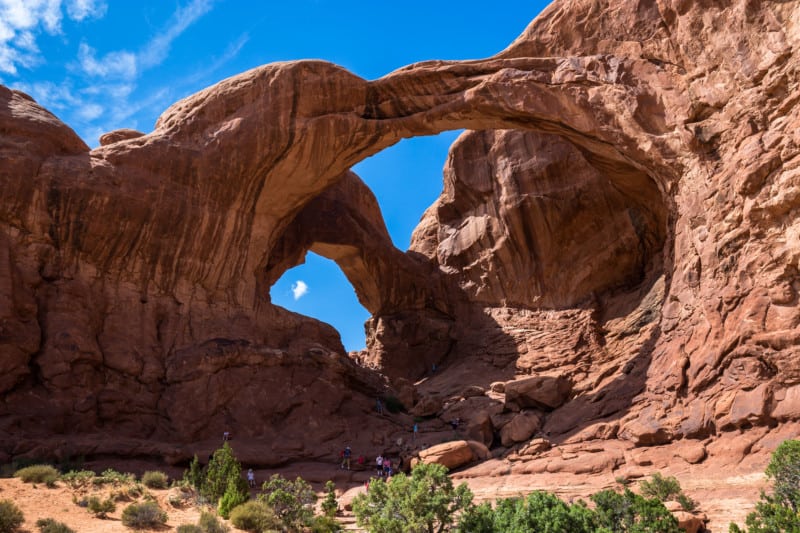 Pets At Arches National Park
As with most national parks, if you're traveling with pets, your visit to Arches National Park will be a bit more restricted.
When you arrive at Arches with your pet, you'll receive a park map, which includes the park's pet policy. In addition, you'll receive another information sheet titled, Pets at the Park. This sheet appears to further clarify Arches' policy regarding pets.
Pet Policy at Arches National Park
The pet policy at Arches National Park states, "You may have your pet at Devils Garden Campground and may walk your pet along roads and in parking lots. You may not have pets on hiking trails, at overlooks, or anywhere in the backcountry, even in carriers. Pets must be on a leash no longer than six feet at all times."
The Pets at the Park sheet further states, "For wildlife and visitor comfort and safety, your pet:
is not allowed on trails or in the backcountry.
is not allowed at overlooks or on unpaved roads (except Potash/Shafer Canyon Road between Moab and Island in the Sky, Canyonlands).
must be leashed when outside your vehicle.
may only be walked on paved roads, parking lots, or the campground.
may not be left tied up anywhere except a paid-for campsite."
It might sound like your pets can only experience Arches National Park from inside your vehicle. Fortunately, that's not the case!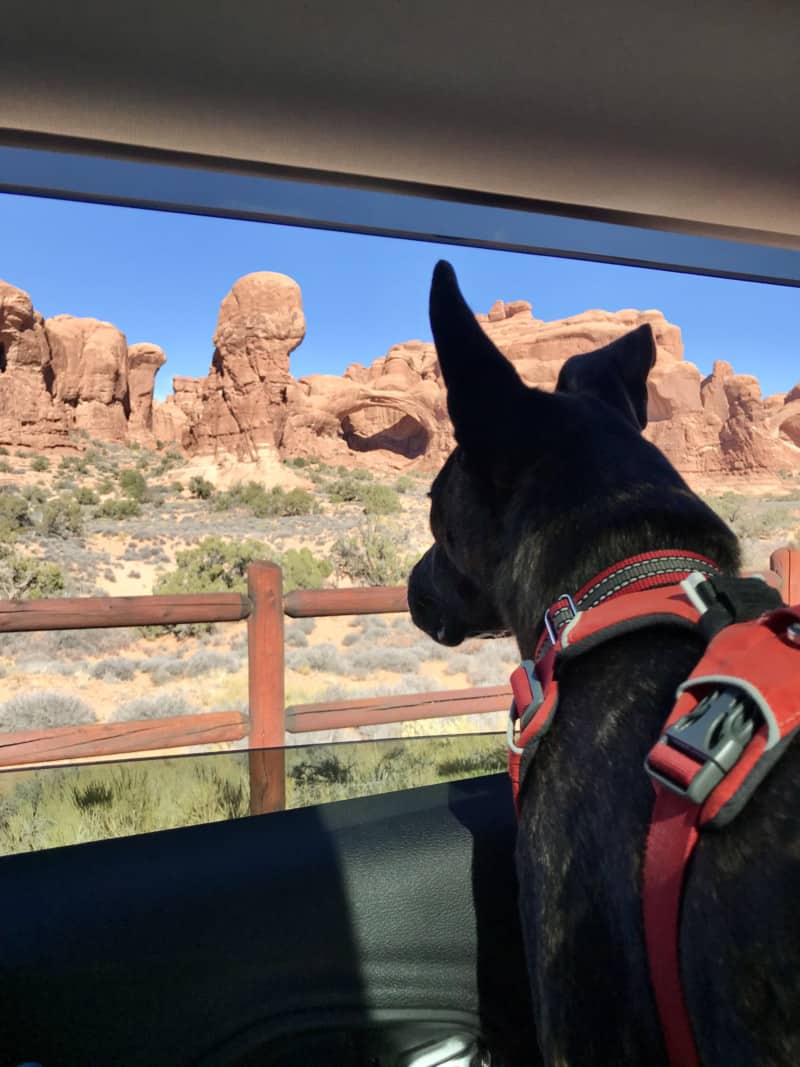 Where can I walk with my pets in Arches National Park?
Despite the somewhat confusing printed materials, we've confirmed that leashed pets can walk around the campground, in the picnic areas, in the parking lots, along the paved roads (though we don't recommend it!) and on the unpaved roads in Arches National Park. We found plenty of places to explore the Park with Myles, and we enjoyed the opportunity to get off the beaten path with him.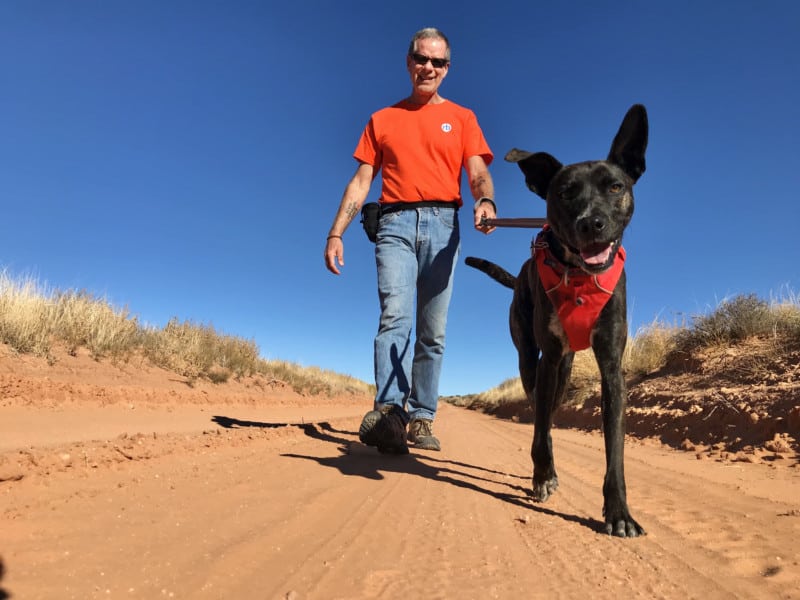 Devils Garden Campground
Park at the picnic area just before the campground or the Devils Garden Trailhead parking area and take a mile-long roundtrip walk around the campground with your pets. The paved road offers some nice views of the surrounding scenery.
Pack a lunch, because pets can also join you in the picnic areas in Arches National Park!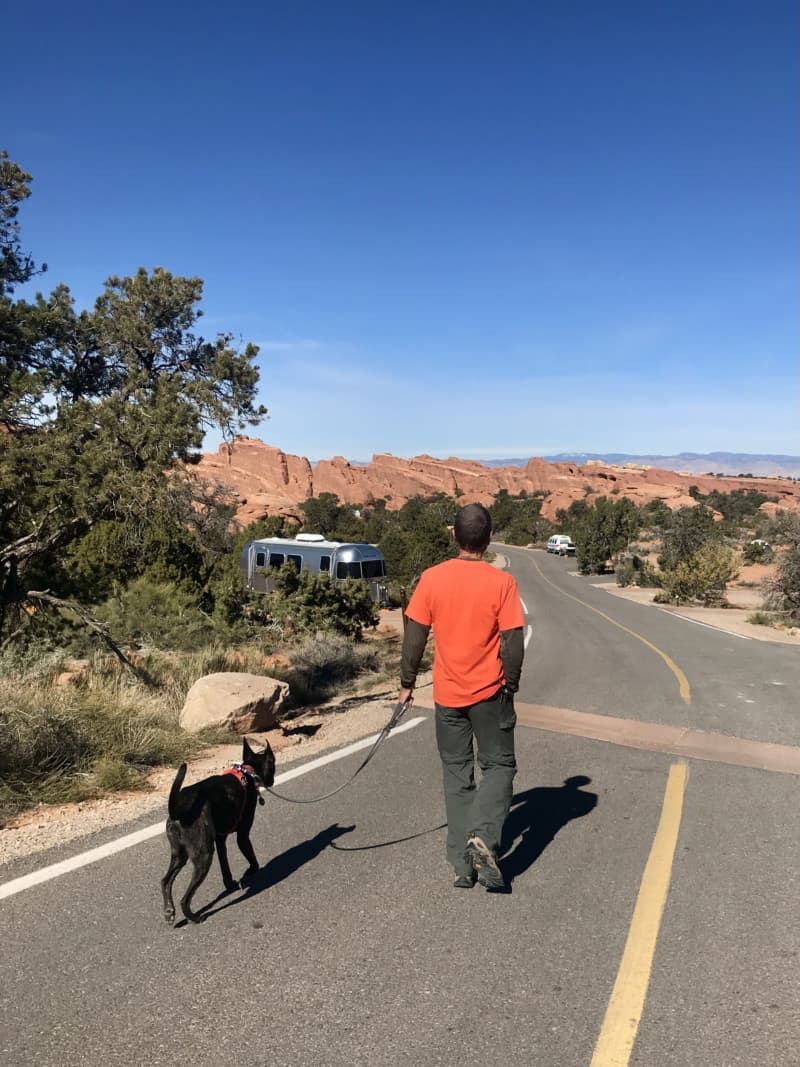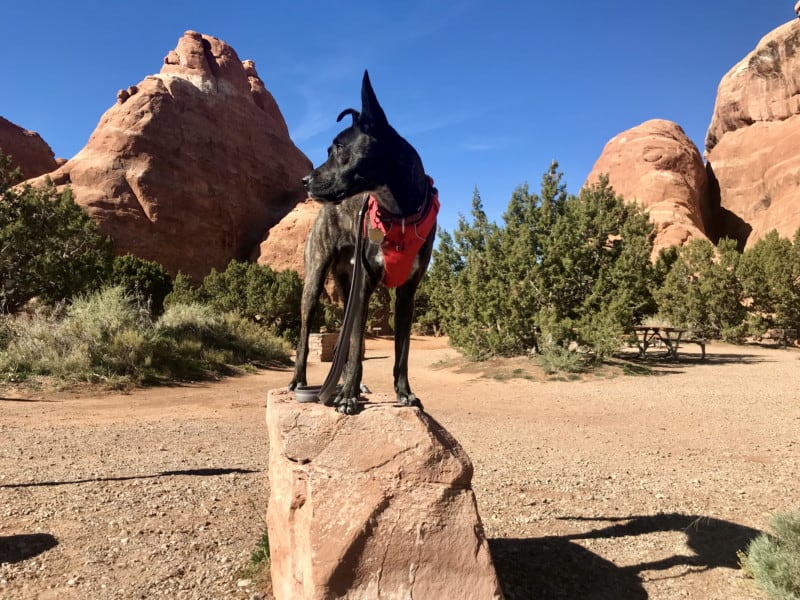 Salt Valley Road
Pets visiting Arches National Park can also walk on Salt Valley Road, though we don't recommend it. The views are great! But this gravel road is dusty, traffic here moves quickly, there are blind corners, and the trek includes a significant drop to the valley (and back).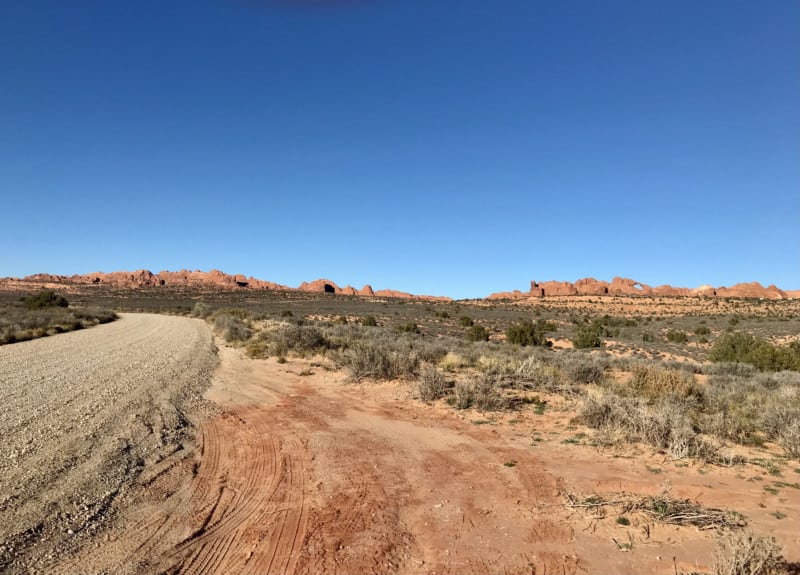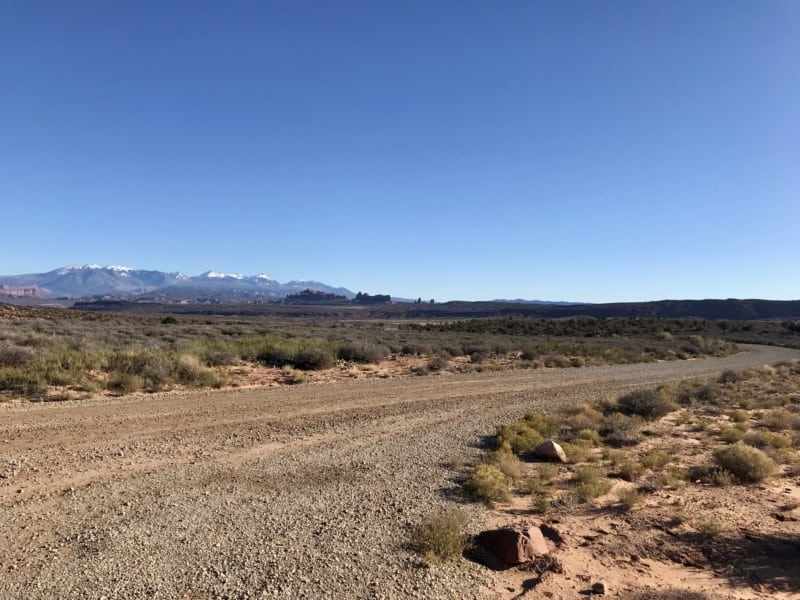 Cache Valley Road
You won't find this road on the maps provided by the Park! But park at the Lower Delicate Arch Viewpoint and picnic area, and you'll spot the sign. This four-wheel-drive road runs 0.65 miles to the Park boundary and then crosses to property managed by the Bureau of Land Management (BLM). Dogs are welcome on BLM land, so you're free to continue walking if you choose.
If you're hoping for some shade, you're more likely to find it on this road than the other options. It's easy walking in a dry wash, fairly level, and lightly traveled. And you'll have a shot of Delicate Arch along the way! Keep in mind that this road is sometimes closed after rain.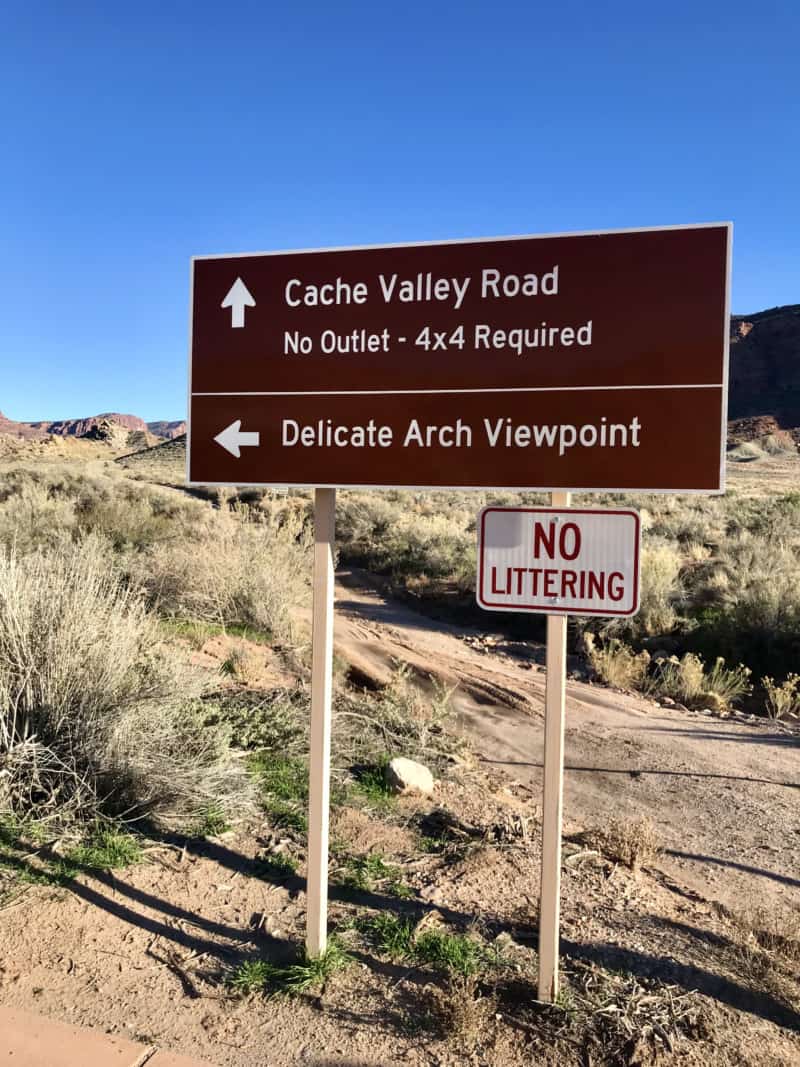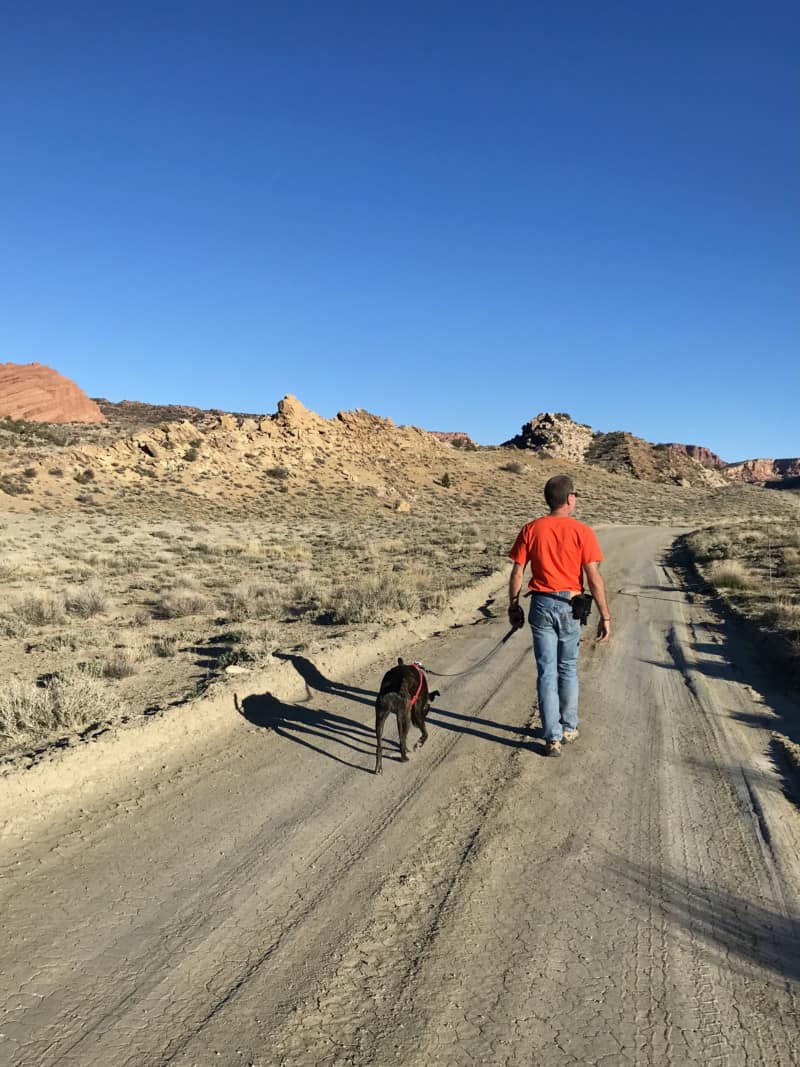 Willow Flats and Willow Springs Road
Willow Flats road intersects the main Park road at Balanced Rock and runs for four miles to the Park boundary. There it becomes Willow Springs Road and continues 3.8 miles to an intersection with Hwy 191.
Parking is available at a picnic area and restrooms just after turning off the main road. Remember, pets can join you in the picnic areas in Arches National Park, and this is a nice, quiet place to have lunch and enjoy the views together.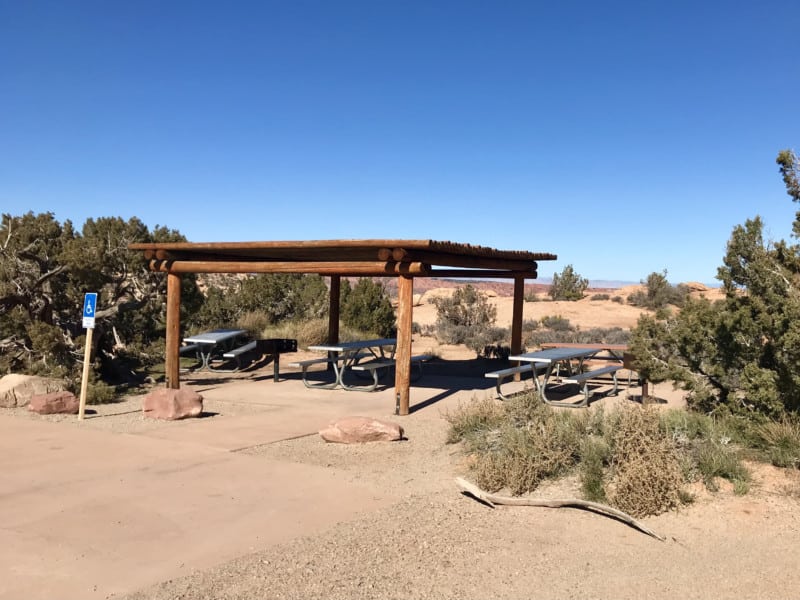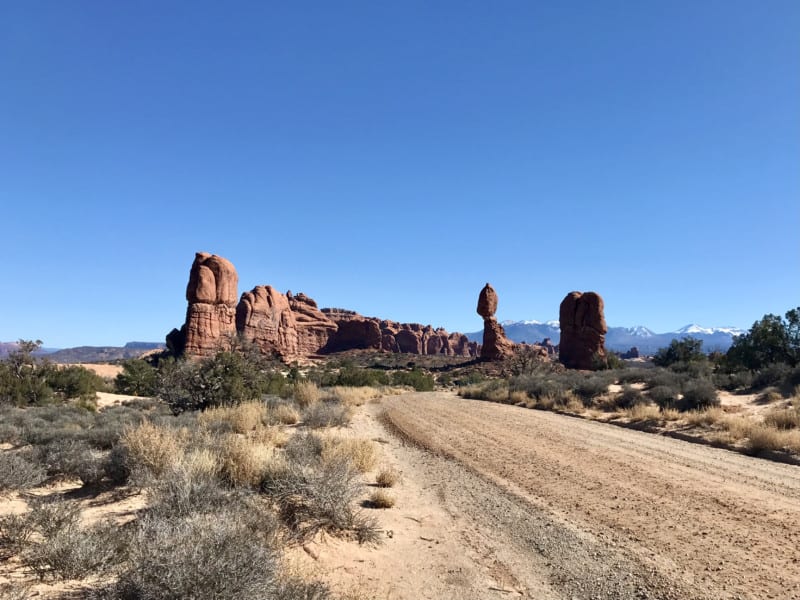 The road itself is sandy, relatively flat, and lightly traveled. If need to get your 10,000 steps a day, this spot is your best bet in Arches!
The Park's technical four-wheel-drive road intersects with Willow Flats Road about a mile from the picnic area. It's another option to walk with your pets.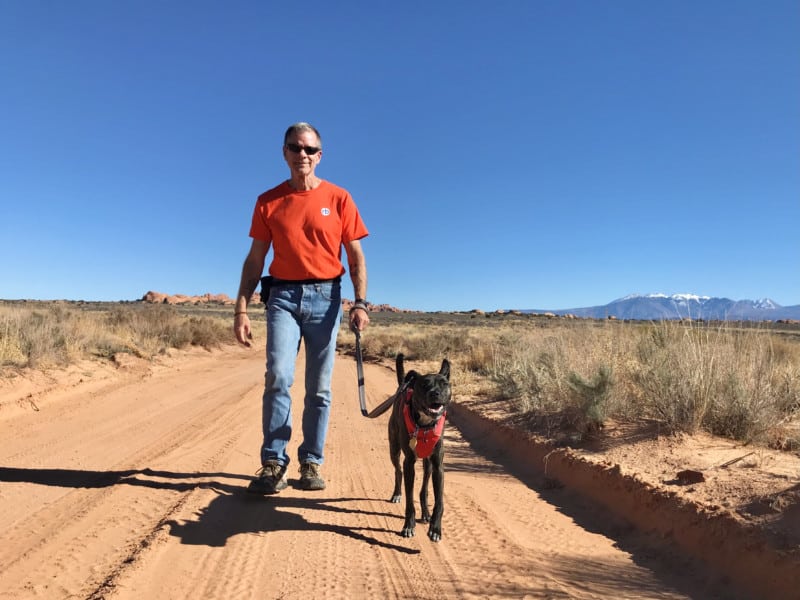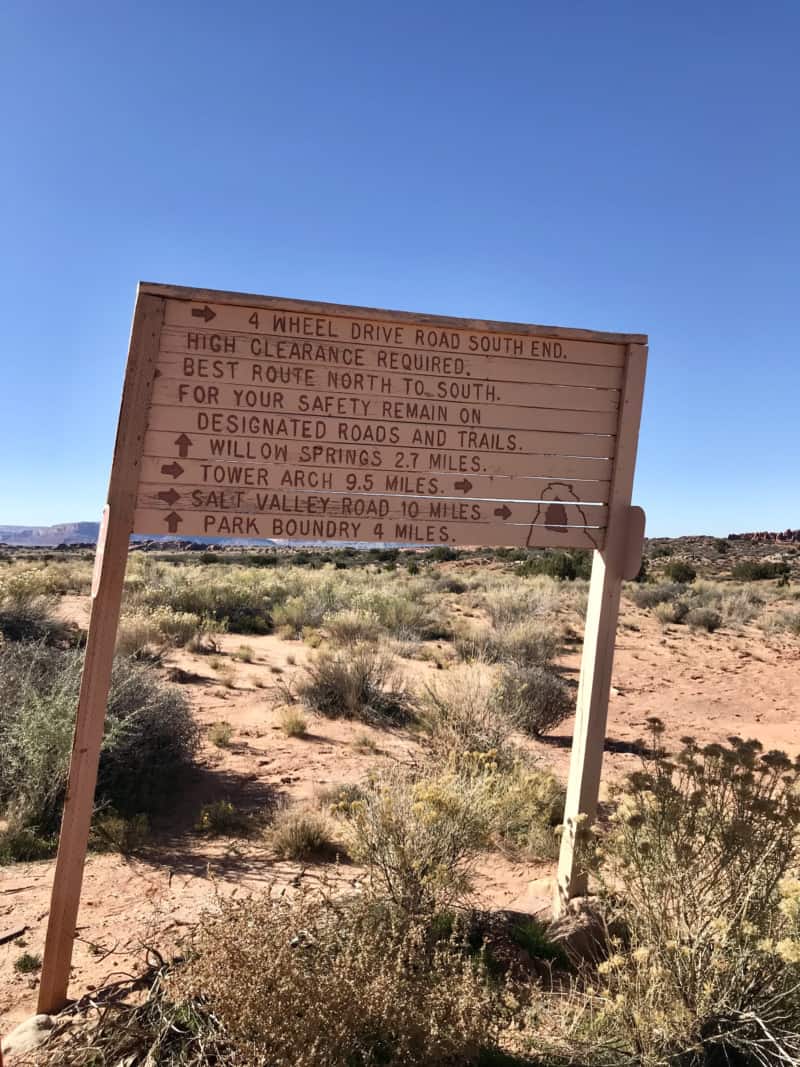 Why Are Pets So Restricted in Arches?
It's only a guess, but it would not surprise me to find out that Arches places such strict limitations on pets to protect a microscopic community that lives here. Biological soil crust is vital to this high desert area, binding soil particles through an intricate web of fibers.
These organisms are very fragile. Just stepping on them can cause damage that takes decades to recover. In the meantime, rainfall can carry away loosened material, creating channels and accelerating erosion. So, it's extremely important that you and your pets stay in permitted areas – inside Arches National Park, and anytime you're on a trail in the area.
Hopefully our experience at Arches National Park encourages you to visit with your pets! If you do, let us know what you thought of it in the comments below.
(Visited 9,688 times, 9 visits today)