Some places are magnetic. I don't mean the kind of magnetism that throws your compass out of whack. I'm talking about those spots that call to your heart and tug at your soul. The ones that seem to have their own gravity, sucking you in when you get close enough. It's different for everyone, but I find it hard to resist the dog friendly activities near Grand Teton National Park.
During our first visit to the Tetons we discovered that the National Park regulations severely limited what we could do with Ty and Buster inside the park. This time around we were able to do a little digging and found plenty of ways to keep the boys busy!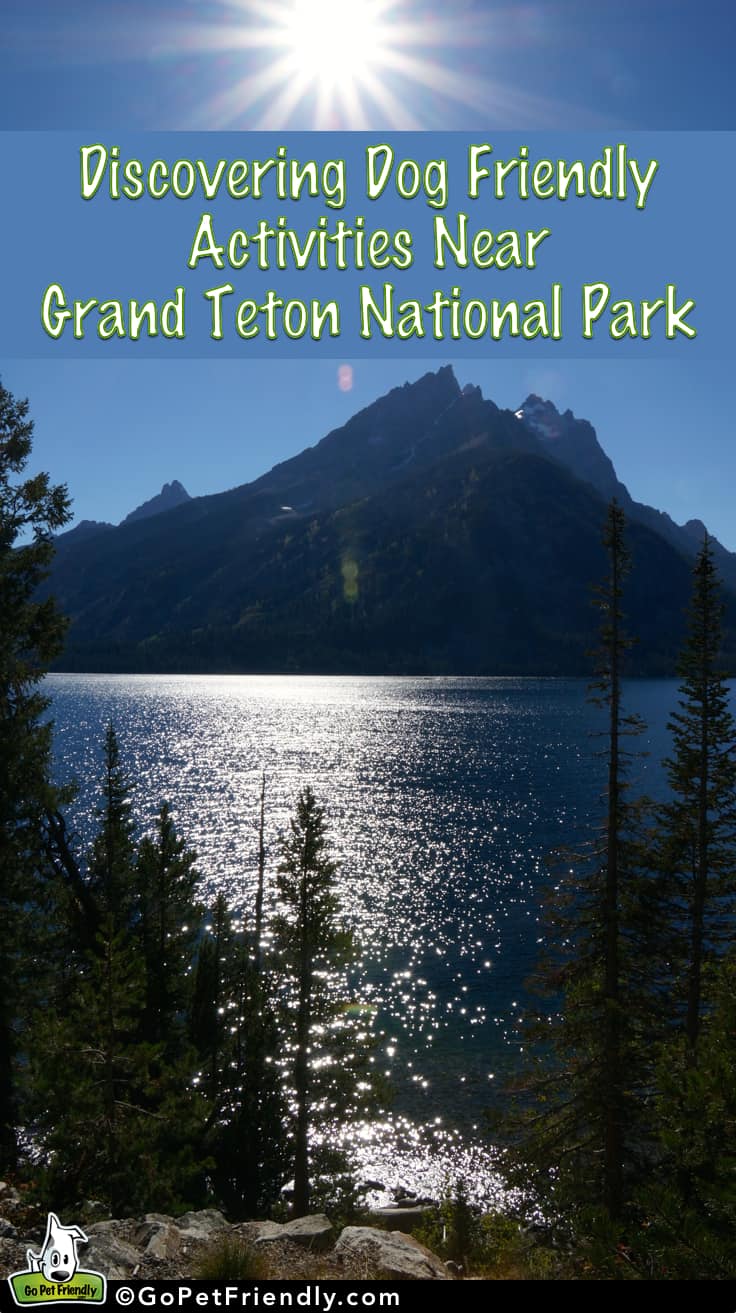 Visiting Grand Teton National Park With Dogs
As with many national parks in the U.S., the pet policy at Grand Teton is pretty restrictive. Pets are allowed only within six feet of a road, in the campgrounds, and on boats on Jackson Lake. That's it. They can't go on any of the multi-use trails or pathways in the park. And, when outside, pets must be crated, in a carrier, or on a leash no longer than six feet at all times.
Ty and Buster are happy to ride in the car for a while, but then they want to get out and explore! So, we went hunting for dog friendly activities around Grand Teton.
READ MORE ⇒  Most Pet Friendly National Parks in America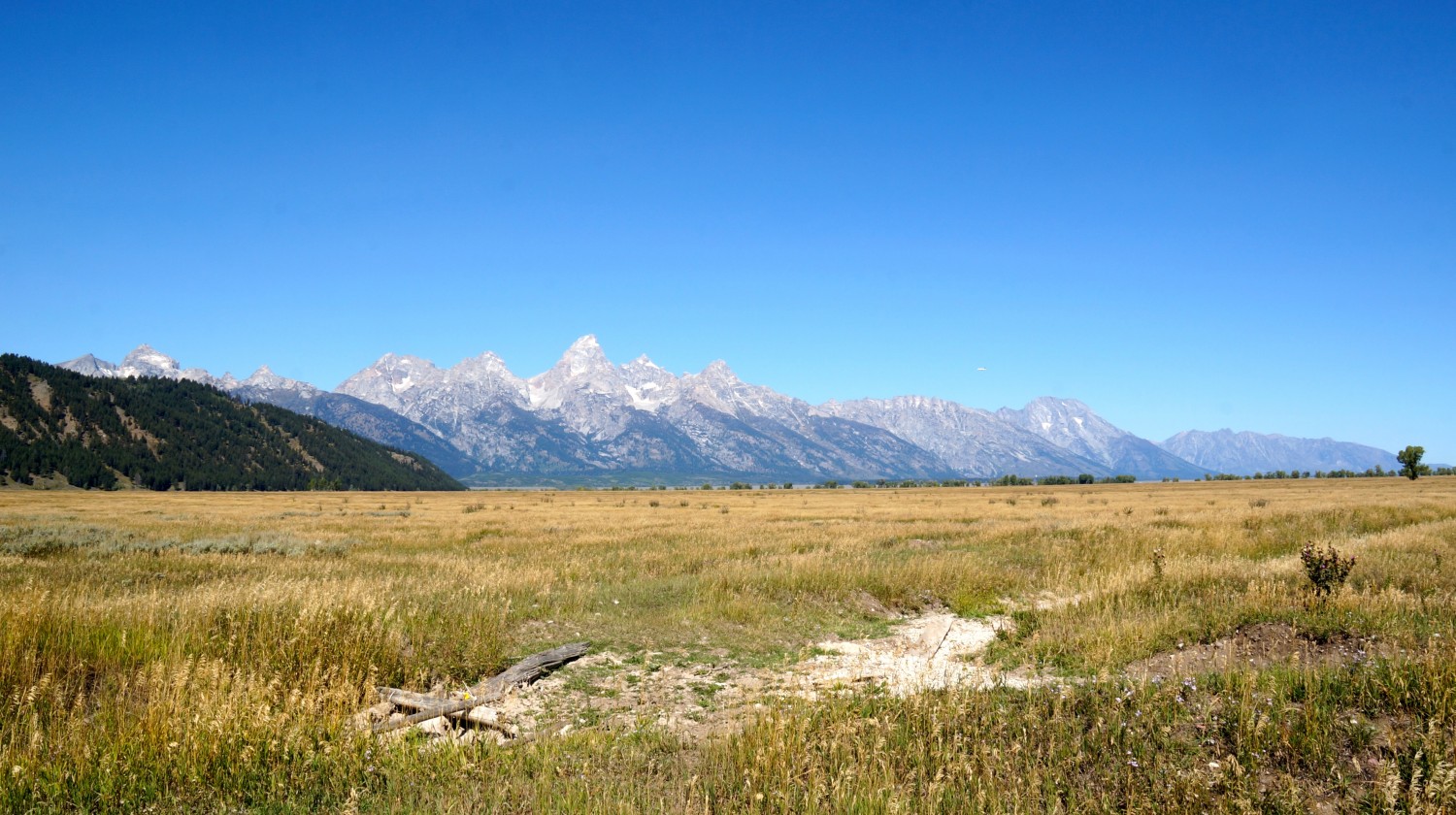 The Campgrounds
All seven campgrounds in the national park are pet friendly. With limited traffic and pedestrian-friendly speed limits, walking the campground roads is a great way for you and your pet to get some exercise. We chose to stay at Gros Ventre campground because it's one of the largest in Grand Teton and we could get a good dog friendly walk every day.
Little did we know that the moose like this spot as much as we did. Keeping the boys a safe distance from moose is something we've never had to worrying about before!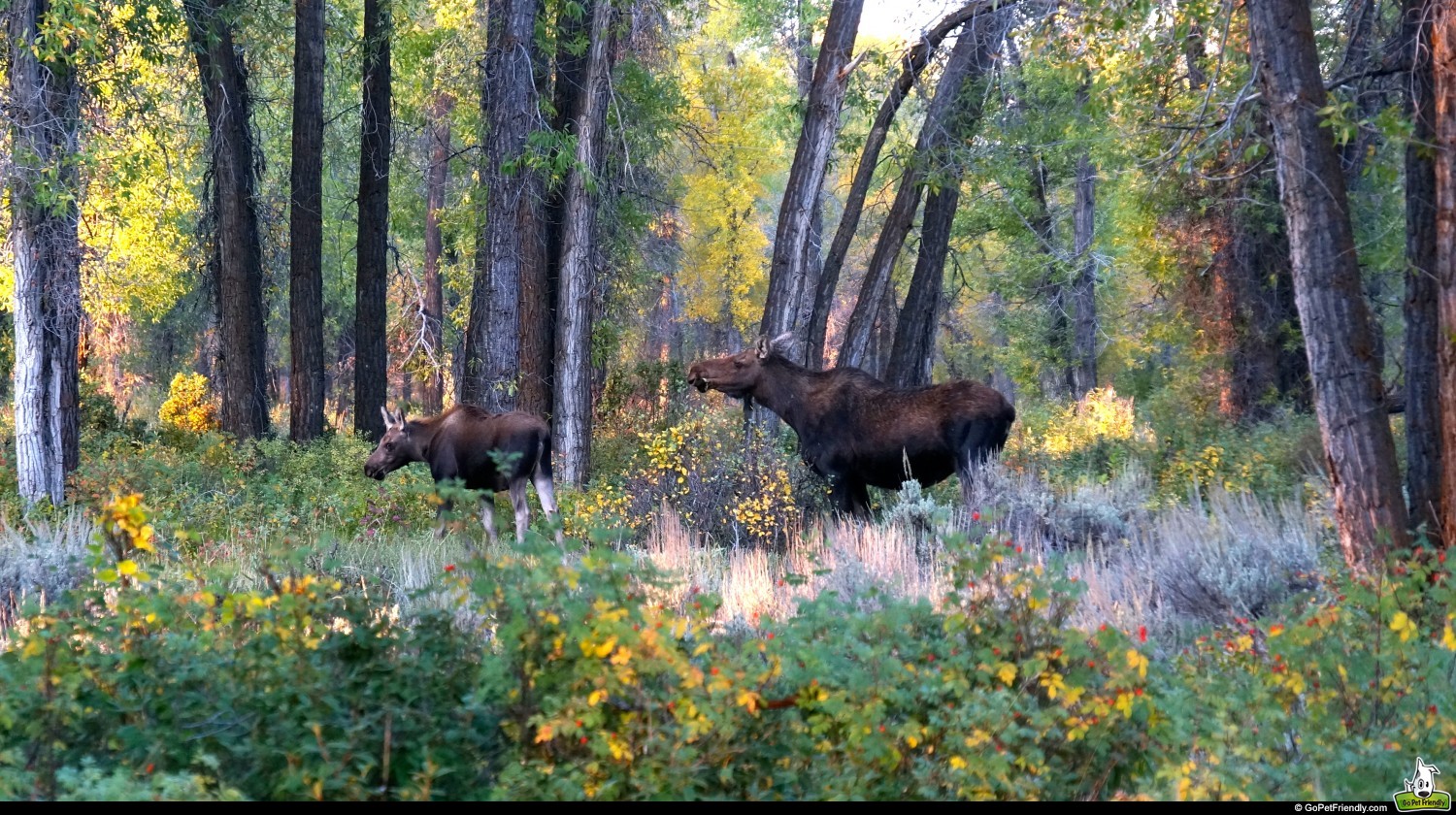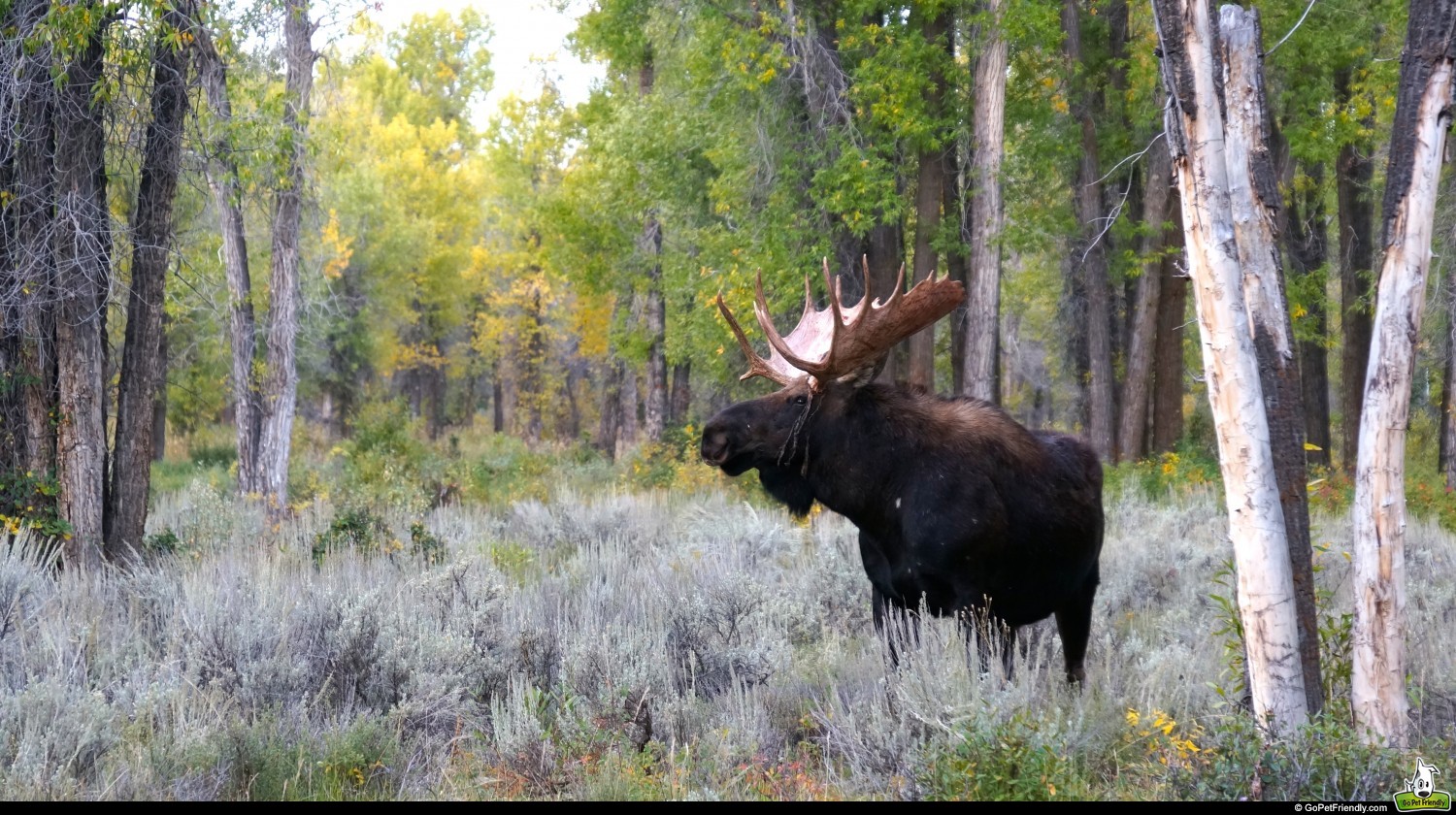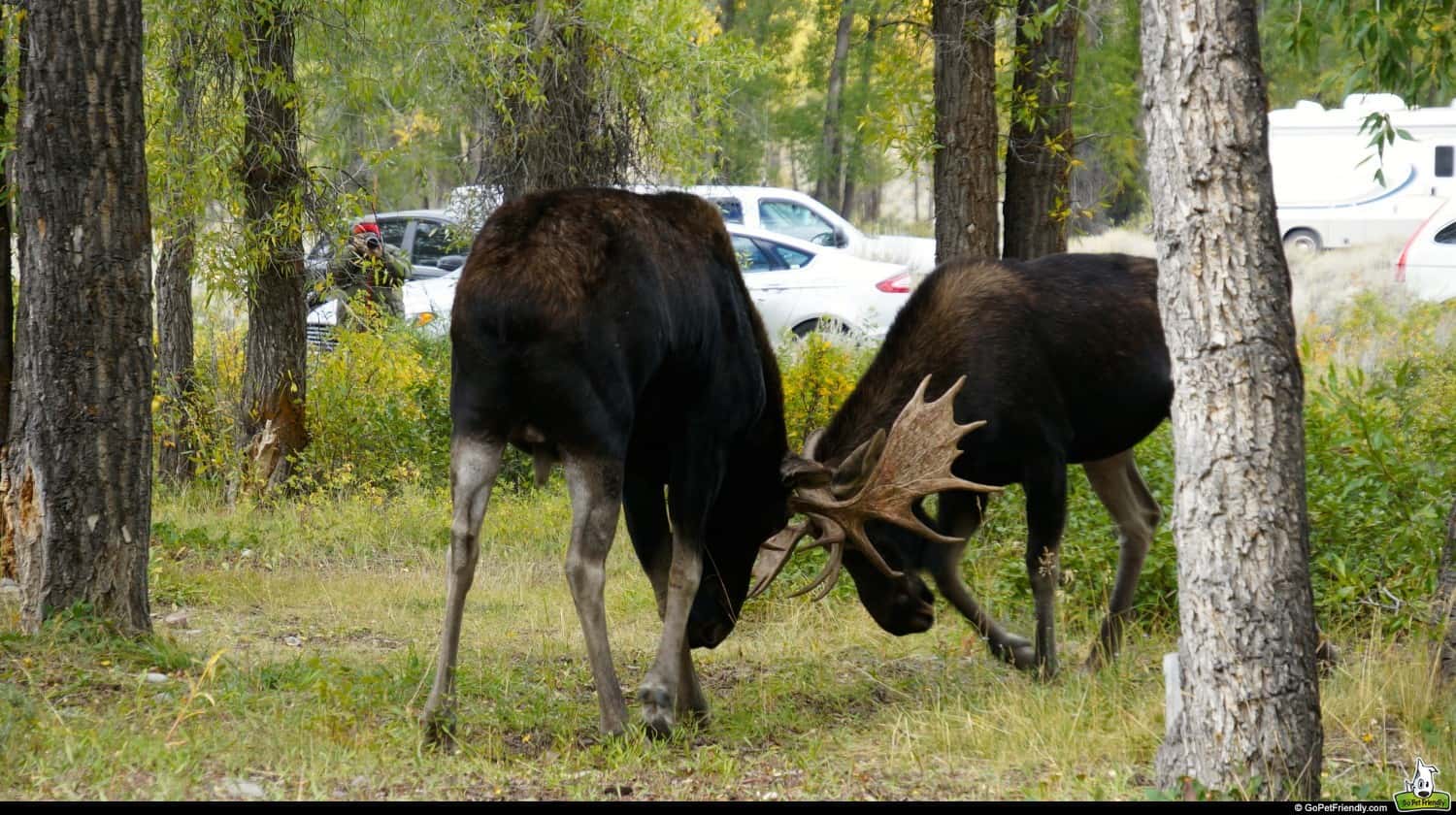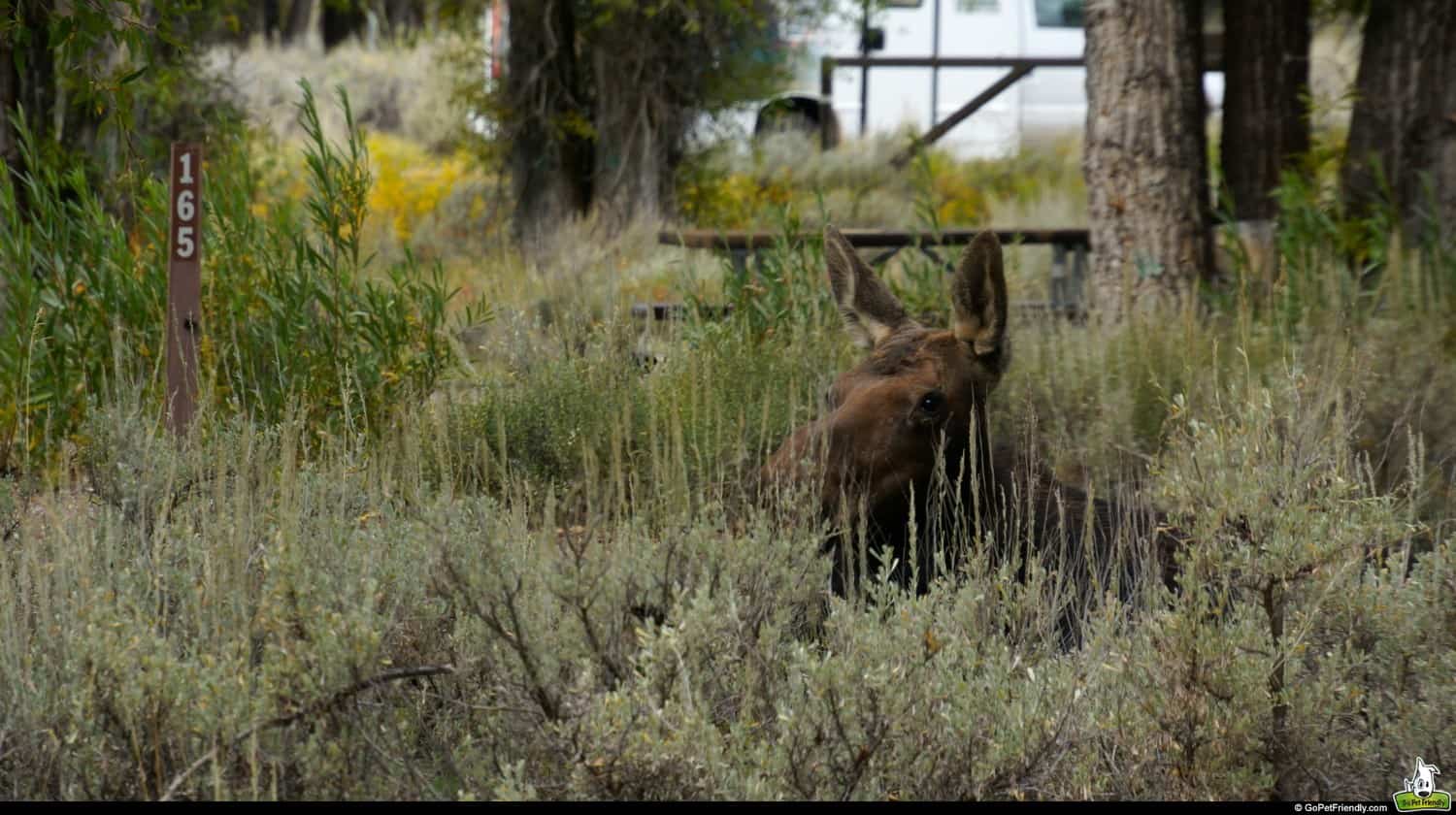 Scenic Loop Drive
No visit to the Tetons would be complete without a trip around the 43-mile Scenic Loop Drive. It sounds like a quick thing to do, but you're going to want to make frequent stops for photos. Remember, pets are able to get out of the vehicle to stretch their legs, but must stay within six feet of the turnouts, parking areas, and roads.
READ MORE ⇒  Achieving Balance in Yellowstone National Park with Pets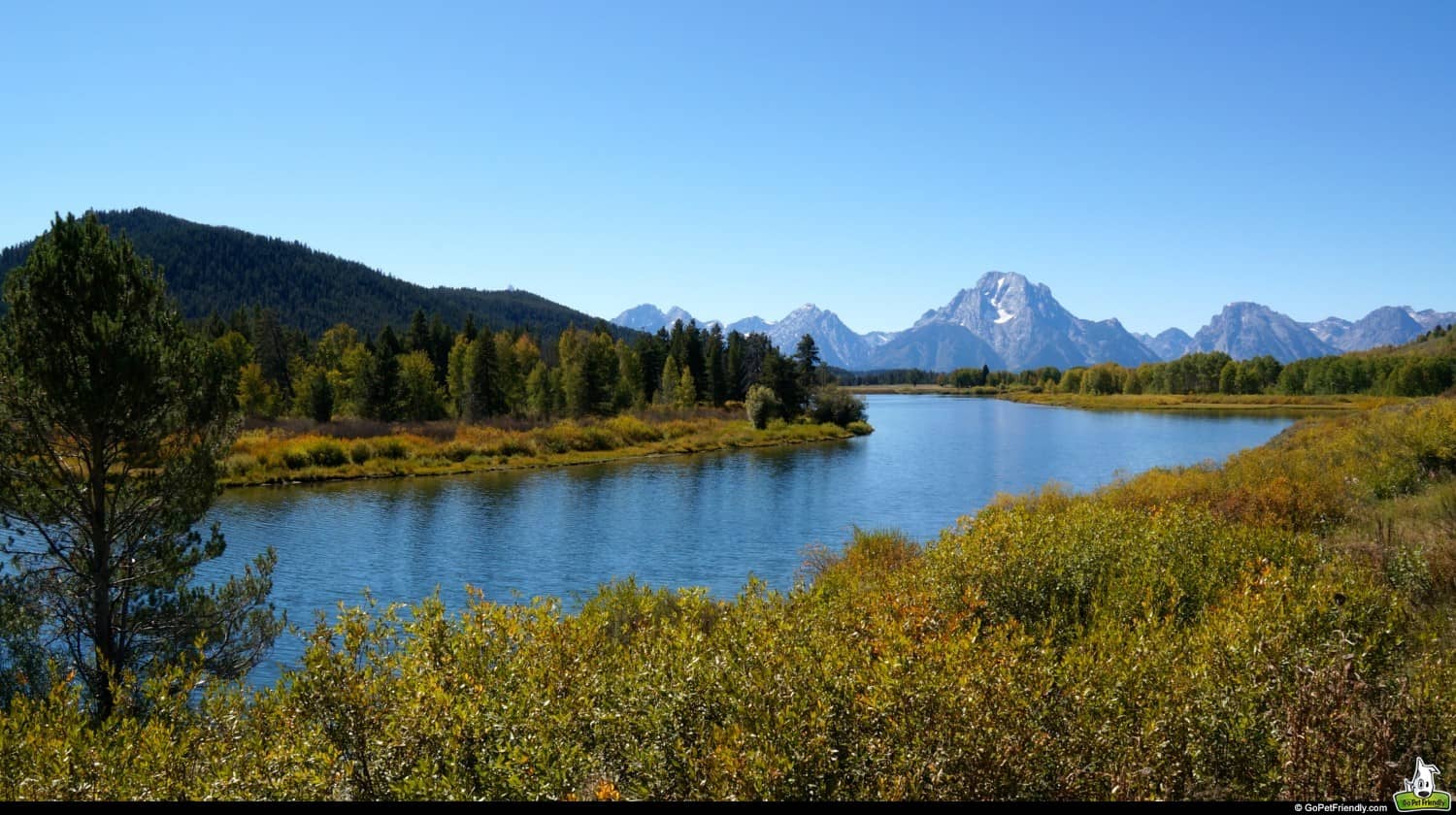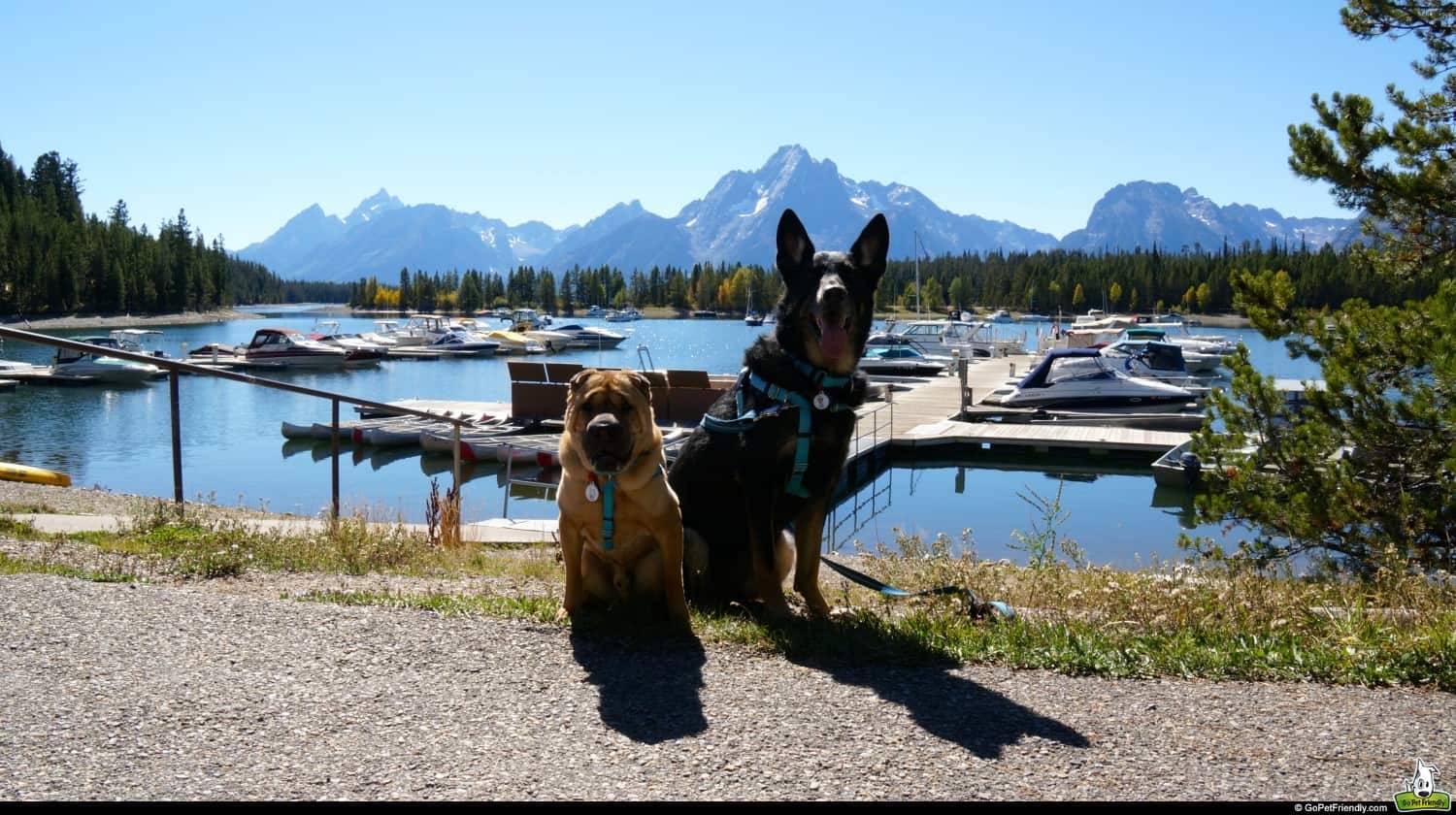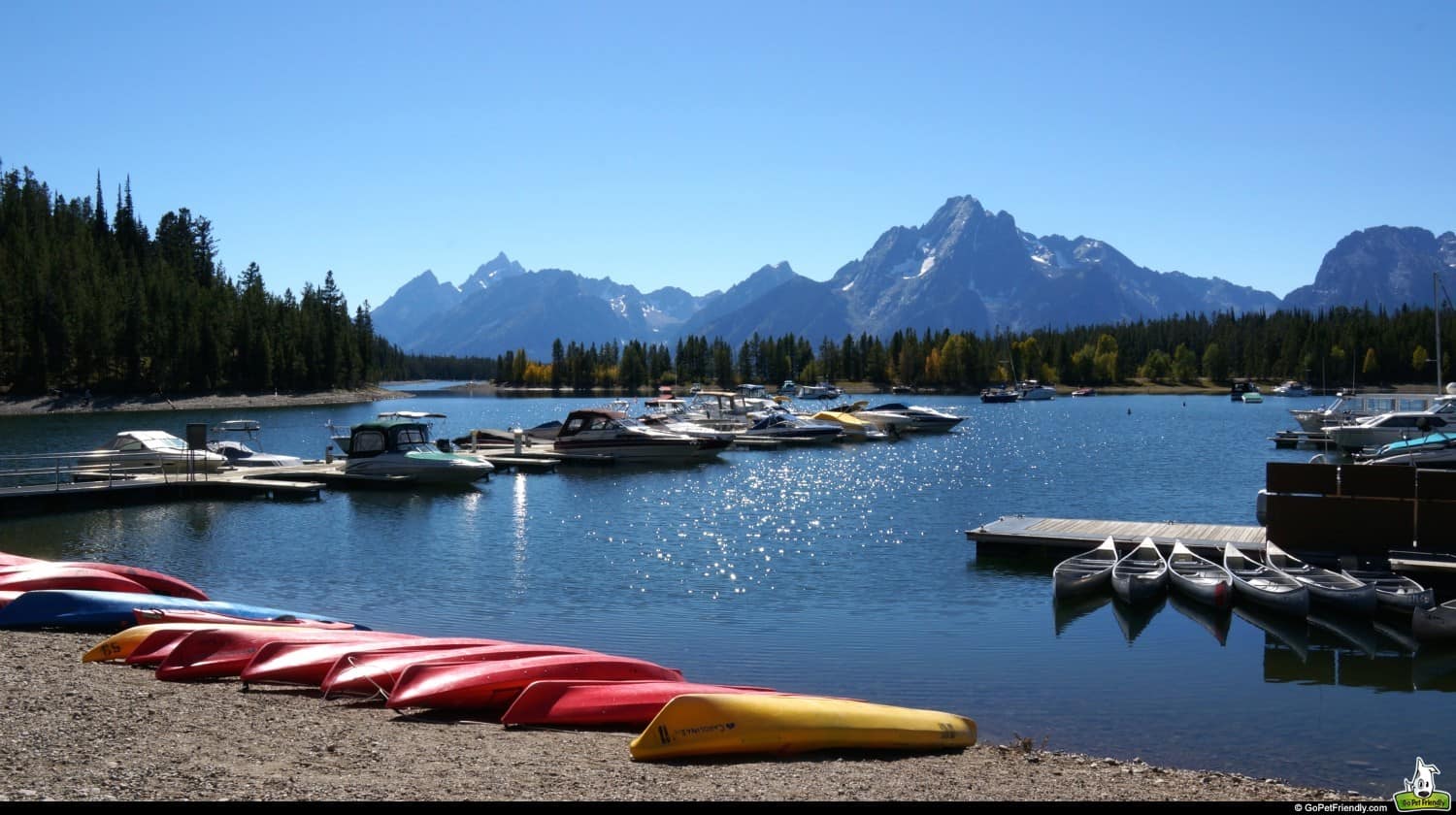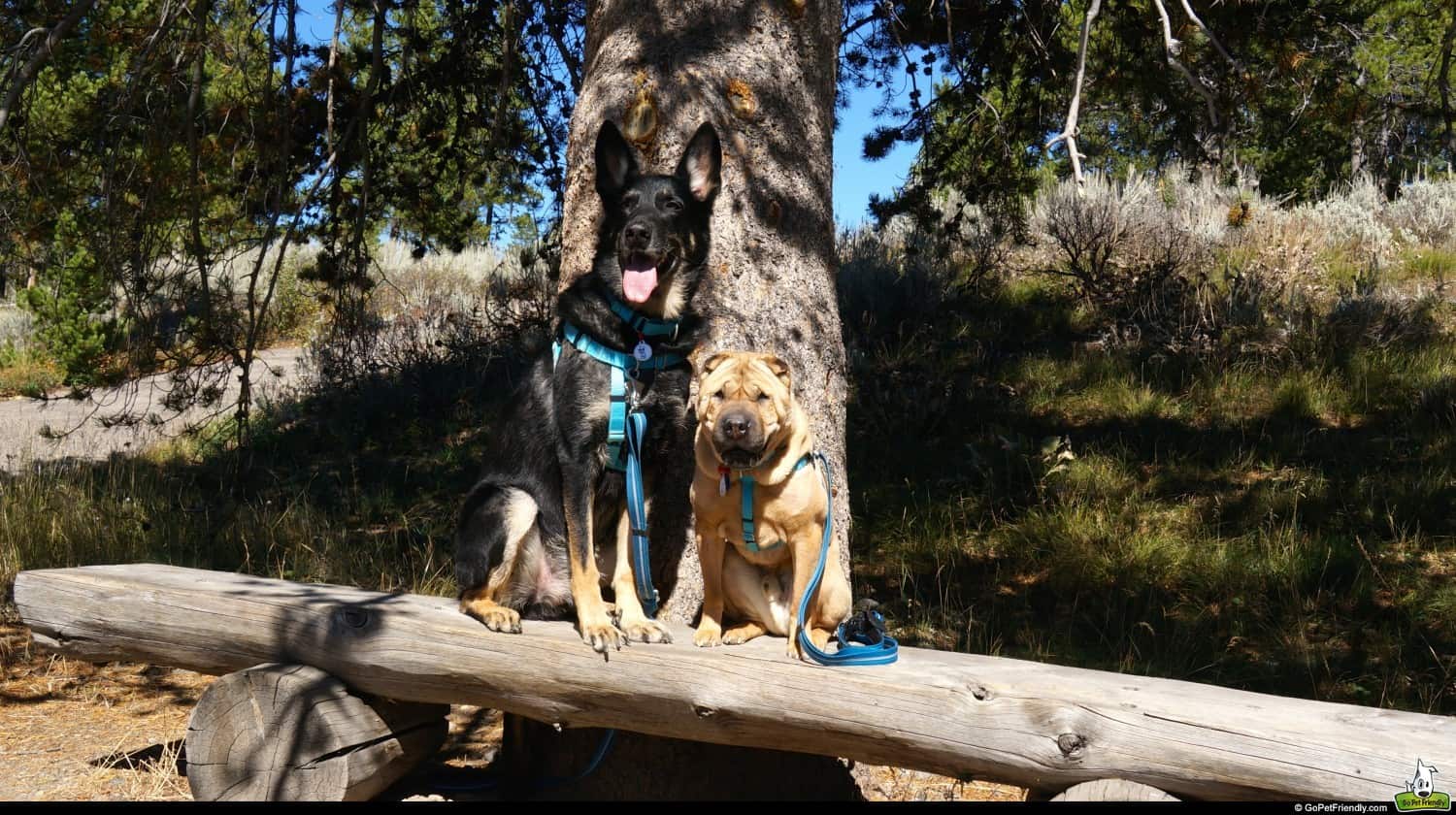 Hiking in the Bridger-Teton National Forest
Almost every national park we've visited has a national forest very close by. And you can always count on the national forests to be dog friendly! On our last visit to the Tetons, we walked right out of Jackson into the national forest and took the trail to the top of Snow King. It was a great hike!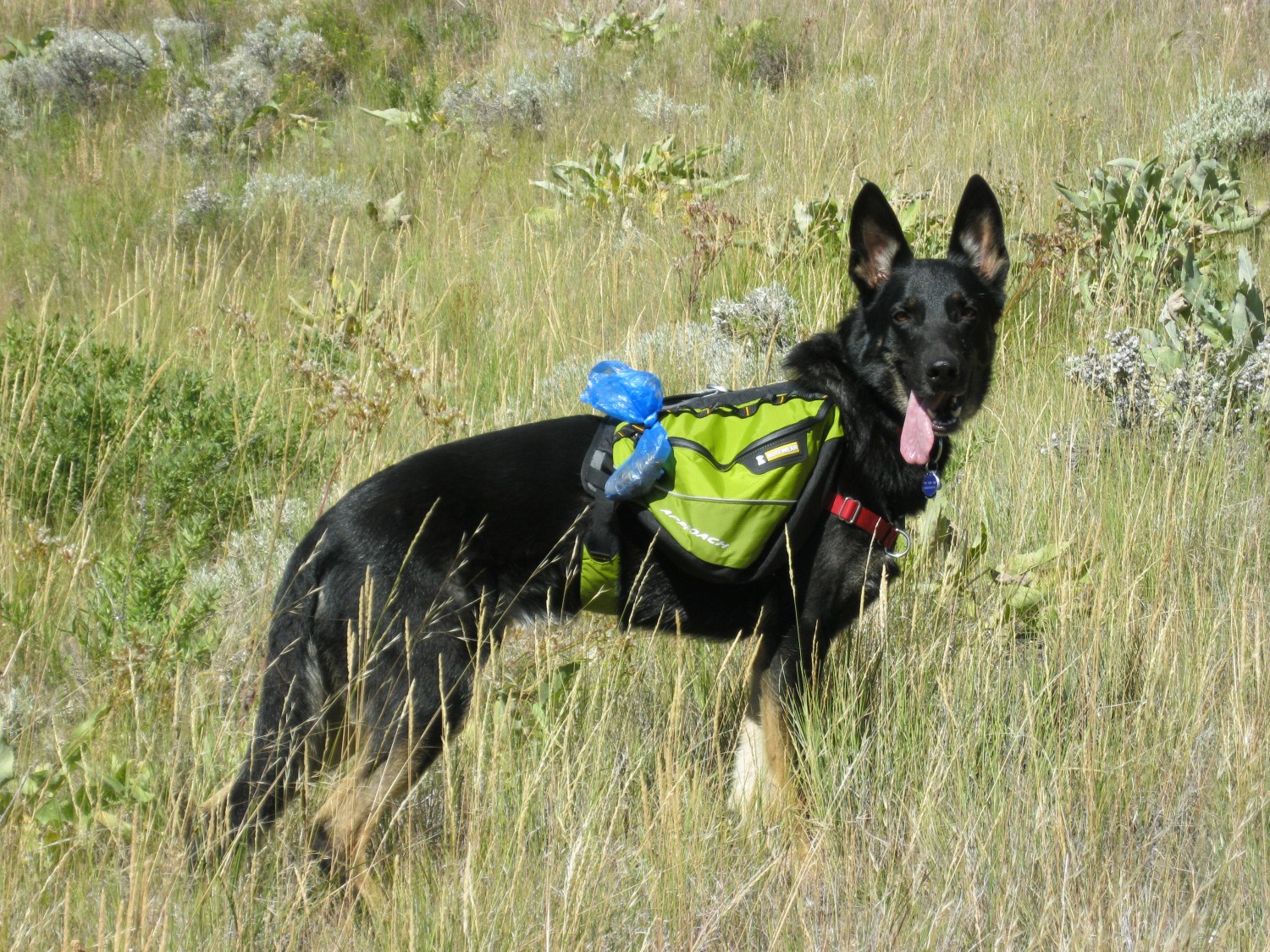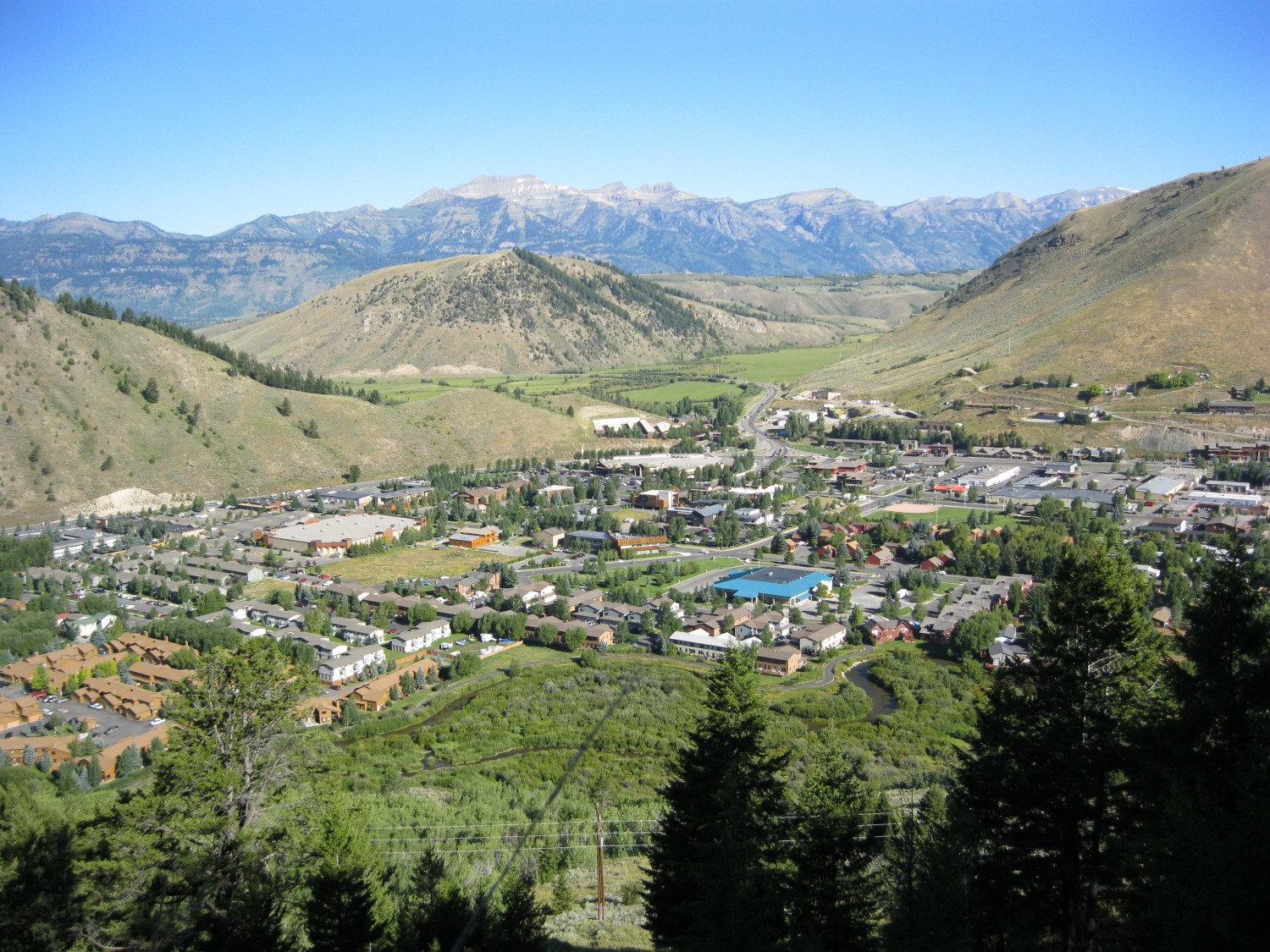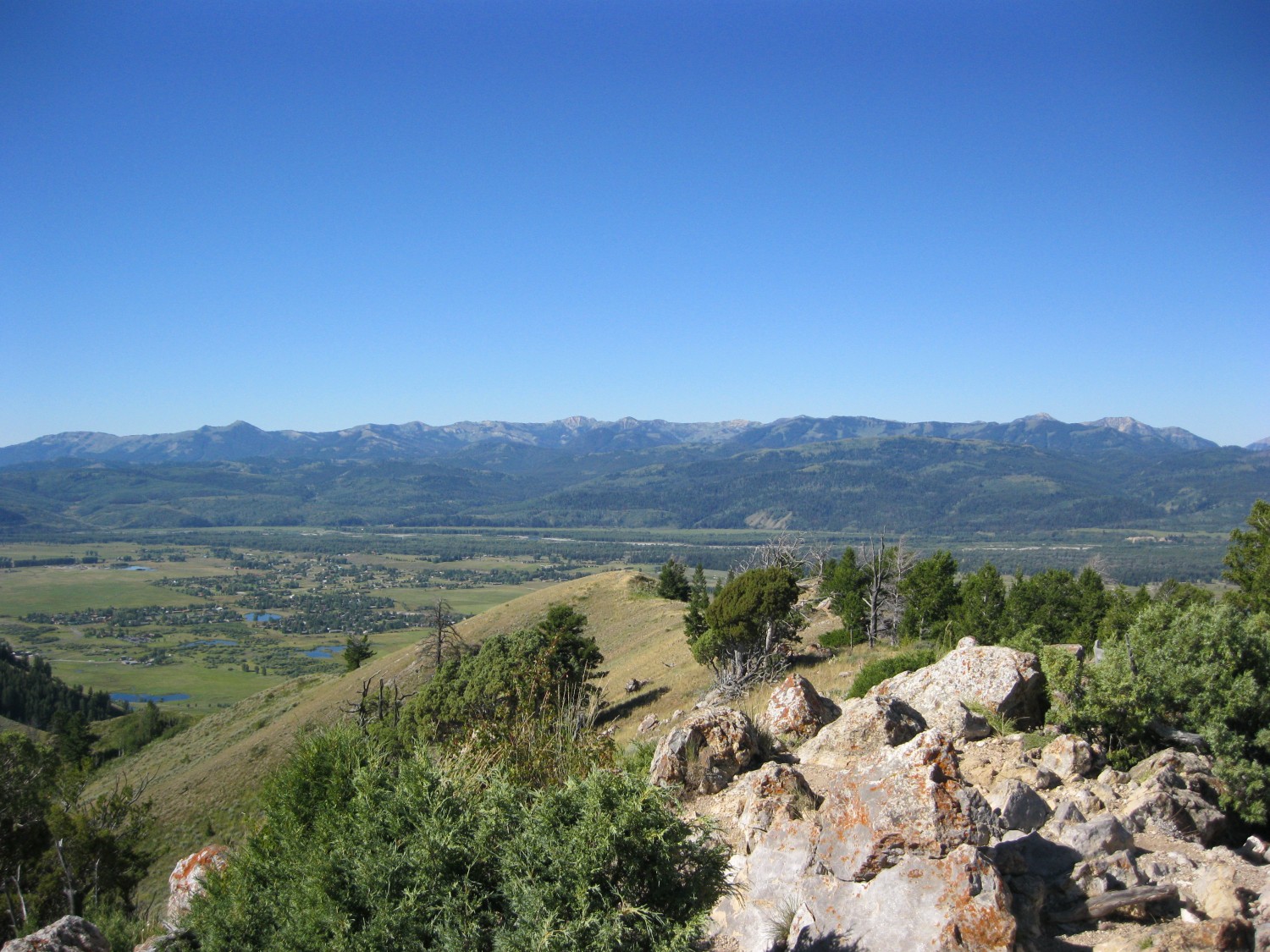 Pets can also join you on the Jackson Hole Community Pathways. But we wanted something a little more "woodsy"and settled on a three-mile hike up to Goodwin Lake. The trail starts out uphill and climbs steadily until you reach the ridge. From there, it's a comfortable incline the rest of the way to the lake. The trail is pretty popular, and dogs with a good recall are allowed to be off-leash in the national forest, so don't be surprised if you meet a pooch loping down the trail. If you're dog doesn't care to be approached by other dogs, head out on a weekday to avoid some of the traffic.
Directions to the Goodwin Lake Trailhead

Take Elk Refuge Road out of Jackson and turn right after the end of county maintenance, following signs to Curtis Canyon campground. Go up a couple switchbacks, past the overlook and campground, and up a couple more switchbacks. Bear right at the fork, and the road ends in the parking lot at the trailhead. Note: It's slow going most of the way because the road is rough, especially after the fork.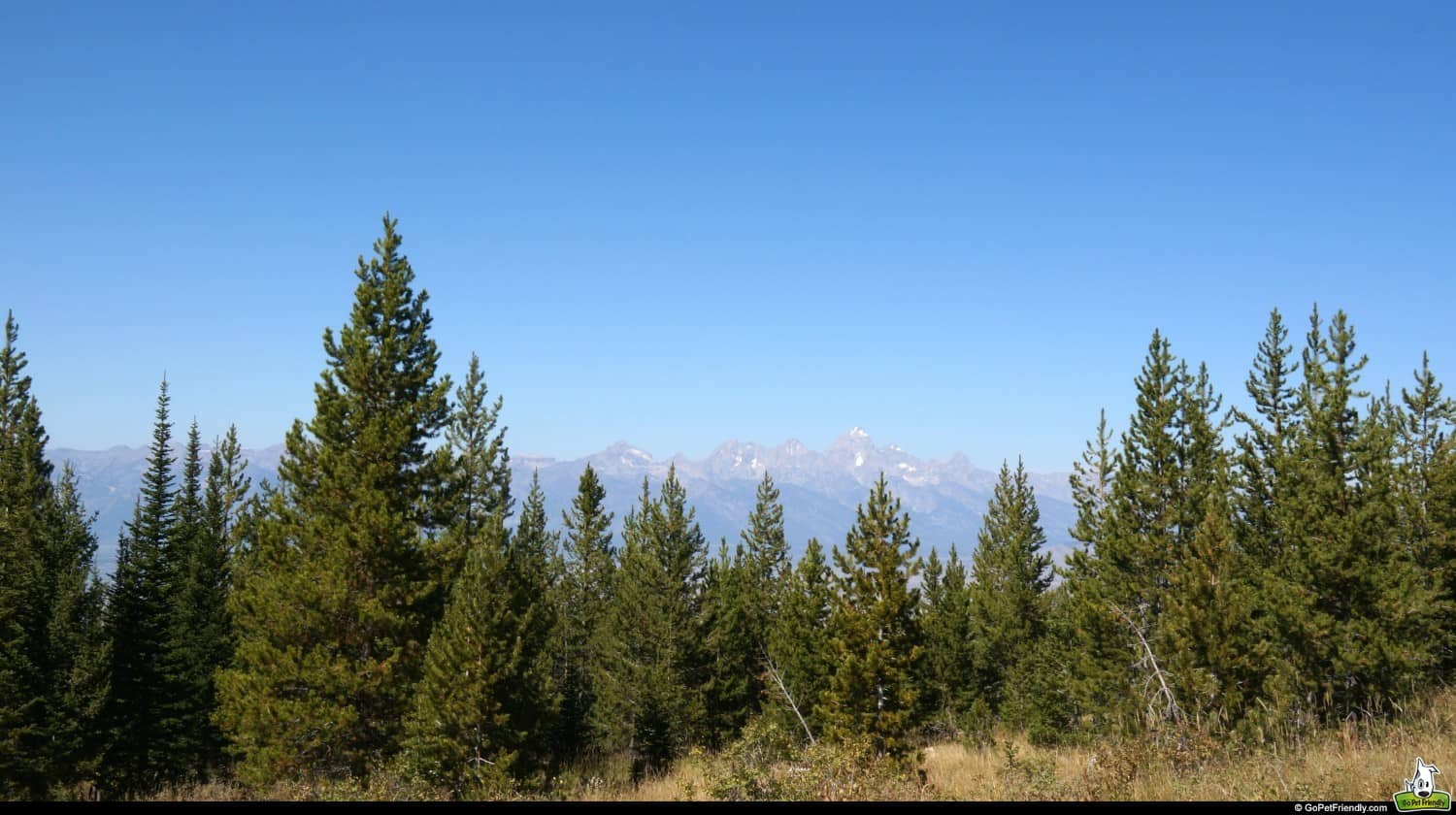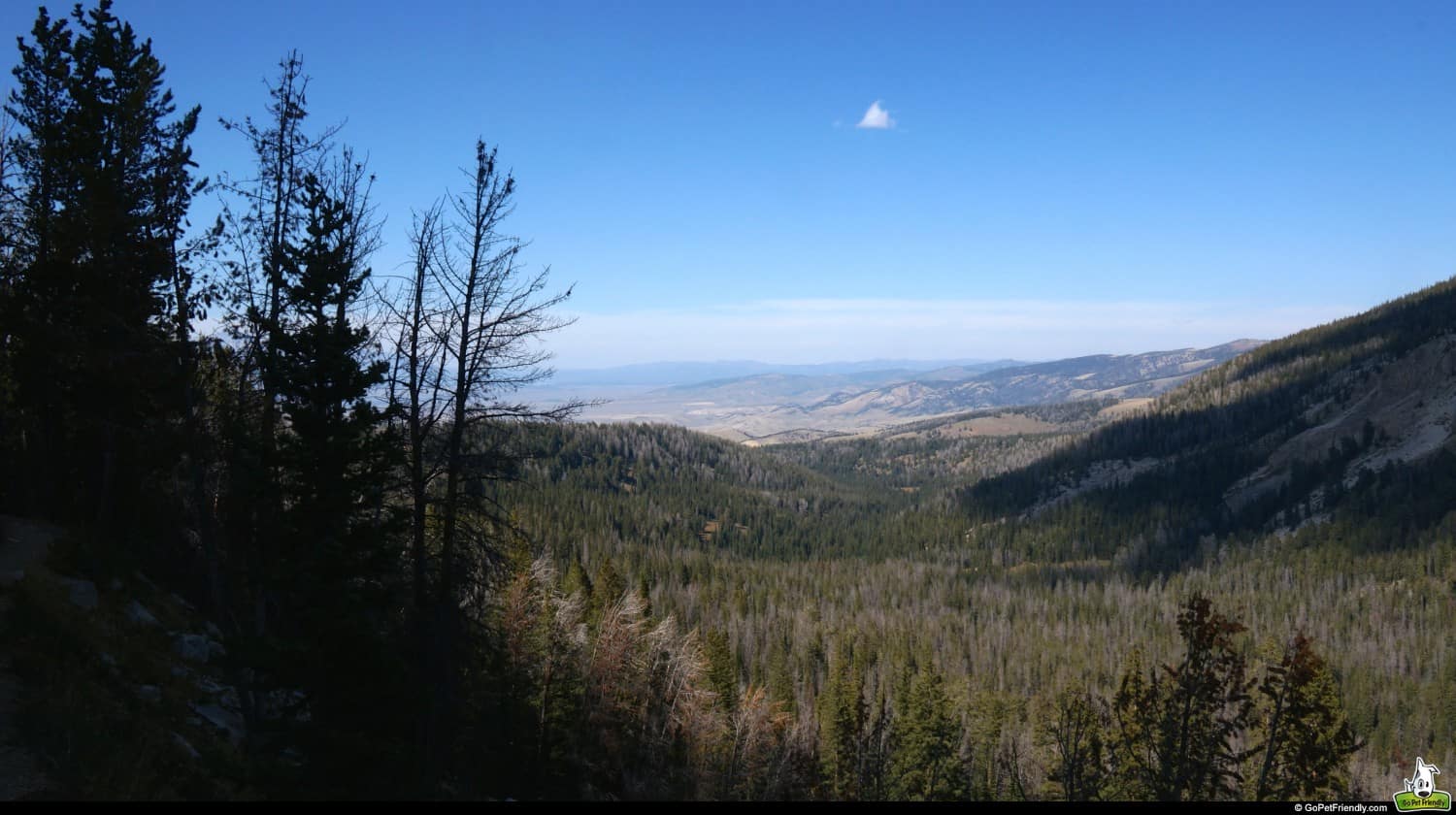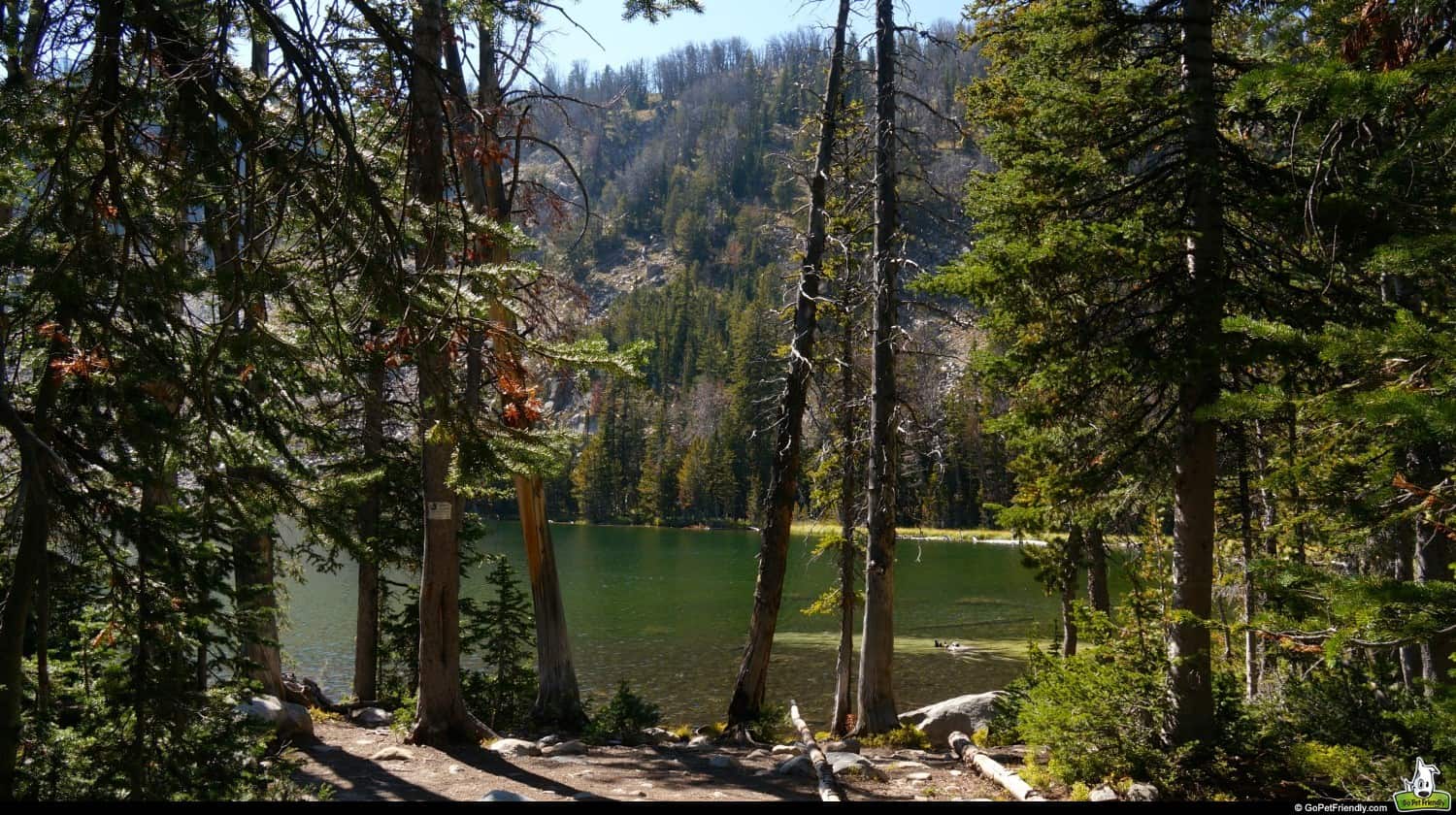 It took us about 90 minutes, going at a pretty good clip, to get to the lake. Once we were there, we had it all to ourselves and took our time following the little trail that curved around the shore.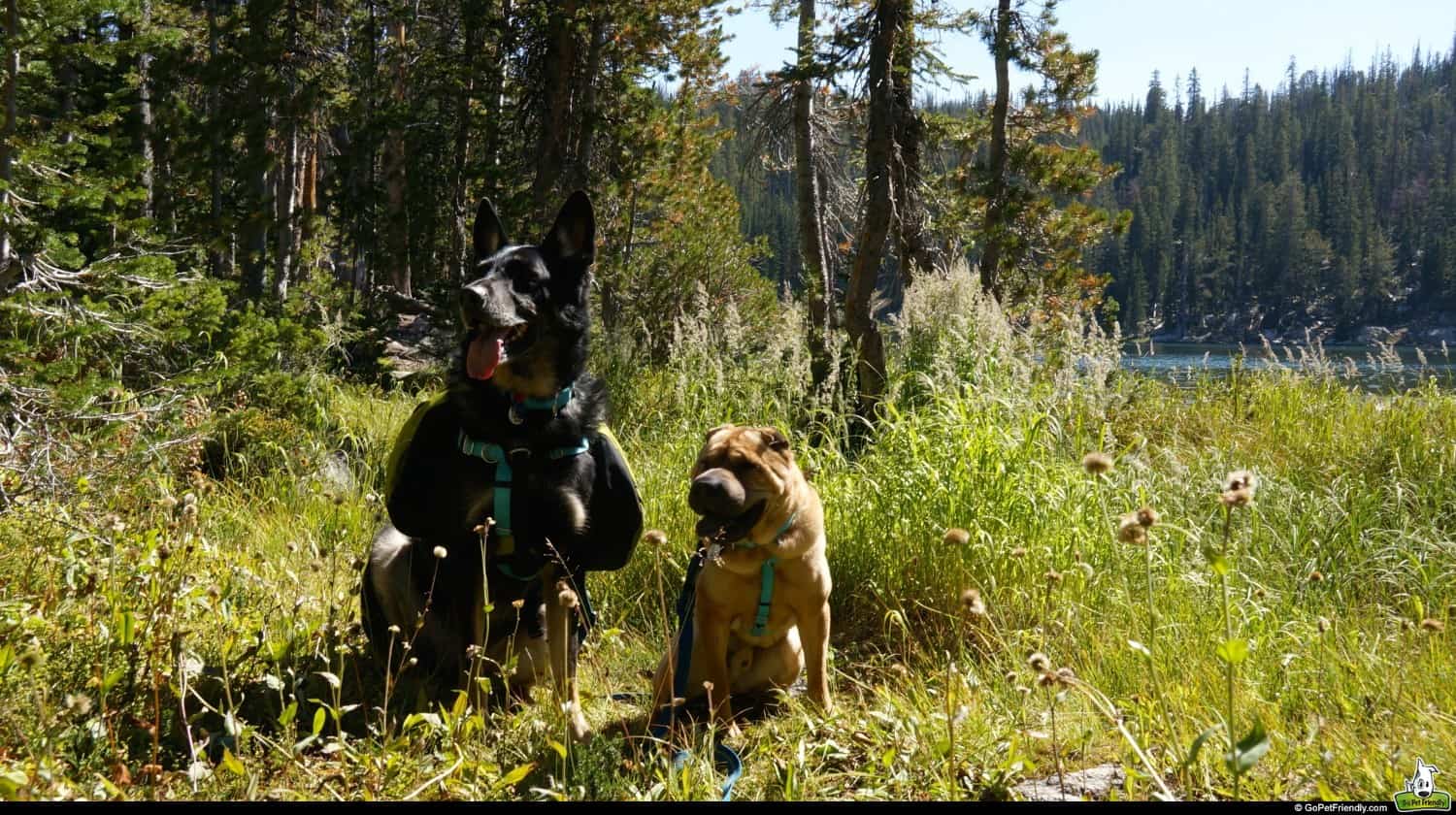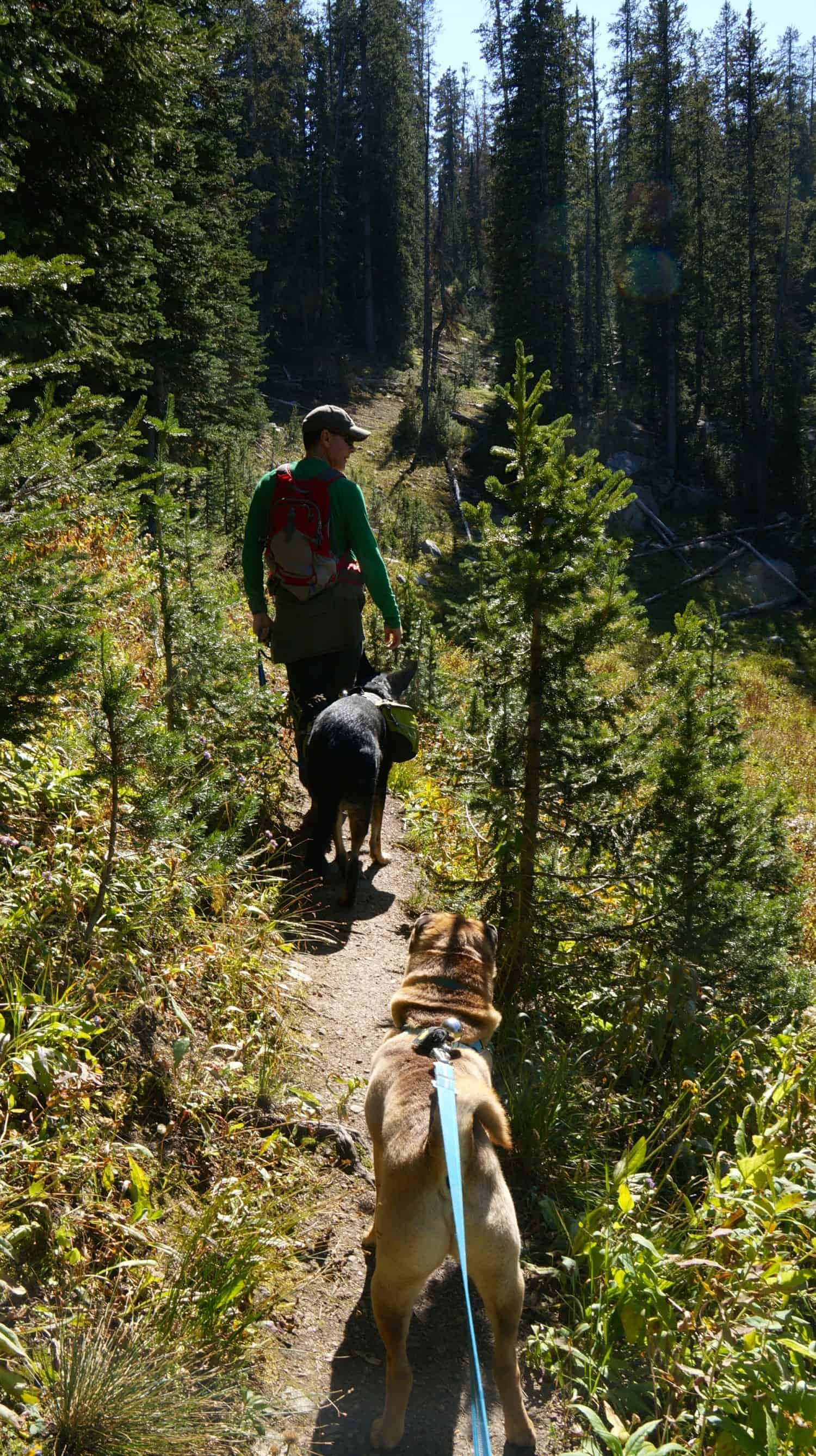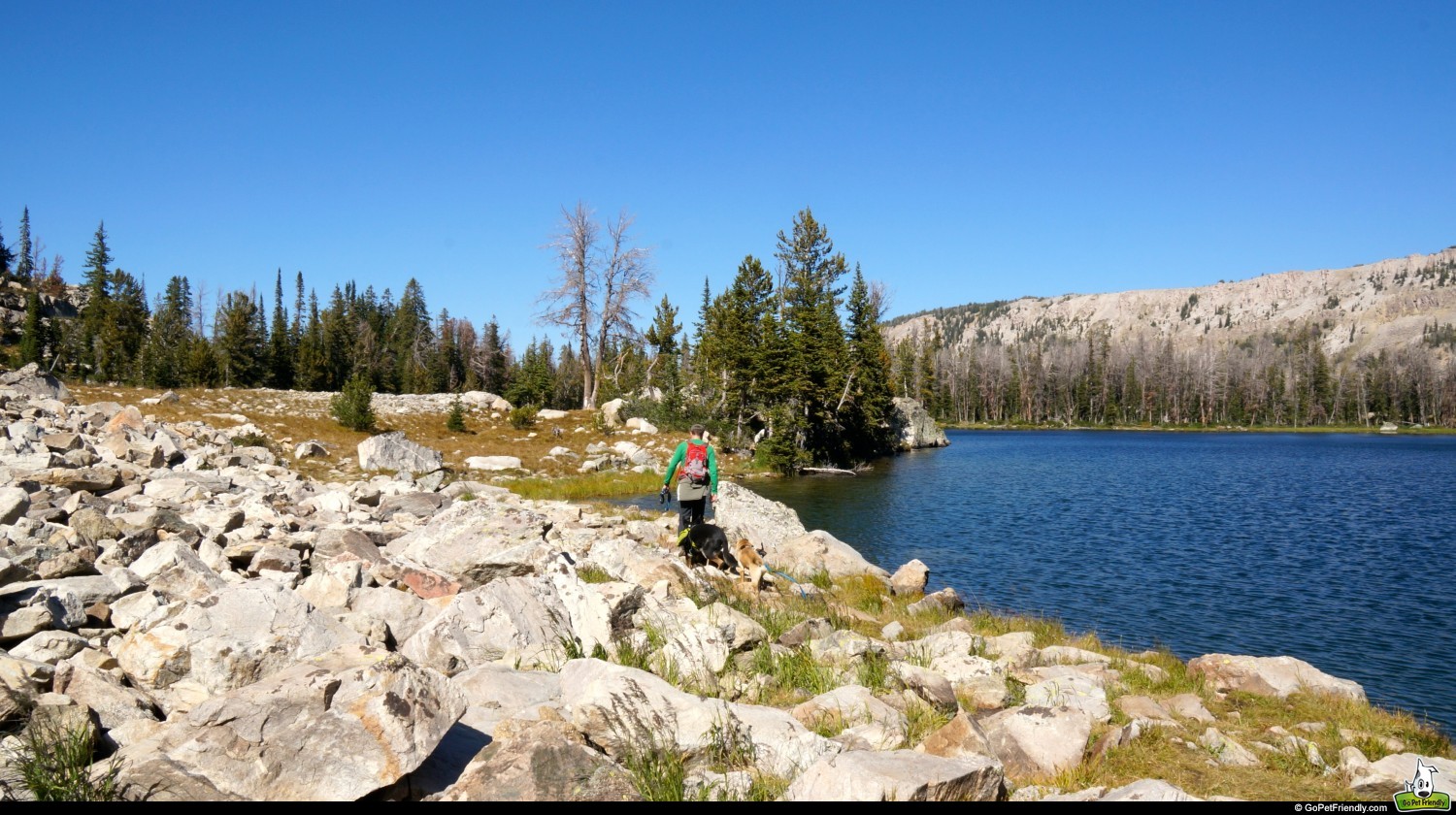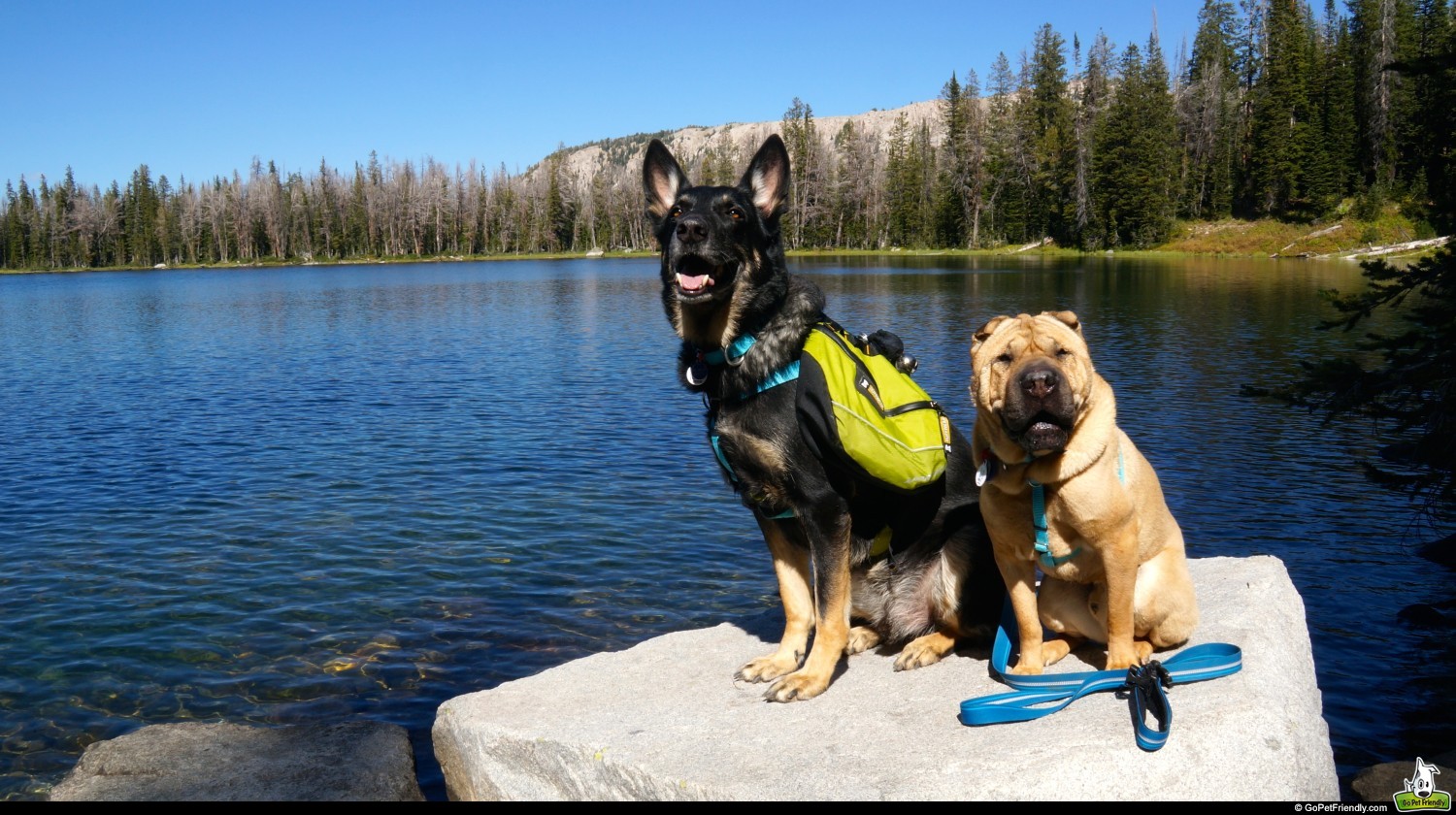 Ty and Rod even made a new friend when this intrepid traveler came over to check them out …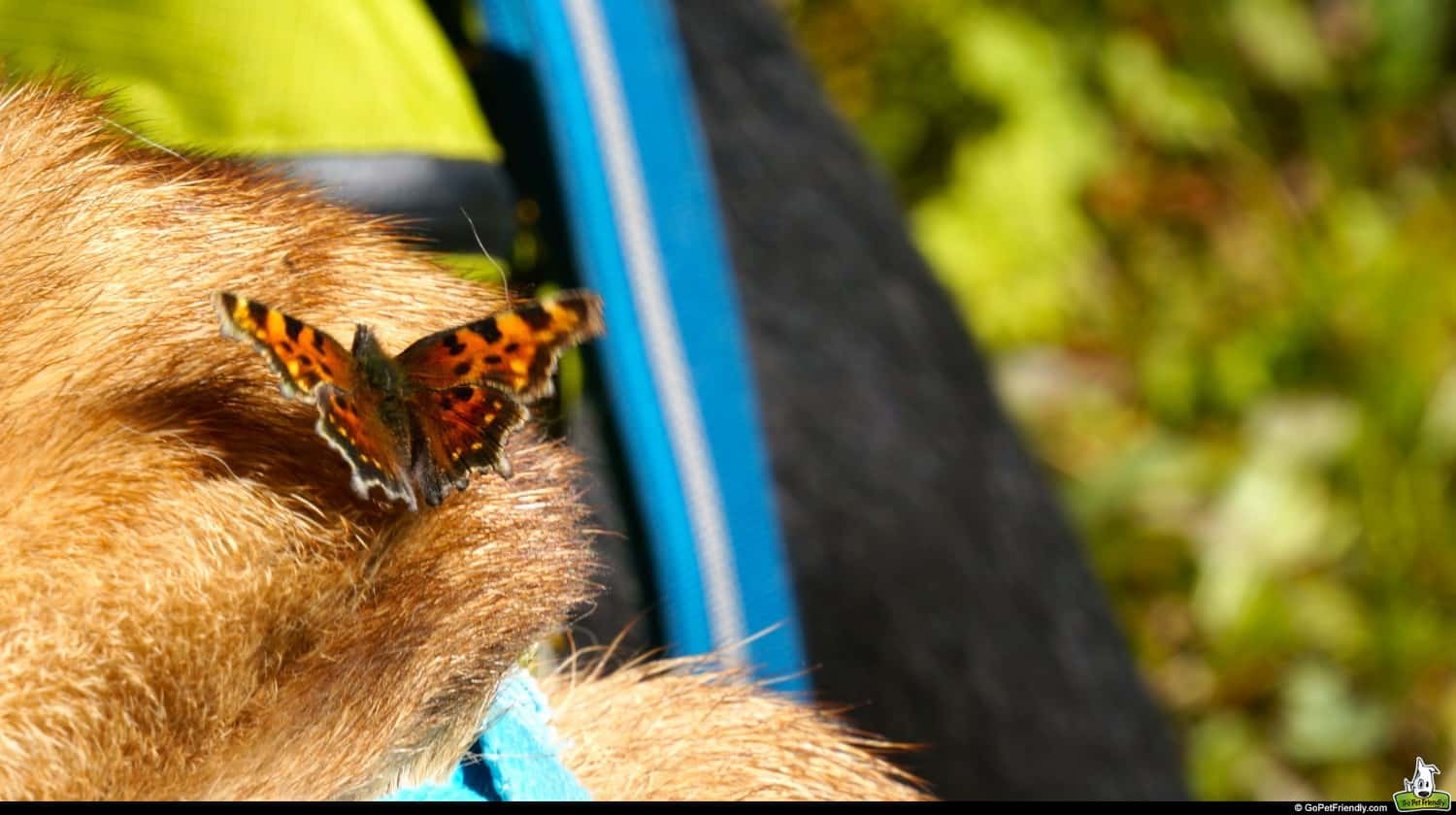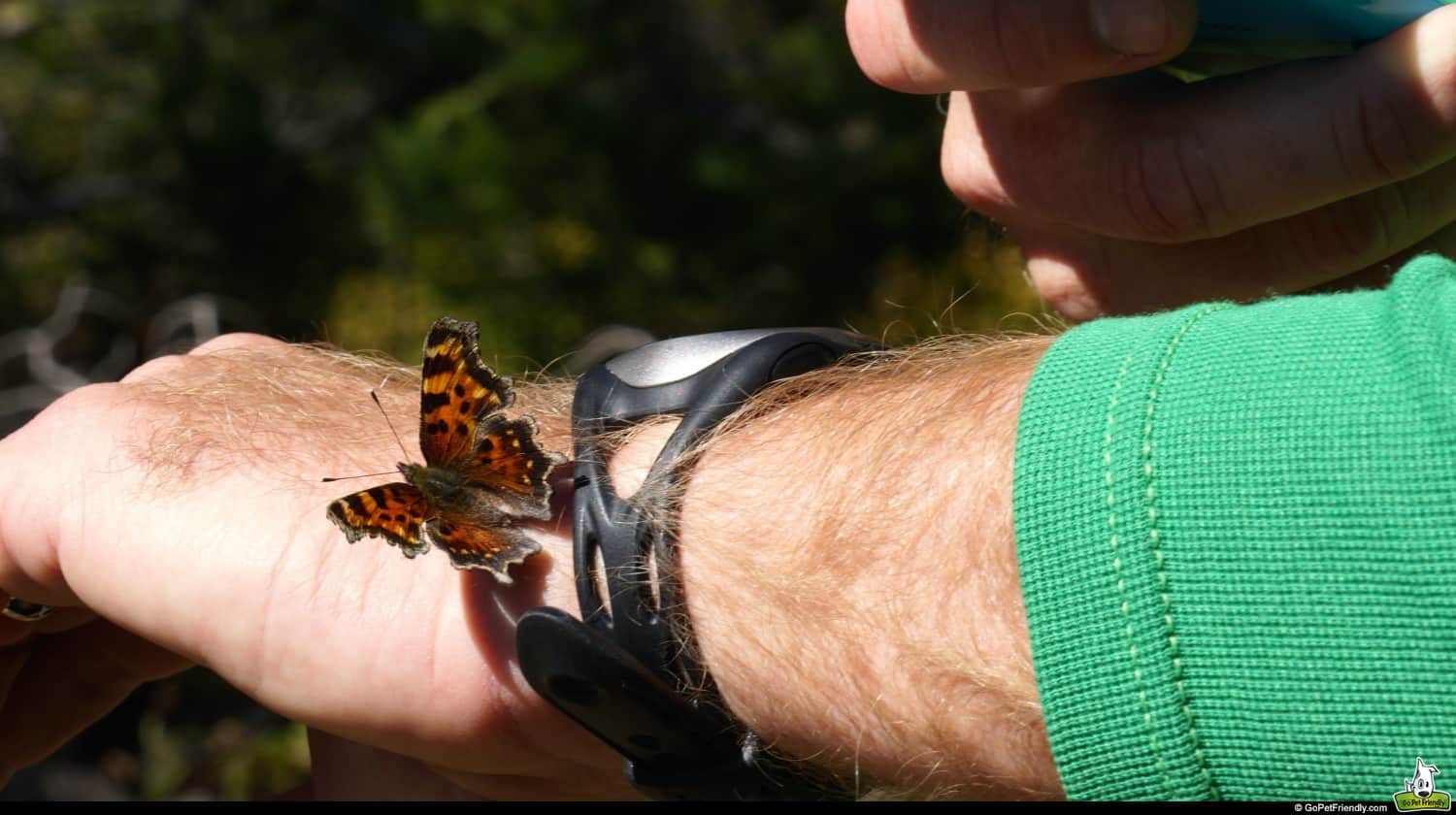 Relaxing at Atherton Creek Campground
After a day on the trail, we were all ready for a little rest and relaxation. We packed a picnic, the camera, our hammocks, books, and the boys' zip line and drove out to Atherton Creek Campground. This primitive campground on Lower Slide Lake is run by the National Forest Service and a campsite was only $12 for the day. We chose a site with a view of the lake and had a perfect day!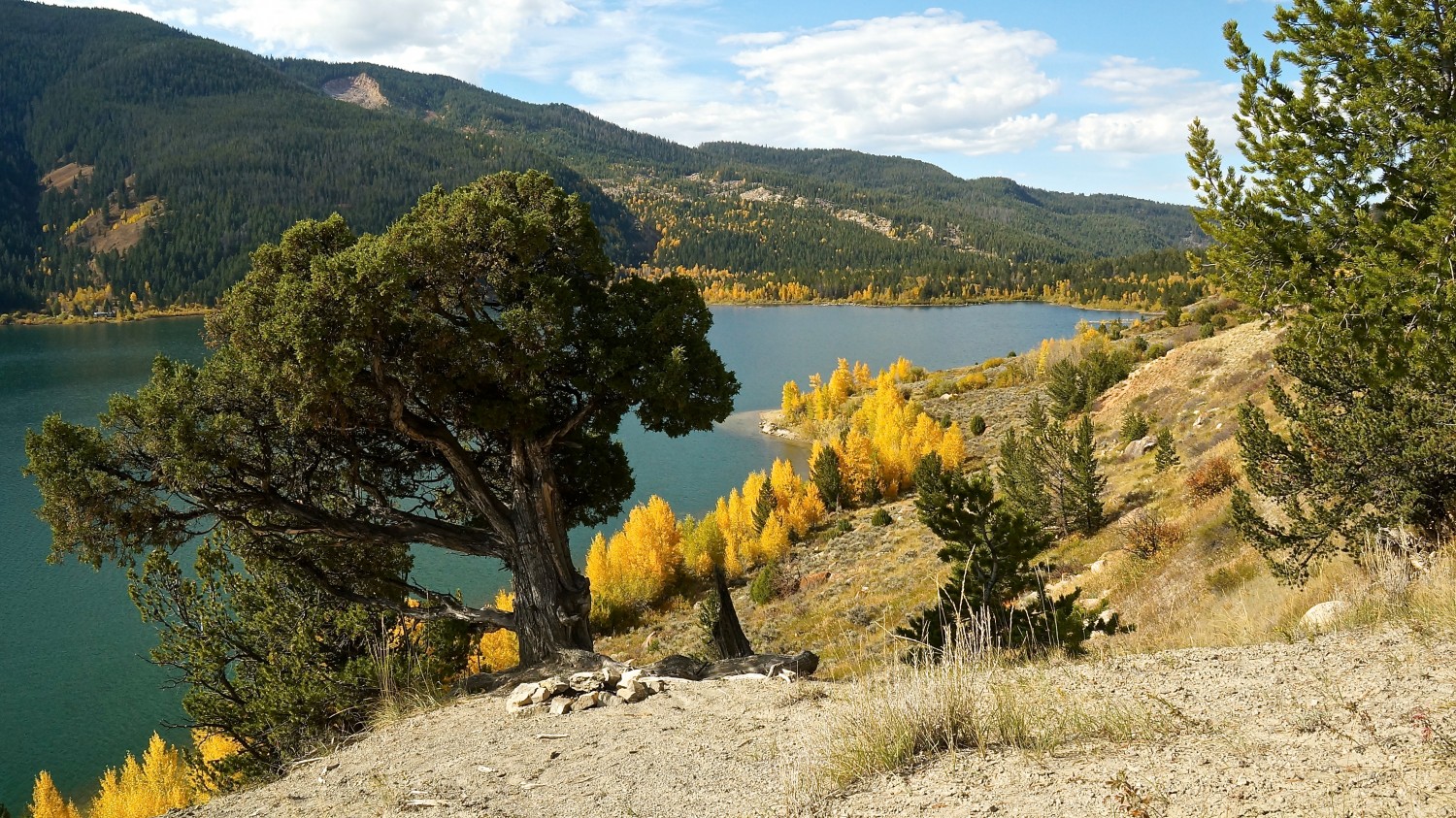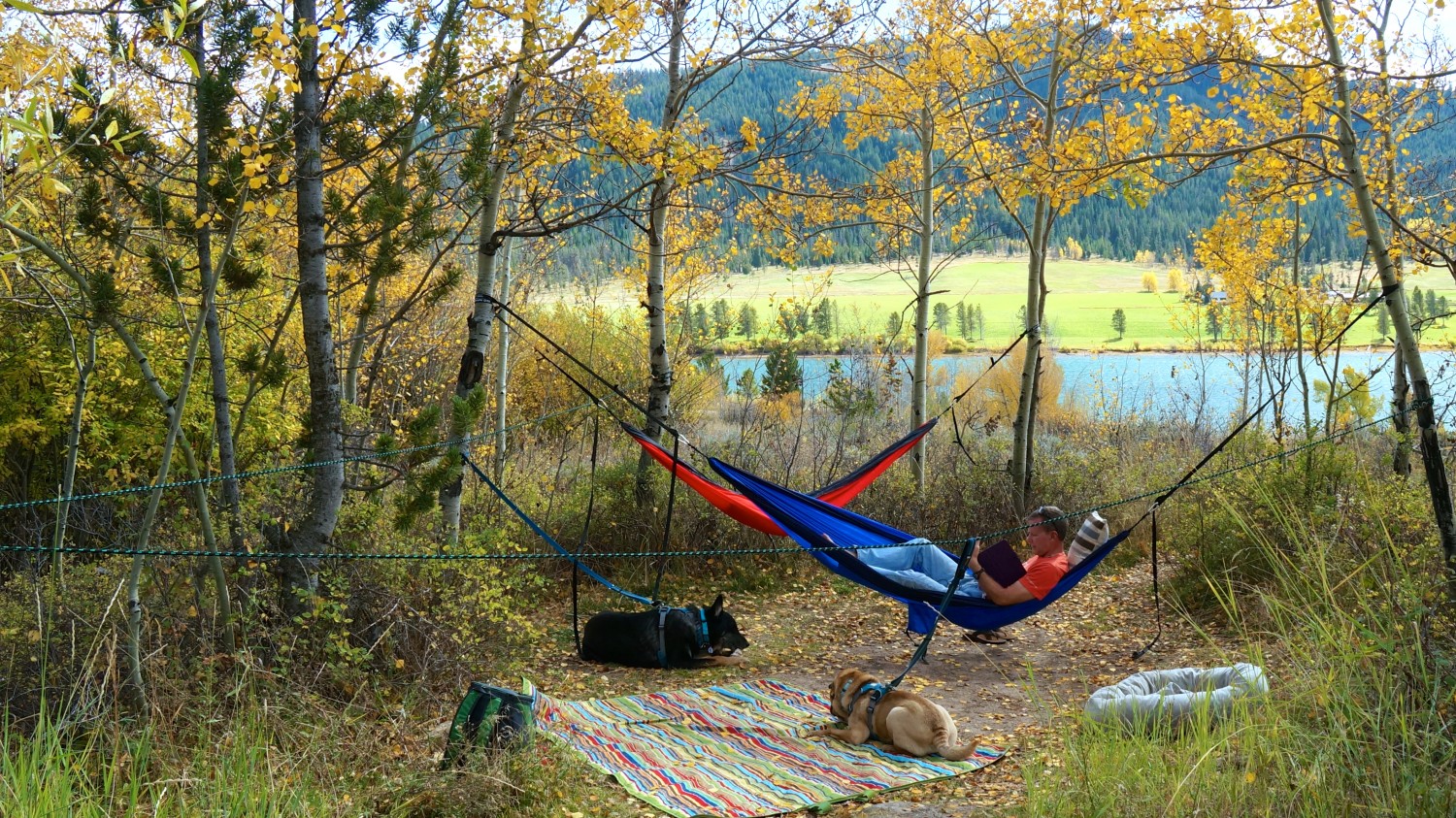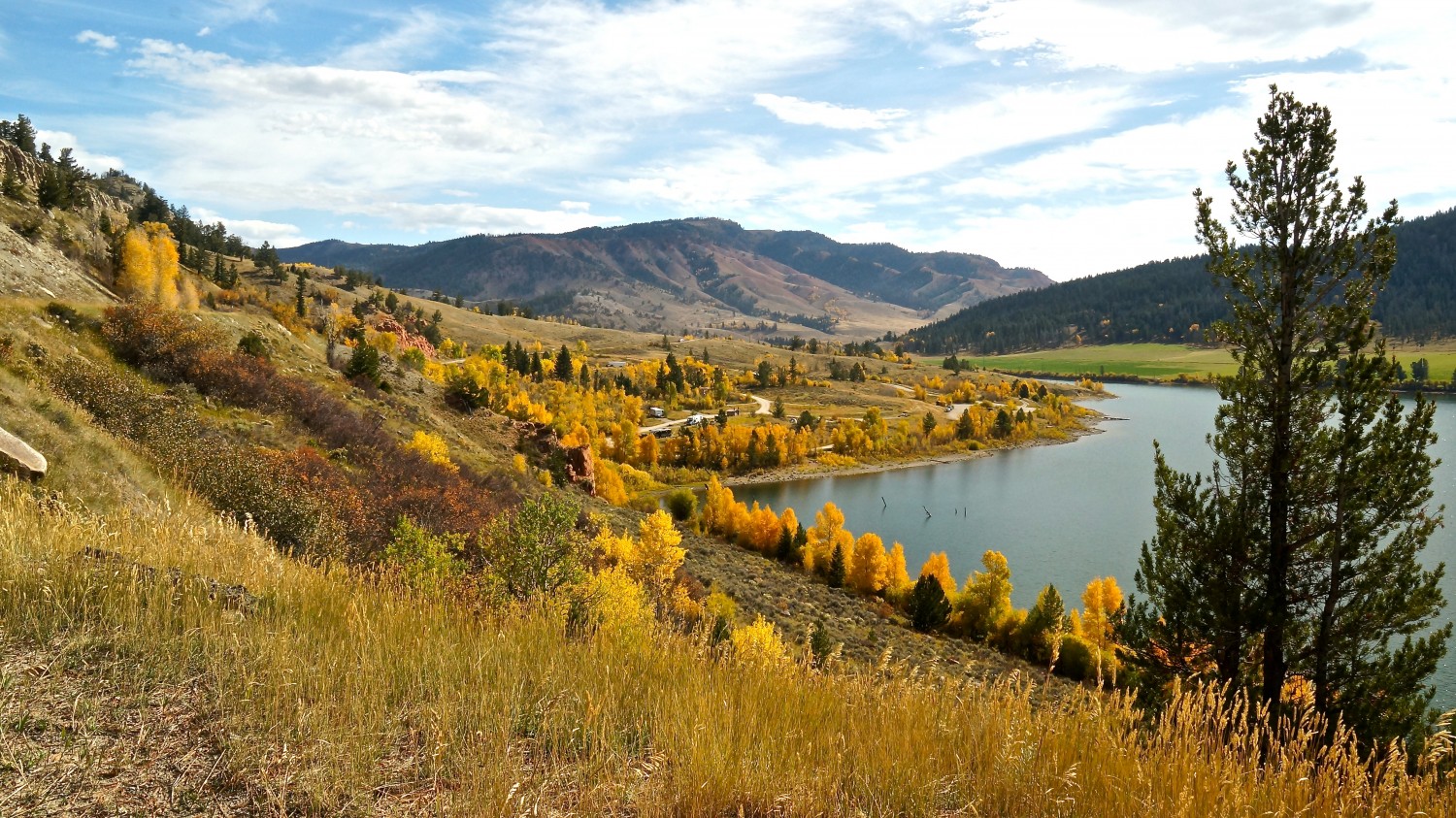 Strolling Around Teton Village
A short drive from Jackson, the ski mecca known as Jackson Hole has a very pet friendly attitude. We saw many dogs enjoying an afternoon of shopping, outdoor dining and lounging. In the summer, the mountains are used for hiking and biking, and leashed pets are welcome on the trails.
The village's outdoor common area provides covered seating, benches, picnic areas, fire pits, and open space. It's a great place to hang out and people-watch.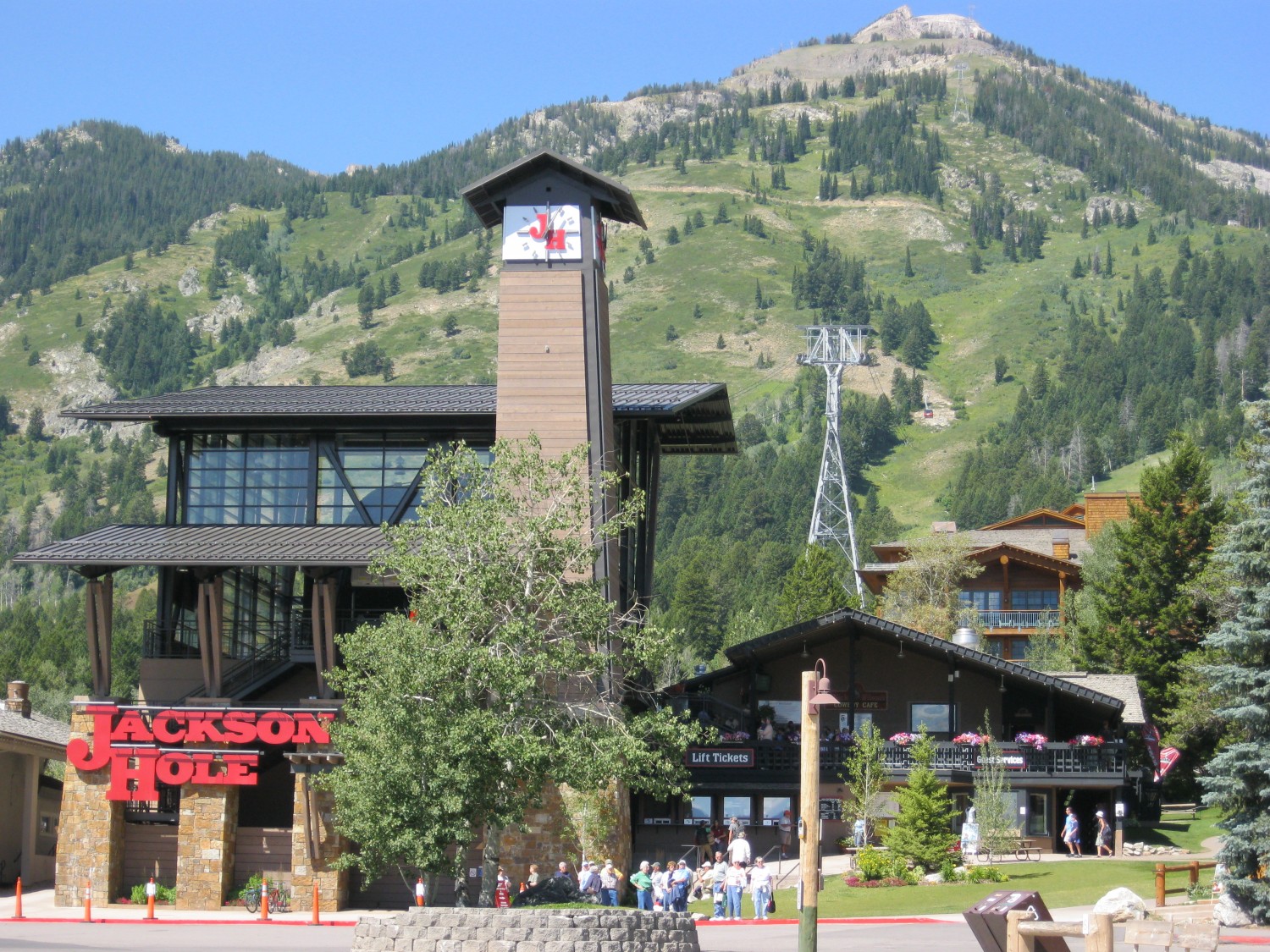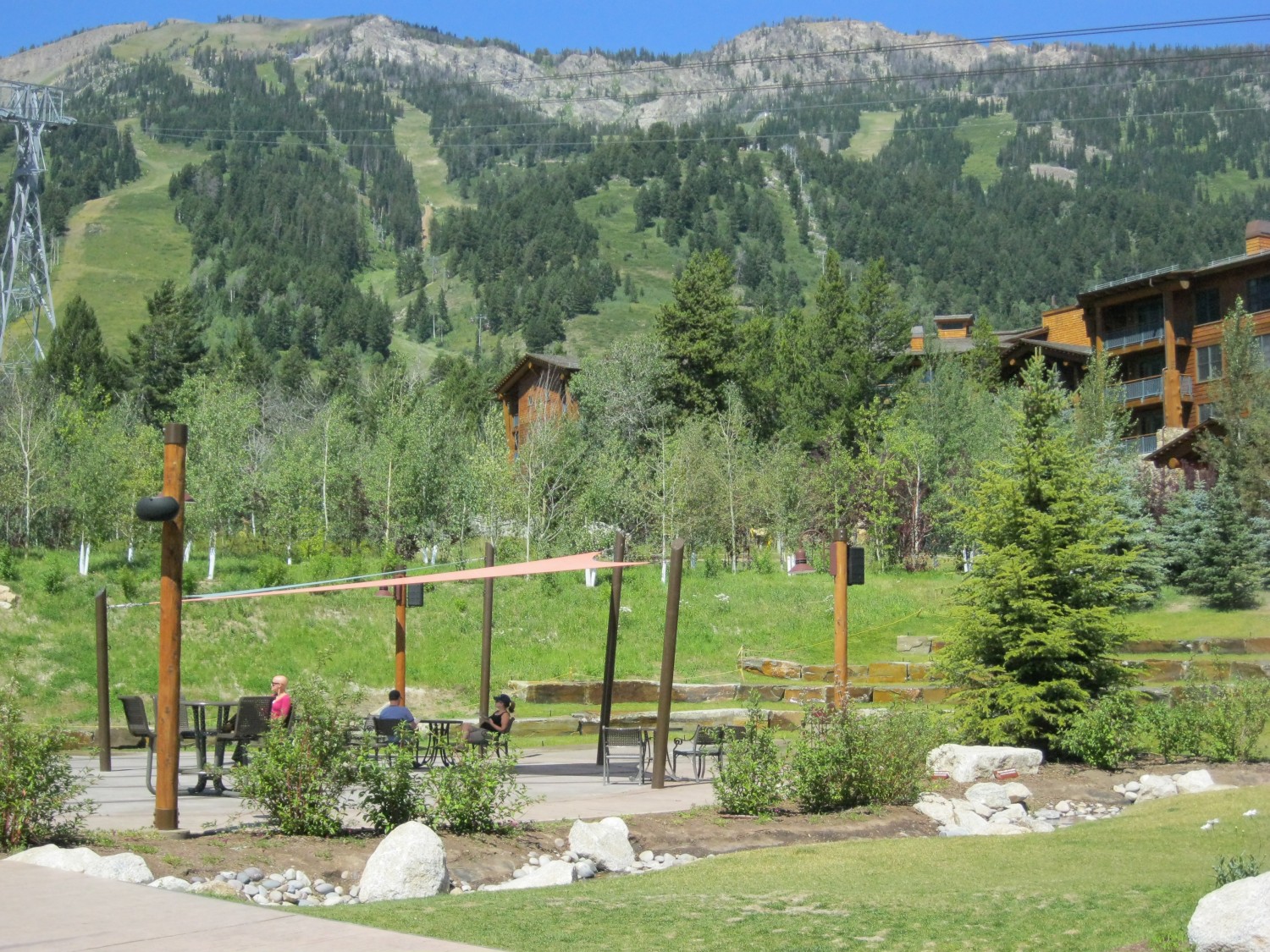 Pet Friendly Lodging Near Grand Teton
There is a nice selection of pet friendly hotels in Jackson, and the campgrounds in Grand Teton National Park and Bridger-Teton National Forest are also pet friendly. Pet friendly restaurants are a little more difficult to come by in Jackson, so check out the ones we've found, or plan to hit the deli or call for take out.
With a little effort we were able to find plenty of dog friendly activities near Grand Teton! We hope our trip inspires you to see this spectacular place for yourself. And, if you find other pet friendly things to do in the area, be sure to share them in the comments!
Amazon Affiliate Disclosure: GoPetFriendly.com LLC is a participant in the Amazon Services LLC Associates Program, an affiliate advertising program designed to provide a means for website owners to earn advertising fees by advertising and linking to amazon.com, audible.com, and any other website that may be affiliated with Amazon Service LLC Associates Program. As an Amazon Associate, the owner of this site earns a commission from qualifying purchases.
(Visited 47,133 times, 3 visits today)