Part of the reason I moved to the desert was for the abundance of outdoor recreation. There is no shortage of great hiking in Southern Arizona! But there is a limited selection of dog friendly hikes near Tucson. Much of the area's best hiking is in Saguaro National Park or Sabino Canyon – but their policies don't allow dogs.
Luckily, we have found five dog friendly hikes near Tucson that have become part of our regular rotation. And, just for fun, I'll share our favorite spots to grab a post-hike bite with your dog. Because that's the reward for putting in the miles!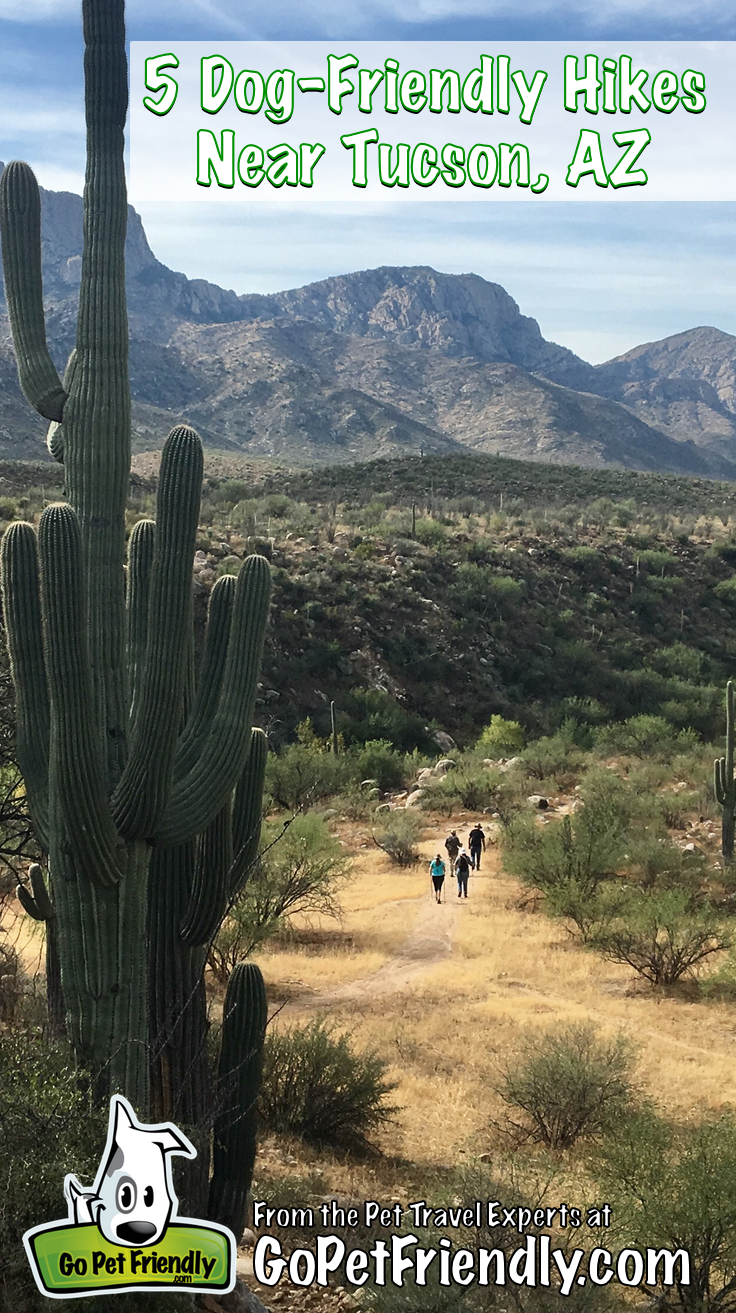 Hiking Near Tucson With Dogs
Catalina State Park: Canyon Loop Trail
Catalina State Park encompasses the best of the Sonoran desert in a small area. There are many excellent trails here, however several lead to protected wilderness areas where dogs can't go. Please respect the park boundary signs and only take your dogs as far as they are allowed!
The Canyon Loop trail, which is 2.3 miles, is entirely dog friendly and may even have a stream running if your timing is good. Entrance to the park is $7, or you can purchase an annual Arizona State Parks pass for $75.
Dog friendly dining near Catalina State Park:
El Charro Cafe, 7725 North Oracle Road.
Excellent Mexican food and a great happy hour menu!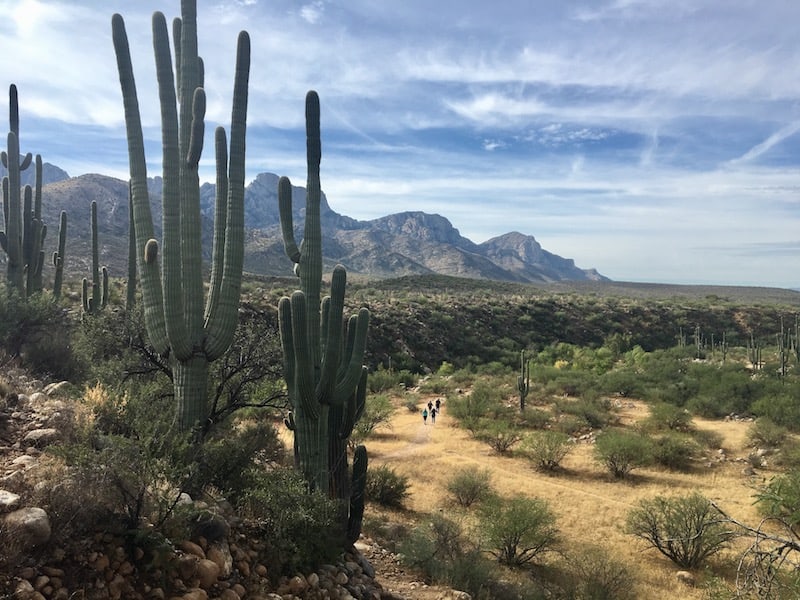 Marana: Tortolita Mountain Trails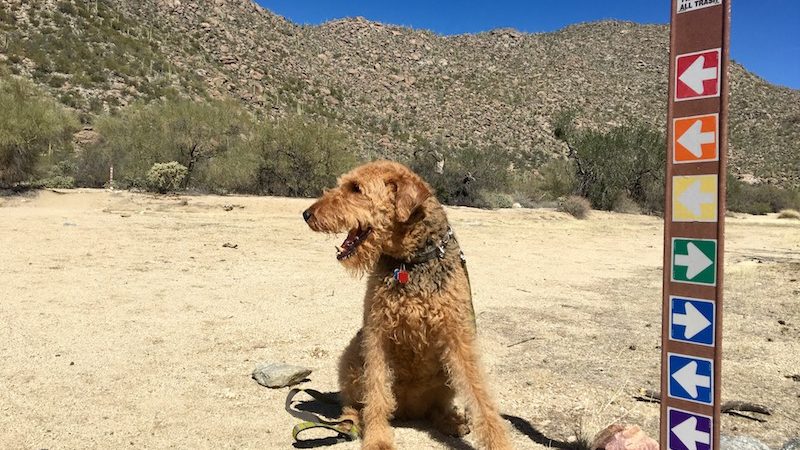 The Tortolita Mountain trail network in Marana is about 30-40 minutes from downtown Tucson. But it's definitely worth the drive! This trail system is loaded with inter-connected trails. So, depending on the combination of trails you choose, you can hike anywhere from 0.5 miles to 10 miles or more.
One of my favorite trails is the Lower Javelina Trail, which is just over 3 miles round-trip. I also like the Wild Mustang trail, which takes you up to a saddle with amazing views of the Marana Valley and surrounding mountains.
To reach the trailhead, set your GPS for the Ritz Carlton Dove Mountain (which is pet friendly). Once you pass the guard house, take the 2nd right into the parking area. No fees or permits are required, and there are restrooms and a drinking fountain at the trailhead.
Dog friendly dining near Tortolita Mountain Trails:
Dove Mountain Brewing Company – 12130 Dove Mountain Blvd, Marana, AZ
(I've also heard great things about Vero Amore, which is next door.)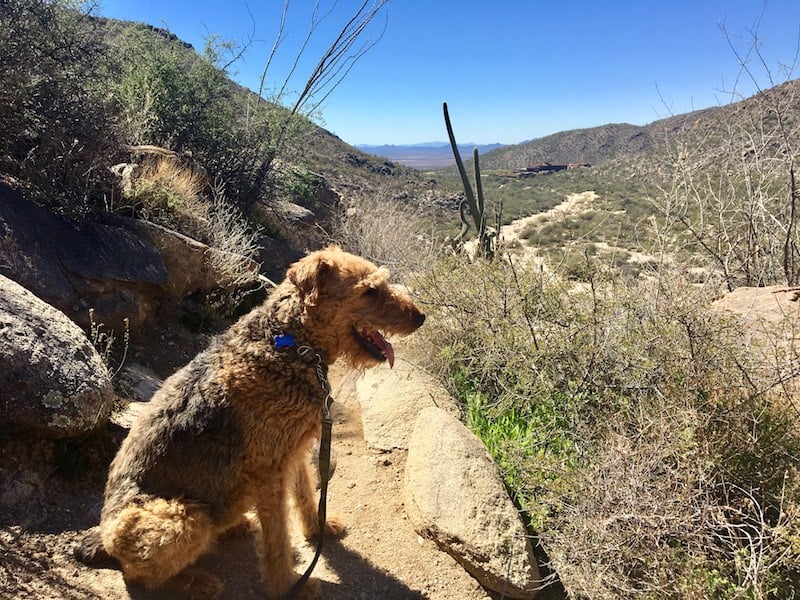 Pima County: Sweetwater Preserve
The Sweetwater Preserve is popular for its proximity to town and its excellent scenery. And the well-marked trail system allow you to "choose your own adventure." These trails get crowded on weekends, but they're perfect during the week!
Try the Saguaro Vista trail to the Black Rock Loop for a nice, 4-mile hike. But you really can't go wrong no matter which trail you choose. Entry and parking are free, although there are no facilities – including trash bins – so be prepared to drive your trash out with you.
Dog friendly dining near Sweetwater Preserve:
Follow the main road back into town. Near the Tucson Mall you'll find lots of options, like Cheesecake Factory and Twigs Bistro.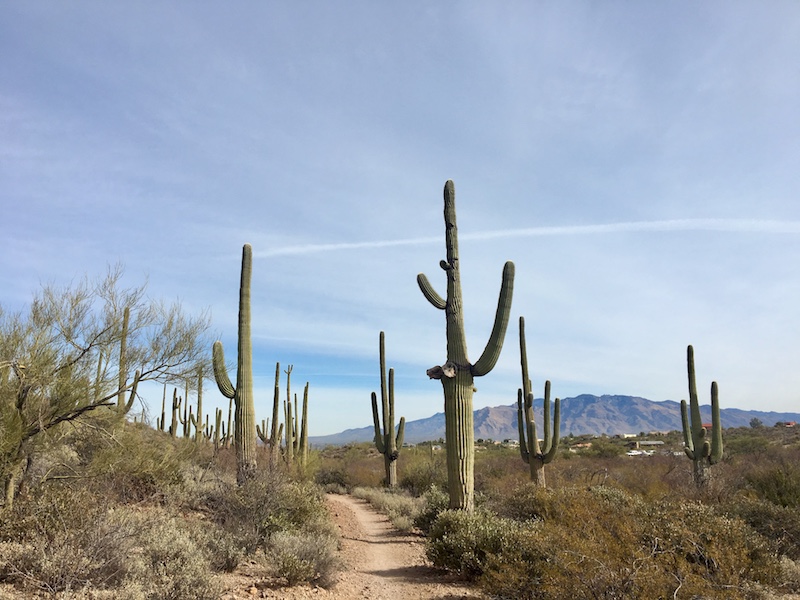 Mount Lemmon
Mount Lemmon looms over the city of Tucson, and is a high-elevation refuge in the summer. If you're hoping to experience four seasons – including snow – you can find it on Mount Lemmon! Or go in the fall to see colorful leaves and flowing streams. A day-use fee is required in the Coronado National Forest. But, if you have a national parks pass, displaying it in your car window is sufficient.
My favorite trail at Mount Lemmon can be found by parking at the Marshall Gulch Picnic Area, a quarter-mile past the town of Summerhaven. Stop at the ranger station along the way to pick up a trail map. From the Marshall Gulch trailhead, continue in a loop on the Aspen Trail. This is mountain lion country, so remember to keep your dogs close!
Dog friendly dining near Mount Lemmon:
The Mount Lemmon Cookie Cabin – 12781 Sabino Canyon Park, Mount Lemmon, AZ.
Pizza by the slice, sandwiches and cookies!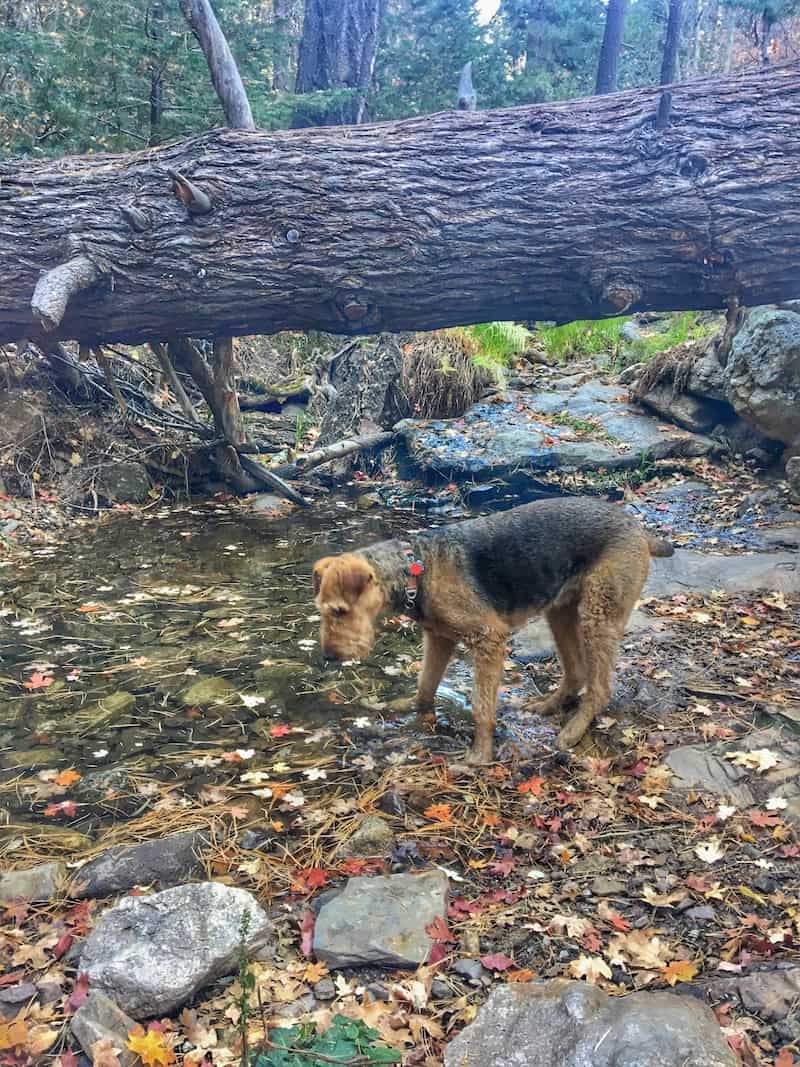 Madera Canyon
Madera Canyon is another great place to find dog friendly hikes. It's near the town Green Valley, about an hour south of Tucson. Though this area is popular for bird-watching, dogs can use the trails as well.
The Madera Canyon Nature Trail parallels the road through the park, so you can choose to hike any length before turning around and hiking back to your car.
We started at the Whitehouse parking lot (national forest fee applies) and hiked 3 miles up to the Mount Wrightson picnic area. The trail follows a beautiful stream for the first 1.5 miles, then takes you up on a ridge with gorgeous views of the surrounding mountains. We came back down along the road, but if you're looking for a challenge, you can hike to the 9,456-foot summit of Mount Wrightson!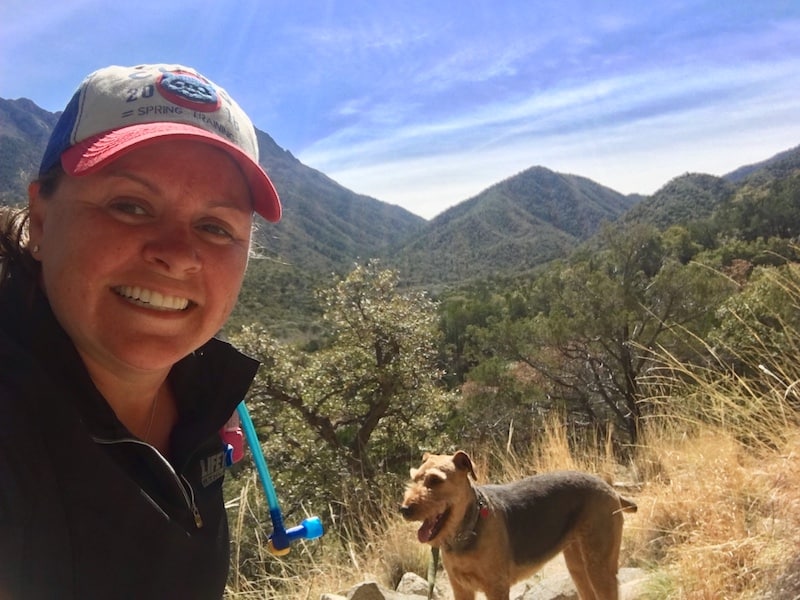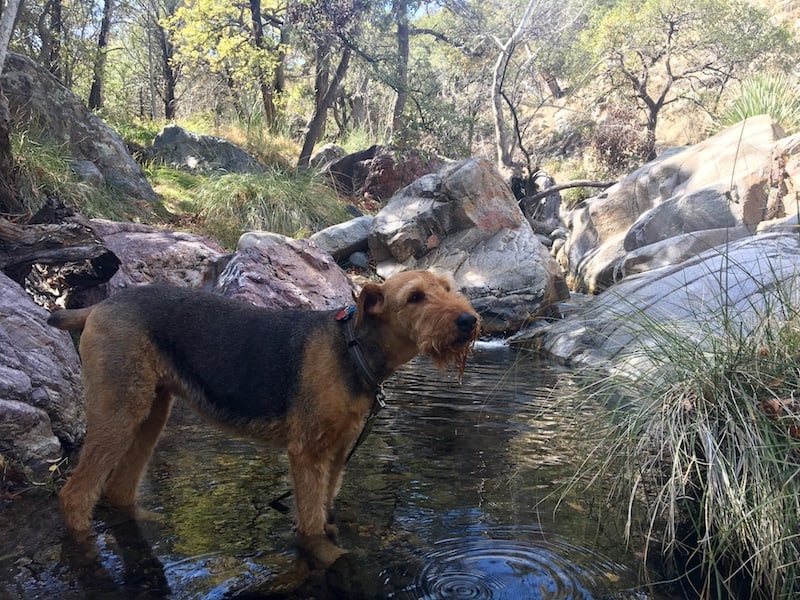 Know Before You Go
No matter which dog friendly hikes near Tucson you decide to take, always double check to be sure the pet policies haven't changed. And please take care to know and follow all the rules so these trails will remain dog friendly! Finally, if you're new to hiking in the desert, check out our tips for desert hiking with a dog!
(Visited 26,421 times, 1 visits today)