The Black Hills are just an incredible panorama of high plains, stunning canyons, significant historical landmarks, and small towns. Yesterday's post covered some of the sights south of Rapid City. Today, I want to write about some of the areas to the north. If you're heading west, you'll hit them in this order: Sturgis, Deadwood, Spearfish, and Devils Tower.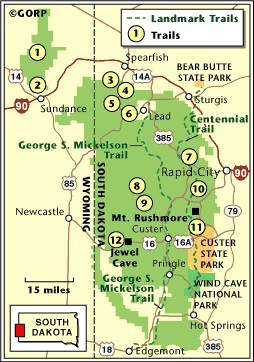 Sturgis
During the first week of August, Sturgis, SD plays host to the largest motorcycle gathering in the world. Attendance in 2008 was estimated at 756,000  – almost equal to the population of South Dakota! We saw hundreds of tricked out bikes heading to Sturgis as we drove along in our cutesy RV … Baby, we were born to putter!
2010 marks the 70th anniversary of the rally. Events include motorcross and  hillclimb races, stunts, and the traditional ride – one by one – down Main Street. For many bikers, the primary attraction is simply the amazing rides in the surrounding Black Hills.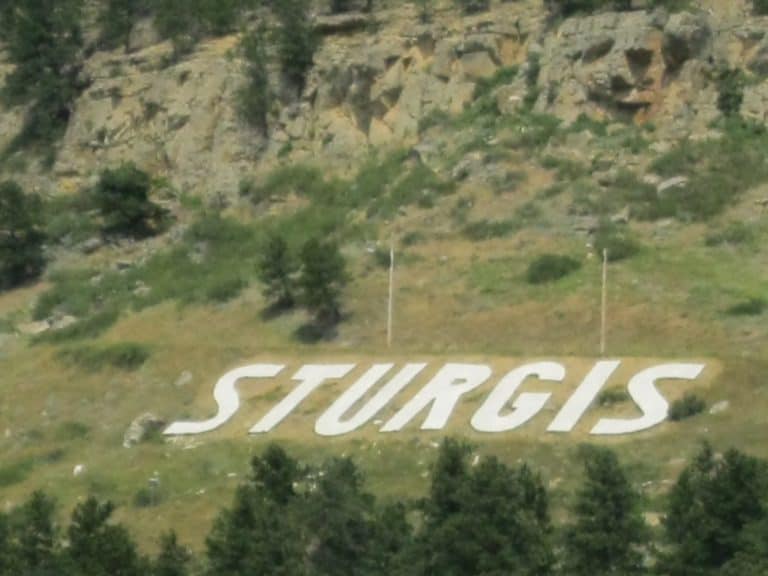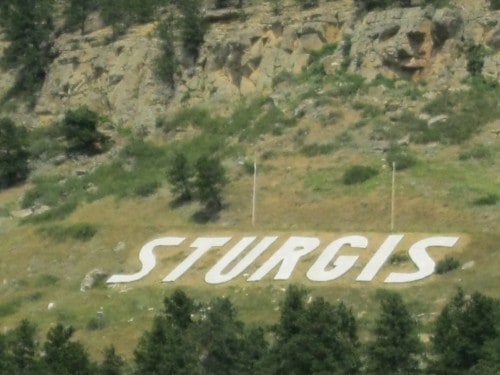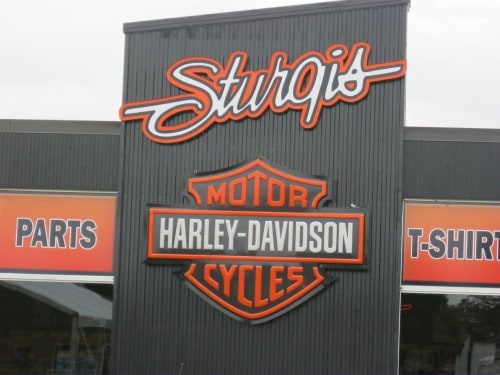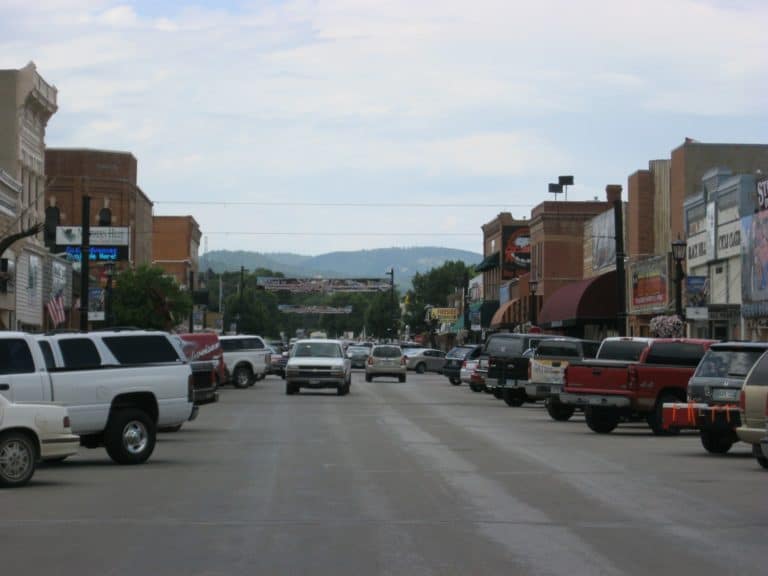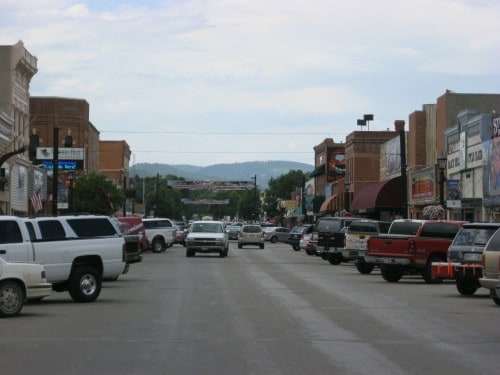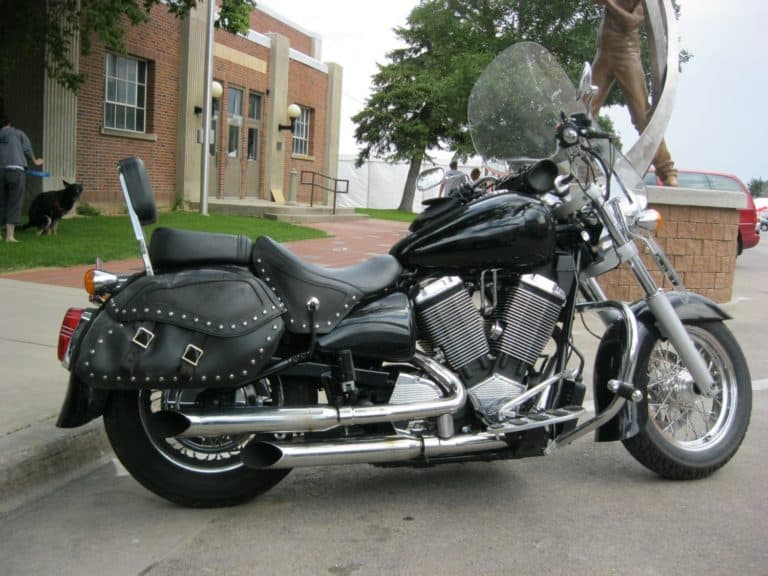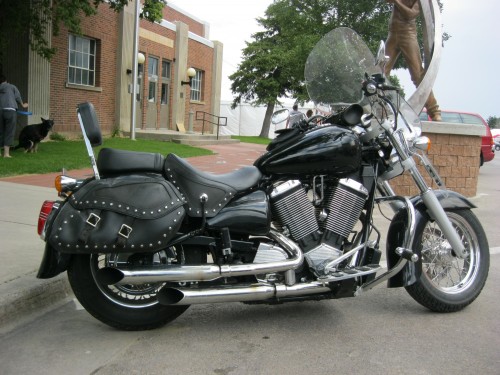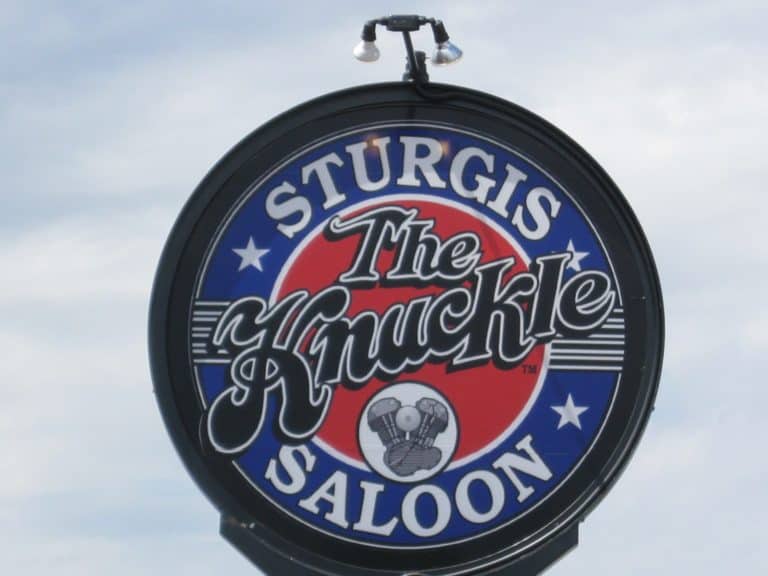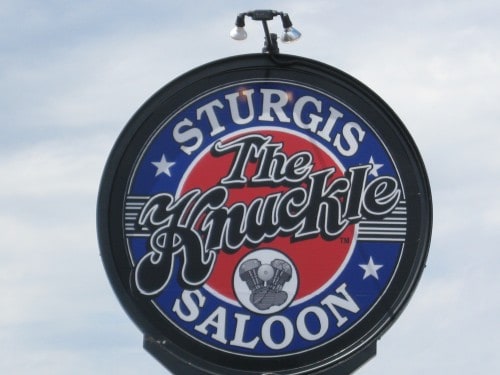 Deadwood
Before Little Big Horn, Custer led an expedition into South Dakota and found gold. Deadwood (near Lead, pronounced Leed, in the map above), just to the north, fed off the gold rush and became known for its gambling, prostitution, and murder as a way of settling scores. Deadwood gained notoriety for the shooting of Wild Bill Hickcock, and a nearby cemetery holds the remains of Hickcock and Calamity Jane.
Deadwood was a mining town right up until 2000. Today it survives by virtue of legalized gambling.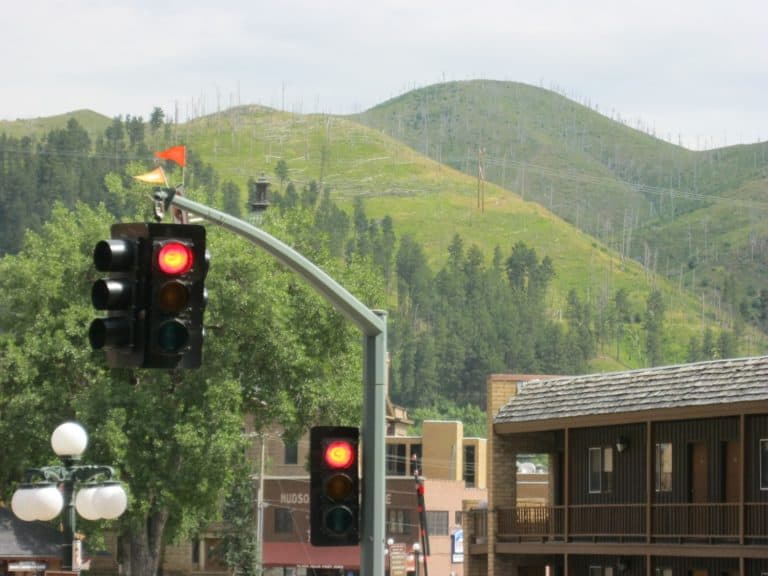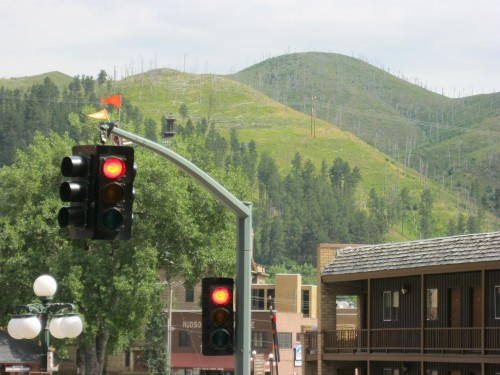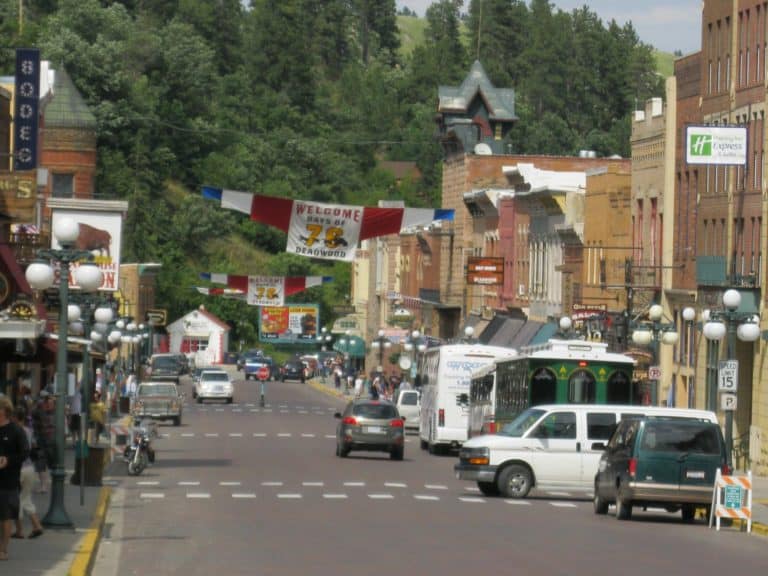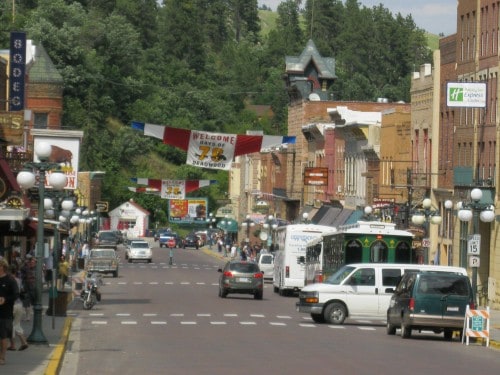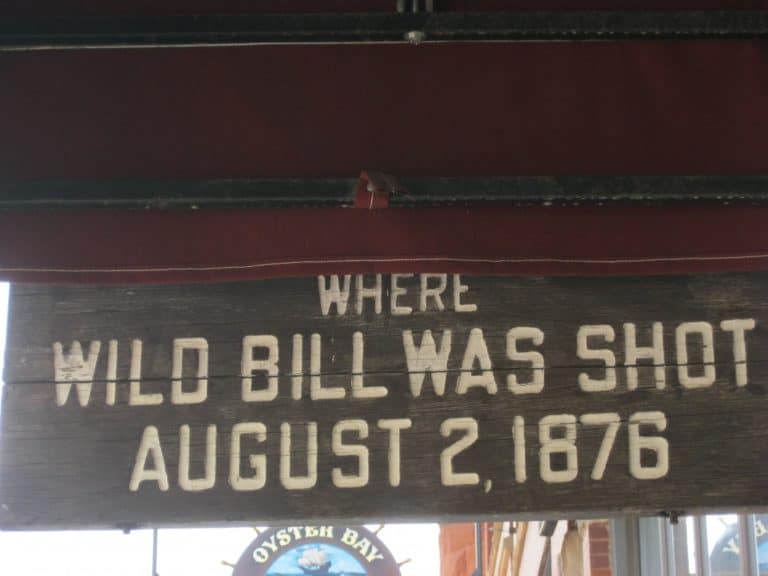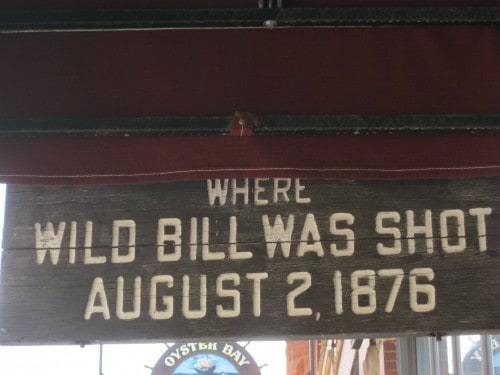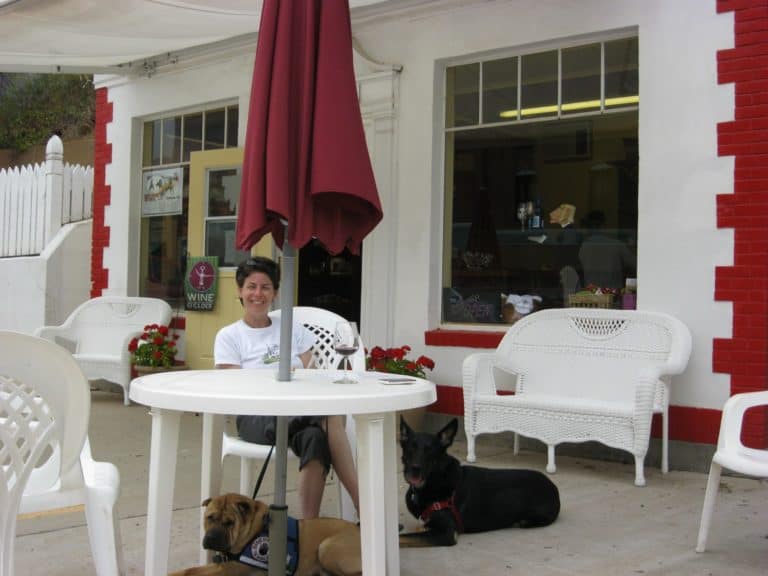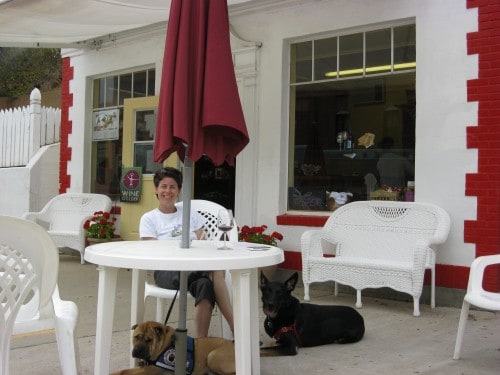 Up to 30 million bison once roamed the Great Plains. By the end of the 19th century, it was estimated that less than 1,000 survived. Everything you'd want to know about the bison is explained at Tatanka: Story of the Bison (Tatanka is the Native American word for buffalo). Interpreters and exhibits demonstrate how the native culture depended on the bison and how their near extinction affected the Plains Indians.
Tatanka was the brainchild of actor Kevin Costner (and built on his land), stemming from his Dances With Wolves film. The focal point is a local artist's bronze sculpture of 14 bison being hunted by three Native Americans on horseback.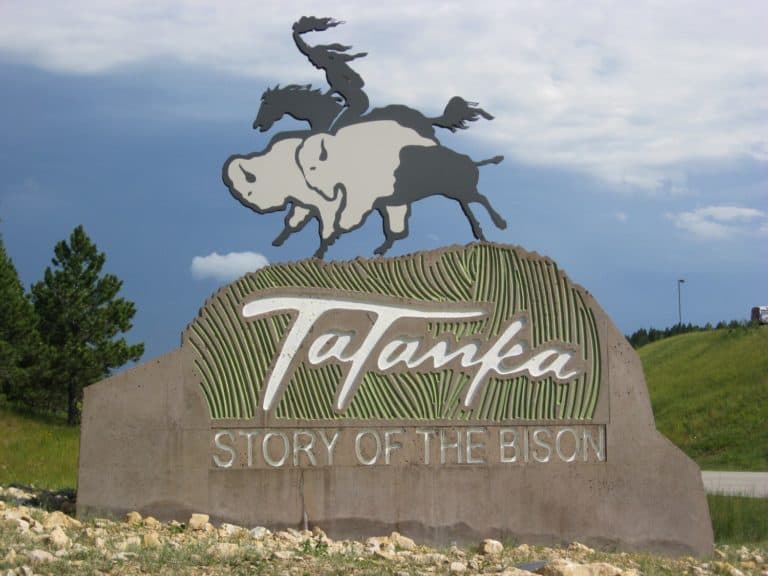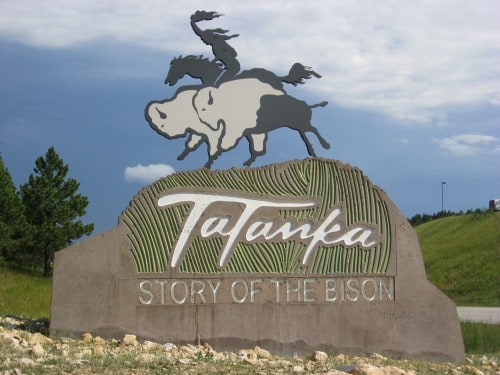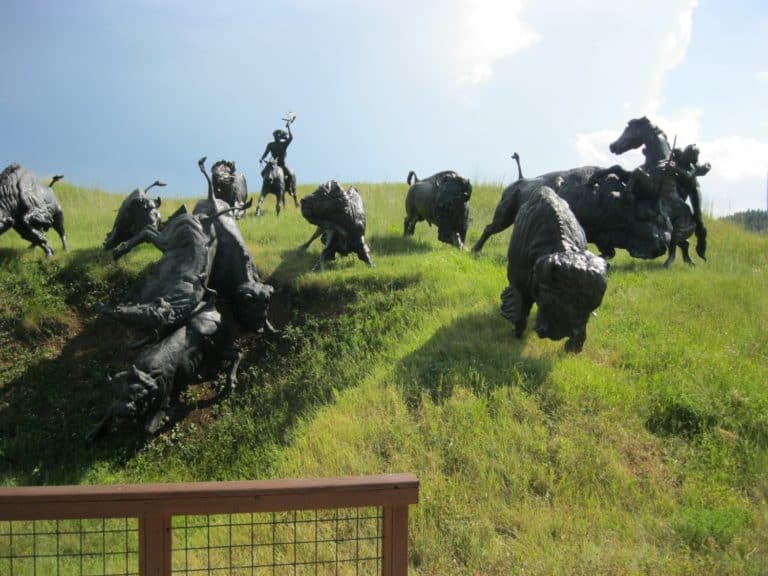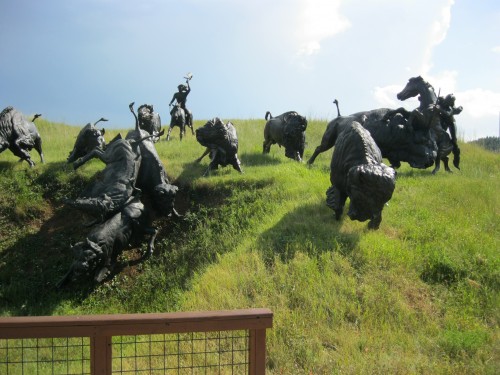 Spearfish
As gold mining took off, Spearfish established itself as a food supplier to the mines in the nearby hills. One of the most beautiful drives we've been on in this road trip is the Spearfish Canyon Scenic Byway on Route 14A that runs between Cheyenee Crossing and Spearfish.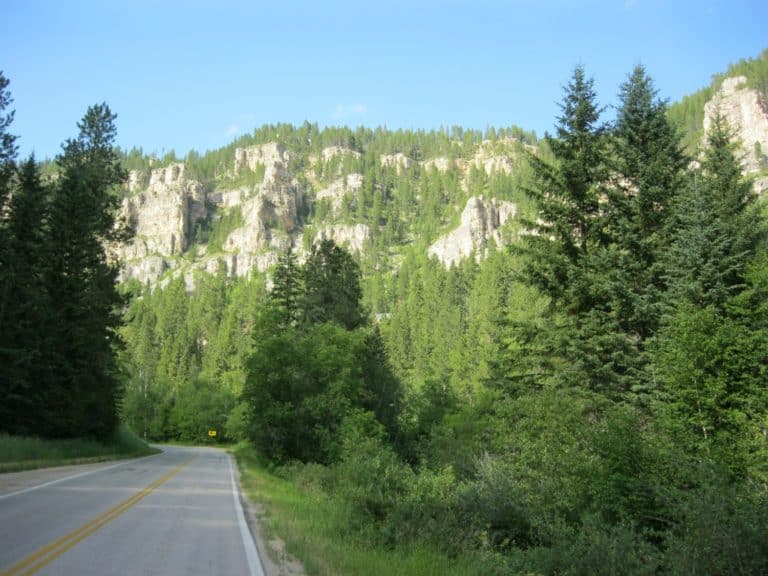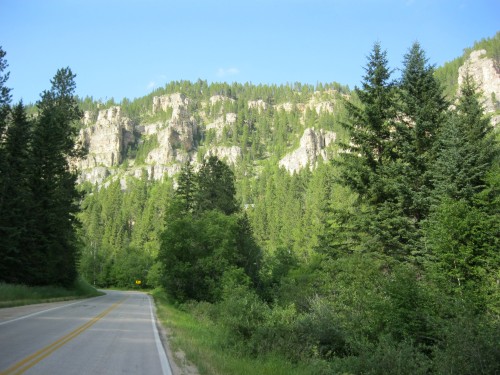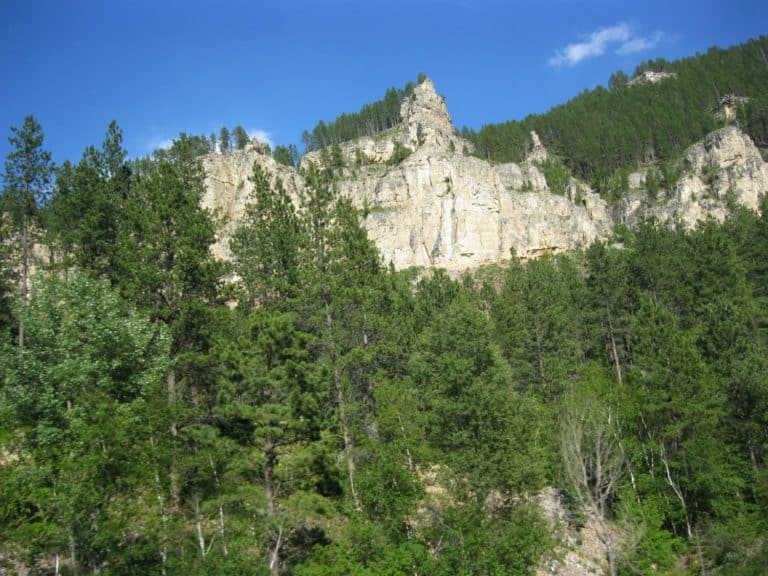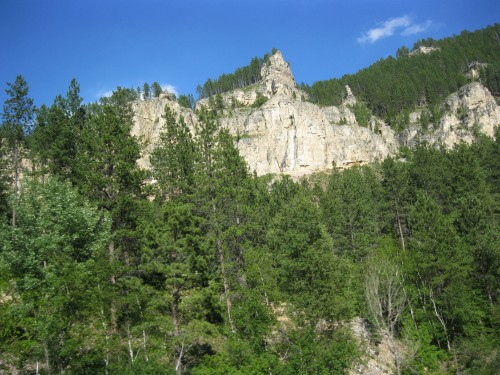 Devils Tower
In the most northwestern corner of the Black Hills is Devils Tower in Wyoming. Long before the white man renamed it in 1875, this landmark was called Bear Lodge by northern plains Indians. Evidence suggests that the area was used by Native Americans as a hunting ground and gathering spot for thousands of years. Many still come to Devils Tower today to pray and conduct sacred ceremonies.
The Tower rises 867 feet from its base. There are 7 miles of hiking trails, including the 1.3 mile paved trail around the base. None of the trails are pet friendly. There are also 200 climbing routes to the summit.
President Theodore Roosevelt established Devils Tower as our first national monument in 1906. And yes, it was the landmark filmed in Close Encounters of the Third Kind.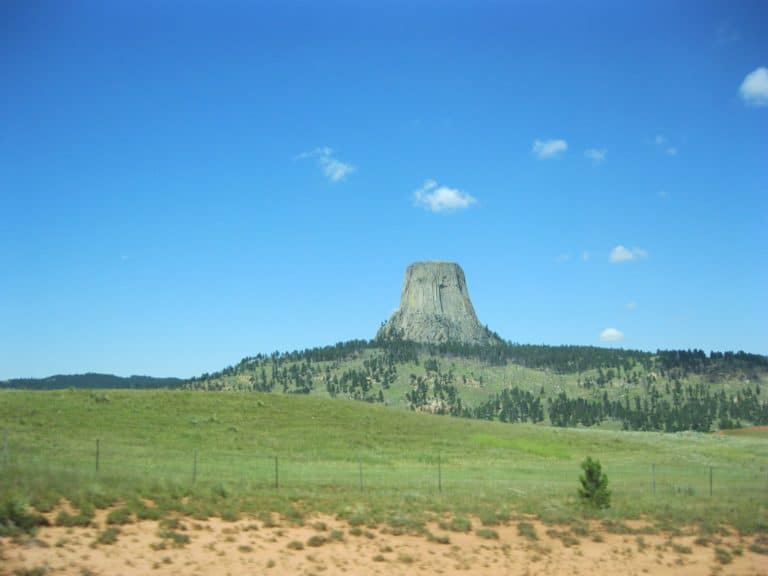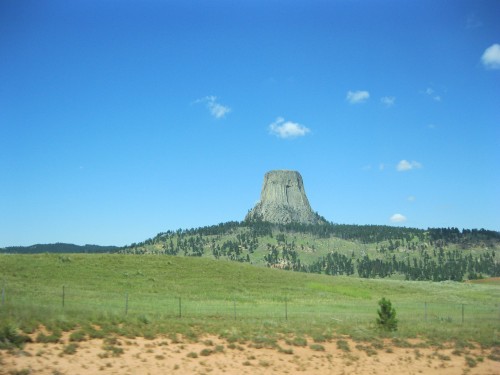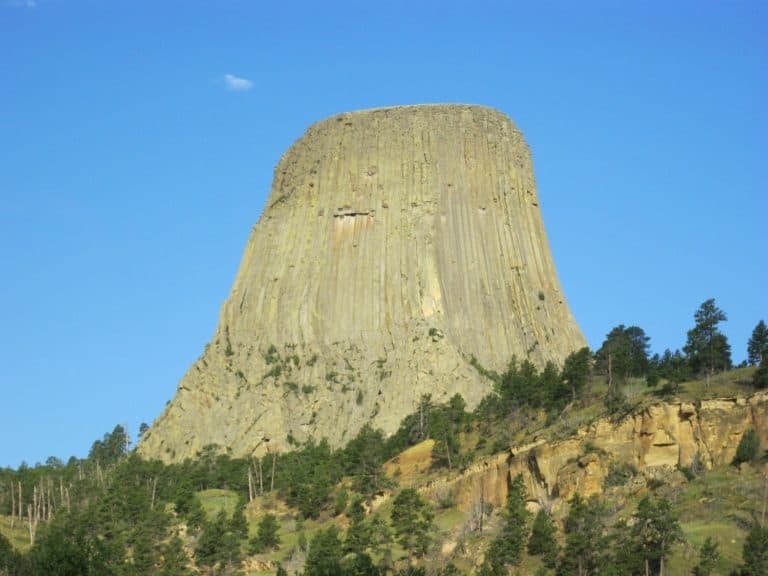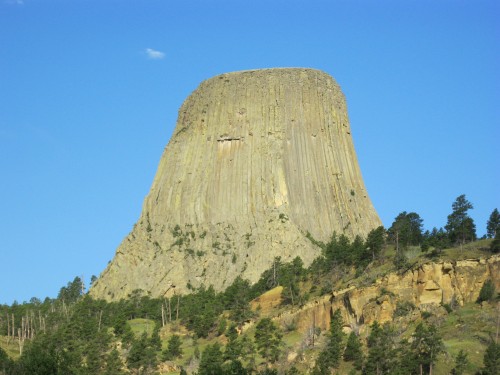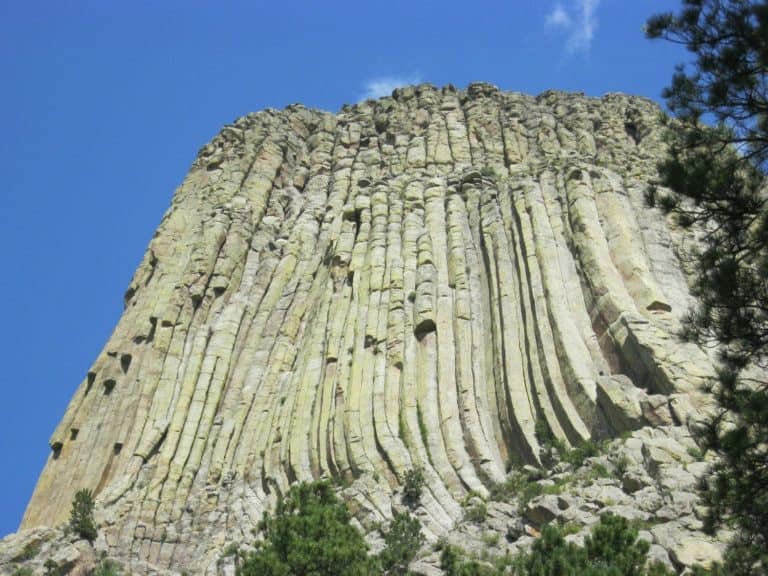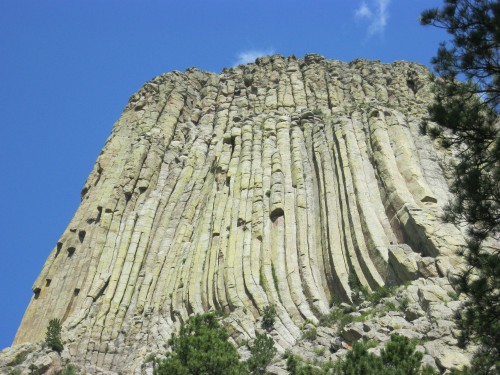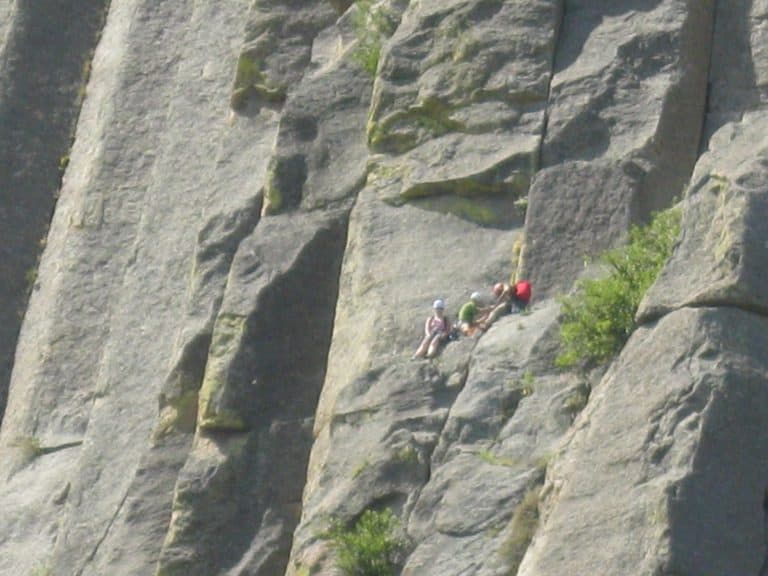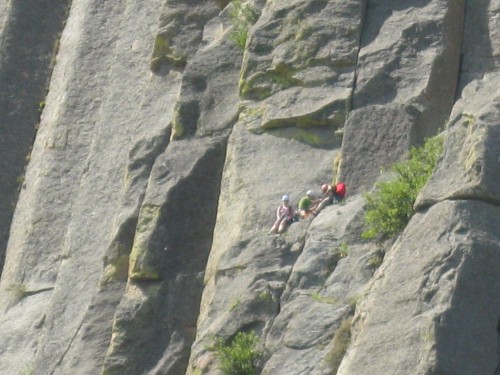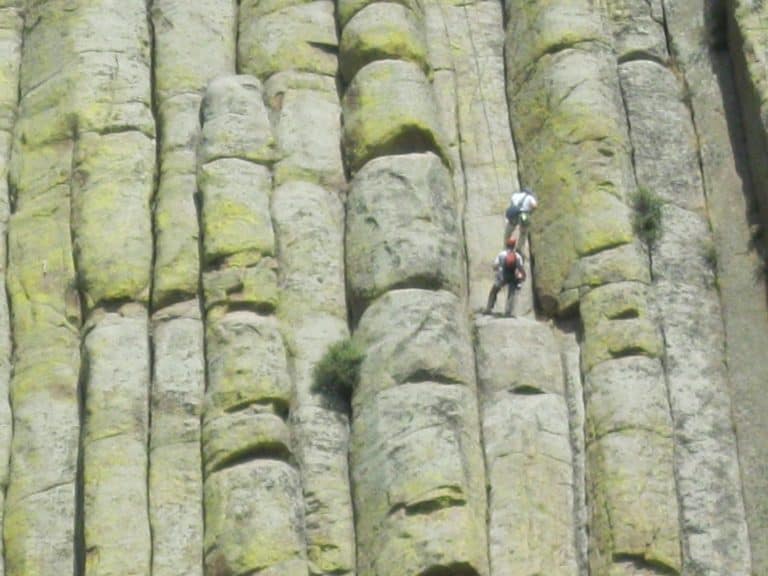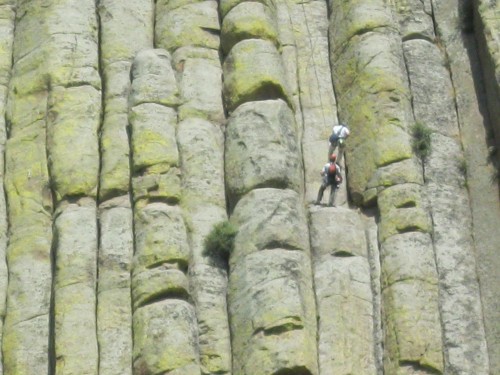 Update
We finally made it back to the beautiful Black Hills and Custer State Park. Read about our most recent visit now!
Planning a pet friendly trip of your own? We'll make it easy:
Pet Friendly Hotels | Pet Friendly Destinations | Pet Friendly Activities
Amazon Affiliate Disclosure: GoPetFriendly.com LLC is a participant in the Amazon Services LLC Associates Program, an affiliate advertising program designed to provide a means for website owners to earn advertising fees by advertising and linking to amazon.com, audible.com, and any other website that may be affiliated with Amazon Service LLC Associates Program. As an Amazon Associate, the owner of this site earns a commission from qualifying purchases.
(Visited 3,655 times, 1 visits today)