This post is part of a series on The Ultimate Pet Friendly Road Trip, our 10-month, 15,000-mile tour of the top pet friendly attraction in each of the lower 48 states.
Vermont's Top Pet Friendly Attraction: Dog Mountain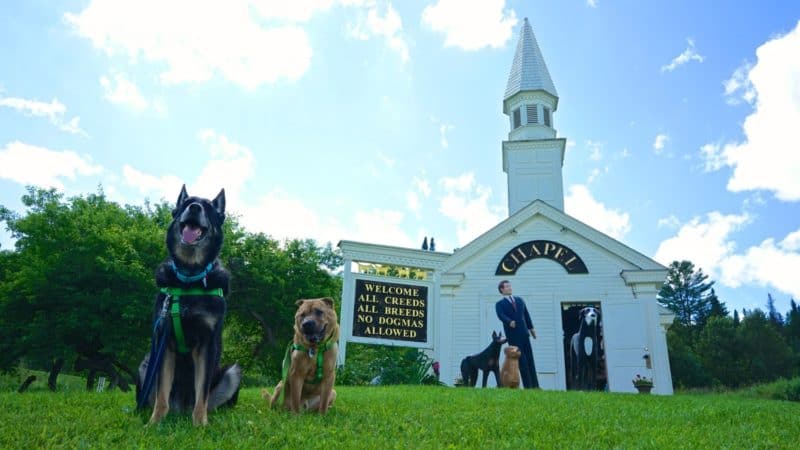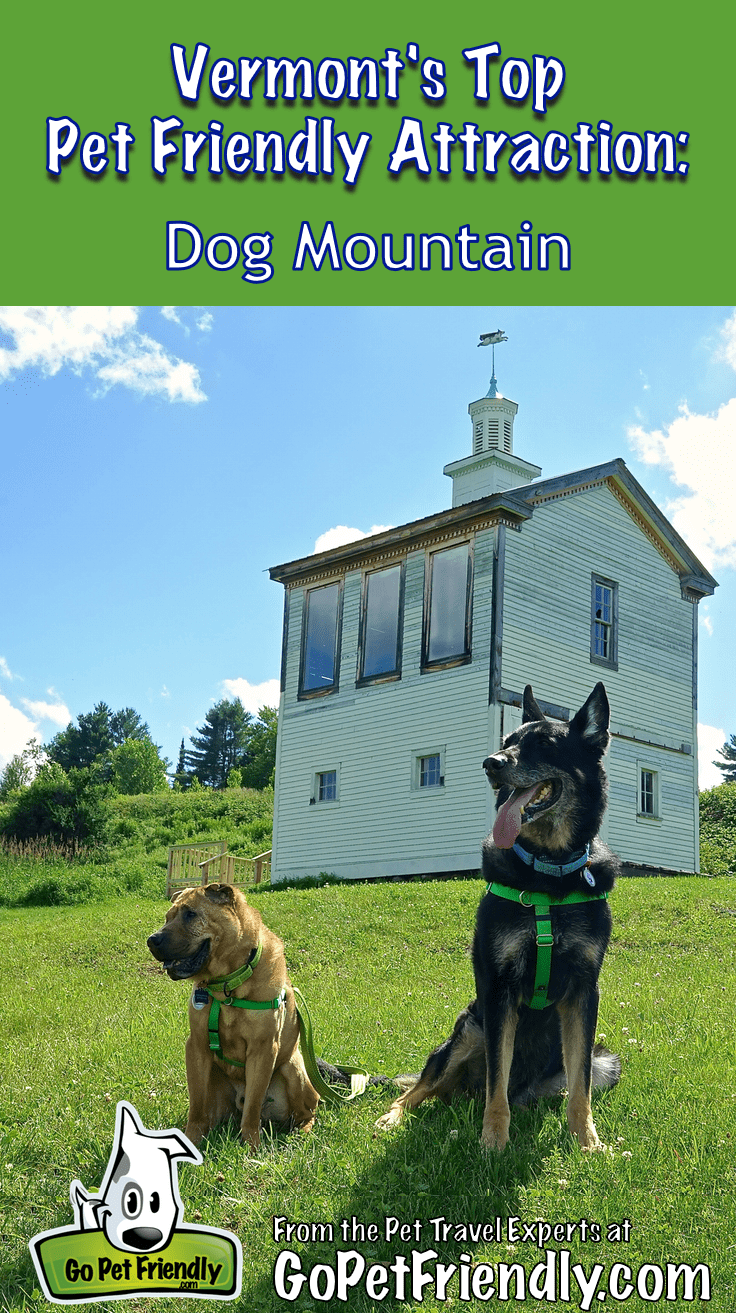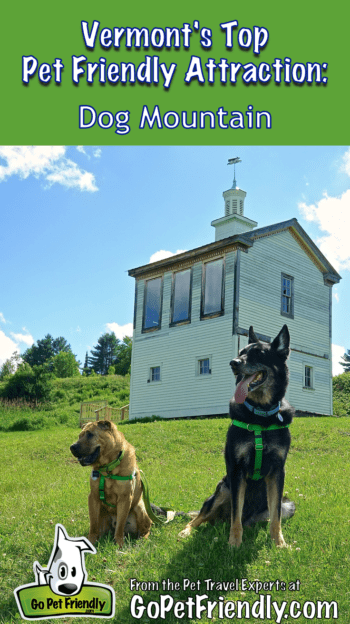 We're about half way through the Ultimate Pet Friendly Road Trip, and we've seen some absolutely spectacular places … but nowhere has moved us like Dog Mountain. Pure joy, love, despair, and heartbreak are inseparably woven together in such a way that visitors can't help but be affected by the the spirit of this place.
The vision of Vermont artists Stephen and Gwen Huneck, Dog Mountain is a 150-acre off-leash playground for pups. The couple was married for 35 years, and were devoted to their dogs. Stephen's love of dogs ran so deep that they became the primary focus of his art … he carved them, painted them, and wrote children's books with Sally, his black Labrador Retriever, as the main character. He became well-known, and pieces of his artwork are in the permanent collections of the Smithsonian Institution, the Dog Museum of America, and the American Kennel Club.
In 1997, the Hunecks began working on the Dog Chapel to provide people whose pets have passed on a place to remember them. In addition to standard doors, the chapel has a dog door, pews with carved dogs on the ends, and stained glass windows celebrating the gifts dogs bring to our lives.
The chapel opened in 2000, and Stephen had provided an exquisite canvas for what developed. Over the years pet lovers have contributed their tributes, pictures, letters, and colorful notes to departed pets, covering all of the walls – several layers deep. The result is a masterpiece beyond description.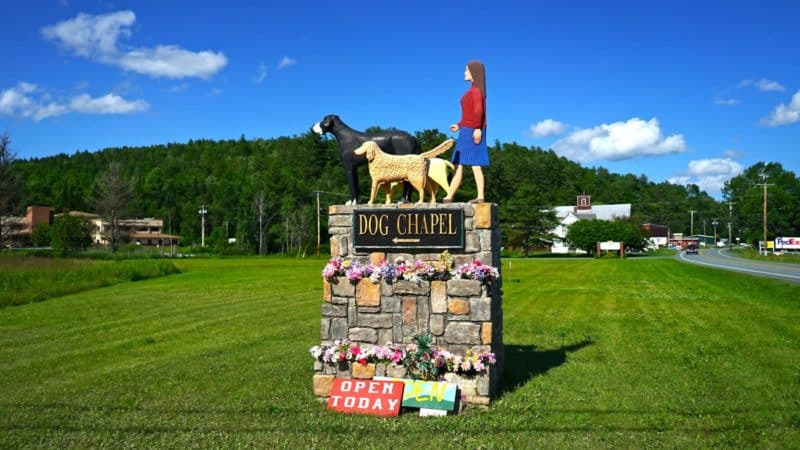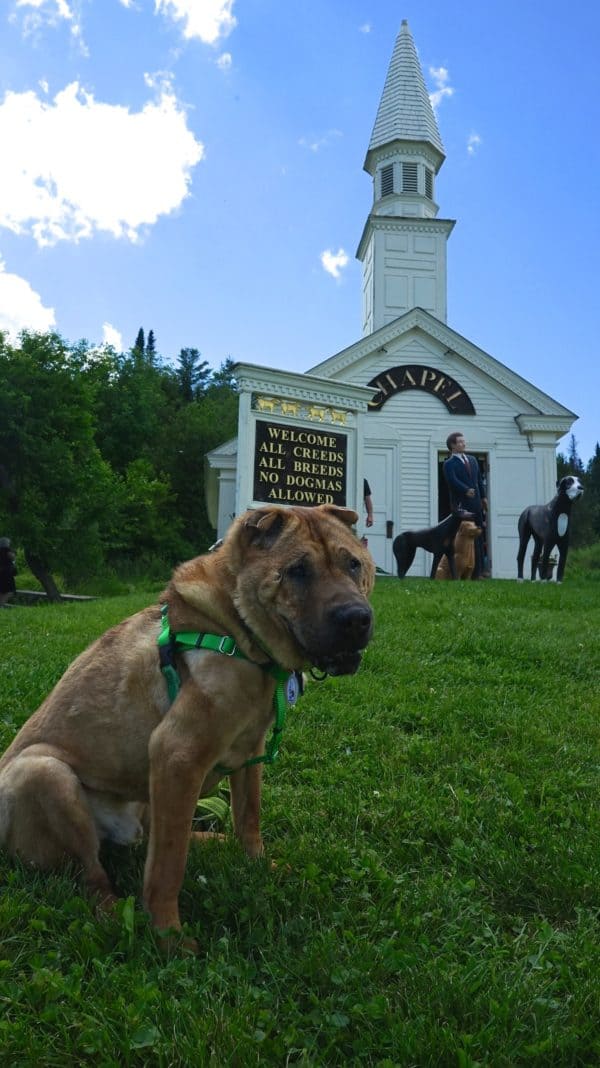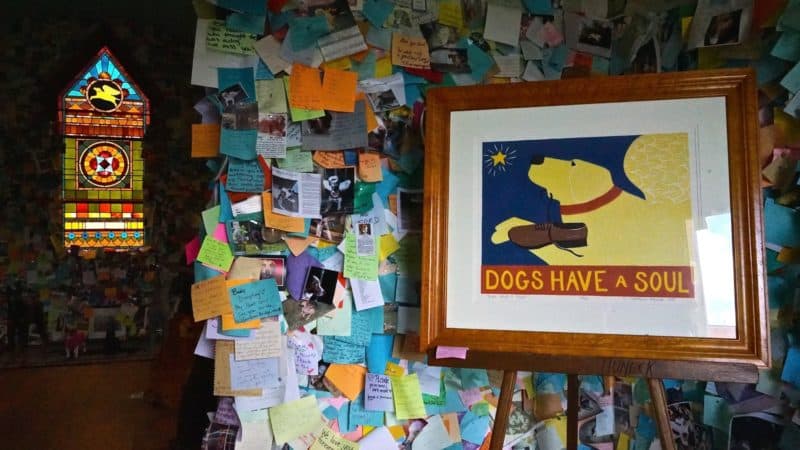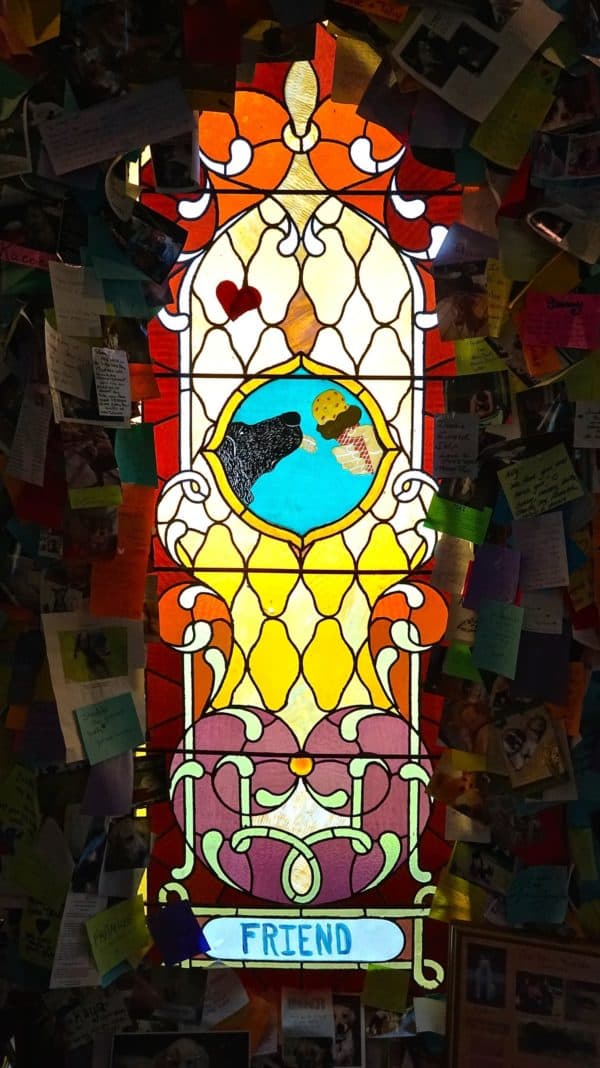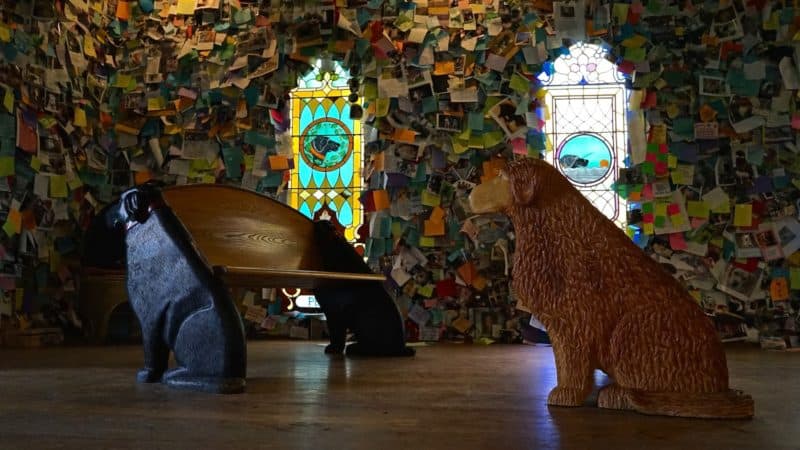 Dogs at Dog Mountain
The Dog Mountain website says it best: "Dogs are not just welcome here, they are cherished!" The 150-acre grounds are always open to the public, and dogs are welcome to shed their leashes and run, play, and swim in the pond. There are hiking trails, quiet retreats, and tranquil views of the lovely surroundings. Pets are also welcome inside the chapel and the gallery.
Pet Rules at Dog Mountain

Pets are welcome off-leash
Please clean up after your pet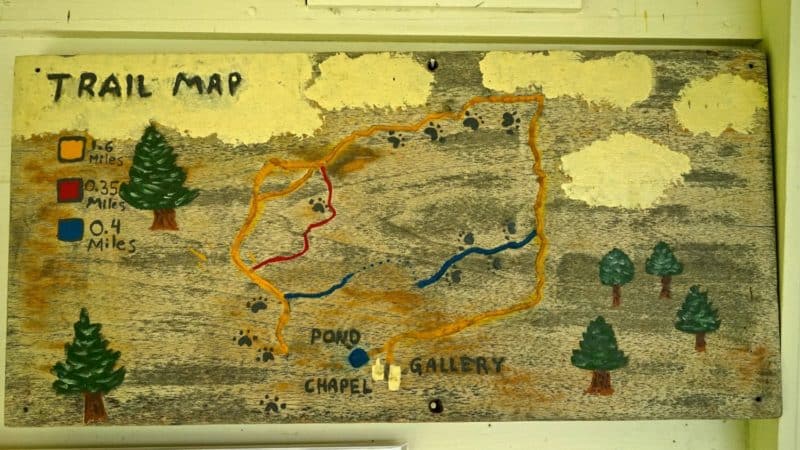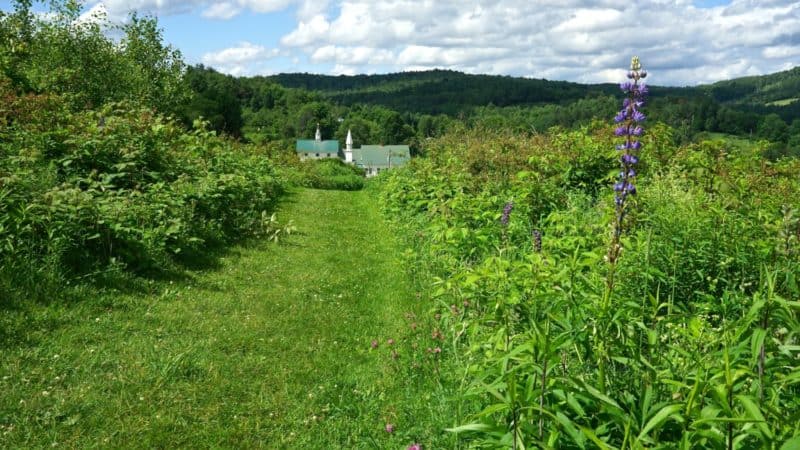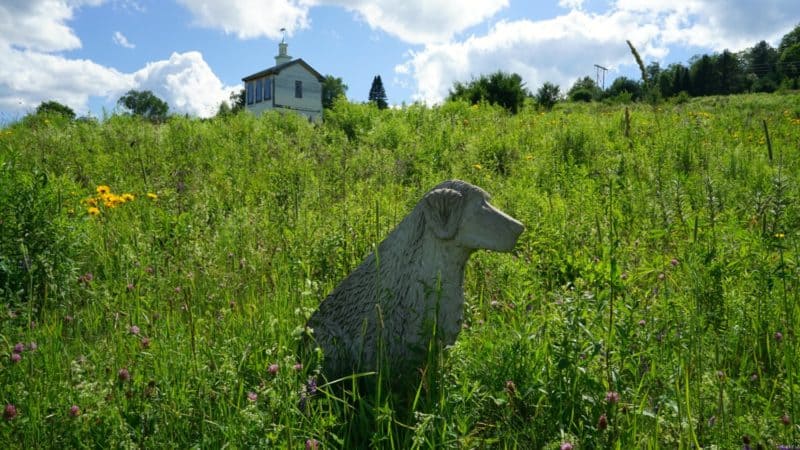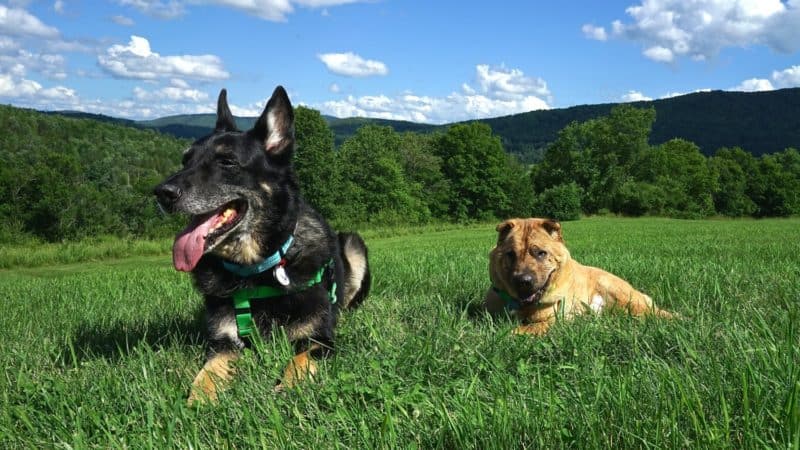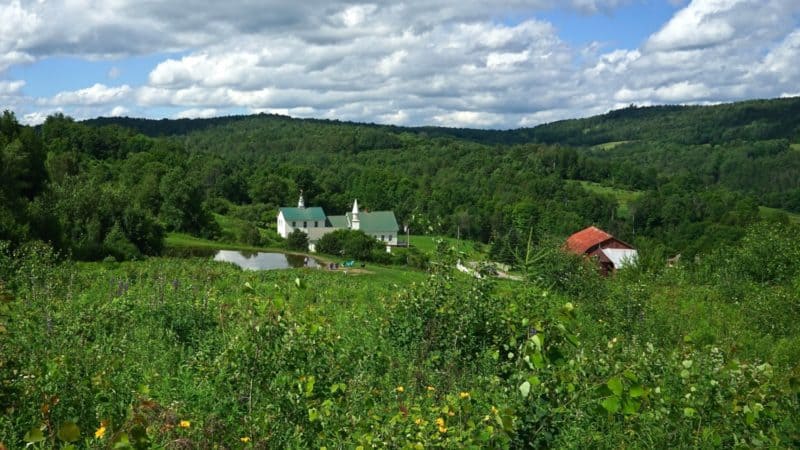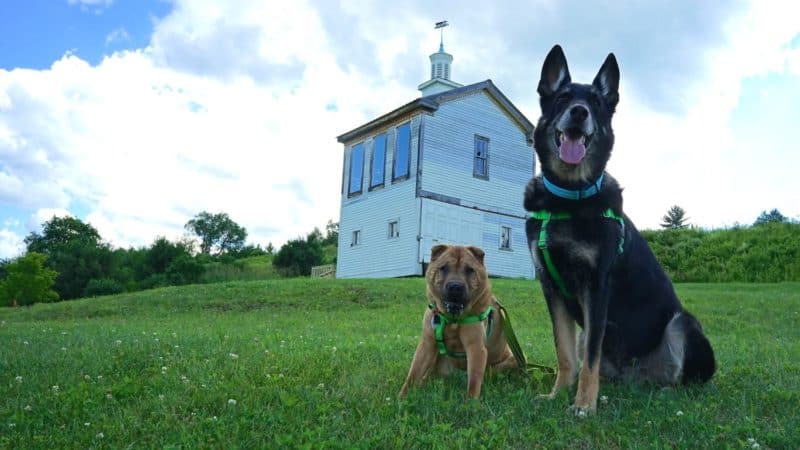 For pups who like to splash, fetch, and romp with other dogs … the pond is the place to be!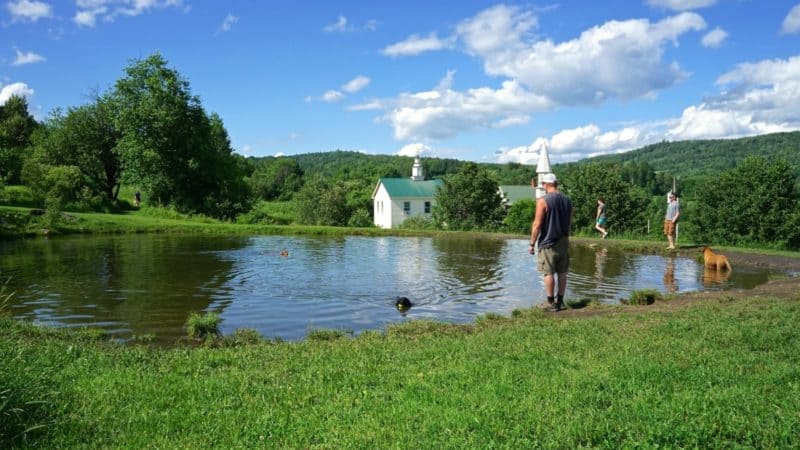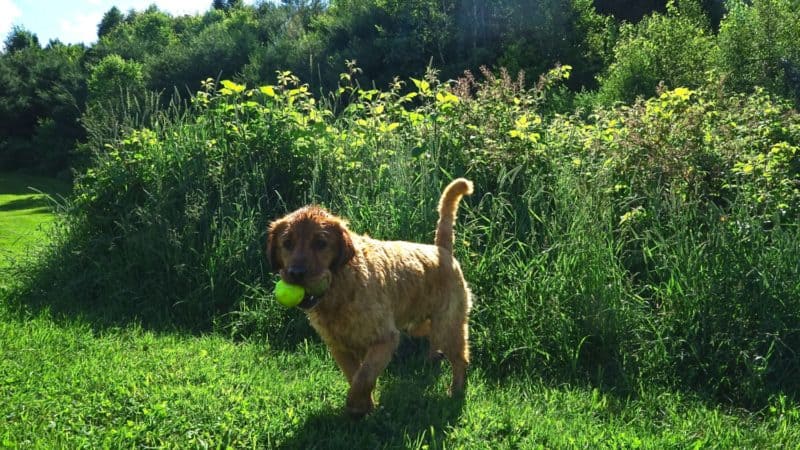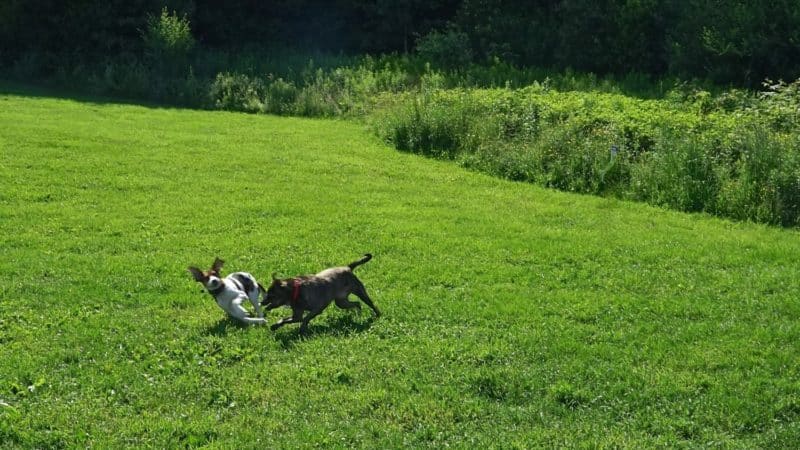 The Gallery and Special Events
Suffering with depression and struggling financially, Stephen Huneck tragically took his own life in January 2010. Gwen continued on at Dog Mountain until her death in 2013. Now the site is run by Friends of Dog Mountain, a 501c non-profit organization dedicated to preserving and sustaining this legacy. They rely on sales of Stephen Huneck art and donations from their visitors, so please shop online and remember them with your generosity.
This summer, Dog Mountain is hosting free concerts on Sundays from 4 to 7. Of course, they're dog and family friendly, and a beer tent and food trucks will be available, along with award-winning performers. It's a great reason to make a trip to one of our favorite places in the country!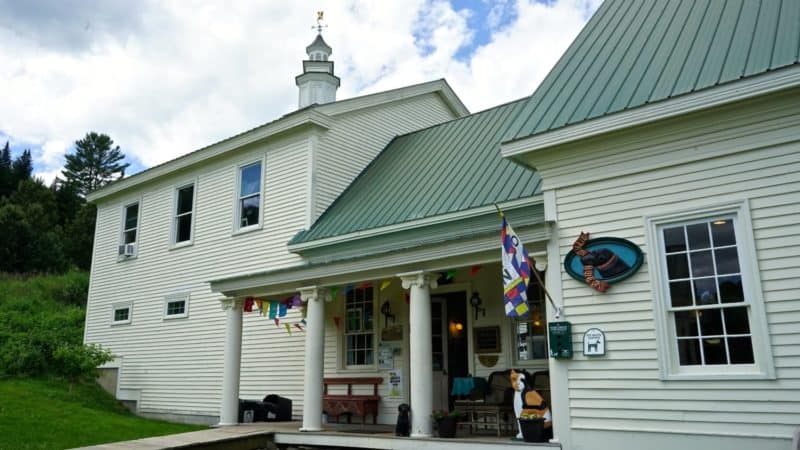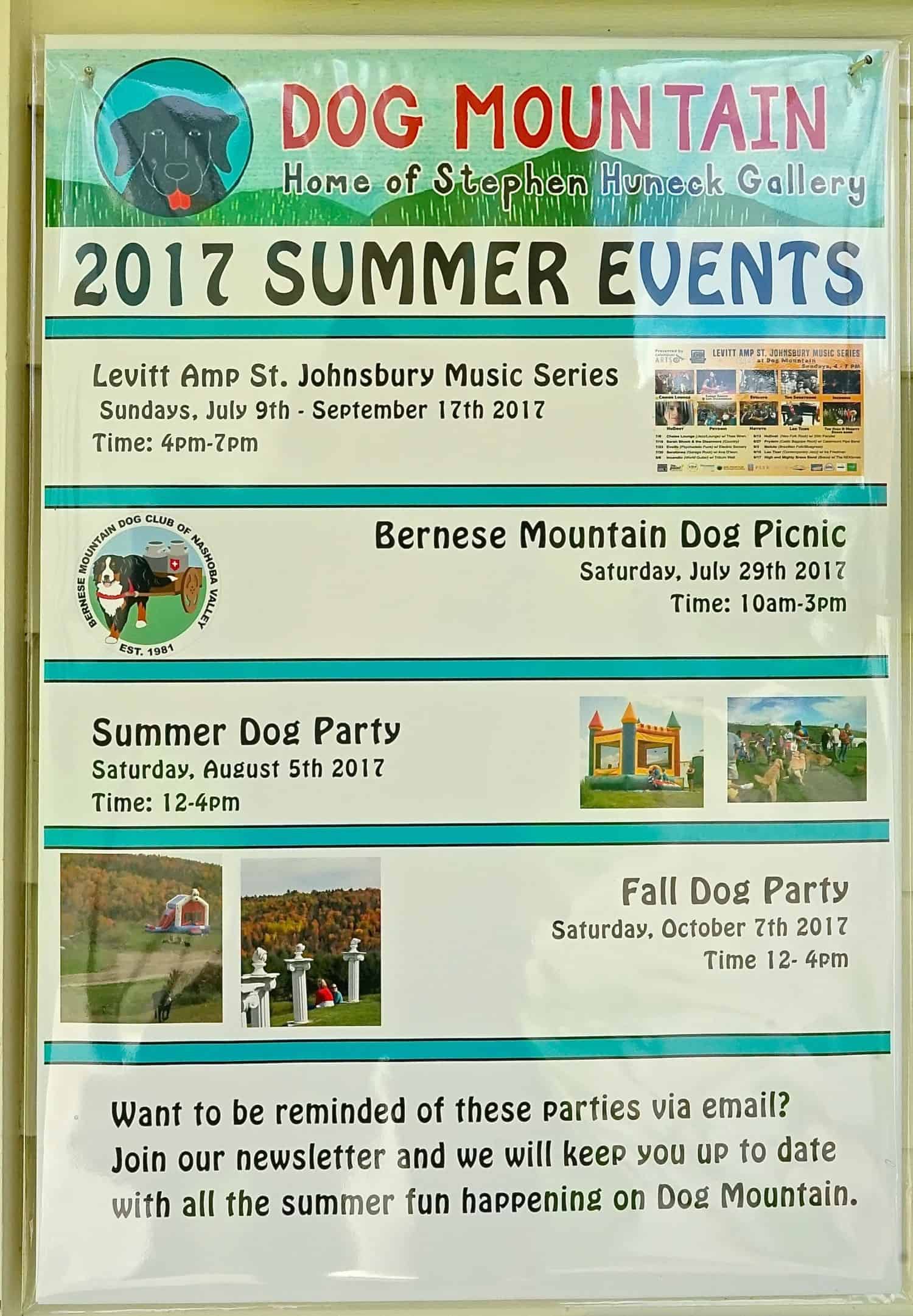 Thank You to our Sponsors
Visiting these attractions with Ty and Buster is a dream come true. We'll be blogging about each one as we go along, so fasten your seatbelt and stay tuned!
The Ultimate Pet Friendly Road Trip wouldn't be possible without the support of our wonderful sponsors: Winnebago, 2 Hounds Design, Alcott, goDog®, PetGuide.com, Red Roof Inns, Sleepypod, The Bark, PetHub, RVPetSafety.com, and The Honest Kitchen. Please be sure to visit their websites and social media pages and thank them for their participation!
Amazon Affiliate Disclosure: GoPetFriendly.com LLC is a participant in the Amazon Services LLC Associates Program, an affiliate advertising program designed to provide a means for website owners to earn advertising fees by advertising and linking to amazon.com, audible.com, and any other website that may be affiliated with Amazon Service LLC Associates Program. As an Amazon Associate, the owner of this site earns a commission from qualifying purchases.
(Visited 7,251 times, 1 visits today)