New England is known for its quaint cities, beautiful nature, and rich history. It contains six states, each with their own culture and claim to fame. From the peaks of the mountains to the crashing ocean shores, there are endless pet friendly things to do. And I am thrilled to share some of my favorite adventures in dog friendly New England!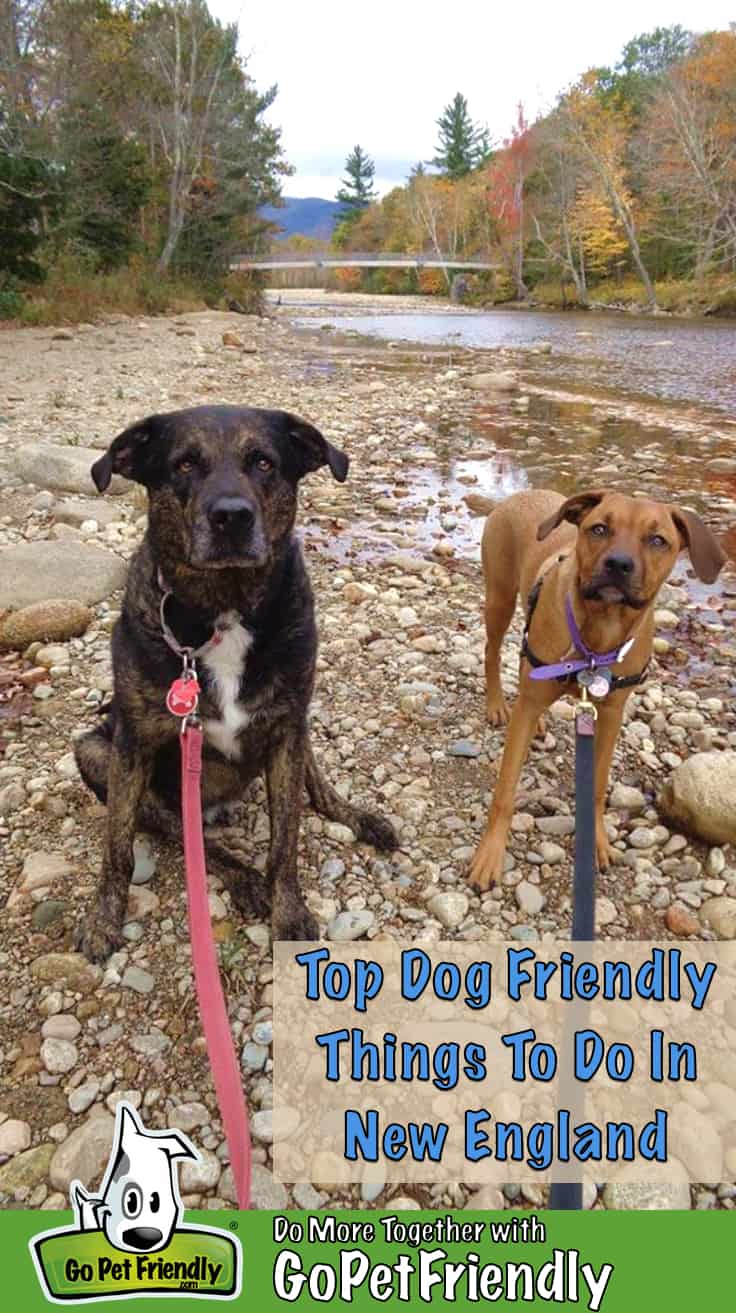 Dog Friendly New England
Halibut Point State Park – Rockport, Massachusetts
Halibut Point State Park is a coastal park with a granite quarry, almost three miles of trails and expansive views. There is also a visitor center and a tower that looks like a lighthouse on the grounds.
Halibut Point is one of our favorite destinations in Massachusetts. The trail begins in the woods before arriving at the tower and then running into the quarry. We never miss the opportunity to take photos at the tower before appreciating the unusual geological features of the quarry.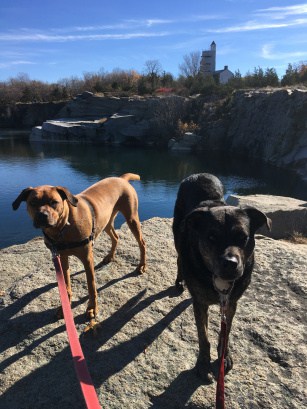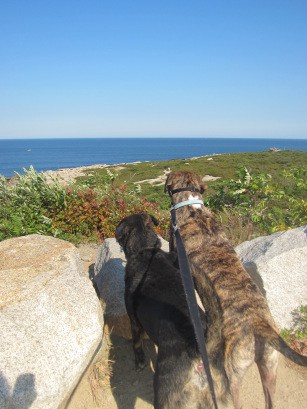 The trail loops around the quarry providing numerous opportunities to stand on the rocky ledges and admire the panoramic views. Although we have visited many times, we always stop at the quarry before heading down the trails to the shore. The rocks can be challenging for those with mobility issues, but provide great opportunities for rock jumping, tidal pool exploring, and lounging. On our visits we always find a place to sit and appreciate the therapeutic sounds of the crashing waves.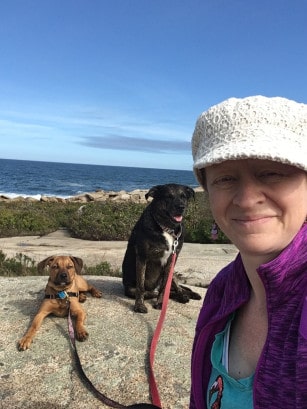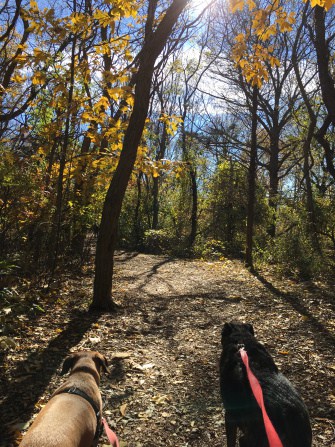 So, if you are a fan of a rocky shoreline or the geological varieties of a quarry, this definitely is your place!
Covered Bridges – Throughout New England
One of the quintessential landmarks of New England is the covered bridge. Originally created to protect the deck from harsh New England winters, covered bridges have a distinctive style.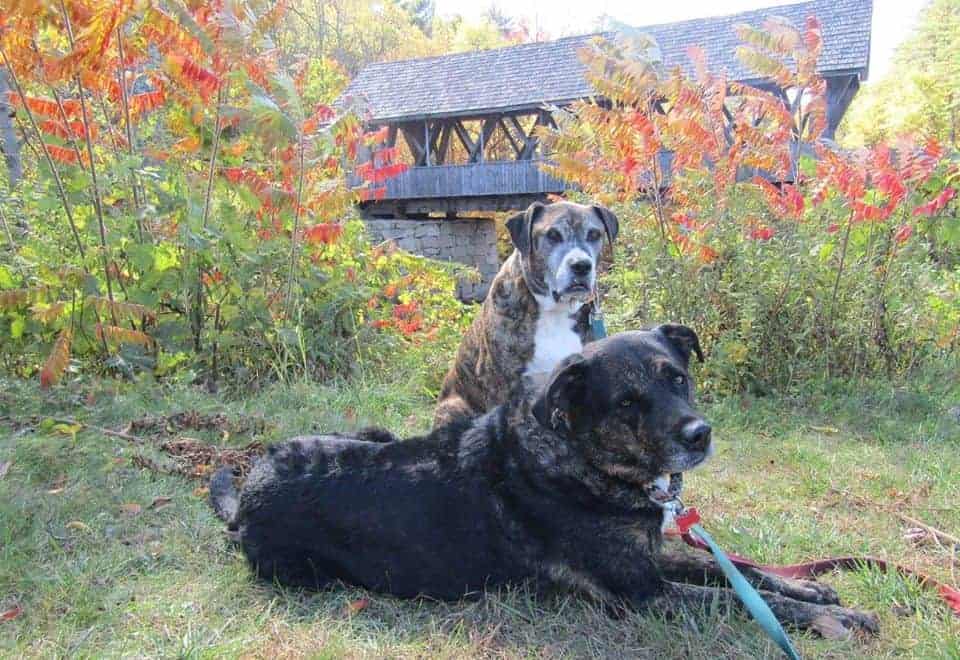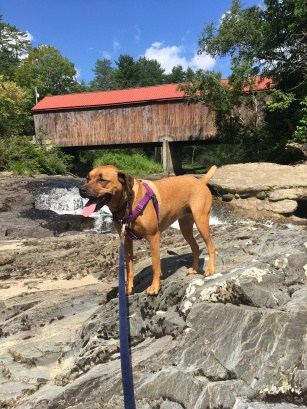 While you might not have considered visiting covered bridges, they really are a must when traveling to New England. And the best part is that almost every bridge is pet friendly! Some of our covered bridge adventures have been simple — a regal pose and some time sniffing a new place. Others have involved a hike, or lounging on the sand or rocks under the bridge.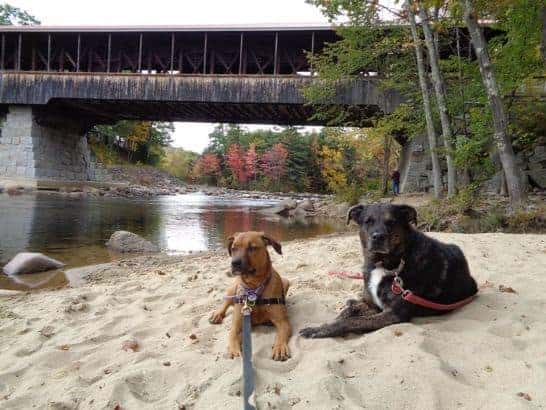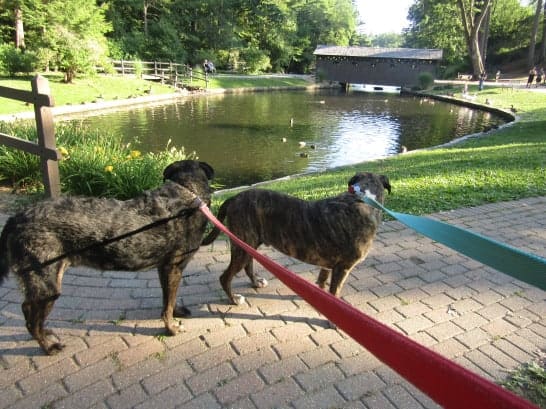 So if you want to see a historic New England landmark, and obtain a picturesque photograph of your dog, this definitely is your place!
White Mountains – New Hampshire
The White Mountains cover about a quarter of New Hampshire and a small portion of western Maine. With 48 peaks of over 4,000 feet, the White Mountains are popular for skiing, hiking, and ATVing.
For a short visit to the White Mountains, I would recommend taking a drive on the Kancamangus Highway. Some of the best stops along the way are the Rocky Gorge, Lincoln Woods, and Sabbaday Falls.
READ MORE ⇒ Visiting New Hampshire's Mt. Washington With Dogs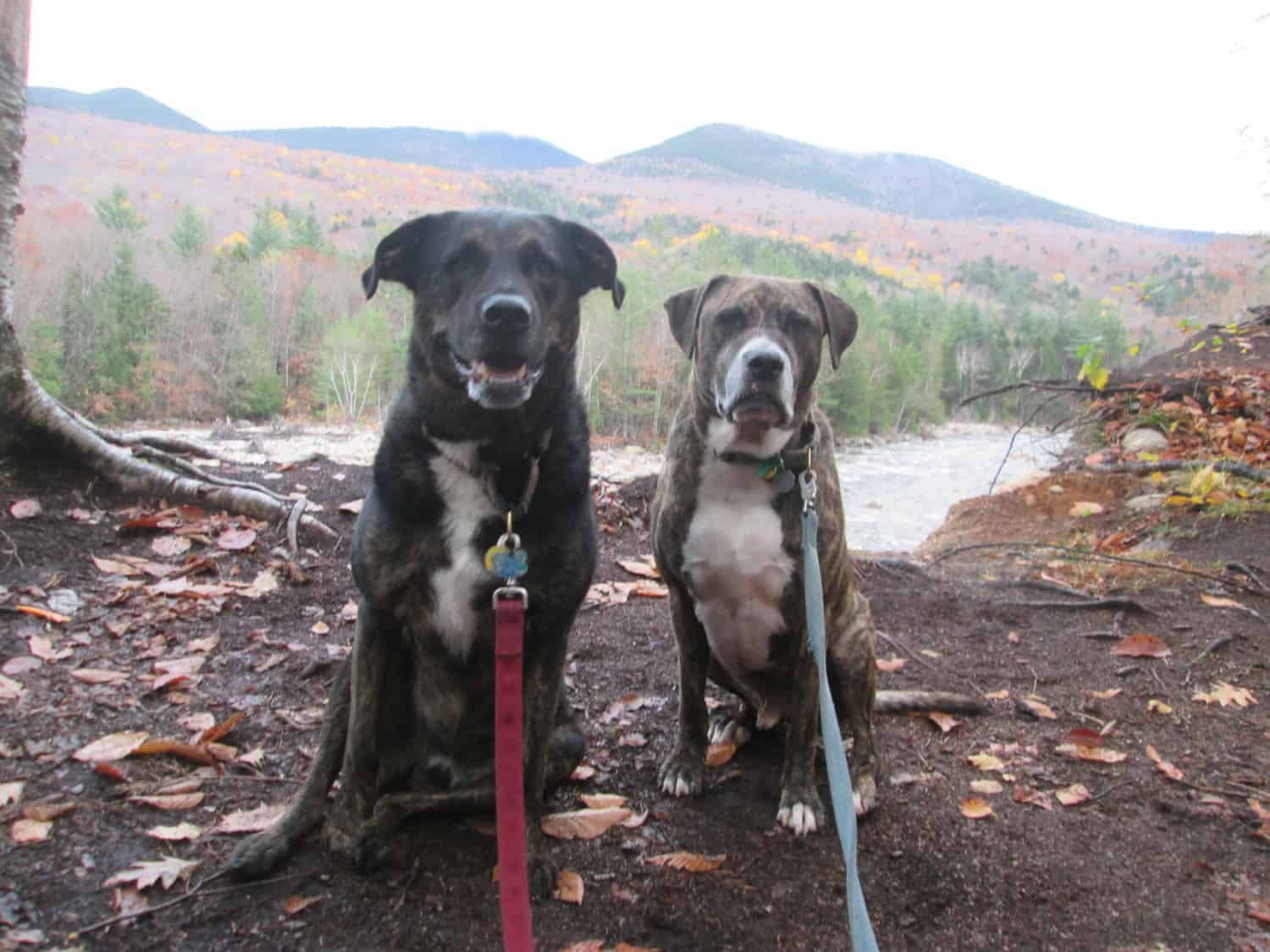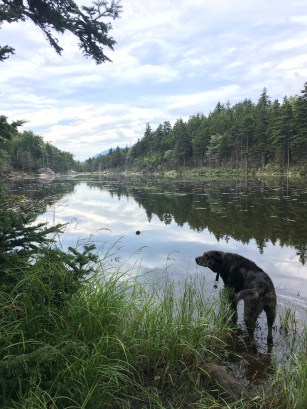 If you're planning to hike, you'll find endless trails from easy to strenuous. Many even include lakes, waterfalls, and flowing water. Some of my favorites are Arethusa Falls, the Basin-Cascade Trail, Ripley Falls, the Ammoonsuc Trail, and Lonesome Lake. Almost every hike in the White Mountains is pet friendly, and all provide wonderful photo opportunities.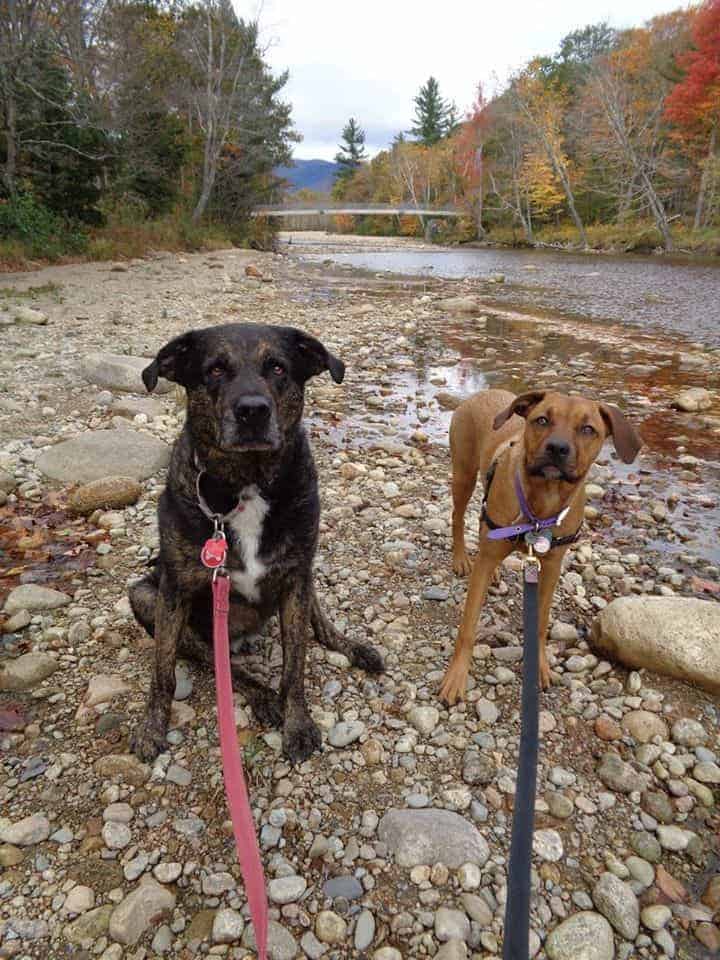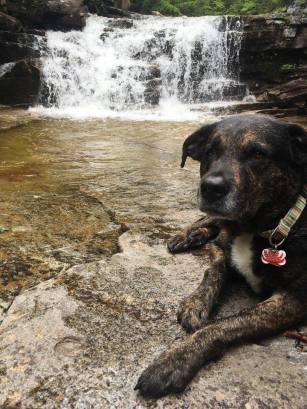 So if you are an outdoor lover, a waterfall chaser, or a fan of the perfect view, this definitely is the place for you!
Cape Cod – Massachusetts
Cape Cod is a peninsula in the Atlantic Ocean off the southeastern corner of Massachusetts. It is a popular summer destination known for its laid-back lifestyle. Cape Cod draws tourists for its beaches, lighthouses, ponds, villages, and seafood shacks and restaurants.
We have had many adventures to Cape Cod, and love it most in the off-season when it is one of the most dog friendly places in New England. And much less crowded! However, you will find many places are pet friendly all year around. Especially in Provincetown, which is located on the very tip of the peninsula.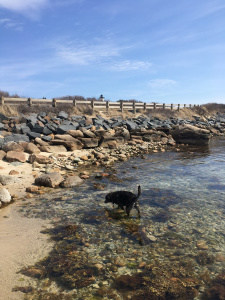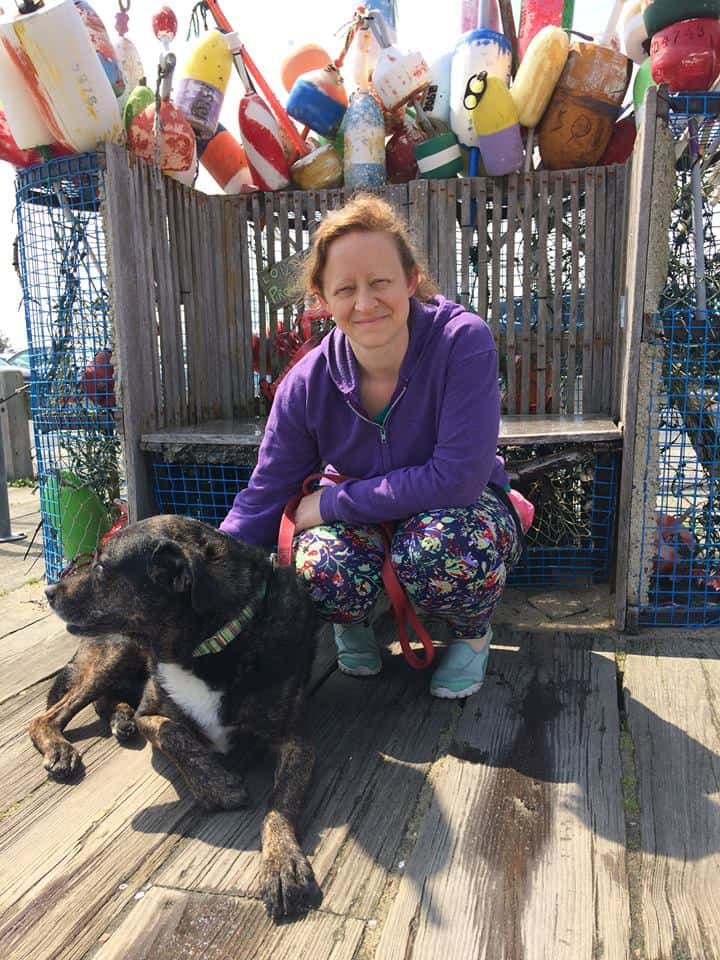 Our Cape Cod memories include beaches, lighthouses, and Nickerson State Park. But we've also visited gardens, windmills, and even gone shopping with the dogs. While there are unlimited beaches to choose from, our favorites are Town Neck Beach with its gorgeous boardwalk, and Cahoon Hollow Beach requiring a long walk down a dune. One aspect of Cape Cod I love is the dunes, a spectacular and unusual site in New England.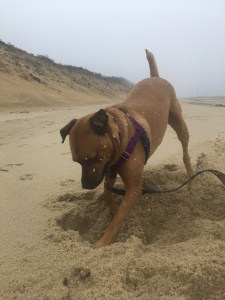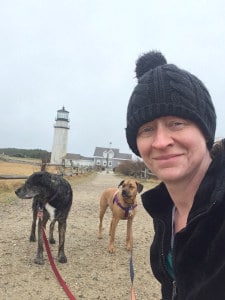 So if you love swimming, lounging on the beach, and are a lover of lighthouses, this definitely is your place!
Gillette Castle – New Haddam, Connecticut
Gillette Castle State Park was once the estate of William Gillette, a famous actor in the early 1900's. Later purchased by the state of Connecticut, the park now surrounds the famous Gillette Castle and has a visitor center, museum, hiking trails, and picnic areas. There are even live theater events and walking tours available to visitors.
READ MORE ⇒  Visiting Connecticut's Mystic Seaport with Dogs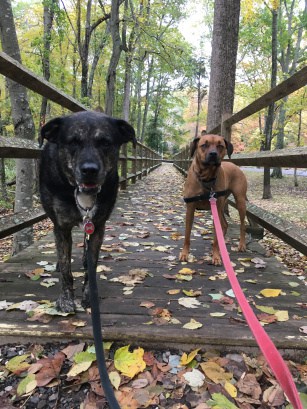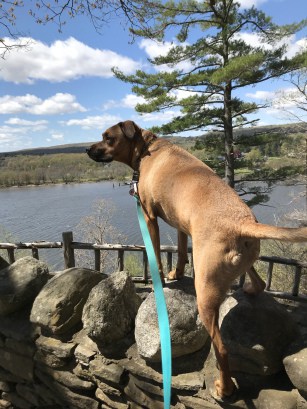 Gillette Castle is our favorite destination in Connecticut. We love meandering the trails, catching the views high above the Connecticut River, traversing the ponds, and discovering the rustic bridges. In addition to enjoying the scenery, we like wandering around outside the castle. The intricate details and spectacular architecture of this fieldstone structure definitely do not disappoint. Though pets cannot go in the buildings, it seems like every time we visit this park we fine a new feature to admire.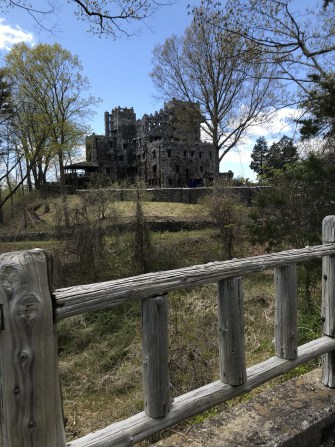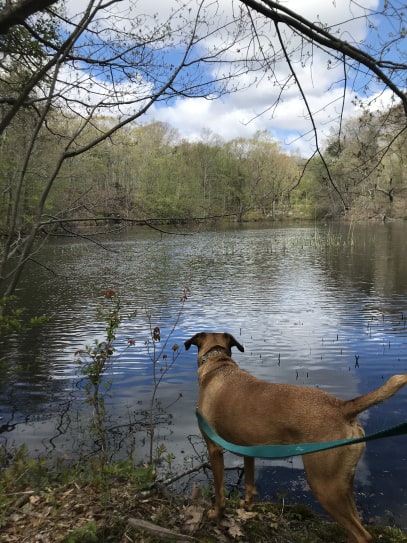 So if you are a fan of the medieval, spectacular river views, or a hike in the woods, this definitely is your place!
Wolfe's Neck Woods State Park – Freeport, Maine
Wolfe's Neck Woods State Park covers approximately 250 acres on a peninsula between Casco Bay and the Harraseeket River. It contains various ecosystems and is known for the local ospreys that nest on Googins Island. Open year around, the park is popular for bird watching, walking, educational programs, and picnicking.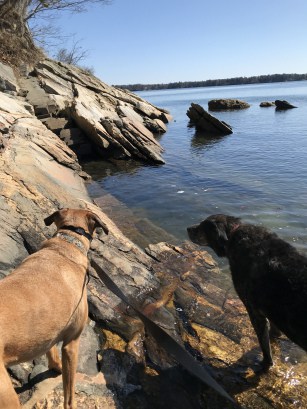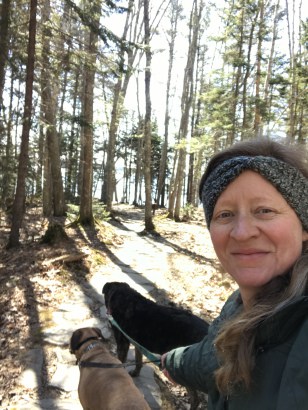 Wolfe's Neck Woods State Park is a recent addition to our list of dog friendly things to do in New England. With miles of trails, ospreys among the trees, and brilliant water views, we love the variety of terrain. Several trails provide opportunities to get close to the water, whether by way of a sandy beach, stairwell, or jagged slopped rocks. But my favorite thing about Wolfe's Neck Woods are the views of Casco Bay from high above the shore. The dramatic colors of the water, almost tropical in places, contrast with the texture of the rocks creating a magnificent scene.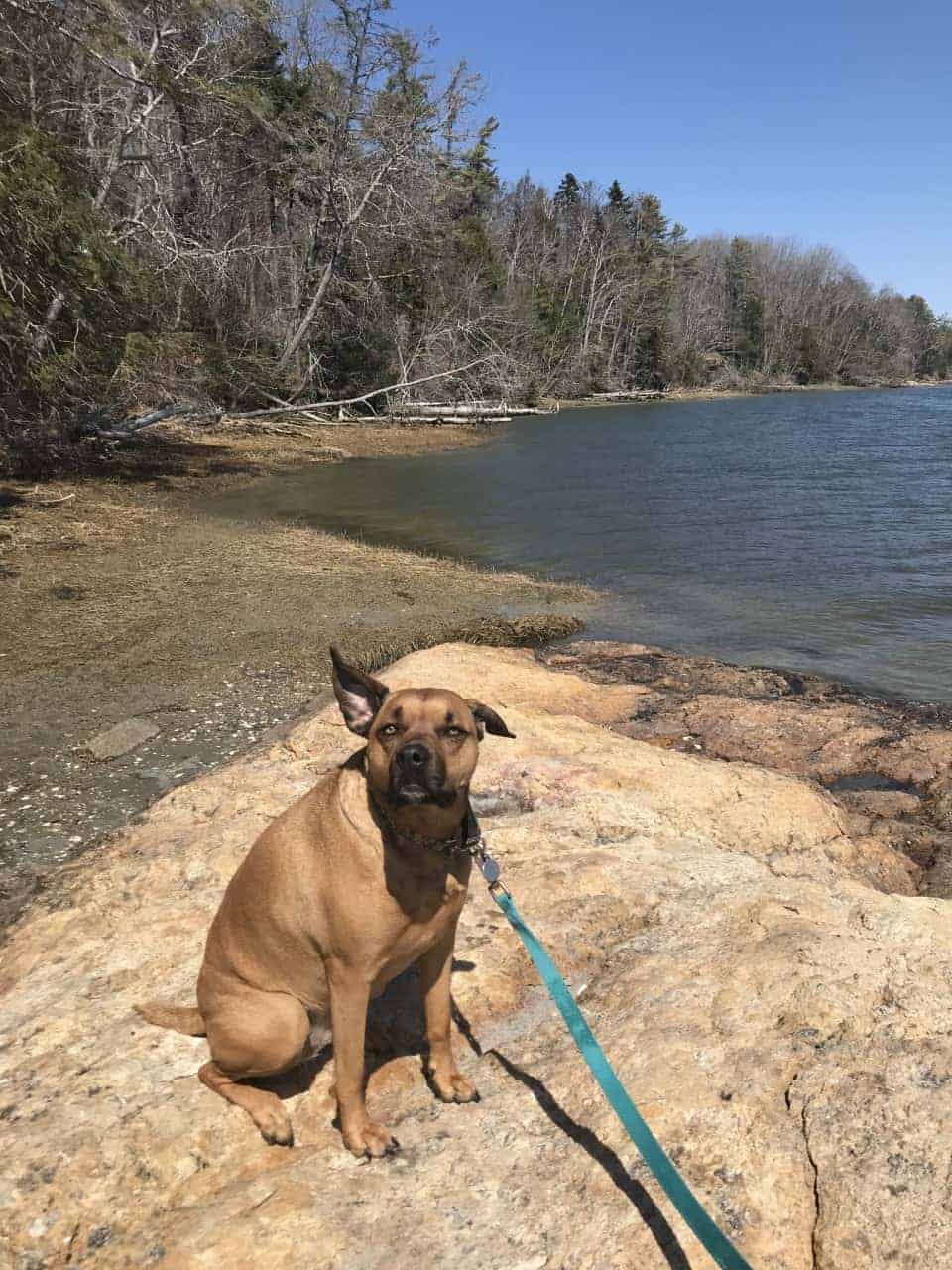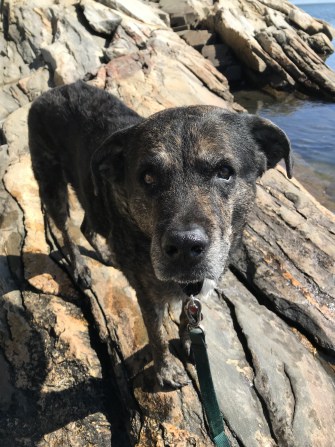 So if you are a lover of geology, an avid birdwatcher, or a fan of a rocky shoreline, this definitely is your place!
Dog Mountain – St. Johnsbury, Vermont
Dog Mountain is a 150-acre haven on a mountaintop in St. Johnsbury, Vermont. The property was owned by the talented artist, furniture maker, sculptor, and author, Stephen Huneck. Sadly, Huneck died at just 61. However, his vision lives on with Dog Mountain's Dog Chapel, art gallery, and numerous pet friendly trails, ponds. They even host dog friendly events, including parties and concerts.
Dog Mountain is a healing place for all those who have lost a furry friend. The Dog Chapel, dedicated to our fallen furry friends, stirs more feelings than I can begin to describe. Photographs and notes to departed pets cover the walls several layers deep. And each detail of the chapel was considered, from the dog carvings on the pews, to the the stained glass windows, to the statues.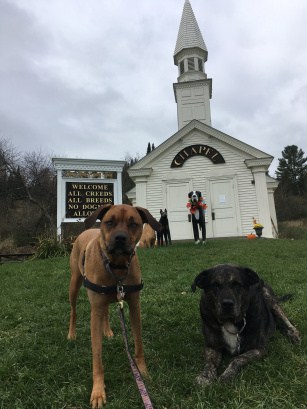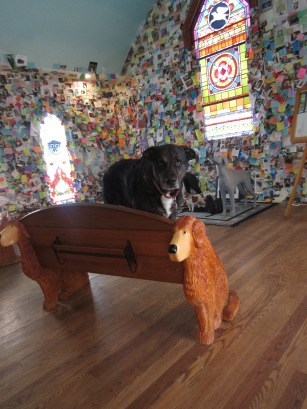 Visiting Dog Mountain after Buster passed was almost like a memorial service of my own. We were able to write a message to him in the book and post his memorial card. Having a lasting way to honor his life, and to grieve, left me with a sense of peace. I look forward to returning to honor Shadow, who recently passed. I will forever be grateful for Dog Mountain, and I recommend all animal lovers experience this therapeutic oasis.
The second thing to love about Dog Mountain is the gallery, which contains artwork and numerous other products created by Huneck. The best part of this gallery is that dogs can shop by your side. All of the proceeds help to keep Dog Mountain in business, so be sure to support this wonderful place.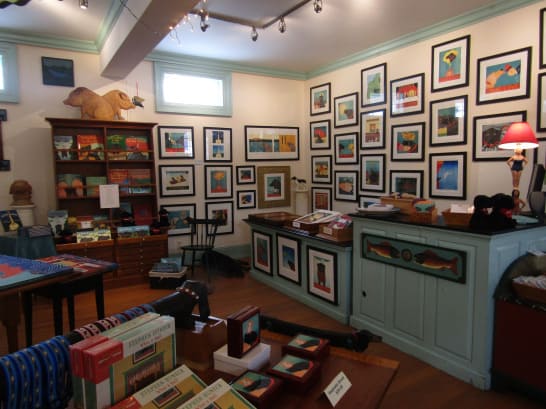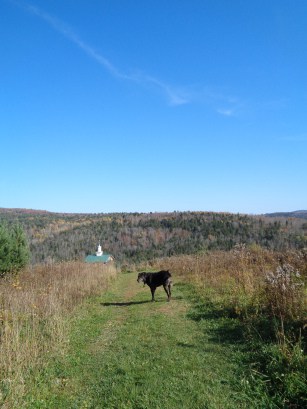 Finally, you won't want to miss the trails, pond, and other features throughout the property. The trails are simple, but scenic, especially in the autumn months. There is a beautiful pond where dog friends often gather to play. And you'll find dog statues in various places, dog carvings adorning the fence, and other special treasures scattered around. I can promise that you have never seen anything like it.
So if you are an animal lover, or you have lost a precious pet, this definitely is your place!
Lighthouses – Throughout New England
Lighthouses are another classic sight in New England. Designed to assist ships with navigation, lighthouses are symbols of naval heritage. All of the New England states have lighthouses, with Maine featuring the most. In order to get the true New England experience one must visit a lighthouse. And you will be happy to find that many of lighthouses are pet friendly!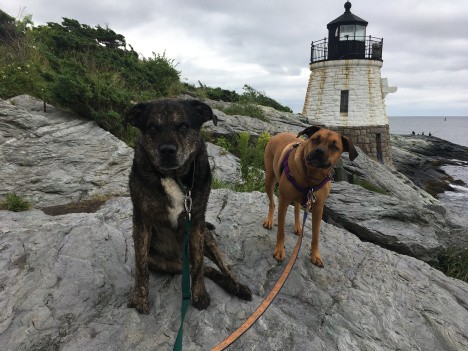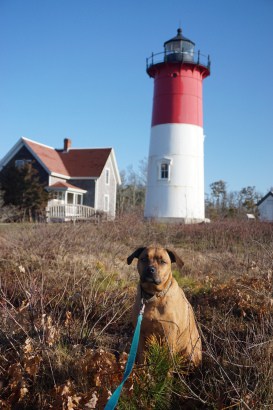 Some of our lighthouse adventures have involved views from afar. Ohers have included a hike to, or exploring a park in which one is situated.  And of course all of these visits have involved snapping photographs to memorialize our trip to these stunning structures.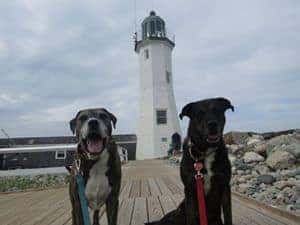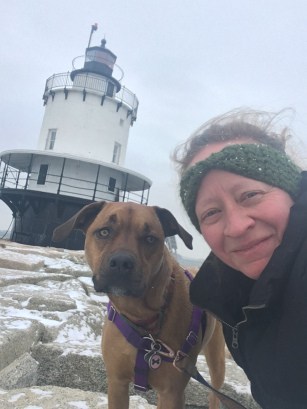 So if you want to see to see a nautical New England landmark and capture a perfect photograph of your dog, this is definitely our place!
Acadia National Park – Bar Harbor, Maine
Acadia National Park in Northeastern Maine encompasses 47,000 acres. It is popular with fall foliage seekers, winter skiers, hikers, and those who enjoy fishing.
We have absolutely loved our visits to Acadia National Park — definitely one of the most beautiful, dog friendly places in New England. The landscape is unique and gorgeous, with trees emerging from the rocky shore and waves crashing dramatically into the boulders. Exploring at sunrise and sunset adds an even more amazing touch to the spectacular scene.
READ MORE ⇒  Exploring Acadia National Park with Dogs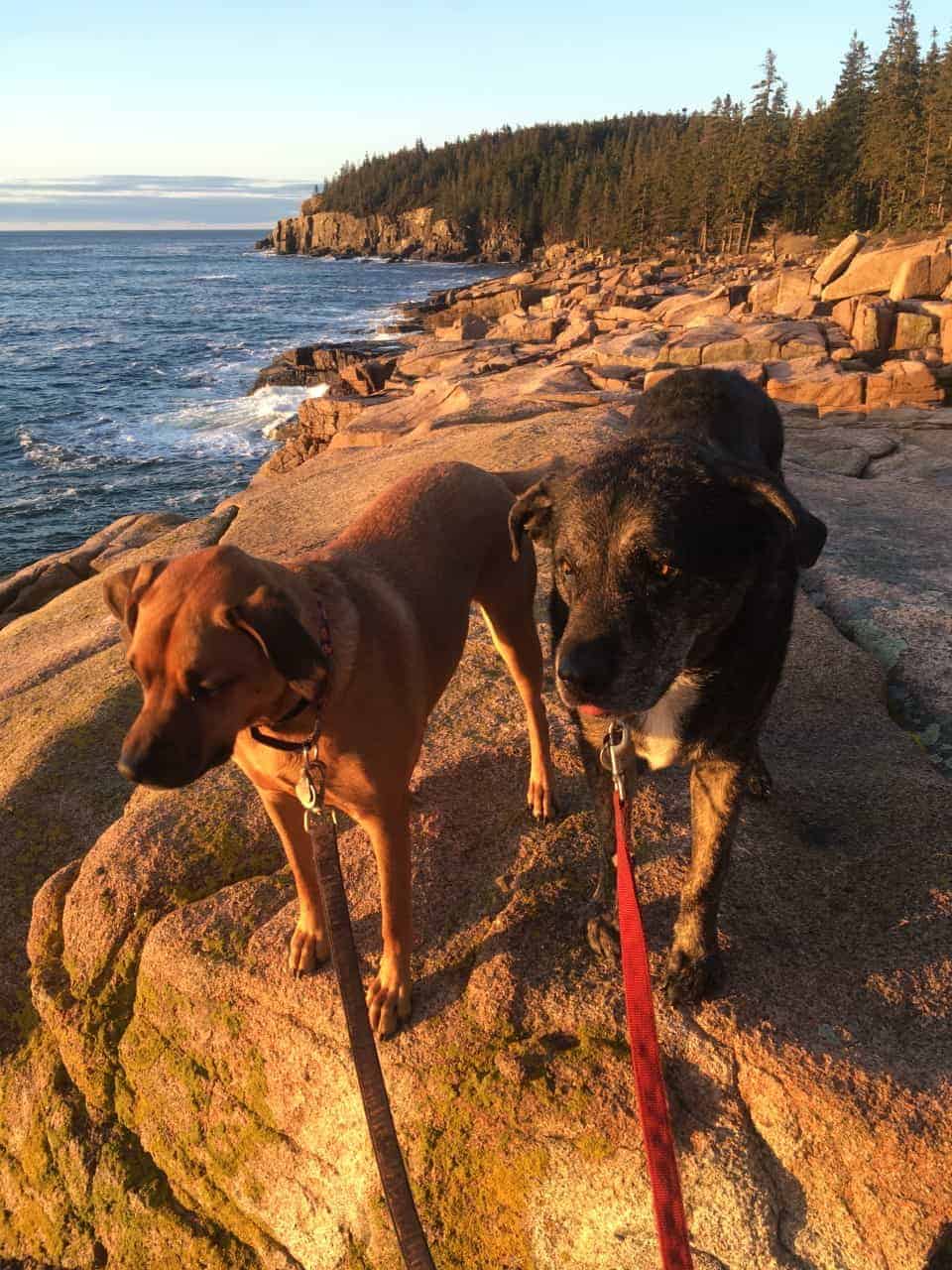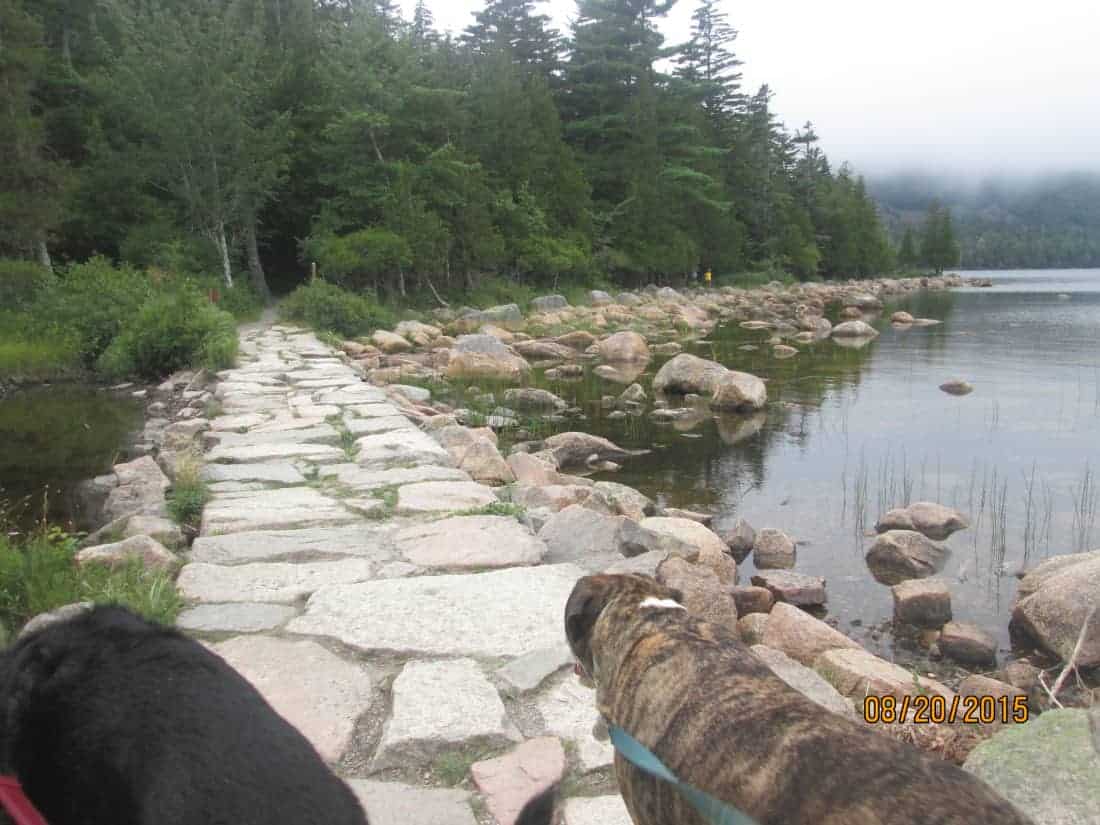 We are far from experts on this park. However some of our adventures have included hiking around Jordan Pond and visiting Cadillac Mountain. There are several mountain climbs we are excited to try when we return. Most of Acadia is dog friendly, including the park shuttle. But a few places are not, so make sure you do some research.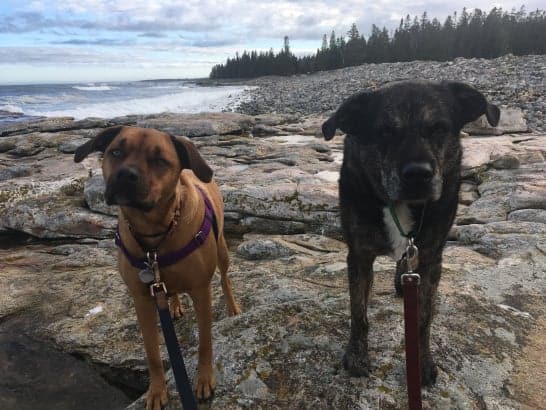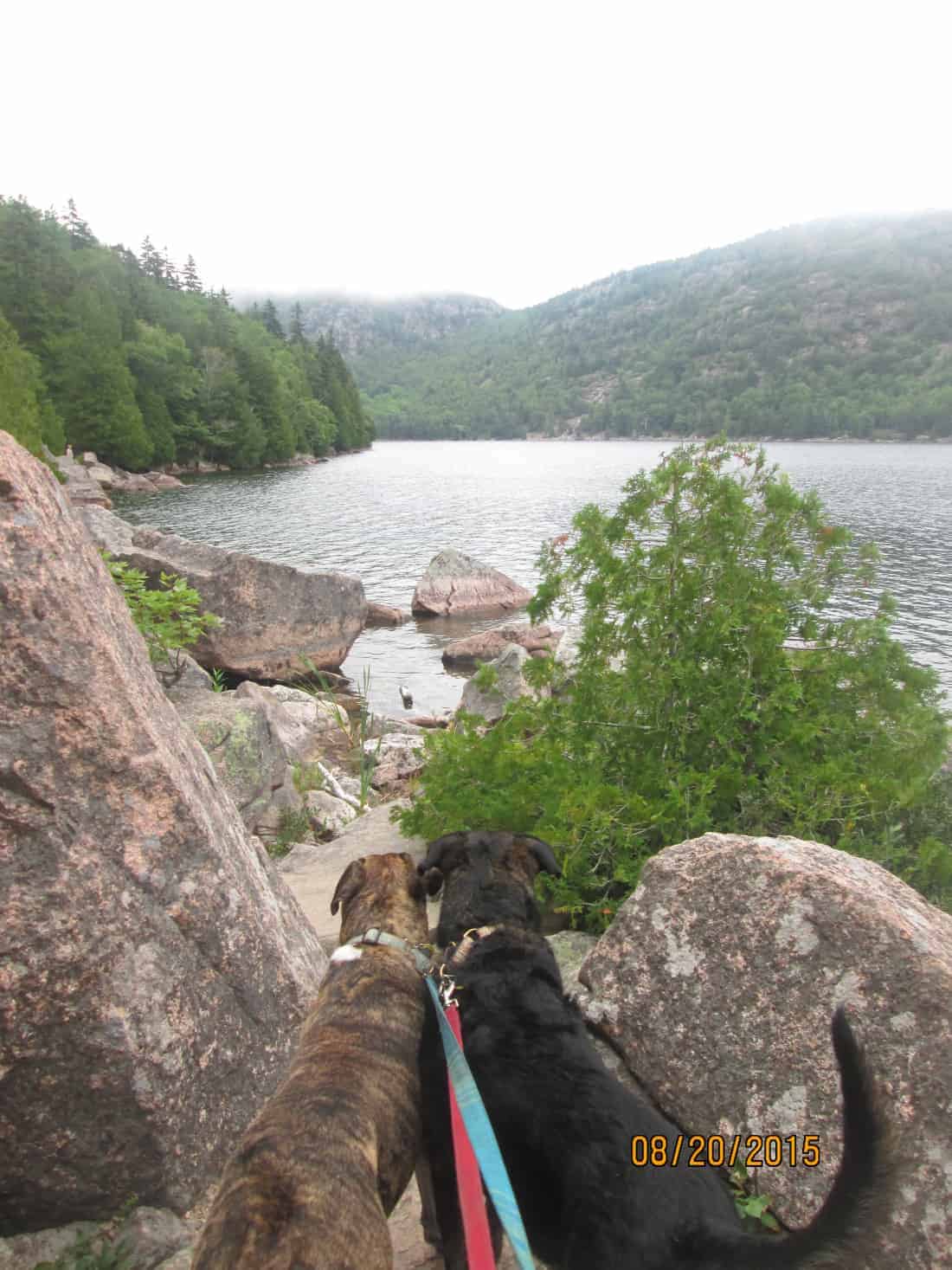 So if you love of spectacular views, hiking, and the coast, this definitely is your place.
I hope you and your dog friend will take the opportunity to visit New England.  I can promise that you will not regret it!
About the Author: Heather Parsons is a dog rescue mom, blogger, outdoor lover, and a true Patriots fan! She and her dogs spend their free time exploring dog friendly New England, capturing the moments through words and photographs. You can learn more about these locations and follow Heathers adventures at adventuresofshadowandwilma.com. All photos in this post belong exclusively to Heather Parsons.
Guest Posts on GoPetFriendly.com: We love sharing stories from people having fun traveling with their pets! And reading about your pet travel experiences might give someone the confidence to head out with their own best friend. If you're interested in writing a guest post, let us know!
(Visited 11,954 times, 1 visits today)