Given their strict restrictions on dogs, you'll need a bit of creativity to find balance with pets in Yellowstone. Of course, you're there to see the sights … but your pup wants to sniff, hike, and look around, too! Since the trails in the national park are off-limits to pets, you have the perfect excuse to explore beyond Yellowstone's boundaries in search of activities you and your dog can enjoy together.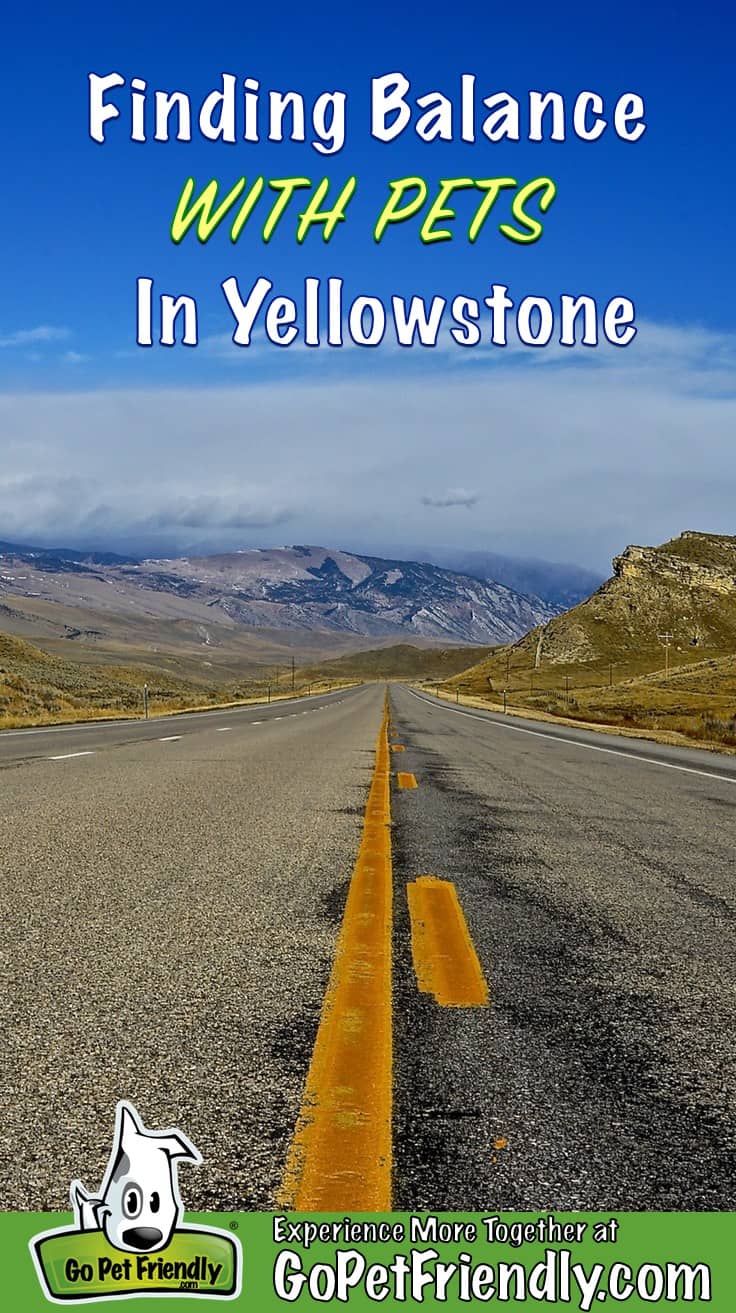 Pet Policy in Yellowstone National Park
Most national parks offer limited access to pets, and Yellowstone is no exception. Pets in Yellowstone are not allowed to go more than 100 feet from a road, parking area, or campground. And, when outside your vehicle, pets must be in a crate, carrier, or on a leash no longer than six feet at all times.
Normally I get a little ruffled when pet restrictions feel overbearing. But, in this case, the reasoning is sound. The policies are there to protect you and your pet from the wildlife and geothermic dangers in the park. During our visit we saw four grizzlies, three wolves, several herds of buffalo and elk, and numerous springs and pools hot enough to kill.
The challenge, then, is finding a balance between auto-touring (which Ty loves because he can sleep in his bed), and activities that allow your dog to burn some energy (which Buster needs, or he will drive us all insane).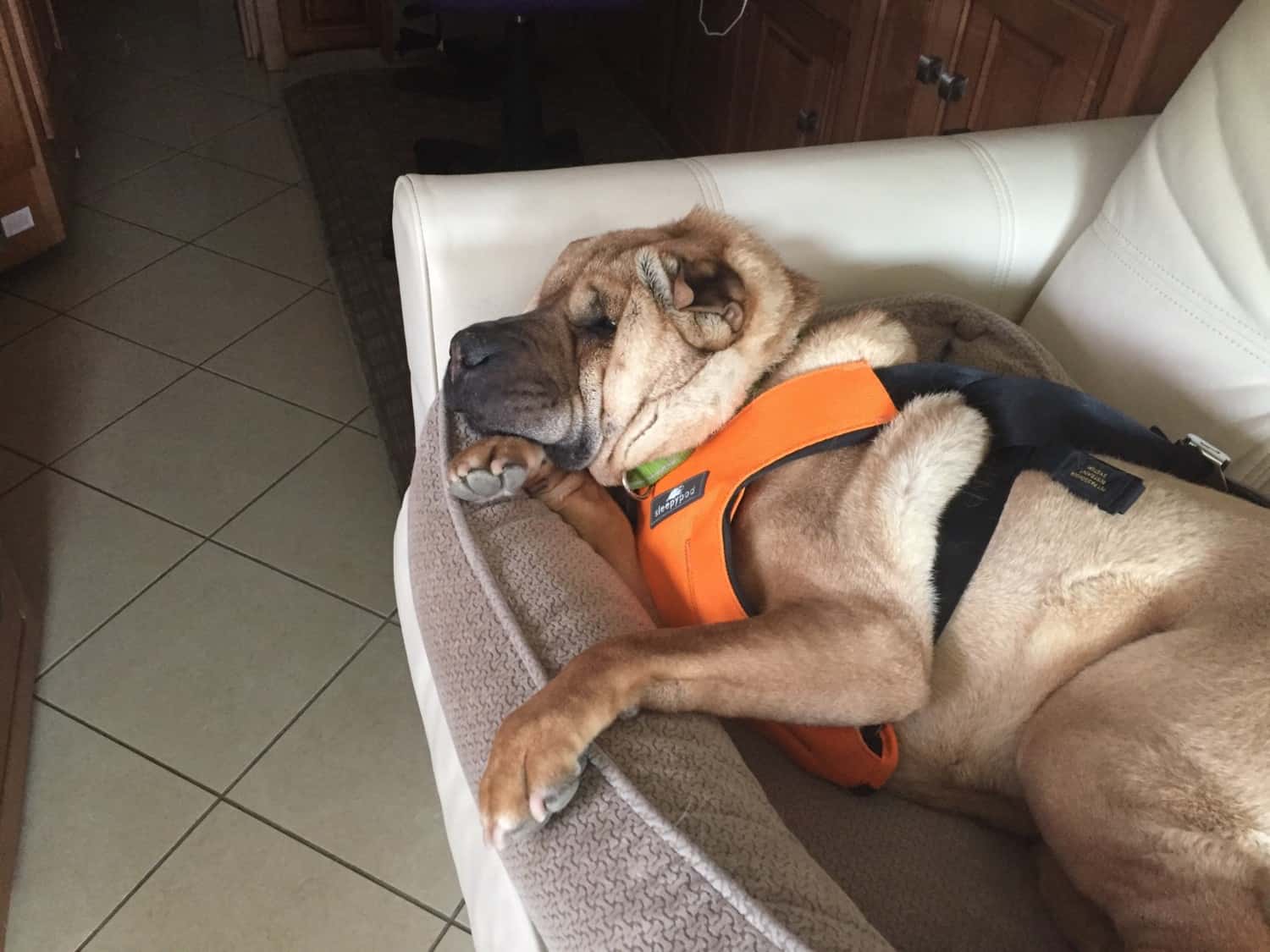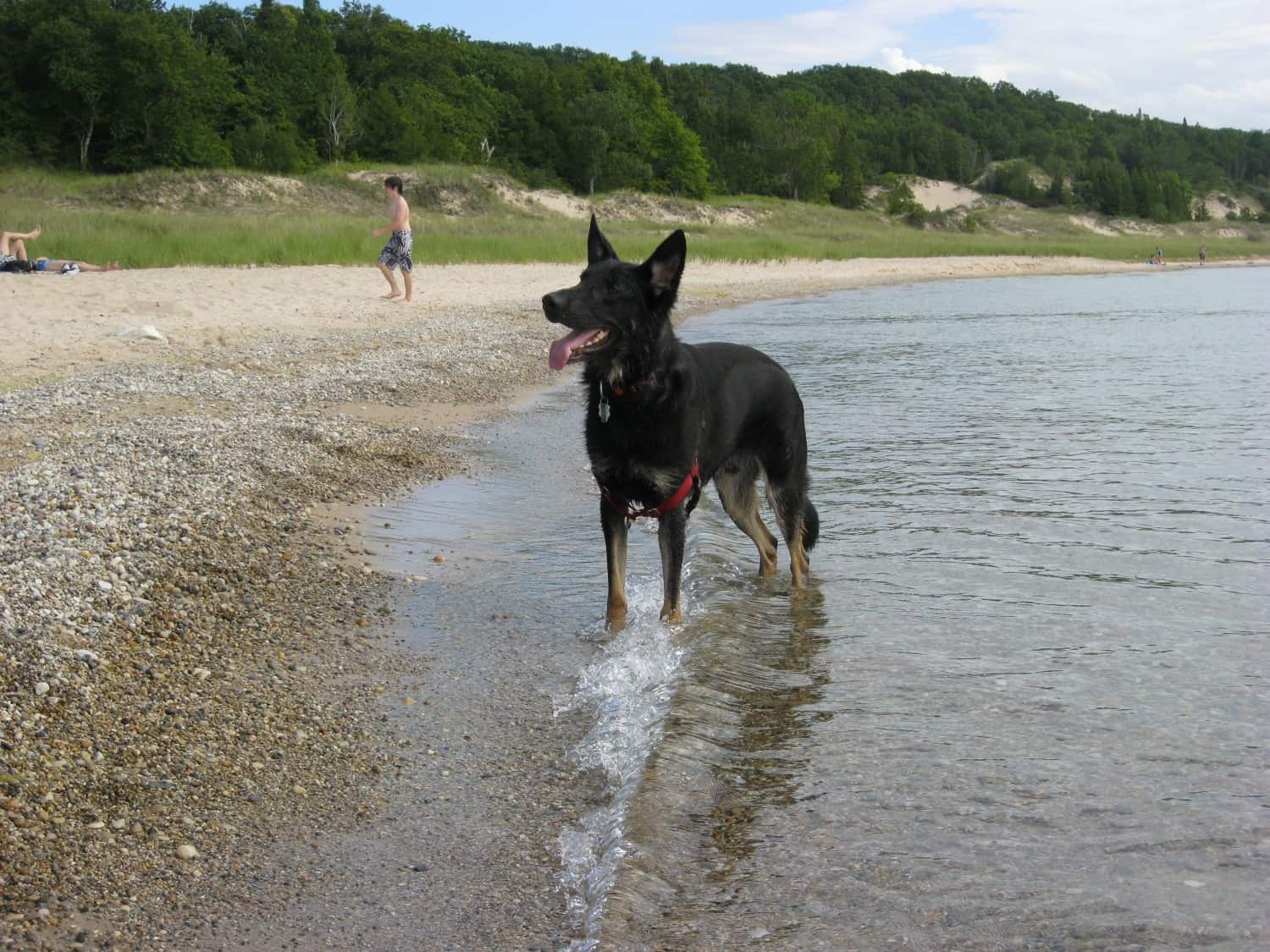 Sniffing Around
Yellowstone was established in 1872 as the world's first national park. Encompassing 2.2 million acres, 96% of the park lies in the northwest corner of Wyoming, with small portions located in Montana (3%) and Idaho (1%).
The park's most striking aspect is its varied landscape, from mountains stretching over 11,000 feet to valleys at barely 5,200 feet. There are canyons, lakes, geysers, forests, grasslands, waterfalls, hot springs, and rivers. Where else do you find this kind of diversity? No wonder the wildlife thrives!
Pet Friendly Perspective
Boarding your pet may be the way to go if you want to hike some of Yellowstone's more than 950 miles of trails. However, for the majority of people who simply drive around the park, I think there's a better answer!
Yellowstone has entrances on all four sides, making it easy to break up your trip. And getting outside the boundaries allows you to enjoy some of the surrounding areas that are more pet friendly! Here's how we did it: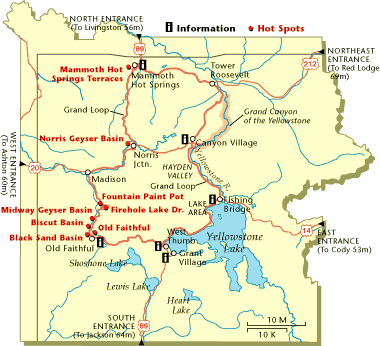 Day 1: Pets in Yellowstone – Northeast Corner
Coming from Cody, we arrived at Yellowstone's east gate, in the midst of the park's big mountains. Soon were gazing across magnificent Yellowstone Lake. Sitting at an elevation of 7,700 feet, and with a depth of more than 400 feet, the lake seems to stretch on forever. There are turnouts and parking areas along the shore where your pets can hop out of the car and admire the view.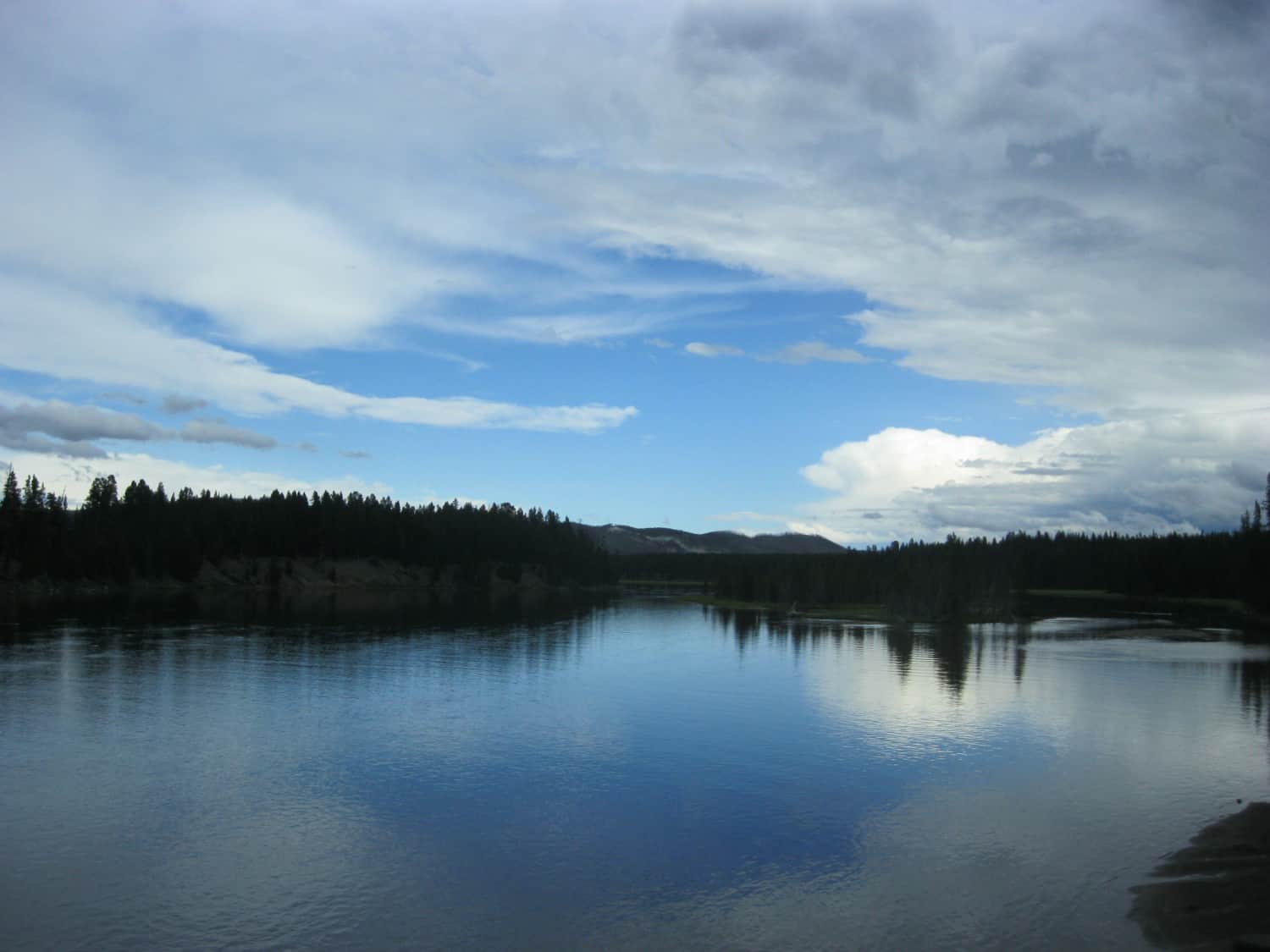 Heading north along the Yellowstone River we passed through the canyon area of the park. Though the photo is blurry (I might have been shaking), we were lucky enough to catch site of a mother Grizzly and her two cubs foraging along the road.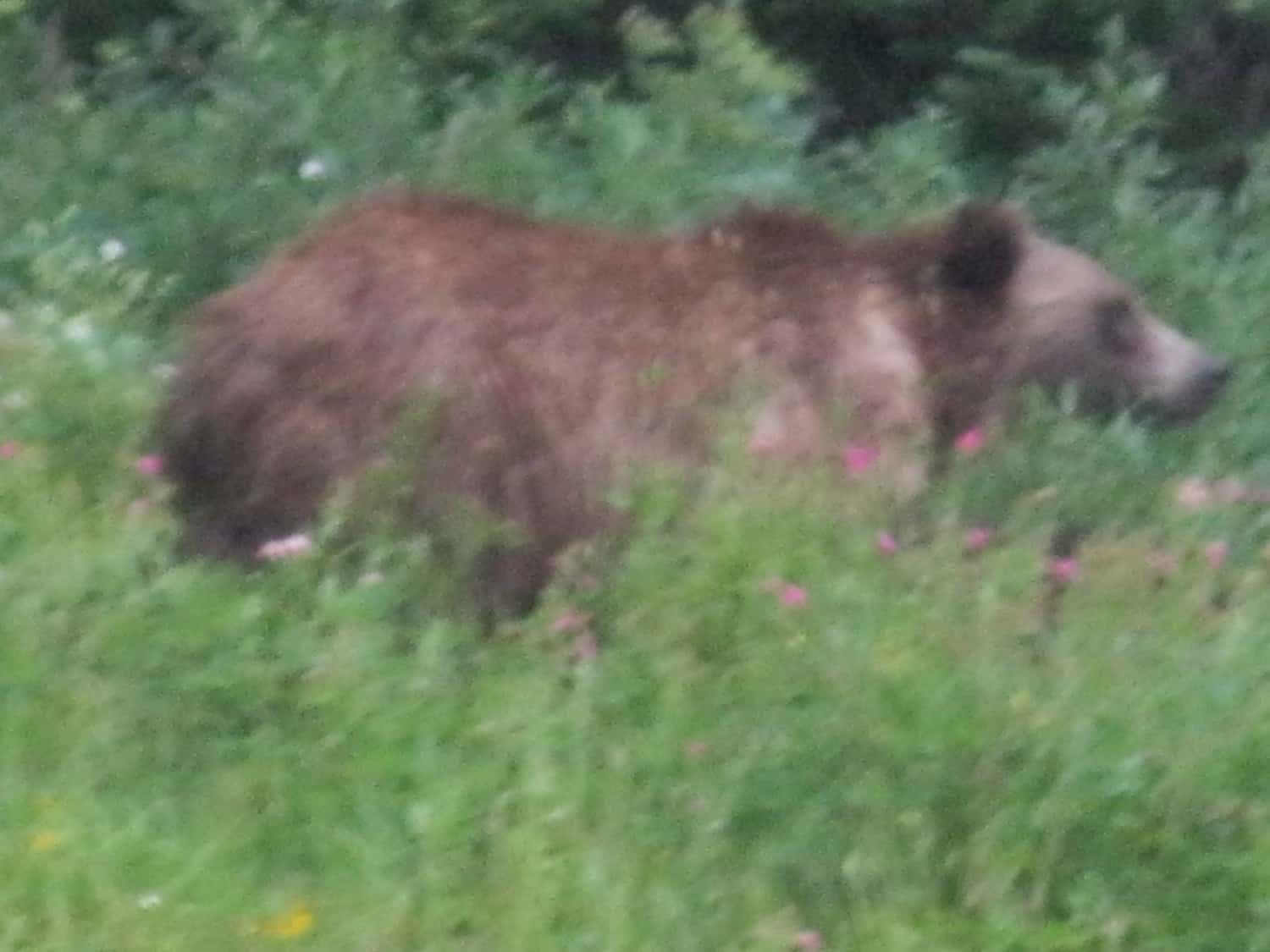 Though it's not far according to the map, the drive though Yellowstone took several hours. A combination of road construction, heavy tourist traffic, and our leisurely, wildlife-spotting pace slowed us down. But you should also plan for things to take longer than you might imagine.
We exited the north gate in the town of Gardiner and cruised up Hwy 89 toward Livingston where we camped for the night. The valley drive was blissfully quiet and quite scenic as we skirted the river. Ty and Buster were happy to find a nice walking trail at the campground, and the stargazing was top-notch!
Day 2:  Pet Friendly Bozeman, MT
Rather than heading back into Yellowstone with the dogs, the next day we continued north to Bozeman. The city has a nice system of trails, so Ty and Buster had plenty to investigate.
READ MORE ⇒  More Pet Friendly Activities North of Yellowstone
Bozeman's downtown was an unexpected highlight of the trip, with a nice selection of pet friendly shops and restaurant patios. After working up an appetite window shopping, we settled at The Garage Soup Shack & Mesquite Grill for a fantastic lunch.
Heading south on Hwy 191 through the Gallatin National Forest, we were so taken with the scenery that we had to get out and enjoy it! Pet rules in the national forests are generally more lenient than national parks. In Gallatin, your leashed pet is welcome everywhere except inside buildings.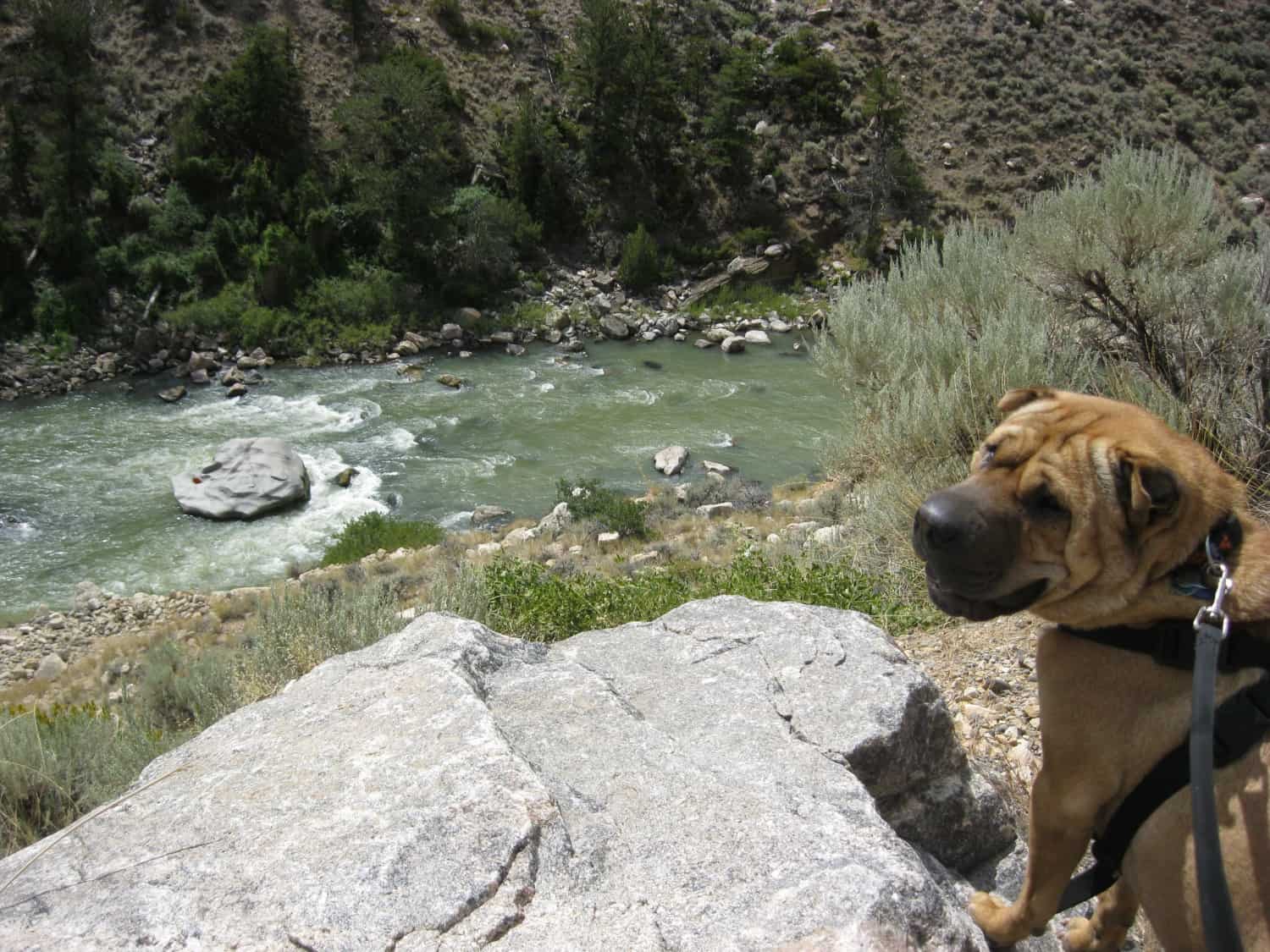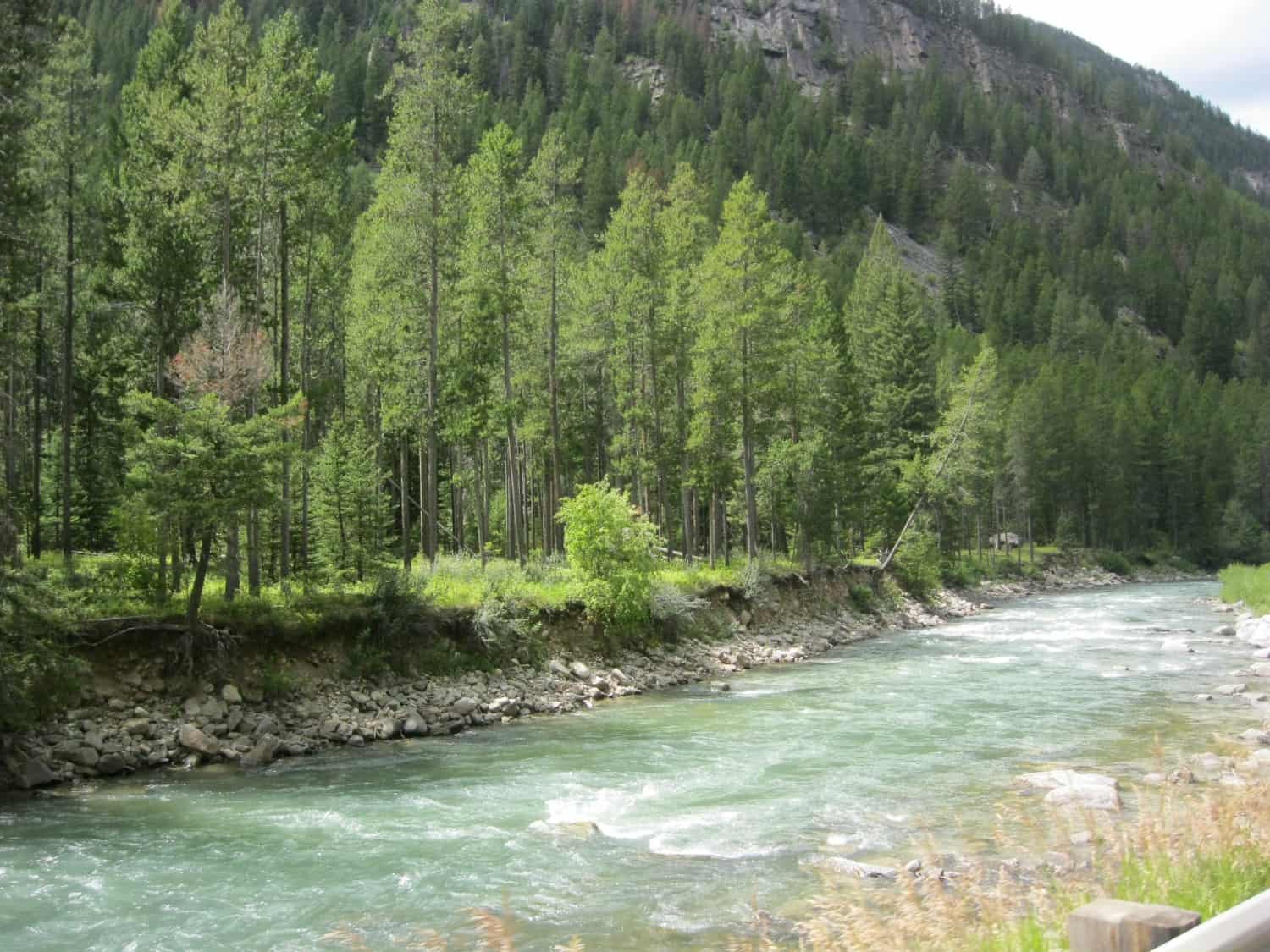 Day 3:  Pets in Yellowstone – Northwest Corner
Our second day with the pets in Yellowstone was spent circumnavigating the upper loop. Entering at the western gate, we headed north to Mammoth Hot Springs. Light showers passed through most of the day, but we were able to spot three wolves making their way along a distant wood line. Although we didn't get photos, it was still my Yellowstone "best moment."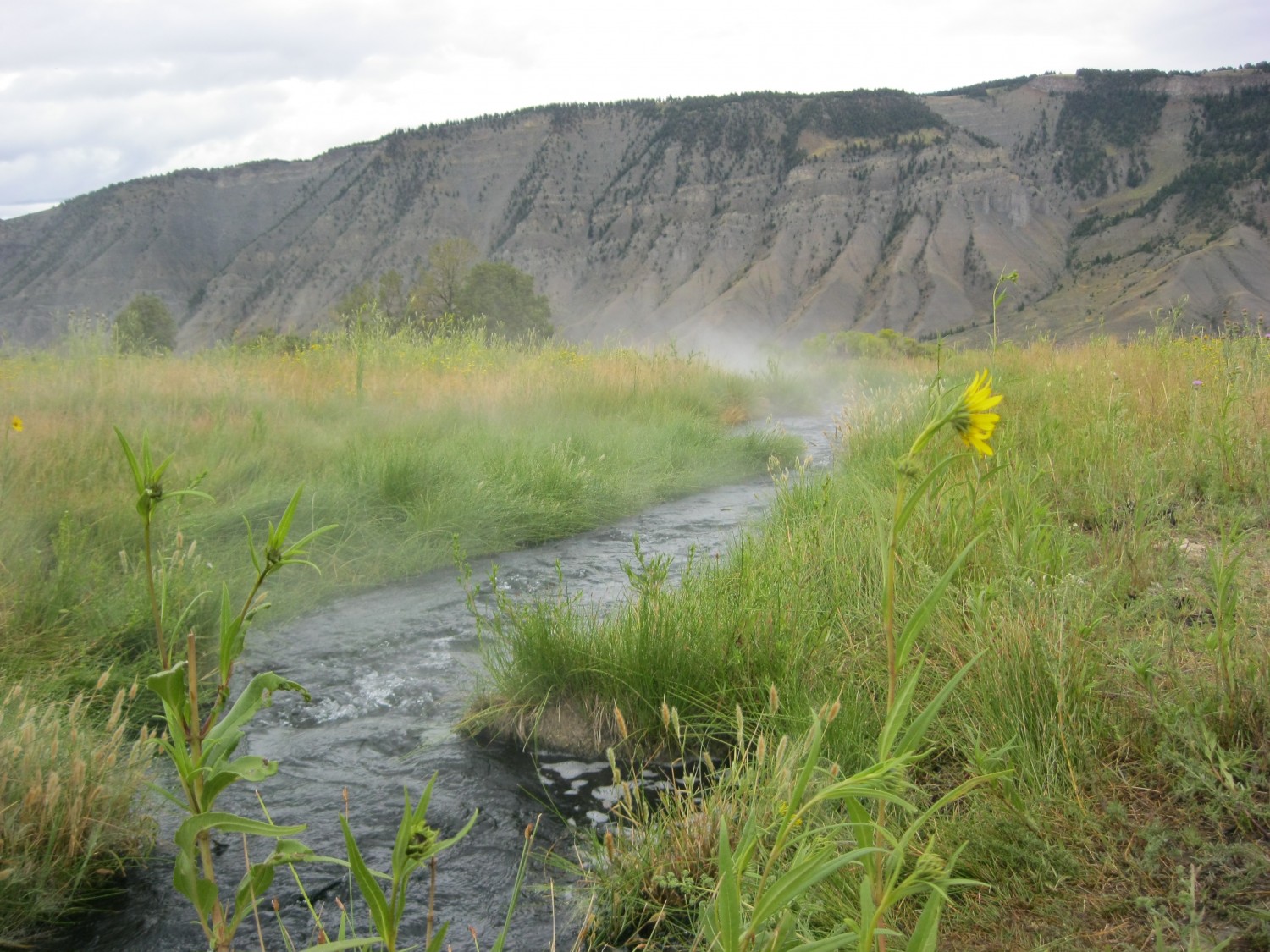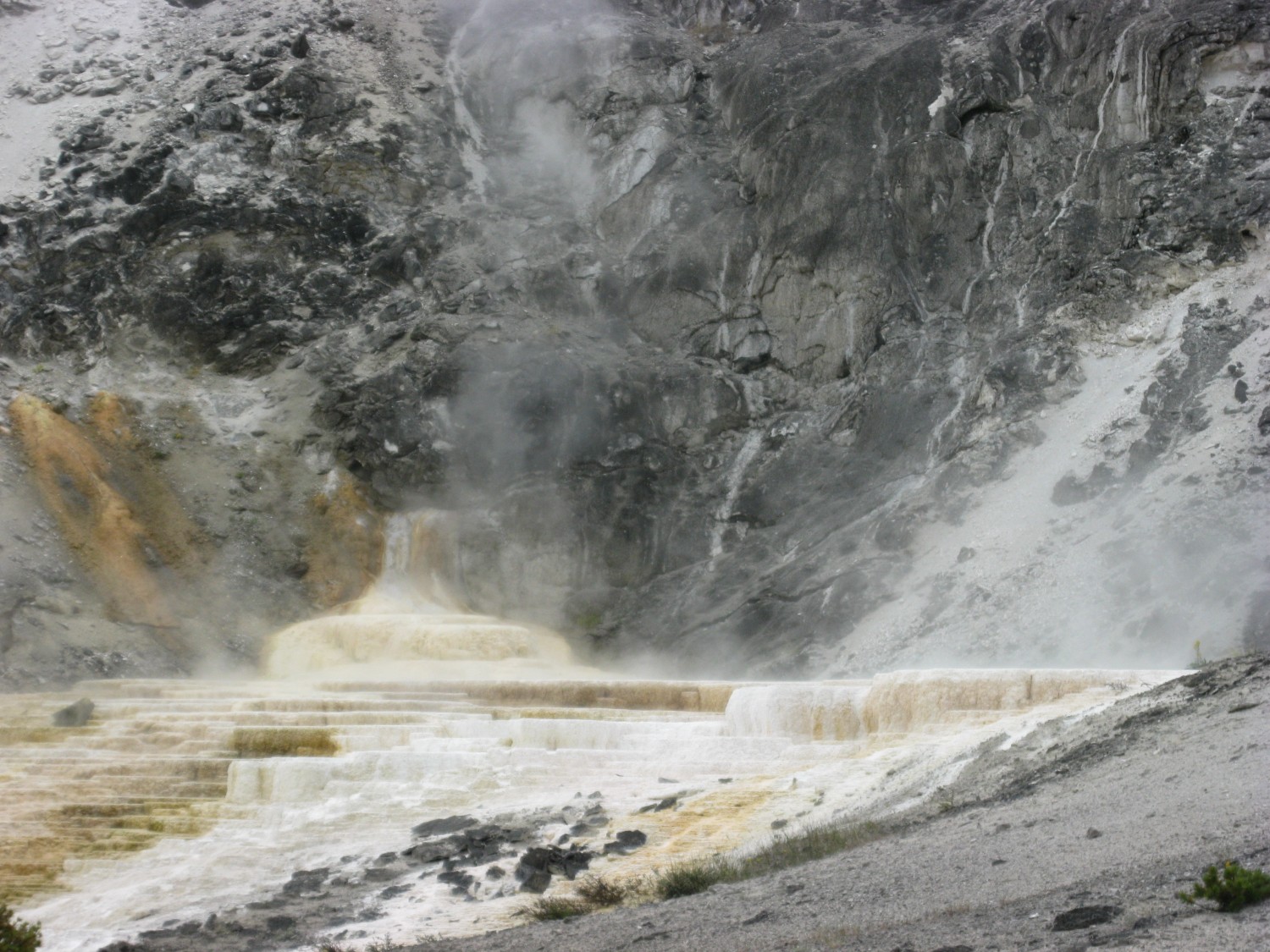 After reveling in the unique landscape, alive with boiling mud and steaming streams, we went back out the west gate and spend the night in the little town of West Yellowstone.
Day 4:  Pet Friendly West Yellowstone
West Yellowstone is an active tourist town that sits at the western gate to the park. We were especially excited to visit here, because we were able to meet a Twitter friend in person! Chris owns Morning Glory Coffee and Tea, where pets are welcome to join you inside.
READ MORE ⇒  More Pet Friendly Activities West of Yellowstone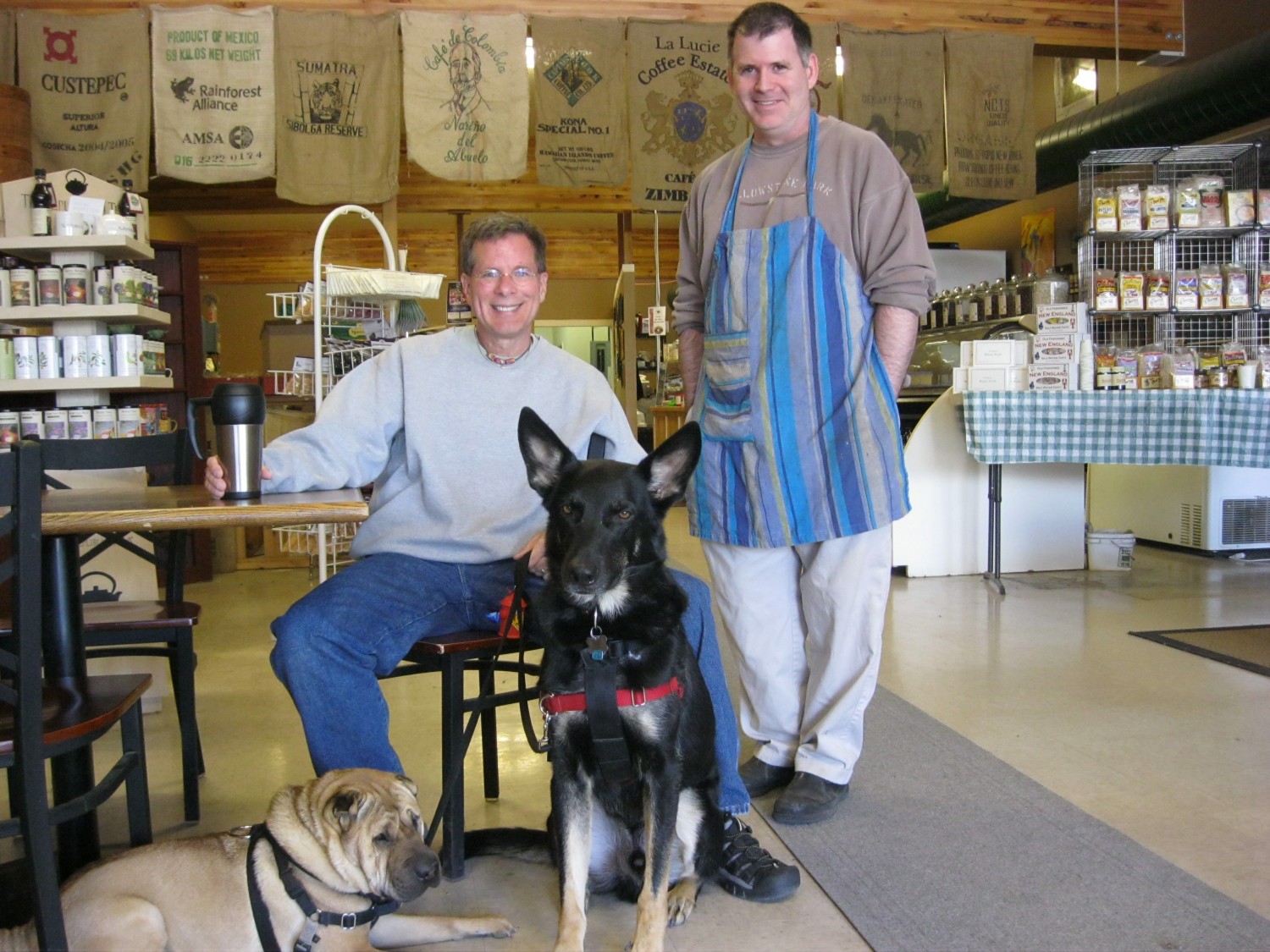 A coffee shop that allows pets INSIDE is a rare find, and Rod and I would have been happy to bask in the aroma of roasting coffee all day. But Buster was anxious to hit the trail, so after breakfast we were off.
Running nearly 5 miles along the edge of Yellowstone, the Boundary Trail is pet friendly. Pets can even be off-leash if they respond to voice commands! It was a great place for Buster to enjoy a little freedom and by the end he was happy to head back to the Winnebago for a nap.
Day 5:  Pets in Yellowstone – Southern Half
Entering again at the west gate, our first stop the next day was Old Faithful. We arrived just after the geyser had erupted, so we had about 90 minutes to hang out. Dogs aren't allowed on the boardwalks around Old Faithful, so we walked Ty and Buster in the large parking area. Fortunately the weather was cloudy and cool, so the boys had a nap in the motorhome while we watched the geyser erupt.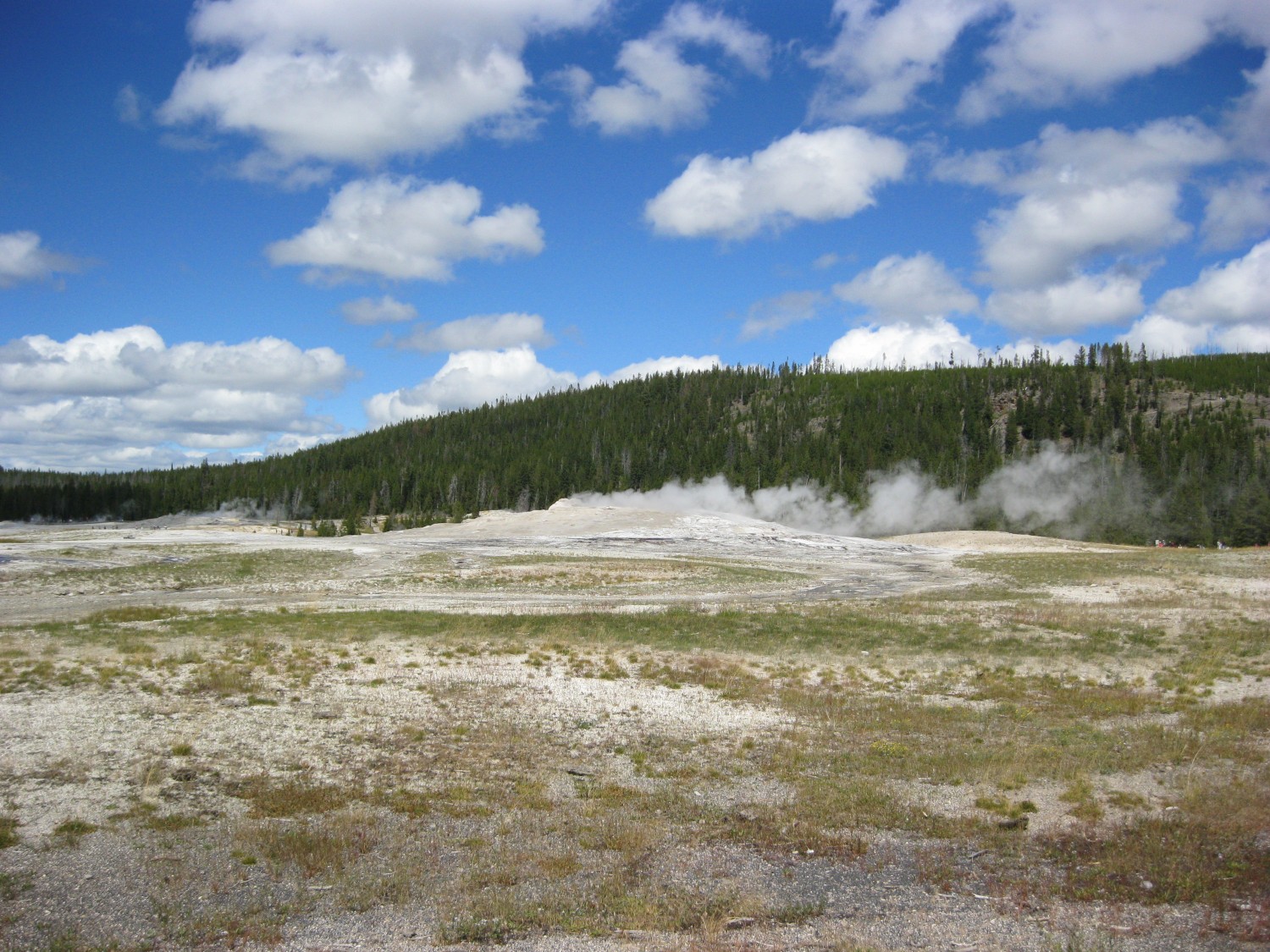 Afterward, we made our way back along the shore of Yellowstone Lake before turning around and leaving the park at the south gate. Our next stop was Grand Teton, another national park that makes visiting with pets a bit tricky.
READ MORE ⇒  Discovering Dog Friendly Activities in Grand Teton
Pet Friendly Accommodations and Restaurants
We found a nice selection of pet friendly hotels in Bozeman and West Yellowstone. And the campgrounds in Yellowstone Park and Gallatin National Forest are pet friendly. However, if you're looking for a few more creature comforts, you'll find several pet friendly campgrounds with more amenities in Livingston/Bozeman and West Yellowstone.
You're going to need to eat, and we found several pet friendly restaurants in Bozeman and West Yellowstone. On the whole, we found the greater Yellowstone area a great place to travel with pets. We hope you enjoy it as much as we did!
DO MORE TOGETHER
Amazon Affiliate Disclosure: GoPetFriendly.com LLC is a participant in the Amazon Services LLC Associates Program, an affiliate advertising program designed to provide a means for website owners to earn advertising fees by advertising and linking to amazon.com, audible.com, and any other website that may be affiliated with Amazon Service LLC Associates Program. As an Amazon Associate, the owner of this site earns a commission from qualifying purchases.
(Visited 51,699 times, 1 visits today)