If you're planning a pet friendly getaway to Colorado and want to explore the Rocky Mountains, dog friendly Durango is an excellent choice! With a spectacular dog park, plenty of places to stay, eateries that welcome dogs, and endless things for you and your pet to do together, it's a fantastic vacation destination.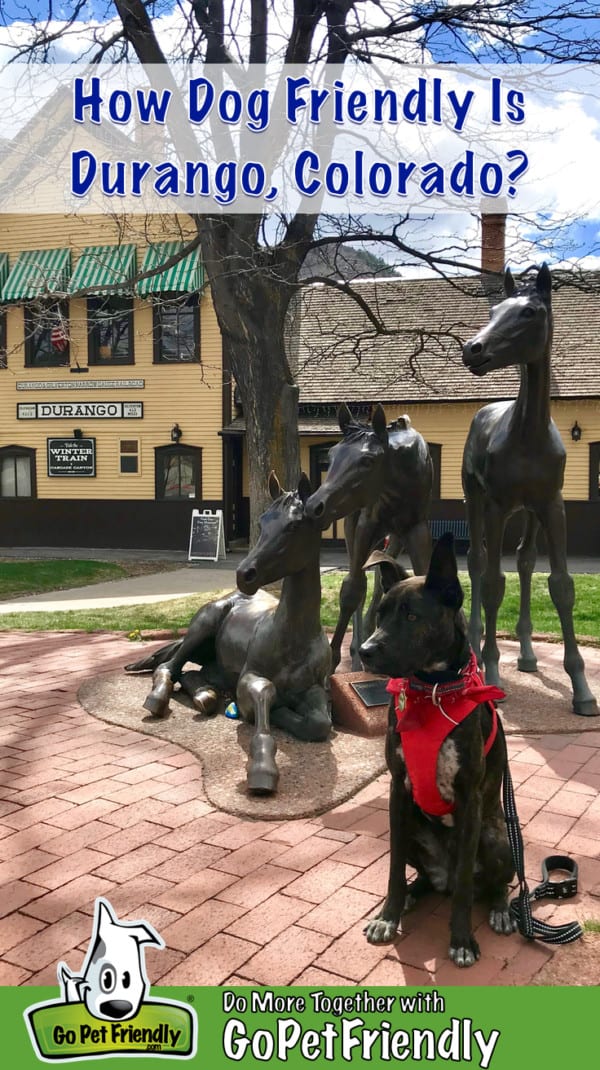 When we first visited Durango with Ty and Buster in 2013, I remember being surprised at the laid-back, dog friendly vibe. Dogs roamed the streets alongside their owners without leashes. And several bars and pubs allowed dogs inside. For Buster, our reactive dog, it was actually a bit much.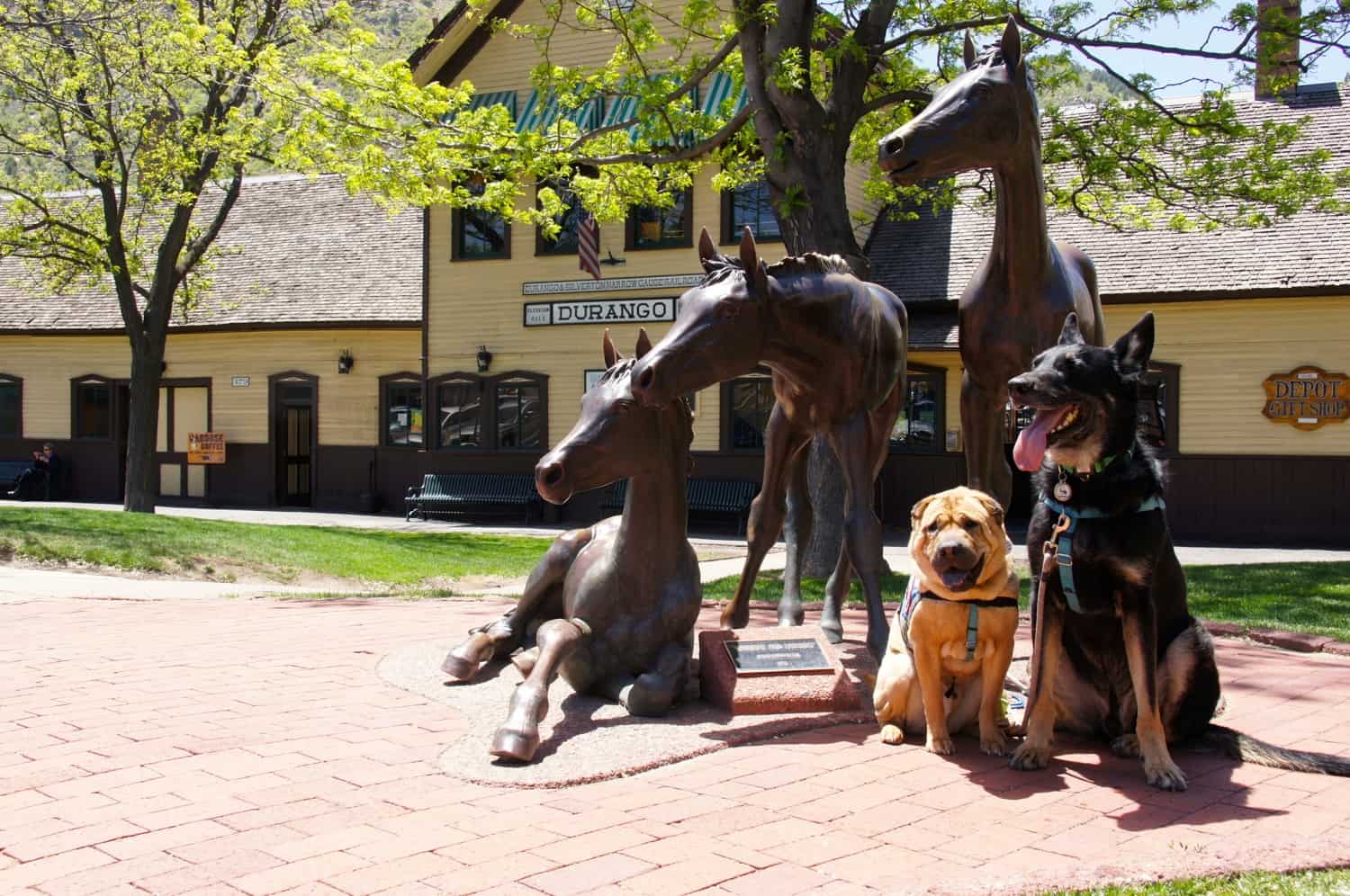 The vibe in Durango is a little less "wild west" now, but the town is still fantastically dog friendly. In fact, for pets and people who'd rather keep their distance from other dogs, it's even better.
Dog Friendly Durango
Tucked in southwestern Colorado near "Four Corners" where Arizona, Utah, Colorado, and New Mexico all meet, Durango's not really on the way to anywhere. And that's a good thing. It's what gives the town it's character!
The town as founded in 1881 by the Denver & Rio Grande Railroad, and its railroad heritage is still obvious today. One of Durango's most popular attractions (unfortunately, it's not pet friendly) is the narrow gauge railroad running up to Silverton.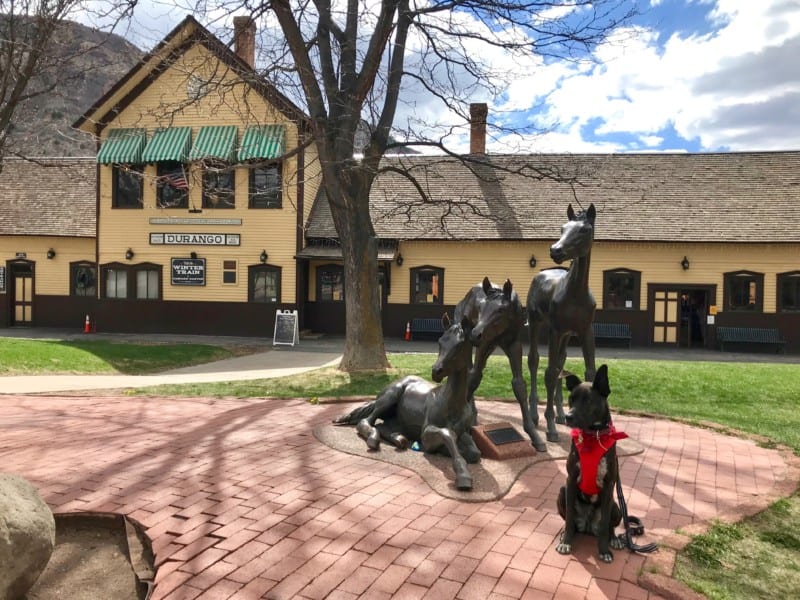 If you'd like to take the train ride, make plans for your dog to go to doggy daycare or stay with a pet sitter. It's a 3.5-hour ride each way with a layover for lunch, so you'll be gone all day.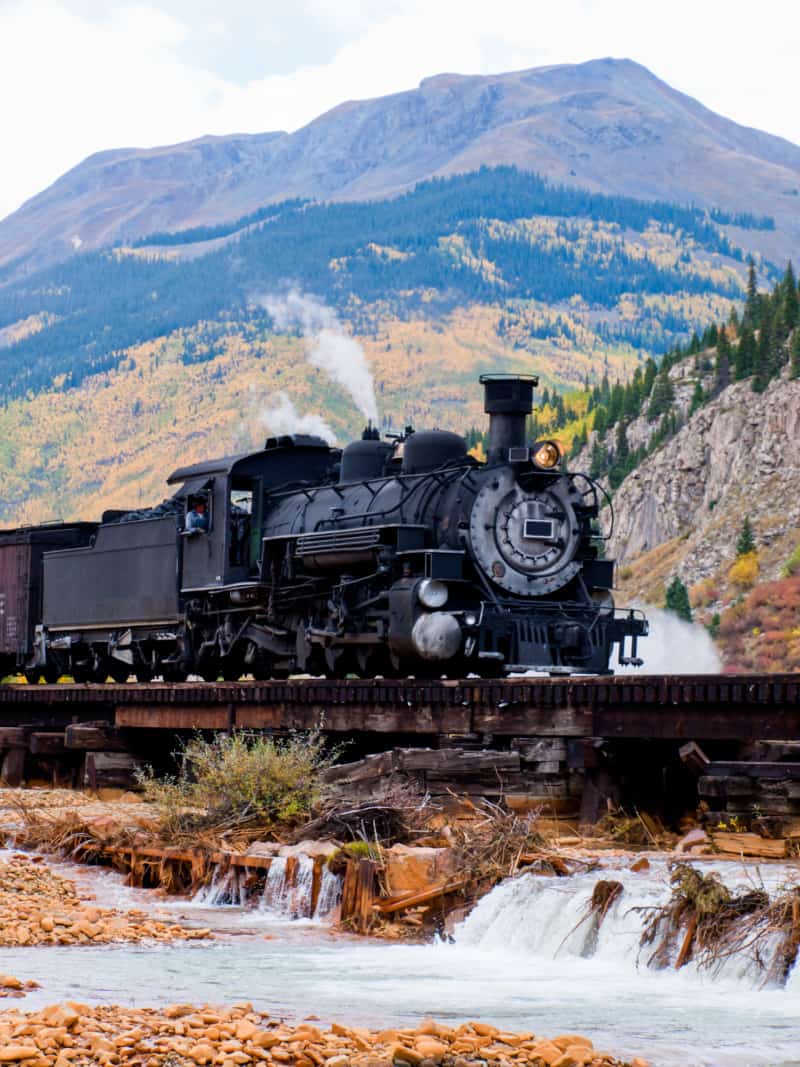 Downtown Durango
Though pets aren't allowed on the train, the rest of the city makes up for it. Durango was laid out along the tracks, which followed the Animas River. The business district was placed near the railroad, and the residential area was located upslope with better views of the mountains. Strolling 3rd Avenue, you'll appreciate the homes that reflect the Victorian history and dog loving nature of the town.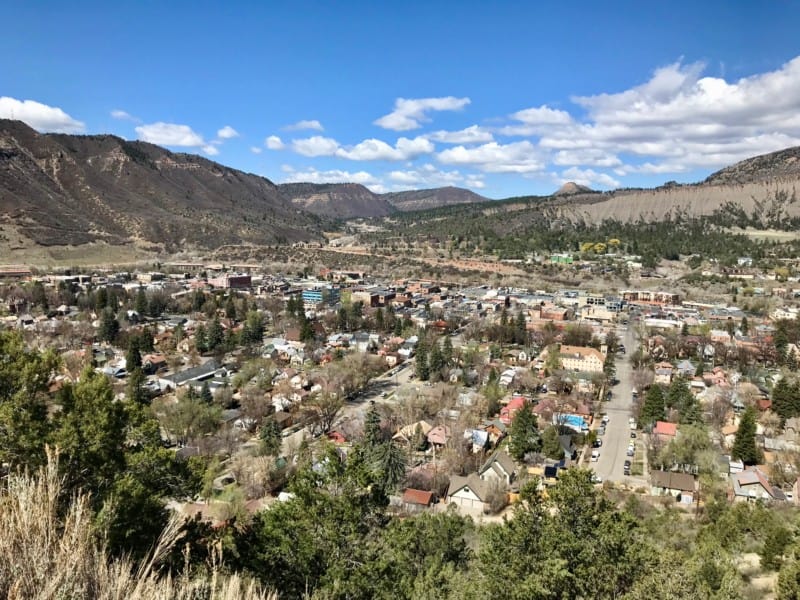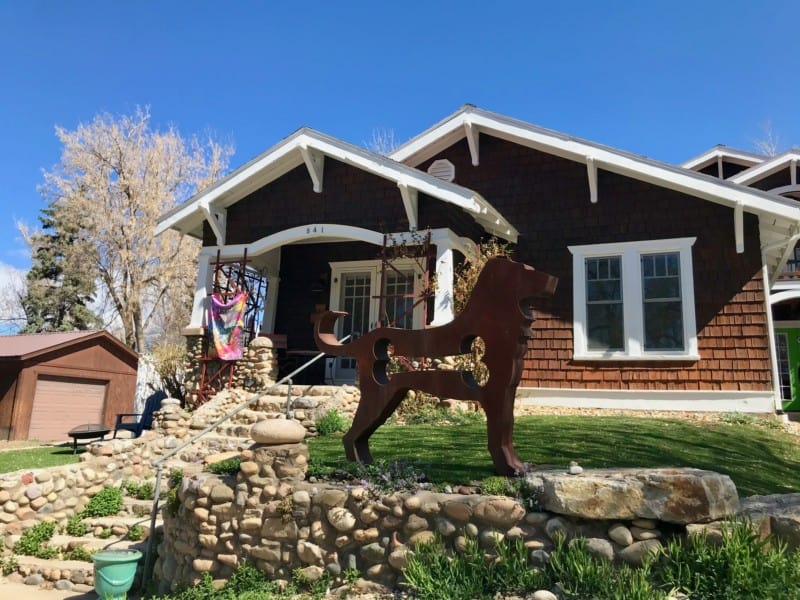 Main Avenue in Durango offers a fine collection of boutiques and galleries housed in historical brick buildings. Many are pet friendly — just ask before taking your dog inside. There are also a number of eateries with dog friendly outside seating. And many of the local hotels and inns welcome pets.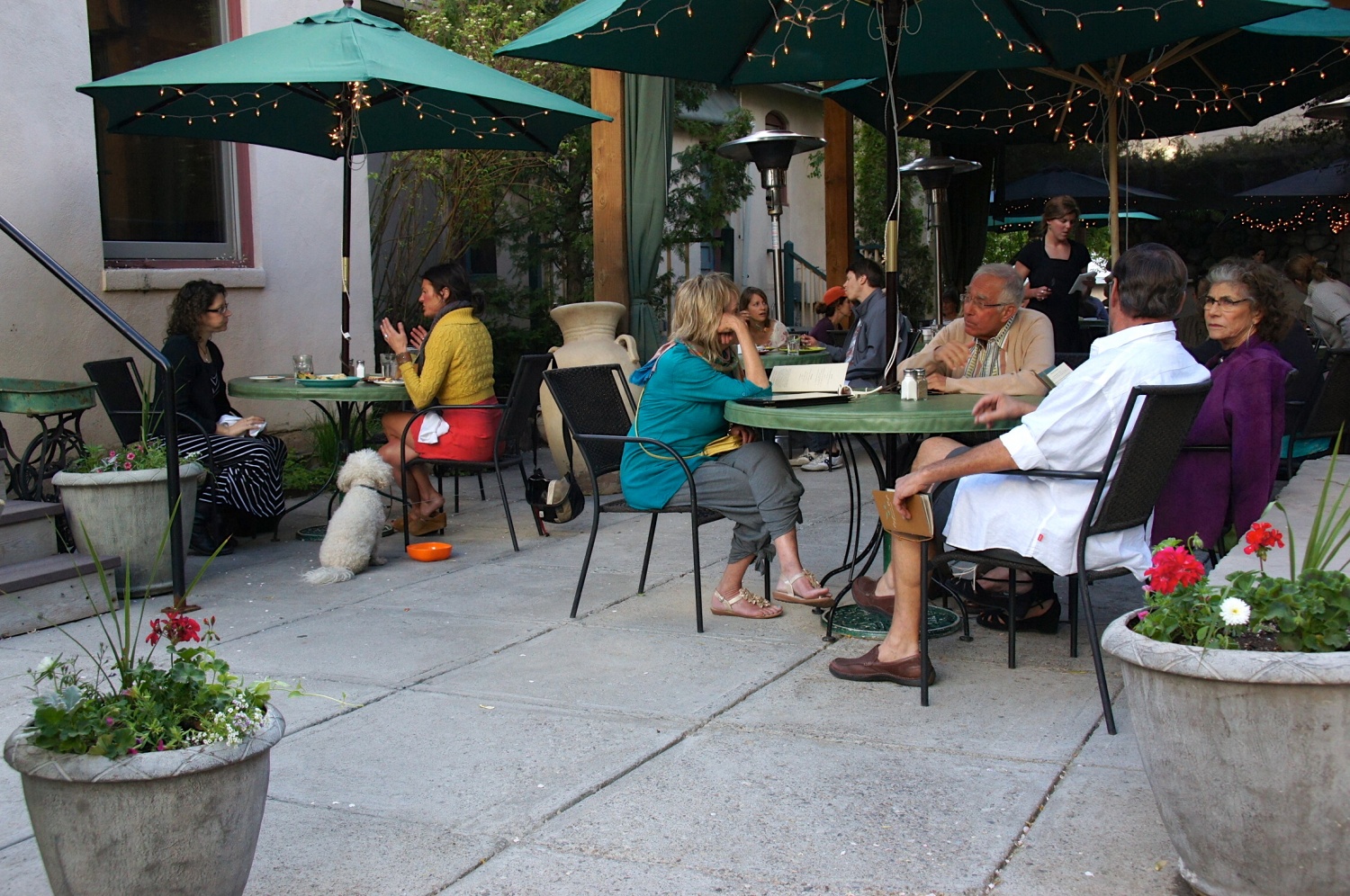 Animas River Trail
If you stay downtown, you'll be steps away from the Animas River Trail, a paved pathway that runs seven miles along the Animas River.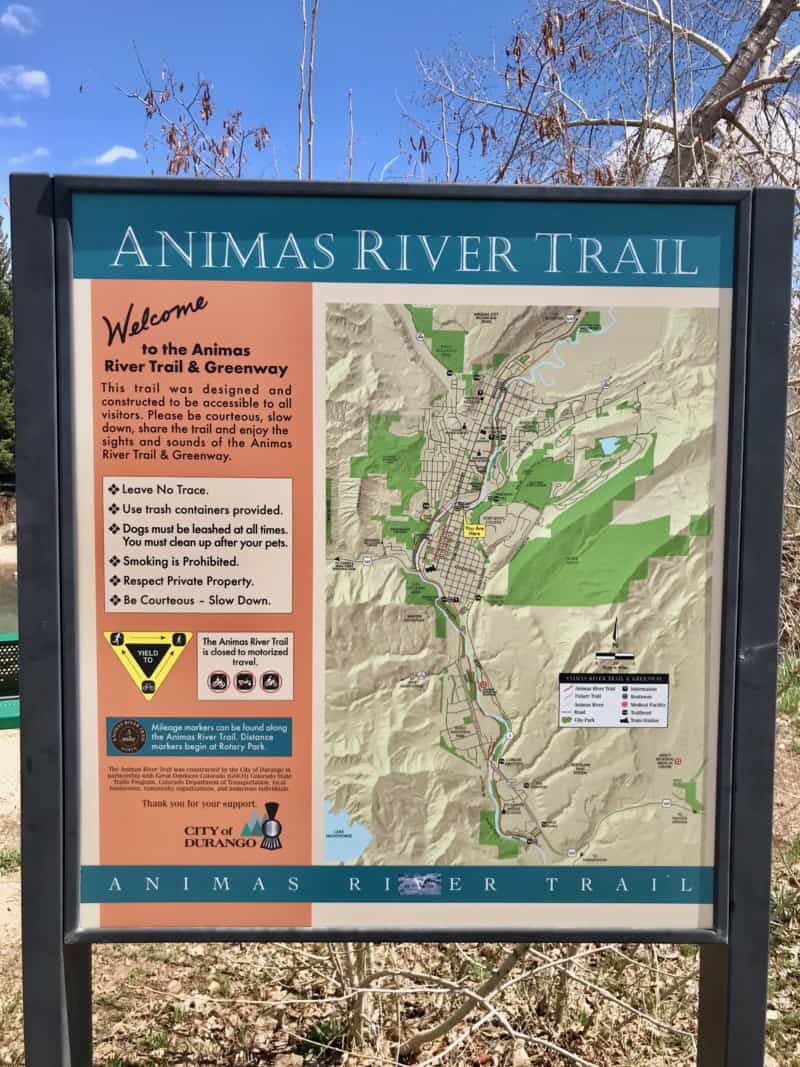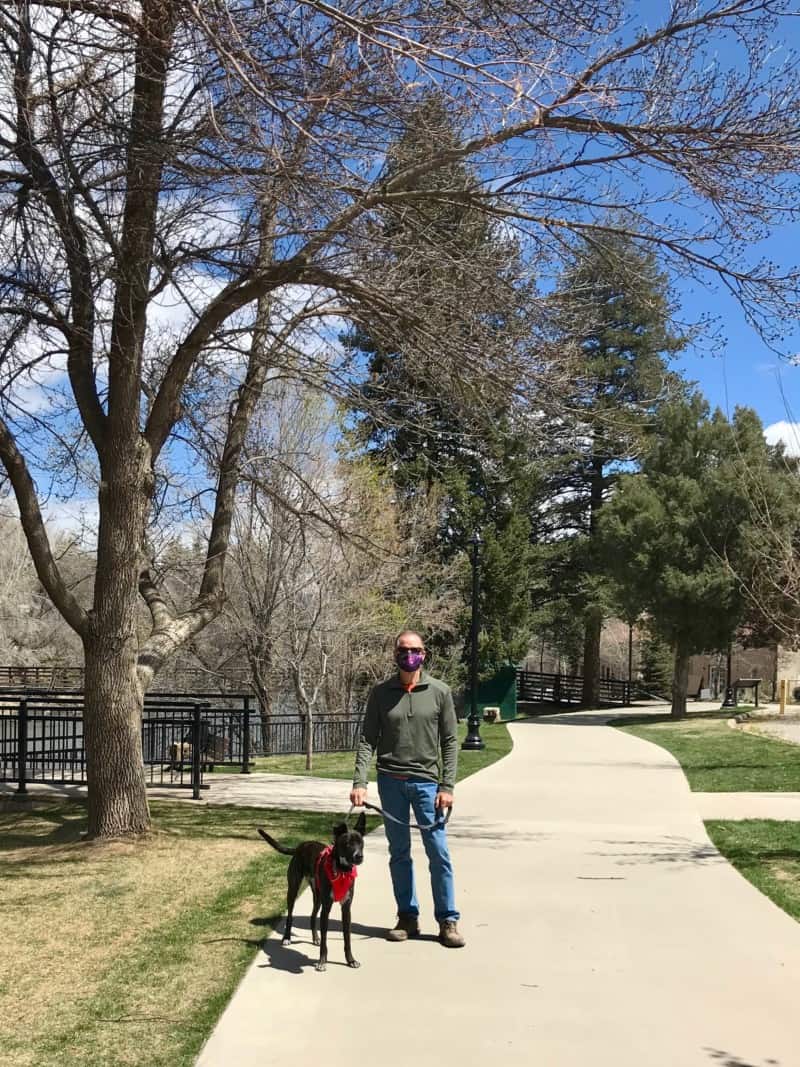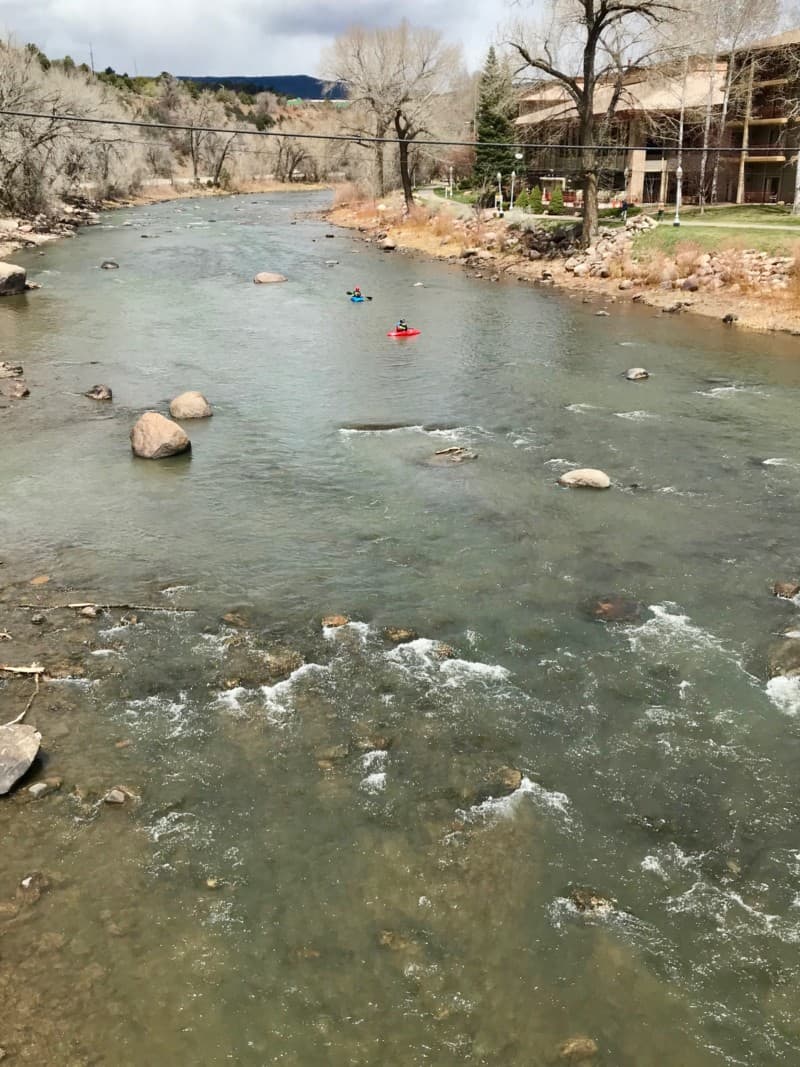 Durango Dog Park
The Animas River Trail takes you right to the Durango Dog Park, and Myles couldn't wait to check it out! Really, who could blame him? It's five acres of doggy heaven where running, sniffing, roaming, and swimming in the river are all options. Cross the footbridge at Hwy 160 – easy walking distance from downtown – and you're there!
From the far end of the park you can look down onto the river and marvel at the kayakers practicing in the Smelter Rapids White Water park. The river was swelled by snowmelt and boiling through the rapids, but it wasn't slowing those guys down!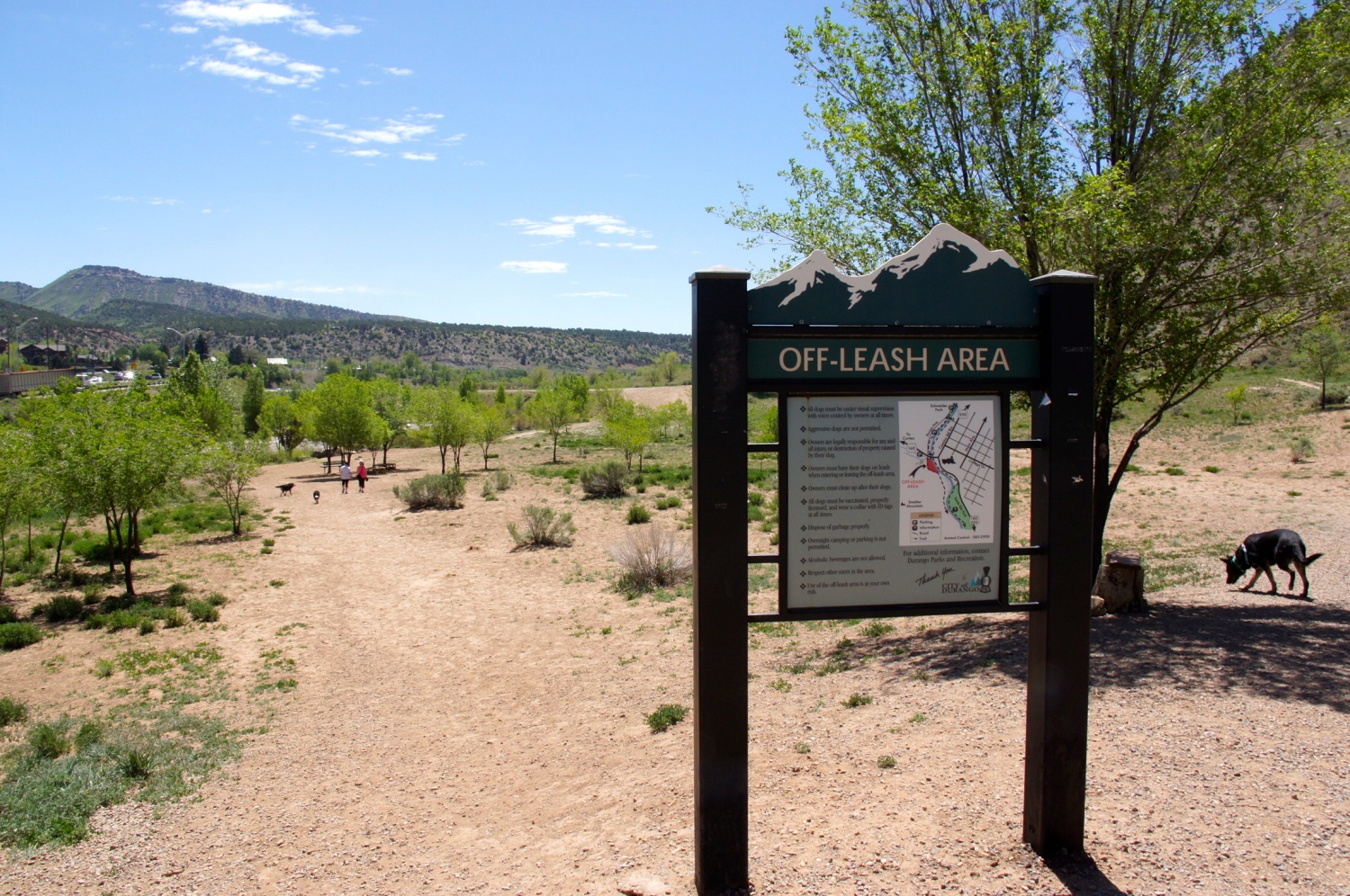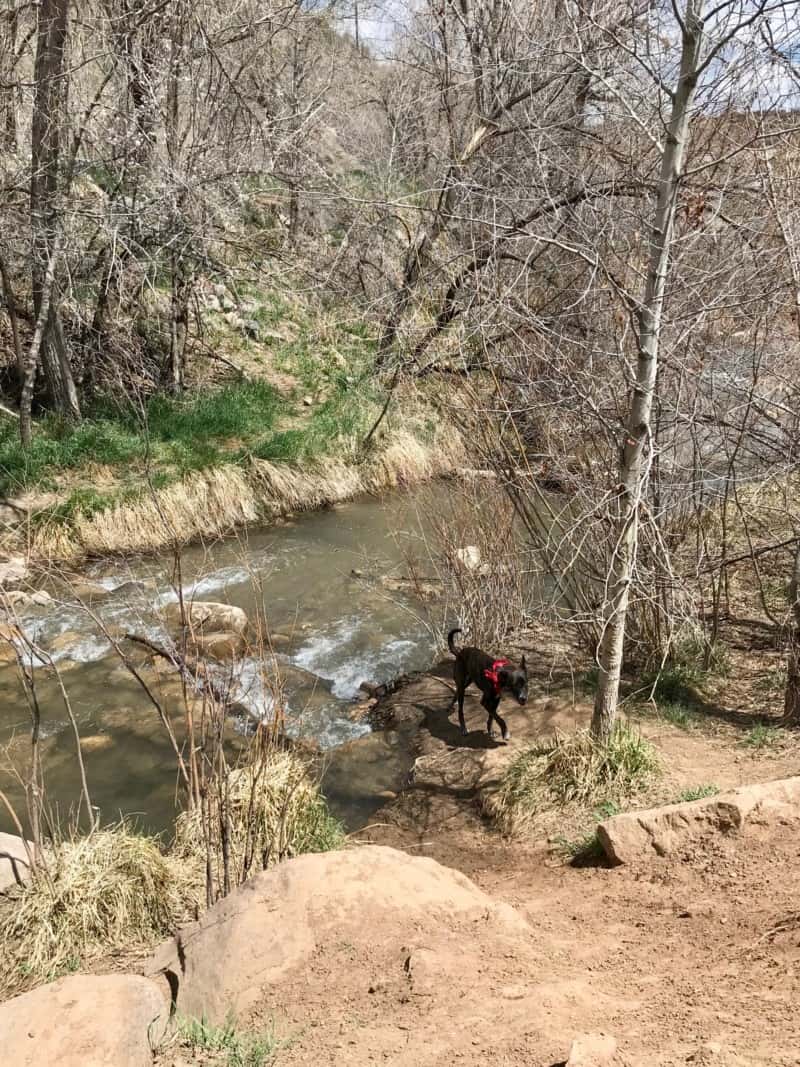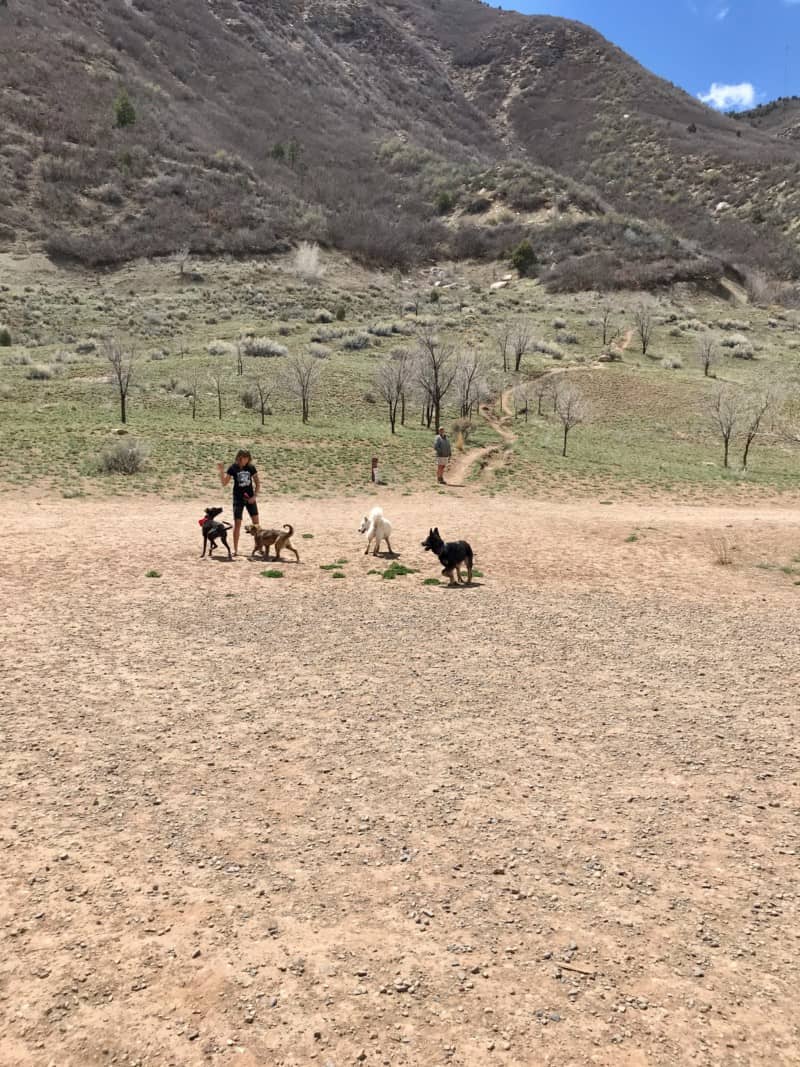 Skysteps Or Nature Trail to Fort Lewis College
Starting at East 6th Avenue and 10th Street, you and your dog can climb 550 steps to Fort Lewis College, which sits perched on the bluff above Durango. For a more leisurely walk, there's also a half-mile nature trail that switchbacks up the hill.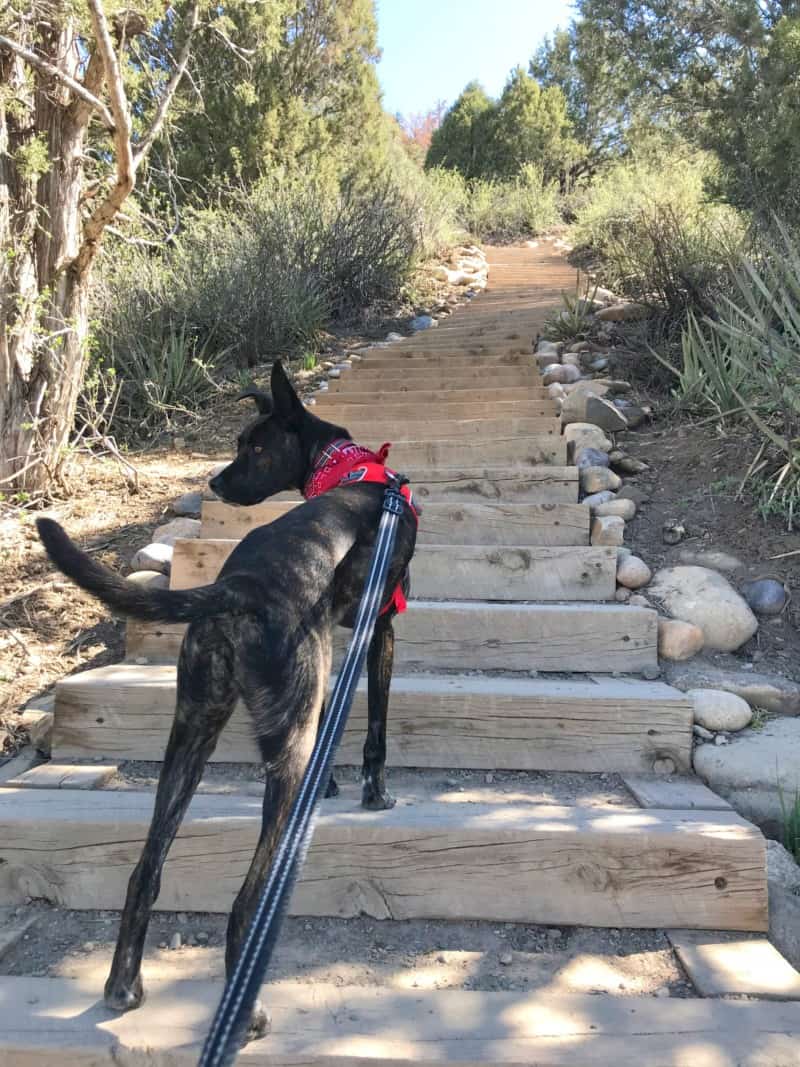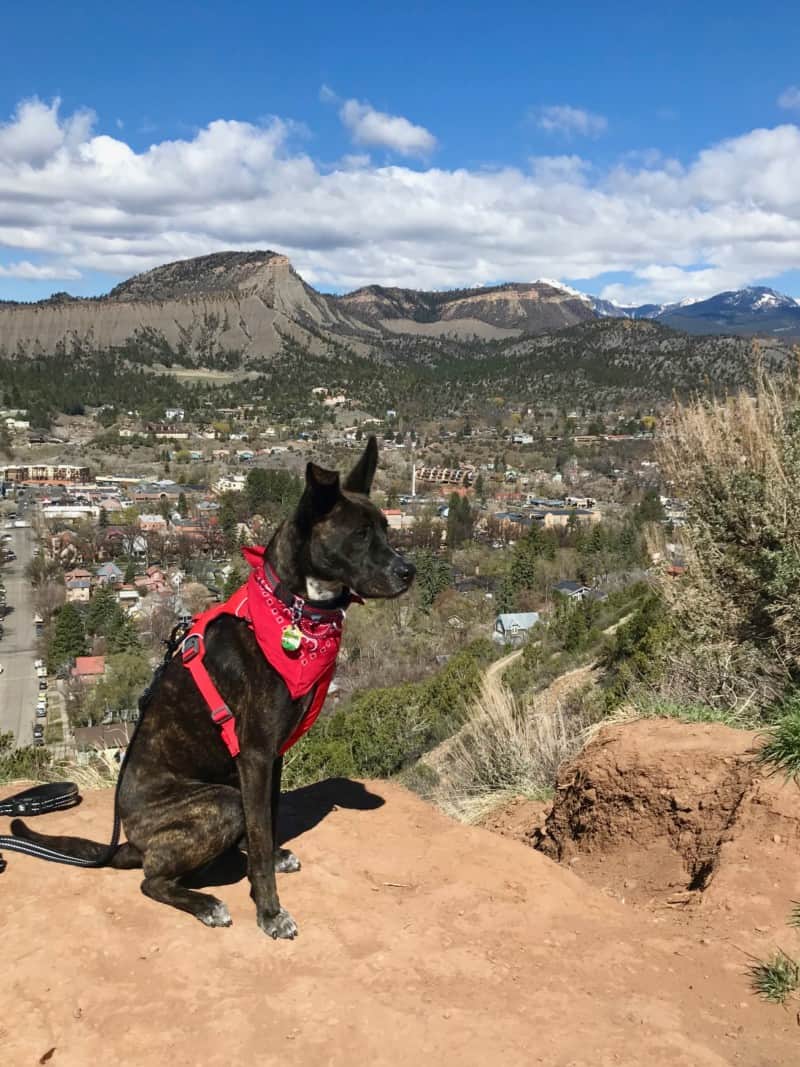 The views are definitely worth the effort! And Fort Lewis College has an interesting history and gorgeous campus. If you're looking for a place to enjoy a picnic, this is a good choice. After lunch, walk the Rim Trail for more great views. Then mosey back to town on the winding nature trail.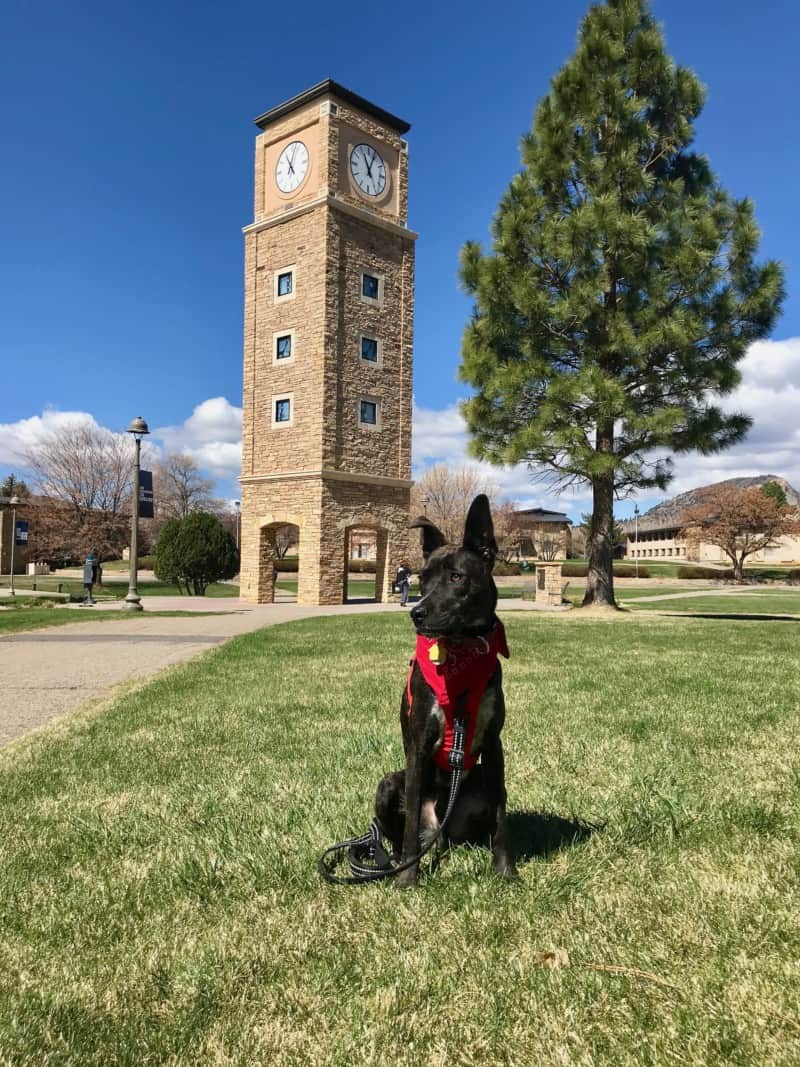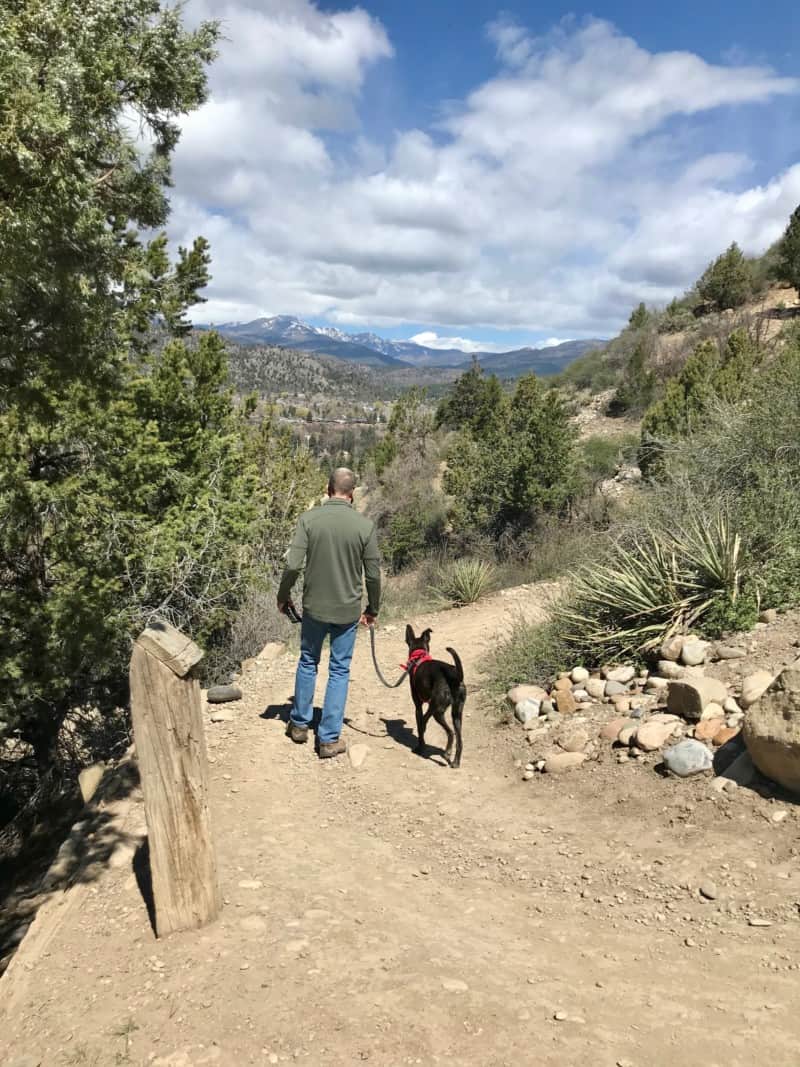 Dalla Mountain Park
Durango is webbed with thousands of miles of hiking trails, so if you want to explore the wilderness, you'll have plenty of options. We opted for Dalla Mountain Park. To get there, take 25th Street west. It turns into Junction Street, and the park entrance is on the right.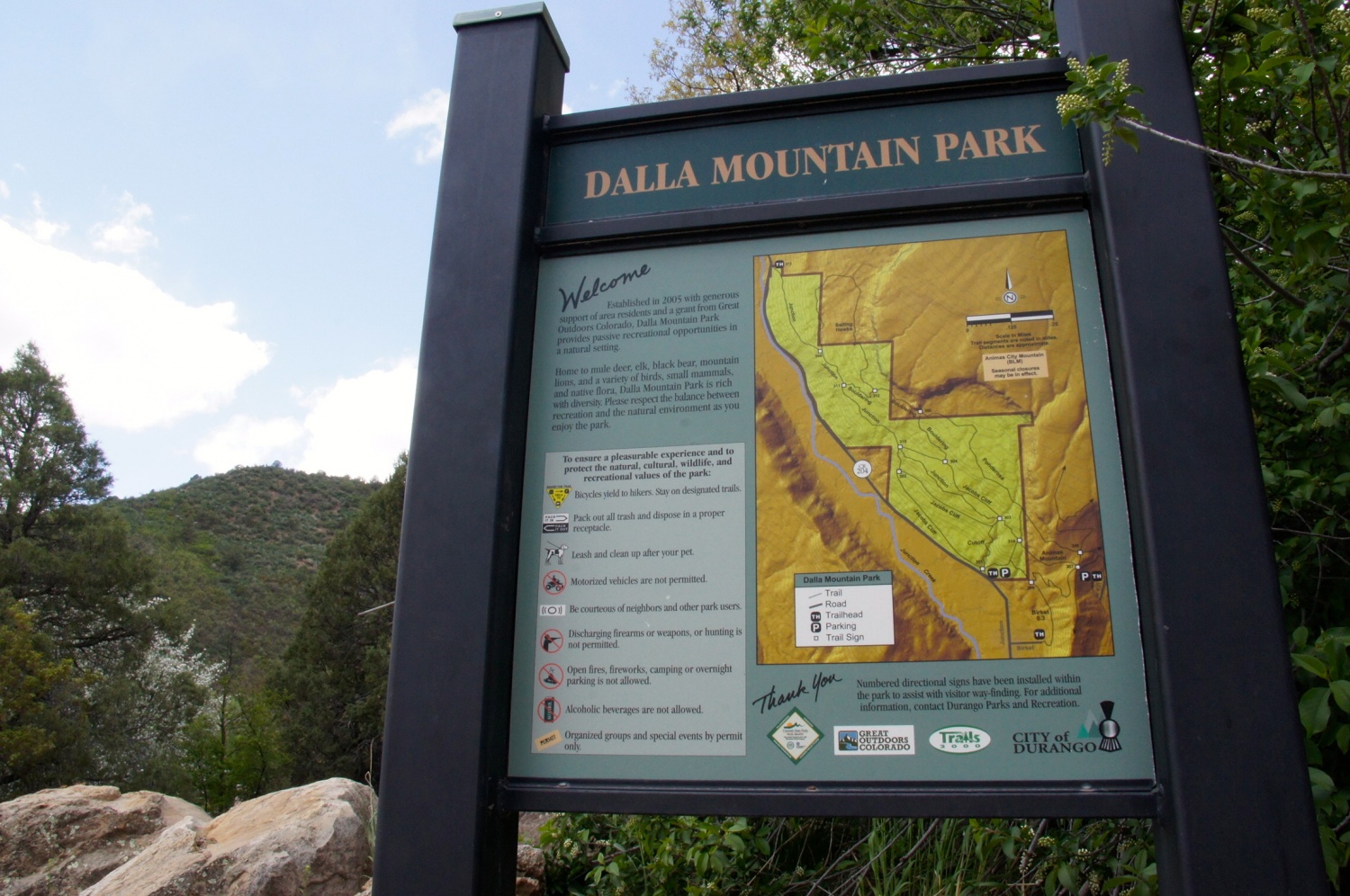 The Durango Welcome Center at Main Avenue and 8th Street has maps of the Dalla Mountain trails with helpful etiquette tips. My favorite is, "If another trail user approaches you, say hi. Especially if they say hi to you. Grunts do not count."
The trails are moderately difficult and well marked. There are an number of options to choose from, so it's easy to pick out a loop for the distance you'd like to cover. And then there's the payoff … the views!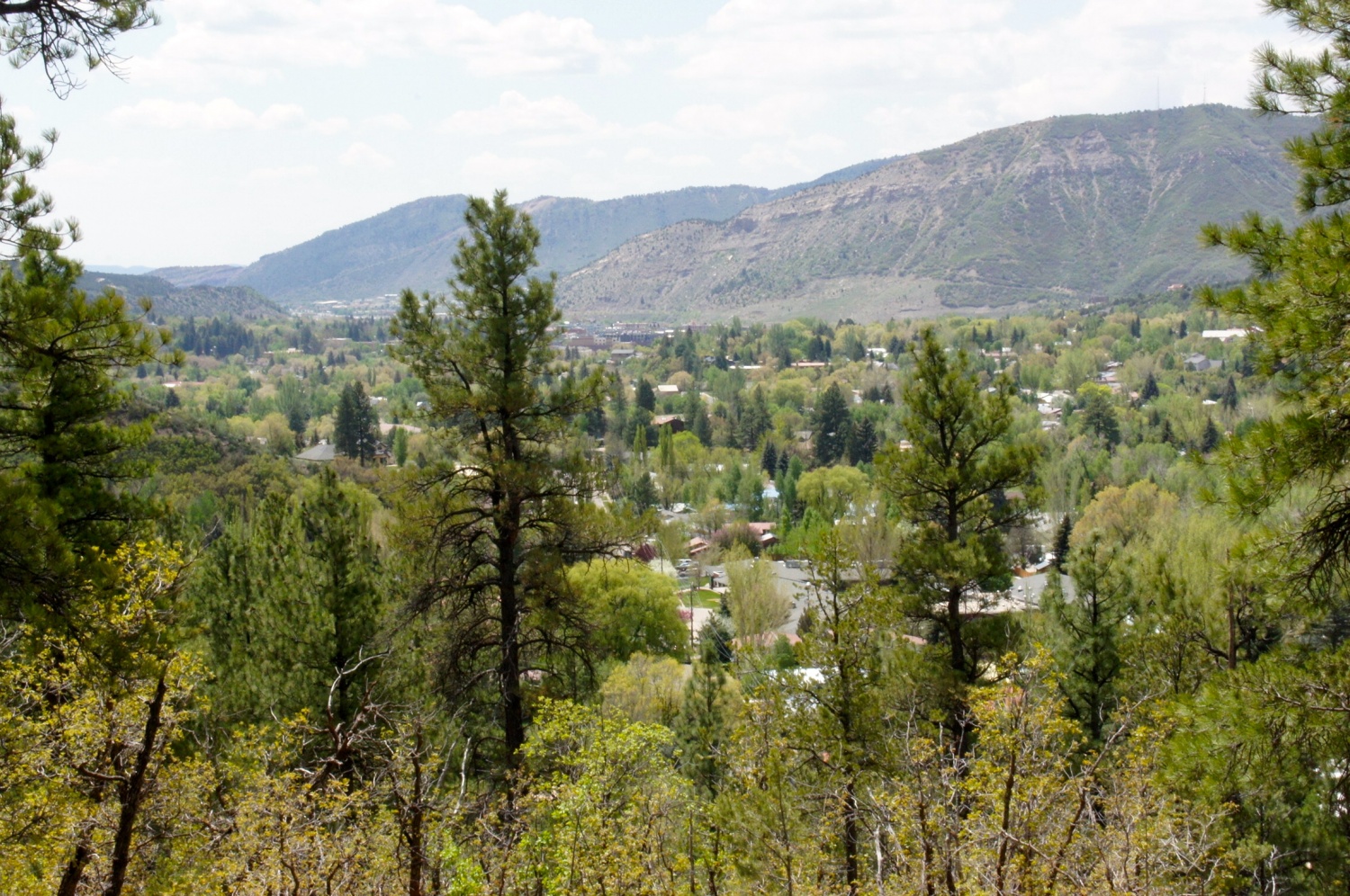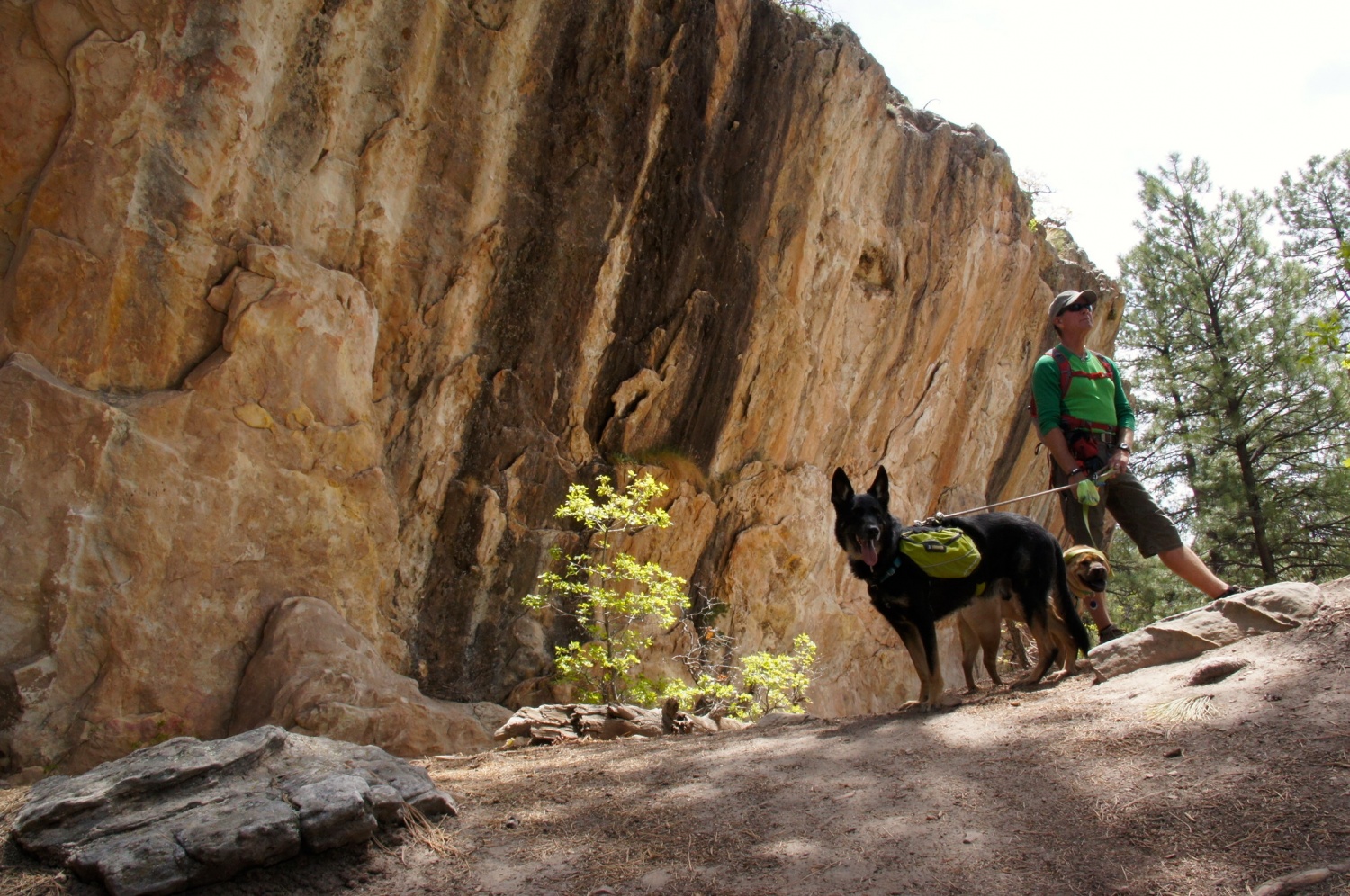 For a longer hike, continue on Junction Street until it turns into Junction Creek Road. At the end, you'll find yourself in the San Juan National Forest at the trailhead of the Colorado Trail, which runs 483 miles between Durango and Denver.

Since our last visit, Durango has made some changes related to pets, but it's still extremely dog friendly. Before it didn't seem many pet-related rules were enforced. Now the city feels more on-par with other pet friendly places we've visited. It's a bit more civilized. And still there is a wonderful selection of places to go and things to do in dog friendly Durango!
(Visited 5,036 times, 1 visits today)