Durango has been on our list of places to see for as long as we've been traveling. Tucked in southwestern Colorado near "Four Corners" where Arizona, Utah, Colorado, and New Mexico all meet, it's not really on the way to anywhere. Which explains why it's taken us a while to get here. Turns out, it's a good thing Durango is a little off the beaten path … that's what gives the town it's character.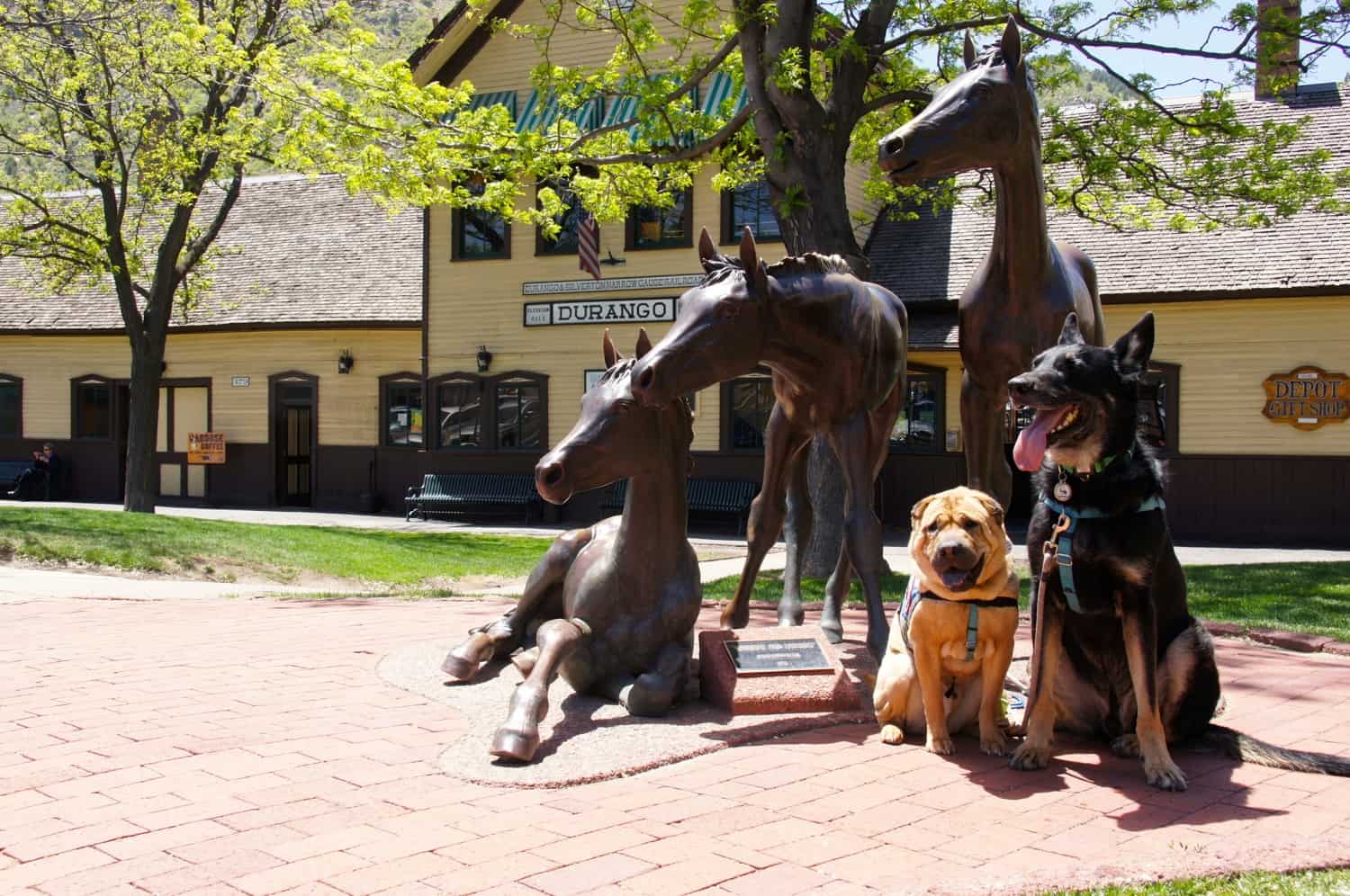 Downtown offers a fine collection of boutiques and galleries housed in historical brick buildings … exactly what you'd expect of an upscale western town aiming to please its visitors. What makes Durango special is that the shopping area is only the beginning of the endless entertainment options!
We got to town just as winter broke and the leaves were popping on the trees. The weather was perfect, and we were lucky enough to have a welcome committee – one of our Facebook friends, Traci, met up to show us around. Even better, she's a dog trainer in Durango, so she totally got our dogs' quirks!
Animas River Trail
She suggested that we park downtown and hit the Animas River Trail, a paved pathway running for for seven miles along the … you guessed it … Animas River. We got the inside scoop from Traci on the best Durango had too offer as we strolled along and watched the rafters go hurtling down the river.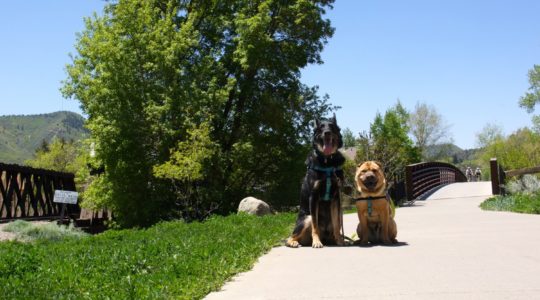 Durango Dog Park
Once Buster heard about the Durango Dog Park he was chomping at the bit to check it out. And, really, who could blame him? It's five acres of doggy heaven where running, sniffing, roaming, and swimming in the river are all options. Cross the footbridge at Hwy 160 – easy walking distance from downtown – and you're there!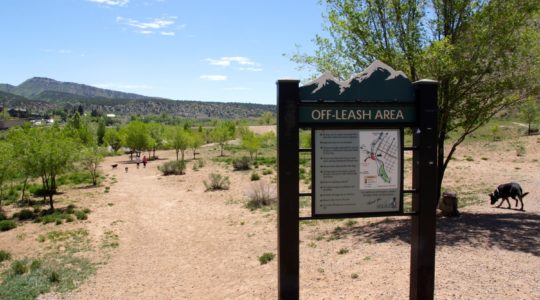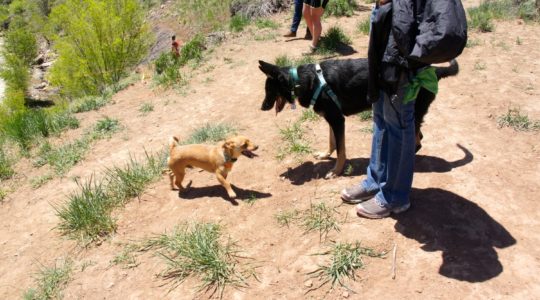 From the far end of the park you can look down onto the river and marvel at the kayakers practicing in the Smelter Rapids White Water park. The river was swelled by snowmelt and boiling through the rapids, but it wasn't slowing those guys down!
Dalla Mountain Park
The Durango area is webbed with thousands of miles of hiking trails, so when you're ready to get out in the wilderness, you'll have plenty of options. We're partial to the National Forests for their pet friendly policies. If you're in agreement, head west on 25th Street and follow it around as it turns into Junction Street and then Junction Creek Road. When you get to the end you'll find yourself in the San Juan National Forest at the trailhead of the Colorado Trail, the 483-mile link between Durango and Denver.
If your pooch is antsy like ours, and sometimes can't be bothered with the 15 minute car ride, cut the above trip short and duck into the lot right off Junction Street for Dalla Mountain Park.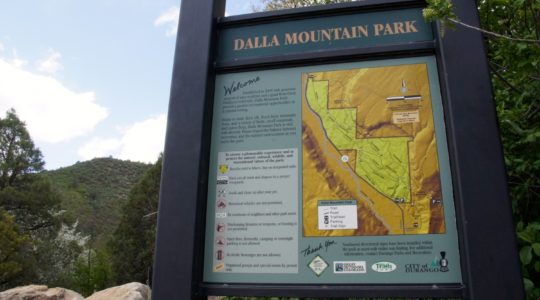 The welcome center in town has maps of the Dalla Mountain trails with helpful etiquette tips, like my favorite: "If another trail user approaches you, say hi. Especially if they say hi to you. Grunts do not count." The trails are moderately difficult and well marked, and it's easy to pick out a loop for the distance you'd like to cover. And then there's the payoff … the views.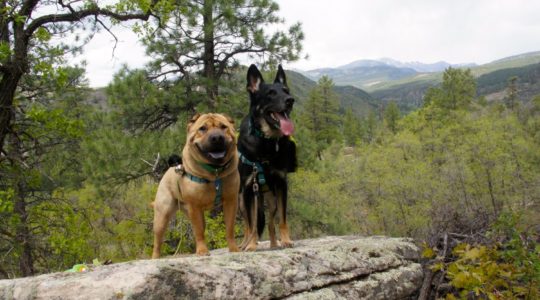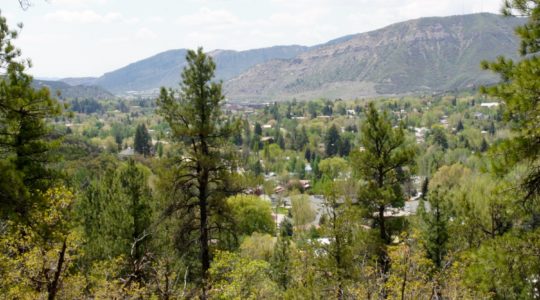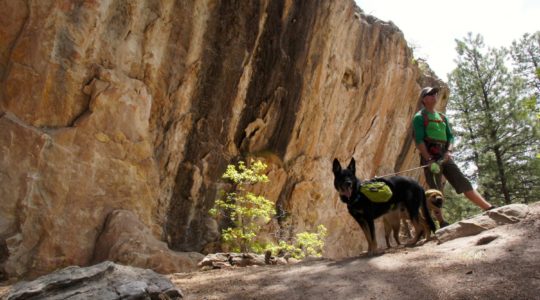 Get A Bite
Spending time outdoors is a great way to work up an appetite, and there are several pet friendly restaurants in Durango to choose from. Pizza is a popular with us, mostly because Ty and Buster are crazy about the crust, and Home Slice Pizza may be the best we've ever had! Ordering from the window, making ourselves comfortable on the casual patio, and enjoying a cold beverage with the dogs was right up our alley.
We also enjoyed a lovely dinner downtown on the patio at the Cyprus Cafe. The umbrellas over the tables decked in white lights gave it a very romantic feel. And, we were charmed all evening by the begging talents of the little white pup at the far table …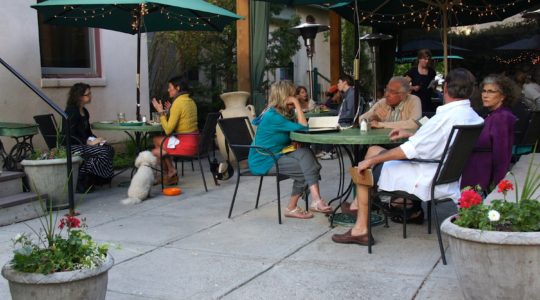 Durango & Silverton
One of Durango's most popular attractions is the narrow gauge railroad running up to Silverton. I have no pictures because the train is not pet friendly, and we found plenty of other activities we could do with the dogs. If you'd like to make the trip, be sure to arrange a pet sitter or doggy daycare for your furry travel companions. It's a 3.5-hour ride each way with a layover for lunch, so you'll be gone all day.
And There's More
There was so much doggone stuff to do and see around Durango that we had to split it into two posts! Tune in again next week when we bring you "Dog Friendly Day Trips from Durango."
Planning a pet friendly trip of your own? We'll make it easy:
Pet Friendly Hotels | Pet Friendly Destinations | Pet Friendly Activities
Amazon Affiliate Disclosure: GoPetFriendly.com LLC is a participant in the Amazon Services LLC Associates Program, an affiliate advertising program designed to provide a means for website owners to earn advertising fees by advertising and linking to amazon.com, audible.com, and any other website that may be affiliated with Amazon Service LLC Associates Program. As an Amazon Associate, the owner of this site earns a commission from qualifying purchases.
(Visited 1,286 times, 1 visits today)