There's no better distraction than preparing a pet friendly road trip! This year my husband and I took our two Australian Shepherds – Leo and Oakley – on a Grand Circle National Parks tour, with a side trip to admire the fall foliage in Telluride. Departing from San Diego, we spent 12 days visiting the Grand Canyon, Horseshoe Bend, Monument Valley, Telluride and Mountain Village, Mesa Verde, Arches National Park, Bryce Canyon, and finally Valley of Fire State Park.
Even I have to admit, it was ambitious for our very first real road trip. And it was also our first time traveling with our pups! But we collected an amazing number of memories and I hope our experience will inspire you, too. Here are some worthwhile tips we discovered while preparing for our pet friendly trip!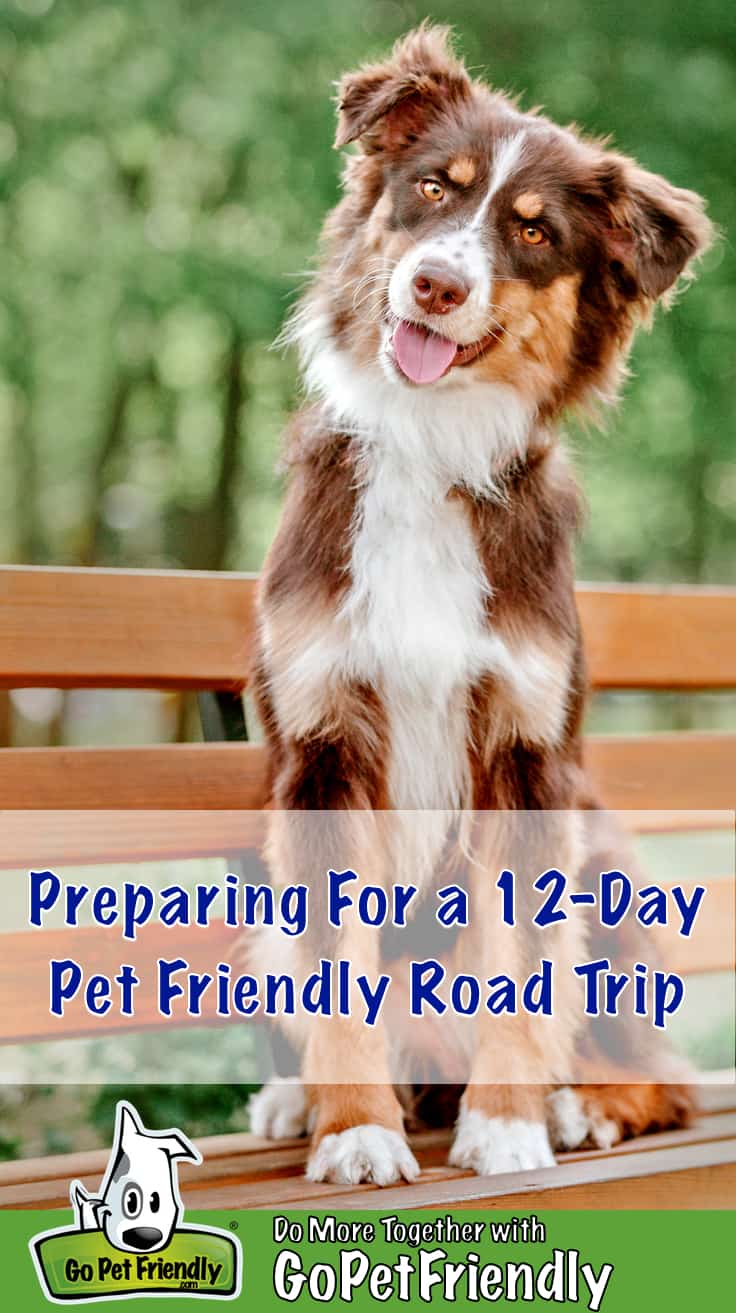 GoPetFriendly may earn commission or revenue on some items through the links below.
Preparing For A Pet Friendly Trip
The Planning Phase
The first decision we made was how long to be away. For us, traveling less than 14 days sounded right. In the past we've noticed that, no matter how much fun the trip is, after two weeks we're ready to come home.
Being on the road requires higher levels of energy, planning, and effort than regular "at home" days require. And, because this was our very first long-distance road trip with the dogs, I really wanted to avoid feeling exhausted at the end.
The second factor in making our plan was our desire to spend at least five days in Telluride. Our whole goal for the trip was to enjoy the foliage for as long as we could. After all, the whole idea of the trip was to feed our eyes on the golden aspen foliage!
READ MORE ⇒ Visiting Telluride with Dogs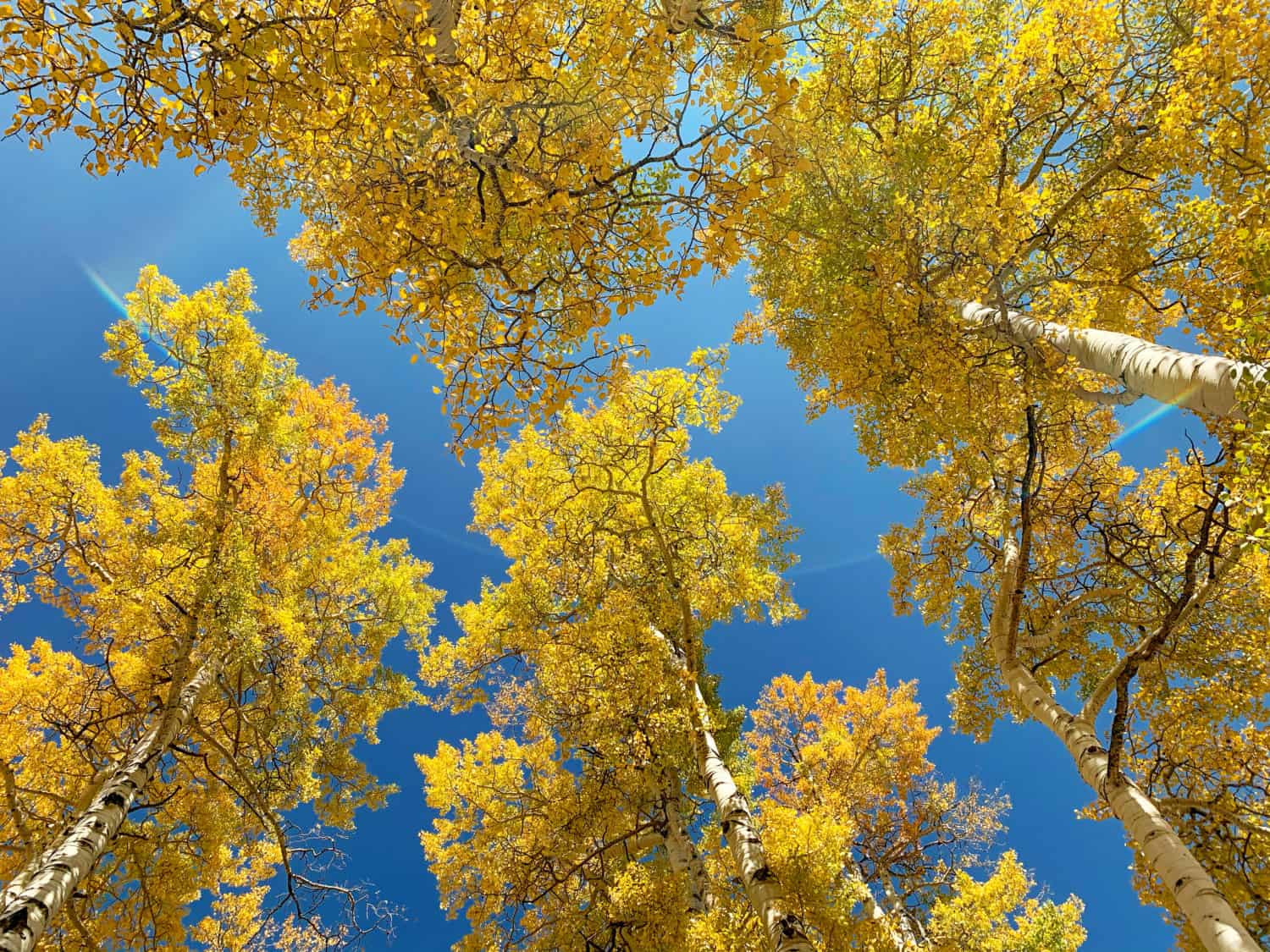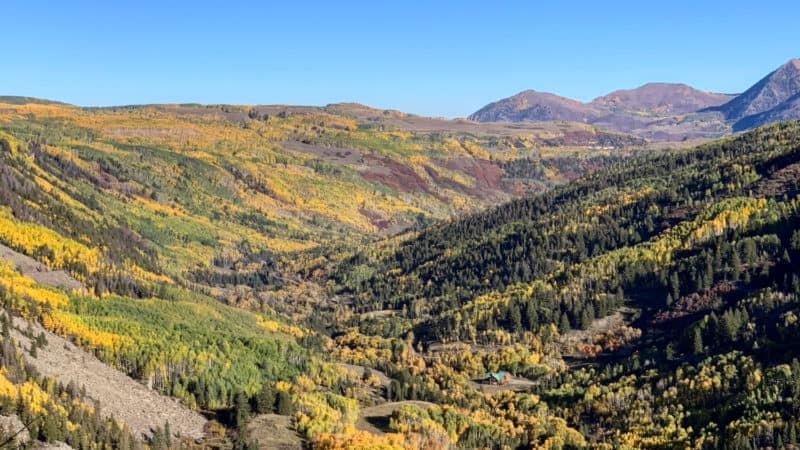 We ended up staying at Telluride and Mountain Village for four days and 5 nights. During that time, we did day trips to Durango, Colorado and Mesa Verde National Park. If I were planning it again, I would add a night in Cortez, Colorado to explore Mesa Verde more thoroughly.
Choosing The Route
We also knew we didn't want to drive too much in one day. Not only because I prefer road trips to be more about the journey, but also because we had to account for Leo and Oakley. As tiresome as sitting in a car is for people, it's worse for dogs. The drive from San Diego to Telluride is about 14-15 hours non-stop. A very useful app that I used is Roadtrippers.
Also check out the brand new GoPetFriendly Trip Planner to identify pet friendly locations along your route!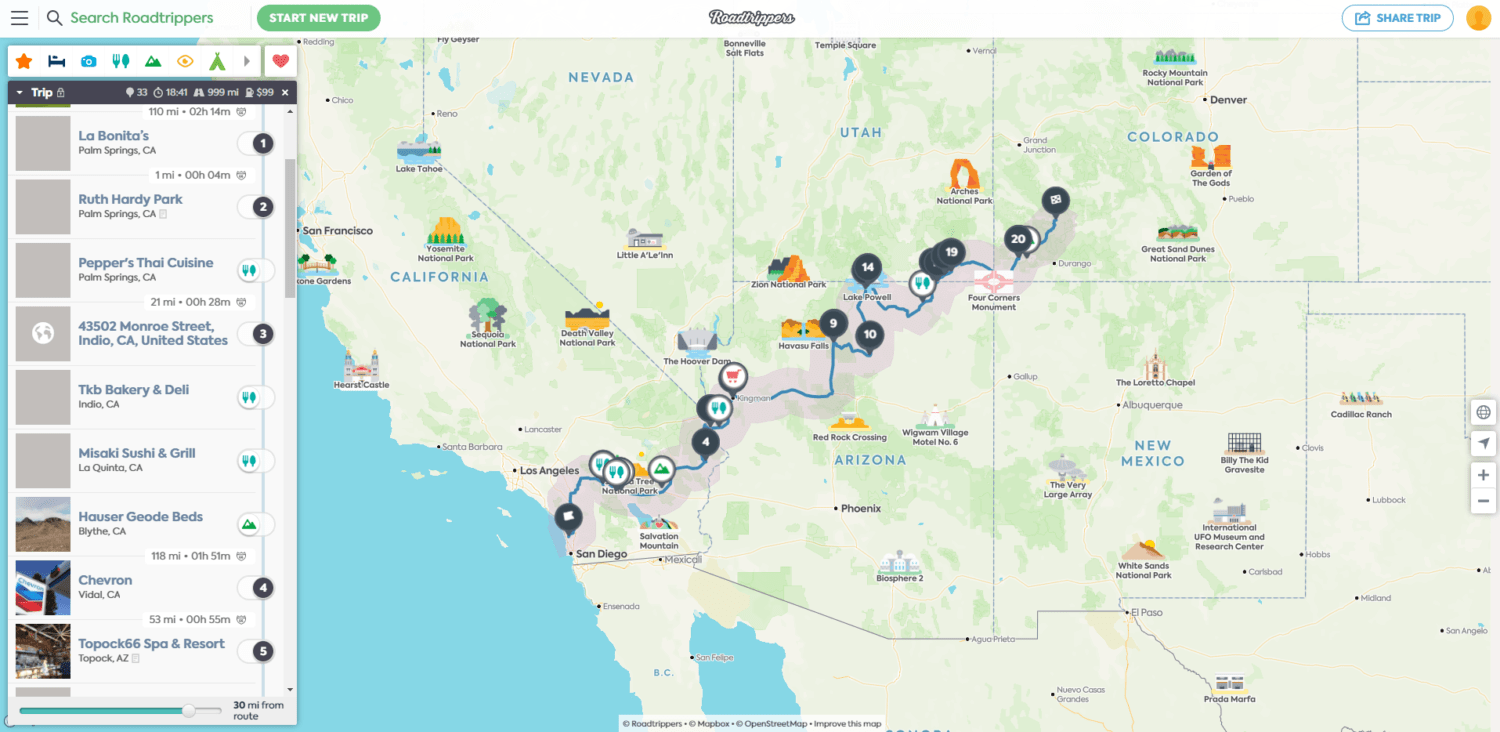 By entering the Start and Destination of your road trip, Roadtripper proposes a route and displays points of interest within 30 miles of where you'll be traveling. As the Grand Canyon is one of the dog friendly national parks, I clicked "Added to Trip" and Grand Canyon was instantly added as a stop. With our new stop added, Roadtripper adjusted the proposed route and the plan began to come together.
Adding Stops Along The Way
Gradually, I added Horseshoe Bend and Monument Valley as additional places to see on the way. I wanted to add Antelope Canyon and Havasu Falls, but found out those are two places dogs can't go. We also wanted to be in Telluride in no more than three days to catch the foliage at its peak. With driving capped at six hours per day, I quickly marked Kingman, Arizona as our overnight stop.
READ MORE ⇒ The Ultimate Pet Friendly American Road Trip
Packing the Vehicle
For our 12-day road trip with two dogs, we rented a big SUV to make the trip as comfortable as possible. While the Nissan Armada we chose didn't have the best MPG, it was spacious for us and the pups.
With our two pups situated in the second row hammock and third row seats collapsed, we filled the trunk and second row floor with our supplies:
Two carry-ons and one check-in size suitcase,
Two 24-pack bottled water and three 12-pack Ito En Oi Ocha green tea
Ten Costco chocolate muffins, six Costco cream cheese and apple Danish, and a box of Costco croissants for breakfast
A LOT of snacks for the humans, including Nongshim Shin Ramyun, marinated bamboo shoots (I eat them like pickles), bean curd snacks, Golden Island Korean BBQ pork jerky, two types of cookies/cakes with Matcha green tea, etc. MATCHA is life! We love food, if you can't tell.
Nine 24 oz bags of freeze-dried dog food. We still had three bags left by the end of the trip.
One 45" x 28" reversible dog bed that fits two 40-pound dogs
Dog supplies such as water bowls, two regular leashes, a waist belt leash, a dog travel water bottle, an Outward Hound dog backpack (one of my best dog purchases of the year!)
Two packs of Clorox wipes, which are probably worth $$$ now!
We didn't snap a picture of the stuffed trunk before our road trip. (Next time!)
Hitting the Road
I intentionally schedule as much driving as possible on the first day, since everyone has the most energy in the beginning! It might be something you want to consider for your road trip, too.
Of course, everyone needs bathroom breaks. However, given the shut-downs, finding bathrooms turned out to be more difficult than expected! We quickly learned to use the bathroom whenever it was available, whether or not we needed it! It's a tip we'll be sure to remember when we're preparing for our next pet friendly trip.
About the Author: Sissi and her husband live in San Diego with their two Australian Shepherds, Leo and Oakley. Growing up in cities with four seasons, she also enjoys visiting places to watch blossoms, foliage and snow. Sissi and her husband love museums, photography, hiking, food, traveling, history, geology and archeology. You can follow their adventures with Leo and Oakley on Instagram.
Amazon Affiliate Disclosure: GoPetFriendly.com LLC is a participant in the Amazon Services LLC Associates Program, an affiliate advertising program designed to provide a means for website owners to earn advertising fees by advertising and linking to amazon.com, audible.com, and any other website that may be affiliated with Amazon Service LLC Associates Program. As an Amazon Associate, the owner of this site earns a commission from qualifying purchases.
(Visited 2,412 times, 1 visits today)