Two years ago we took the dogs to Las Vegas, and discovered the Lake Mead National Recreation Area. But, at almost a million and a half pet friendly acres, it definitely deserves a post all it's own! This month we took the motorhome back to Lake Mead for a more thorough sniffing around, and what we found was even better than we expected …
Lake Mead National Recreation Area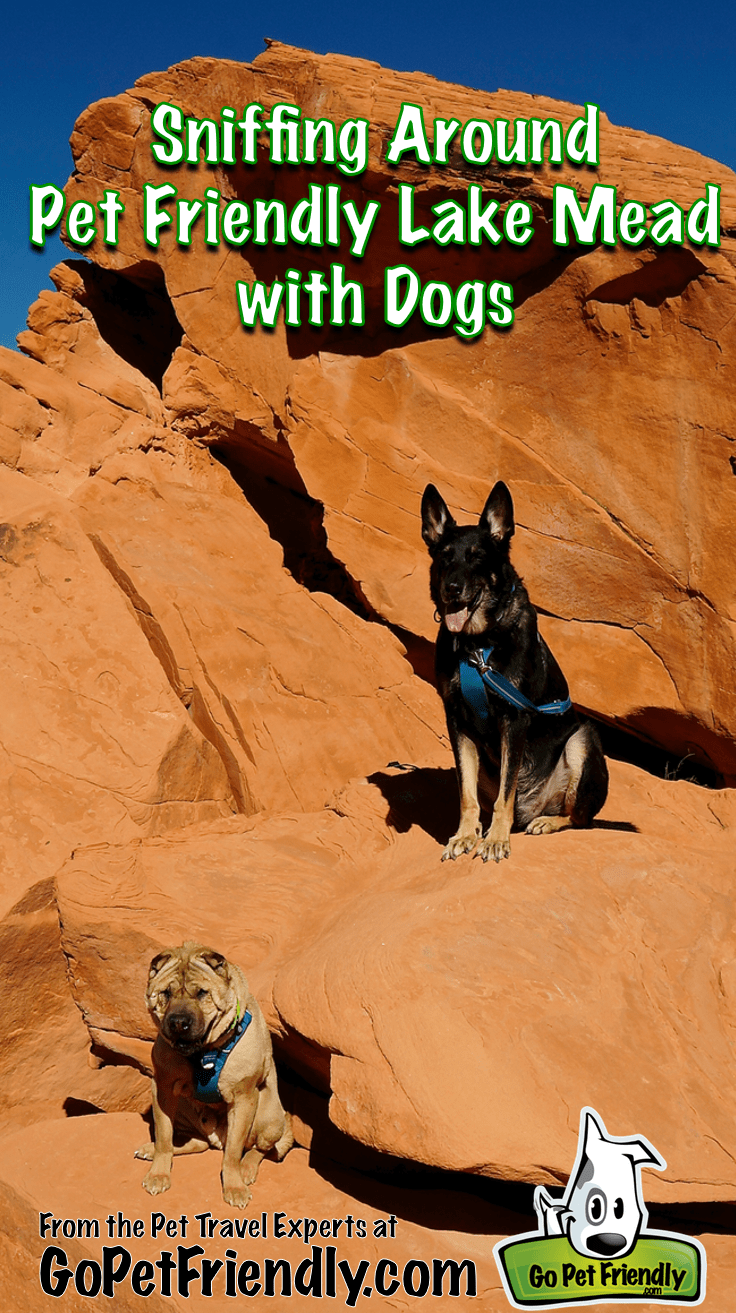 Lake Mead National Recreation Area follows the Colorado River for 25 miles as it flows from pet friendly Grand Canyon National Park to just north of Bullhead City, Arizona. The National Park Service manages this recreation area, so we expected to find the same types of pet restrictions that we recently bumped up against at Colorado National Monument – it was refreshing to learn that leashed dogs are welcome on all the trails and the lakefront at Lake Mead, unless a sign is posted stating otherwise (and we didn't see any during our visit).
Before we get into the specifics, let's take a quick run through the things that will help you keep your pets safe when embarking on activities in a desert climate like Lake Mead:
Bring plenty of water for you and your pet whenever you leave home. This is obvious when you're hiking, but even going for a drive could be dangerous if car trouble strikes and you don't have the ability to stay hydrated.
Lake Mead is home to predators like coyotes and mountain lions, so keep pets on a leash and don't leave them unattended.
Temperatures can soar to dangerous levels in the desert, so plan your visit when the weather is moderate, don't leave your pets alone in the car, and be aware of the signs of dehydration and heat stroke in dogs.
Most of the trails at Lake Mead (and many other desert locations) are rocky. If your pup has sensitive paws, bring boots to protect his feet.
Always be aware the weather. Heat, wind, and floods are all concerns in the desert, so check the forecast before you head out, and be cautious if conditions change during the day.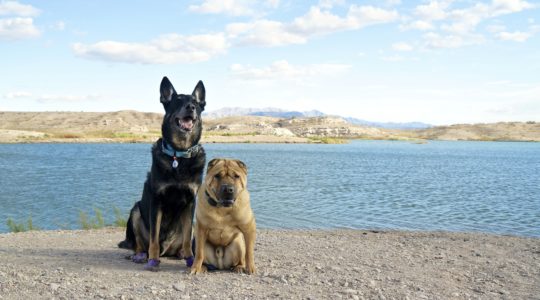 Choosing what to do first is the biggest pet friendly dilemma you'll run into at Lake Mead! Head to the beach for a day in the sand … find a secluded picnic spot and steep in the tranquility … rent a boat and cruise the lake … or hit the trails and become one with the spectacular scenery.
Historic Railroad Trail
We started with the Historic Railroad Trail, a 3.7-mile section of the Hoover Dam Railroad system that's now used for recreation. Originally built to transport equipment and supplies while the dam was under construction, the railroad wound along the steep cliffs and cut through the mountains with five tunnels.
The first half of this gravel trail (nearest the visitors center) is wide, flat, and rewards you with terrific views of the lake. Ty's round-trip hiking limit is about four miles, so we turned back just beyond the fifth tunnel – we were told the trail gets steeper and more difficult beyond that point, but you can follow it all the way to Hoover Dam.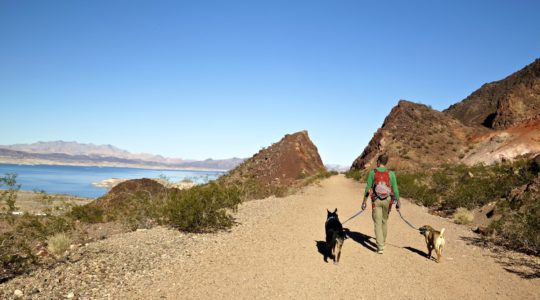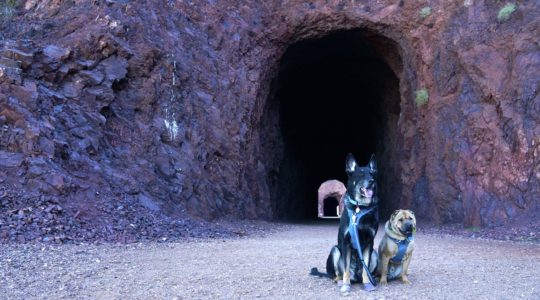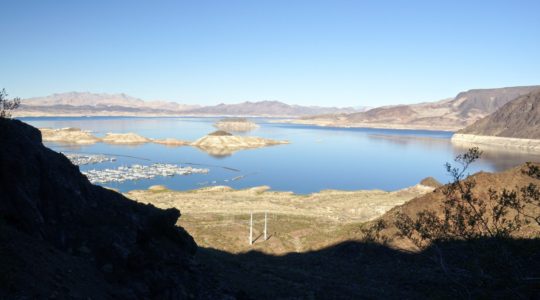 This trail provides a lot of shade, making it a nice option for warmer days, and has strategically-located benches where you can rest and enjoy the views.
River Mountains Loop Trail
We picked up the River Mountains Loop Trail at the tail head just west of the park entrance station on Lake Mead Parkway (Hwy 564) near Lake Las Vegas. This is a 31-mile, paved loop trail that connects the communities of Boulder City and Henderson to Lake Mead.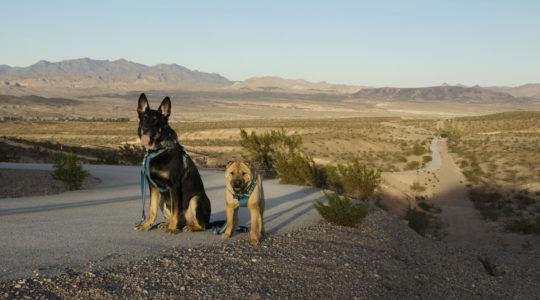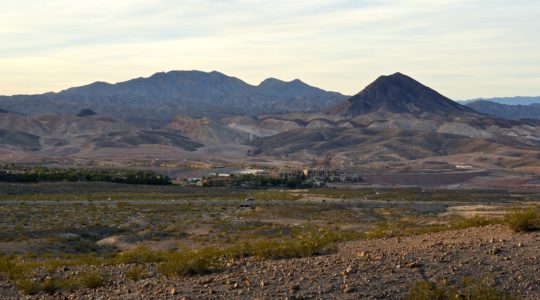 This trail puts you in touch with the life of the Mojave Dessert, so it's perfect for early morning or evening walks. Keep an eye out for desert tortoises, a wide variety of birds, and bighorn sheep on the high mountain ridges.
Gypsum Wash
It's not always necessary to choose a designated trail if you're looking for an interesting hike. Gypsum Wash is located between Lake Mead Boulevard (Hwy 147) and Government Wash, and is a spectacular place to take a walk. There's a large parking area on the east side of the Gypsum Wash bridge, and it's a pretty easy climb down into the wash from there. Once you're in the bed, it's flat, and easy-walking on the gravel, sand, and stone terrain.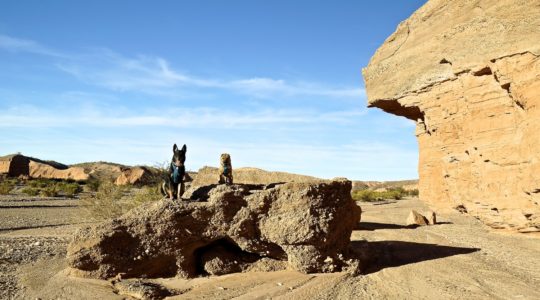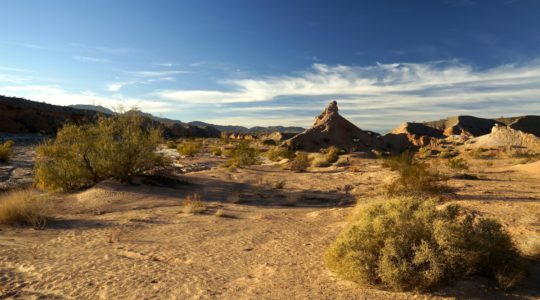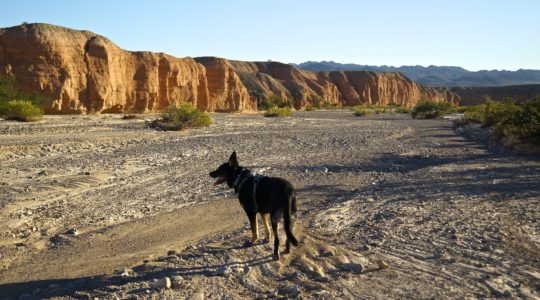 Water follows the easiest route into the wash, and erodes crevices and canyons as it goes. If you choose branch off and explore these niches, be sure to mark your trail. It would be relatively easy to get turned around in this unfamiliar environment.
Northshore Summit Trail
The quarter-mile Northshore Summit Trail may not be long, but it packs a mighty punch! Climbing to the peak give you views of Muddy Peak, the Muddy Mountains Wilderness Area, and part of the Las Vegas Valley.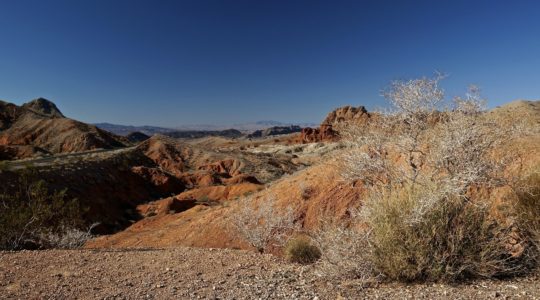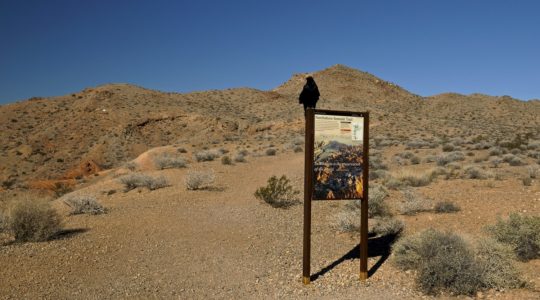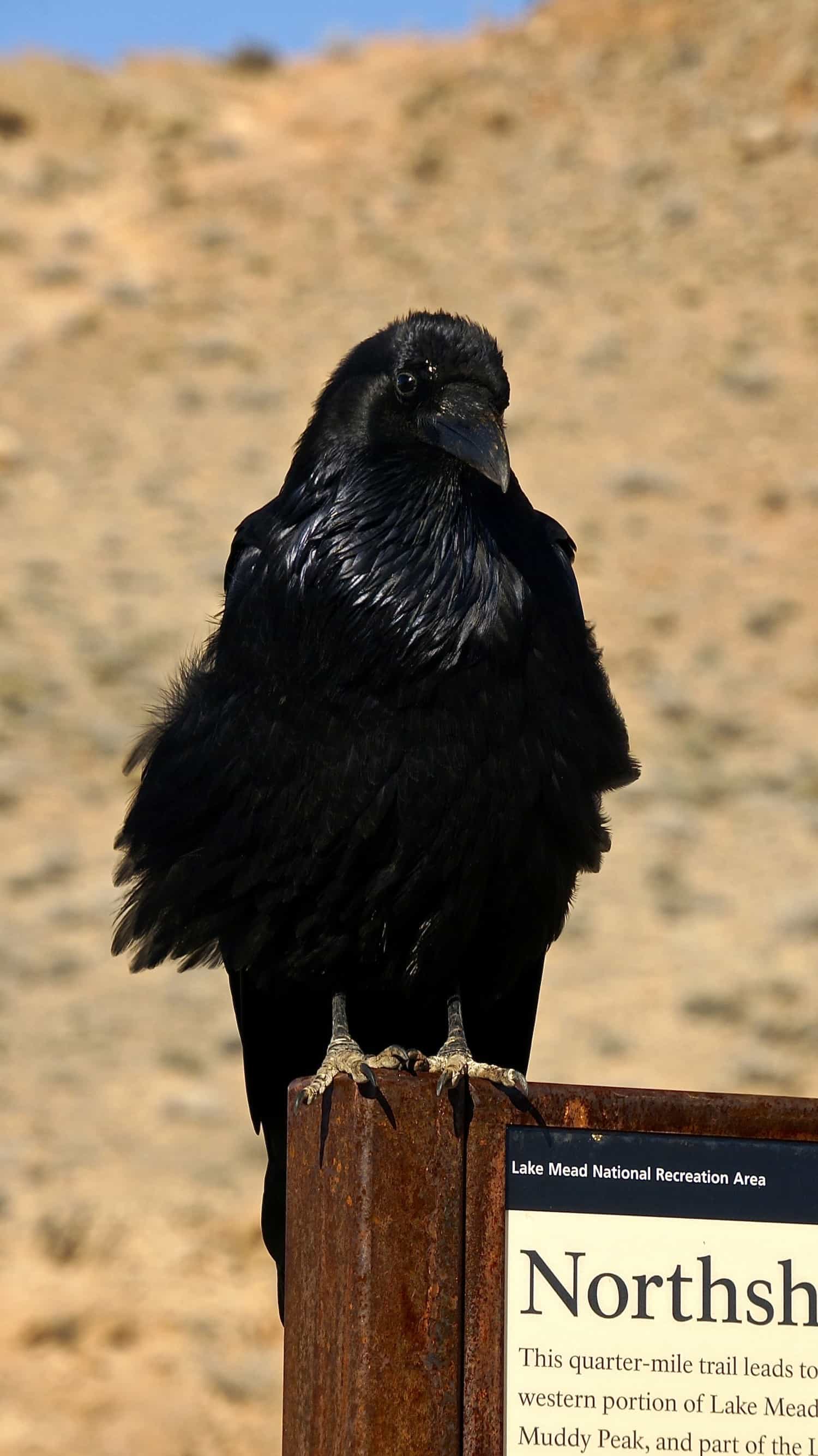 The day we visited there was even a greeter at the trailhead – but not everyone will likely be that lucky!
Redstone Trail and Picnic Area
The half-mile Redstone Loop Trail was our favorite, though the trail itself is not well marked. Fortunately, wandering around the stunning rock formations is easy, and following a trail isn't necessary.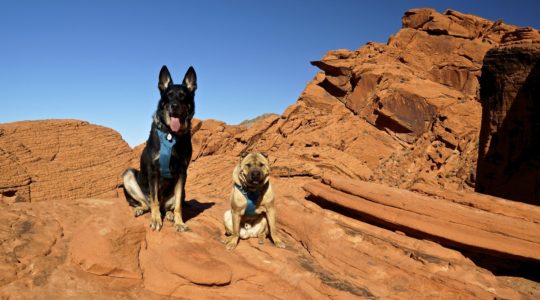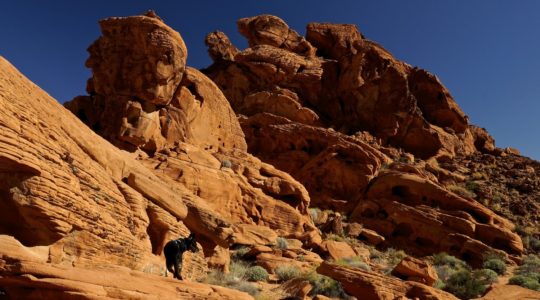 There is also a lovely picnic area here, with pergolas over the tables and trash receptacles. There is no drinking water, however, so be sure to bring your own beverages.
Valley of Fire State Park
From the Redstone Trail, the entrance to Valley of Fire State Park is about 20 miles up the road, and well worth the drive! Though the park's name could easily refer to its summertime temperatures, it's actually a tribute to the red sandstone rock formations formed from shifting sand dunes 150 million years ago.
The park covers 42,000 acres and has several hiking trails – some where pets are allowed, and others where they're not. It's best to stop in the visitors center for a map, confirm the trail conditions, and determine which hikes your pet will most likely enjoy. If weather or time doesn't allow for a hike, there is still plenty to see on a drive around the park. The variety of colors in the landscape is like nowhere else we've been!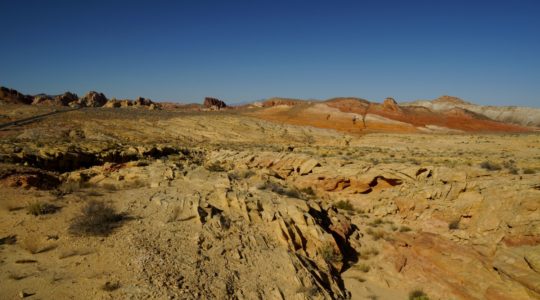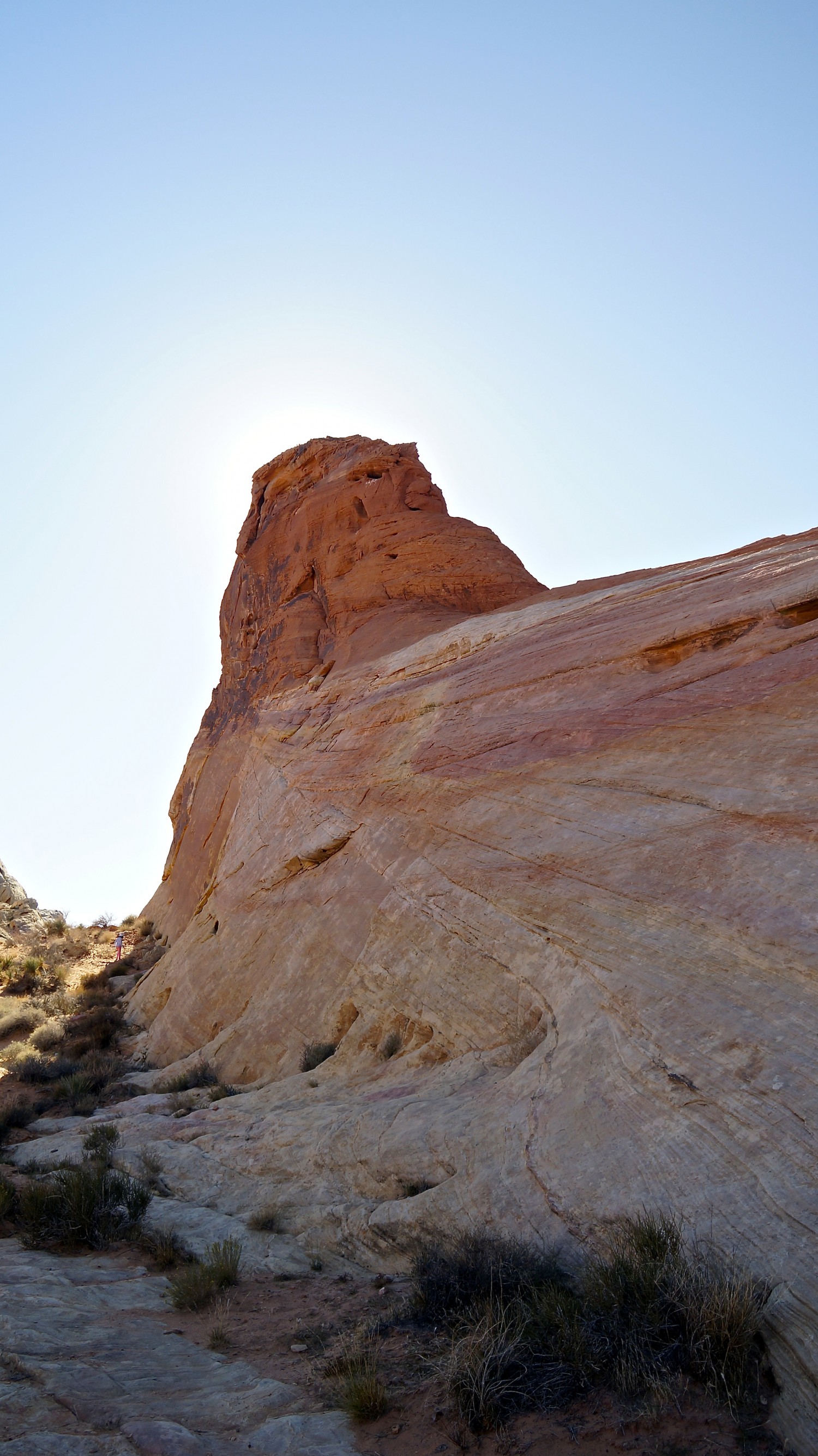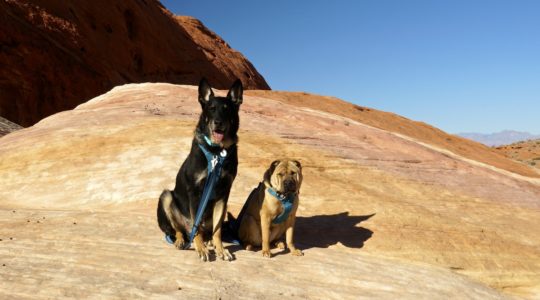 And the rock formations themselves are very interesting. There's a fire wave made of stone, petrified logs from an ancient forest, an arch, and one that looks like a gigantic dog!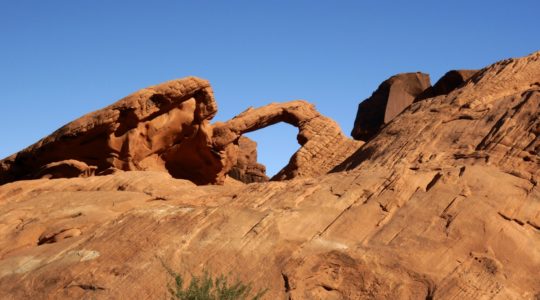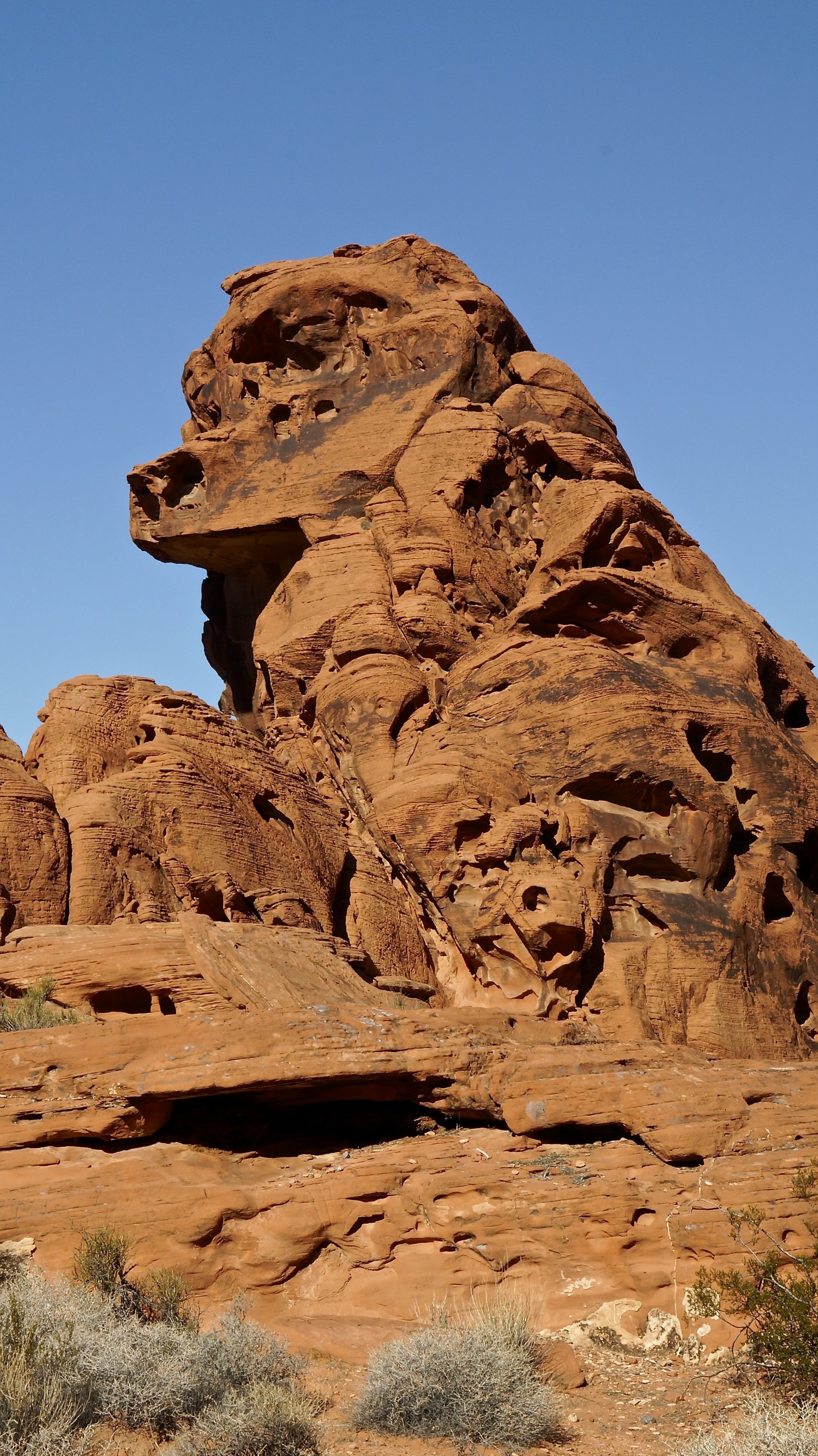 Spending time at Lake Mead with Ty and Buster was fun for us all. We had great views of the lake from the RV, the fall weather was lovely, and there were so many things to do with the boys that we couldn't get to everything. We'll be looking forward to our next visit to explore more of the trails, and perhaps experience the lake from the water in a boat or kayak!
Planning a pet friendly trip of your own? We'll make it easy:
Pet Friendly Hotels | Pet Friendly Destinations | Pet Friendly Activities
Amazon Affiliate Disclosure: GoPetFriendly.com LLC is a participant in the Amazon Services LLC Associates Program, an affiliate advertising program designed to provide a means for website owners to earn advertising fees by advertising and linking to amazon.com, audible.com, and any other website that may be affiliated with Amazon Service LLC Associates Program. As an Amazon Associate, the owner of this site earns a commission from qualifying purchases.
(Visited 13,775 times, 1 visits today)