If you're looking for the ultimate dog friendly destination, don't miss Vancouver! From the sand and surf to the majesty of the Rocky Mountains … from the bustle of the city to the tranquility of the woods … there is something for everyone in this versatile oasis!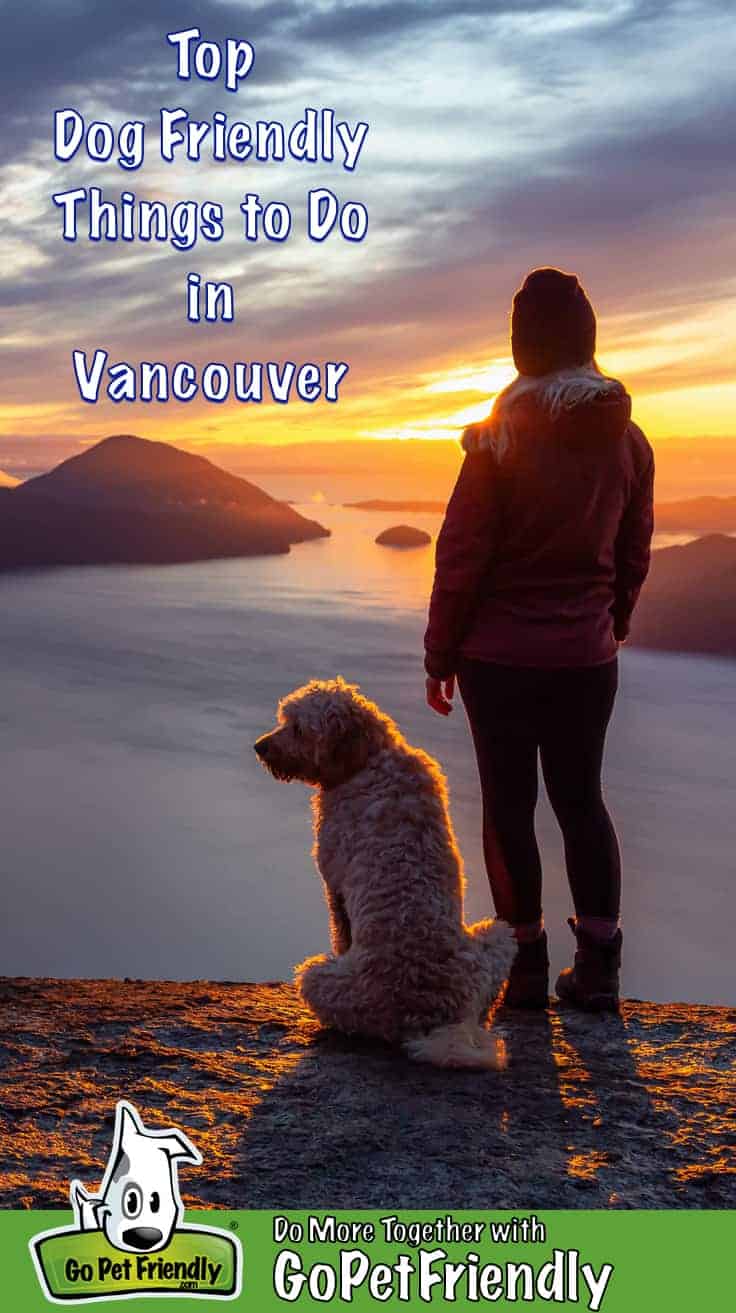 Living in Vancouver is something you can't quite explain – the city takes over your heart and becomes enmeshed in everything you do and all that you are. And what's not to love? In the winter, you can go from the heart of downtown to the ski slopes in 30 minutes. In the summer, the city is almost surround by water with beaches to suit every mood.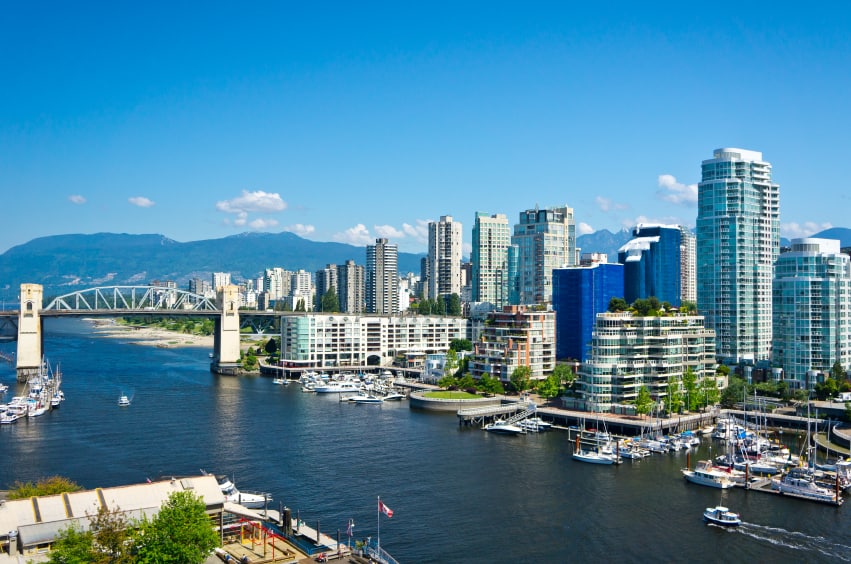 The culture is a melting pot that hasn't been melted – a place where people from all walks of life co-exist. You can find the colors from nations everywhere displayed with pride. We are city life and the great outdoors rolled into one. We're theatre, music, and art one day … and hockey, football, and soccer the next!
But most importantly, this city loves dogs. More than 27 thousand registered dogs live within the city limits. And we've created a lifestyle that is world class – not just for ourselves, but for our pooches, too. In Vancouver you'll find pet friendly accommodations abound, the public transit system welcomes small dogs to travel with you, and a city that loves dogs as much as you do.
Vancouver's Top 5 Dog Friendly Things To Do
1. Dog Friendly Beaches and Off-leash Parks
There are eight off leash, dog friendly beaches in Vancouver. EIGHT! Lounge on the banks of the Fraser River, a freshwater lake nestled amongst the urban sprawl. Or head to the seaside coast, where there is a beach to suit every dog and his owner. (Our favorite beach is at Hadden Park in Kitsilano. Amazing view, you guys!)
Sand might not be your thing … but pups still love to run. Why not try one of Vancouver's 29 off-leash dog parks, including the world renowned Stanley Park?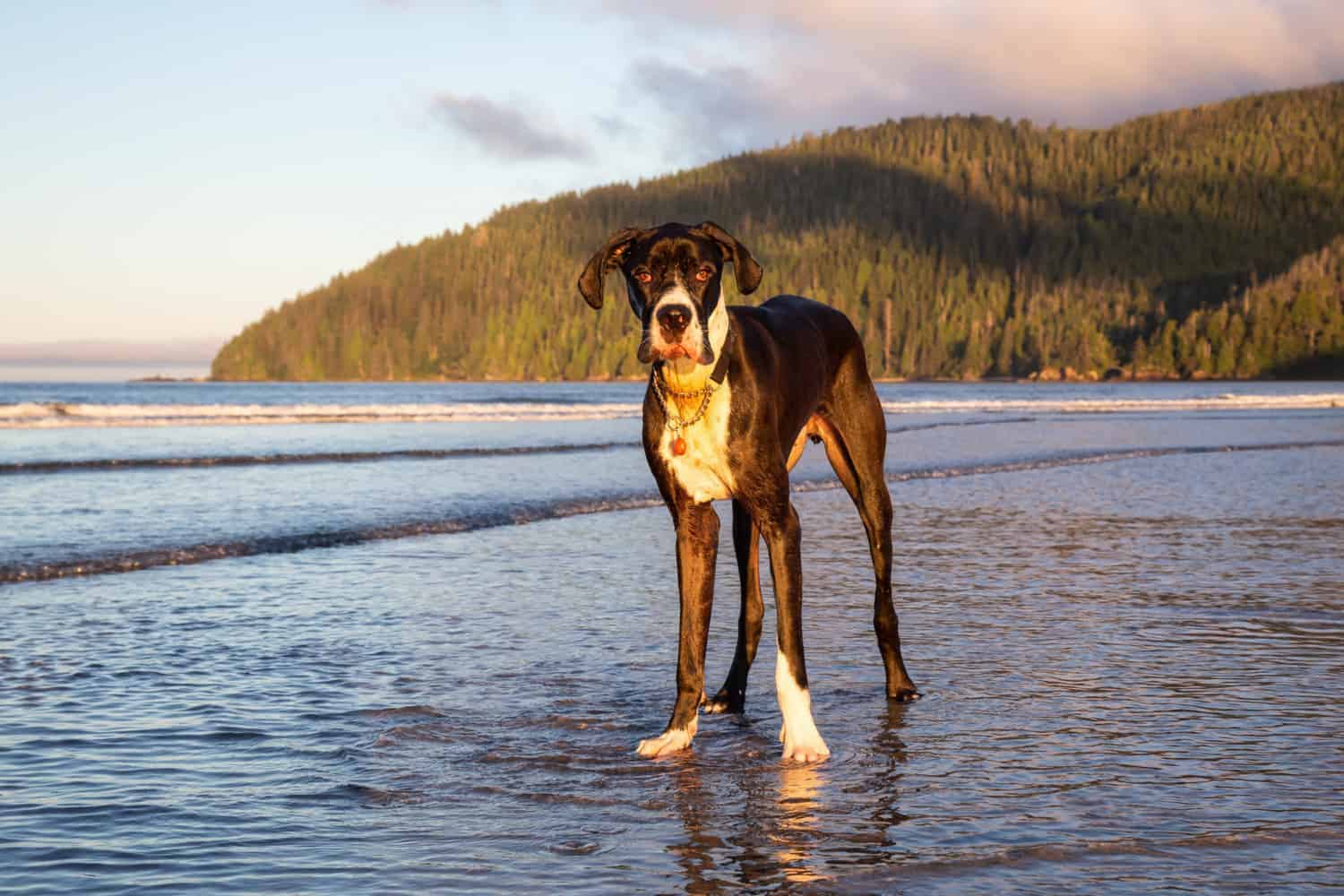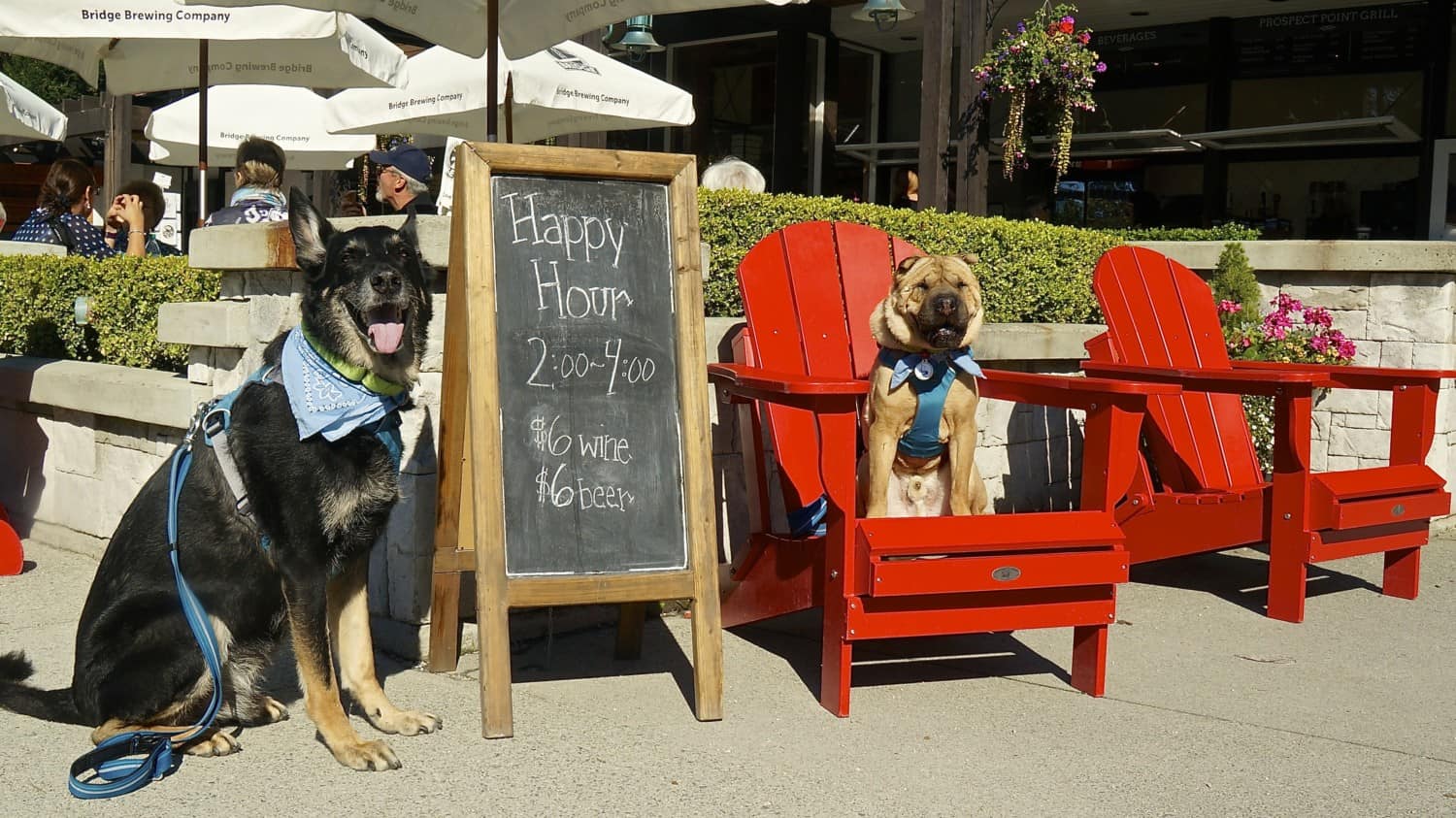 2. See the Dog Friendly Sites
One of the challenges of pet friendly vacations is that the local landmarks may not welcome pets. Vancouver, however, gives you plenty to choose from!
Visit the Capilano Suspension Bridge or the Hell's Gate Air Tram. Opt for a guided tour of Historic Gastown. (We love the Forbidden Vancouver walking tours for something a little spicier than the average tour.) Take the Aquabus to Granville Island for quirky local shopping, art, music and more. Indulge in local produce and hand-crafted baked goods at the Mainstreet Farmer's Market, or visit the historic Sam Kee building (the thinnest building in the World.)
READ MORE ⇒ Visiting Vancouver's Most Popular Attractions With Dogs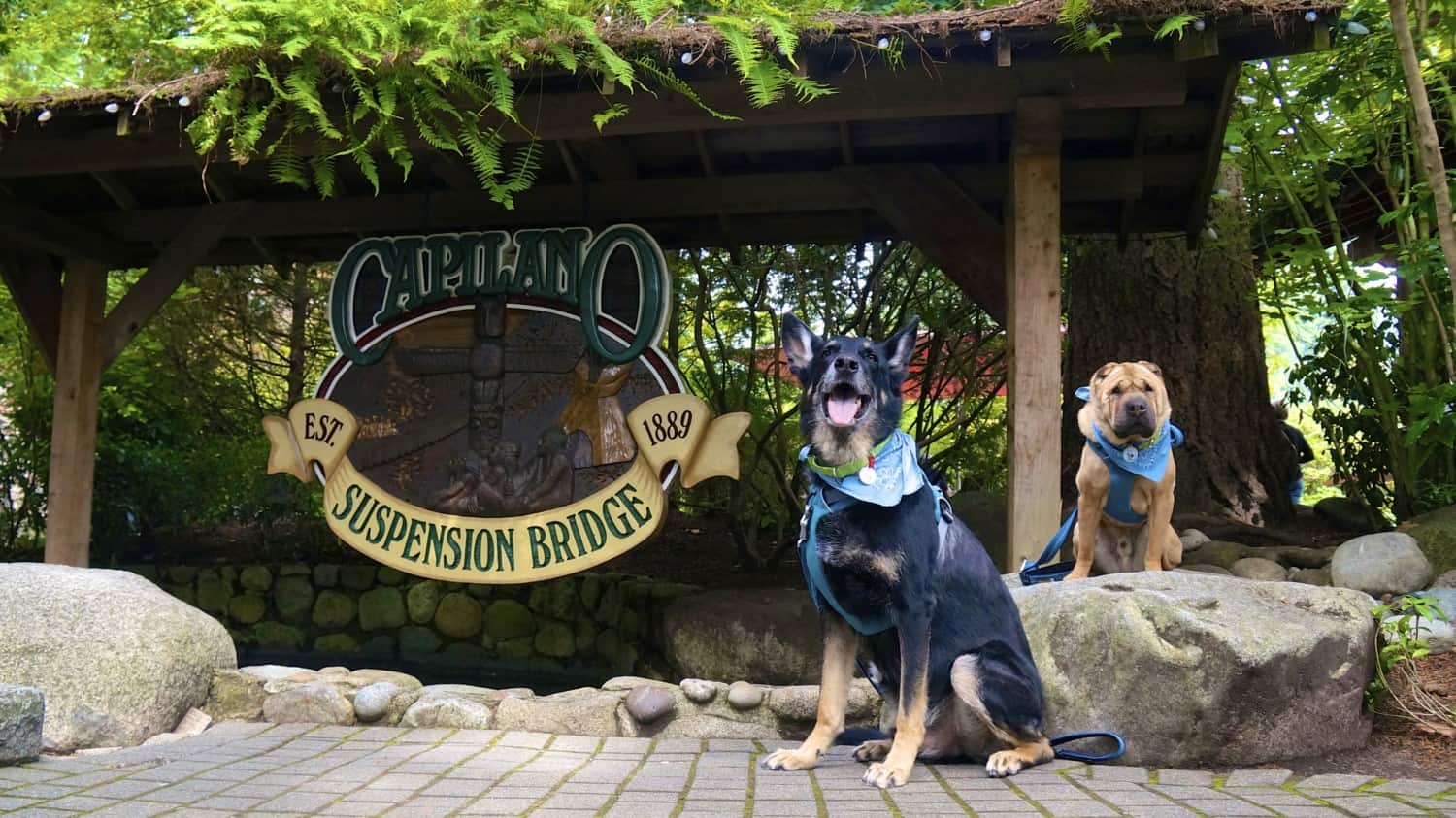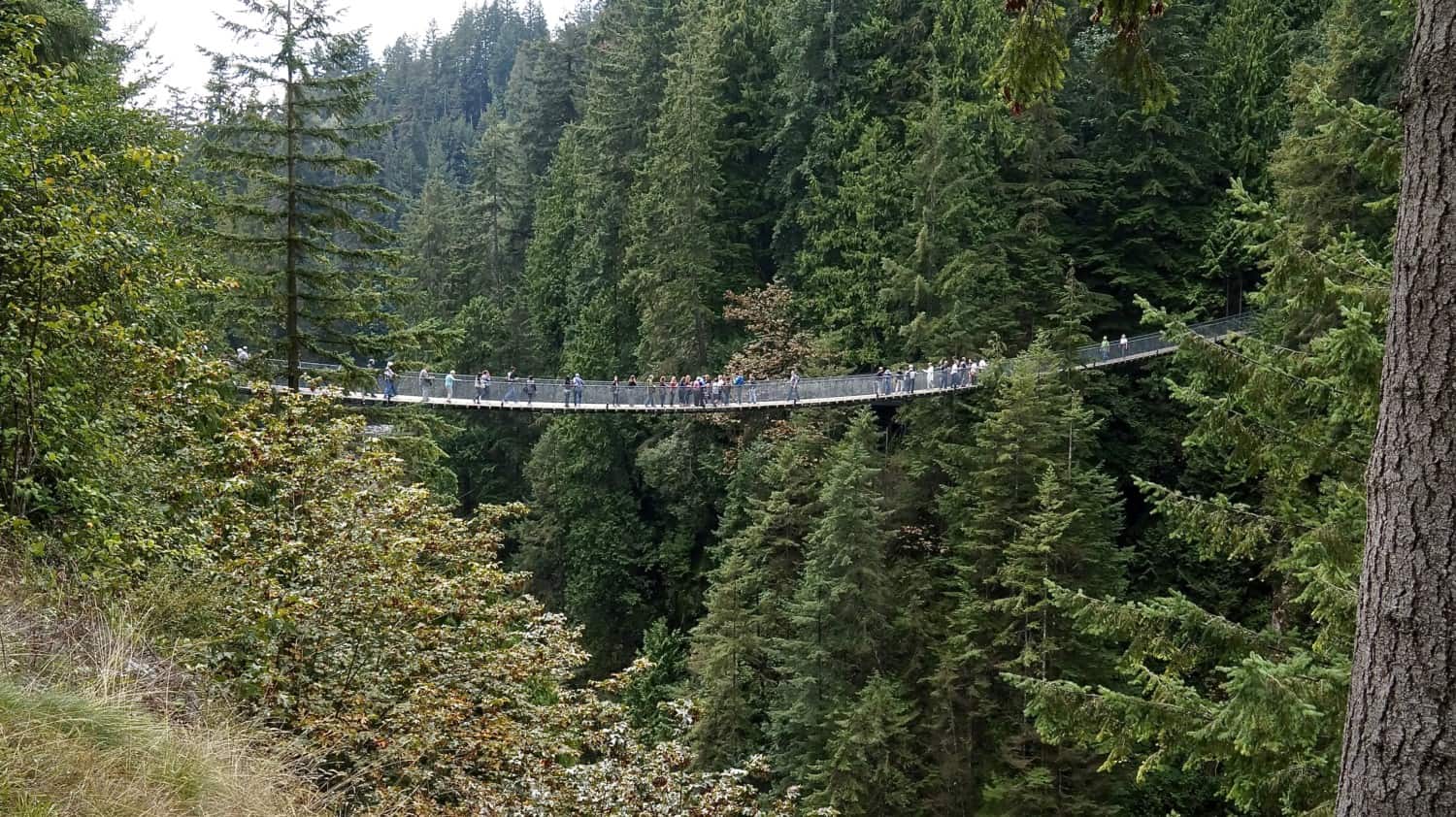 3. Take a Hike
Part of Vancouver's dog friendly charm is the many opportunities it offers to get back to nature. There are oodles of local, dog friendly hiking trails in Vancouver, with options to suit everyone from the novice hiker to the truly motivated. They call it "Beautiful, Supernatural BC" and that is never more evident than when you are out hiking.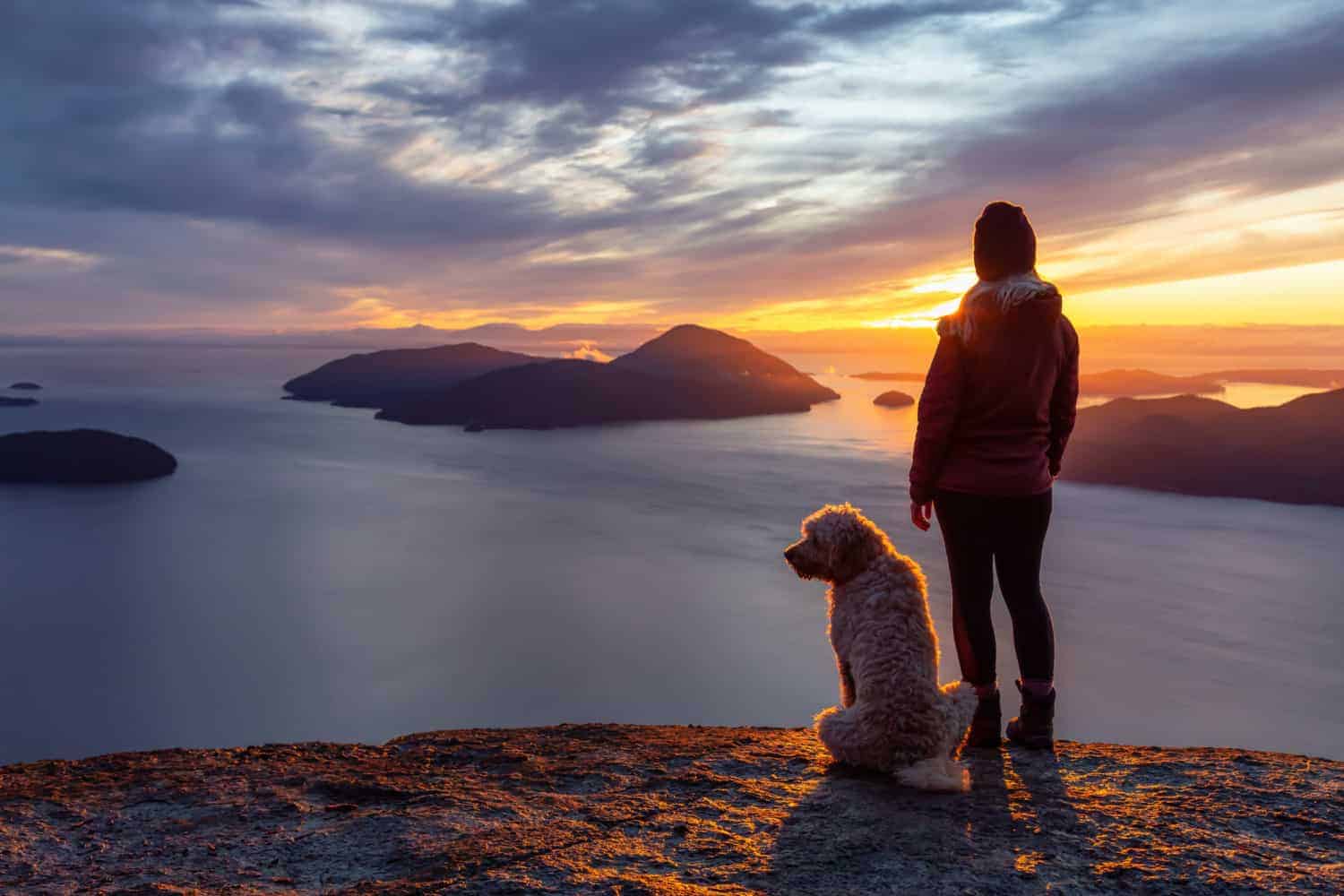 4. Good Eats for Pups & People
The people of Vancouver delight in good food. We can tell you the best places to get authentic Canadian poutine, show off our iconic Japadog street carts, or recommend high-end restaurants and specialty cuisine from all over the world. And dog friendly patios all over town will welcome you and your pup to pull up a seat and dine on your favorites.
There are also a myriad of snazzy pet shops to pick up some treats for your dog. No trip to the city is complete without a stop at True Carnivores for a snack.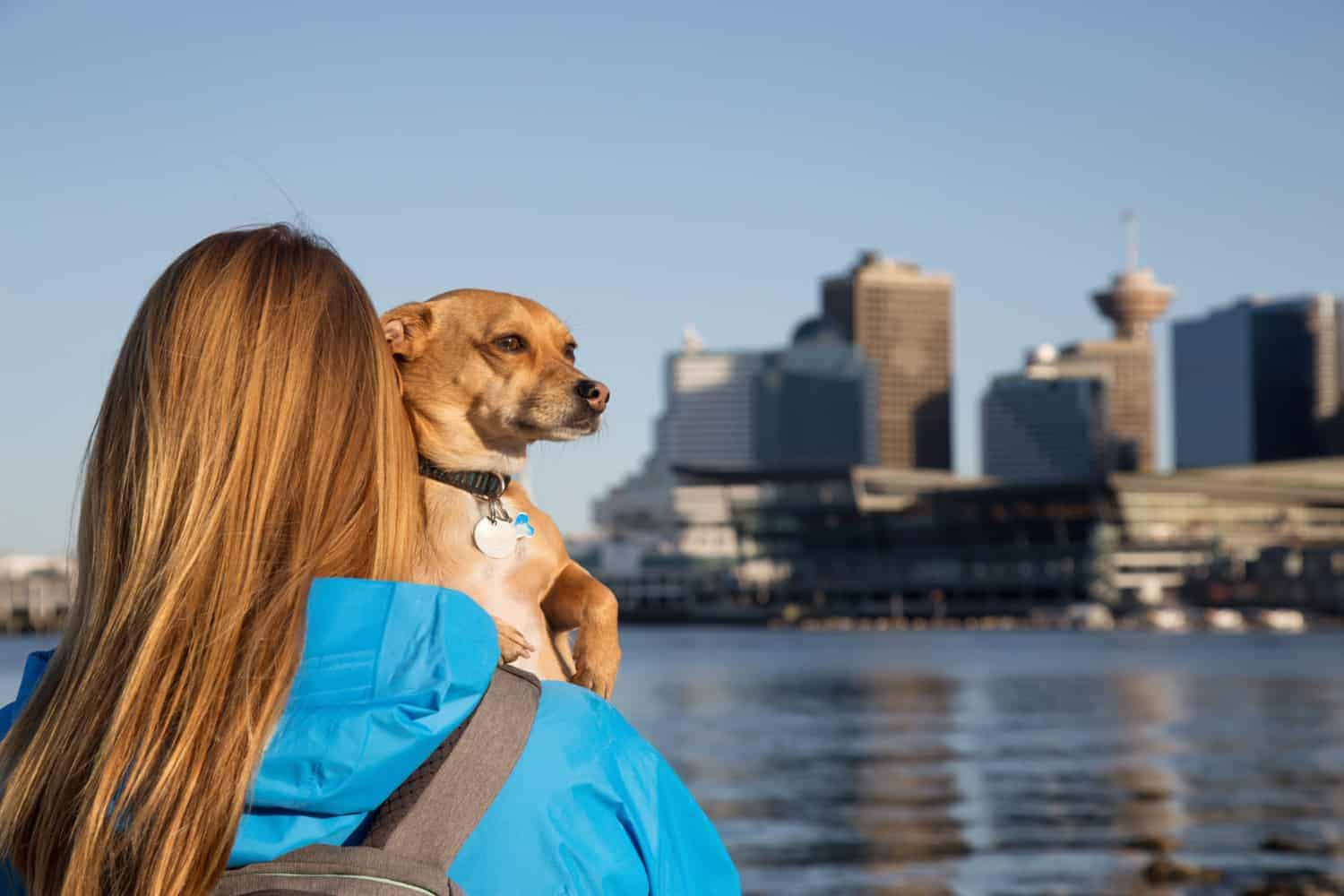 5. Day Trip to the Mountains
Just a quick car trip from the city, Whistler is a mountain top village known for it's world class skiing and snowboarding. What people might not know is that it's also incredibly pet friendly!
This small town boasts four off leash parks, special events like Whistler DogFest, the annual K9 Wine & Dine, and a multitude of pet friendly outdoor things to do. From snowshoeing and cross country skiing to hiking — Whistler makes a great day trip.
READ MORE ⇒  A Dog Friendly Day Trip From Vancouver to Whistler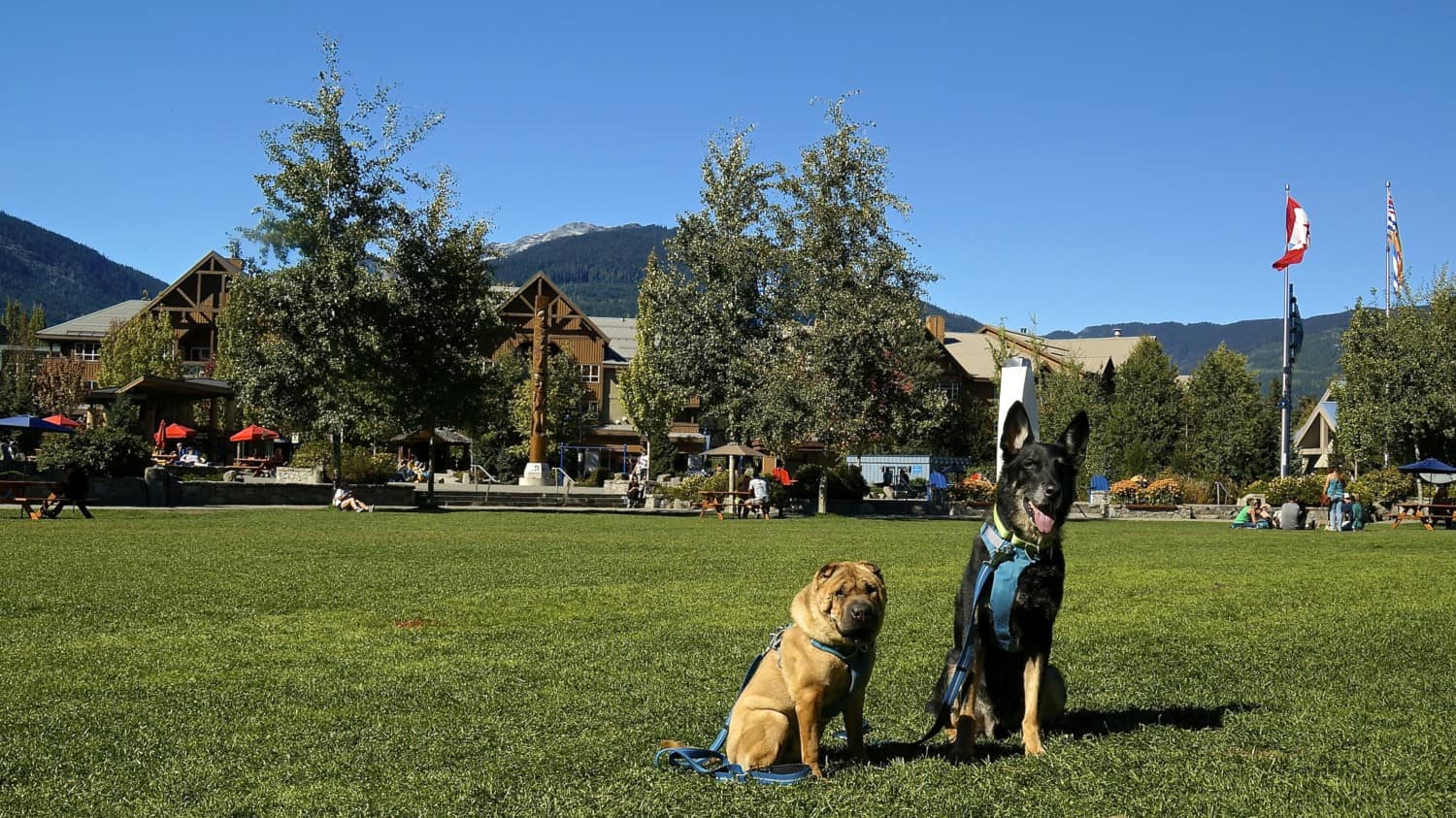 No matter what you choose to do, dog friendly Vancouver is the ultimate vacation destination. Come on over, eh? We would love to meet you!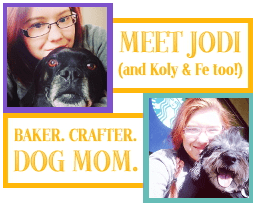 About the Author: Jodi is a baker, crafter and self-professed "Crazy Dog Lady" hailing from beautiful Vancouver, BC. (That's in Canada, eh?) She loves to experiment in the kitchen, creating tasty (and healthy) treats for her two dogs, Felix & Kolchak and the rest of her family. Jodi's blog, Kol's Notes, follows the antics of the irrepressible Kolchak as they share their recipes, DIY and tips on how to live a dog friendly life that doesn't look like its gone to the dogs.
Guest Posts on GoPetFriendly.com: We love sharing stories from people having fun traveling with their pets! And reading about your pet travel experiences might give someone the confidence to head out with their own best friend. If you're interested in writing a guest post, let us know!
(Visited 45,089 times, 4 visits today)