Ski towns are some of our favorite summer destinations with Ty and Buster. From Stowe, Vermont to Telluride, Colorado, to Bend, Oregon, and Banff, Alberta – we find them to be scenic, quaint, dog friendly, and loaded with outdoor activities to enjoy with the boys.
Plus, they're usually much less crowded in the off-season, which we appreciate! So, when we landed in Vancouver, British Columbia for three weeks, we knew that a day trip to Whistler was in the cards.
Traveling the Sea to Sky Highway
The 80-mile route from Vancouver to Whistler is one of Canada's most spectacular drives, and just off the beaten path you can experience plunging waterfalls, gorgeous hikes, beautiful Alice Lake, and breathtaking Tantalus Lookout. If I'd known in advance, I'd have planned an overnight stay in Whistler to allow more time to explore along the way. Since I didn't, we'll have more to look forward to on our next visit.
Whistler Village
Whistler is a pedestrian village that has won numerous design awards, and been voted among the top destinations in North America by major ski magazines since the mid-1990s. It's picturesque setting at the base of Blackcomb and Whistler mountains  forms the perfect backdrop for this quintessential ski village.
The village is divided into three areas, each with their own personality. The Main Villiage offers upscale shopping and restaurants,  with brick-paved "streets" and spacious plazas that give it a European feeling.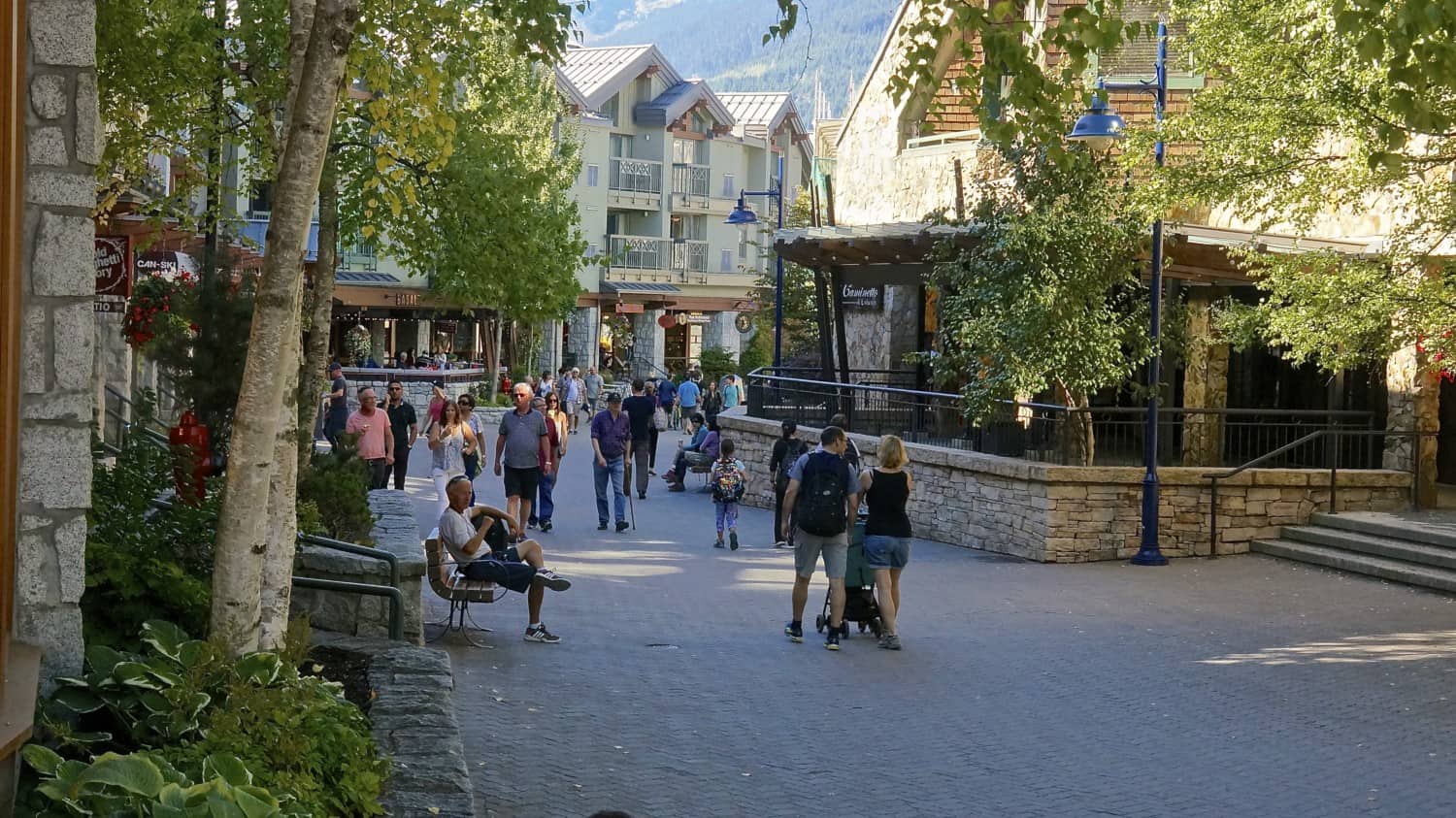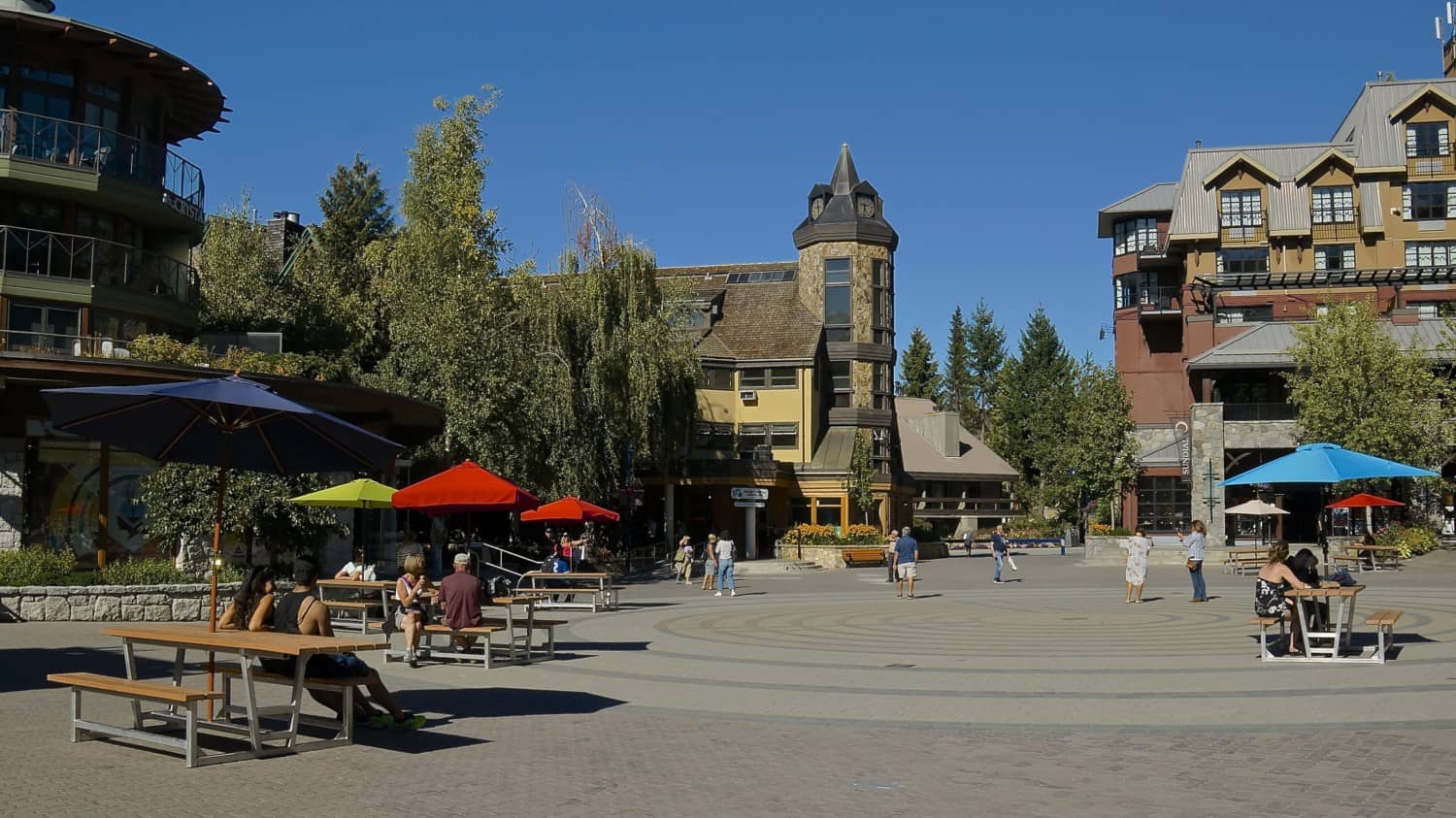 In 2010 Vancouver hosted the Winter Olympics, and most of the alpine events were held in Whistler. Village North is centered around Olympic Park and the sculpture of the Olympic rings, commemmorating the event. The restaurants here are more casual, and where the restaurants in the Main Village have patios, these have more informal sidewalk seating. Dogs were not allowed on any of the restaurant patios, but they were welcome to join you at the sidewalk seats – and taking your food to go and having a picnic on the lawn is always an option!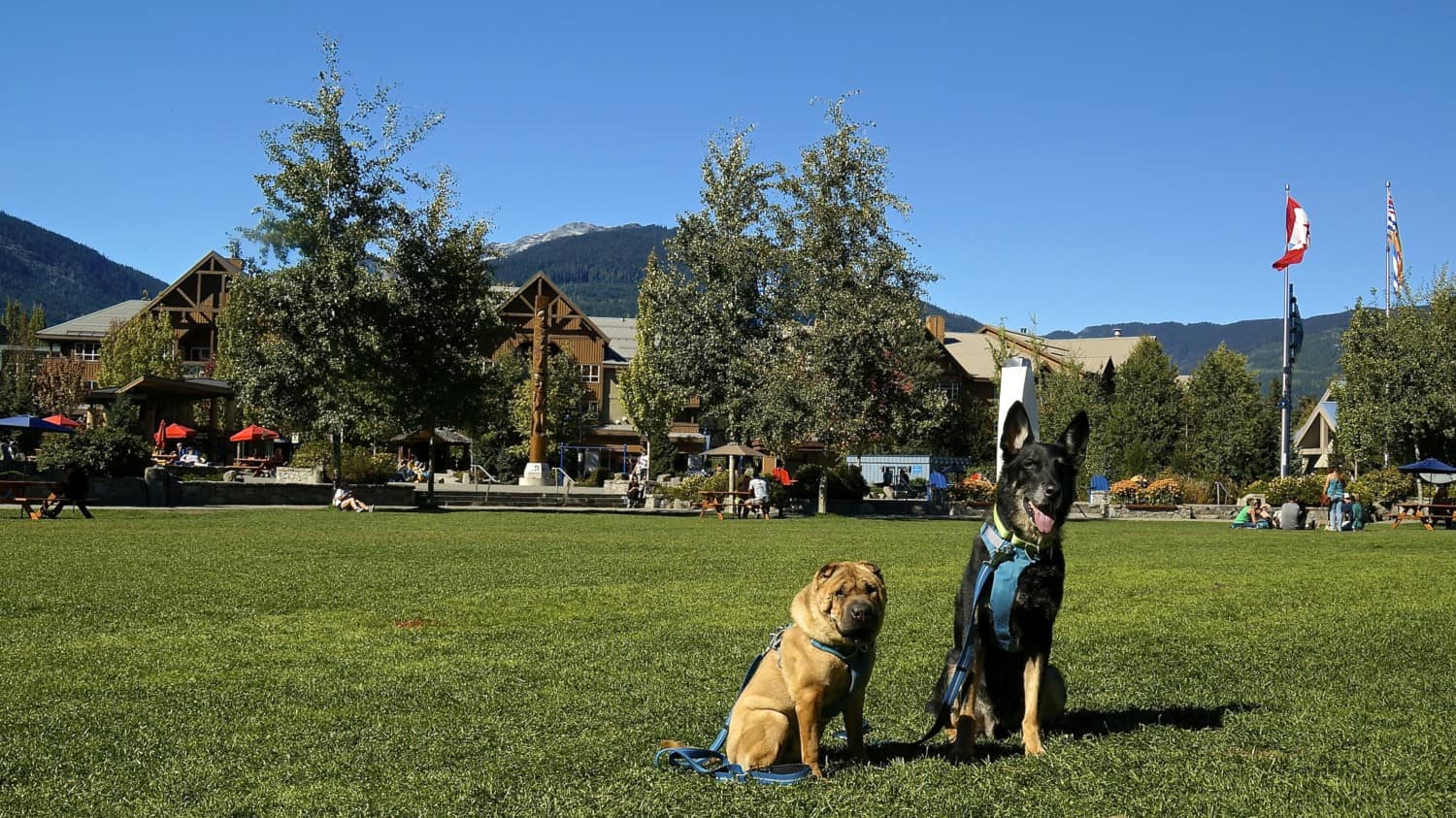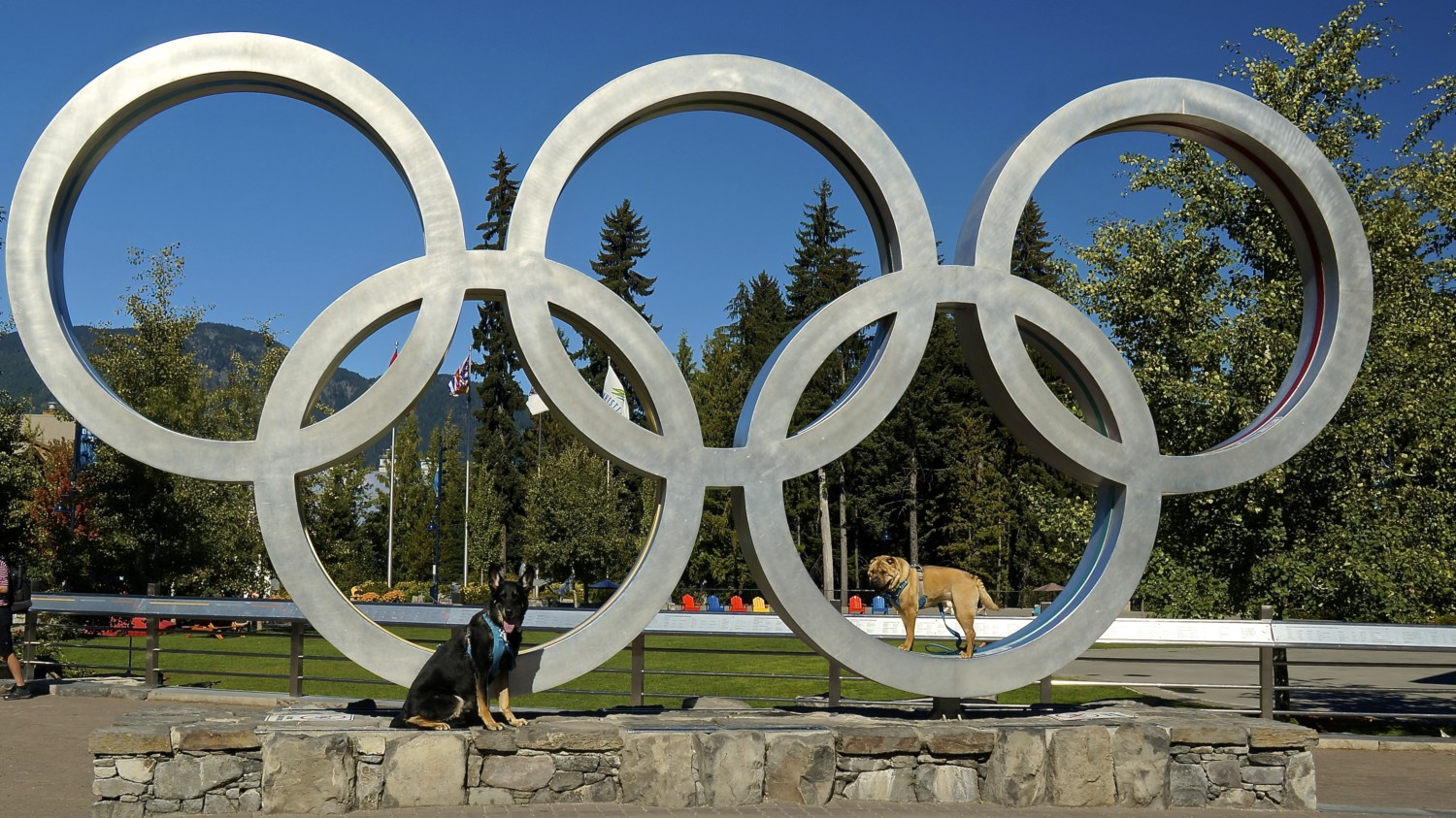 The Upper Village is primarily hotel accommodations, Family Adventure Zone, and administrative buildings. All parts of the village are easy strolling distance if you prefer "urban hiking," and there are plenty of parks along the way to rest your paws. If you're looking to connect with nature, there are some nice trails in and around Whistler where your dog is welcome.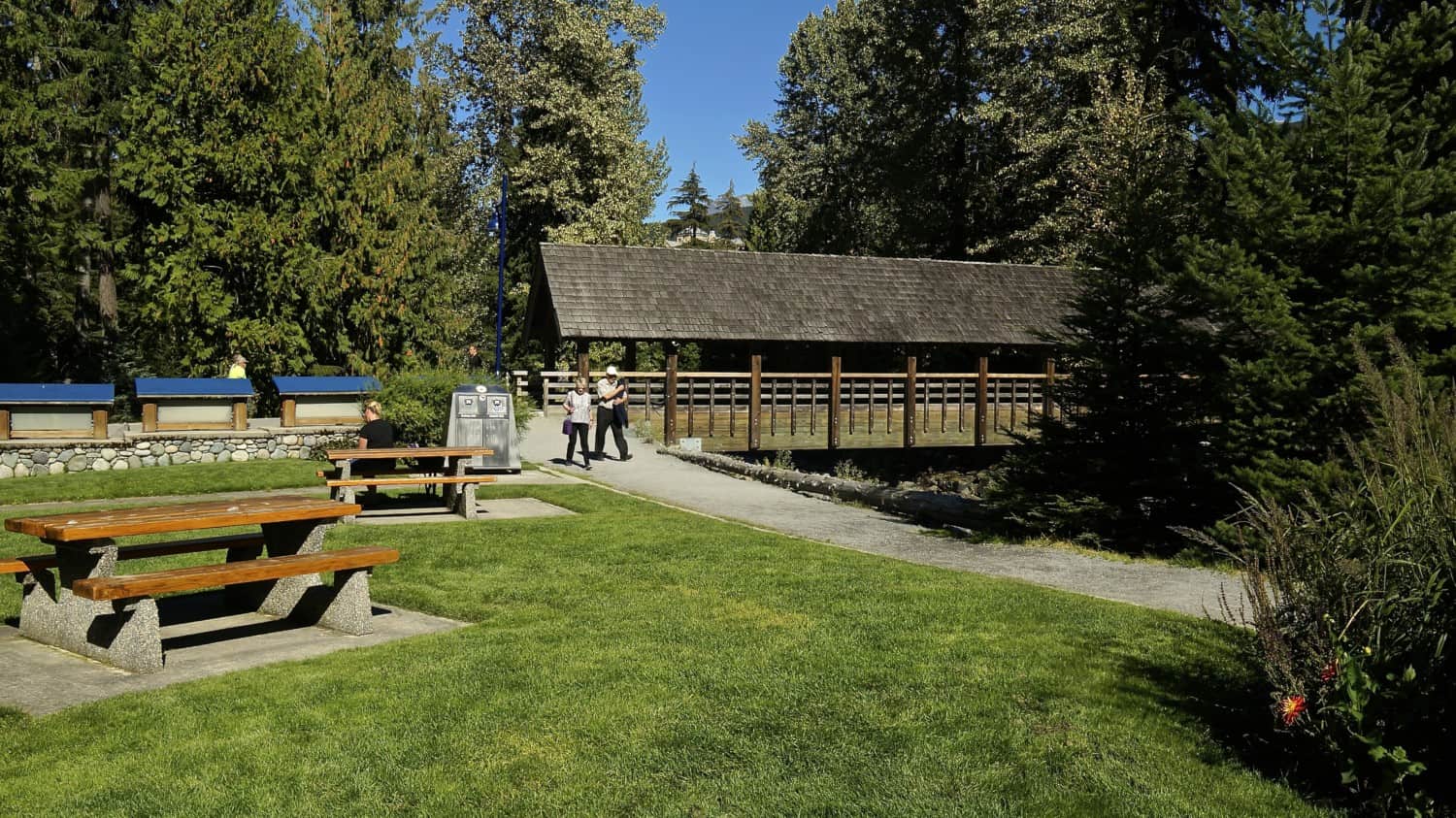 Dog Friendly Trails around Whistler
Whistler boasts a nice selection of dog friendly hiking options … from easy to strenuous, there's something to fit everyone's ability and desire. A few of the favorites are listed below, but check in at the visitors center for maps and more options.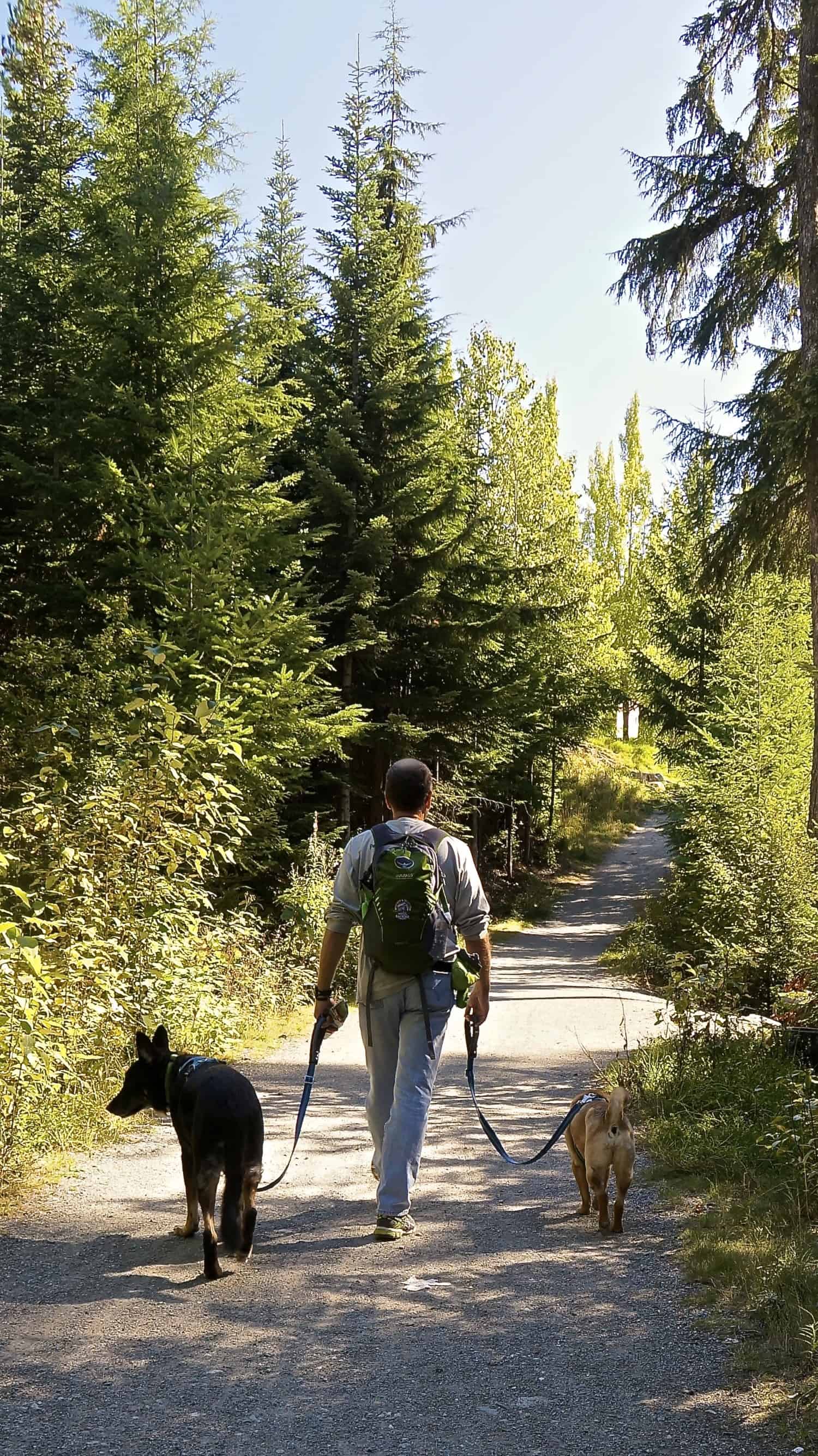 Ancient Cedars Trail – Experience the hush of an ancient cedar grove and tranquil lakes as this trail runs gradually uphill for a 5k round-trip hike. The trailhead is located a short drive north of Whistler, just past Green Lake on Highway 99. The logging road that leads to the trail is bumpy, but if you take it slow, even those in cars should be fine.
Lost Lake Park – Easily walkable from the village, Lost Lake Park offers almost 100k of forest trails. Most trails are shared by bikers and hikers, but Nature trail is open to hikers only, and a good place to walk with your dog. The trailhead is to the right of the gravel road leading to Lost Lake and is easy to miss. Look for a small, narrow trail that heads towards the creek – the trail hugs the creek and is easy to follow once you find it.
Valley Trail – This paved and boardwalk network of trails runs for more than 40k and connects all of Whistler's neighborhoods, winds past crystal clear lakes, and passes through tranquil pine forests. It's popular with walkers, bikers, and cross-country skiers in the winter.
Riverside Trail – There are several trails through this forest preserve, but the most popular is the 7k loop along the Cheakamus River to the suspension bridge. The main parking lot for the trailhead is on the east side of Hwy 99 off Cheakamus Lake Road. Cross the old one-lane bridge and follow the Riverside Trail (blue and white markers) for an easy hike to the bridge.
Skywalk Trail – Up for a challenge? The newly opened Skywalk Trail provides a strenuous hike through the temperate rainforest up to an alpine meadow and a sea of wildflowers. You'll recognize Iceberg Lake, with its turquoise water and a glacier perched to one side, surrounded by waterfalls cascading down the mountain peaks. From here you can head back or follow the trail north to Screaming Cat Lake and then loop back around.
Whistler's Dog Parks and Beaches
If there's no time for a hike, but your dog wants to burn of some steam and socialize with the local pups, check out Whistler's dog parks and beaches!
Arfa Lake Dog Park and Dock – Located on Lake Placid Road, just past the Husky gas station, you'll find this dog park and swimming area just past the tennis courts.
Barking Bay at Rainbow Park – About a half-hour walk from the village on Valley Trail, this is a nice spot on Alta Lake for a dog to have a splash.
Bayly Park – this fenced, off-leash area is located in the Cheakamus Crossing neighborhood.
Canine Cove at Lost Lake Park – After a hike on the park trails, there's nothing better than cooling off in Lost Lake!
Spruce Grove Park – Though they're not fenced, dogs are welcome to use the fields when they're not otherwise occupied.
Scenic Drive Home
After a full day of exploring Whistler, Ty and Buster were ready to head back to Vancouver – and their timing was perfect, because we caught some stunning sunset views along the way.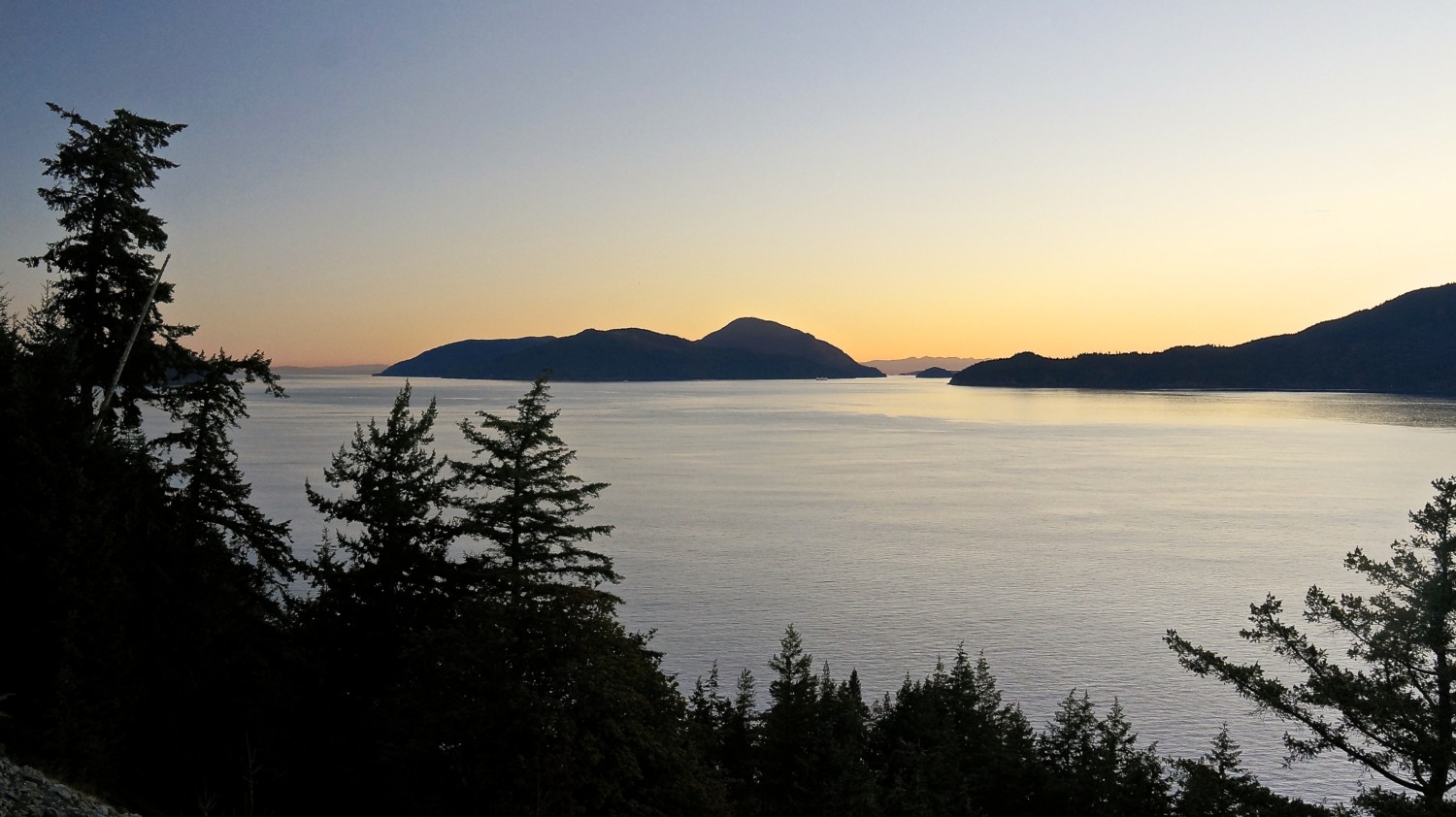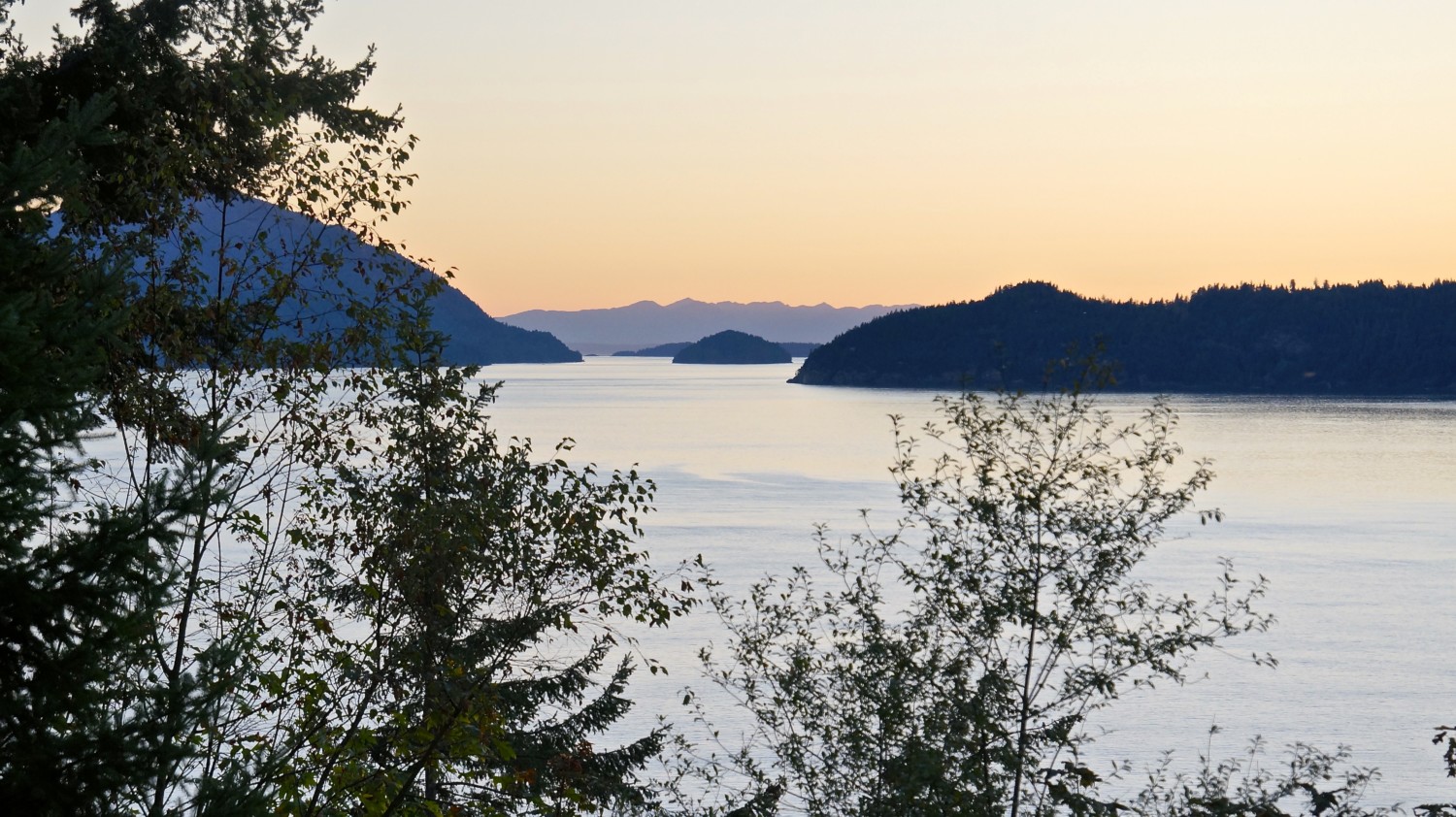 What do you think – is Whistler the kind of place you and your dog would enjoy visiting? Get the tips you'll need for taking your dog to Canada!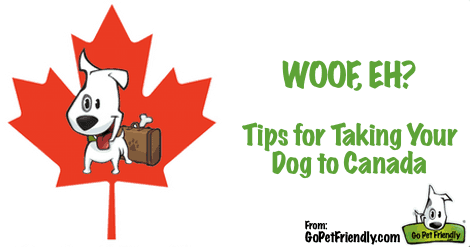 Planning a pet friendly trip of your own? We'll make it easy:
Pet Friendly Hotels | Pet Friendly Destinations | Pet Friendly Activities
Amazon Affiliate Disclosure: GoPetFriendly.com LLC is a participant in the Amazon Services LLC Associates Program, an affiliate advertising program designed to provide a means for website owners to earn advertising fees by advertising and linking to amazon.com, audible.com, and any other website that may be affiliated with Amazon Service LLC Associates Program. As an Amazon Associate, the owner of this site earns a commission from qualifying purchases.
(Visited 3,366 times, 1 visits today)