It's been three years since we first visited Banff with the dogs, and after nearly seven years on the road, it's still one of my favorite places. Our intention for this travel season was to see as many new places as possible, but when your route takes you back to a place as lovely as Banff, it's hard to be disappointed.
One of the joys of our nomadic life is seeing how places change while we're away. Cities are living things … between visits buildings can materialize out of thin air, businesses are reborn, and neighborhoods take on new, vibrant energies. As much fun as it is to drop in and out, giving the transformations a striking effect, it's also nice to know that some places won't change – and Banff is one of those places.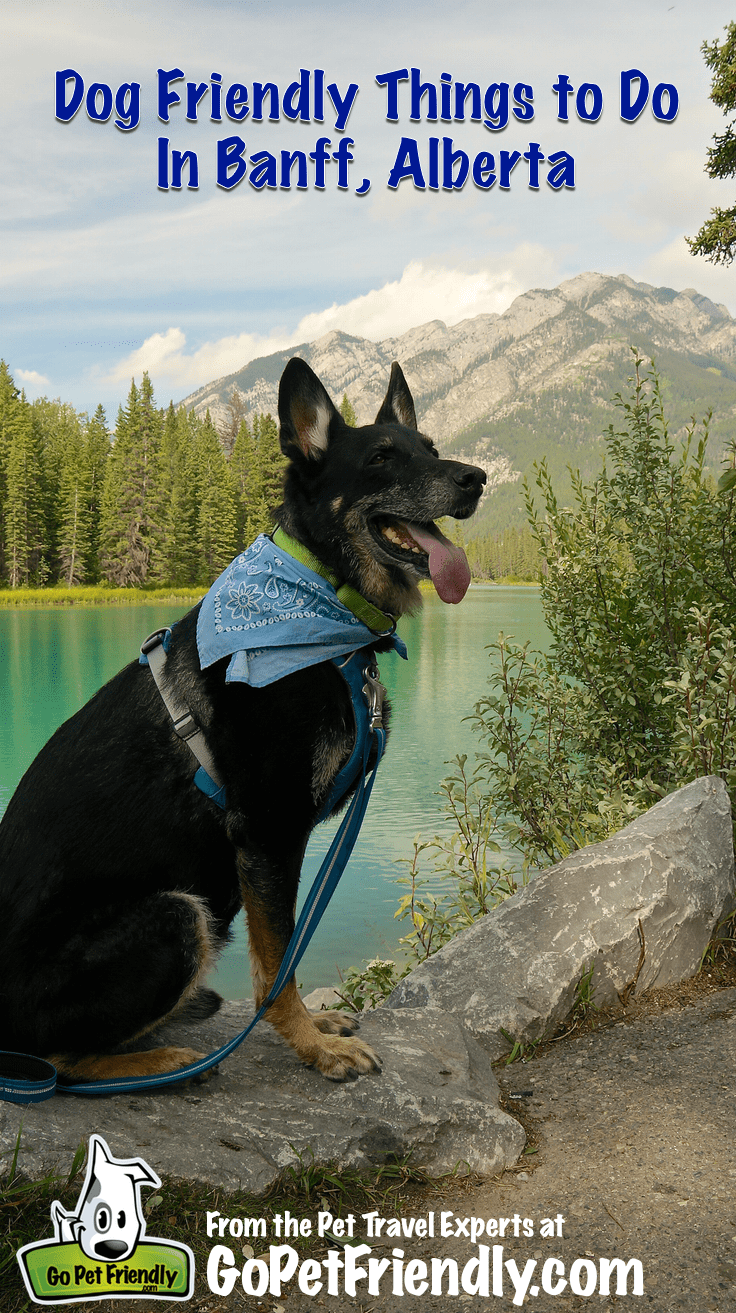 Banff is located inside Banff National Park, so the city's footprint is restricted to a limited area. In addition, development within the city is carefully planned – you won't find high rise hotels or sprawling strip malls here. Building projects are contemplated from every angle before ground is broken and, therefore, very little has changed. While I relish the evolution and regeneration of cities, I also find it comforting to know there is at least one place on Earth taking measured, precise steps into the future.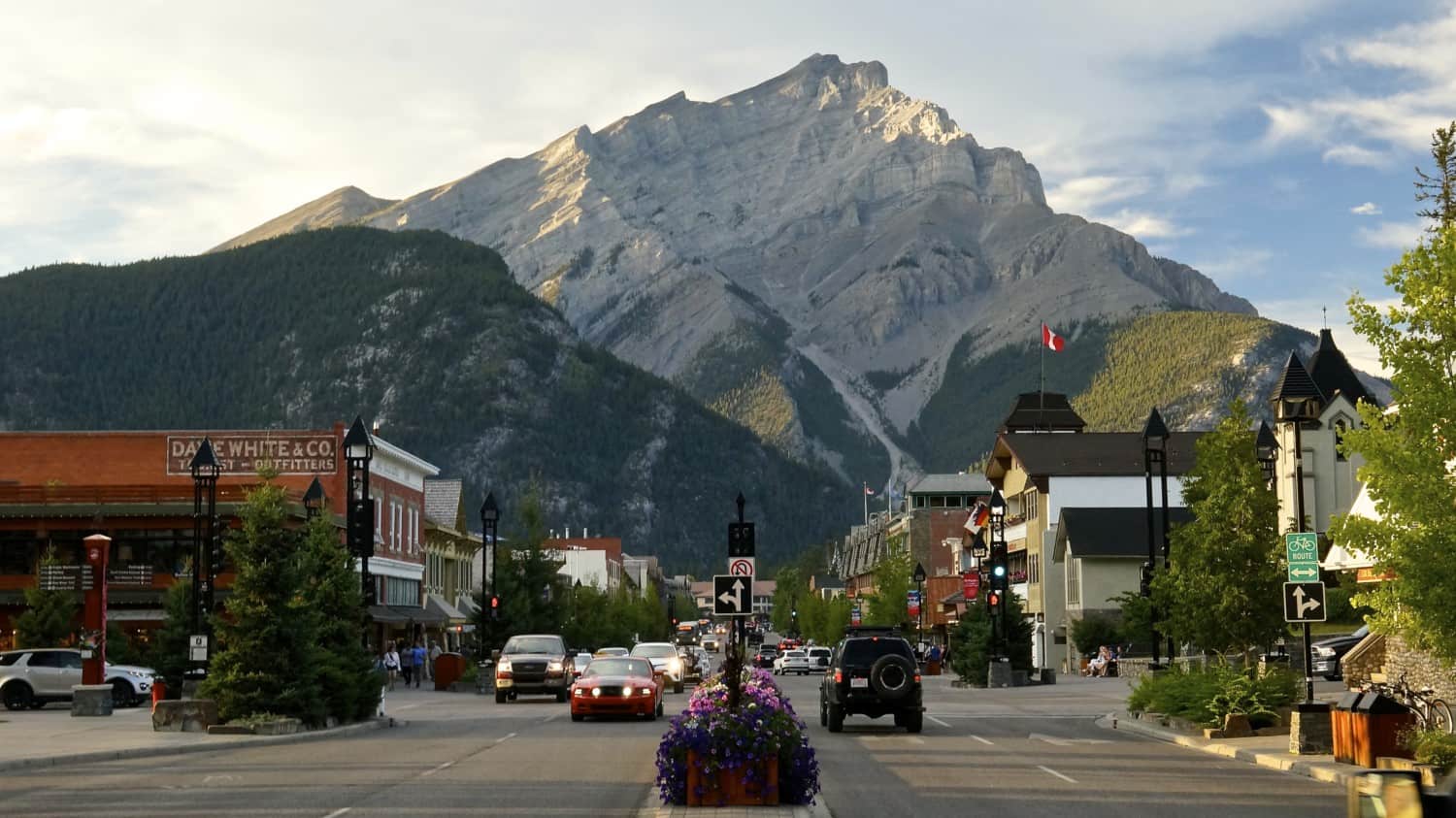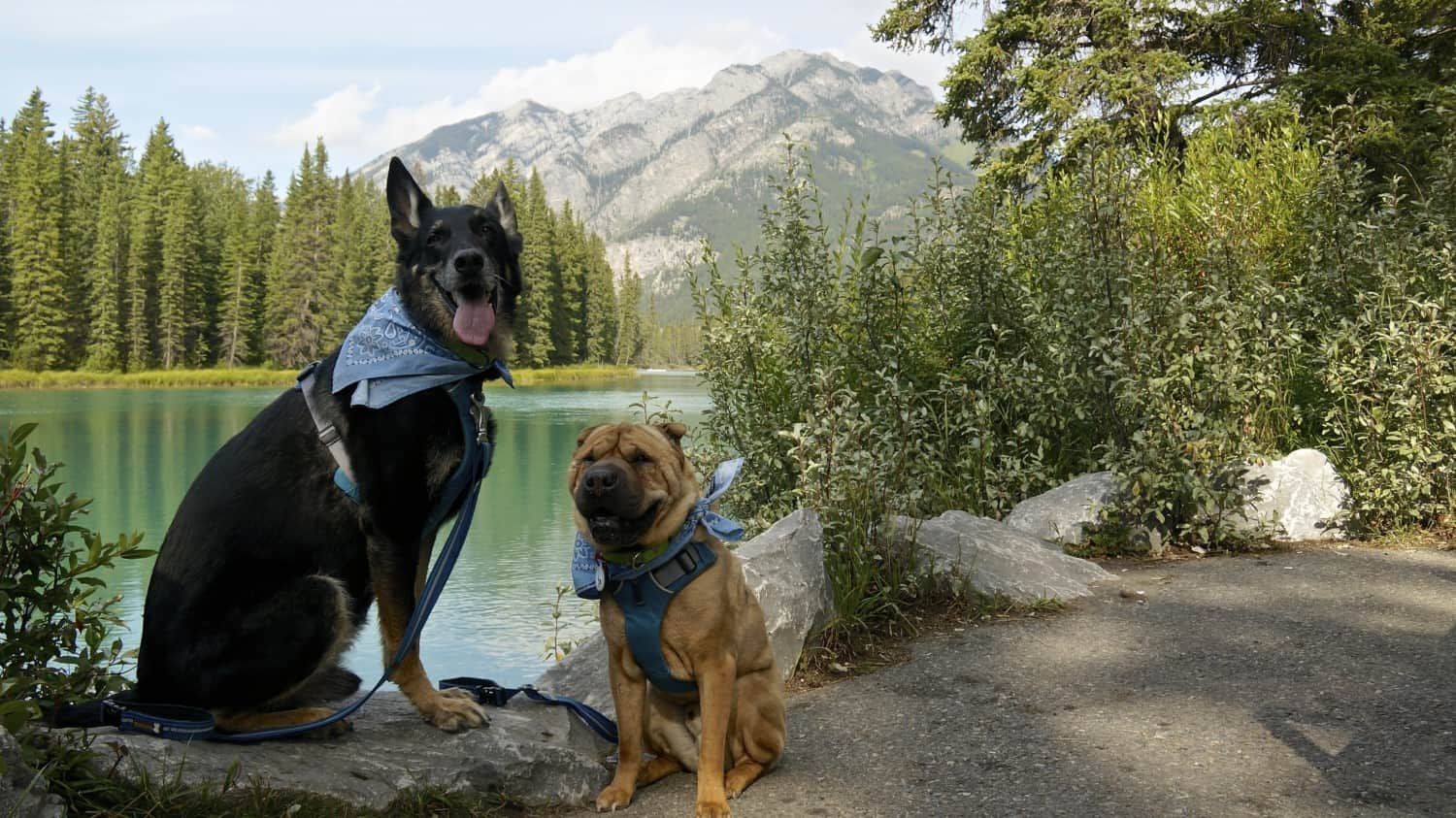 Hitting the Trails Around Banff
Of course, the big draw to this area is the unbelievable scenery, and the best way to experience that is it get yourself right out in it. Banff National Park has more than 1,500 km of hiking trails – more than any other mountain park in the world – and leashed pets are welcome on nearly all of them. Trails that pass wild berry patches, where the bears congregate in late summer and early fall, may be closed to dogs during those times of the year, so check with the rangers when you enter the park gates.
The good news is that you don't even have to get in your car to hit some of the most popular trails in the area. There is an extensive network of paths around town on both sides of the river, and signs along the way that show your location.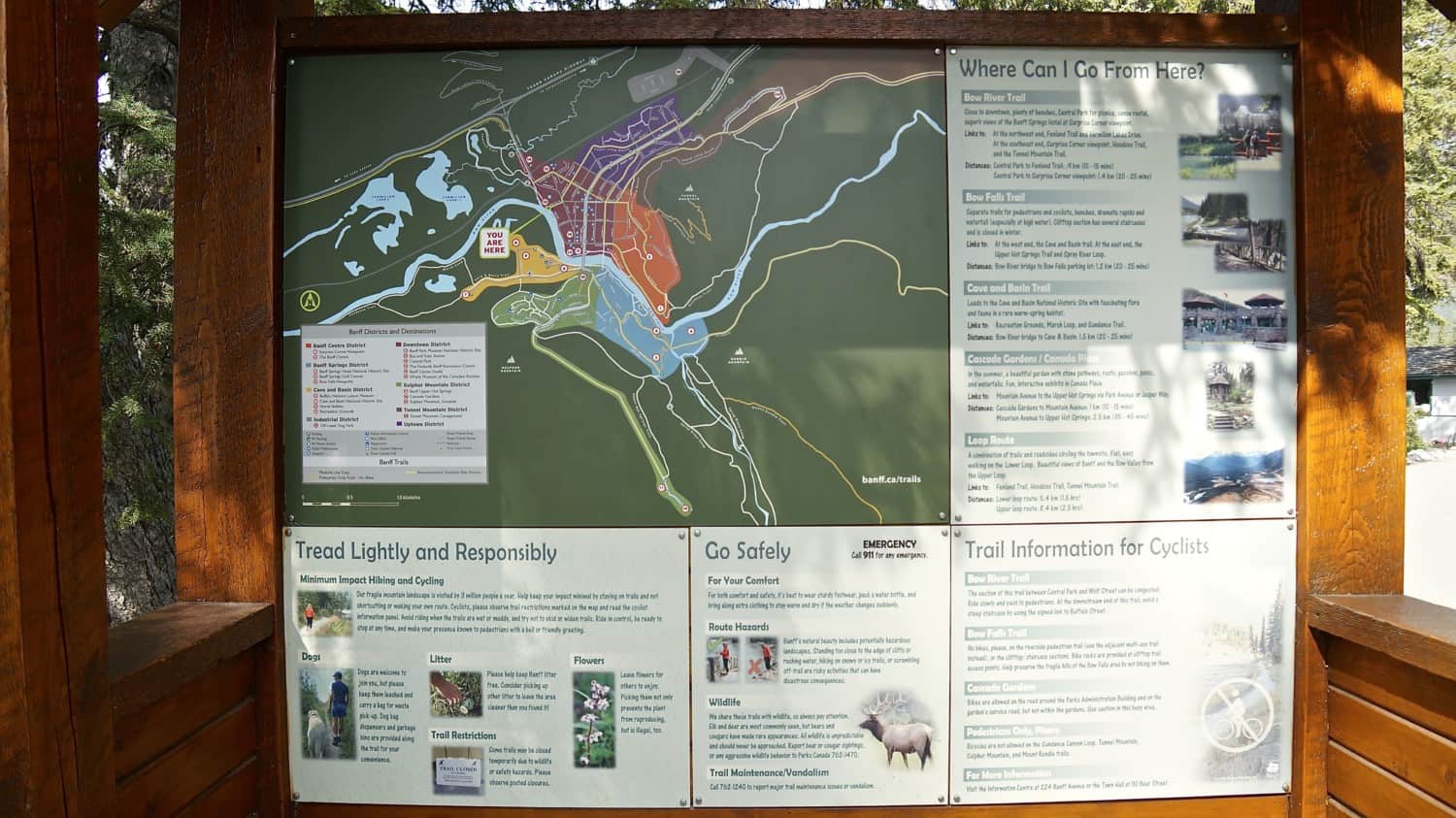 One walk you won't want to miss is the trail to Bow Falls. To get started, cross the pedestrian bridge south of downtown and follow the path south along the river … before long you'll be able to hear the sound of the falls.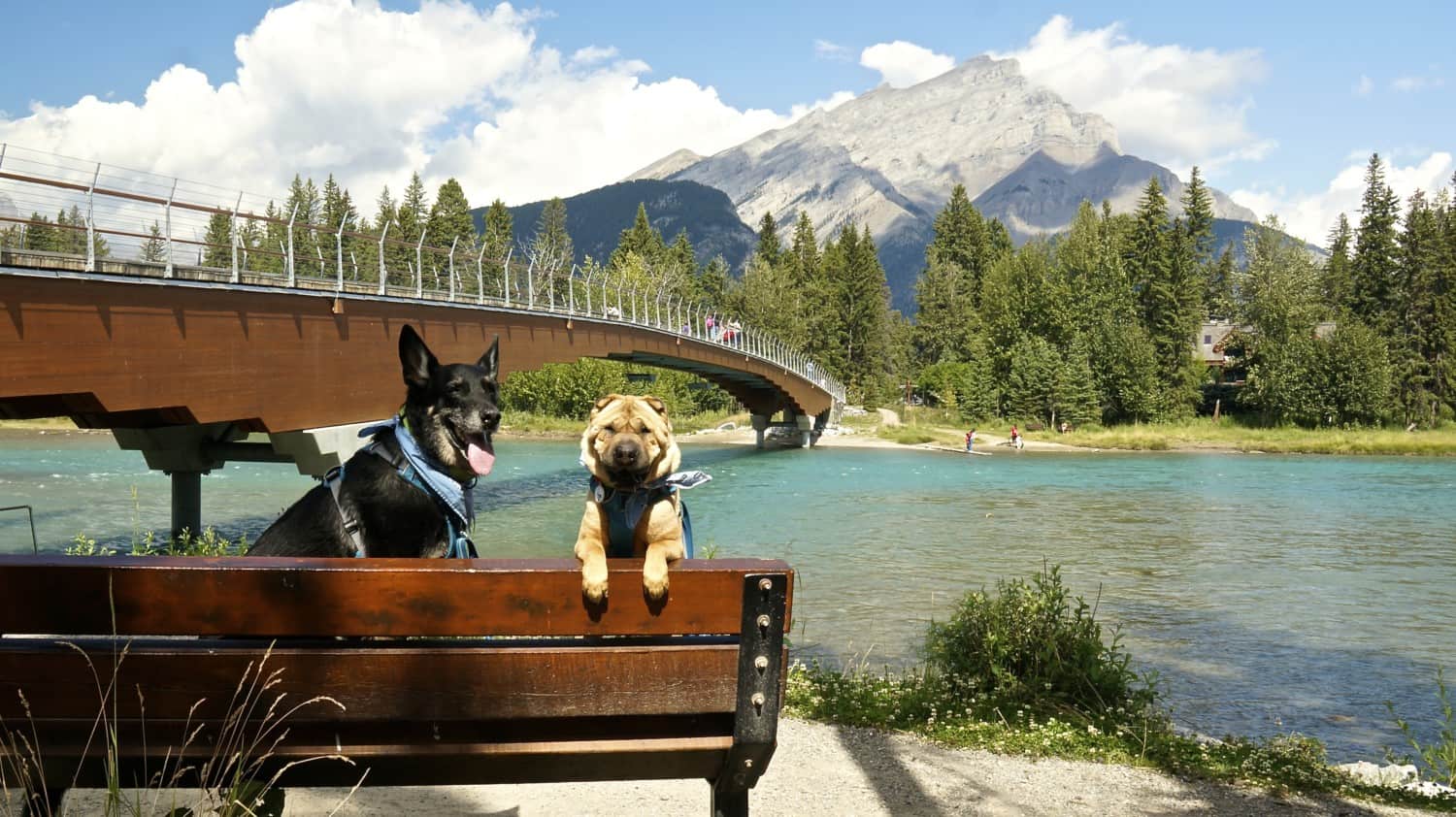 There are stairs and a few narrow areas on the trail, so I'd classify it as easy to moderate. However, there is no reason to hurry! Benches are placed all along the trail if you need a rest, or just want to stop and bask in your surroundings.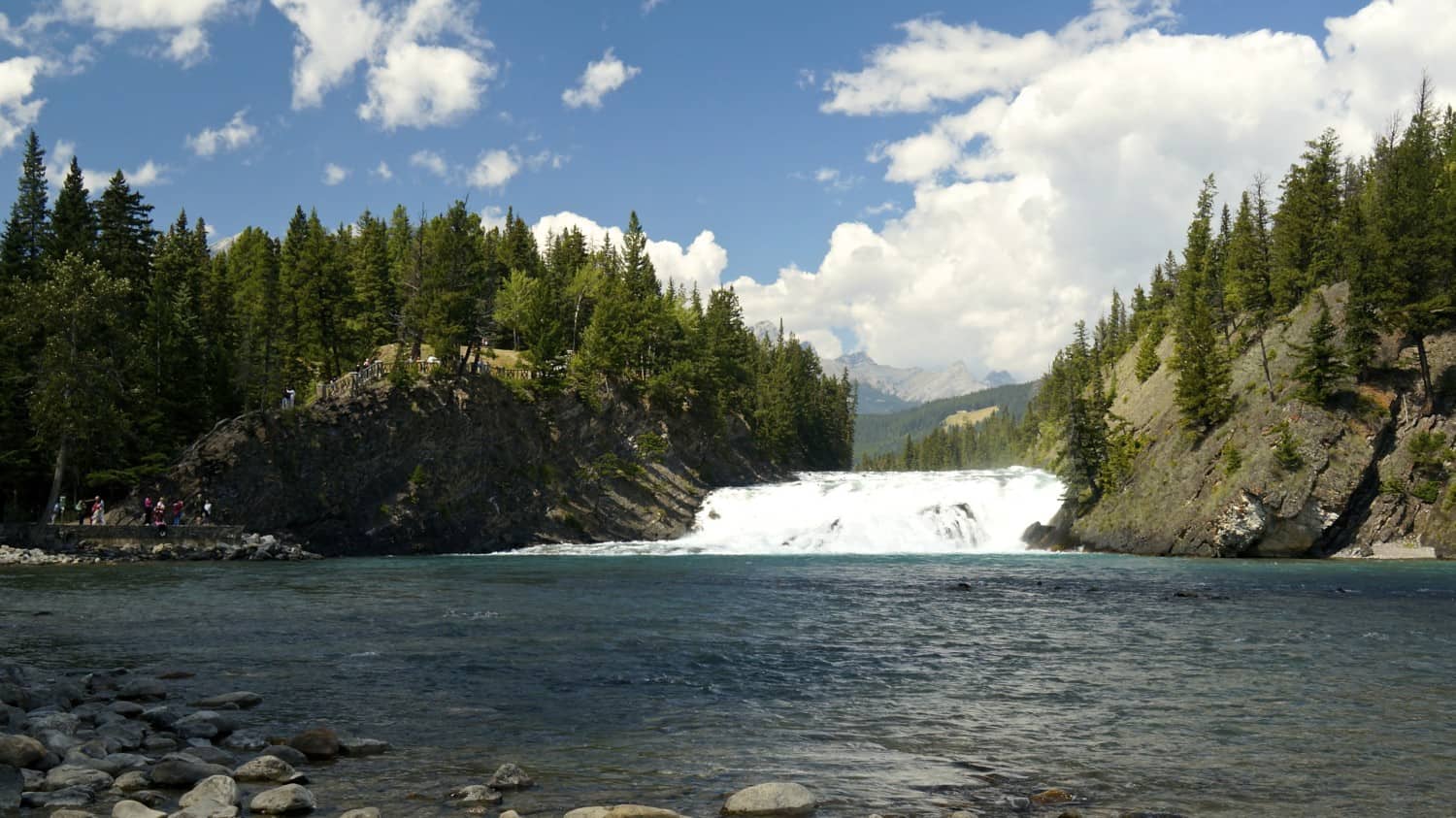 The view of the falls and the Bow River as it continues south is spectacular, though the area does get a bit crowded. Plan your walk for early in the morning or late in the afternoon to avoid the high-traffic times.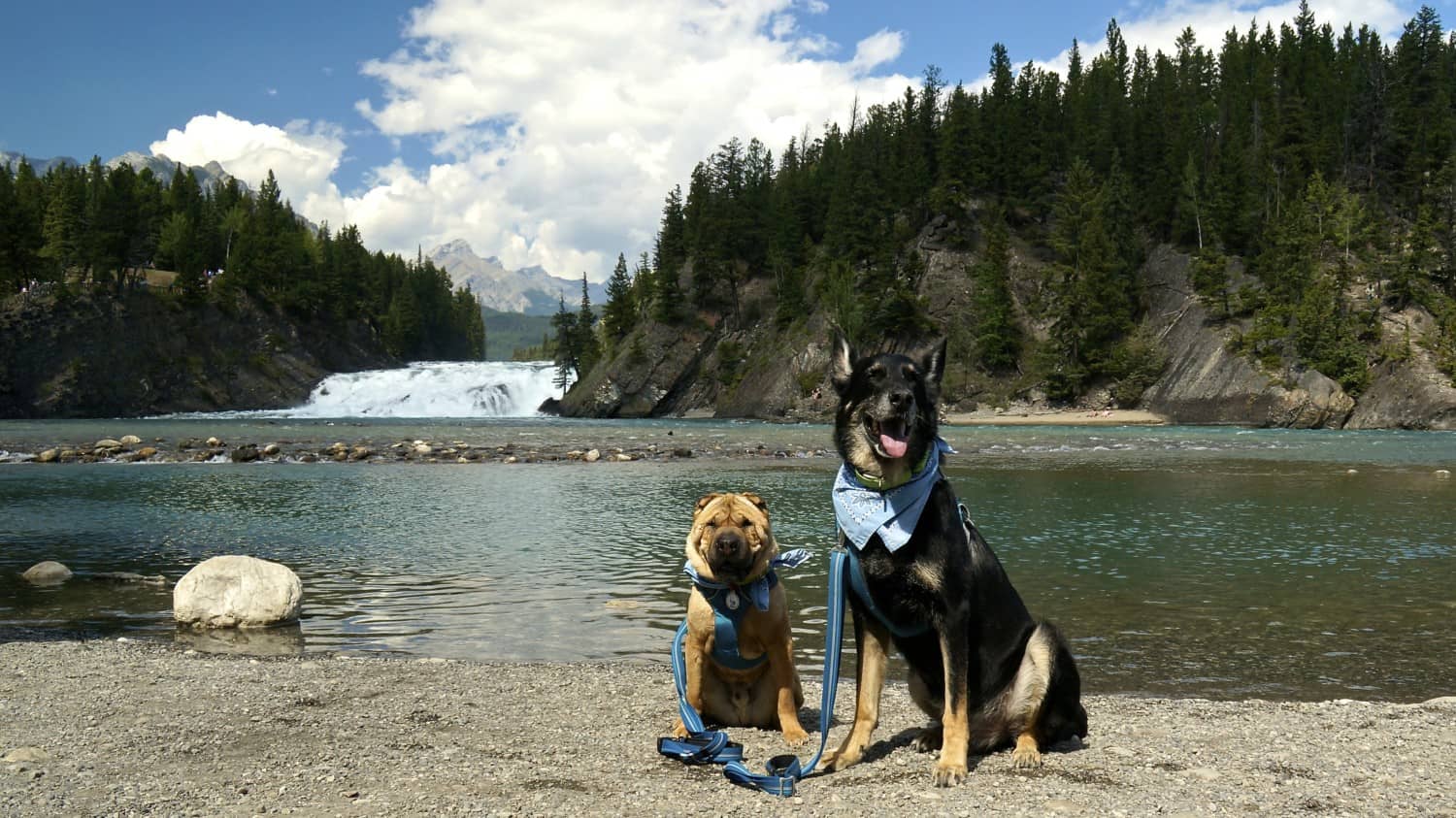 The Banff Gondola Is Dog Friendly
UPDATE: We're sad to report that we've been notified that the Banff Gondola no longer allows dogs.
There's so much to do around Banff, you'd be hard-pressed to see it all in one visit! On our last trip we didn't have time to ride the dog friendly gondola, so we made that one of our priorities. The gondola is also very popular with tourists, so we got up early on a Sunday morning to try to beat the crowds. We arrived just as they opened, and we still waited in line for about 40 minutes!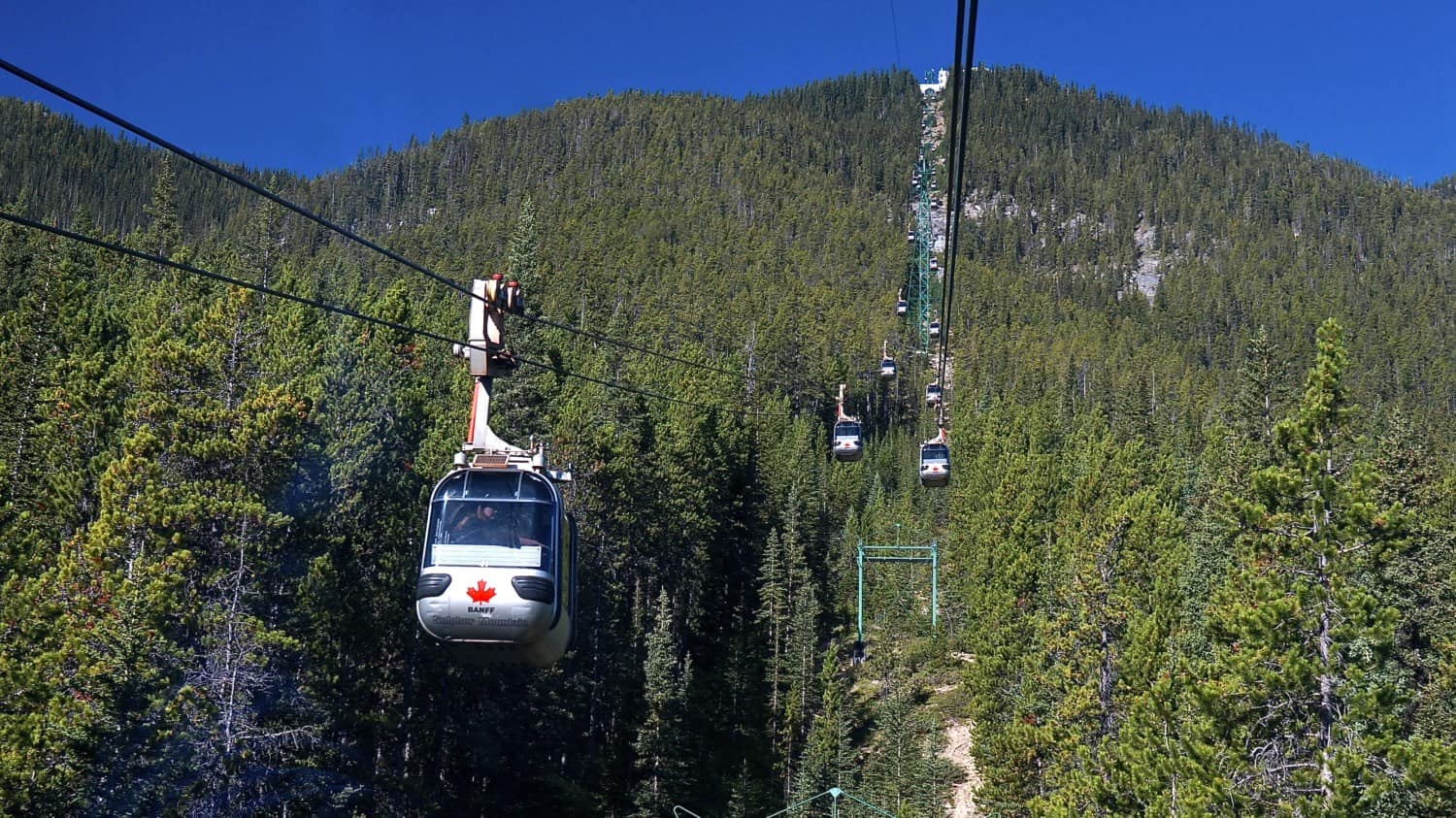 Four people – or two people and two dogs – fit in each carriage, and Ty and Buster's tickets were free. They've been on several gondola rides now and settled in quickly for the short jaunt up the mountain. Once you get to the top, you have to enter the building, but people with pets should move outside from there. Dogs are not allowed upstairs where food is served.
Outside is where you want to be anyway! The views will take your breath away, and you can take the boardwalk over to Sanson's Peak with its 1903 weather observatory and cosmic ray station.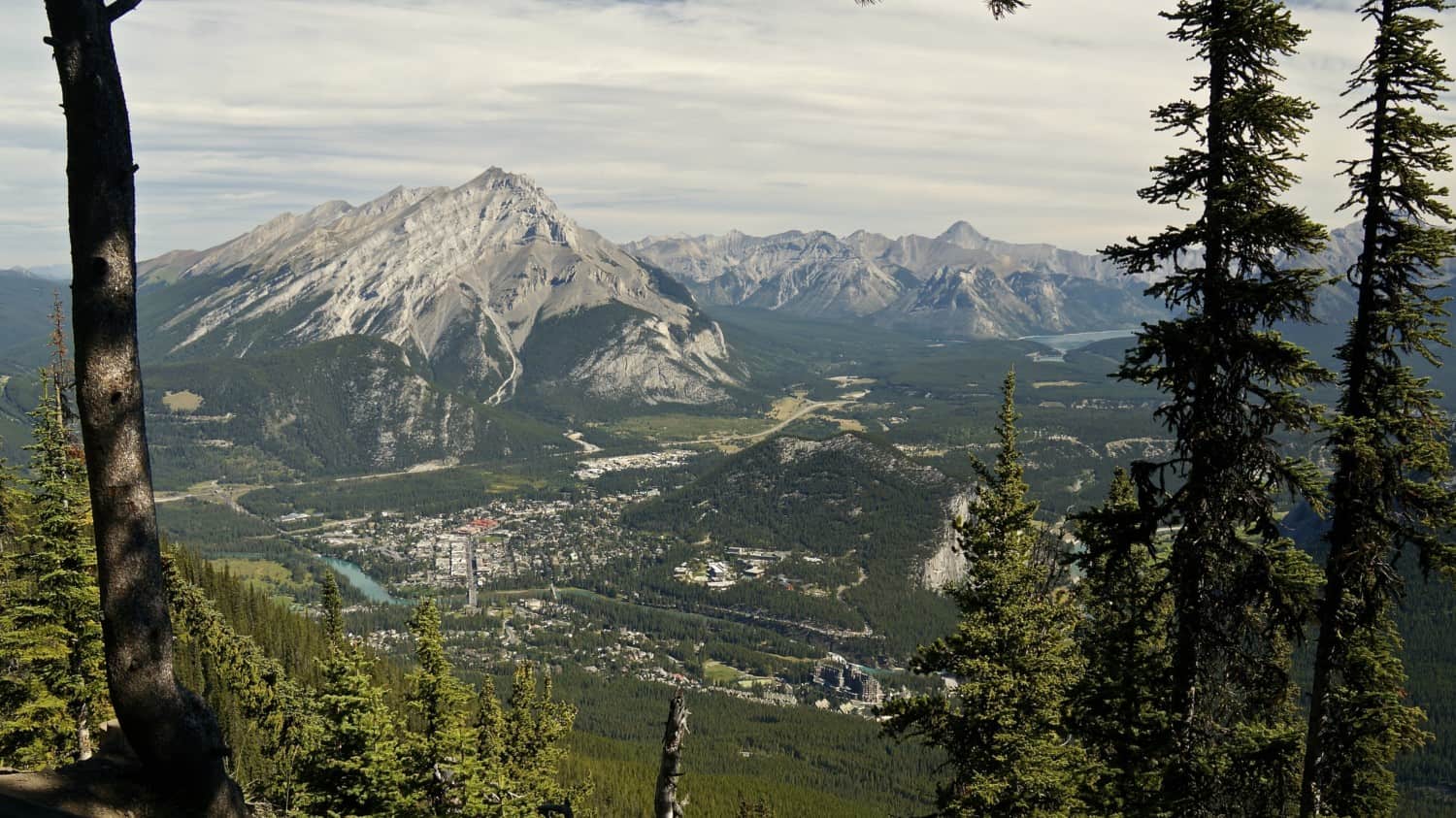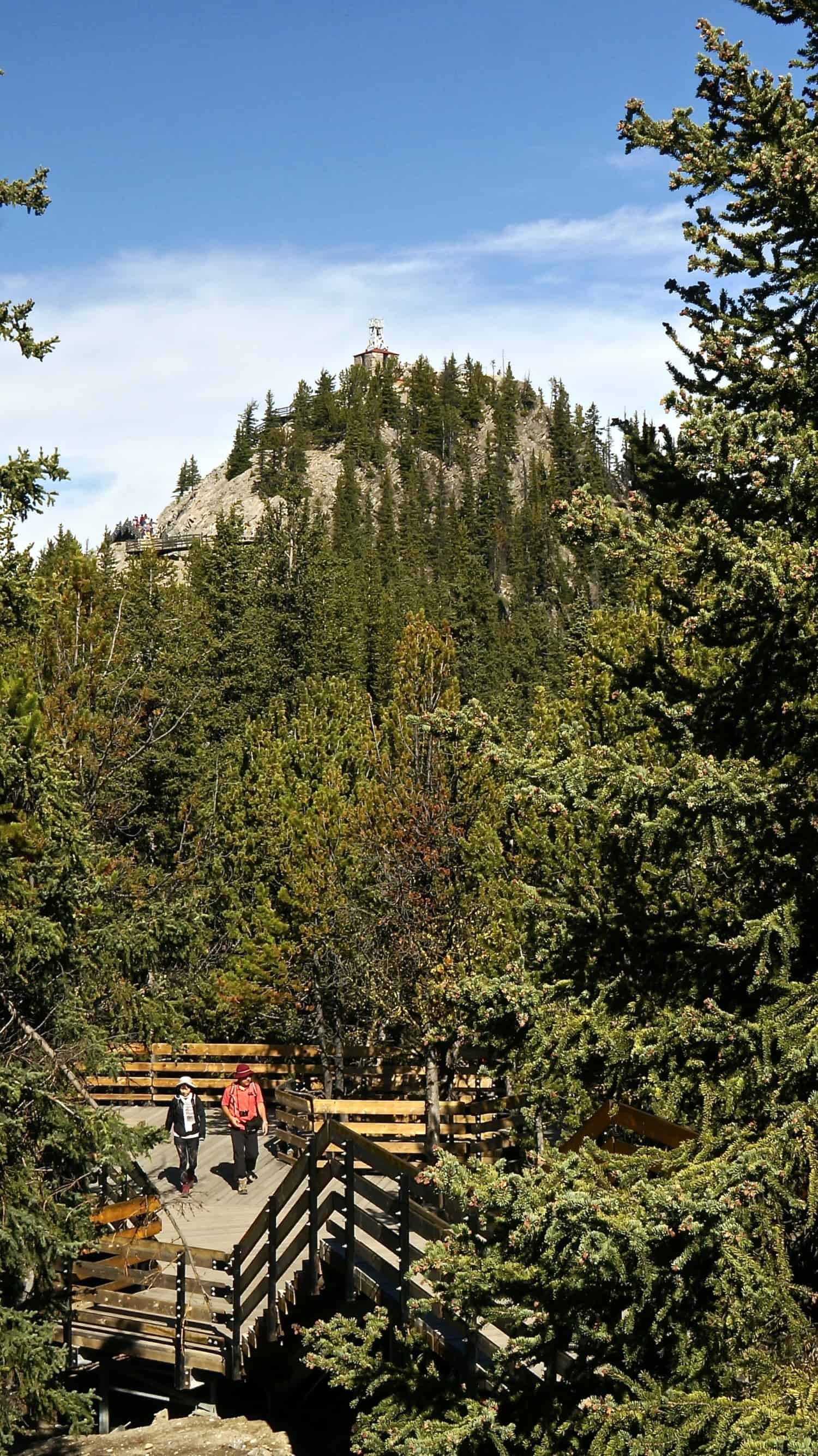 It turns out visiting early on a Sunday morning worked well. Being here with Buster and Ty during a busier time would have been a nightmare. Neither one of our dogs is comfortable in crowds, and on the boardwalks, it would be easy for paws to get stepped on. Short leashes and well-timed visits are highly recommended.
That being said, this is not something you want to miss. It's easy to get sucked in by the magnificent views, but don't forget to keep an eye out for wildlife, too – you never know what you might see!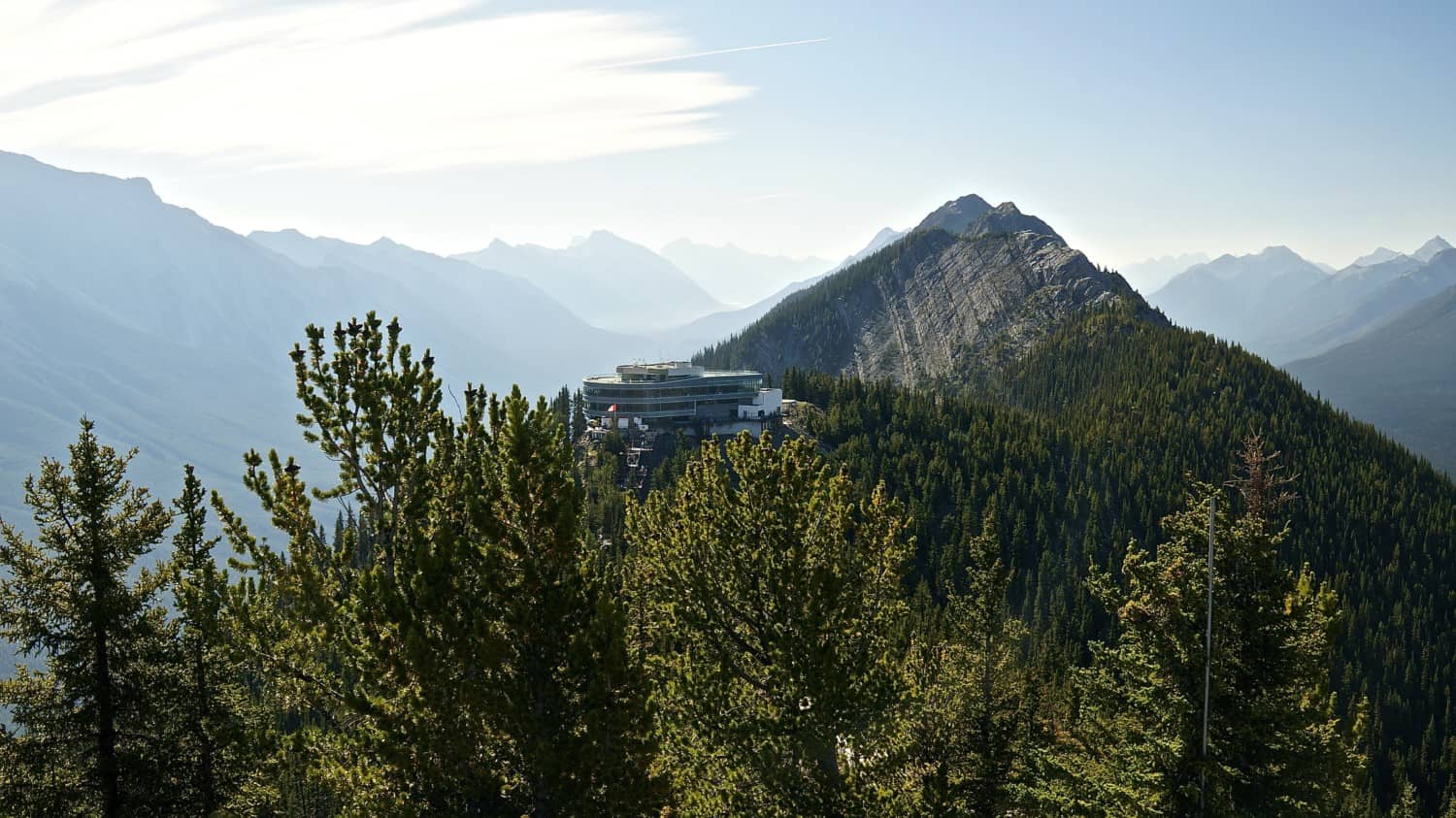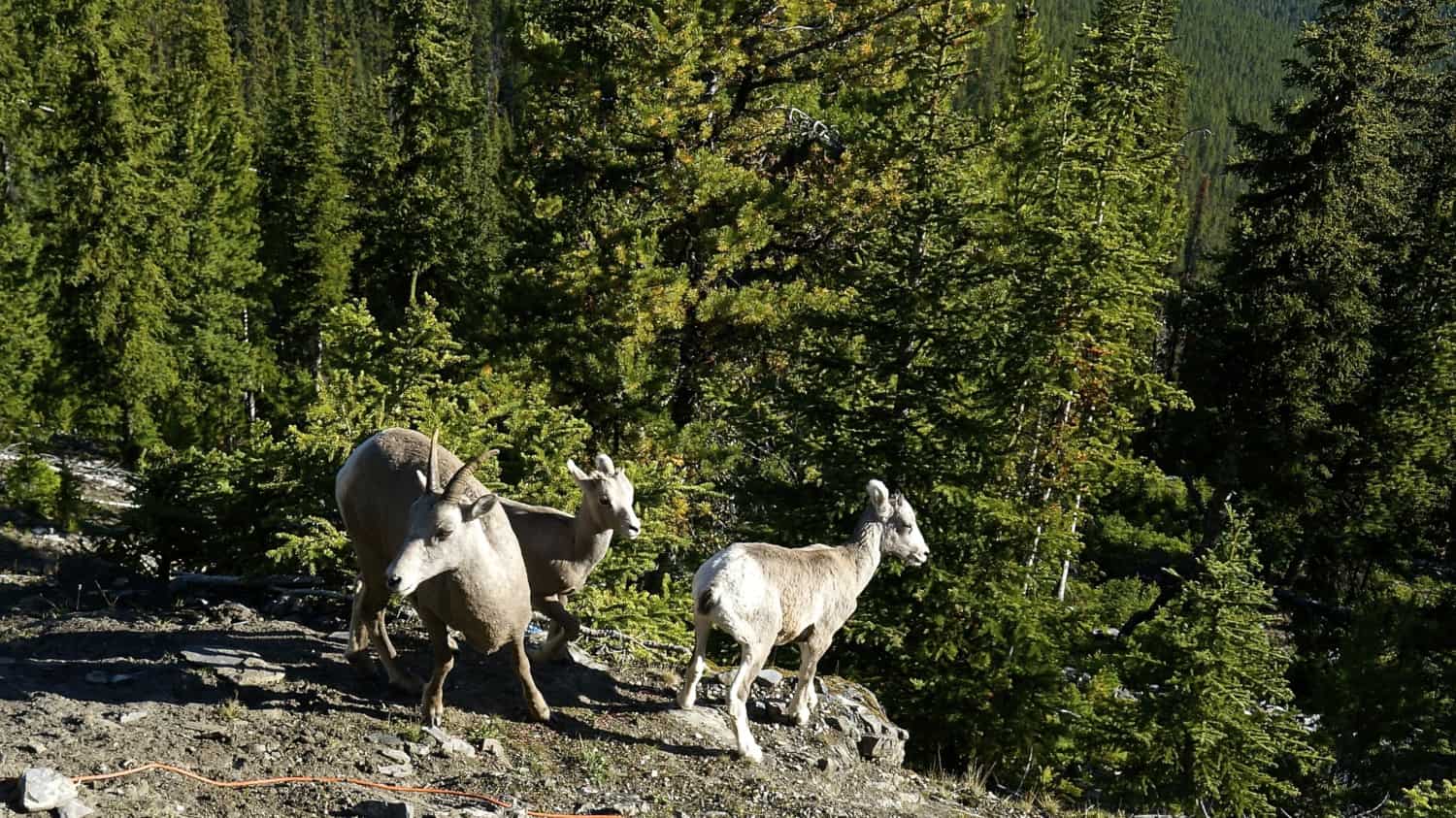 Buster and Ty were so busy looking around, they completely missed this little guy! He's a pika, and they're pretty rare. They live in cold climates in Asia, North America, and parts of Eastern Europe, and climate change is threatening their habitat.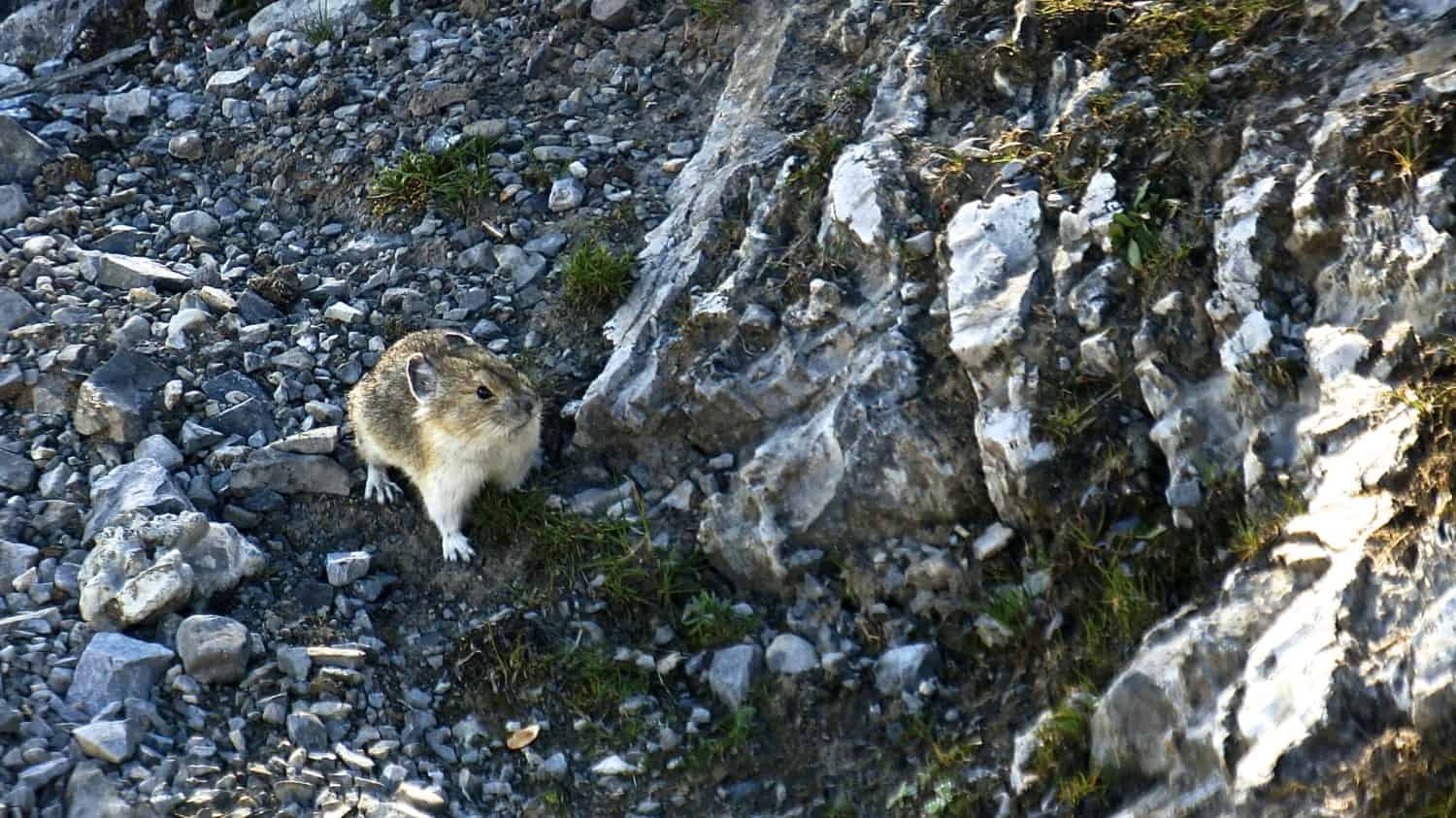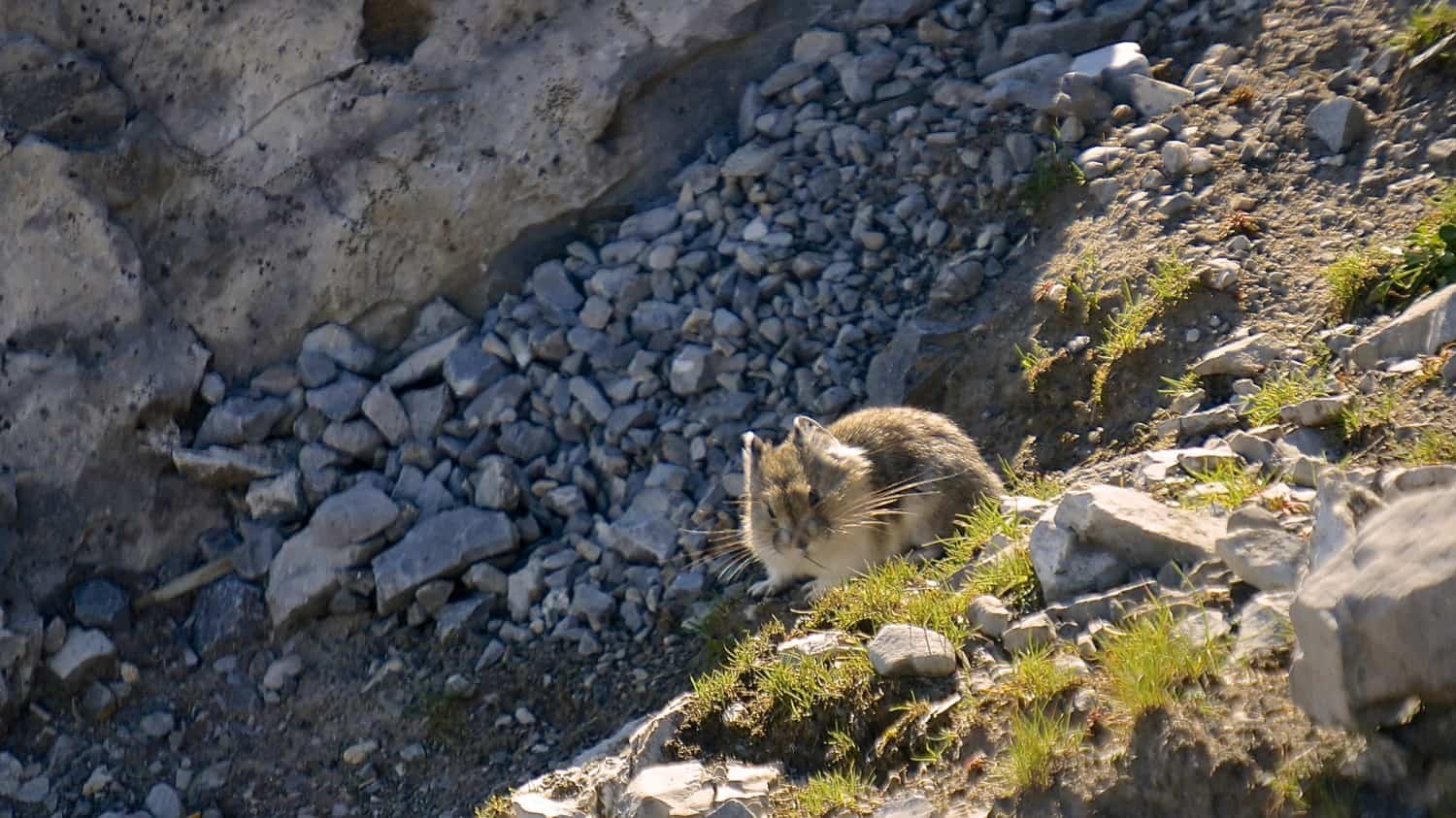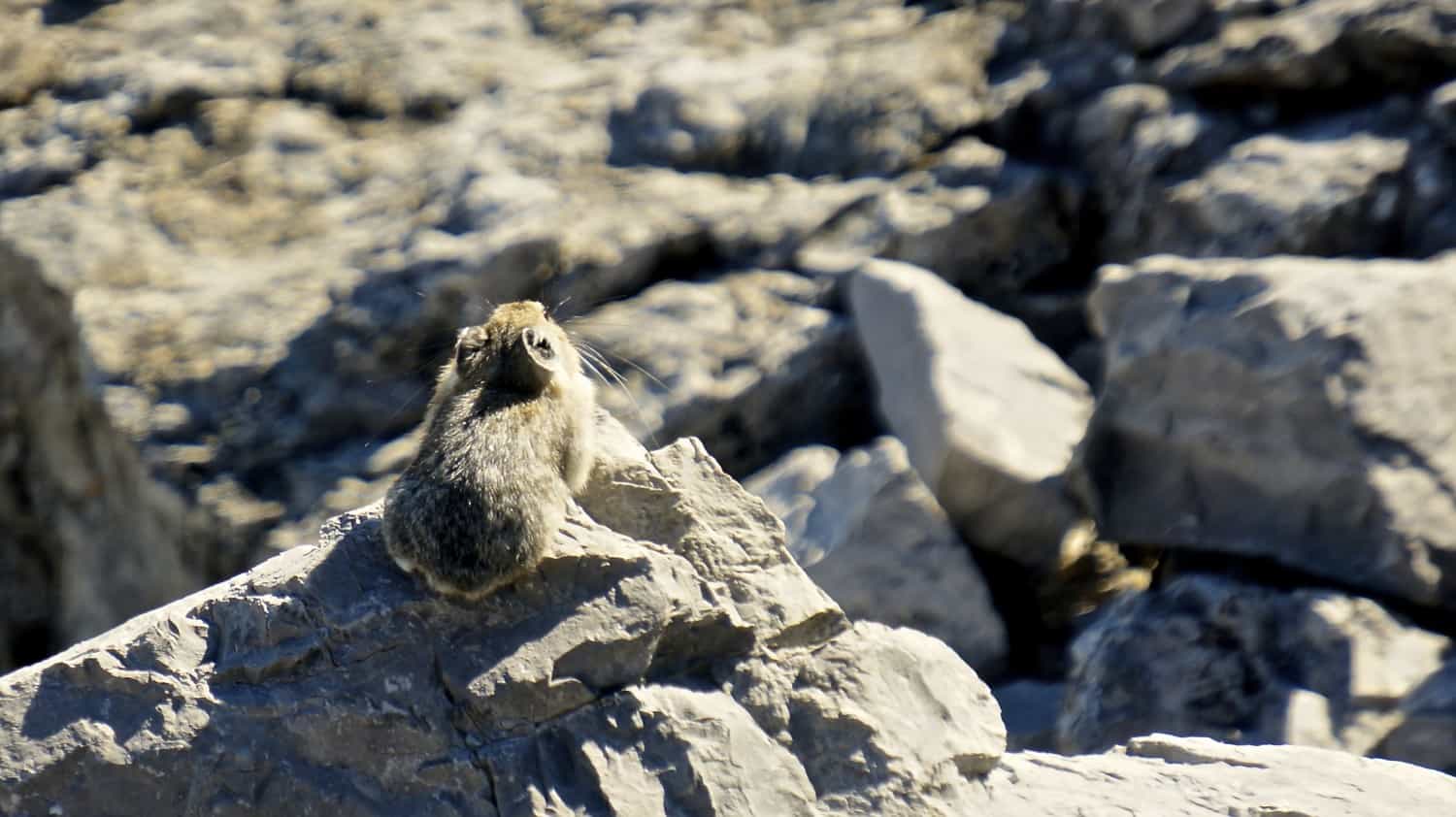 After a bit more looking around, and roughly 200 more pictures, the boys were ready to head back down the mountain. Rod and I had purchased round trip tickets for the gondola, but the boys saw the hiking trail and decided we should walk. The 5.7 kilometers took us about 90 minutes, and we enjoyed fantastic scenery all the way down. We met a surprising number of people walking up the mountain, and that looked like it would be less fun – it's steep!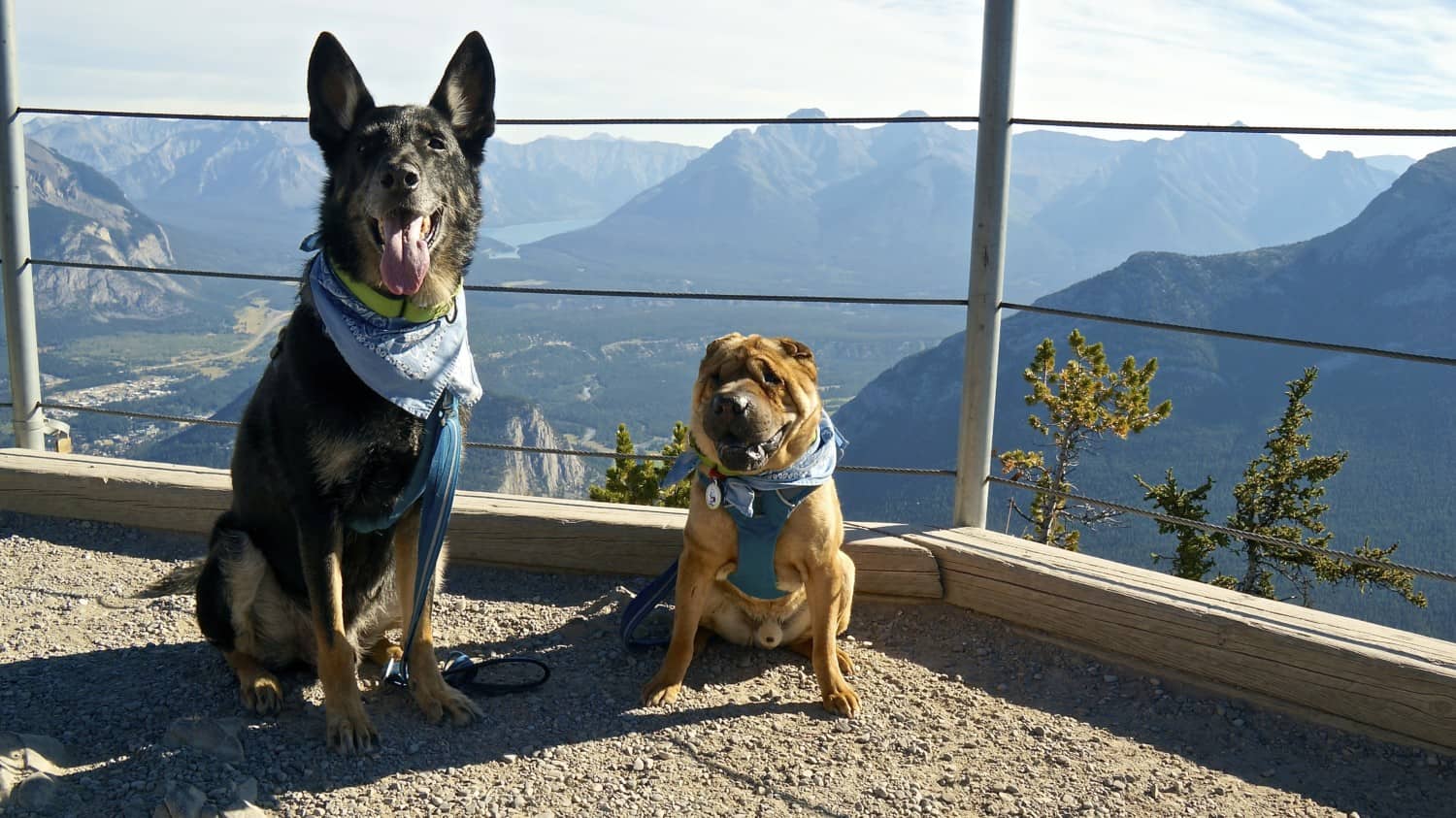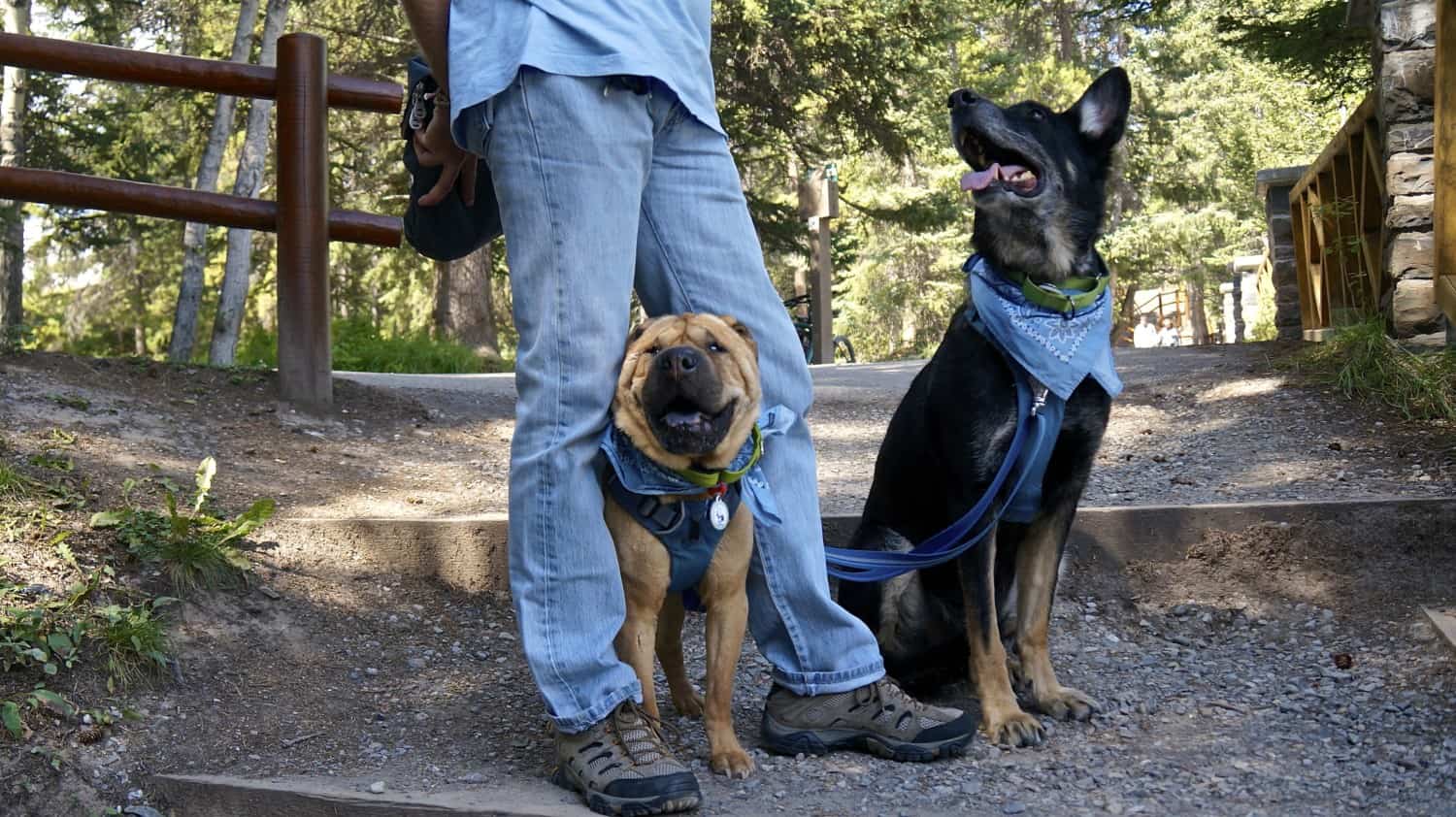 Exploring By Canoe
If you prefer the stillness of nature, your best bet at finding solitude in bustling Banff is to rent a canoe and paddle upriver to Vermillion Lakes. The canoes are pet friendly, and the boys lobbied hard, but couldn't convince Rod to pull the laboring oar while they took a nap. Maybe next time!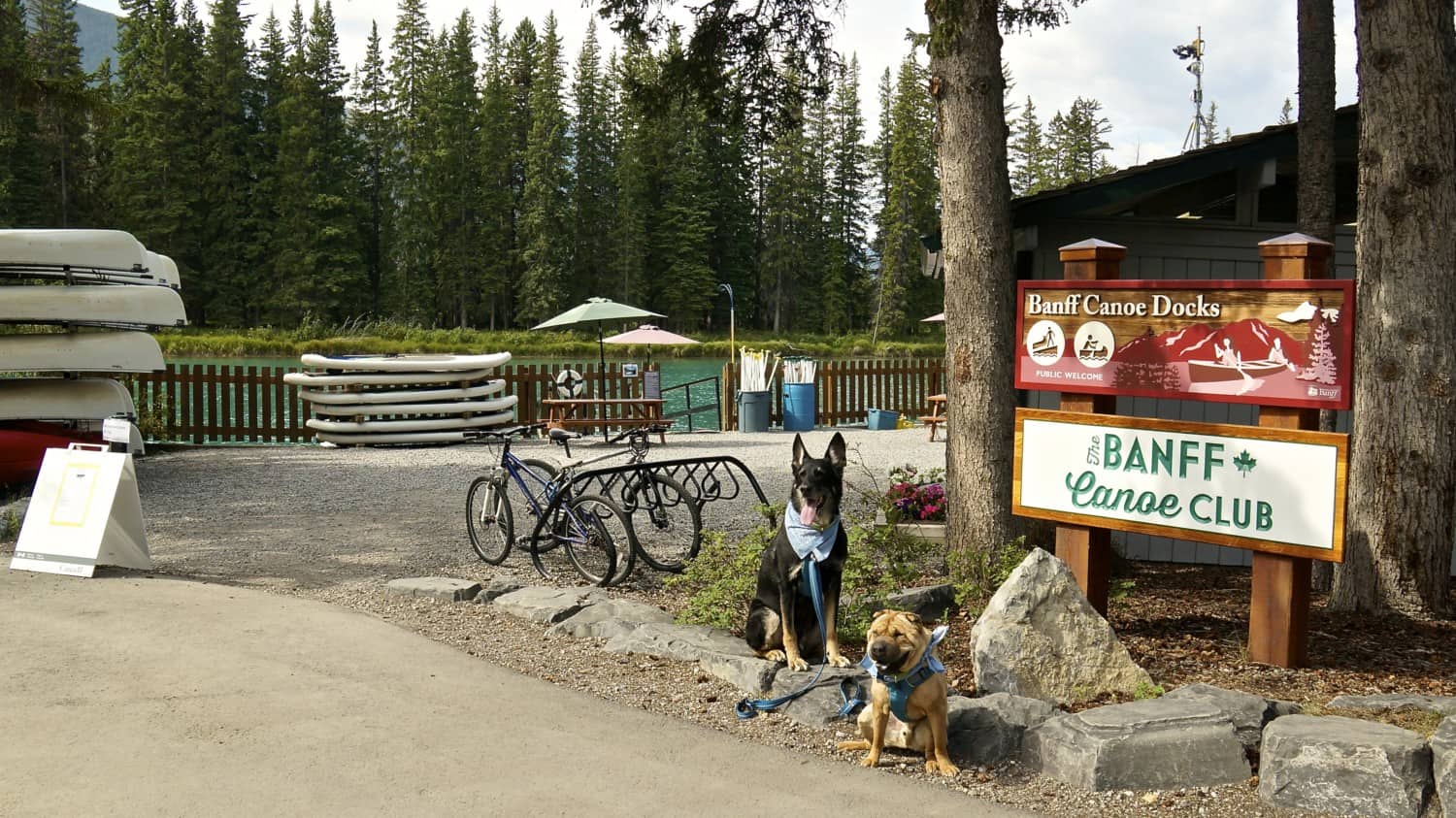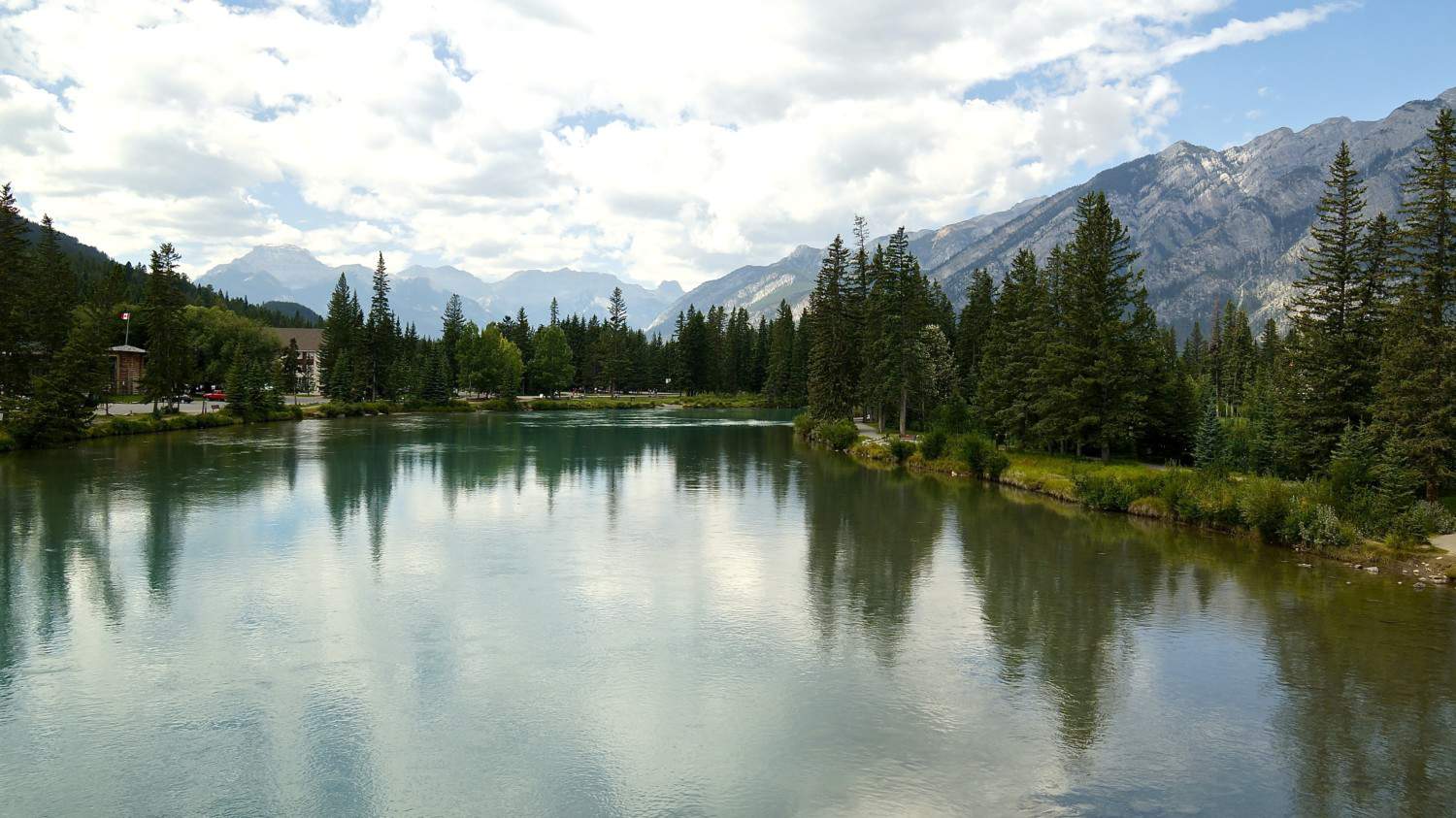 Drive to Spray Lake
It's sometimes fun to get off the beaten path, so we packed a picnic and took a drive out to Spray Lake. Located south of Canmore on Hwy 742, this is gorgeous spot if you're seeking a little peace and quiet. The road is paved for a short distance out of town, and switches to a well-maintained gravel road until you get down toward Kananaskis.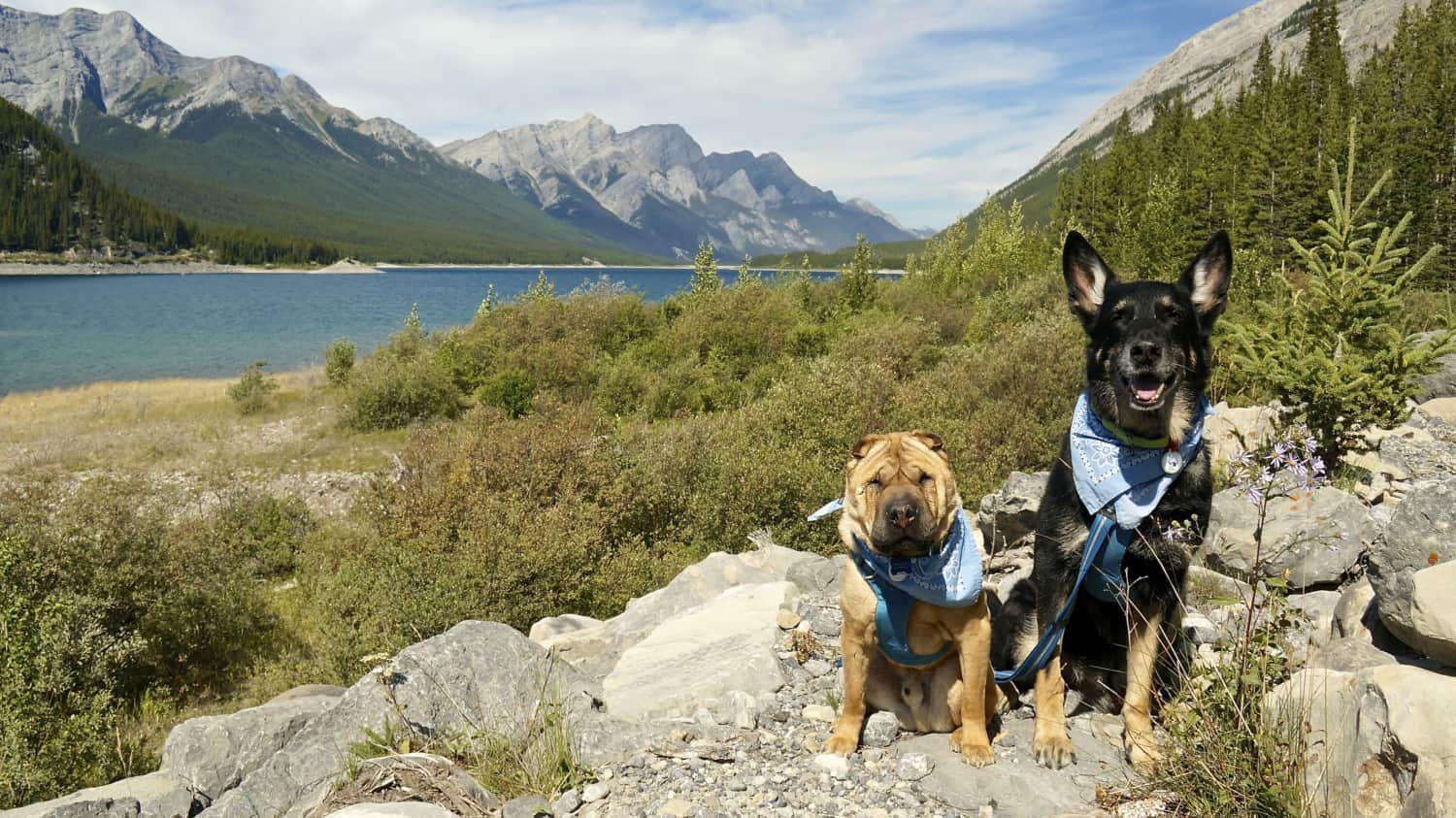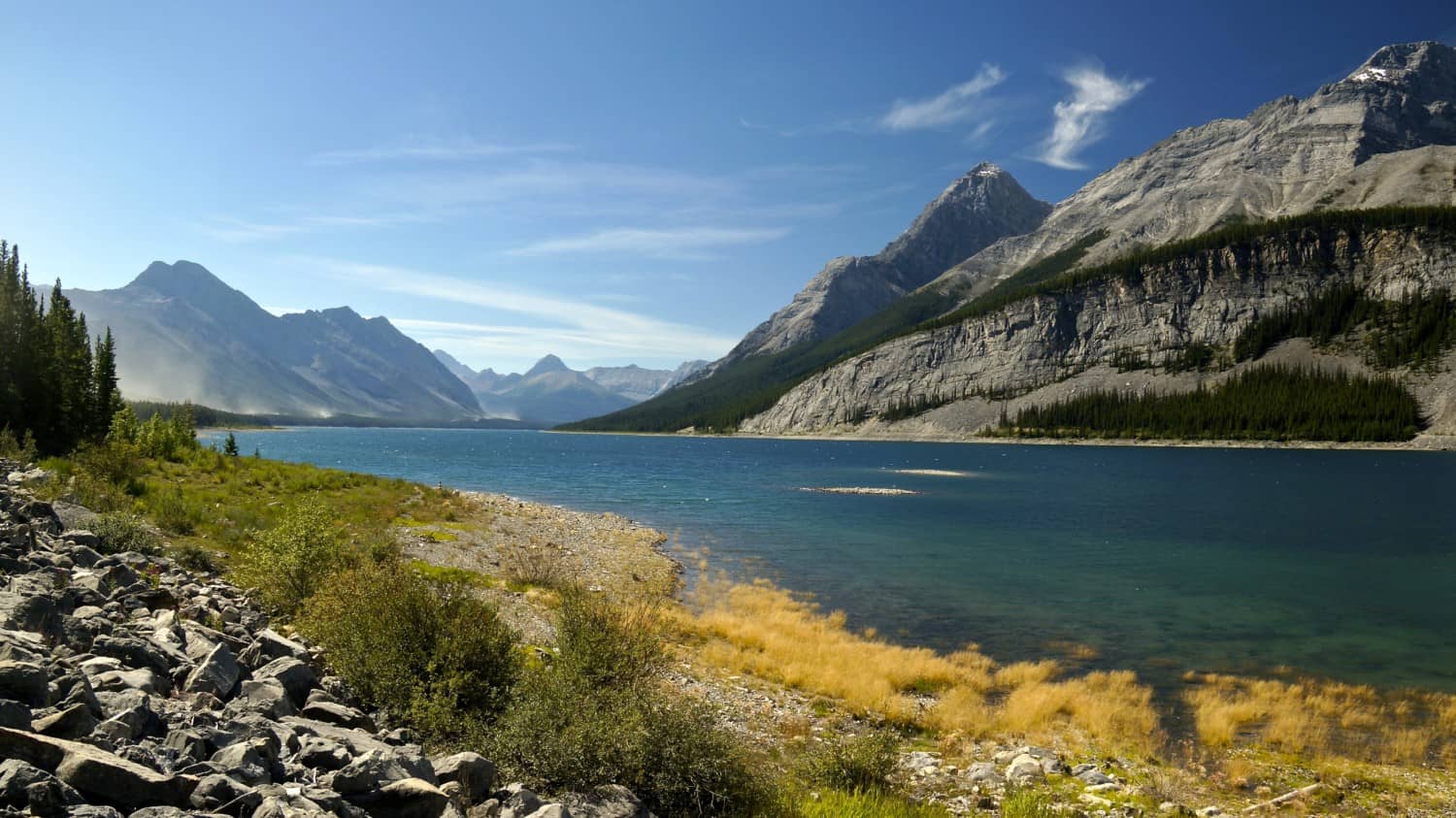 There's a campground and several picnic areas on the lakeshore, so finding a spot that appeals to you should be no problem.
Going Back to Lake Louise
No trip to Banff would be complete without a stop at Lake Louise! During our last visit we hiked up to to the Lake Agnes Tea House. It's one of the most memorable things we've ever done with the boys, and remembering that photo debacle still cracks me up!
This time is was raining at Lake Louise, so we got a few pictures, relished the panorama, and then hustle back to the car to dry off.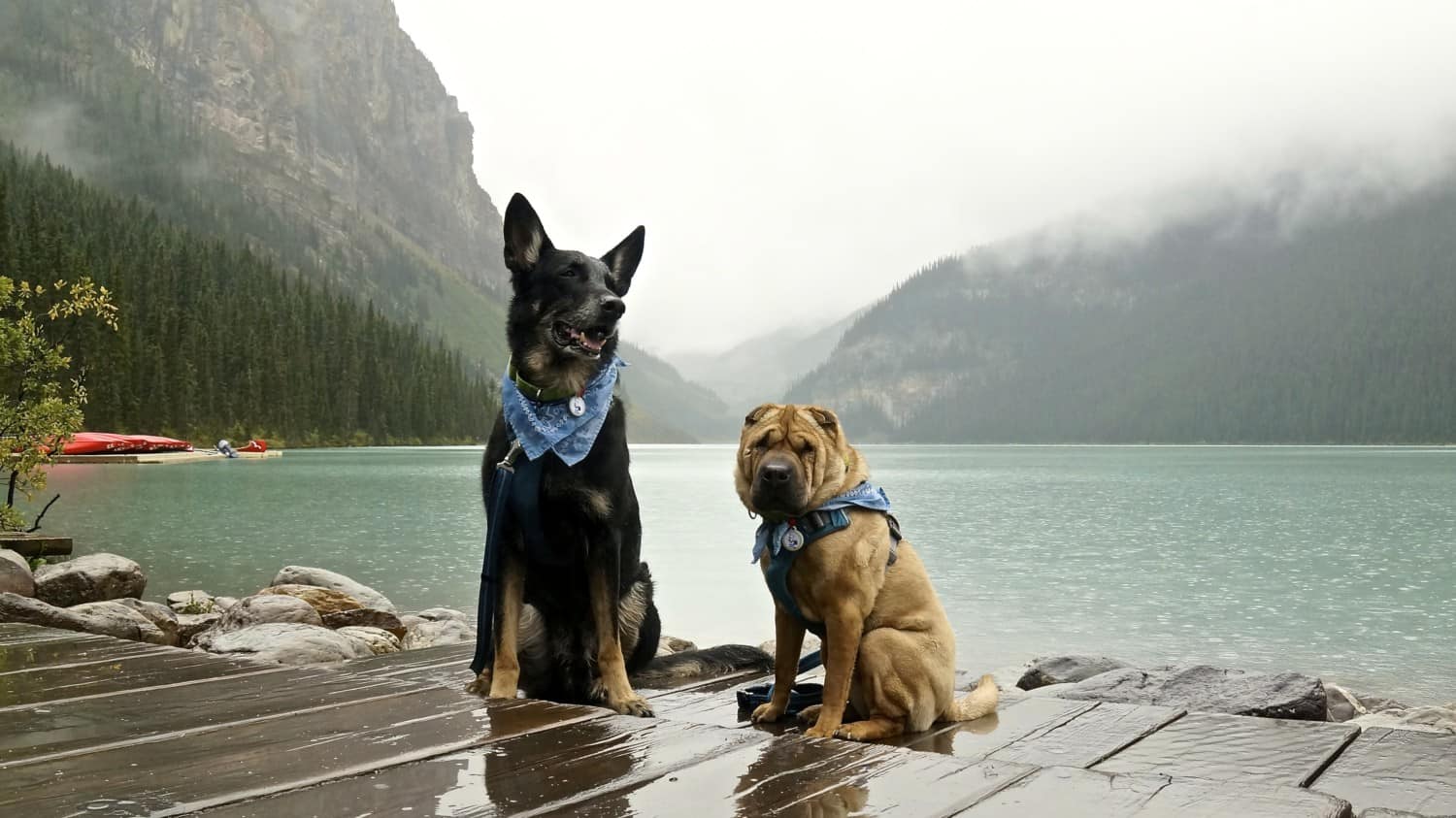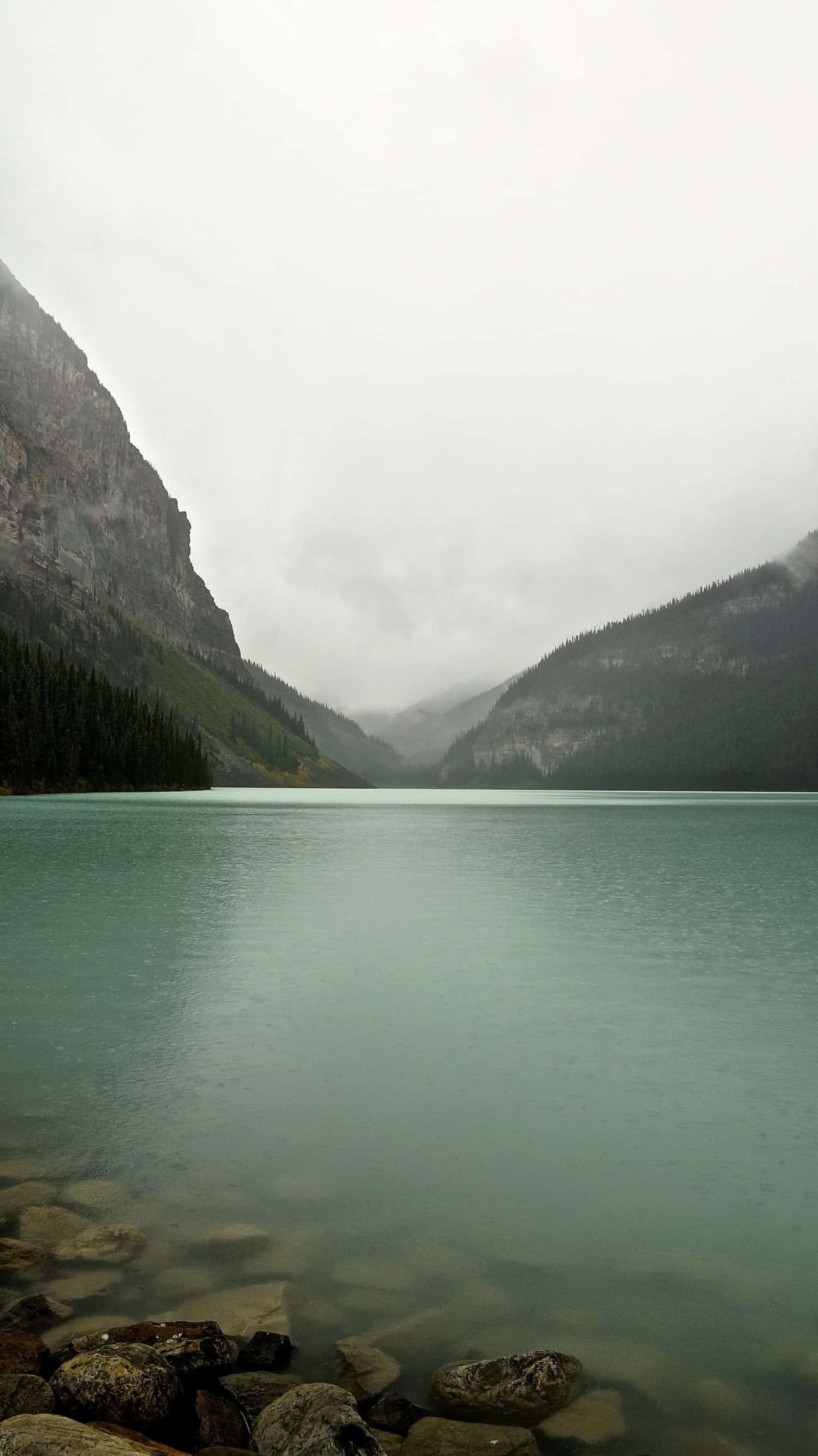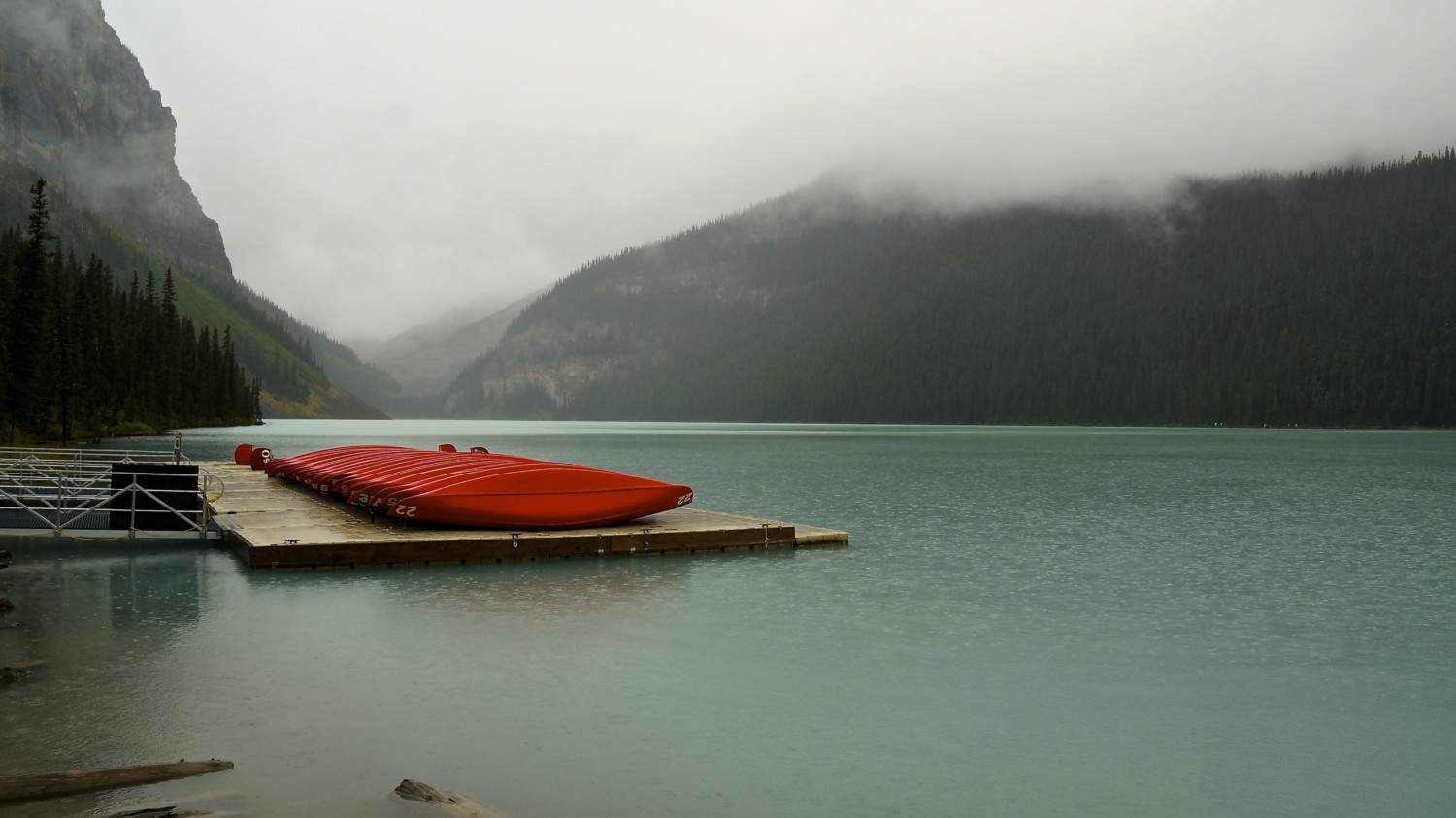 You probably guessed from the look on Ty's face that he was unimpressed with our shenanigans, and neither he nor Buster was interested in renting a canoe here  – though they are pet friendly!
Taking In The View from Norquay Lookout
Our last stop was at the Norquay Lookout, which is on the way to the ski area at Mount Norquay. From this vantage point you can see Tunnel Mountain to the south (left), Vermillion Lakes to the north (right), the city of Banff nestled in between, and the blue-green Bow River winding through.

It's the perfect spot to get a photo of your favorite travel companions!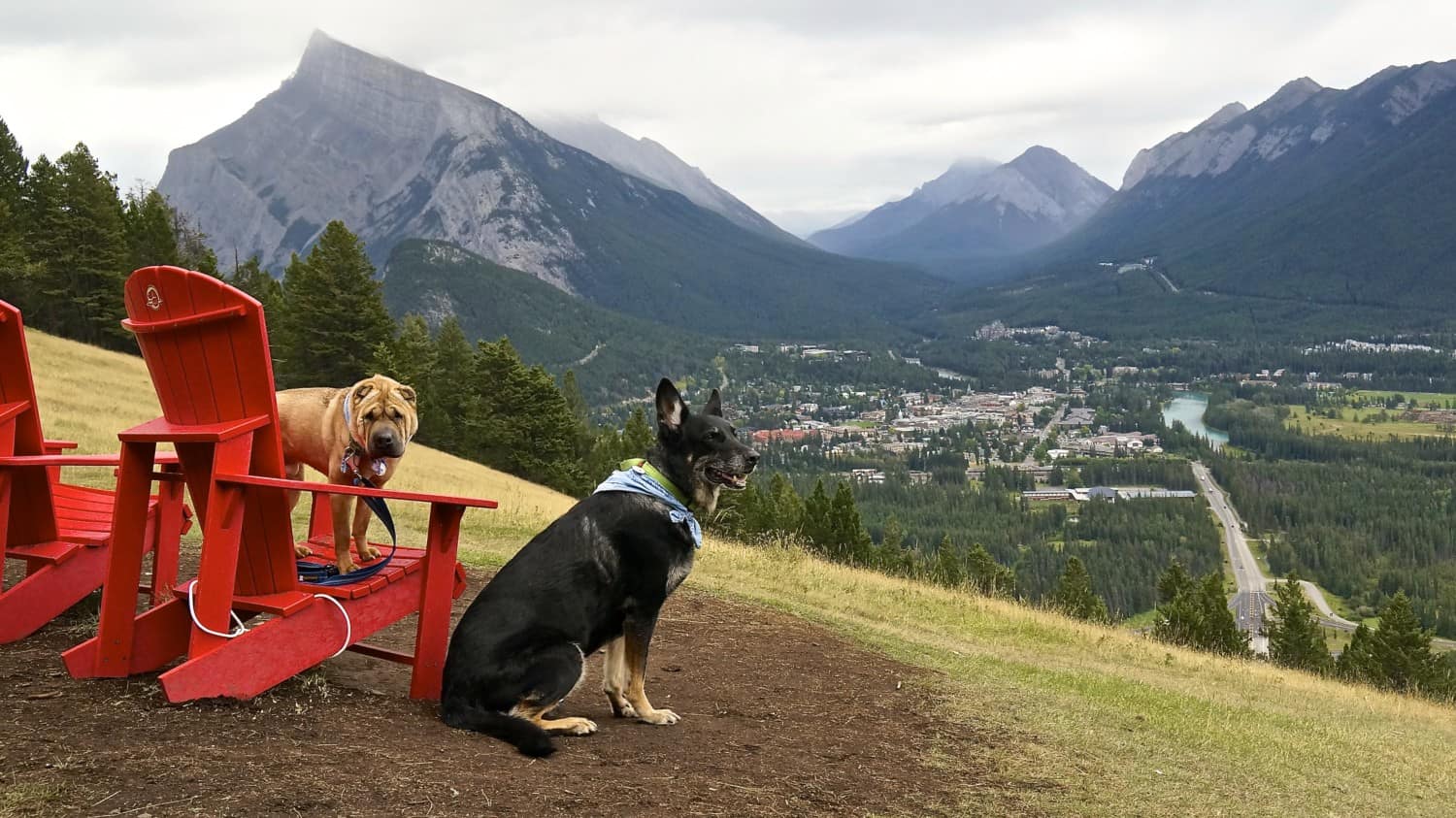 Even though we'd been to Banff before, we found plenty of different dog friendly things to do during this stay. It just goes to show that, even when you've seen a place, it can still be a new experience!
Planning a pet friendly trip of your own? We'll make it easy:
Pet Friendly Hotels | Pet Friendly Destinations | Pet Friendly Activities
Amazon Affiliate Disclosure: GoPetFriendly.com LLC is a participant in the Amazon Services LLC Associates Program, an affiliate advertising program designed to provide a means for website owners to earn advertising fees by advertising and linking to amazon.com, audible.com, and any other website that may be affiliated with Amazon Service LLC Associates Program. As an Amazon Associate, the owner of this site earns a commission from qualifying purchases.
(Visited 19,067 times, 1 visits today)