Nestled within the Canadian Rockies, Banff's majestic mountains and stunning glacial lakes make it a spectacular destination. Even better, it's incredibly pet friendly! You will have no problem finding hotels, restaurants, and hikes to enjoy with your furry travel buddy in Banff!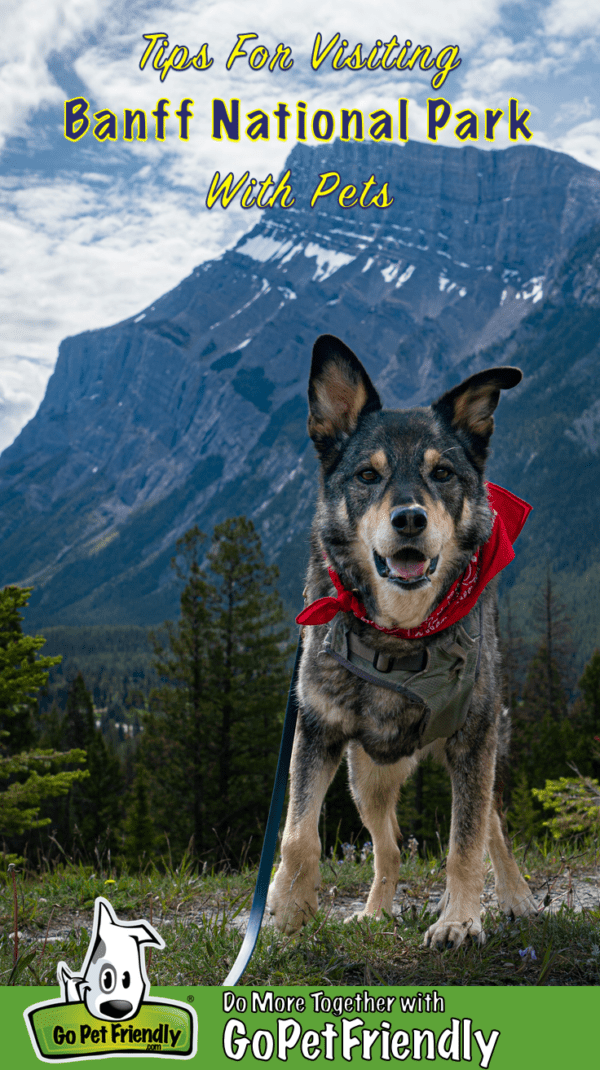 Best Times To Visit Banff
The best time for your pet friendly trip to Banff will depend on what you and your pet like to do together. For snow-free trails and water activities, plan your Banff summer vacation between mid-July and early September. Perched at 4,800 feet, the only Canadian city that surpasses Banff's elevation is Lake Louise. And that means it takes Banff a long time to thaw out and warm up!
If you and your dog love to play in the snow, then Banff becomes a paradise for you from late November through February. A highlight of a Banff winter vacation is skating, snowshoeing, and more on the frozen lakes.
Banff pro tip: Being in such a mountainous area the weather is chaotic here. We experienced sudden periods of heavy rain throughout the day followed by sunshine! Over and over again. Keeping an umbrella and your dog's rain jacket handy is pretty much a must!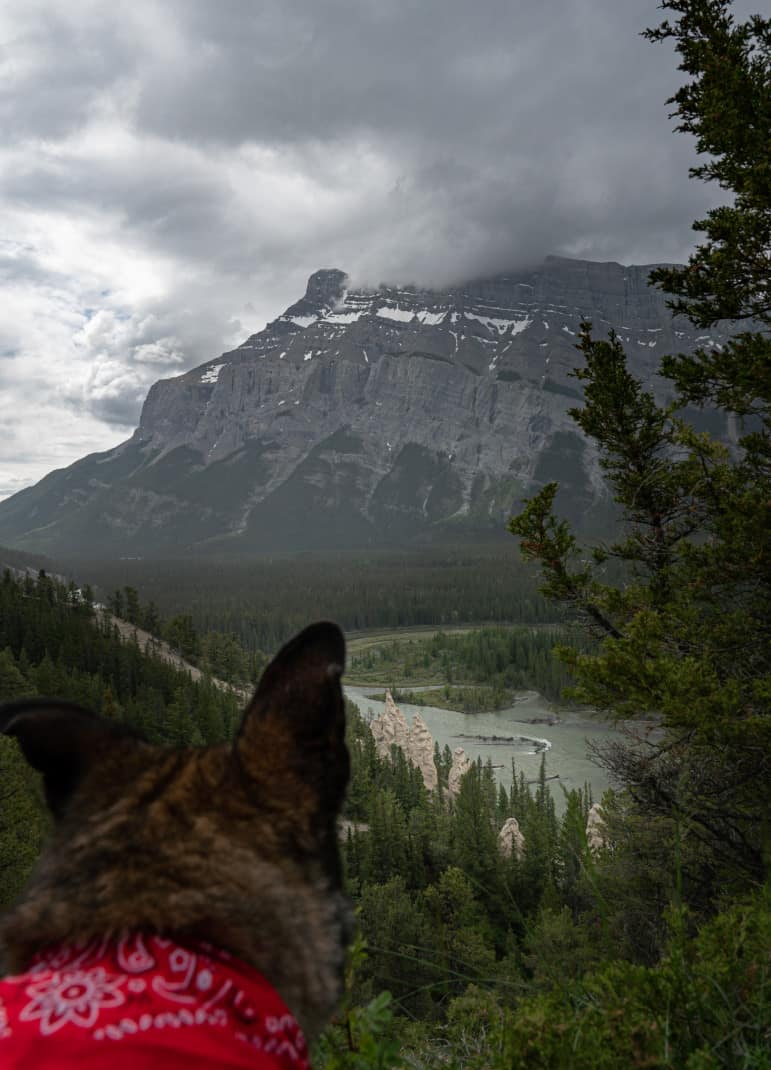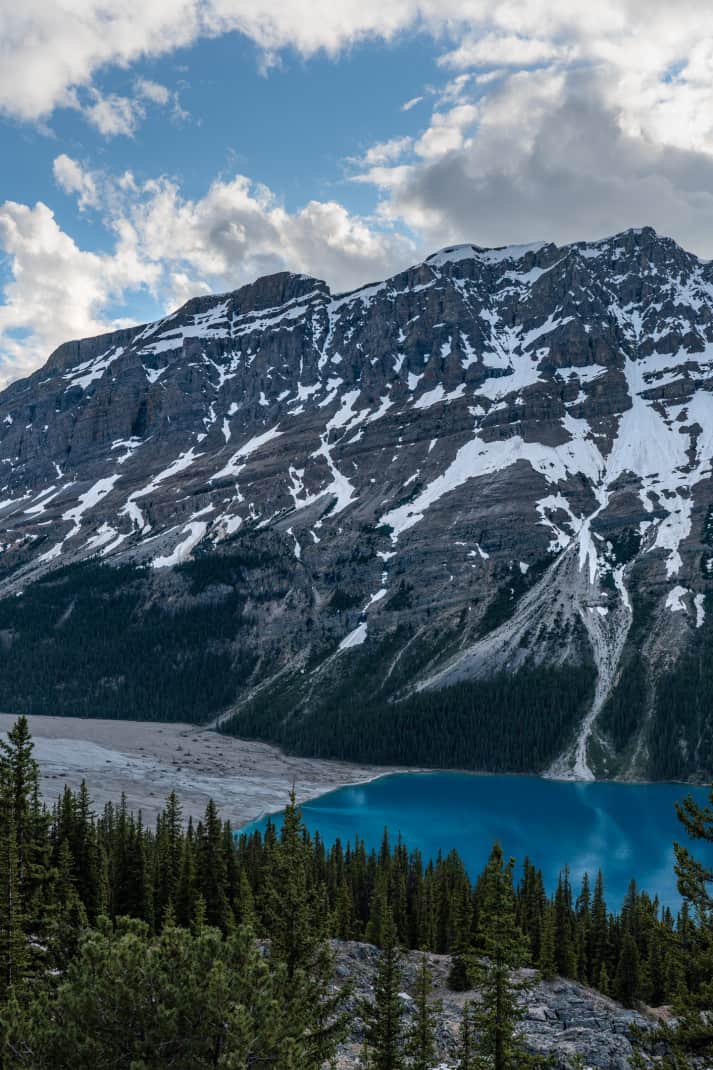 Hitting The Pet Friendly Trails In Banff
Of course, the biggest draw to this area is the unbelievable scenery. And the best way to experience that is it get yourself right out in it!
Banff National Park has more than 1,500 km of hiking trails – more than any other mountain park in the world. And leashed pets are welcome on nearly all of them!
Some trails can be closed to dogs in late summer and early fall due to high bear activity, so check with the rangers when you enter the park gates. This is easily done while you are purchasing your national park pass, which are required, and start at $10.50CAD per day.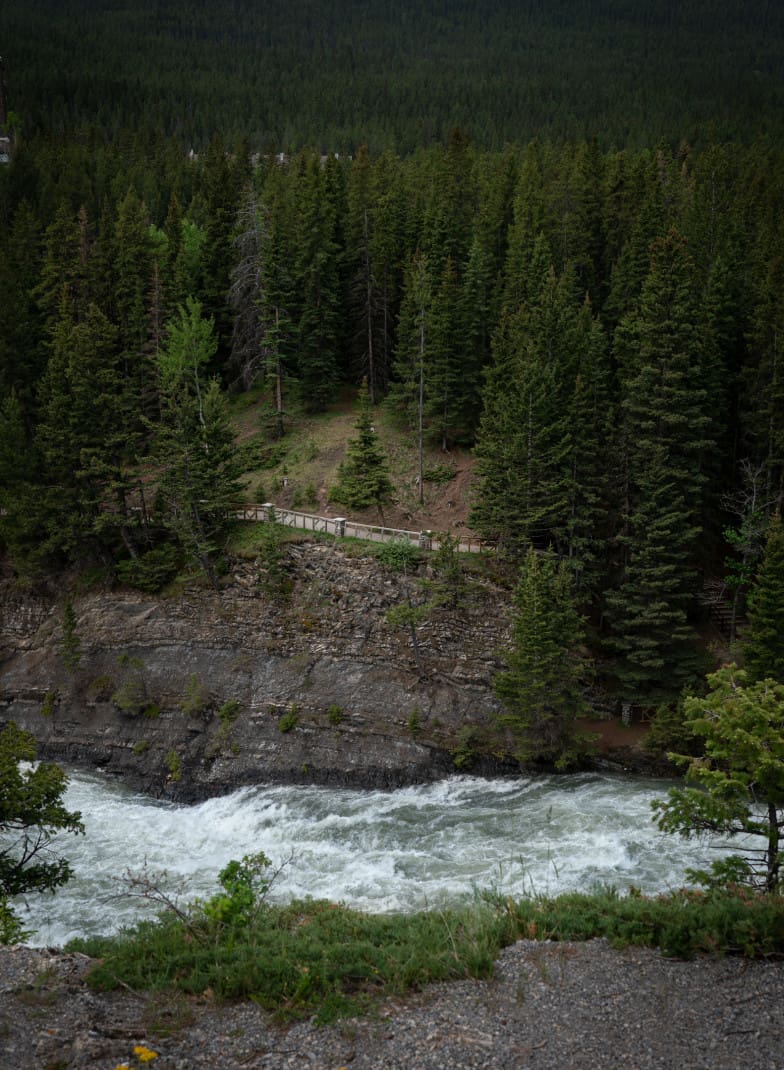 Hiking is so accessible in Banff that you don't even have to get in your car to hit some of the most popular trails in the area. There is an extensive network of paths around town on both sides of the river, and signs along the way that show your location.
Bow Falls
One walk you won't want to miss is the trail to Bow Falls. Cross the pedestrian bridge south of downtown and follow the path south along the river. Before long you'll be able to hear the sound of the falls. And just over a mile down the way you'll find the turquoise waters tumbling over the rocks.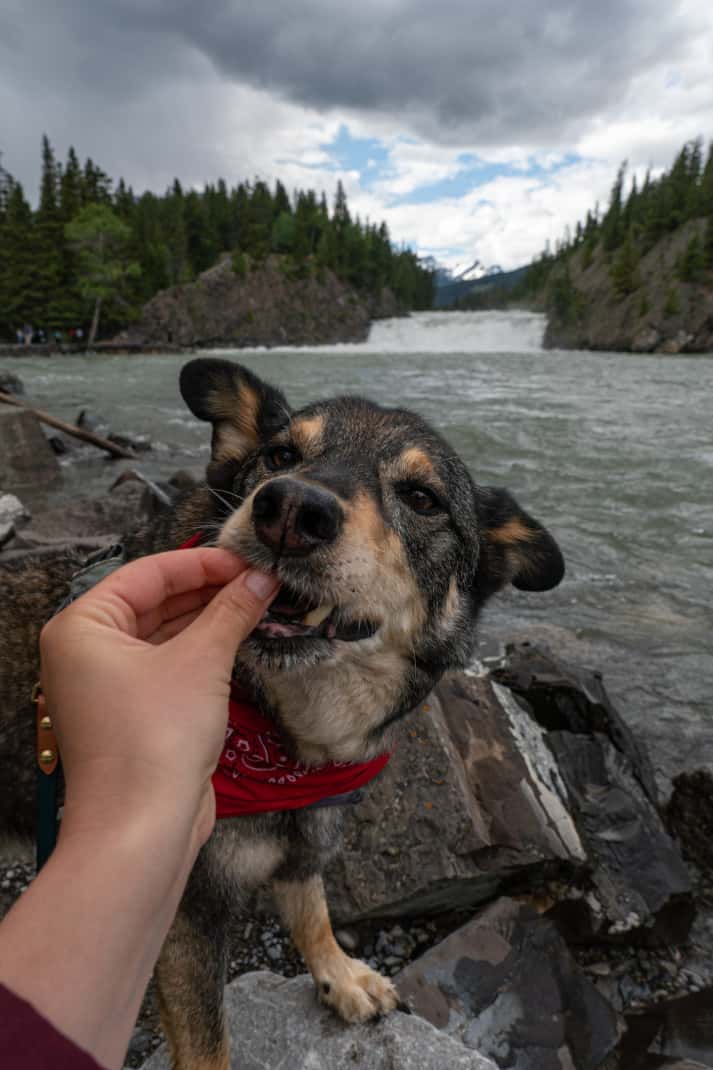 This pet friendly Banff trail is 2.7km round-trip, and it is rated as easy with a wooden staircase at the end. You can also drive to the Bow Falls parking lot for immediate access.
Be prepared for crowds at Bow Falls, as it is a very popular destination. You can minimize this by heading there earlier or later in the day.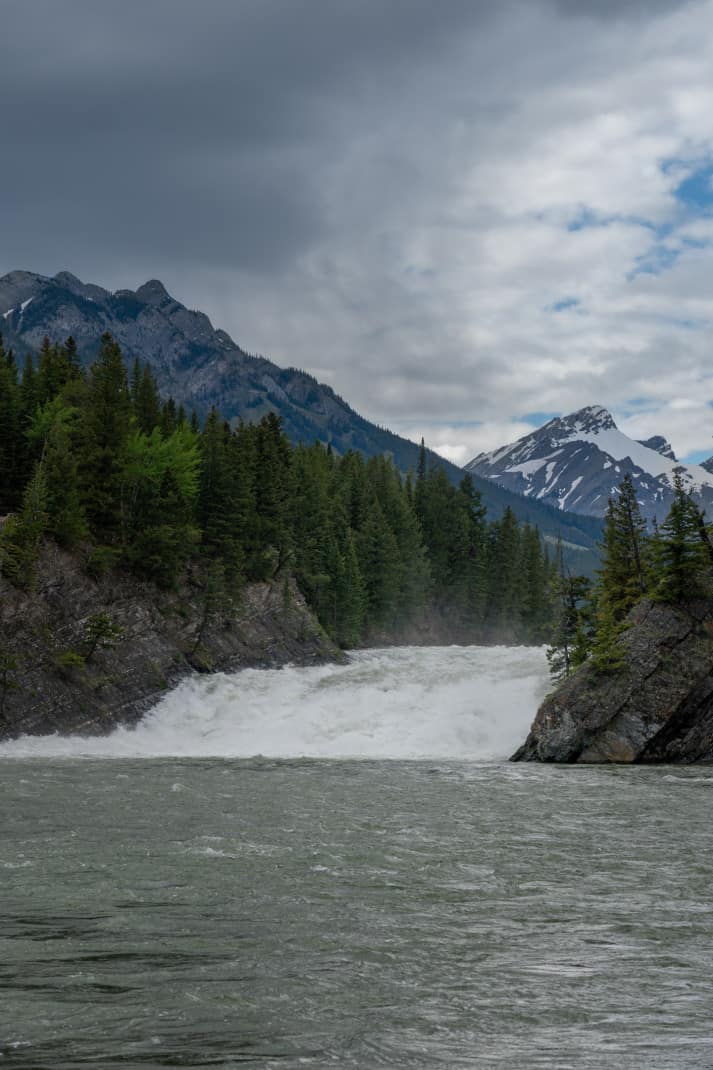 Historical fact: Classic Hollywood films from the 1950s often depicted movie stars, such as Marilyn Monroe, being swept away by Bow Falls. It's fun to imagine film crews working here while taking in the beauty of this mountain backdropped waterfall!
Leashes are strictly required on all trails within Banff, and all national parks in Canada. For off-leash running, visit the dog park in the industrial area of town on the south side of Hawk Avenue. (Note: As of June 2023, the Hawk Avenue dog park is closed. They have established a temporary dog park near the Rec Area permanent park.)
Surprise Corner
You will see one of the most recognizable hotels in the world, the Fairmont Banff Springs, on the trail to Surprise Corner. It's quite the structure, appearing in its lush forest setting.
Now a National Historic Site, it's not an inexpensive place to stay – but the Fairmont Banff Springs is pet friendly! You can stop in to gaze at the impressive halls and decor with your furry friend, even if you're not spending the night. Or enjoy the Bavarian fare as you dine with your pup on the dog friendly patio at the Waldhaus Fairmont.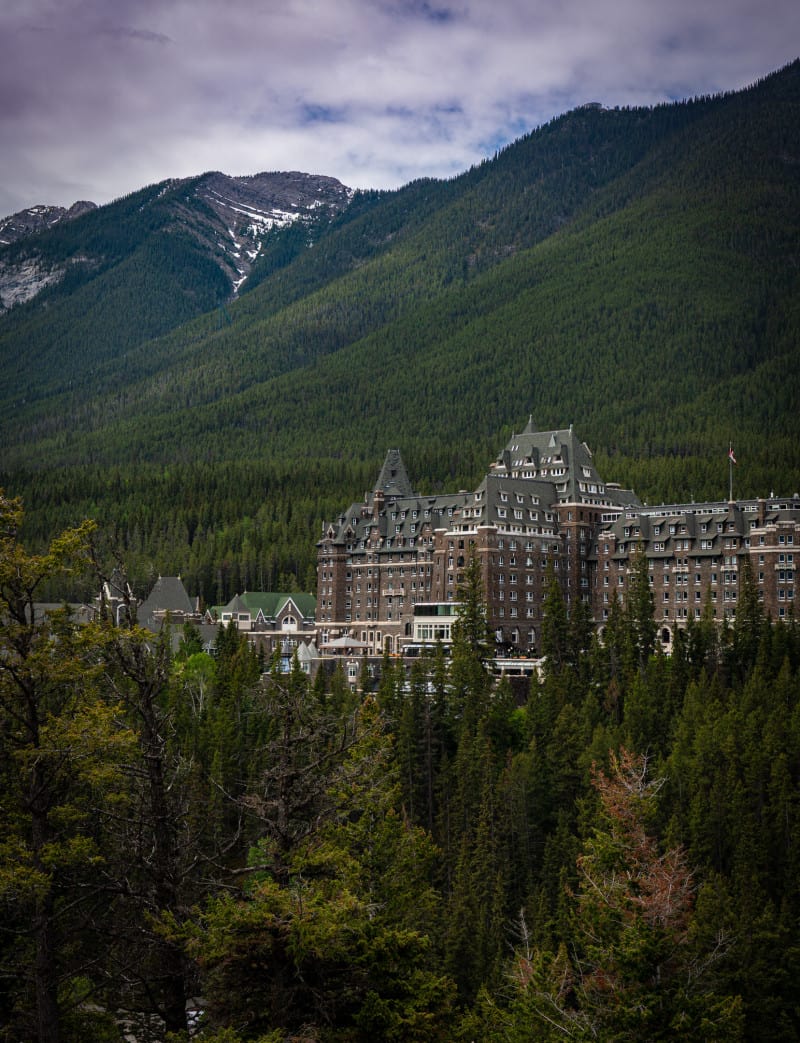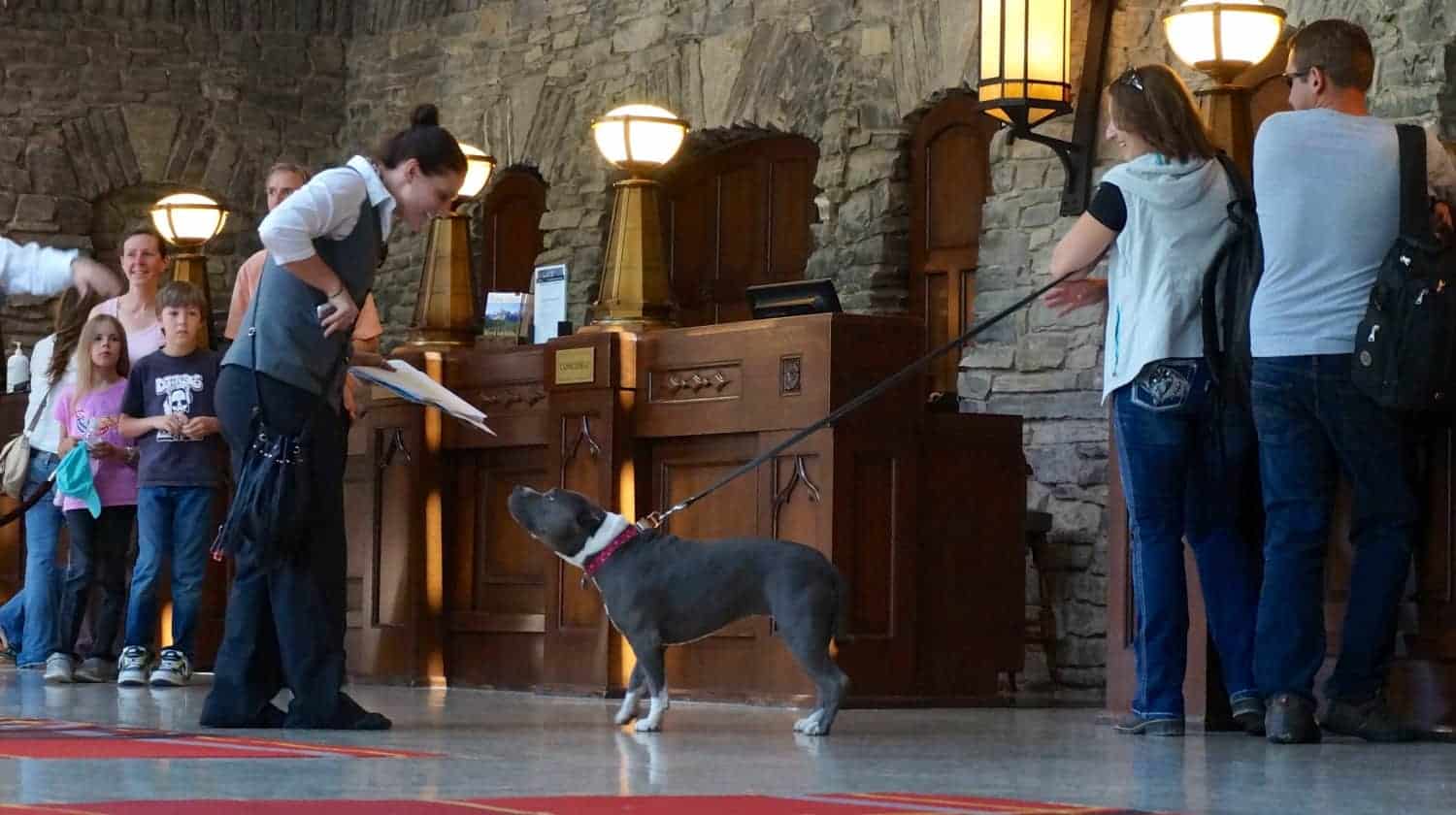 The walk from downtown Banff to Surprise Corner is less than a kilometer. For an extended hike you can continue from there to the Banff Hoodoos.
If you want to drive to Surprise Corner, be warned that the parking lot is very small if you drive.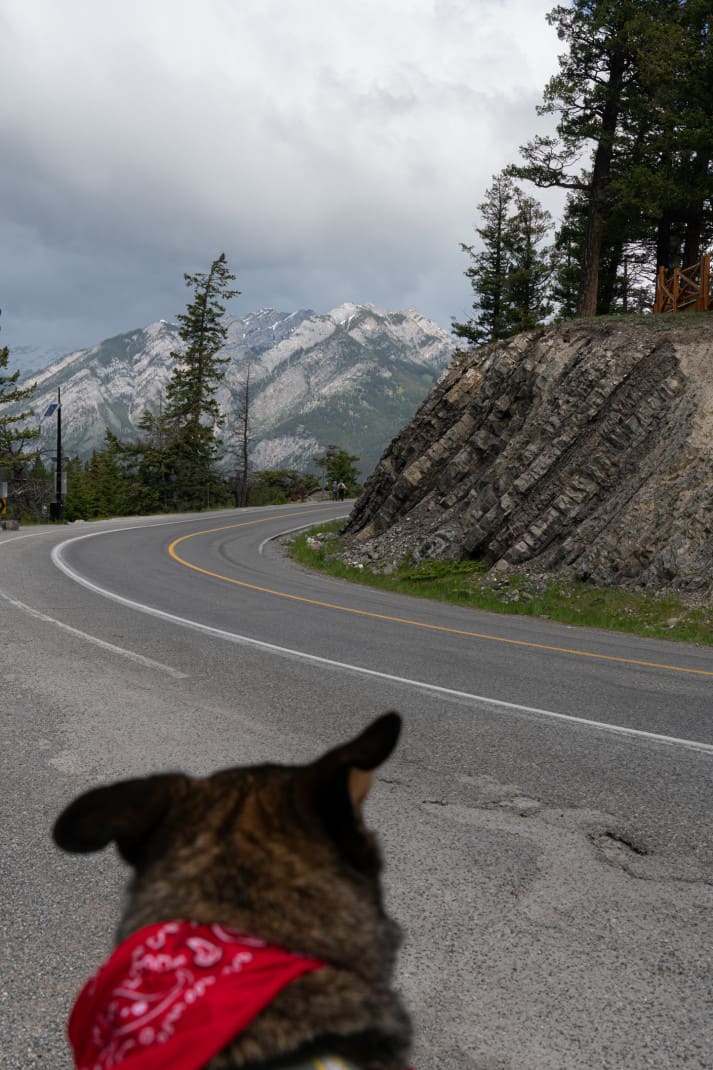 Banff Hoodoos
Hoodoos are an unexpected sight when you think of visiting Banff, but Banff has them! So add this easy-to-access viewpoint to your itinerary or add it to your hike to Surprise Corner.
If you're walking, pick up the trail in the Surprise Corner parking area. Look for the trail sign in the back of the parking area. The trail is rated "easy," offers great mountain and river views, and is 4.8km one-way to the hoodoos.
If you're driving, enter "Hoodoos Viewpoint" on your mapping app to find the parking lot with direct access to this view.
You'll have a great photo opportunity with Parks Canada's signature red chairs here. And you can continue along the path from the viewpoint parking area for a short walk with plenty more scenic vantage points.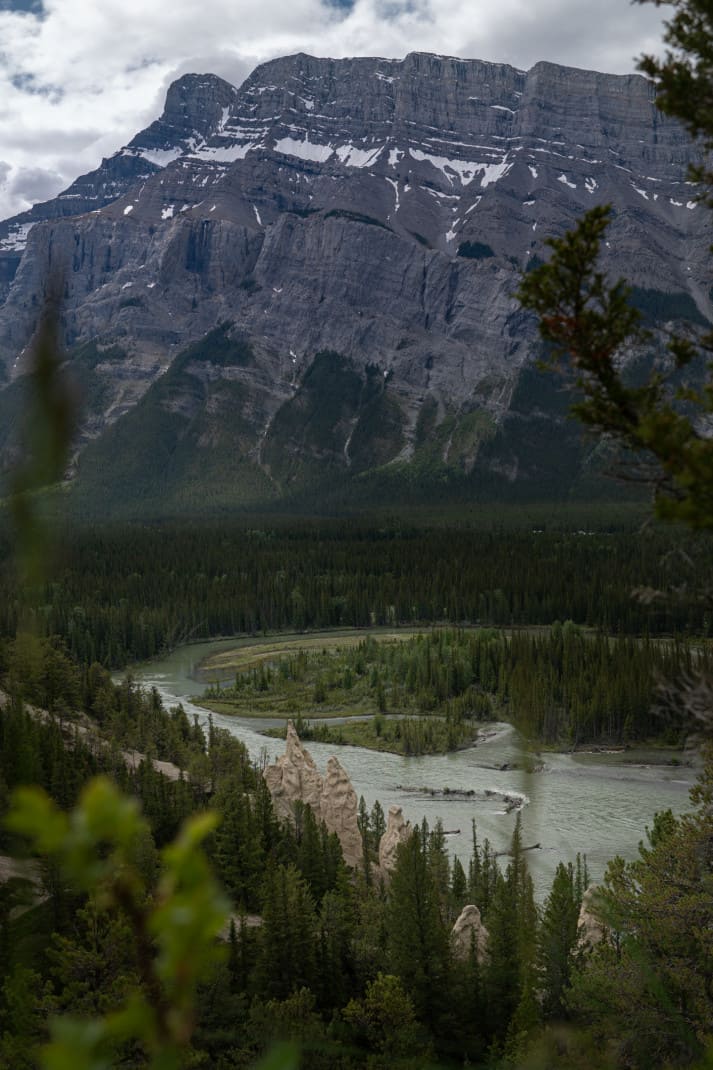 We didn't have time to explore beyond the viewpoint, but I still found it very rewarding for views. And I definitely wish we could have done the whole hike after seeing the pictures!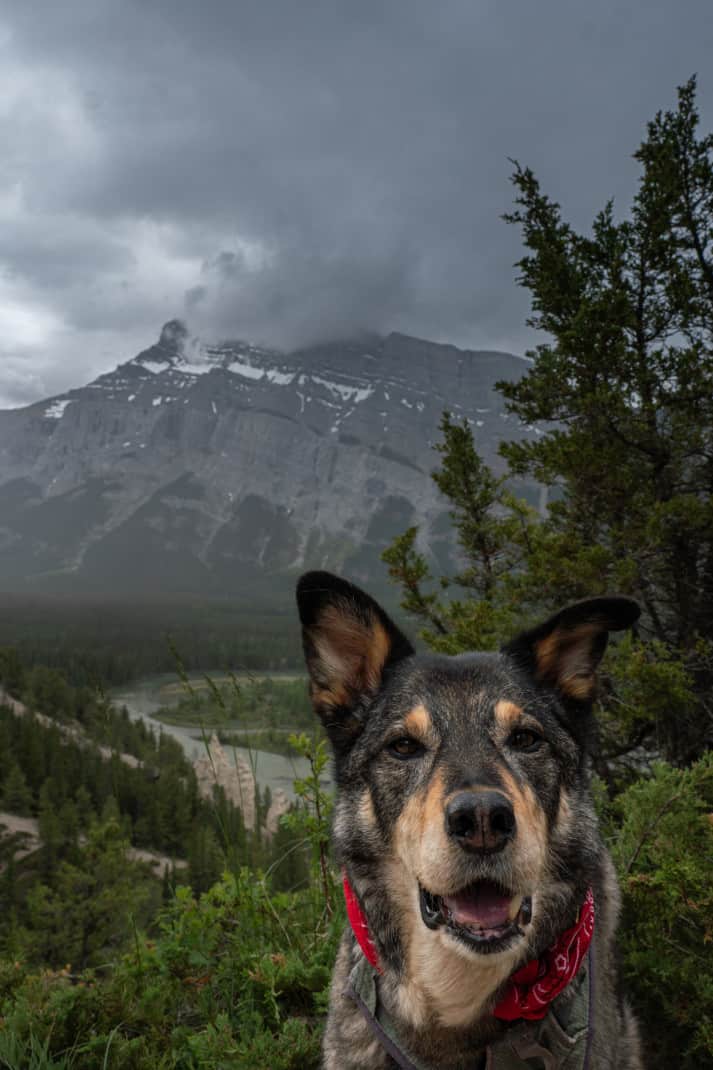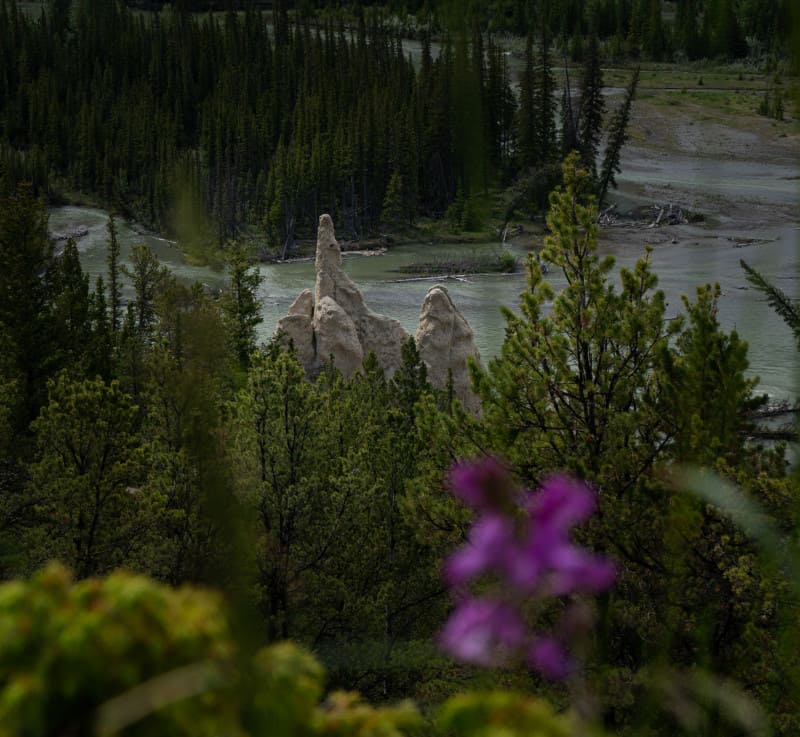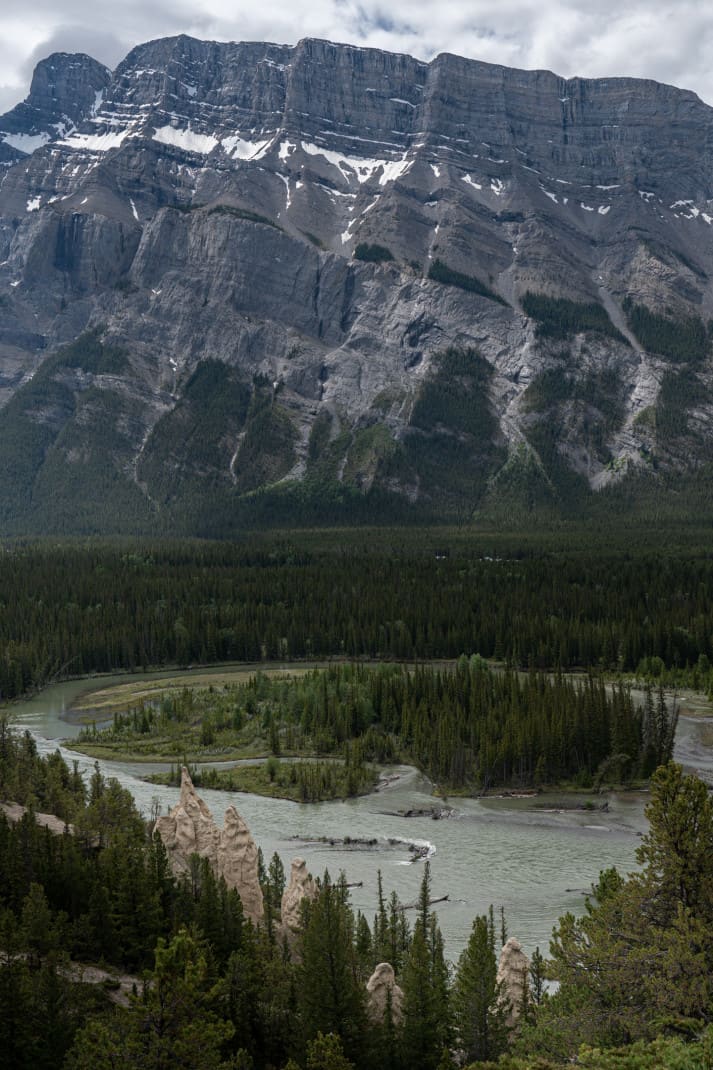 The World Renowned Lakes Of Banff National Park With Dogs
Strung like jewels, the lakes in pet friendly Banff National Park are not to be overlooked.
Lake Louise
No trip to Banff would be complete without a stop at the iconic Lake Louise! And as it is a world-renowned destination, expect to see many other visitors here as well.
It's a good idea to arrive at your parking spot by late morning. The lot tends to fill up rather quickly. Parking as of June 2021 is $12.75CAD plus your national park pass displayed in your windshield.
Two pet friendly ways to experience Lake Louise in more solitude are to go hiking or take a canoe out on the lake.
For a sunrise paddle, reserve a canoe by 10pm the prior evening at the Lake Louise Boathouse. During the day the iconic red canoes are first come first serve, but always dog friendly!
Banff pro tip: If you plan to canoe with your dog, bring a life vest for him. Human life preservers are provided, but most places to not have canine safety gear.
If you prefer to stay on solid ground, hiking the trail from Lake Louise to the Lake Agnes Tea House is one of the most memorable adventures Amy and Rod did with Ty and Buster. Her post about it makes me wish we had time as well. It's also funny to read what happened during their doggie photo shoot.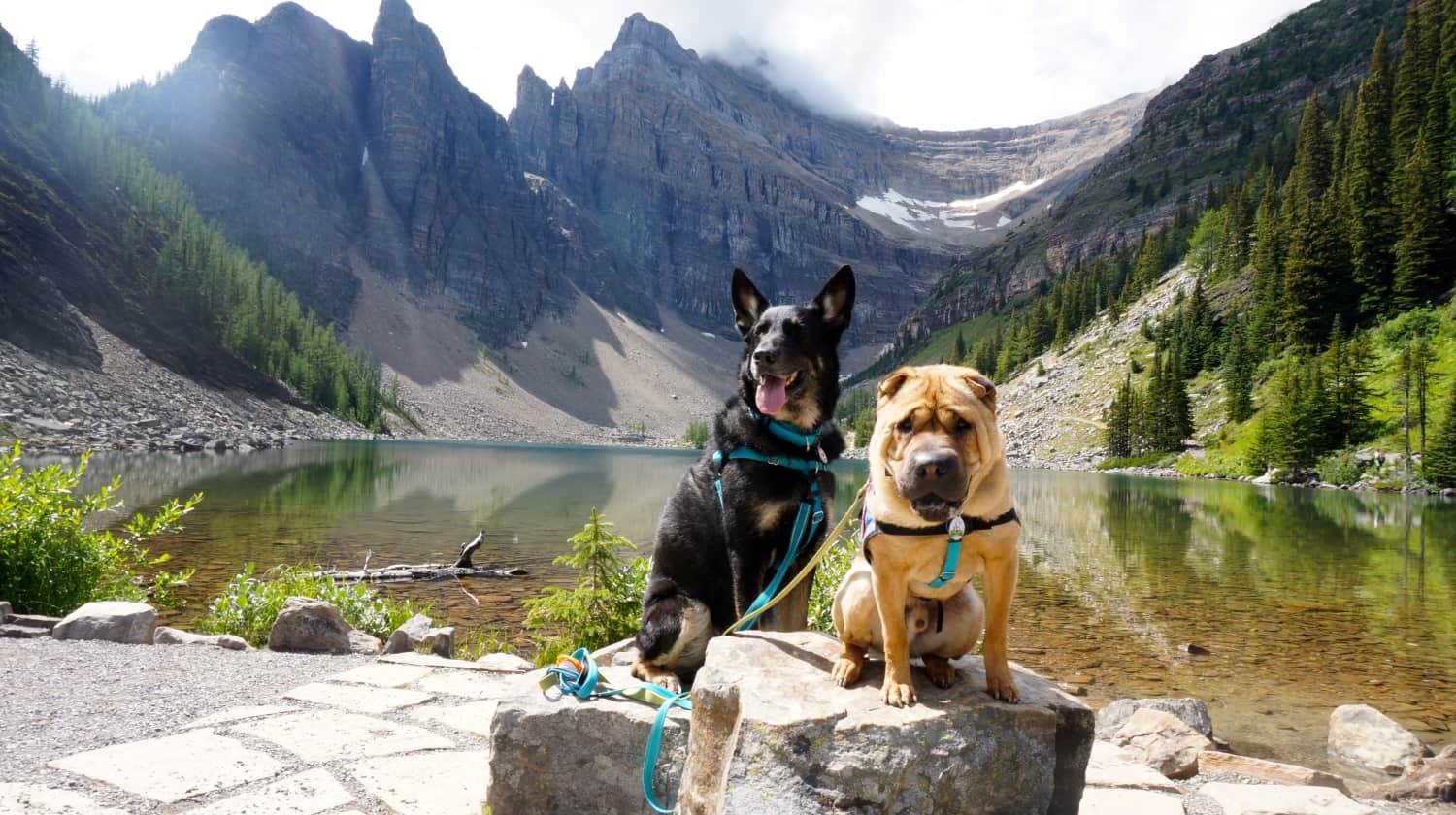 If you're into tea house hikes, another option from Lake Louise is the Plain of Six Glaciers. In fact, there are so many trail options around Lake Louise it's a very easy place to spend a spectacular day. And all the trails are open to dogs on leash!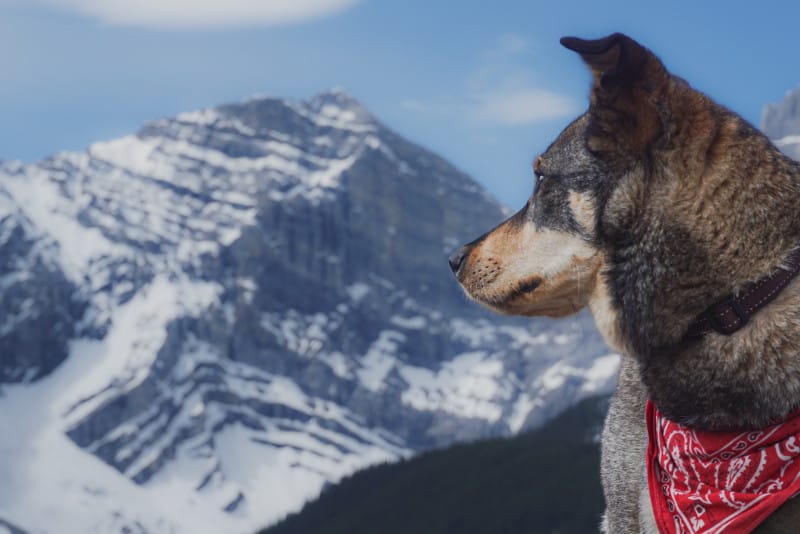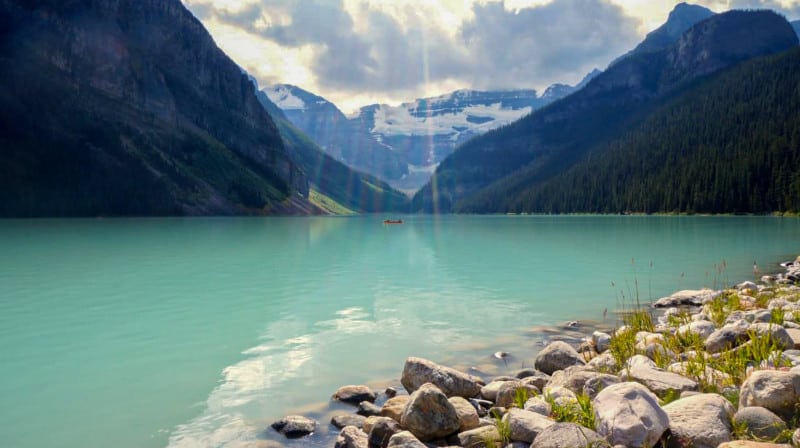 Moraine Lake
Moraine Lake is another popular and renowned lake in Banff. And with the breathtaking view of ten sharp peaks lining the backdrop, it's no wonder.
Parking is free at this beautiful lake. However, parking spaces are very limited. And it's a trending spot for sunrise photography, so you and your pup will need to arrive early to secure a spot in the summer!
Yes … you really do need to arrive by 6am. Once the lot is full, the road is closed. And it's a complete gamble if it will open again before dusk.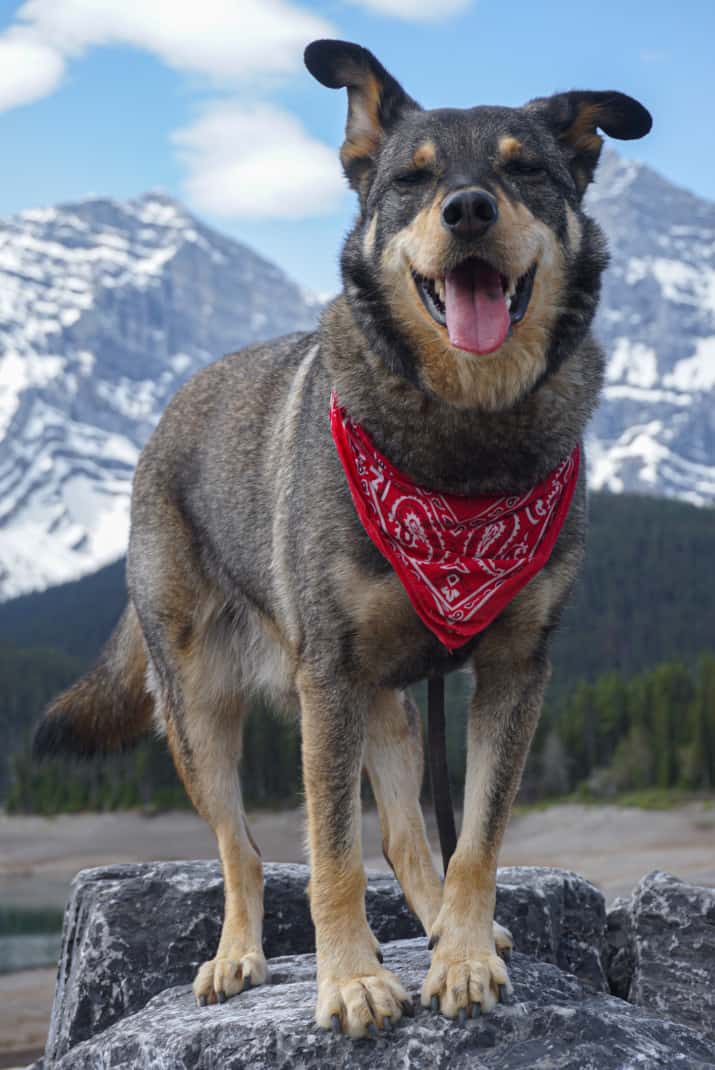 The good news is, Moraine Lake pretty much has it all! Once you snag one of the coveted parking spots, you can make a day of it here.
Choose from the pet friendly day hike options including, Consolation Lakes (5.8km round-trip), Eiffel Lake Trail (11.7km round-trip), and Sentinel Pass via Larch Valley (10.9km round-trip). Or take one of the shorter, easier trails. Then finish your day with a gentle float on the lake. You can bring your own SUP, kayak, or canoe, or rent a canoe during your visit.
Lake Minnewanka And The Scenic Drive Loop
The Lake Minnewanka scenic loop begins within a five minute drive from downtown Banff. Though the loop is only 24km, there are numerous places to easily access the lake and so much to do along the way!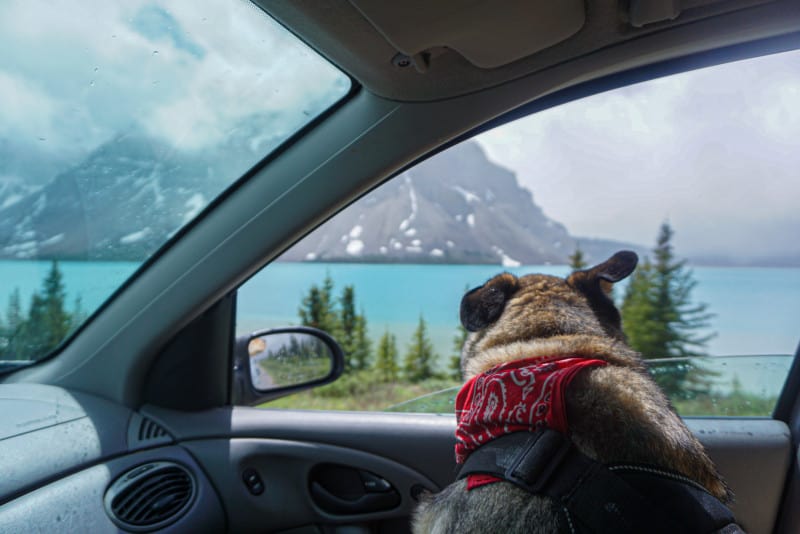 This lake itself is about halfway around Loop Drive. It is a vast lake that shines an icy glacial blue when the sun is out, which is so pretty!
Along the way to the main parking lot watch for a lakeside parking. You could make a tailgate picnic, or have a snooze like Riley!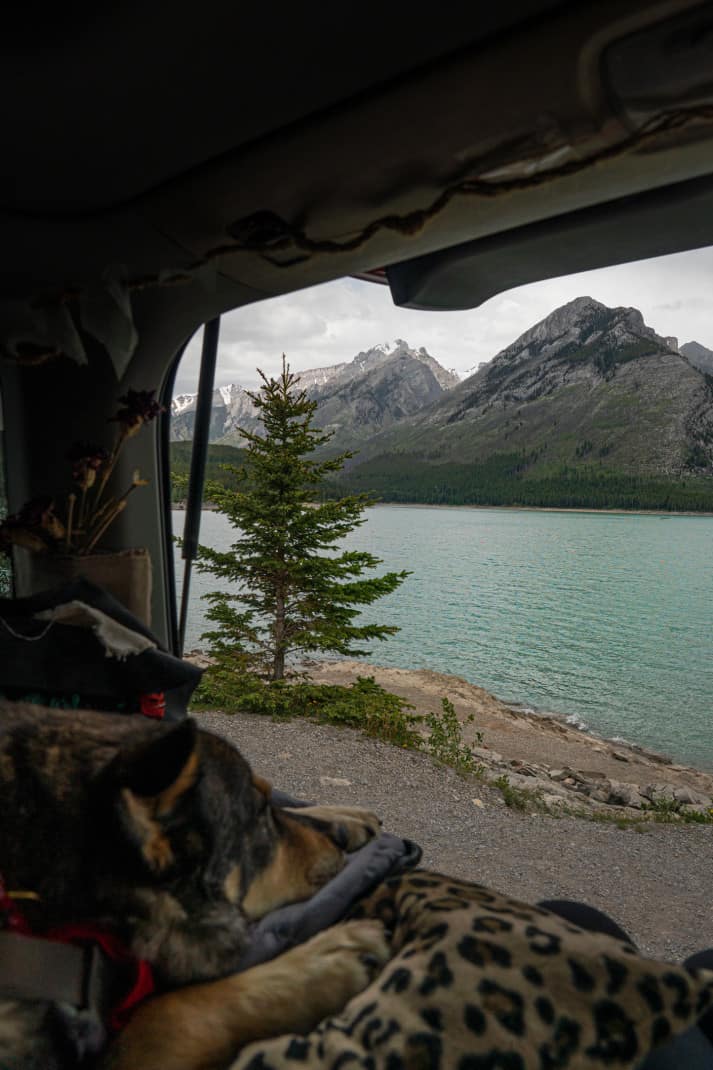 You can rent a canoe or boat to go fishing, or take a boat tour and let someone else do the driving. This would also be an epic location to launch your paddle board. And if you visit Banff in the winter this lake becomes a giant skating rink to play on!
On land you can enjoy the shoreline or take a lakeside stroll to Steward Canyon (6.6km or 4.1m round-trip). This is one of the few places where you won't be able to extend your hike with dogs due to bear habitat. Bear spray is required to hike here, and recommended for all Banff hikes.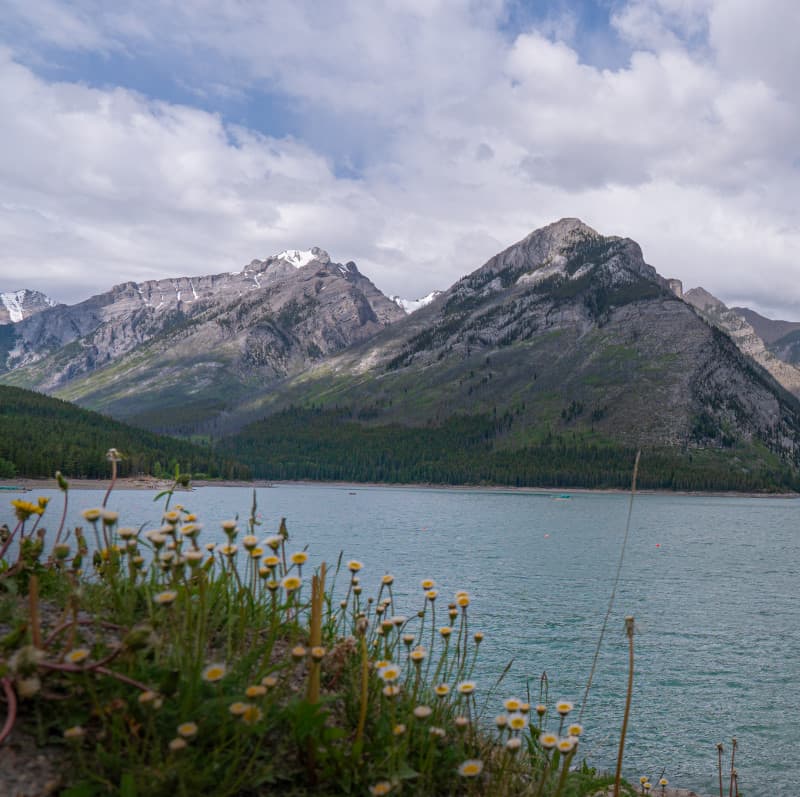 Spray Lake
Sometimes it's fun to get off the beaten path, and you can do just that at Spray Lake. Located south of Canmore on Hwy 742, this is gorgeous spot if you're seeking a little peace and quiet.
The road is paved for a short distance out of town, and switches to a well-maintained gravel road until you get near Kananaskis.
There's a campground and several picnic areas on the lakeshore, so finding a spot to admire the view should be no problem.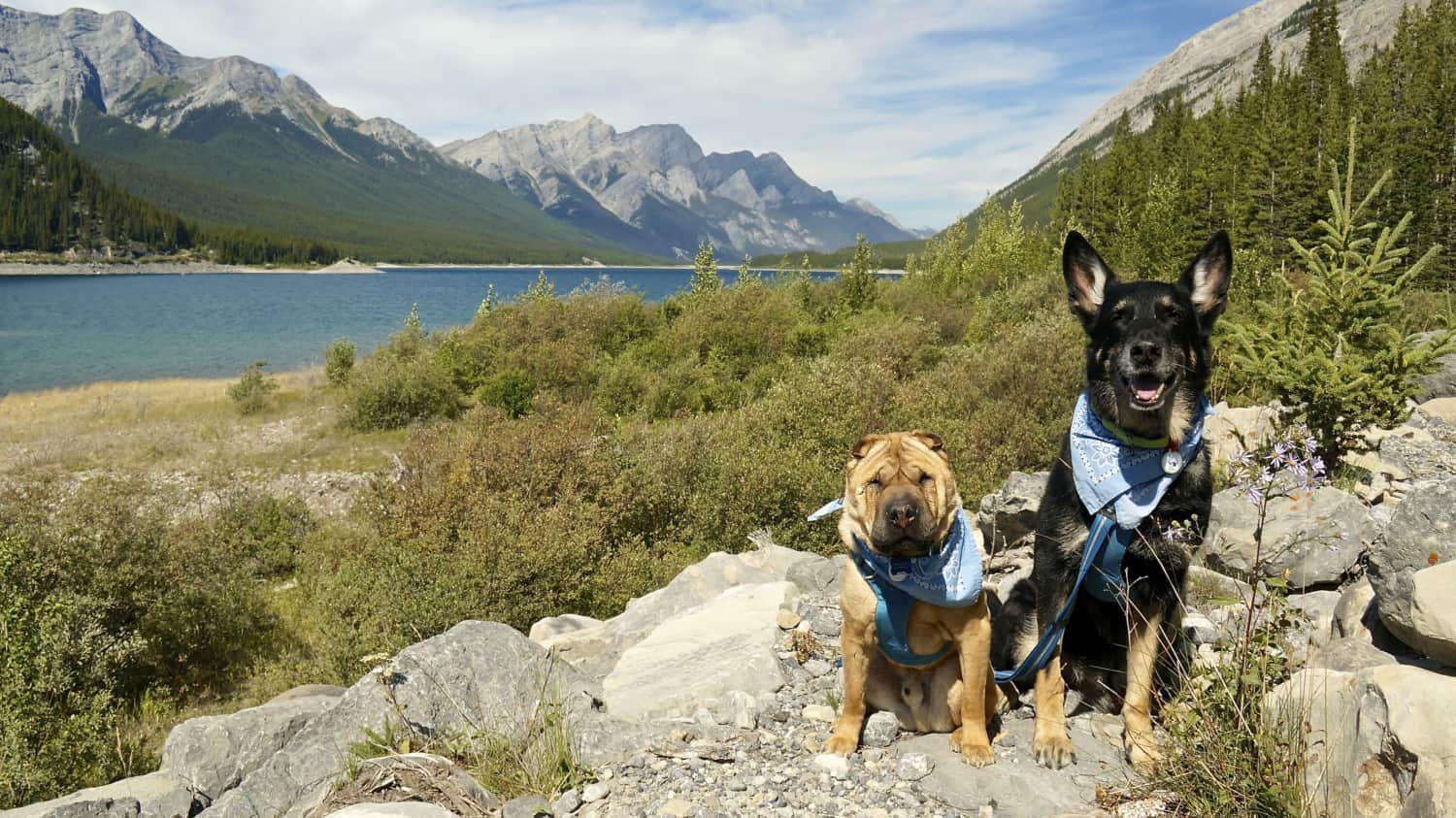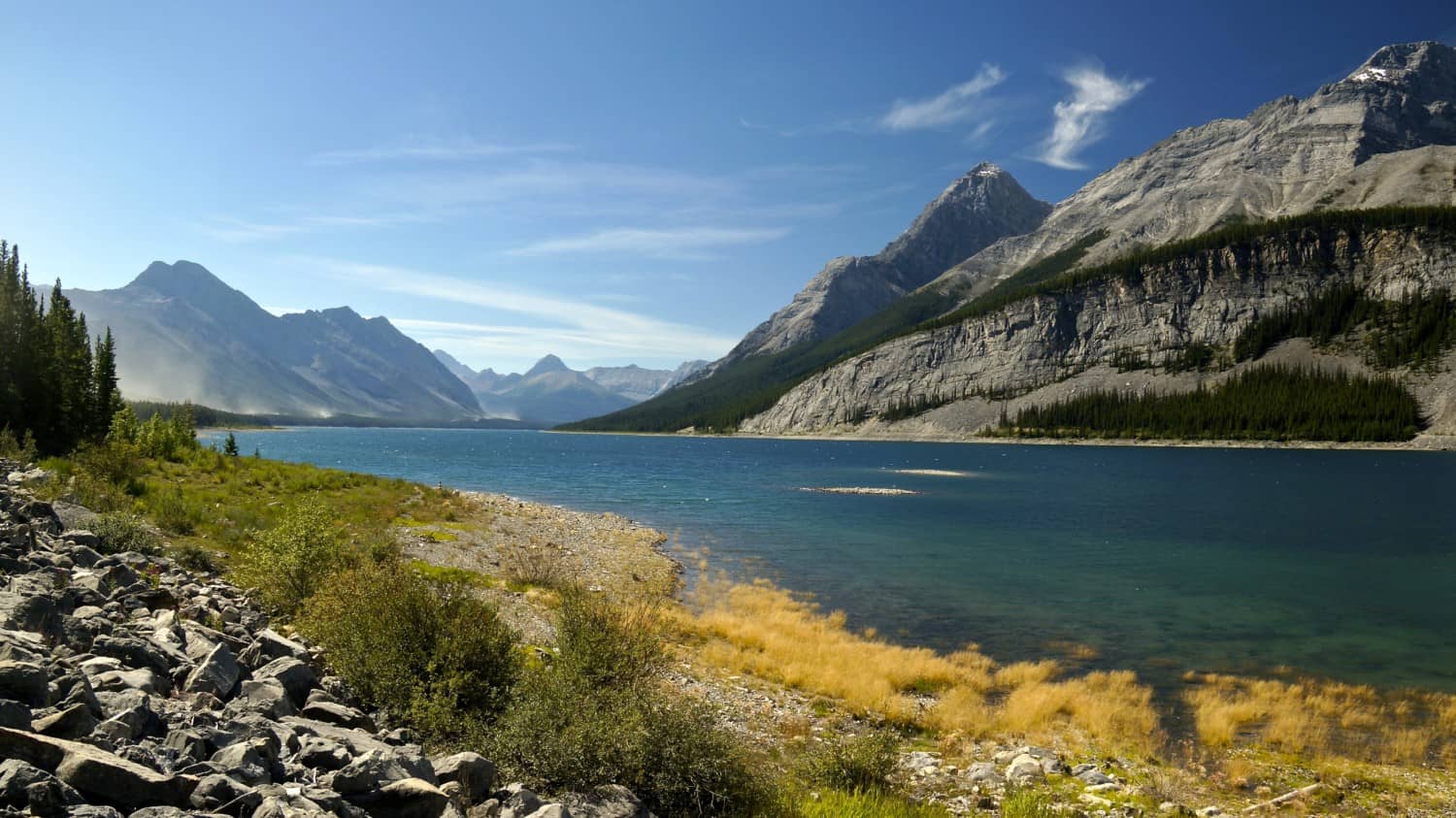 Cascade Ponds
For a picnic in a beautiful setting below Cascade Mountain, head over to Cascade Ponds. Here fire pits and tables are provided just steps from the parking lot.
After some lunch, you and your furry friend will love the 2.4km loop trail over the ponds that are connected with charming wooden bridges. Cascade Ponds is also a nice, calm place to launch your SUP on the water.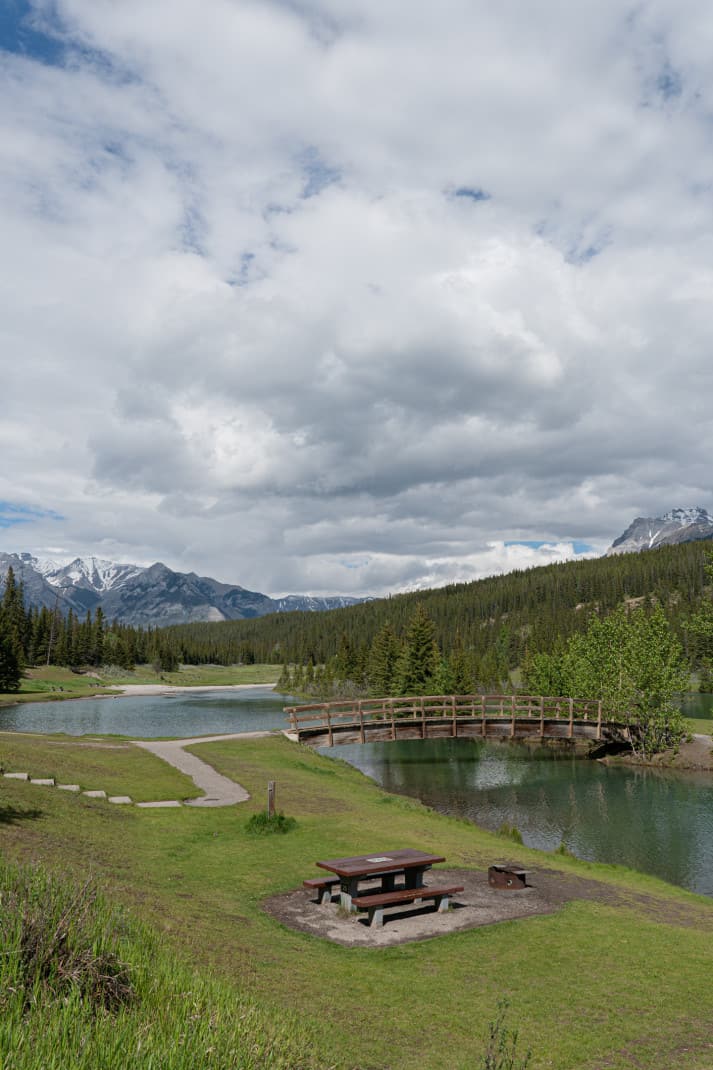 Johnson Lake
Johnson Lake in Banff National Park is a great space whether you are looking to walk, picnic, swim, float or paddle away on the lovely blue-green water surrounded by mountains. And all of these activities are available to you a very short walk from the parking area.
You will be immediately greeted with an open grassy area and picnic tables from the parking lot. Lake and mountain views included!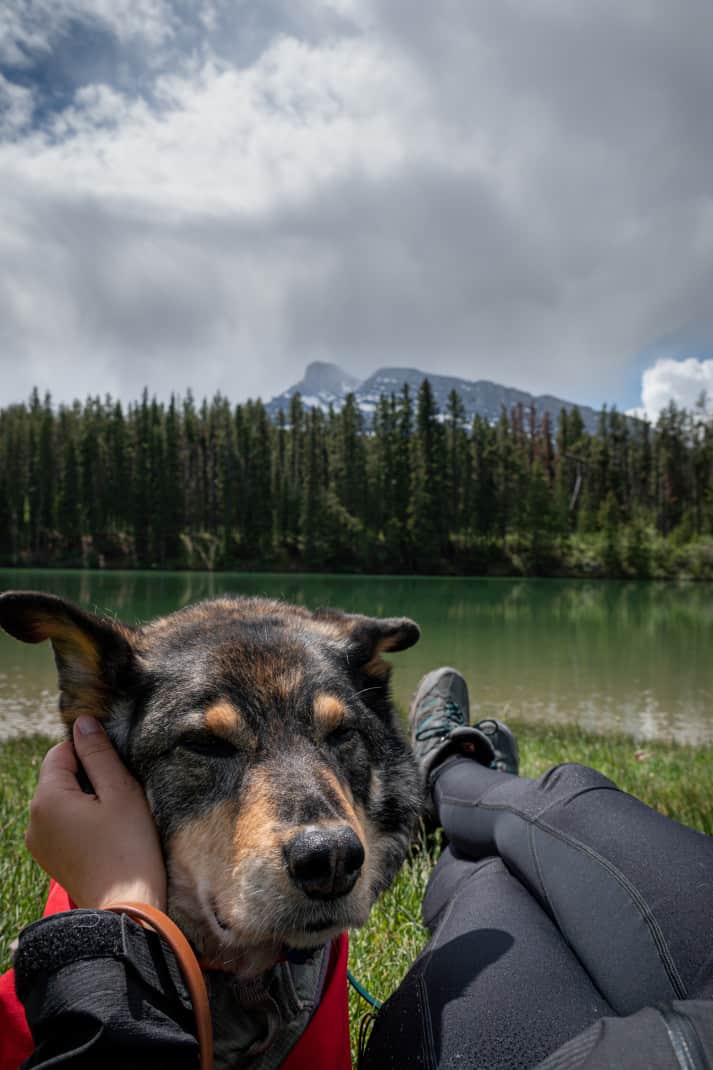 There is also a small sandy beach where you and your pup are able to cool off during a summer visit. You could also launch a paddle board or inflatable boat from the beach.
Banff pro tip: Remembering that dogs must always remain on leash in Banff, if your pup likes to swim, pack a long leash that dries quickly.
For a chance to stretch your legs, pick up the fairly easy 3.2km trail around the lake. You will encounter a few short steeper sections, and the trail is unmarked so downloading a trail map is recommended.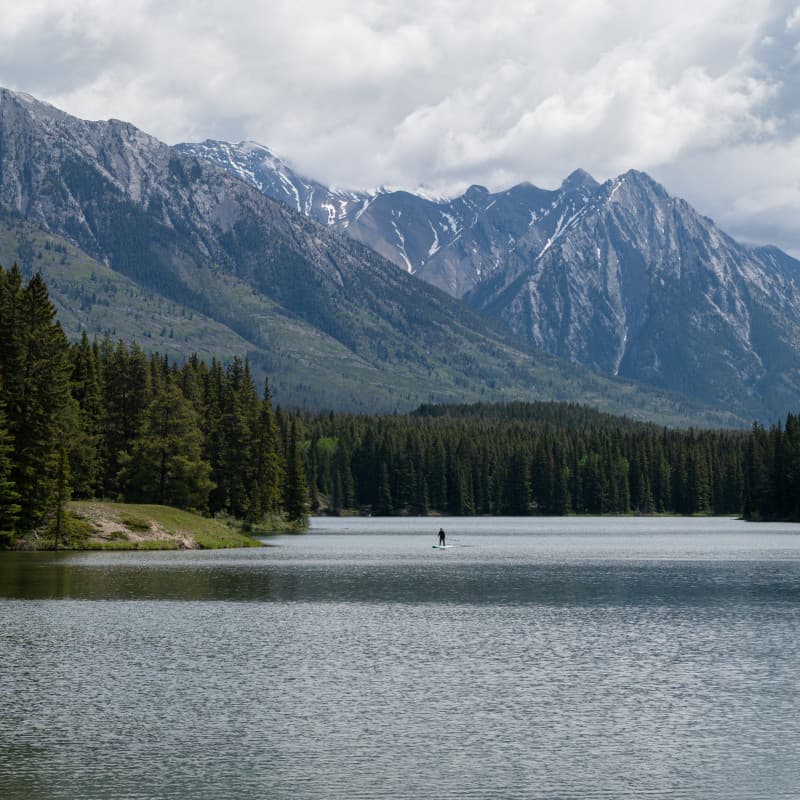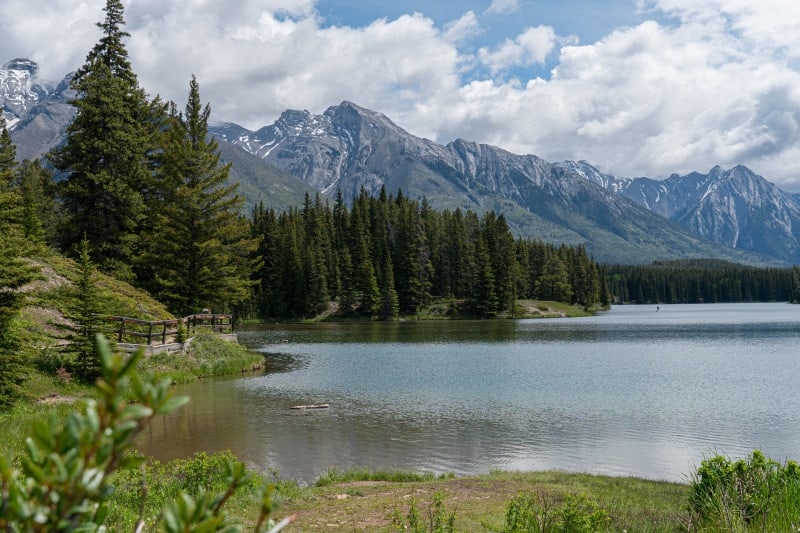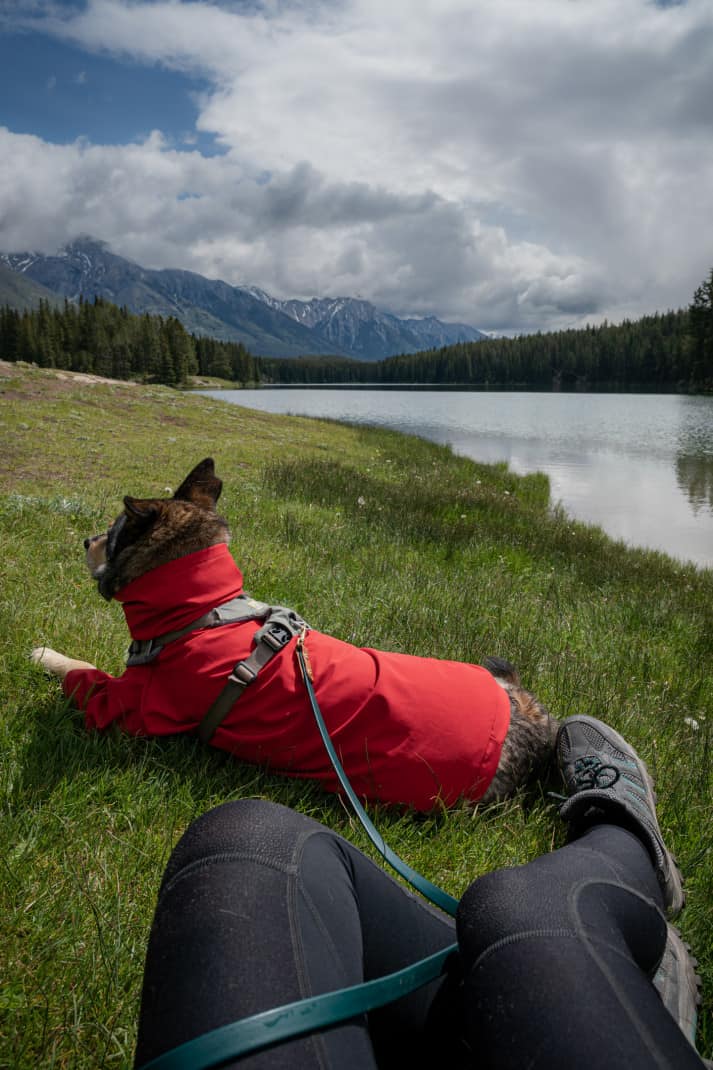 Two Jack Lake
Many of the main lake attractions around Banff are fed by glaciers, but not Two Jack! That means the lake is warmer and much more desirable for swimming and other water activities.
Two Jack lake has direct easy access to a small, sandy beach area. You won't be able to rent watercraft here, but you can do that in Banff. (Or check out the rentals in Canmore for a fraction of the cost).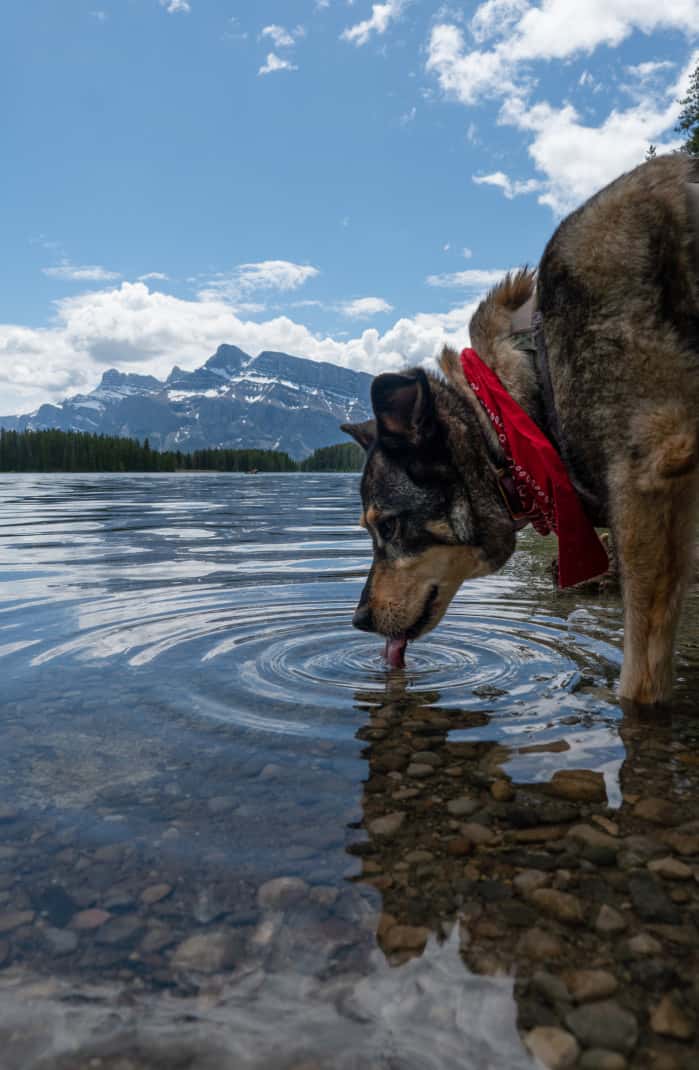 For a chance at a sunny beach location all to yourself, take a hike along the west side of the lake (4.7km round-trip). Here you will also find picnic tables and a grassy hill to enjoy your lunch after a swim with fantastic views of Mount Rundle.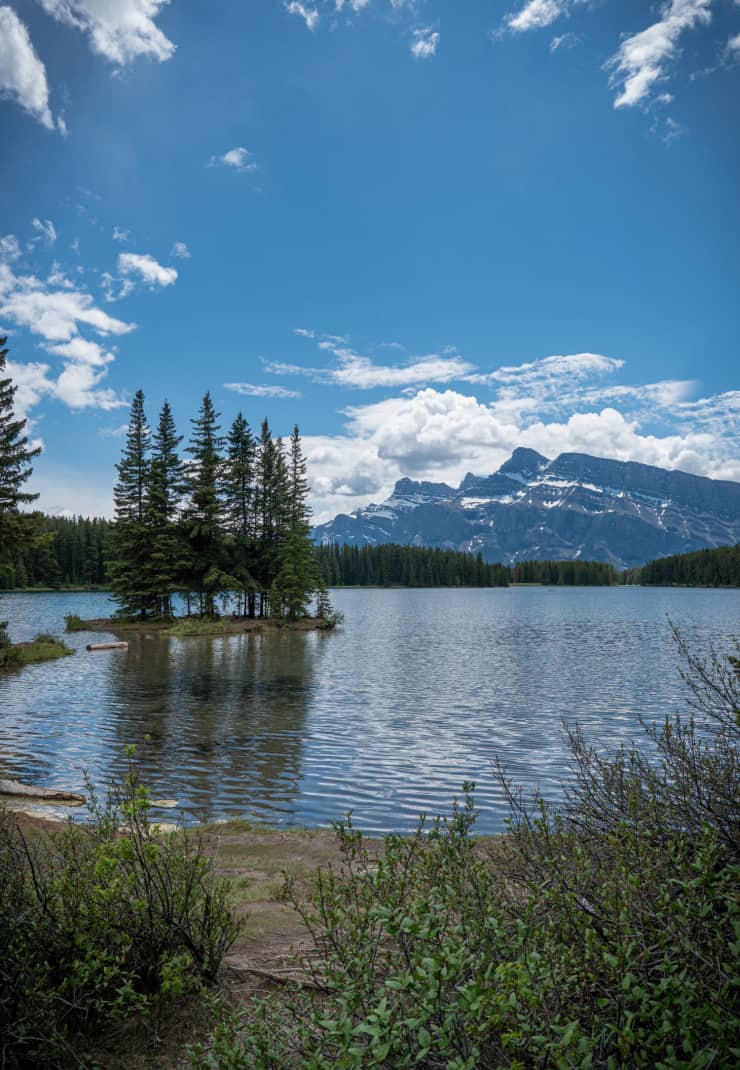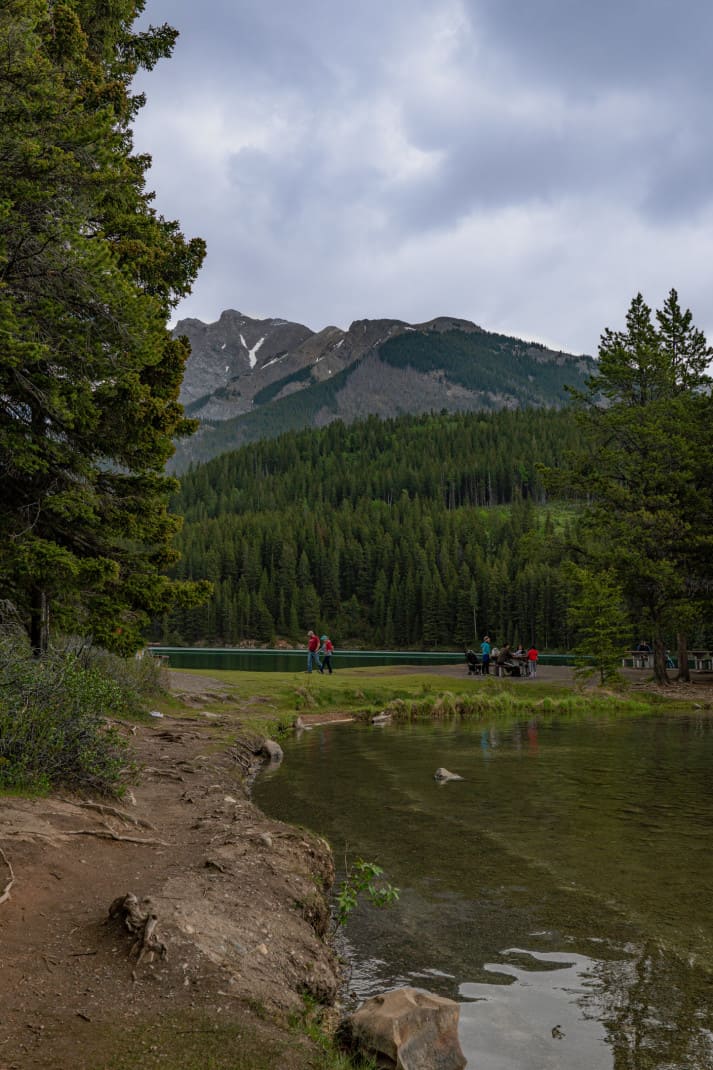 Bonus! Here are a couple of shots of Mount Rundle from the Trans Canada Highway.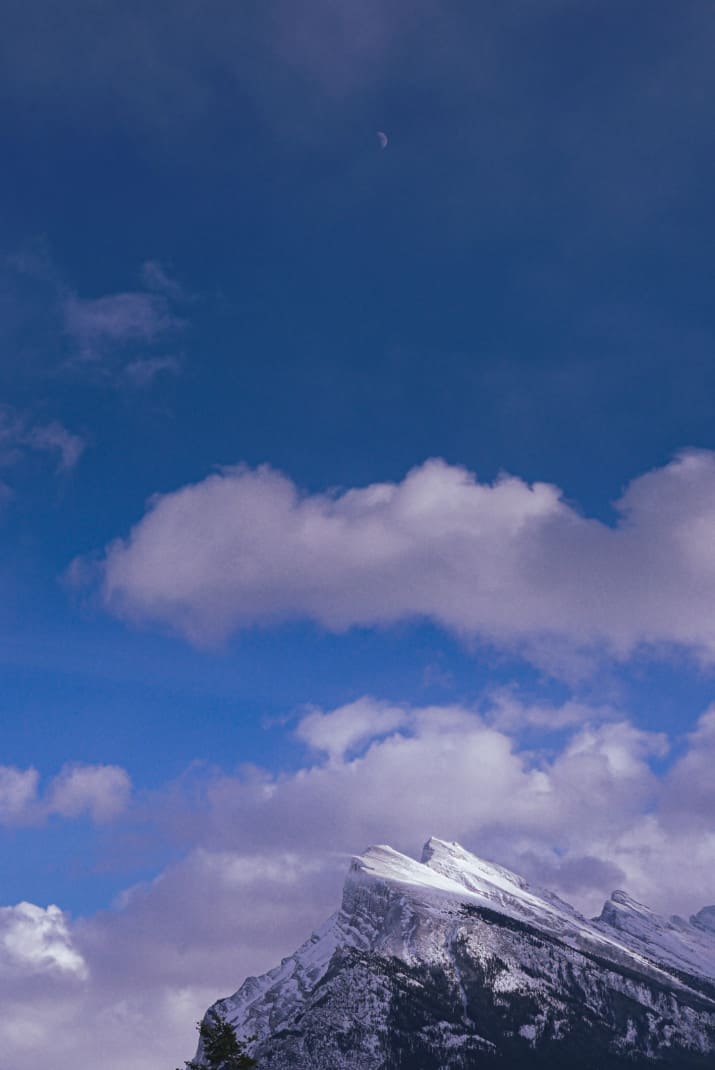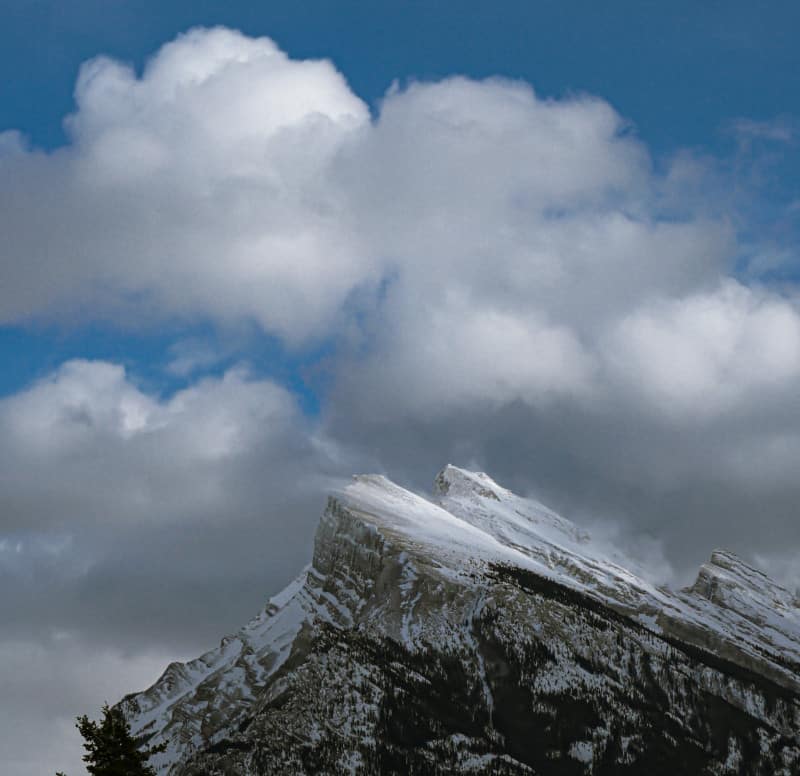 More Pet Friendly Things To Do Near Banff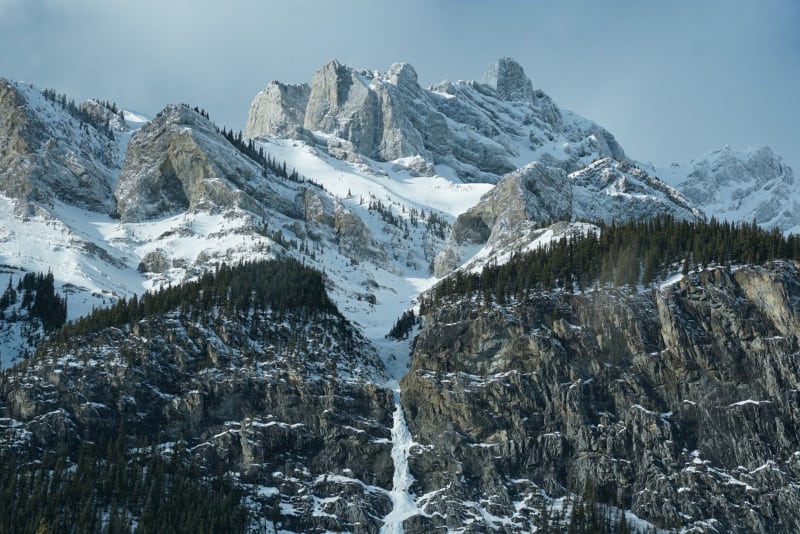 Bankhead
Bankhead is not a lake surrounded by mountains but a ghost town, located a short distance from Lake Minnewanka. This is an unexpected and unique Banff stop!
Start at the Lower Bankhead parking lot for the approximately 1km interpretive trail lined with old mining equipment and buildings.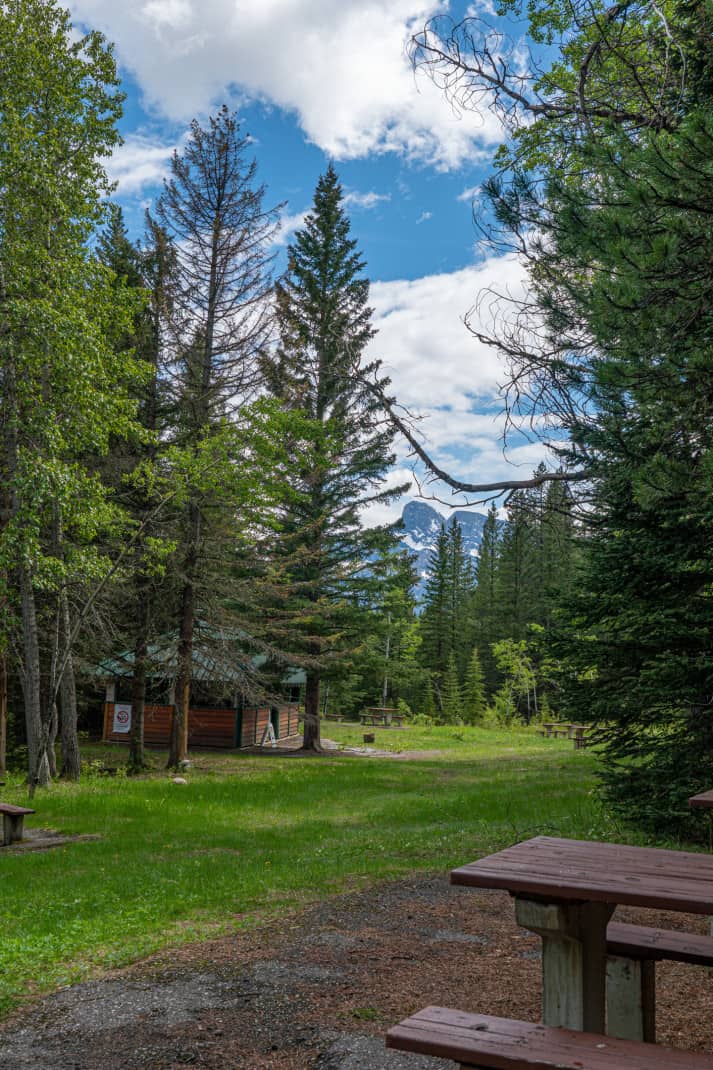 From Upper Bankhead there is an 8.8km hike leading to a cirque, which is a bowl shaped depression left behind by a glacier. You can survey the ruins of a mine on this trail, but the lower lot is where you'll explore the majority of the ghost town.
During our trip we found both of these lots near empty. It seems Bankhead is a hidden gem, and the picnic area in the upper lot is a lovely place for a peaceful forested lunch.
Check out these interesting photos captured in the 1900s when Bankhead was thriving.
The Ice Field Parkway
The road connecting Jasper National Park and Banff, known as the Ice Field Parkway, is an outstanding drive. Along the way you'll see epic views of monstrous mountains, pass glacial lakes, and see glaciers, too!
Completing the entire drive isn't necessary to get a feel for this area. But it is definitely worth an excursion from Banff to take in some of it! You can stop at pullouts for views, take short hikes or long ones, go camping or stay at a gorgeous lodge. And that's all within 45km of Banff! The entire distance between Jasper and Banff is 288km.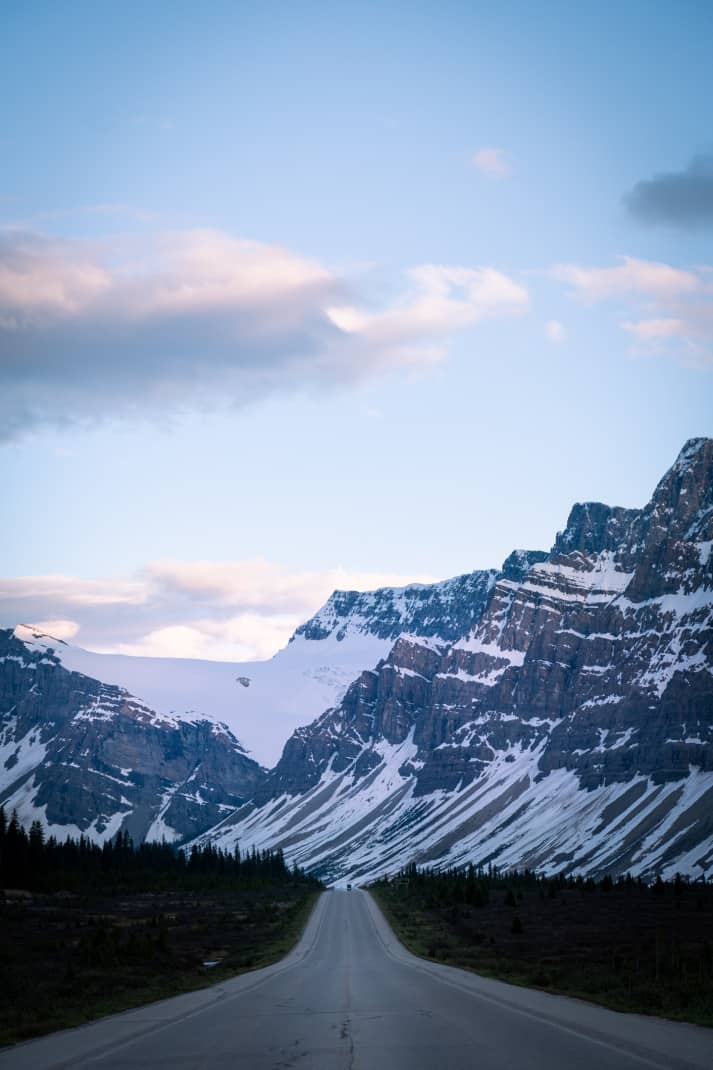 Mistaya Canyon Trail Head
Mistaya Canyon Trail leads to a limestone river canyon. And, at just 1km roundtrip, is an excellent place for everyone to stretch their legs. Accessed from the Ice Field Parkway, this is a rewarding stop to make!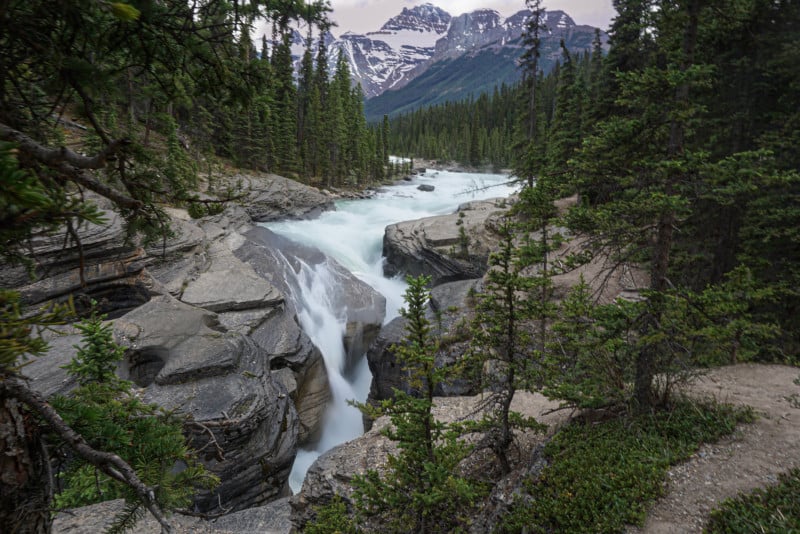 Bow Lake
Only 30 minutes north of Banff on the Ice Fields Parkway you will find Bow Lake. This is an easy place to plan a picnic, lakeside stroll, or longer hike.
Watch for the roadside pullout if you just want to take a quick look at the lake. For the picnic area and walking turn on 'The Lodge at Bow Lake' road. If you are a sunrise or sunset photography chaser, this is an exceptional location!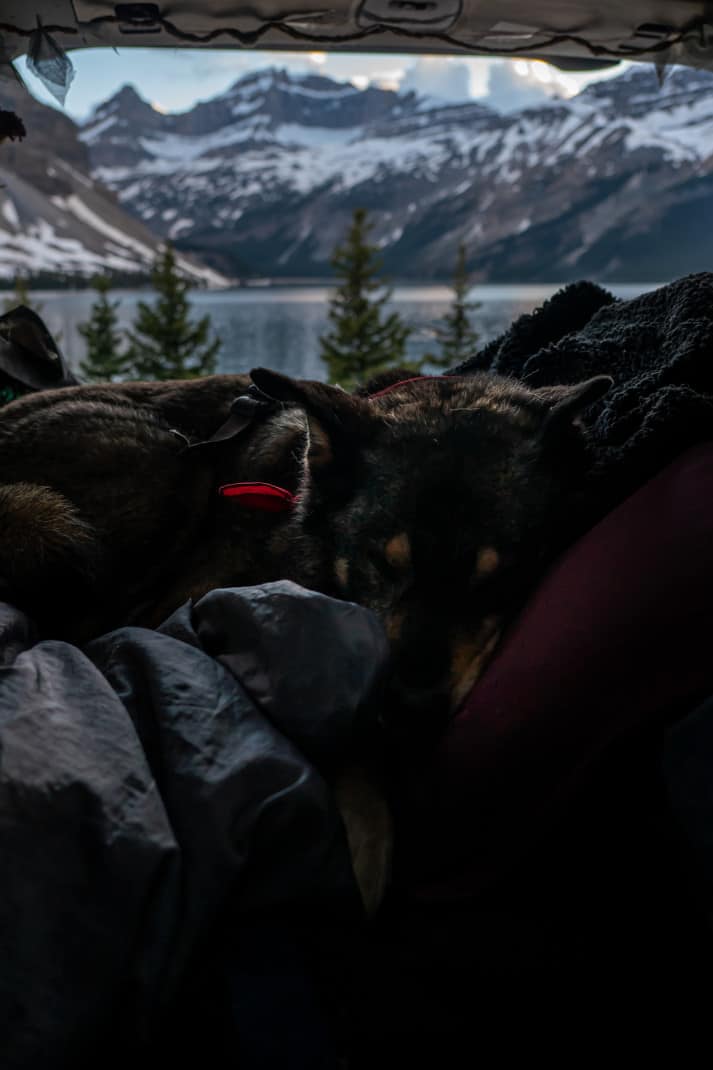 Bonus: View Crowfoot Glacier from the roadside pullout just before Bow Lake!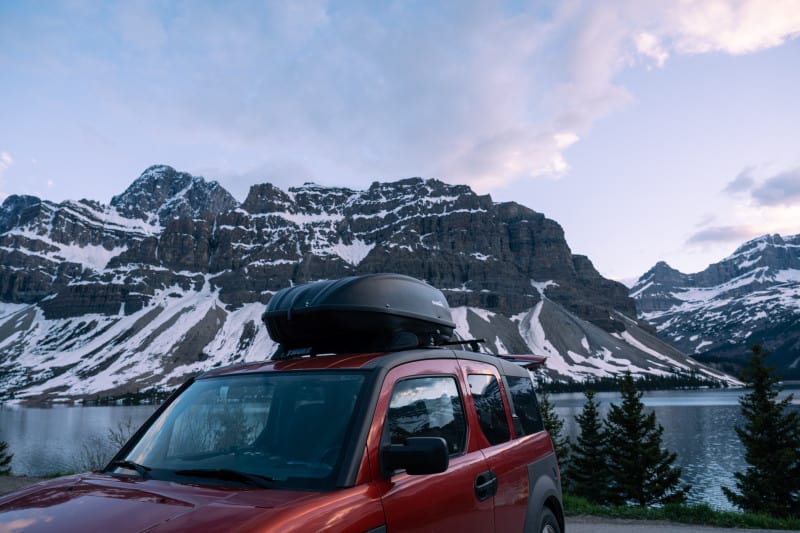 Peyto Lake
Peyto Lake (pronounced pea-toe) is an impossibly blue lake dropped amongst layers and layers of mountains. When I caught the first glimpses of this lake I was shocked that the pictures I had seen really weren't edited — the lake really is that blue!
After Lake Louise and Moraine Lake, Peyto Lake is next in line for being a renowned Banff lake. Which means during peak daytime hours in the summer this is going to be a busy stop.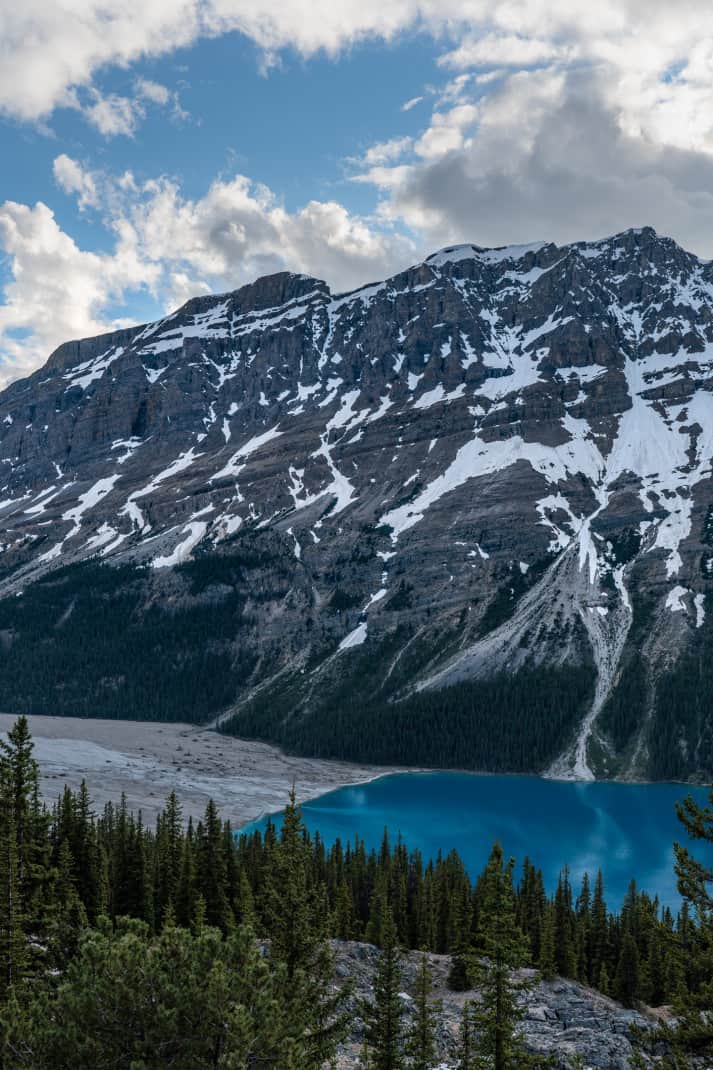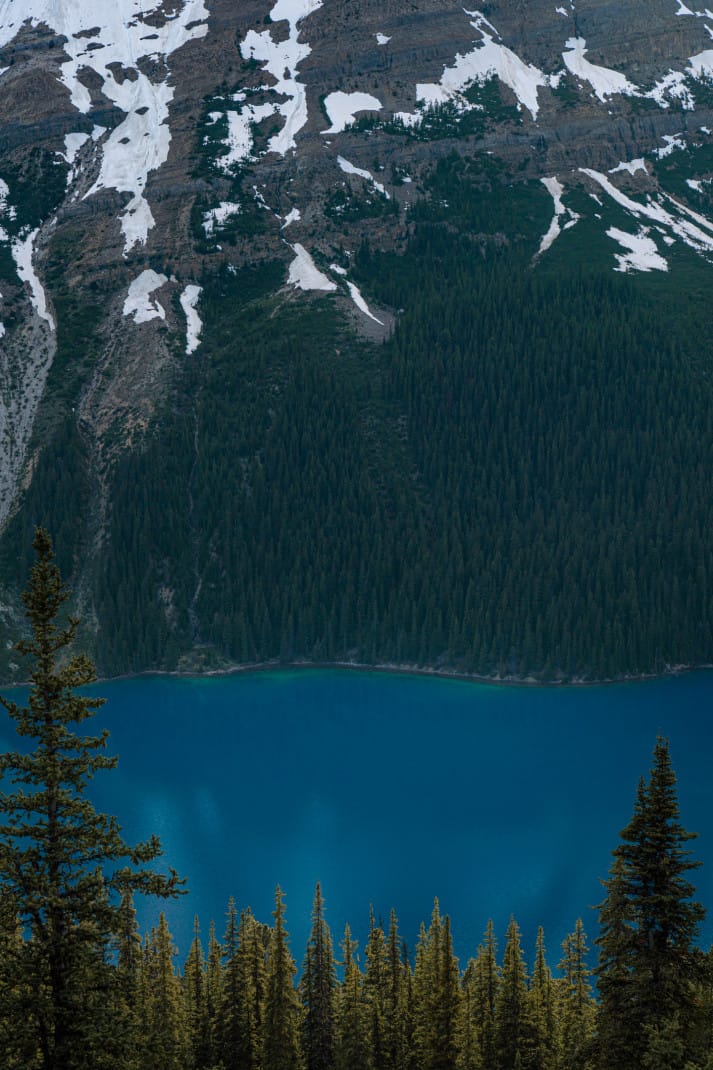 The main viewing platform here is minutes away from the parking area. This is where most people complete their visit and go back.
If you visit during a busy time you can continue to hike uphill from the platform for more views with less crowds. Within about 15-20 minutes of uphill hiking you'll discover two more viewing areas.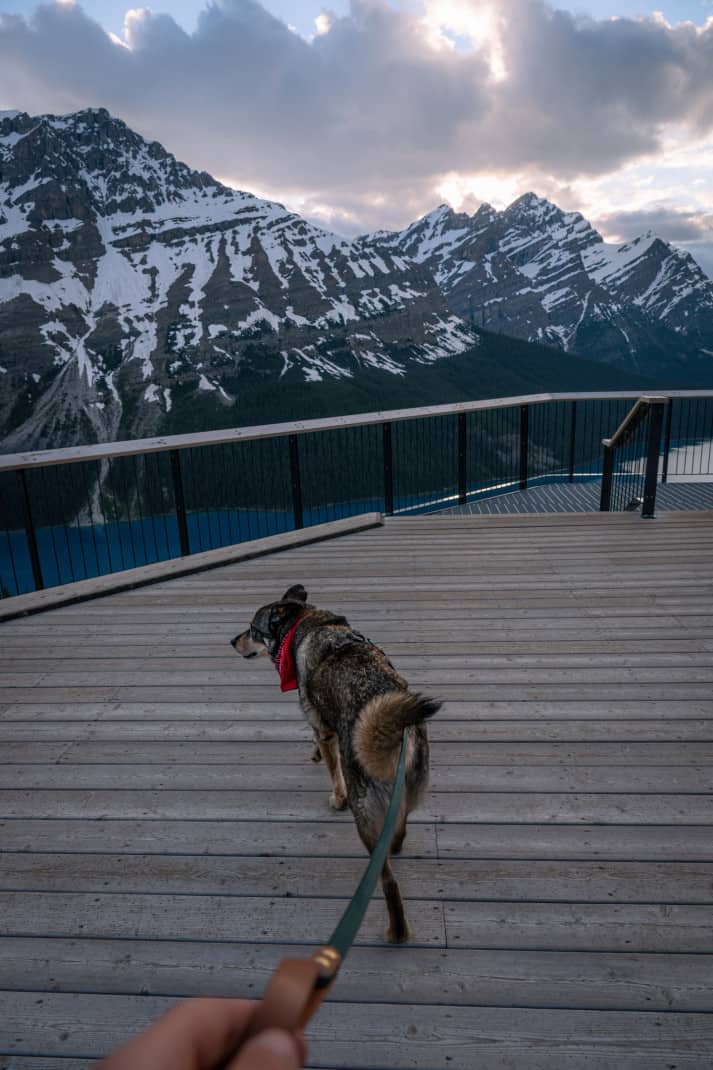 We visited Peyto Lake around sunset and got to walk out on the sky deck all by ourselves. The stillness and beauty was so lovely.
Although Peyto Lake is an eye popping view any time of day, if you can arrive for sunrise or sunset the colors and light playing on the mountains will make it an extra memorable experience.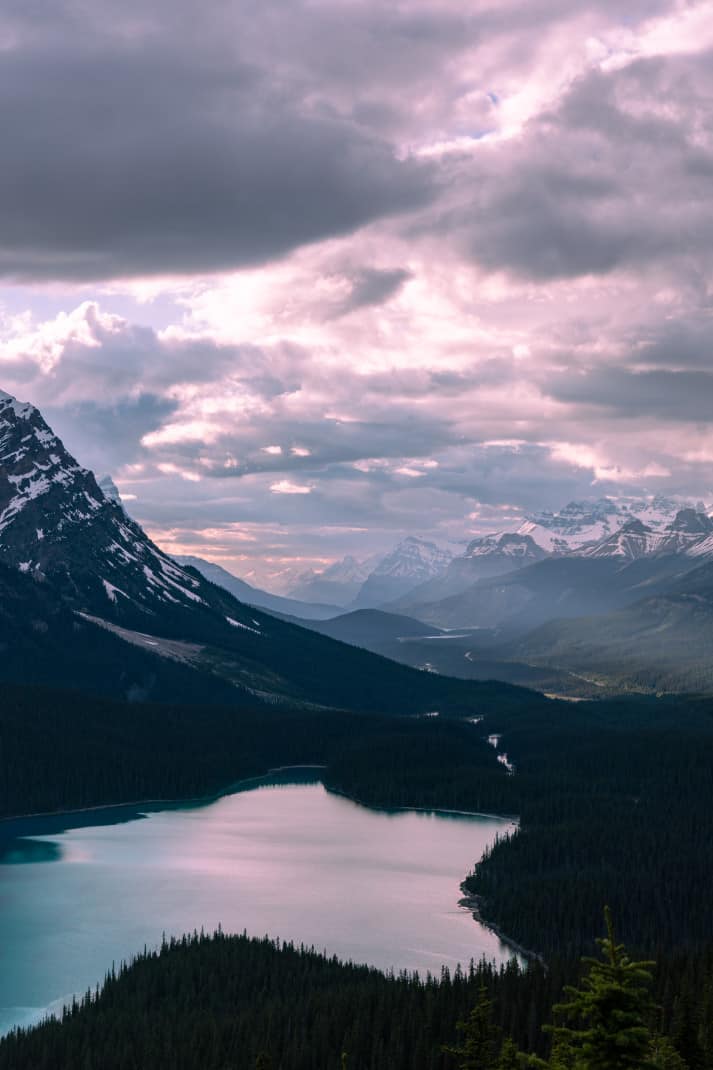 My last favourite thing about Peyto Lake is it's shape. It looks like a fox head!
Banff pro tip: There was still snow here in mid-June, and cold weather can surprise you any time of year in this area. It's always good idea to have an extra layer on hand!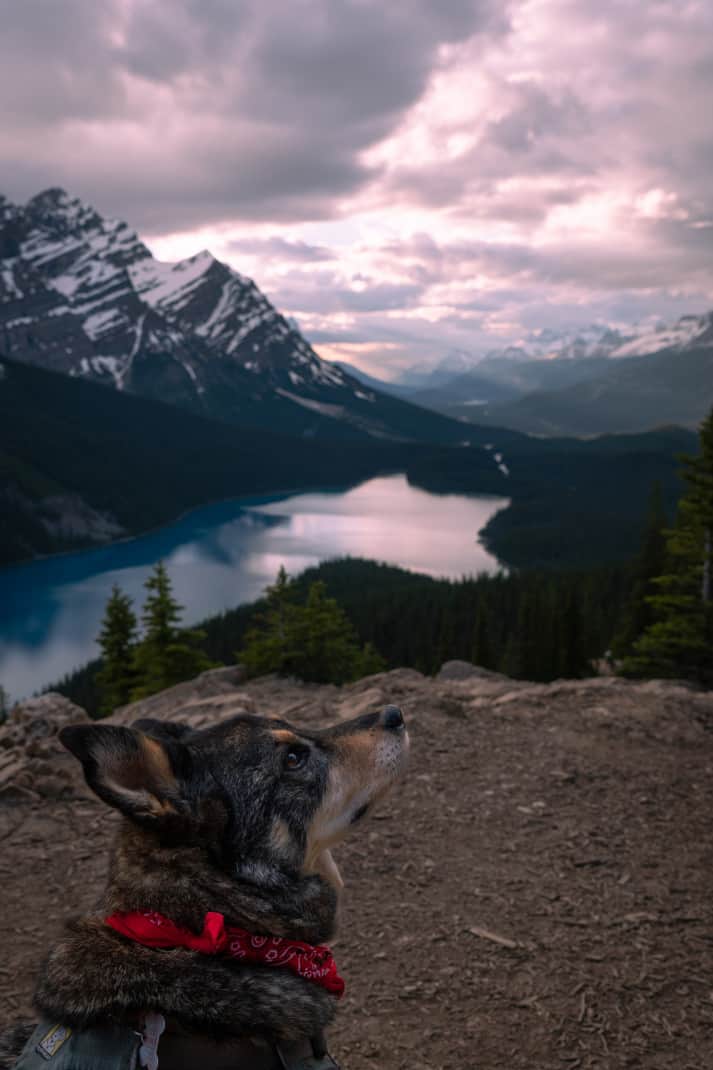 The Bow Valley Parkway
Some of the area's best wildlife viewing can be found along the Bow Valley Parkway. This winding road gets you off the Trans-Canada Highway as it meanders along the Bow River toward Lake Louise. Grizzly and black bears, elk, wolves, mule deer, and bighorn sheep are often seen along this route.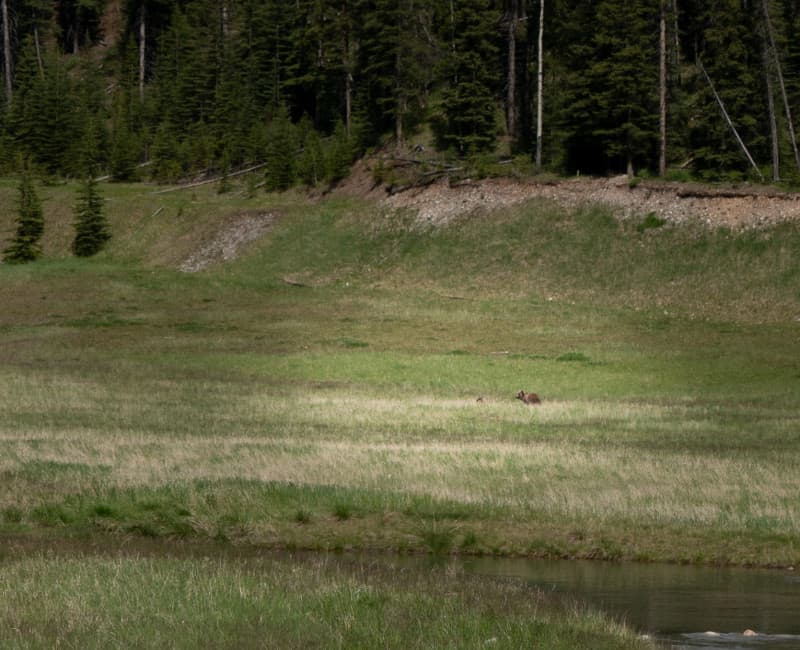 The female Bighorn sheep come down to the valleys to raise their young during the summer and are not afraid of people at all! Be sure to keep your distance and don't let your pets disturb them.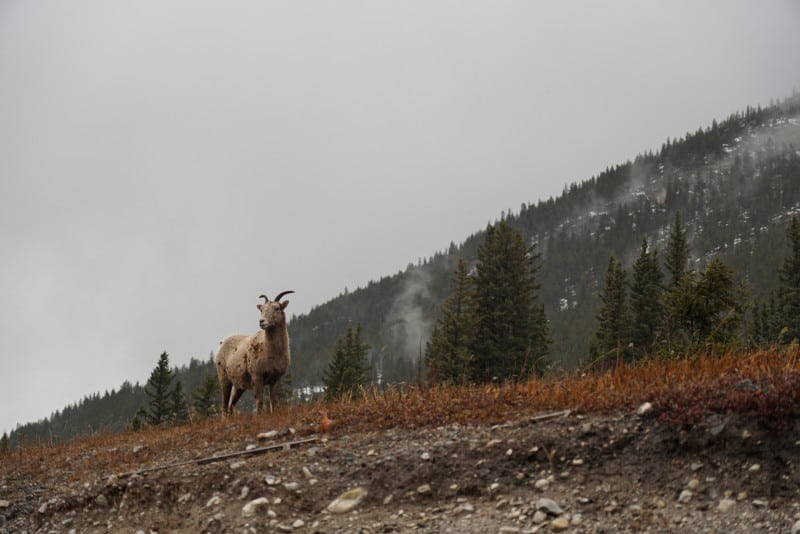 Johnson Canyon/Ink Pots
If you're looking for a cool hike on your journey along the Bow Valley Parkway, Johnson Canyon will not disappoint! This unique walk takes you through a deep canyon with boardwalks attached to the limestone cliffs suspended above the water.
This does mean there is no where to move off the 'trail' with dogs. Therefore it might not be best for dogs that do not like crowds or close proximity to other dogs. And because this is a popular location, it can be difficult to avoid crowds. For more solitude, a super-early start would be best!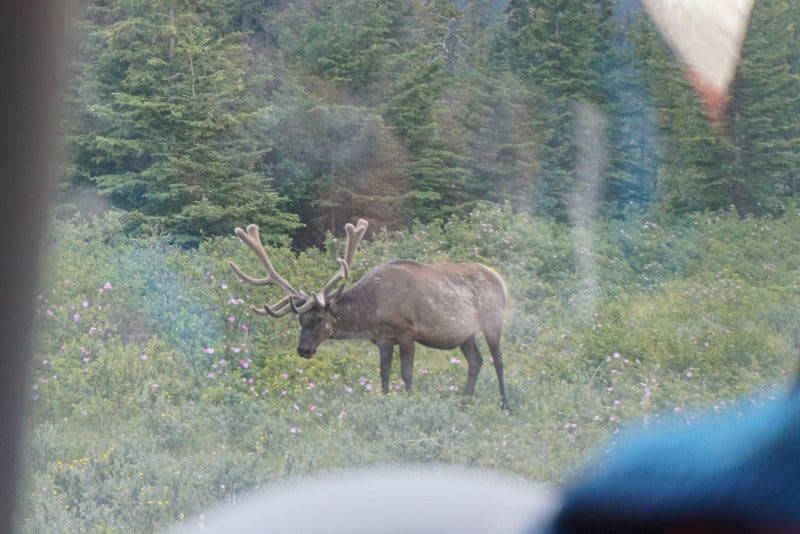 If you take this walk you will come along two plunging waterfalls, one at 1.2km and another at 2.4km. From the upper falls you can continue to another location called the Ink Pots.
The Ink Pots are five natural blue-green spring pools nestled in the mountains. On a calm day you can view the unusual rings in the ponds where the fresh water is bubbling up. To view the Ink Pots and avoid Johnson Canyon you may start from Moose Meadows as well. Both hikes are approximately 11.7km round-trip.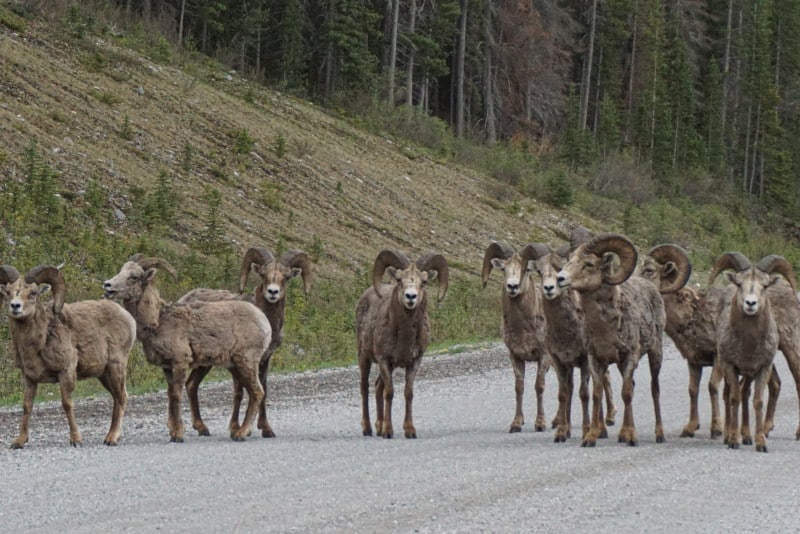 Pet Friendly Photo Spots Around Banff
Mount Norquay Lookout
At this easy to access lookout you will get to see Banff from above and all the mountains surrounding it. It's a view that will leave you in awe of where you are!
From this vantage point you can see Tunnel Mountain to the south (left), Vermillion Lakes to the north (right), the city of Banff nestled in between, and the blue-green Bow River winding through.
It's the perfect spot to get a photo of your favorite travel companions!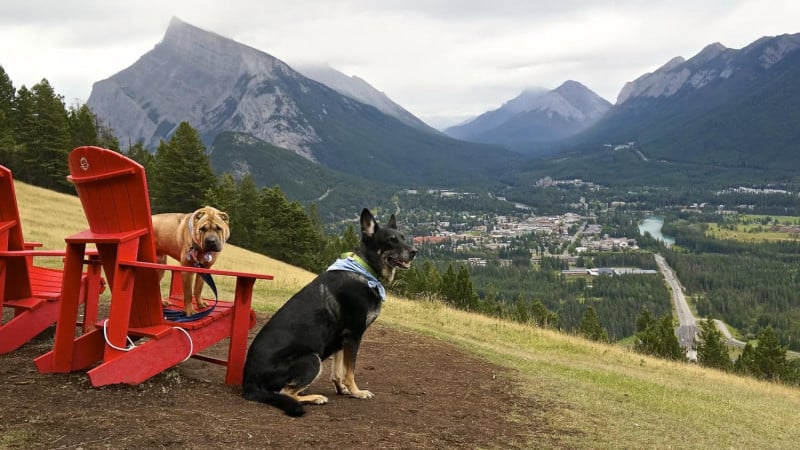 Vermillion Lakes
Vermillion Lakes, a dense marshland area, is a short drive from downtown Banff. Here you can enjoy time basking on the shoreline, get out for some paddling, take a walk on the Fenland Trail, or fill your camera with incredible sunrise or sunset photos.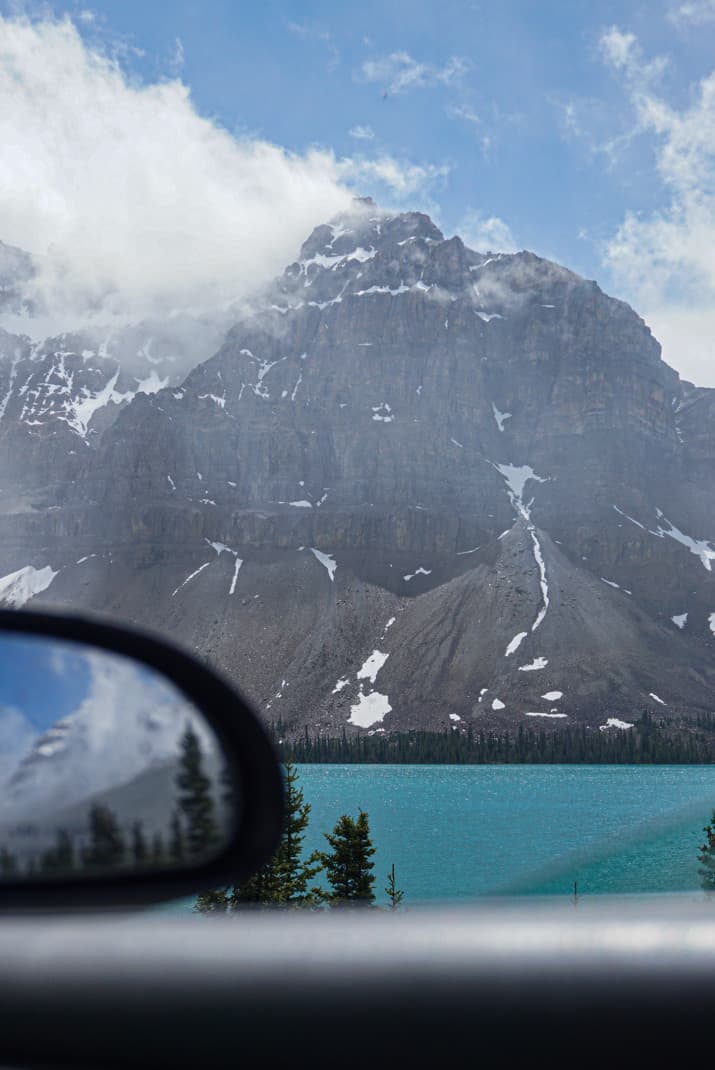 Morant's Curve
Morant's Curve is a famous location to catch trains passing through the incredibly scenic Rocky Mountains. A completely classic and iconic Canadian scene to see. It's location is a marked pull out along the Bow Valley Parkway.
Longer Pet Friendly Day Hikes In Banff
For those of you looking for longer pet friendly hikes that will take you away from the hustle and bustle and really immerse you in nature, there are plenty near Banff to choose from. All of the ones I've listed below end with the required dreamy lake and mountain views.
The difficulty levels vary, and always research the trail conditions to be sure the hike is appropriate for you. Many hikes in Banff are likely to have snow into July, so waterproof footwear is also recommended.
Helen Lake Trail – Rated as moderately challenging, 11.6km out and back.
Bow Glacier Falls Trail – Rated as moderately challenging, 8.9km out and back.
Chephren Lake Trail – Rated as moderately challenging, 8.0km out and back.
Cirque Lake Trail – Rated as moderately challenging, 9.0km out and back.
Bourgough Lake – Rated as difficult, 18.0km out and back.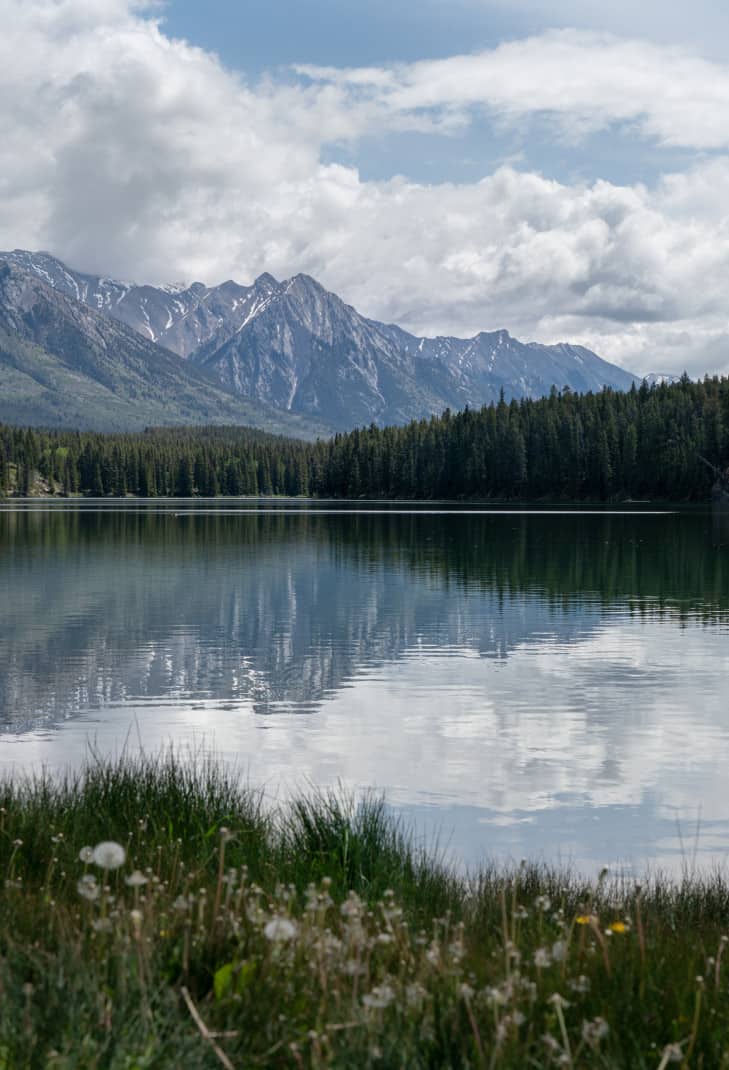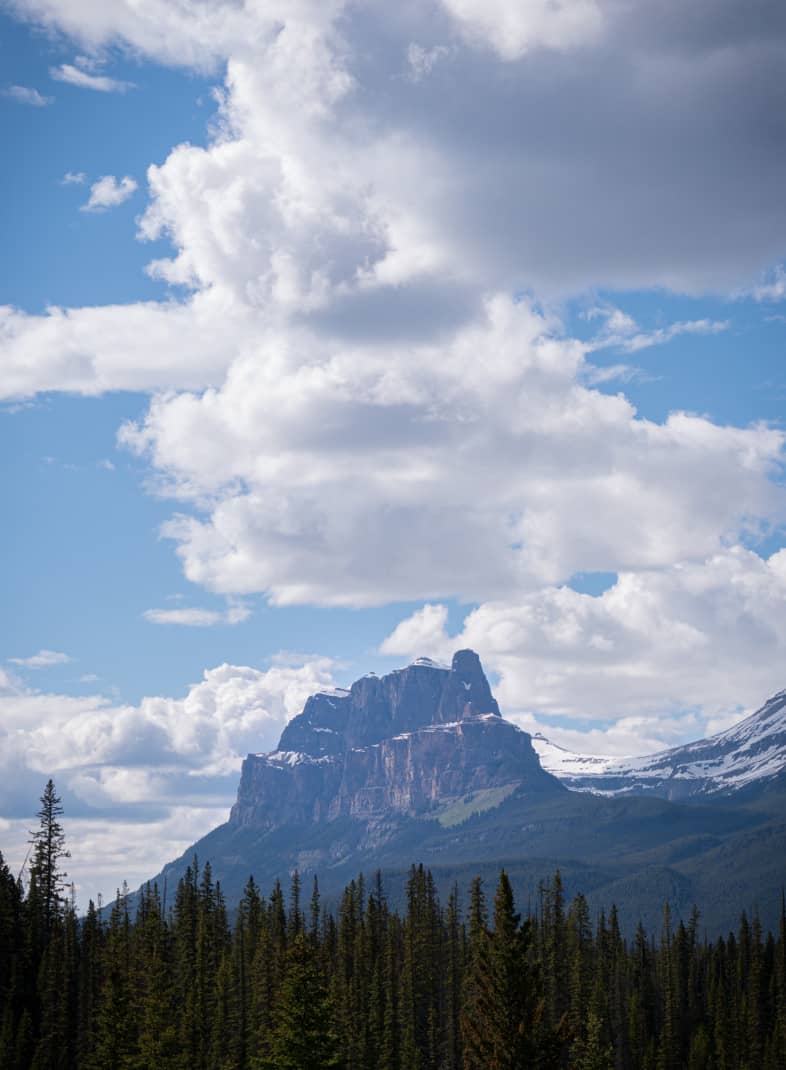 Pet Friendly Hotels In Banff
Campgrounds and hotels in Banff are often full, so book your accommodations before you head out. Waiting until you arrive could have you spending all your time looking for somewhere to sleep.
Though Banff is a fairly small town, it has a fantastic selection of pet friendly hotels! (All dollar amounts are in CAD.)
Don't forget to search GoPetFriendly.com to find even more pet friendly hotels, vacation properties, and cottages in Banff.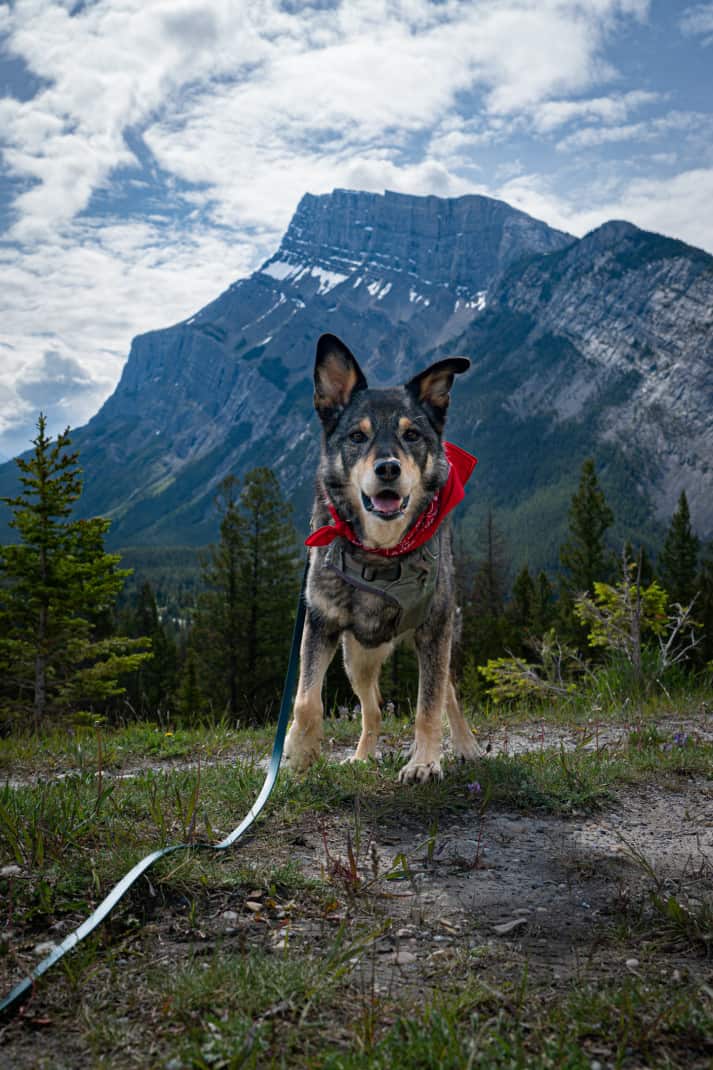 Pet Friendly Restaurants In Banff
With all the hiking, paddling, sightseeing, and wildlife viewing, you and your pup will have a healthy appetite for Banff's pet friendly restaurants!
Still hungry? You'll find plenty of other pet friendly patios in Banff when you search GoPetFriendly.com.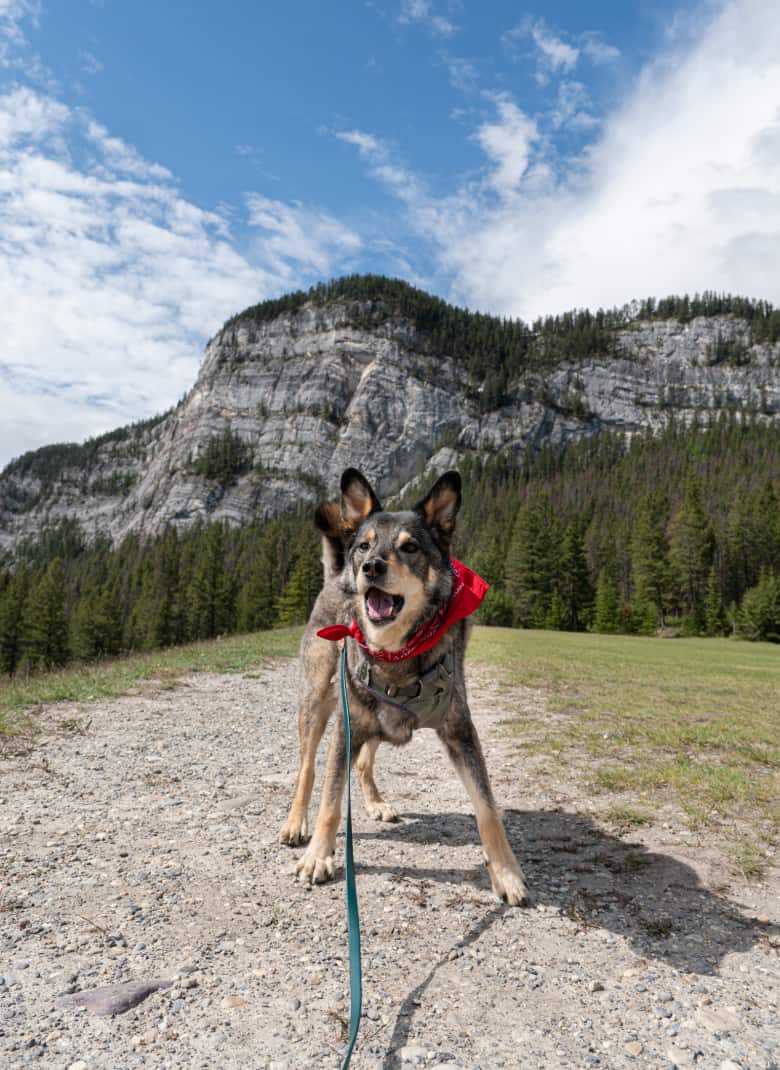 Day Trip To Nearby Canmore
Canmore, just 24km south of Banff, was originally dependent on the local coal mining industry. The town received a makeover in the 1980s when neighboring Calgary hosted the winter Olympics. Now the city's main street bustles with tourists and outdoor enthusiasts from around the world, here to take advantage of the climbing, kayaking, biking, and hiking opportunities. It's another great pet friendly destination near Banff!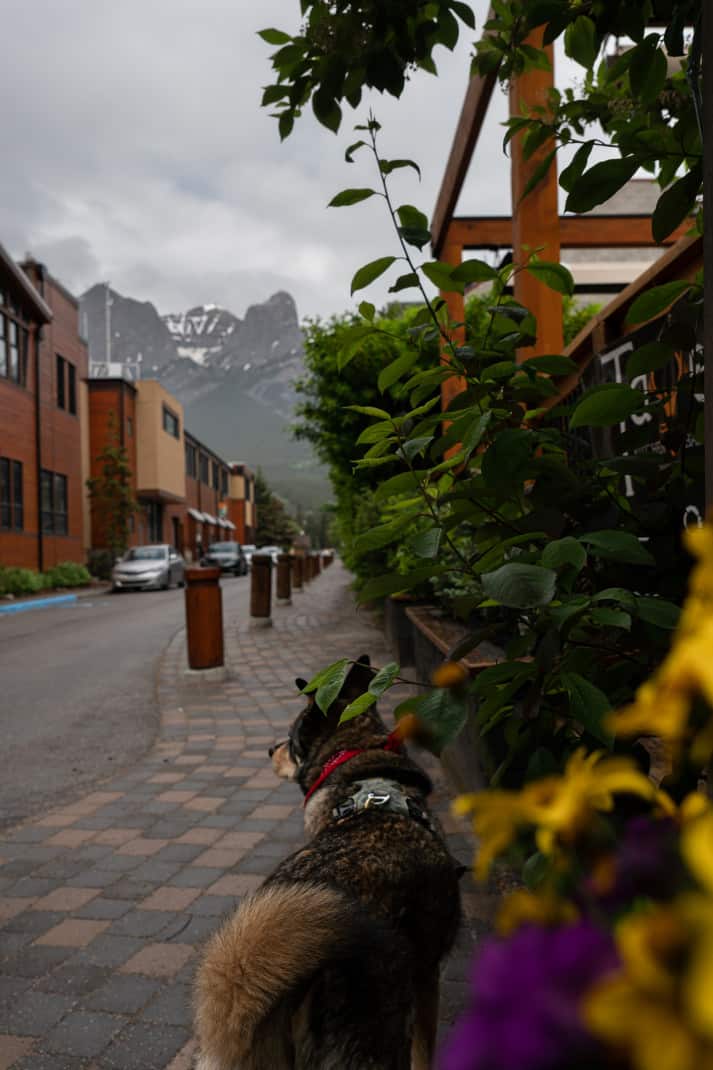 You won't need your national park pass to walk around downtown Canmore, so it makes an excellent add-on after your pass has expired. This town is quaint and charming, like Banff, and tucked amongst mountains, too.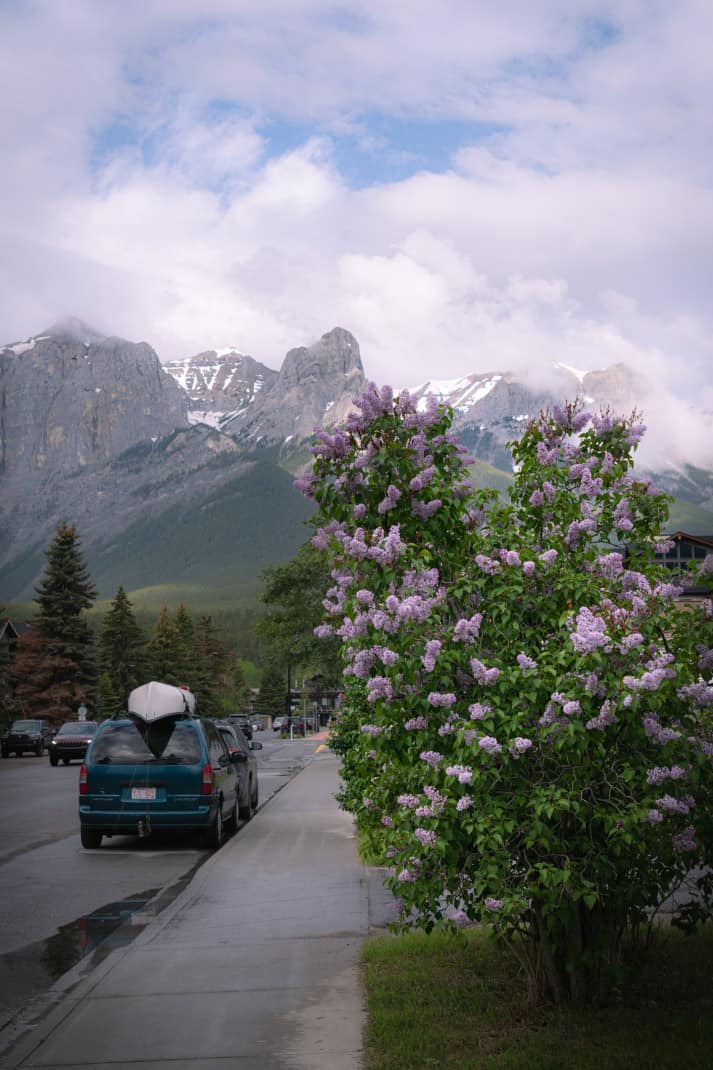 Stop at the visitor center and pick up a walking tour map to learn a bit about the local history as you stroll around town.
Riley was happy to see that they haven't forgotten their canine visitors at the Mut Hut just off the main drag! They carry a variety of accessories, toys, and freshly baked pet treats for local and visiting pups.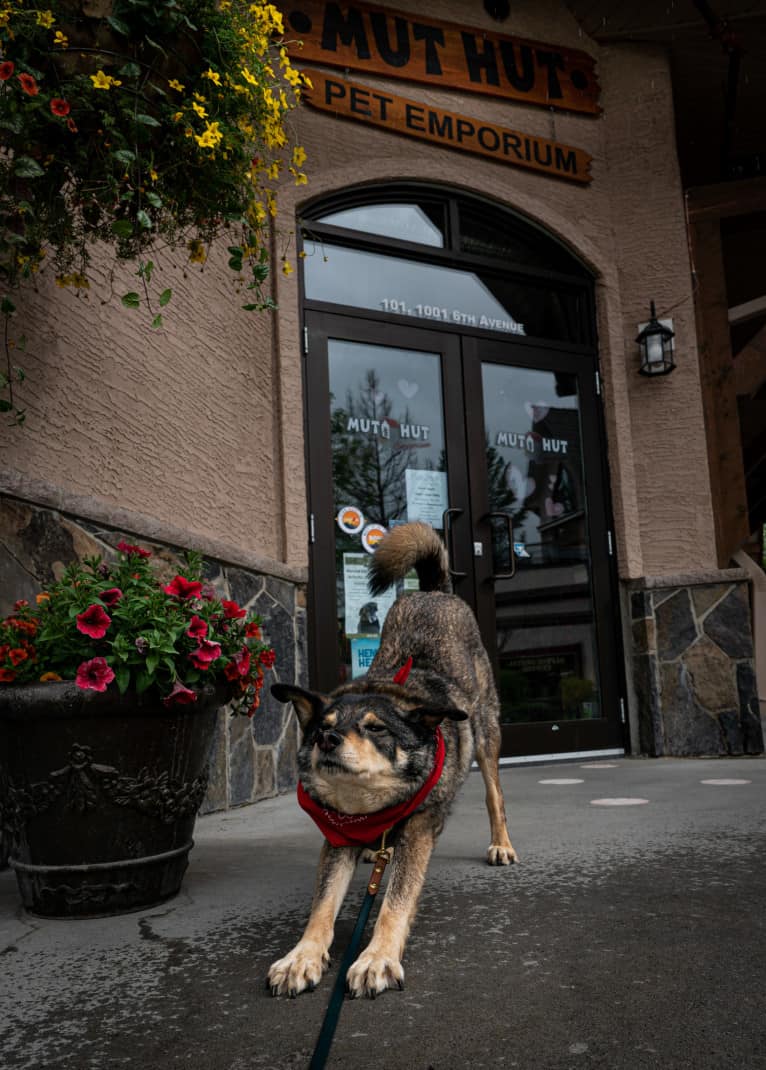 If you're looking for a place to let the dogs run, there are three off-leash dog parks in Canmore. North of Quarry Lake, Elk Run Park, and Cougar Creek (between Hwy 1 and Bow Valley Trail) for a sniffin' good time.
If you decide that Canmore is a good home base for your visit to Banff National Park, get help planning your visit at GoPetFriendly.com.

Banff is so pet friendly, it makes a great destination for you and your best furends. And it's versatile enough to accommodate whatever style of adventure you like — from relaxed to vigorous. I particularly loved that, even with a senior dog, so much amazing scenery and fantastic trails were accessible to us. And it's so easy to find pet friendly activities all around Banff. You will be dining, playing, and hiking to your heart's content!
Amazon Affiliate Disclosure: GoPetFriendly.com LLC is a participant in the Amazon Services LLC Associates Program, an affiliate advertising program designed to provide a means for website owners to earn advertising fees by advertising and linking to amazon.com, audible.com, and any other website that may be affiliated with Amazon Service LLC Associates Program. As an Amazon Associate, the owner of this site earns a commission from qualifying purchases.
(Visited 13,831 times, 1 visits today)