An epic 3.5-hour drive north from extremely popular Banff lies the somewhat quieter mountain town of Jasper. And with more pet friendly spots than you can shake a stick at, this makes for a memorable vacation with dogs!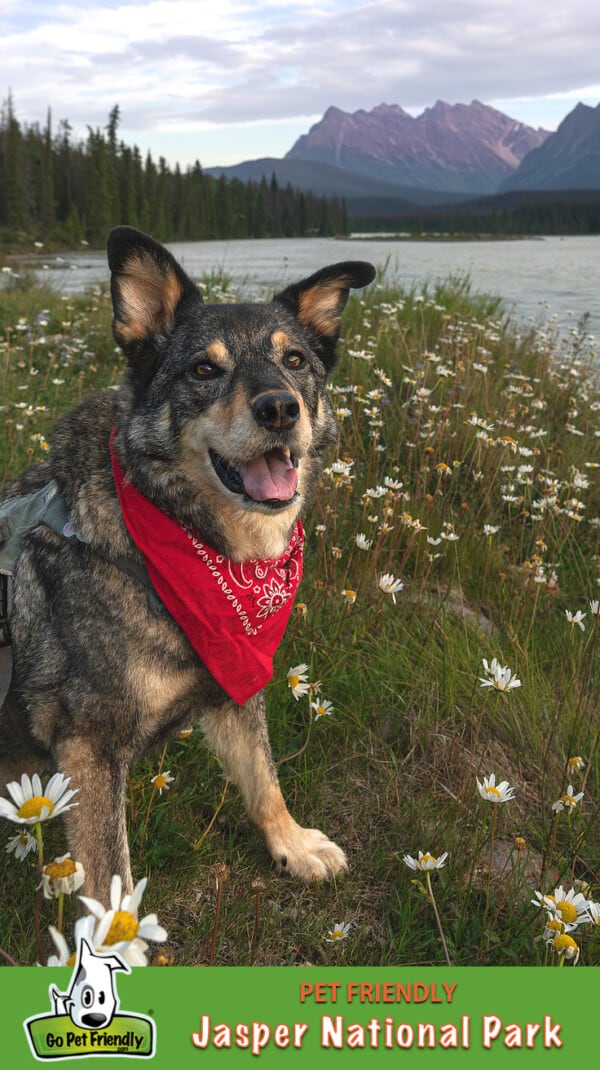 Whether you want to stroll below mountains, hike them, or swim in their brilliantly blue lakes, pet friendly Jasper has you covered. And if that's not enough, you can also visit a glacier … and a sand dune! Whatever you choose, a vacation to Jasper is one you'll never forget.
Tip: Remember that Jasper is a National Park, so you will need to purchase a park pass. Passes are usually available at the toll booths as you enter Jasper, or you can stop by the visitor's center for one.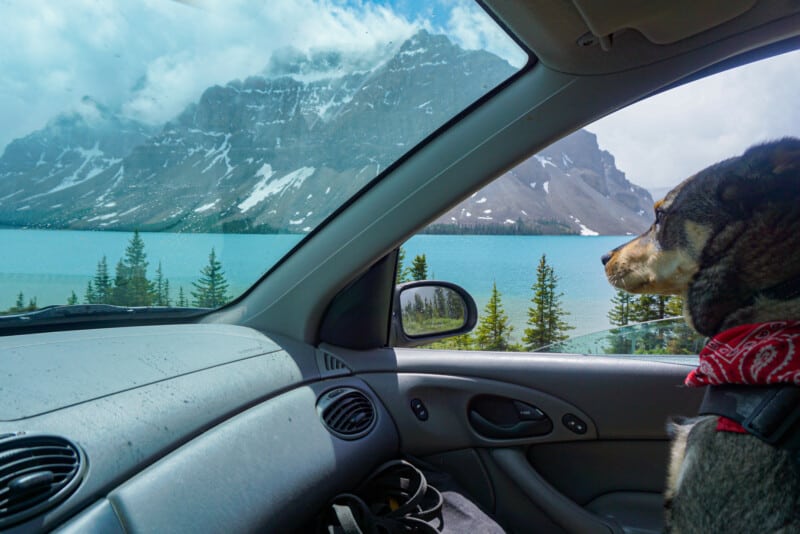 With your park pass on your dash and your best friend by your side, it's time to explore pet friendly Jasper! In this post, I'll show you what Riley and I packed into an overnight trip, plus bonus add-ons in case your visit is longer.
We'll cover unique adventures, places to hike, lakes, and places to stay and eat — all with your beloved pet. So fasten your seatbelt, and let's get going!
Camping In Jasper National Park
Jasper has a plethora of camping opportunities available to you, with a mix of reservation-only and first-come-first-serve campsites. We did find some spots at first-come-first-serve campgrounds in late August, but for peace of mind we'd recommend booking ahead of time!
If you're simply looking for the cheapest place to park and sleep, there is a large paved lot with an outhouse across from the Athabasca Glacier. This is the option we chose. It allowed us to see the glacier at first light.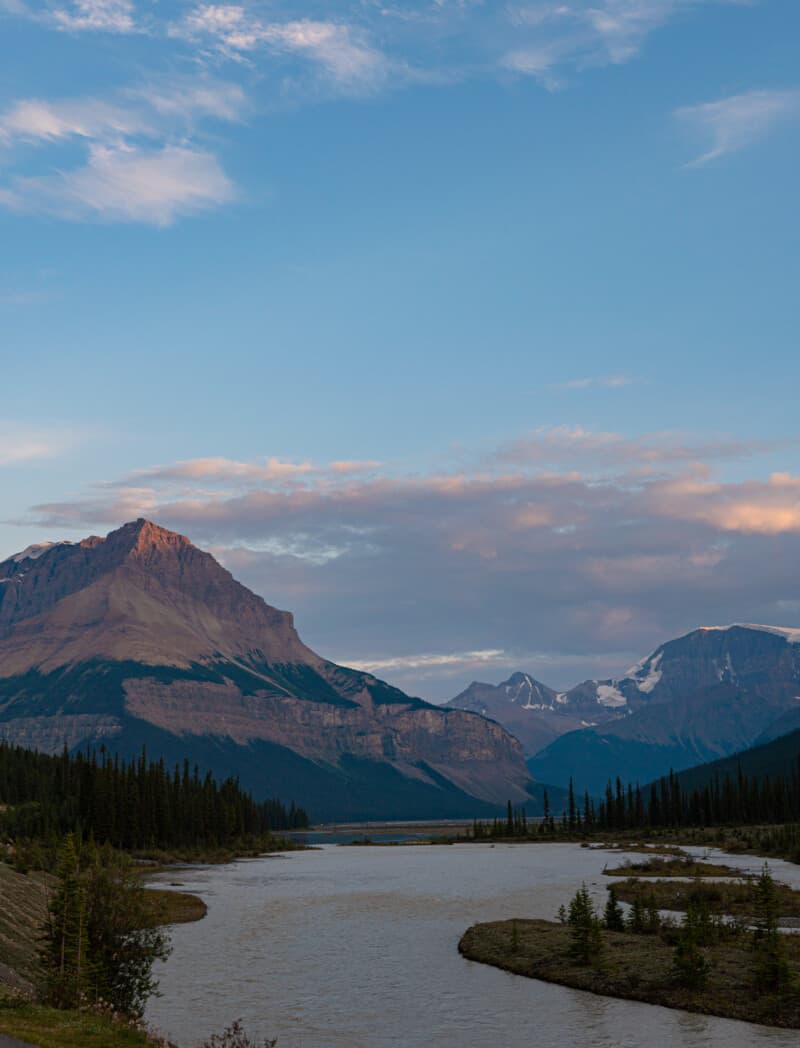 Pet Friendly Places To Stay In Jasper
There are some unique pet friendly lodging options to choose from in Jasper.
Fairmont Jasper Park Lodge – The Fairmont always takes it up a level for their "Furrrmont Friends" as they call our pups! This location includes plenty of pet friendly walking trails right from the grounds. Including trails to Annette, Edith and Beauvert Lake as well as trail along the Athabasca River.
Pet friendly patio dining on site at the Emerald Lounge which includes a pet menu.
Pet fee is $50/per room/per night. Rates can start at $260.
Overlander Mountain Lodge – Set in amongst the trees and mountains and across from Folding Mountain Brewery. They have some pet friendly options available in the wood lodge or private cabins on their scenic grounds.
Pet friendly restaurant patio onsite.
Pet fee is $25/night/per pet. Rates start at $160/night.
Patricia Lake Bungalows – Patricia Lake Bungalows appears to have it all. You can stay in their self-contained bungalows directly on the lake, doggie paradise! Rent a canoe or rowboat onsite to take a paddle with your pup, swim in the pristine waters and at night cozy up next to one of their outdoor fire pits together. Wood included! They even offer possible pet sitting services if you call ahead.
Rates start at $215.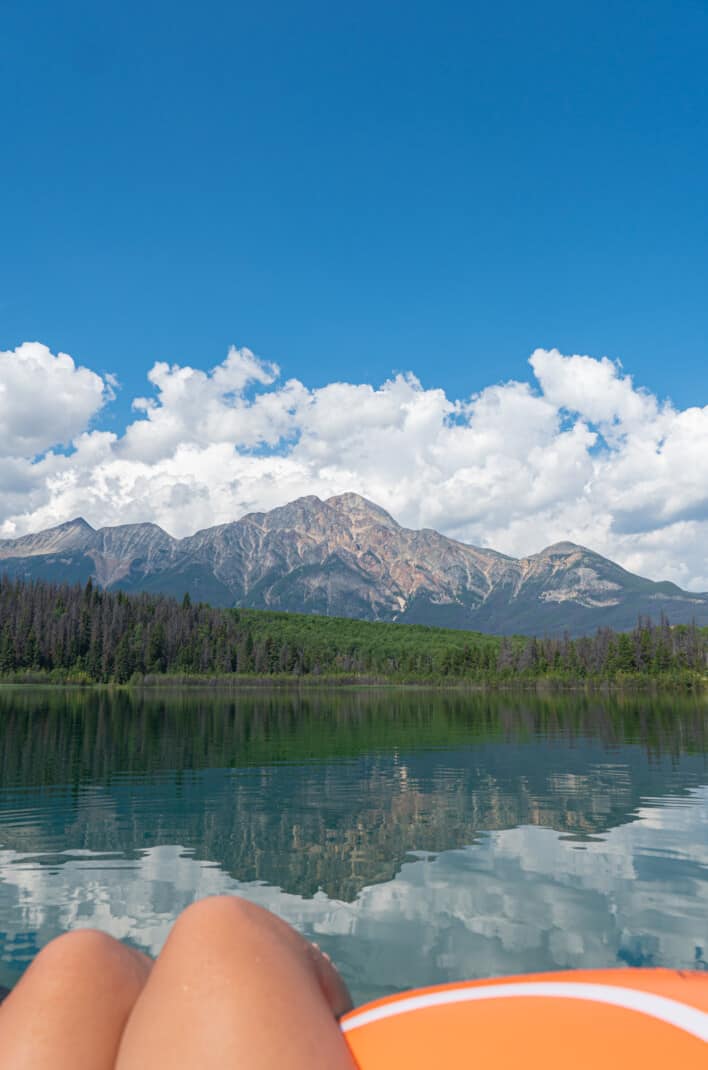 Pet Friendly Restaurants In Jasper
The restaurant patios in downtown Jasper tend to be packed during the summer, and are often right along the street. The restaurants listed below are away from the rush and have more private patios. Hopefully these will provide you and your pup with a more relaxed and scenic experience.
For non-patio pups, another great option is to pre-order take away food and find some cool grass to picnic together instead.
Folding Mountain Brewery – For a dog friendly Jasper brewery outside of the city head to Folding Mountain. Enjoy some tasty beers in their beautiful outdoor garden setting.
Maligne Canyon Wilderness Kitchen – Wow, the outdoor dining here looks amazing. Wooden patio with views of the canyon water rushing by. A smokehouse and café.
The Emerald Lounge – Set with a direct view of Lac Beauvert, The Emerald Lounge looks like a great pet friendly dining option. It even includes a pet menu!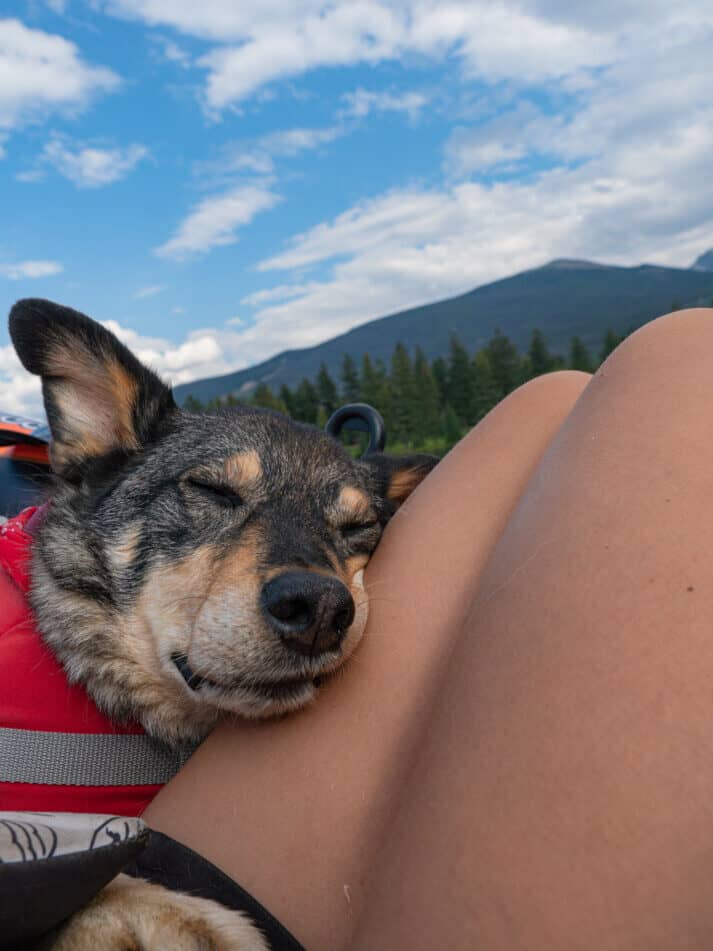 Pet Friendly Things To Do In Jasper
With the sleeping and eating requirements checked off, let's take a look at some pet friendly things to do in Jasper!
Jasper Sand Dune
On this Jasper journey, Riley and I came into the park from the east. And that led us led us to discover something new – the Jasper Sand Dune!
This walk doesn't have an official sign yet, so it was one of the quieter activities we did in Jasper. You will find it on your mapping app, however, so follow those directions.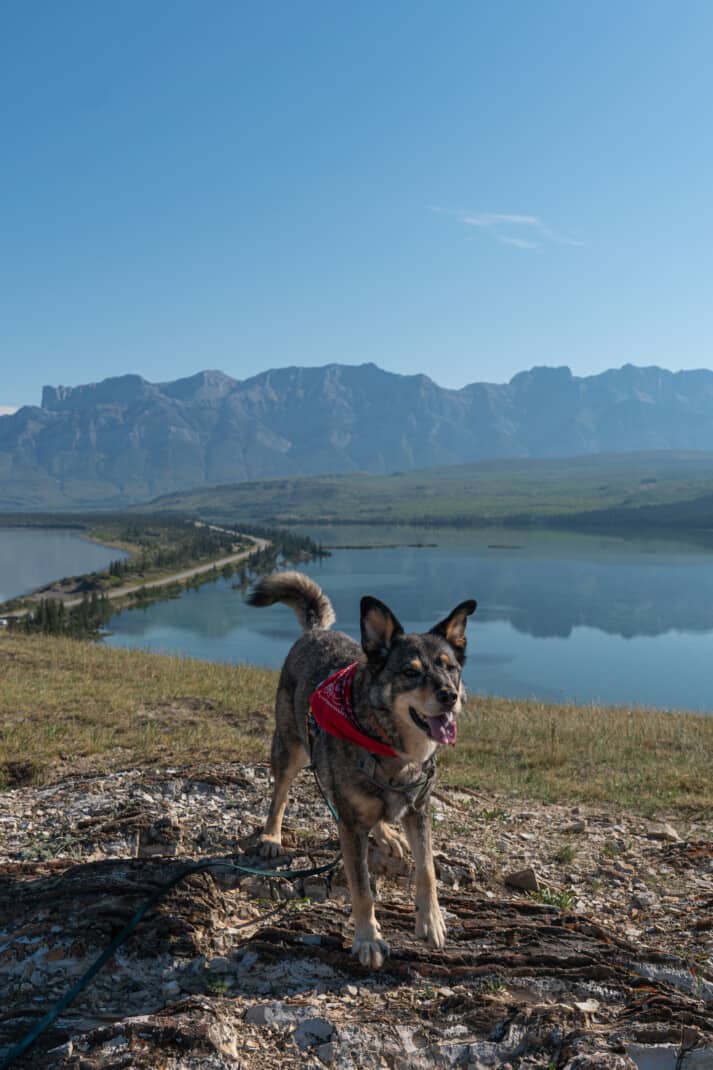 From the parking area as you're facing the lake, the trail begins to your right. Meander your way to the top of the dune you see. We took it quite casually and were still at the top in under 30 minutes.
This is one of those walks where you keep thinking you have the best view and then it gets better and better until finally you end up with a 360° view!
While the soil is sandy, the dune is covered in grass, so it's much easier to climb than loose sand! And, if you time your trip here, this would be a spectacular picnic spot.
After the dune, it's time to see some of Jasper's spectacular lakes!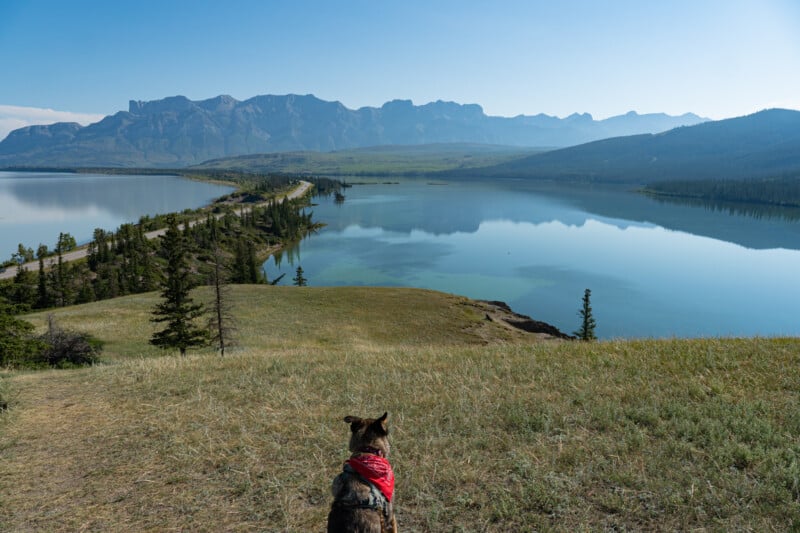 Pet Friendly Lakes In Jasper
Annette Lake
We really warmed up during our sand dune wandering, so our next mission was to cool down in an epic lake. Jasper has many easy access, beautiful, dog friendly lakes near town. It's a dream for both two and four legged swimmers! However, dogs aren't allowed off-leash on the beaches — this is a national park, after all.
Most of the lakes around Jasper have a walking path along the shore, so you can still enjoy them any time of year if swimming isn't for you.
In fact, browse your mapping app and you'll notice that the network of trails around Jasper is extensive. Pets will certainly be happy here with all the walkies available!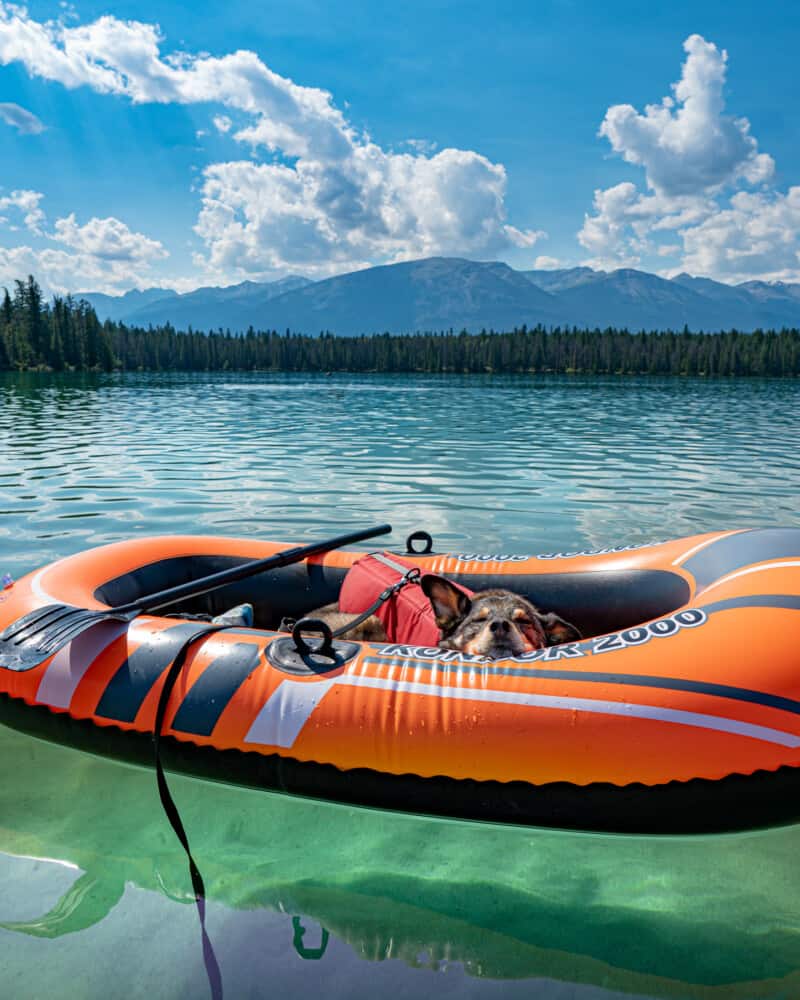 Annette Lake has a 2.7km gentle path all the way around. And the Jasper.travel website mentions Annette Lake as one of the best places for star gazing in the National Park. The photos of the stars reflecting in the lake have me wanting to jump right back in the car with Riley for a night of celestial viewing.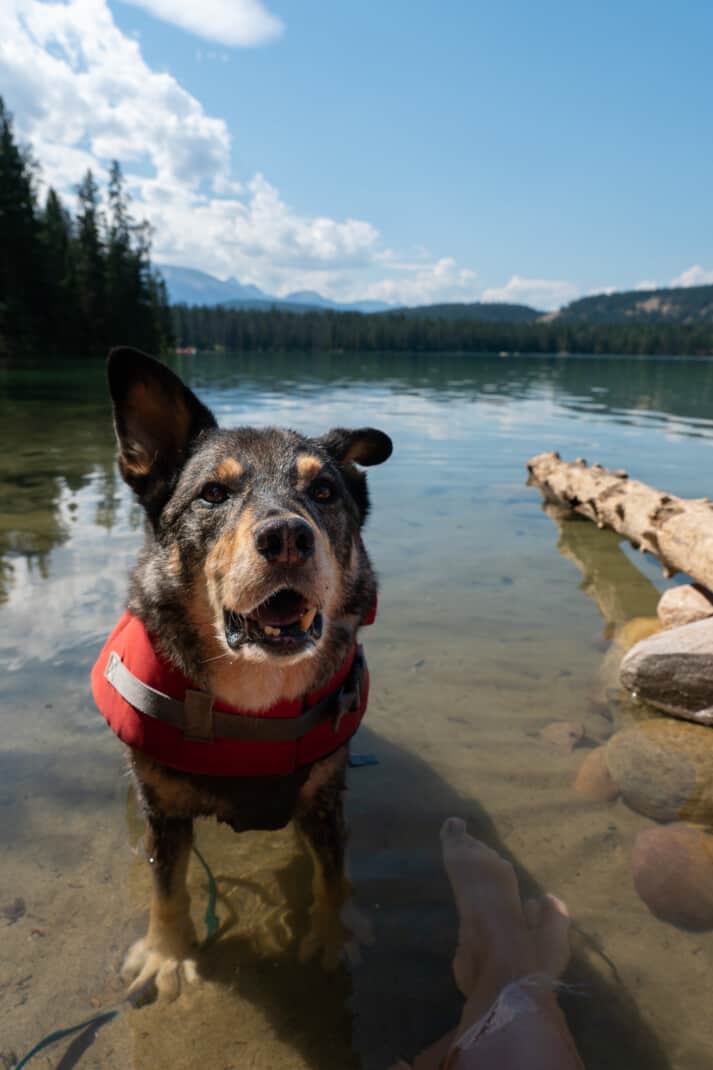 Annette Lake's soft sand, clear water, and a wonderful water temperature made for the perfect afternoon. The beach was quite busy, but once we hopped on our floaty and drifted away it was very relaxing. Of the lakes we got to check out on this trip, Annette Lake's ample parking and huge day use area took the prize.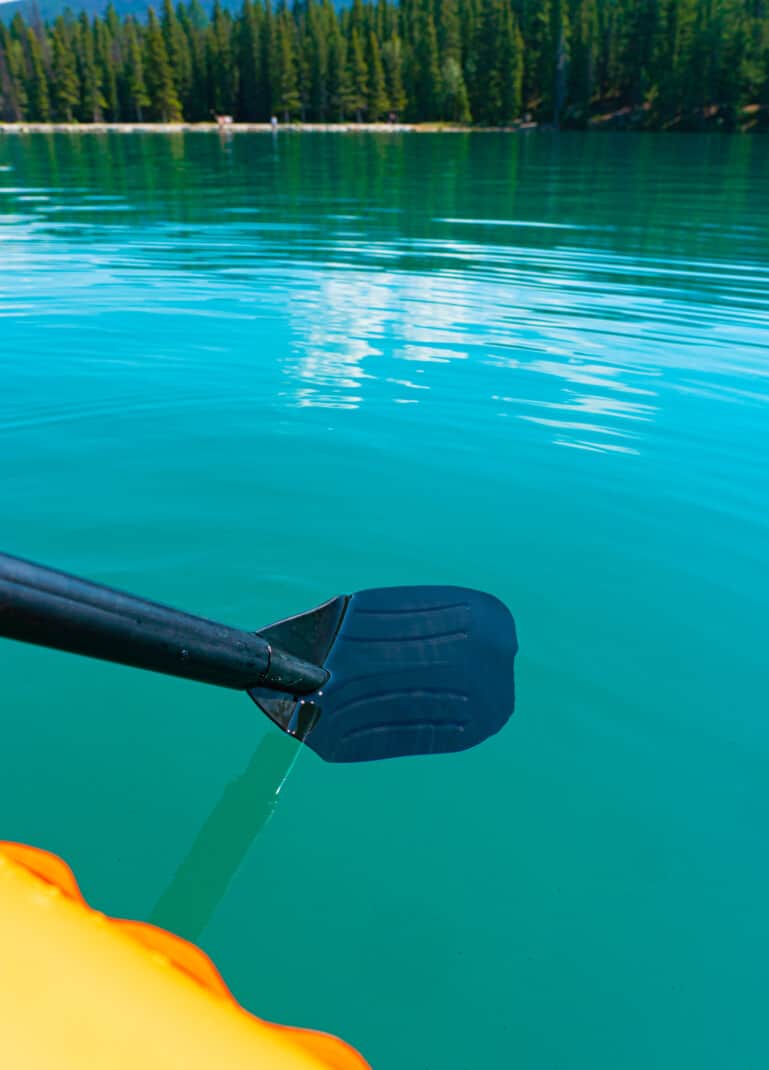 Lac Beauvert
When lakes are this stunning, one just isn't enough! So after packing up at Lake Annette, we drove over to Lac Beauvert and we were delighted that we did.
With boulders making up the shore line here, Lac Beauvert isn't as good for swimming. But that makes it wonderful for paddlers and floaters.
Lac Beauvert includes a 3.9km loop trail. And there are connecting trails to walk along the Athabasca River, which would be a lovely addition! And if you're hungry, check out the pet friendly Emerald Lounge restaurant en route.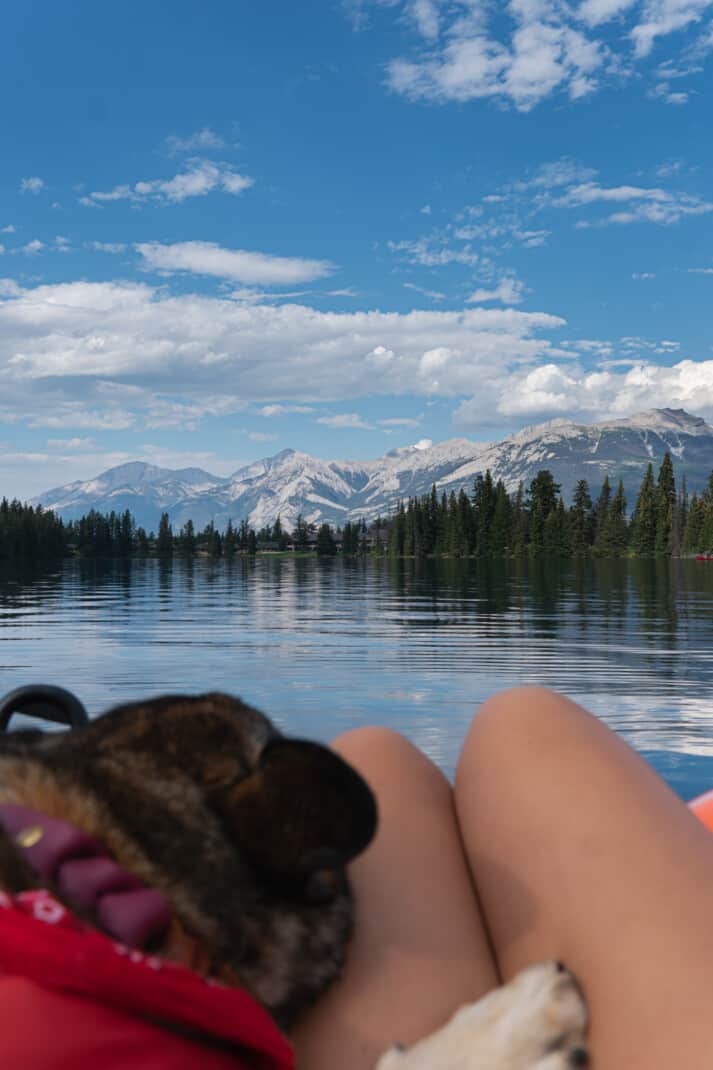 Patricia Lake
The access for Patricia Lake being is a turnout along a fairly busy road. That's both good and bad. It means only a handful of cars can park there at any time. But it also means that most visitors stop for a quick picture and move on.
The fact that people don't stay long makes this lake much quieter than most. During our visit, only a few paddlers were out there. And it has almost everything you'd want — gorgeous clear water, great summer temperature, and an indigo mountain reflecting on the surface.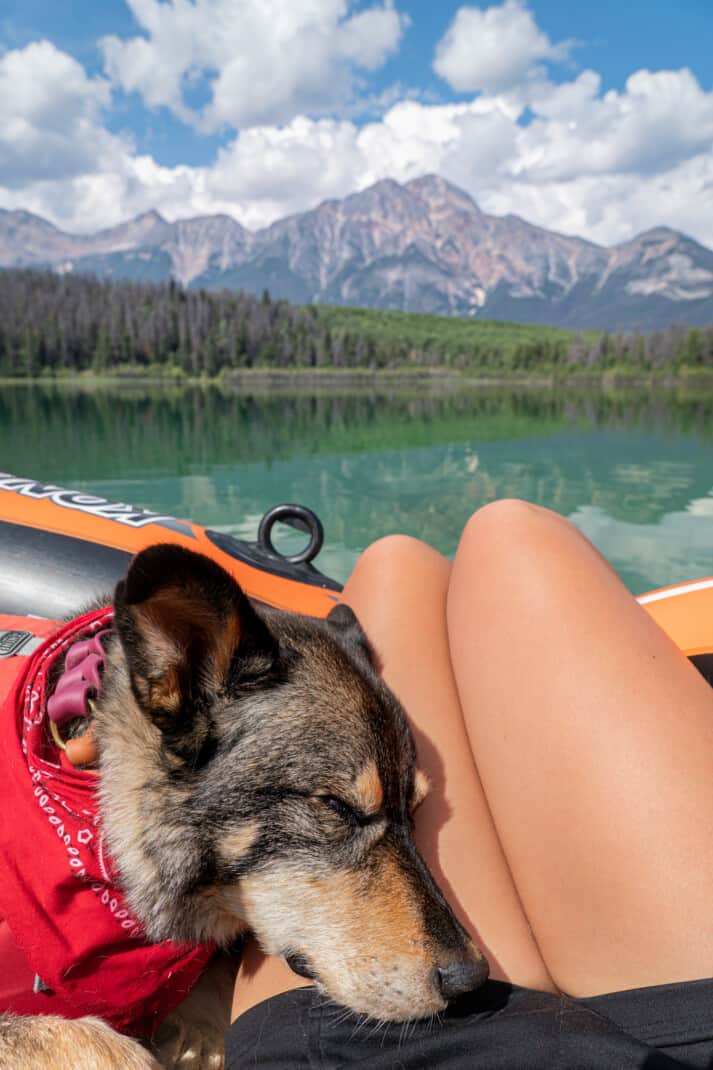 The best lake for you will depend on what you and your pet like most. If you only have time to visit one lake, here is a quick summary of each to help you decide:
Annette Lake
Huge day use area for playing.
Sandy beach for those who like to lounge or play on the shore.
For dogs that won't mind crowds.
Walking trail around lake.
Incredibly clear water.
Lac Beauvert
Most scenic if pictures are a main priority.
Walking trail around the lake.
Great for paddling and floating.
Lacking a sandy beach area + rocky shore making swimming quite difficult.
Can stop at The Emerald Lounge for dog friendly patio dining during your walk. They even have a pet menu to spoil your pups! Yay!
Patricia Lake
Small beach area on a bit of a slope, decent for swimming or paddling.
Clear water makes swimming really nice.
Nice peak in the backdrop for great pictures when the lake is still.
Fewer crowds because of limited parking along the road.
No restroom onsite.
Pet friendly cottages on the lake to stay at.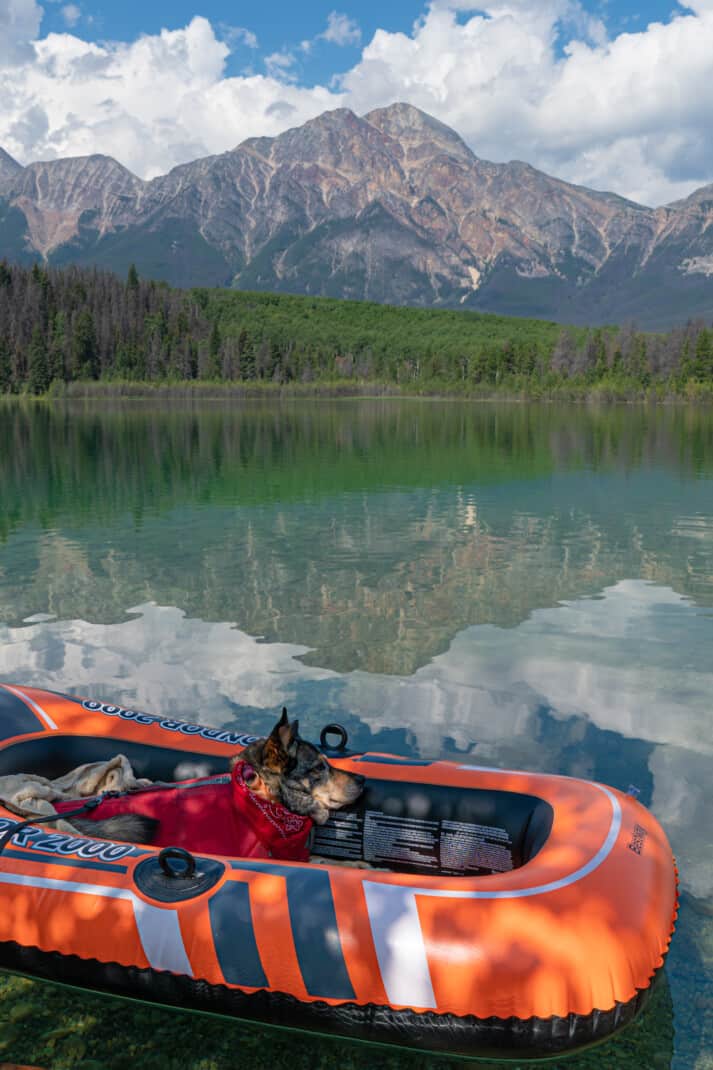 Jasper's Pet Friendly Sky Tram
Take a ride to Whistlers Mountain in Jasper on a tramway with your pup. The tramway is a fully-enclosed cabin that travels up the mountain similar to a ski lift.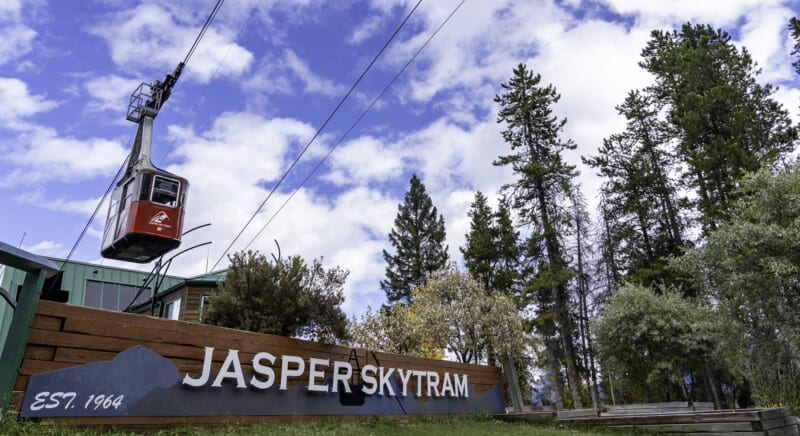 At the top you and your pup can enjoy epic alpine views and spend a few hours hiking the well maintained trails. If you work up an appetite, choose from the dog friendly outdoor dining options.
It's rare that we find gondolas and tramways open to dogs, so this is quite a unique adventure to share with your pups! This day experience will be $57.30 for adults and $6.00 for dogs.
Sulphur Skyline Trail
For mountain memories you won't soon forget with your dog, take a climb up Sulphur Skyline!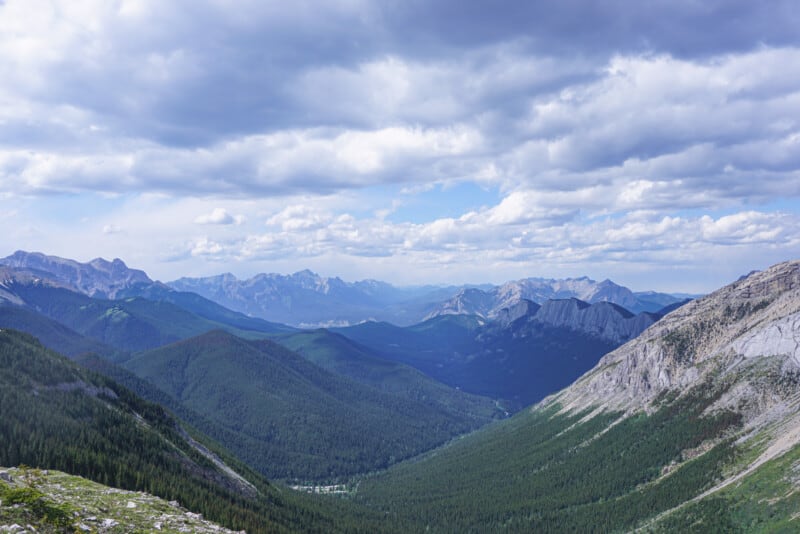 This is a moderately challenging out-and-back hike totaling 8.2km. Your efforts will be rewarded with an endless span of peaks and 360° views to see from the top.
We were greeted with true mountain weather up there, even in the summer. This is very common on any mountain so always plan for wind and cold any time of year!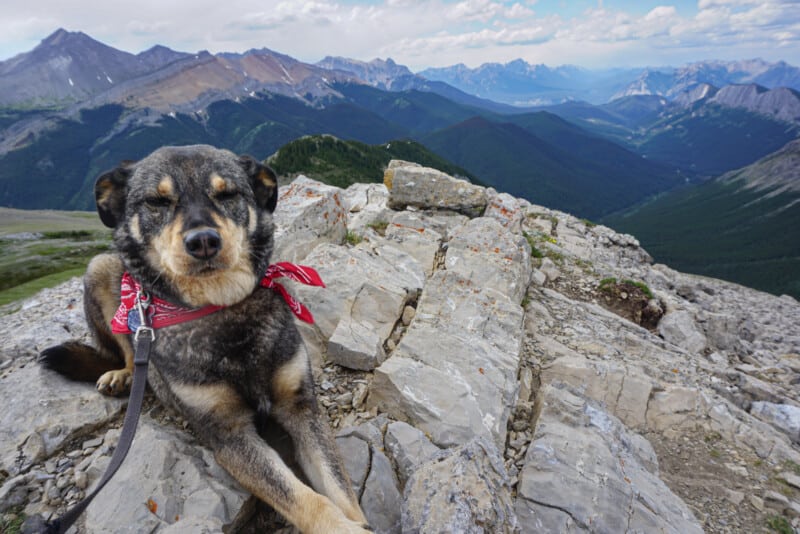 Miette Hot Springs
If your pet will be comfortable and relaxed in the car after their hike up Sulphur Skyline, you could take a dip at Miette Hot Springs. They are conveniently located right at the bottom of the mountain.
There are cozy pet friendly cabins nearby at Miette Mountain Cabins to snuggle up with your pups too.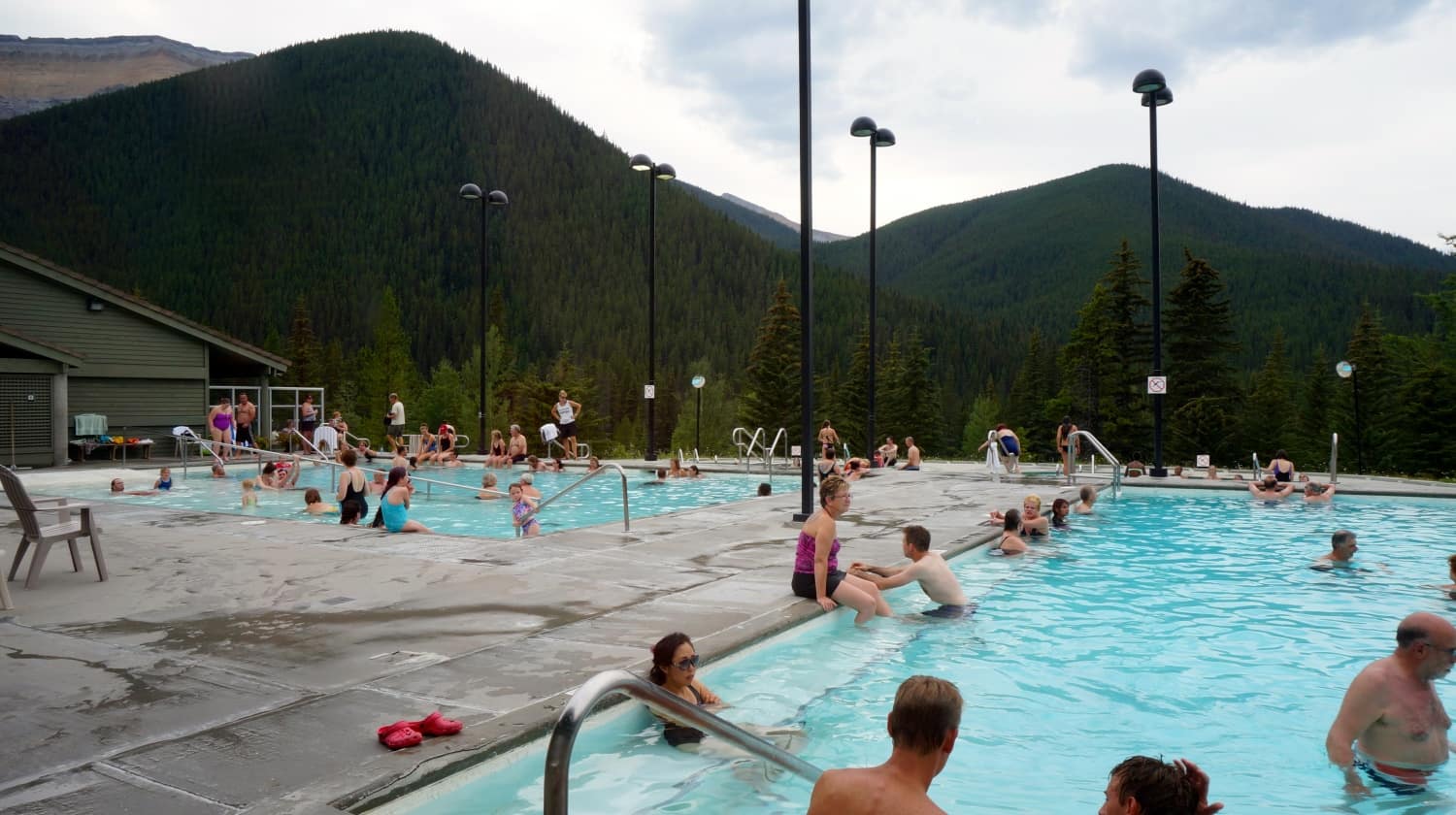 Athabasca Glacier
Looking for a really unique experience to have with your dog? Visit Athabasca Glacier — a disappearing wonder. Athabasca is one of the most easily accessed glaciers in North America, just a few minutes from the parking area. On your walk through the dry glacier field you can see posts marking the glacier's retreat. Chilling!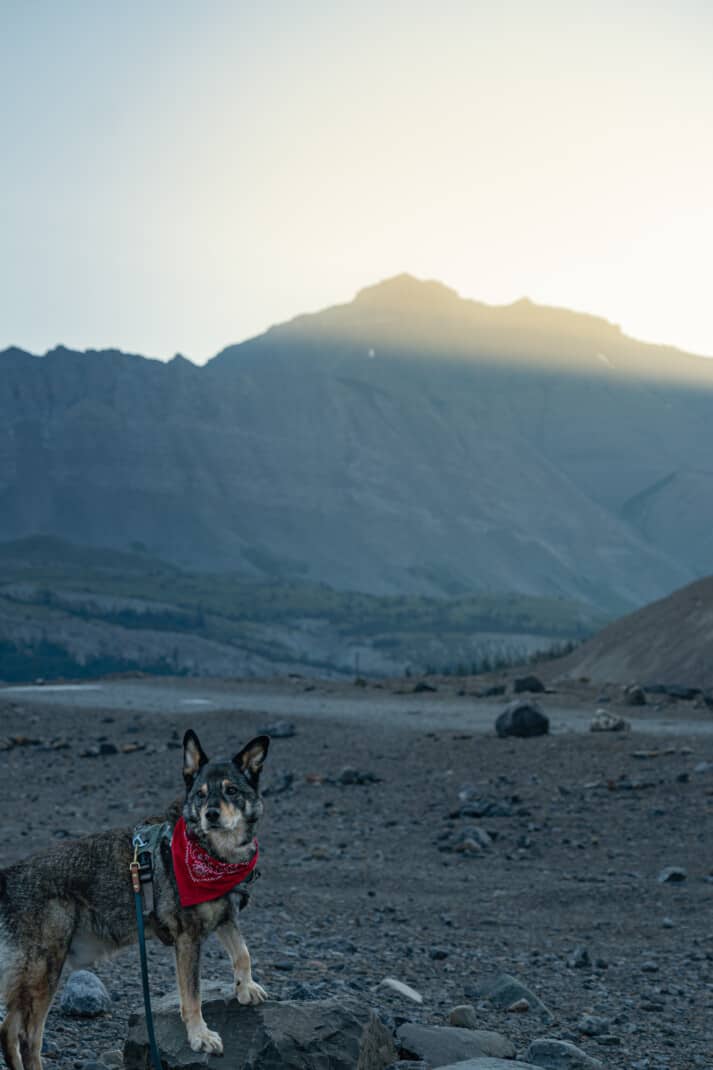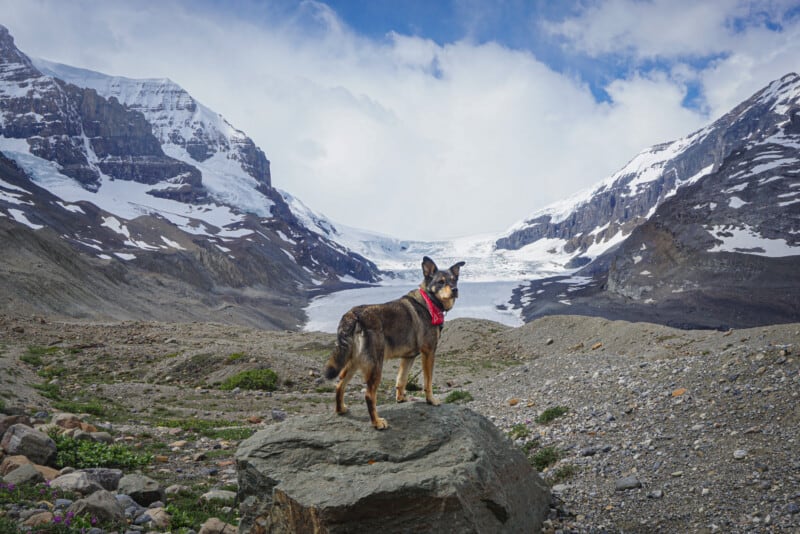 Visiting during sunrise or sundown, when foot and vehicle traffic slow, allows you to take in the pure silence and glory of this natural place. During the day the area is prone to tour buses and heavy traffic, which make the experience less peaceful.
The self-guided walk won't take you onto the glacier, but close enough to feel its cool radiance in the air. Glacier tours are available, but they're not pet friendly.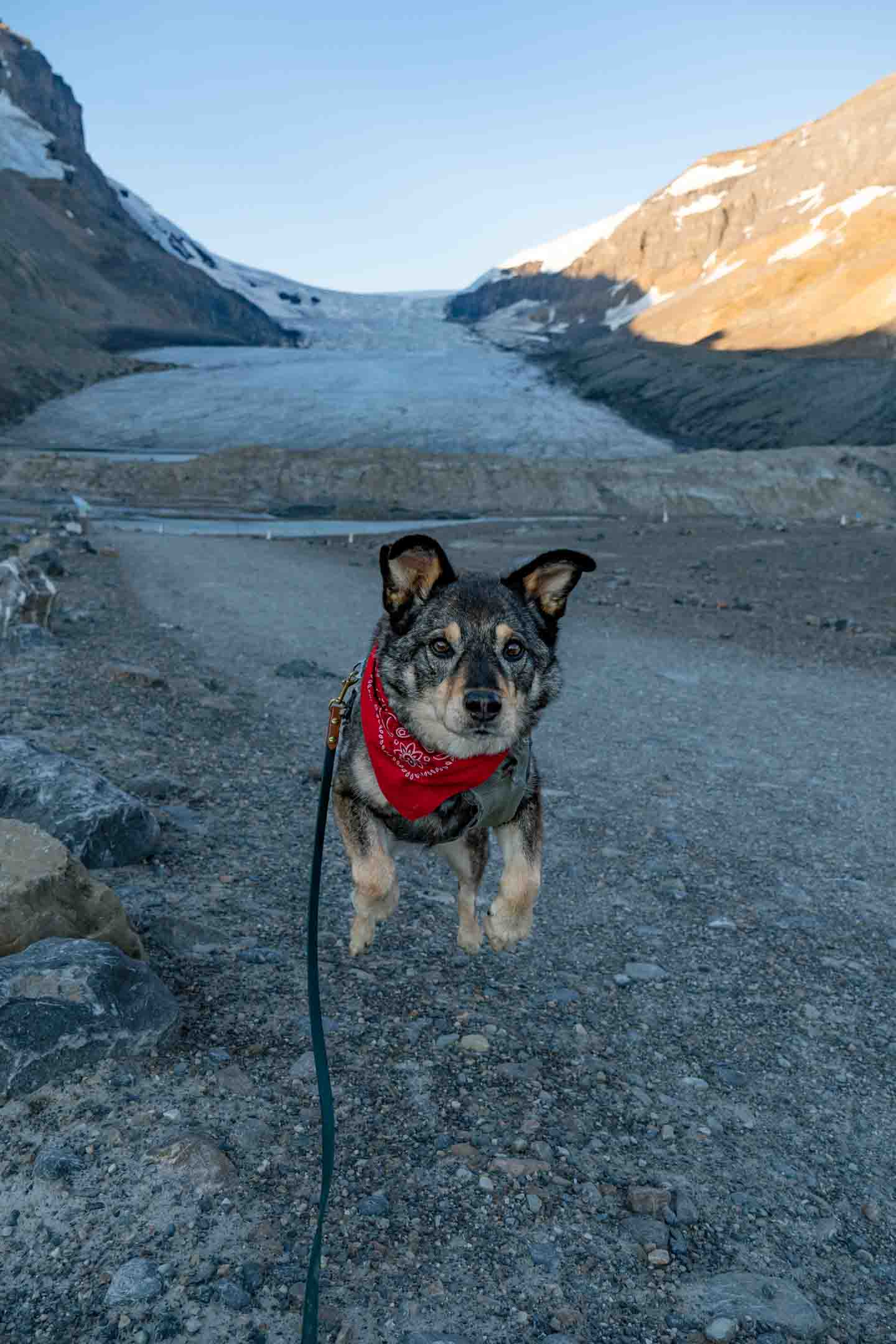 Valley Of Five Lakes
Less than 15 minutes from Jasper, you'll want to collect these gems for your treasure chest of memories with your dog at the Valley of Five Lakes. Take the gentle paths between the ribboned lakes, making loops to your desired length from 3 to 9km.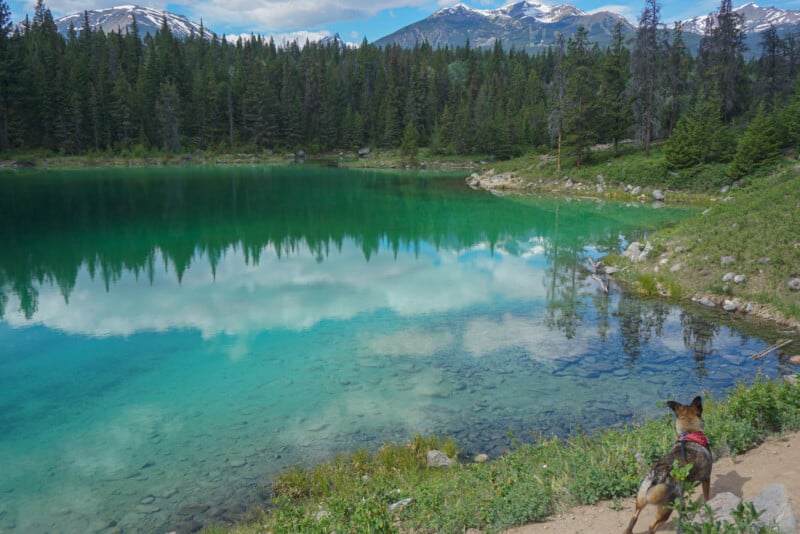 Jasper is so stunning, people can hardly wait to get in the outdoors here. Therefore it's nice to start your walk sooner than later. We began around 7am along with a few other visitors. The trade off was sharing the path with a moose rather than people.
Hiking near dawn and dusk creates a higher chance of bumping in to wildlife (although it is possible at any time of day). It's a good idea to be chatting with your companions — whether they have two feet or four paws. Riley gets told "how great of a hiker he is" A LOT on our walks together. Making some noise as you hike helps make wildlife aware of your presence. This is so you can avoid startling them and they can move on peacefully.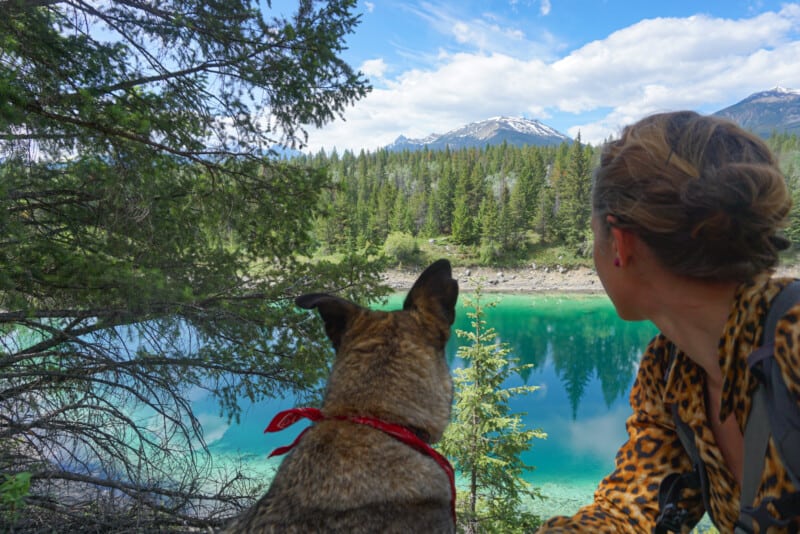 Mount Edith Cavell
Open only from mid-June through mid-October, the road to Mount Edith Cavell is quite narrow and winding but lovely. It travels through sub-alpine forest for 14km before arriving at Alberta's most prominent peak.
Note for our RVing friends: Large trailers and motorhomes cannot travel the road since it is so narrow. A drop-off parking lot is provided at the base for large vehicles.
Given the incredible scenery and fantastic glacier experience, Mount Edith Cavell is heavily visited. To secure a parking spot, it's best to arrive as early as possible or later in the day.
Look forward to being immersed in the scenery as soon as you arrive in the parking lot. Although there are more trails, only the "Path of the Glacier" is pet friendly and totals just under 2km round trip.
Walking up the inclined path, Mount Edith Cavell towers next to you. The trail ends at a sea-green glacial pond with an up close view of Angel Glacier. That's a lot of scenery for just 2km!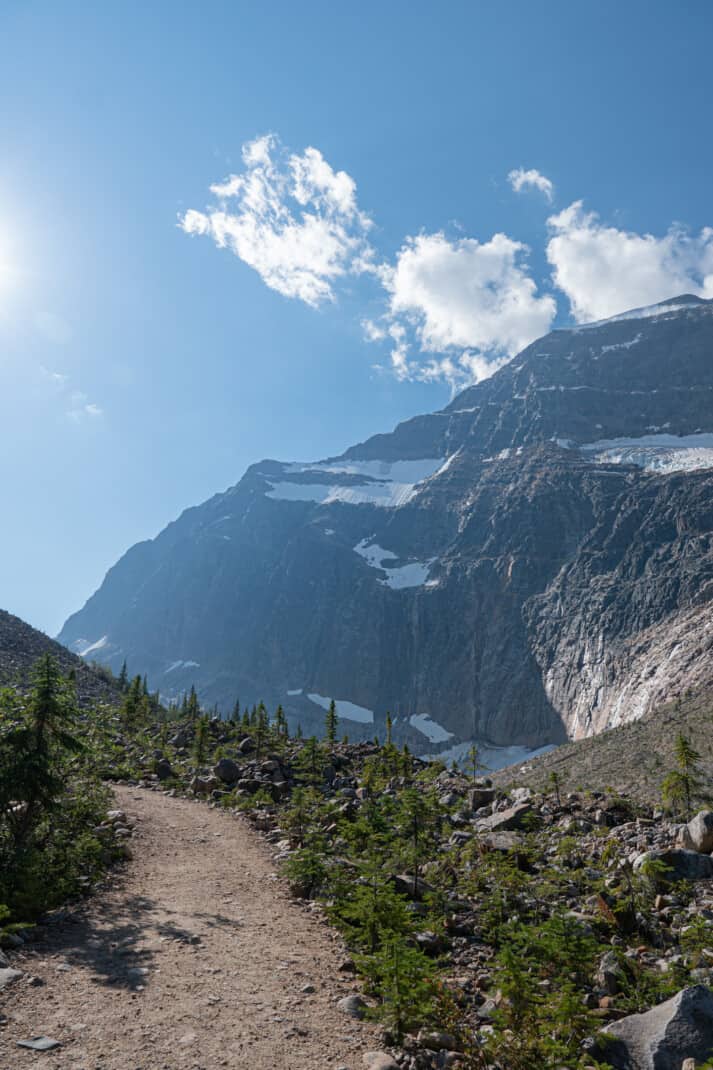 Maligne Lake
No trip to Jasper would be complete without a visit to Maligne Lake. The trip takes less than an hour, and the views along the way are well worth the drive!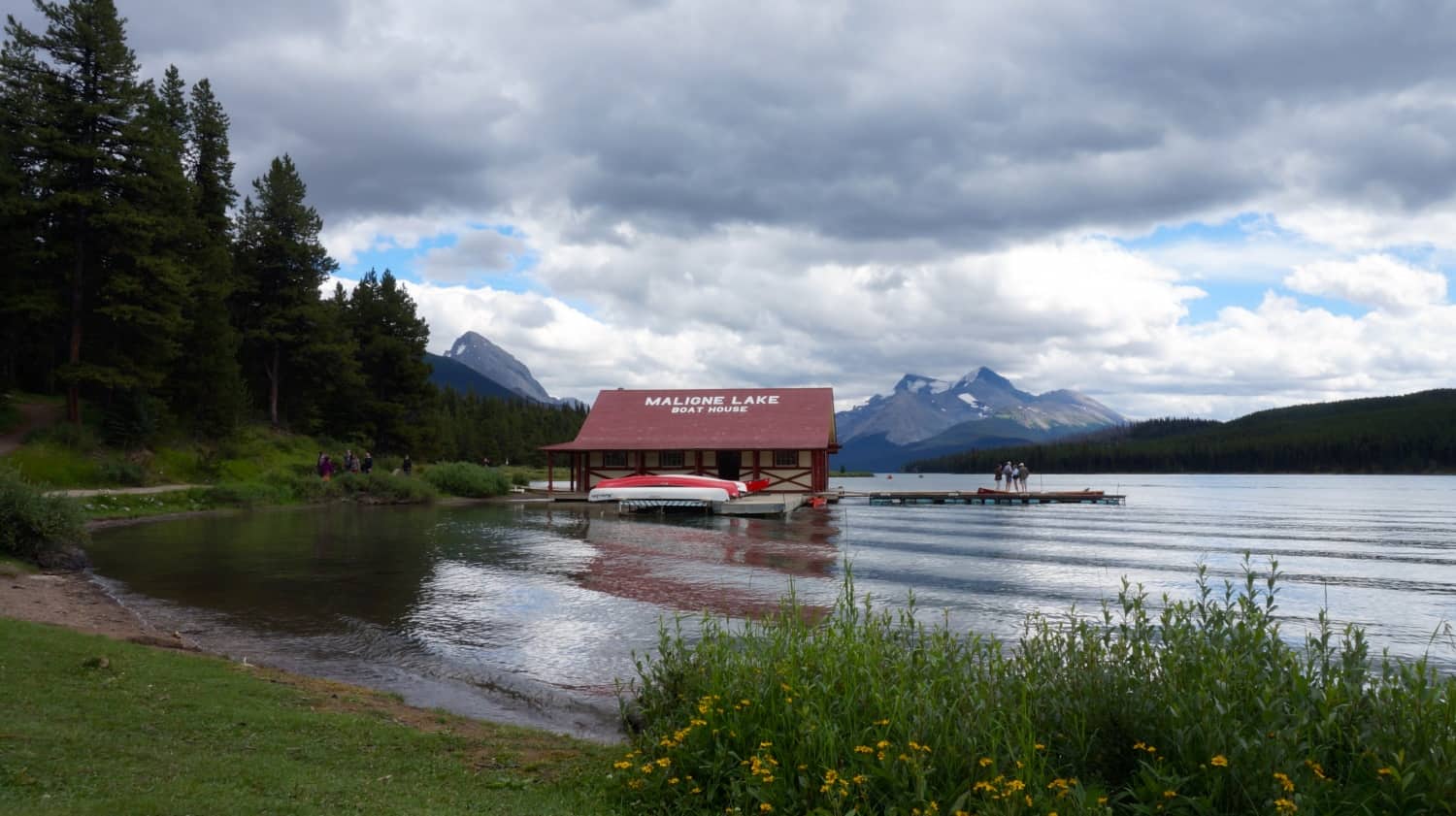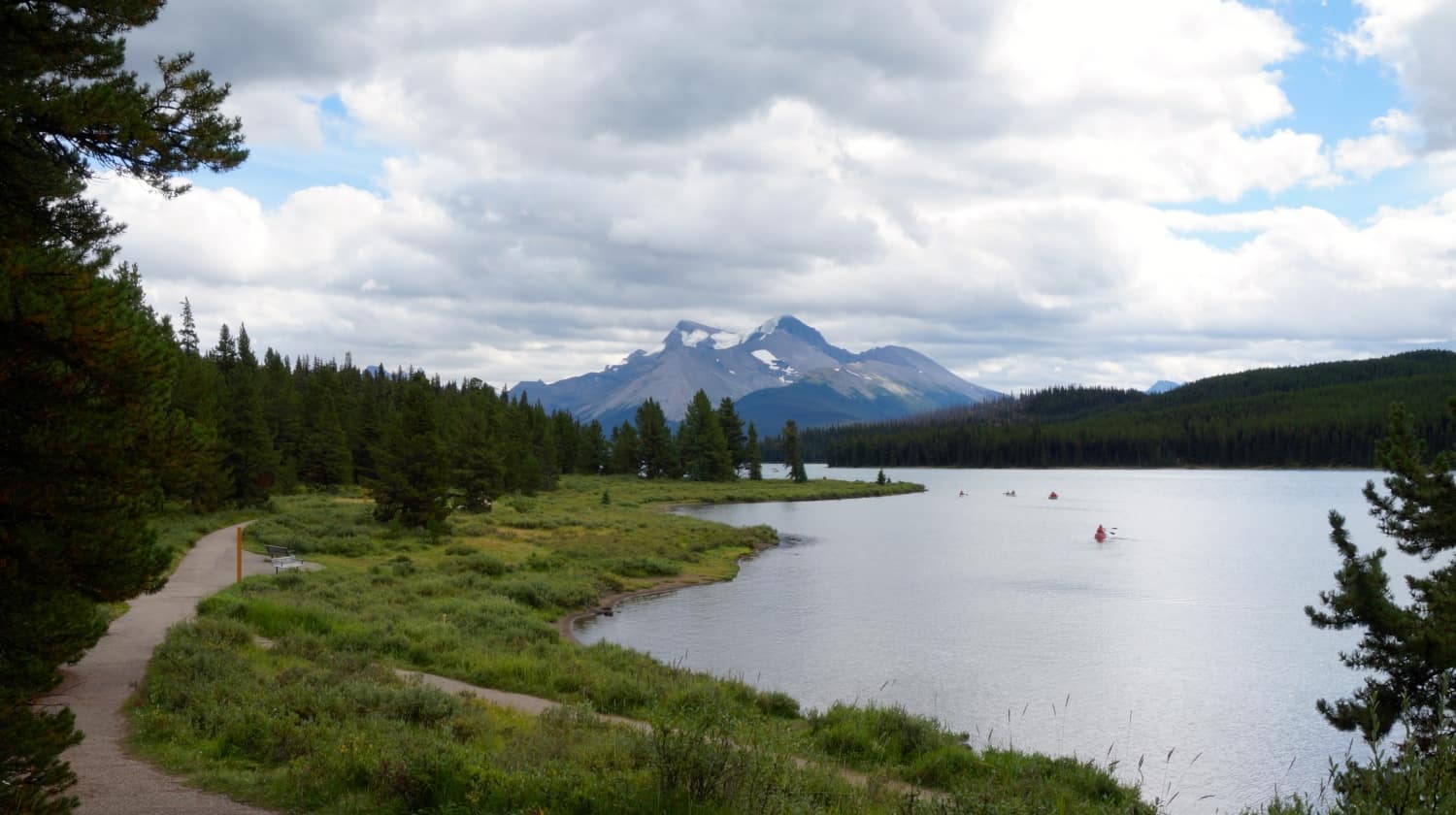 When you arrive, you can rent a canoe (they're pet friendly!) and paddle up the lake for a different kind of adventure with your pup. Or stick to land and cruise the trails together.
Two of the five marked trails welcome pets on leash. So you'll have no trouble finding enough places to walk with your dogs.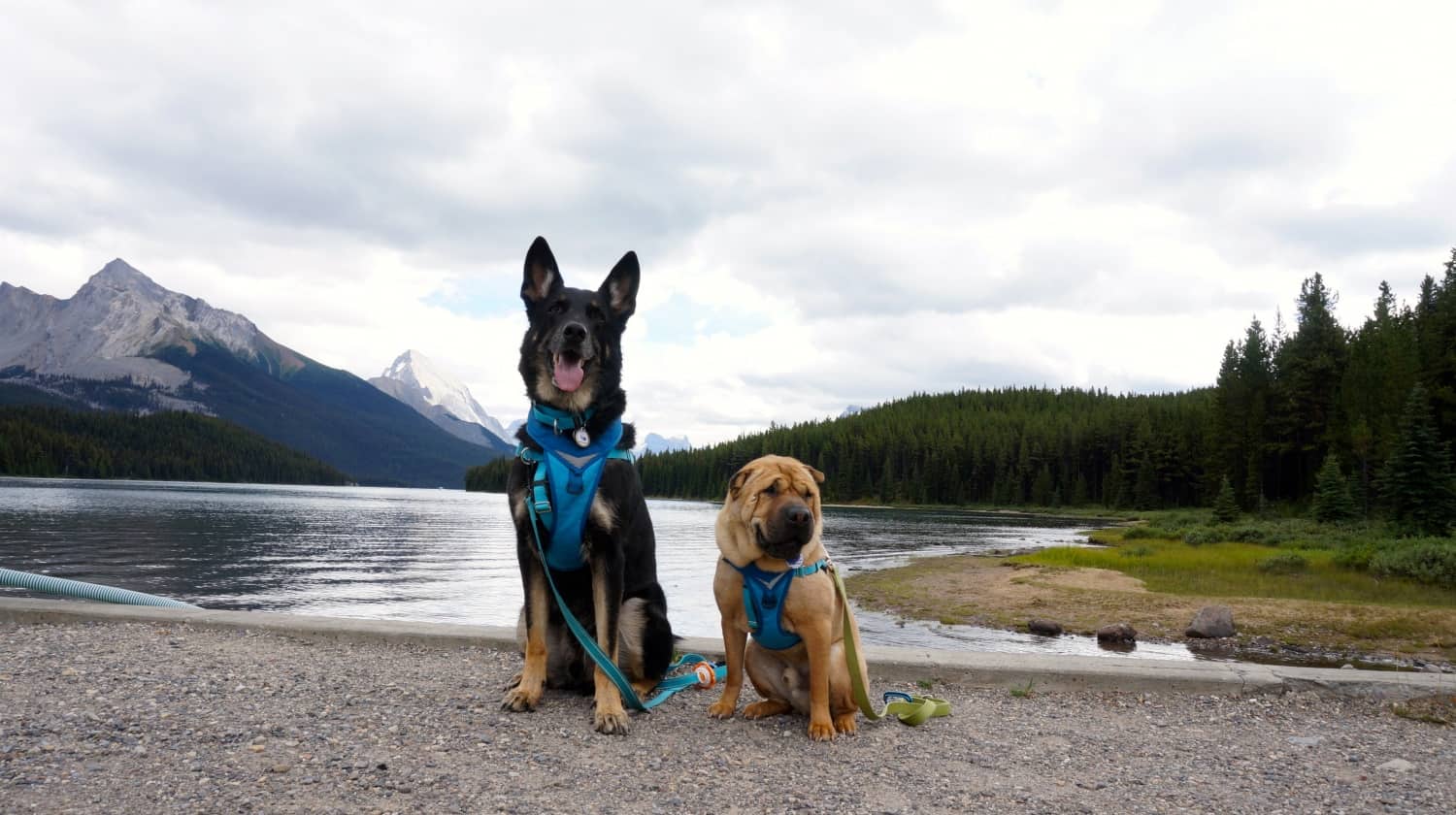 Spirit Island, a tiny island in Maligne Lake, is an image many people associate with the Canadian Rockies. But, at 14 km from the docks at Home Bay, it's a four-hour paddle each way! If you must get this shot to make your trip complete, take turns joining the boat tour while a friend stays with your pup.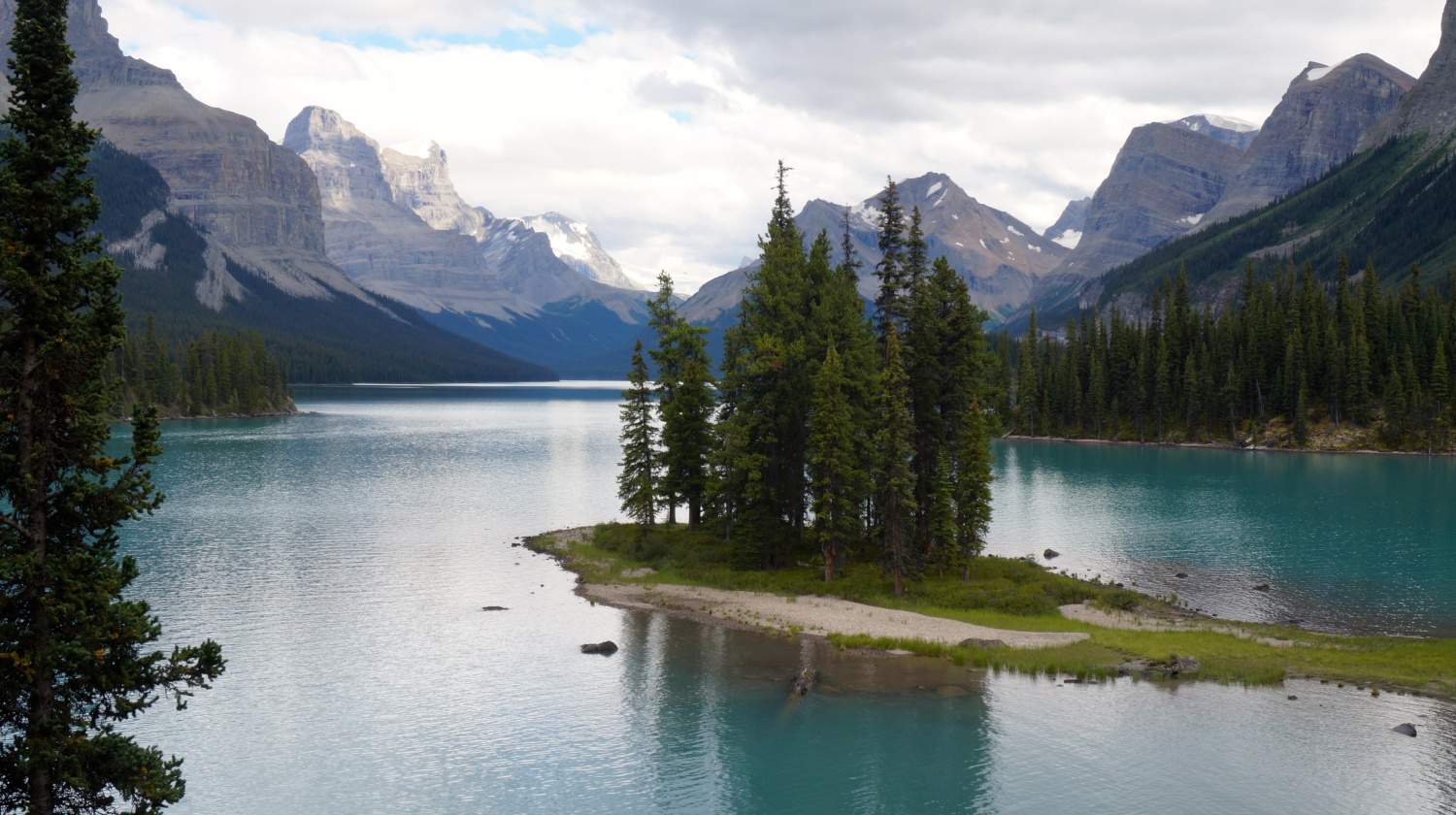 Medicine Lake
On the way to Maligne Lake, like the rest of Jasper, there's no shortage of stops to make and sights to see. One stop to be sure not to miss is Medicine Lake, known as the disappearing lake.
The water levels on this lake change dramatically. Sometimes the water nearly vanishes into the underground caves! It's always a landscape worth seeing, though. We even saw some big horn sheep strutting down the road.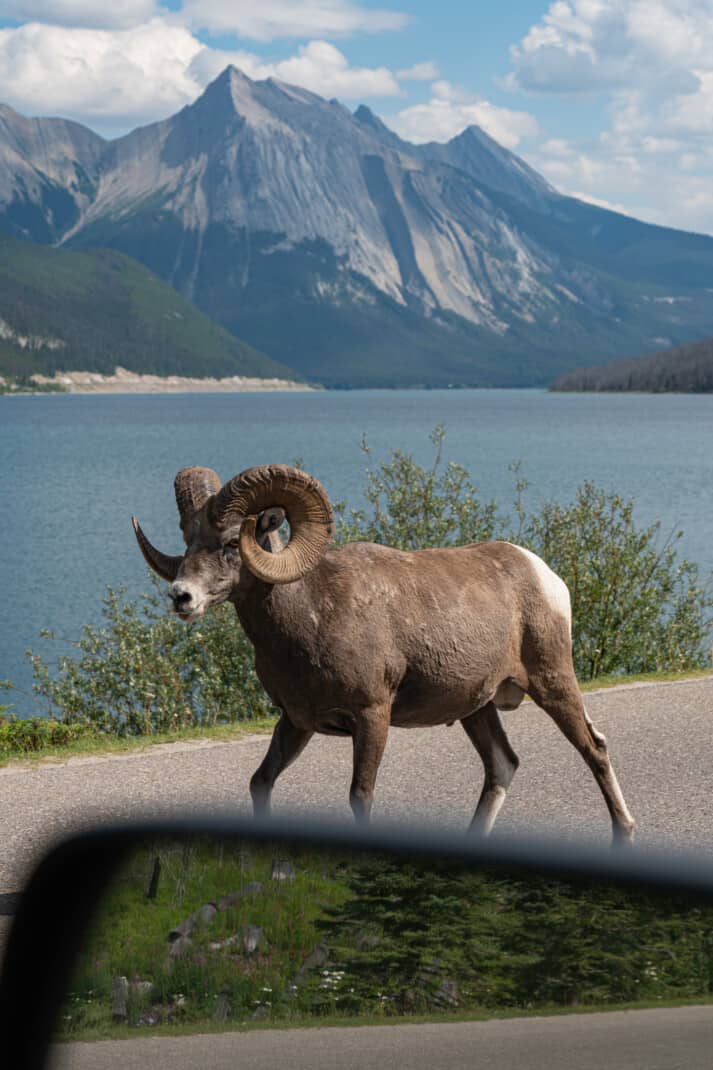 Maligne Canyon
Maligne Canyon is another good, dog friendly stop on the way to Maligne Lake. The 4km loop trail is rated easy to moderate, and the exquisite picture opps are plentiful. The reviews I've read say walking the trail counter-clockwise provides the best views.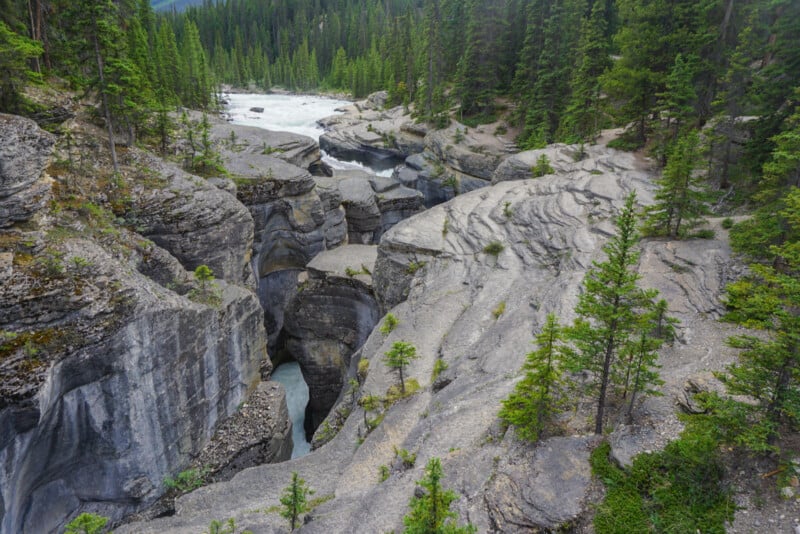 The route includes many foot bridges across the canyon. The bridges can't be bypassed, so you and your pup will need to be ready for those.
This walk would be worth revisiting during different seasons. Winter has fascinating ice formations and frosty waterfalls making for some drastic changes!
If you have extra time, check out some of the other trails that tie into the loop. Wrapping around and meandering along this impressively deep canyon is a great way to spend an afternoon.
Pet Friendly Waterfalls
Sunwapta Falls
If you love waterfalls, Jasper is a treat! And because they aren't too far from the parking lots, it's possible to see several — even if you have only a short amount of time.
Sunwapta Falls can be a quick stop, or you can make it into a full day trek or even back country camping.
The upper falls (the main attraction) is just a few hundred meters from the parking lot. The river splits around an island and then joins to take the 18-meter plunge. From here you and your dog can add on the lower falls for a 3km round trip walk.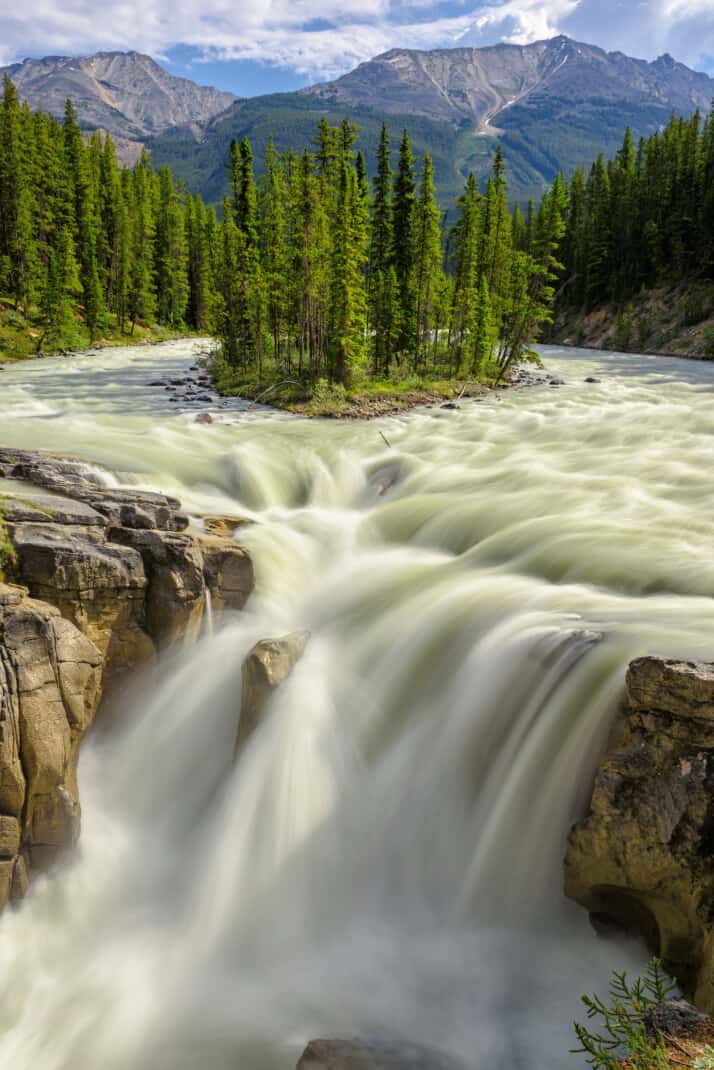 If you want to venture into the peaceful back country you can basically plan to hike for as long as you want to from Sunwapta! The 'Big Bend' hike is 6.3km one way, and Fortress Lake is 23.8km one way.
Take time to plan and research these longer excursions before heading out. We haven't done these ourselves, but they look wonderful! And there are back country campsites available on both hikes.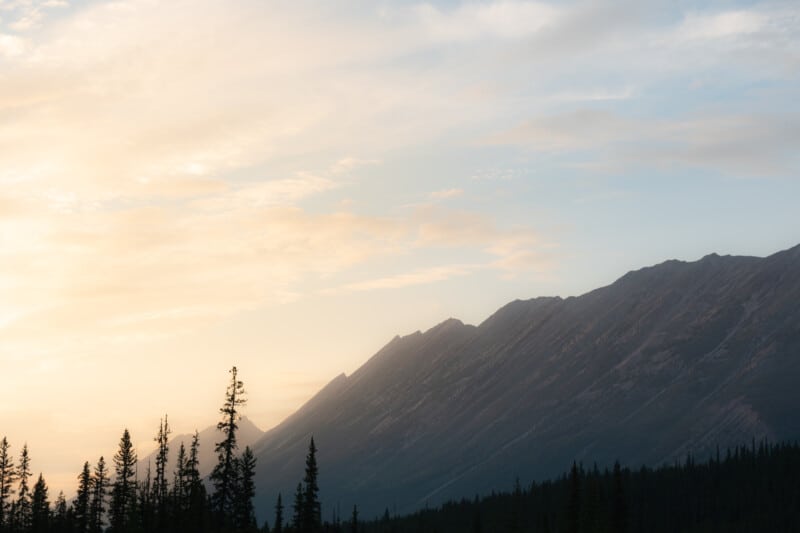 Athabasca Falls
The Athabasca River travels from the glaciers of the Columbia Icefield. As it makes its way over and through quartzite and limestone, it carves spectacular canyons and cliffs.
The trail from the parking area to Athabasca Falls is about 1km round-trip and takes about 20 minutes.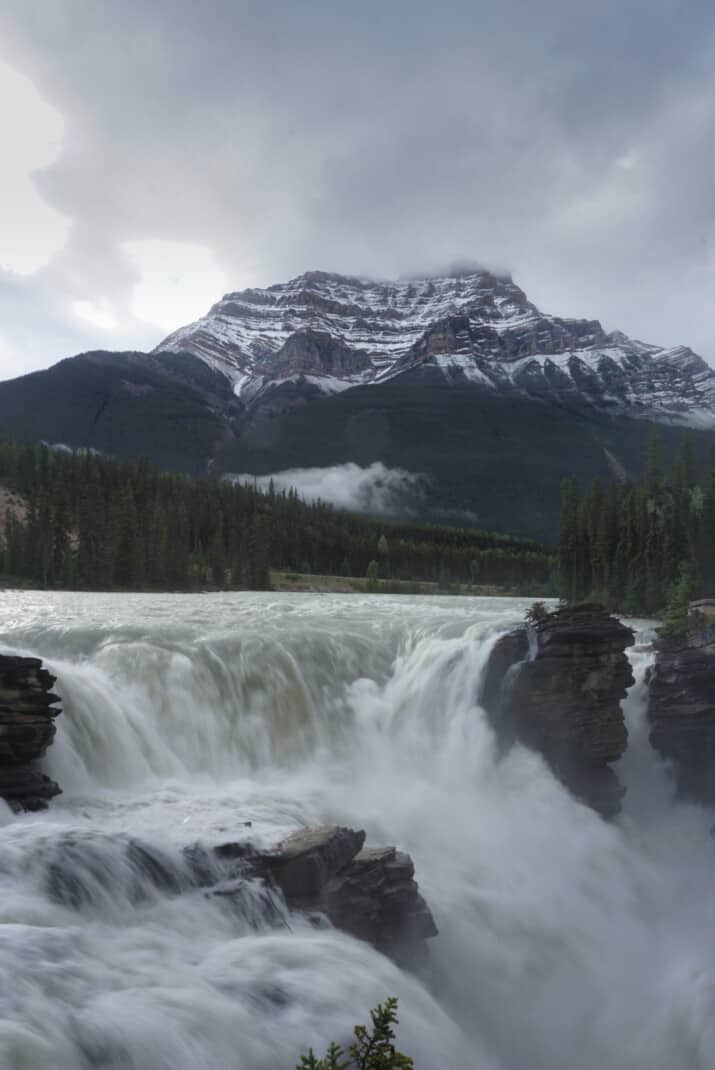 Tangle Falls
Located directly on the Icefields Parkway Tangle Falls is an easy stop for waterfall lovers. Riley always loves the rush and freshness of a waterfall.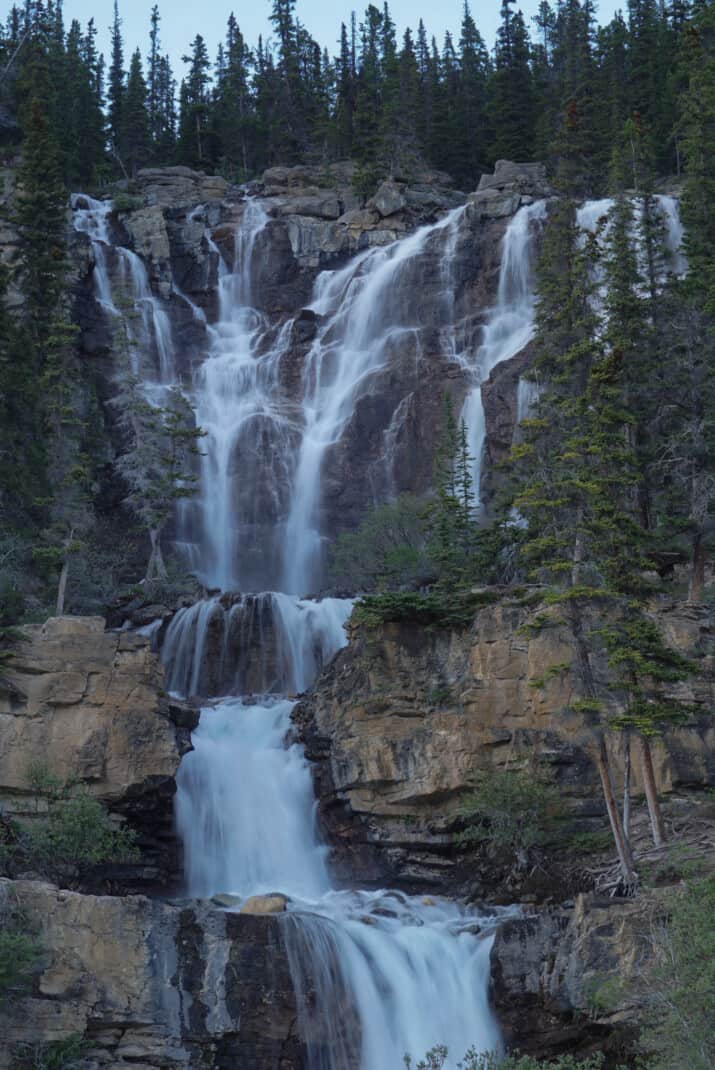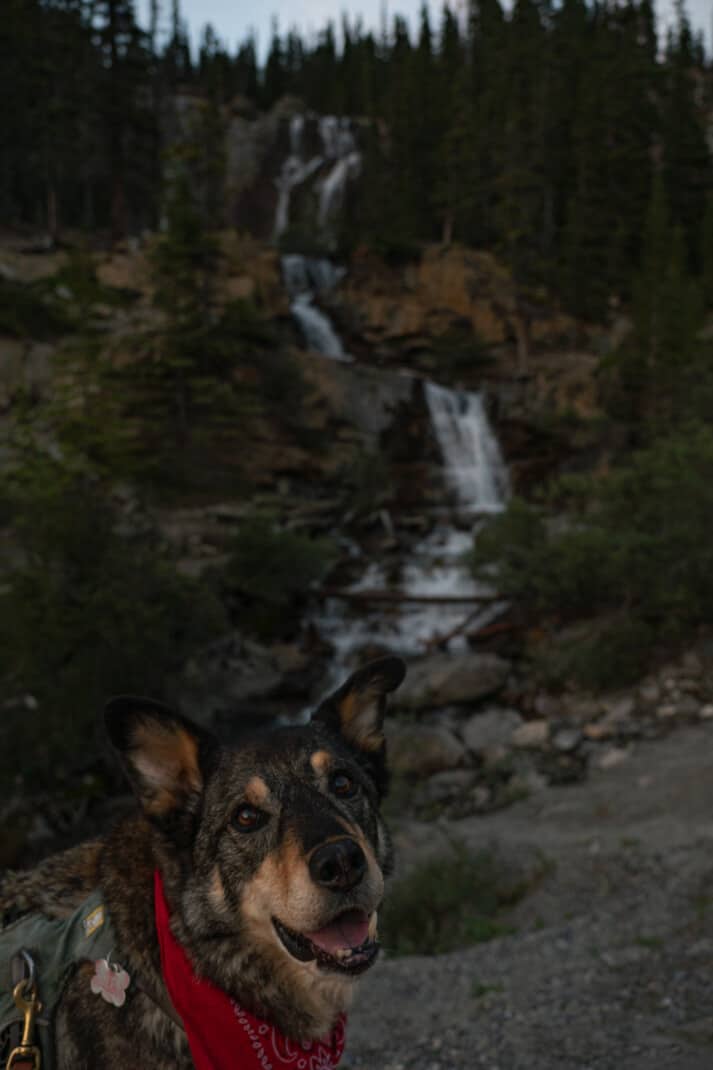 Icefields Parkway
The Icefields Parkway runs 288km between Banff and Jasper. This drive will leave you feeling small, in the best possible way, with the looming peaks surrounding the drive. But if you can time your trip for sunset, you'll see the alpen-glow and pink tips on many of the snow-covered mountains.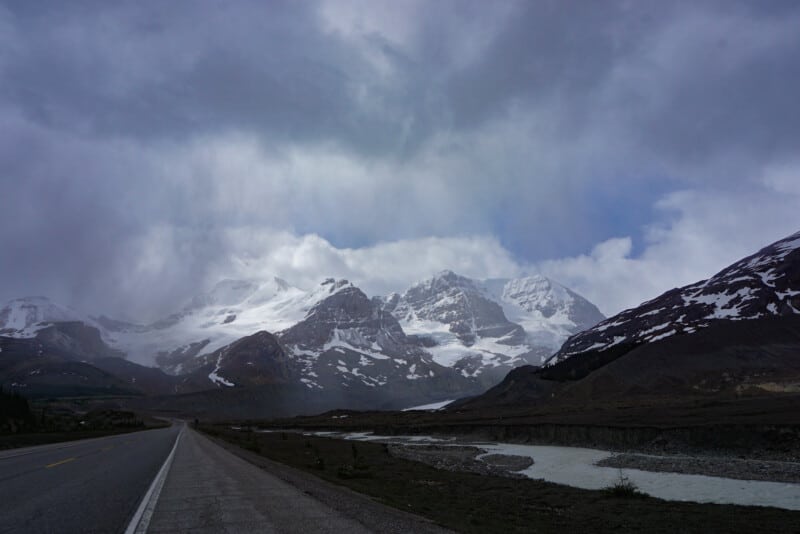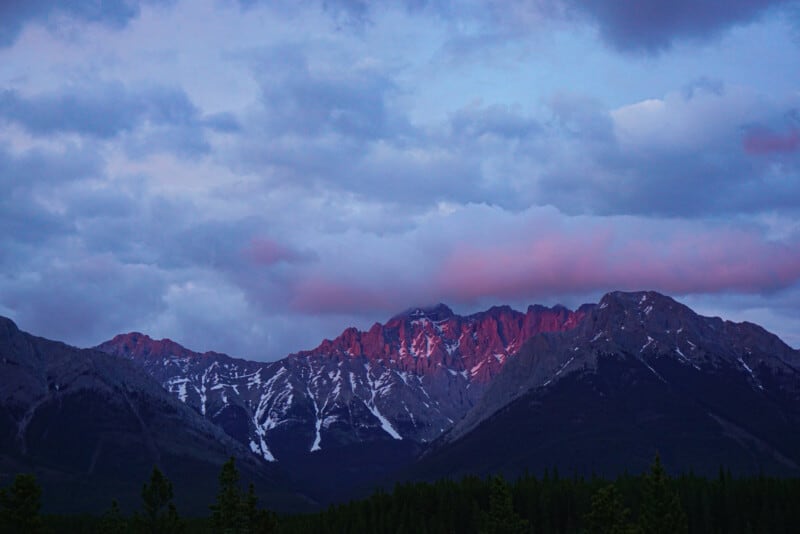 If you're traveling between Jasper and Banff, don't miss the Columbia Icefield. It's about half way between Jasper and Lake Louise and, though the tours are not pet friendly, they will take you up to the glacier in a massive vehicle so you can walk around.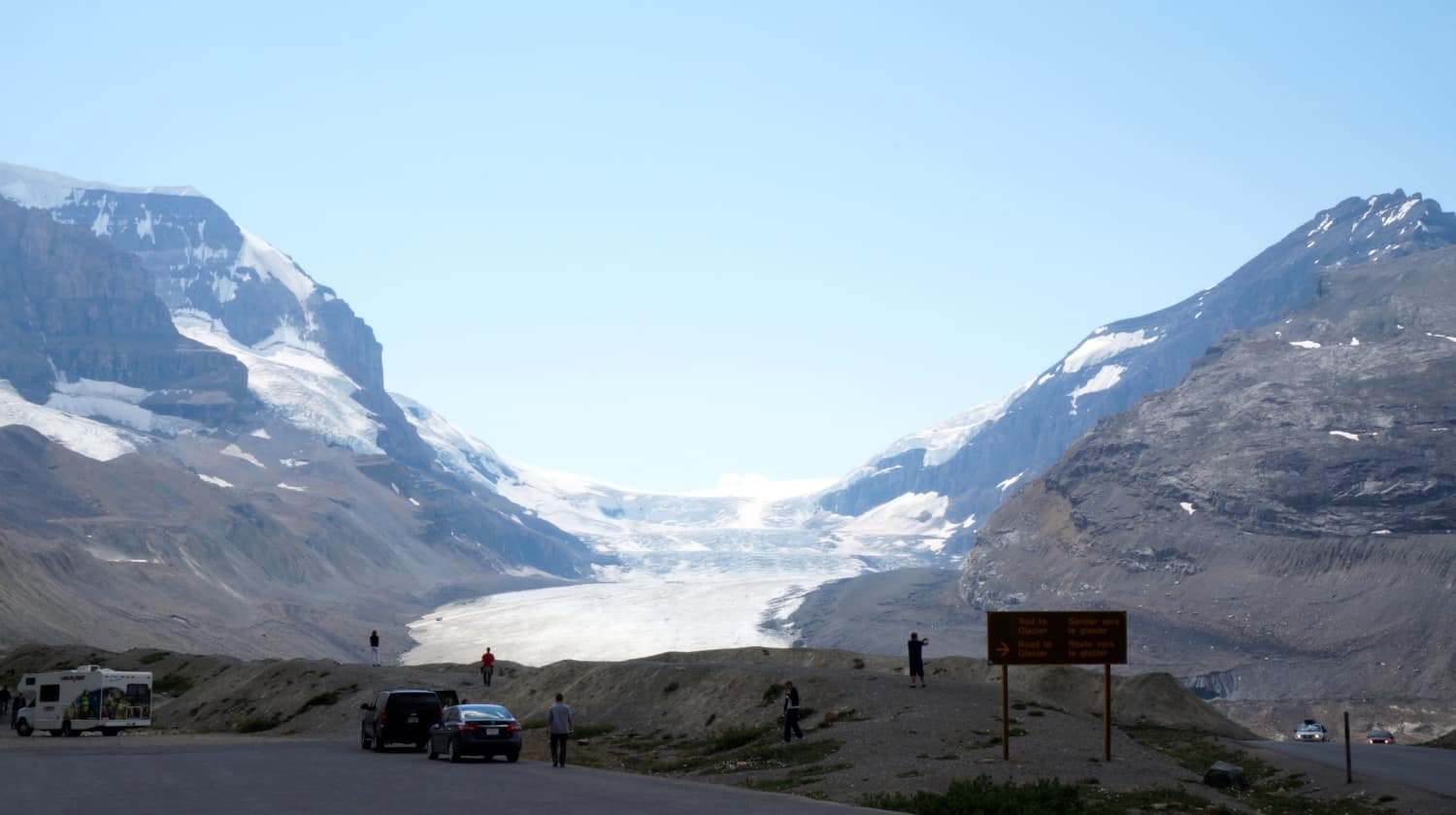 You'll come to Bow Lake about 35 miles from Banff. This is the source of the Bow River, and from the parking area you'll get a great view of the Crowfoot Glacier. You can also hop on the 2.2-mile trail back to Bow Glacier Falls.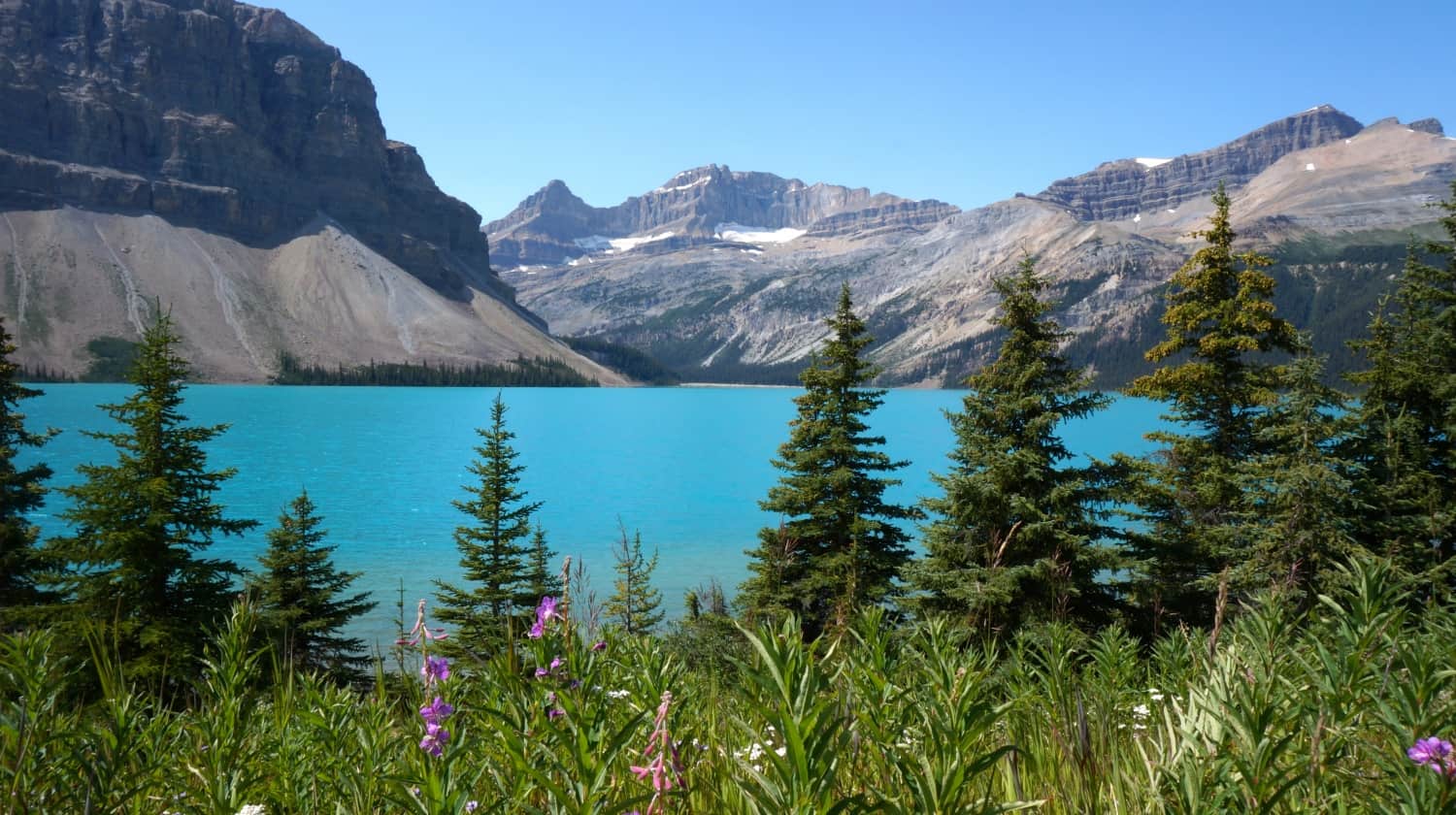 And there we have it! While it's not possible to mention everything Jasper has to offer, we hope our experience inspires you to visit there, too. It's a place that meets nearly everyone's desires. And seeing these gorgeous places with your pets makes the experience even sweeter.
(Visited 4,521 times, 1 visits today)