From the rugged coast to the majestic Rocky Mountains, British Columbia is a province to behold! For a truly authentic experience, get off the beaten path and explore some of the smaller towns and less known attractions with your pet!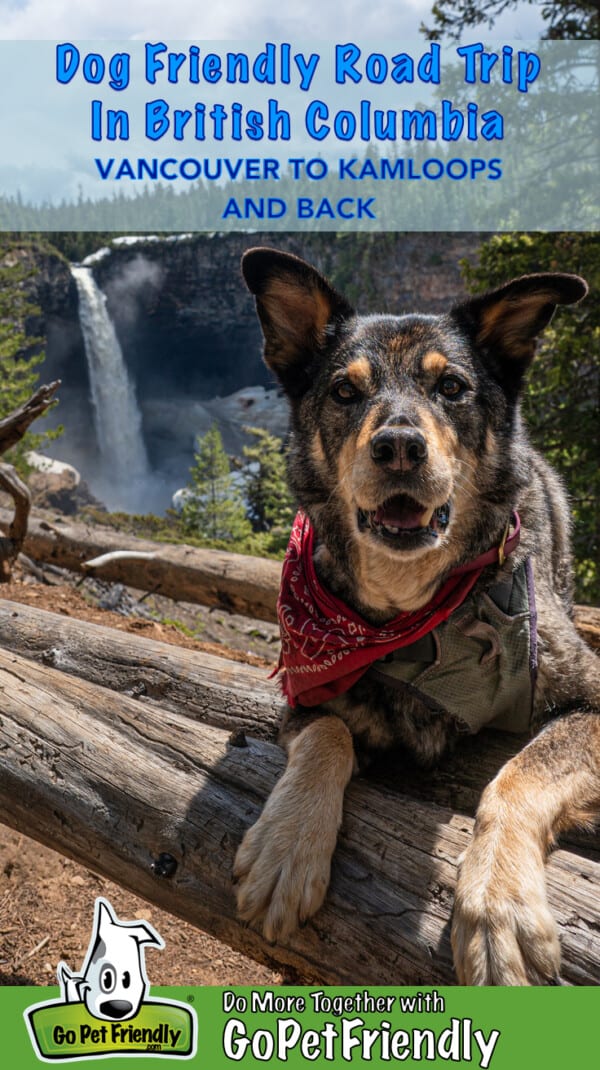 British Columbia is a province full of spectacular destinations. Whistler, Vancouver, Kamloops and the Okanagan might immediately pop to mind. And they're absolutely wonderful pillars for any trip. But if you want to discover some of BC's hidden gems, grab the leash and hop in the car for a dog friendly road trip in British Columbia!
We've prepared your itinerary, packed with adventures and memories, visiting some of these lesser traveled places. Beginning in Vancouver, the highlights of this dog friendly road trip in British Columbia are: Lillooet, Kamloops, Clearwater and 100 Mile House.
On the way you will see waterfalls, an azure lake, mountains, desert landscape, hoodoos, and more. That's pretty amazing for just a few days! And to top it off, we'll share some free lakeside campsites where you can stay.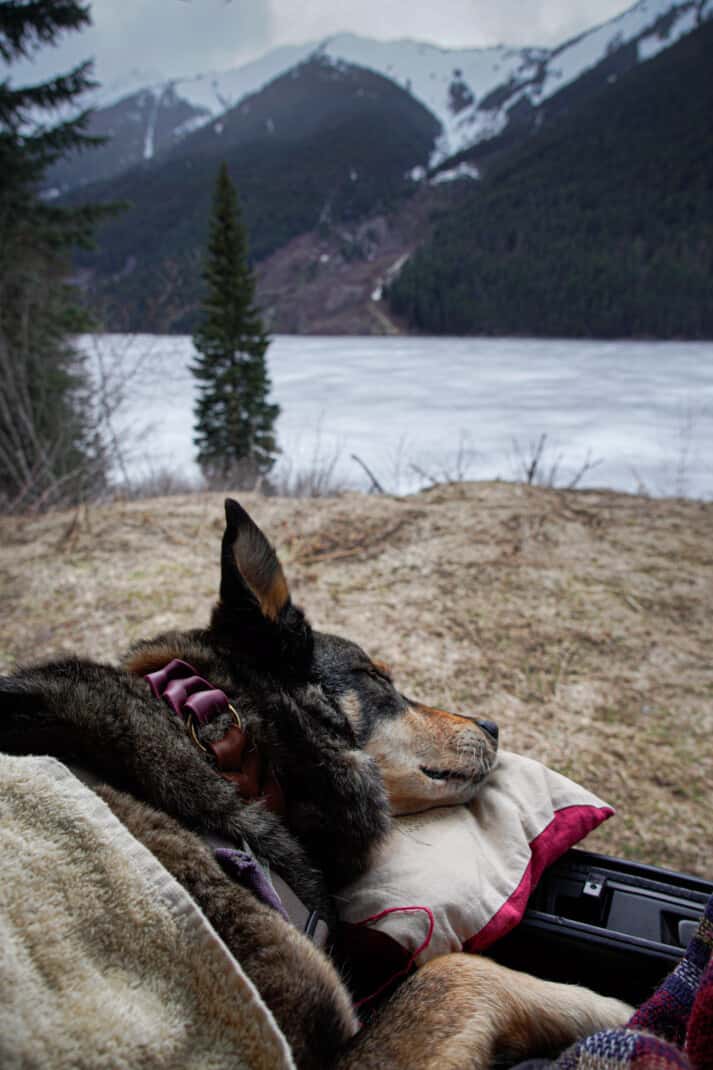 Dog Friendly British Columbia Road Trip Itinerary
We began this circle tour in Vancouver, traveling to Lillooet, Kamloops, Clear Water, 100 Mile House, and back to Vancouver. But you could hop on the route anywhere and travel it in either direction.
First Stop: Lillooet, British Columbia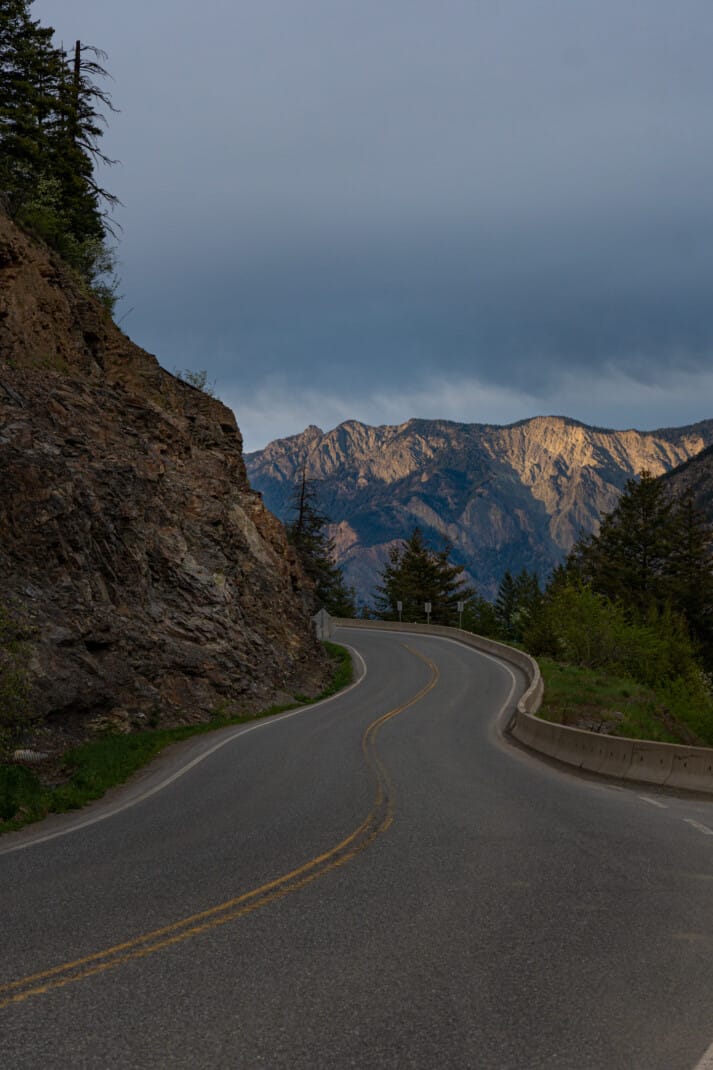 I was absolutely in awe in Lillooet. Everywhere I parked the car there was a towering mountain backdrop.
Lillooet is a town of breathtaking scenery. Whichever direction you enter from, you will be struck by it immediately. Driving up from Vancouver I pulled over many times just to take in the landscape. Coming in on from the west on Highway 99, you will be greeted before you get to town by Seton Lake. And here you'll find your first option for free camping!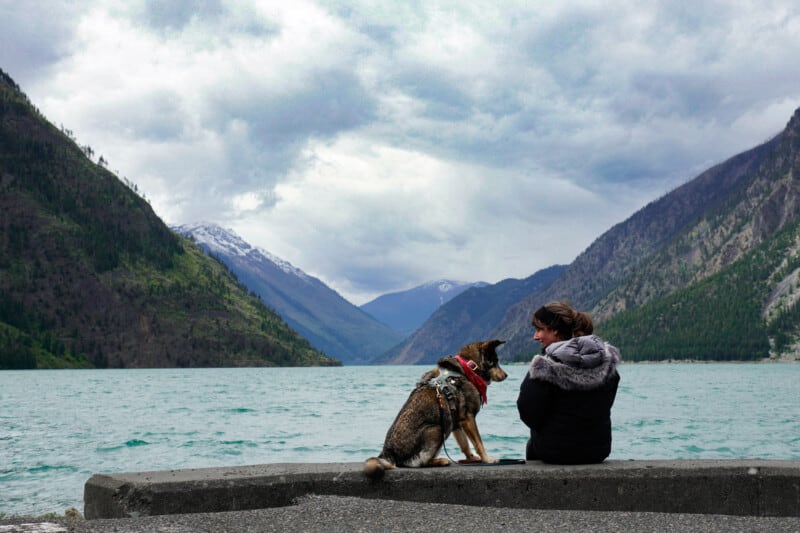 Dog Friendly Activities In Lillooet, British Columbia
Seton Lake
Less than 10 minutes from downtown Lillooet (and across from a free campground) is the wonderfully blue Seton Lake. Picnic, paddle board, swim, or launch a boat for a great day at the lake with your dog.
To access the dog friendly part of the lakeshore follow Seton Lake Reserve Road to a lakeside parking lot. The main beach is not open to pets.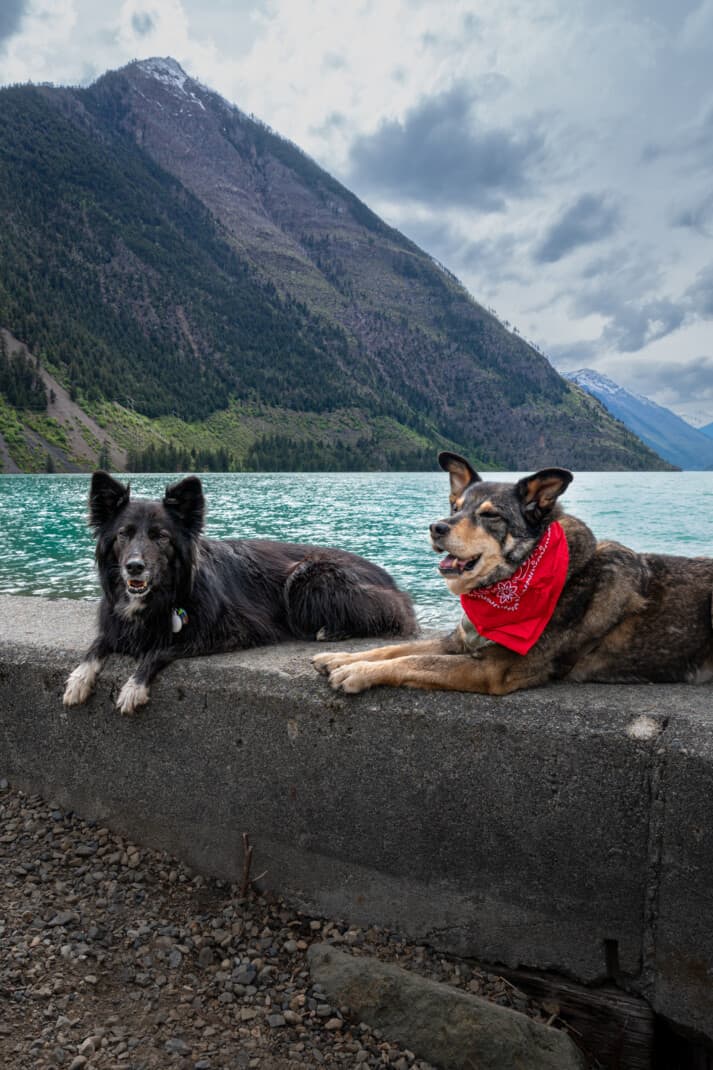 Seton Viewpoint Trail
After admiring Seton Lake up close, you can hike to an epic lookout above it. Overlooking the lake and one of the hair pin turns you'll drive on to reach it, it makes for a very cool photo opp!
To reach the parking area, enter "Seton Lake Viewpoint Trail" in your mapping app. It's difficult to spot the trailhead while driving, so park in the large pullout here.
The trailhead is a jaunt across the highway from this pullout. Though it's an uphill walk that must be taken slowly due to the cliff edges near the trail, you should be to reach the viewpoint in 10-15 minutes.
If you are a sunrise or sunset chaser, then circle this stop on your map for sure! It's phenomenal any time of day, but first light and the golden hour would be truly special. We visited in mid-afternoon and loved the view.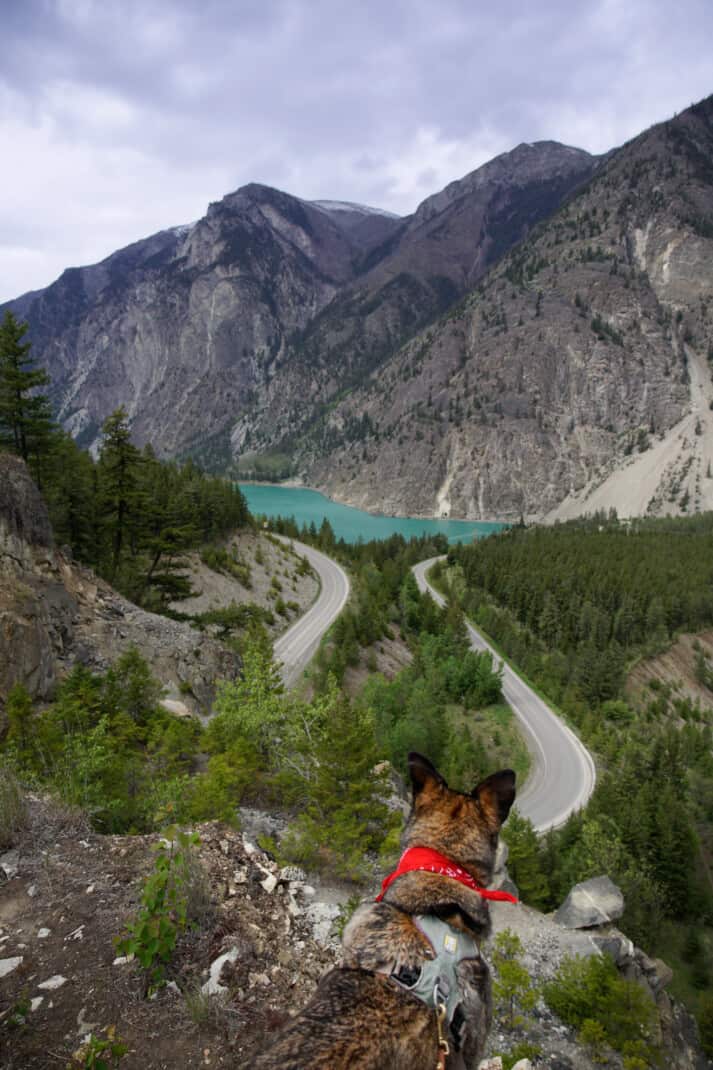 Osprey Park
After playing and adventuring around the lake, head through Lillooet to Osprey Park. This scenic riverside area gives you the opportunity to see marmots and osprey up close!
The osprey have built a large nest on top of the bridge so it is easy to spot them. There's exploring to do on, over, and under the foot bridge.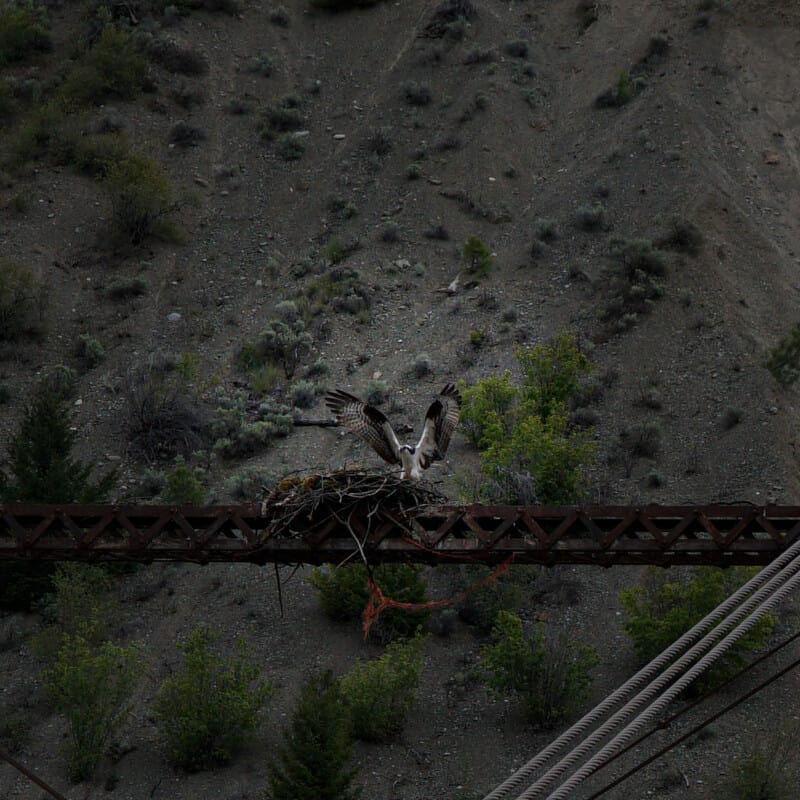 After that there is a short, beautiful riverside trail to walk. Here you won't be able to miss the calls of marmots. There really are a lot of them, so if your pup is tempted to chase wildlife, you will want to hold tight to the leash!
Marmots live underground and are members of the squirrel family, but are much, much larger. They are skittish — not the type of wildlife you have to worry about approaching you or your dog.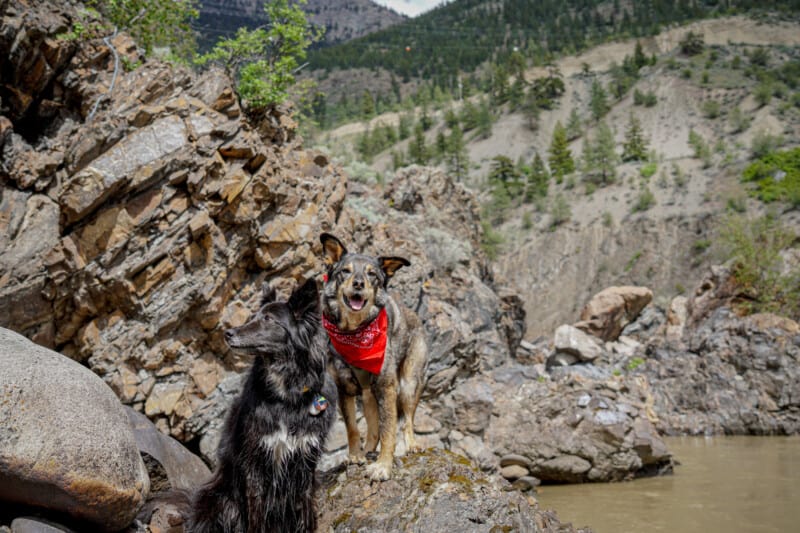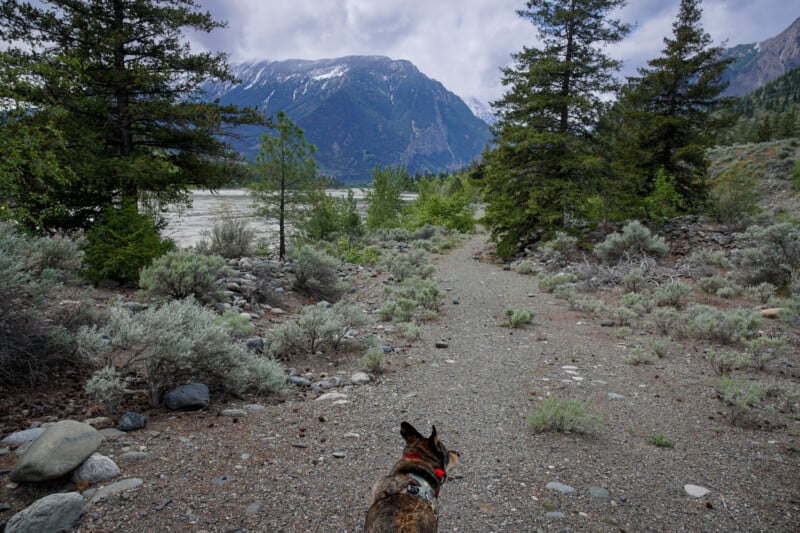 Where To Stay In Lillooet
Reynolds Hotel – A boutique hotel in downtown Lillooet. Rates from $129-$179/night, plus $15/night for pets.
BC Hydro Campground – Across from Seton Lake. Approximate open dates from mid-May through mid-September. First come, first serve. Free for a maximum 14 days.
Where To Eat In Lillooet
Fort Berens Winery – Stunning outdoor patio setting and grass area. Award winning wines from British Columbia's newest and most exciting emerging wine region. Call ahead for reservations!
Lillooet Brewing Company – A brand new brewery set to open in late 2022. Craft beers made from local and organic ingredients.
Abundance Artisan Bakery – "Wholesome Handmade Food." Bakery items, pizzas and pasta served on a cute wooden patio.
Traveling From Lillooet To Kamloops
As you leave Lillooet, notice the desert landscape on the other side of the road. It's quite unusual to see this terrain in British Columbia!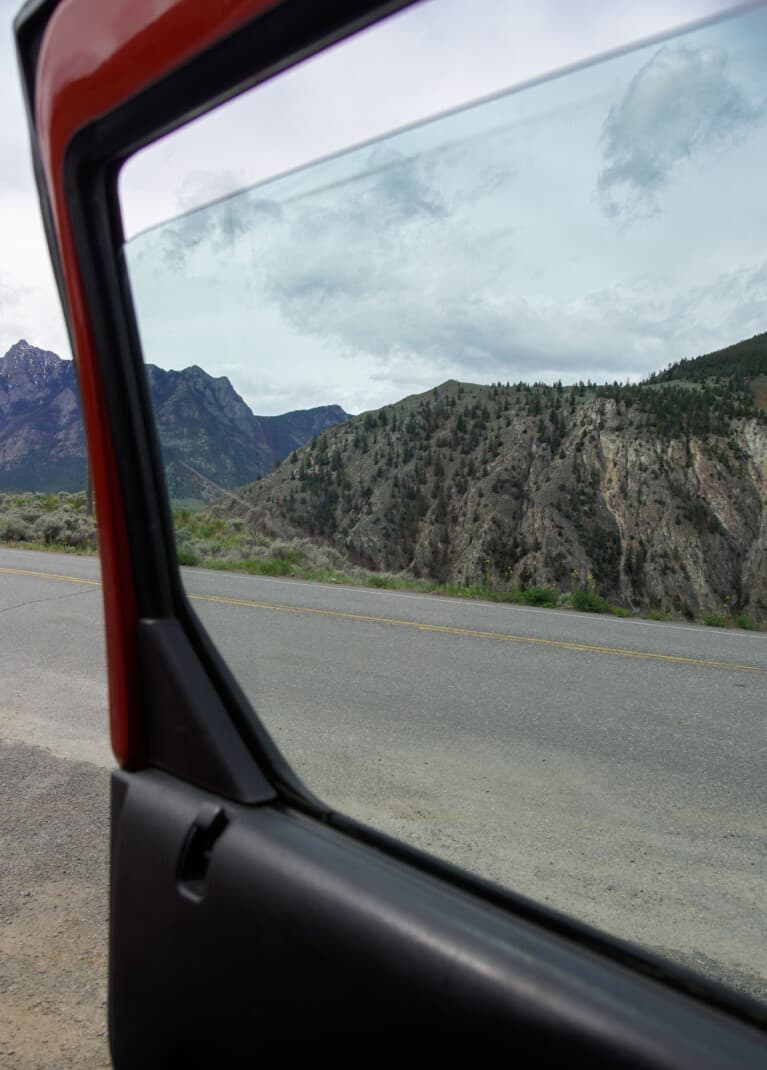 Marble Canyon Provincial Park
Between Lillooet and Kamloops plan to have a riverside campfire picnic at Marble Canyon. There is a day use area with many picnic tables and fire rings right on the river.
Across the river there is a waterfall cascading down the cliff to complete the scene. Paid camping is available here too, if you wish to stay.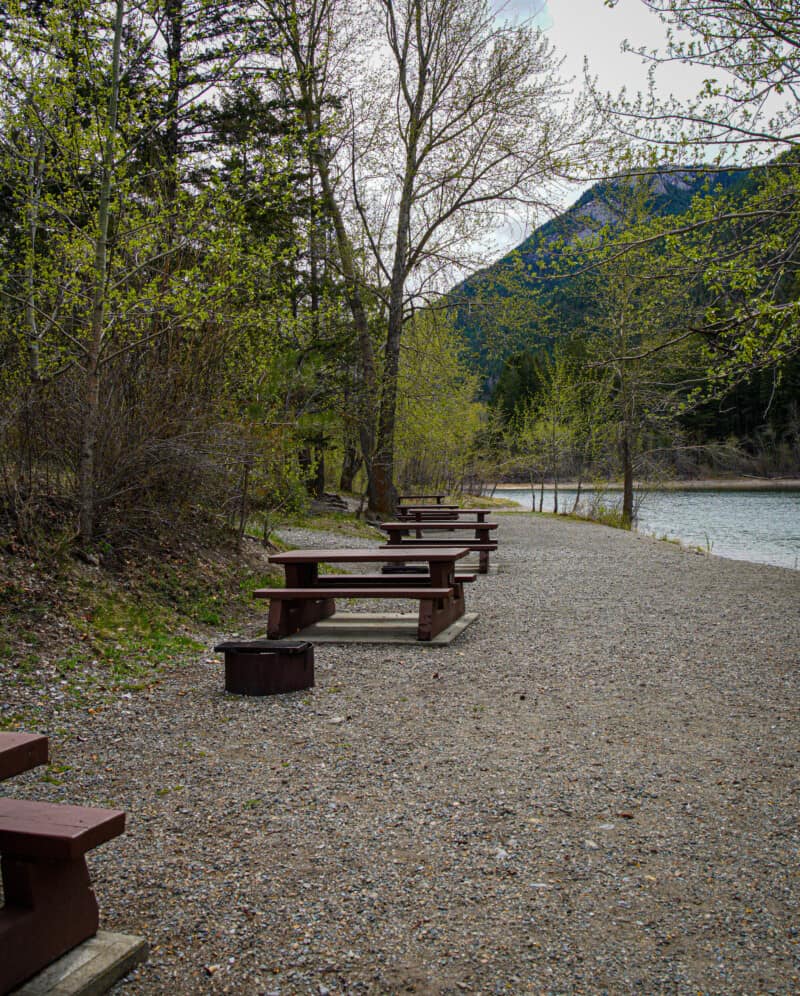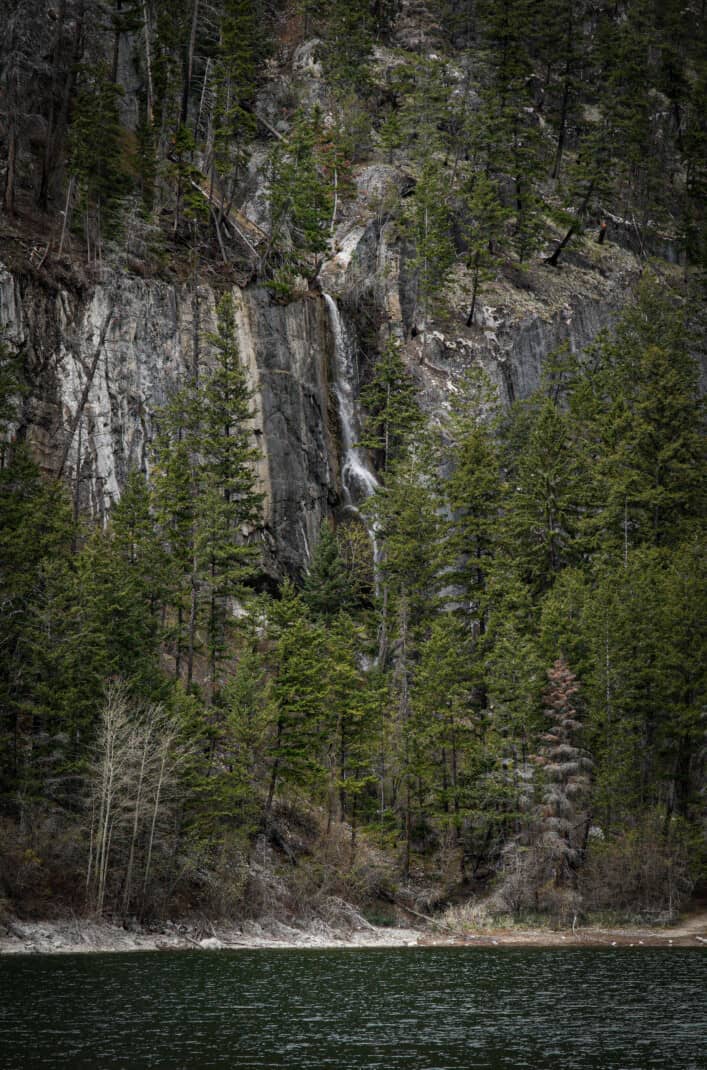 Juniper Beach Provincial Park
Another choice to stretch your legs as your dog friendly road trip through British Columbia takes you to Kamloops is Juniper Beach Provincial Park. Here you can explore the desert landscape and walk along the Thompson River. Or choose this as a place to setup camp on your way to Kamloops!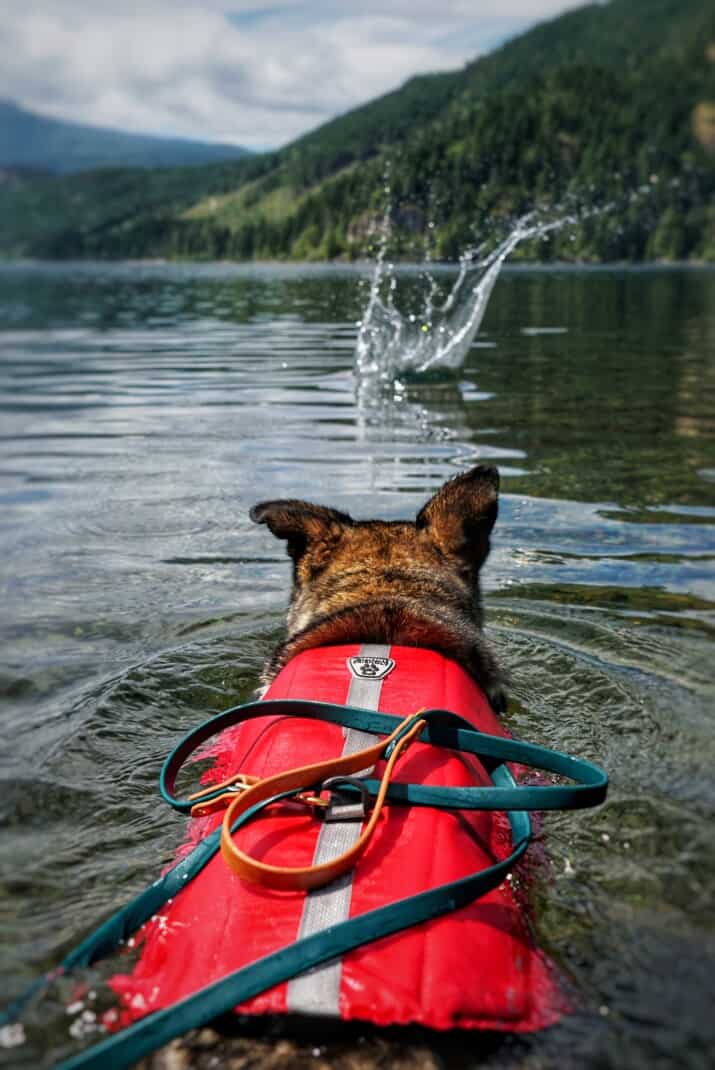 Kamloops Hoodoos
Just before you reach Kamloops from Lillooet, plan a stop to see the balancing rock and hoodoos. This is a favorite of mine, and hope it will be for you too!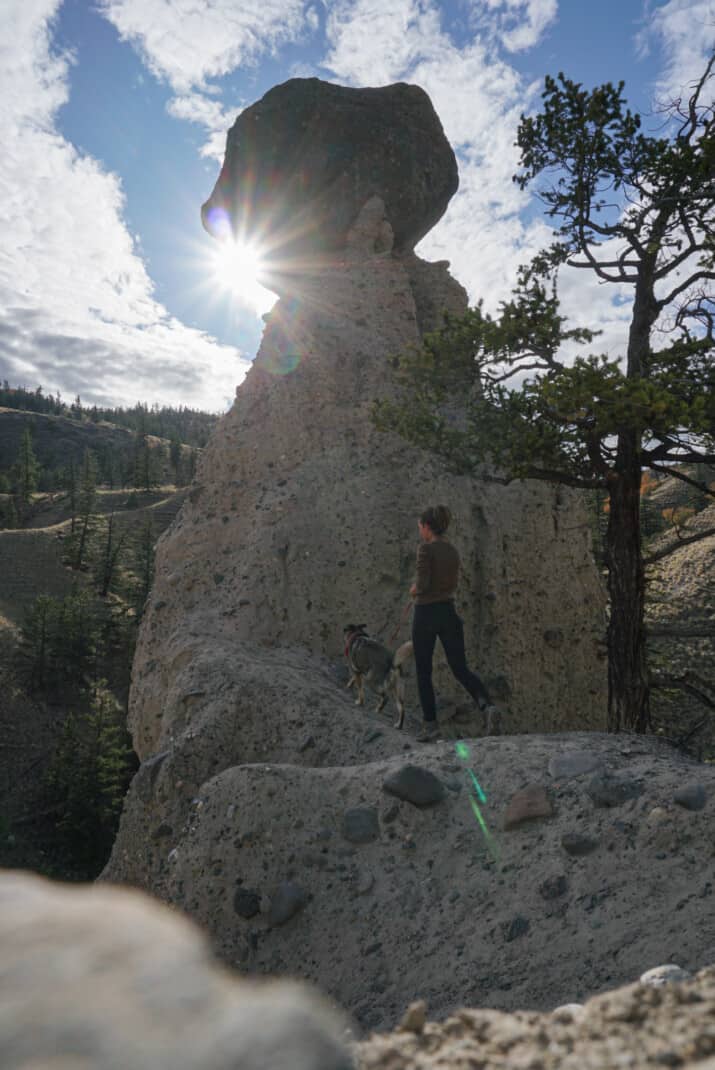 This is a fun little adventure with great lake views and a trail to unique geographical formations. To find it, type in "Kamloops Balancing Rock and Hoodoos" to your mapping app.
The parking area is very small and unsigned. Coming from Lillooet, it will be on your opposite side, and it is best to drive past it, find a safe place to turn around, and then access it from the same side of the road.
Once you're parked, head through the fence and down to the right to begin discovering all the unique formations. (And watch out for little cacti!)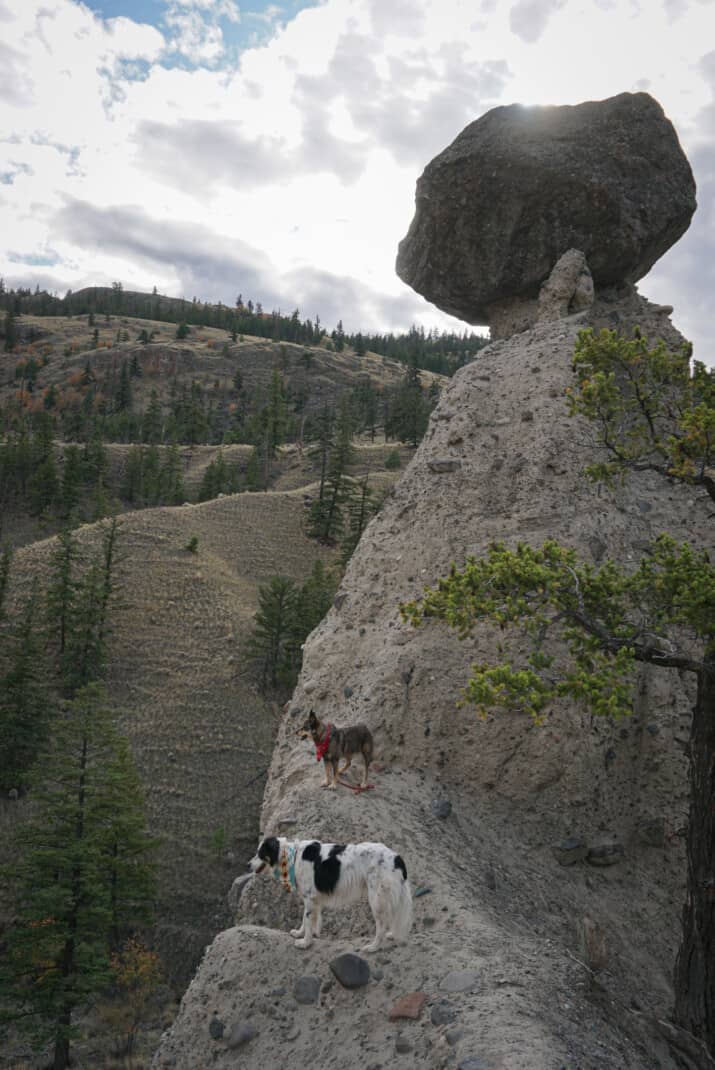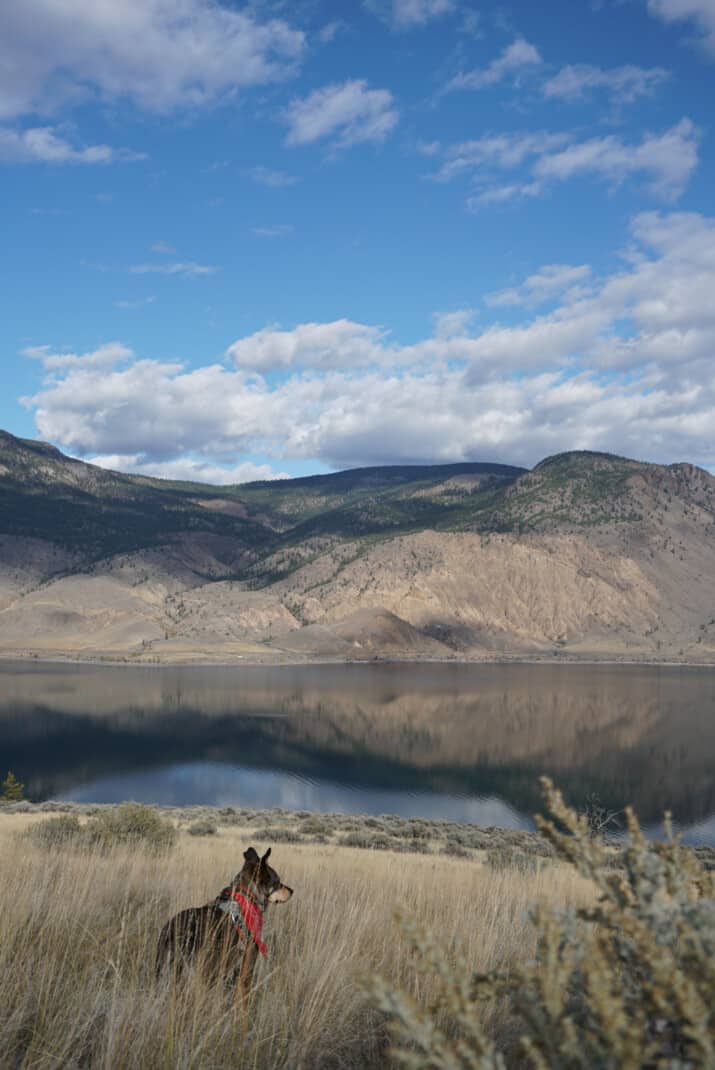 Second Stop: Kamloops, British Columbia
Kamloops is the largest city on our itinerary. Therefore, it's a great place to stock up on any essentials. (Although most essentials are available in all of the towns, if necessary).
Around Kamloops you and your dog can look forward to wonderful, warm sunset desert walks and finding hoodoos!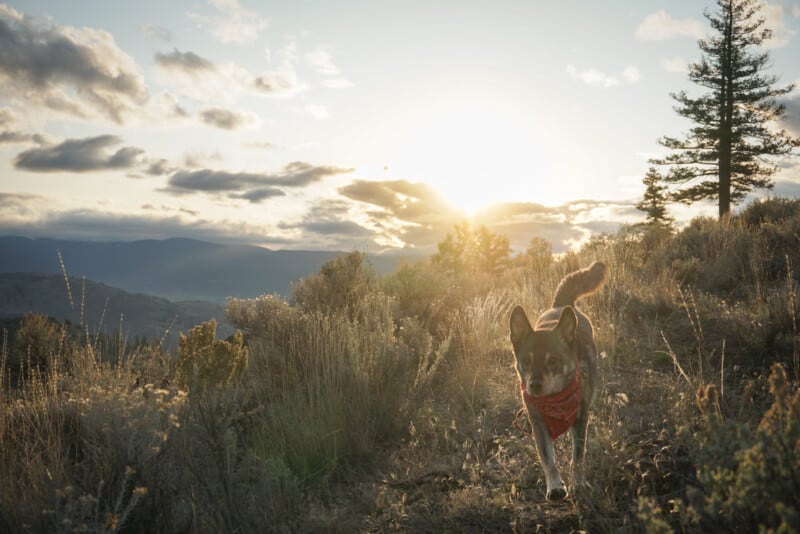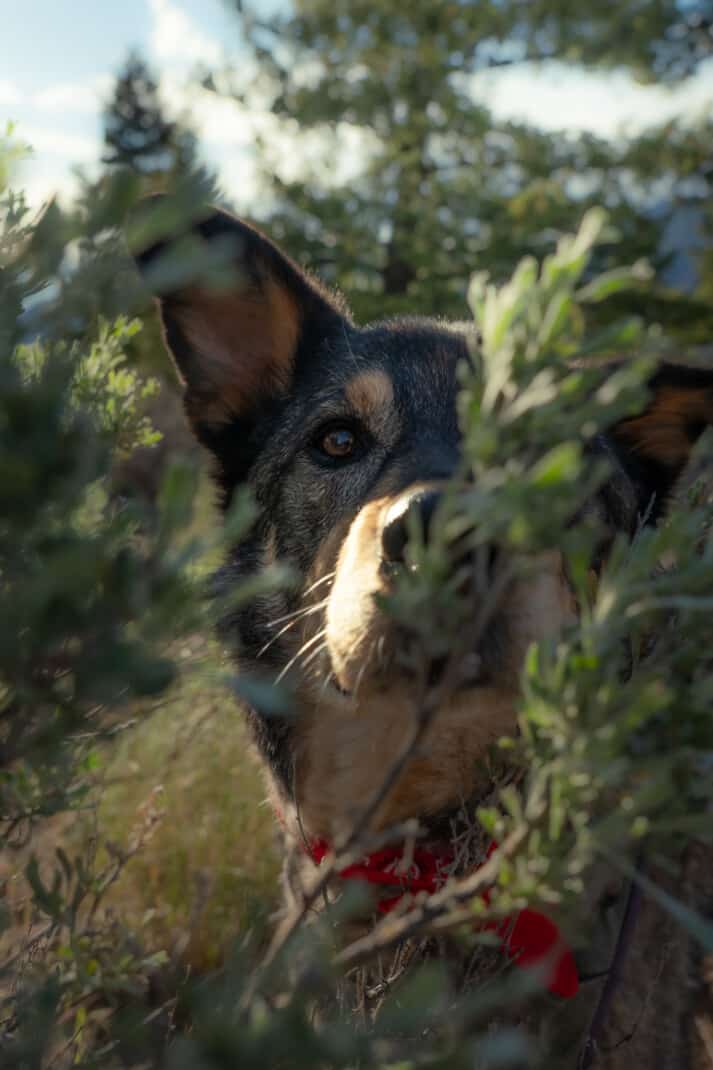 Dog Friendly Activities In Kamloops, British Columbia
Buse Hill
For a relatively short hike (just under 2km one way), Buse Hill delivers with an unexpetedly rewarding payoff. You might spend more time here than you'd expect!
Finding the pinnacle rock was fun, and taking in the valley views below made for a great hike with Riley. The soft colorful tones over the desert created an extra peaceful evening to enjoy.
Two notes of caution for this walk are possible cow encounters and the cliff edges once you reach the top.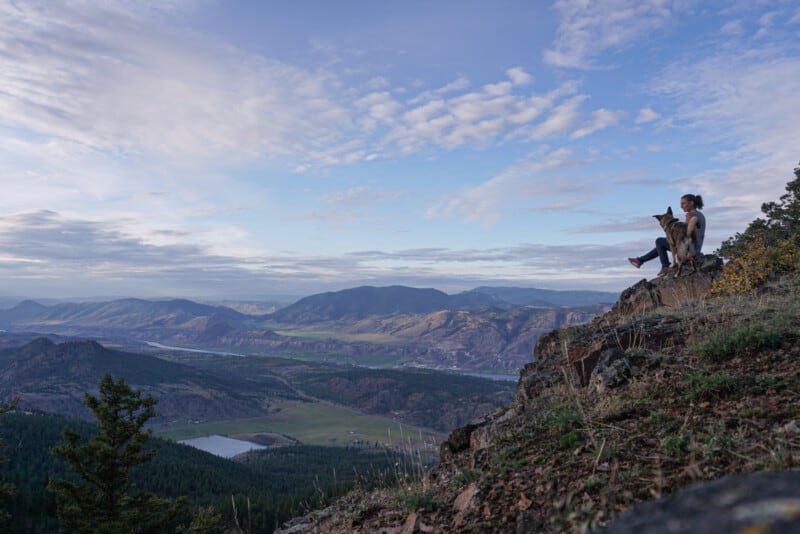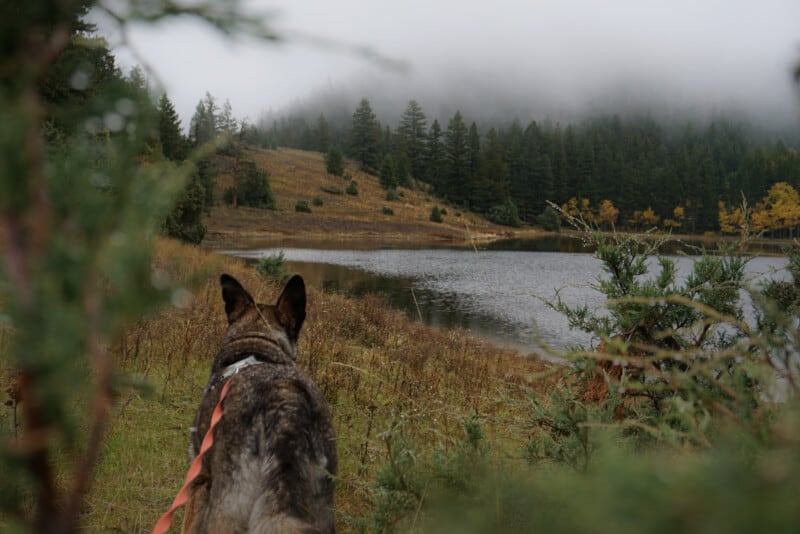 Buse Hill is located here. There is no sign for the trail, so watch for the sign asking vehicles to stay on the road. This is where the trail begins and where you'll want to park.
Look for the track heading up the grassy hill to the forest to begin your walk. The trail was worn well and was easy to follow.
Deep Lake Hike
Deep Lake is a 3.4km loop trail through desert grassland that comes to a small, open lake in the hills. It is considered moderately challenging and encounters with cows and other wildlife are possible.
Riley suggests making noise on any trail to let wildlife and animals know of your presence so they are not startled.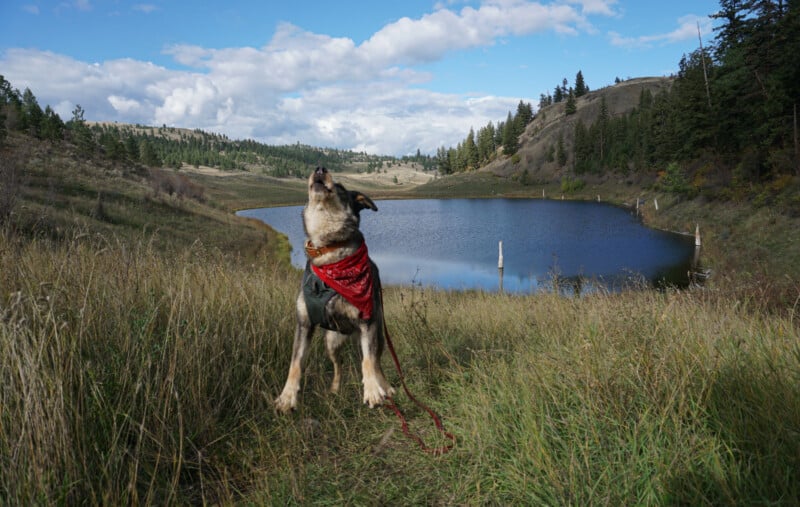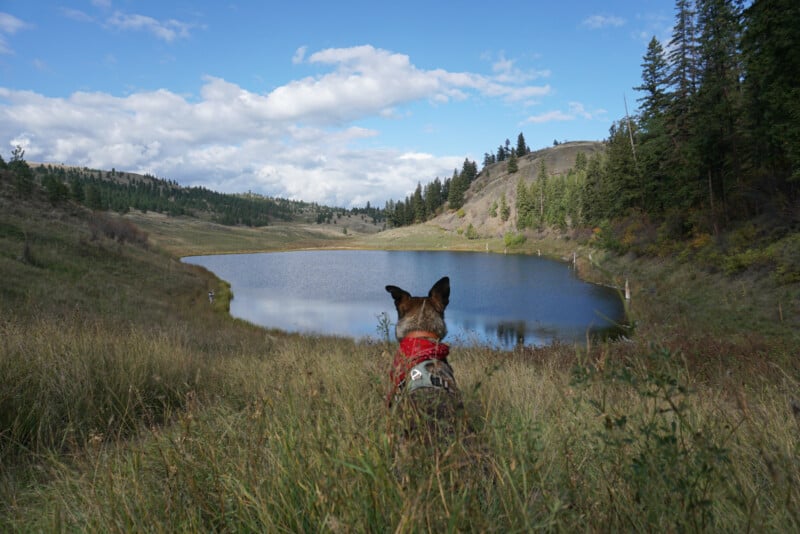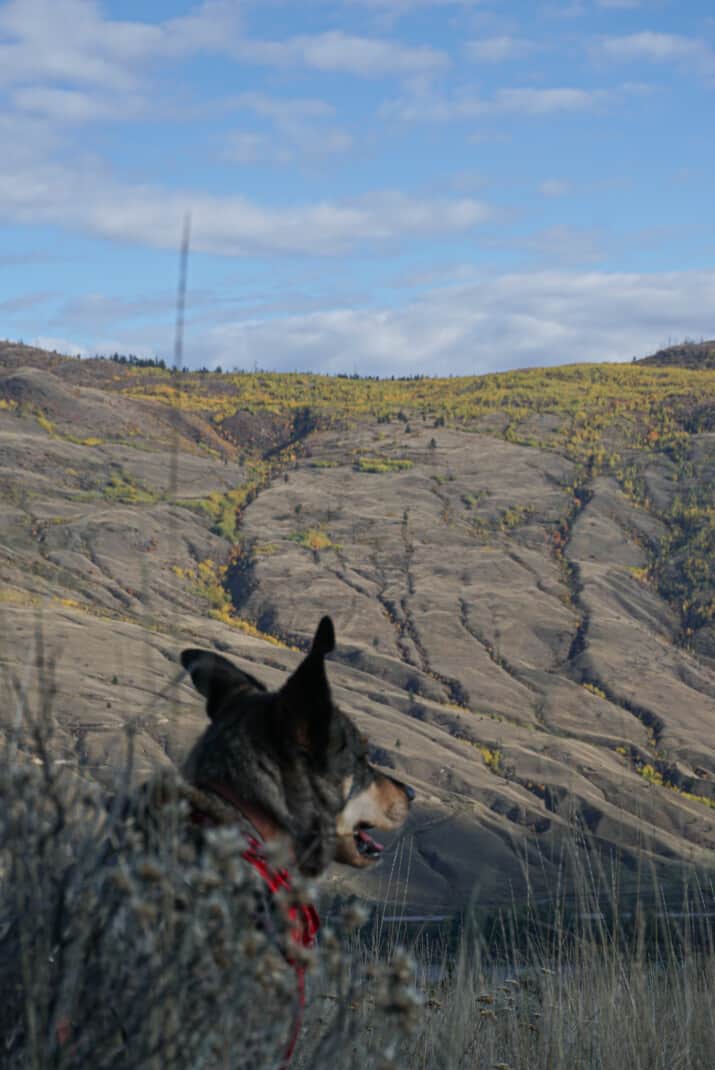 There are so many dog friendly parks and trails to check out around Kamloops. Here's a list of the ones we're hoping to visit on our next trip:
Kenna Cartwright Park – An off-leash park with over 40km of trails and many overlooks of Kamloops.
Peterson Creek Park – Similar to Kenna Cartwright Park with 10km of trails.
Dallas Barnhartvale Nature Park – Try the Pussy Willow or Hoodoo trails for best views of the silt bluffs created by a past glacial lake.
Mara Loop Trail – 4.3km loop trail through Kamloops' desert landscape. Not recommended for hot days, as it is fully exposed.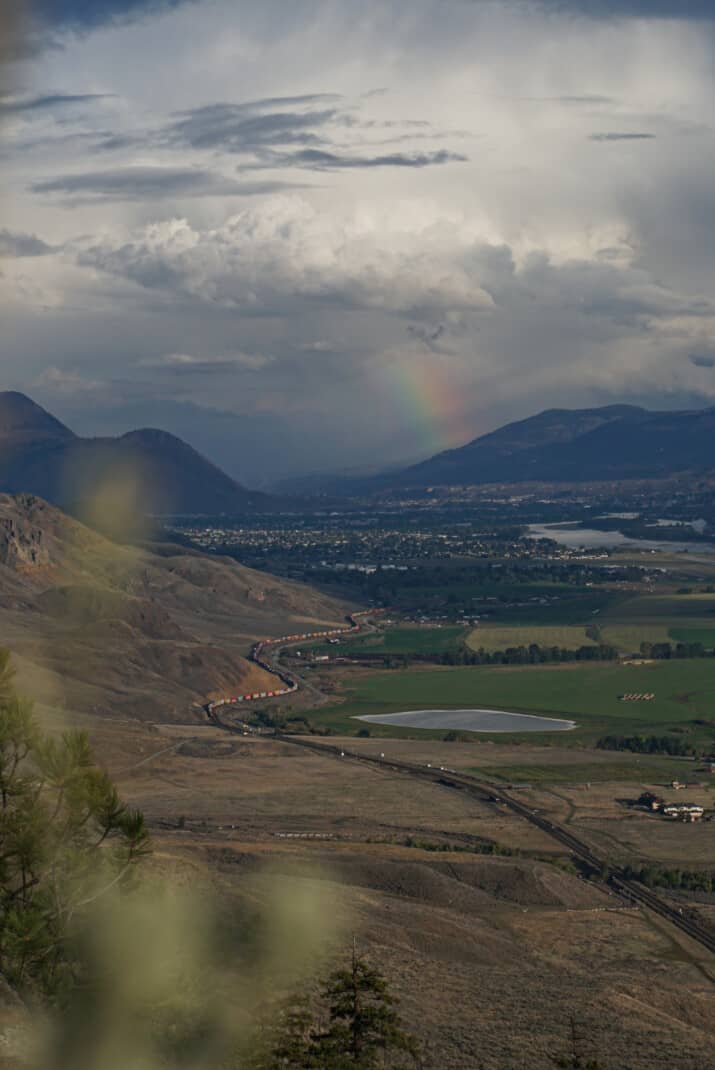 Dog Beaches In Kamloops
If you're in Kamloops on a hot day, there are two local dog beaches to check out. The largest is at Overlander Park. This huge, off-leash expanse of white sand along the river and never feels too crowded.
For an on-leash dog beach, head to Pioneer Park in downtown Kamloops. Here your pup can have a splash in the river, then enjoy the paved walking trails.
A third option is at Paul Lake Provincial Park, just under 30 minutes from Kamloops. It's not terribly common for provincial parks to have a designated dog beach., so this place is a gem! And you can camp here, too.
Where To Eat In Kamloops
Eat Clean Express – Healthy, guilt free indulgences. Great options for a takeaway lunch, just a few seats for street-side dining. Vegan friendly.
The Art We Are Cafe – Wraps, sandwiches, soups, salads with a strong focus on local sourcing and a street side patio. Vegan friendly.
Bright Eye Brewing – "Imaginative and always evolving kitchen menu." Dine on the dog friendly patio, or order drafts and food for pickup.
Where To Stay In Kamloops
Edith Lake – Picturesque desert lake campground with sites right on the water. $15.00 per night from April 2 – October 10.
Paul Lake Provincial Park – Large campground set on a scenic lake with opportunities for hiking, swimming and boating. Starting at $28 per night.
The Plaza Hotel – Lovely modern decor with budget pricing. As low as $90 per night. Pet fee $25/night max 2 pets, welcome gift for pets on arrival.
Driving From Kamloops To Clearwater
To break up your drive between Kamloops and Clearwater, make a stop at High Five Diner. This very eclectic and funky eatery specializes in comfort.
High Five Diner
You can have a meal on their pet patio, or pick up some take away for a picnic. Thompson River Provincial Park is just a 15-minute drive for a riverside lunch and walk. Or if you're heading east on Highway 24, the free Latremouille Lake Campground is also just 15 minutes away.
Thompson River Provincial Park
Thompson River Provincial Park is a great place to stretch your legs (and walk off lunch) between Kamloops and Clearwater. We enjoyed a peaceful walk along and above the river here before continuing on our way.
This place also makes a good base camp for exploring Clearwater. Campsites for all types of campers are available for $23/night.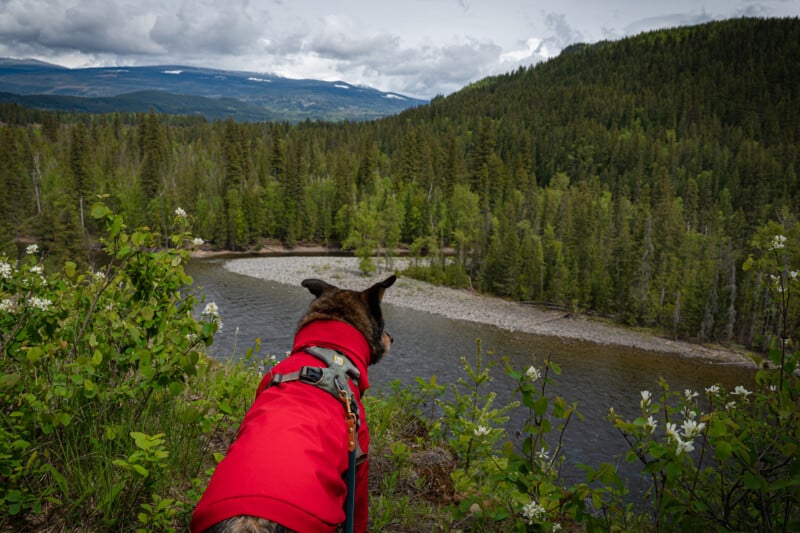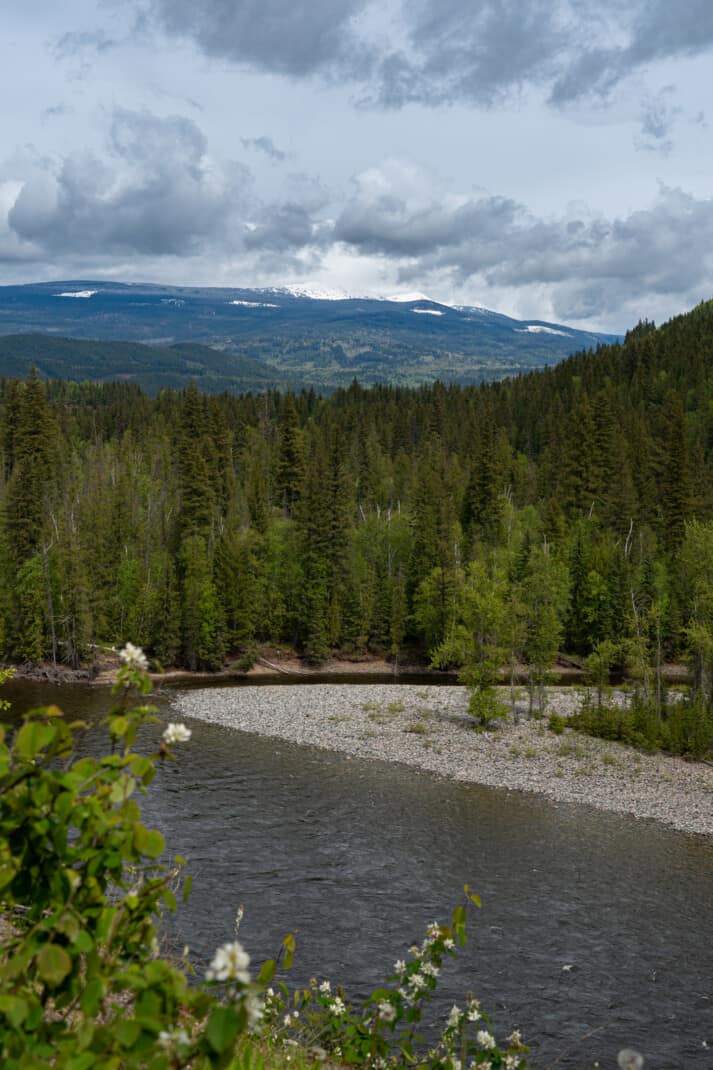 Third Stop: Clearwater, British Columbia
Clearwater is the third stop on our dog friendly road trip in British Columbia. This amazing wilderness playground is right in the heart of BC.
A gateway to Wells Gray Provincial Park, Clearwater gives you easy access to the park's many waterfalls. There are so many trails to explore in this park, you will be hiking to your heart's content for sure! Start at the visitor's center for trail advice and a park map to help plan your visit.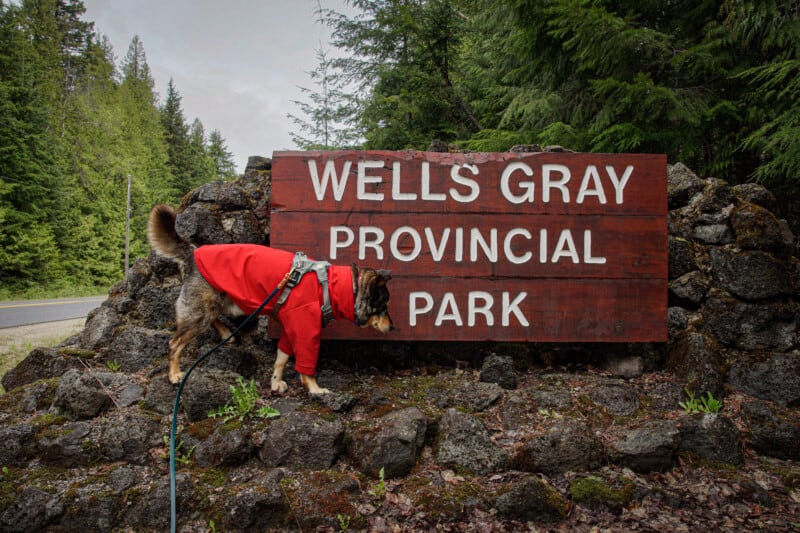 Dog Friendly Activities In Clearwater, British Columbia
Spahats Falls
Spahats Falls is the first waterfall you'll come to as you drive into the park. Here you and your dog can walk to the waterfall in a few minutes, or enjoy the 3km trail for a longer pet friendly hike.
Standing on the rim of this vast gorge watching the falls take their plunge is an impressive view.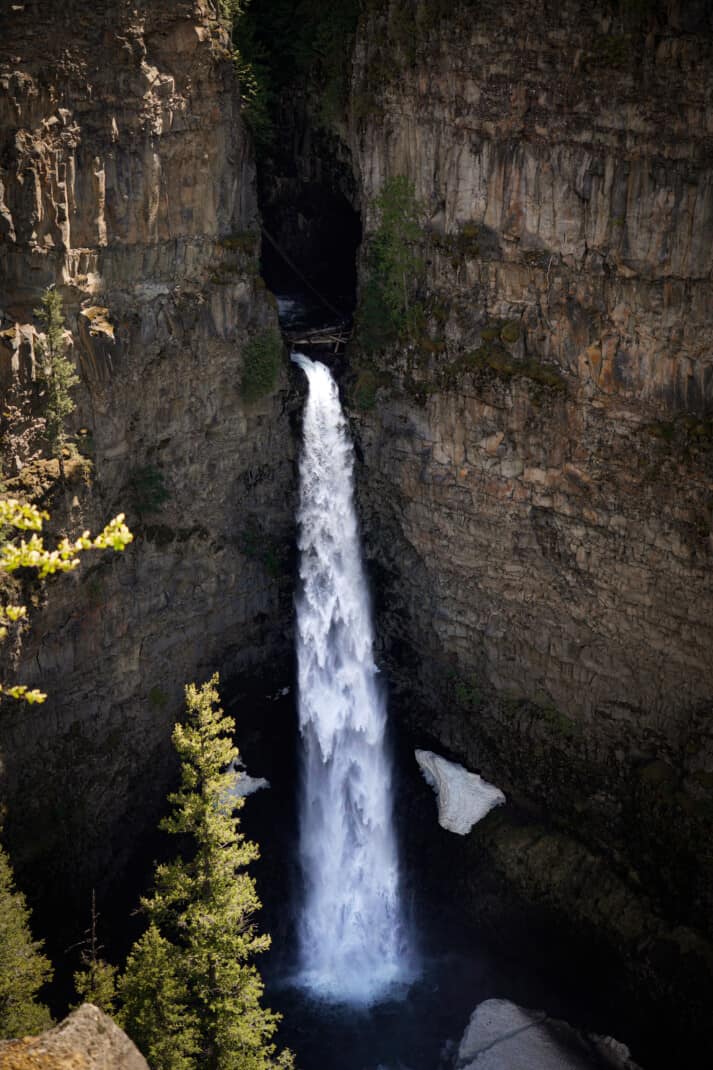 Helmcken Falls
Helmcken Falls is another sight to behold, and a popular reason to visit Wells Gray. Being the fourth highest waterfall in Canada, it sure has a presence.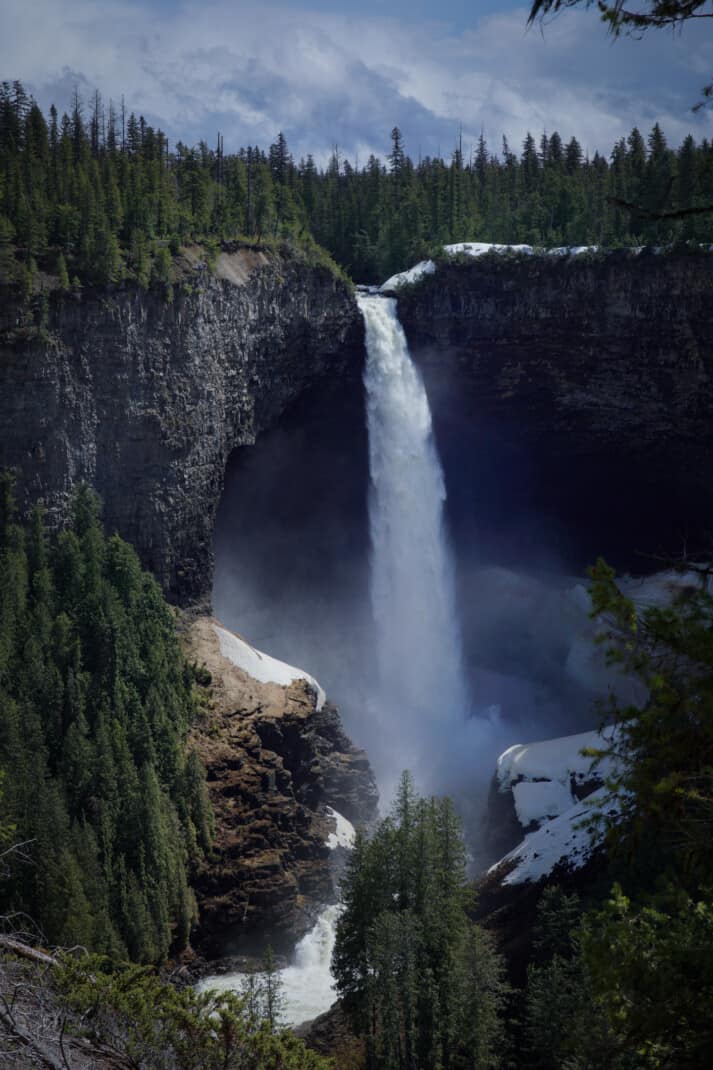 At Helmcken Falls you can also choose to view the falls after walking a few minutes or make a hike out of it. The Rim Trail is about 8km round trip on relatively flat ground and offers different perspectives on the falls.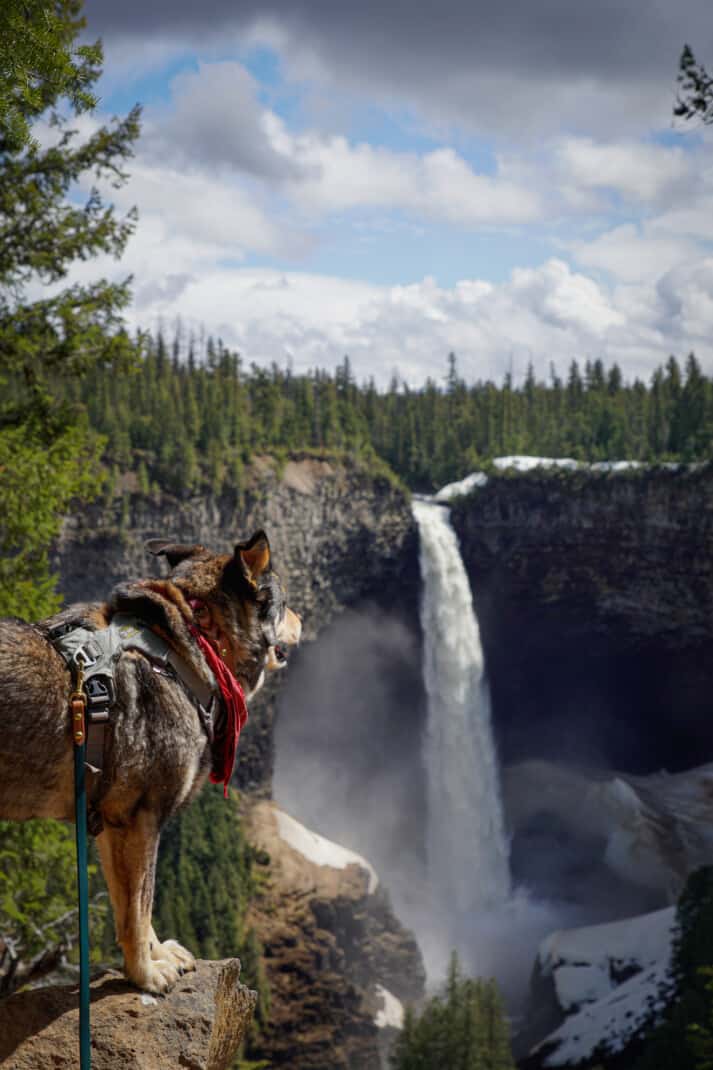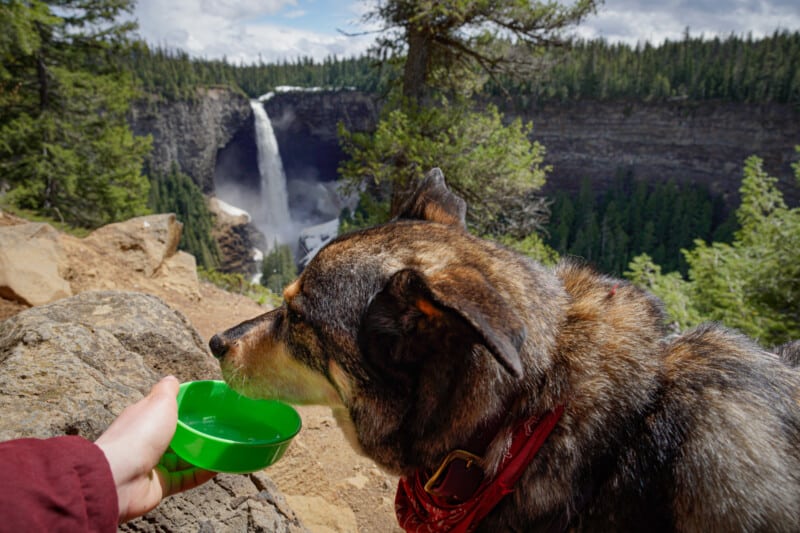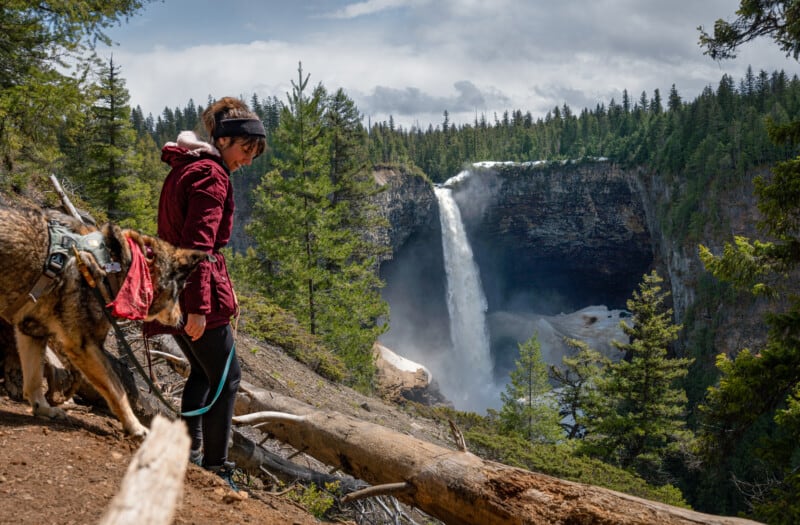 Dawson Falls
Dawson Falls is like a mini Niagara. It is wide and multi-tiered as it plunges down, making it quite different from the other tall, thin waterfalls in the park. Walking to the falls takes about 20 to 30 minutes on a mainly flat, well-worn trail.
Trophy Meadows
Trophy Meadows provides the opportunity for both back country hiking and camping. It's a great place to stay on your dog friendly road trip in British Columbia.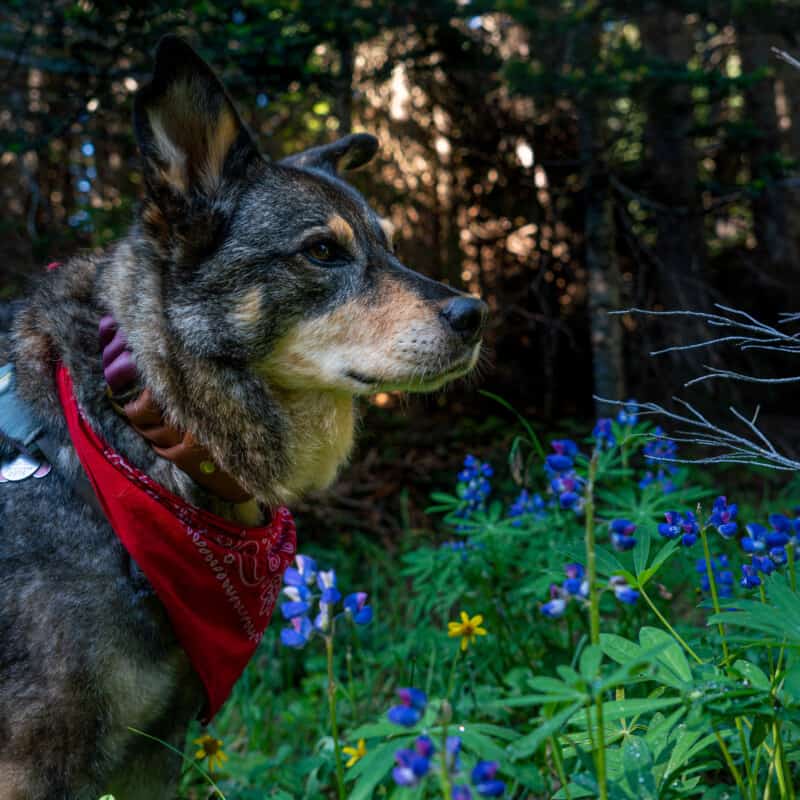 If you like to take pictures of your dog with flowers, then this trail is definitely for you! From around mid-May through mid-August the meadows are covered in a colorful range of wildflowers and tasty alpine blueberries.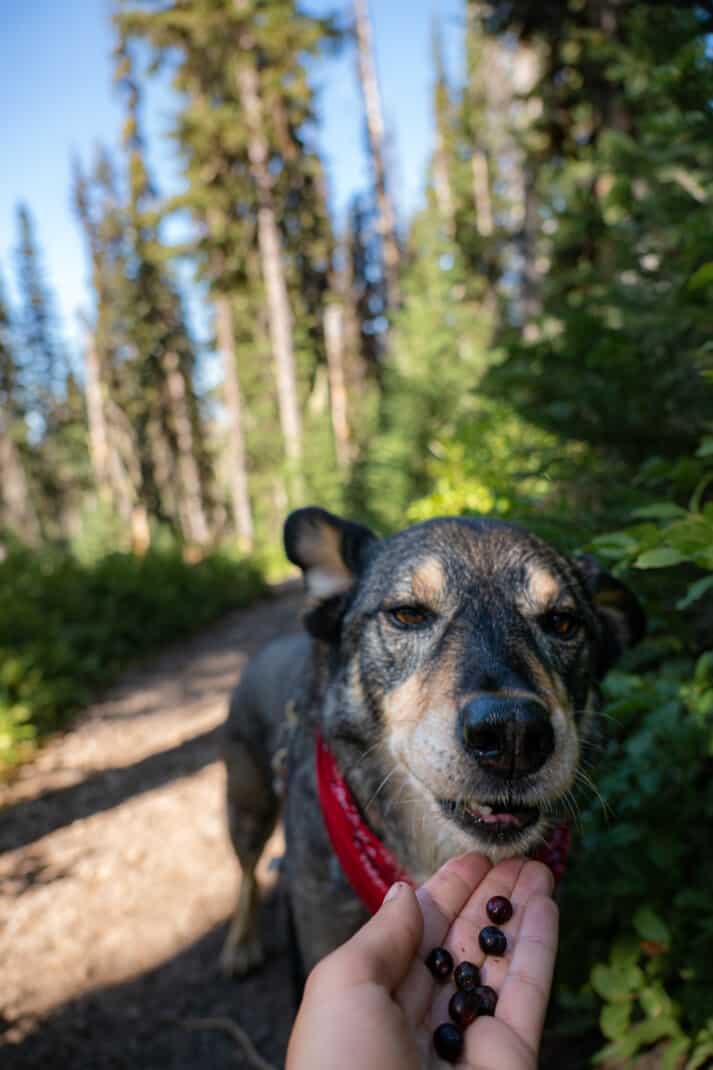 It takes about 45 minutes on a gentle ascent through old growth and alpine forest to reach the open meadow where the biggest flower fields are located. Flowers and blueberries can be seen along the way though! We were a bit late in August for the alpine field to be in full bloom, but there was plenty of evidence of how magnificent it was.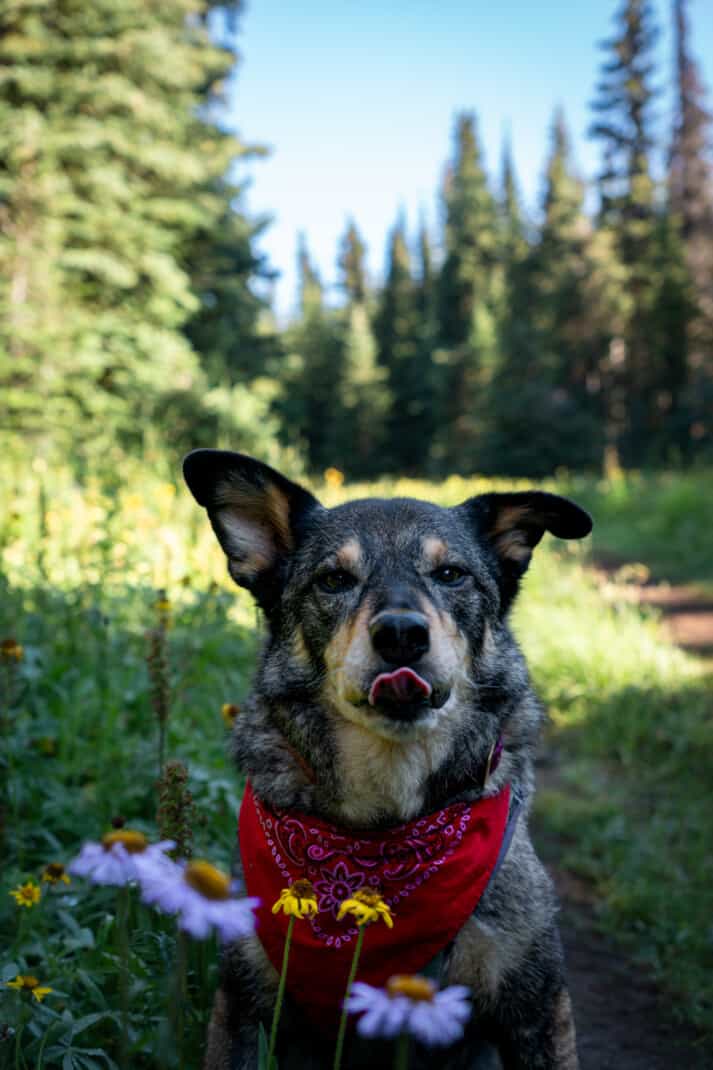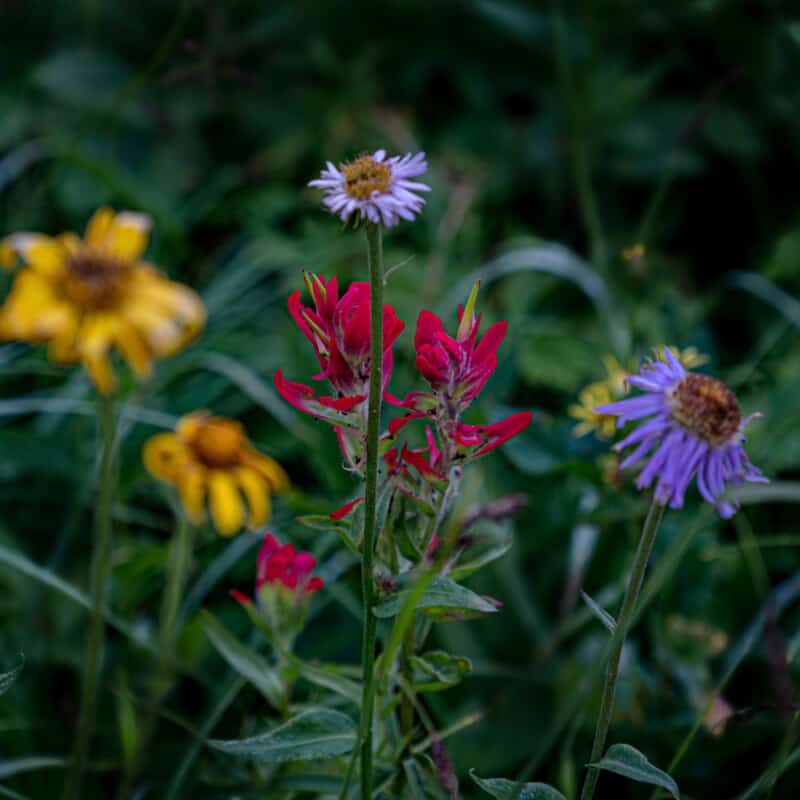 From the meadow, you can continue hiking 1.5 hours to Sheila Lake where back country camping is permitted. Sheila Lake is 6km round-trip from the parking lot, so it's also a good choice for a day trip.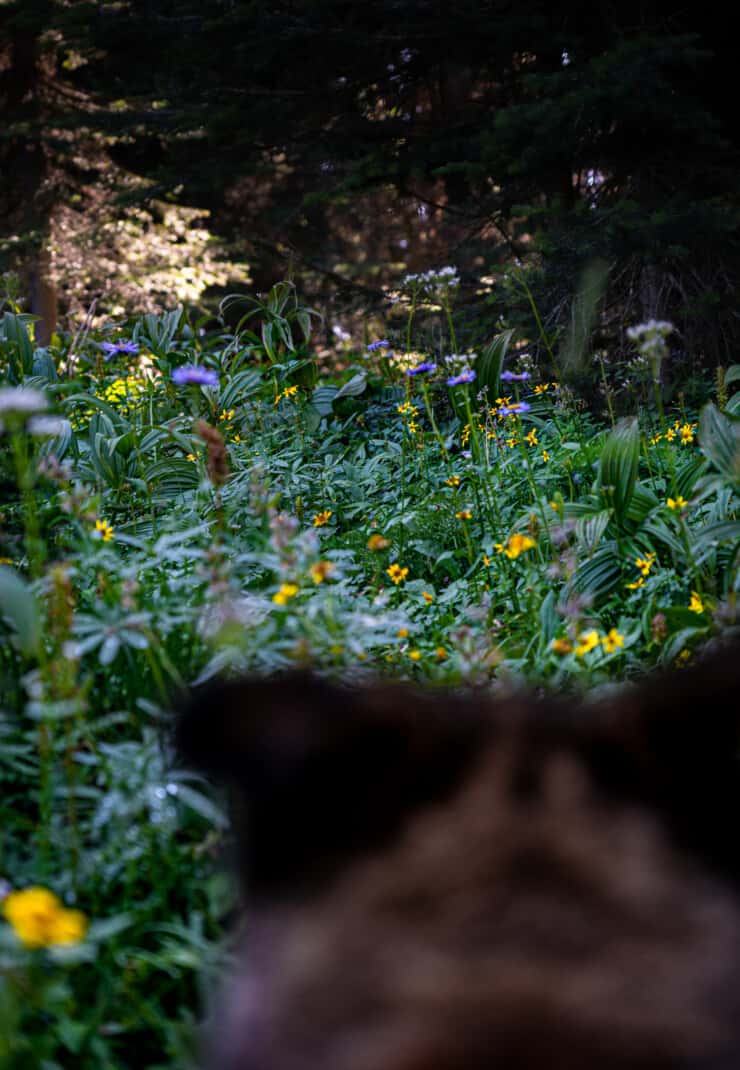 Silvertip Falls
Silvertip Falls isn't far from Trophy Meadows. It's a 2.1km out-and-back on a moderately challenging trail. Dropping from 550 feet, it splits into many beautiful tails as it comes down. And it's the tallest waterfall in the park! Since it's a longer walk from the main road, it's also more likely to be a quieter waterfall hike than the others.
Where To Stay In Clearwater
Raft Cliffs Rec Site – $14 donation. A network of biking/hiking trails begin at the campground. Awesome views within walking distance.
Thompson River Provincial Park – $23/night
Birch Island Campground – Non-serviced sites starting at $20. First dog free, after that +$2/night.
Jasper Way Inn – Hotel, cabin, tent, and RV sites all available on Dutch Lake. Hotel starting at $107 + $20/night per pet.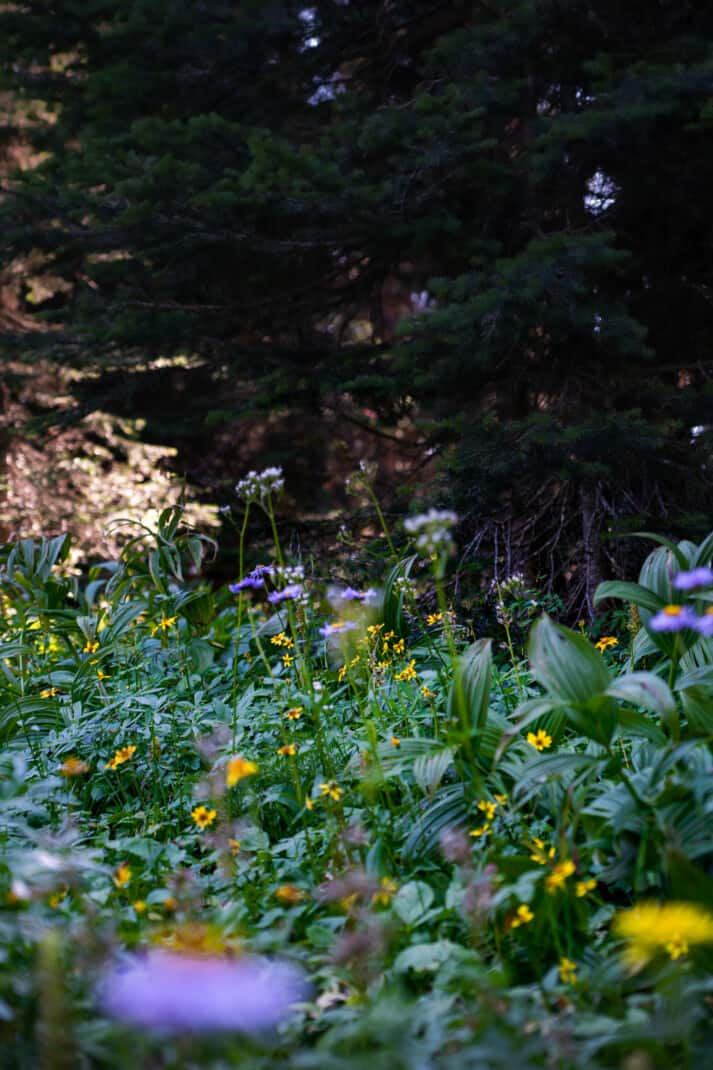 Where To Eat In Clearwater
Wild Flour Bakery – Excellent breakfast stop! Everything crafted from scratch in-house. A few sidewalk tables available.
Strawberry Moose – Snackery consisting of bakery items and sandwiches with cute outdoor setting.
Gateway Grill – Brunch and dinner menu. Bubble tea bar. Dog friendly patio.
Clearwater Farmer's Market – Every Saturday from May – October. 9am-12pm.
Driving From Clearwater To 100 Mile House
Latremouille Lake Recreation Site
The free, first-com, first-serve lakeside campground at Latremouille Lake Recreation Site is just minutes from your route on this dog friendly road trip in British Columbia. There are nine sites, and many have direct access to the lake.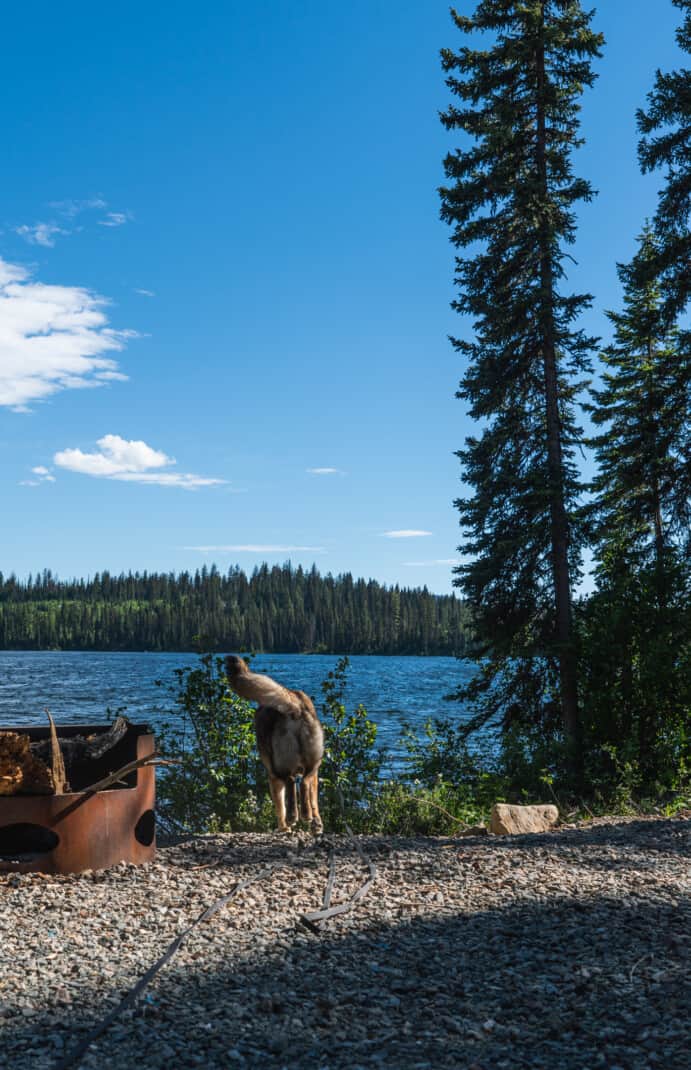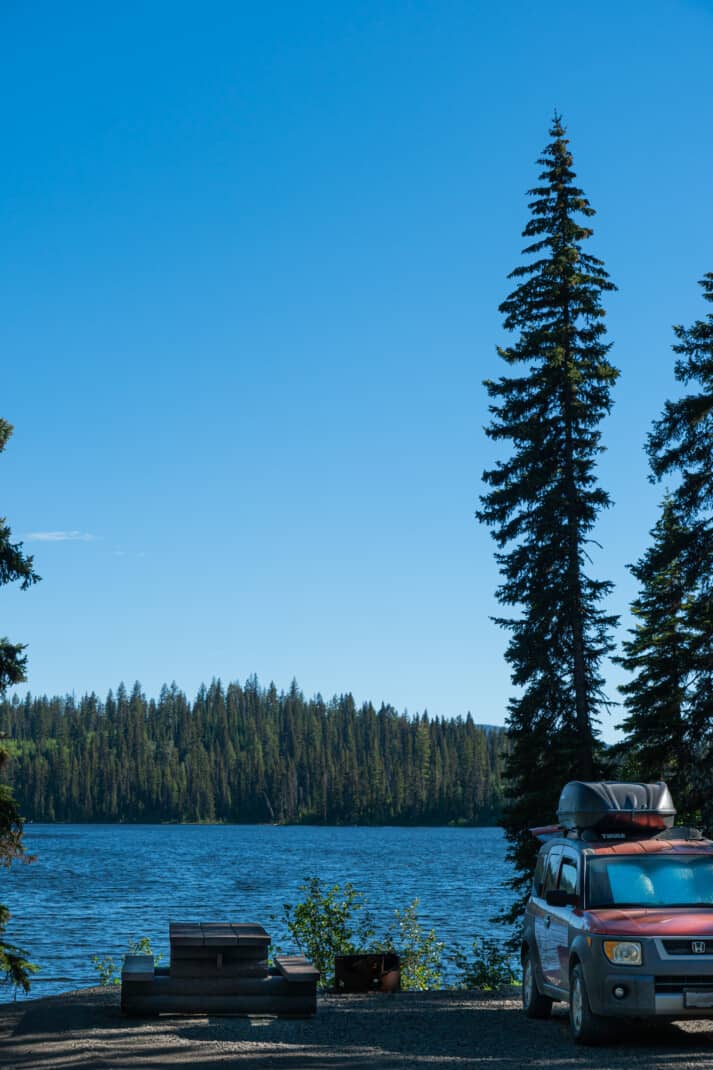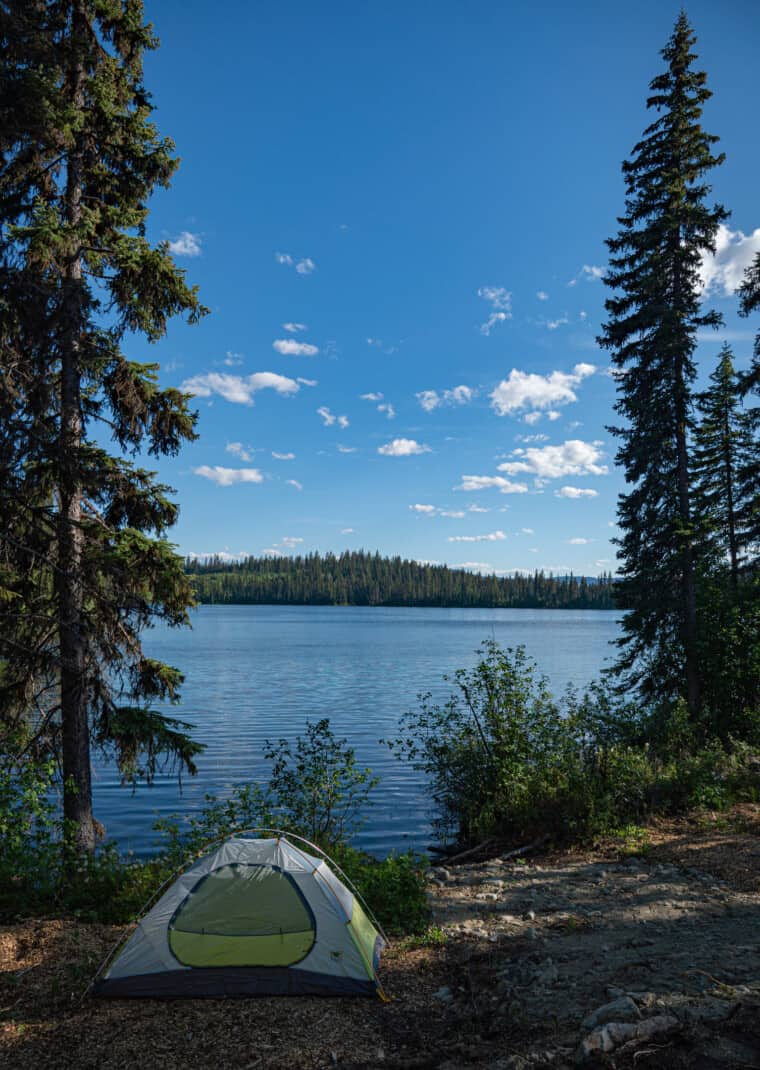 Goose Lake Recreation Site
Another free camping option near Latremouille is Goose Lake. This campground is also on a lakeshore, and there is a small carry-in boat launch ramp available.
Goose Lake is probably better for paddling than swimming, since it's quite cold. But most dogs don't mind the water temperature and could enjoy a swim here.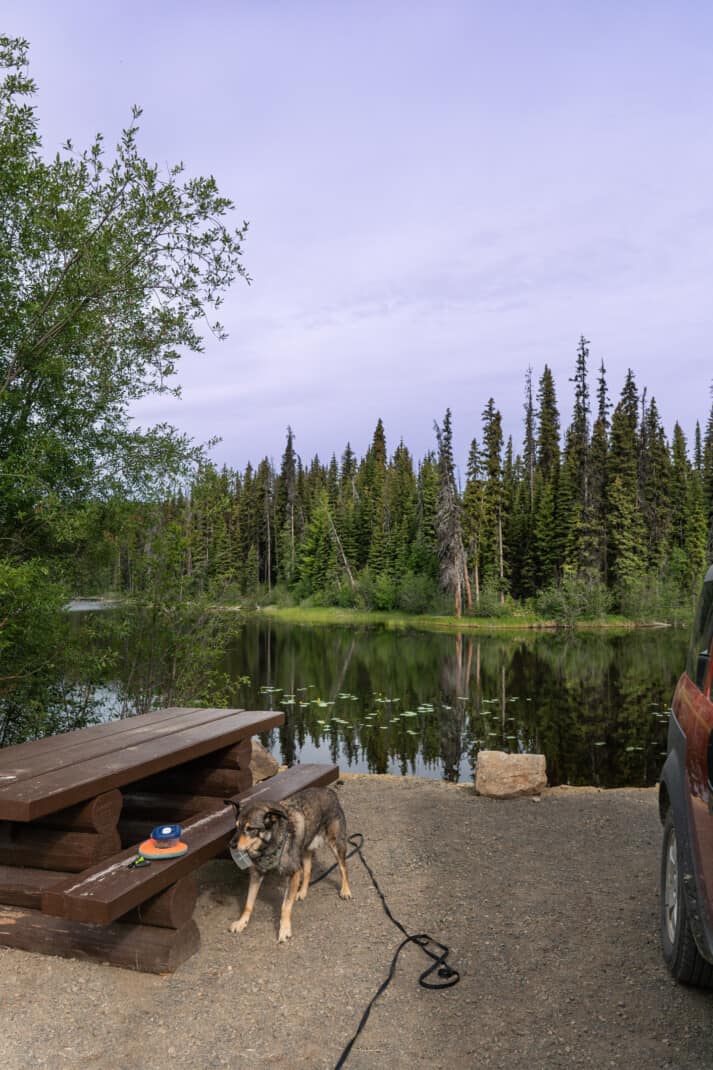 Bridge Lake Provincial Park Campground
Bridge Lake has a small forested campground for campers and tents. There are even a few walk-in sites with easy access to Bridge Lake. Complete with a dog friendly walking trail and lake access, we stopped at this park just to take a break from driving.
But, it's also a good place to spend a night or two. The campsites are $18 per night.
Bridge Lake Ice Caves
With a few kilometers of dog friendly trails to explore, Bridge Lake Ice Caves is an interesting stop on your dog friendly road trip in British Columbia. Trails lead along a lake and around some intriguing rock formations. The ice remains into June, but was gone for our visit during the peak of summer.
Loon Bay Resort
If staying in a cabin sounds appealing, then Loon Bay Resort looks like an amazing option! They have lake front cabins with fire pits starting at $105/night.
And for the campers, sites are $33 for no hook ups, and $46 for full hook ups.
They also have all sorts of watercraft rentals available for you and your pup to get out on the water!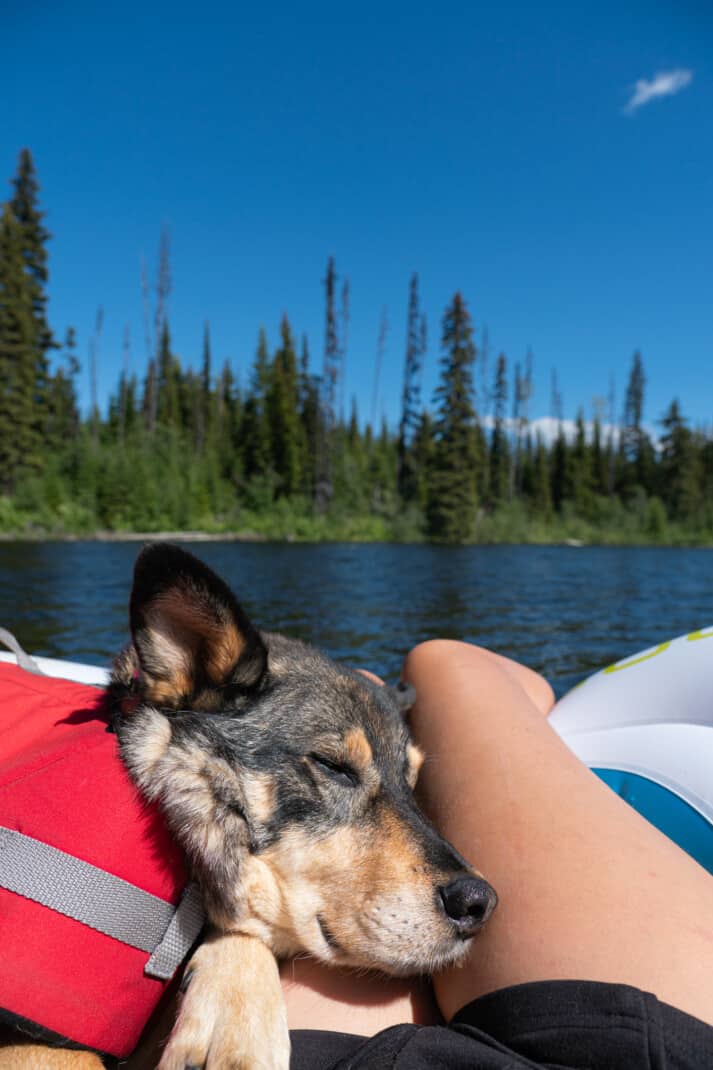 Fourth Stop: 100 Mile House, British Columbia
The final stop on this dog friendly road trip in British Columbia is 100 Mile House. In and around this town, you and your dog will have a full range of activities to choose from! There are more waterfalls, a fire lookout, a historical outdoor museum, and lakes to camp, swim, and paddle.
Dog Friendly Activities In 100 Mile House, British Columbia
Centennial Park/Bridge Creek Falls
Bridge Creek Falls is a lush riverside walk and only 5-10 minutes from downtown 100 Mile House. It felt like a little city oasis with all the plant life.
The rushing water drowns out manmade sounds making for a peaceful stroll. And there are additional trails around the park and past the waterfall to extend your walk if you choose!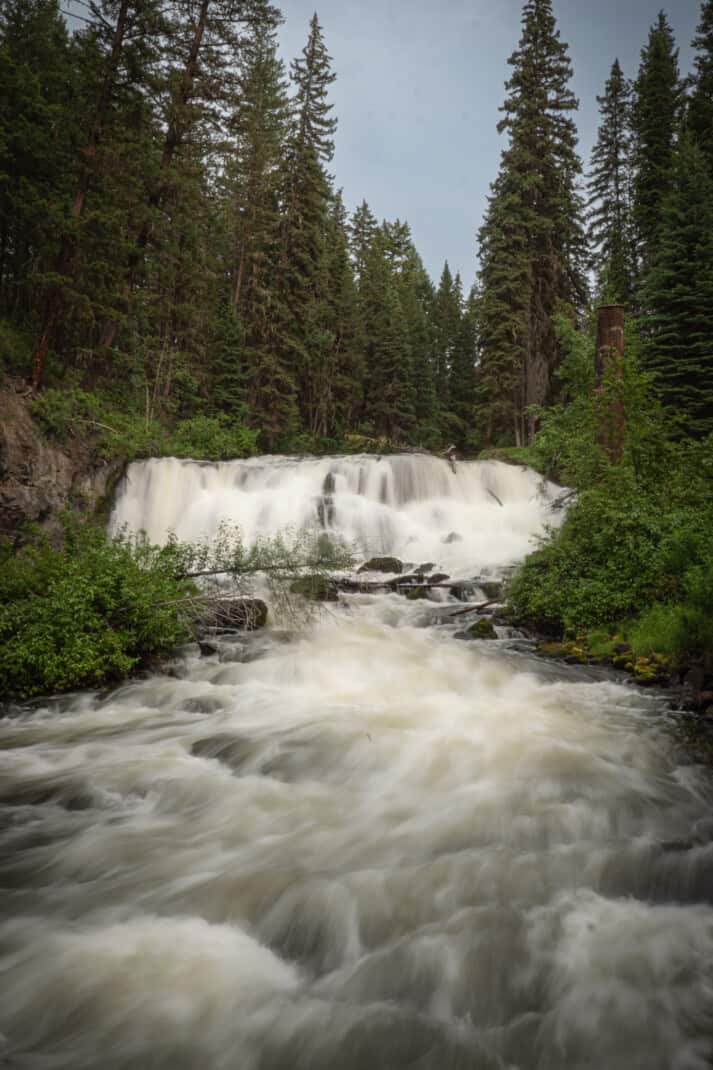 Sepa Lake/108 Mile Heritage Site
Dogs are welcome to join you for a walk back in time at the outdoor museum at 108 Mile Heritage Site. They just cannot go inside any of the buildings.
There are buildings here dating back to the 1860s, during the time of the Cariboo gold rush.
After touring the grounds, take a stroll around 108 Mile and Sepa Lake. The combined lake trails make a 10km loop and are known for excellent bird sighting opportunities — including pelicans!
For a shorter walk, the Sepa Lake loop is 3km or the 108 Mile loop is 7km.
Begbie Lookout Recreation Site
Fifteen minutes south of 100 Mile House, you can hike to a decommissioned fire lookout tower. From the parking lot any trail you choose will take you there. There are a couple of single-track trails that wind up and around the small mountain to the lookout. Or take the wide gravel service road.
As you'd expect, it's a bit of a climb. But the top is reachable in 10-15 minutes. From there you can explore the top of the mountain and then climb the tower for the best views!
On a clear day, there's a 9-million hectares view to admire! A picnic table is available up at the top, making this a nice place to take a break from the car.
If you're a van lifer or boon-docker, you're also welcome to spend the night in the parking area. We spent an uninterrupted night here with one other van life camper. There are two picnic tables and two pit toilets accessible from the parking lot.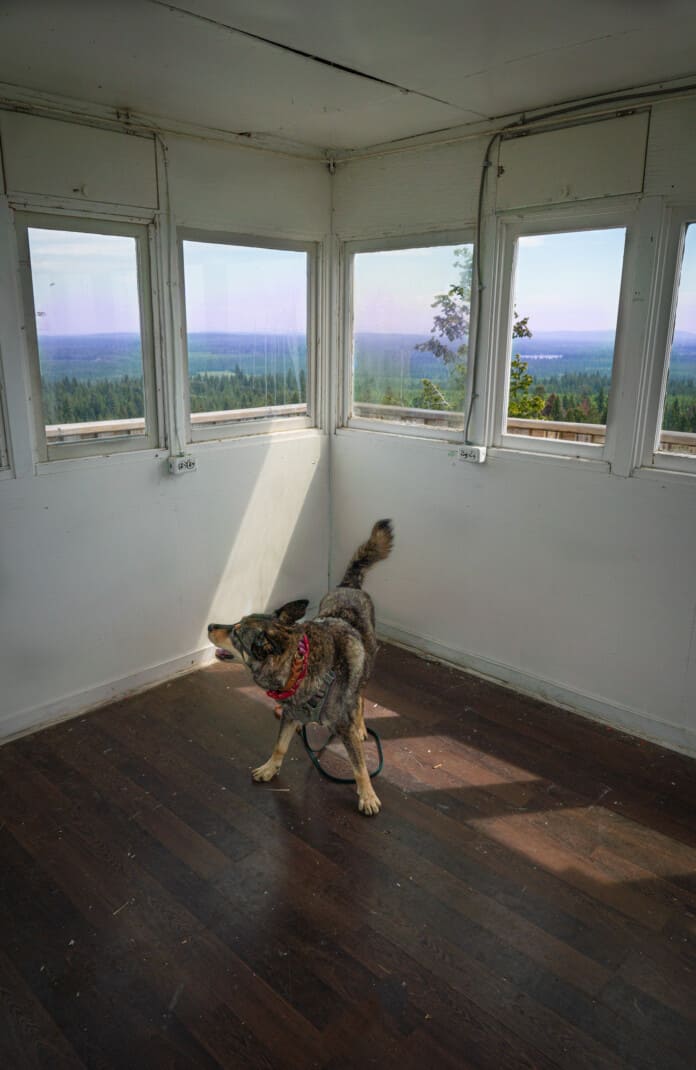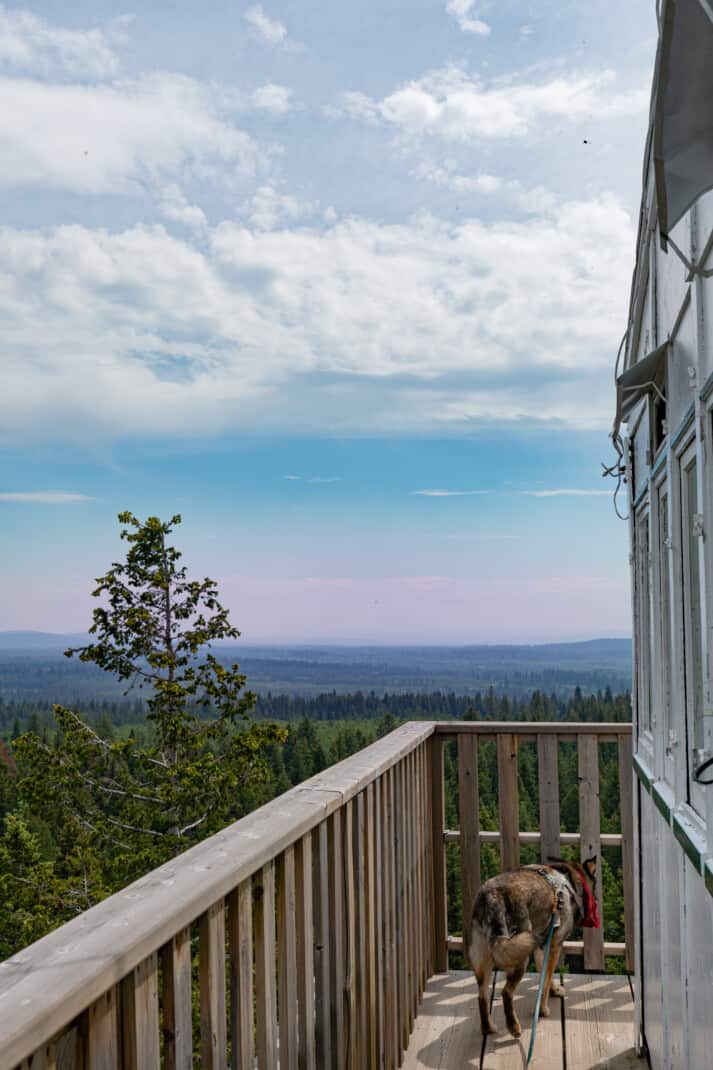 Howard Lake Recreation Site
Howard Lake offers free lakeside camping, where you can swim, boat and fish. However, fitting a big rig in this small campground could be tricky.
Canim and Mahood Falls & Mahood Lake In Wells Gray Provincial Park
At just over 2km round-trip, the walk to Canim Falls is sure to leave you with a smile. Venture a bit further along and you'll be right on top of the falls for an incredible feeling and sight!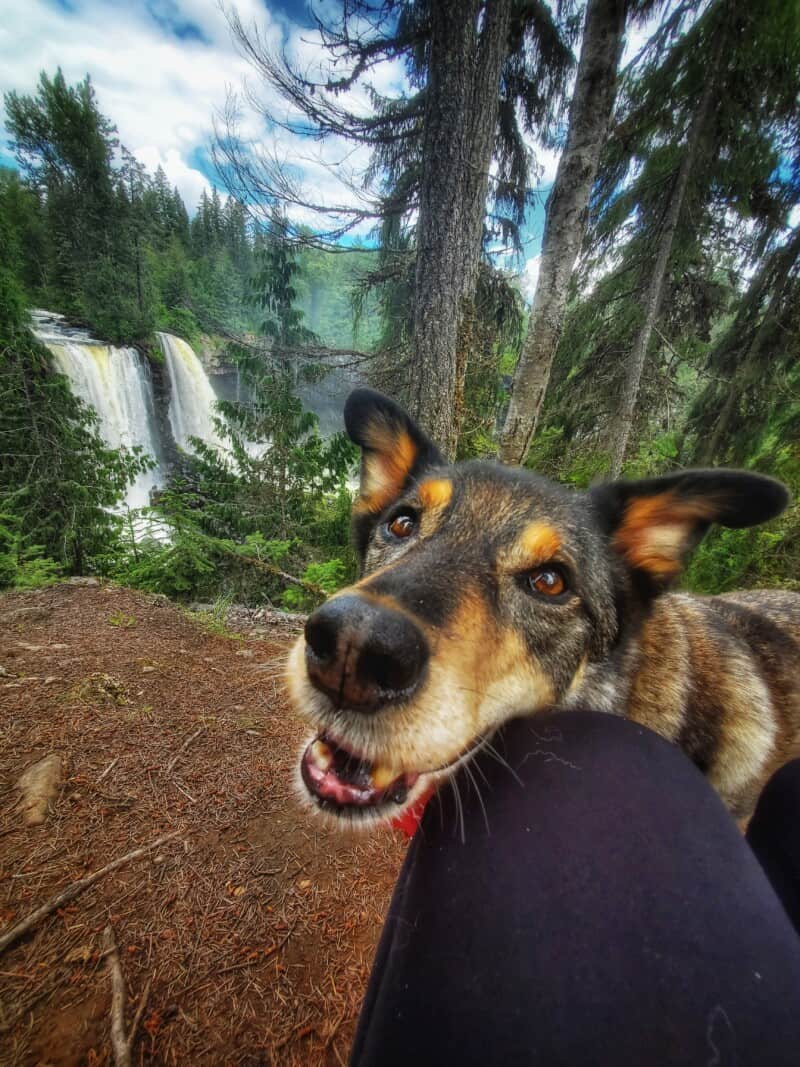 After your hike, Mahood Lake Campground is just down the road. There you can set up camp, enjoy the dog friendly beach, or take another waterfall hike to Deception Falls (2km round-trip).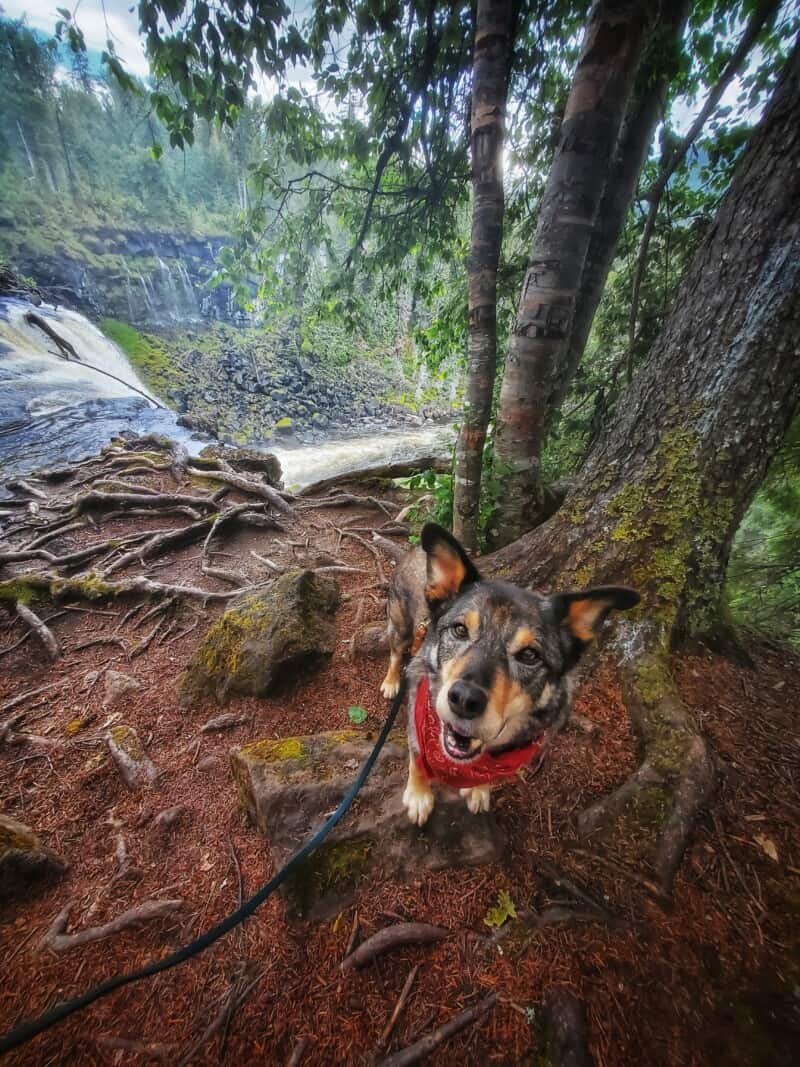 Where To Eat In 100 Mile House
Rise and Grind Coffee House – Cute! Dog friendly patio.
Cask and Cleaver – Brewery and restaurant with dog friendly patio.
Where To Stay 100 Mile House
Green Lake Provincial Park – Campgrounds include Arrowhead, Sunset View and Emerald Bay. Sites starting at $28.
99 Mile Hotel – Near downtown 100 Mile House. Family-run hotel, very pet friendly. Includes area for dogs to run. Rates start at $80.
Spruce Hill Resort Spa – Cabins starting at $129 + $15 per dog/per night. Tent and RV camping available as well. Cabins and campers both have access to a pool and a gym.
Cariboo Bonanza Resort – Cabins and campground on beautiful Horse Lake. Open May through September. Cabins starting at $82 +$5 per night for pets, maximum charge $50. Campground starting at $30.
Driving From 100 Mile House To Vancouver
The last leg of the trip takes you back to Vancouver and closes the loop on your dog friendly road trip in British Columbia.
Chasm Ecological Reserve
Just a few minutes from the highway and the finale of the trip is a vast lava layered canyon. This is the description from BC Parks had us heading there in a flash.
"A spectacular display of colour illustrates the park's rich geology in the Chasm Creek Valley and part of the Bonaparte River Valley. Successive lava flows form layers in varying tones of red, brown, yellow and purple. These have been revealed in the steep lava-layered canyon walls through erosion over the past 10 million years."

From BC Parks website.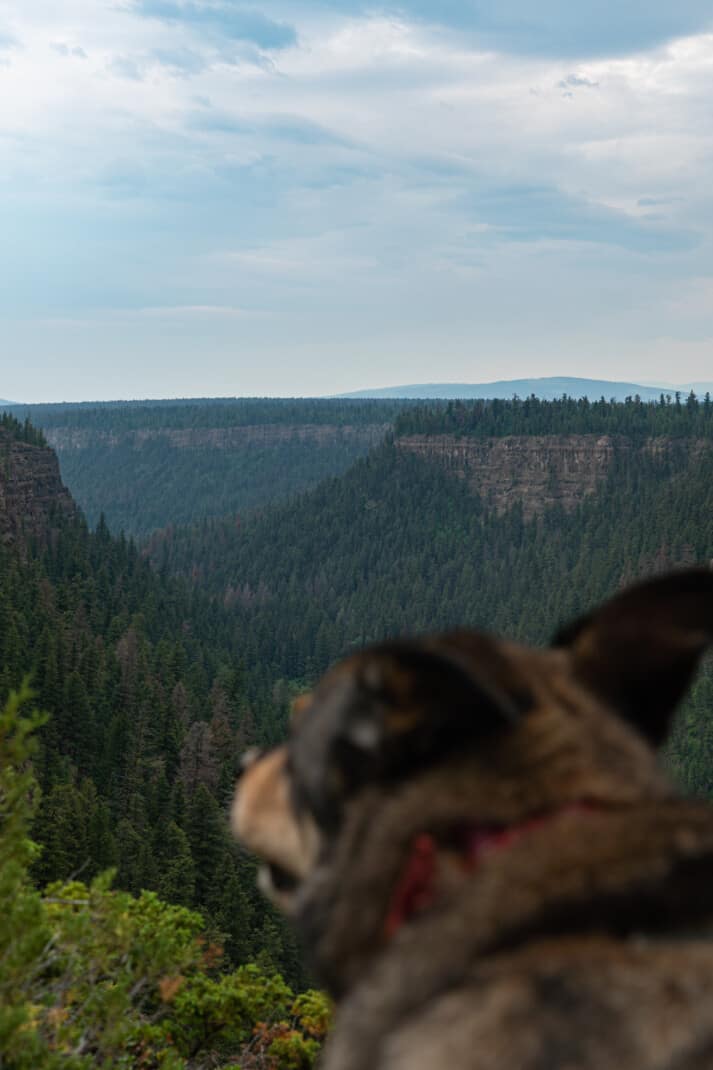 At the end of the last ice age, water from the melting glaciers carved this 8 km long, 600-metre wide, 300-metre deep canyon.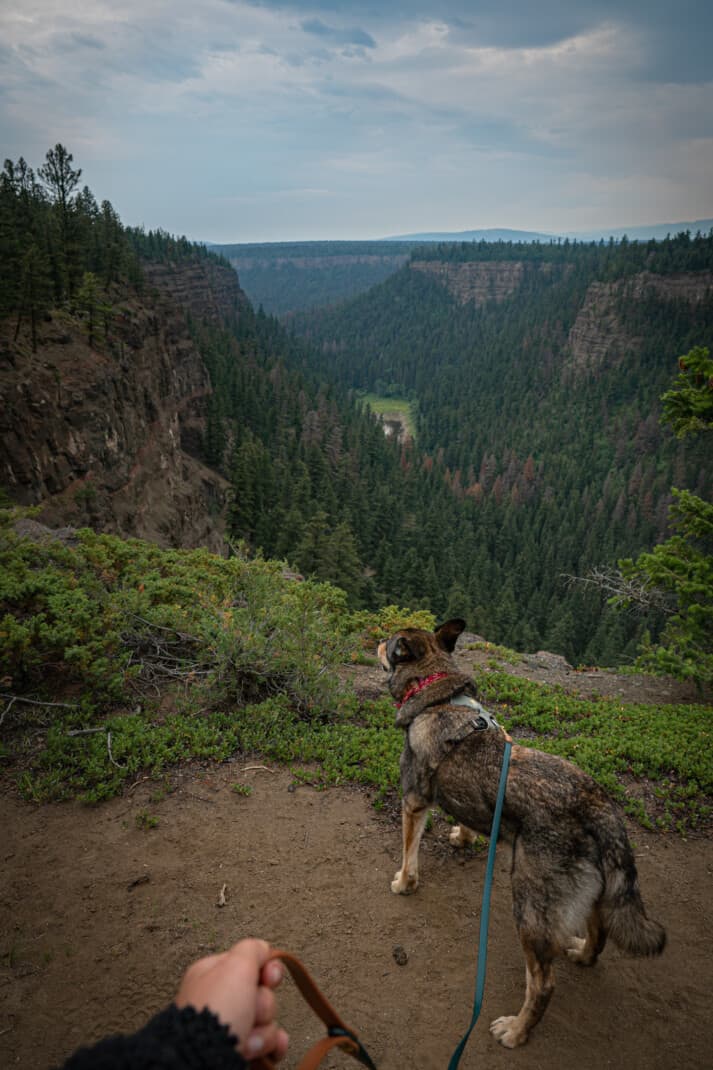 The views were impressive from the parking lot and only got better as we hiked the chasm edge. Imagining the forces that sculpted this landscape made it even more remarkable.
The trail beyond the fence skirts the edge much of the way, so definitely plan for an on-leash walk. You also might want to think twice about this hike if you're uncomfortable with heights. Even if you don't hike past the fence, it is still a worthy view!
Vancouver to Kamloops Road Trip Complete
That completes our dog friendly, smalls towns circle tour road trip in British Columbia. We hope we've inspired you to see more of what British Columbia has to offer!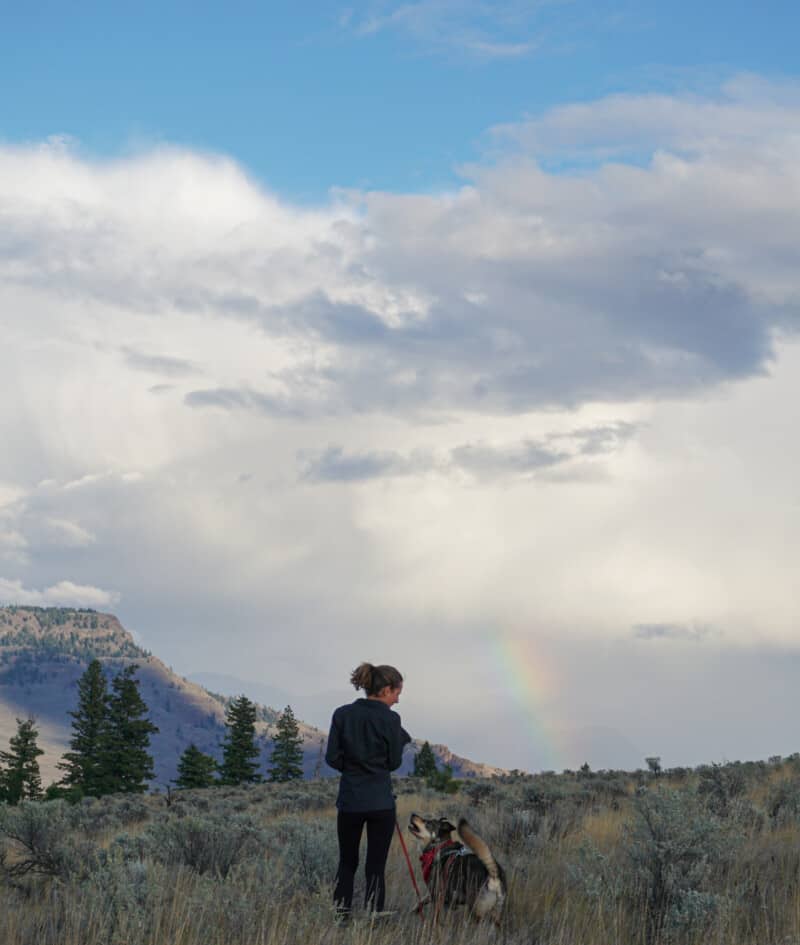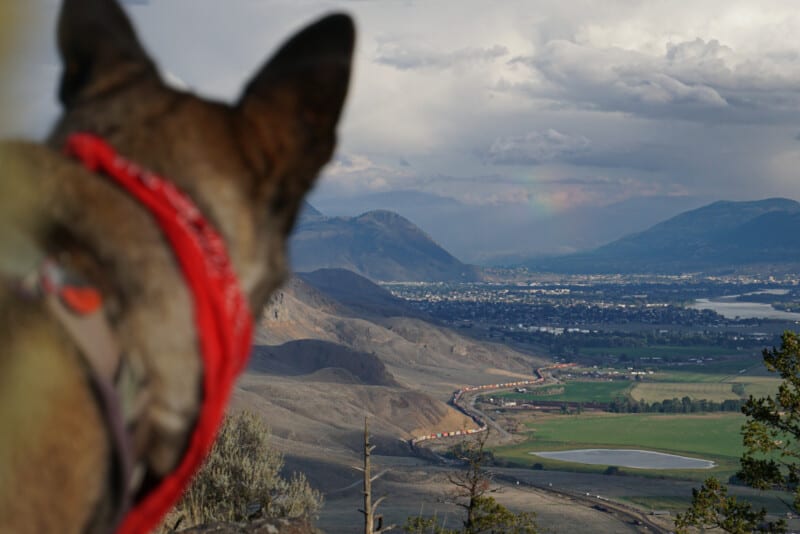 Let us know your favorite stops in the comments below. And be sure to leave a note if you've discovered something along the way that you and your dog loved!
Amazon Affiliate Disclosure: GoPetFriendly.com LLC is a participant in the Amazon Services LLC Associates Program, an affiliate advertising program designed to provide a means for website owners to earn advertising fees by advertising and linking to amazon.com, audible.com, and any other website that may be affiliated with Amazon Service LLC Associates Program. As an Amazon Associate, the owner of this site earns a commission from qualifying purchases.
(Visited 1,970 times, 1 visits today)