Occasionally the fates conspire to situate us where the pet friendly activities and the weather compliment each other perfectly, but not always in the way you might expect … like last week in Medora, North Dakota.
You know that traveling with pets means being at the mercy of Mother Nature, and weather that's too cold, too hot, too windy, too humid, or too rainy can derail any plans you've made with your furry family members.
There's nothing more frustrating than visiting a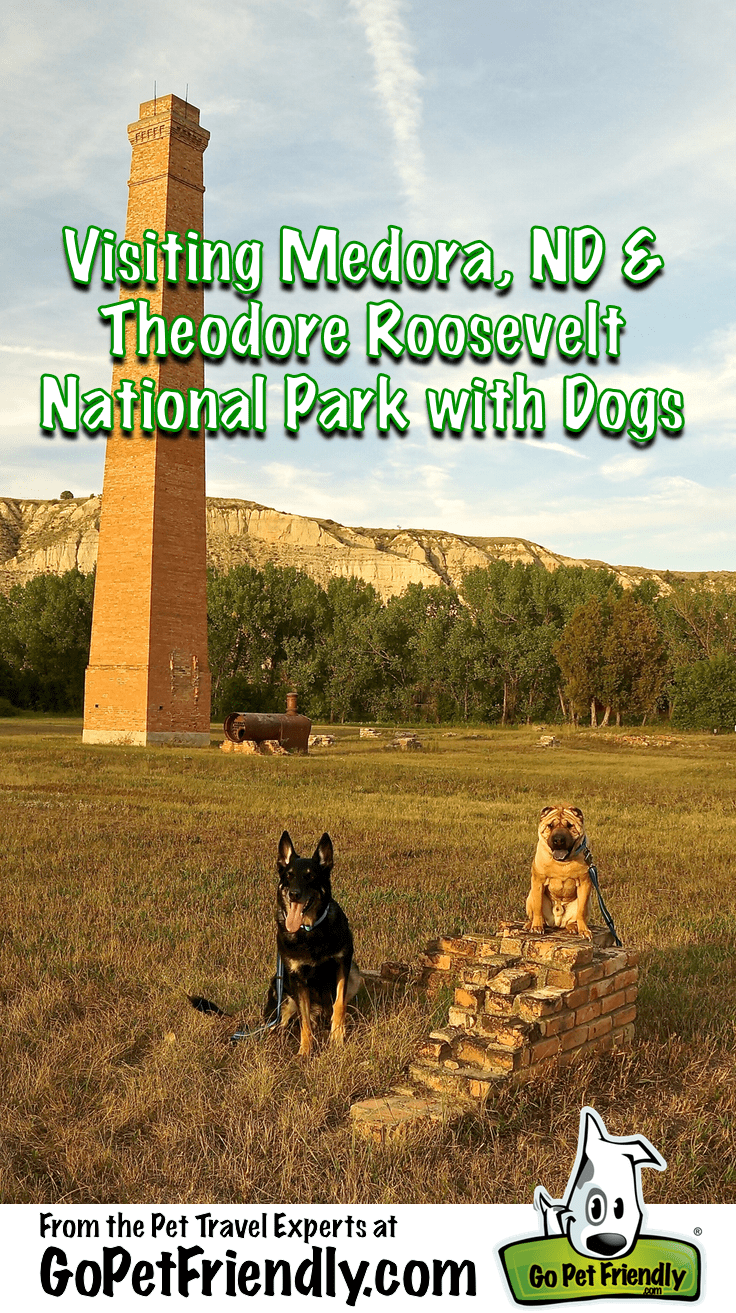 fantastically pet friendly place in rotten weather … or finding a spot woefully lacking in pet friendly activities when gorgeous weather teases you outdoors. We try to keep the motorhome where the days are sunny, the temperatures are pleasant, and there are plenty of pet friendly things to do, but it doesn't always work out that way.
Last week we lucked into seven straight days with highs in the 90s, brutal humidity, and poor air quality due to the fires out west – certainly not the weather we expected in North Dakota! But it was perfect for our week in Medora, because there was little to do outside with the dogs anyway.
Don't get me wrong – western North Dakota is breathtakingly beautiful, and there is a lot to see. Both the north and south units of Theodore Roosevelt National Park are popular, and the Bully Pulpit Golf Course – one of America's 100 Greatest Public Golf Courses according to Golf Digest, the Cowboy Hall of Fame, and the famous Medora Musical are all here.
But if you're looking for pet friendly activities, you'll find slim pickin's. None of the trails in the national park allow dogs – even the portion of the pet friendly Maah Daah Hey Trail that runs through the south unit of the park is off-limits to dogs. (Fortunately, there is the Buffalo Gap spur trail that allows pooches and their people to skirt around the national park.) Chimney Park is a decent place to do a lap and read the plaques about the town's history, and moseying Medora's western downtown is interesting – if only a few blocks long.
Beyond that, our entertainment for the week involved loading Ty and Buster into the air-conditioned car and driving around admiring the scenery and keeping our eyes peeled for wildlife.
Theodore Roosevelt National Park
The 36-mile loop road through the south unit of Theodore Roosevelt National Park is accessed right off the main drag in Medora. It's easy to spend a few hours stopping at the turn-outs, admiring the landscape, and searching the horizon for the wild horses and bison that roam within the park's borders. We, however, had more luck spotting the adorable prairie dogs, which must number in the tens of thousands here!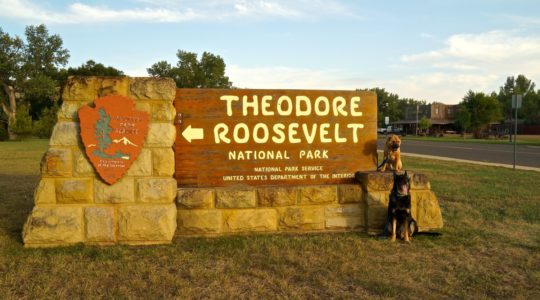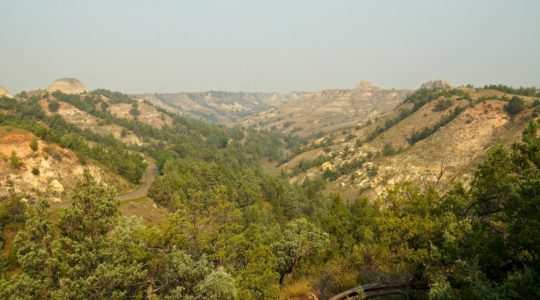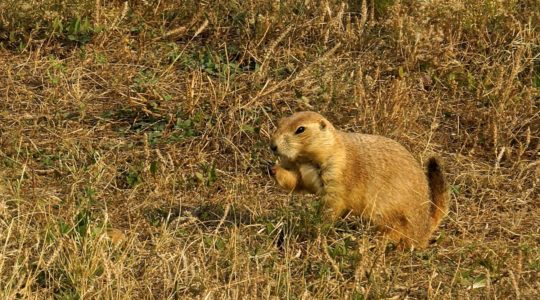 The other access point to the south unit of the park is at the Painted Canyon Visitor Center. From the Interstate, this looks like a glorified rest area, but take Exit 32 for one of the best views in the area! We even spotted a lone bison, which was just a hint of things to come.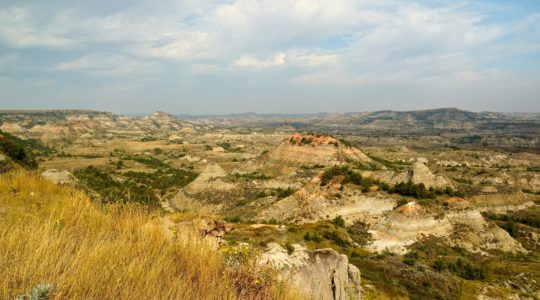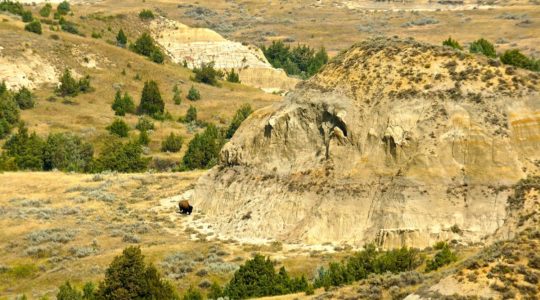 Cruising up Hwy 85 to the north unit of the park took about an hour, and before we knew it we were on the 14-mile out-and-back road through another spectacular landscape. We'd barely past the fee booth when we spotted a couple more bison, and then we came around a corner to see a big group walking across the road!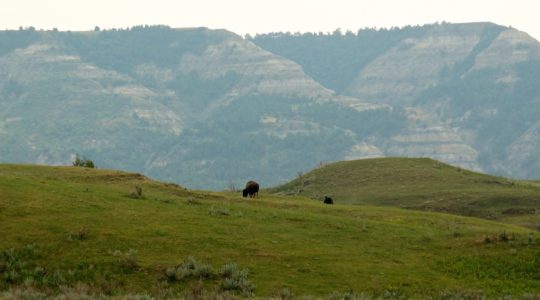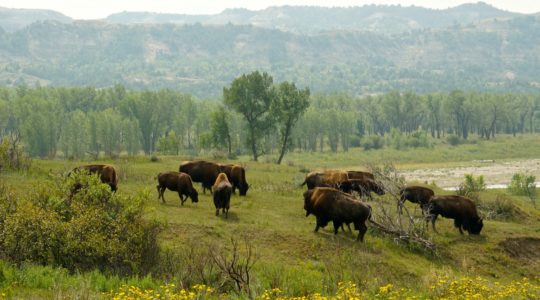 The bison had no more than gotten out of traffic when people coming down a trail spooked them, and they turned and stampeded back in our direction! I've never been in a stampede before and my heart started racing, even with the protection of the car.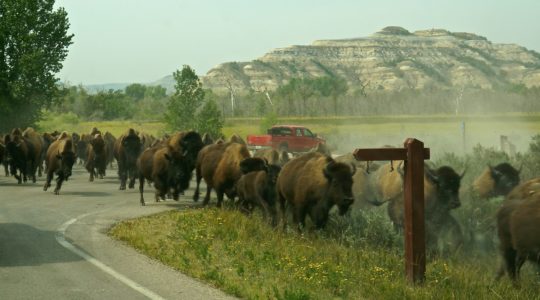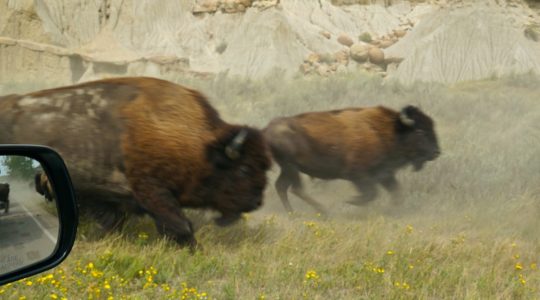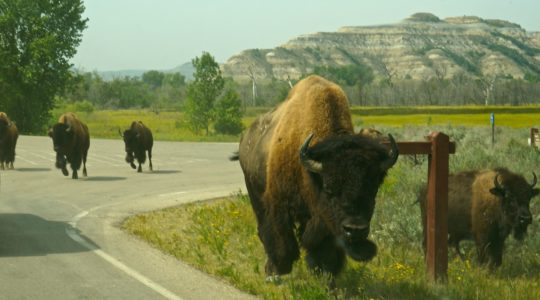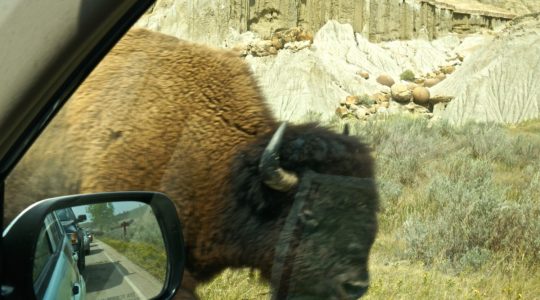 It was an excellent reminder of why you'd never want to startle bison. Whenever we hike with the dogs in places where there are bison (like Custer State Park in South Dakota), we always put bear bells on Ty and Buster, so we don't have to worry about surprising one of these big beasts.
As the bison had settled back to grazing, we proceeded to enjoy the views of the Little Missouri River from the bluffs high above.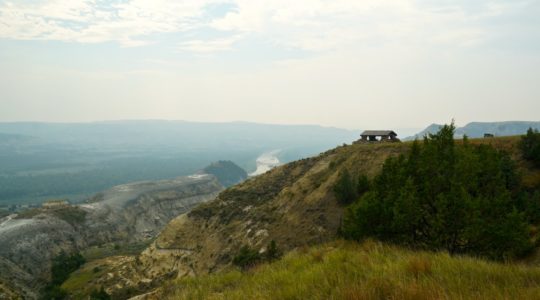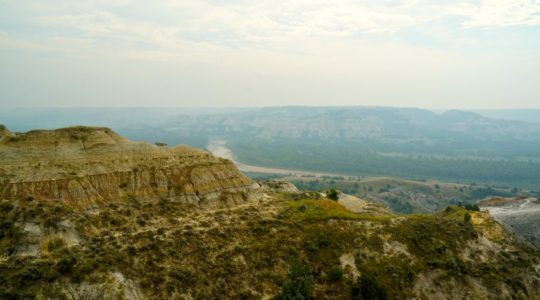 Pet Friendly Accommodations in Medora
Unfortunately, we don't have good news to report on the pet friendly accommodations in Medora, either. We didn't find a single hotel in town that welcomed pets, and the RV Park where we stayed was rundown and dirty.
Sully Creek State Park
If you're up for "ruffing" it, Sully Creek State Park is just 2.5 miles from town and has campsites, showers, and great views. Some sites even have horse corrals, and you can access the previously mentioned 120-mile Maah Daah Hey Trail from here.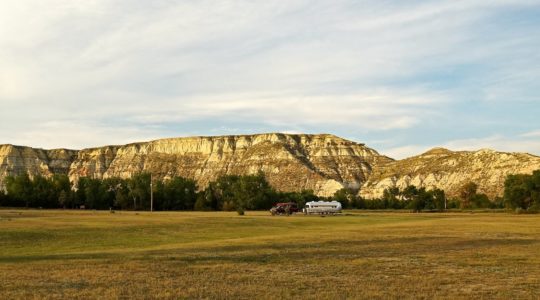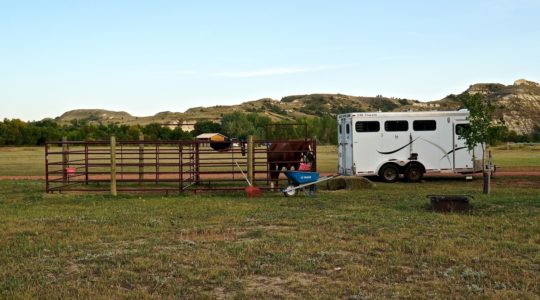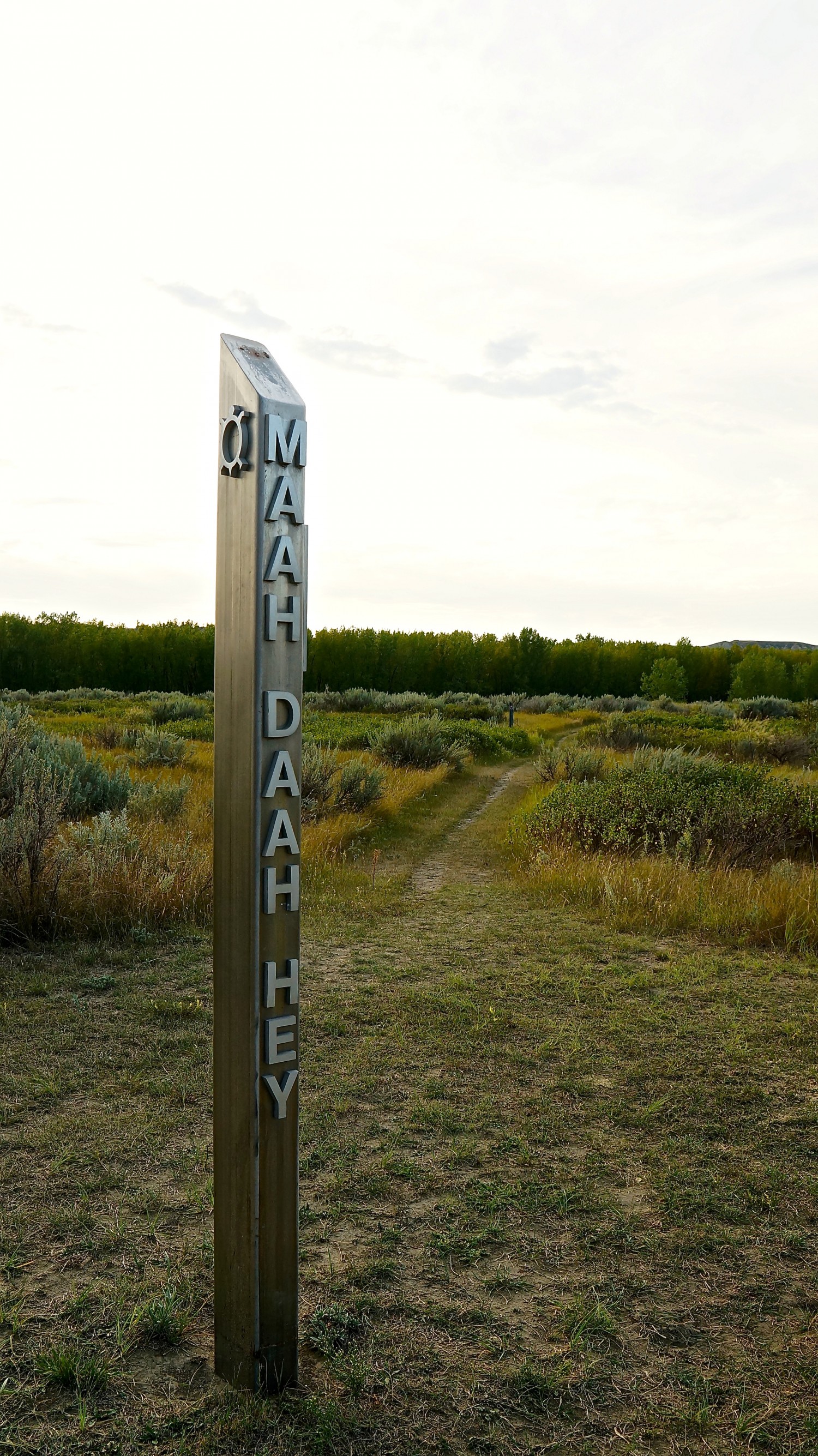 Overall, we enjoyed seeing the sites around Medora, but would have shortened this to a 2-3 day stop if we'd known how little we'd find for Ty and Buster to do. Luckily, the boys were still recovering from all the time we spent outdoors at Lake Sakakawea, so things worked out alright.
Planning a pet friendly trip of your own? We'll make it easy:
Pet Friendly Hotels | Pet Friendly Destinations | Pet Friendly Activities
Amazon Affiliate Disclosure: GoPetFriendly.com LLC is a participant in the Amazon Services LLC Associates Program, an affiliate advertising program designed to provide a means for website owners to earn advertising fees by advertising and linking to amazon.com, audible.com, and any other website that may be affiliated with Amazon Service LLC Associates Program. As an Amazon Associate, the owner of this site earns a commission from qualifying purchases.
(Visited 5,763 times, 1 visits today)