Experiencing the Mississippi River – the fourth largest river in the world – requires a visit to Itasca State Park. Here you and your pet can cross this iconic waterway in just a few steps!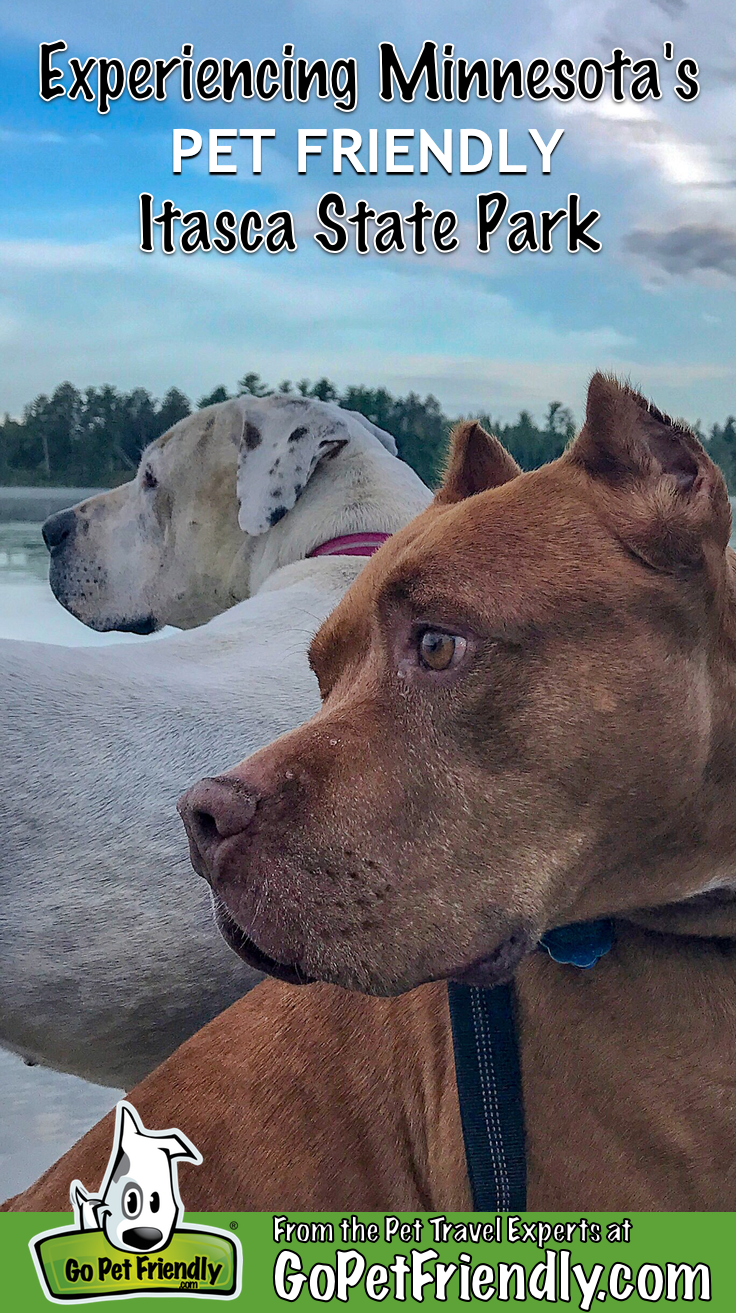 What comes to mind when someone mentions Minnesota? Cold? Snow? Mosquitoes?? Sounds about right. How about the Mississippi River? The mighty Mississippi not only runs through and acts as a border in parts of Minnesota, it also begins there. Way up north at pet friendly Itasca State Park, the Mississippi River starts out as a small creek that you can walk across.
It's not often that you get to see the beginning of something so grand, so I decided that Cool Whip, Hercules, and I had to experience it for ourselves. With its thick forests and profusion of lakes, Itasca State Park offered a dramatic change in landscape compared to our stop in the national grasslands. Thankfully, though, it is just as pet friendly!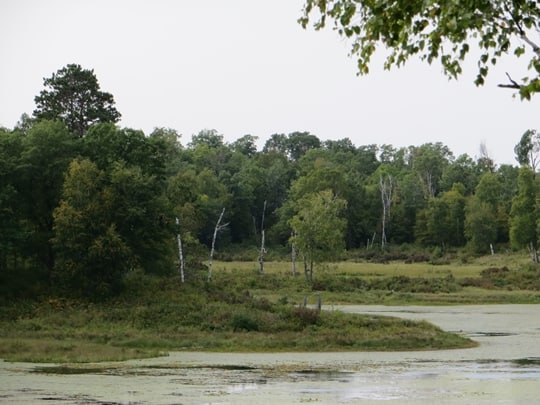 Lake Itasca – Mississippi River Headwaters
Just like the river, you'll want to start your journey at Lake Itasca. The Mississippi Headwaters Center is a one-stop shop to get your vehicle permit, pick up goodies at the gift shop and café, and learn about the area through the interactive exhibits.
While dogs are not allowed inside the park buildings, the café does have a nice outdoor patio. And some of the exhibits are outside, so your dog can enjoy them, too.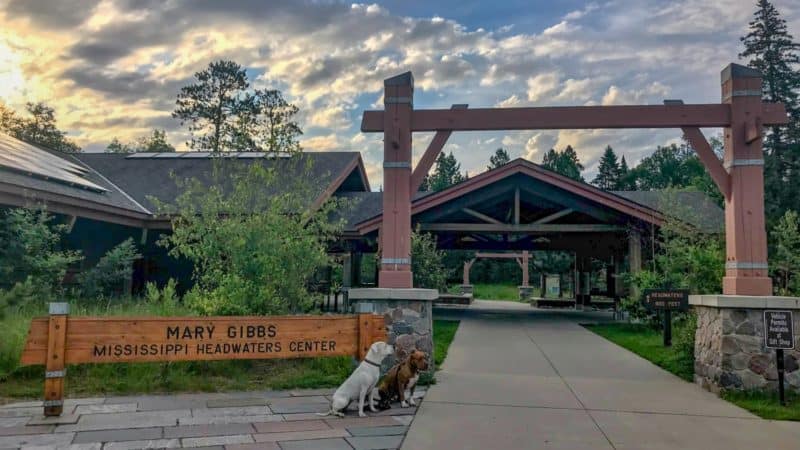 Hit The Trail
The short 800-foot trail to Lake Itasca and the river headwaters starts at the Headwaters Center. The path is a combination of concrete sidewalks, a wide gravel path, and a wooden boardwalk—accessible to any type of traveler. And even though it's a short trail, there a good chance you'll see a variety of wildlife! During our visit, we saw a turtle nest that had just hatched, a family of partridge, fluffy ducklings, and more.
Once you reach the lake, you can walk right up to the area where it spills out over the rocks to form a small stream. This is the beginning of the Mississippi River.
Dip your toes in and let your dog go for a swim. If you and your dog are daring, cross the flow via the rocks to say you've walked across the mighty Mississippi.
Alternatively, you can take the safer (and more common) path a little further down. This route has a simple walkway made from two sturdy wooden planks—just wide enough for Cool Whip's booty!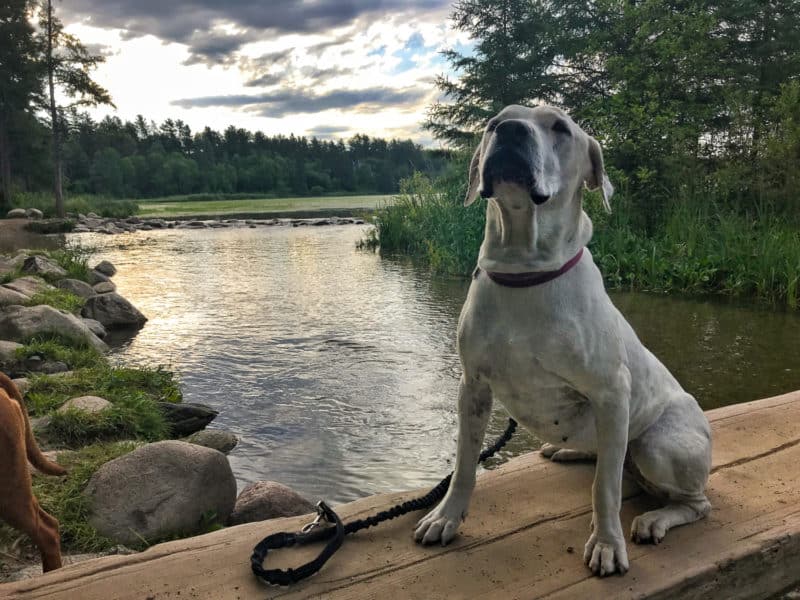 From its start at Lake Itasca, the Mississippi River meanders more than 2,500 miles down to the Gulf of Mexico. The river passes through or defines borders for quite a few more states: Wisconsin, Iowa, Illinois, Missouri, Kentucky, Tennessee, Arkansas, Mississippi, and Louisiana.
In some spots, the river is over a mile wide, so be glad you crossed it at the start! Pretty impressive for something with such a humble beginning.
Exploring Pet Friendly Itasca State Park
After you've visited the headwaters, there is much more to explore —you and your dog are going to love Itasca State Park! Get a feel for the area via Wilderness Drive, a paved, 10-mile, one-way loop that circles through the park. You can drive in your vehicle, peddle it on your bike, or even walk it if you're up for the distance. Along the way, you'll pass scenic views, historical places, and a few additional lakes where you can launch a boat, fish, or just take in the view and let your dog enjoy in the water.
You'll also come across trailheads for some of the 45+ miles of trails, all of which are pet friendly. A few of the highlights you can hike to include the Aiton Heights Fire Tower, the Old Timer's Cabin, a white pine tree that's more than 300 years old, and even more lakes.
Are you beginning to understand why Minnesota is called the Land of 10,000 Lakes?!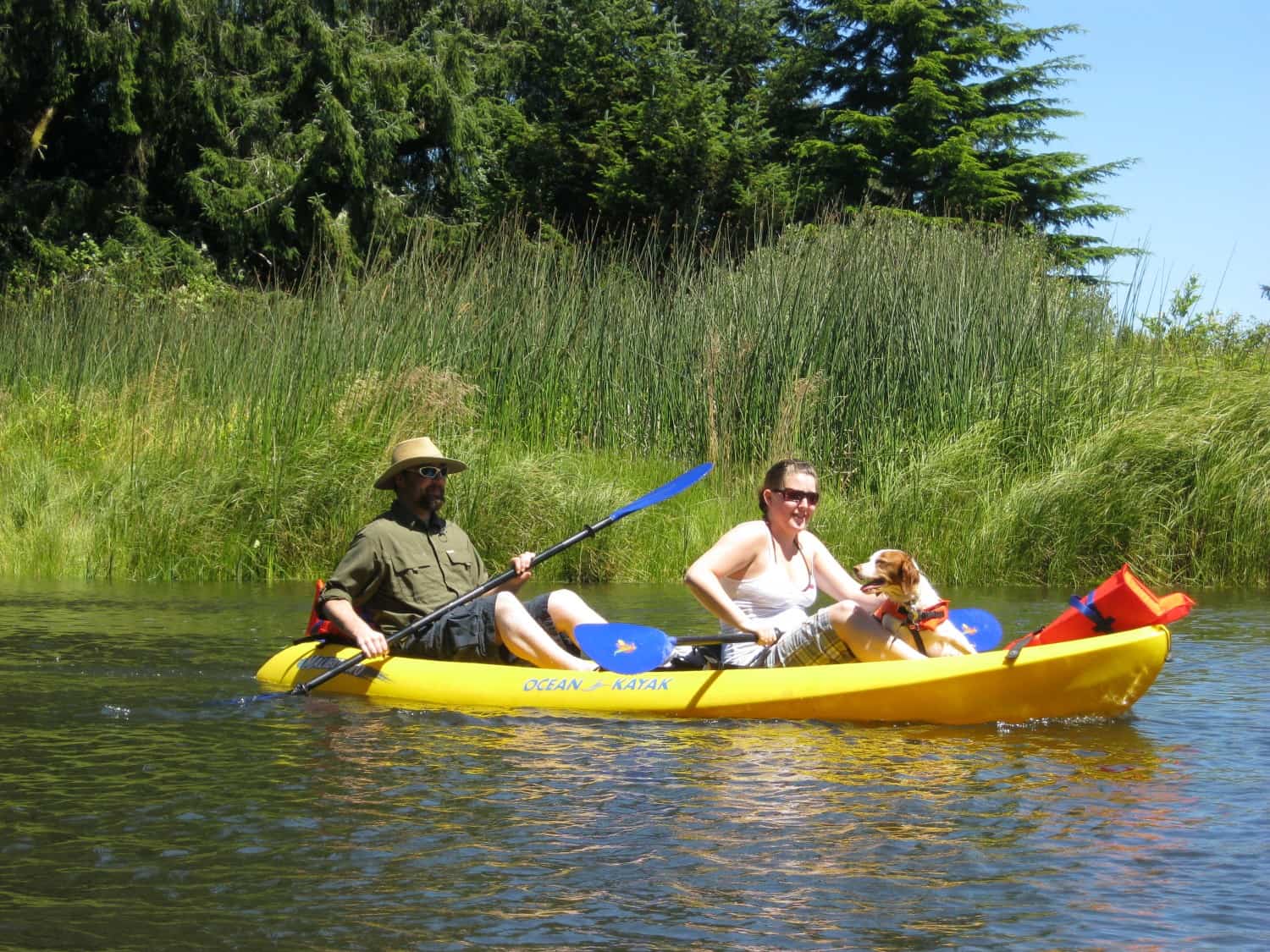 Most trails range from 0.5 miles to 3 miles, which is nice for easy adventures. For longer hikes, you can often continue directly from one trail to another.
Some of the paths are a single track where you'll play follow-the-leader.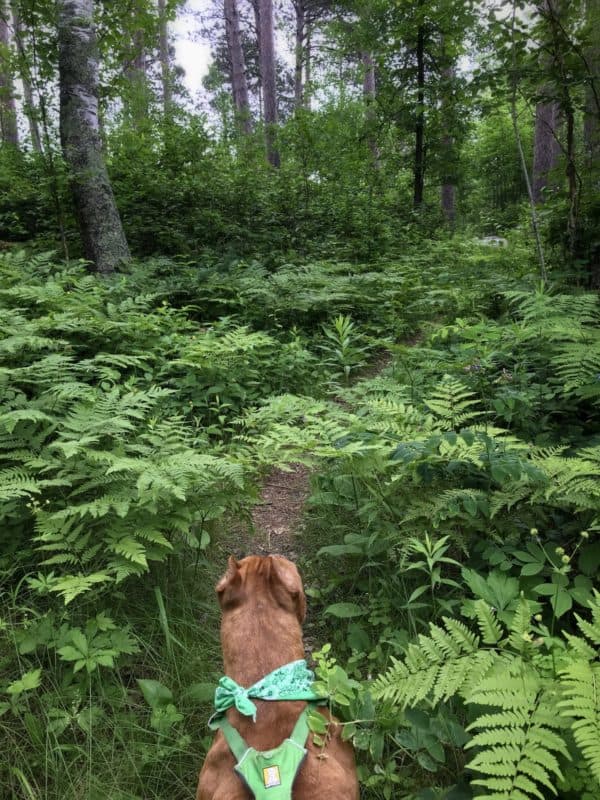 Other trails allow your whole group to walk side-by-side.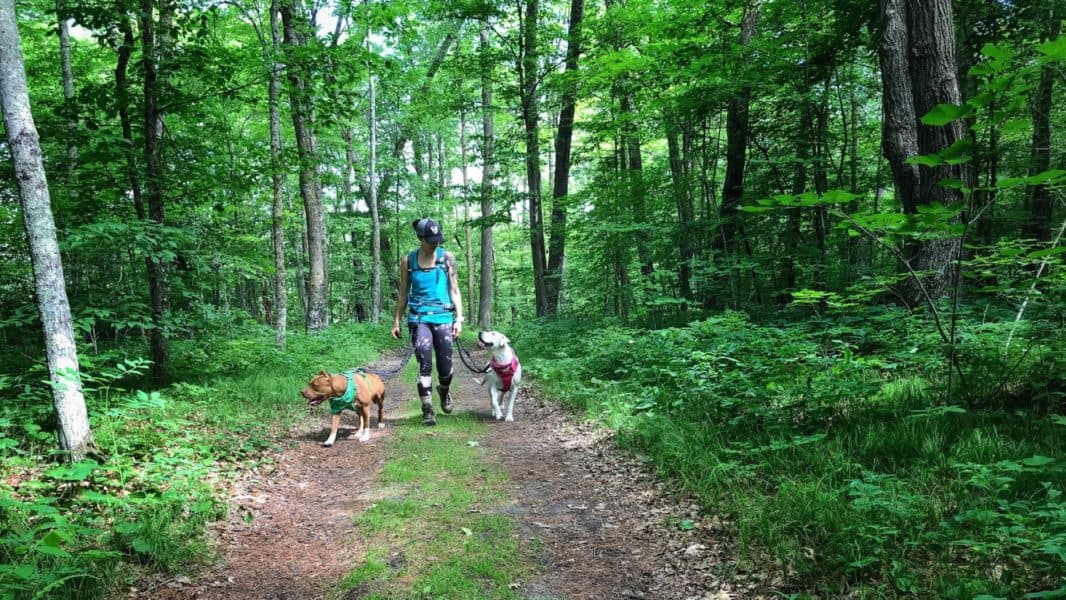 And even more luxurious is the paved bike path that explorers of all abilities can enjoy!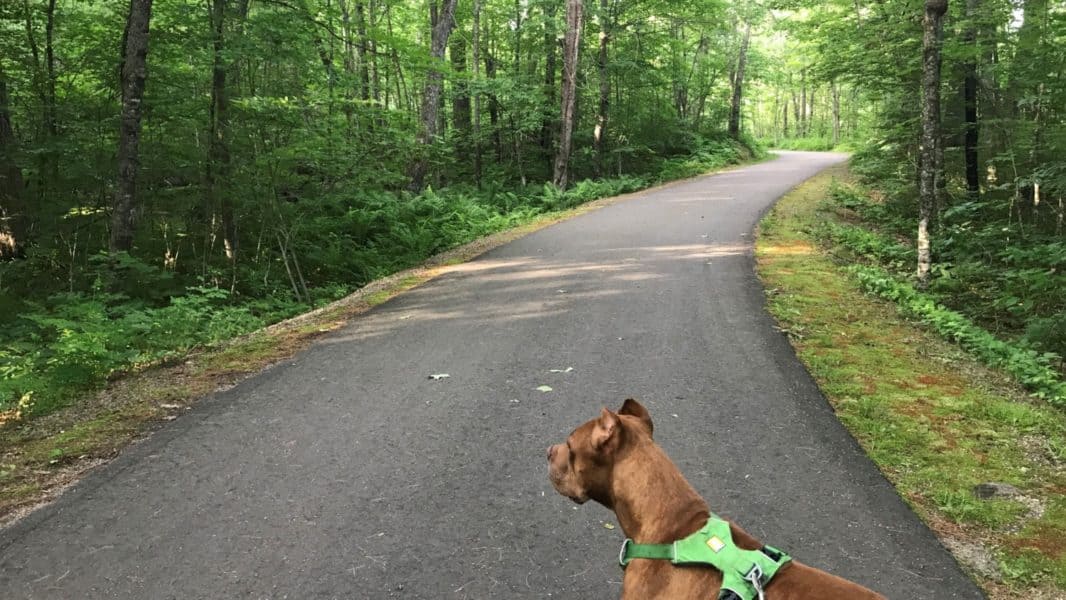 When you need a break from hiking, head back to Lake Itasca. The swimming beach doesn't allow dogs, but there are plenty of other dog friendly spots along the shoreline.
The first picture in this post is at the main boat dock. It's where we caught the sunrise each morning and lounged on the grassy banks of the lake.
If you want to get out on the lake, canoes, pontoons, kayaks, and stand-up paddle boards are all available for rent – and yes, your pets are welcome to join you!
For a more relaxing adventure, purchase a ticket for the narrated boat tour. Dogs are allowed on the tour boat as long as you get approval from the tour guide.
Spending the Night
To make the most of your visit to pet friendly Itasca State Park and the Mississippi headwaters, reserve a campsite in the park. There are 11 hike-in campsites at backcountry lakes, and two drive-in campgrounds with more than 250 RV and tent sites.
Bear Paw Campground is right next to Lake Itasca and Pine Ridge Campground is set back in the woods.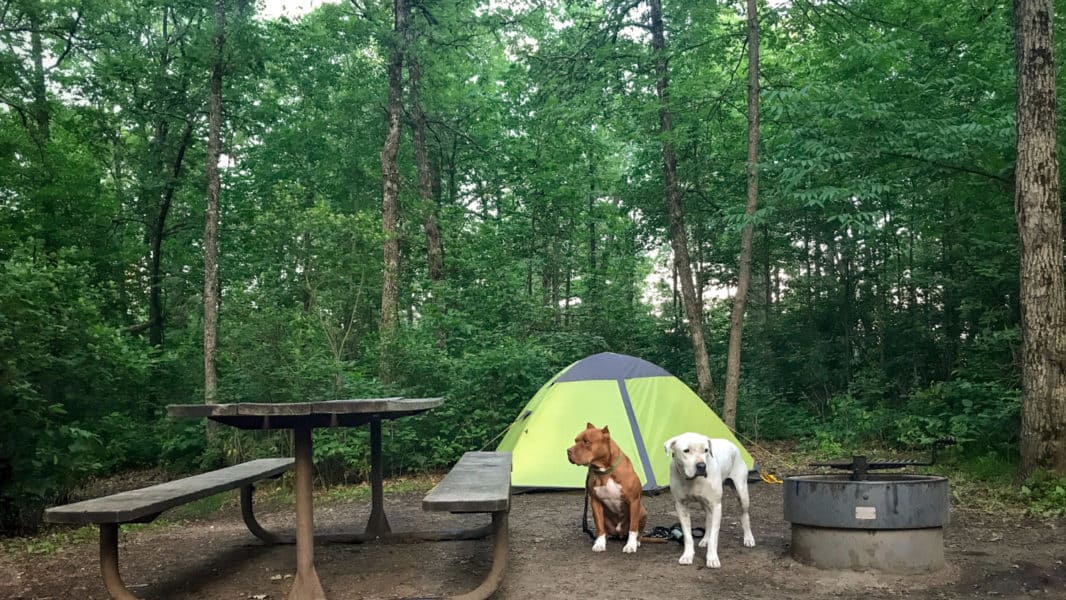 We stayed at Pine Ridge Campground for a little more seclusion and we could barely see the neighboring campsite. We had one uninvited visitor—a curious raccoon (not pictured) who tried to drop by for dinner. Cool Whip and Hercules weren't about to share, so they hustled him off with a few warning woofs. It was a good reminder to always keep food and trash packed away!
If you're visiting during spring or early summer, bring along tick and mosquito repellent. And, if your dogs are as spoiled as mine, bring extra blankets or a dog bed for lounging around camp (and maybe a hammock for yourself!). These help keep your dog clean and they give your dog a designated space to call their own. Happy dogs make for happy adventures!
We hope sharing our experience makes your visit to pet friendly Itasca State Park even more enjoyable!
(Visited 6,821 times, 1 visits today)