There isn't a nicer place to be in winter than Southern California. So a few weeks ago, we pointed the motorhome south and made our way to Palm Springs. This was our first time to the Coachella Valley, and what we found was anything but what we were expecting!
Though it sits squarely in the desert, Palm Springs is lush and green with palm trees lining it's streets. The valley is protected on all sides by mountains – the San Bernardinos to the north, the Santa Rosas to the south, by the San Jacintos to the west, and the Little San Bernardinos to the east. It sees more than 300 days of sunshine each year, and caters to affluent tourists with a patchwork of golf courses, tennis clubs, restaurants, and upscale shopping.
Visiting Joshua Tree National Park
One of the most popular attractions in the area is Joshua Tree National Park, and for good reason! Spreading over nearly 800,000 acres, where the Mojave and Colorado Deserts meet, Joshua Tree's scenery is unlike any other we've ever seen.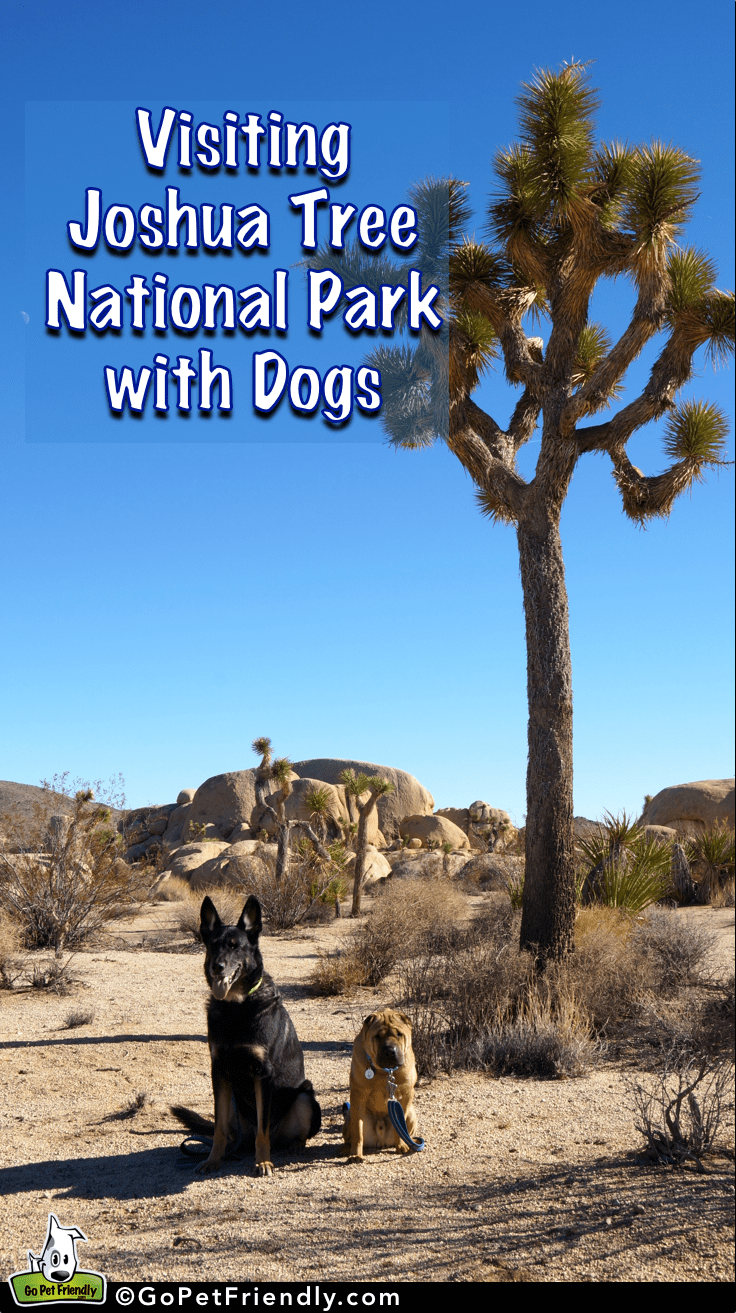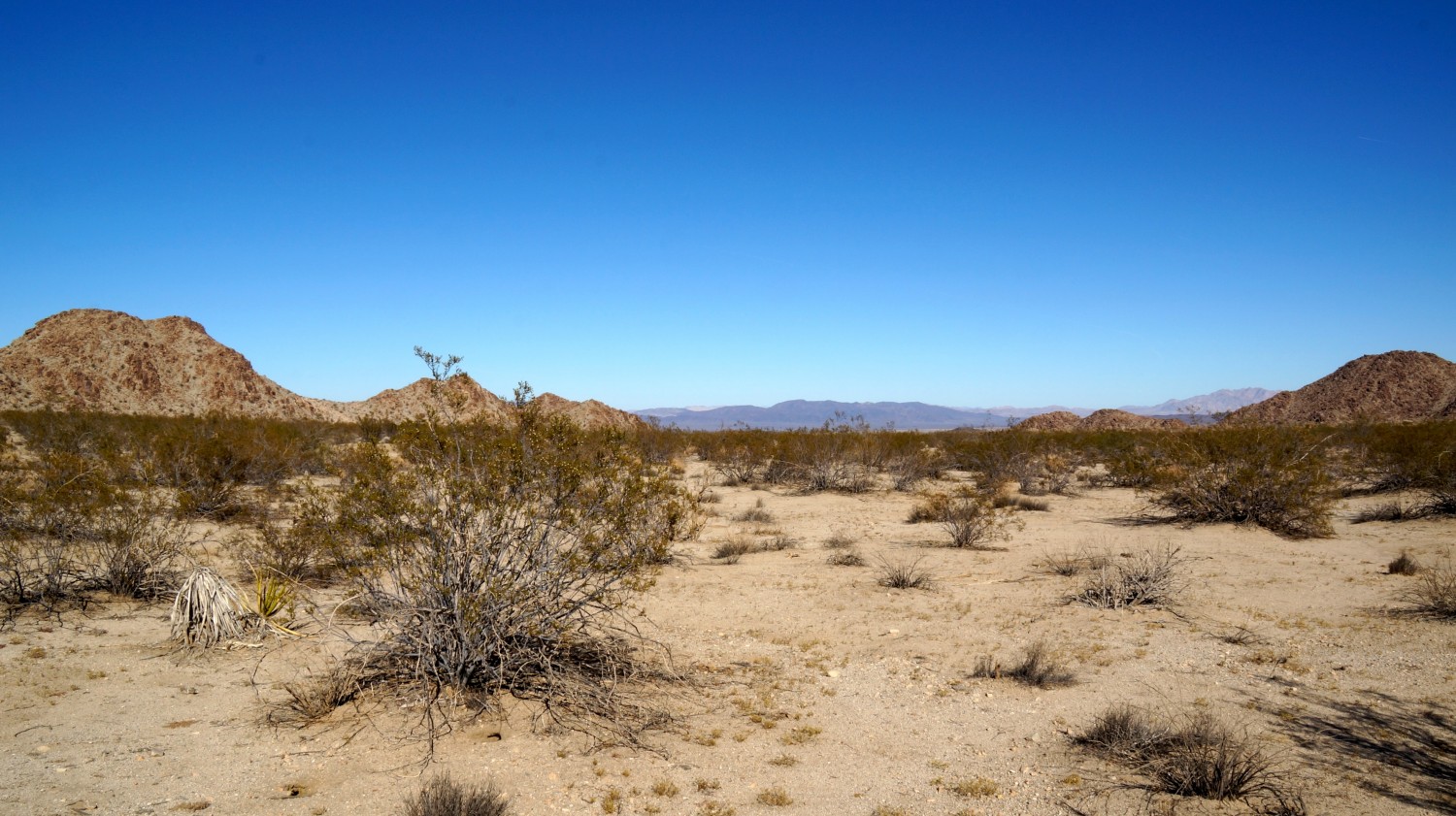 The huge piles of crumbling granite boulders are what remains of volcanic activity that took place eons ago, and the variety of vegetation and wildlife that survive the brutally hot summer days and freezing winter nights is stunning.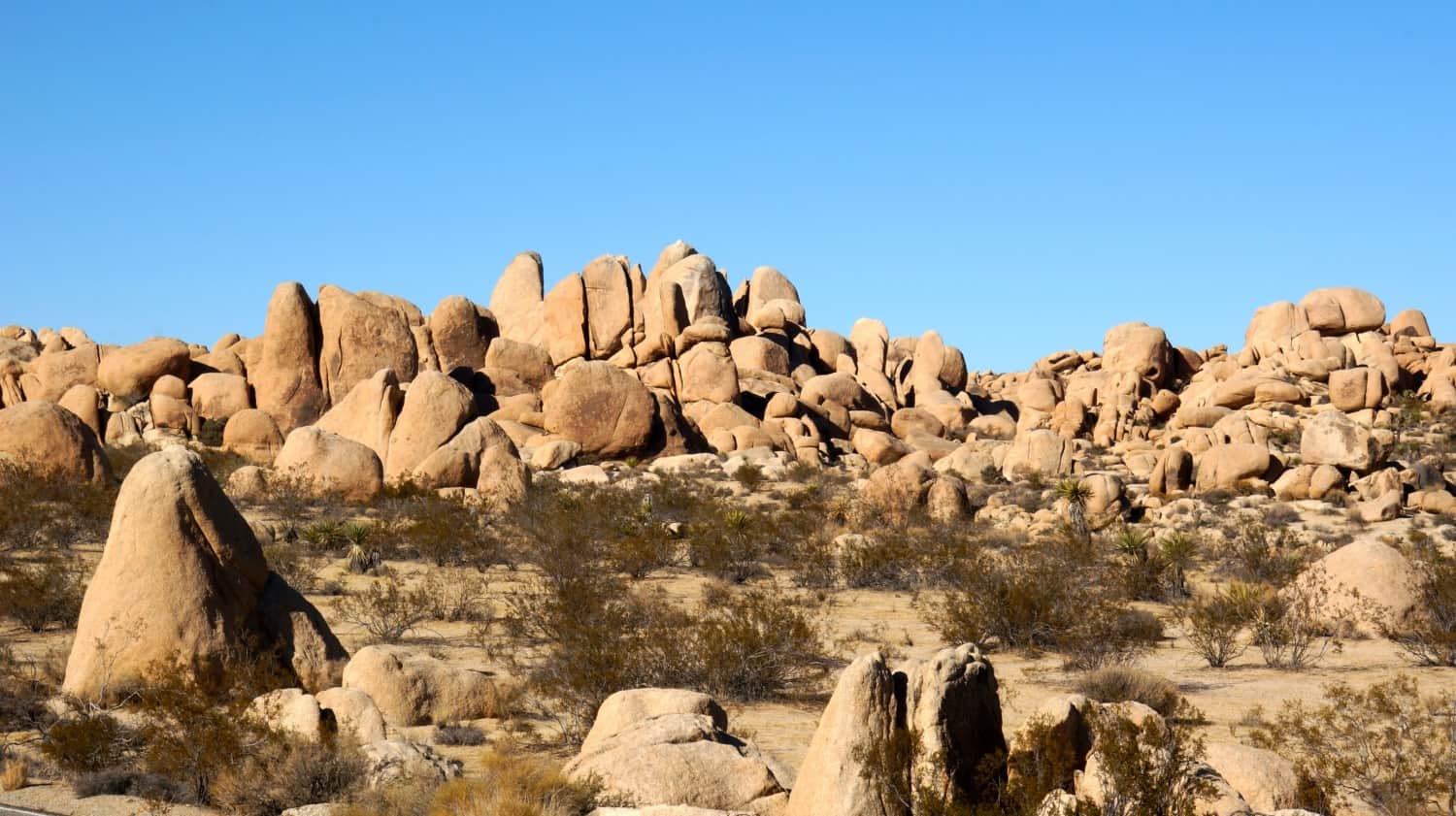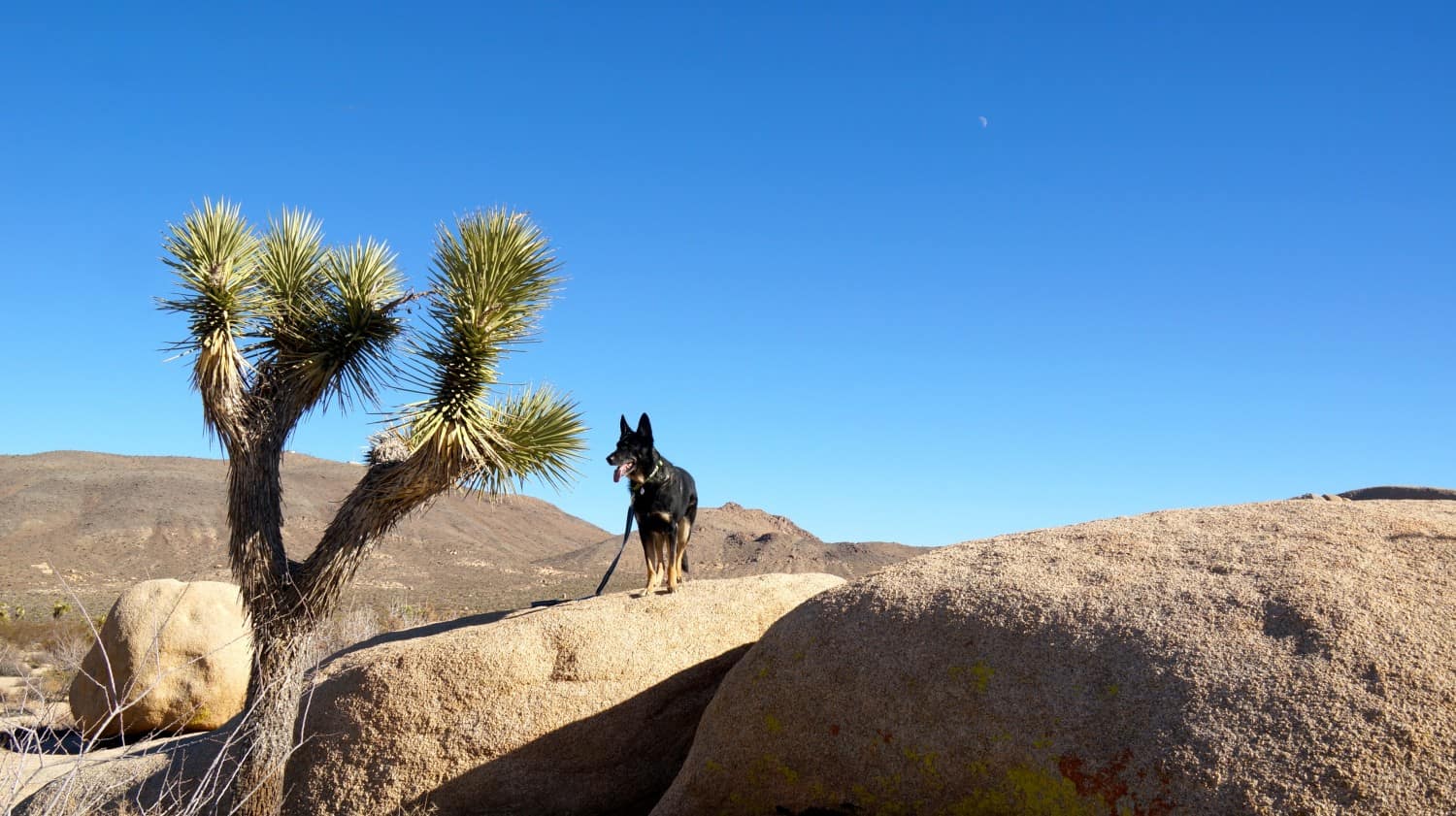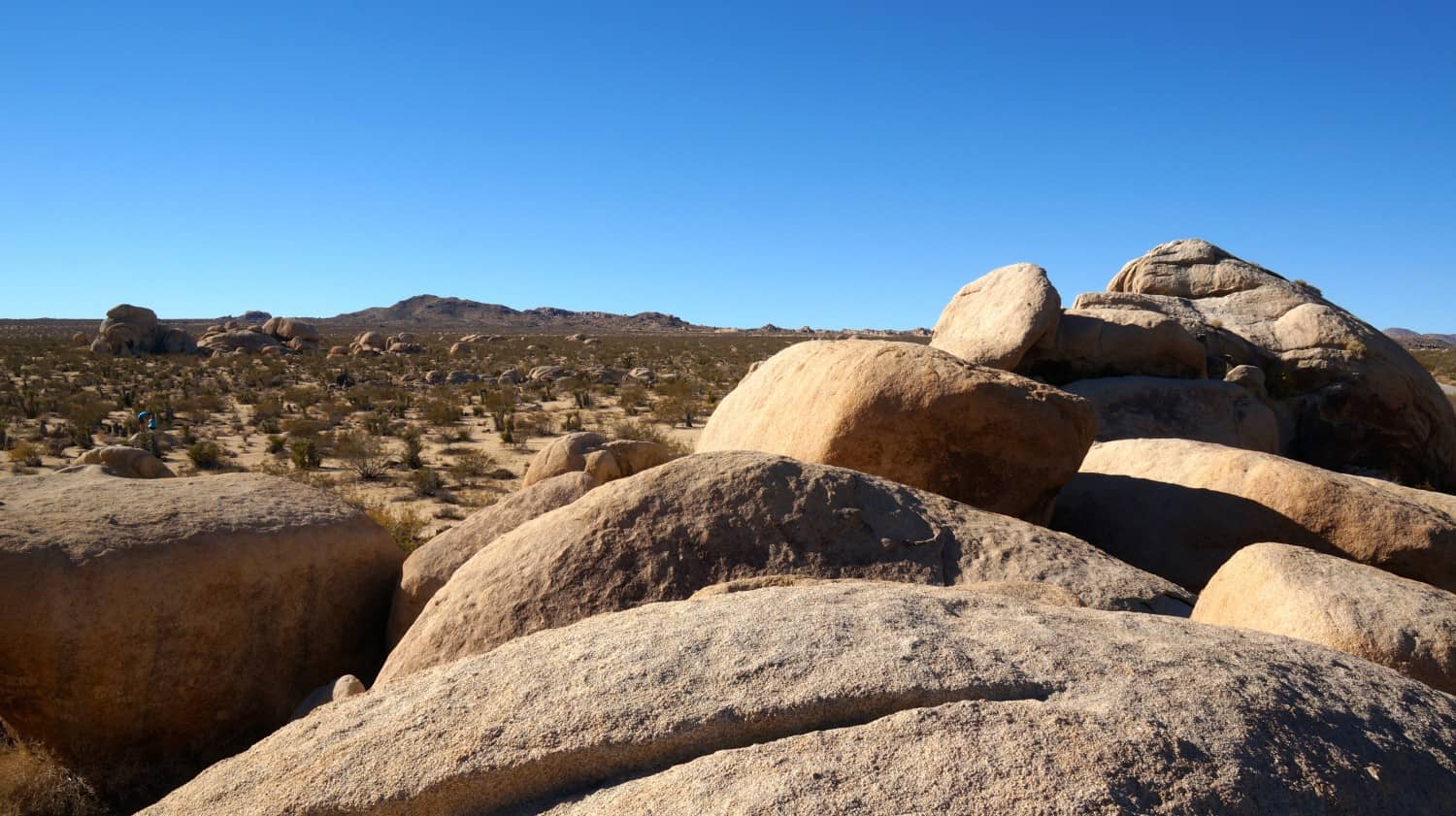 There's almost something tangible in the atmosphere here – the vastness, the ancientness, the beauty, and the underlying knowledge that, if you're not careful, this place can take your life.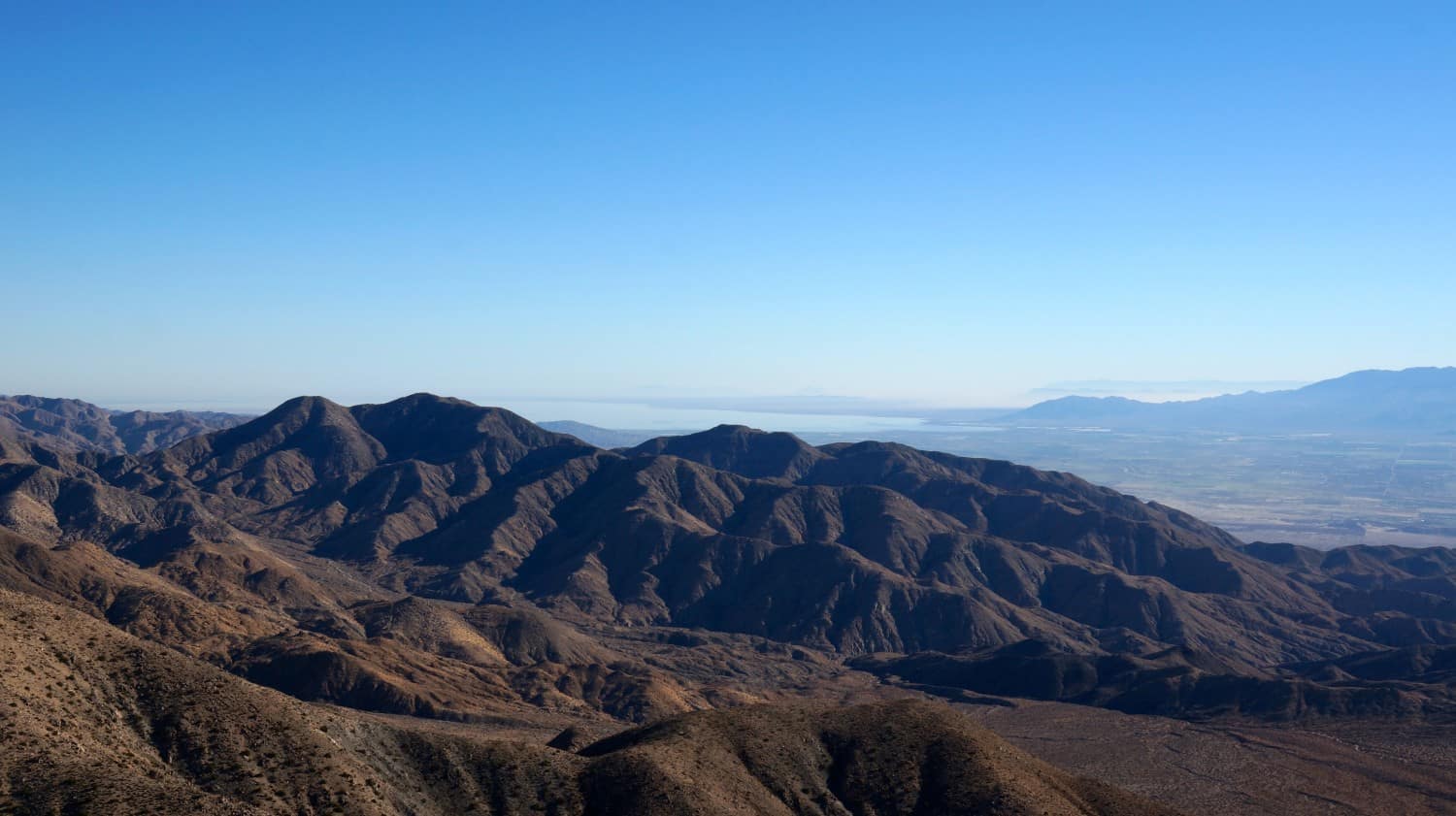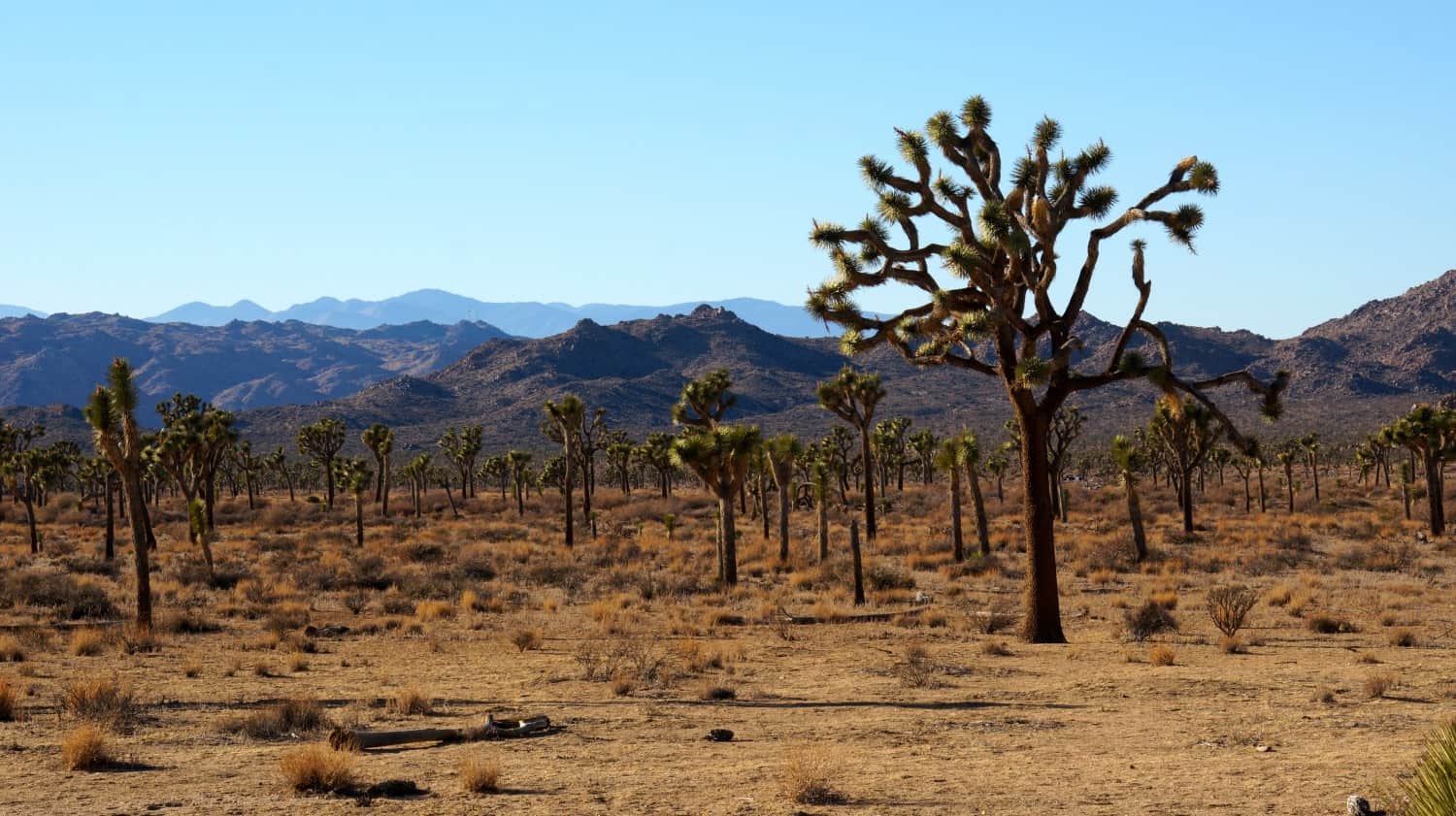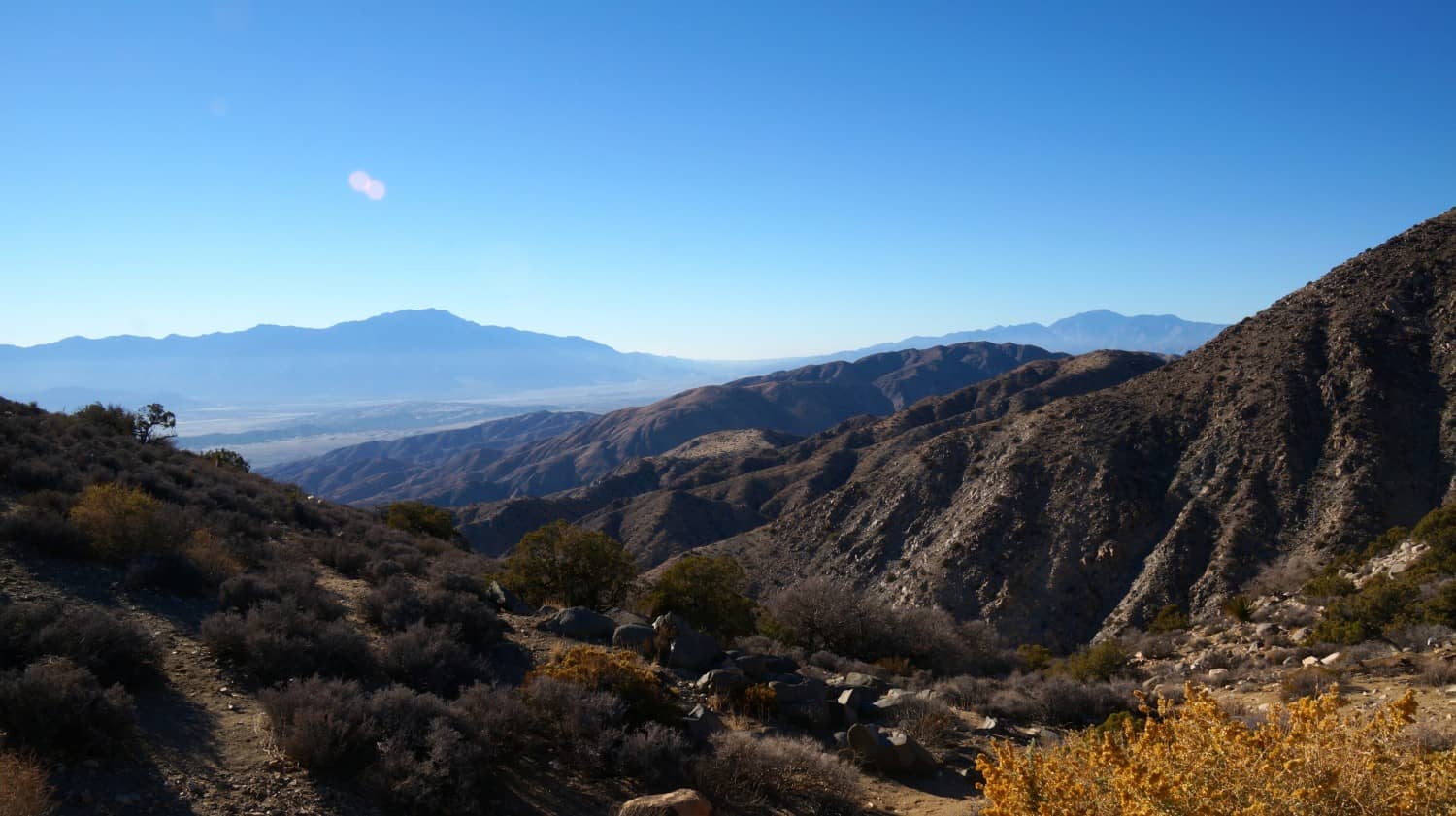 Unfortunately, this is another of our national parks that doesn't make our list for being dog friendly. Pets are not allowed more than 100 feet from a road, picnic area, or campground. They are prohibited from all the trails, and must be on leash at all times. Still, I'd take Buster and Ty back to see Joshua Tree again. Walking around the campgrounds is a pleasant way to get them a little exercise, while basking in the gorgeous surroundings.
Striking a Balance with Some Dog Friendly Fun
Traveling with pets is always about striking a balance, so when you're done seeing Joshua Tree, it will be time to find some activities that your furry travel companions are more likely to enjoy! For us, that meant taking the boys south on the Pines to Palms Highway (Hwy 74), climbing to a spectacular overlook, and then getting out for a hike in the San Bernadino National Forest.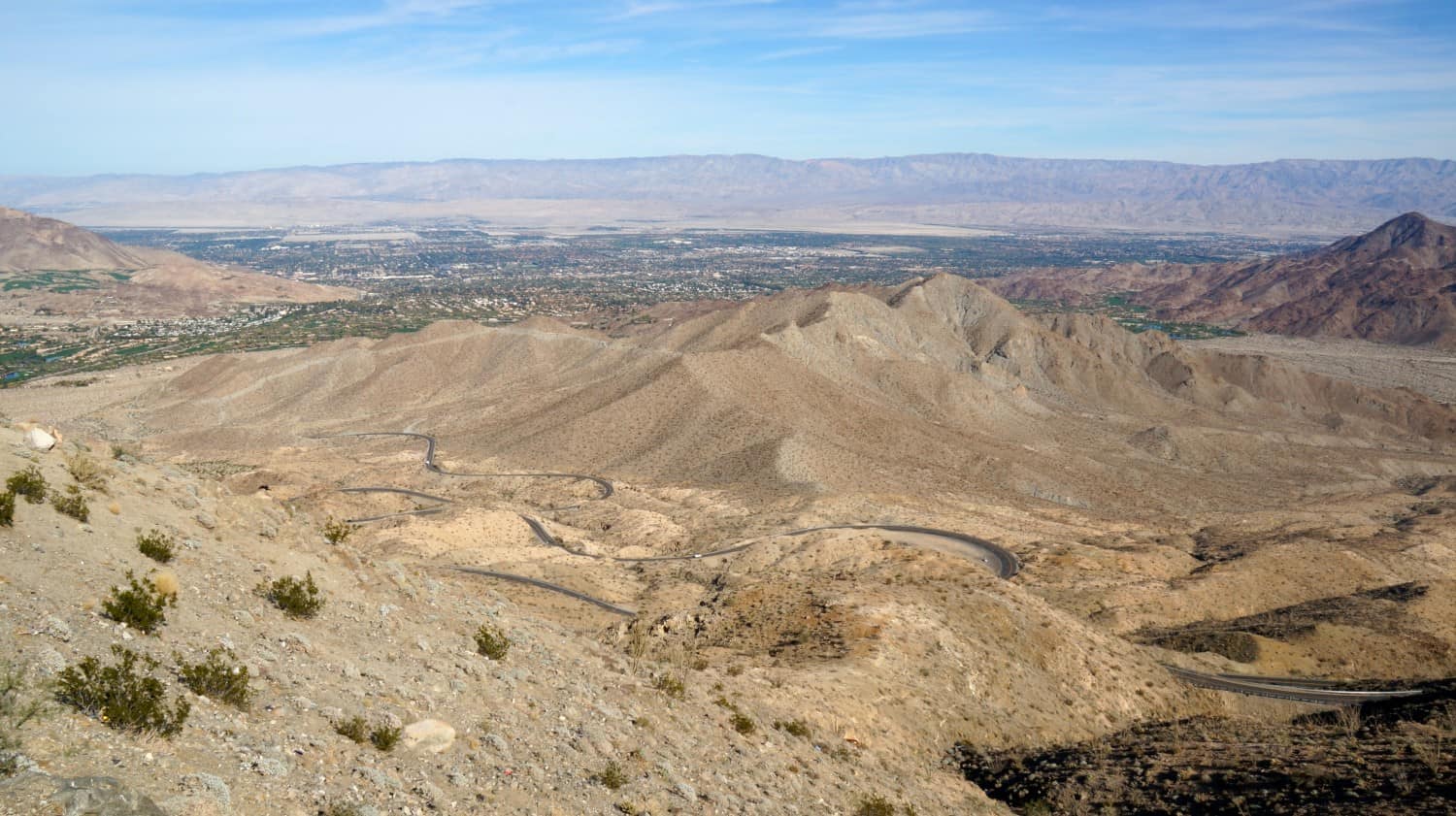 To get to the national forest, you'll pass by a few trailheads in the Santa Rosa and San Jacinto Mountains National Monument.  Be aware that not all the trails in the national monument allow dogs, to protect the bighorn sheep that inhabit the area. Once you've passed through the national monument into the national forest, all the trails are dog friendly, but dogs must still be kept on leash in case you encounter bighorn sheep.
Pacific Crest Trail
If you're looking for a serious hiking trail, check out the Pacific Crest Trail, which runs contiguously for 2,6oo miles from Mexico to Canada. Of course, you can just enjoy it for a day! It takes hikers four to six months to compete the whole trek.
Idyllwild
While you're in the area, don't miss the quaint mountain resort of Idyllwild. The views alone are worth the drive, and the rustic, small-town atmosphere will steal your heart. We stopped for lunch on the pet friendly patio at Idyll Awhile Wine Shoppe Bistro, and would have stayed to enjoy their wine selection – if we hadn't had that curvy road between us and home!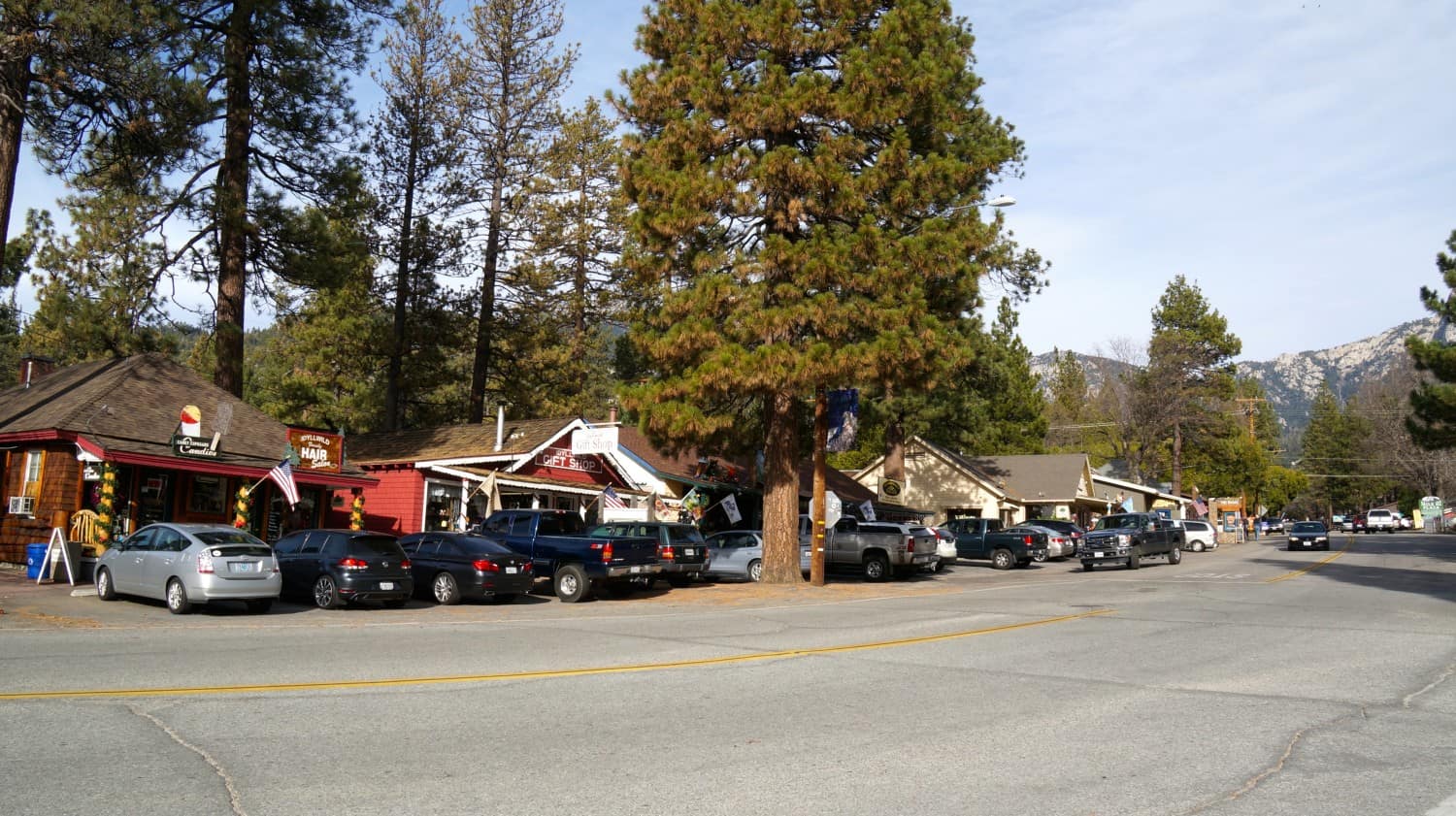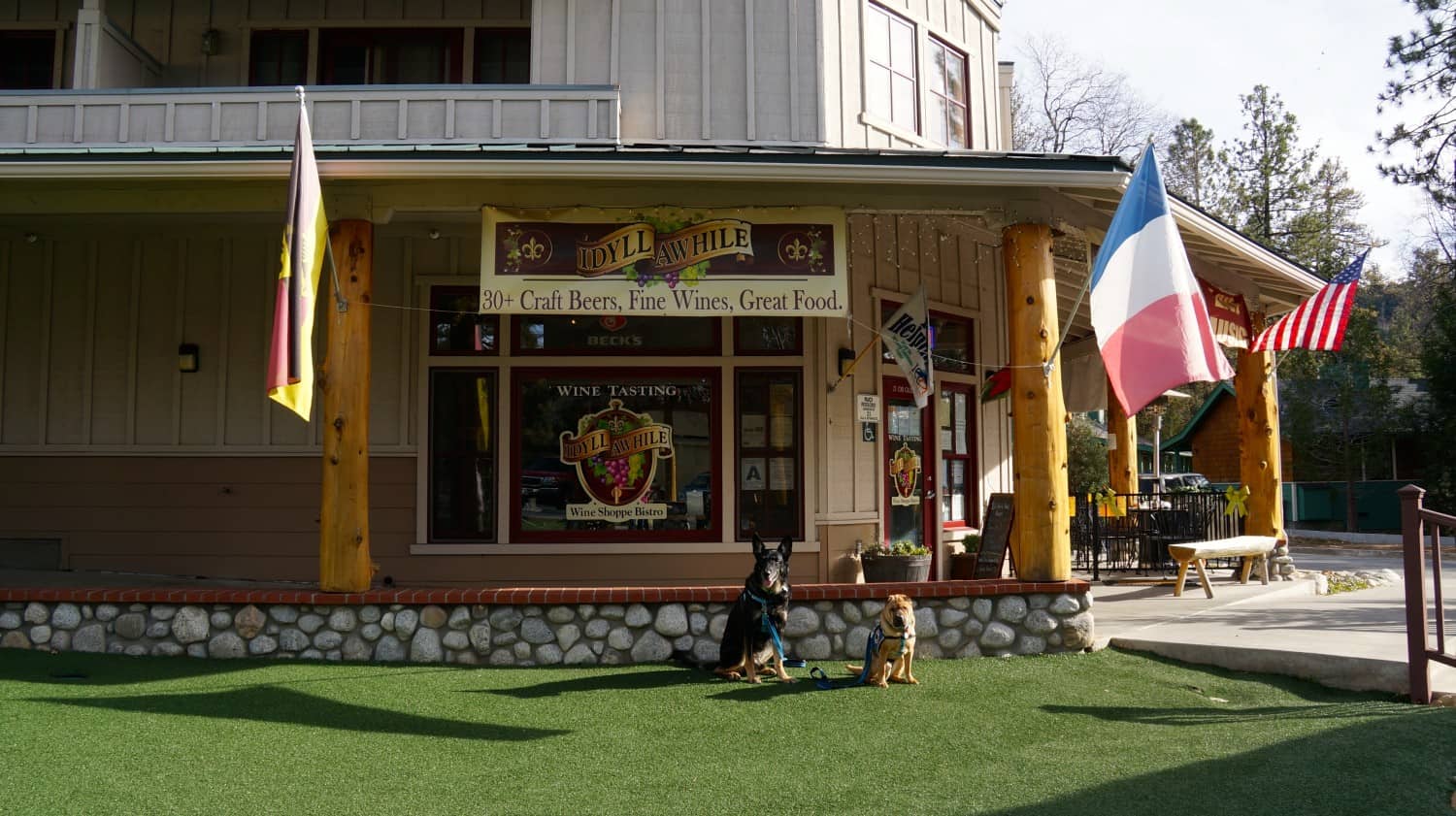 Considering how close it is to other places we've visited, I can't believe it took us so long to get to Palm Springs! A month wasn't nearly enough time to do and see everything we were hoping to, and I can guarantee that it won't take us long to visit again!
Planning a pet friendly trip of your own? We'll make it easy:
Pet Friendly Hotels | Pet Friendly Destinations | Pet Friendly Activities
Amazon Affiliate Disclosure: GoPetFriendly.com LLC is a participant in the Amazon Services LLC Associates Program, an affiliate advertising program designed to provide a means for website owners to earn advertising fees by advertising and linking to amazon.com, audible.com, and any other website that may be affiliated with Amazon Service LLC Associates Program. As an Amazon Associate, the owner of this site earns a commission from qualifying purchases.
(Visited 15,604 times, 1 visits today)