One of my favorite places in the country is Custer State Park in the Black Hills of South Dakota. Describing the calm that engulfs me there is impossible … it's like a salve on all my frayed nerves. It goes way beyond the scenery and the laid-back sensibility of the locals. The whole place seems to radiate an ancient understanding, some sacred energy that resonates deep inside me and seduces me to slow down, relax, and connect with a bigger vibration.
My parents love the Black Hills, too. Our first family vacation was to Custer when I was four years old. Perhaps it was that early introduction that kindled my love for this place. Whatever caused it, when I see those mountain begin to appear on the horizon, some part of me feels like she's coming home.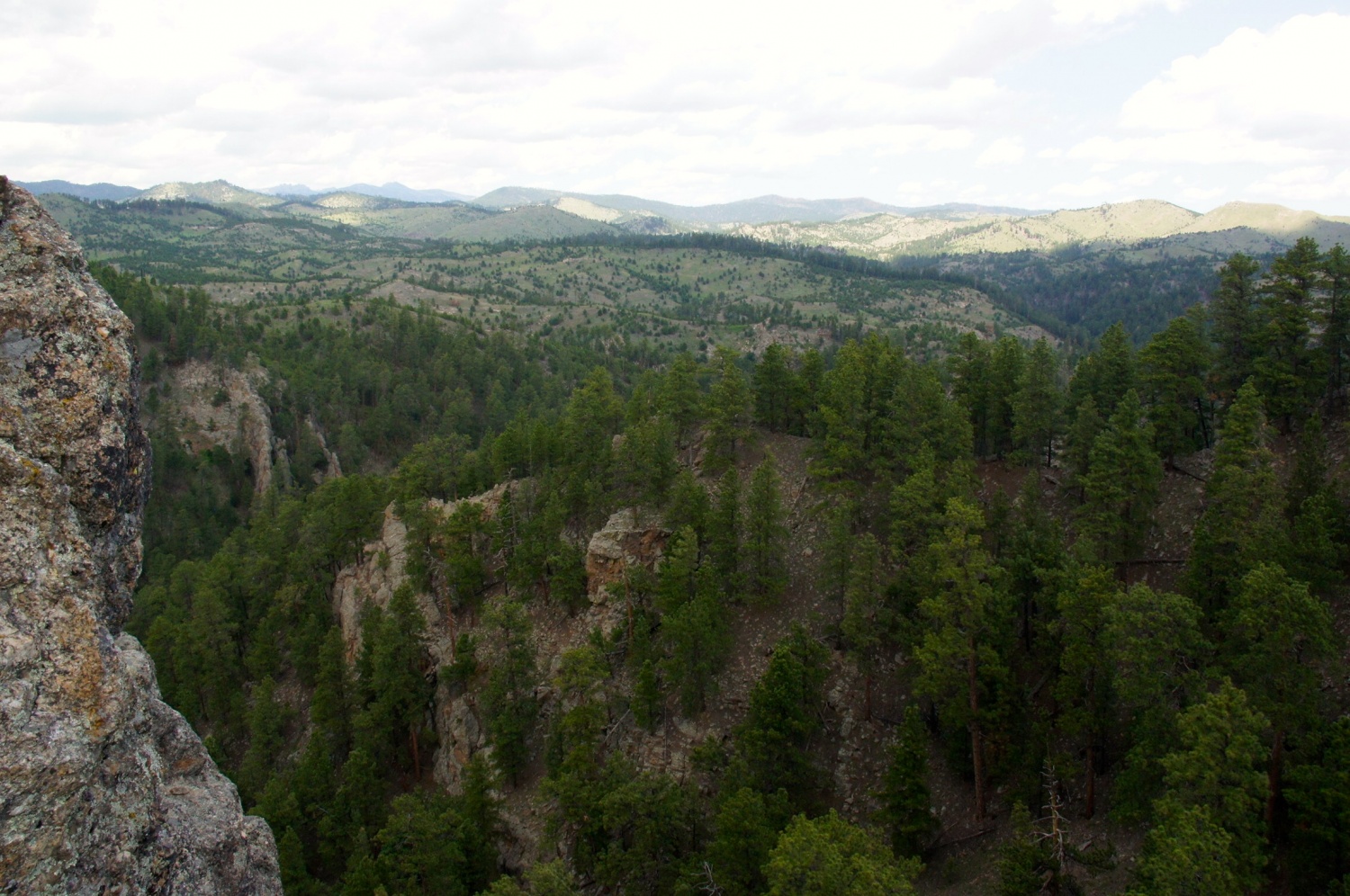 Hiking With Dogs in Custer State Park
As luck would have it, one of my favorite places also happens to be extremely pet friendly! Custer State Park has miles of trails from short, easy hikes to multi-day backpacking trips … and dogs are welcome on every one! Leashes are a must and we also recommend the pooches wear bear bells. Though the chances of running into a black bear are pretty slim, it is possible you'll come across one of the 1,500 bison that roam the park. And with bison, it's better not to startle them. We saw this big boy hanging out by the visitors center.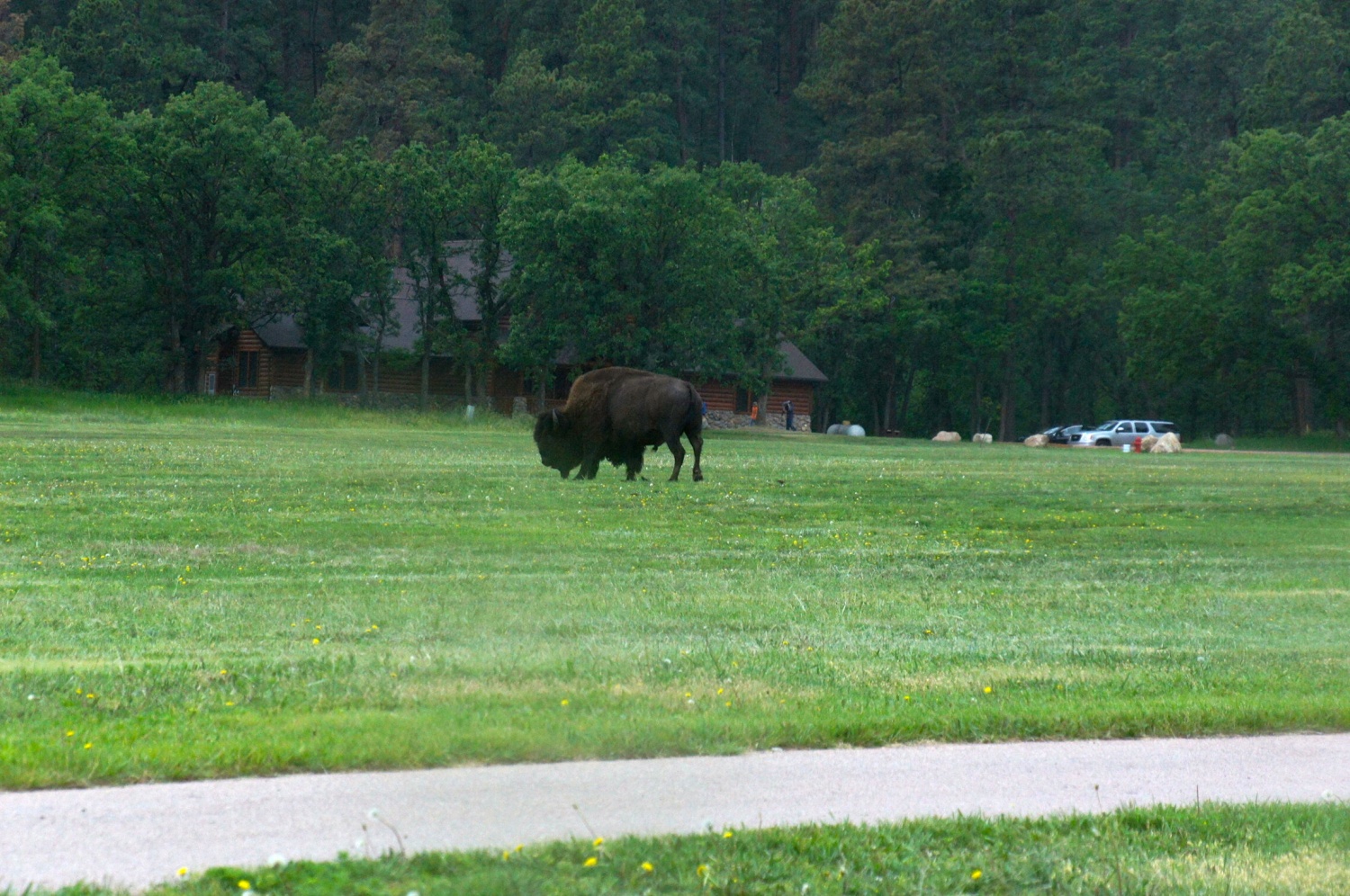 The best way to see Custer is to get out for a walk and we started at Sylvan Lake. The easy one-mile loop trail around the shore serves up great views of the granite rock formations that frame parts of the lake.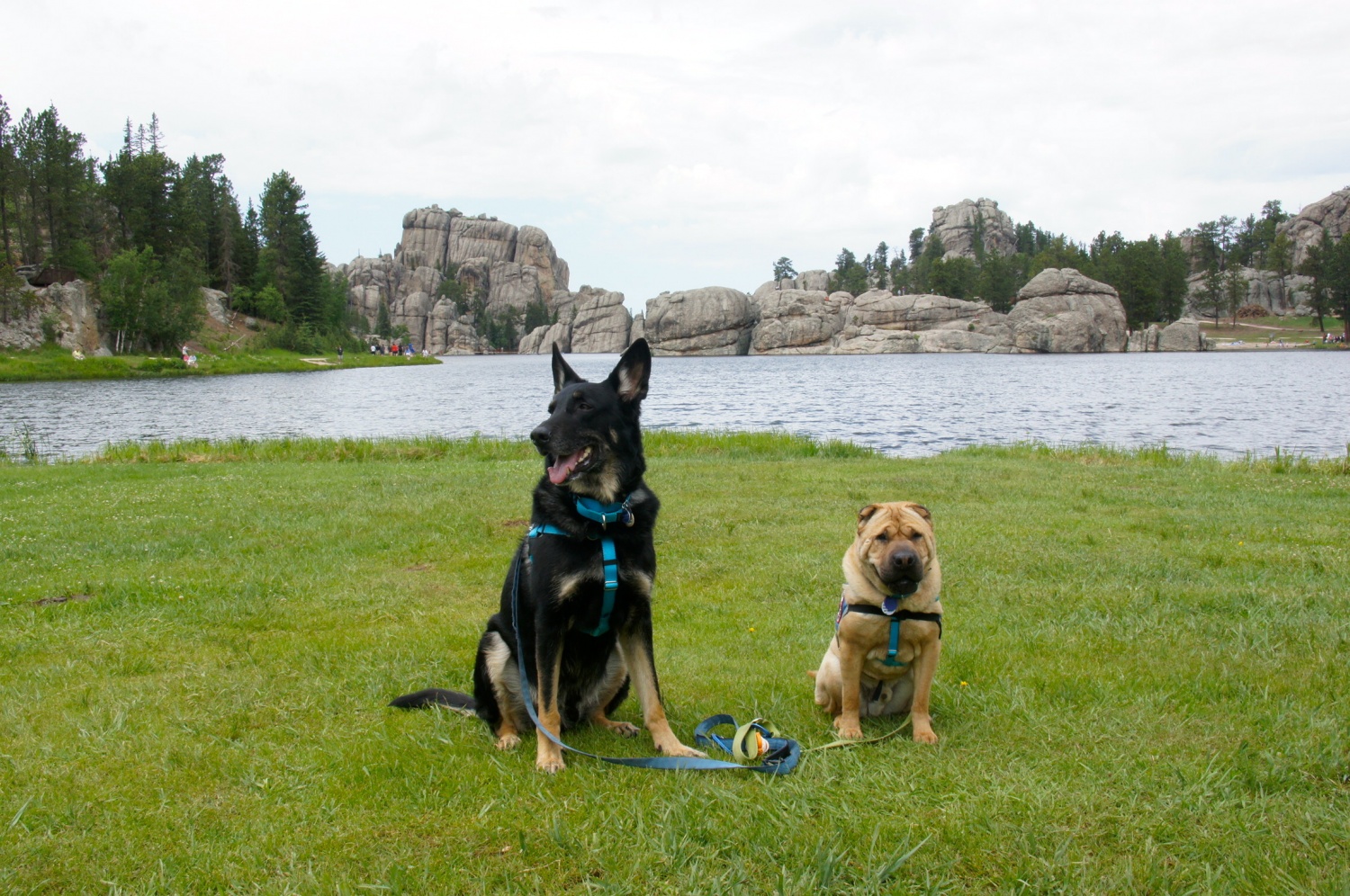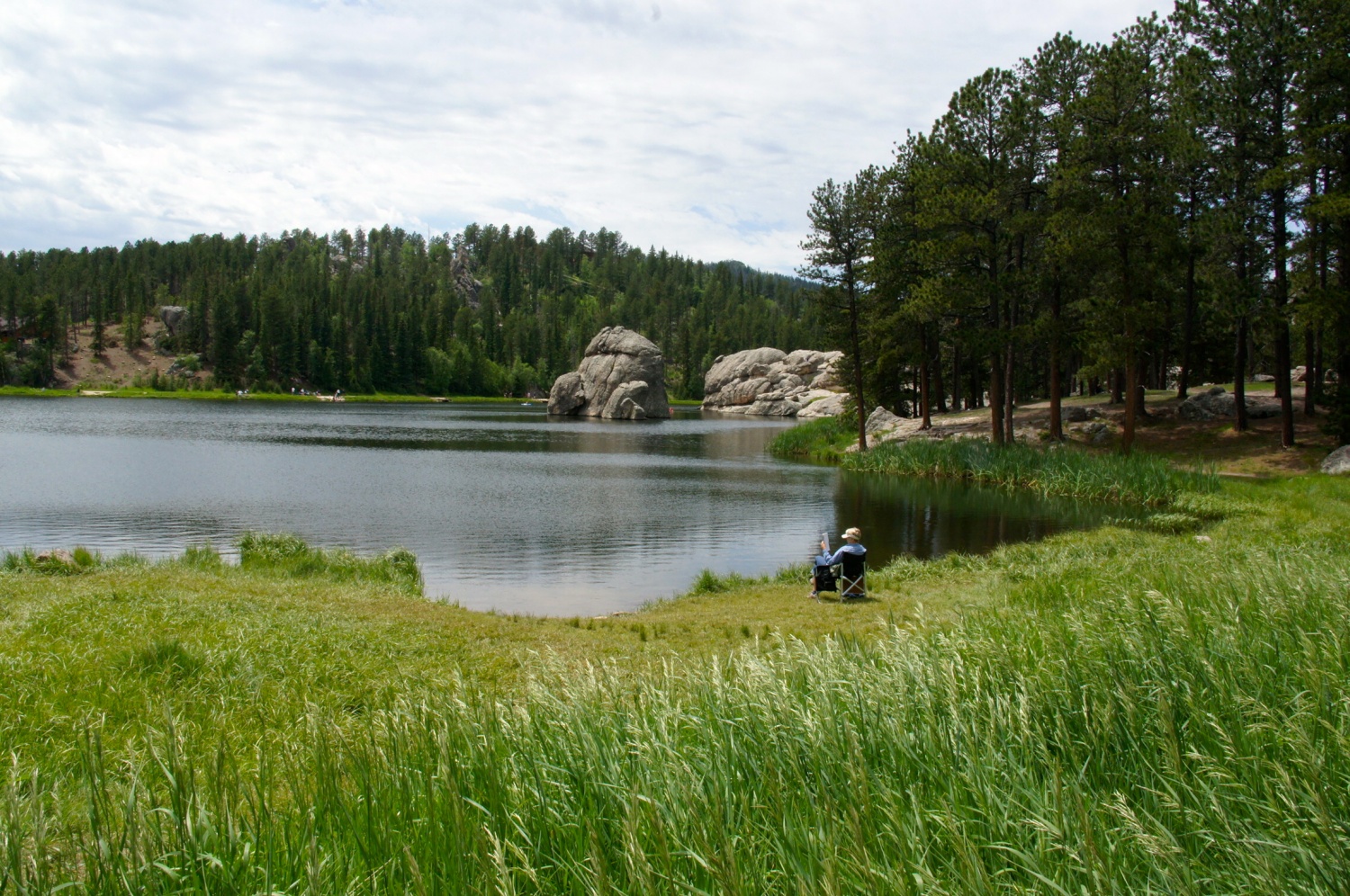 Another hike we never miss is the trail to Lover's Leap. The 3-mile loop starts out steep, but the views are worth the effort. Legend has it that two American Indians lovers were forbidden to be together and jumped from this cliff … thus the name.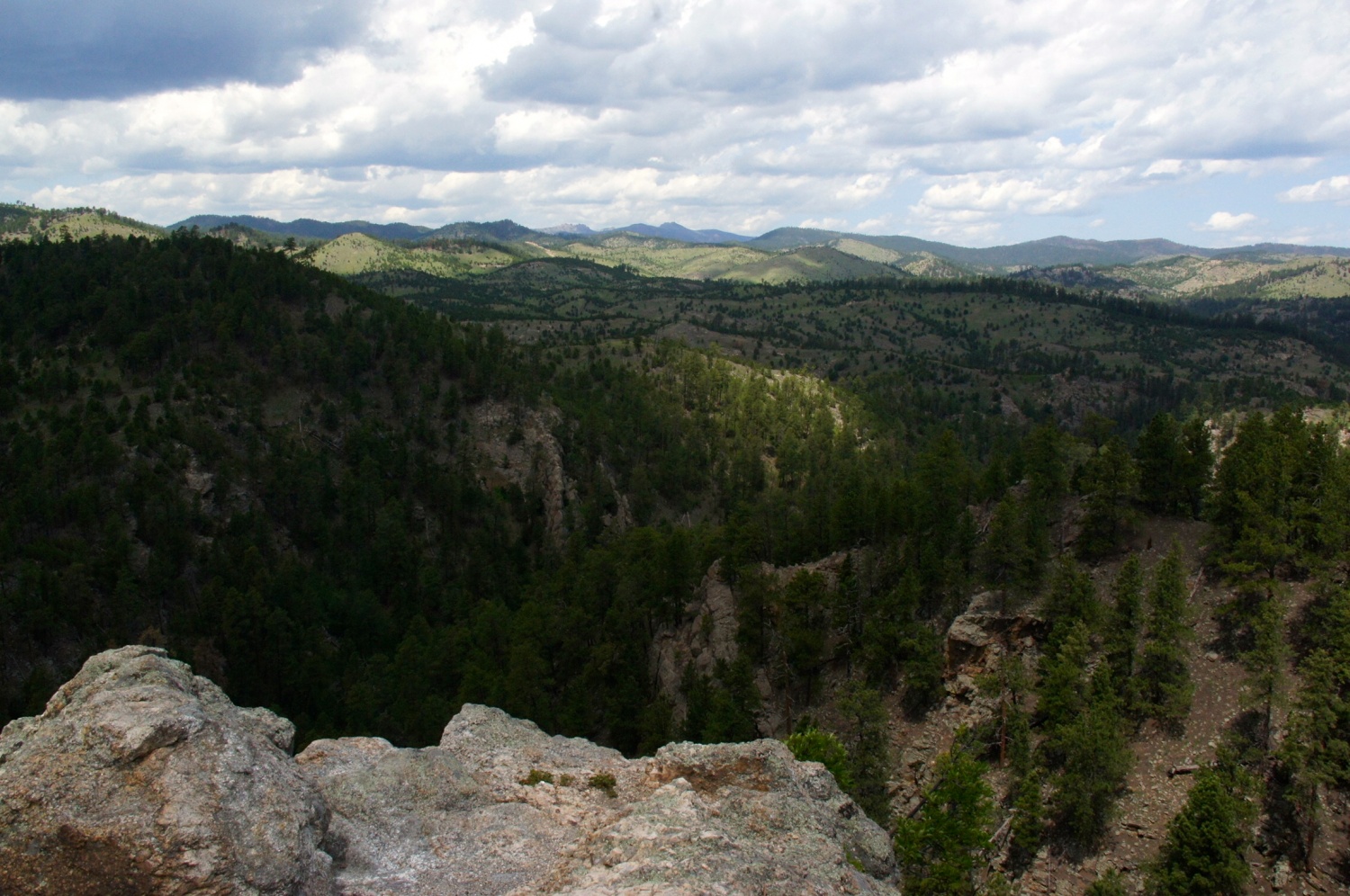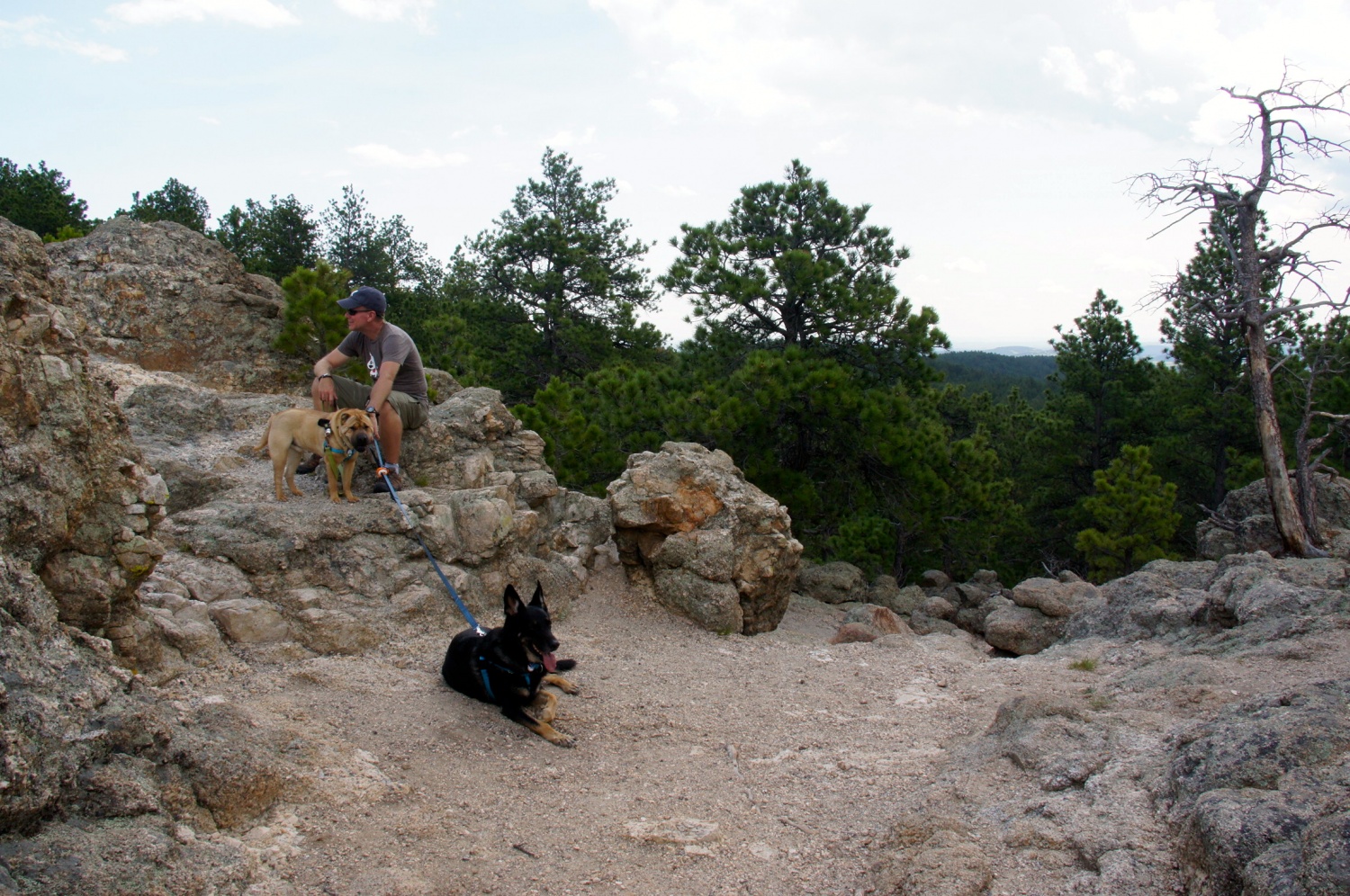 Perhaps you noticed the clouds in that first picture. Yes, it seems I should have paid more attention to them as well. As soon as we climbed off the overlook and started down mountain those clouds opened up and it poured. And then it hailed. The two-mile sprint back to the car left us drenched, cold, and muddy. We quickly toweled off the dogs, cranked up the heat, checked our pockets for fish that might have taken up a new habitat … and then laughed our heads off. Then Rod broke the news that – surprise! – he's more of an "urban hiker."
It took three years for my husband to come clean that he prefers sidewalks to rocky trails. That architecture it more appealing to him than mountain vistas. And that popping into a gallery or boutique is more exciting than identifying wildflowers and birdcalls. Who knew?! But, if it's urban hiking my husband wants, it's urban hiking he'll get!
Urban Hiking in Rapid City
It would never have occurred to me to forgo a day in Custer for a day in Rapid City … and that's the benefit of having a travel partner with a different preferences. It turns out Rapid City is a great town with beautiful old buildings, tempting eateries, good shopping, and super dog photo ops.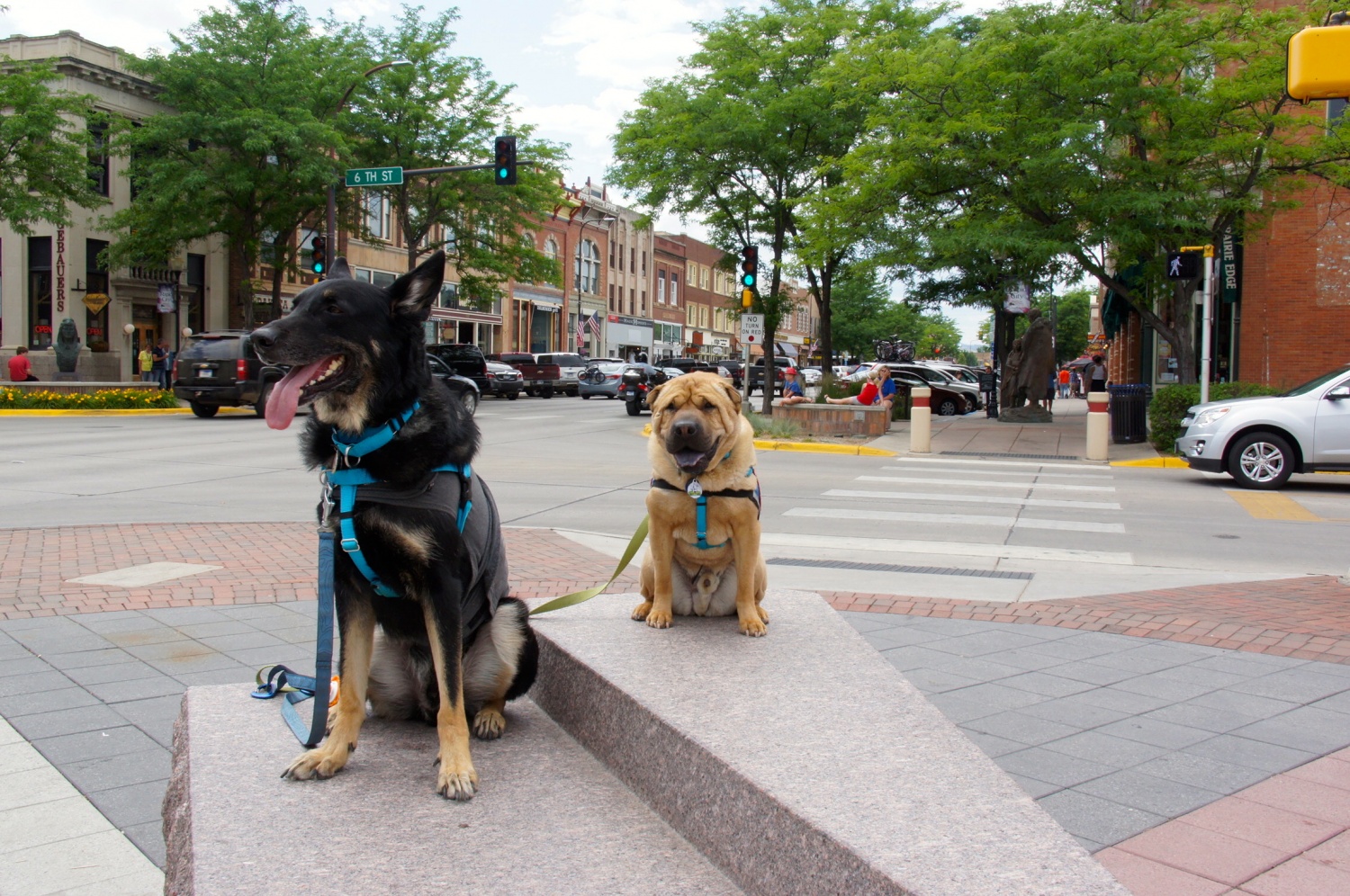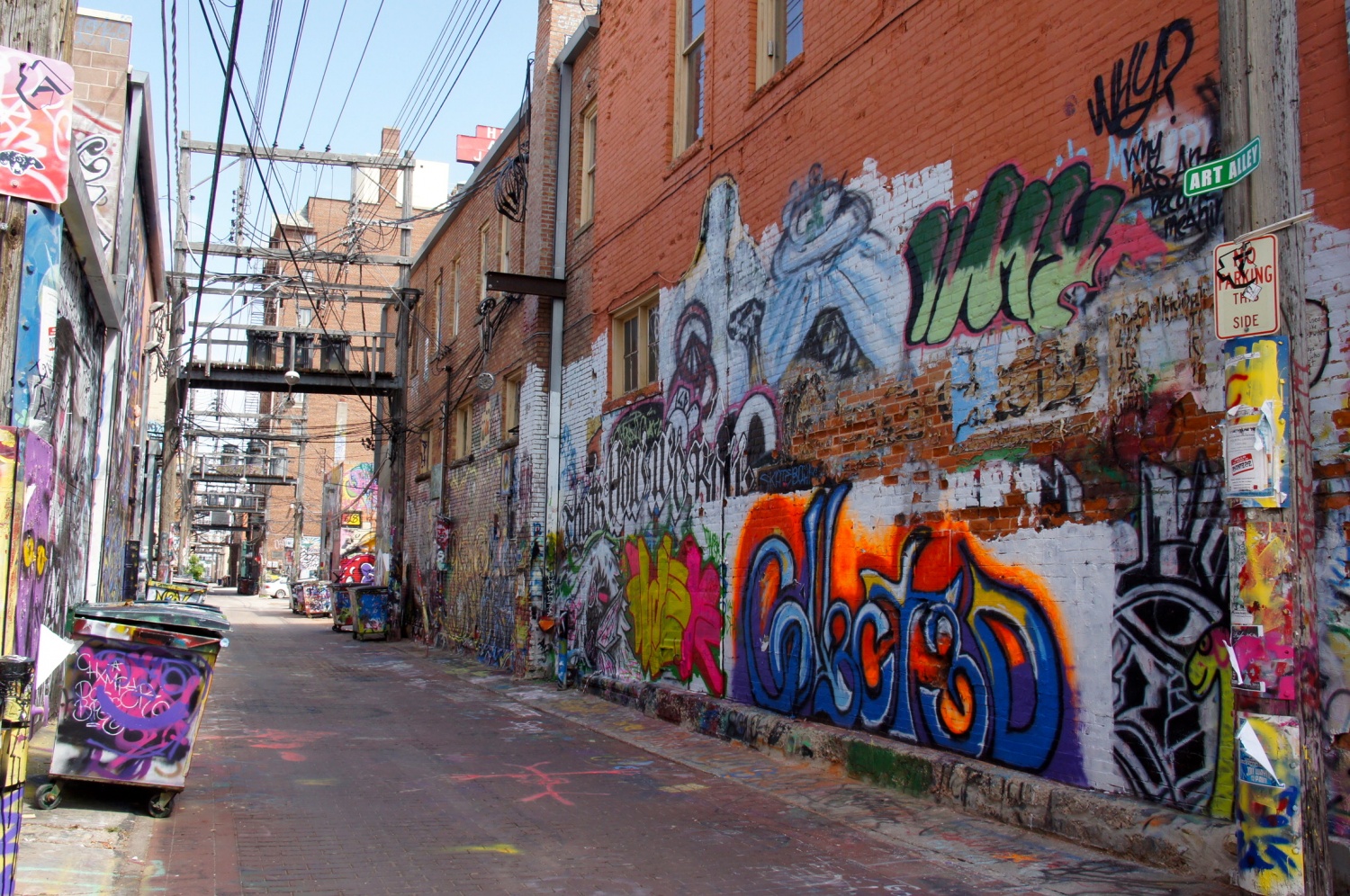 Known as the "City of Presidents," Rapid City has 42 life-sized, bronze statues of our former leaders placed around downtown. Rod and I had a good time trying to figure out who was who without reading the signs. Buster was happy to see that President Ford's pup was also commemorated.
We had a delicious lunch (including complimentary, home-made dog biscuits for the boys!) on the dog friendly patio at Dakota Thyme. And, as we walked around town, we noted several other pet friendly dining options to check out the next time we visit.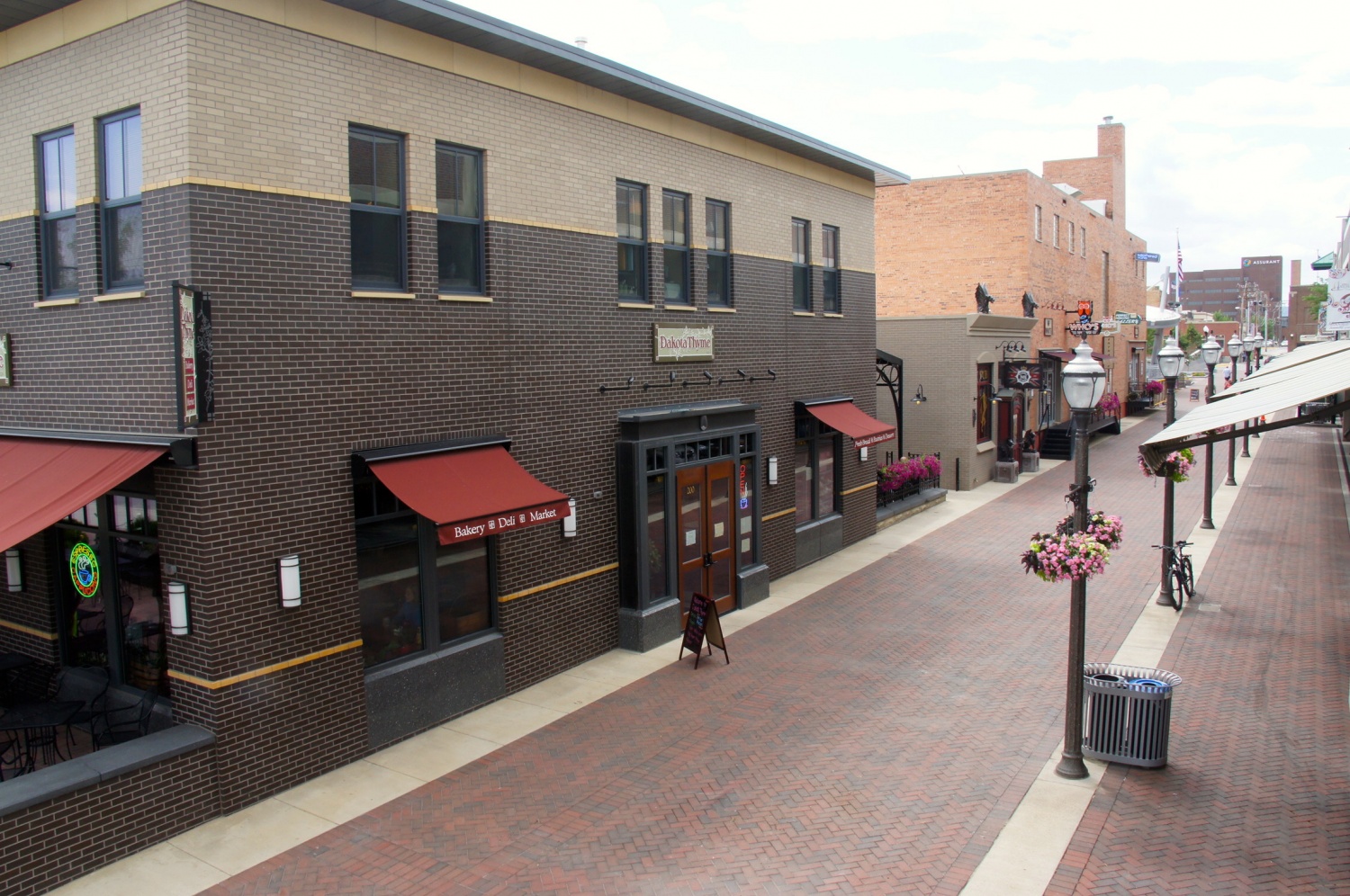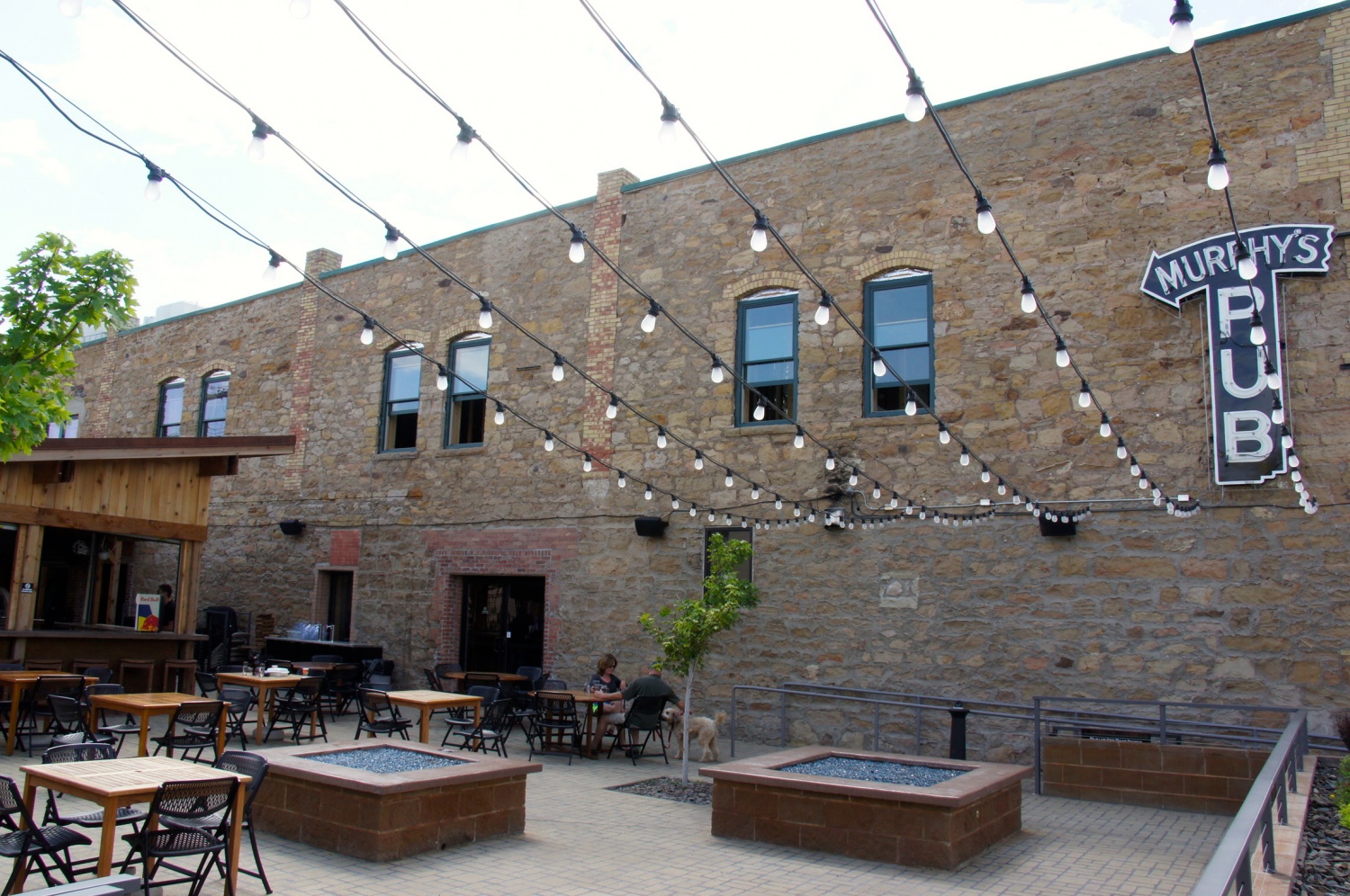 All in all, I have to admit that Rod's "hiking" alternative worked out better than my rain-soaked option. Still, the next day we were back in the Park for a trip around Needles.
Needles Drive
The last time we were in the Black Hills we took the Winnebago on Needles Drive. Looking at the narrow tunnels through the rock this time around, we wondered if we were crazy! This time we drove the RAV4 and our trip was much less harrowing. And that's just fine … I have plenty of grey hairs as it is.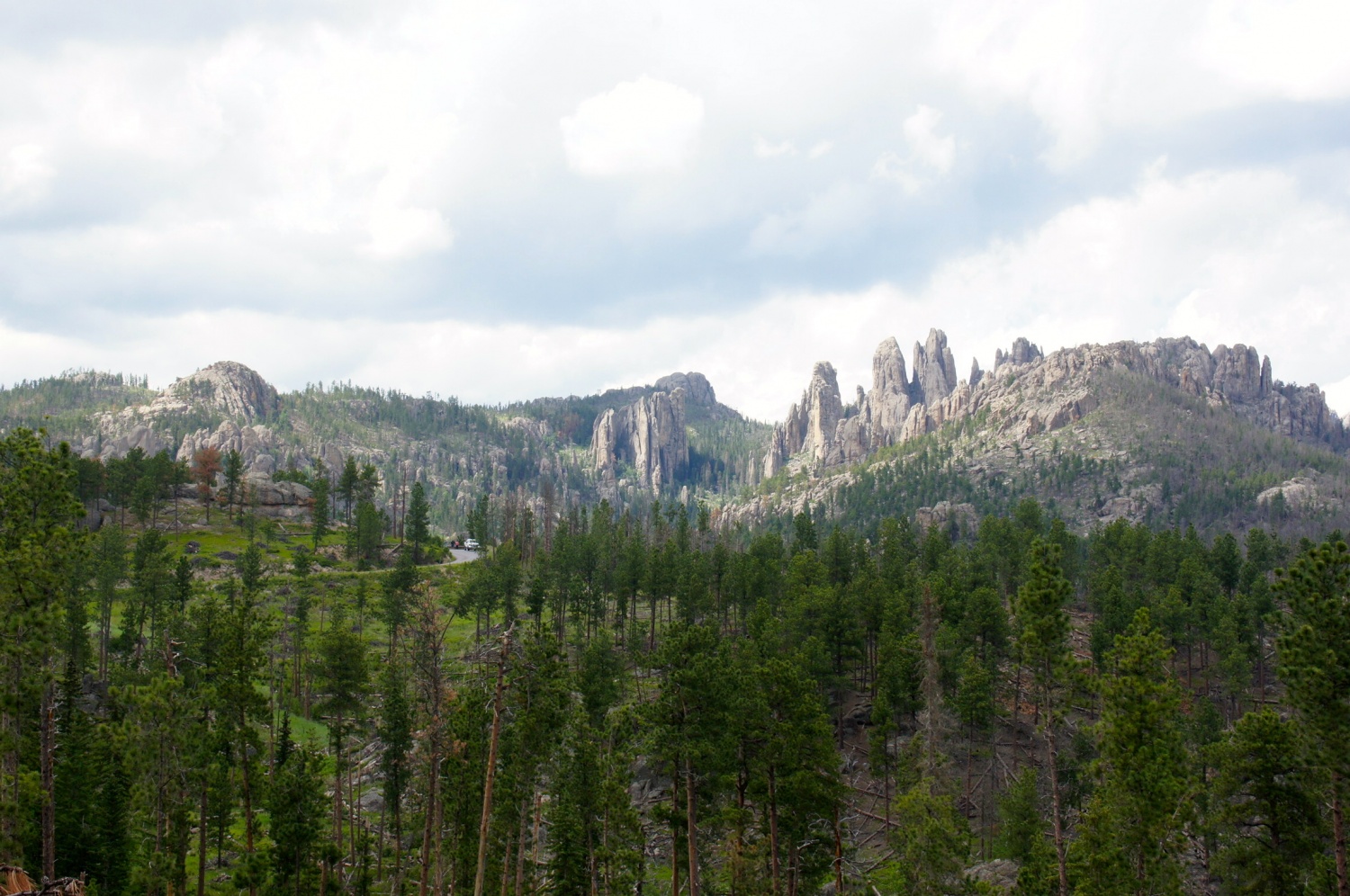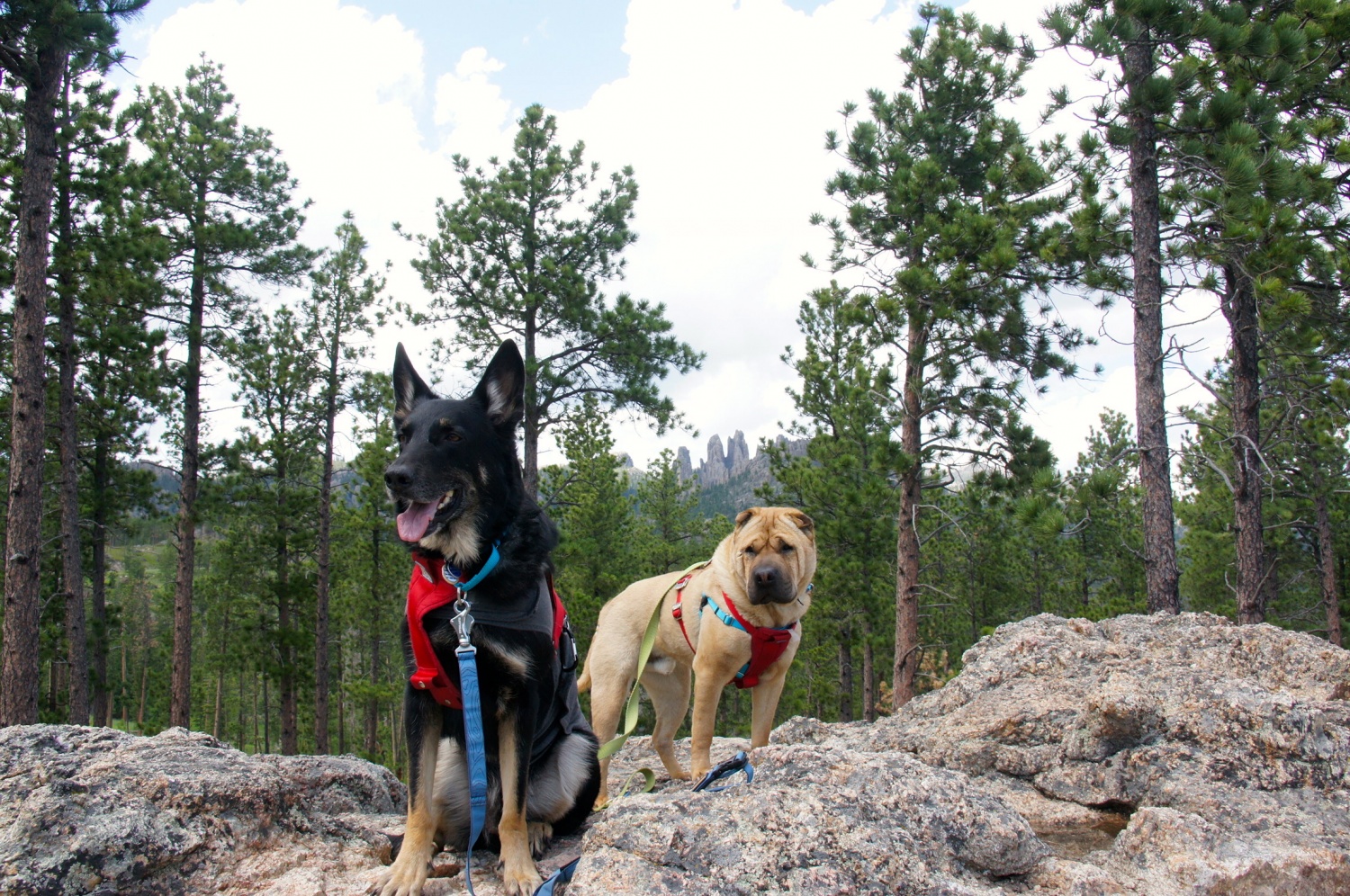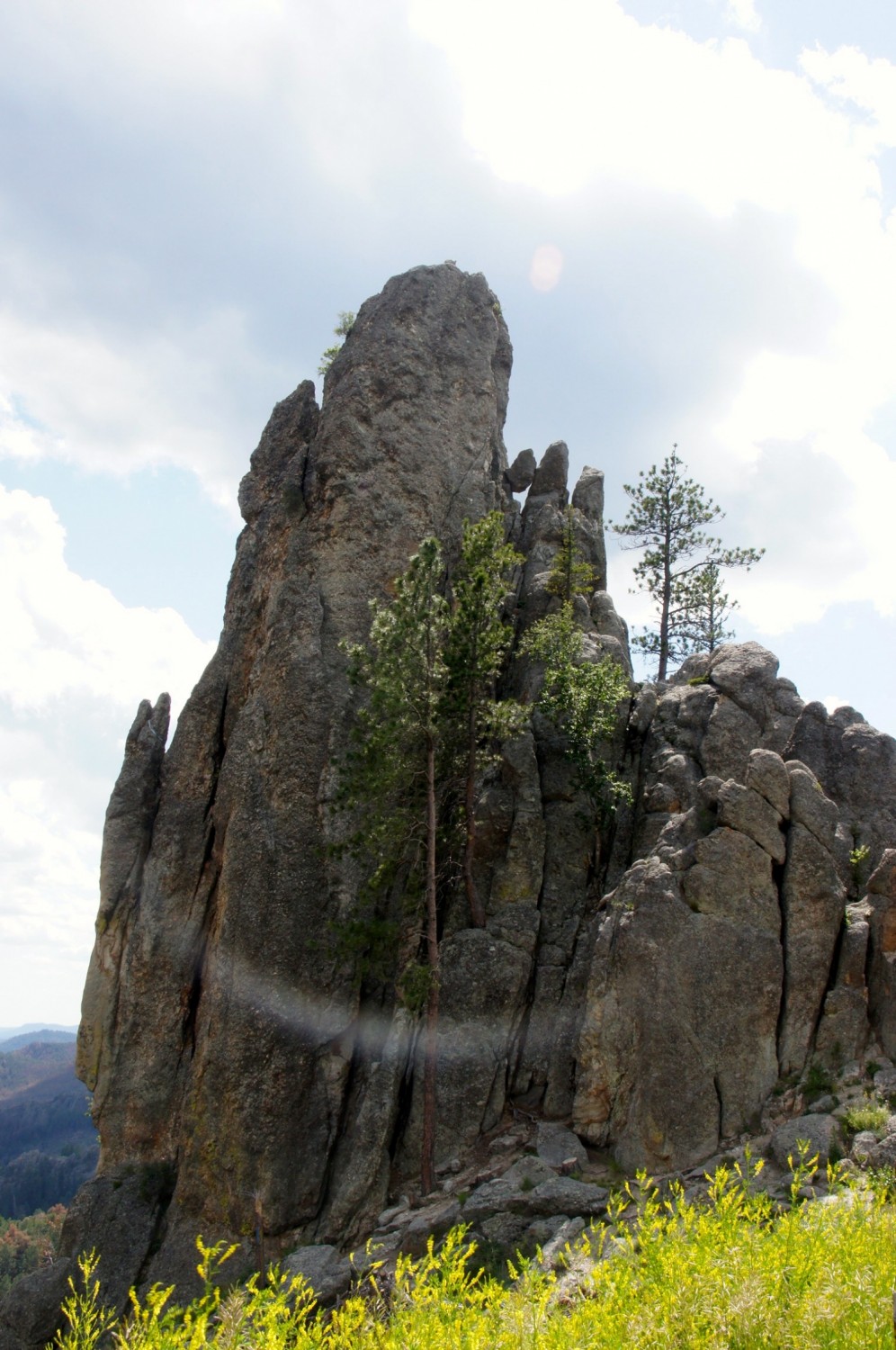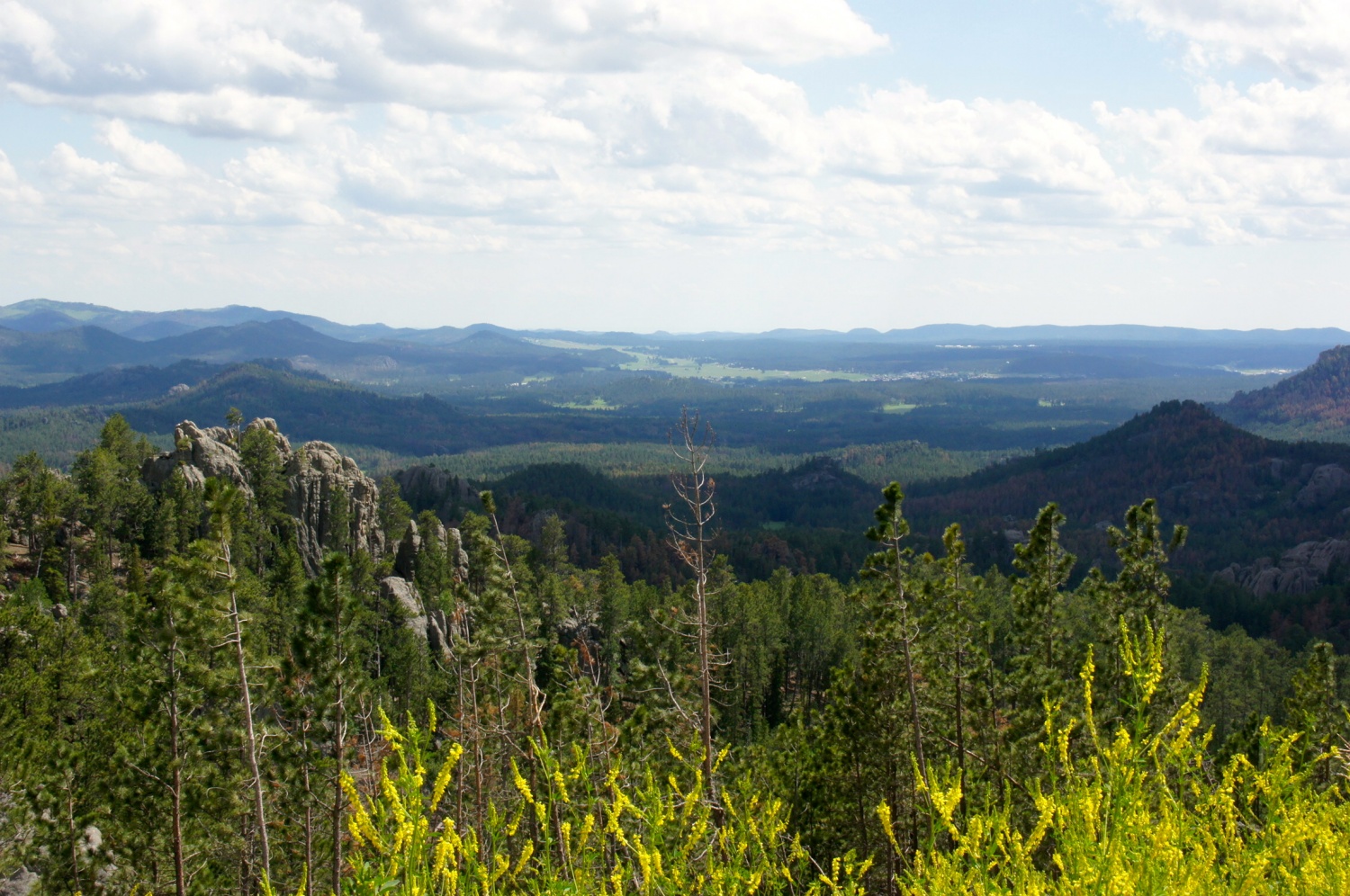 This visit was short but sweet, and I'm sure we'll be back this way again soon. Have you traveled to a place that speaks to you – that you just can't help returning to time after time? Where is it?
Update
We finally made it back to the beautiful Black Hills and Custer State Park. Read about our most recent visit now!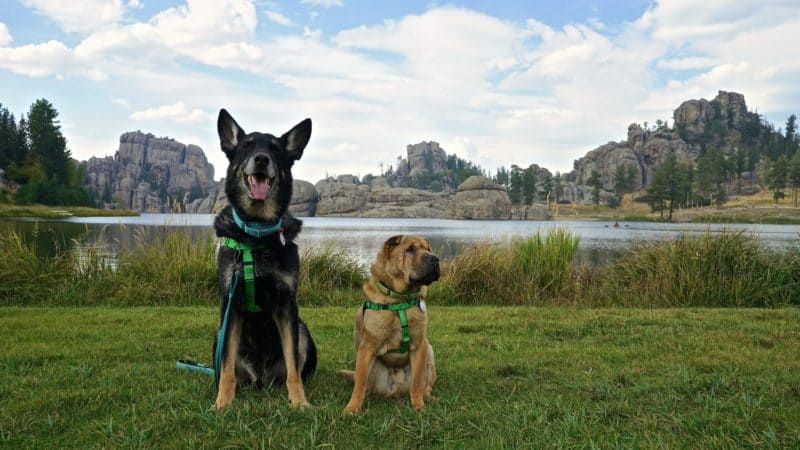 Planning a pet friendly trip of your own? We'll make it easy:
Pet Friendly Hotels | Pet Friendly Destinations | Pet Friendly Activities
Amazon Affiliate Disclosure: GoPetFriendly.com LLC is a participant in the Amazon Services LLC Associates Program, an affiliate advertising program designed to provide a means for website owners to earn advertising fees by advertising and linking to amazon.com, audible.com, and any other website that may be affiliated with Amazon Service LLC Associates Program. As an Amazon Associate, the owner of this site earns a commission from qualifying purchases.
(Visited 1,956 times, 1 visits today)