Long time readers of this blog may recall that the Florida Keys were our first stop when we sold our home and took to RVing full-time in January, 2011. Leading up to our departure we'd neglected the dogs' training time … and their behavior quickly made that abundantly clear. We had to curtail our activities and stick to things Ty and Buster had the skills to do – which translates into "we missed some good stuff." Fortunately, Rori and Laura Paul and their dog, Jake, are on the case exploring the Keys and reporting back!
***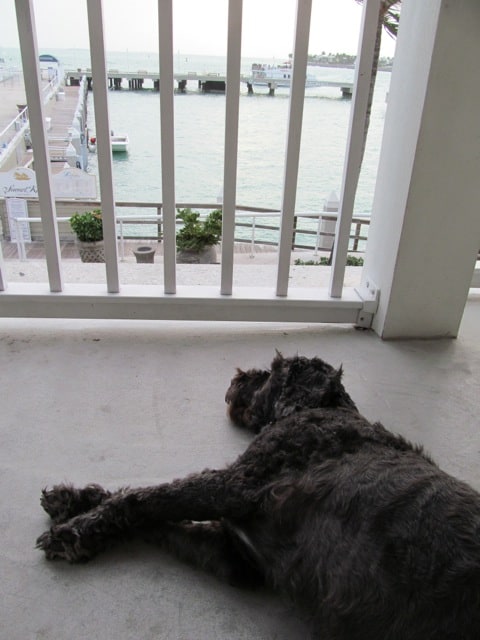 For many, a visit to the Florida Keys and Key West is a dream come true. The end of the road … America's island life haven … the place where the pavement ends at the waterline and it's all about nature, fun, romance, and characters.
So who better to take along than your own personal "characters" – your dogs?!
Jake the dog joined us on a recent trip to the Keys and Key West. This was my second time savoring the island life, but for Laura and Jake, this was their first adventure on the islands.
Surely Laura would enjoy it … but what about Jake? We'd heard that the city of Key West was dog-friendly, but would we find anything to enjoy together higher in the chain, or would this be a from-the-car tour?
Key Largo
Key Largo starts the chain with is natural wonders. We stayed as guests of the dog friendly Bayside Inn in Key Largo in one of two suites overlooking the water. It was a lovely room – basically a one-bedroom apartment – with plenty of space for relaxing with the boy. Dogs are welcome all around the property and Jake loved  joining us for sunset on the pier and dinner on the balcony.
Unfortunately, we found other parts of Key Largo were not as doggie welcoming, so we headed south. We did determine that John Pennekamp State Park allows dogs, but not on the beaches, tour boats, or in the buildings. If you were thinking of touring the reef, check their website for details on where your pup will be welcome.
Middle Keys
The further south we went, the more dog friendly things got. Highlights in the middle Keys are Anne's Beach where pups are welcome to splash, and the Rain Barrel – an artist's enclave along Hwy 1 – where everyone was happy to see Jake. In fact, he got to meet a puppy while we were walking around! Robbie's Marina, where you can feed the tarpon, also welcomes dogs. Jake definitely enjoyed this stop and the opportunity to make some new friends.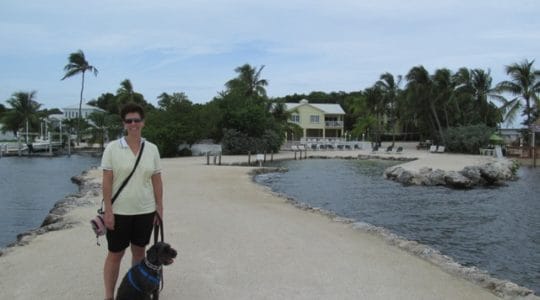 Your pup is also welcome to join you at the Dolphin Research Center on Grassy Key, just north of Marathon. There staff were very friendly to pups and dolphins were fascinated by them! They were talking up a storm to Jake.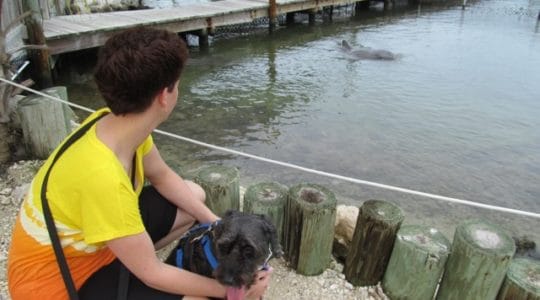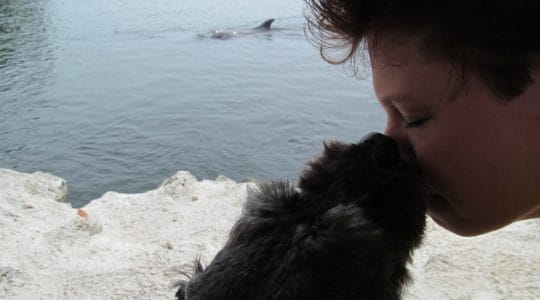 Marathon Key
Marathon is a great location in the middle of the chain and a nice place to use as a base of operations. We stayed as guests of the Holiday Inn Express & Suites in Marathon. Our dog friendly room was on the first floor and at the front, which made for easy ins and outs. It was not only comfy, but quiet! A family reunion didn't bother us when we were in our room, and for the half hour we left Jake, they didn't bother him either. You can even enjoy a meal at Catch 53 on property, and with doggie in tow you'll be on the patio – where the views are best.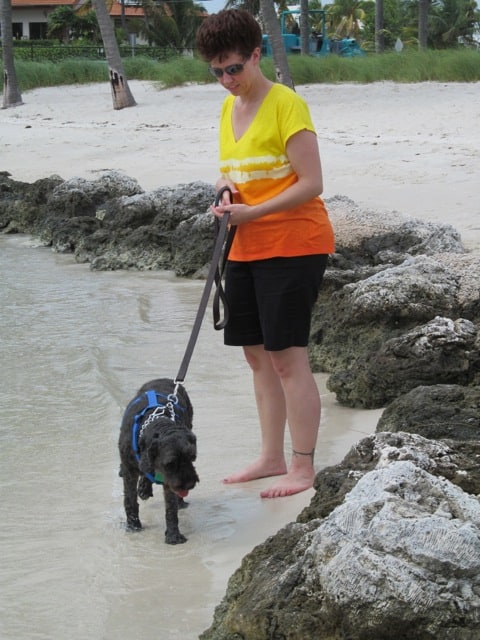 Marathon is also home to Sombrero Beach, a great dog spot. We took a couple walks out there, on the beach and around the park, and Jake took his first ever dip in the Atlantic! Stroll 7 Mile Bridge with your dog and stop at Seaside Dawgs & Beef in town for some awesome Vienna Beef.
Key West
Key West is a dog lover's town! We were hosted by the Westin Key West and their dog friendly services include a heavenly pillow, doggie bowls and a welcome bag with doggie essentials. It's a wonderful place for humans and dogs and a perfect spot for resting and vacationing.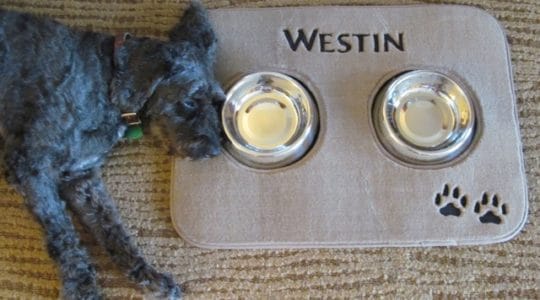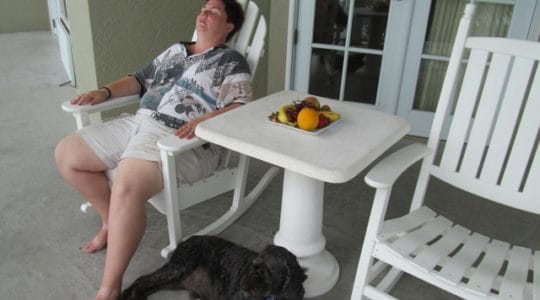 Most stores happily invite you dog to join you, and Jake was trilled to lie on cool floors and enjoy the air conditioning. He's no dummy and started trying to enter every door we passed by … or at least partake from the many dog water bowls along the way.
Many restaurants, but not all, also welcome your dog. Apparently a "new" ordinance requires you to enter through a separate entrance, but that's no big deal. We enjoyed Hard Rock for their outdoor seating, dog friendliness, and appetizers that hit the spot for us all.
The Florida Keys and Key West are all they promise to be, but do know that the dog friendly level grows as you head south, but those that do welcome Jake & his friends, they are great places to enjoy!
Note: During our visit tropical storm Debby kept the skies overcast and pavements cooler. Keep in mind that during summer the temps and humidity can be dangerous for pets. You'll need to take care to keep them cool and hydrated, and don't be scared off by bad weather –  it could be to your benefit like it was for us.
For more information on the Florida Keys and Key West and more photos, visit Rori Travels Florida where we Enjoy Florida's Coast. All photos used in this post are copyright Rori Paul, 2012
Planning a pet friendly trip of your own? We'll make it easy:
Pet Friendly Hotels | Pet Friendly Destinations | Pet Friendly Activities
Amazon Affiliate Disclosure: GoPetFriendly.com LLC is a participant in the Amazon Services LLC Associates Program, an affiliate advertising program designed to provide a means for website owners to earn advertising fees by advertising and linking to amazon.com, audible.com, and any other website that may be affiliated with Amazon Service LLC Associates Program. As an Amazon Associate, the owner of this site earns a commission from qualifying purchases.
(Visited 9,276 times, 1 visits today)