For many, a visit to pet friendly Key West is a dream come true. The end of the road … America's island life haven … the place where the pavement ends at the waterline and everyone's top priority is having fun!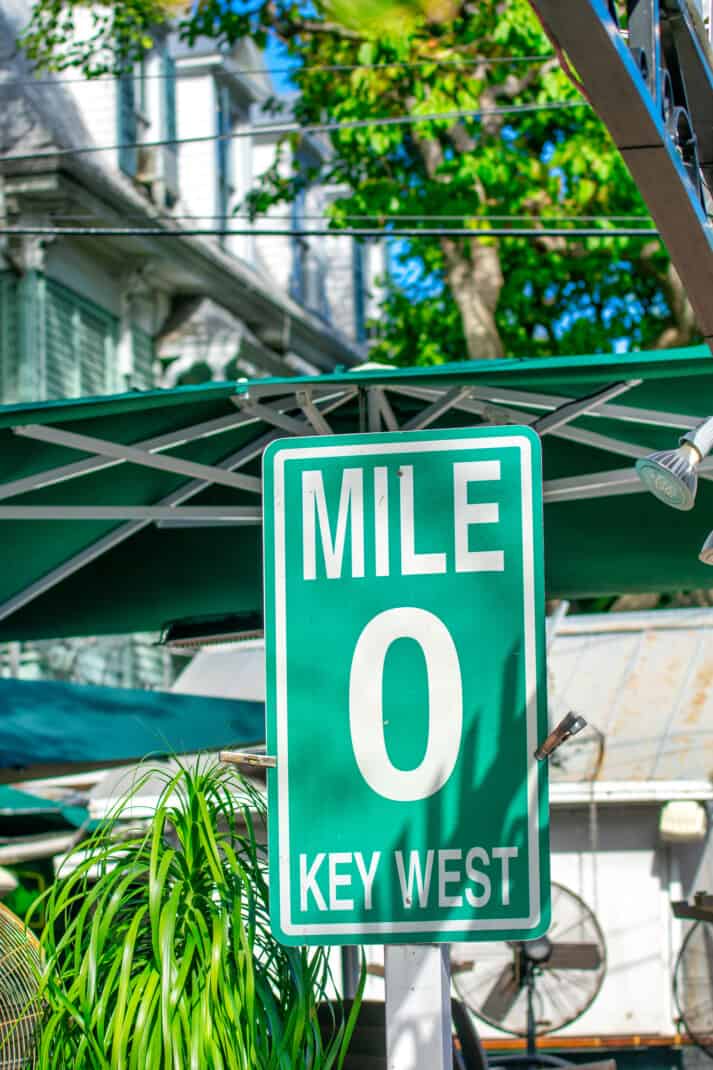 Key West lies near the southern end of the Florida Keys, a string of 822 low-lying islands that sweep off the tip of Florida. Known for its laid-back, friendly atmosphere it's no wonder that pets are welcome all over the island.
From the shops, bars, and restaurants on Duval Street to the sunset celebrations held every evening, in Key West dogs are as numerous as signature tropical drinks. They even have a great off-leash dog park and nearby dog beach!
You could easily spend a long weekend here and not check out all the pet friendly attractions or eat at all the dog friendly restaurants. So let us share some of our favorite pet friendly things to do in Key West with you!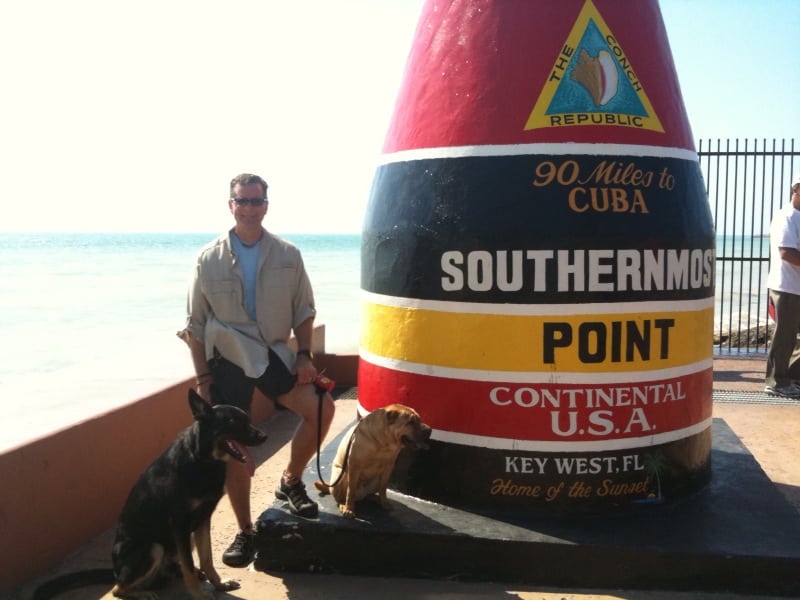 Best Time To Visit Pet Friendly Key West
Before we get into the fun stuff, you'll need to decide when to plan your trip. The best time to visit Key West with your pets is during the springtime shoulder season from March to May. Expect great weather and fewer crowds than the winter season, which means slightly more reasonable hotel.
Keep in mind that summer summer temperatures and humidity can be dangerous for pets. If you are traveling during a time of year when the pavement or sand could burn your pet's paws, check out our guide to choosing the best dog boots for your best friend.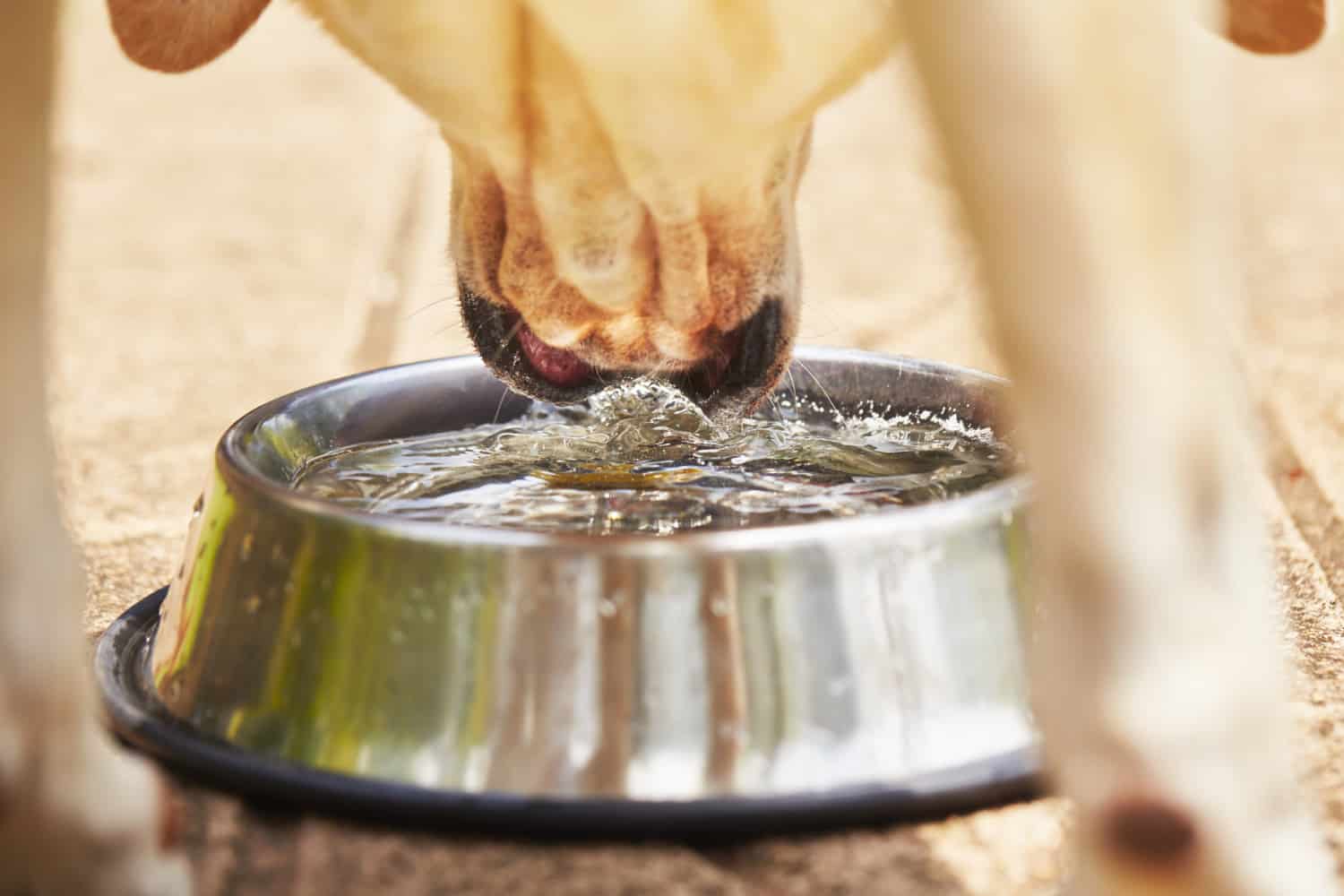 Getting To Key West With Pets
If you'd rather not drive, the Key West Express Boat will ferry you and your pet to Key West year-round from Fort Myers Beach and seasonally from Marco Island.
Dogs, cats, and birds are welcome aboard for a roundtrip fee of $60 per pet. Reservations required as space is limited. And all pets must be contained in a carrier you provide. Note that pet strollers are prohibited, and pets cannot occupy passenger seats, table tops or aisles.
Larger pets that do not fit under tables or beneath passenger seats spend the 3.5- to 4-hour journey inside a crate (which you must provide) on the rear exterior deck, which is also reserved for smoking.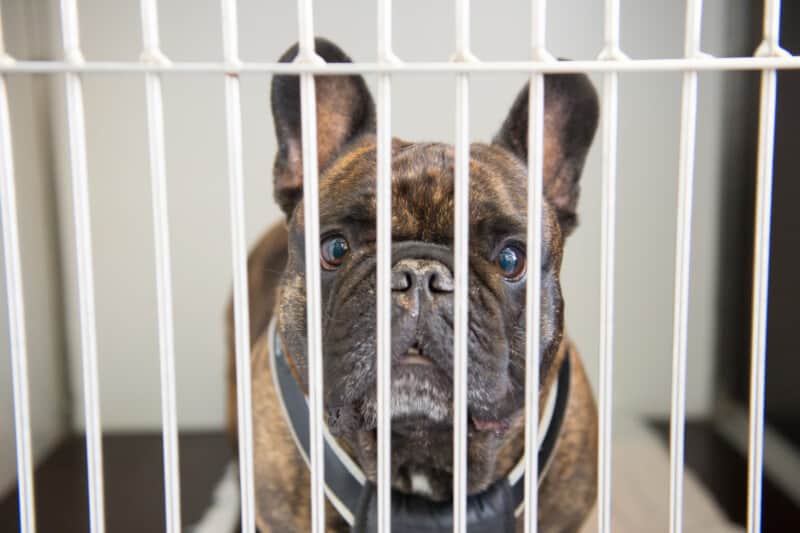 Dog Friendly Activities In Key West
The Conch Republic loves its four-legged visitors as much as their human companions. If you and your furry travel buddy find yourselves spending a weekend in Key West, you'll find plenty to do together.
One thing that we found unusual … and our dogs found a little too interesting … were the free-ranging roosters. I thought they were very pretty. Ty and Buster thought they looked delicious.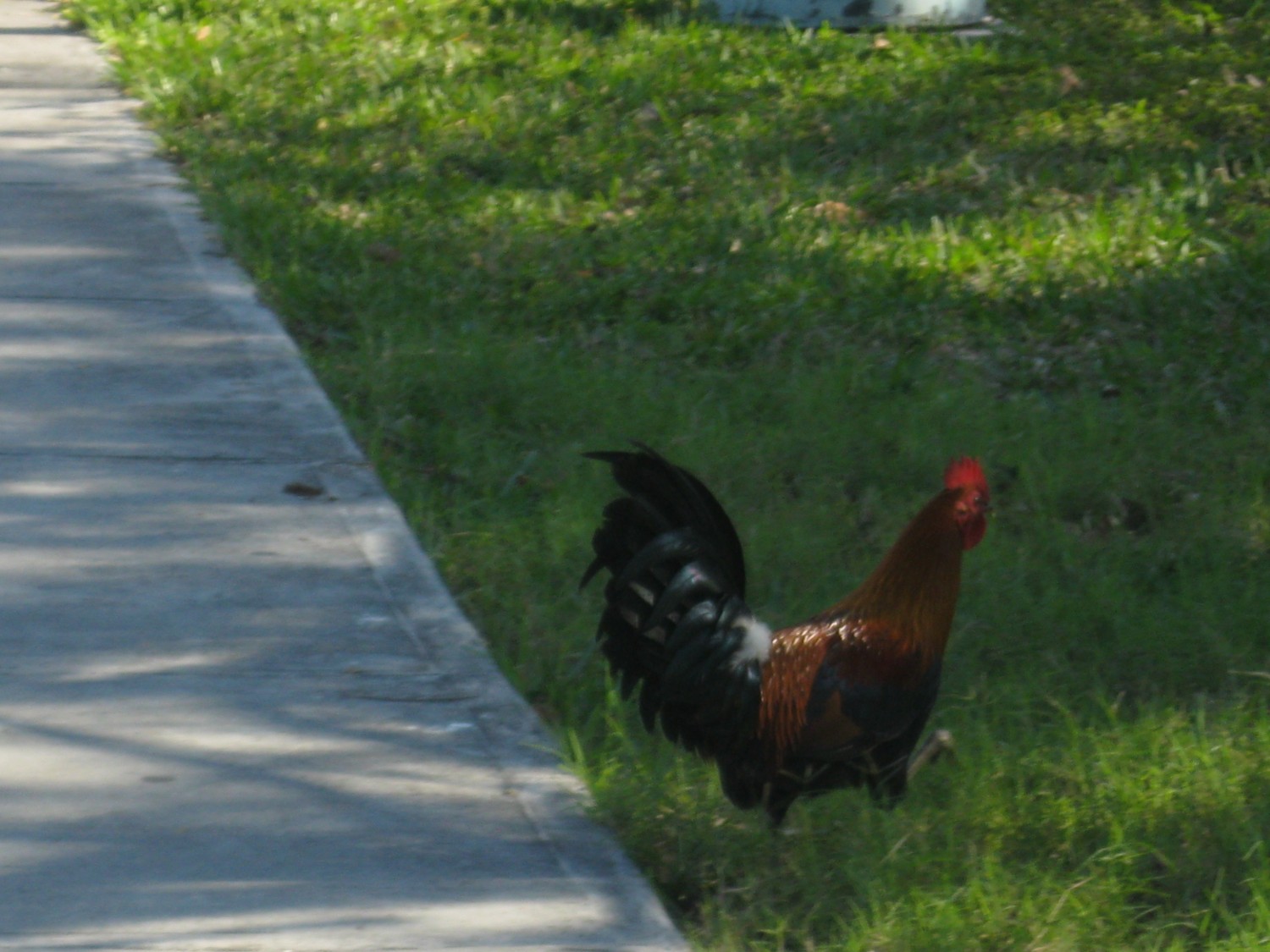 Pet Friendly Beaches, Parks & Gardens In Key West
Fort Zachary Taylor Historic State Park (601 Howard England Way) — Fort Taylor predates the Civil War and is a 54-acre National Historic Monument housing the largest collection of Civil War armament in the world. Leashed pets and their people can hit the park's trails or plan a picnic with a view. Pets cannot go inside the fort, on the beach, or on the deck at the café.
Higgs Beach Dog Park (100 Atlantic Blvd) — This fenced dog park has separate areas for small and large pups to play. There are water stations for the dogs and plenty of shade for the humans. Be aware that poisonous Cane or "Bufo" toads can sometimes be found along the tree line, so keep an eye on your dog.
If you're at the park in the evening, Higgs Beach offers a nice view of the sunset.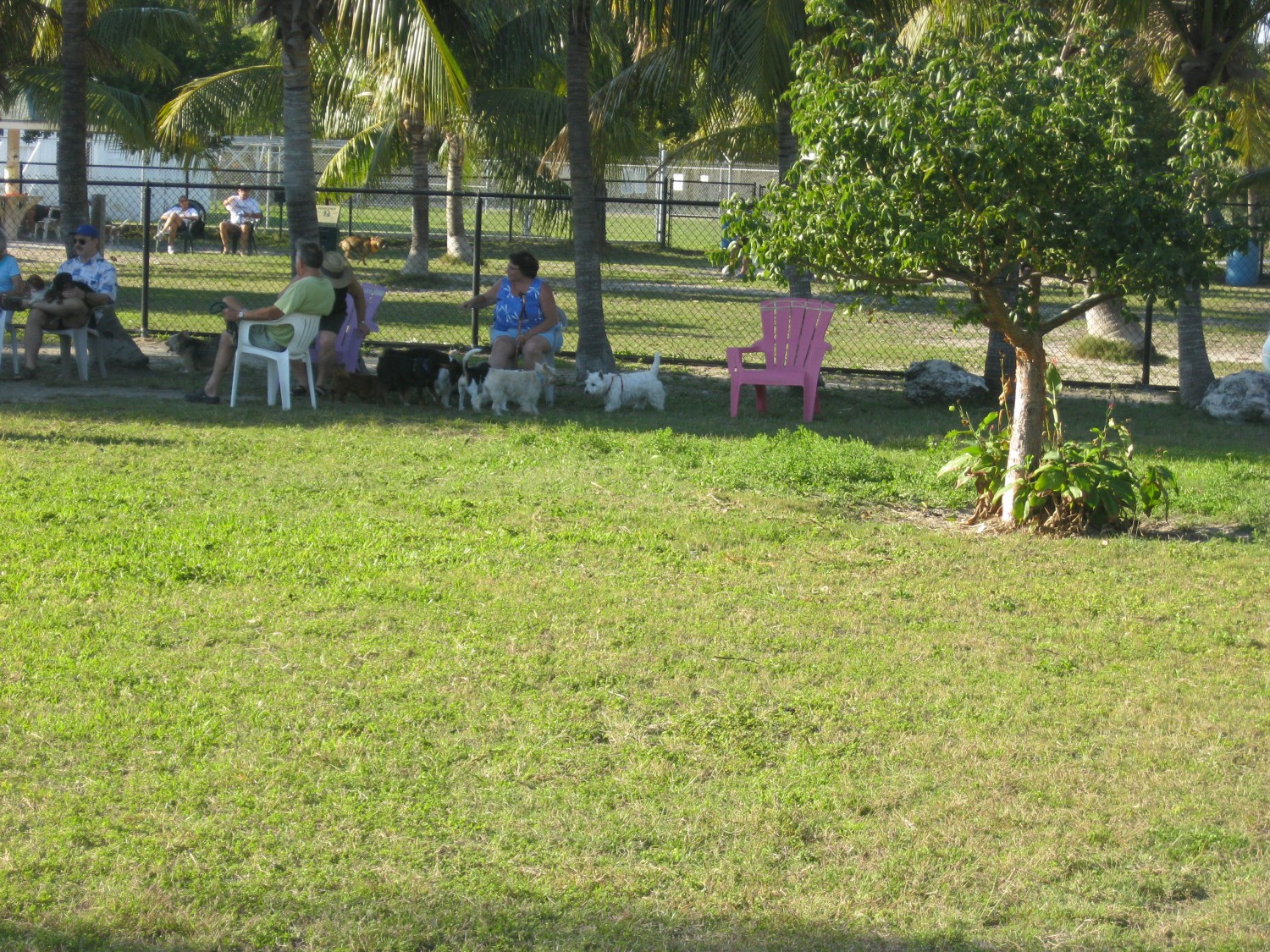 Key West Dog Beach (1500 Vernon Avenue) — Though this dog beach isn't going to win any awards, for pups looking for a place to romp in the waves, it's perfect. Despite its small size, the dogs here have a ball running and playing together.
When your dog is ready for a rest, head next door to Louie's Backyard (700 Waddell Avenue), an oceanfront restaurant with Caribbean food, a pet friendly patio, and spectacular views!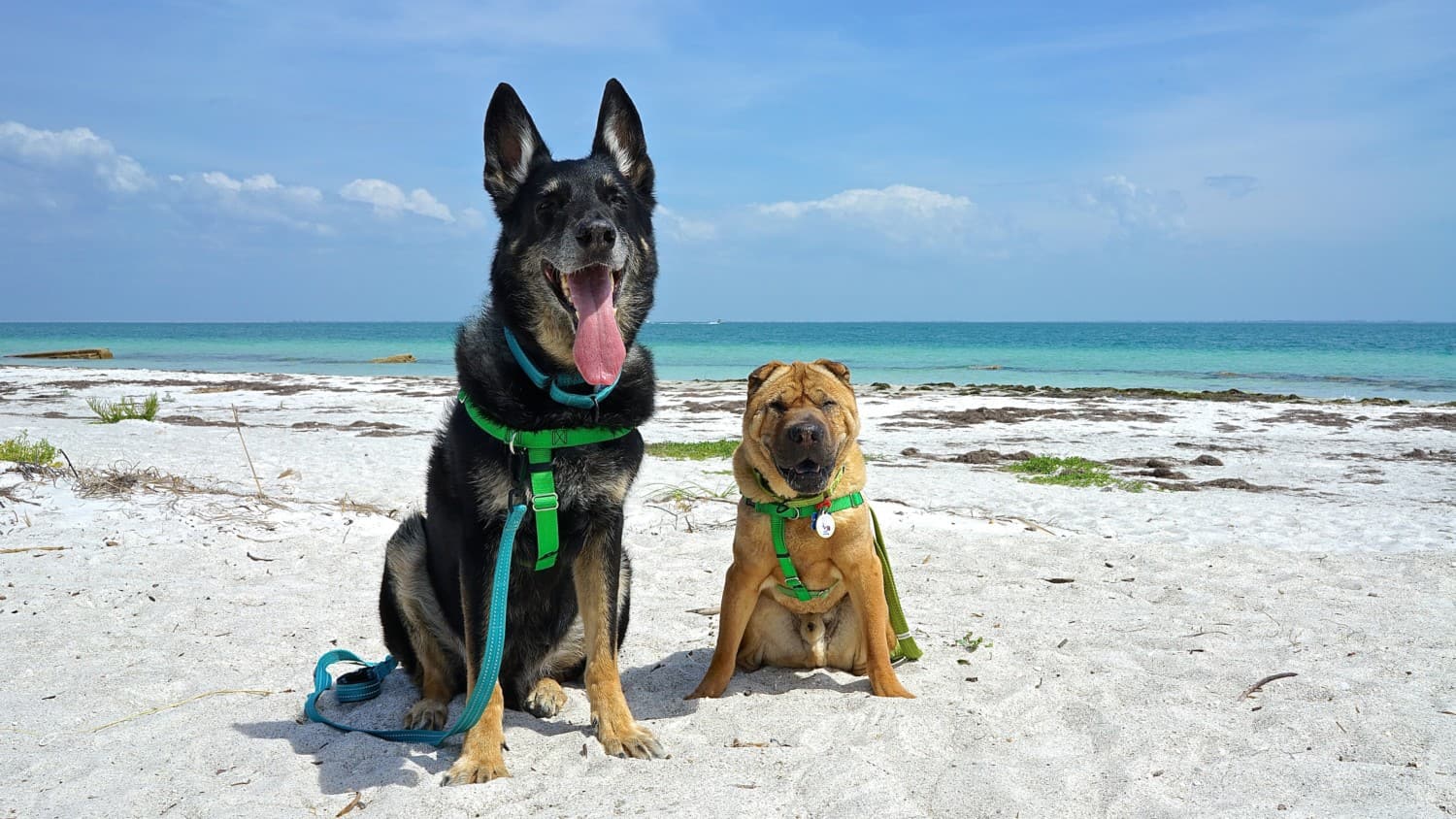 Key West Tropical Forest & Botanical Garden (5210 College Road) — Enjoy exploring the boardwalks and nature trails through 15.2 acres of native garden and forest with your leashed pet! You'll both love seeing the flowers, palms, shrubs, butterflies, birds, and more. There's even a picnic area where you both can refuel. And you'll be contributing to a cause that is helping protect the Florida Keys ecosystem.
Nancy Forrester's Secret Garden (518 Elizabeth Street) — Well-behaved, leashed dogs are welcome at this mini rainforest in the middle of Old Town. Blooming with rare and endangered plants including orchids, palms and spice trees, the garden is home to orphaned parrots and a family of colorful macaws. Pack a picnic for you and your pooch to share.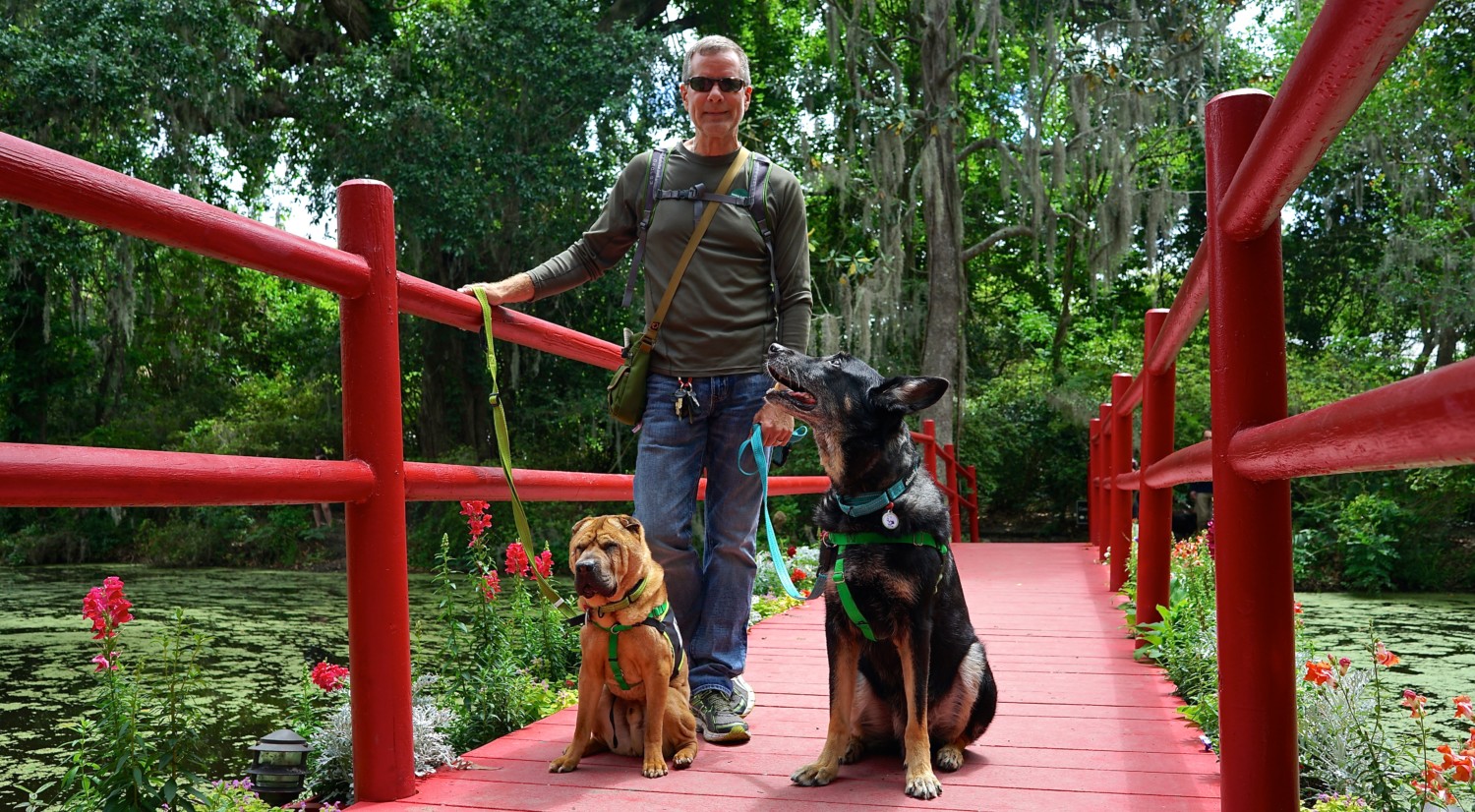 Dog Friendly Charters And Paddling
Easy Day Charters (711 Palm Avenue) — Offering pet friendly private boat chargers in Key West. Leave the crowds behind and choose the activities you enjoy — the itinerary is up to you! Dogs are encouraged to bring their owners and swim, play, and have fun all day.
Lazy Dog Island Outfitters (5114 Overseas Highway) — Take a kayak or paddleboard tour, rent the equipment and make your way to a sandbar where your dog can spend the day playing with other dogs, or join other dog lovers for a Doggy Paddle! No matter which you choose, the shallow, calm, blue-green waters of the Florida Keys make for a lovely time on the water.
In addition to rentals and tours Lazy Dog offers laid-back comfort aboard their pontoon boat. The experience includes paddling on your own and hanging out on a sandbar.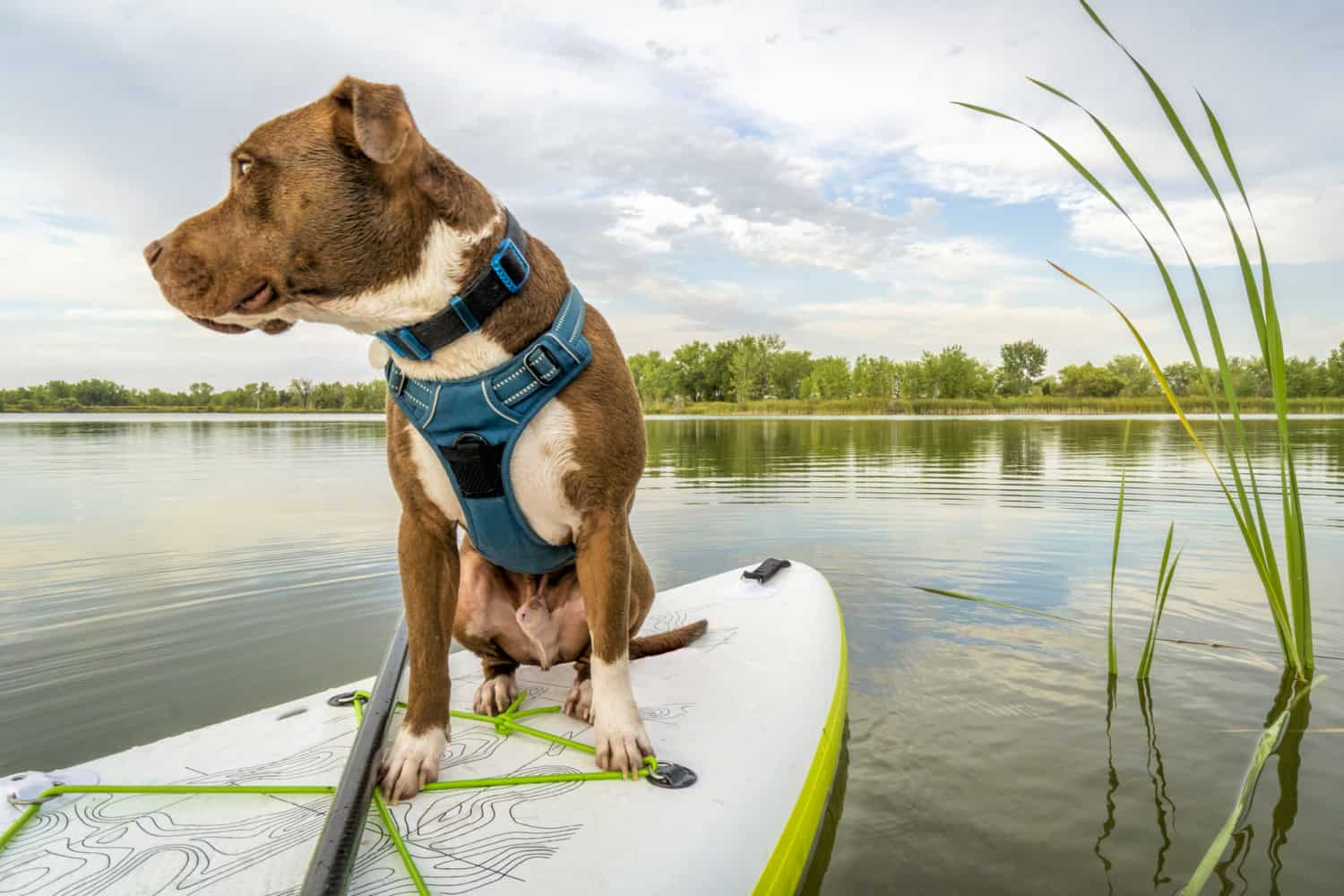 Key West's Pet Friendly Museums & More
Ernest Hemingway Home and Museum (907 Whitehead Street) — Pulitzer and Nobel Prize-winning author Ernest Hemingway was nearly as famous for his six-toed pet cat as he was for novels. Today, more than 50 six-toed cats—many direct descendants of the original kitty, Snow White—roam the museum grounds.
Though felines rule the house and grounds where Hemingway lived during the 1930s, dogs are welcome on the property. You can even take your dogs indoors, provided you carry them. Note that some areas of the museum are too tight for a doggie strollers.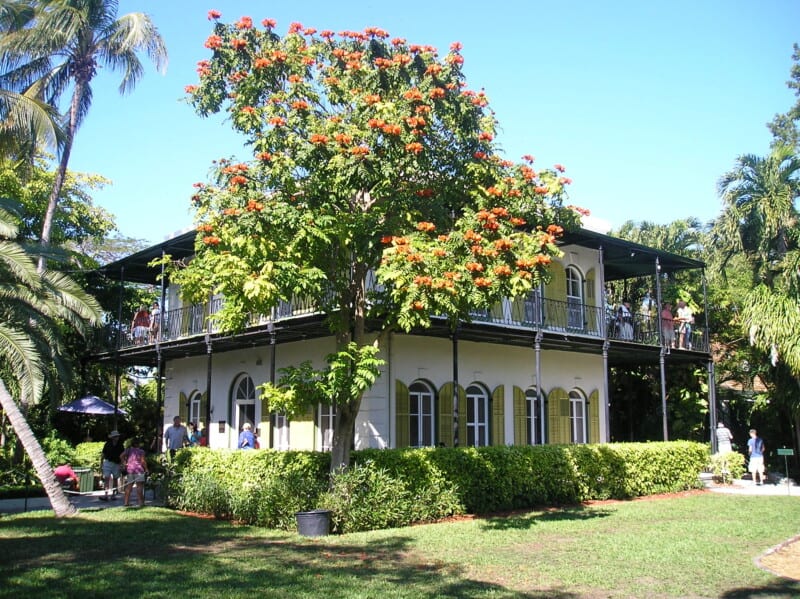 Key West Aquarium (1 Whitehead Street) — Located in Mallory Square, the pet friendly Key West Aquarioum has been delighting visitors since 1934. You and your leashed dog can learn more about Key West's intricate ecosystem and fascinating marine life while viewing sharks, turtles, sting rays, lobsters, alligators, jellyfish, and more. Guests can also feel animals in the aquarium's touch tank, including sea stars, sea urchins, giant hermit crabs and conchs.
Key West Shipwreck Treasure Museum (1 Whitehead Street) — Small pets that can be carried are welcome to join their owners as they step back in time at the Key West Shipwreck Treasure Museum. Learn the fascinating history of over 400 years of shipwreck salvage in the Florida Keys and how Key West became the richest city in the United States.
Sunset Socialization
Mallory Square Sunset Celebration (400 Wall Street) — Key West is famous for its fiery sunsets. And every night hundreds of people gather at Mallory Square to celebrate this spectacular sight. Acrobats, jugglers, magicians, and musicians entertain the crowd at this one-of-a-kind cultural event.
Celebrating the sunset is fun for everyone, and there's no need to leave your pet out. Simply keep them leashed, and walk down to Mallory Square for a colorful Key West experience.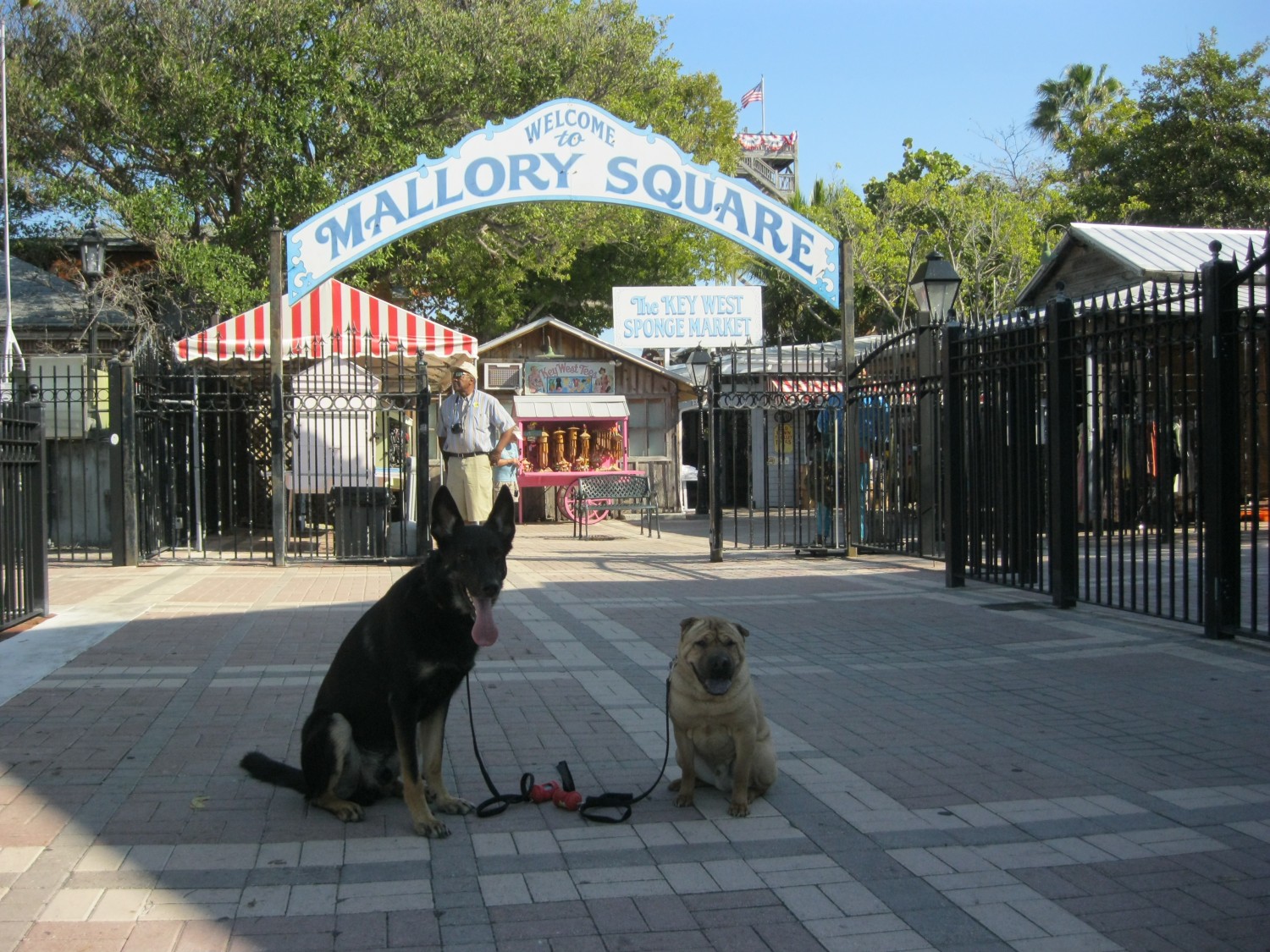 Edward B. Knight Pier (White Street) is another pet friendly place to take in the Key West sunset with your pet. The pier doesn't have attractions like restaurants or rides on it, but if offers spectacular views. Edward B. Knight Pier less crowded than many of Key West's main streets, so there is usually plenty of room for your pup to run around.
Smathers Beach (2601 S Roosevelt Blvd) Just a short stroll from downtown, Smathers Beach offers more unobstructed views of the ocean. Dogs aren't allowed on the beach itself, but it's still a great nice place to celebrate sunset with your dog.
Dog Friendly Eateries
There are many dog friendly restaurants and bars in Key West, but there's only one dedicated to the dogs.
Island Dogs Bar (505 Front Street) — Here you and your pet can come as you are. Located steps off Duval Street, casual wear and flip-flops are encouraged in this laid-back establishment.
Island Dogs has a spacious outdoor porch, perfect for relaxing and people-watching with your furry friend. Enjoy one of their signature drinks, live music, and authentic Boston pub pizzas or Baja fish tacos. Your pup will thank you.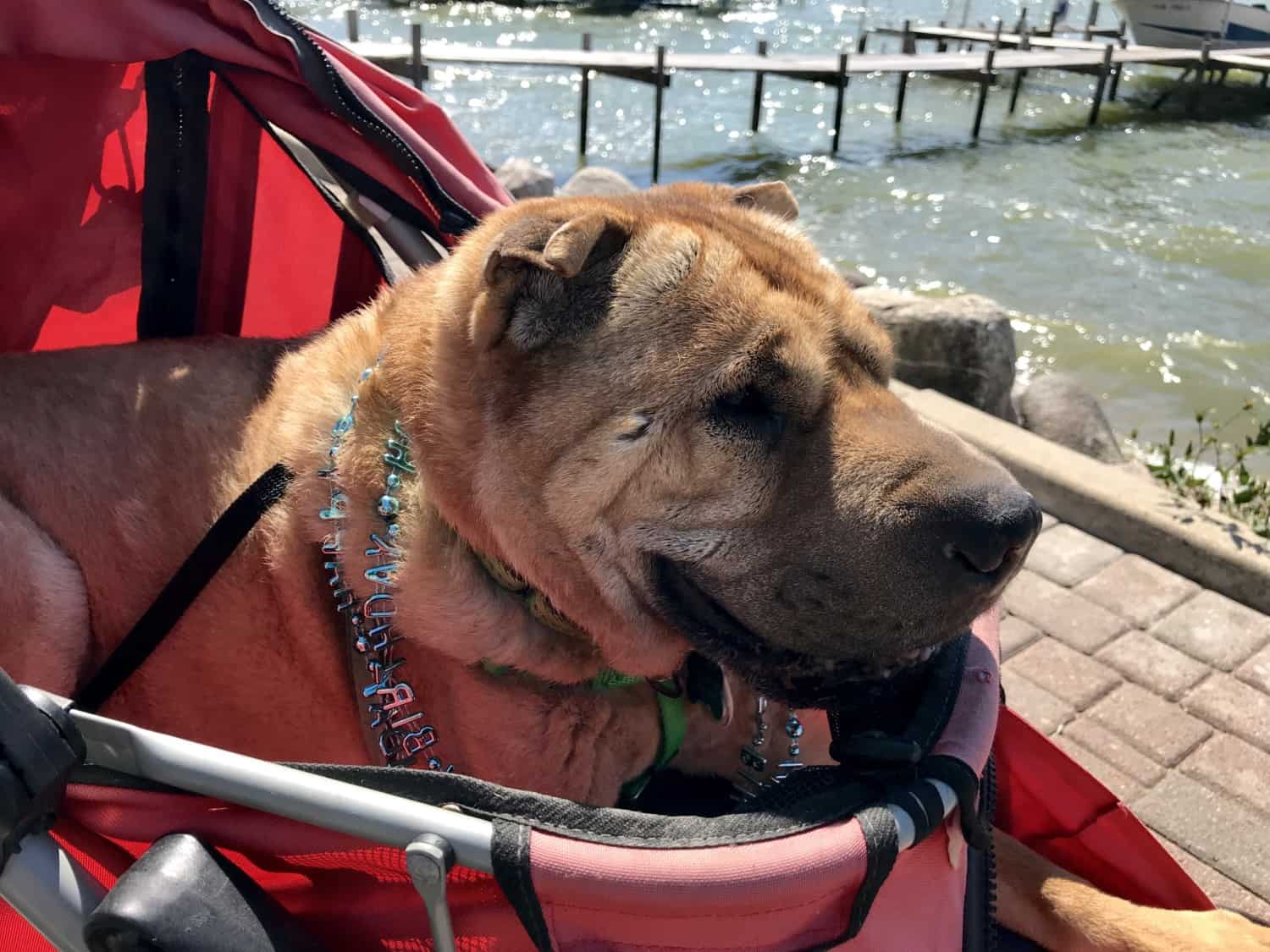 Some other pet friendly restaurants in Key West include:
Azur (425 Grinnell Street) — Mediterranean dishes and an excellent Sunday brunch in Old Town!
Blue Heaven (729 Thomas Street) — A favorite spot for breakfast, their lunch and dinner menus feature Caribbean-inspired local seafood.
Grand Cafe Key West (314 Duval Street) — Set in a beautiful Victorian mansion with lush gardens and wrap around verandas, this café offers a variety of fine foods, a full bar, and alfresco dining.
Hard Rock Cafe (313 Duval Street) — Rock 'n' roll-themed chain, pet friendly in Key West. Serving burgers and American classics.
Hogs Breath Saloon (400 Front Street) — Popular pub serving bar food with a covered outdoor patio, live music, and dancing.
Onlywood Pizzeria Trattoria (613 1/2 Duval Street) — Breezy Italian eatery offering a shaded garden patio, wood-fired pizza, and old-world wines.
Pepe's Café (806 Caroline Street) — Rustic eatery serving signature breakfasts plus surf 'n' turf since 1909.
Salute! On The Beach (1000 Atlantic Blvd) — Funky open-air restaurant right off the sand featuring fish-focused Italian fare & ocean views.
Santiago's Bodega (207 Petronia Street) — Charming tapas bar pairing global small plates with house-made santria.
Schooner Wharf Bar (202 William Street) — Open-air waterfront bar and grill offering soups, salads, sandwiches, plates like chicken or mahi-mahi, often complimented by live musical entertainment.
Turtle Kraals Restaurant & Bar (231 Margaret Street) — Waterfront diner featuring breakfast, lunch, and dinner with a wide variety of choices including fresh seafood, a raw bar, steaks, southern specialties, a full service bar, and outside dining.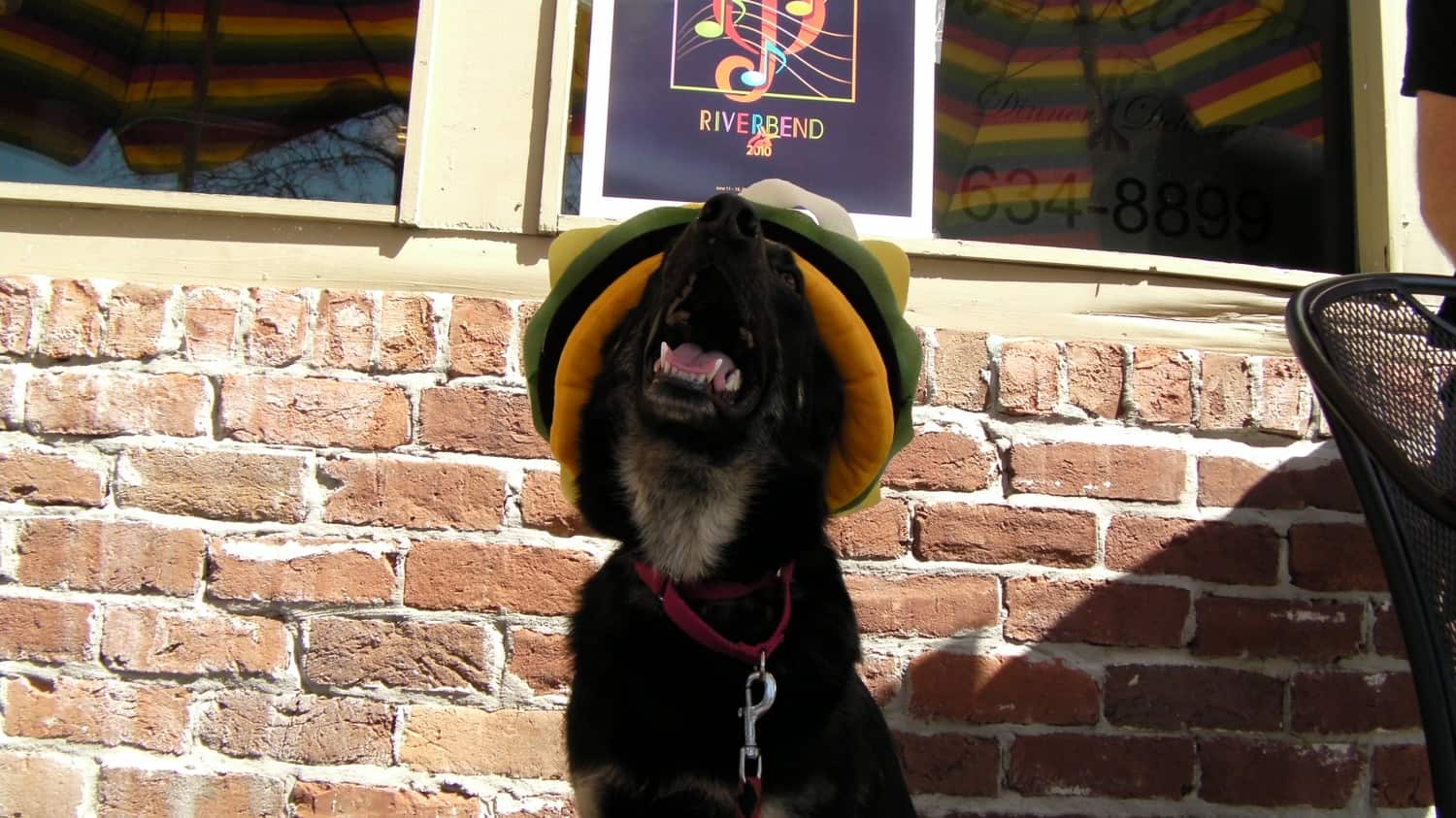 Where To Stay
There is a nice selection of pet friendly hotels in Key West. You'll also find a couple of campgrounds in the area.
If you travel with one of the breeds commonly discriminated against (Pit bulls, Rottweilers, Dobermans and German Shepherds) be sure to confirm your dog will be welcomed when making a reservation.
The first campground we tried told us we couldn't stay there because Buster is a German Shepherd. As it turned out, we couldn't have been happier. We spent a week at nearby Sunshine Key RV Resort & Marina on Big Pine Key and we all absolutely loved it!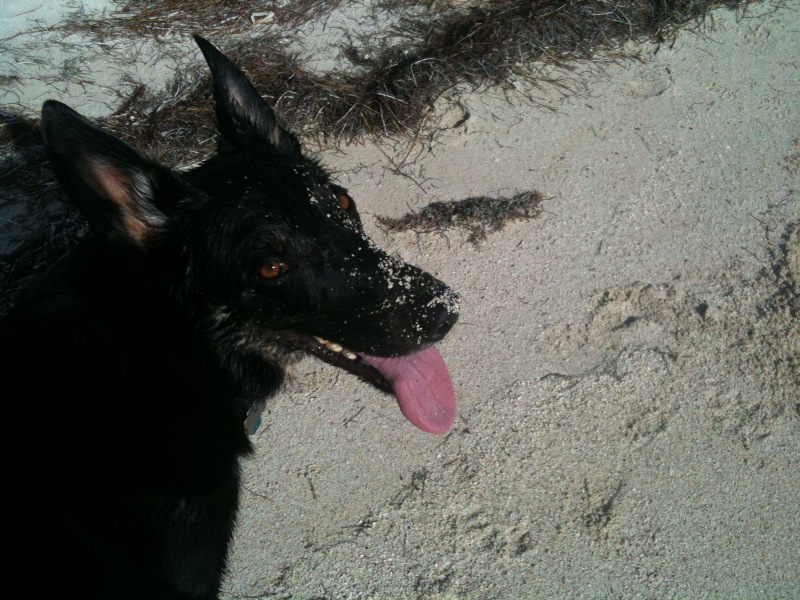 More Pet Friendly Activities On The Florida Keys
The drive from Miami to Key West is 166 miles and takes about 3 1/2 hours. So it makes sense to plan a few stops along the way! Here are some places you and your dog might enjoy taking a break from the car.
Key Largo
At John Pennekamp State Park (Mile Marker 102.5), leashed pets can go on the trails and in the picnic areas, but not on the beaches, tour or rental boats, or inside the buildings. If you're hoping to see the reef, bring a friend to wait with your pup.
Islamorada
The further south you go, the more pet friendly the Keys get! By the time you get to Islamorada (Mile Marker 73) you'll have plenty of options for dog friendly fun.
Don't miss Anna's Beach, a secluded dog friendly beach with plenty of shade, poop bags and fresh water.
Islamorada is also home to Rain Barrel Village – an artist's enclave where everyone seems to love dogs. Plan to pick up some souvenirs in this tropical garden oasis! You'll find a variety of local art, handmade crafts, custom jewelry, and fashionable resort wear in the specialty shops, galleries and boutiques.
If you've worked up an appetite, or would like to meet some fish who are always hungry, check out Robbie's. At this pet friendly stop on the way to Key West you and your pup can feed the Tarpon, go fishing or kayaking, and then get a bite to eat.
Grassy Key
Your pup can join you at the Dolphin Research Center on Grassy Key, just north of Marathon. This 90,000-square-foot series of saltwater lagoons is home to several dolphins and California sea lions
Well-behaved, leashed dogs are welcome to enjoy the grounds with you. However, they cannot go onto boardwalks, floating docks, or in the water. For a closer look or a chance to participate in one of the interactive experiences, take turns waiting with your dog.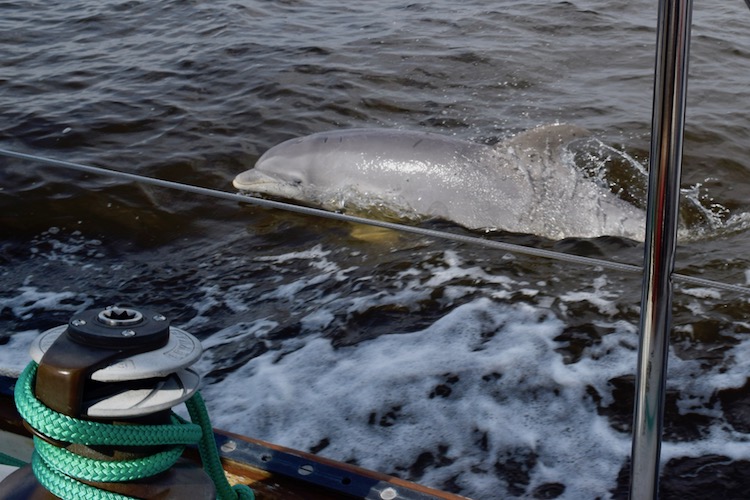 Marathon Key
Sombrero Beach, on Marathon Key, is a great dog spot. You can also take a stroll on 7-Miles Bridge with your pup.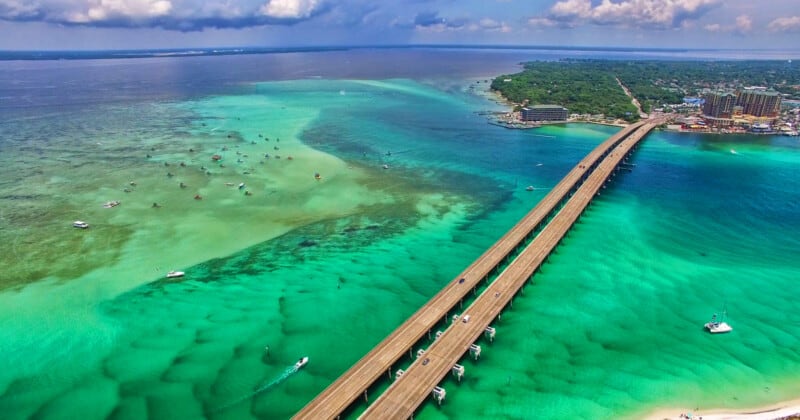 Key West is a dog lover's town! We hope our tour inspired you to plan a pet friendly trip of your own.
If you find more dog friendly things to do, be sure to share them in the comments!
(Visited 299 times, 2 visits today)