Just when you thought it couldn't get any better … isn't that how the saying goes? Well, that couldn't be more true than when you're traveling north through the Rocky Mountains with your dogs. We thought we'd reached the pinnacle of our trip at Glacier National Park, but that went right out the window when we crossed the border to Canada and landed smack-dab in the middle of the Canadian Rockies!  Not only was the scenery even more magnificent, the policies regarding pets in the Canadian National Parks are significantly more welcoming than those we typically find in the US.
Waterton Lake National Park sits directly north of Glacier National Park on the Canadian side of the border and, had we known that dogs are welcome on nearly all the trails in the Canadian National Park system, we would have cut our stay in Glacier short to spend some time there. Unfortunately, we only learned that tidbit after we'd driven several hours north – but you can bet we'll be visiting there the next time. Even the scenic boat tour in Waterton is pet friendly!
We left Glacier heading west and then made a right turn to cross the border at Roosville … appropriate, since one of Buster's nicknames is "Roo." The Canadian Rockies are a very popular vacation destination in August and the closest RV park we could find to Banff was at the foot of Mount Kidd in the heart of Kananaskis Country, Alberta. The setting couldn't have been more perfect – right along the river, in the shadow of the mountains.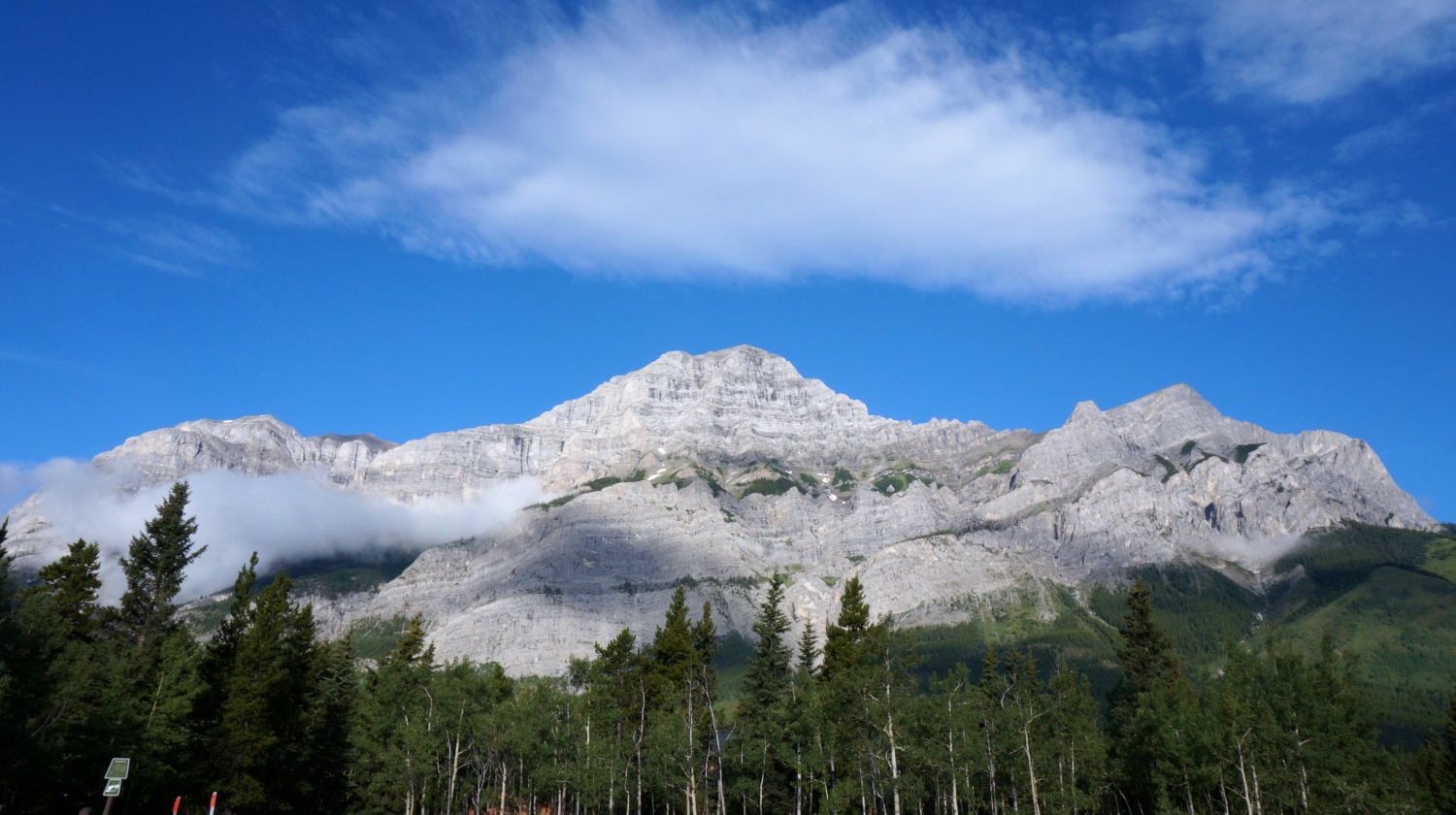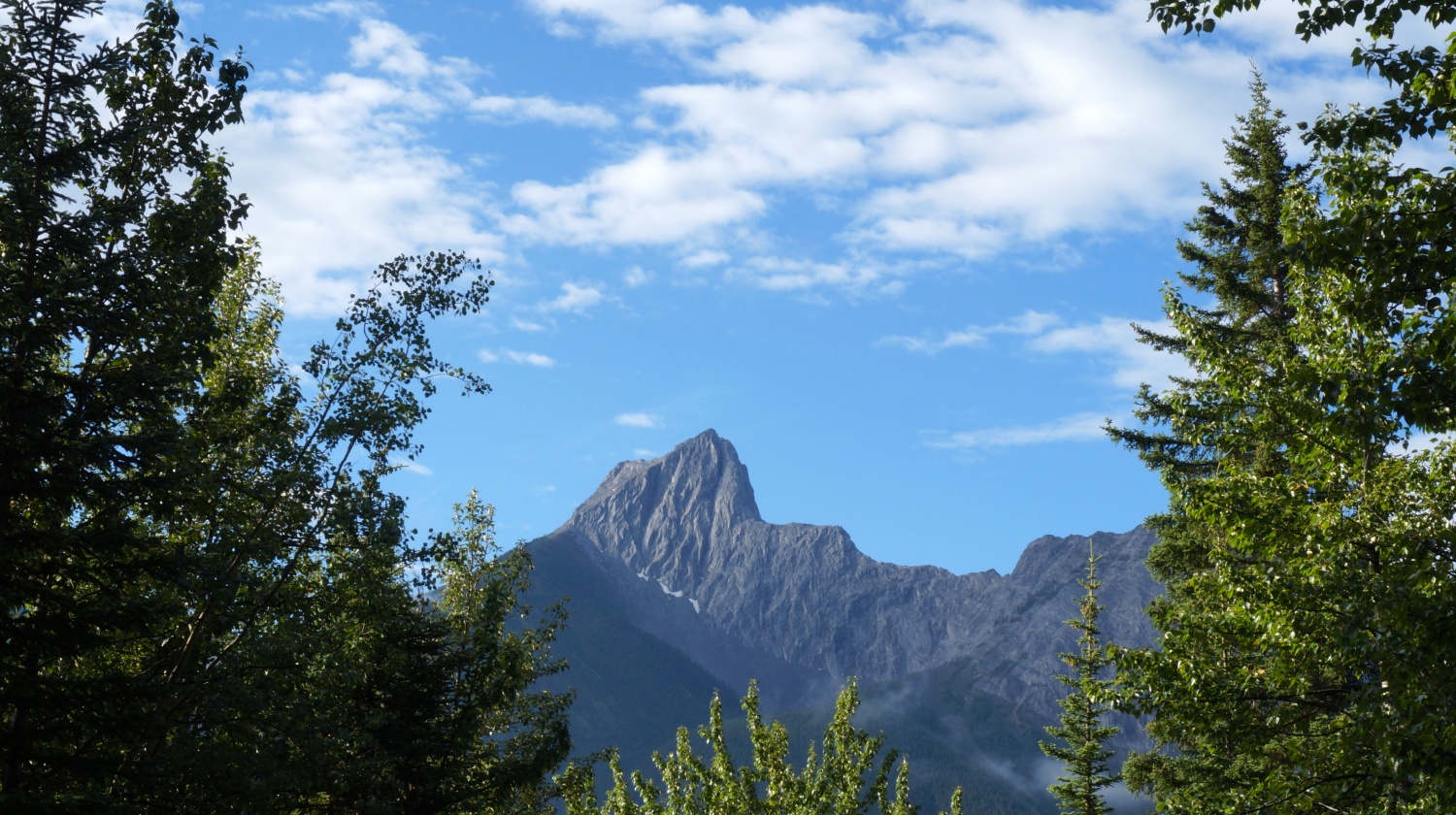 It would have been easy to relax and spend several days just admiring in the views from our campground, but we were on a mission to see the sites, and our first stop was downtown Canmore.
A Stroll Around Canmore
Originally dependent on the local coal mining industry, Canmore received a makeover in the 1980s when neighboring Calgary hosted the winter Olympics. Now the city's main street bustles with tourists and outdoor enthusiasts from around the world, here to take advantage of the climbing, kayaking, biking, and hiking opportunities.
Be sure to pick up the walking tour at the visitors center and learn a bit about the local history as you stroll around town.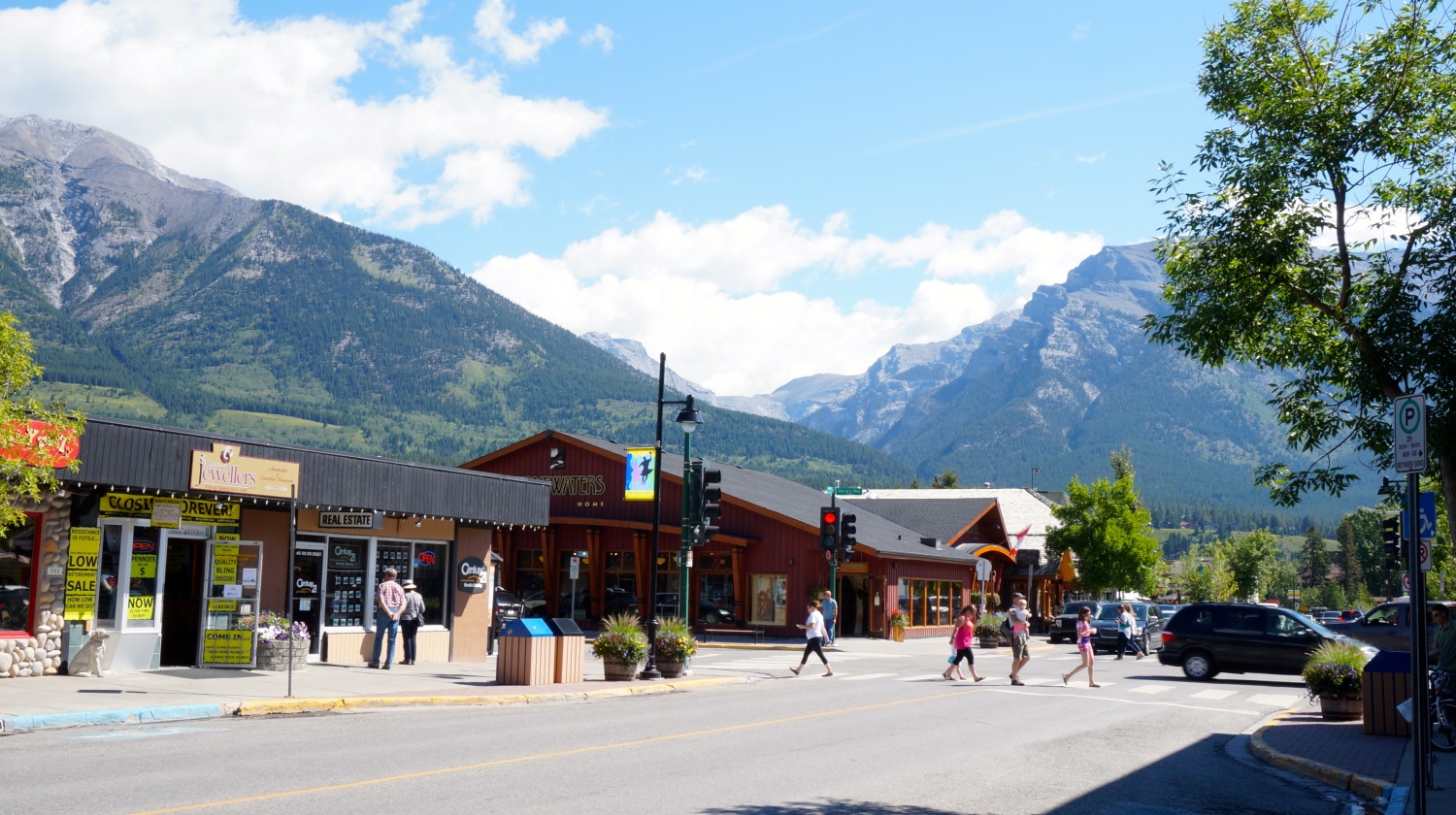 Buster was happy to see that they haven't forgotten their canine visitors at the Mut Hut just off the main drag, where you can also pick up a variety of accessories, toys and freshly baked pet treats.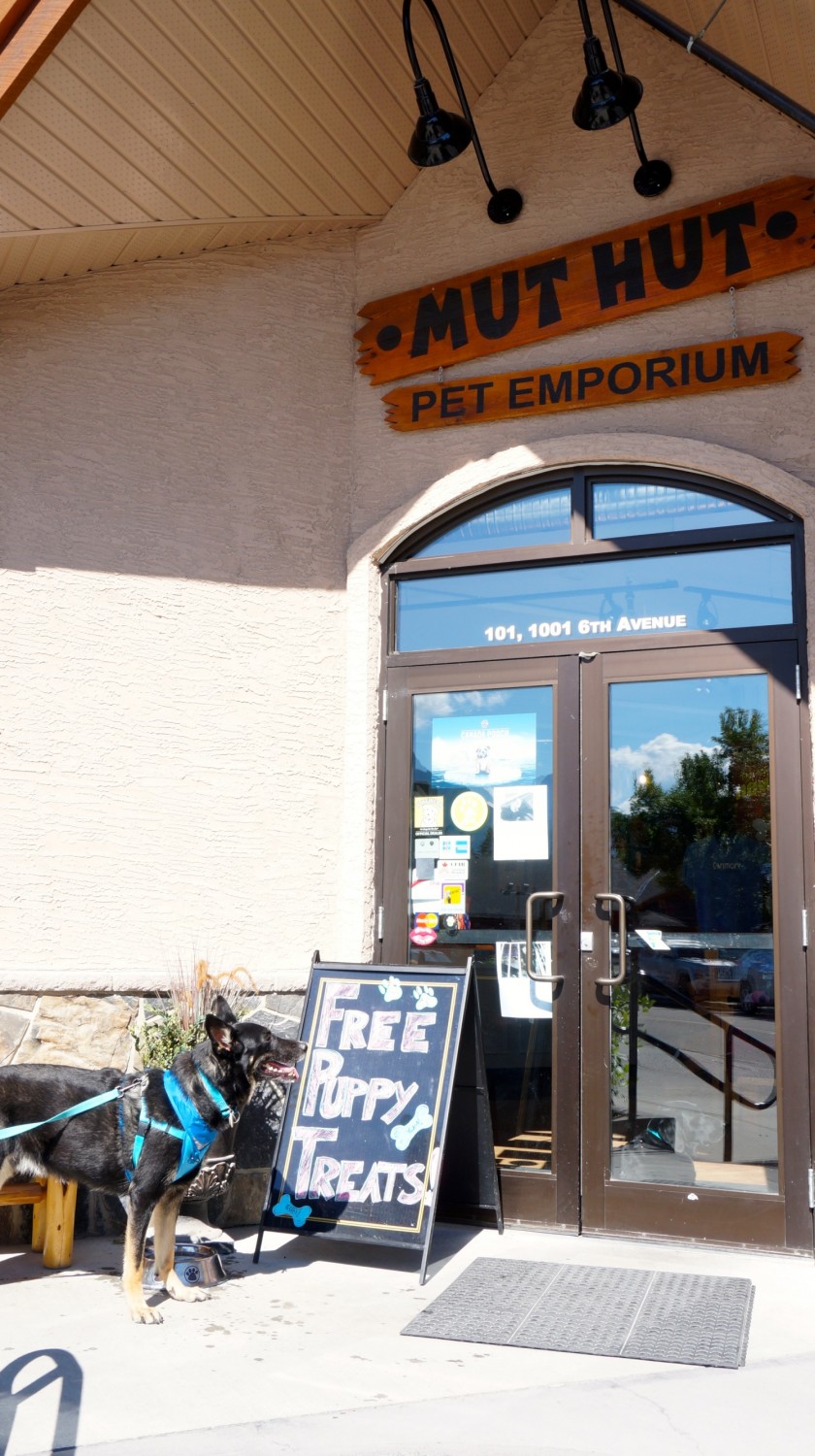 If you're looking for a place to let the dogs run, check out one of the three off-leash dog parks in Canmore (north of Quarry Lake, at Elk Run Park, and off Cougar Creek between Hwy 1 and Bow Valley Trail) for a sniffin' good time.
Exploring Banff
From Canmore, it's a short drive up the Trans-Canada Highway to the village of Banff, which lies within Banff National Park. Sitting at 4,800 feet, Banff has the second highest elevation of any city in Canada, surpassed only by Lake Louise. If you're not a fly-by-the-seat-of-your-pants kind of traveler, this is where I'd suggest making your reservations. There are plenty of restaurants, fun shopping options, campgrounds, and pet friendly hotels in Banff, and it's central location makes it a great base for day trips.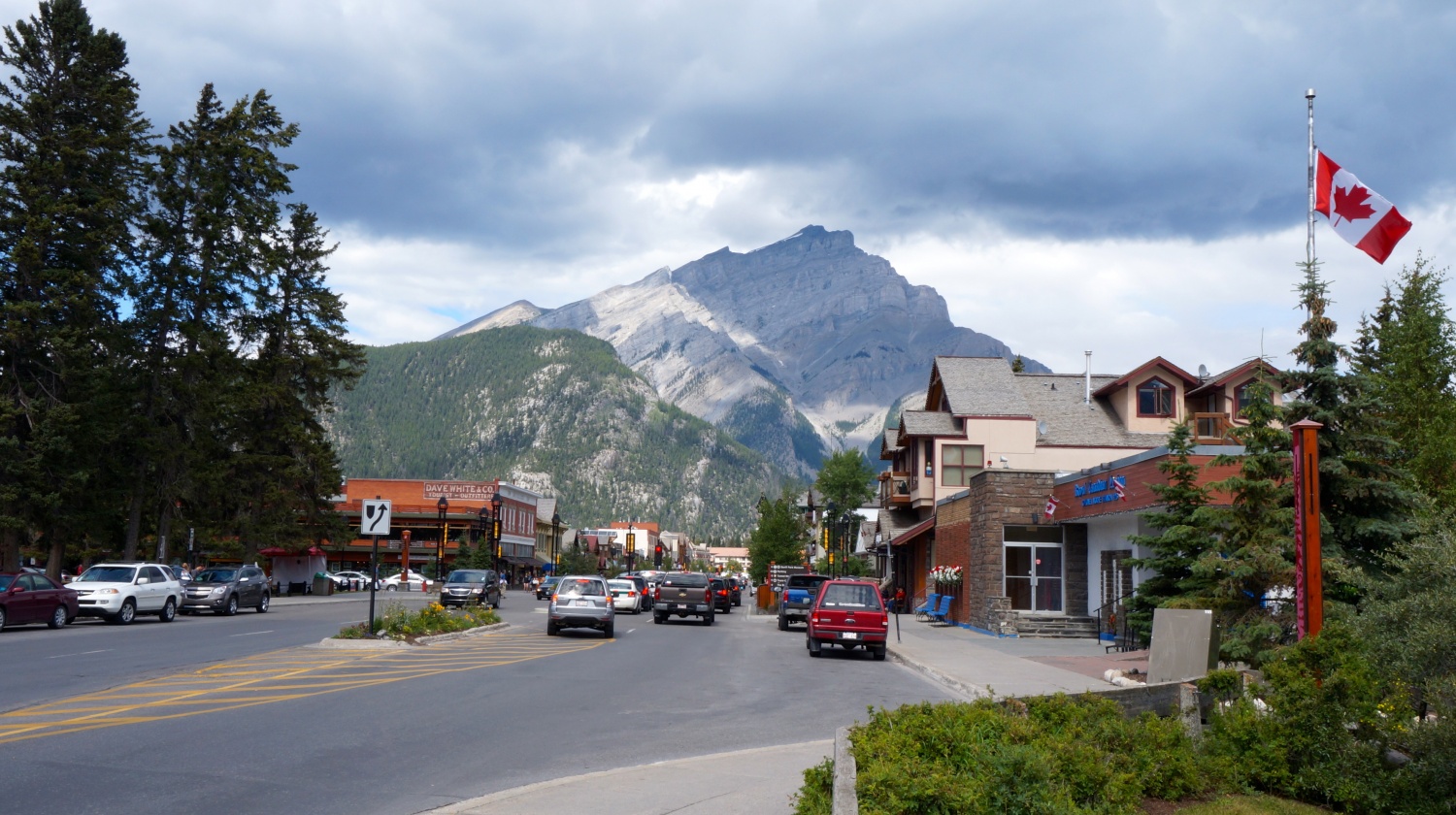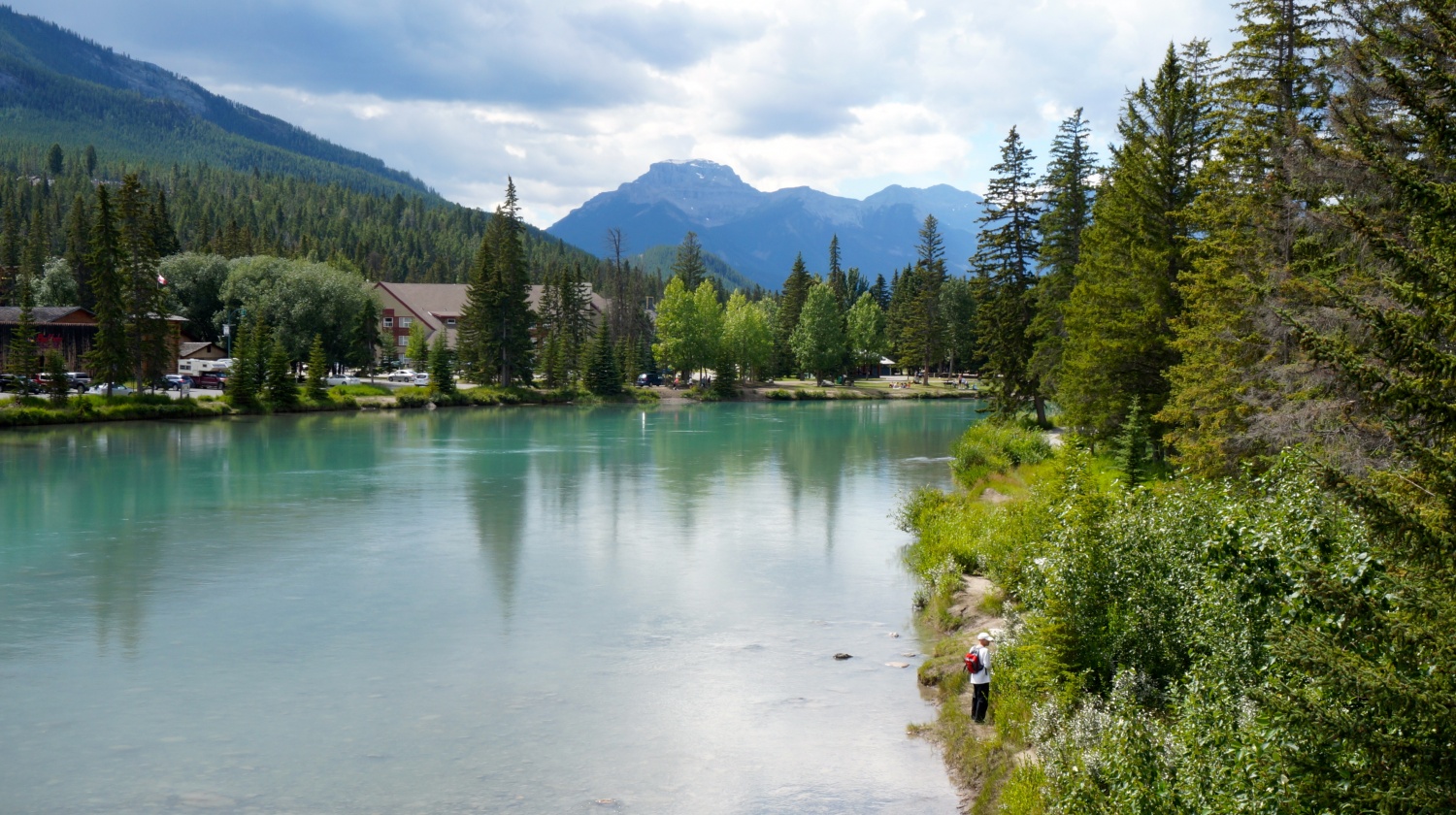 There's plenty of entertainment to keep you busy right around Banff. You can drive out to the natural hot springs, swing up to see the Vermillion Lakes, pack a picnic and hit the trails, or just sit by the river and be grateful that places like this exist on Earth.
When it's time for the dogs to stretch their legs, Banff has its own off-leash dog park in the industrial area on the south side of Hawk Avenue. However, if your pup prefers views to being off-leash, take the trail on the south side of the Bow River instead.
A little over a mile down the way you'll find Bow Falls, where the turquoise waters tumble over the rocks. Most of the trails in the area welcome pets on leash – the few exceptions we found were due to the trail's proximity to wild berry patches where the bears congregate in late summer and early fall. From a safety perspective, those are probably not trails I'd be tempted to hike anyway … even without the dogs!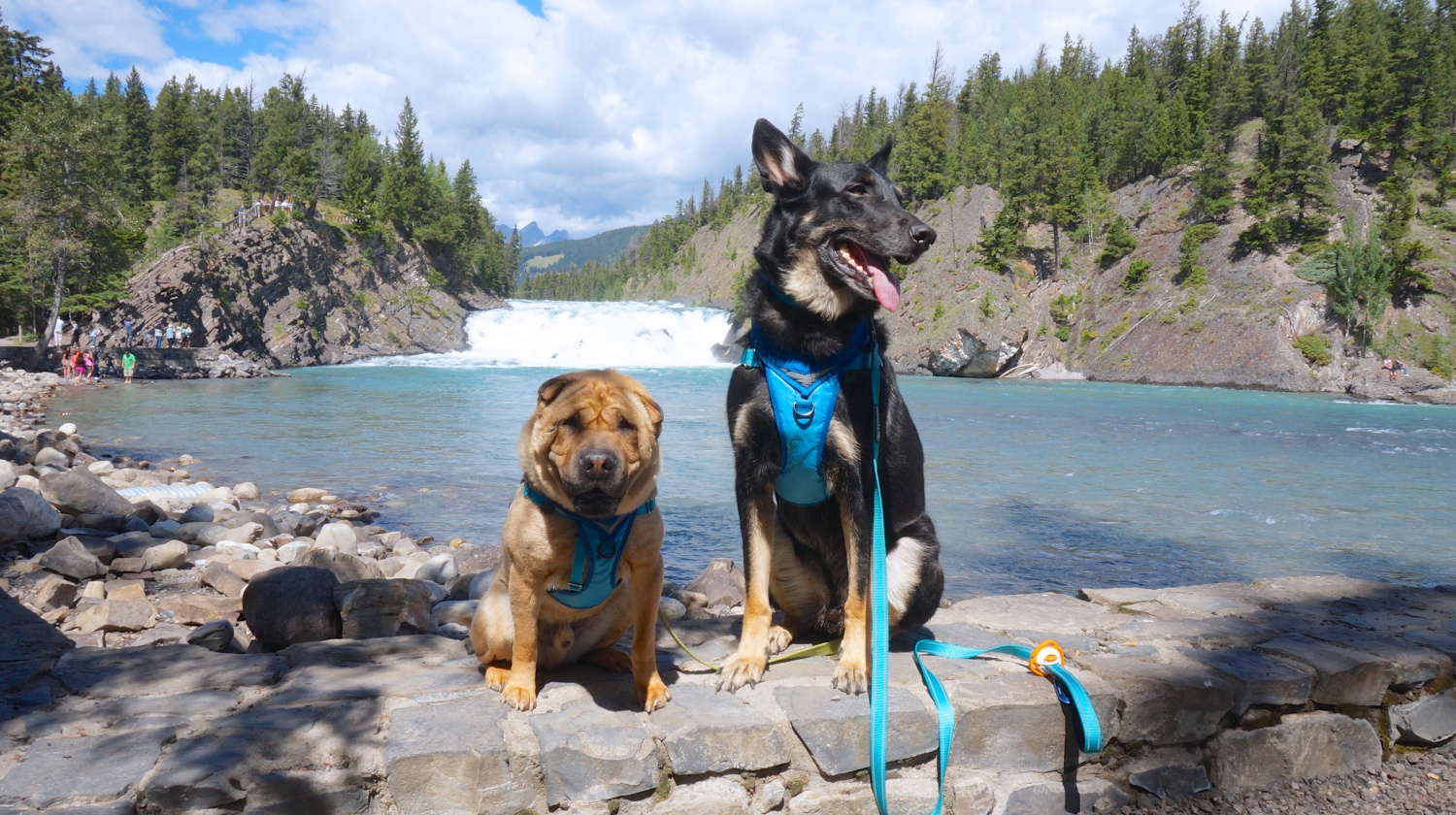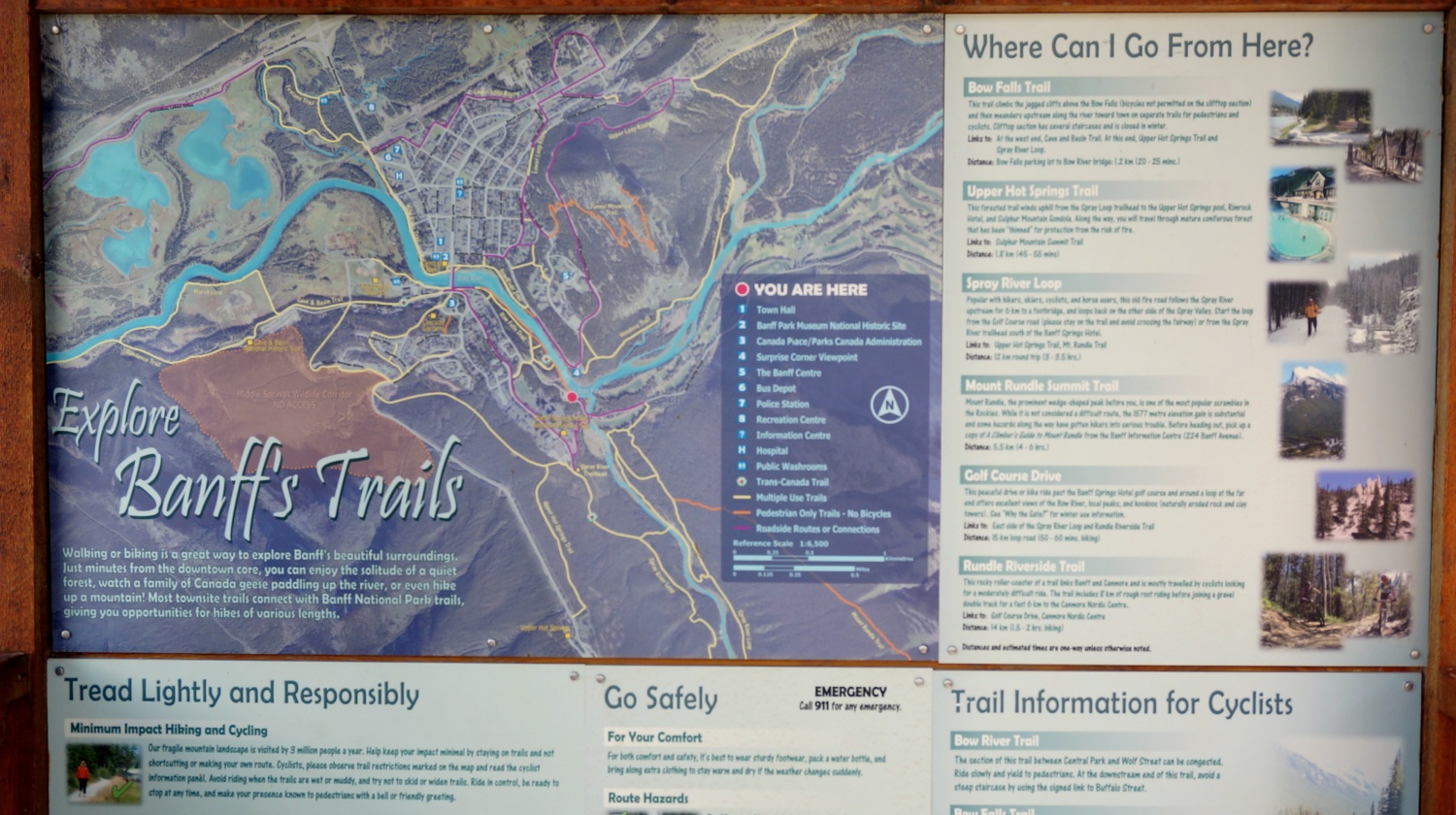 One of the most iconic hotels in the world is located here, the Fairmont Banff Springs. Now a National Historic Site, it's not an inexpensive place to stay – but it is pet friendly! We stopped by just to take a look around and it's a pretty impressive place.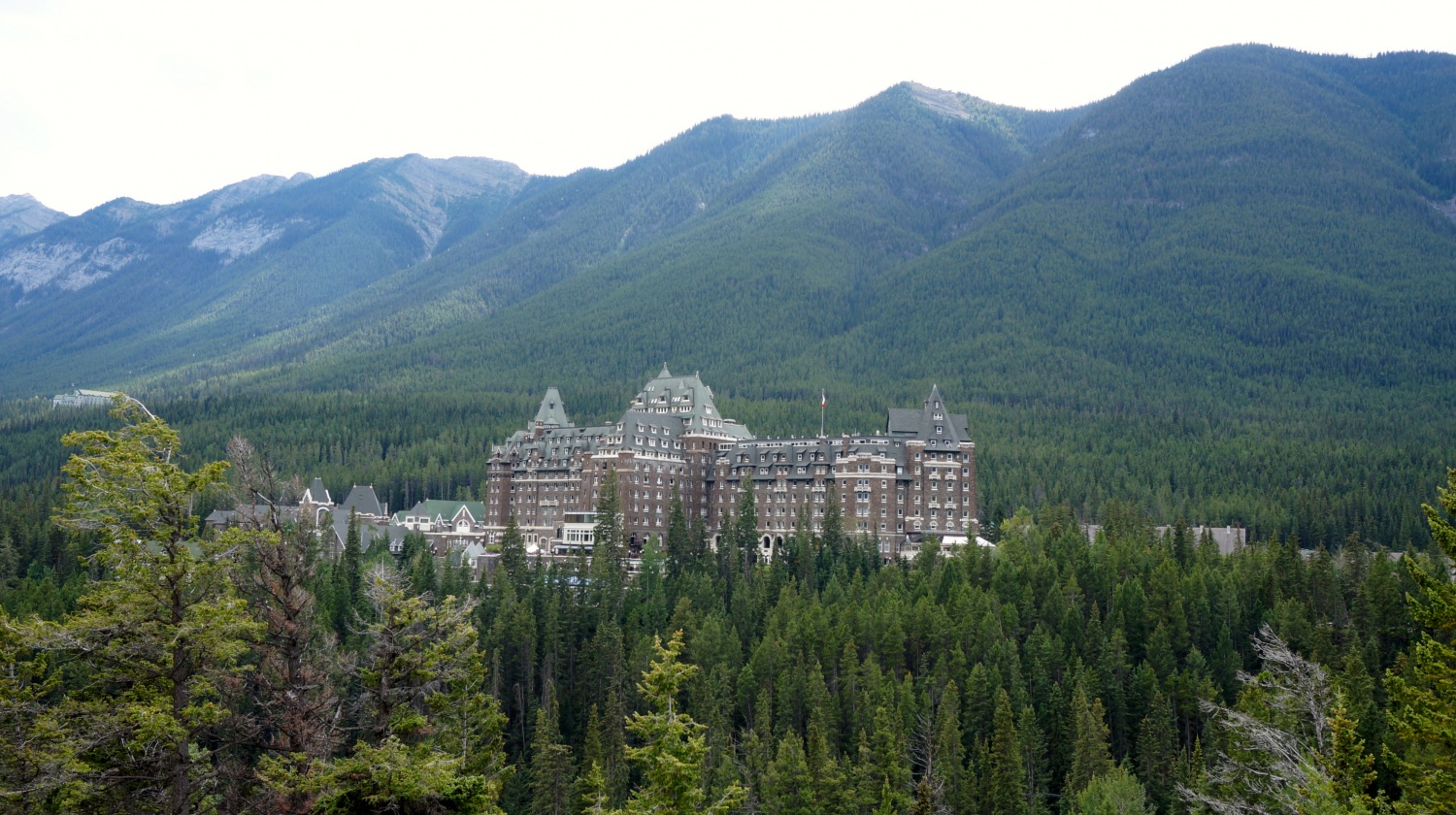 This sweet boy was waiting patiently while his people checked in …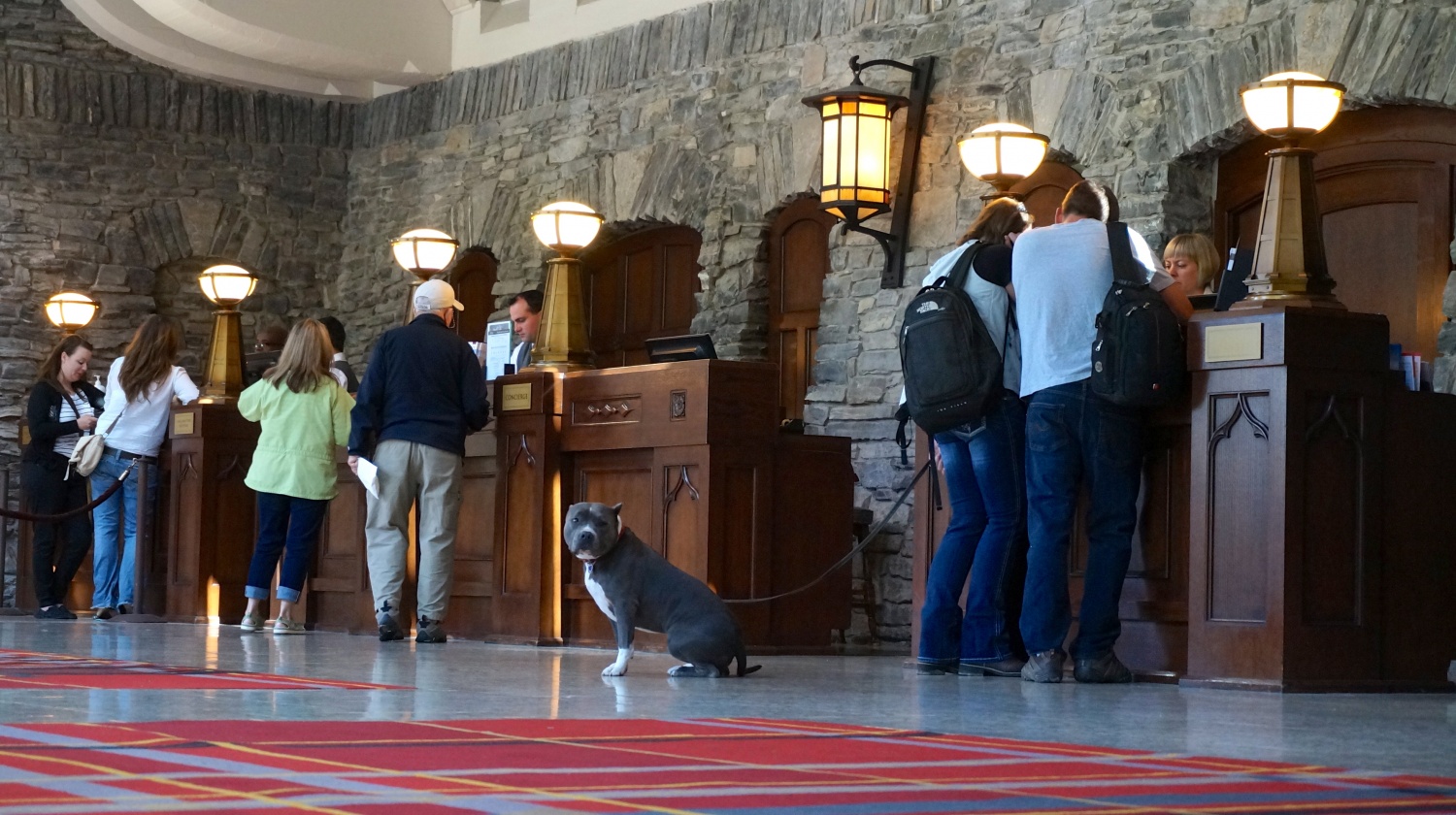 … he even made a new friend who had treats in her pocket!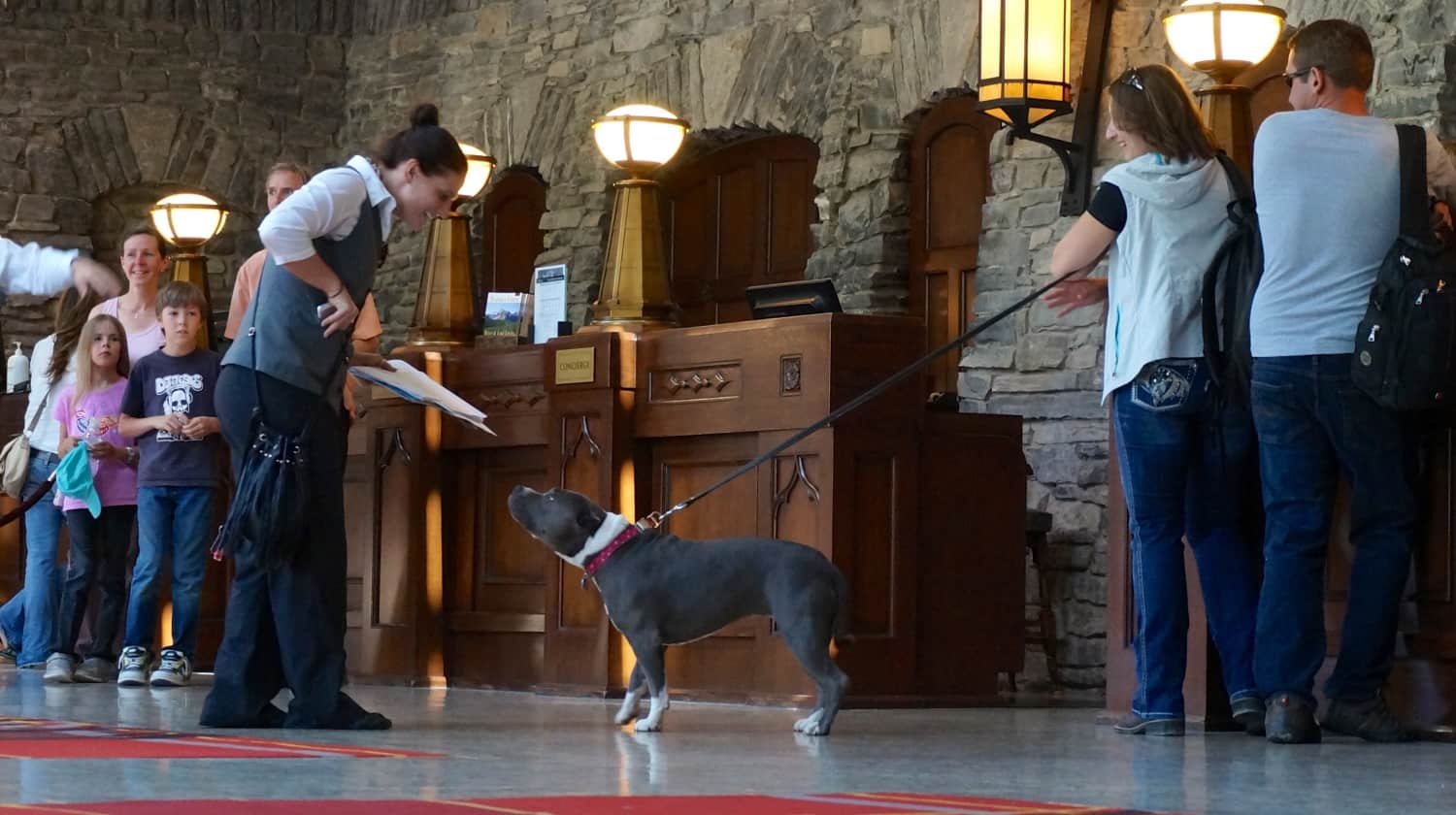 Lake Minnewanka
Serious flooding hit Alberta earlier in 2013, and there was still some evidence of the damage the raging waters had wreaked. One example was that part of the Minnewanka Loop road had been washed out, so what used to be a loop is now an out-and-back drive. Still, it was worth the 15 minute trip from downtown Banff to see this popular recreational lake. You can rent a canoe, get a boat and do a little fishing, or take a boat tour and let someone else do the driving. You'll also find plenty of hiking here, with a highlight being the lakeside stroll to Steward Canyon.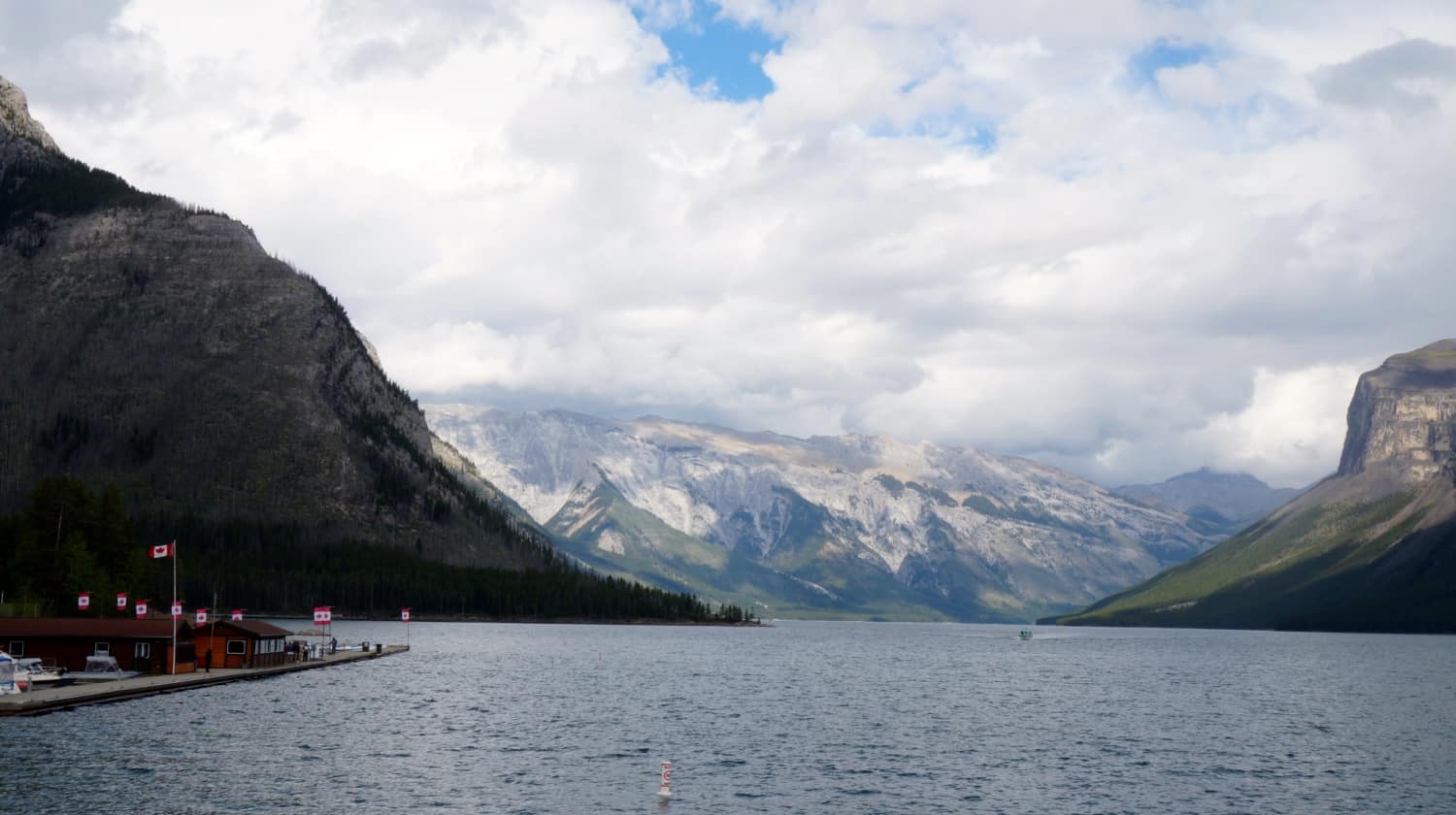 The female Bighorn sheep come down to the valleys to raise their young during the summer and are not afraid of people at all! Be sure to keep your distance and not let your dogs disturb them.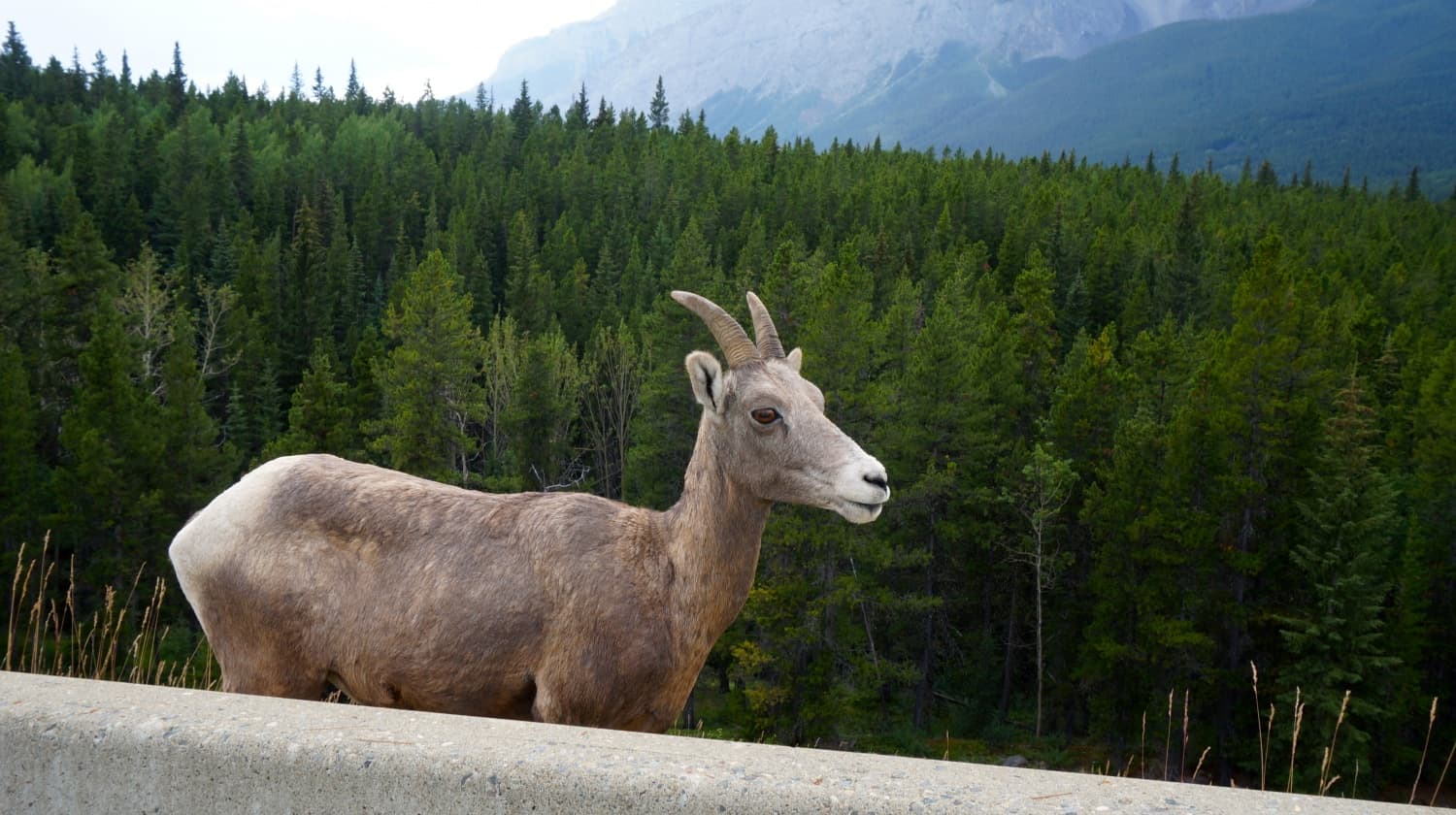 If you're looking for a place to swim in these glacial fed lakes, check out the beach at Johnson Like. It's smaller and shallower, and therefor a little warmer – though that first step will still likely take your breath away. There's a easy trail that circles the lake and it's the ideal place for a picnic!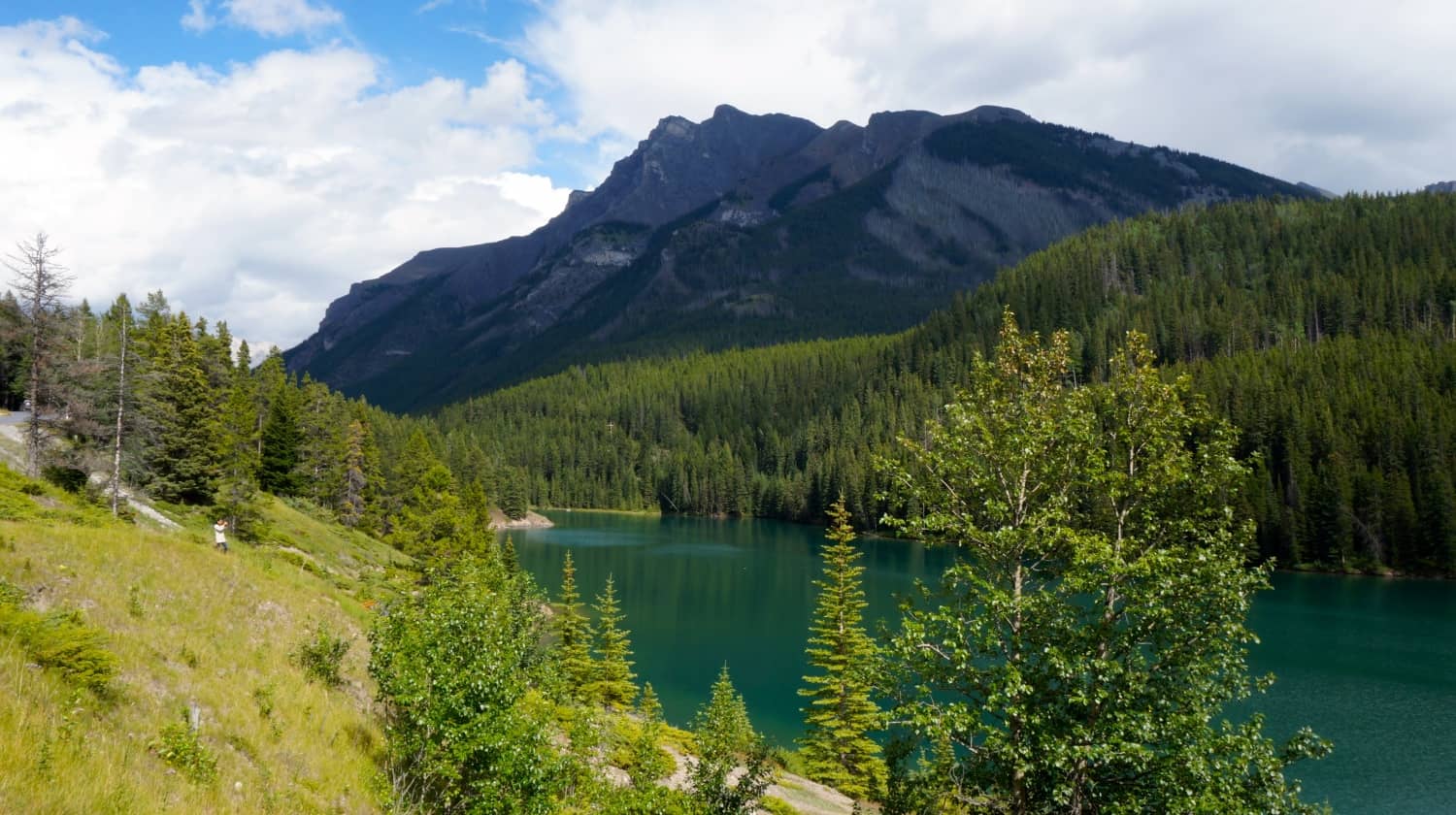 The Bow Valley Parkway
Some of the best wildlife viewing we've experienced was along the Bow Valley Parkway. This winding road gets you off the Trans-Canada Highway for a meander along the Bow River toward Lake Louise. Grizzly and black bears, elk, wolves, mule deer, and bighorn sheep are often seen along this route and we were lucky enough to see several black bears (unfortunately, I wasn't quick enough with the camera) and a group of male bighorn sheep.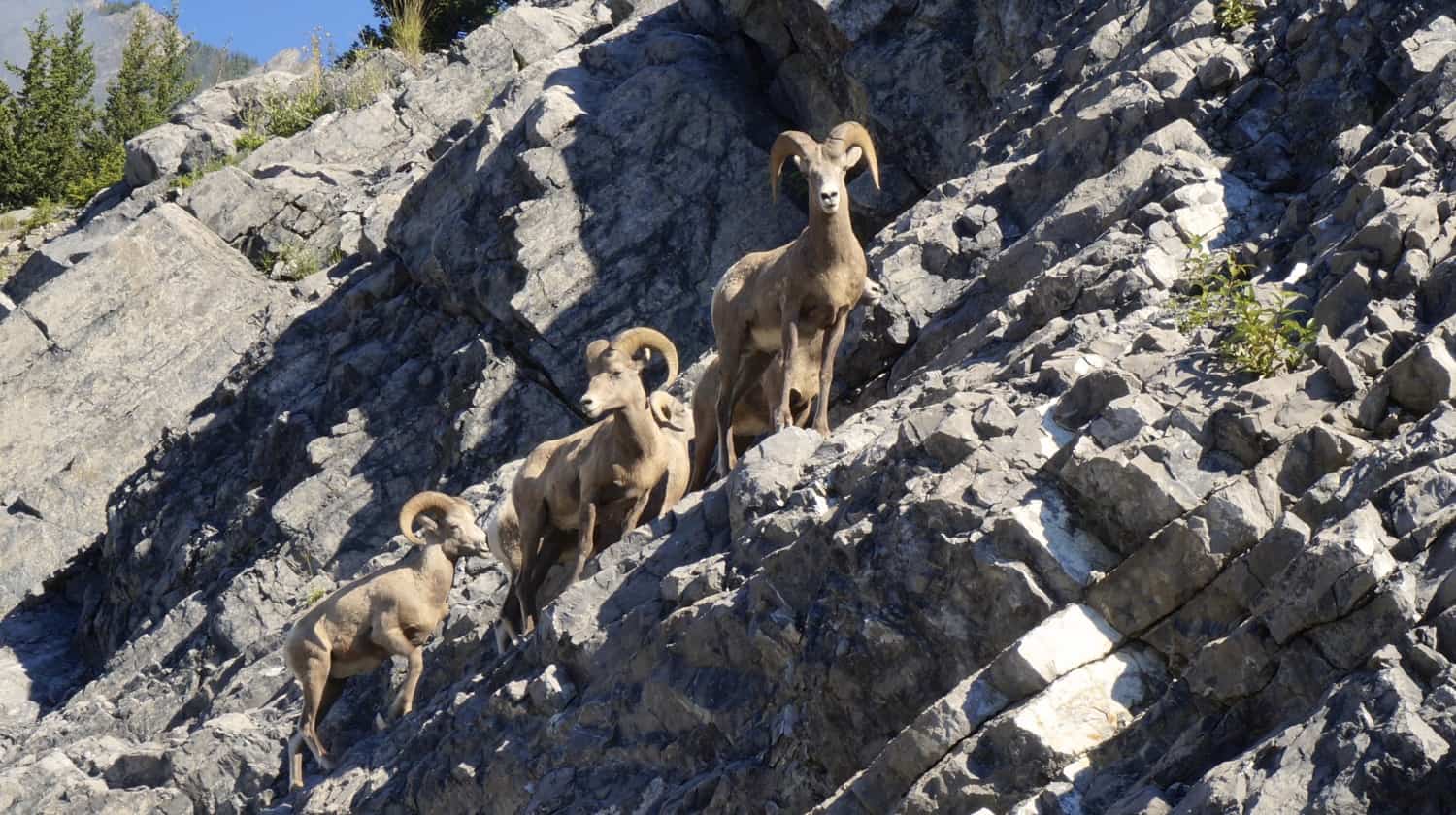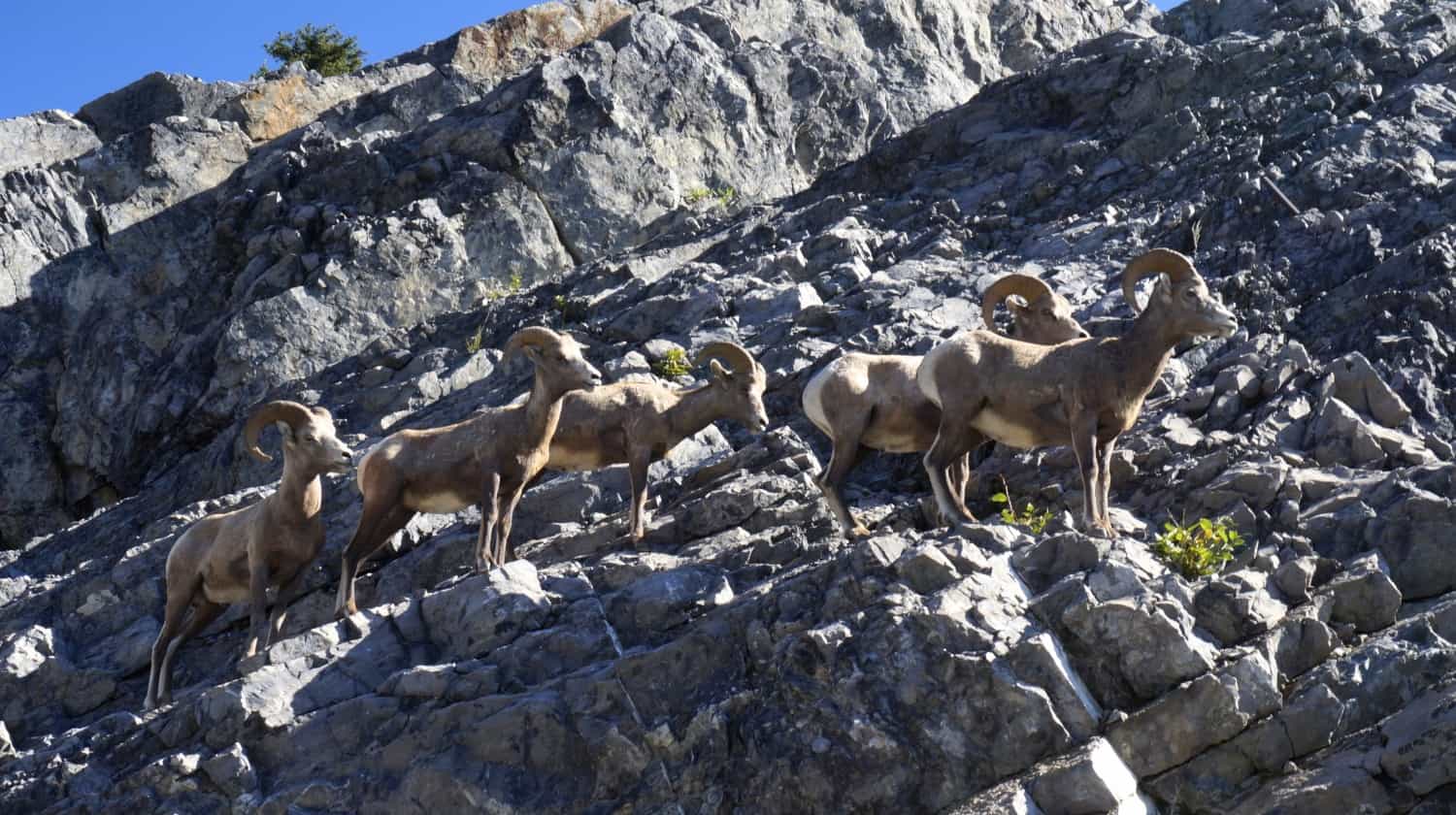 From Banff we continued north to Lake Louise, so stay tuned for our next episode!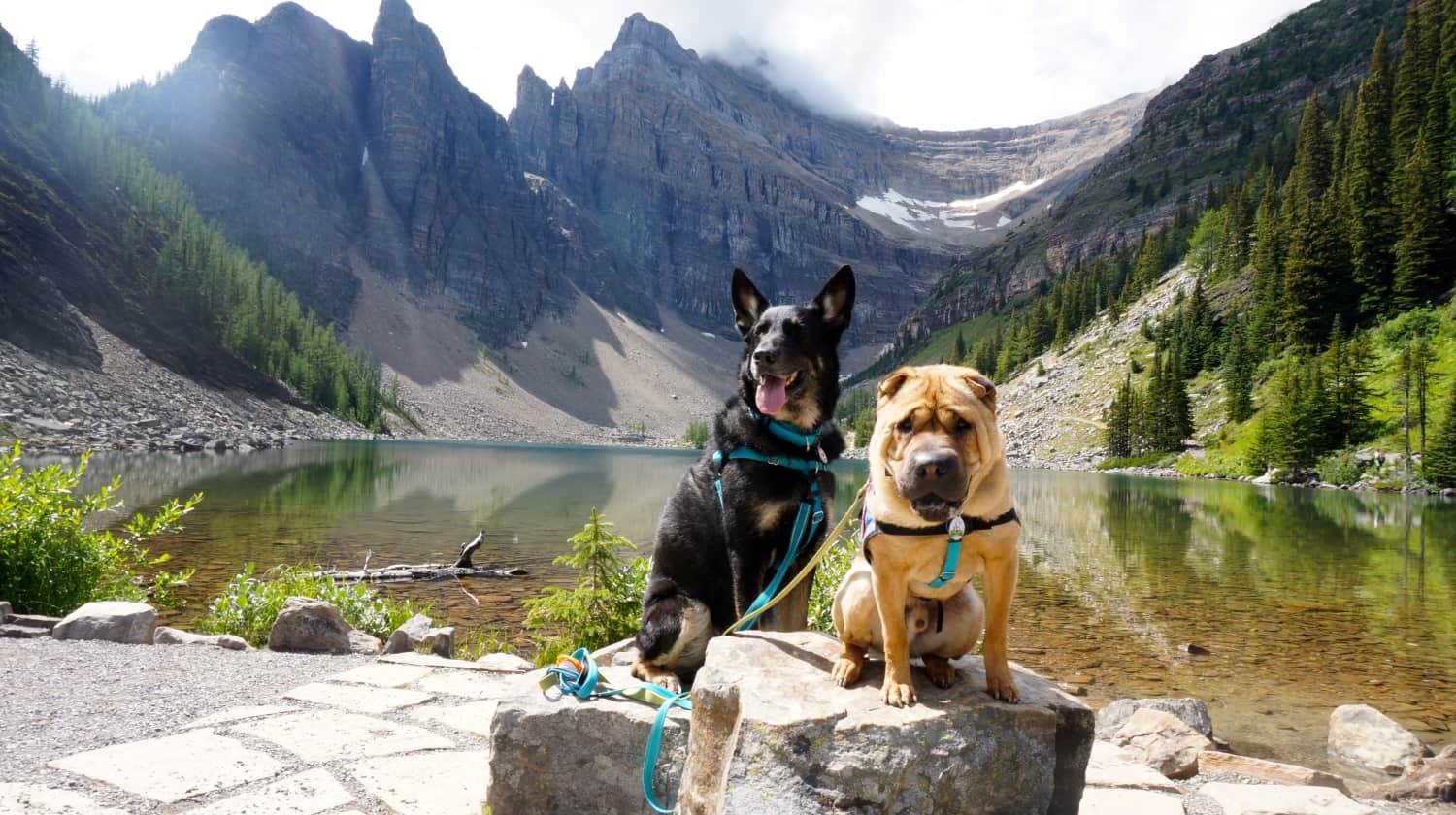 UPDATE: It took three years, but we finally made it back to Banff to do some additional research with the dogs. Read all about our most recent visit here: Dog Friendly Things To Do In Banff – Part 2.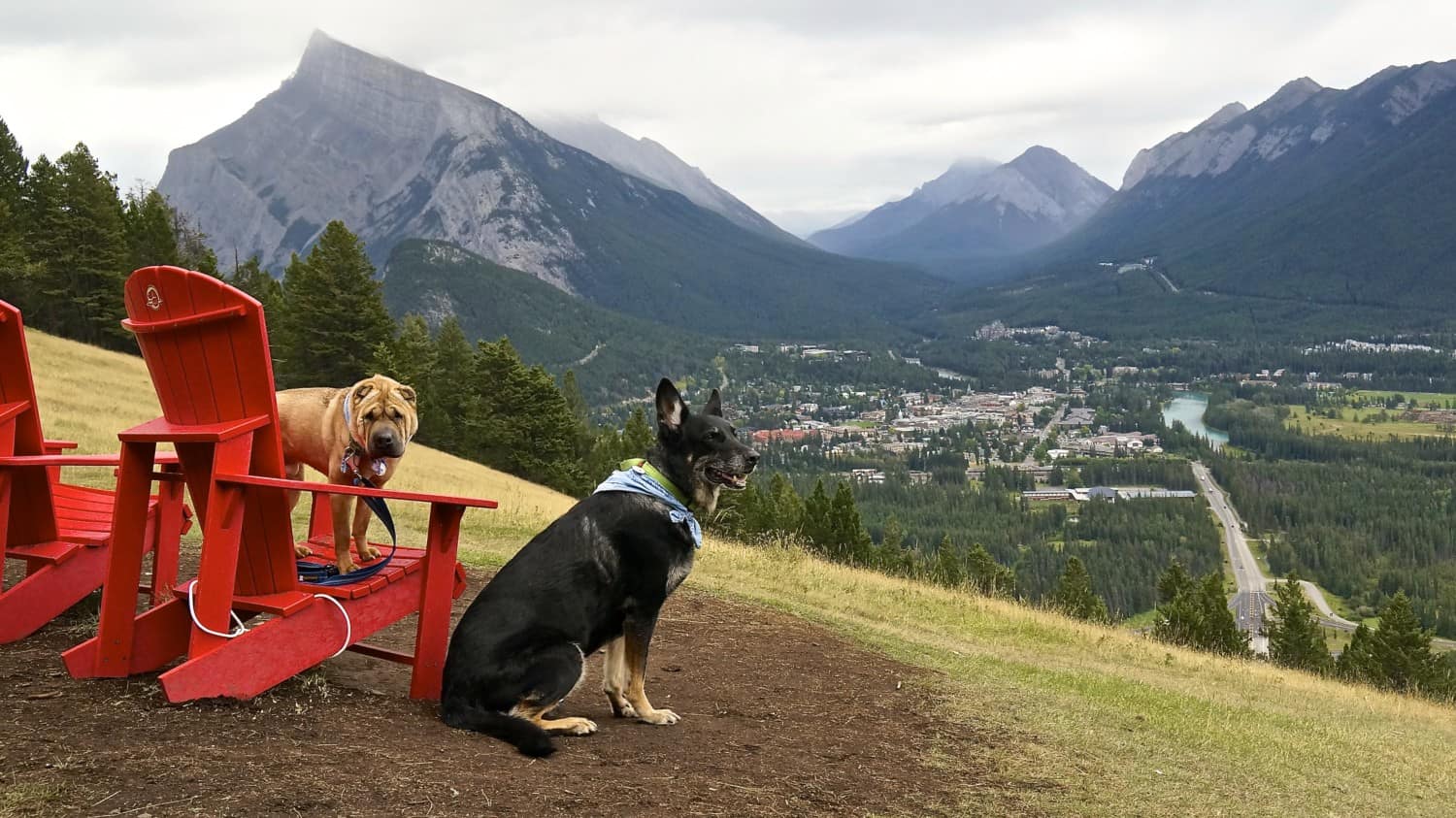 Planning a pet friendly trip of your own? We'll make it easy:
Pet Friendly Hotels | Pet Friendly Destinations | Pet Friendly Activities
Amazon Affiliate Disclosure: GoPetFriendly.com LLC is a participant in the Amazon Services LLC Associates Program, an affiliate advertising program designed to provide a means for website owners to earn advertising fees by advertising and linking to amazon.com, audible.com, and any other website that may be affiliated with Amazon Service LLC Associates Program. As an Amazon Associate, the owner of this site earns a commission from qualifying purchases.
(Visited 29,317 times, 1 visits today)