Just a couple hours north of Phoenix and its classic desert landscape sits Sedona, a small city tucked into a stunning backdrop of red rocks and thick green foliage. Cool Whip, Hercules, and I recently sniffed around town and logged some miles on the Sedona hiking trails that allow pets.
At an elevation of 4,350 feet, Sedona isn't nearly as high as neighboring Flagstaff (almost 7,000 feet). But it does get a bit of snow over the winter and has a fairly toasty summer. Regardless of the season, however, you'll want to bring your walking shoes. A trip to Sedona isn't complete without exploring its natural beauty.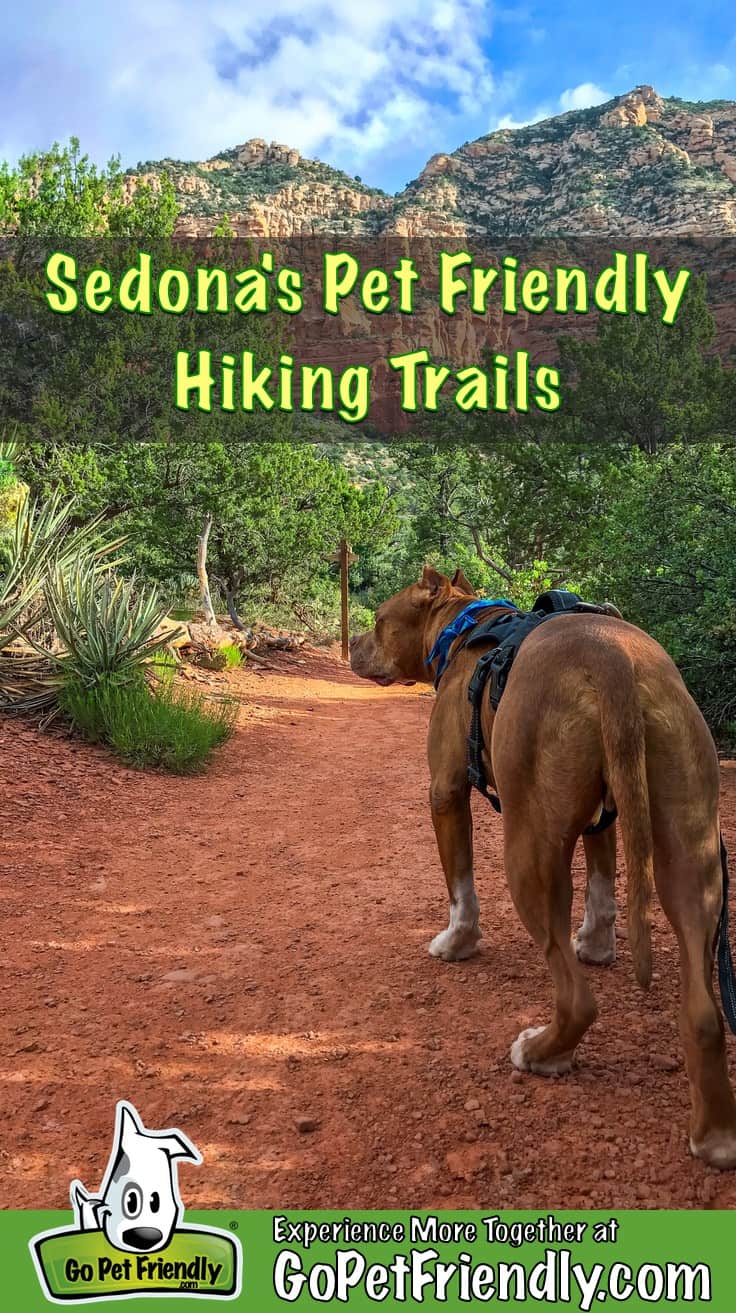 Dog Friendly Sedona Hiking Trails
Our first stop was the Red Rock Visitor Center and Ranger Station. Visitor centers are always a great place to get current information on the area, trail conditions, maps, and in this case, a parking pass. Quite a few of the scenic stops around town require a Red Rock Pass for parking ($5/day, $15/week, $20/annual). The America The Beautiful Interagency Pass is also accepted, which is helpful if you and your pup will be exploring any national parks.
READ MORE ⇒  The Most Dog Friendly National Parks in America
There are a variety of parks and wilderness areas throughout greater Sedona, including the Coconino National Forest and Red Rock-Secret Mountain Wilderness. Leashes are required on on the trails, and no matter where you and your dog choose to go, you'll have a wonderful adventure. Below are a few of our favorites to help you plan your trip to red rock country!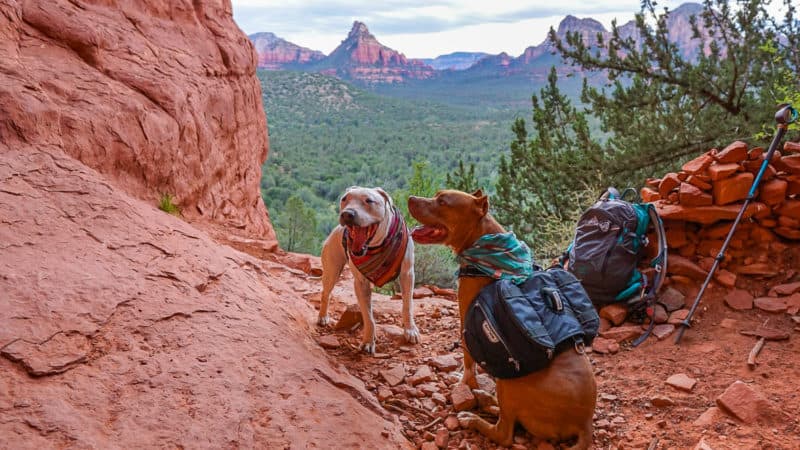 Bell Rock and Courthouse Butte Loop
Distance: 4.2 miles, loop
Difficulty: Moderate
Parking: Red Rock Pass
Bell Rock and Courthouse Butte are accessible from the same parking lots. Most people head straight to Bell Rock because it's one of the four main vortexes in Sedona. A vortex is a location in nature where a strong energy field is said to be perceptible. Many believe these centers of swirling energy boost healing and meditation. The four most popular vortex locations around Sedona are Bell Rock, Cathedral Rock, Boynton Canyon, and Airport Mesa. Their popularity draws more people, so expect a little more traffic in these areas.
For more solitude, we opted for the loop around Courthouse Butte. Fewer people and epic views? Yes, please! You'll share portions of the trail with mountain bikers and horse riders, so keep common trail etiquette in mind: Hikers yield to equestrians, and bikers yield to hikers and equestrians.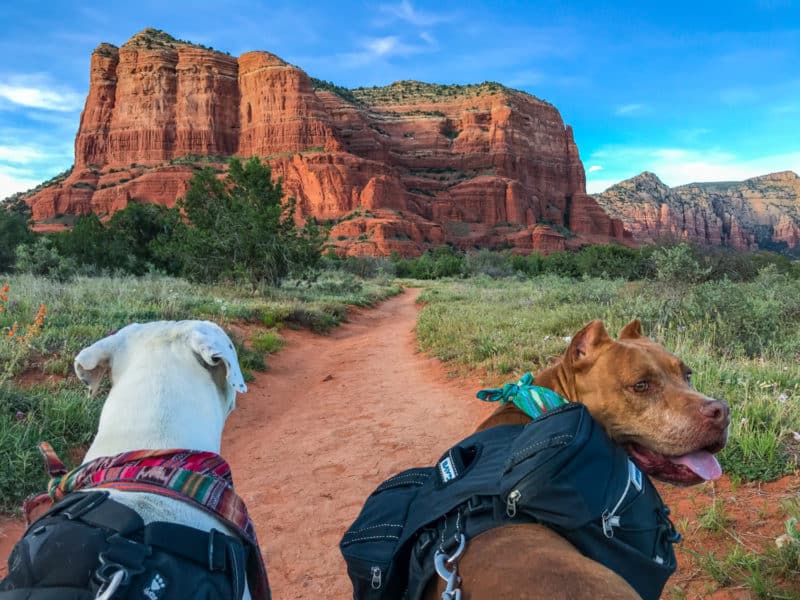 Cathedral Rock
Distance: 1.2 miles, out and back
Difficulty: Difficult
Parking: Red Rock Pass
As one of the four main vortex locations and a place of epic beauty, this trail gets quite busy. The 1.2-mile (round trip) hike up Cathedral Rock is considered difficult, but there are easier options if you want to stick to the trails along the base. Pack snacks for you and your dog the night before so you can hit the trail for a sunrise hike and enjoy breakfast with a view. An early start usually provides easier parking and less traffic on the trail. Plus, you'll get the see the rocks glowing in the morning sunlight.
Chimney Rock
Distance: 1.7 miles, loop
Difficulty: Easy
Parking: Free
The Chimney Rock area has several trails that intertwine. Hike just one loop for a short and easy outing, or mix and match for a longer adventure. The dogs and I opted for Chimney Rock Pass, a 1.7-mile option starting from the Thunder Mountain Trailhead. Even though you're right on the edge of a residential neighborhood, it doesn't feel like that for long. Follow the trail counter-clockwise so you'll pass the nearby houses first and then enjoy red rock views for the rest of your hike.
 READ MORE ⇒  Gear You Need For Desert Hiking With Dogs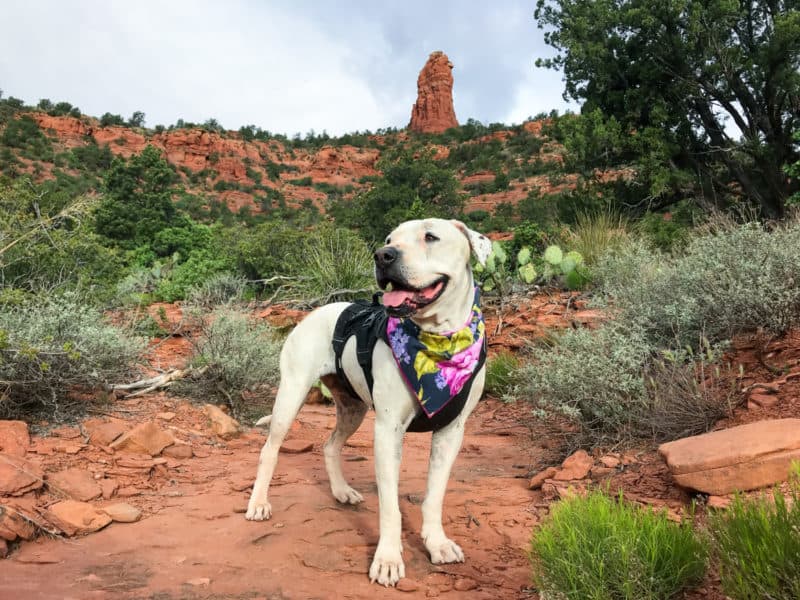 Devil's Bridge
Distance: 4.2 miles, out and back
Difficulty: Moderate
Parking: Red Rock Pass
This is a classic Sedona hike featuring a natural bridge. As one of the more popular hikes, parking at any of the trailheads for Devil's Bridge can be difficult. We opted to skip this one because Cool Whip doesn't like to travel uphill, but if your dog isn't as picky, this hike rewards you with a spectacular, one-of-a-kind view.
Long Canyon
Distance: 7.2 miles, out and back
Difficulty: Easy
Parking: Free
Sedona is an understandably popular destination, and we loved Long Canyon for its sense of seclusion. And you don't have to hike all the way to the end to experience the beauty. From the moment your dog's paws hit the trail, you're immersed in the wilderness. Aside from catching a glimpse of a golf course about a half-mile in, it feels like you are miles away from town.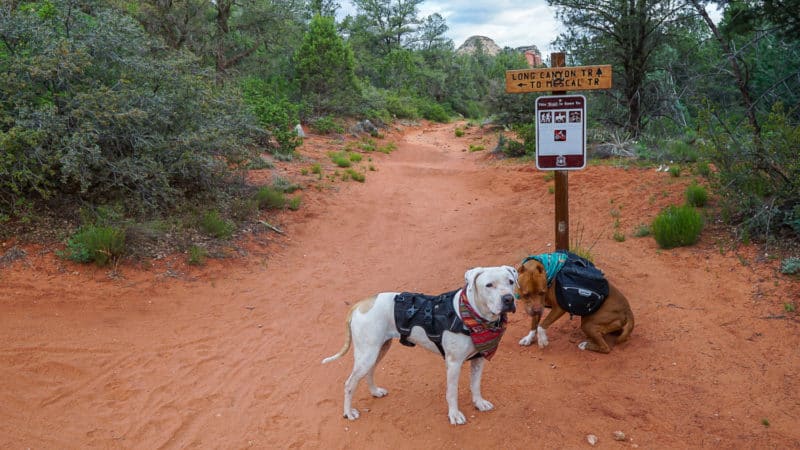 West Fork Trail
Distance: 6.9 miles, out and back
Difficulty: Easy
Parking: $10/vehicle
If your dog loves water, the West Fork Trail is a perfect adventure. This trail takes you up the west fork of Oak Creek into the Coconino National Forest. There are several creek crossings on this hike with rocks for hopping across, but I still recommend wearing shoes you don't mind getting wet. Head out early to beat to rush for parking and be sure to pack plenty of snacks or a picnic lunch. The trail is doable in 2-3 hours, but with so many options to hang out in the shade or water, you'll want to take your time to enjoy nature.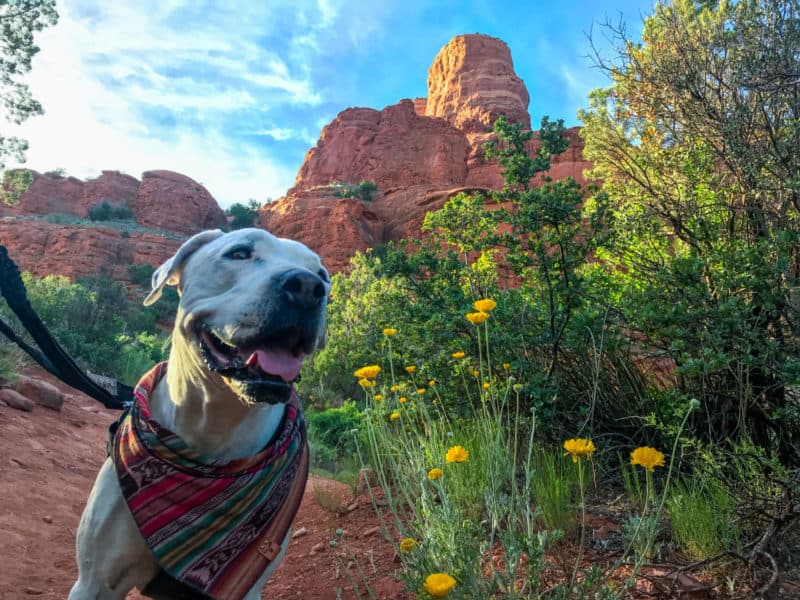 Sniffing Around Town
When you're ready for a break from the Sedona hiking trails, you'll find many of the businesses are pet friendly. The main road through town has an abundance of options for shopping and dining. Shopping can get a little tricky with pups in tow, but there are plenty of dog friendly restaurants in Sedona.
Our favorite was Theia's, a locally owned coffee shop within walking distance of the main drag. They brew coffee from Flagstaff and provide water bowls for dogs on the shaded patio. Cool Whip loved this spot because people from the nearby offices came out to say hi and tell her how pretty she looked. Even with all the tourism, Sedona has a friendly, small-town feeling.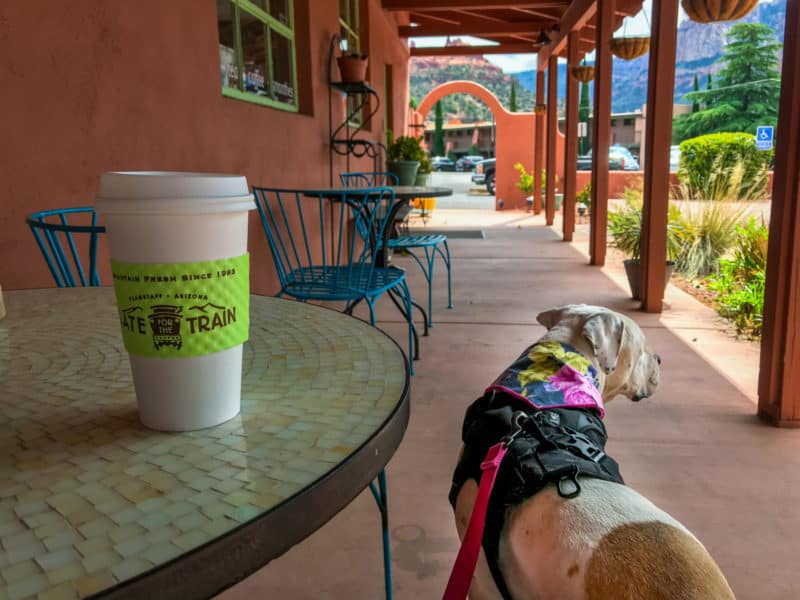 Once you've refueled, consider some of the other pet-friendly adventure options: jeep or ATV tours (rules vary by company), winery and vineyard tours, and Slide Rock State Park.
Slide Rock is more than just a hiking destination. As the name implies, it features a natural rock slide where Oak Creek flows over a section of smooth stone. Originally, the park was an apple farm started in 1912, and much of that homestead is still intact for visitors to explore.
Rest Your Paws Then Explore Some More
Trust me when I say you're going to want to spend more than a day exploring the Sedona hiking trails. We stayed for the weekend, and I can't wait to go back for more. The dogs and I camped at one of the Coconino National Forest campgrounds along Oak Creek—Hercules loved having easy access to the water! Or, if you want a place to stay in town, there are a variety of pet friendly hotels in Sedona that allow your whole crew to kick back and relax.
If you're up for a longer trip with your furry friend, check out the 9 Pet Friendly Things to Do in Flagstaff, or head north and visit Grand Canyon National Park. Arizona has a wide variety of landscapes you and your dog will enjoy!
(Visited 40,219 times, 1 visits today)