Just two hours north of Phoenix, Sedona is famous for its natural beauty. Tucked into a stunning backdrop of red rocks and thick green foliage, it's also a wonderful pet friendly vacation destination!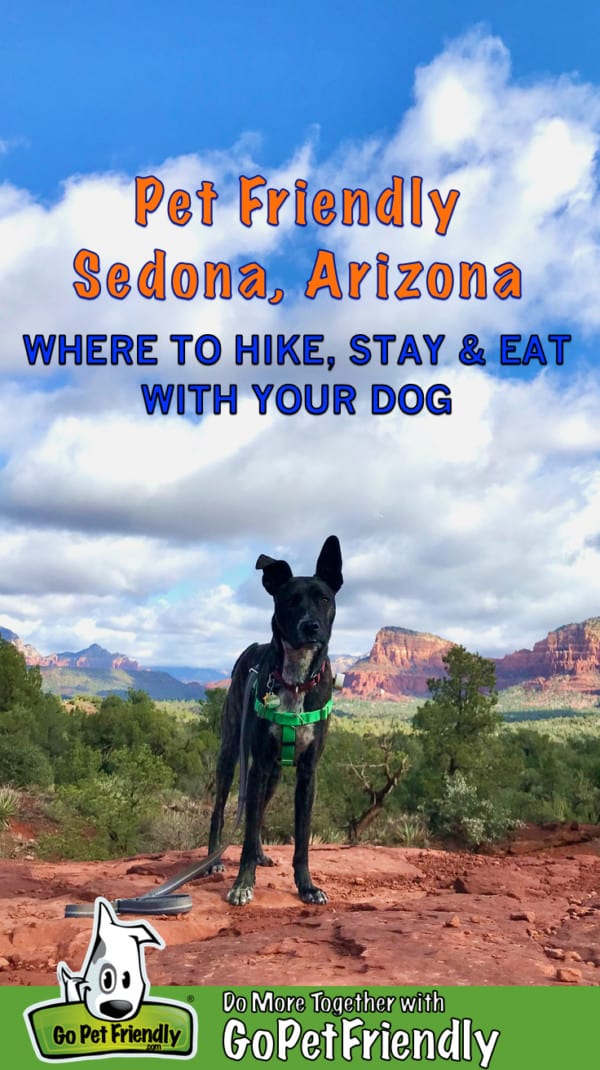 Visitors from around the world are drawn to Sedona for its amazing scenery and lovely climate most of the year. It's the perfect place to experience the outdoors – and who better to join you for that kind of adventure than your furry travel buddy?! If you're looking for a dog friendly trip you'll never forget, make plans to see Sedona.
Best Time To Visit Sedona
At an elevation of 4,350 feet, Sedona isn't nearly as high as neighboring Flagstaff (almost 7,000 feet). But it does get a bit of snow over the winter and gets fairly warm in the summer. If you're planning to explore the outdoors – and we highly recommend you do! – the best months to visit are March, April, May, October and November.
Red Rock Ranger Station And Visitor Center
When you're ready to hit the trails, make your first stop the Red Rock Ranger Station and Visitor Center (8375 State Route 179). It's a great place to get current information on trail conditions, pick up maps, and buy a parking pass.
A Red Rock Pass is required when leaving your vehicle unattended at 19 specific day-use sites in the Red Rock Ranger District around Sedona and Oak Creek Canyon. Passes can also be purchased from kiosks in some parking areas and cost $5 per day, $15 per week, or $20 for an annual pass.
If you and your pup will also be visiting any national parks or national forests during your trip, consider purchasing an America The Beautiful Interagency Pass instead. These are also available at the Red Rock Ranger Station and Visitor Center and provide access to the federal lands as well as Red Rock parking areas.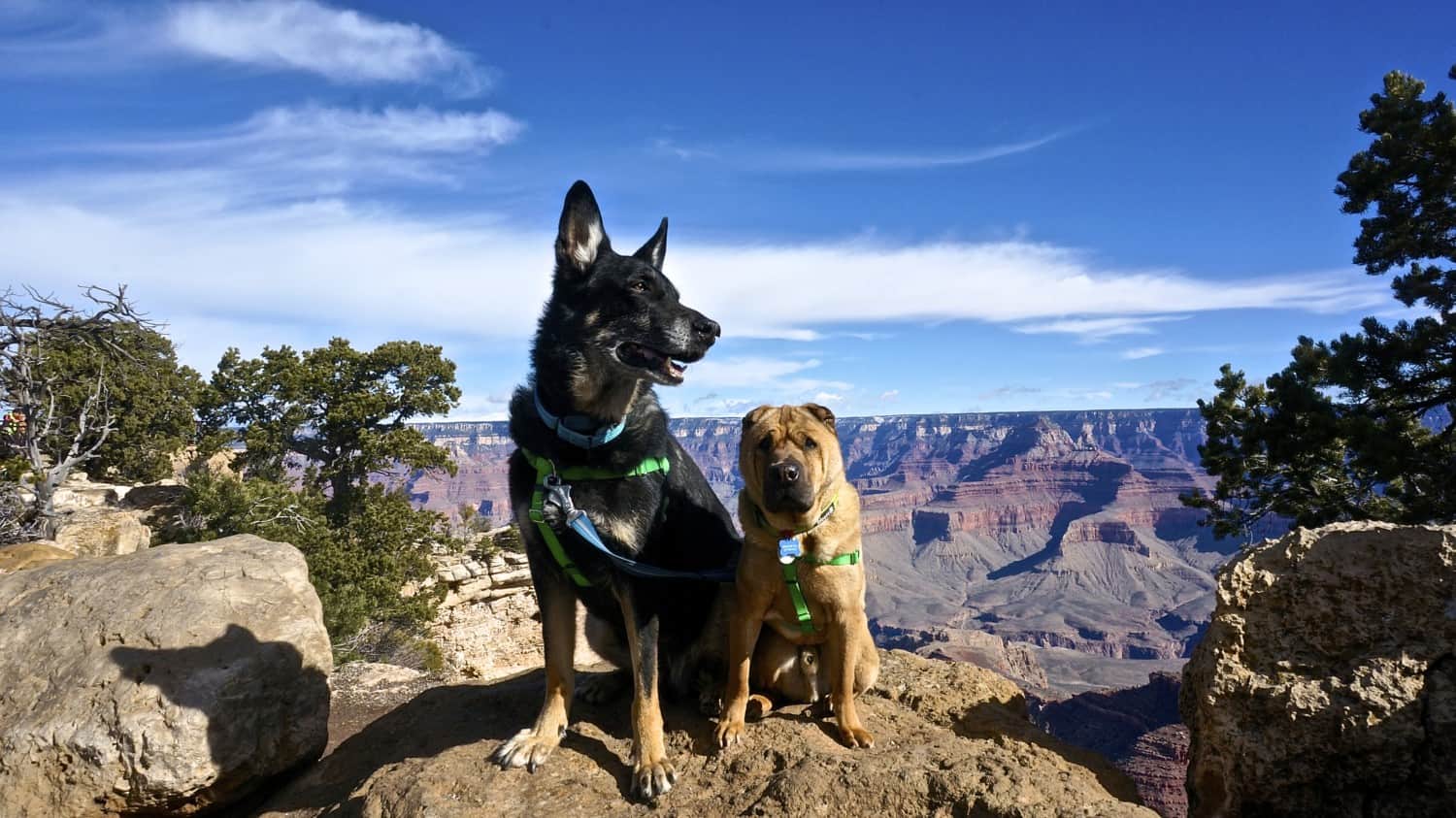 Dog Friendly Hikes in Sedona
There are a variety of parks and wilderness areas throughout greater Sedona, and maps are available online. You'll find dog friendly hiking trails in the Coconino National Forest, Red Rock-Secret Mountain Wilderness, Munds Mountain Wilderness and Sycamore Canyon Wilderness.
No matter where you hike, your pets must be leashed and cleaned up after. Below are a few of our favorites dog friendly trails to help you plan your trip to red rock country!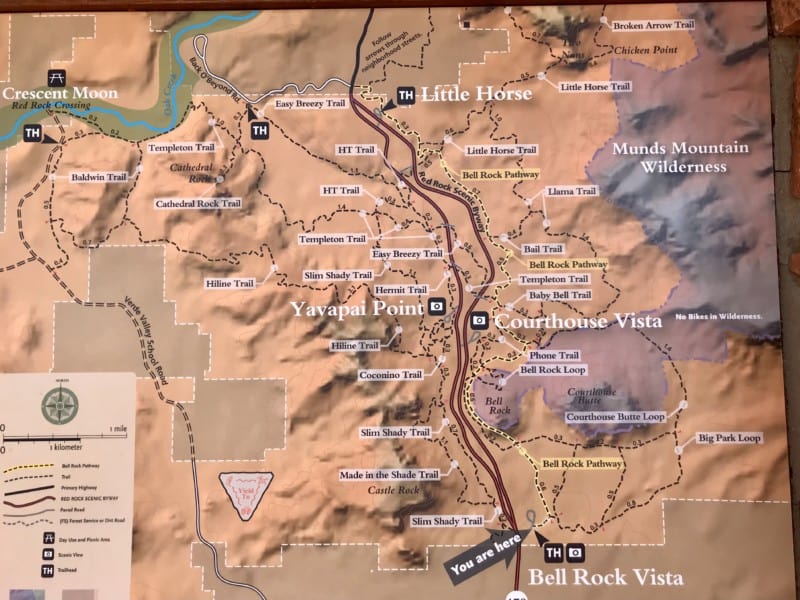 Bell Rock Pathway
Distance: 7.2 miles, out and back
Difficulty: Easy
Parking: Red Rock Pass
Bell Rock is one of the four main vortexes in Sedona, making this trail very popular. It's also one of the most dog friendly hikes in Sedona.
You'll have fantastic views of Bell Rock, Courthouse Butte, and other landmarks. And most of the pathway is wide with a hard surface, so it never feels too crowded. Climbing Bell Rock is also fun!
Courthouse Butte Loop
Distance: 4.25 miles, loop
Difficulty: Moderate
Parking: Red Rock Pass
The Bell Rock Pathway and Courthouse Butte Loop are accessed from the same parking lot. Most people head straight to Bell Rock, so for more solitude, opt for the loop around Courthouse Butte. Fewer people and epic views? Yes, please!
You'll share portions of the trail with mountain bikers and horse riders, so keep common trail etiquette in mind: Hikers yield to equestrians, and bikers yield to hikers and equestrians.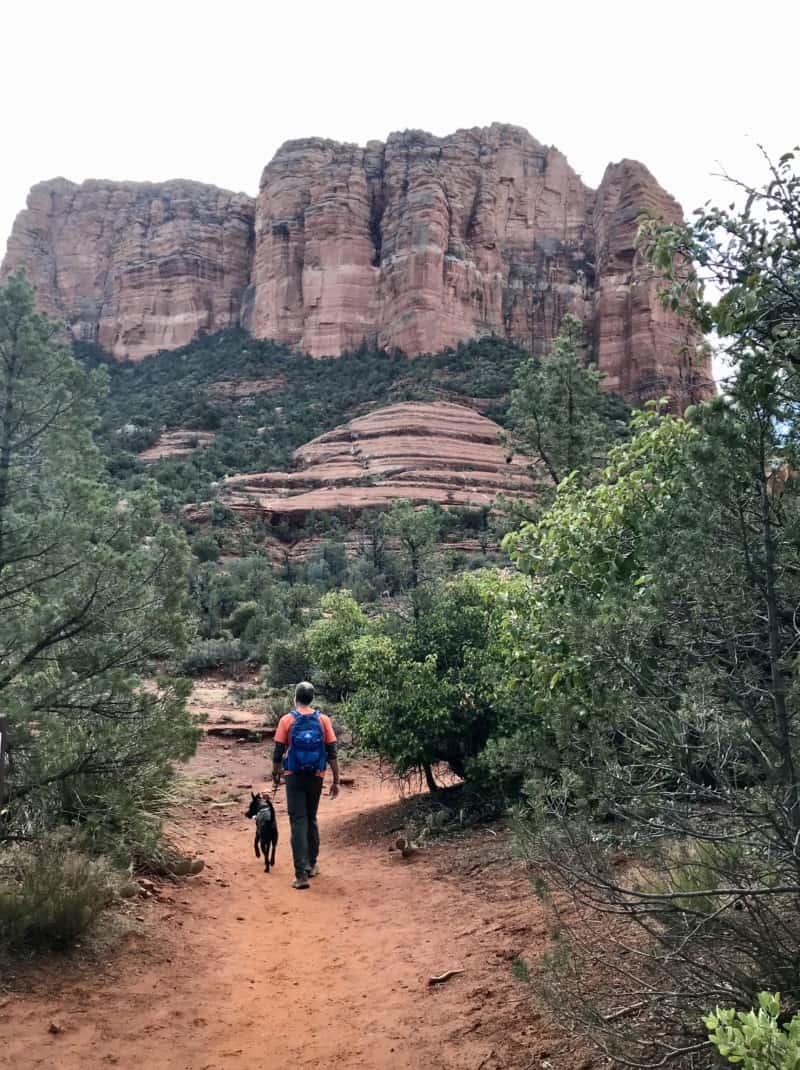 Rabbit Ears
Distance: 6.25 miles, out and back
Difficulty: Moderate
Parking: Red Rock Pass
Rabbit Ears is a relatively new trail that can be accessed via Big Park Loop from the Bell Rock Vista parking lot or from the Jacks Canyon parking lot – both require a Red Rock Pass.

This was our favorite dog friendly hike in Sedona – both for the views and for the lack of traffic. A gradual climb to the top of the ridge provides a spectacular view of Rabbit Ears and the valley below. And watch along the trail for fossilized coral – proof that the Sedona area was at one time at the bottom of the sea!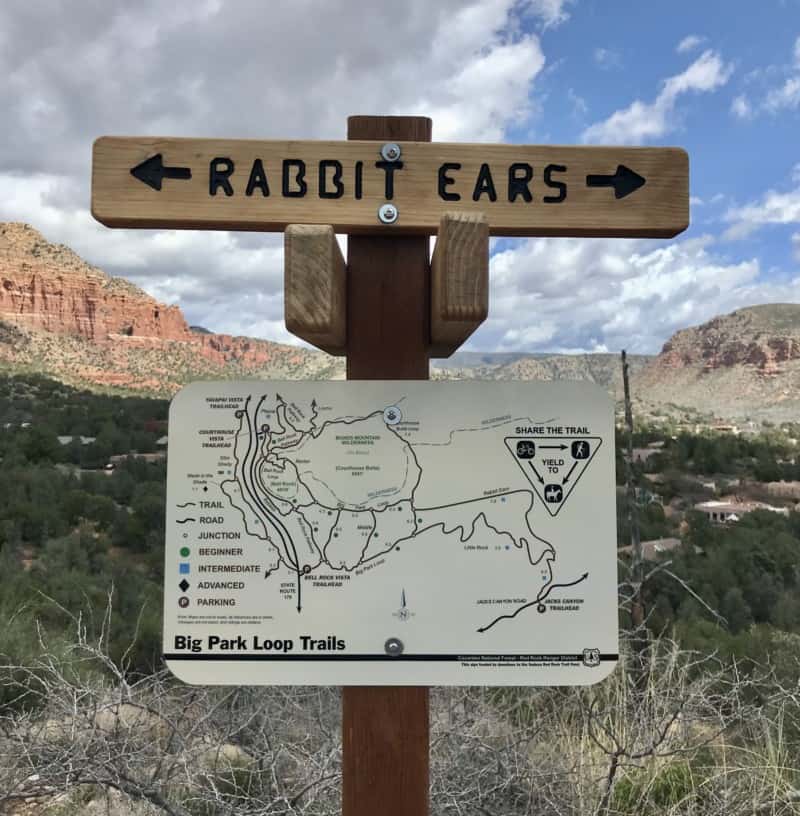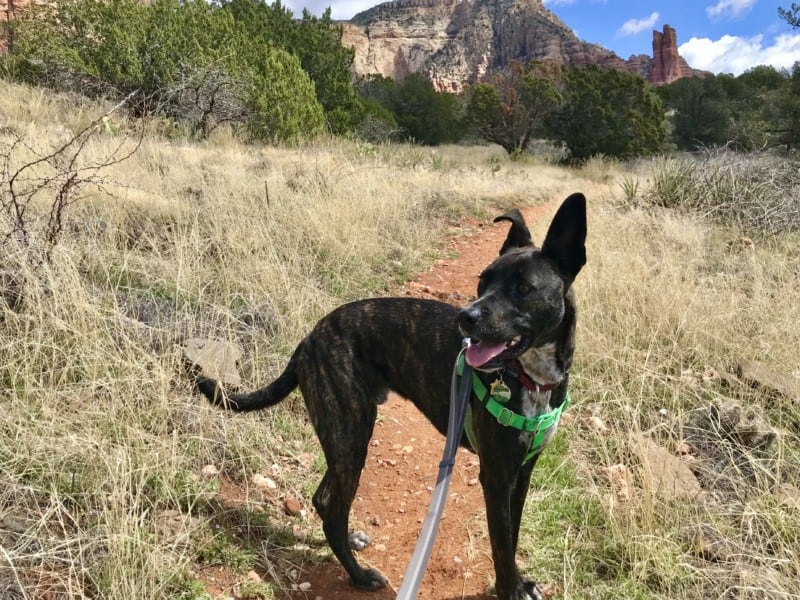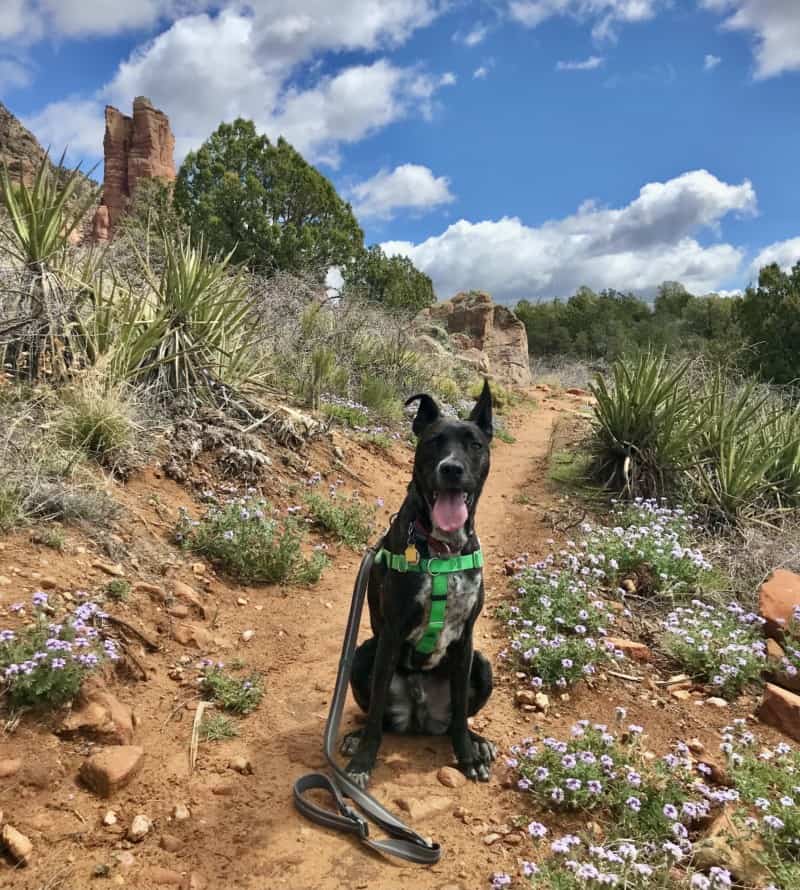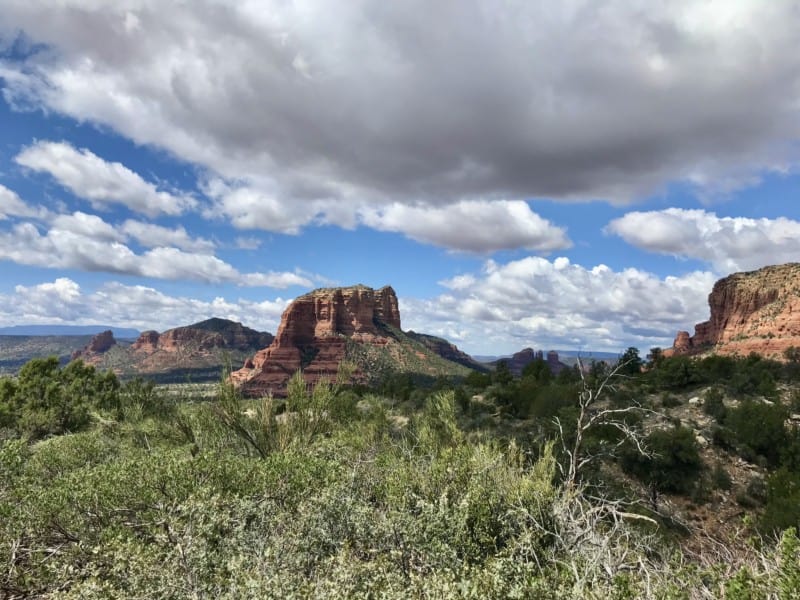 Cathedral Rock
Distance: 1.2 miles, out and back
Difficulty: Difficult
Parking: Red Rock Pass
As one of the four main vortex locations and a place of epic beauty, this trail gets quite busy. The 1.2-mile (round trip) hike up Cathedral Rock is considered difficult, but there are easier options if you want to stick to the trails along the base.
Pack snacks for you and your dog the night before so you can hit the trail for a sunrise hike and enjoy breakfast with a view. An early start usually provides easier parking and less traffic on the trail. Plus, you'll get the see the rocks glowing in the morning sunlight.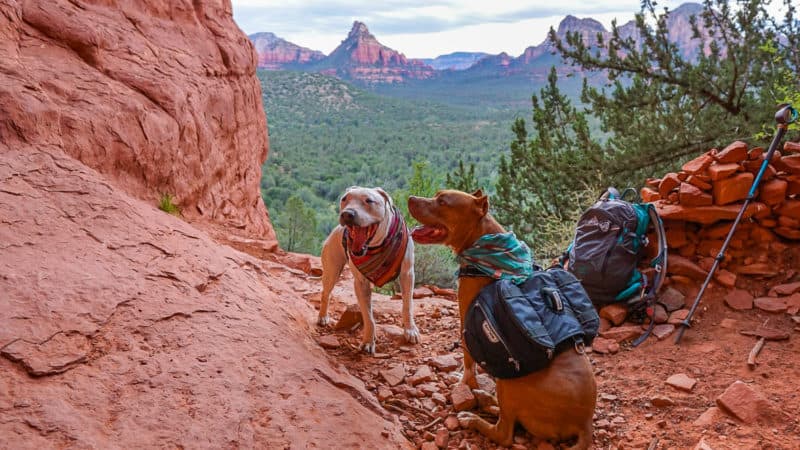 Chimney Rock
Distance: 1.7 miles, loop
Difficulty: Easy
Parking: Free
The Chimney Rock area has several trails that intertwine. Hike just one loop for a short and easy outing, or mix and match for a longer adventure.
We opted for Chimney Rock Pass, a 1.7-mile trail starting from the Thunder Mountain Trailhead. Even though you're right on the edge of a residential neighborhood, it doesn't feel like that for long. Follow the trail counter-clockwise so you'll pass the nearby houses first and then enjoy red rock views for the rest of your hike.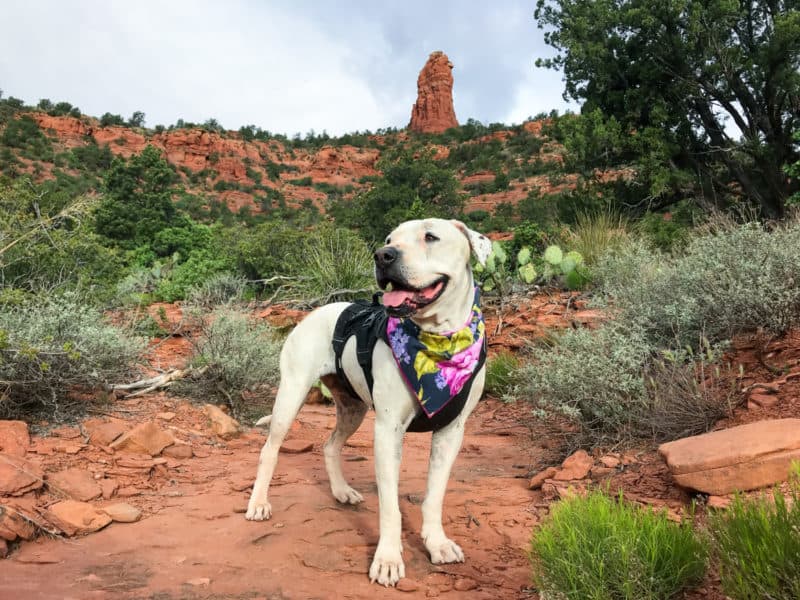 Devil's Bridge
Distance: 4.2 miles, out and back
Difficulty: Moderate
Parking: Red Rock Pass
This is a classic Sedona hike featuring a natural bridge. As one of the more popular dog friendly Sedona hikes, parking at any of the trailheads for Devil's Bridge can be difficult. Get an early start, or head out mid-afternoon to avoid the crowds.
The trail begins by following an old road through a canyon lined with juniper and prickly pear, then climbs the red rock cliffs. When the trail begins to climb it splits – one side goes to the base of the natural bridge. The other side allows you to explore the top of the bridge.
If you follow the trail up, expect to find a line of people when you reach the top. Everyone is waiting to have a photo taken of them standing on the bridge! And standing in line gives you time to enjoy the views.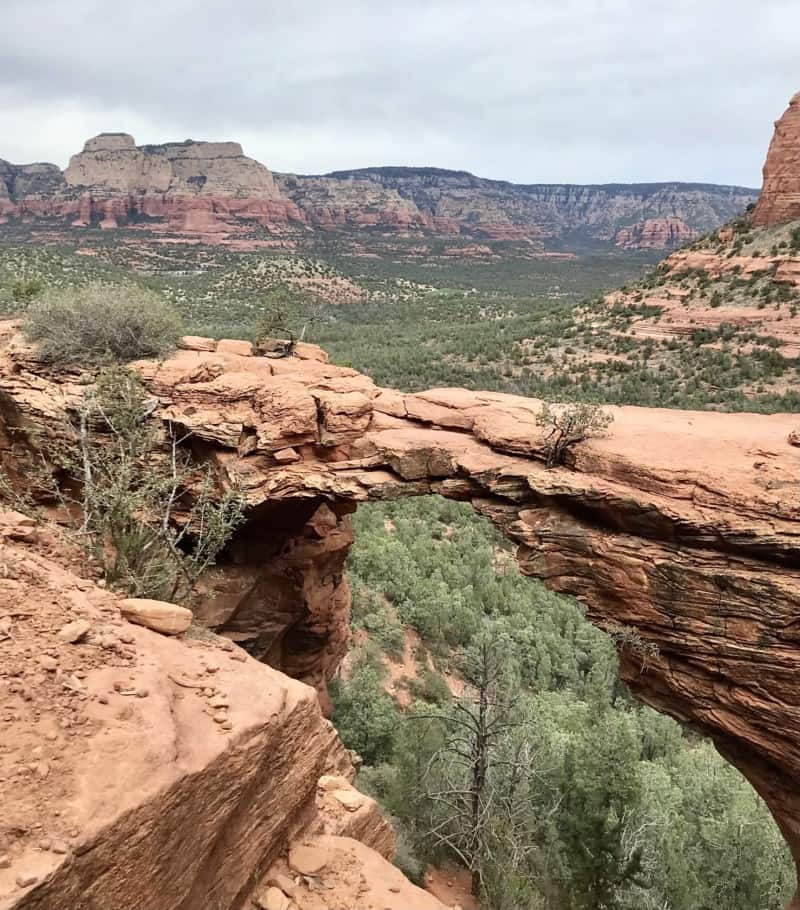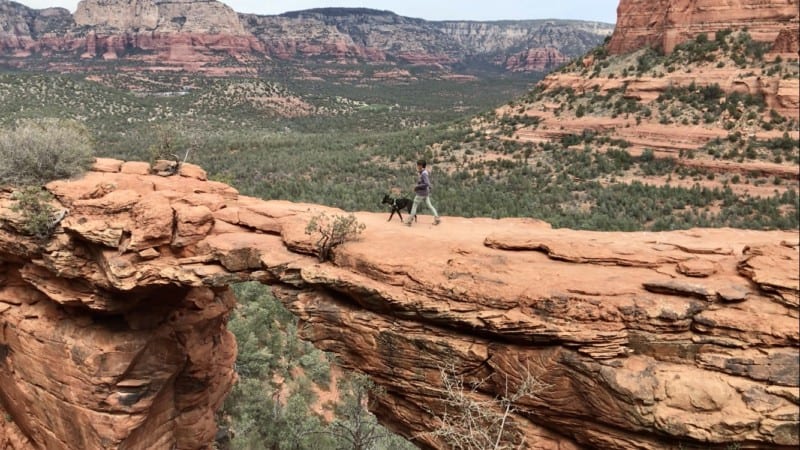 Long Canyon
Distance: 7.2 miles, out and back
Difficulty: Easy
Parking: Free
Long Canyon is a great hike if you're looking for a sense of seclusion. And you don't have to hike all the way to the end to experience the beauty!
From the moment your dog's paws hit the trail, you'll be immersed in the wilderness. Aside from catching a glimpse of a golf course about a half-mile in, it feels like you are miles away from civilization.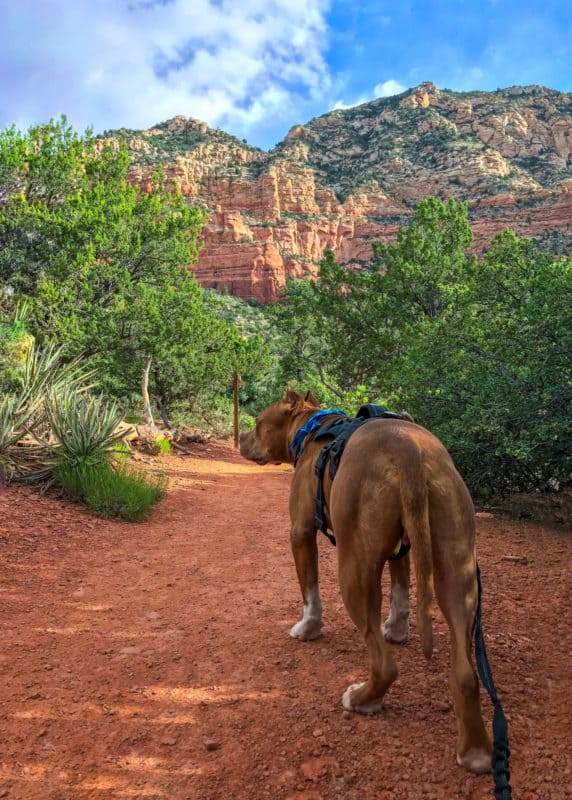 West Fork Trail
Distance: 6.9 miles, out and back
Difficulty: Easy
Parking: $10/vehicle
If your dog loves water, he'll definitely appreciate the West Fork Trail. This hike takes you up the west fork of Oak Creek into the Coconino National Forest. There are several creek crossings on this hike with rocks for hopping across, but I'd still recommend wearing shoes you don't mind getting wet.
Head out early to beat to rush for parking and be sure to pack plenty of snacks or a picnic lunch. The trail is doable in 2-3 hours, but with so many options to hang out in the shade or water, you'll want to take your time to enjoy nature.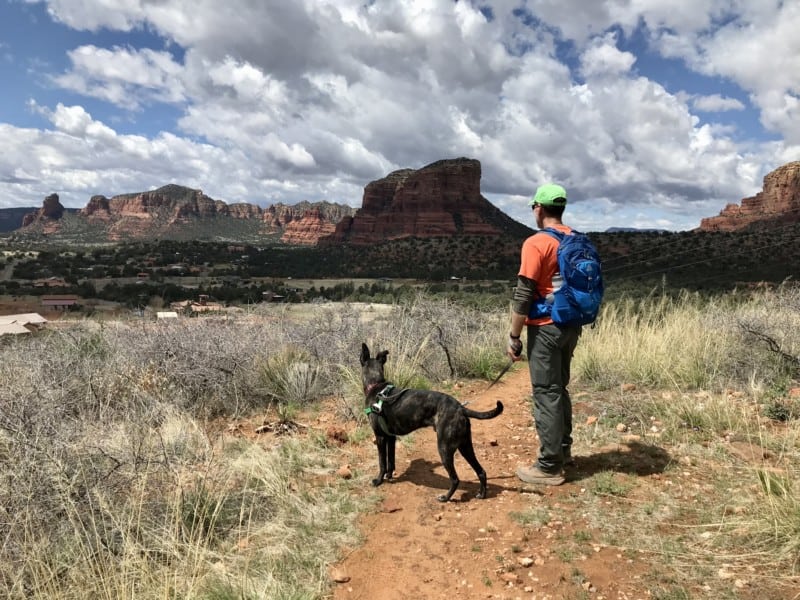 More Dog Friendly Hikes in Sedona
Honestly, there are so many dog friendly hiking trails in Sedona, you could explore for a lifetime and not see them all! Here are some we've heard are great, but haven't gotten to try ourselves:
Aerie – 5 miles, moderate
Brins Mesa – 3.6 miles, moderate
Broken Arrow – 2.8 miles, moderate
Jacks Canyon – 15 miles, difficult
Little Horse – 4.2 miles, easy
Schuerman Mountain – 3.6 miles, moderate
Turkey Creek – 5.9, moderate
If you find more trails you want to try, keep in mind that pets are not allowed in the following areas in and around Sedona:
On the grounds of the Red Rock District Heritage Sites (Palatki, Honanki, and V Bar V Ranch Rock Art site)
At Grasshopper Point
At Red Rock State Park
Near the water at Slide Rock State Park
During "schools" and other planned programs at Elden Pueblo
The Inner Basin is closed to horses above the snow shelter cabin at the upper junction of Waterline Road and Inner Basin Trail
Dog Friendly Hotels in Sedona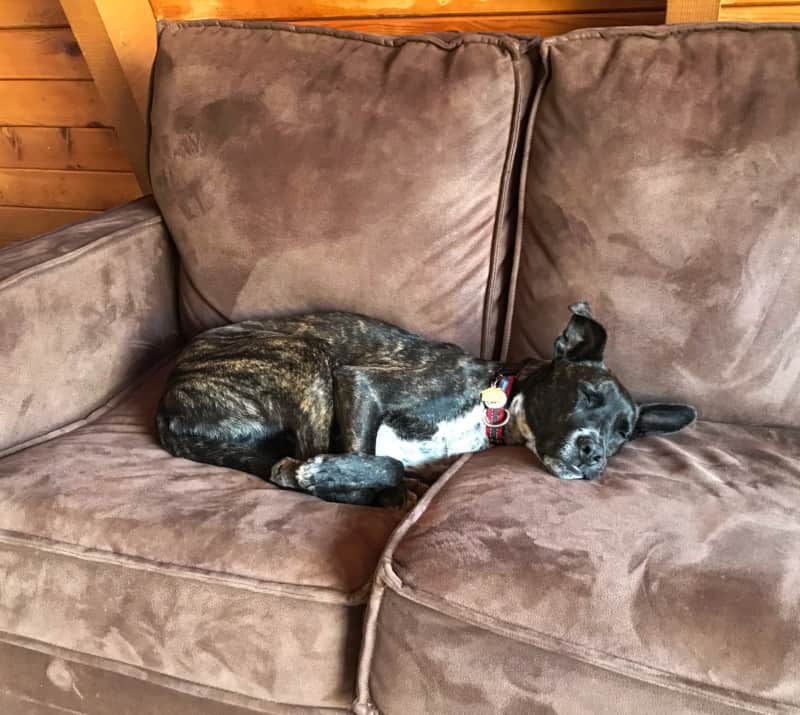 After all that hiking, you'll need a place to rest your paws! Here is a list of pet friendly hotels in the Sedona area, along with their typical nightly room rates:
Amara Resort & Spa ~ $169 – $659
The Andante Inn of Sedona ~ $99 – $275
The Arabella Sedona ~ $109 – $379
Arroyo Pinion Sedona Hotel ~ $139 – $279
Best Western Plus Arroyo Roble Hotel & Creekside Villas ~ $150 – $820
Cliff Castle Casino Hotel ~ $70 – $90
El Portal Sedona Hotel ~ $259 – $459
Element by Westin ~ $250 – $600
Enchantment Resort ~ $405 – $2,000
Hilton Sedona Resort at Bell Rock ~ $199 – $475
Holiday Inn Express Sedona-Oak Creek ~ $109 – $329
La Petite Sedona ~ $99 – $500
L'Auberge de Sedona ~ $349 – $999
Las Posadas of Sedona ~ $249 – $399
Lodge At Sedona ~ $149 – 349
Oak Creek Terrace Resort ~ $120 – $289
Orchards Inn ~ $149 – $499
Poco Diablo Resort ~ $149 – $389
Red Agave Resort ~ $149 – $249
Residence Inn by Marriott Sedona ~ $189 – $599
Sedona Reál Inn & Suites ~ $119 – $369
Village Lodge Sedona ~ $69 – $209
Sky Ranch Lodge ~ $154 – $354
Sky Rock Inn of Sedona ~ $129 – $379
Southwest Inn at Sedona ~ $99 – $299
The Wilde Resort and Spa ~ $299 – $699
Tiny Camp ~ $149 – $229
Where We Stayed
On our most recent trip to Sedona, we stayed at the Red Agave Resort and loved it! In addition to the accommodations being extremely comfortable, the view from our room was spectacular. And the $60 pet fee per stay was completely reasonable.
The Red Agave is great for dogs because the cabins don't share walls, so you don't hear your neighbors like in many hotels. And there are no hallways for people or dogs pass by. With no elevators, no ice machine, and no vending machines, the unfamiliar noises that can cause dogs to bark aren't an issue. It was a wonderfully, peaceful place to stay with Myles.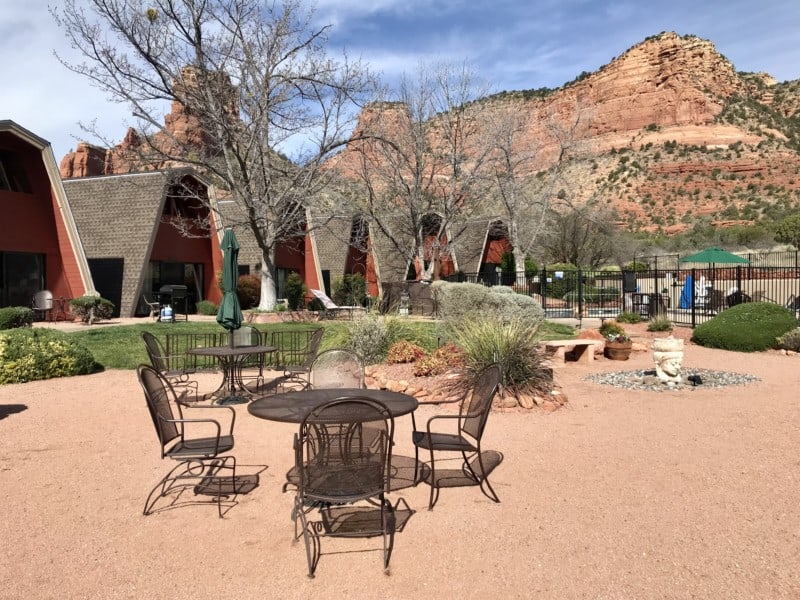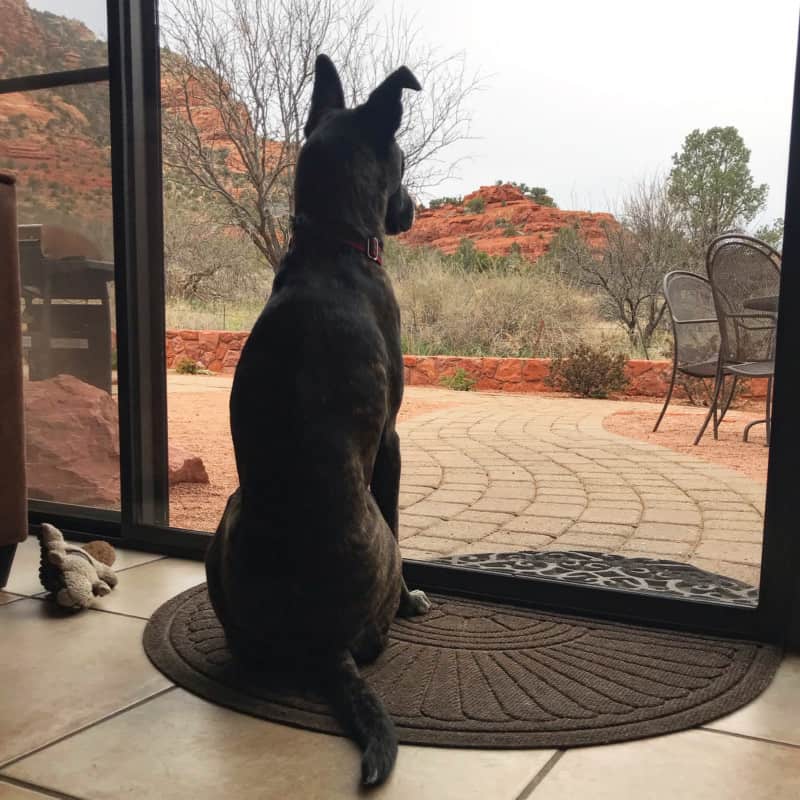 We were also able to walk to several popular trailheads – so there was no stress over parking. And even though we had a great kitchen, there were several restaurants within walking distance, so we had plenty of food options. We're looking forward to visiting them again!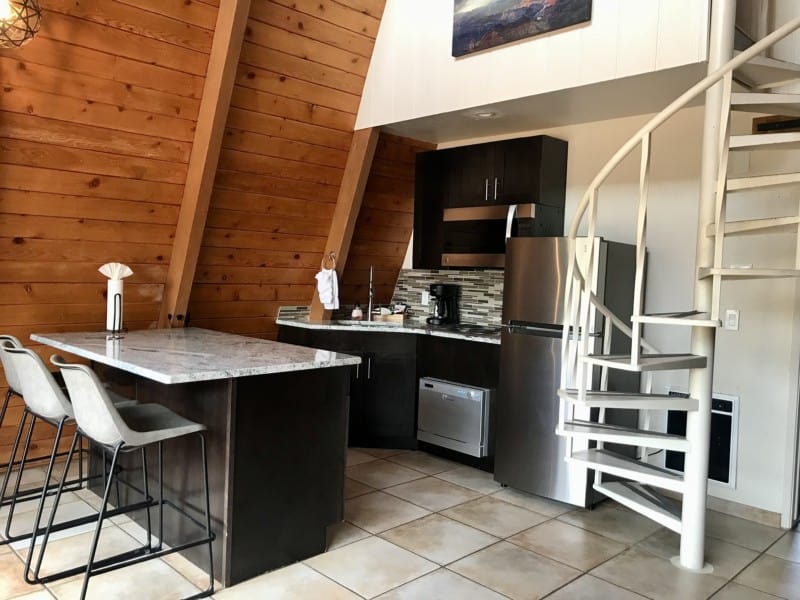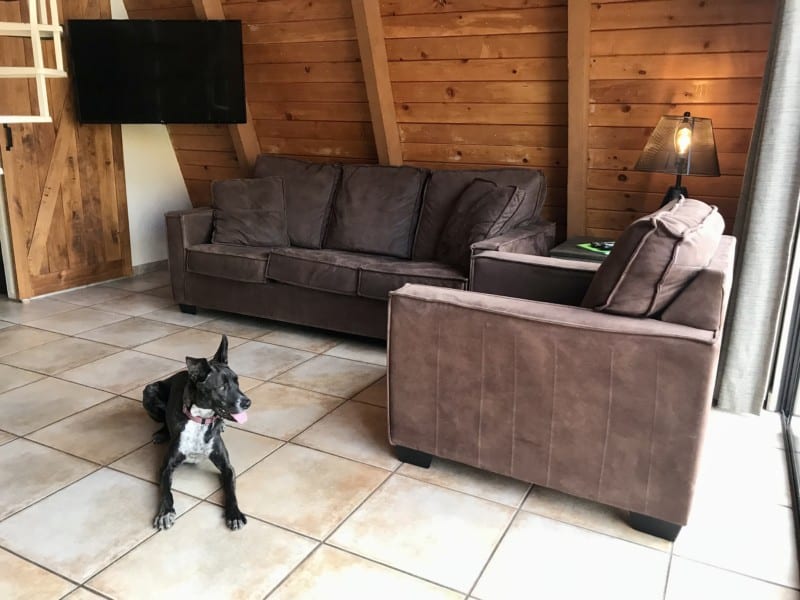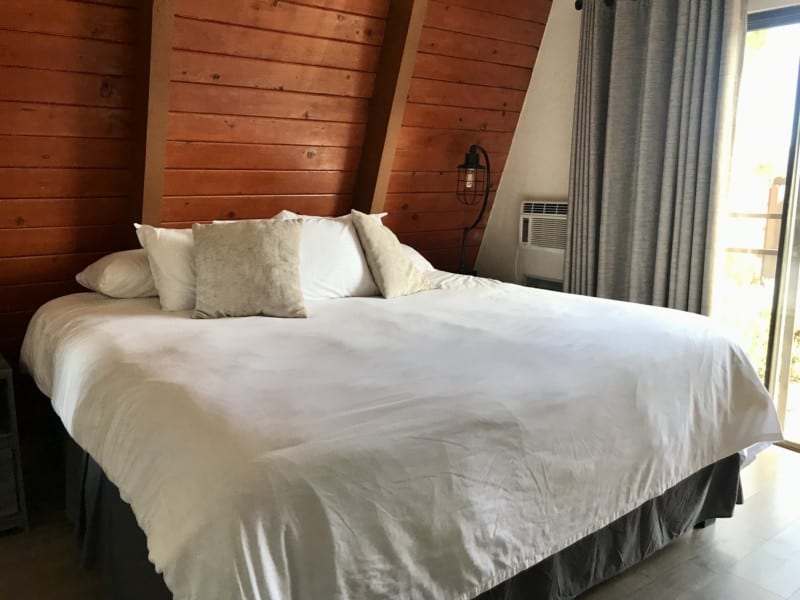 Dog Friendly Restaurants in Sedona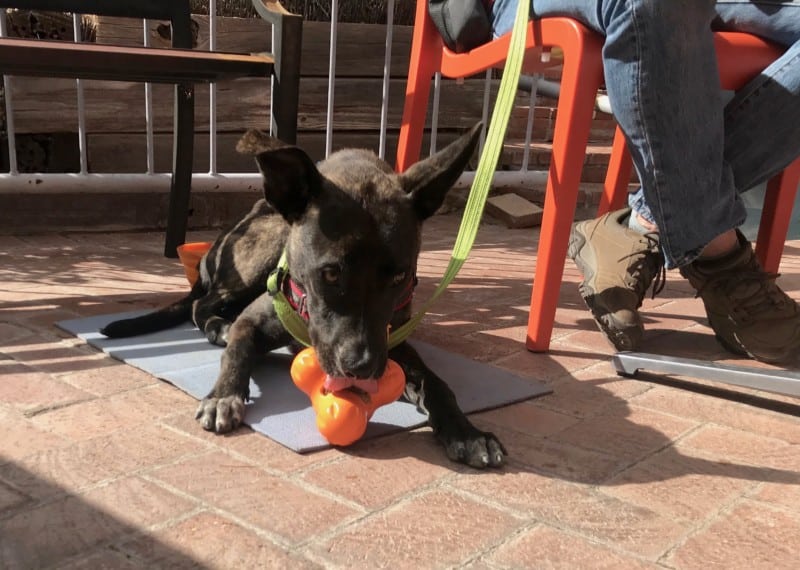 After you catch your breath, it's time to fuel up for the next adventure! You'll find outdoor seating options at all of these dog friendly Sedona area restaurants:
89Agave Cantina ($$) – 254 Hwy 89A, Sedona
Canyon Breeze Restaurant ($) – 300 Hwy 89A, Sedona
ChocolaTree Organic Eatery ($$) – 1595 Hwy 89A, Sedona
Creekside American Bistro ($$$) – 251 Hwy 179, Sedona
El Rincon Restaurant Mexicano ($$) – 336 Hwy 179, Sedona
Gerardo's Italian Kitchen ($$) – 2675 W Hwy 89A, Sedona
Hideaway House ($$$) – 231 Hwy 179, Sedona
HP Café ($$) – 269 Hwy 89A, Sedona
Javelina Cantina ($$) – 671 Hwy 179, Sedona
Mesa Grill Sedona ($$$) – 1185 Airport Road, Sedona
Open Range Grill & Tavern ($$) – 320 Hwy 89A, Sedona
Pump House Station ($$) – 313 Hwy 179, Sedona
Rene At Tlaquepaque ($$$) – 336 Hwy 179, Sedona
Sedona Pizza Company ($$) – 320 Hwy 89A, Sedona
ShadowRock Tap + Table ($$) – 90 Ridge Trail Drive, Sedona
Sound Bites Grill ($) – 101 N Hwy 89A, Sedona
Steakhouse89 ($$$) – 2620 W Hwy 89A, Sedona
TC's Bar & Grill ($$$) – 1752 Hwy 179, Sedona
The Angel Kitchen ($$) – 1600 Hwy 89A, Sedona
The Golden Goose American Grill ($$) – 2545 W Hwy 89A, Sedona
The Secret Garden Café at Tlaqueqaque ($$) – 336 Hwy 179, Sedona
The Vault Uptown ($$$) – 361 Forest Road, Sedona
Wildflower Bread Company ($) – 101 Hwy 89A, Sedona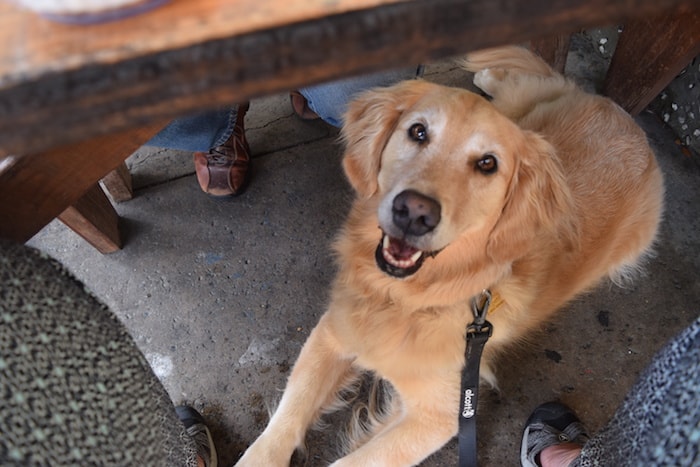 Sedona Pet Sitters, Boarding Facilities, Pet Supplies, And Veterinarians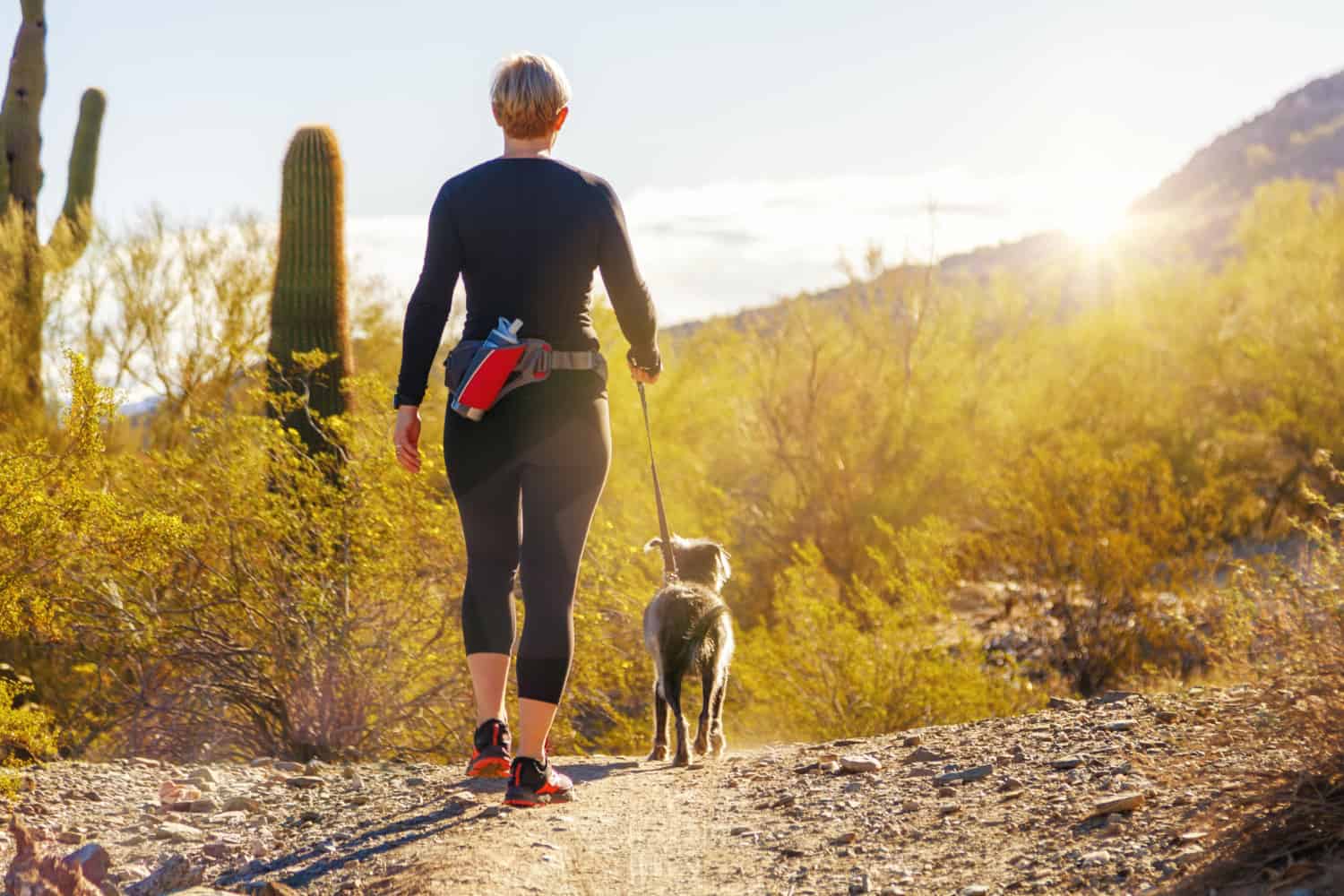 Sedona has a number of pet sitters, doggy daycare providers, boarding facilities, pet supply stores, and veterinarians. If you are planning activities that your pet can't do, be sure to make reservations for his care well in advance – especially if you'll be visiting during the prime season.
A&D Pet Services Pet Sitter (928) 316-0578
Applewood Kennels (928) 362-5454 – 24 E Cottonwood Street, Cottonwood
Bark N Purr Pet Care Center (928) 282-4108 – 30 Finley Drive, Sedona
BowWow Sedona Pet Supplies (928) 251-7969 – 313 Hwy 179, Suite A14, Sedona
Bell Rock Veterinary Clinic (928) 284-2840 – 45 Bell Rock Plaza, Sedona
Canine Country Club (928) 267-0679 – 1461 E Cherry Street, Cottonwood
Feathers and Fur Pet Supply (928) 592-8860 – 6446 Hwy 179, #219, Sedona
Golden Bone Pet Products (928) 567-5555 – 3080 W Hwy 89A, Sedona
Hillside Canine Resort and Spa (928) 362-5514 – 874 Industrial Drive, Camp Verde
Holistic Oasis Dog Boarding (928) 362-5390 – 1068 S Canal Circle, Camp Verde
Lisa's Little Doggie Day Care (928) 399-8710
Oak Creek Small Animal Clinic (928) 282-1195 – 5 Pinon Drive, Sedona
Pet Sitter Extraordinaire (928) 362-5118 – 1130 S 8th Street, Cottonwood
PetSmart (928) 282-8572 – 2356 W Hwy 89A, Sedona
Sedona Animal Clinic (928) 282-4133 – 100 Posse Ground Road, Sedona
The Friendly Man Doggie Care (928) 399-0880 – 91 Spur Drive, Cottonwood
The Villiage Veterinary Hospital, Boarding and Doggy Day Care (928) 862-4086 – 6376 Hwy 179, Sedona
Day Trips From Sedona
In addition to the many dog friendly things you'll find to do in Sedona, there are also some fantastic day trips you can take during your stay!
Grand Canyon National Park
Sedona is about 100 miles south of the Grand Canyon, one of the most pet friendly national parks in America. Leashed pets are welcome on both the 13-mile Rim Trail and the 13-mile Greenway Trail, which connects the town of Tusayan with the Grand Canyon.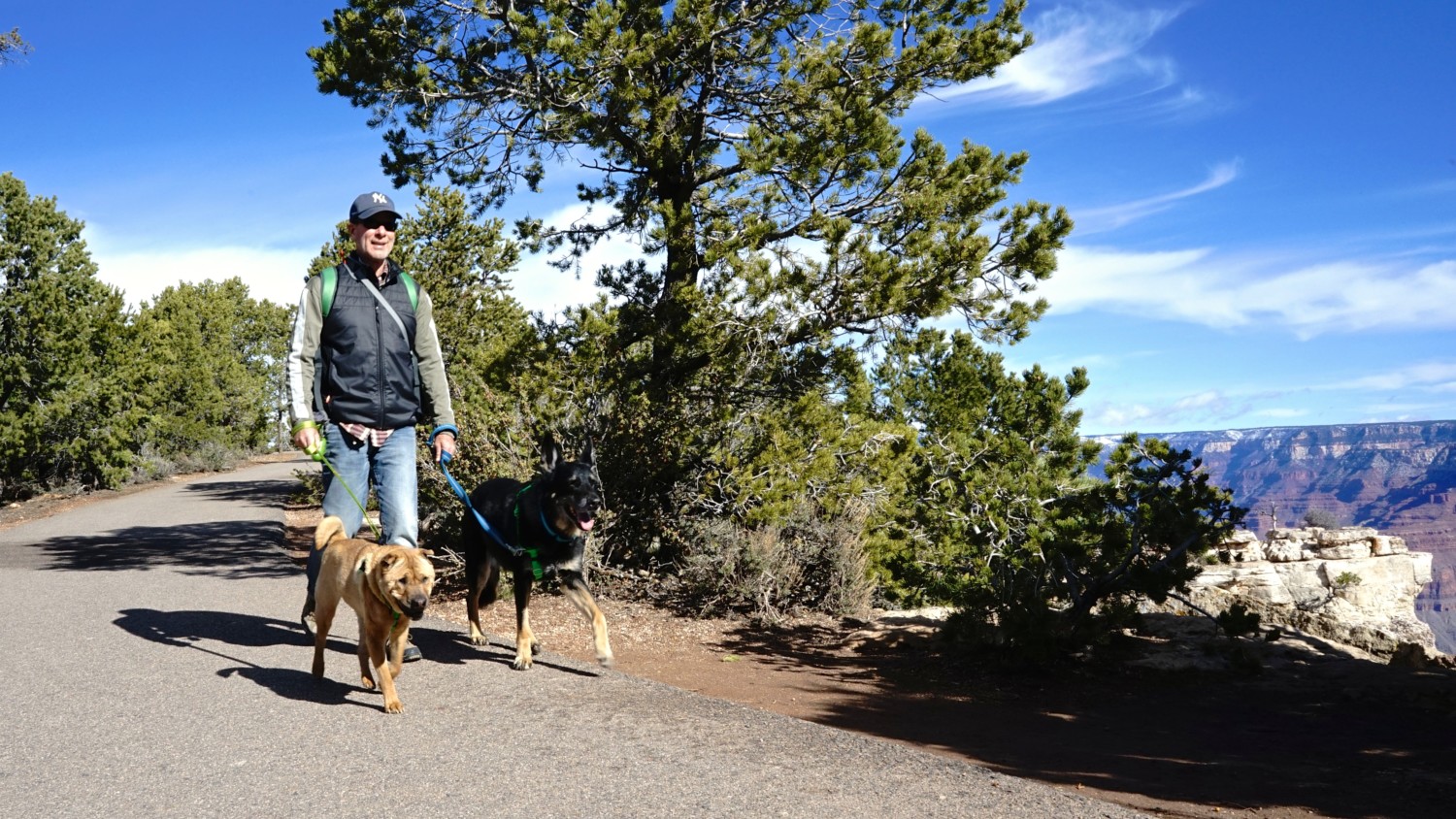 Become A BARK Ranger
Montezuma Castle National Monument and Tuzigoot National Monument are both about a 30-minute dive from Sedona – and your dog can earn his BARK Ranger badge at both locations!
Take your pup to learn about the lives of the Southern Sinagua, who flourished in the Verde Valley hundreds of years ago. You'll see the ruins of large pueblos built into cliff alcoves and on hilltops.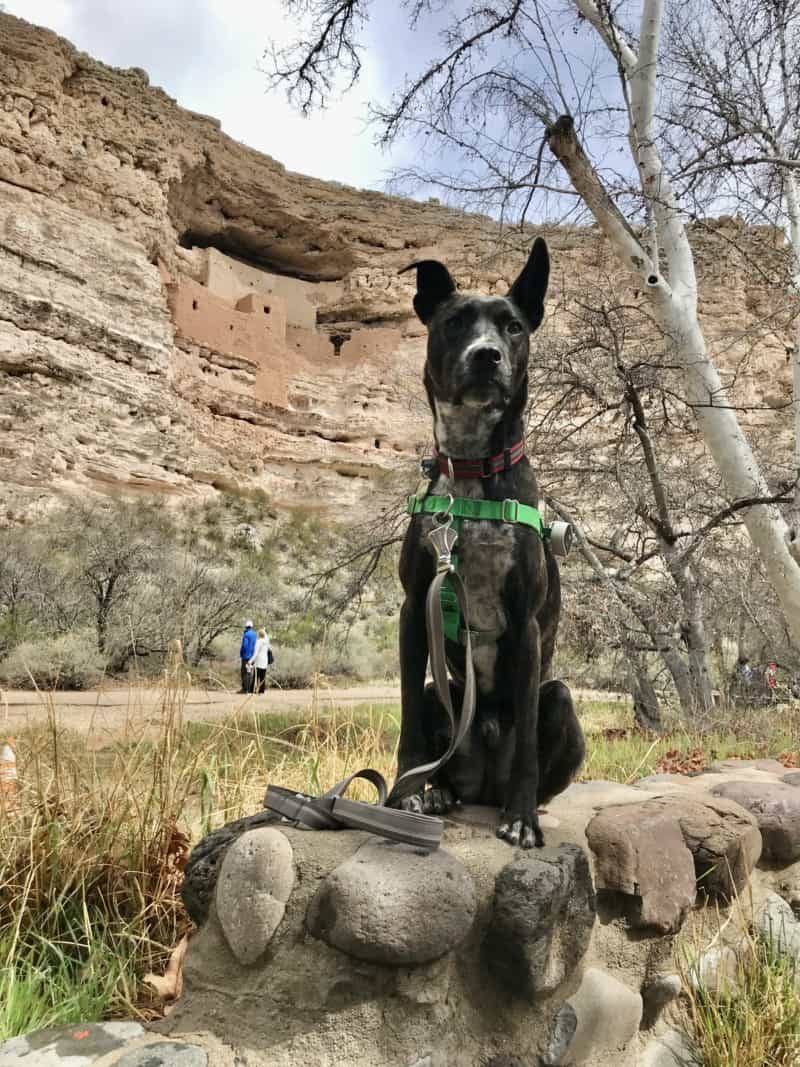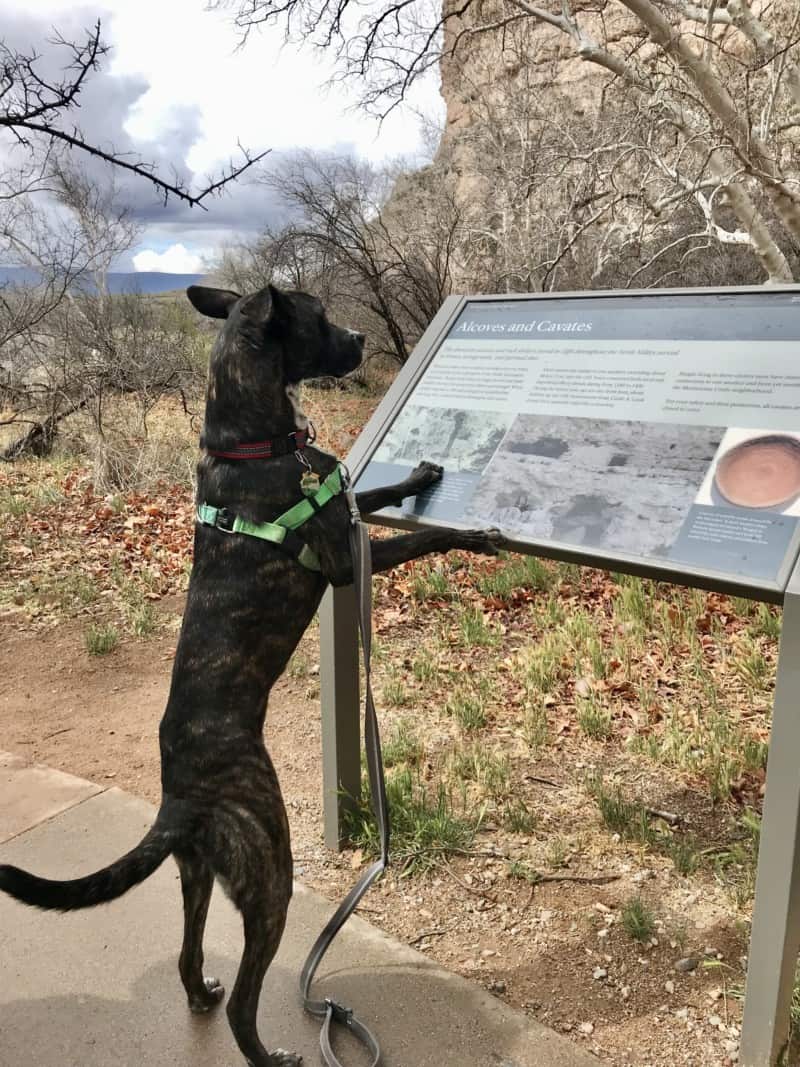 Flagstaff, Arizona
Flagstaff is just 30 miles north of Sedona, but sits over 2,500 feet in elevation higher. Begin your visit at the Flagstaff Visitor, located in the Amtrak station on Route 66 in historic downtown. Well-behaved dogs are welcome inside, and the staff has the low-down on everything that will be happening during your stay.
Ask about local pet friendly businesses, and be sure to pick up free maps for the self-guided walking tours of downtown. Choose from the public art tour, the Route 66 tour, and the "Haunted Flagstaff" tour – or enjoy them all!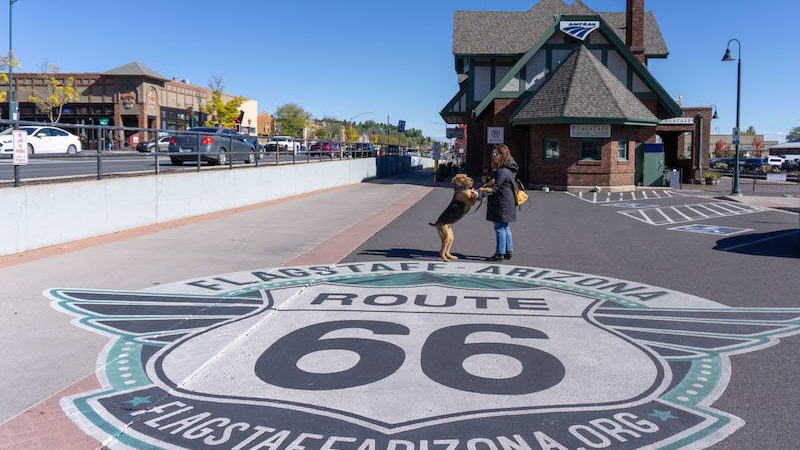 We hope this look at dog friendly Sedona will inspire you to plan a pet friendly trip of your own! If you've been to Sedona and enjoyed something that we missed, please let us know about it in the comments.
Amazon Affiliate Disclosure: GoPetFriendly.com LLC is a participant in the Amazon Services LLC Associates Program, an affiliate advertising program designed to provide a means for website owners to earn advertising fees by advertising and linking to amazon.com, audible.com, and any other website that may be affiliated with Amazon Service LLC Associates Program. As an Amazon Associate, the owner of this site earns a commission from qualifying purchases.
(Visited 19,881 times, 25 visits today)