We love sharing stories from people having fun traveling with their pets – especially when they do things a little differently than us. So it's super-exciting to share this post from Dave, Jen, and Sora, their Australian Shepherd rescue dog. In 2015, Sora convinced Dave and Jen to take her on a world bike tour and this incredible trio has been peddling and blogging about their adventures at Long Haul Trekkers ever since!
Sharing YOUR pet travel experiences may be just the nudge someone else needs to pack up and head out with their own best friend. If you're interested in writing a guest post for Take Paws, let us know!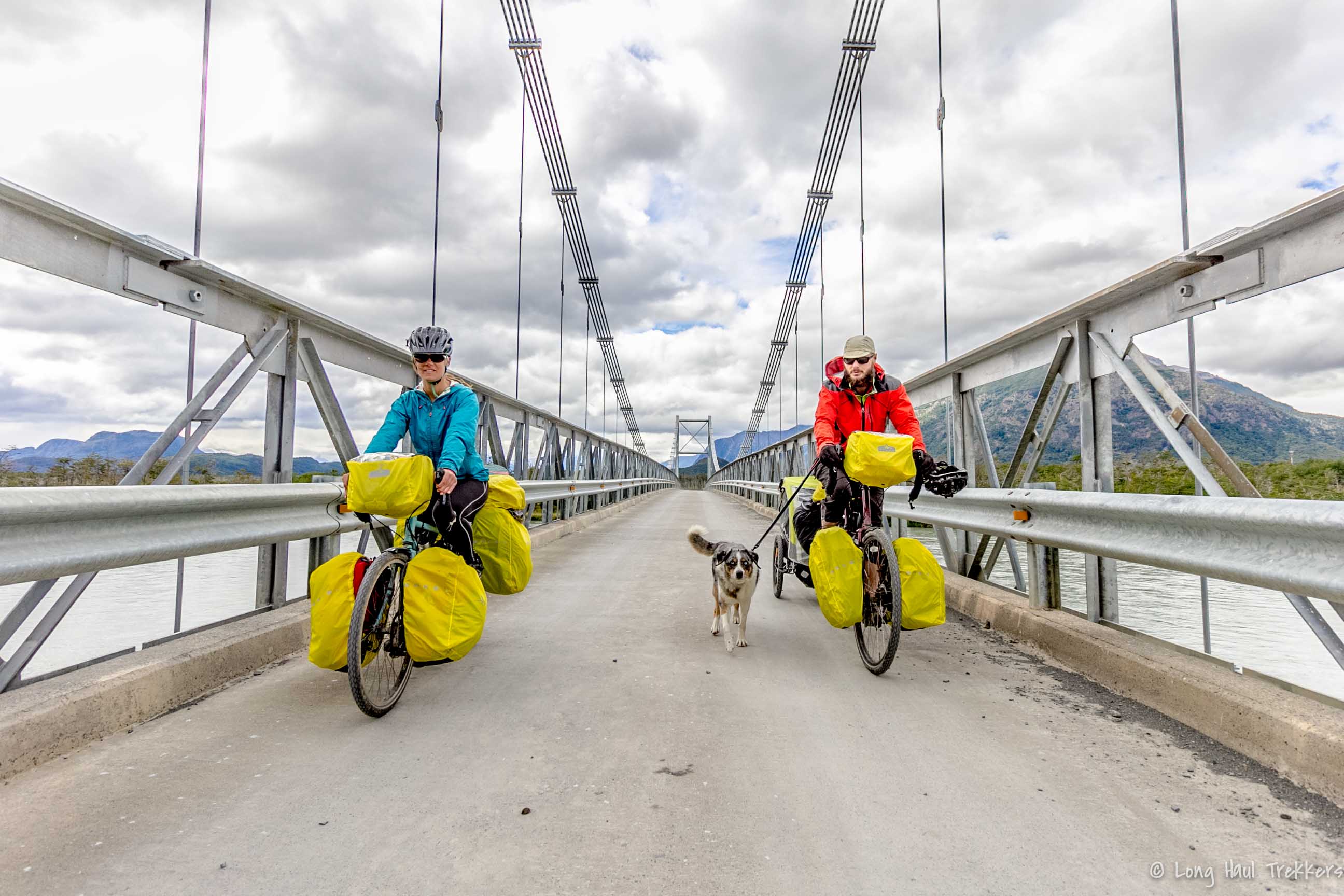 Hello, GoPetFriendly readers! We are Jen, Sora, and Dave, and this is how we roll. We began our cycling adventure in Oslo, Norway in May 2015 and slowly made our way to Athens, Greece in December, via the Balkans and Turkey. In January 2016, we flew to Ushuaia, the end of the world, in Argentina, Patagonia, and we're currently creeping over the Andes toward Colombia.
If you're inspired to leave a job you don't like, take your dog along on your adventures, and believe that vegan eating on the road is not only feasible, but delicious – come along for the ride. You're our kind of people!
Must-Have Gear: A Three Person Tent
Once you've been bitten by the cycling vacation bug, the first thing you'll need to think about is gear. You probably already have a bike, so let us recommend a three-person tent. When we first began cycle touring, we not only had Sora, but also our late dog, Maxwell. At the end of each day, all four of us crammed into a two-person tent. Dave and I slept with Maxwell in between us, while Sora slept in a corner at my feet, eventually spreading out over my legs, and usually pushing me off my sleeping pad by morning. We were all miserable.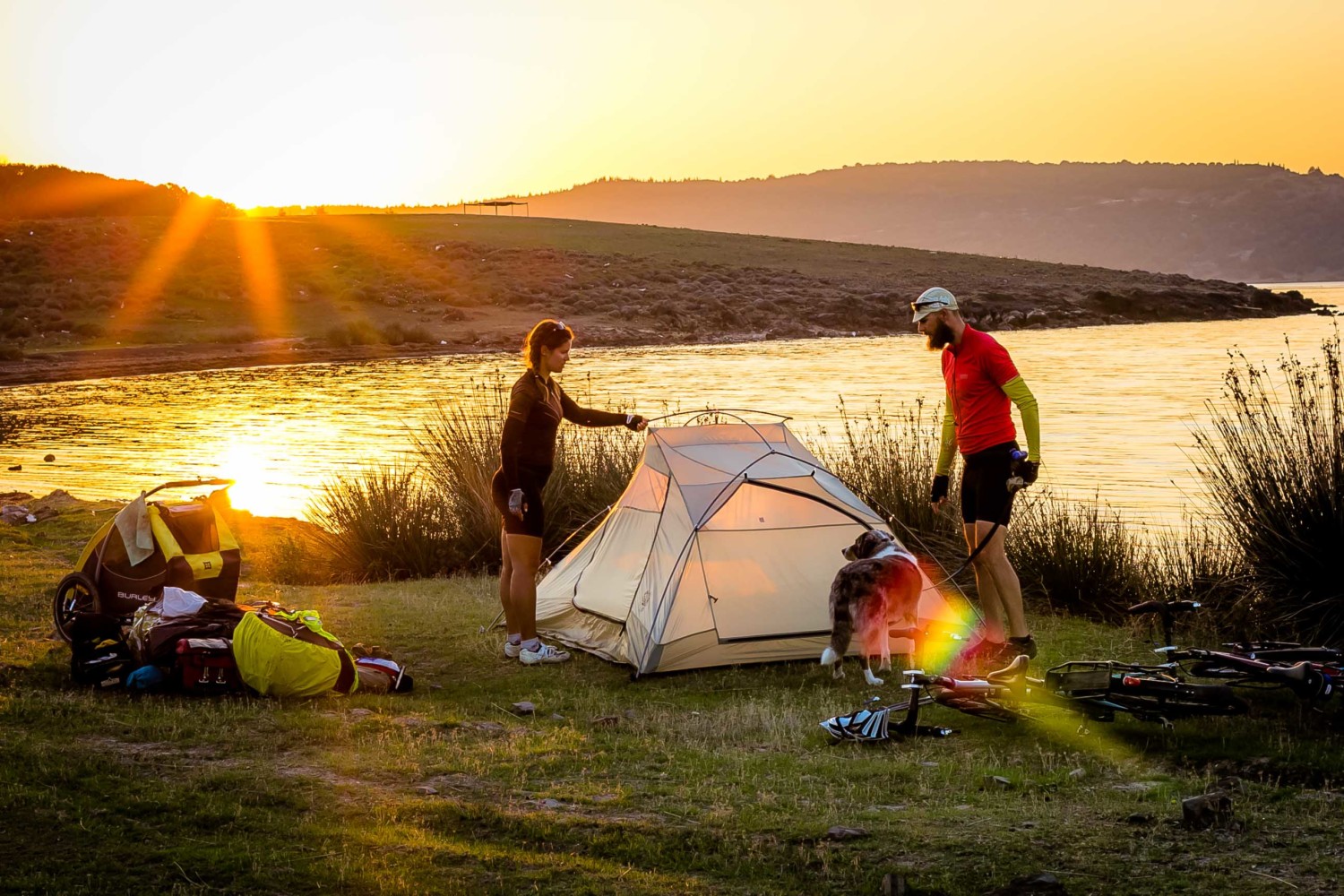 As we updated our gear for this trip, at the top of our list was a three-person tent. Even though Maxwell has since passed, Sora takes up as much space as a human! Now Dave and I each have plenty of room to stretch out and Sora can lay out fully on her bed. We even have the option to bring a few small bags into the tent.
Accommodations
If you don't plan on camping, finding pet friendly accommodations can be a little tricky – mostly because it's hard to know exactly where you'll be at the end of a day. You may have large hills to tackle or bad weather might impede your distance plans for the day. There are websites (like GoPetFriendly.com) where you can search for pet friendly hotels.
We've found that small, local accommodations tend to be more pet friendly. Always explain how you're traveling and that your dog is well-behaved and won't bark throughout the night. And make sure that you're being honest about your dog, or the chances for a future guest to stay with their dog may be ruined.
Finding places to camp is much easier – in fact many businesses will allow cyclers to pitch their tent overnight if you just ask.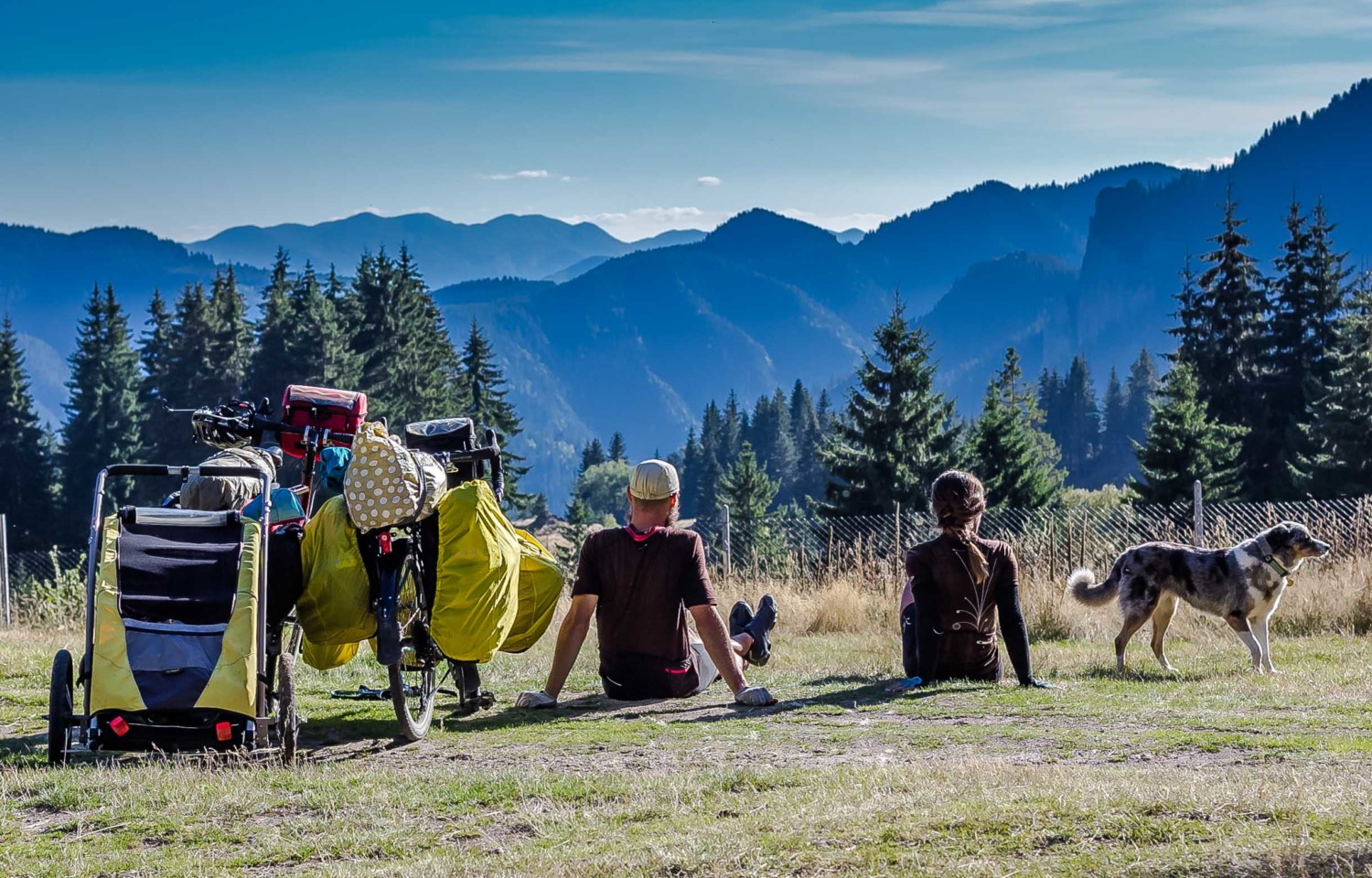 Doggie Essentials
Food
We always measure out exactly the amount of food that Sora will eat, and then add two days additional. The last thing you want is to run out of food for your pup in the middle of nowhere! When we stop in larger cities, we purchase 7-lb bags of food and stay topped off to ensure we never run out.
First-Aid Kit
Just like we have a first-aid kit for us, we also include items that we can use to help Sora. You never know when she might snag a nail to her quick, tear her pads, or have an allergic reaction. We make sure to bring children's Benadryl, nail clippers, a tick removal tool, and up-to-date veterinary paper work in a sealed waterproof bag. You can find a complete list for items to include in a first aid kit for dogs here.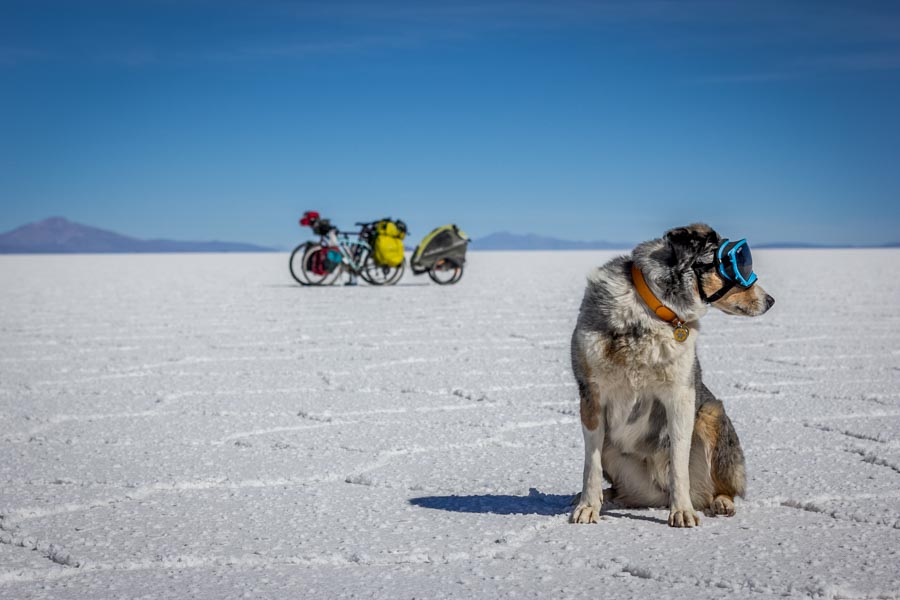 Brush
Sora can be known to shed a bit, so we try to brush her at least once per week for her own comfort and always before we stay in a hotel. This will help your pup better regulate their temperature and will also keep hotel staff happy.
Sealable Food Bag
We keep Sora's food in a waterproof kibble carrier. With the abundance of street dogs and other critters roaming around at night, we snap Sora's food to a high tree branch or store it inside her trailer overnight.
Water Bottle
Sora has her own water bottle and water bowl that we store in her trailer. We offer her water every time we stop and more frequently when the weather is warm. We love the Kurgo Zippy Bowl, as it compacts into a small size and easily fits into the pocket of her trailer, it clips to her leash or our belt loops, so we can bring it along when we're exploring cities.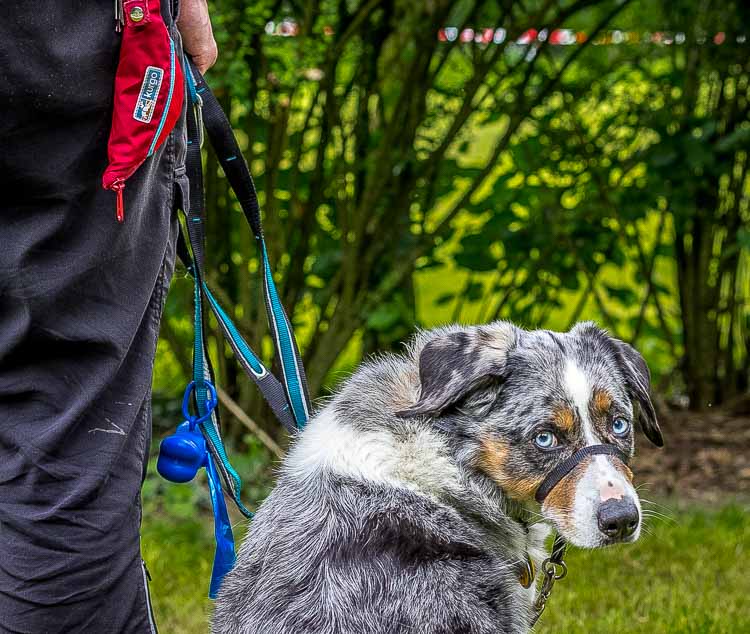 Cooling Vest and/or Jacket
Depending on the time of year you're cycling, it may either be quite hot during the day or cold during the night. We use a Ruffwear cooling vest for Sora when it's really hot. It can also act as a jacket when the temps dip low. Know your dog and his sensitivity to weather. He may need his own sleeping bag or blanket for cold nights in the tent.
Towel
Be sure to include a small towel to dry off your pup's paws and fur after rainy weather before entering the tent or a hotel.
Exercise
Cycle touring takes up most of the day, and often the roads are unsafe for Sora to run alongside, so we always make time to give her a walk both in the morning before we leave and in the evening after we settle for the day. We also give her several shorter breaks during the day.
When we cycle on paths or on very low traffic roads, we allow her to run up to 15km alongside the bikes (we especially recommend this going uphill!). We are long distance runners, so Sora is trained to run that much distance. But, like humans, dogs need to build up to running long distances. To keep Sora out of trouble we use the Kurgo Springback Lite Leash and their K9 Excursion Running belt. It's short enough to prevent her from pulling or running ahead of the front wheel.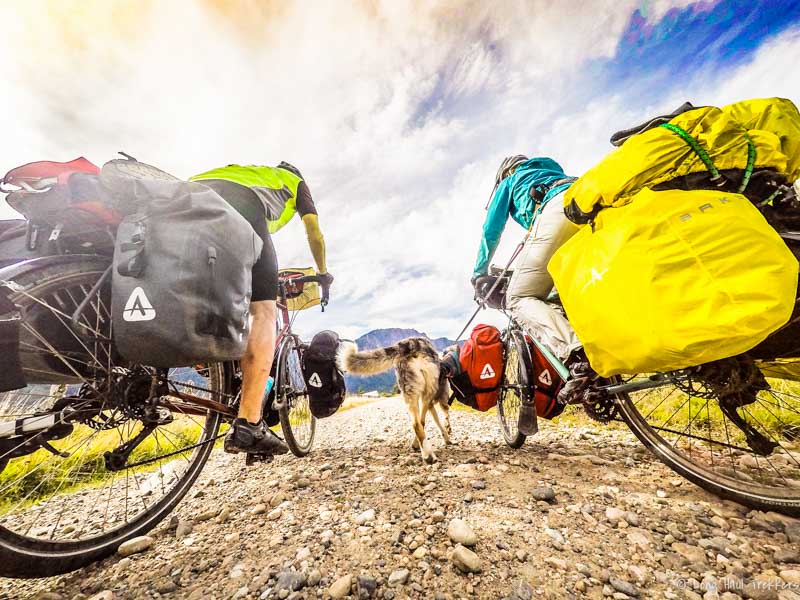 Trailers
Sora definitely has the best ride of the three of us in her Burley Design Tail Wagon. Designed specifically for cycling with a dog, Sora has plenty of space to sit up, turn around, and fully extend with enough room for her gear.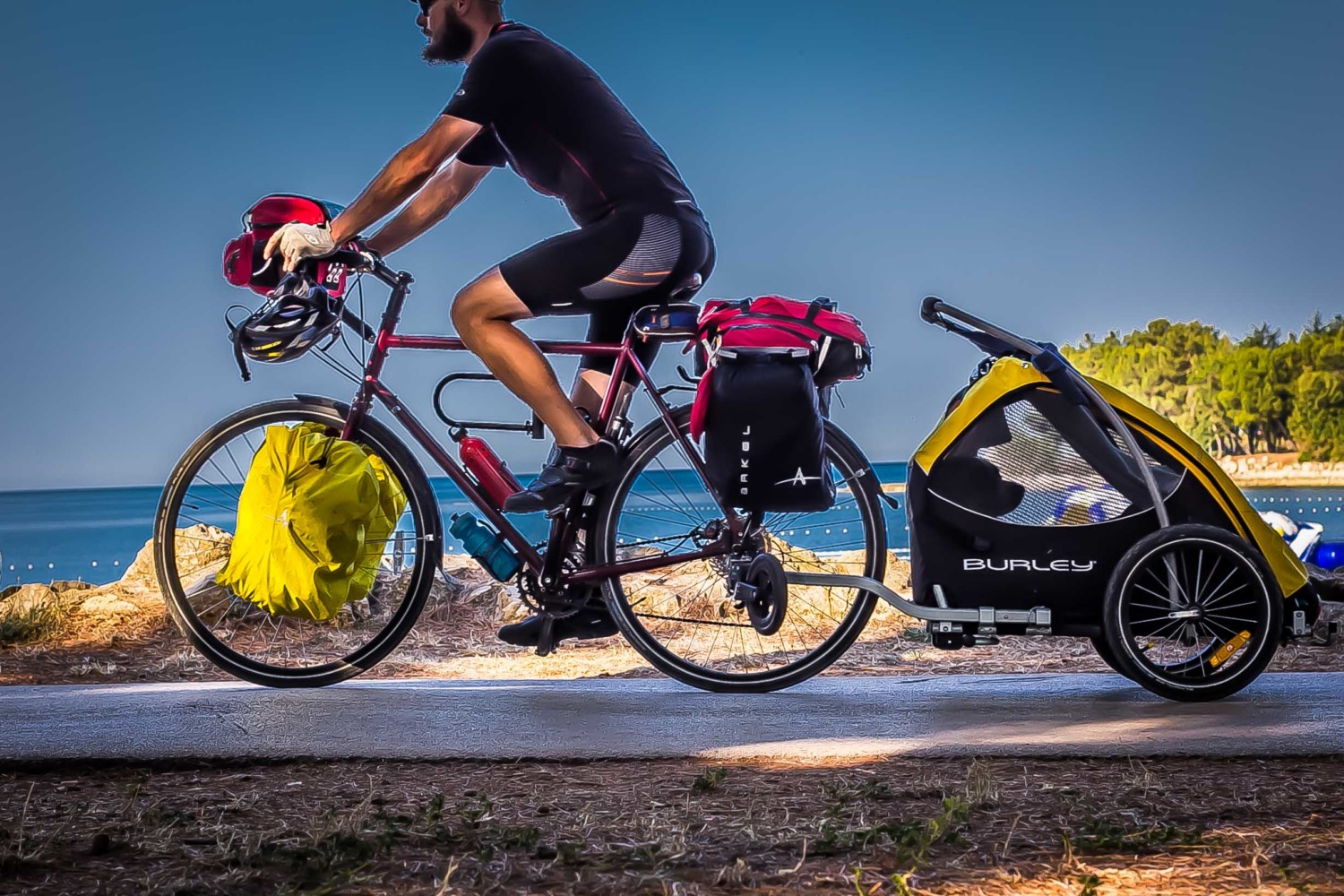 While Sora took to her trailer immediately, some dogs may not enjoy sitting in a confined space at first. Reward your pup with treats and/or praise for hopping into the trailer. Make it cozy and familiar by placing a blanket or toy from home inside so that he feels safe. Start out with short trips and build up to longer rides to acclimate your pup to the trailer.
Know Your Dog
Sora, at 12 years old, does not have as much energy as she did when we was a three-year-old pup. She is comfortable sitting in her trailer for long durations and she is accustomed to traveling with us to new places frequently. Not all dogs are built for this lifestyle.
If you're new to cycling vacations with your dog, go on some test rides to your local park for a picnic, or to your neighborhood brewery. You want your dog to enjoy the ride as well!
Great Routes for Cycling Vacations With Dogs
Most of our cycling vacations with Sora have been outside of the US, but have done a few weekend tours in the Pacific Northwest and have others that are on our list!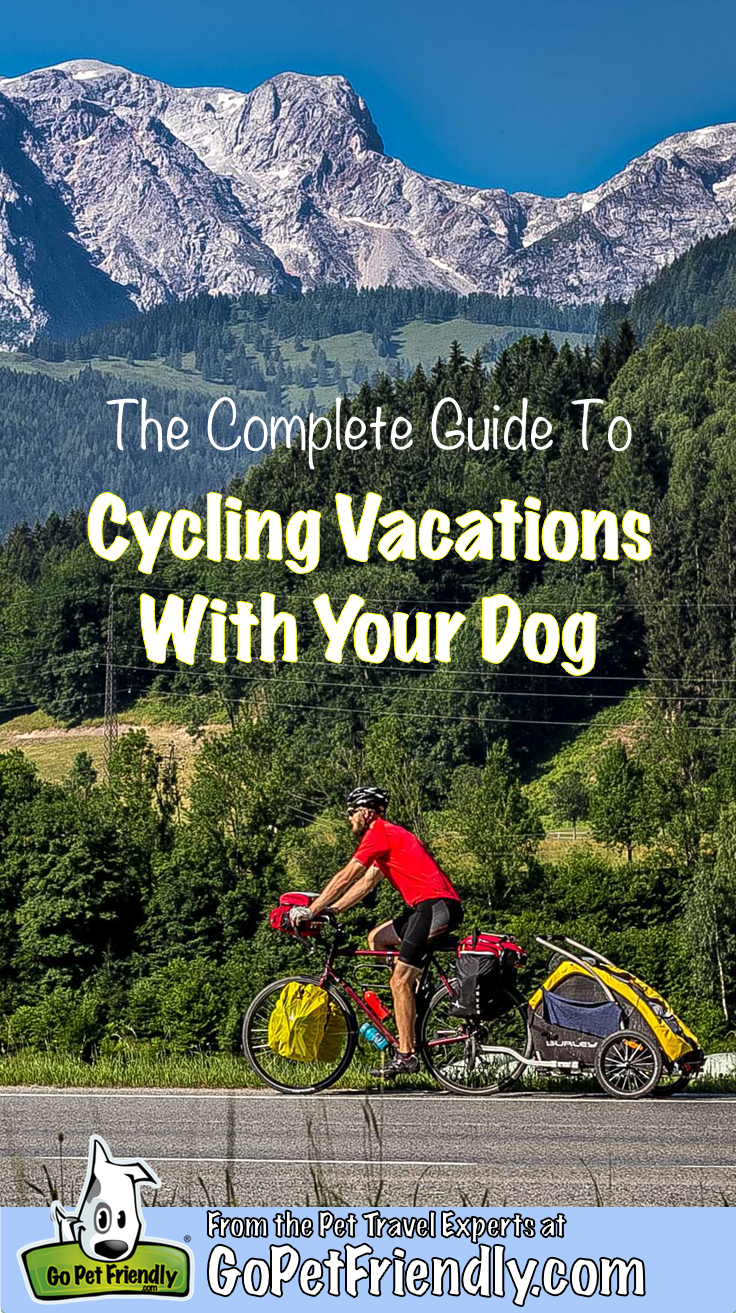 San Juan Islands, WA
One of our first routes took us on a tour of the beautiful San Juan Islands, as they are perfect cycling destinations. Start off on Lopez Island using the Tour de Lopez bike guide and finish the day by camping on the beach at Spencer Spit State Park, one of the most beautiful campgrounds you'll ever see.
On Day 2, head over to San Juan Island. It's hilly, but well worth the hills for all the views. We rode down to Friday Harbour and stumbled upon San Juan Island Distillery where we enjoyed tastes of both Cider and spirits. Our day ended at a Lime Kiln Point State Park, which rivaled our previous night sleep for beauty, perhaps even taking the cake, as we ate our breakfast while watching a pod of orcas swim by.
East Coast Greenway
The East Coast Greenway, conceived in 1991, is the nation's most ambitious long-distance urban trail. By connecting existing and planned shared-use trails, a continuous, traffic-free route is being formed. At 3,000 miles long, the Greenway links Calais, Maine, at the Canadian border, with Key West, Florida. Alternate routes add another 2,000 miles to the ECG trail system. Currently, 30% of the trail has been completed.
Tualatin Valley Scenic Bikeway, Oregon
The only state in the nation to offer Scenic Bikeways, Oregon's 50-mile Tualatin Valley Scenic Bikeway, includes 20 miles traveling along the beautiful Banks-Vernonia State Trail. The route's layout allows cyclists many overnight options for multi-day rides, including camping at L.L. Stub Stewart State Park adjacent to the State Trail and lodging, dining and other services in Hillsboro, Forest Grove, Banks and Vernonia.
About the Author: Jen Sotolongo is on a mission to educate the public about animals, their rights, proper care, and spreading the love and compassion about adoption and rescue. Her inspiration are the four animals she and Dave have adopted: two dogs (Sora and Maxwell) and two cats (Ollie and Nima). You can follow their adventures at Long Haul Trekkers and on Instagram and Pinterest. All the photos in this post belong to Jen and Dave.
Amazon Affiliate Disclosure: GoPetFriendly.com LLC is a participant in the Amazon Services LLC Associates Program, an affiliate advertising program designed to provide a means for website owners to earn advertising fees by advertising and linking to amazon.com, audible.com, and any other website that may be affiliated with Amazon Service LLC Associates Program. As an Amazon Associate, the owner of this site earns a commission from qualifying purchases.
(Visited 2,874 times, 2 visits today)