Pet Airways, the pets-only airline that has transported more than 7,000 dogs and cats since it launched in 2009, appears to be having some difficulties.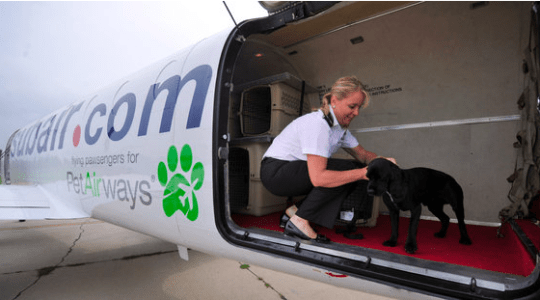 The New York Times reported on Friday that Pet Airways did not fly at all between December 16th and January 16, and it was undetermined if they've had any flights since. According to the article, pets have been stranded and owners are upset:
"Dog and cat owners are angry about canceled flights. Travel sites are abuzz with complaints, including customers who claim they have not received refunds for paid-for flights."
The company's co-founder, Alysa Binder, acknowledged in an e-mail to the Times that Pet Airways has had some problems since November, when it decided to contract a plane from a new company. Binder told the Times that when it became apparent the new relationship was not working, Pet Airways switched back to its previous contractor, but needed to cancel "some flights during the holidays and into the new year" because that plane was committed elsewhere. "We are working toward being in the air as soon as we can be assured that the planes are ready for our use," Binder said.
Despite the cancellations, Pet Airways continues to take reservations on it's website and lists it's next available flight as departing from Los Angeles on Tuesday, March 13th. That flight will stop in Phoenix, Denver and Omaha, where it will spend the night, and then continue on Wednesday the 14th to Chicago, New York, Washington DC, Atlanta, and Ft. Lauderdale. On Thursday the plane reverses the route and lands back in Los Angeles on Friday the 16th. The company is scheduled to complete this circuit twice per month.
Hopefully this is just a hurdle in Pet Airways continued rise to success, but some disclosures about their financial stability raise further concerns. The Times reports that at the end of the year the company had roughly $30,000 in cash on hand, and a stated need of $25,000 to $55,000 per month to operate. It's clear they won't survive long if they're not flying again soon. In February, Pet Airways wrote in a regulatory filing, "We have experienced a history of losses and have yet to begin generating positive cash flows from operations and, as a result, our auditors have raised substantial doubt about our ability to continue as a going concern."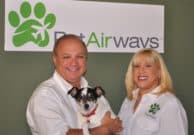 It's sad to see Pet Airways struggling. They are a savior for many people who won't fly their pets in the cargo hold on the major airlines, but can't afford a private charter flight. Rod and I feel connected in some way to the husband and wife team that founded Pet Airways at about the same time that we launched GoPetFriendly.com. Between our two companies, we cover the needs of the pet travel community – whether you're traveling by car, by air, need a
pet friendly hotel
, a place to eat, or are looking for dog friendly destination advice. We hope this "ruff" patch doesn't last long and they're off and flying again soon.
Amazon Affiliate Disclosure: GoPetFriendly.com LLC is a participant in the Amazon Services LLC Associates Program, an affiliate advertising program designed to provide a means for website owners to earn advertising fees by advertising and linking to amazon.com, audible.com, and any other website that may be affiliated with Amazon Service LLC Associates Program. As an Amazon Associate, the owner of this site earns a commission from qualifying purchases.
(Visited 404 times, 1 visits today)