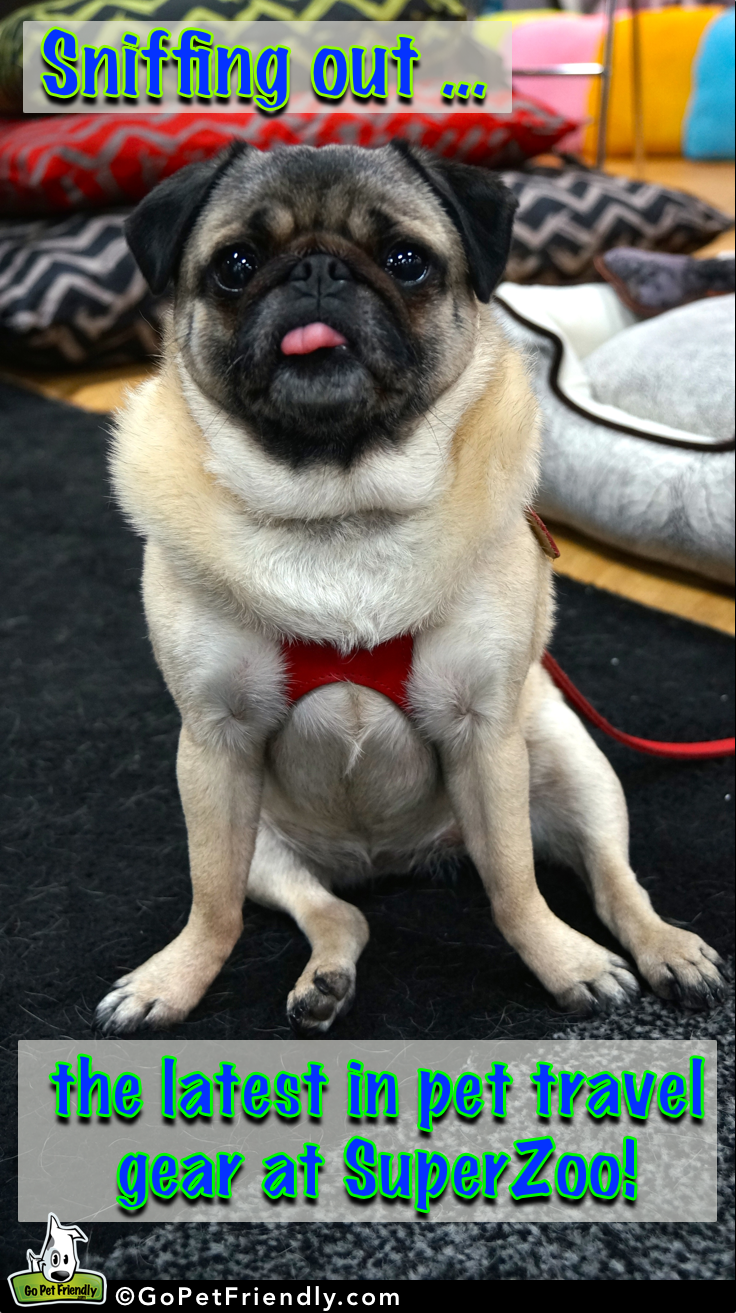 One of the many, many fantastic perks of my job is that I get to attend the annual SuperZoo pet products trade show and investigate the latest and greatest in pet travel gear. This was another record-breaking year – with attendance increasing by 18% and more than 900 companies trotting out their finest, most innovative goods, hoping to generate some buzz.
The sheer size of the event floor sets you back on your heels – three days is barely enough time to take it all in, even if you're concentrating your focus! But I enjoy the challenge, and I think I've sniffed out some new gadgets that will make traveling with our pets safer, easier, and more fun.
Sleepypod's Clickit Sport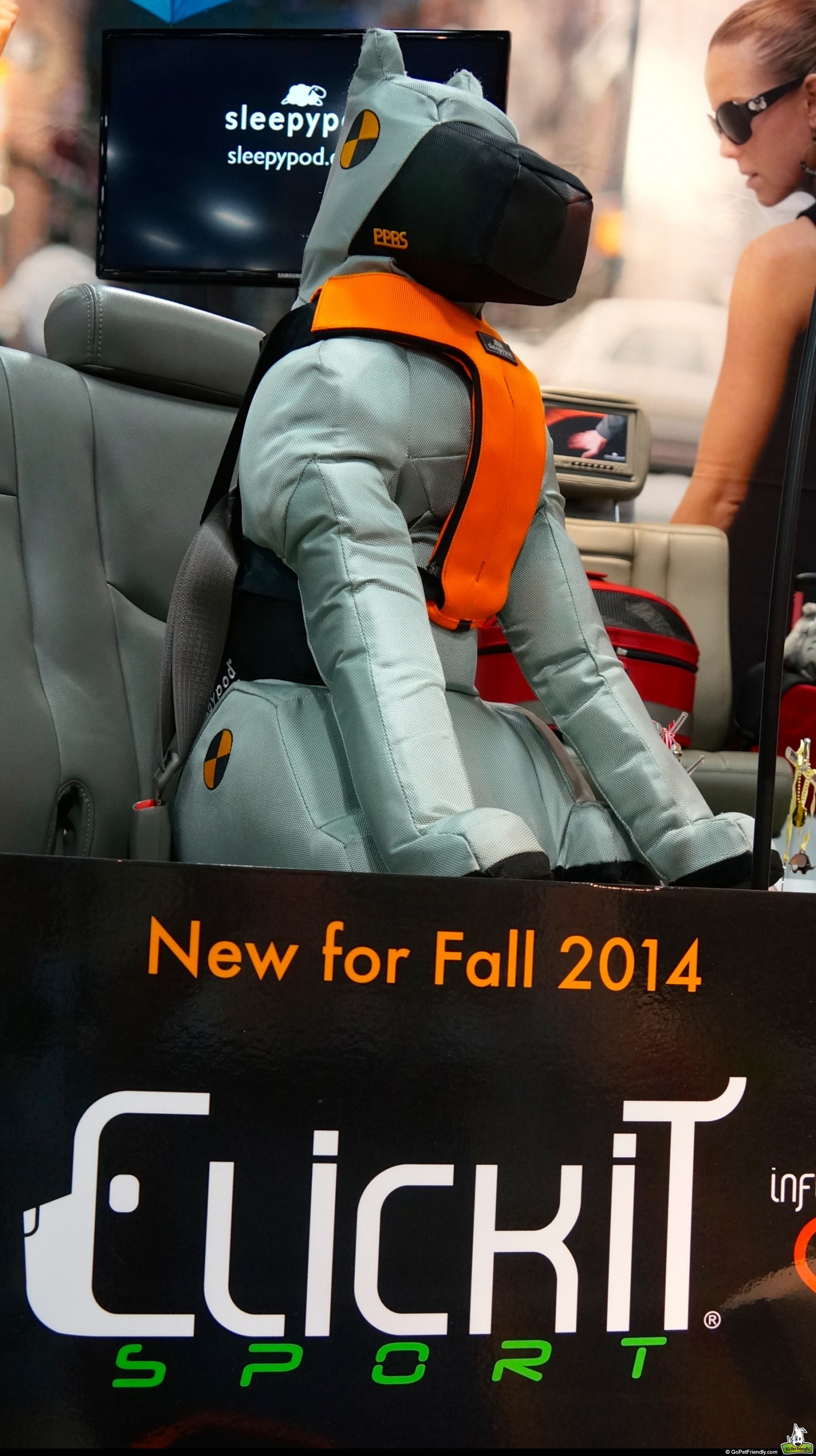 Sleepypod has been on the cutting edge when it comes to keeping pets safe while they're in the car. Their designs have revolutionized the market, and in 2013 their dog safety harness was named the Top Performing Safety Harness in a collaborative study conducted by Subaru of America, Inc. and Center for Pet Safety, testing the effectiveness of pet harnesses in vehicle collisions.
At SuperZoo we got a sneak peak of Sleepypod's brand new harness model, which will be available this fall. Like the Clickit Utility, the new Clickit Sport provides three points of contact. That, combined with the padded vest, works to distribute and reduce the force generated in a car accident that can injure your pet.  It's taken 2 1/2 years to perfect the new patent-pending Infinity Loop design, but the Clickit Sport easier to use, and eliminates the need for tethers and metal hardware. It will be priced between $65 and $75, which seems very reasonable given the quality construction and the peace of mind it provides. The new design makes it a good option for us, and we're looking forward to trying it soon!
Alcott's New Visibility Line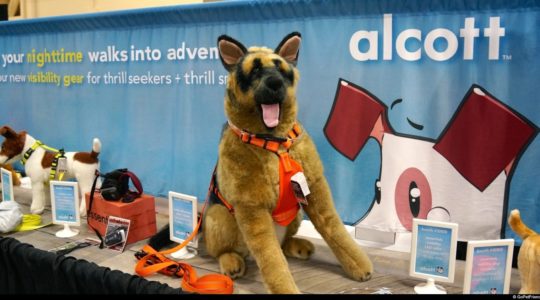 While we're on the subject of safety, let's mention Alcott's new line of visibility gear. These harnesses, collars, and leashes in bright orange and florescent yellow colors – complete with reflective trim – will help you stand out during those early morning and late evening adventures with your pet.
The Original PoopBags – Now Biobased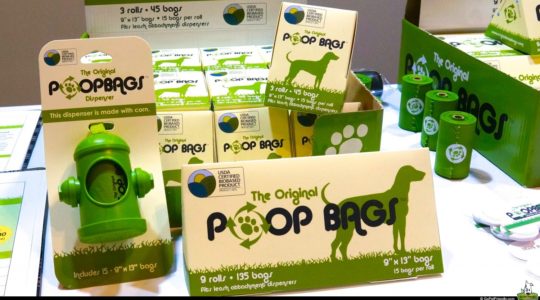 We all have to clean up after our dogs – why not do it in an Earth-friendly way? The Original PoopBags has been making certified biodegradable and compostable dog waste bags for over 10 years. Now they're offering the first USDA Certified Biobased pet waste bags and dispensers on the market! That means they're made with at least 38% renewable resources such as corn and vegetable oils. And the dispenser isn't only stylish, it's also functional! It has a Velcro strap for easy attachment, plus a hook on the back to carry full bags – and the color matches our logo. Woof!
Bark n Bag's Stylish and Eco Friendly Carriers
Once a plastic bottle … now a fantastic pet carrier! These snazzy totes and carriers from Bark n Bag are made from recycled plastic packaging. If you're looking for a fun, practical way of transporting your furry little friend – while helping the environment – this is the way to go!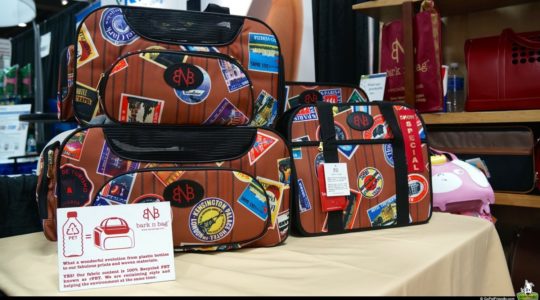 Dynamo Dog from Cloud Star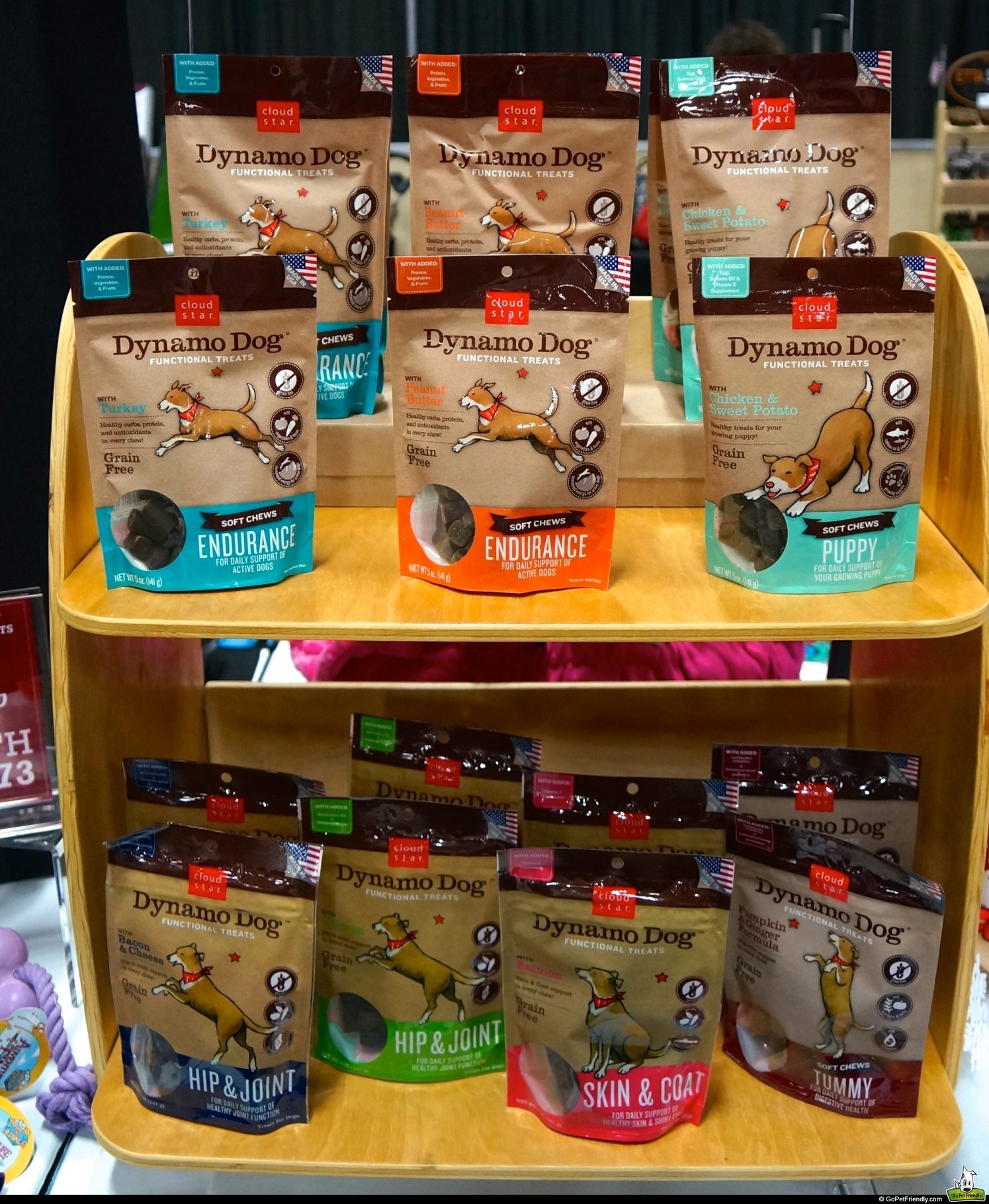 It's no secret that dogs love treats, but what if you could give them a snack that also improved their health? That's the idea behind Cloud Star's new functional treat line called Dynamo Dog. They've created combinations to help with common doggy issues, like the Hips & Joints formula that has glucosamine and chondroitin, the Skin & Coat formula that has salmon oil and vitamin E, and the Tummy formula with added probiotics, ginger, and fiber from pumpkin. Now they're expanding the line with a special formula for puppies, and another for endurance. Like all Cloud Star's products, the Dynamo Dog treats are made in the USA with the highest quality ingredients, so you never have to worry about feeding them to your pets.
TOPPL from West Paw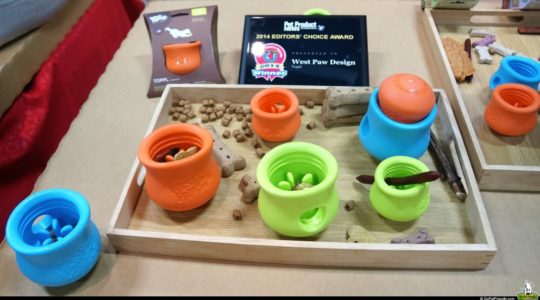 Being able to quietly entertain your dogs in a hotel room or at a friends house makes the trip a lot smoother for everyone, and this new TOPPL interactive toy from West Paw is a sure-fire way to do that! Made in the USA from West Paw's proprietary Zogoflex material, the TOPPL is non-toxic, dishwasher safe, recyclable, and so durable that West Paw will provide a replacement if your dog destroys it. One of the most creative and innovative products I saw at SuperZoo, TOPPL can be stuffed with treats of all sizes, and the large and small versions can be combined to make a wobbly treat dispenser. Buster and Ty already have this one on their "must try" list. Look for it to hit the shelves this fall!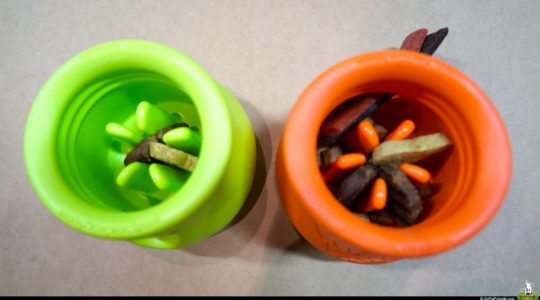 New Recipes from The Honest Kitchen
Speaking of things Ty and Buster can't wait to try … these new recipes from The Honest Kitchen have them drooling! Halcyon is the new duck-based complete diet for dogs with rolled oats, vegetables and fruits. This novel protein is great for pups with sensitivities to the chicken and beef found in many dog foods. The Honest Kitchen has also added two new base mixes to their line up. Hale and Kindly are both formulated without meat, so that you can add the protein of your choice each time you feed your dog.
Molly Mutt Pet Bed Duvets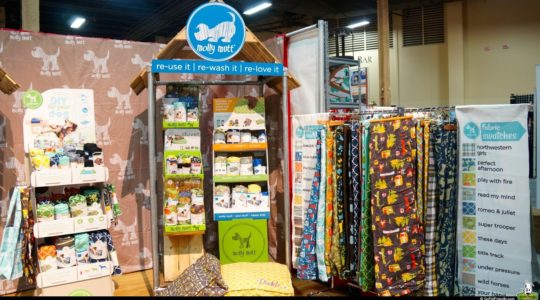 Ty doesn't go anywhere without his bed. He won't even lay down in the grass without proper cushioning … so I'm very familiar with how dirty a dog bed can get when you're traveling. That's why the Molly Mutt products caught my eye! These 100% cotton dog duvets come in a rainbow of colors to match every decor, and are priced between $25 and $50. Get a stuff sack or waterproof liner and you can even use your own blankets or pillow to fill the duvet. Now there's no reason to look at that ratty, grimy dog bed any longer.
P.L.A.Y. Holiday Toys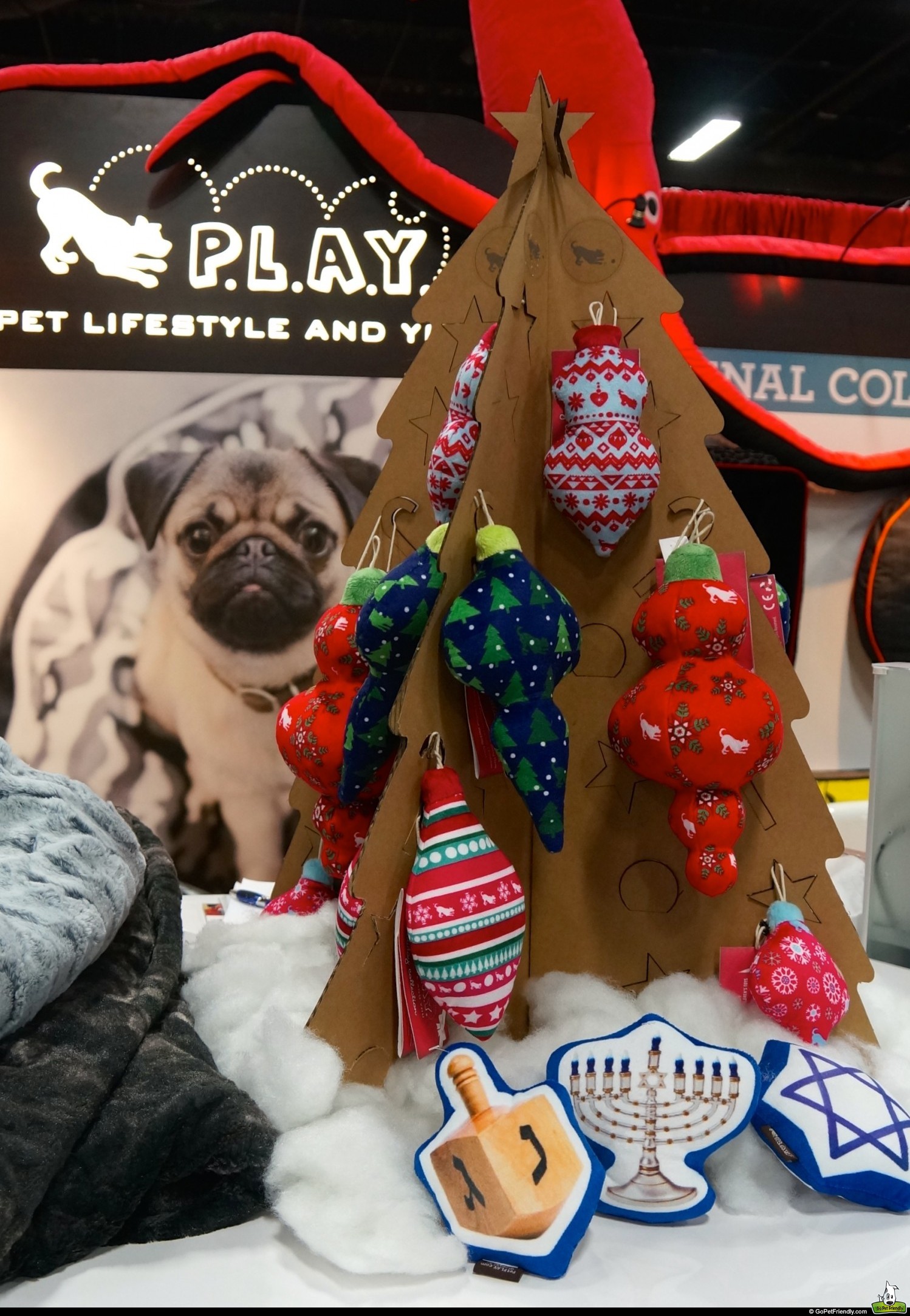 Little did I know that P.L.A.Y., makers of the gorgeous dog beds, have a whole line of plush toys, and these ornament-shaped toys for the holidays are just adorable! As with all P.L.A.Y.'s toys, these are washable and have durable multiple-stitch construction for more durability. Of course, each one also has a a squeaker inside – what fun would a toy be without that?! They'll make the perfect stocking stuffers, so pups … you'd better be on your best behavior!
Ruffwear's New Pet Travel Gear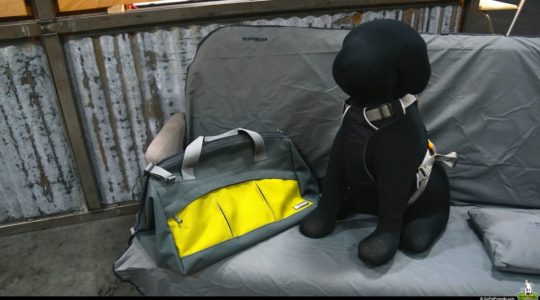 We're excited to see that Ruffwear is introducing a line of pet travel gear, including a car harness, a duffle bag for your furry buddy to pack his treats and toys, and a seat cover to protect your upholstery when your dog's in the car. As with all Ruffwear's products, the quality here is top-notch and it will be waiting with baited breath to see if they plan to expand the line.
Wi-Fi Pet Monitor Camera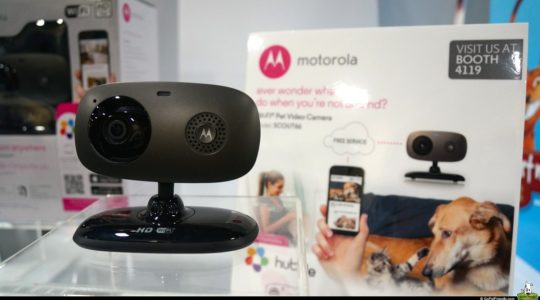 Keeping an eye on your pet at home while you're out seems to be all the rage, and this new pet monitor from Motorola has some added features that those of us traveling in RVs are sure to appreciate. Through a wi-fi connection, it provides two-way communication, allowing you to hear and speak to your pet remotely. It also displays the room temperature, and provides alerts if it's too hot or too cold for your pet. It even plays soothing music to help your pet relax! The free app also allows you to record video and take snapshots … so your friends will actually believe your goofy dogs' antics! Look for it to be available before the holidays.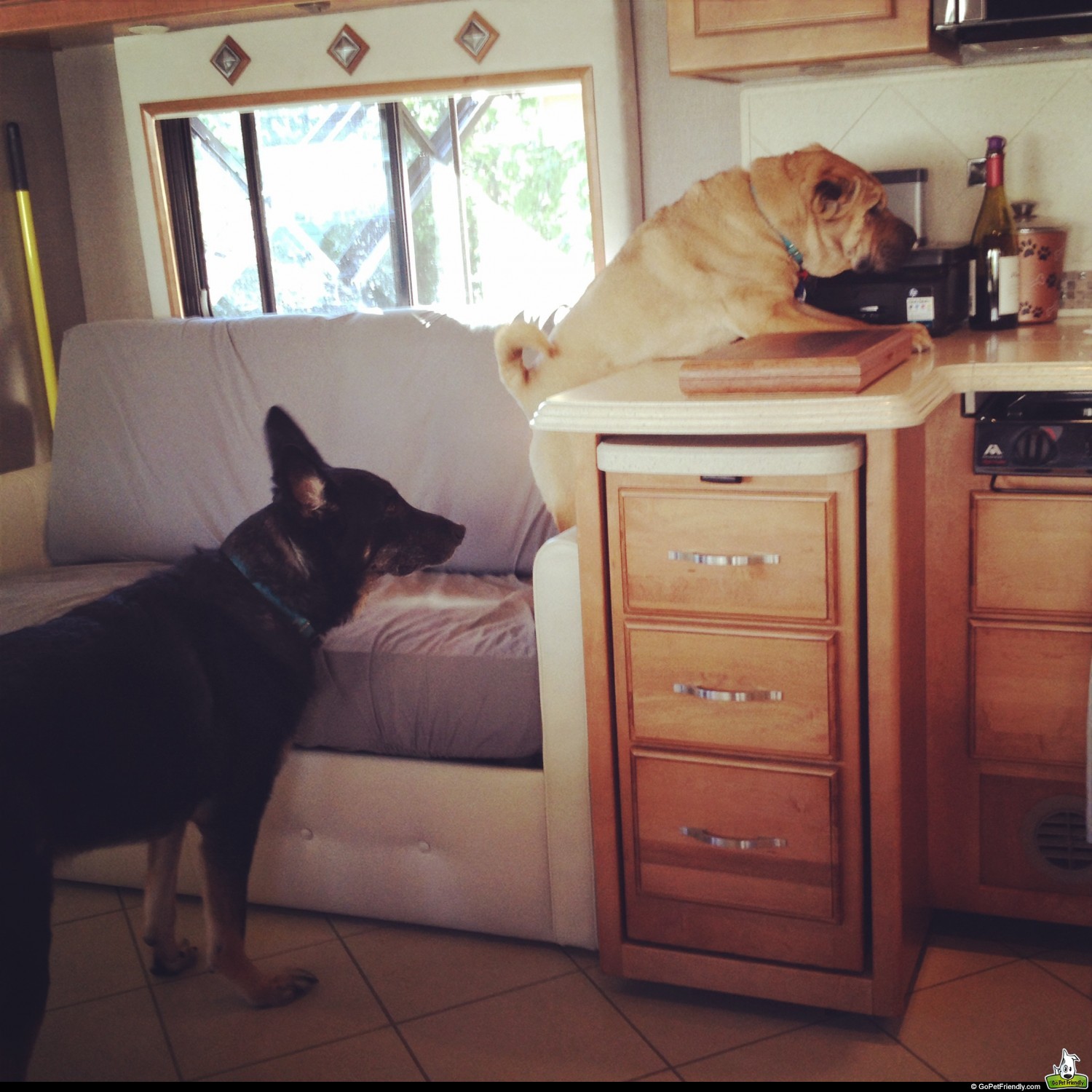 FFD Pet's Pet Balms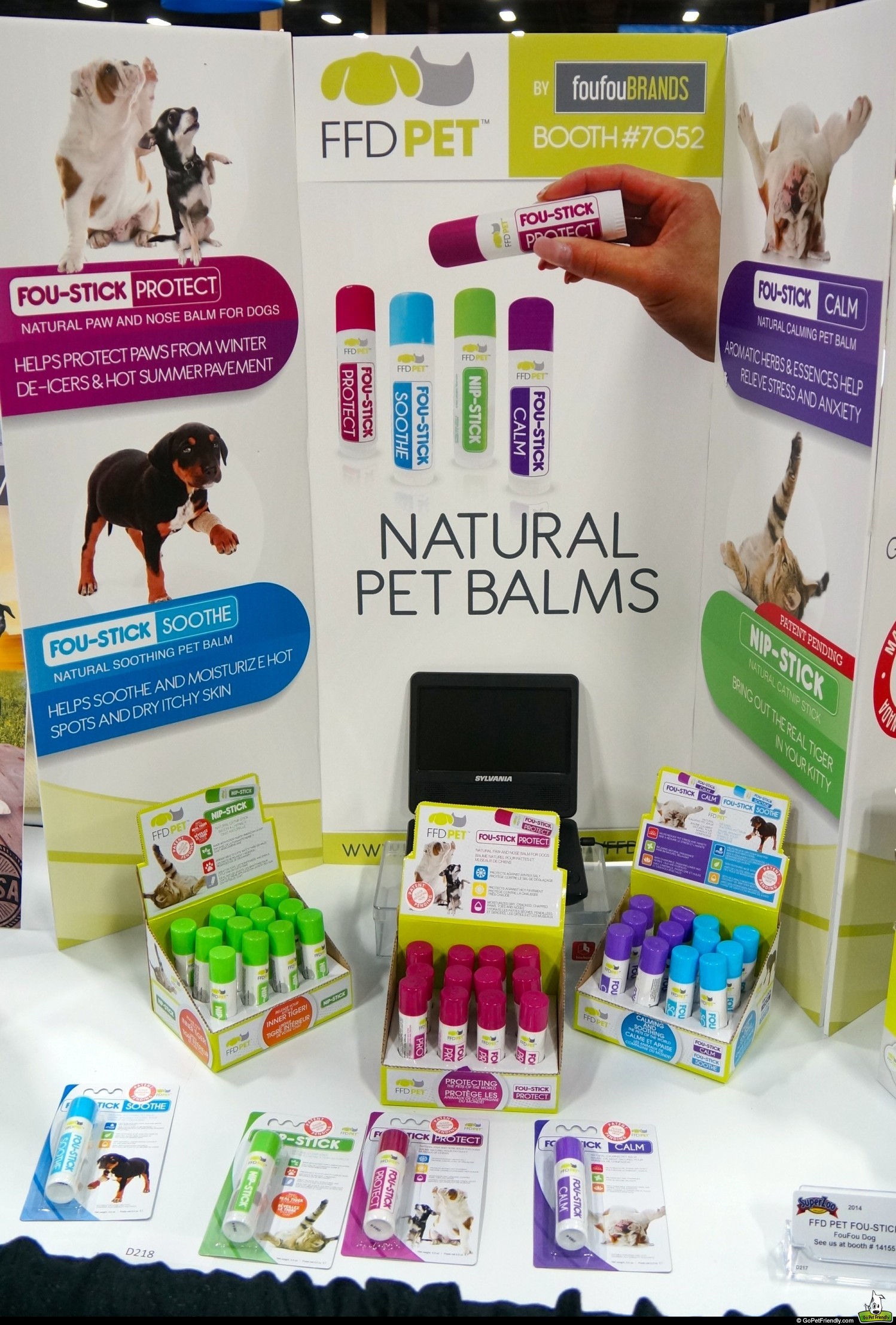 Buster is sensitive … right down to his paws. In the winter, the snow and salt make his feet hurt. And in the summer, walking on gravel or rocky trails  causes him to limp along. We've found products that we can put on his pads to help protect them, but he's not always cooperative, so it can be a messy process. So I was really excited to see that FFD Pet thought to put the paw protector in stick form! It's called Fou-Stick and it comes in four types, three for dogs and one for cats. The dog options include Protect, Calm and Sooth, and the one for cats contains cat nip so you can rub it on her toys, scratch pad, or bed. At $4.99 each, we'll be giving it a shot!
A special treat: We'll be giving away one of the products in today's post in this month's issue of our e-newsletter, Waggin' Trails. If you're not a subscriber, sign up now so you don't miss out!
Planning a pet friendly trip of your own? We'll make it easy:
Pet Friendly Hotels | Pet Friendly Destinations | Pet Friendly Activities
Amazon Affiliate Disclosure: GoPetFriendly.com LLC is a participant in the Amazon Services LLC Associates Program, an affiliate advertising program designed to provide a means for website owners to earn advertising fees by advertising and linking to amazon.com, audible.com, and any other website that may be affiliated with Amazon Service LLC Associates Program. As an Amazon Associate, the owner of this site earns a commission from qualifying purchases.
(Visited 652 times, 1 visits today)