The love of pets, and a desire to travel with them, can unexpectedly launch you down a path of making travel easier for all pet owners. That's one thing that Republican congressman Jeff Denham of California and I have in common.
Of course, for me it was adopting a goofy German Shepherd pup we found as a stray and discovering how difficult it was to find places we could vacation with him. For Denham, it was planning a coast-to-coast trip and realizing that his 15-pound French bulldog, Lily, wouldn't be allowed on an Amtrak train. He's been working ever since to change Amtrak's policy regarding pets on trains, and it appears he's gathering steam.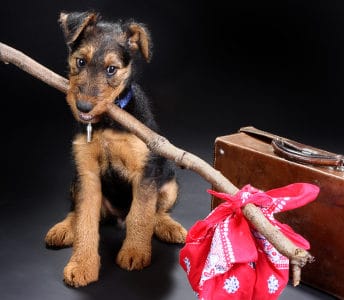 Denham chairs the House subcommittee overseeing the agencies that regulate the nation's railroad industry. Last Spring, at Denham's urging, Amtrak announced a six-month pilot program to allow small pets in carriers to travel on two train lines in Illinois. Just before the test period ended, Amtrak announced that they were extending the program for an additional six months and adding a third train line.
Now, Denham is moving to expand the service nationally. He's filed a bill that would require Amtrak to institute a pet policy for passengers traveling less than 750 miles. Thus far, 24 lawmakers have signed onto the legislation from both sides of the political aisle. The congressman introduced similar legislation in 2013, but wasn't able to get it passed in a short window of time. Now the bill has two years to clear both houses and make it to the President's desk. There's even been discussion that the pet policy requirement could become part of legislation that will be considered later this year regarding the federal funding of Amtrak.
Under Amtrak's pilot program, a rider must make an advanced reservation for their pet, the pet must weigh less than 20 pounds, and there is an additional pet fee of $25. All pets must remain in their carriers for the duration of the trip, and pets and their owners must ride in a designated train car.
If Amtrak institutes a nationwide pet policy, the restrictions will likely be similar to those currently in effect, which would leave behind the vast majority of dogs who would violate the weight limit. However, for a company that has only allowed service animals on their trains since the 1970s, this is definitely a step in the right direction.
What are your thoughts on Amtrak's pet policy? Would you like to travel by train with your pet, and would he or she meet the 20 pound weight limit?
Planning a pet friendly trip of your own? We'll make it easy:
Pet Friendly Hotels | Pet Friendly Destinations | Pet Friendly Activities
Amazon Affiliate Disclosure: GoPetFriendly.com LLC is a participant in the Amazon Services LLC Associates Program, an affiliate advertising program designed to provide a means for website owners to earn advertising fees by advertising and linking to amazon.com, audible.com, and any other website that may be affiliated with Amazon Service LLC Associates Program. As an Amazon Associate, the owner of this site earns a commission from qualifying purchases.
(Visited 354 times, 1 visits today)