Spend a little time in Austin, and you're sure to hear about the no-kill movement. On our first trip here, I remember seeing the Austin Pets Alive! (APA!) trailer parked on South Congress with a playpen full of adoptable puppies out front. They've removed the old trailer and upgraded to a bricks and mortar location on South Congress now … but when the time came to set up my Austin shelter visit, I knew exactly where I wanted to go!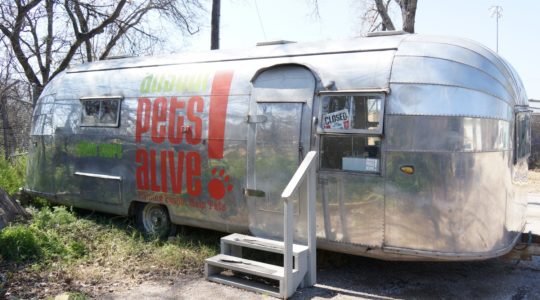 No-Kill Movement
In 2010, Austin's City Council passed a resolution to move toward the no-kill goal of saving 90% of the animals that enter the city's animals shelters. In less than a year after the plan's implementation, Austin rose to the challenge, becoming the largest no-kill city in the country. They've maintained that mark for four consecutive years, and in 2014 saved 94% of the city's abandoned animals!
Now Austin has become a model for cities across the country, and just last month hosted their annual American Pets Alive Conference. The three-day event is an opportunity for others to learn how Austin achieved their success, and take those insights home to implement in their own communities. I was lucky enough to get to spend the day with the gracious folks at APA!, learning about the no-kill movement, and spending time with the dogs and cats waiting to find their forever homes.
Austin Pets Alive!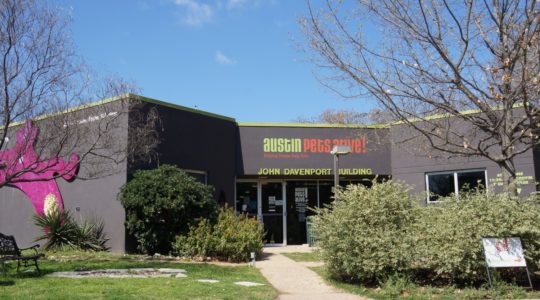 Before APA! began actively rescuing dogs and cats in 2008, the city of Austin was euthanizing over 50% of the animals that came through the shelter each year. To make the biggest impact, APA! began focusing solely on the healthy and treatable pets who were scheduled to be euthanized at the animal shelter the following day. The difference they made was obvious, and to this day they continue to take only animals who have no other options and whose time has run out.
APA's main building, located just steps away from Ladybird Lake, is the former city animal shelter. When the new Austin Animal Center was built, APA leased these facilities, utilizing the space to care for dogs and cats until their perfect family finds them. This location houses their exceptional Neonatal Kitten Nursery and Parvo Puppy ICU – both of which are being replicated across the country – as well as the Medical Triage Clinic, Ringworm Ward, Dog Behavior Program, Barn Cat Placement Program, and Feline Leukemia Sanctuary.
Tarrytown Dog Adoption Center
In Austin, the urge to repurpose something for an unconventional use is too tempting to resist – and that's exactly what APA! did in 2013 when they opened their new dog adoption center in the hip Tarrytown neighborhood. An old service station had been sitting empty for some time when inspiration struck, and it couldn't have worked out better!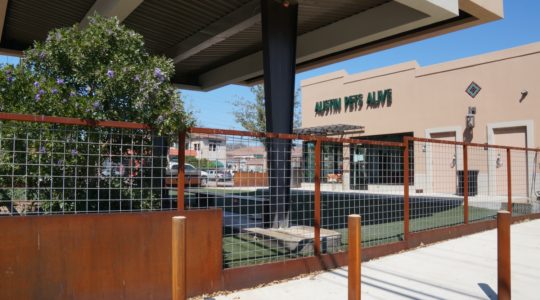 Now the fuel canopy now covers a fenced play yard, giving the dogs shade from the hot Texas sun, or shelter from the rain. The former convenience store area makes a welcoming lobby, where puppies in playpens are waiting to greet you. And the four service bays provide easy access to a second play yard.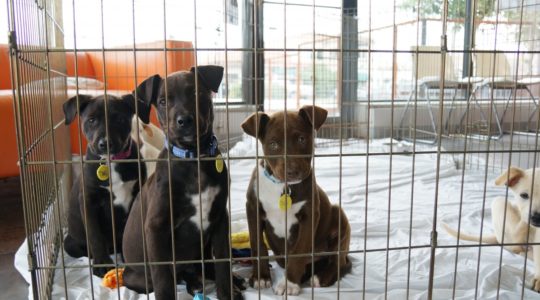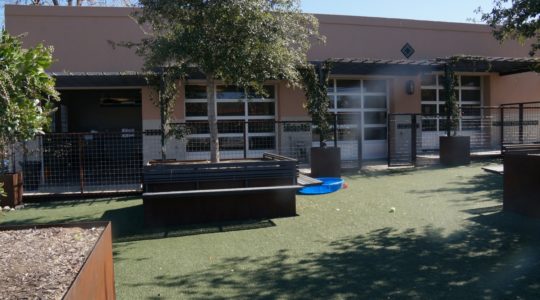 Up to seven dogs can live communally in each of the four enclosures until they're adopted – which doesn't take long for most of them. Austin residents have an adoption-focused culture, and most will proudly tell you where they found their rescue pet.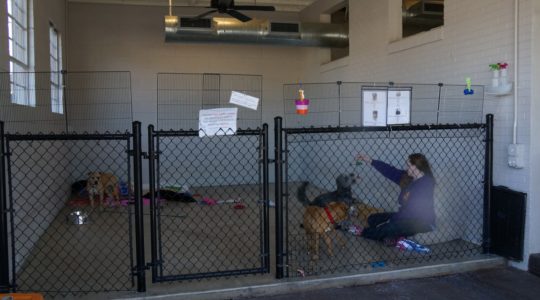 Just a couple doors down from the dog adoption center, APA! also has a Tarrytown cattery! Like the dogs, the cats here are housed communally in spacious enclosures. As you can see, there were only a few residents while I was there. They'd had a busy weekend, and more cats were due to arrive from the downtown location later in the day.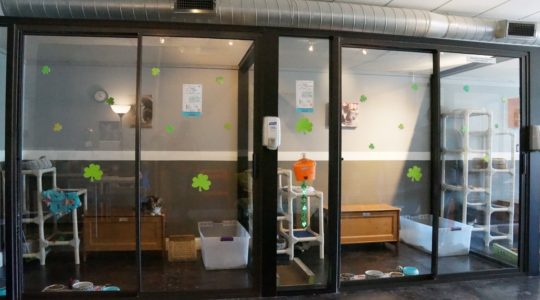 Of course, the best part of my visits to shelters like these is getting to play with the animals – and you're welcome to stop by for a furry fix when ever you need one, too! The dogs and cats benefit from meeting new people, and it does everybody good to play a game of fetch or spend some time rubbing a belly.
Meet Ostrich and Fritter: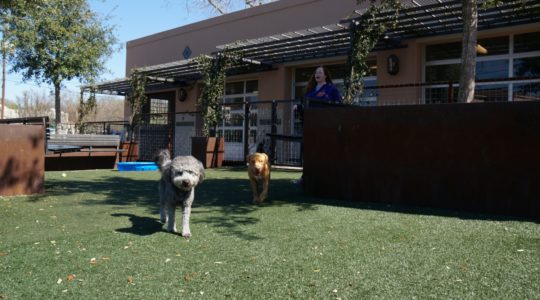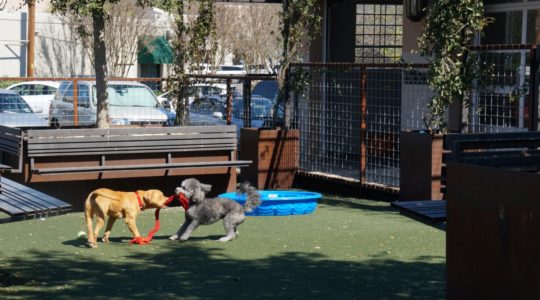 And Wesley: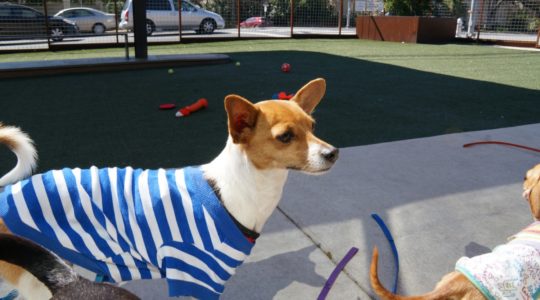 And the whole gang of little dogs!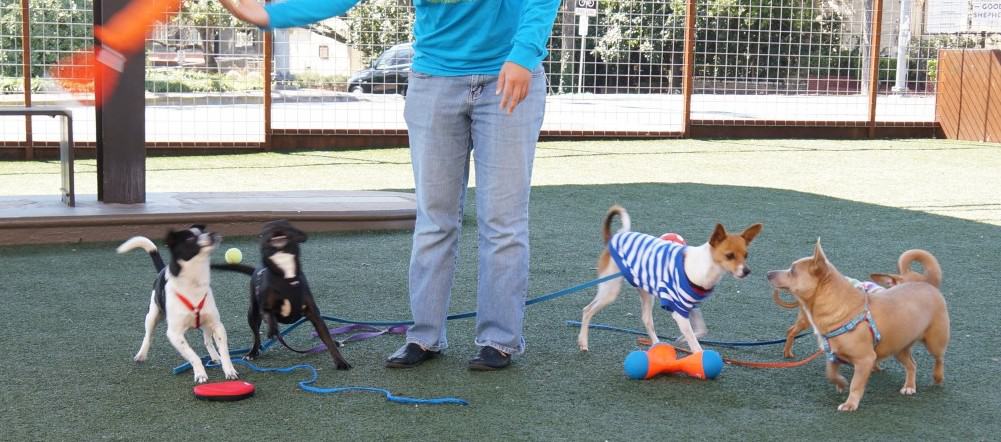 Tarrytown is also the place to find APA!'s puppies, because it's a little easier to keep them separated from the other dogs until their vaccinations are complete here.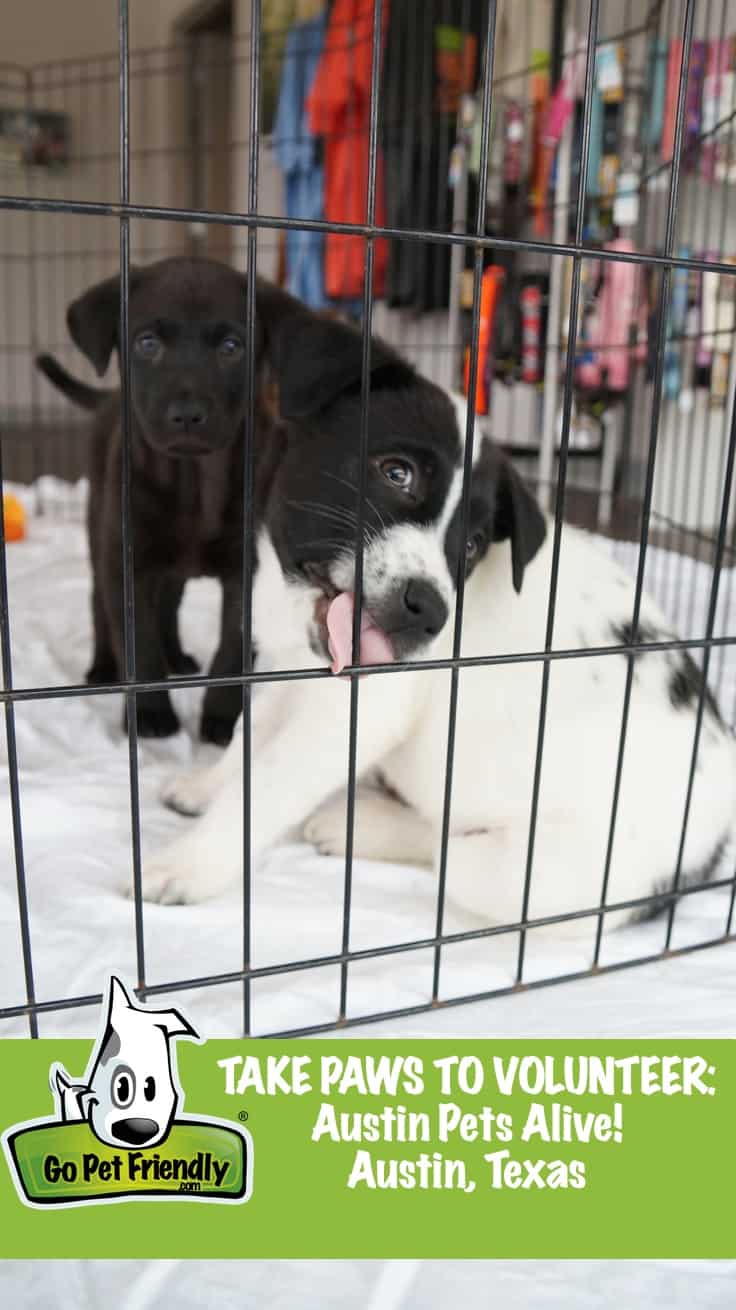 What you don't see when you stop by APA! is the amazing network of foster providers who are making a difference every day in the lives of the animals. APA has the largest foster network in the nation, which speaks to the level of awareness and commitment in this fantastic city of pet lovers.
Five Ways to Help Austin Pets Alive!
If you'd like to help Austin Pet Alive! continue to protect animals with no other options  – there are lots of ways to contribute. Not all of us are in the position to adopt another pet, but that doesn't mean we can't further the cause. Here are some ways you can pitch in:
Attend APA!'s annual Tricks & Treats gala! Held each year in October, it's a great opportunity to enjoy dinner, cocktails, live music and entertainment, and a silent auction – all while supporting Austin Pets Alive!
Follow APA! on Facebook and share photos of the adoptable animals. You never know when your share will be the one that gets a pet into their forever home!
Sponsor a dog or cat until they're adopted. APA! spends an average of $250 on each pet while they're in their care. By taking on that financial commitment, you free up the organization's funds to help other animals.
If you're in the Austin area, sign up to become a volunteer. Whether you want to cuddle the cats, take a dog for a run, be an adoption counselor, or help with off-site events – there's a position for you to share your passion at the shelter.
Purchase supplies on their Wish List, or shop for them directly on Amazon.com. You don't have to spend a lot to make a huge difference.
Thank you to Terry Colgan, Dog Volunteer Coordinator at APA!, for arranging my visit, and to Meghan and Marcia for making me part of the team for the day. I enjoyed it more than I can say. I also want to express my appreciation to Quaker Pet Group for their generous participation in the Take Paws to Volunteer Program. The fun toys they donate to the shelters we visit each month helps make these animals' wait a little more pleasant.
Planning a pet friendly trip of your own? We'll make it easy:
Pet Friendly Hotels | Pet Friendly Destinations | Pet Friendly Activities
Amazon Affiliate Disclosure: GoPetFriendly.com LLC is a participant in the Amazon Services LLC Associates Program, an affiliate advertising program designed to provide a means for website owners to earn advertising fees by advertising and linking to amazon.com, audible.com, and any other website that may be affiliated with Amazon Service LLC Associates Program. As an Amazon Associate, the owner of this site earns a commission from qualifying purchases.
(Visited 527 times, 1 visits today)