Take Paws is a showcase for people having fun with their pets – and sharing YOUR pet travel experiences may be the nudge someone else needs to pack up and head out with their own best friend! Brendon McLaughlin and his pups, Dorian and Rex, love to travel, and Brendon has shared their pet friendly experiences in Kansas City and Minneapolis with us. Now this trio is taking on New Orleans, so let's get jazzed up!  
***
This past winter, Dorian, Rex, and I followed in Ty and Buster's footsteps to hit many of their past travel spots such as Austin, San Antonio, Saint Augustine, and Savannah. While I do not have a lot to add to those posts, I did find a lot to write about for the Big Easy.
Pet Friendly Plantation
When planning the trip, I wasn't sure how much time I would need in New Orleans, so I allowed for a Friday afternoon to Monday afternoon. Many travel guides mention plantation tours as "must sees" when visiting here, but I was a bit worried about spending the time to drive an hour or so out of the city and then another hour or so back. As it turned out, I was driving in from Houston, and diverting just 10 minutes brought us to Houmas House Plantation for a lunch stopover. The owners are dog parents themselves and are very accommodating of those visiting with pets – they've even held a dog wedding on site!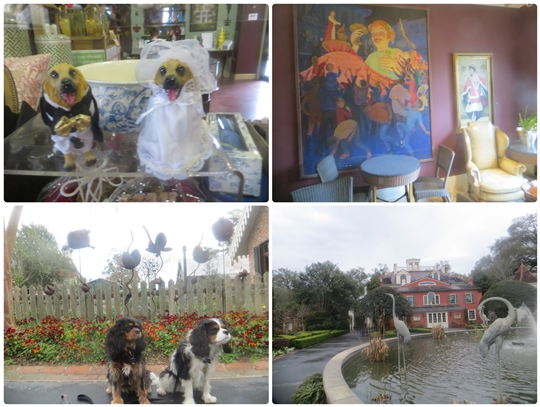 The French Quarter
Upon arrival in New Orleans on Friday afternoon, the French Quarter was the first area we went to check out. It is a great area to walk around with marching bands out in the streets, nice architecture, and dog friendly shopping. Dogs are not allowed in Jackson Square, but it's still nice to walk the edges to see all the art for sale on the streets, and to have a look at St. Louis Cathedral.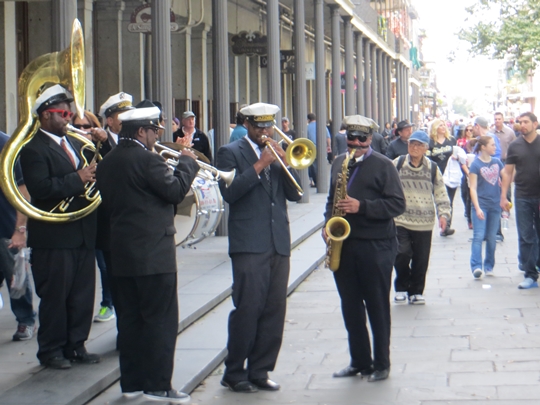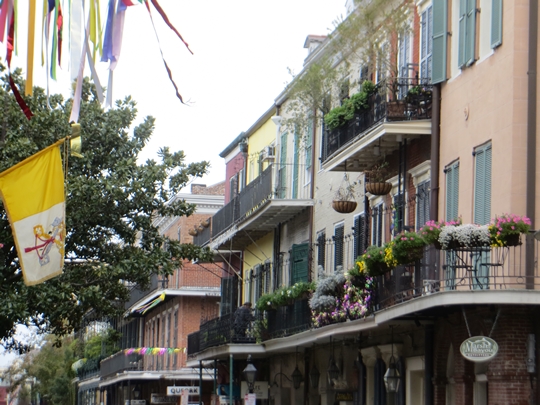 The French Quarter is the neighborhood that I found myself returning to each day of the trip. There were so many different streets to see and it was always a fun atmosphere. I was able to do all the shopping I wanted with Rex and Dorian – I picked up a few souvenirs, as well as some different hot sauces and coffee from the famous Café du Monde.
The next day in New Orleans, we explored more areas of the city. After starting with another stroll through the French Quarter, we went on to Louis Armstrong Park. Of course a picture of Dorian and Rex by the statue of Louis Armstrong was a must!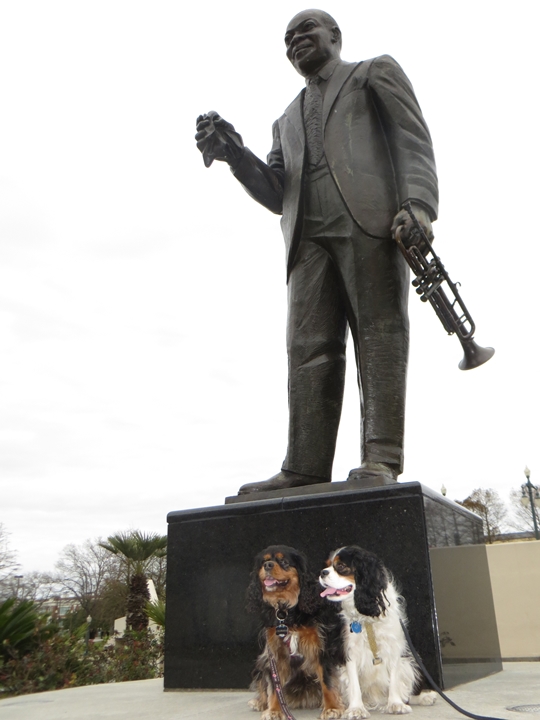 We then headed to the St. Louis Cemetery, which was interesting because all burials are done above ground!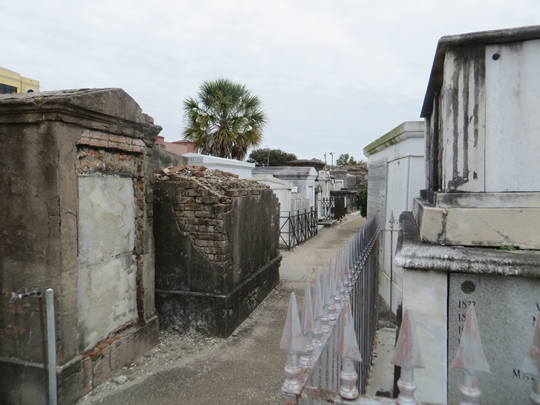 Boat tours are often a great way to see a new city, but I didn't see a suitable dog friendly one for New Orleans. However, a great alternative is the Canal Street commuter ferry, which takes passengers across the Mississippi to Algiers Point. The short trip is only $2 and dogs do not need to be in a carrier. After taking in the views of the city, you can get off to explore Point Algiers, or just take the ferry back again.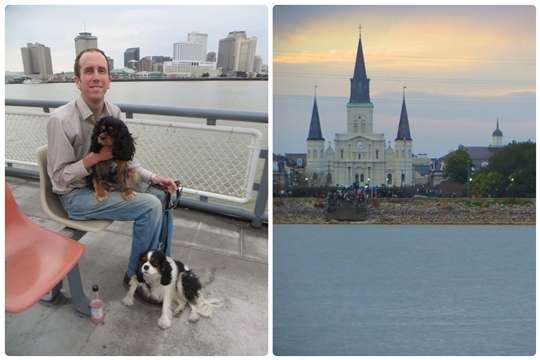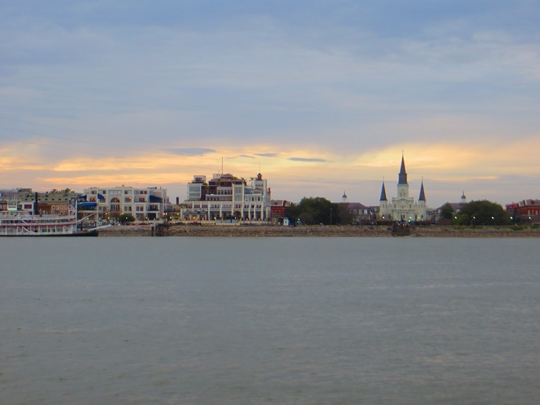 Bourbon Street
I heeded GoPetFriendly.com's advice to avoid Bourbon Street at night with dogs. The crowds, while fun, would make a dog walk rather difficult. However, Bourbon Street at night is a great place for a night cap and some live music! No matter what your taste, you'll find music to suit it … from blues to jazz to rock to dueling pianos, there is no shortage of great options!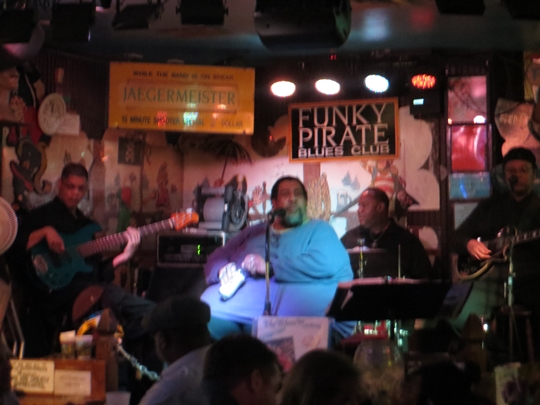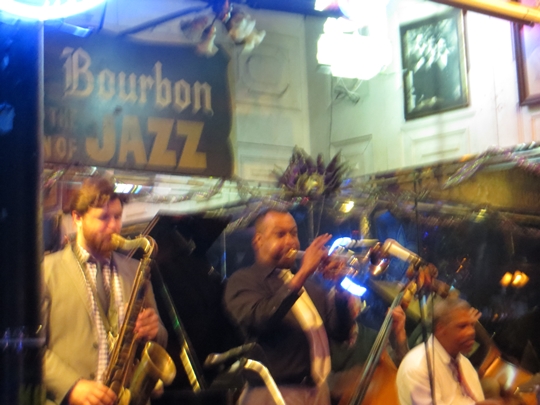 Sunday morning seemed like a good time to hit Bourbon Street one last time with Dorian and Rex. While still busy, I found a table at Café Beignet in Musical Legends Park. Sampling beignets while enjoying more live music was a nice way to say farewell to the French Quarter.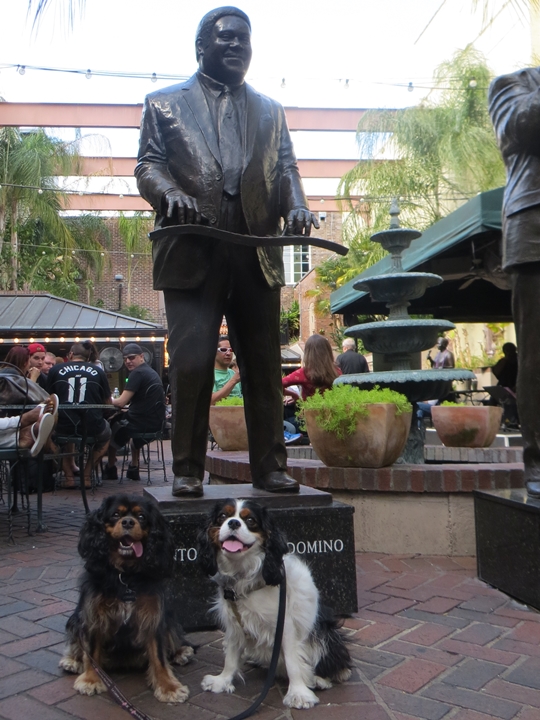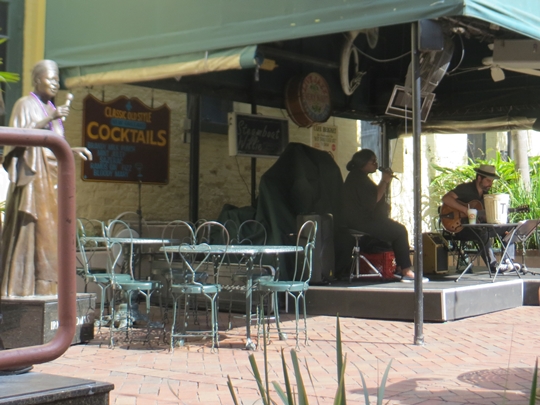 The Garden District
After the high-energy French Quarter, a mosey through the Garden District neighborhood was a nice change of pace. Spending the afternoon sightseeing and shopping was just what I needed. We walked over from the French Quarter along Magazine Street, which is strewn with stores and restaurants. On the way over, I saw the World War II Museum, which looked particularly interesting, but there was no way to see it with the dogs.
Pet travel does mean some sacrifices, but I definitely would not have enjoyed New Orleans as much without Dorian and Rex. I did get to enjoy a coffee from CC's coffee house on their dog friendly patio and most of the Garden District proved equally dog friendly. One of my favourite stores in the Garden District was Bootsy's Funrock'n. Dorian and Rex had fun in the store while I did a bit of shopping.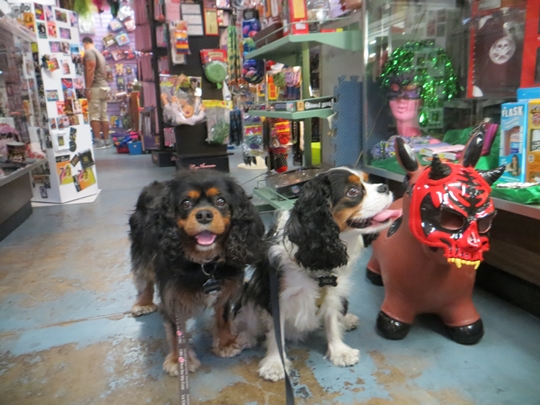 However, the dogs' favorite store was Petcetera, where they got a little treat. Although it looks like a mini cupcake, it made from yogurt and granola!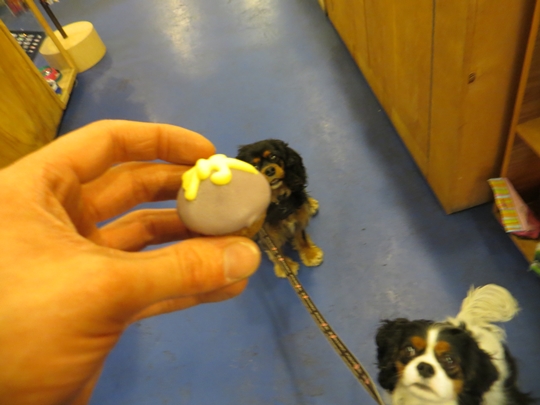 Like the Saint Louis Cemetery, Layfette Cemetery has the burials above ground. It is not pet friendly, but you can see it quite well from the various entrances.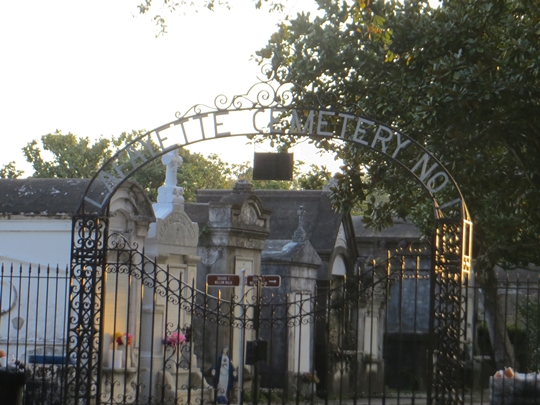 Heading back on Magazine Street, Mayas Nuevo Latino was the perfect outdoor dining experience to end the day.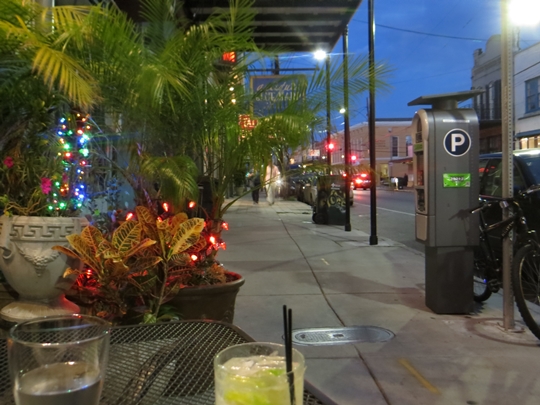 City Park
We stayed at the Best Western near the French Quarter during most of our visit, but we spent our last night at a La Quinta in the suburbs. It was convenient for getting an early start the next morning, and allowed for a nice stopover at City Park where Dorian and Rex could burn off some energy ahead of the drive to Florida.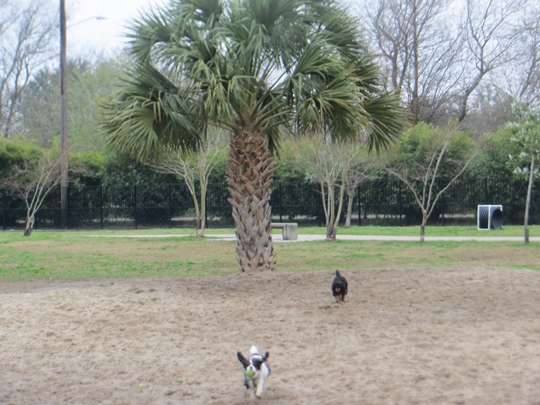 This is a great dog park with washing stations to clean your dog off – just make sure to pick up a pass from the park office beforehand, and be prepared with your proof of vaccination. After playing in the dog park, we took a walk through the park and then sadly had to bid a fond adieu to the Crescent City.
We left New Orleans very satisfied with having done most of what I'd planned, and already starting to think how to come back again!
About the Author: Brendan lives and works in Toronto, ON and is the proud owner of two King Charles Cavalier Spaniels, Dorian and Rex.
Planning a pet friendly trip of your own? We'll make it easy:
Pet Friendly Hotels | Pet Friendly Destinations | Pet Friendly Activities
Amazon Affiliate Disclosure: GoPetFriendly.com LLC is a participant in the Amazon Services LLC Associates Program, an affiliate advertising program designed to provide a means for website owners to earn advertising fees by advertising and linking to amazon.com, audible.com, and any other website that may be affiliated with Amazon Service LLC Associates Program. As an Amazon Associate, the owner of this site earns a commission from qualifying purchases.
(Visited 11,813 times, 1 visits today)