Intervertebral Disc Disease Turns Out To Be Discospondylitis
A little more than a month ago Ty was diagnosed with Intervertebral Disc Disease (IDD), and we started on a course of treatment that included pain medication and a lot of rest, hoping his back would heal and he'd get back to his spunky self. The vet said it would take about a month for Ty to return to his usual activities, so when four weeks had passed and he was still hunched up and not wanting to walk, we scheduled an appointment with a specialist.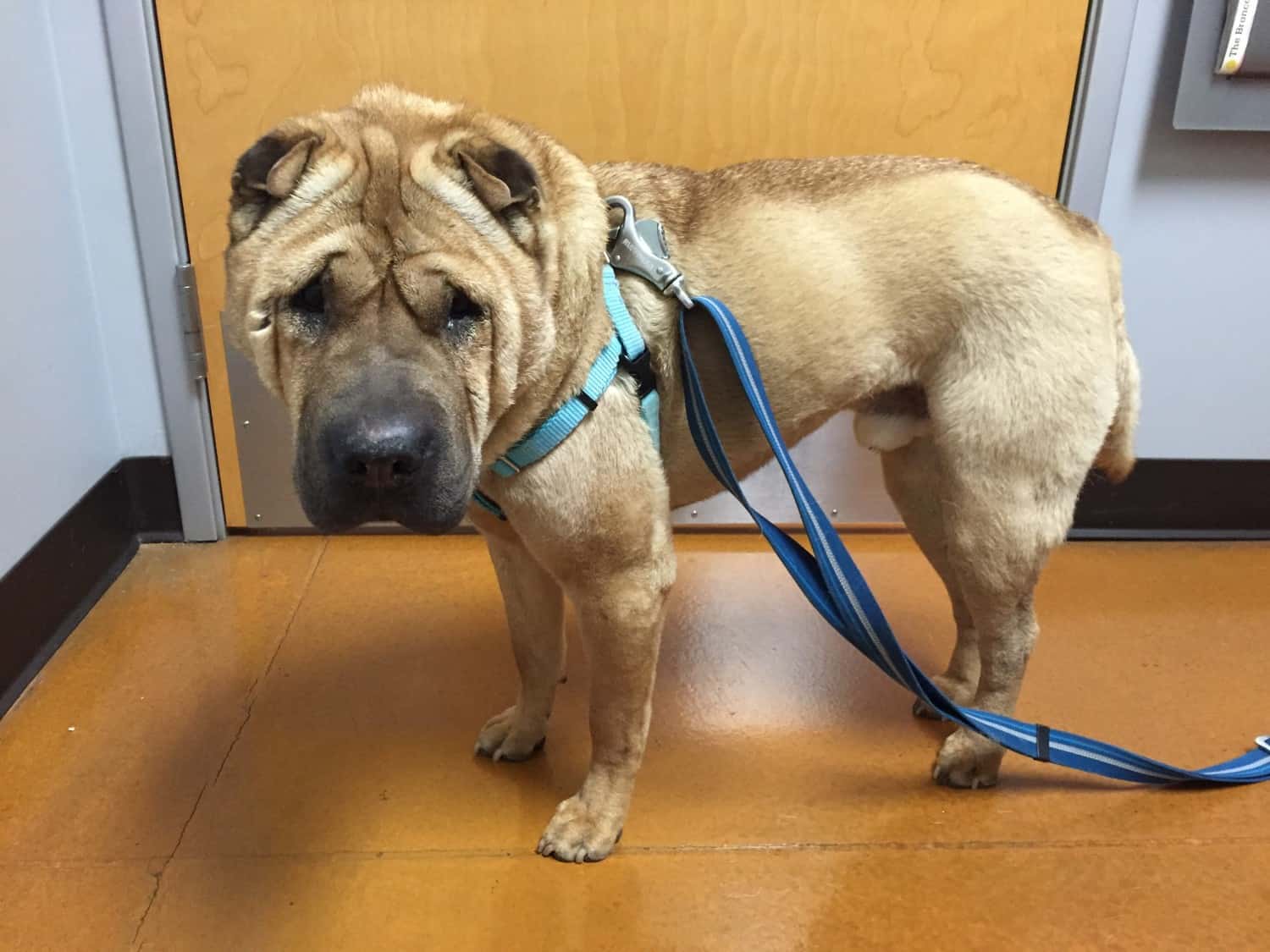 We went to see Dr. Wolf, a veterinary neurologist near Austin, and after examining Ty she concluded that he'd been mis-diagnosed last month – he actually has discospondylitis (DS). Unfortunately, even though the name of this condition begins with the word "disco," it's not nearly as much fun and it sounds.
If you follow our Facebook page, you may remember back in September that Ty was treated for a urinary tract infection. It was a tough one, and after the initial round of antibiotics, it came right back. Ty was prescribed a second, longer round of antibiotics to finally knock it out … or so we thought.
According to Dr. Wolf, what probably happened is that the bacteria that caused Ty's UTI (Staphylococcus pseudintermedius) hitched a ride in his bloodstream to the disc in his spine and took up residence there. Apparently this is something that can happen when dogs have a UTI, abscess tooth, or infected wound. When the bacteria has a way into the blood, it can travel through the body and cause havoc somewhere else … like the discs, kidneys, or lungs.
Apparently, it's not uncommon for the early symptoms of DS to be misinterpreted – the back pain, weight loss, and fever mimic other more common conditions, like IDD. What triggered Dr. Wolf's suspicions was the high globulin levels in Ty's most recent blood work. Higher than normal levels of globulins indicate that the body is fighting inflammation or an infection. That, combined with his recent history of persistent UTI, caused Dr. Wolf to take a new set of x-rays of Ty's back, and she was able to identify the characteristic lesions of DS.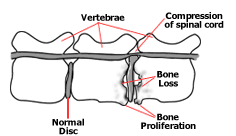 In very simple terms, discospondylitis is an infection of the bone and disc space of the spine. In rare cases it's caused by a  fungus, but usually it's a bacteria that damages the bone and causes inflammation that pushes on the nerves. In addition, the bone damage can cause the spine to be unstable at the point of the infection, so we need to be careful that Ty doesn't do anything that could further injure his spine until the infection is cleared up.
Left untreated, the bacteria would continue to eat way the bone, cause extreme pain, lead to weakness and incoordination in the limbs, and eventually paralysis.
Treatment
Treatment involves the administration of antibiotics, pain medication, and crate rest. We ran cultures on Ty's blood and urine to try to verify that we're dealing with the same bacterial culprit that caused his UTI in September. Unfortunately, the cultures were inconclusive (which happens about 50% of the time with this condition), but based on Dr. Wolf's suspicions, we wanted to get him started right away on his new course of treatment. We've added the same antibiotic we had success with before to his pain medication in hopes of killing the infection, and he's under strict doctor's orders to take it easy!
He'll be on the antibiotic for at least a of couple months, and possibly for the rest of his life, to keep the bacteria at bay. In the meantime, long walks, going up or down stairs, and jumping are completely out of the question. Honestly, I think the little bugger is getting pretty used to being pampered … here he is in his new wagon: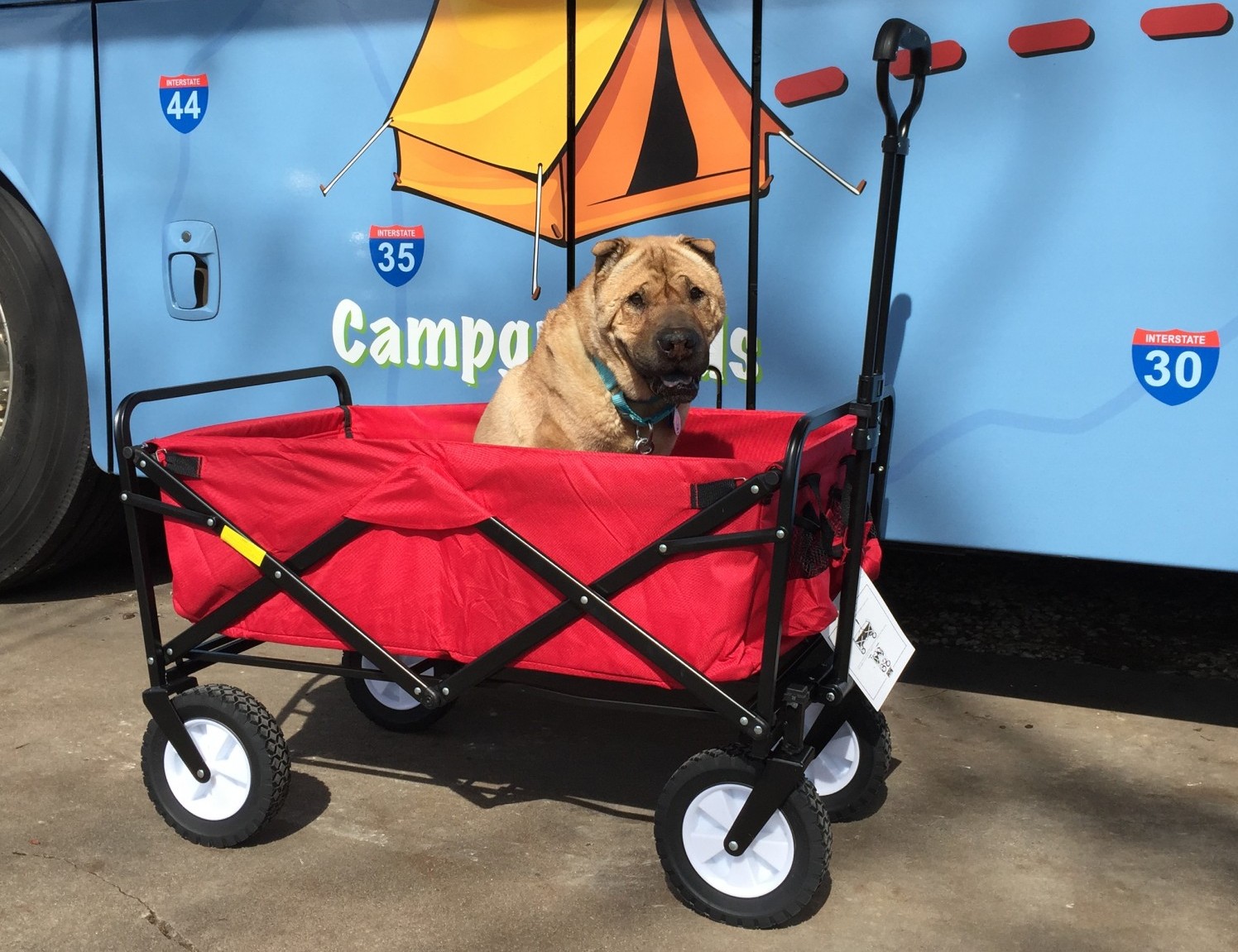 The best news is that we're already seeing evidence that Ty's feeling better. He's walking with his tail up over his back again – something we hadn't seen in a month! And he's venturing out on slightly longer walks every day, which Dr. Wolf says is a good sign that the antibiotic is working.
Long term, it's possible that Ty could experience reoccurring bouts of DS. Because there isn't a lot of blood flow in the discs, it's hard to get enough of the antibiotic in there to completely wipe out the bacteria. We'll cross that bridge when we get to it, but I won't be surprised if Ty is on a low dose of antibiotics for the rest of his life. Also, we'll need to watch for signs that the infection has left a swath of osteoarthritis in it's wake. If we notice that Ty's back continues to be painful, we'll need to treat him for that as well.
We all want to thank you for your concern and support while we've been dealing with Ty's shifting diagnoses. Your thoughtful notes have meant a lot and kept all of our spirits up as we focus on getting Ty back in tip-top shape.
Disclosure: I am not a veterinarian. I'm a pet lover and parent, bumbling along as I try to understand how to best care for my dog. Discospondylitis is a condition I didn't even know existed until last week, and I'm sharing what I've learned in hopes that it might help someone who's dealing with the same thing. If you pet has been diagnosed with DS, please seek veterinary care immediately.
Planning a pet friendly trip of your own? We'll make it easy:
Pet Friendly Hotels | Pet Friendly Destinations | Pet Friendly Activities
Amazon Affiliate Disclosure: GoPetFriendly.com LLC is a participant in the Amazon Services LLC Associates Program, an affiliate advertising program designed to provide a means for website owners to earn advertising fees by advertising and linking to amazon.com, audible.com, and any other website that may be affiliated with Amazon Service LLC Associates Program. As an Amazon Associate, the owner of this site earns a commission from qualifying purchases.
(Visited 13,129 times, 1 visits today)