When the idea first occurred to me, I didn't even know if it was possible … could we plan a trip that would allow us to visit the top pet friendly attraction in each state in less than a year? We sat down with an atlas, used Google Maps to estimate the mileage and travel times between destinations, and slowly came to the conclusion that, yes, it was physically possible.
From there we began plotting potential routes, considering which would give us the best chance of optimal weather at each destination. One itinerary seemed most likely to avoid extreme heat or cold, keeping the dogs out of danger and the motorhome away from hazardous road conditions. The others quickly fell away.
The final step required a bit of soul searching. Why were we doing this? What good would come of it? Those were the easiest questions of all to answer. It would be a challenge – something new and exciting to push us beyond our comfort zone and test our ability to work together to achieve a goal. It would allow us to complete an epic road trip with Ty and Buster, experiencing the best this country has to offer with our boys, who are well into their senior years. And it would allow us to inspire others to get out with their pets and make memories that they'll cherish forever.
Once committed, we knew this was the perfect opportunity to work with local animal shelters and rescues. Helping raise awareness for pets looking for their perfect travel buddies and forever homes has always been important to us. Seventeen adoption events were quickly added to the calendar, giving true meaning to our folly.
We started out in February in Carmel, California, and it couldn't have gone better! The kickoff event with the SPCA for Monterey County was a big success, exploring the beaches in the February sunshine with Ty and Buster was a blast, and from there we were off and running.
From the earliest planning stages, we knew this trip was going to be fun – but the reality was so much better than we imagined! There are no words to express how grateful I am that we did this with our boys. Ty and Buster LOVED this trip, and seeing it all though their eyes has absolutely filled our hearts. Even though I did my best to focus on each day and absorb every detail, the time and miles flew by. Looking back now, it feels like a whirlwind … but as the memories flash though my mind, what stands out most are the smiles on Ty and Buster's faces.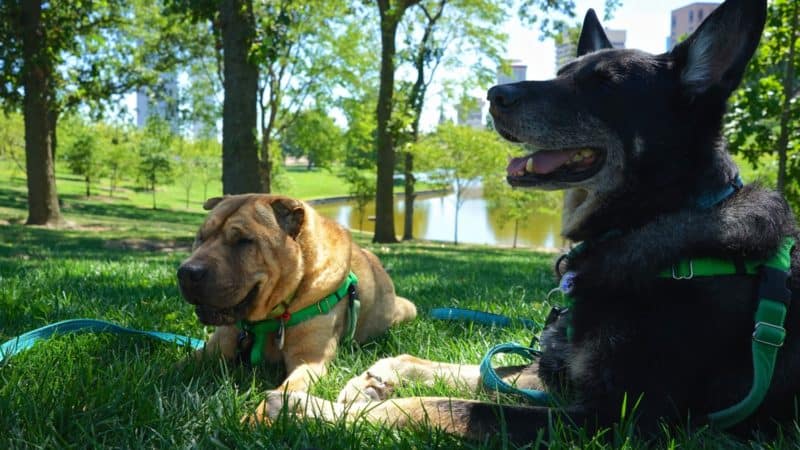 Thank You
A big part of the happiness that we got from Ultimate Pet Friendly Road Trip was being able to share it with you. Your enthusiasm was felt at the events, in your warm responses to the blog posts, and in the encouraging comments you left on our social media posts. We literally can't thank you enough – connecting and sharing this journey with you means everything to us.
I also want to thank Rod. Most husbands would have laughed at the mere suggestion of this trip – especially when faced with running his own business around this ludicrous travel schedule and event plans. Instead, my partner was excited. We were in this together, and I couldn't have asked for more. Thank you, sweetie!
Finally, this trip wouldn't have gotten of the ground without the support of our sponsors. Winnebago, 2 Hounds Design, Alcott, goDog®, PetGuide.com, Red Roof Inns, Sleepypod, The Bark, PetHub, RVPetSafety.com, and The Honest Kitchen all contributed to our success, and we're forever grateful.
What's Next?
The first order of business was to get the boys to the vet for their annual check-ups, and we did that last week. The reports were good, especially for dogs their ages, and we're delighted to report that their blood work shows they're in good health.
Our next priority is some rest and relaxation. We're heading to Palm Springs, where we'll put the motorhome in PARK and take it easy for a while. There was some discussion of joining friends to drive down the Baja Peninsula later this winter, but the vet cautioned against it. With Ty's susceptibility to fevers, any infection could be dangerous for him, so we'll visit Mexico another time.
To keep busy, I'm planning a book about this year's tour. Going back over all the photos and reliving the memories will allow me to slowly digest our experience, and I'm very much looking forward to that!
And, after this year of highly structured travel, we're looking forward to being more spontaneous in 2018. We'd have loved to spend more time at many of the places we visited on the Ultimate Pet Friendly Road Trip, and we may head back to explore some of those more deeply. Though we don't know where we're going for sure … there's no question that we'll be traveling with Buster and Ty!
Planning a pet friendly trip of your own? We'll make it easy:
Pet Friendly Hotels | Pet Friendly Destinations | Pet Friendly Activities
Amazon Affiliate Disclosure: GoPetFriendly.com LLC is a participant in the Amazon Services LLC Associates Program, an affiliate advertising program designed to provide a means for website owners to earn advertising fees by advertising and linking to amazon.com, audible.com, and any other website that may be affiliated with Amazon Service LLC Associates Program. As an Amazon Associate, the owner of this site earns a commission from qualifying purchases.
(Visited 1,411 times, 1 visits today)