Set in the high desert, just a three-hour drive from Portland, this itinerary for a long weekend in pet friendly Bend, Oregon will delight you and your pup!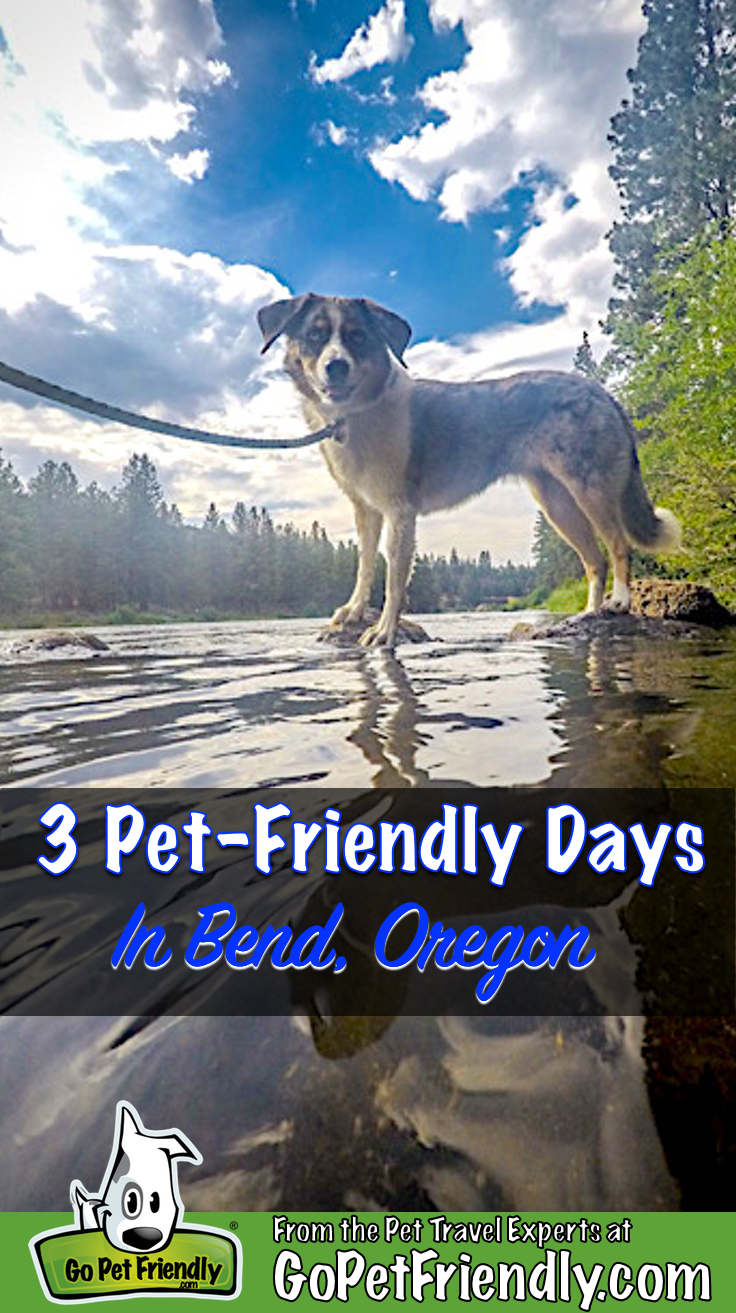 Known as the state's outdoor recreation playground, pet friendly Bend, Oregon makes a perfect weekend getaway from the city. It's also a great destination if you're planning a road trip through Oregon!
More importantly for us dog folk, Bend was named the most dog-friendly city by DogTown USA in 2012! You and your pup can count on loads of fun at the many restaurants, breweries, trails, off-leash areas, and other recreational activities around town. And the fantastic selection of pet friendly hotels in pet Bend doesn't disappoint either!
Here's how we recommend spending three pet friendly days in Bend:
Day 1: City Living
Breakfast
Start your day off right with a healthy meal from Mother's Juice Café. Serving a variety of breakfast sandwiches and bowls, like the chai oatmeal or Sambazon Bowl, loaded with fruits and superfoods, it's hard to choose from the unique options.
Fun
Once your belly is full, head to Tumalo Creek & Canoe and rent a paddle board to cruise down the Deschutes River while your dog (hopefully!) settles peacefully at the nose of your board. The river cuts right through the city, and the mornings are peaceful and not too hot.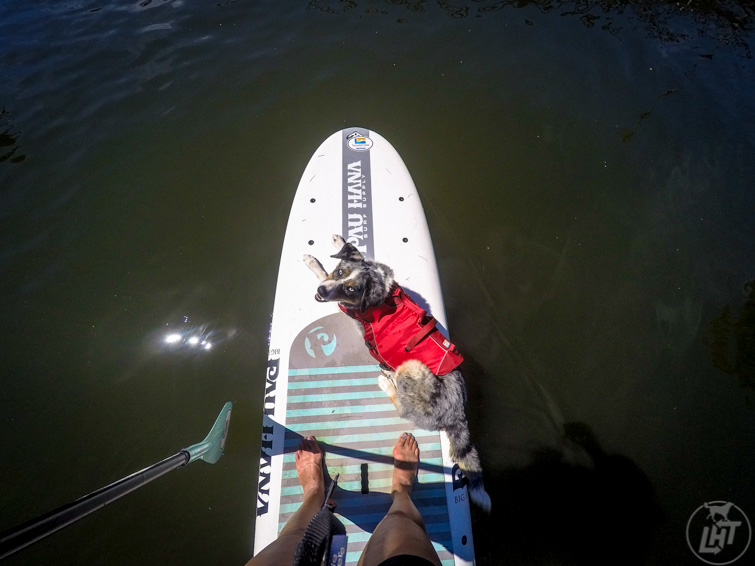 GoPetFriendly may earn commission or revenue on some items through the links below.
Pro Tip: Just like you, precautions need to be taken to keep your pet safe on the water. Make sure you have a high quality life jacket for dogs.
After patiently riding your board, it's only fair that your pup gets to run around and play! Head to one of the many off leash hiking areas in the city, like Bob Wenger Memorial Dog Park.
This 18.8-acre fenced park features fire hydrant fountains for summer fun. The park also features a small dog area for pups weighing less than 25 pounds.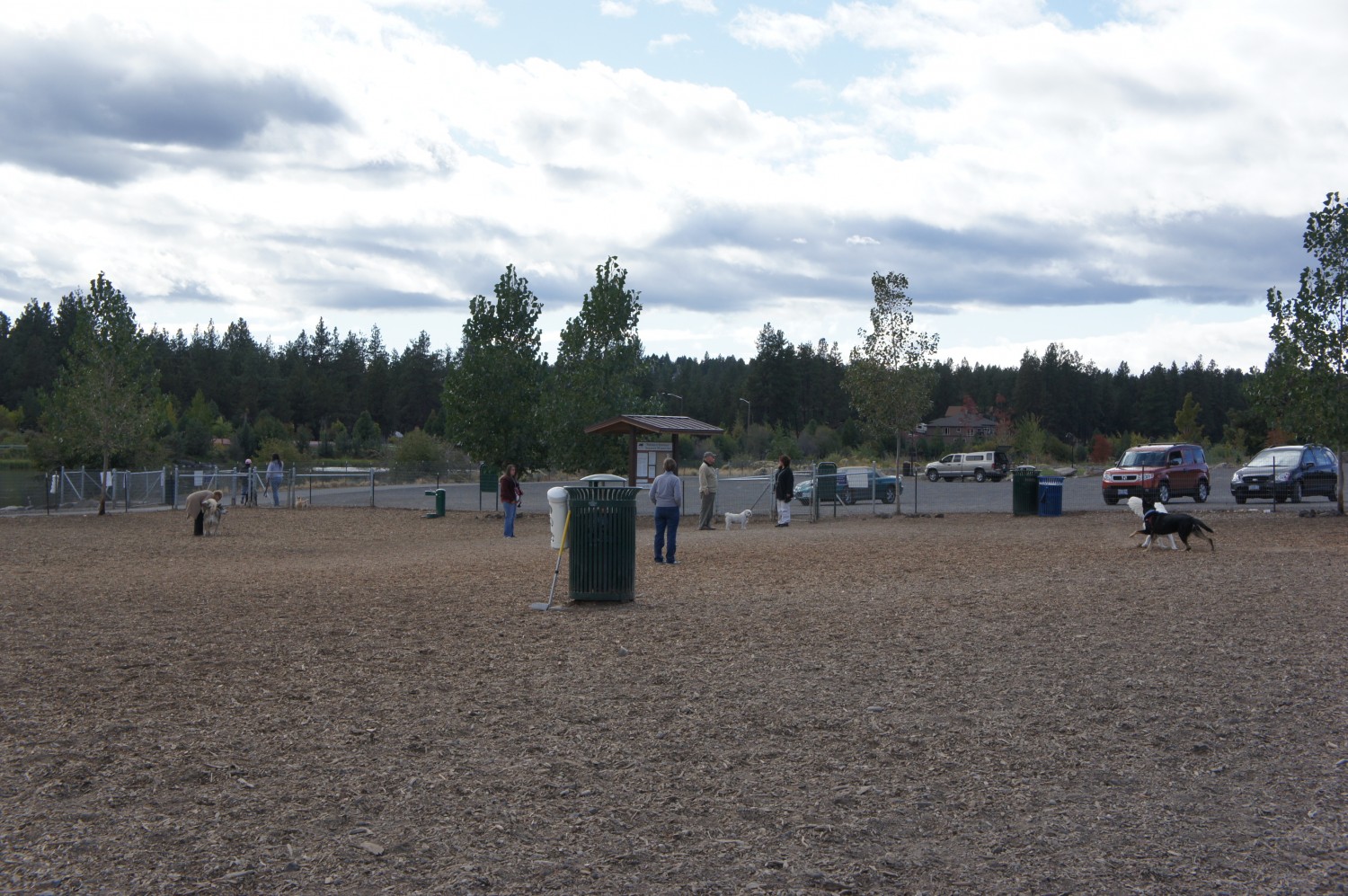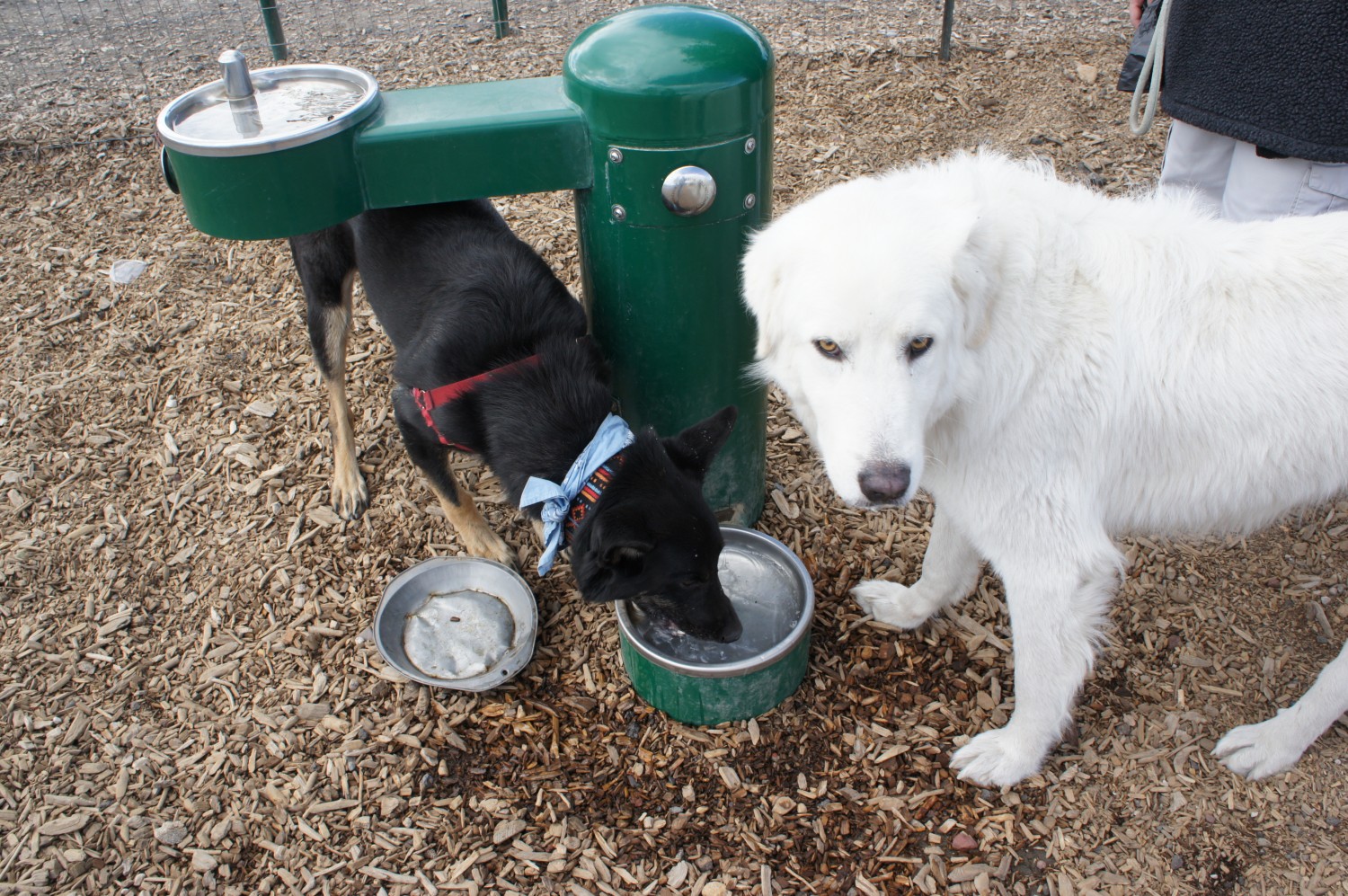 Lunch
Meat-eaters, vegetarians, vegans, and gluten free folks will all find something delicious on the menu at Broken Top Bottle Shop & Ale Café! Much of their fare is house-made and local. And dogs will love the smell, because they smoke their meats on-site.
Leave room in your belly, because next it's time to partake in Bend's favorite activity: the pub crawl. Or as we refer to it around here, the pup crawl!
Bend has more breweries per capita than any other city in Oregon. And there are plenty of top-notch, dog friendly options to try!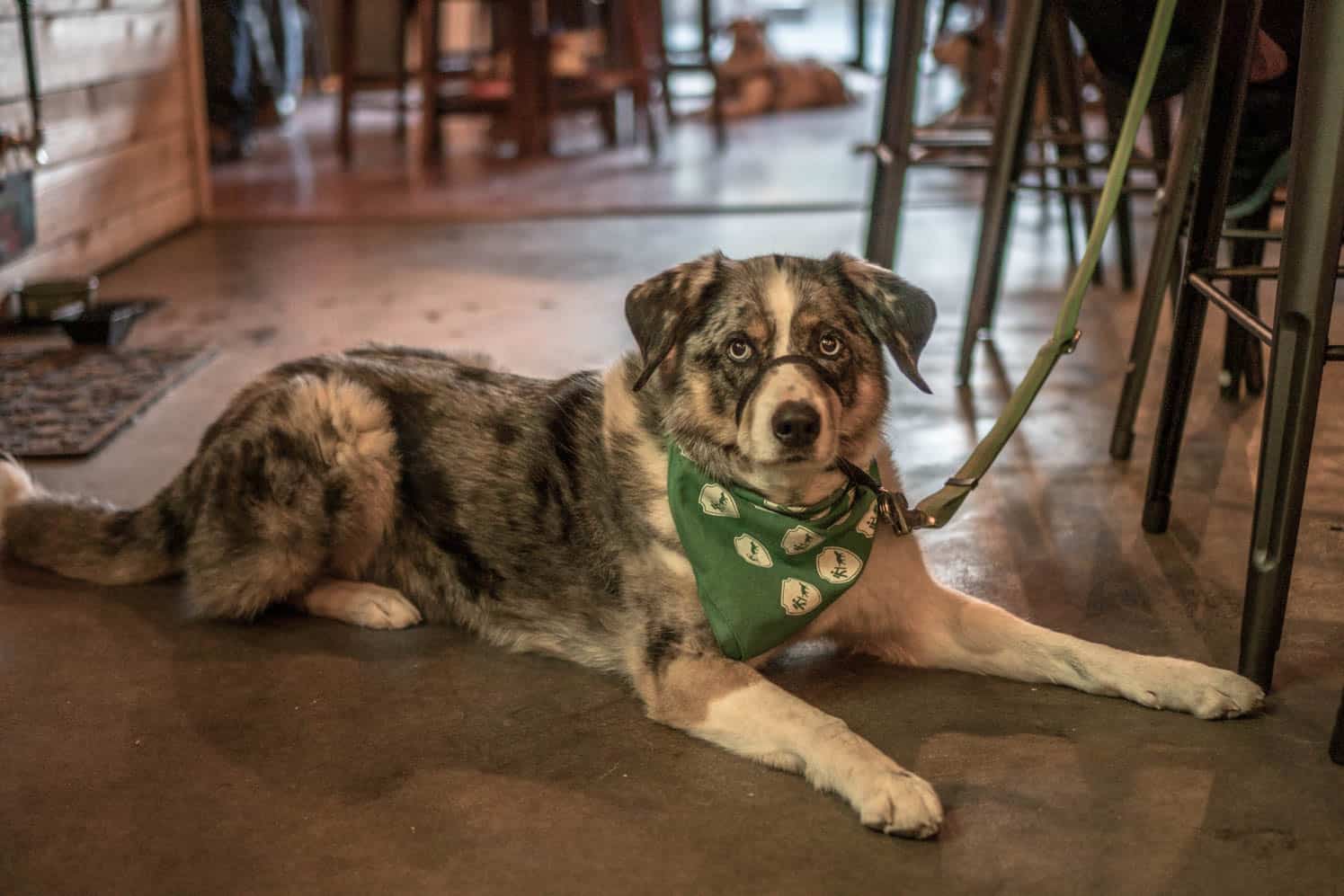 Pet Friendly Breweries In Bend, Oregon
Start your journey at Good Life Brewing Company. Their large, fenced "biergarten" (open June through October) features lawn games, cozy Adirondack chairs, and live music. The brewery is best known for their Sweet As! Pacific Ale, but their whole line up is worth sampling.
Next, make your way to to Crux Fermentation Project where you can enjoy "Sundowner Hour" and a pub picnic while watching the sun set over the mountains.
The original idea for the large grassy area was to create an off-leash park attached to the brewery, but they couldn't find an insurance company to underwrite the plan. Still, dogs are more than welcome to join their humans and bask in the warm sun on the grass.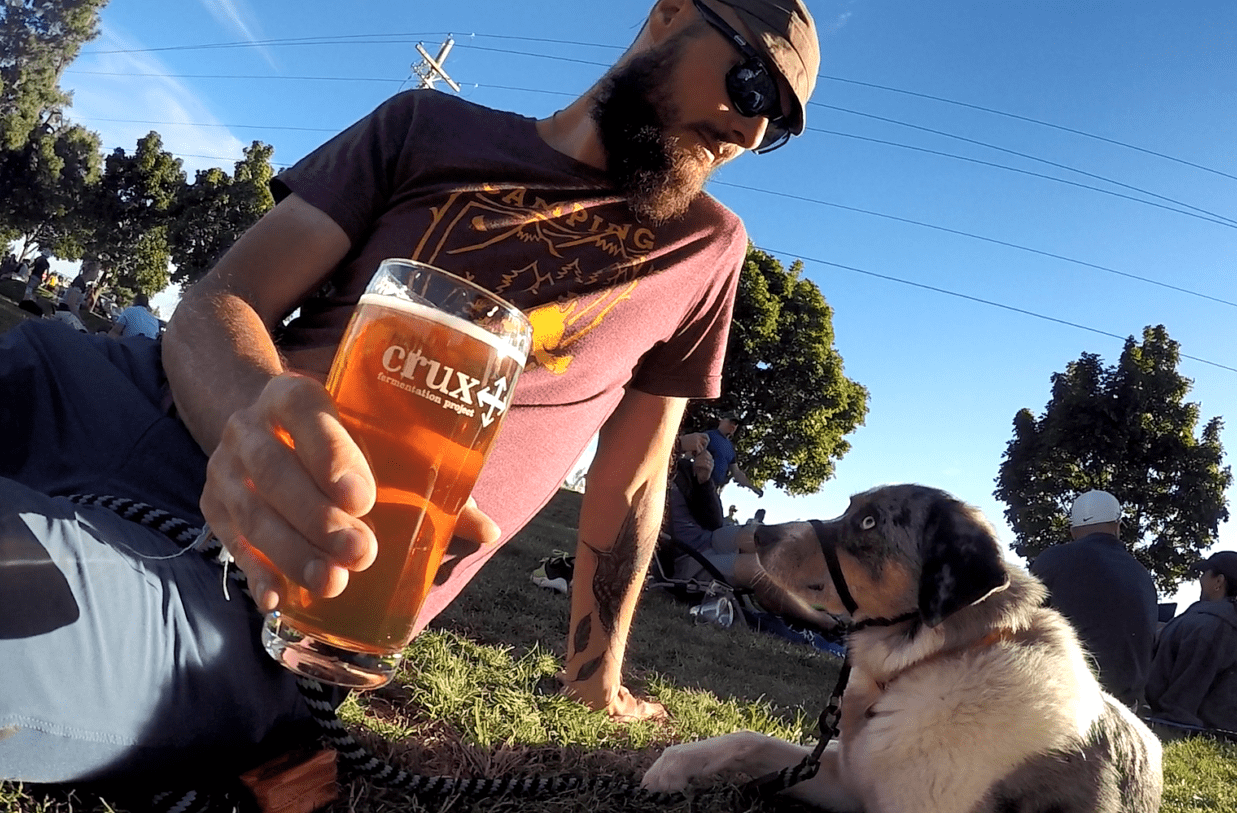 The next stop on this pup crawl is Boneyard Beer Pub, makers of the insanely delicious RPM IPA, but more importantly, of Dawg Grog. Made from spent grain from the brewery, vegetarian K9 glucosamine, and a vegan trace mineral supplement, at this stop your dog can join you for a pint!
And don't miss 10 Barrel Brewing Company, our favorite for the fun atmosphere and great food.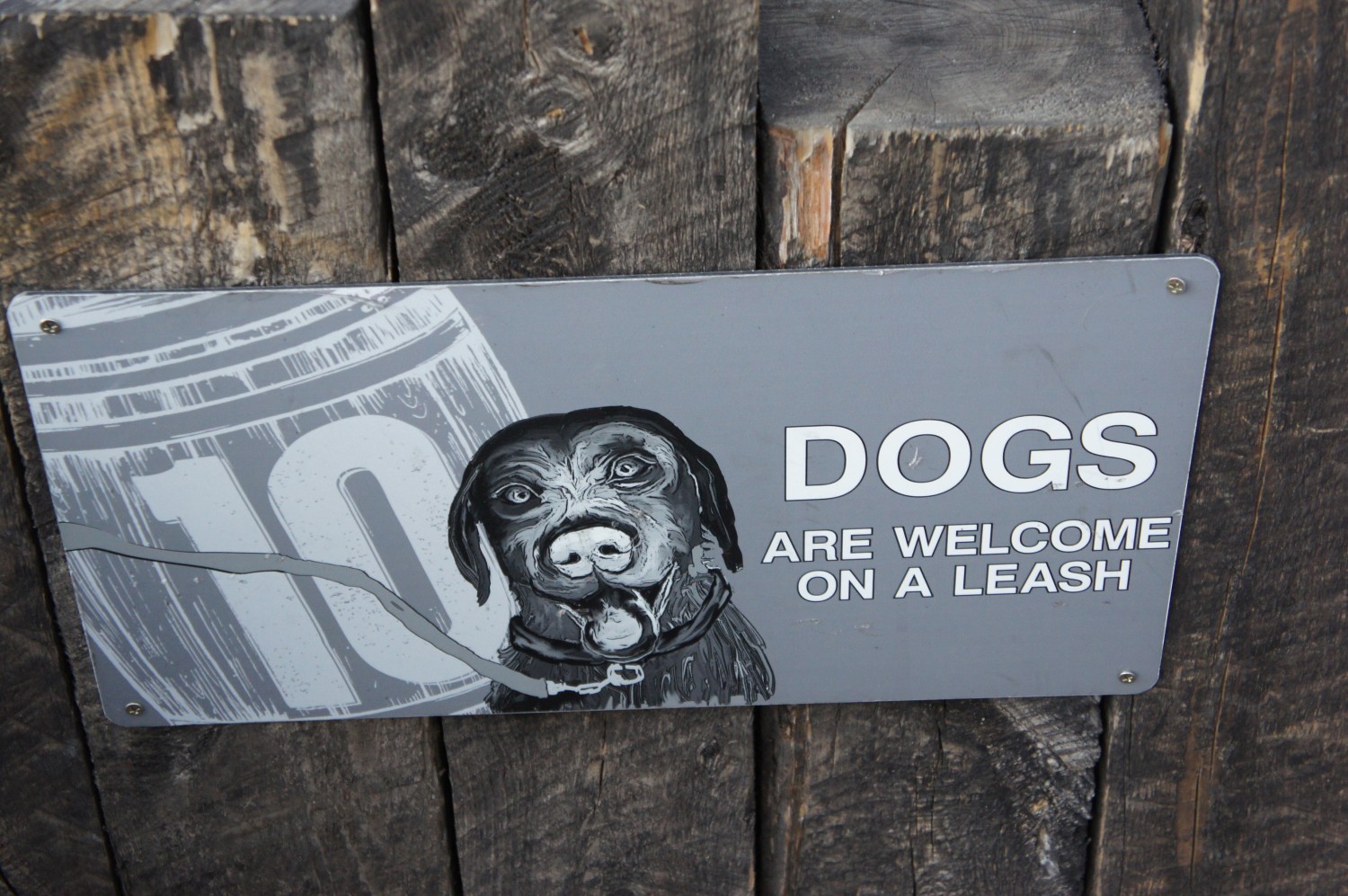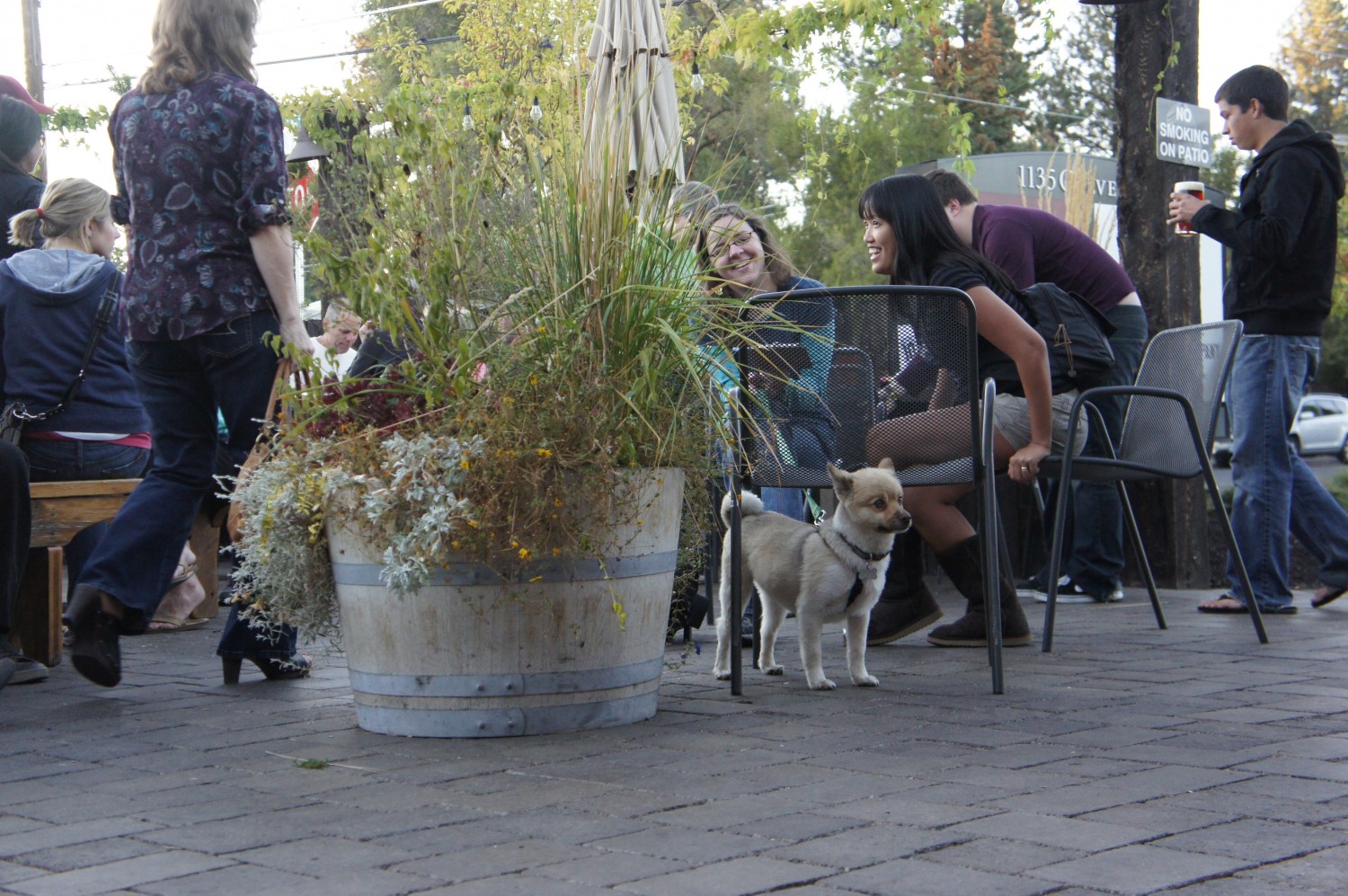 Day 2 – Hiking Paulina Lake
Breakfast
Fill up at A Broken Angel food cart before heading out on the day's hike. Chef Richard Hull serves vegan savory comfort food, and don't you let the vegan label turn you off! They whip up some seriously amazing dishes like the Mt. Bachelor Hash and the more simple biscuits and wild mushroom gravy. You can't go wrong.
Once you've fueled up, it's time to head out for a hike. Paulina Lake sits in the caldera of Newbury Volcano, a 45-minute drive from Bend. The turquoise color of the water will remind you of the Caribbean!
Fun
Hike the full 7.8-mile pet friendly trail around the lake for a good workout and lovely views. There are plenty of places for your pup to stop and play in the water along the way.
If you're visiting during cooler weather, consider relaxing in the hot springs. It's known to be one of the most peaceful in the northwest.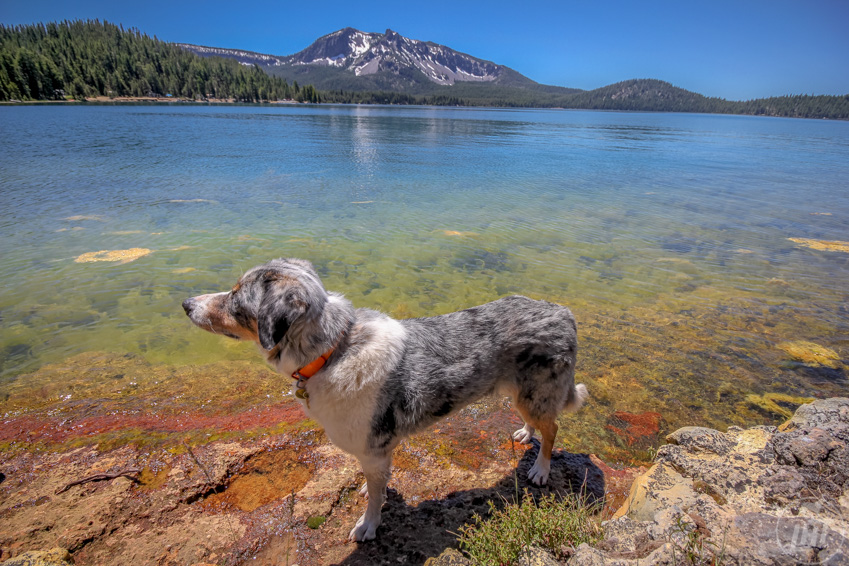 Get Fed
Back in Bend, hit up On Tap Bend where you can choose from over 30 craft beers and partake from a selection of six food trucks. The dog friendly outdoor seating area features an enclosed and covered patio with heaters, bar seating, two large fire pits, and a lawn to enjoy.
Day 3 – Smith Rock State Park
Breakfast
Rise early and grab a coffee and pastry from Back Porch Coffee Roasters on NW Newport Avenue. Then walk across the street to pick up a picnic lunch at the Newport Avenue Market.
Smith Rock State Park
Smith Rock State Park is today's destination. Best known for its ideal rock climbing, Smith Rock has plenty of adventures for everyone. Choose from hiking, trail running, mountain biking, or simply find a bench and enjoy the amazing views.
To avoid the crowds and watch the rock climbers scale the walls, try the pet friendly 3.7-mile Reverse Misery Ridge Loop Trail. If you want to see the whole park, take your dog on the 7.3-mile Summit Loop, which offers fantastic views of the park.
The temperatures can be scorching here in the summer, so be sure to bring plenty of water for both you and your pup.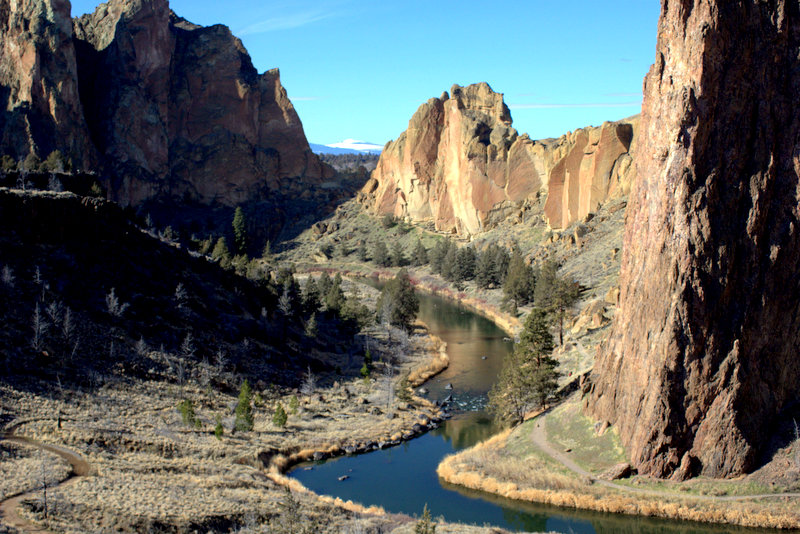 Head To Portland
When you're finished exploring Smith Rock, it's a 2.5 hour drive back to Portland.
This just covers a short snippet of all the fun activities in pet friendly Bend, Oregon. There are countless hikes in the surrounding area and all sorts of adventures to be had all year round. We hope you enjoy your visit!
Visit our Amazon store to learn about more products we rely on to make traveling with pets easier, safer, and more fun!
Amazon Affiliate Disclosure: GoPetFriendly.com LLC is a participant in the Amazon Services LLC Associates Program, an affiliate advertising program designed to provide a means for website owners to earn advertising fees by advertising and linking to amazon.com, audible.com, and any other website that may be affiliated with Amazon Service LLC Associates Program. As an Amazon Associate, the owner of this site earns a commission from qualifying purchases.
(Visited 7,612 times, 1 visits today)