Motoring around the Mid-west, we found ourselves with a few free days and locked our sites on Kentucky's Land Between the Lakes. If you love the outdoors and want to re-connect with nature, this is the place for you!
Early settlers to southwestern Kentucky referred to this area as "Between the Rivers" because the Tennessee and Cumberland Rivers cut their paths just a few miles apart. When both rivers were dammed to facilitate shipping and Kentucky Lake and Lake Barkley were formed, the remaining strip of land running between them became the National Recreation Area. Now the 170,000 acres, wrapped with 300 miles of undeveloped shoreline, offers every nature-loving opportunity you can imagine!
Pet Friendly Land Between The Lakes
Trails
More than 200 miles of trails and rustic roads cover the park – and your dog is welcome to join you on every one! Make a stop at the Golden Pond Vistor Center to pick up maps and get advice on which trails only allow hiking, so you won't be surprised by mountain bikers. Whether it's an afternoon stroll, or an over-night trip that takes you from one end of the park to the other, you'll find plenty of places to explore. And, if you're into bigger pets, there are also 100 miles of horse trails and backroads, as well as camping facilities with equine accommodations.
The Homeplace
Your pet friendly options are not limited to hiking! How about a visit to The Homeplace, an 1850's farmstead / living history museum, with rare and endangered breeds of domestic animals and appropriately attired actors doing the daily chores? The farm consists of 16 original and restored log structures, and the houses are complete with period furnishings and artifacts. Many of the buildings were relocated from less than 10 miles of the current site, but one house was loaded on a barge and floated up the river! The farm is open from March through November and admission is $4 per person – pooches are free.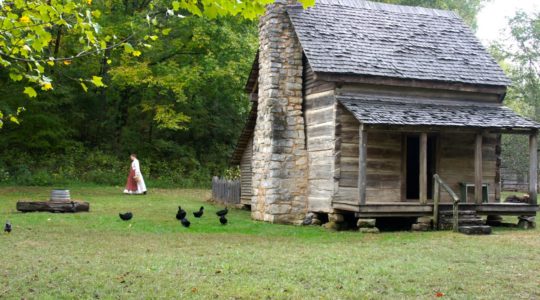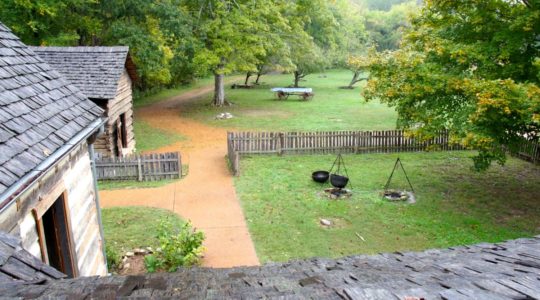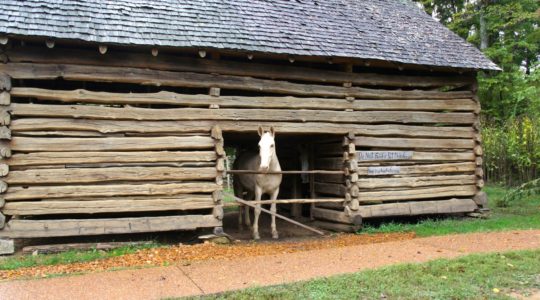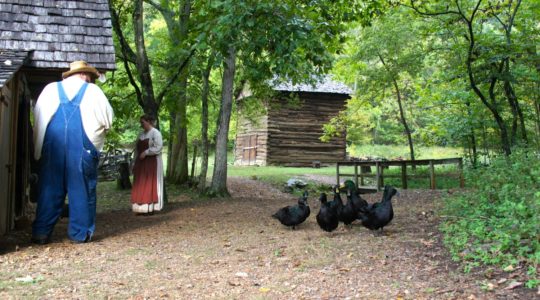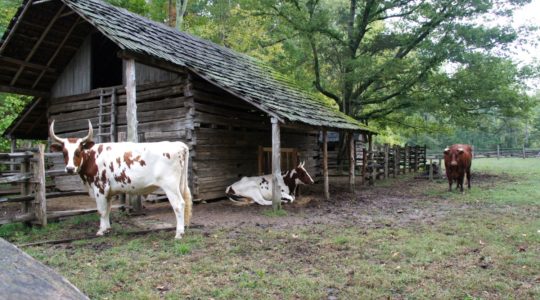 Elk and Bison Prairie
From there, take a trip through the Elk & Bison Prairie. As you drive the winding road, you're looking at the landscape as the Shawnee saw it more than 200 years ago – minus the road, of course. Before the woodlands took over, this area was a prairie where herds of bison and elk roamed. By using carefully controlled burns, much like the Native Americans did, this 700 acre preserve has been restored to the native habitat, including the animals that long ago disappeared from the area. Your dog is welcome to help you spot the wildlife from inside your vehicle.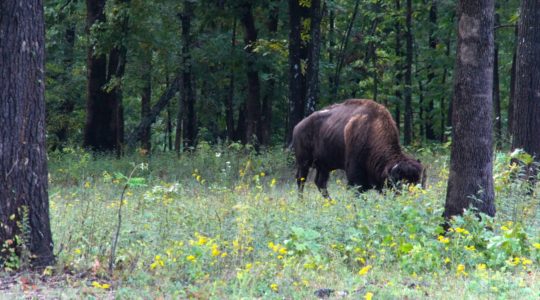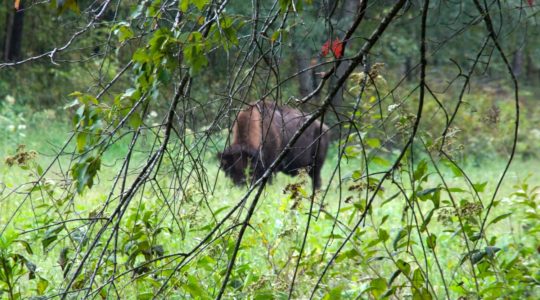 Other Activities
From canoeing, to bird watching, to fishing and camping – this place has it all. You could easily stay a week and not have time to do everything. When your pup is ready for a nap, check out the Planetarium and Observatory at the Visitor Center. Programs and shows are scheduled throughout the March-December season, so be sure to plan accordingly.
There is one other spot you'll want to see that your dog won't be able to join you – the Woodlands Nature Station. They have many animals on display, including a great horned owl, a coyote, and a red wolf. They also arrange guided special events, like moonlight canoe trips, afternoon nature hikes, and seminars on wildlife, gardening and nature photography.
Pet Friendly Places to Stay
There are plenty of pet friendly campgrounds to choose from at Land Between the Lakes and in the surrounding area – but, if you're looking for a top-notch pet friendly experience, visit the folks at Prizer Point Marina & Resort. Located just a short distance from the park, the resort sits on 101 acres and is surrounded on three sides by Lake Barkley – you won't find a spot without a view! And if you get lucky, some of the locals will take a liking to you.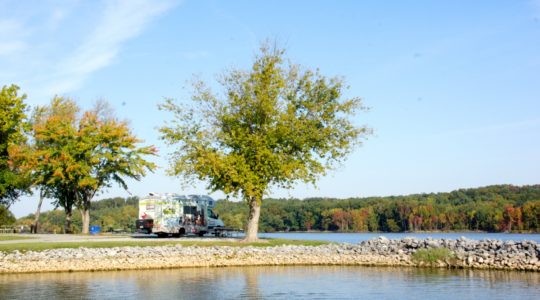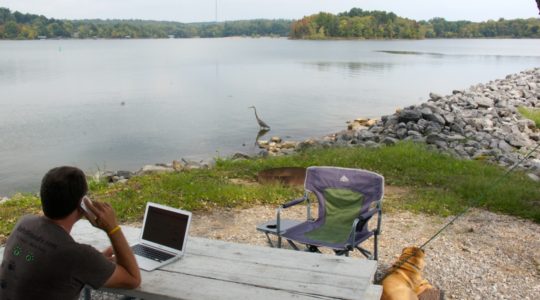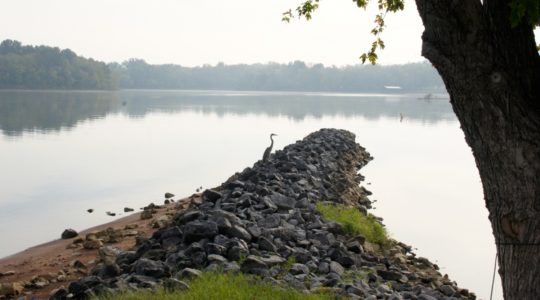 Don't have an RV? NO PROBLEM! You can rent a cabin, chalet, cottage, condo, or three-bedroom log cabin – they're all pet friendly! Looking for a little more adventure? Try renting one of the house boats – they're pet friendly, too!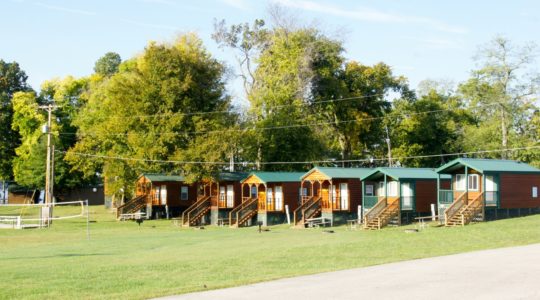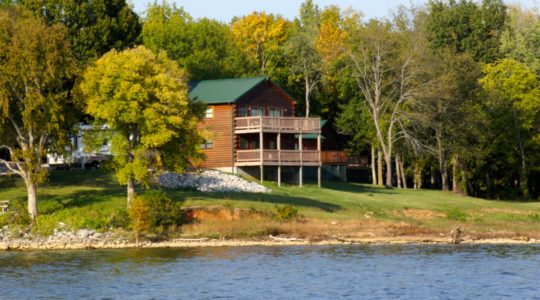 The resort has an off-leash area for the dogs and a spot where pooches are allowed to swim, as well as lots of activities to keep the kids busy!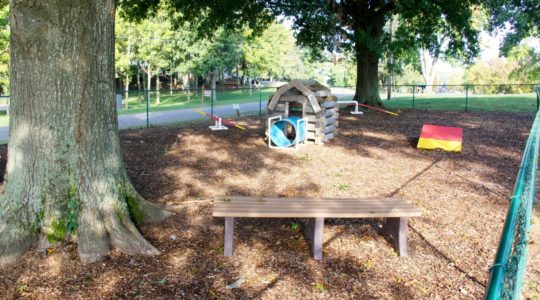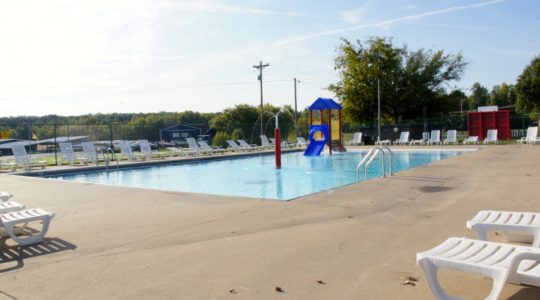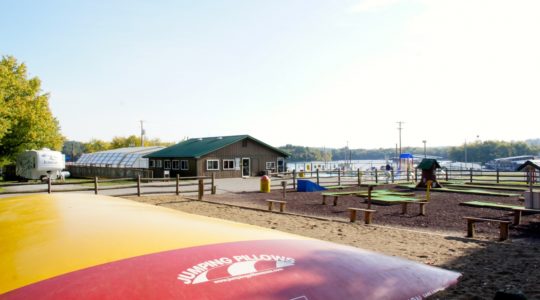 We loved having the marina right there … not only was it fun to watch the boats coming and going, they have pet friendly rentals, too! We got our first experience on a pontoon boat and Buster and Ty were excited to spend an afternoon on the water – as it turns out, they're pretty good boaters.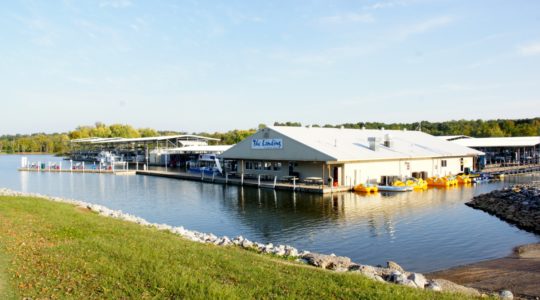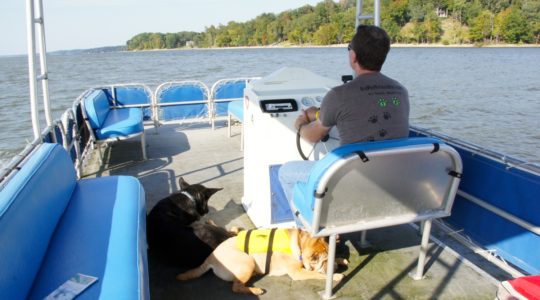 Buster enjoyed the scenery …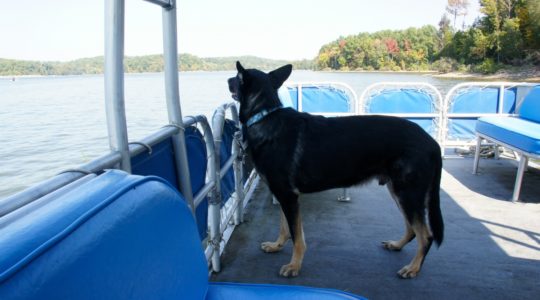 Of course, Ty was more interested in finding the snacks …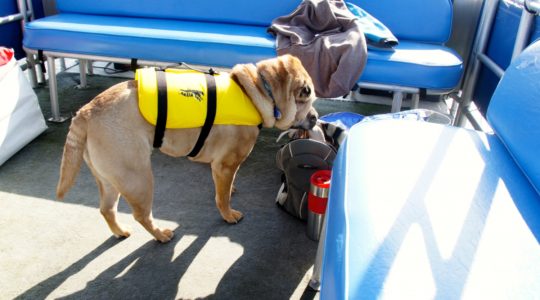 After so many months on the road, this stop was unique. We spend most of our time in campgrounds working, but here I was drawn outside. It was quiet and relaxing and I found myself switching off the computer, the radio, and the phone. The simple sounds of birds calling and insects singing was like a salve to my brain. Watching the herons fishing and seeing the barges pass down the river was better than a day at the spa. Sitting in your lawn chair, steeping in the glorious scenery and enjoy a sunset like this … does it get any better than that?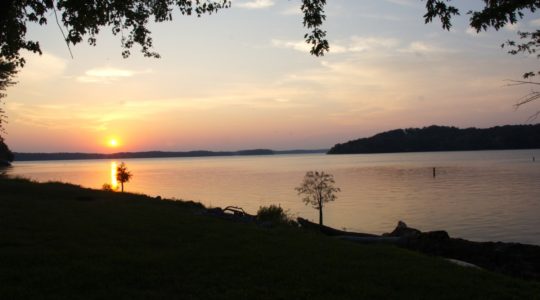 Planning a pet friendly trip of your own? We'll make it easy:
Pet Friendly Hotels | Pet Friendly Destinations | Pet Friendly Activities
Amazon Affiliate Disclosure: GoPetFriendly.com LLC is a participant in the Amazon Services LLC Associates Program, an affiliate advertising program designed to provide a means for website owners to earn advertising fees by advertising and linking to amazon.com, audible.com, and any other website that may be affiliated with Amazon Service LLC Associates Program. As an Amazon Associate, the owner of this site earns a commission from qualifying purchases.
(Visited 17,473 times, 1 visits today)