I bet you didn't expect to see a bison photo when you clicked on this post! In the northernmost tip of Kentucky lies dog friendly Big Bone Lick State Park. Make fun of the name and you could find yourself being chased down by one of these bad boys!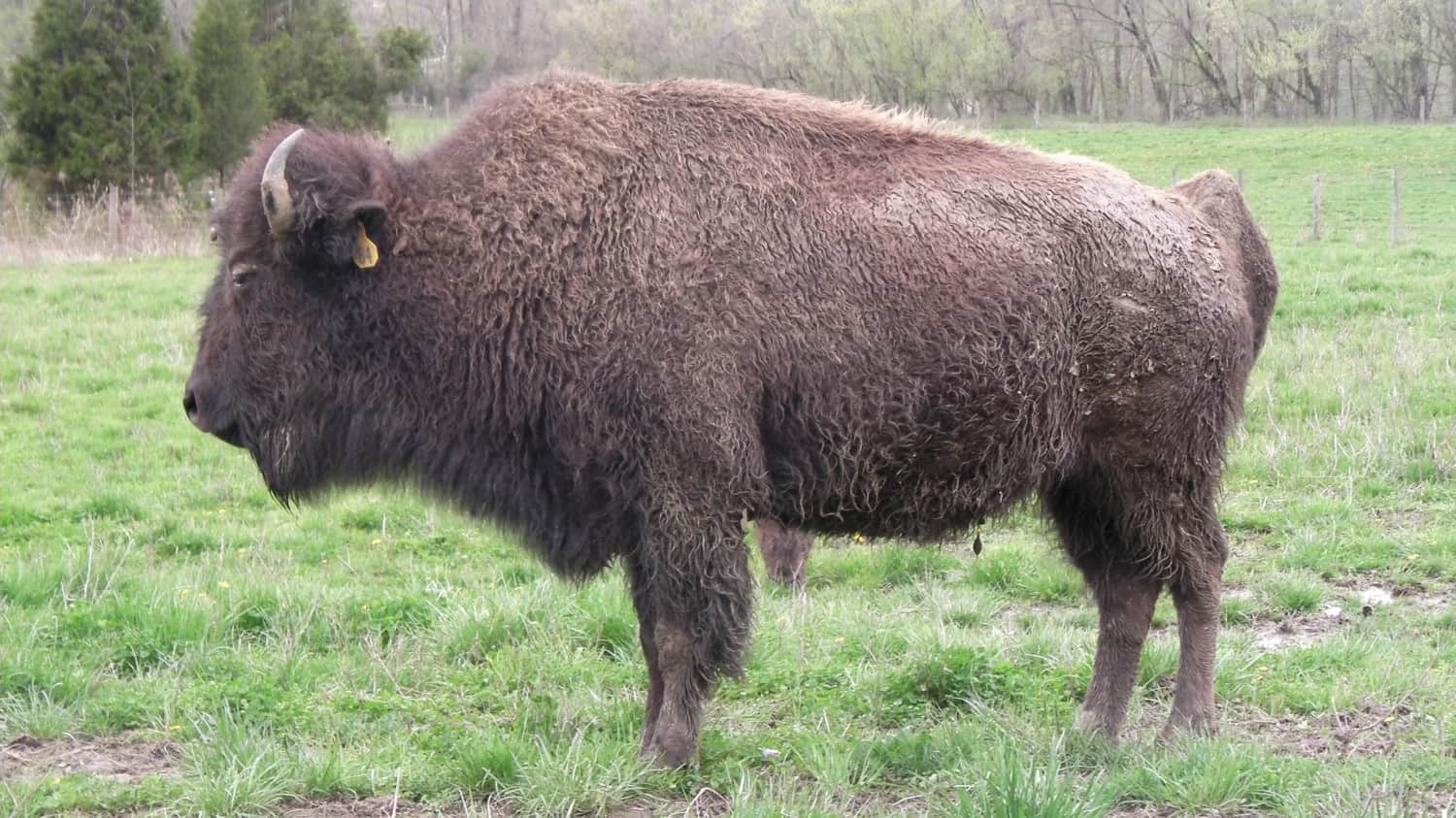 Sniffing Around
Located in Union, Kentucky, the name of the park comes from the many, many fossils of mammoth, mastodon, and ground sloth that were found here. It's believed these animals were drawn to the area because of a huge salt lick. Hence, Big Bone Lick.
The site is considered the birthplace of American paleontology, and at the request of Thomas Jefferson, the original excavations were performed by William Clark (of Lewis and Clark fame). It's interesting how a part of our trip has come full circle. About three weeks ago we toured Monticello, and bones taken from this site were on display in Jefferson's home.
What We Did
This stopover was all about Ty and Buster … and getting some work done. We're finding state parks to be wonderful places for long walks to accomplish the former and solitude to facilitate the latter. You don't want to hear about the work stuff, so let me tell you about our dog friendly walk in Big Bone Lick State Park!
The park has several miles of hiking trails, and Ty and Buster walked every inch of them. We watched while people fished from the bank of a 7.5 acre lake. We visited the Nature Center and, with the boys, toured the outside dioramas depicting recreations of life in the Pleistocene, an epoch lasting from 2.6 million to 12,000 years Before Present. How long ago is that? The end of the period marks the retreat of the last continental ice glacier from North America.
One of the trails led us to a meadow of grazing American buffalo. We all know the story of what happened to them. Hunted to near extinction, wild buffalo last roamed in Kentucky around 1800. The park is working to re-establish these animals at Big Bone Lick.
Buffalo are curious, and our presence brought them closer …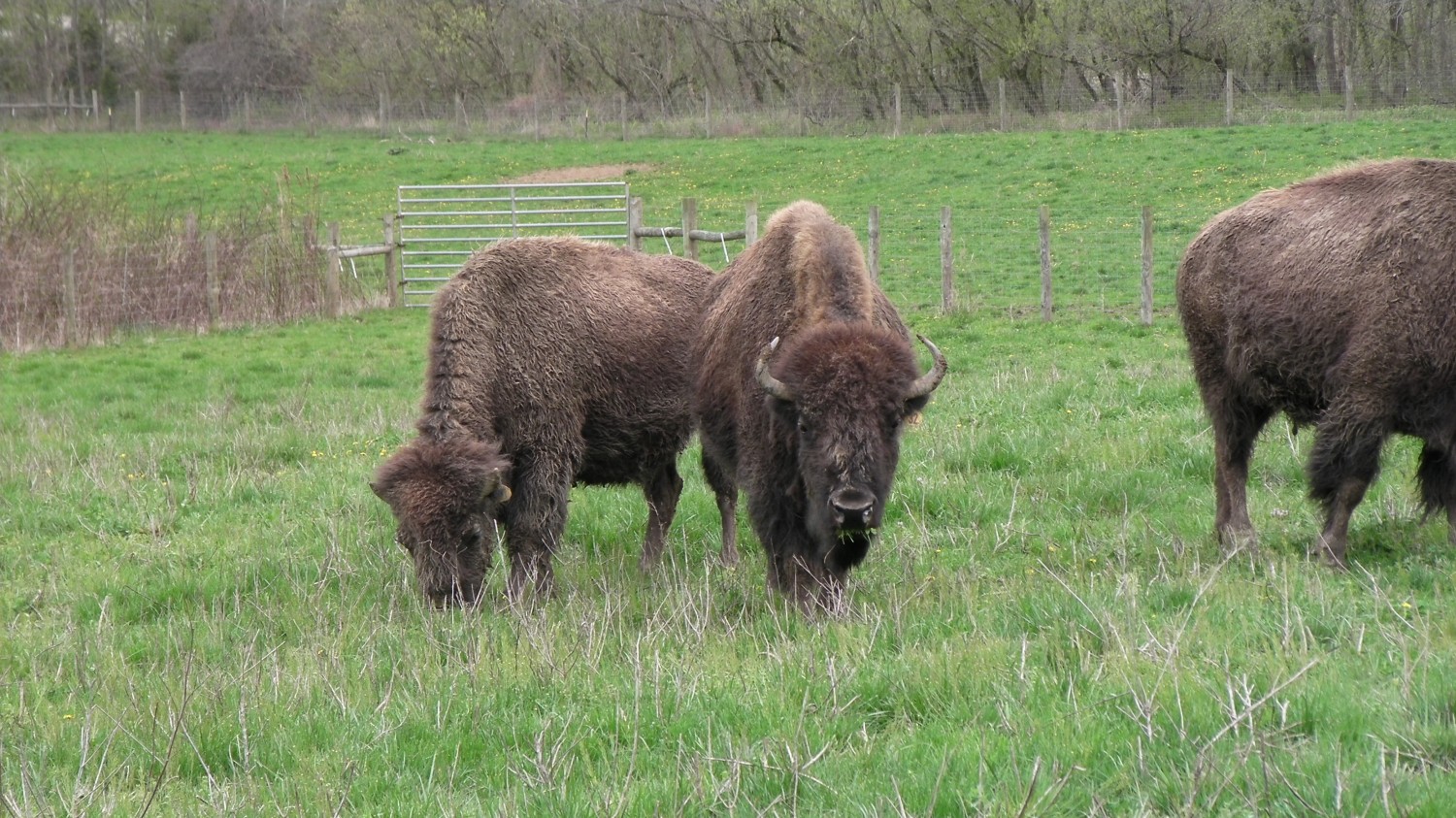 … and closer …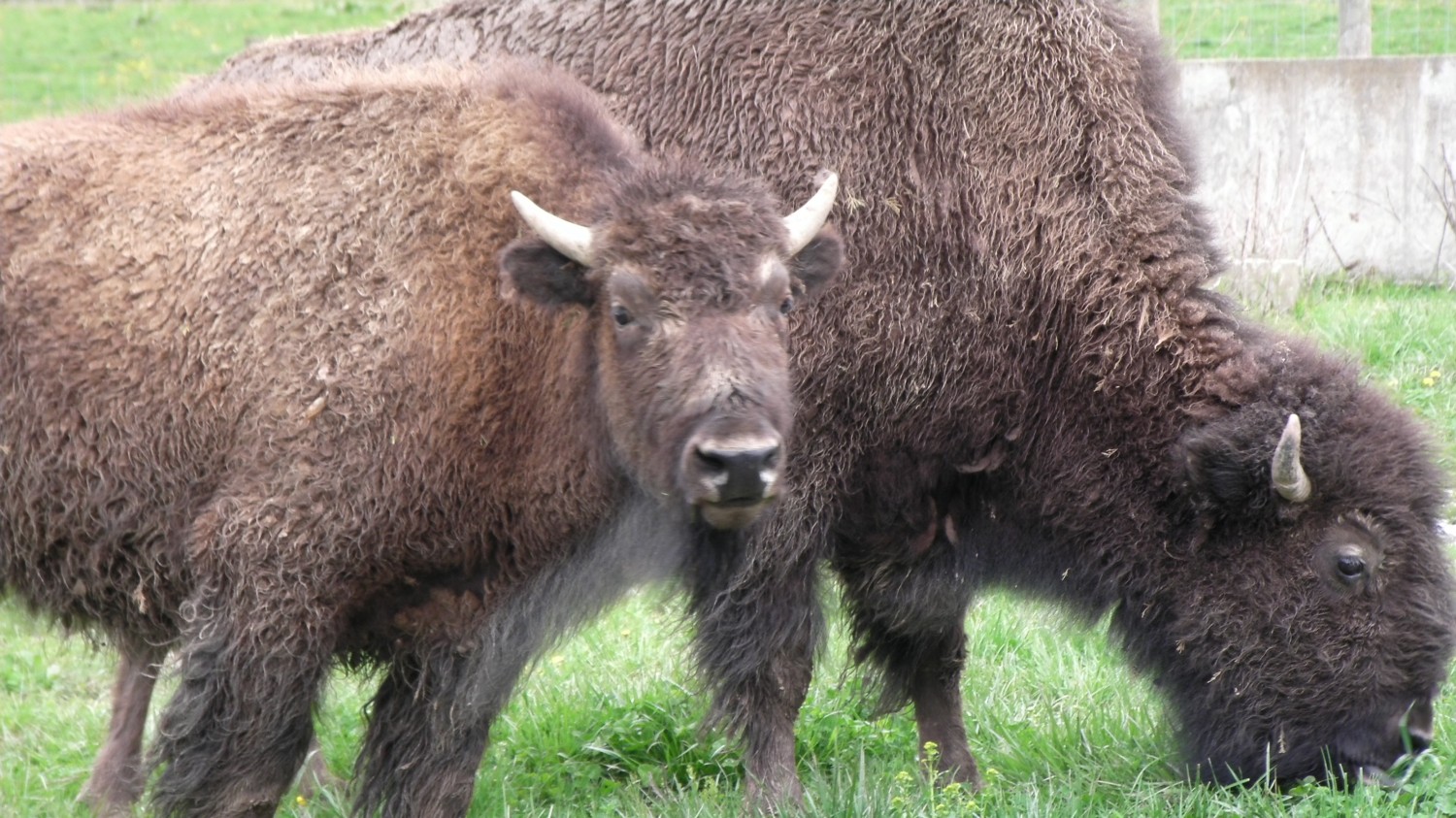 … and closer! Though we didn't get a picture of it, a calf came over and licked my hand.
Where We Stayed
We stayed at the campground in the state park – two duclaws up! Perched on a hill, the camp sites have panoramic views of the countryside. For kids, there is a swimming pool and playground; showers, restrooms, and laundry facilities are also on site. There is also some fantastic stargazing, far removed from city lights. THIS is what traveling with our pets is all about!
Next Time
I don't know if we'll ever get back this way, but it would be fun for the dogs and peaceful for us to stay again.
Amazon Affiliate Disclosure: GoPetFriendly.com LLC is a participant in the Amazon Services LLC Associates Program, an affiliate advertising program designed to provide a means for website owners to earn advertising fees by advertising and linking to amazon.com, audible.com, and any other website that may be affiliated with Amazon Service LLC Associates Program. As an Amazon Associate, the owner of this site earns a commission from qualifying purchases.
(Visited 3,235 times, 1 visits today)