Embark versus Wisdom Panel! Using the DNA from our mystery pup, we tried both dog DNA tests to find out which was best.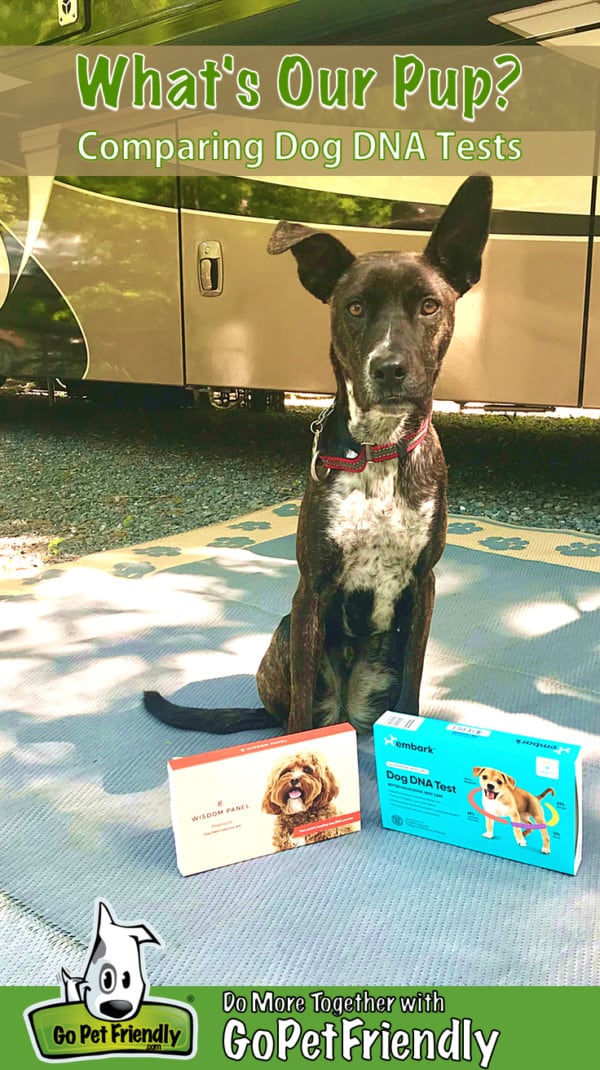 Since Myles strolled into our lives we've been asked countless times about his breed – but we have no idea! So we sent in two different dog DNA test kits to find out which breeds combined to make our gorgeous boy.
* This post contains affiliate links. Thank you! *
Comparing the test results from Embark and Wisdom Panel should give us a good fix on Myles' heritage and help you decide which kit will work best for you!
Comparing Dog DNA Test Kits
Both the Embark and Wisdom Panel kits are very simple. There are some small differences, but the functionality is essentially identical. Each kit includes:
A swab (or 2 in Wisdom Panel's case)
Instructions to use the swabs to get your dogs DNA sample
An activation code to set up your account online
Prepaid packaging to send your swab(s) back to the lab for testing
Difference Between The Two Kits
Embark has 1 swab with a sponge tip and a vial of stabilizing fluid
Wisdom Panel has 2 swabs with bristles
The Embark packaging is more elaborate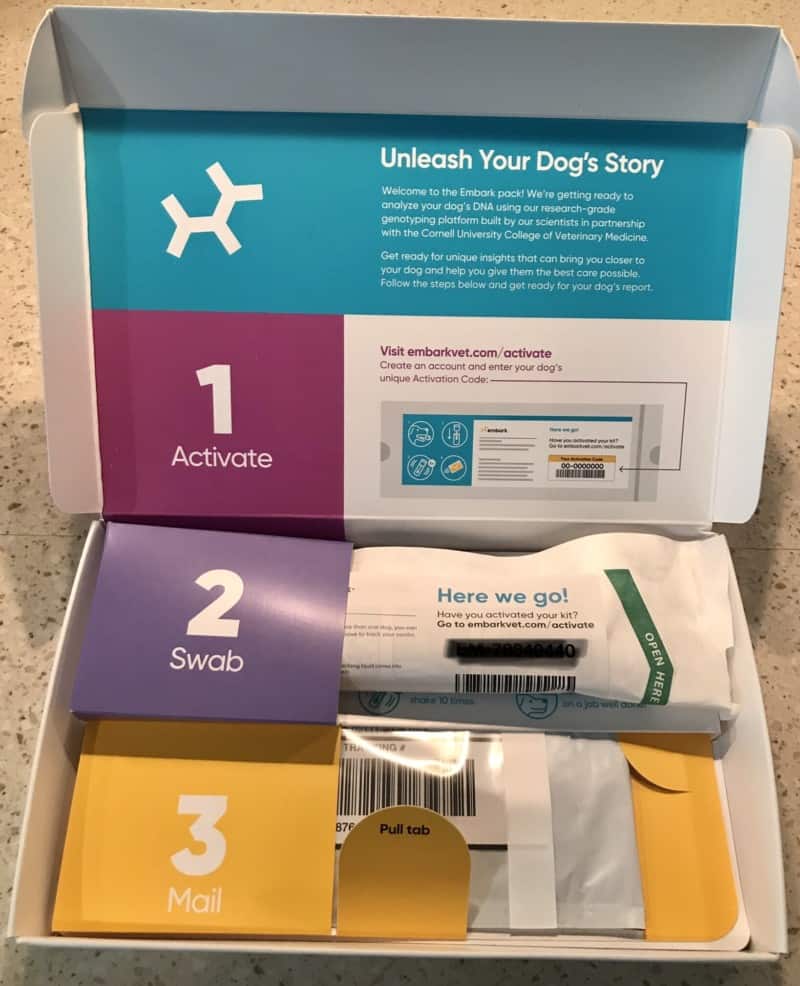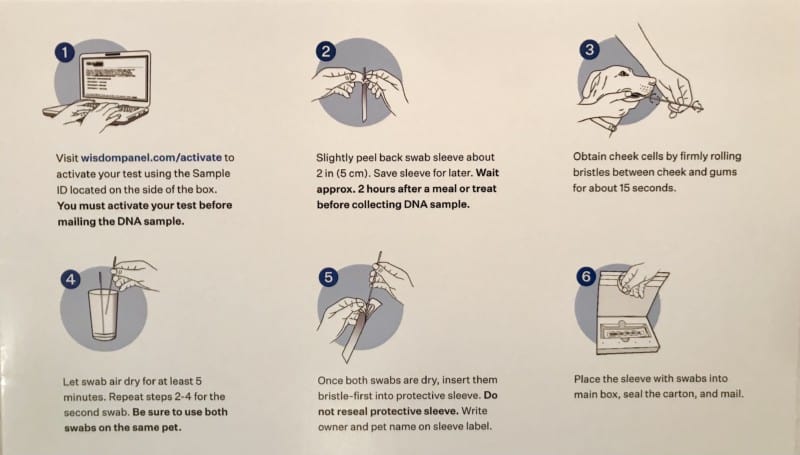 Price Comparison
Embark and Wisdom Panel both offer a couple dog DNA test kits options.
Embark's basic Breed ID kit give you your dog's DNA composition from 350+ breeds, a family tree, the option to locate your dog's relatives (if they've been tested by Embark), and access to research surveys. The cost of this kit is $129. If you choose this option, you can upgrade to get your dog's health and trait info later by paying an extra fee.
The Breed + Health Kit from Embark, which we chose, gives you everything from the Breed ID kit, plus screens for 200+ health risks and 20+ physical traits. This kit is listed at $199, but we were able to find it on the Embark website and on Amazon for $159.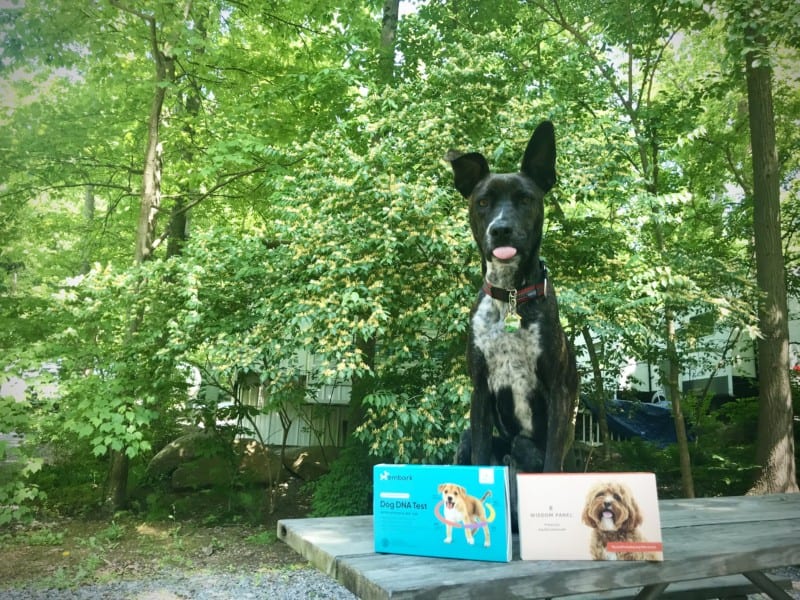 Wisdom Panel's Essential Dog DNA Test Kit gives you your dog's DNA composition from 350+ breeds, types, and varieties, states it has 1% breed reporting precision, tests for 25+ medical complications, and includes 35+ trait tests. The cost of this kit is $99.
The Wisdom Panel Premium Dog DNA Test Kit provides all the benefits of the Essential Kit plus a genetic diversity score and a veterinarian consultation for notable health findings for a cost of $159.
Collecting The Sample
The process of using both of tests is very simple. No matter which test you choose, all you have to do is rub the swab on the inside of your dog's mouth in between their gums and cheek.
Both tests provide easy-to-follow instructions, from time spent swabbing to how long to wait after your dog eats to use to the test.
Activating Your Account
You'll also get an activation code with each kit that is used to create an account and add your dog's profile on the company's website. You'll receive email updates throughout the process, and you'll log into your account to see your dog's results when they're ready.
Pack It Up And Ship It Back
Both Embark and Wisdom Panel include prepaid packaging to send your dog's DNA samples back to the lab via USPS. The packaging is small enough to drop into a mailbox, so there's no need to go to the post office to ship them.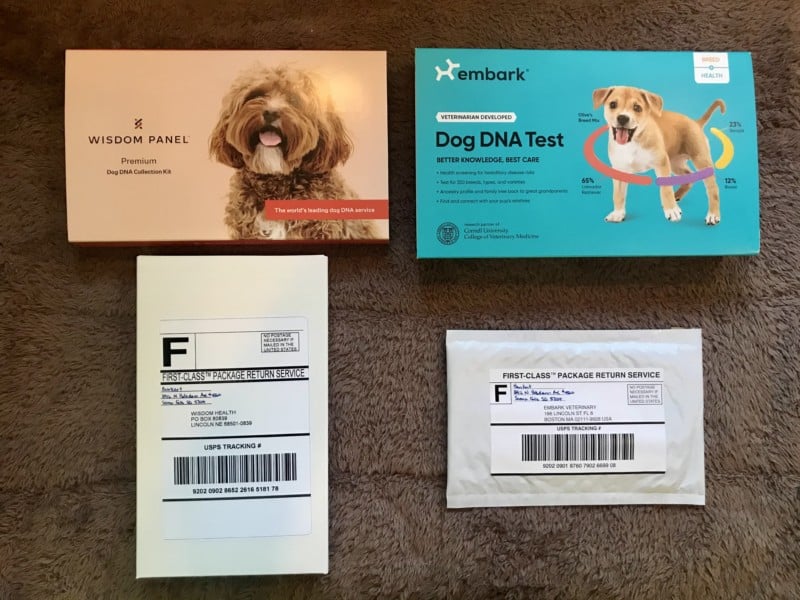 What Is Myles?
Before you continue reading, have a little fun and see if you can guess what breeds make up Myles' DNA!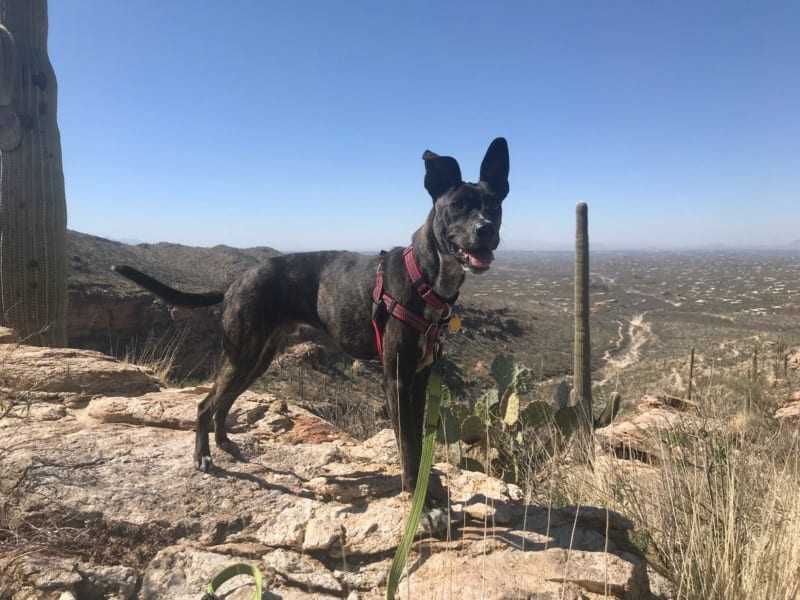 Here are a few clues that might influence your guess:
1. We found Myles as a stray in San Antonio, Texas.
2. We believe he is about 17 months old.
3. He's lanky weighing in at 39.5 pounds and measuring 22.5 inches at the shoulder.
4. He's a very "talky" boy, though he doesn't bark a lot. He loves to sing an arrroooo to get people's attention, and he makes many other noises, some of which sound like Chewbacca.
5. Myles is not a fan of water in any form … baths, rain, lakes, streams, snow, or puddles.
6. He has never met a person or dog he didn't like.
7. His ears measure 4 inches from base to tip when fully extended.
8. He stalks squirrels, rabbits, and lizards.
9. He's primarily brindle colored with a freckled white chest and chin, white toes, and a white tip on his tail.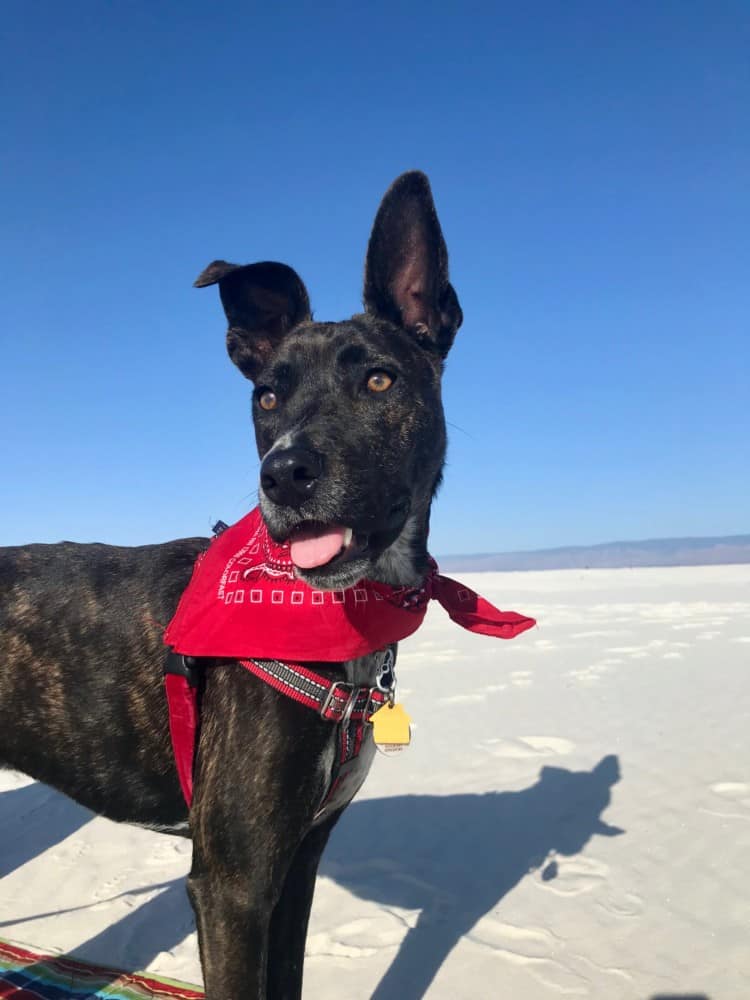 The Results Are In!
Getting the results of Myles' dog DNA test took a little longer than I expected. The Wisdom Panel results arrived 14 days after we mailed the packages, and the Embark results took 23 days.
Though it took longer to get their results, Embark was more proactive about sending email updates during the process. We were notified that the swab was en route, when the sample had arrived, when processing was about to begin, when Myles' health results were ready, and when his breed results were complete.
Wisdom Panel also sent a note when the sample arrived, and eight days later I received another email notifying me that Myles' results were ready.
Wisdom Panel Dog DNA Test Results
Breed Breakdown
With this breakdown, Wisdom Panel provided links to detailed descriptions of each breed that showed up in Myles' DNA, which was handy since I'd never heard of a few of them!
Here's the breakdown: 17% Labrador Retriever, 16% Dutch Shepherd Dog, 15% Bulldog, 15% Boxer, 15% Chow Chow, 6% Xoloitzcuintli, 4% Weimaraner, 3% Russell Terrier, 2% American Staffordshire Terrier, 2% Boston Terrier, 2% Yorkshire Terrier, 2% Finnish Lapphund, and 1% Pomeranian. Whew!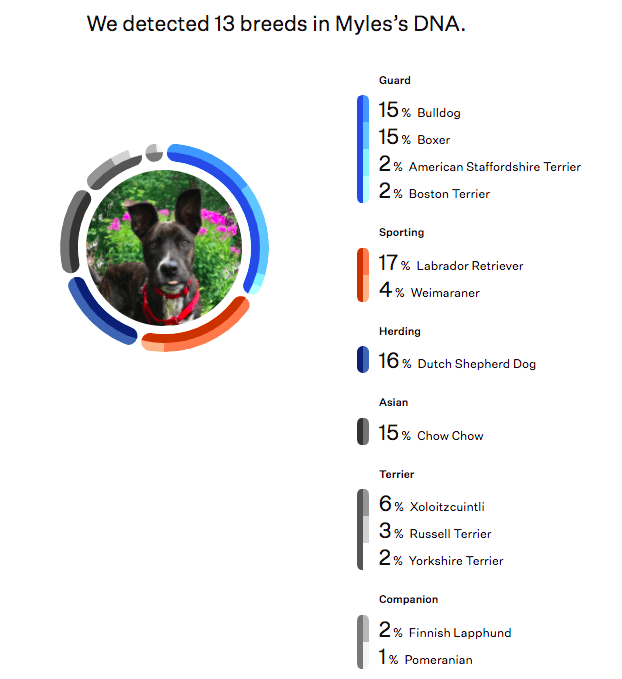 Family Tree
They also provided a hypothetical family tree showing now this combination of genes could have happened.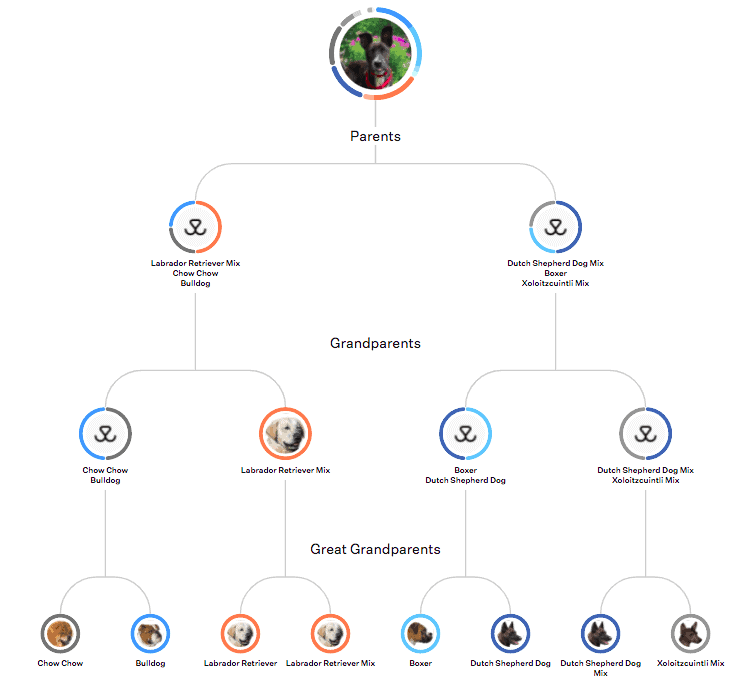 Genetic Screening
We did the dog DNA tests for the fun of finding out which breeds combined to make our boy. But as I was reviewing the results, things got very serious in the genetic disease screening section.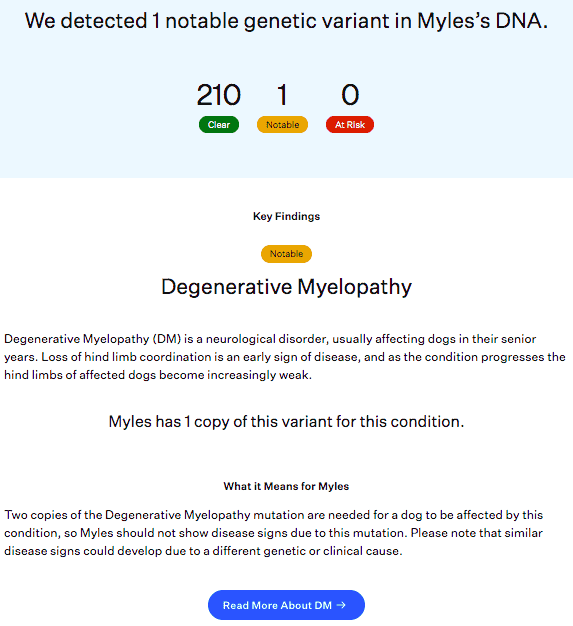 Seeing Degenerative Myelopathy mentioned in Myles' report made my heart skip a beat. Buster was misdiagnosed with this devastating condition when he started showing signs of the spinal stenosis that eventually took him.
I truly appreciated Wisdom Panel's careful explanation that TWO copies of the genetic variant are needed for dogs to be affected by DM, and Myles only has one. They also provided a link with more information.
Because we'd purchased the premium test kit, Wisdom Panel also offered a free 15-minute call to discuss Myles' health results with one of their veterinarians. If the results had shown Myles was genetically disposed to something serious, I'd have been grateful to talk to a vet.
Embark Dog DNA Test Results
Breed Breakdown
Nine days later, the Embark results arrived. Where Wisdom Panel was able to identify 13 different breeds in Myles' DNA, Embark reported seven.
Here's the breakdown: 18.7% Chow Chow, 17.9% Bulldog, 16.0% Boxer, 14.6% Labrador Retriever, 6.8% Collie, 5.8% German Shepherd Dog, 3.6% Rottweiler, and 16.6% Supermutt.
They went on to explain that in the "Supermutt" classification there may be small amounts of DNA from these distant ancestors: Mastiff, American Bulldog, American Staffordshire Terrier. Their website also provided more information on each of the breeds, though on this list I recognized them all.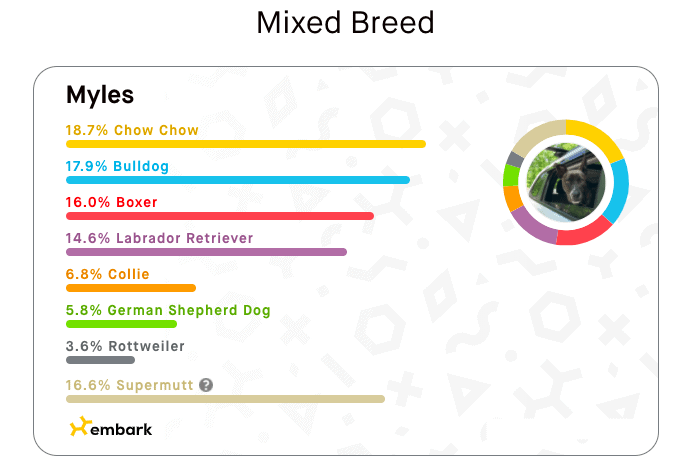 Myles' Chromosome Map
A dog is not the average or blending of the breeds that form it, but an expression of specific traits inherited from specific breeds. That's one reason mixed breeds can look, act, and have health issues associated more with one breed than another!
Understanding that made Myles' chromosome illustration interesting. Using 200,000+ genetic markers, Embark was able to determine which part of each of Myles' chromosomes came from each breed. Pretty cool, huh?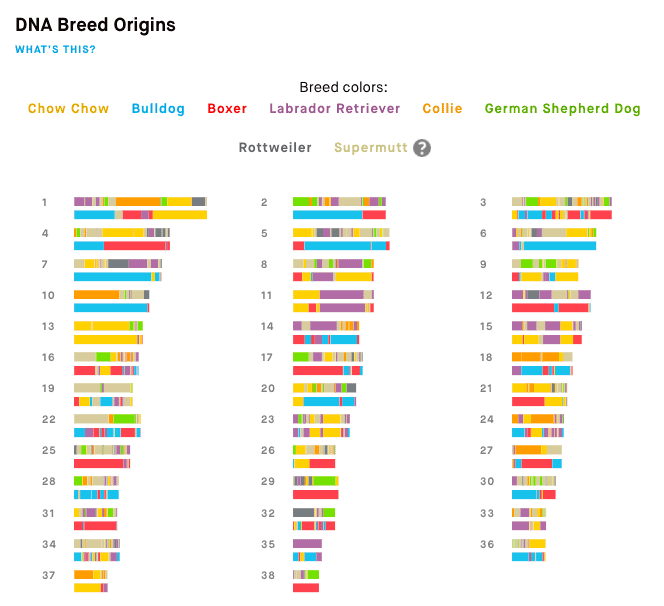 Locating Relatives
Embark also provides a family tree and health screening, but one thing the Embark dog DNA test allows you to do that Wisdom Panel doesn't is get in touch with your dog's "relatives."
They identified 30 dogs that they'd tested and who share enough DNA with Myles that they'd be considered first cousins in the human world. They even have a platform where you can message the owner of your dog's relatives.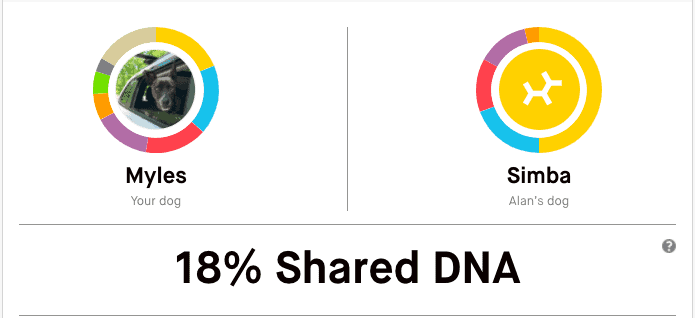 My Impression
Both companies provided a breed breakdown, breed descriptions, hypothetical family tree, a measure of genetic diversity, health screening for 200+ genetic conditions, and a report on traits your dog inherited, like coat color and tendency to shed.
Embark's results took a little longer, but if connecting with people who's dogs are related to yours interests you, this is your shot. They also provided more information on the dog's genetic origins.
Wisdom Panel on the other hand, was faster, offered the free call with a veterinarian with the premium kit, and didn't assign a big chunk of Myles' DNA to the unidentifiable "Supermutt" classification.
As far as the actual results … truthfully, I'm still shaking my head. The Dutch Shepherd makes sense, but Chow? Really?! I just don't see it. After both tests, we know one thing with absolute certainty, and it's that Myles is 100% very good boy.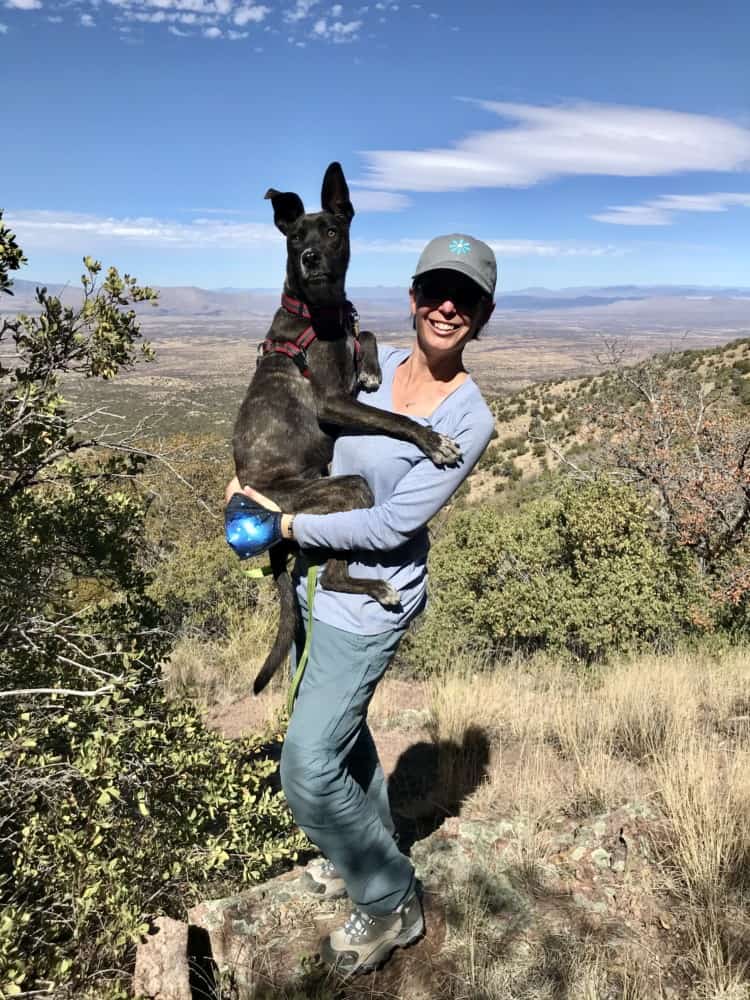 For the Winners
Congratulations to Ashley and Olivia, the winners of our "What's Our Pup?" contest! Ashely guessed Myles was a Boxer, Lab, Staffie mix, which was closest to the Wisdom Panel results. And Olivia guessed Myles was a Great Dane, Shepherd, Boxer mix, which was closest to the Embark results.
In addition to bragging rights, the two winners will receive a $25 Amazon gift card and some GoPetFriendly swag.
Amazon Affiliate Disclosure: GoPetFriendly.com LLC is a participant in the Amazon Services LLC Associates Program, an affiliate advertising program designed to provide a means for website owners to earn advertising fees by advertising and linking to amazon.com, audible.com, and any other website that may be affiliated with Amazon Service LLC Associates Program. As an Amazon Associate, the owner of this site earns a commission from qualifying purchases.
(Visited 26,552 times, 3 visits today)