Perhaps it's my Wisconsin roots, but there are few vistas that feed my soul like sunbeams glinting off the surging body of a massive lake. Being so far from the coasts, the Great Lakes are the "oceans" of the Midwest – and a fine alternative they are! With water stretching to infinity, beautiful beaches, and every kind of water sport imaginable … all tucked in the heart of the gracious hospitality so common in this part of the country … you'd be hard-pressed to find a better pet friendly vacation destination.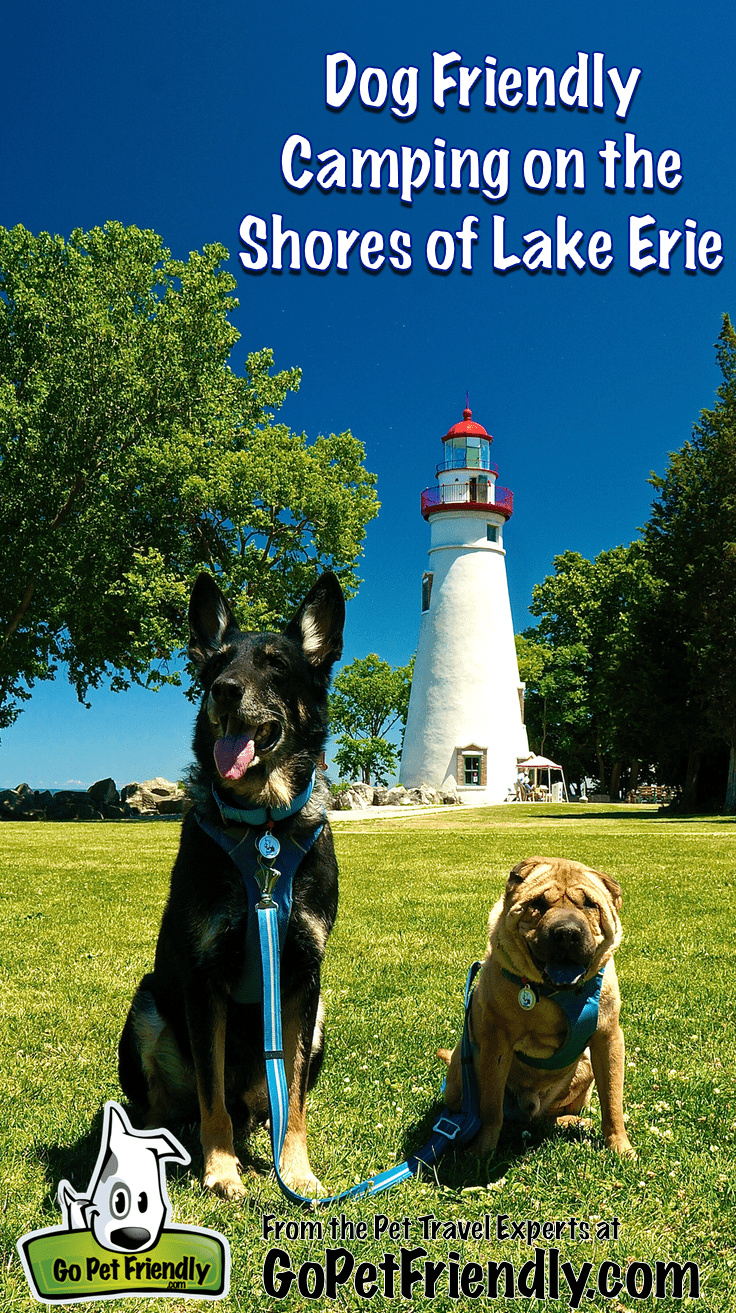 For this trip, we opted for a week of camping on Lake Erie near Sandusky, Ohio. Sandusky is probably best known for it's huge Cedar Point amusement park, but if you continue a few miles up the road, you'll find yourself savoring a different kind of entertainment – the one Mother Nature nature had in mind.
East Harbor State Park
Located right on the shore of Lake Erie, East Harbor State Park covers more than 1,800 acres and offers recreational activities of every speed. From the marina serving all your power boating needs, to bird-watching in the park's scenic wetlands, to hiking, disc golf, fishing, swimming, picnicking, or simply lounging around your campsite … there's something to please every nature lover!
The park offers more than 500 campsites, though only three of the five loops are pet friendly (C, D and E). The pet policy states that pets must be on a leash no longer than six feet, must have proof of rabies vaccination available upon request, and may not be left unattended in the campground – which isn't difficult, because there's plenty to do with your pooch.
There's also a nice camp store selling all the usual camping supplies, plus ice cream and snacks. The paved patio in front is pet friendly, and the Internet reception is decent.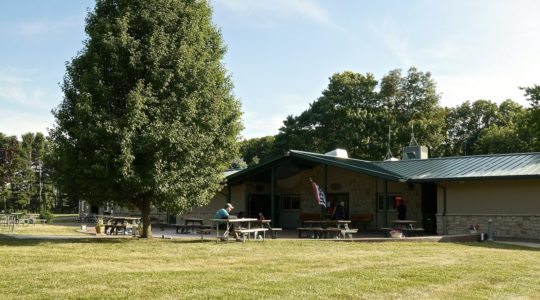 Ty and Buster were most interested in hitting the trails, and there are 11 to choose from, providing more than 10 miles of easy- to moderate-intensity hiking. The trails are all well-marked, so determining your location and surveying your options are a cinch. Our favorite was the pet trail to the beach, because of the spectacular view at the end!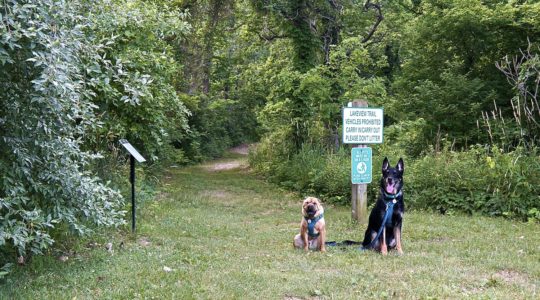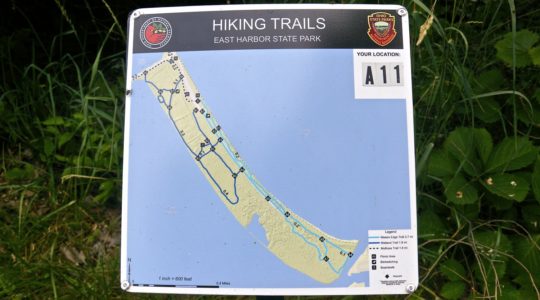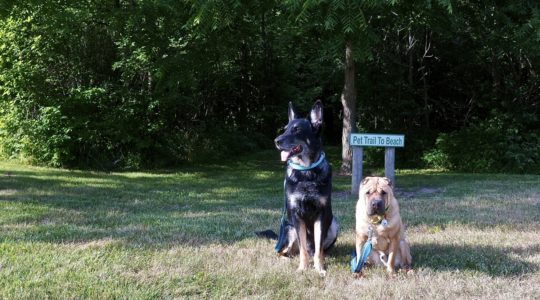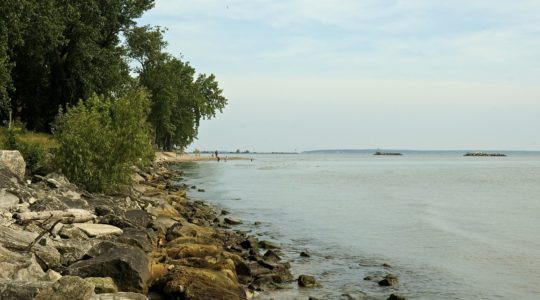 Pets are not allowed on the sand swimming beach, but this park has an interesting set-up that allows those with pets to enjoy the shore together. A concrete barrier separates the picnic area (where pets are allowed) from the sand beach (where they're not). And the picnic area has plenty of shade, tables, and grills, so you can really make a day of it.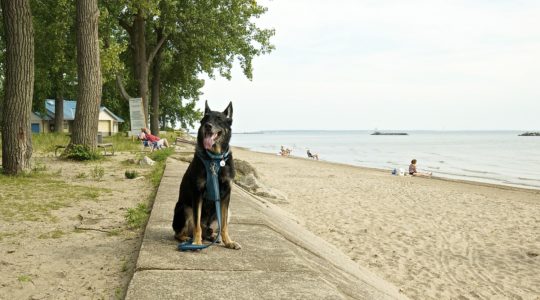 If you don't care about being near the sand beach, the picnic area continues up the shore and there are many nice spots to hang a hammock and relax for an afternoon. The shore in this section is lined with huge boulders, making swimming inconvenient, but there are a couple of places with steps down into the water where your pup could make a splash.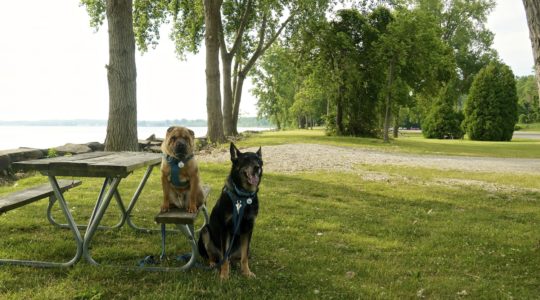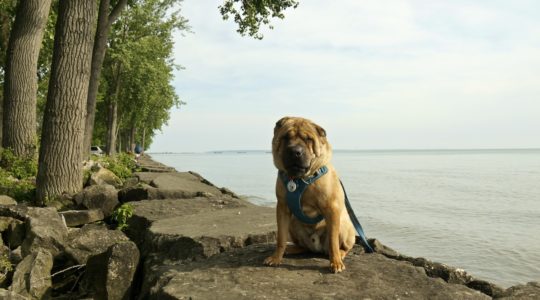 There are also some fun things to check out in the area. We spent a week here and didn't find time to take the ferry out to Put-In-Bay or Middle Bass Island, though we confirmed that pets are welcome on the Miller Ferries traveling to these islands. We did, however, make the short drive over to Marblehead Lighthouse State Park, and it was well worth the visit!
Marblehead Lighthouse State Park
Marblehead Lighthouse is the oldest lighthouse in continuous operation on the Great Lakes, and one of Lake Erie's best known and most-photographed landmarks. Perched on the Marblehead Peninsula, the views it provides of Lake Erie, Sandusky Bay, Kelleys Island, and South Bass Island are fantastic.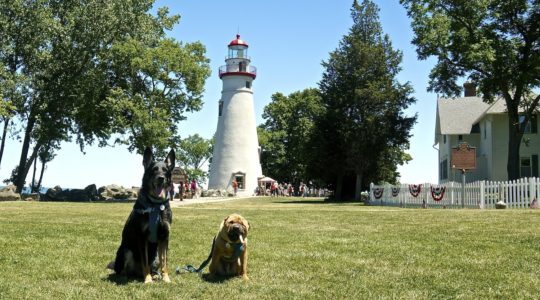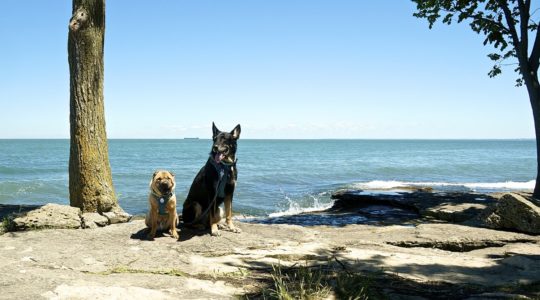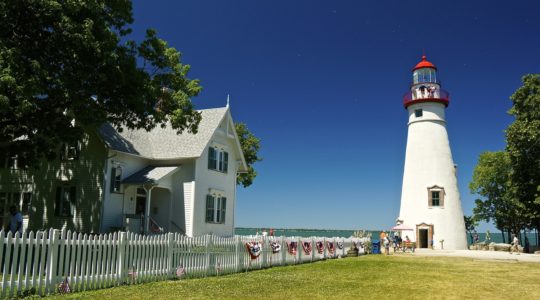 We enjoyed the nice, shady picnic area, and benches where you can enjoy panoramic views of the lake. They also have a museum in the former lighthouse keeper's residence, and you can climb the lighthouse for even better views, but you'll need to take turns checking those things out, because dogs aren't allowed inside the buildings.
This is a lovely part of Ohio, and quite pet friendly. We recommend adding it to your travel itinerary!
Planning a pet friendly trip of your own? We'll make it easy:
Pet Friendly Hotels | Pet Friendly Destinations | Pet Friendly Activities
Amazon Affiliate Disclosure: GoPetFriendly.com LLC is a participant in the Amazon Services LLC Associates Program, an affiliate advertising program designed to provide a means for website owners to earn advertising fees by advertising and linking to amazon.com, audible.com, and any other website that may be affiliated with Amazon Service LLC Associates Program. As an Amazon Associate, the owner of this site earns a commission from qualifying purchases.
(Visited 6,384 times, 1 visits today)